An Easy Spicy Sausage Muffin Recipe for Breakfast
Jump to Recipe
Are you constantly looking for new and exciting breakfast recipes to mix up your morning routine? If so, you've come to the right place! This easy sausage muffin recipe is sure to brighten any typical weekday morning!
No longer will you have to resort to the same boring bowl of cereal or toast with jam. These savory breakfast muffins are packed full of protein, quick and easy enough that even the busiest person can make it in minutes! So turn on your ovens, break out your mixing bowls, and let's get baking!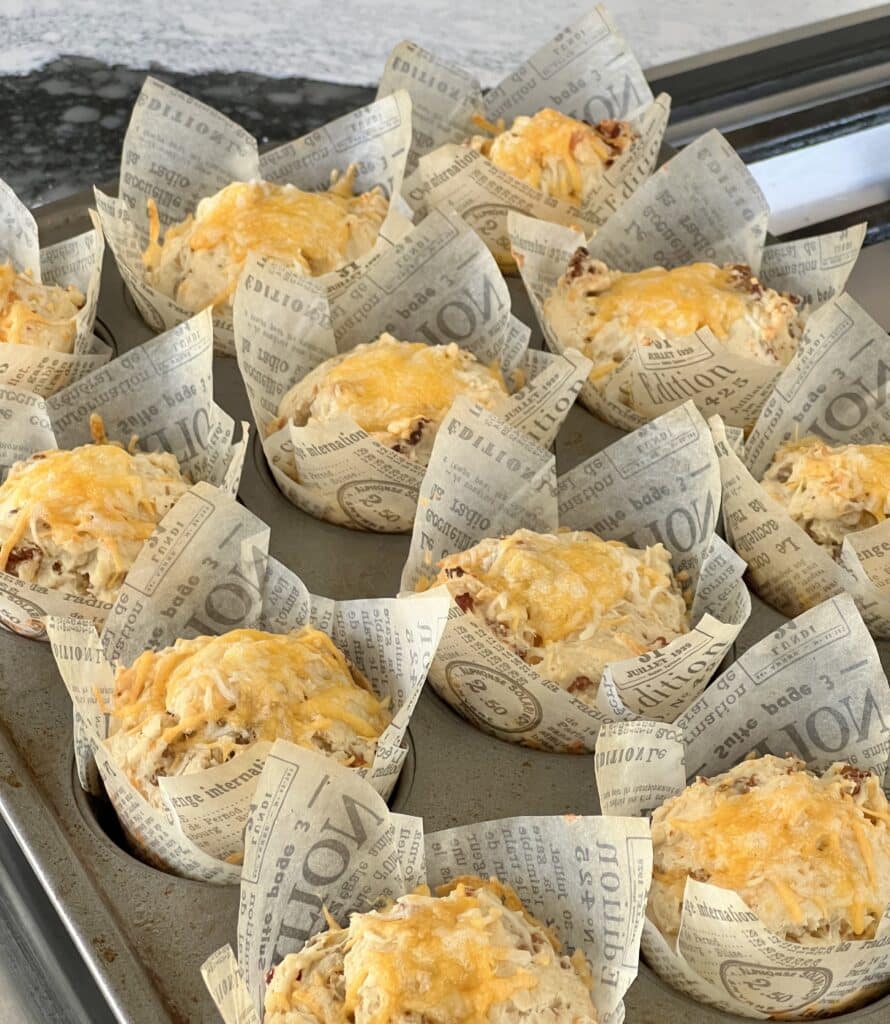 This blog contains affiliate links. This means a small commission is earned if you make a purchase by using this link. The price you pay will be the same whether you use the affiliate link or go directly to the vendor's website using a non-affiliate link.
"Are you ready?"
"We're going to be late!"
"The car is running!"
I think I would be a wealthy woman if I had a dollar for every time I spoke one of those phrases in the morning when my daughters were school-age and headed out for the day!
Finding ways to get out the door efficiently each morning took some ingenuity. Suffice it to say that the 5-minute warning was more like a 15-minute warning!
Since a sit-down breakfast with scones and lemon curd was usually not in the cards, easy breakfast recipes were always a good idea.
Rather than a sugar-filled sweet muffin, try this easy recipe for spicy savory sausage muffins..such a great grab in the morning!
Recipe Ingredients for Sausage Muffins
Most of the simple ingredients are in most pantries. The one exception might be the breakfast sausage.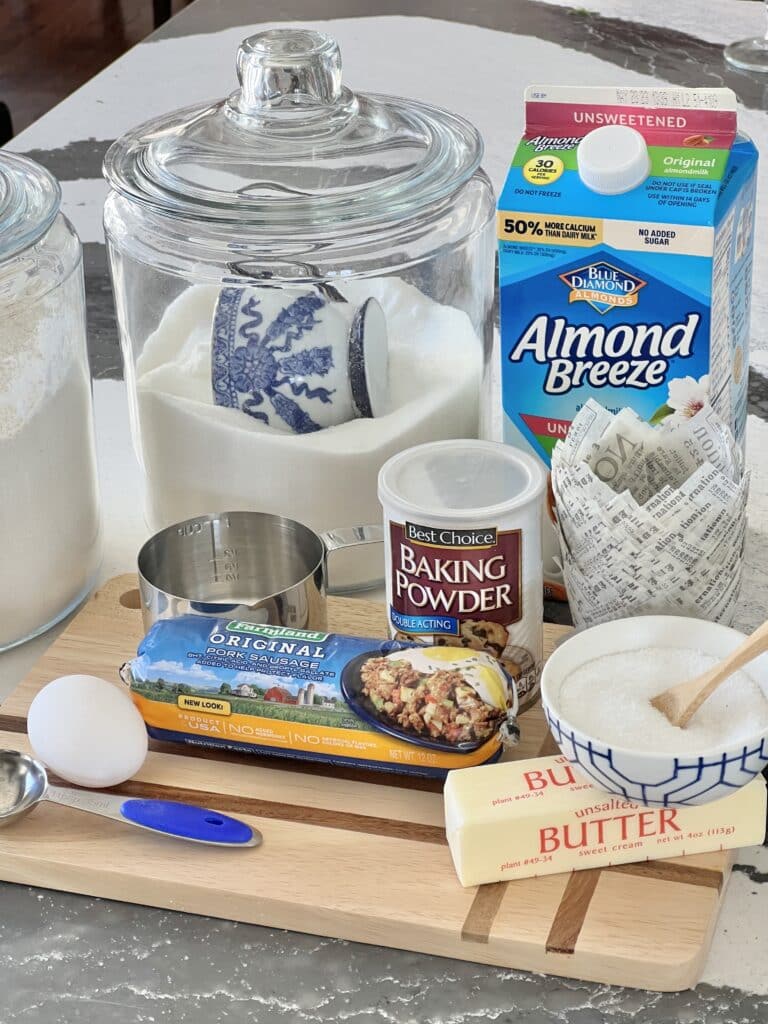 We have tried both regular and hot sausage. Either works beautifully but I find myself loving the little kick of spicy sausage.
Italian sausage would be a delicious choice or, if you like, you could certainly substitute turkey sausage.
The type of cheddar cheese that you use is also up to you. We prefer the zip of sharp cheddar cheese but you could use mild cheddar or pepper jack cheese!
I also use almond milk instead of regular milk and the measurement is the same for both.
Easy Spicy Sausage Muffin Recipe
The first step is to brown the sausage over medium heat until the sausage crumbles. The smell of cooked sausage in a skillet is amazing as it fills the kitchen!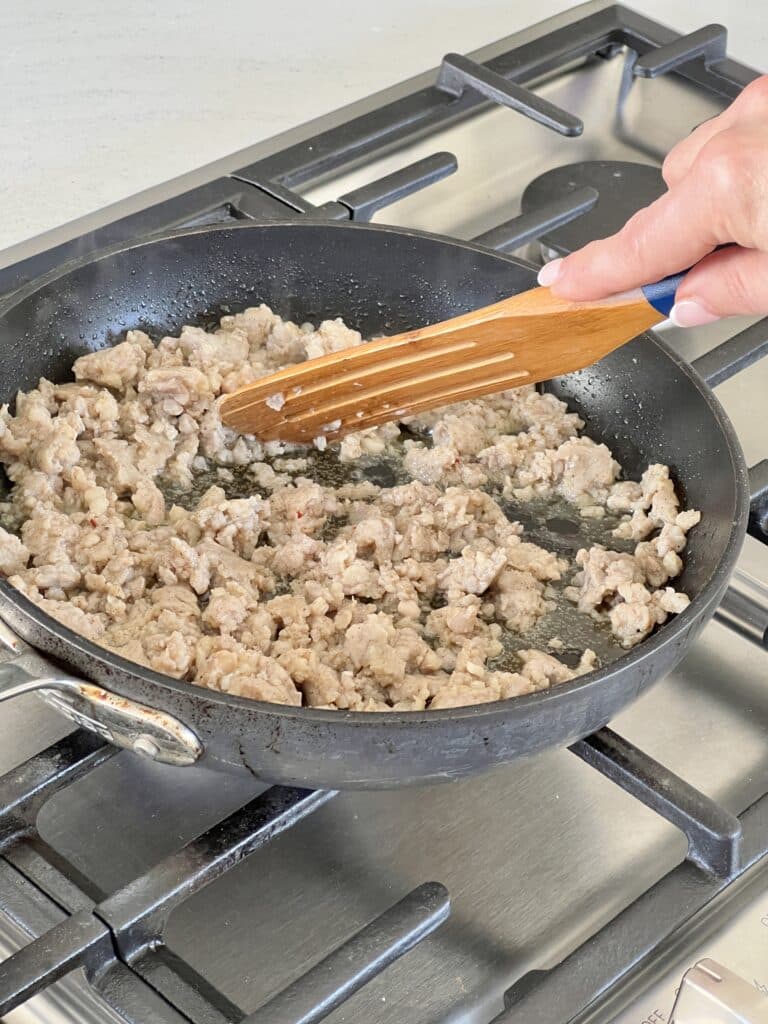 You always want to mix the dry ingredients separately from the wet ingredients when making muffins. This allows the dry mixture to be thoroughly combined before adding the wet ingredients.
After mixing the dry ingredients in a large bowl, create a well within and then fill the well with the wet mixture.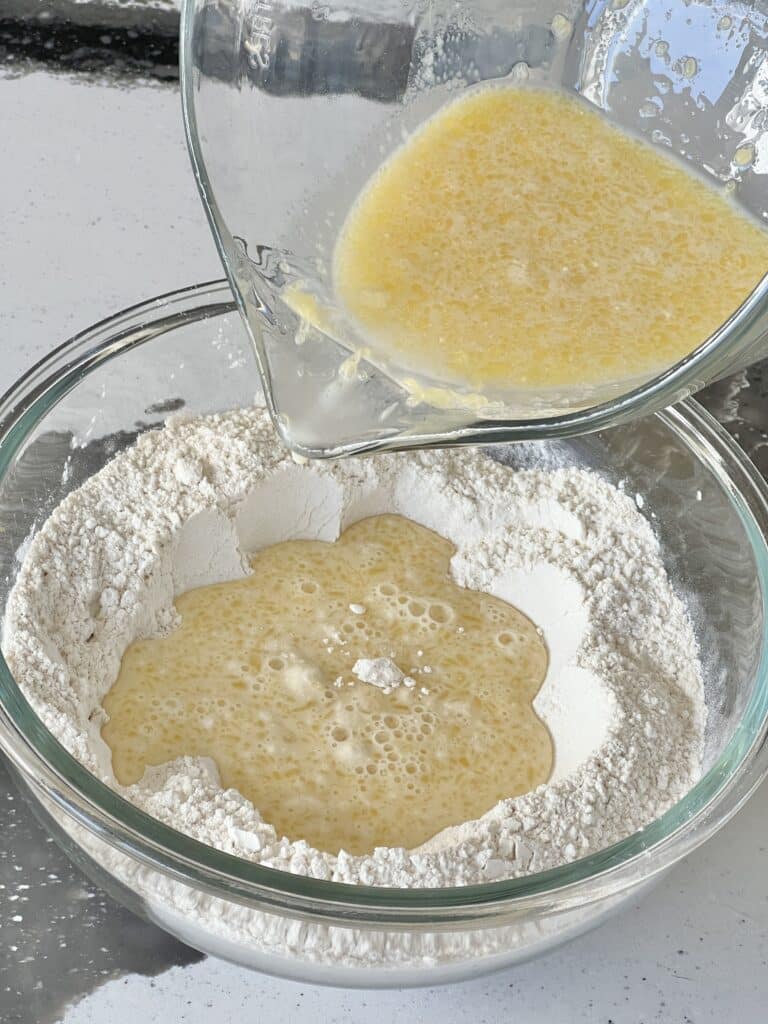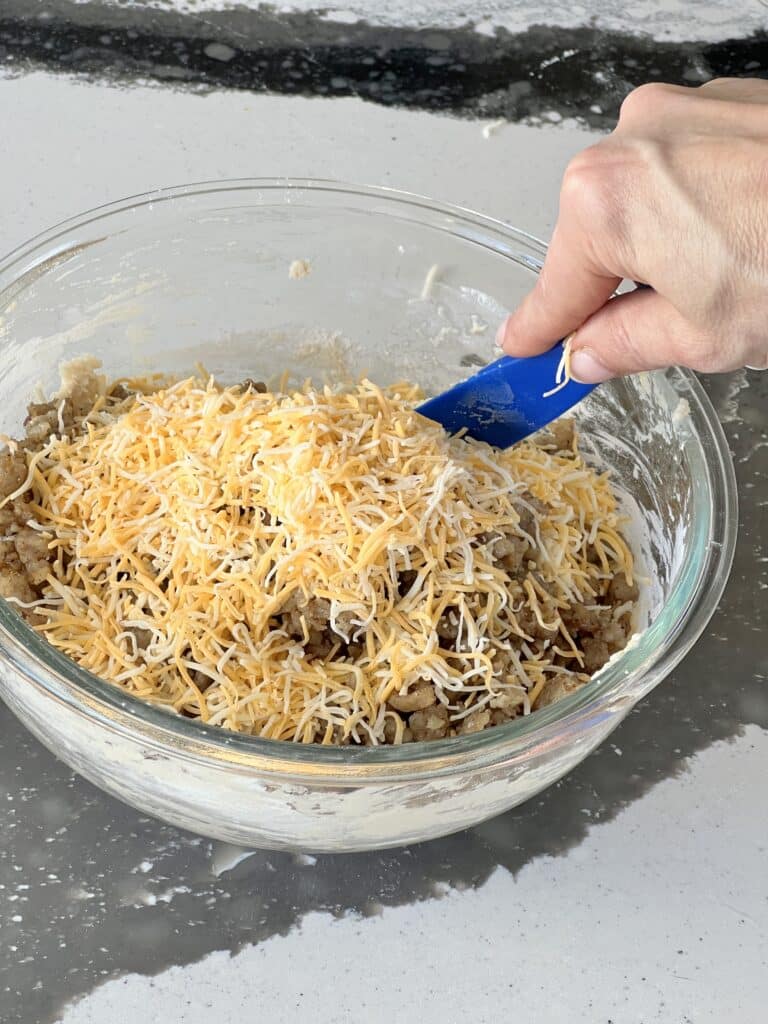 Line a muffin tin with paper baking liners and spray the prepared muffin cups with nonstick spray. Once baked golden brown, the savory muffins will peel right out of the grease muffin cups.
I always like to add a little cheddar to the top of the muffins during the last 10 minutes of baking for a colorful, cheesy topping.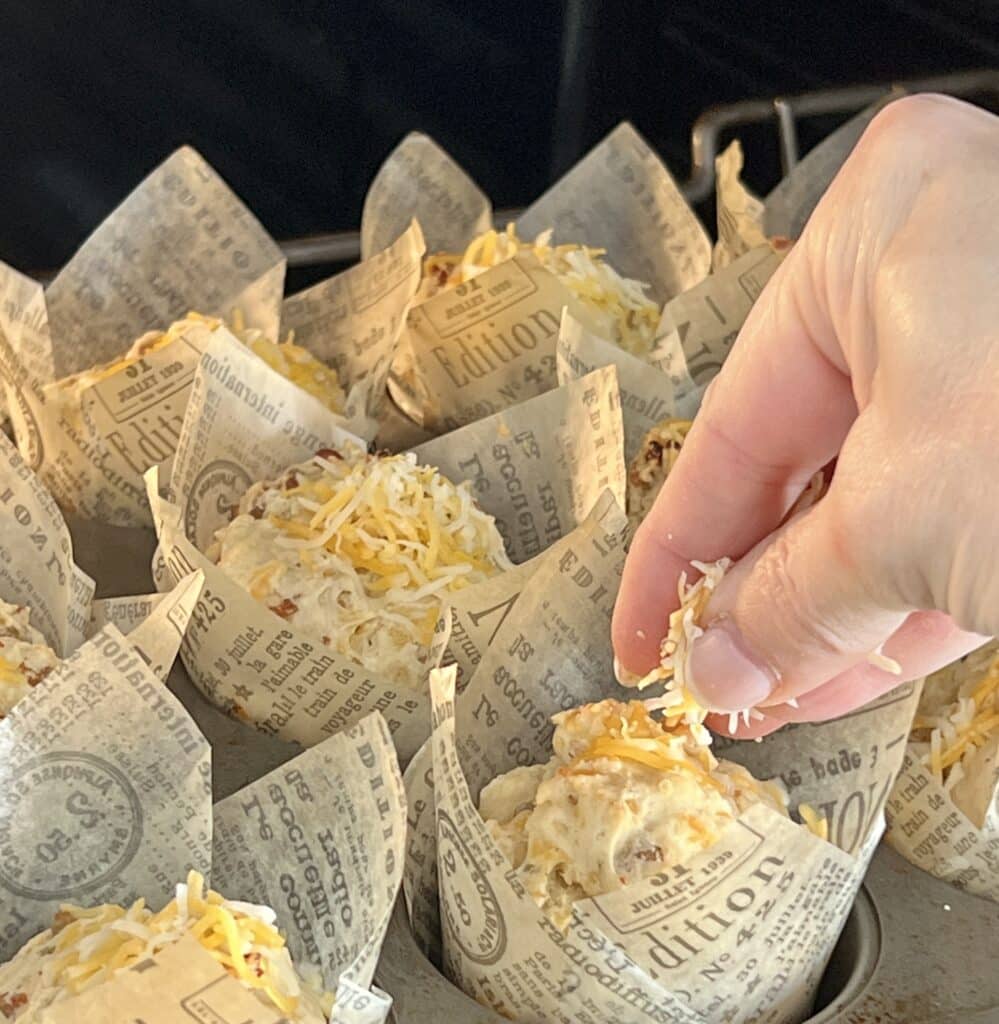 They look and smell so good!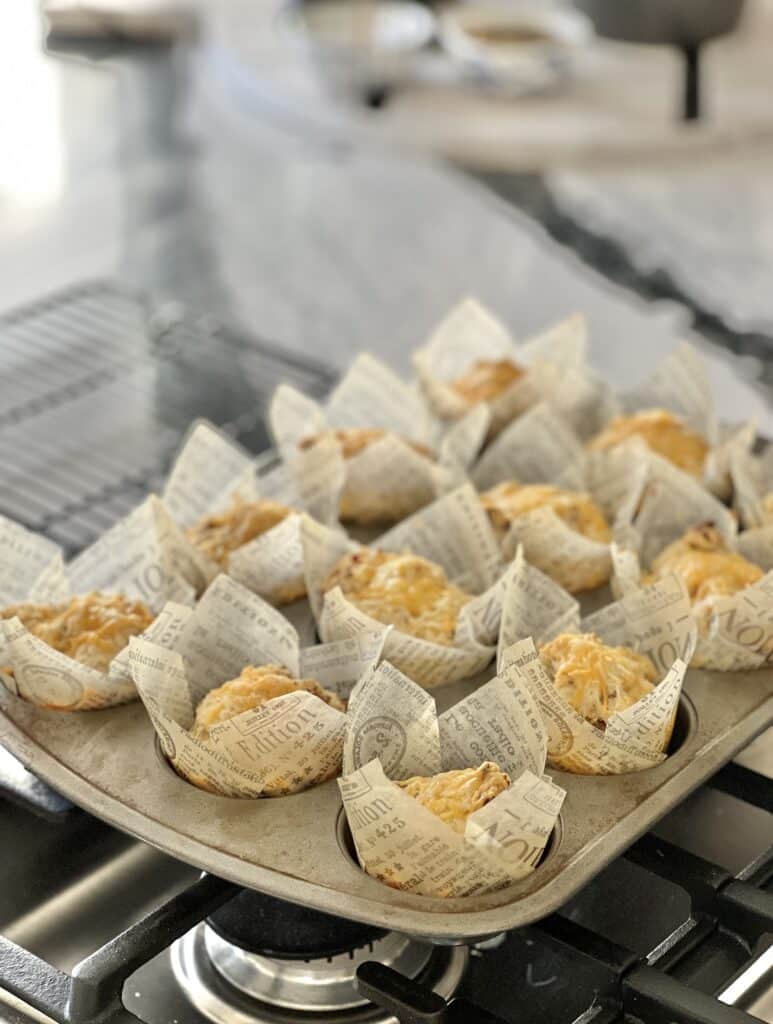 Why You'll Love These Spicy Sausage Muffins
Meal prep a batch or two of muffins during the weekend and you will be set for a quick breakfast during the week's busy mornings.
Spicy Sausage Muffins stay fresh for the whole week when kept in an airtight container or freezer bags.
This savory muffin is protein-packed to keep you going all morning.
What a perfect meal accompaniment! Pair with Quiche Lorraine, Broccoli Cheese Soup, Chicken Salad with Grapes. or even just a soft boiled egg and hash browns.
Brownies beware…These muffins make a great snack after school or work!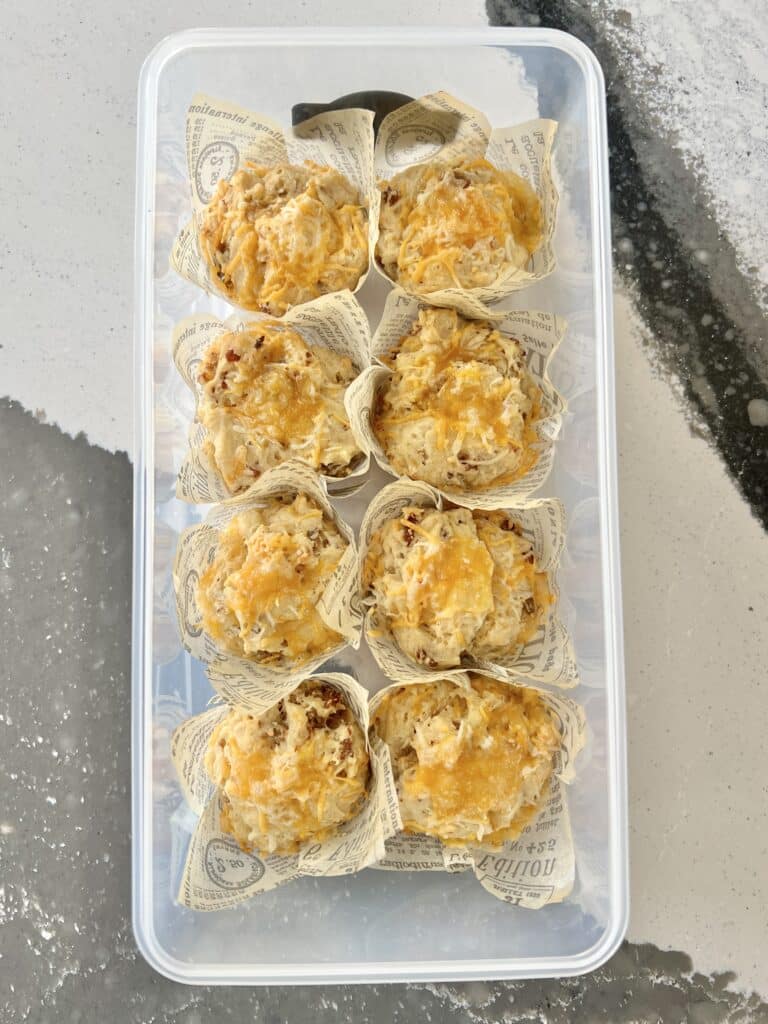 A pat of butter melts to perfection when slathered on top of these muffins!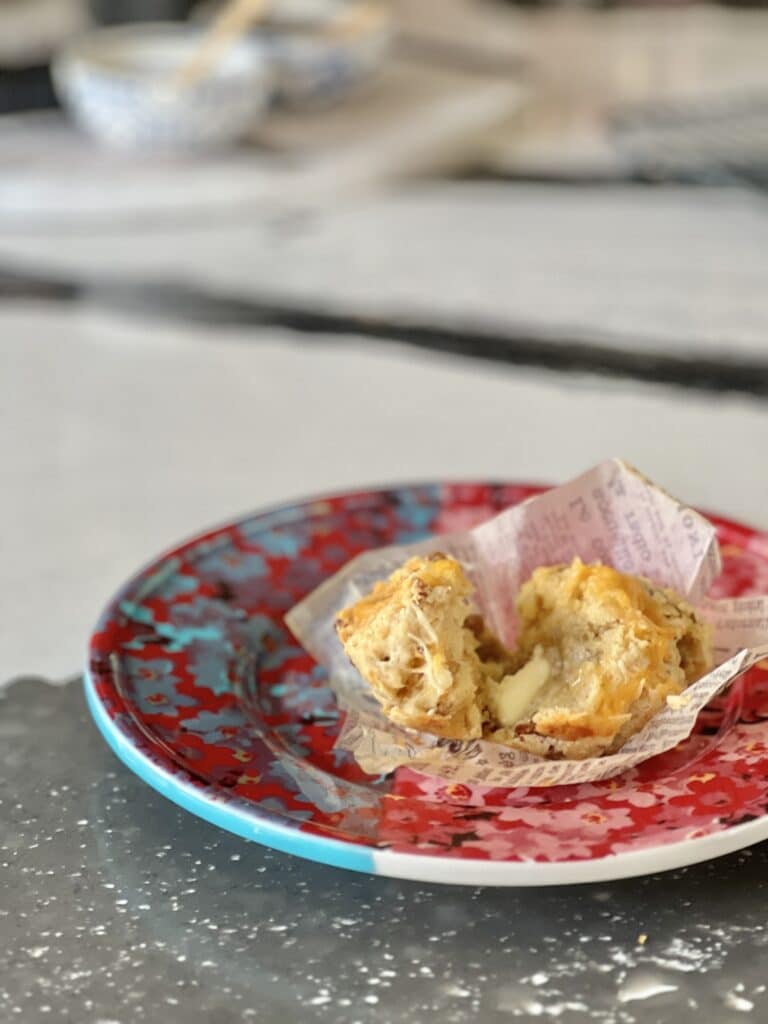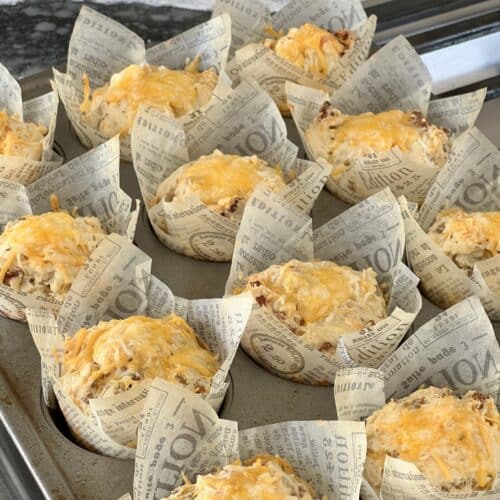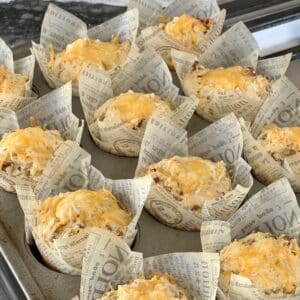 Spicy Sausage Breakfast Muffins
A delicious savory sausage muffin with just a little spice that is easy to make, tastes delicious, and is perfect for a sit-down or on-the-go breakfast!
Equipment
2 medium size bowls

1 mixing spoon

1 skillet

12 paper muffin cups
Ingredients
1/2

lb.

spicy ground pork sausage

2

cup

flour

2

tbsp.

sugar

1

tbsp.

baking powder

1/4

tsp.

salt

1

cup

milk or almond milk

1

egg, beaten

1/4

cup

butter, melted

1/2

cup

shredded sharp cheddar cheese

Add an extra 1/4 cup of cheese for topping.
Instructions
Preheat the oven to 375 degrees.

Brown the pork sausage in a large skillet. Stir until the pork is crumbly. Drain and set aside.

Combine the flour, sugar, baking powder, and salt. Once mixed, make a well in the center.

In a separate bowl, combine the milk, egg, and butter. Add to the dry mixture, stirring until moistened. Stir in the sausage and cheese.

Place paper baking cups in the muffin pan and spray the insides with cooking spray.

Spoon the muffin mixture into the paper cups and fill 2/3 full.

Bake for 25 minutes or until golden. If you wish, add a little cheddar cheese to the top of each muffin for the last 10 minutes of bake time. Remove from the pan immediately after taking it from the oven.
Some Variations You Might Try
There is some flexibility with these cheese muffins. Try adding 1/4 cup of any of the following:
Green onion
Green pepper
Red bell pepper
Fresh spinach
Additional flavors (about 1 tsp.) of garlic powder, onion powder, or black pepper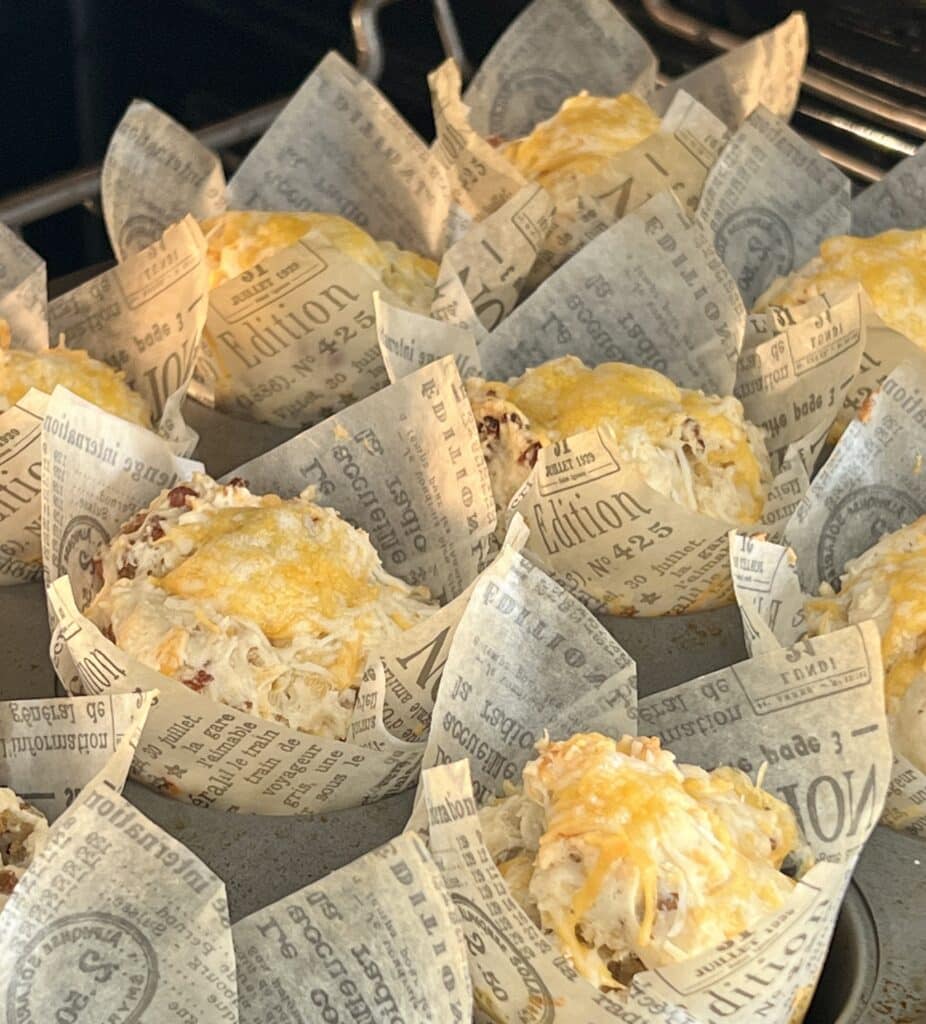 Spice up your Monday morning breakfast with these savory sausage muffins!
They are a delicious twist on your traditional muffin and a great way to wake up your taste buds first thing in the morning! Not to mention, they are easy to make and portable – the perfect on-the-go breakfast option.
So don't wait any longer – put a little zip into your day with this quick and delicious breakfast option. Who knows – you might even get away with having muffins for dinner…
Cheers!

Don't Forget to Pin It!
Pin the image below to your boards on Pinterest (just click the Pin button in the top left corner). You can also follow along with me on Pinterest!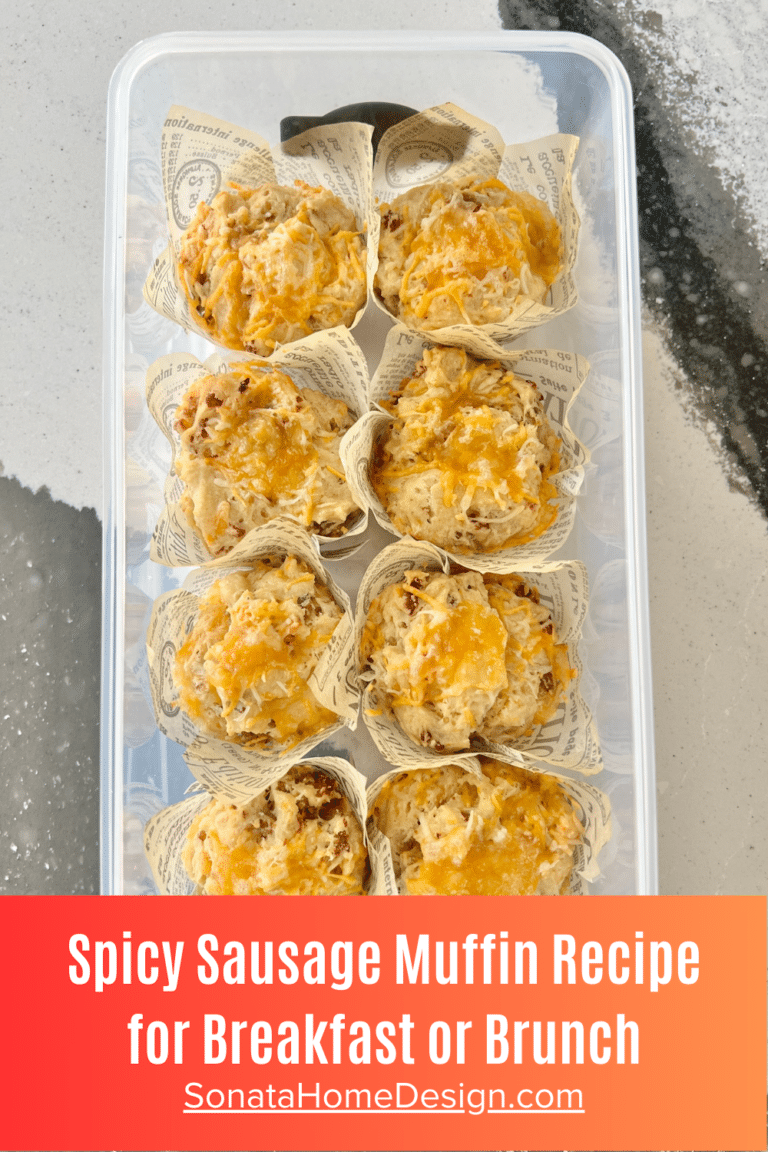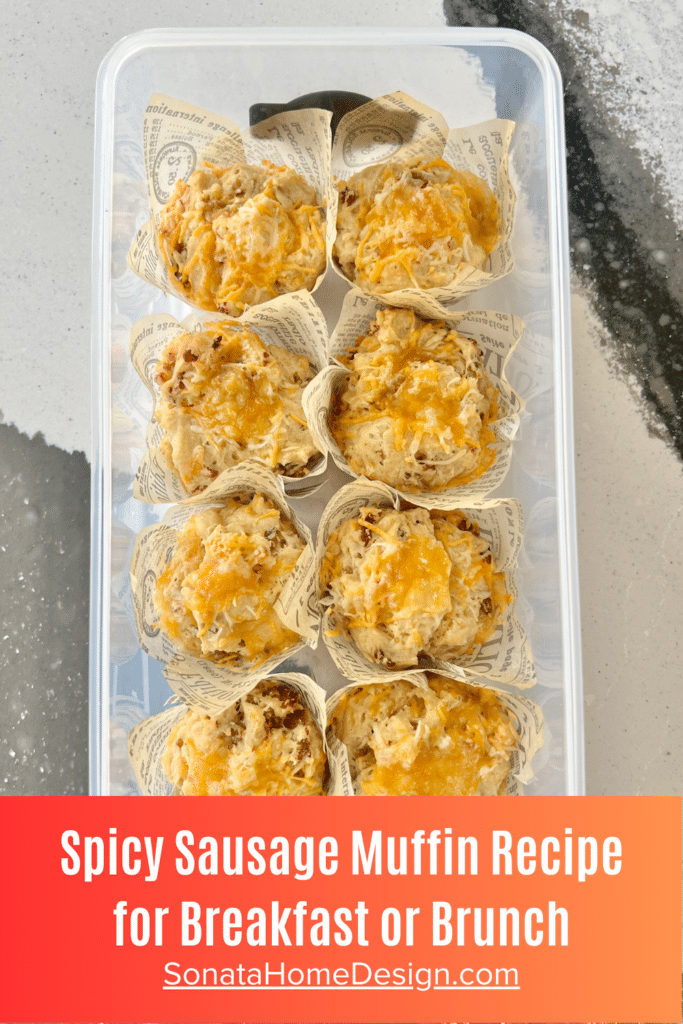 Craving Something Sweet? Try These!