A Simple and Easy Bruschetta Baguette Appetizer Recipe
Jump to Recipe
Are you looking for an elegant appetizer that's sure to impress your guests, but don't want a complicated cooking project? This simple and easy baguette appetizer recipe is the perfect solution. It only takes five minutes of prep time and can easily be made ahead of time, making it so convenient for busy hosts and hostesses.
Crispy on the outside with just a hint of garlic, your guests will love this flavorful treat. Plus, it is a great way to add a gorgeous presentation to any dinner plate or buffet! Read on to learn how you can make delicious baguette appetizers right at home in no time.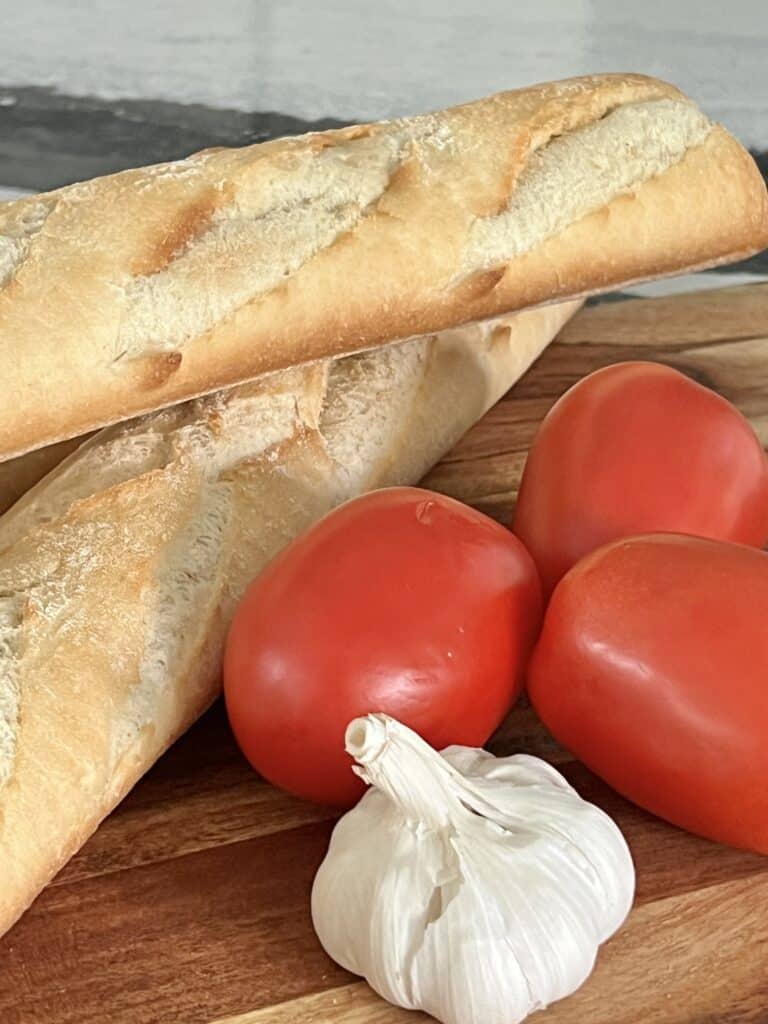 This blog contains affiliate links. This means a small commission is earned if you make a purchase by using this link. The price you pay will be the same whether you use the affiliate link or go directly to the vendor's website using a non-affiliate link.
One of the great things about retiring from teaching is that I have a little more time on my hands. At least, it is time that I have control over!
Volunteering is much more possible now than when teaching full time!
As a member of the UNL Friends of Opera, I volunteered to be in charge of food for the "Spring Soiree". It was my first time volunteering for this particular task so I really wanted to do a good job!
To plan for the event, I set about organizing a combination of sweet and savory treats for patrons to eat prior to hearing the beautiful singing of UNL's opera scenes class.
The initial estimated number of people to attend was initially around 50. And then it grew to 120!
So I needed simple yet delicious appetizers for the party.
I turned to my sister, an amazing cook who is excellent at planning menus for parties. She immediately gave me her roast beef and tomato bruschetta baguette appetizer recipe.
Perfect! (Thanks, Sis!)
This easy appetizer is a classic bruschetta with just the right bite of a crisp, tangy flavor combination!
How are Baguettes Traditionally Eaten?
There's nothing quite like a fresh French baguette, crispy on the outside and soft on the inside!
But have you ever stopped to think about how the French traditionally eat their beloved bread?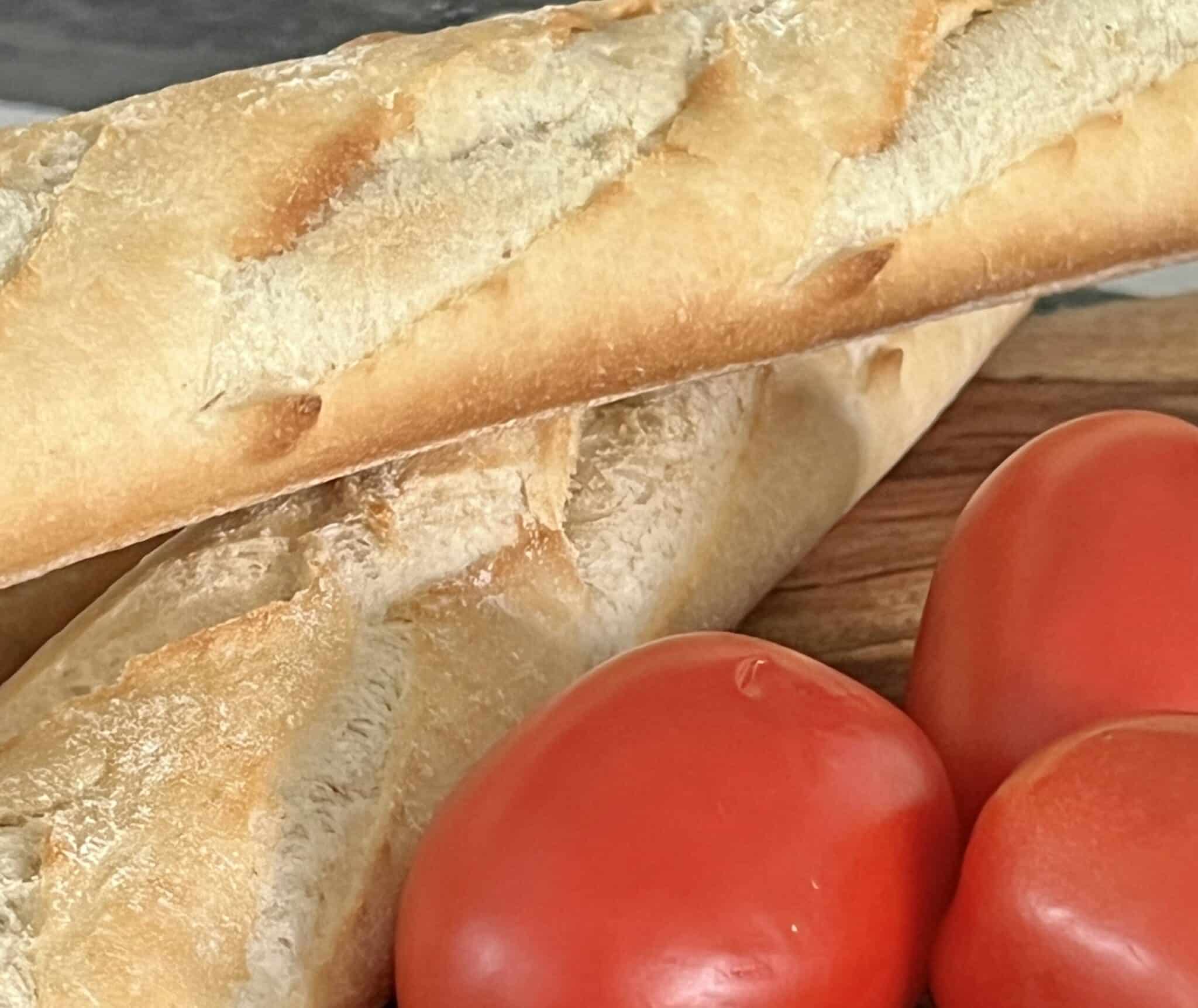 The answer may surprise you!
While we often think of baguettes as a vehicle for sandwiches, in France, they are typically served at the beginning of a meal as an appetizer. Perfectly complemented by soft butter or a cheese spread, a baguette is a delicious way to kick off any meal or snack.
I was so lucky to spend a week in France with my sister years ago. We ate delicious french bread every morning for breakfast. Oo la la delicious!
​
Making this Bruschetta Baguette Recipe
This simple recipe is the perfect finger food and one of the best ways to serve a tasty appetizer.
While I made this in a large quantities for my gathering, the assembly is pretty much the same for small quantities.
The perfect base for this appetizer is the beloved French bread baguette.
Start by cutting the baguette with a serrated knife into ½" slices and laying them in a single layer on a large baking sheet. You can get lots of slices out of just one baguette!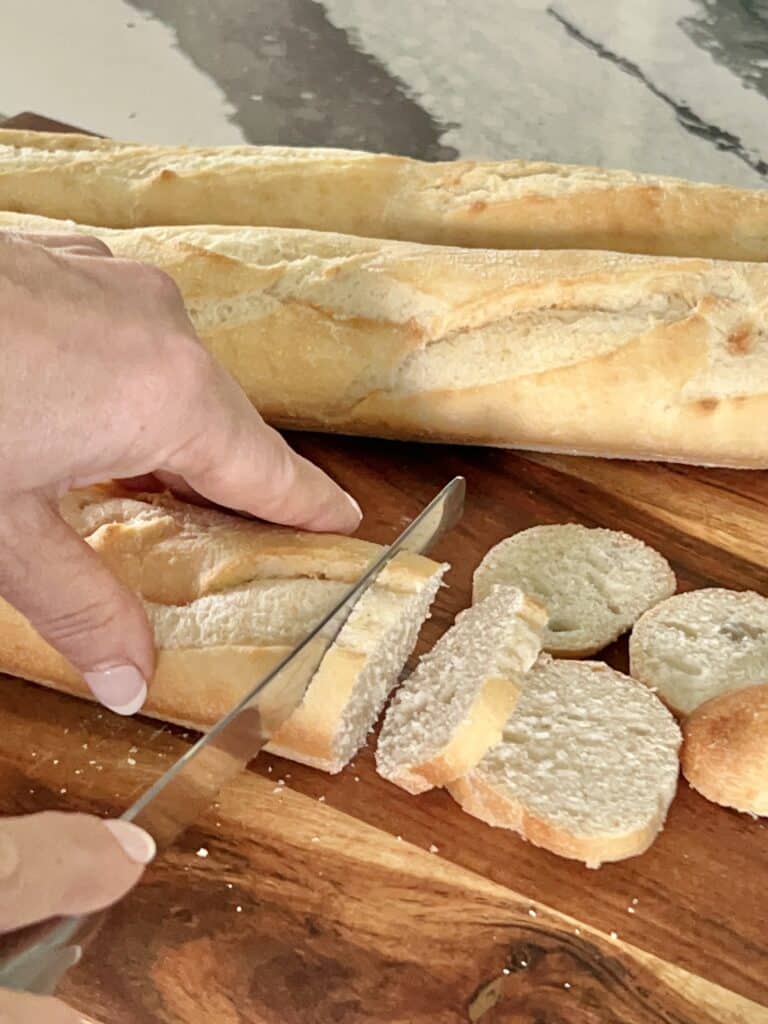 After toasting the baguette slices in the oven to a beautiful golden brown, a quick brush of a little olive oil and a swiping rub with a garlic clove gives the bread a delightful taste and smell!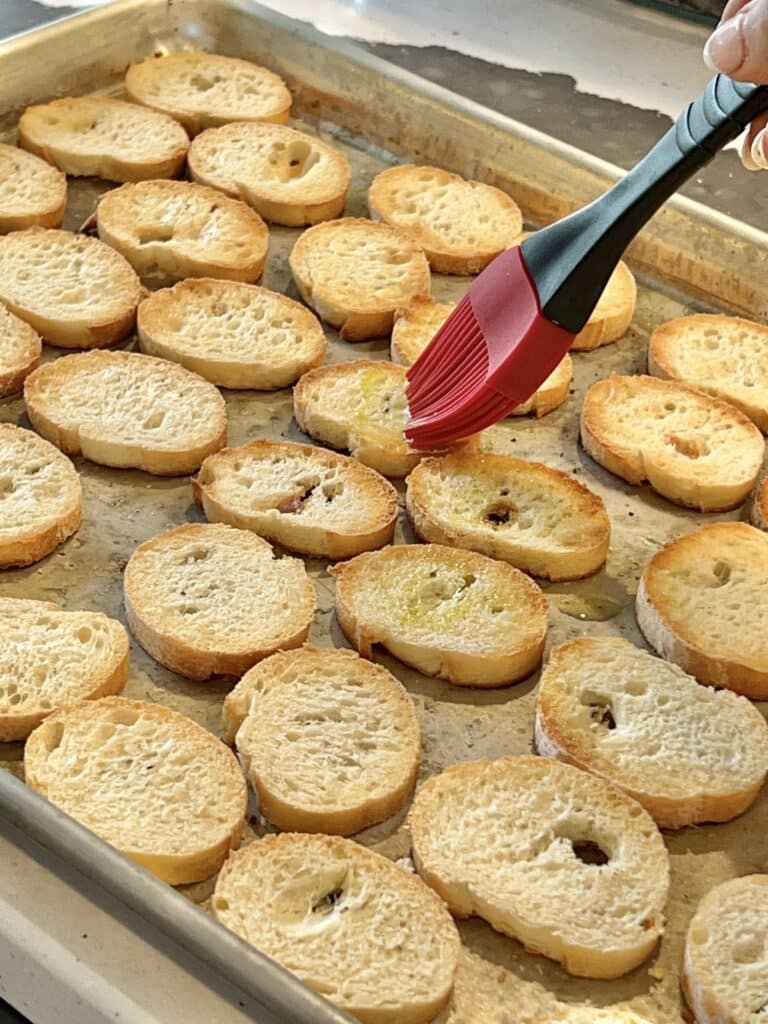 Whipping the cream cheese is a nice little trick to make it creamy and spreadable on the little toasts.
Adding a little garlic salt brings another layer of flavor to the appetizer.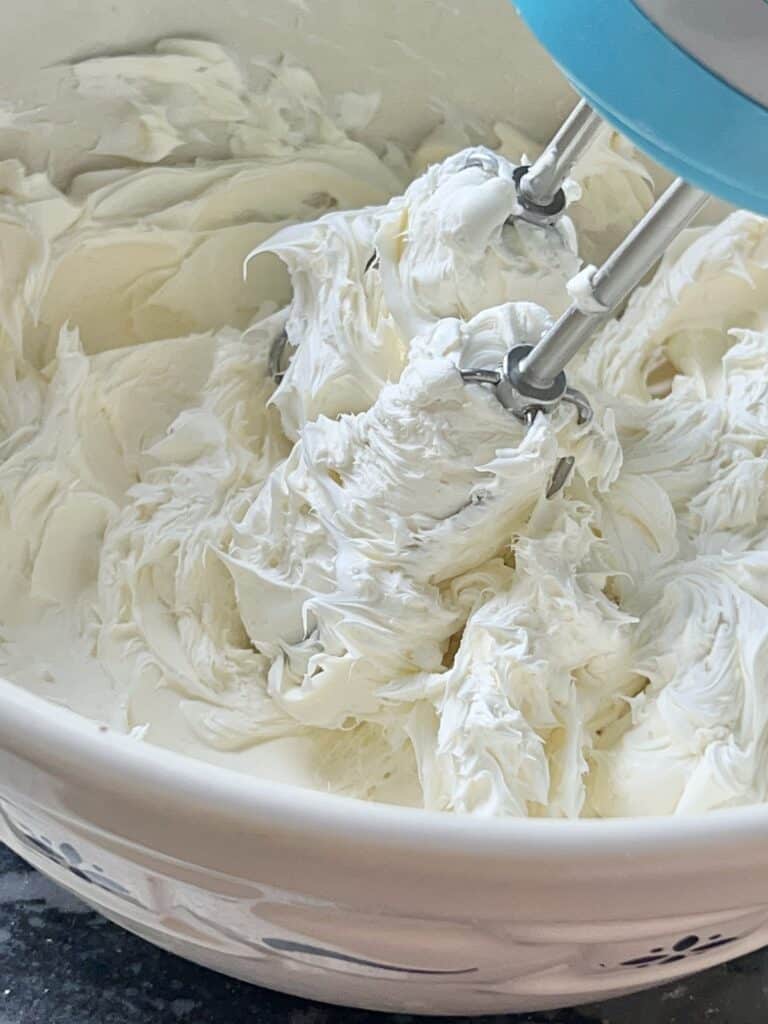 I think it is easiest to put this together in an "assembly line" fashion.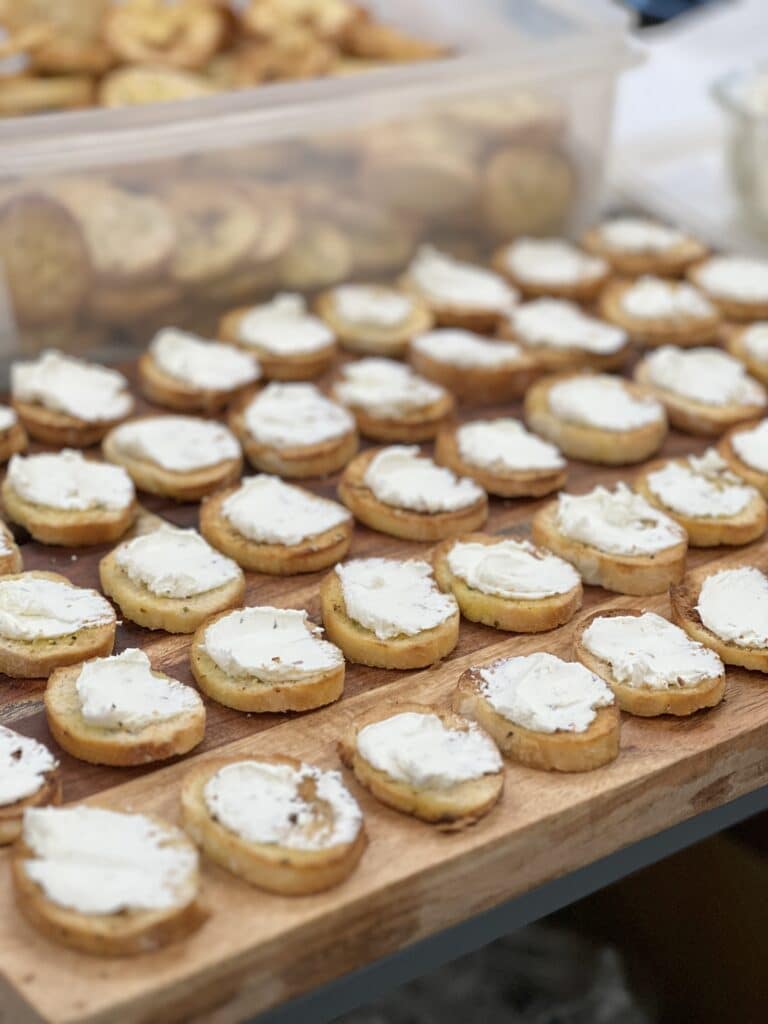 First some thinly sliced roast beef, then some thinly sliced fresh tomatoes (I prefer Roma tomatoes), and last..a little bit of dill weed.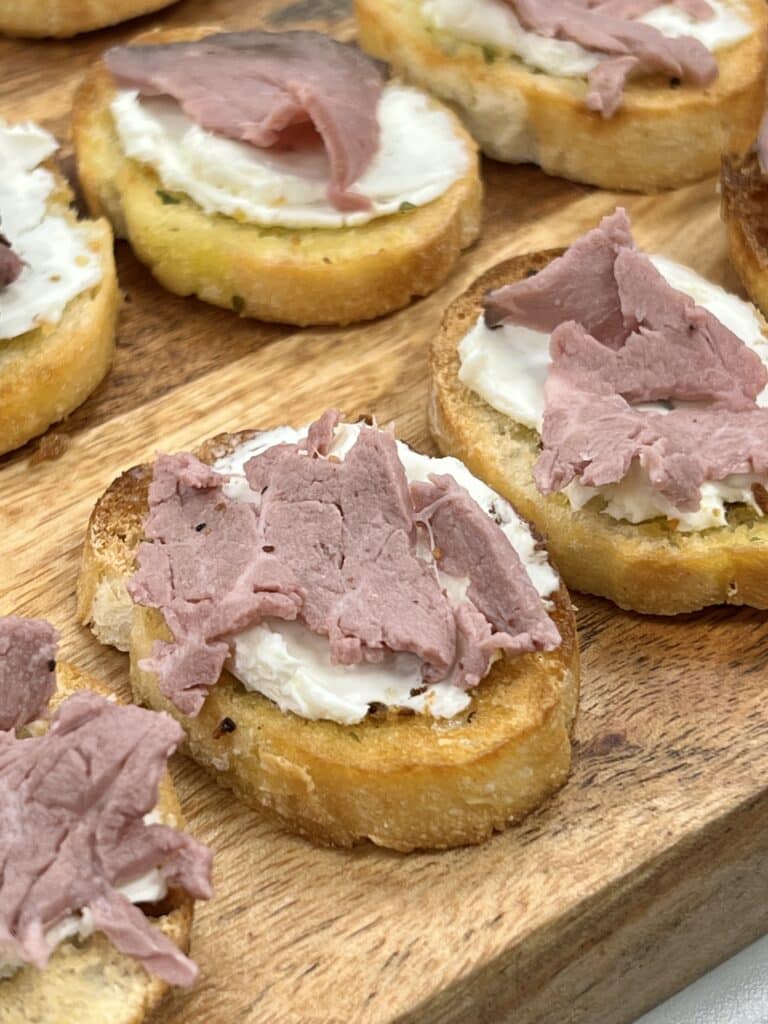 Serve these delicious savory toast bites at room temperature.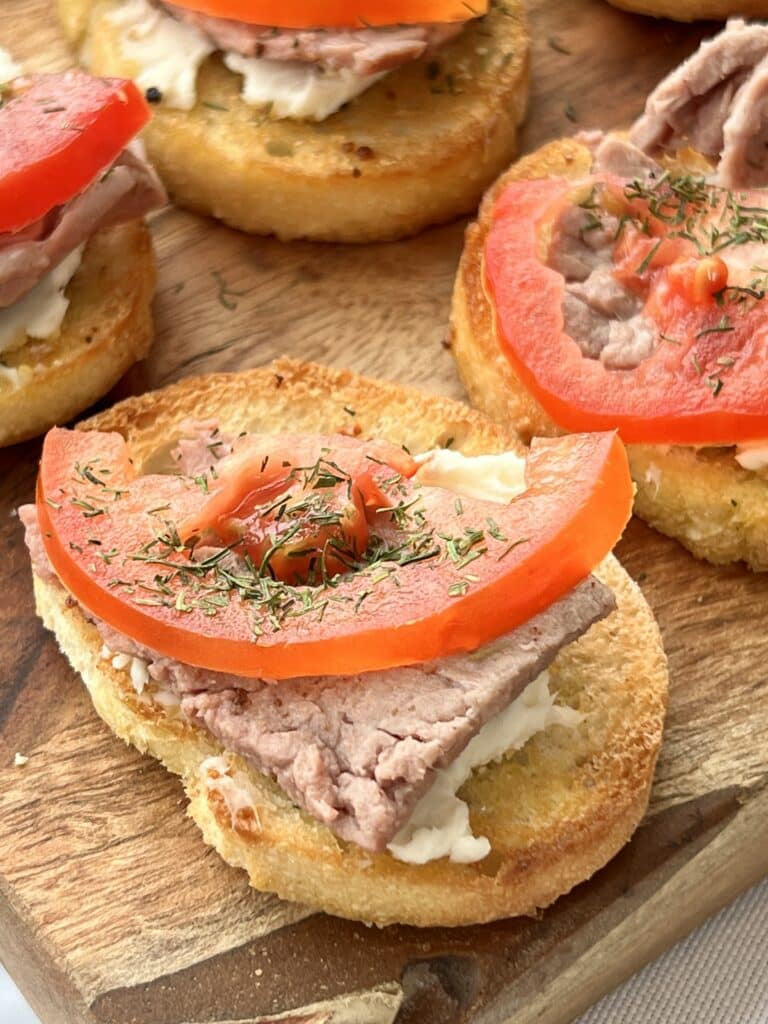 How to Keep Bruschetta from Getting Soggy
If there's one thing that can ruin a delicious baguette appetizer recipe, it's soggy bread!
When it comes to bruschetta, you want to keep that bread nice and crispy. The key to achieving the perfect texture is all in the preparation.
Let's face it, the tomatoes are the culprit!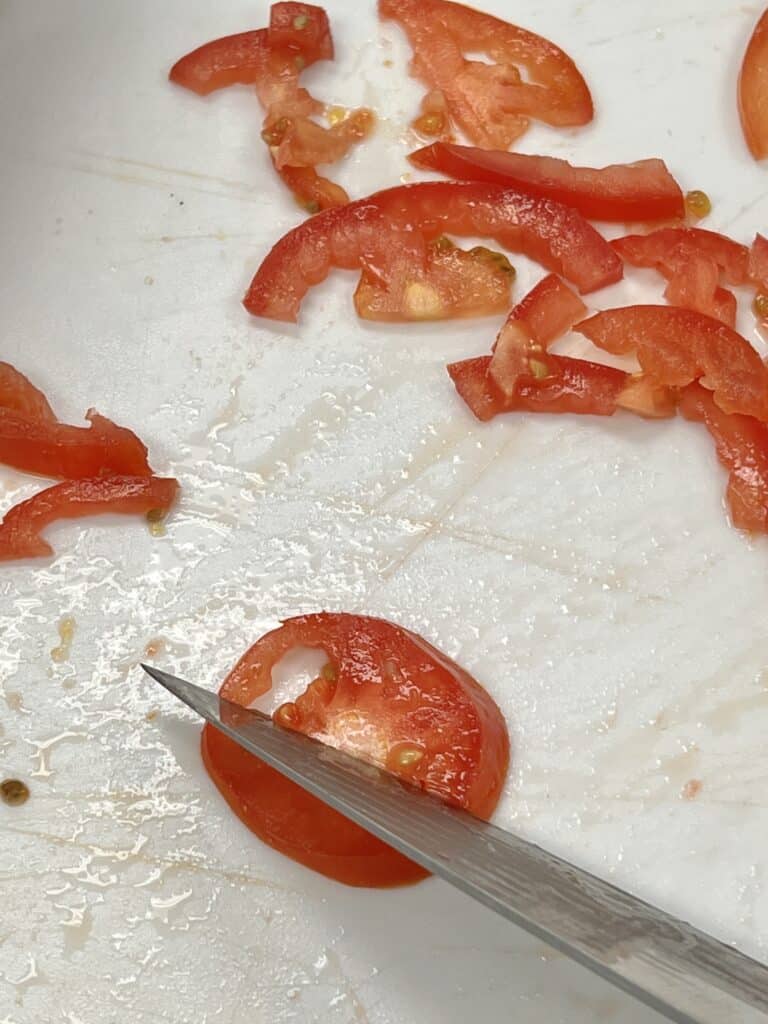 Just make sure your tomato slices are properly drained to get rid of excess moisture.
And by spreading a layer of cream cheese on top before adding the other ingredients, you create a barrier between the bread and the moisture, helping to keep it crunchy and delicious.
Also, if you need to store these for any length of time, it is best to store them in anb airtight container.
With these tips, you'll be able to enjoy a plate of delicious, crisp bruschetta every time.
What is the Difference Between Bruschetta and Crostini?
If you're a foodie, you've likely enjoyed a slice of bruschetta or crostini at an Italian restaurant or DIY-ed these classic bites at a party. But do you know the difference between the two?
It's all about the bread. Bruschetta is made with grilled, hearty bread — usually a baguette — that's rubbed with garlic and drizzled with olive oil. The toppings are typically chopped tomatoes, garlic, and basil, along with a splash of balsamic vinegar.
Meanwhile, crostini toasts utilize smaller, more delicate slices of toasted bread, usually from a baguette, topped with a variety of toppings, from cheeses and meats to veggies and spreads.
Whether you prefer the rustic, garlic-infused crunch of bruschetta or the endless topping possibilities offered by crostini, both options make for a delicious appetizer recipe to impress your guests.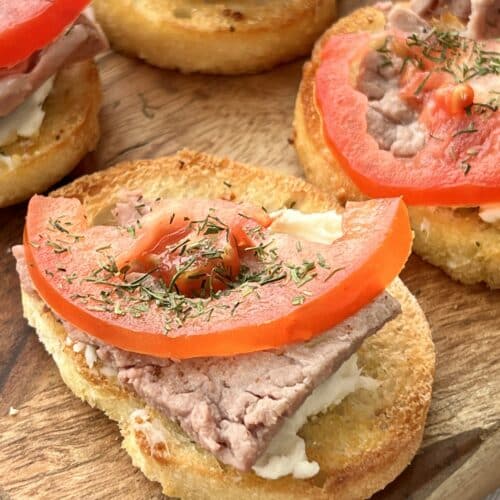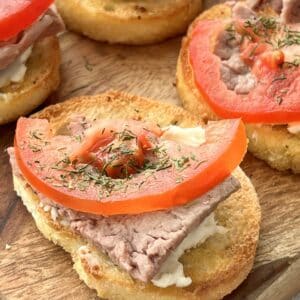 Roast Beef and Tomato Bruschetta Baguette Appetizer
Roast beef tomato bruschetta is a mouthwatering appetizer that will leave your guests begging for more. This recipe features juicy tomatoes, savory roast beef, and a crispy baguette that's perfect for any occasion.
Equipment
1 Serrated Knife

1 Baking Sheet

1 Mixer

1 Spreading knife
Ingredients
1

bread baguette

1/4

cup

olive oil

1

clove

garlic

8

ounces

cream cheese

1

tbsp

garlic salt

2-3

roma tomatoes, thinly sliced

1/4

lb

roast beef, thinly sliced

1

Tbsp.

dill weed, roughly chopped
Instructions
Slice the bread baguette into slices 1/2" thick with a serrated knife.

Lay the bread slices out on a baking sheet and broil till brown. Turn the slices over and broil on the other side till golden brown.

Remove from the oven and brush with a light coat of olive oil on each baguette slice.

Cut a clove of garlic in half and swipe across the top of each bread slice.

Beat the cream cheese with a handmixer. Add the garlic salt and beat until mixed.

Spread the cream cheese mixture on to the bread slices.

Layer one slice of tomato and one slice of roast beef.

Top with a sprinkling of dill weed.

Serve at room temperature as a delicious appetizer!
What Else Tastes Good on a Baguette?
When it comes to appetizers, there's something so satisfying about serving up a freshly baked baguette with an array of flavorful dips and spreads.
But why stop there?
There are plenty of other delicious accompaniments that you can serve alongside your baguette to really take your appetizer game to the next level. Try one or all of these appetizer ideas!
Creamy goat cheese and fig spread,
Sliced meats and cheeses along with some olives and pickles
Cheesy spinach and artichoke dip
Homemade hummus or guacamole dip.
Avocado with shrimp or lump crab meat
Apple slices, green onion, and brie cheese
Asparagus tips, gorgonzola cheese, and sea salt
​Party Time!
The Friends of Opera event went beautifully! The students performed scenes from ten different operas with amazing talent, prowess, and sensitivity. I love being a part of Friends of Opera!
Having some savory nibbles prior to the singing helped to "set the stage" with some tasty treats!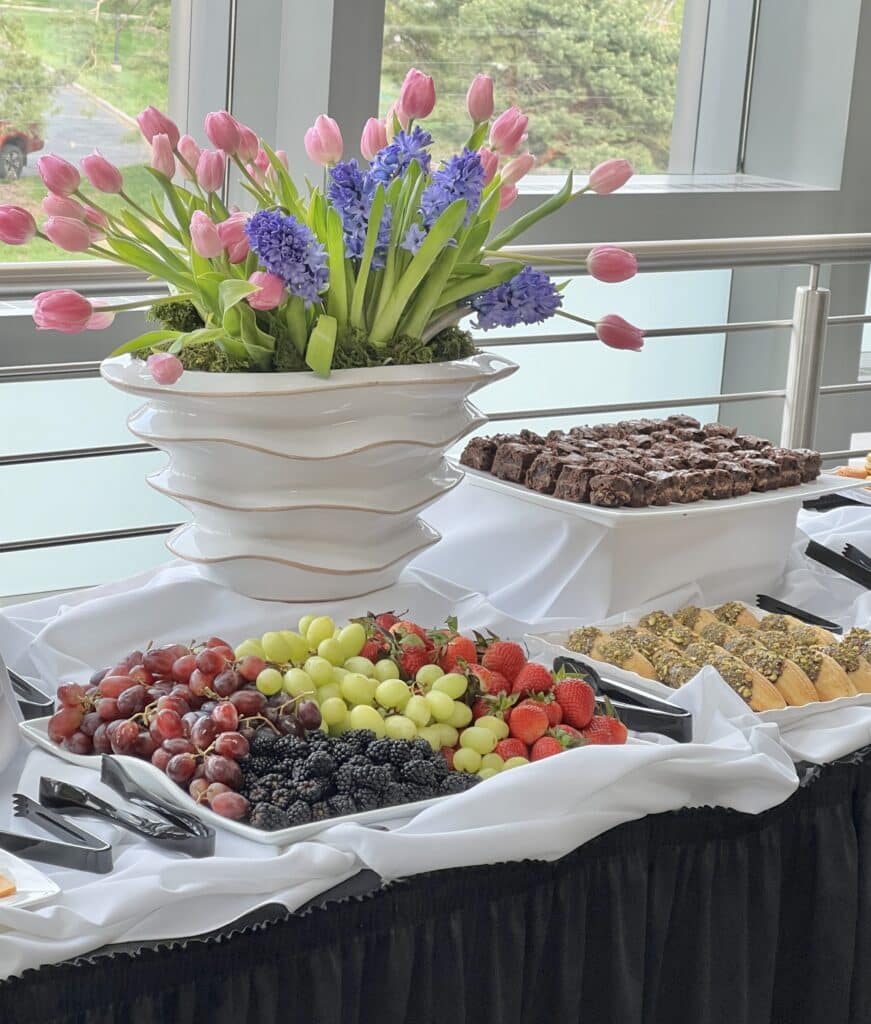 Can I let you in on a secret? Not everything in a buffet needs to be homemade.
In fact, this table is full of little food hacks to help make serving a large group simple and easy.
Taking a trip to Costco and Sam's Club saved immeasurable time in the food preparation.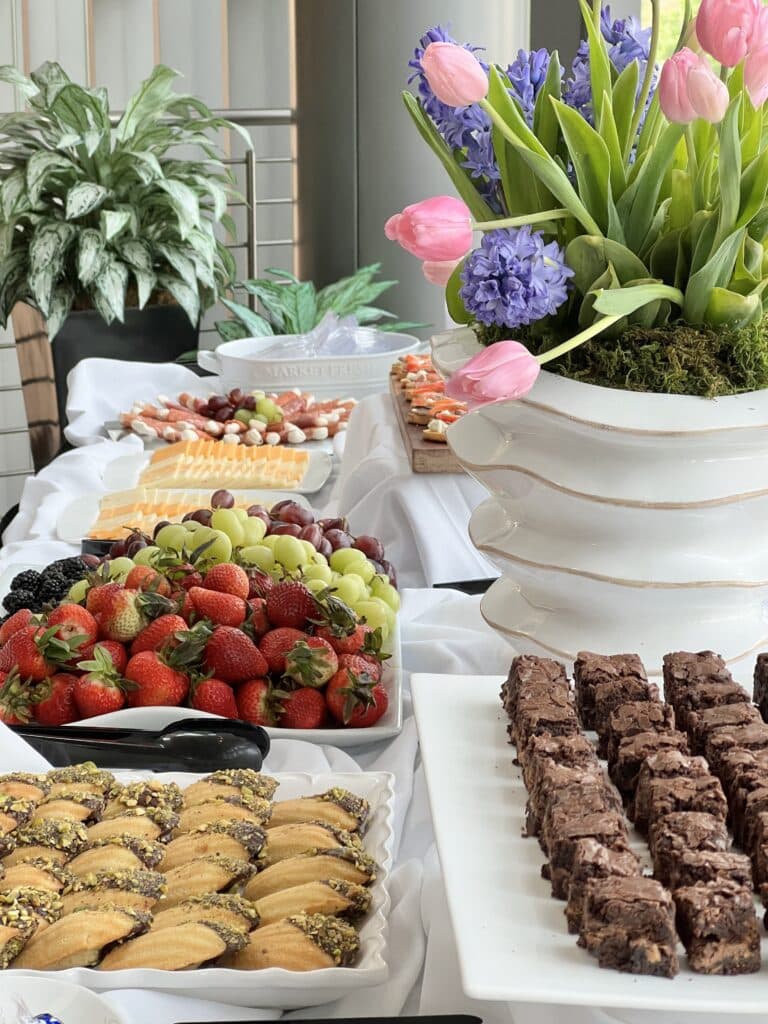 In addition to the baguette appetizer recipe, the menu consisted of the following:
Pastrami wrapped creamy mozzarella cheese sticks (Costco)
Various cheese slices and crackers (Sam's Club)
Fresh strawberries, blackberries, and grapes
Symphony Brownie Bites (I cut these into small cube servings for just a taste of rich chocolate and toffee)
Madeleines (purchased at Sam's Club but dipped in chocolate and pistachio nuts at home)
Macarons (Costco) in 6 delicious and colorful flavors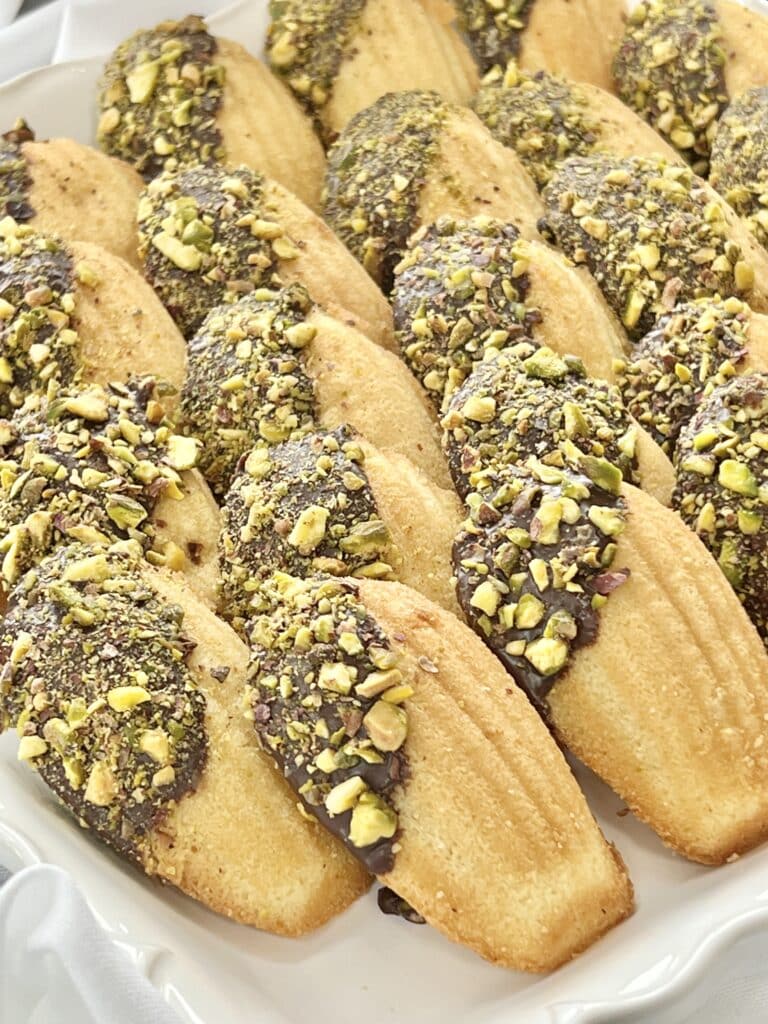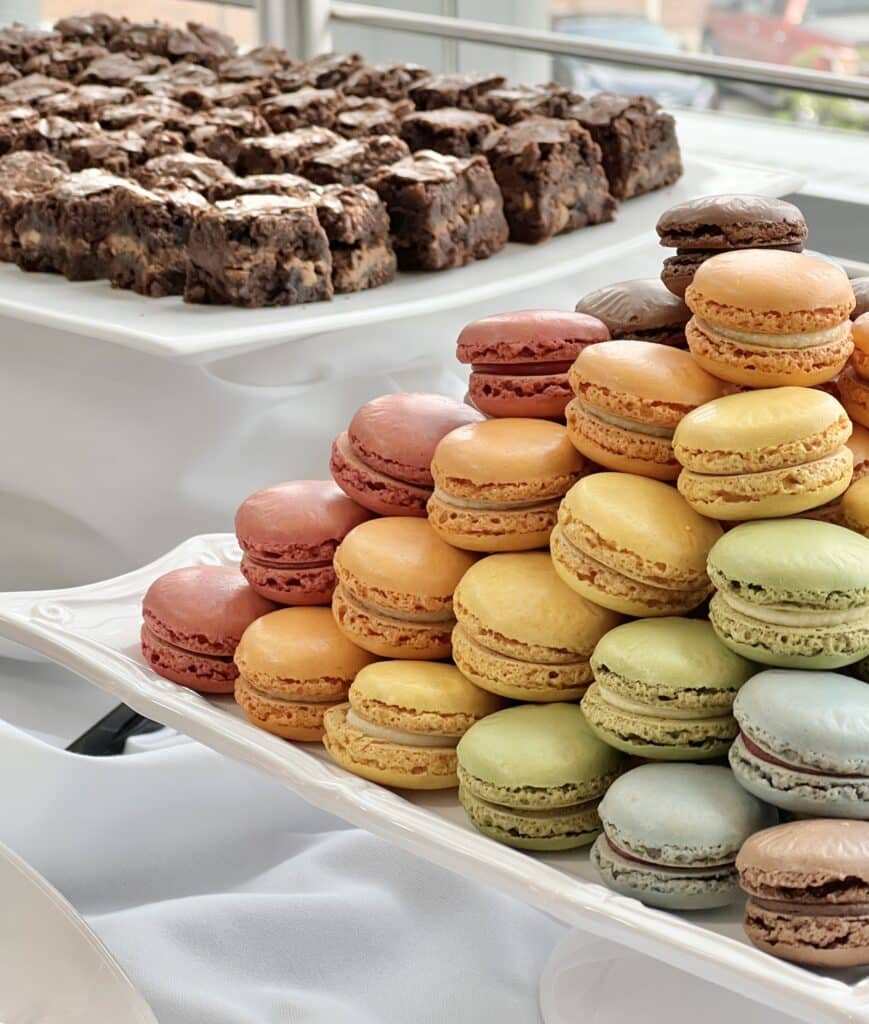 It all looked so pretty and people seemed to love it.
And what did we run out of first?
The bruschetta! The crowd loved them and they were the first thing to go!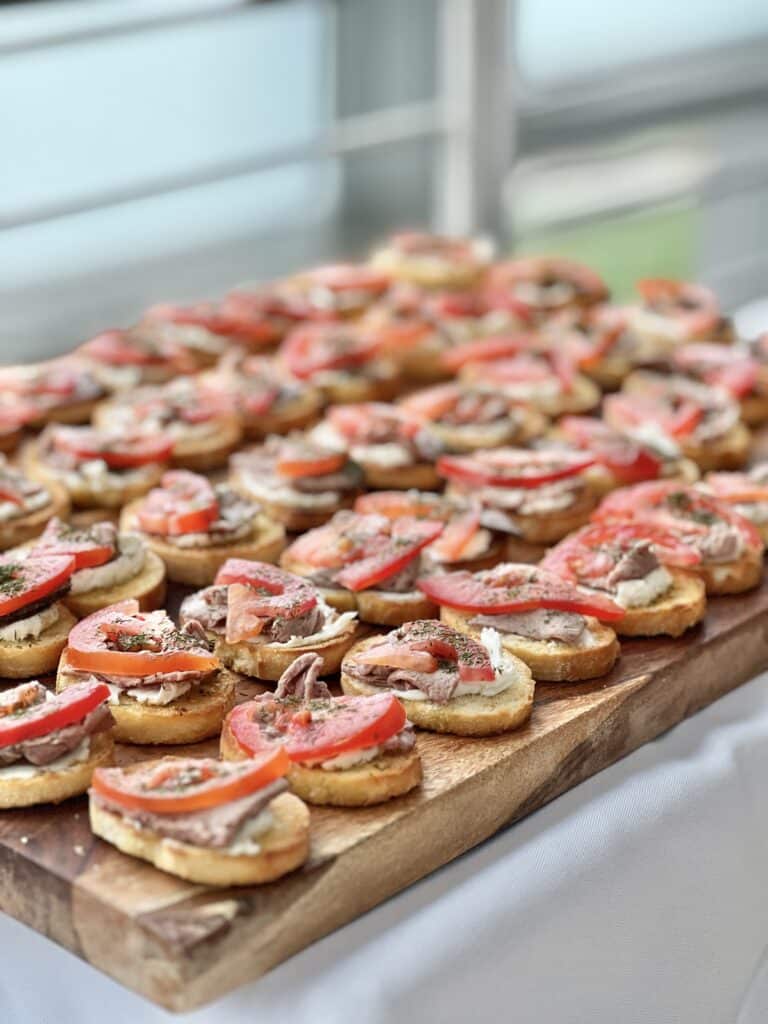 Now you have all the tools you need to make your own savory tiny toasts. The preparation of this simple baguette appetizer recipe is worth every minute because watching your guests devour it is more than rewarding! So go ahead and relish in the flavor explosion of bruschetta.
Serve it for your next party, or just for a quick snack on a lazy night at home. It's an enticing treat that your friends and family will love! Serve this easy and delicious appetizer for a small or large crowd – they'll be sure to love it!
Cheers!

Join Friends of Opera!
If you are a fan of opera, drama, or music ihn general, consider joiningg the Friends of Opera! This organization exists to support the talented and dedicated young vocal artists at the University of Nebraska-Lincoln Glenn Korff School of Music. UNL Opera has received national and international honors in recent years, in part because of the generosity of the membership
Some of the programs supported through donations include:
Direct support to UNL Opera's annual budget
Support for the Amahl and the Night Visitors project, which makes the popular Gian Carlo Menotti Christmas opera available to Lincoln's most needy 5th graders
UNL scholarships for talented high school seniors who participate in the Friends of Opera Vocal Competition
Direct subsidies for special needs, such as guest artists, guest conductors and vocal coaches
Support for the Metropolitan Opera Nebraska District Auditions
Don't Forget to Pin It!
Pin the image below to your boards on Pinterest (just click the Pin button in the top left corner). You can also follow along with me on Pinterest!