Easy Homemade Buster Bar Ice Cream Dessert Recipe
Jump to Recipe
Do you like Dairy Queen Buster Bars? Today, I'm sharing one of my family's favorite desserts with this Buster Bar ice cream dessert recipe! All family members will love this homemade version of one of their favorite treats featuring layers of decadent ice cream, rich chocolate syrup, and salty peanuts.
Perfect for family gatherings and summer parties, it's time to whip up something special for the ice cream lovers of the world!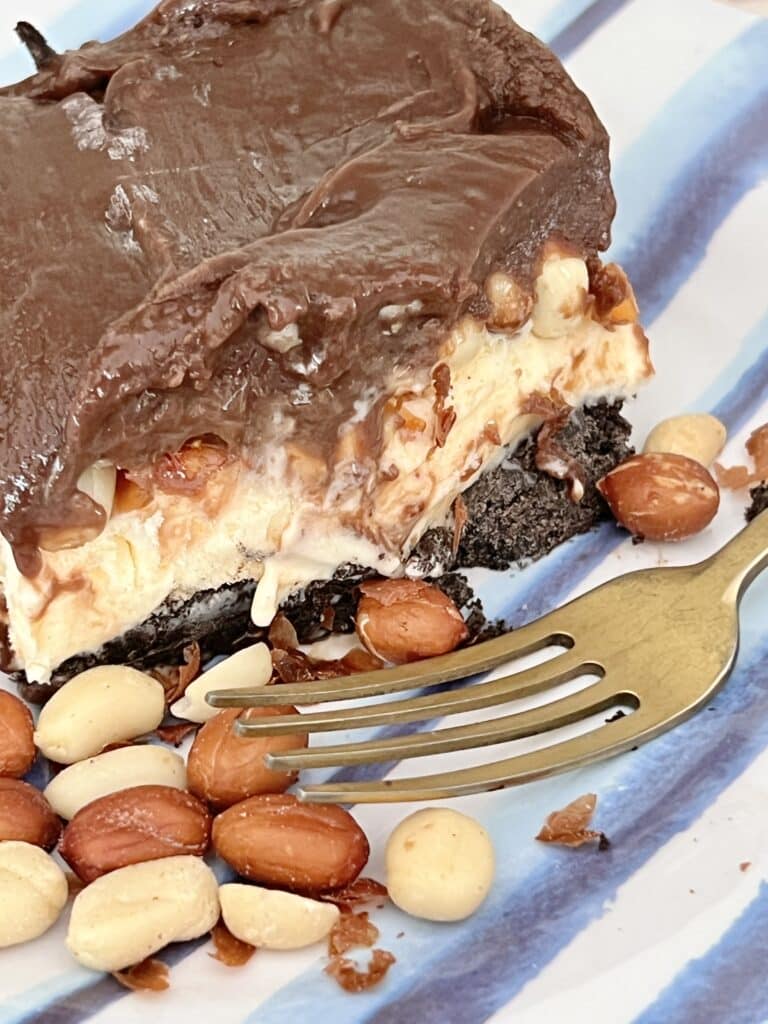 This blog contains affiliate links. This means a small commission is earned if you make a purchase by using this link. The price you pay will be the same whether you use the affiliate link or go directly to the vendor's website using a non-affiliate link.
"It's never too cold for ice cream!"
​I'm not sure who coined this phrase but it totally true!
​Ice cream is a staple in our house just like milk, eggs, and butter!
And whether it is 95 degrees in the summer or 10 degrees below zero in the winter, we love this Buster Bar ice cream dessert. My recipe card for this is so faded from use!
It is the perfect combination of ice cream, a layer of chocolatey fudge, and a yummy, salty peanut layer.
It is like we made Dairy Queen's famous buster bar dessert and put it in a 9 x 13 pan. The only thing missing is the popsicle stick!
I love great recipes that are a perfect ice cream treat for hot summer days!
Buster Bar Recipe Ingredients
Most of the ingredients for Buster Bar are usually already in the pantry.
Butter, powdered sugar, evaporated milk, chocolate chips, and Spanish peanuts…nothing too out of the ordinary.
Except for the Oreo cookies…I can't keep those in the pantry because I eat them!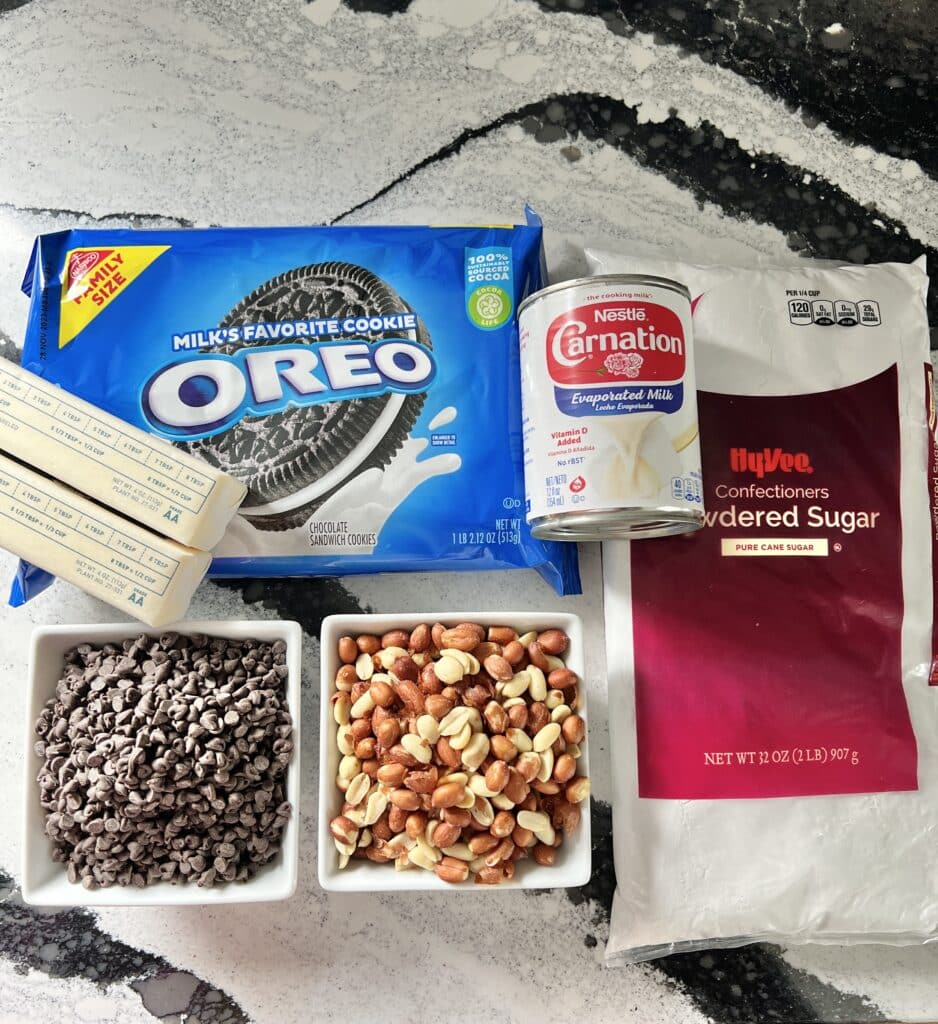 How to Make This Easy Buster Bar Dessert
Start by crushing one of the greatest cookies of all time…Oreos!
I like to use my Ninja food processor but you can also crush the cookies by placing them between sheets of wax paper and rolling over the cookies with a rolling pin.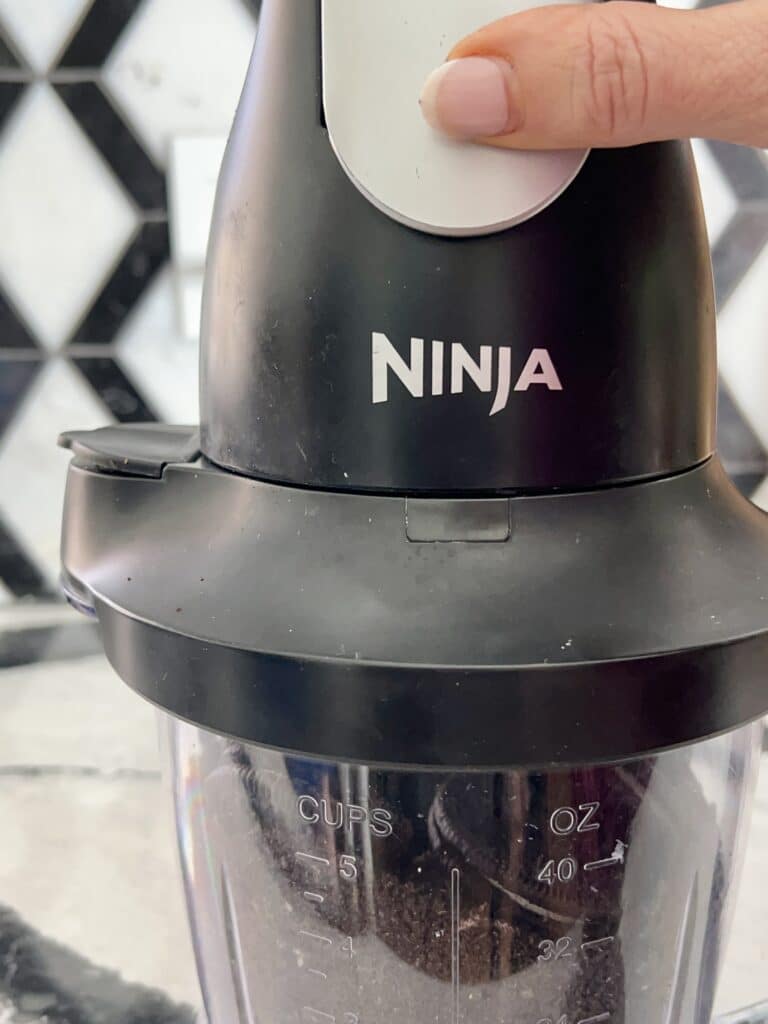 The exact amount of cookies is slightly less than a full box of Oreos. So, while I am crushing fine crumbs with the food processor, I nibble on the "leftover" cookies!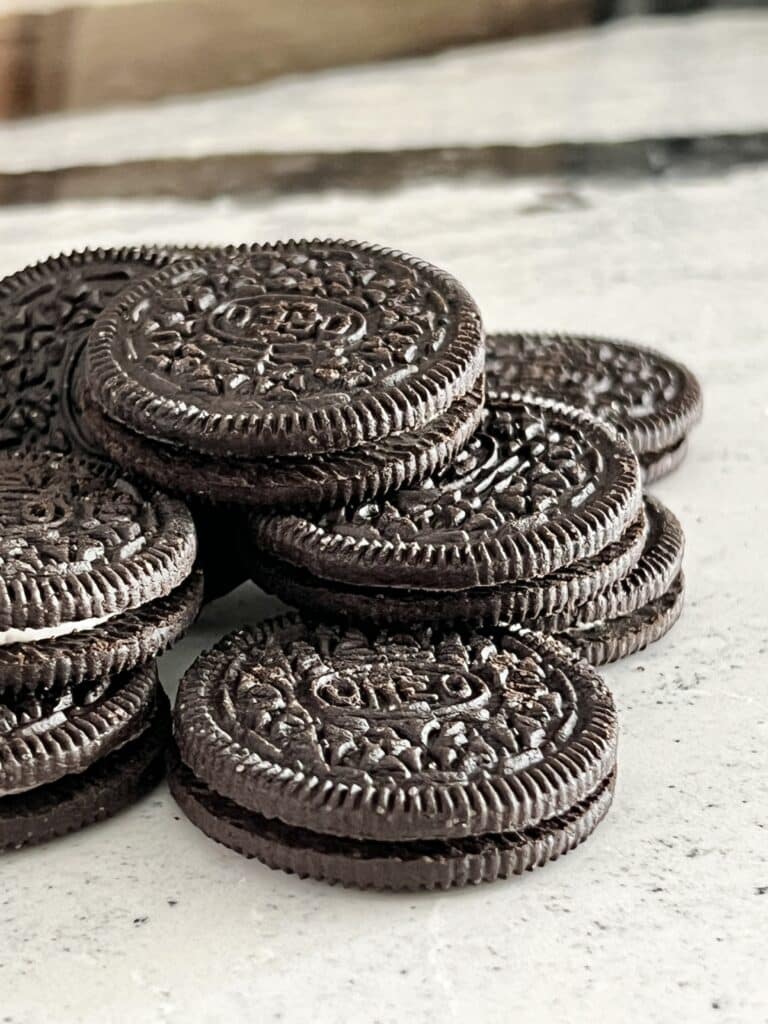 Add melted butter to the cookie crumbs and press into an even layer in the bottom of a 9 x 13 pan.
Next comes the vanilla ice cream layer. Here is a little tip. Use the back of a spoon to spread the cold ice cream around. It works like a charm to get the ice cream smooth, even, and into all of the corners of the baking dish. It's ok if it melts a little as you spread it on…it just makes it easier to spread it out and cover all of the cookie crust.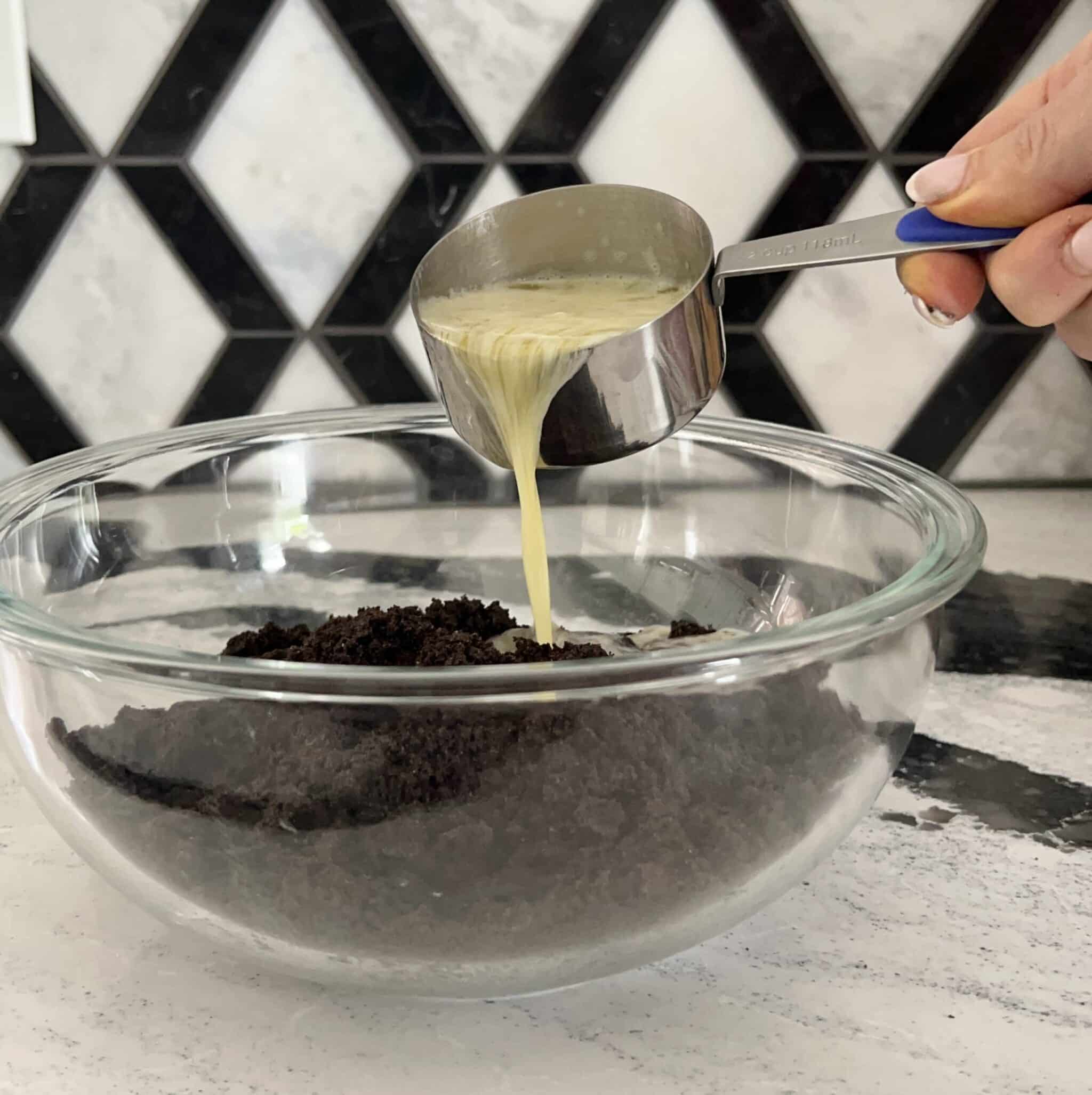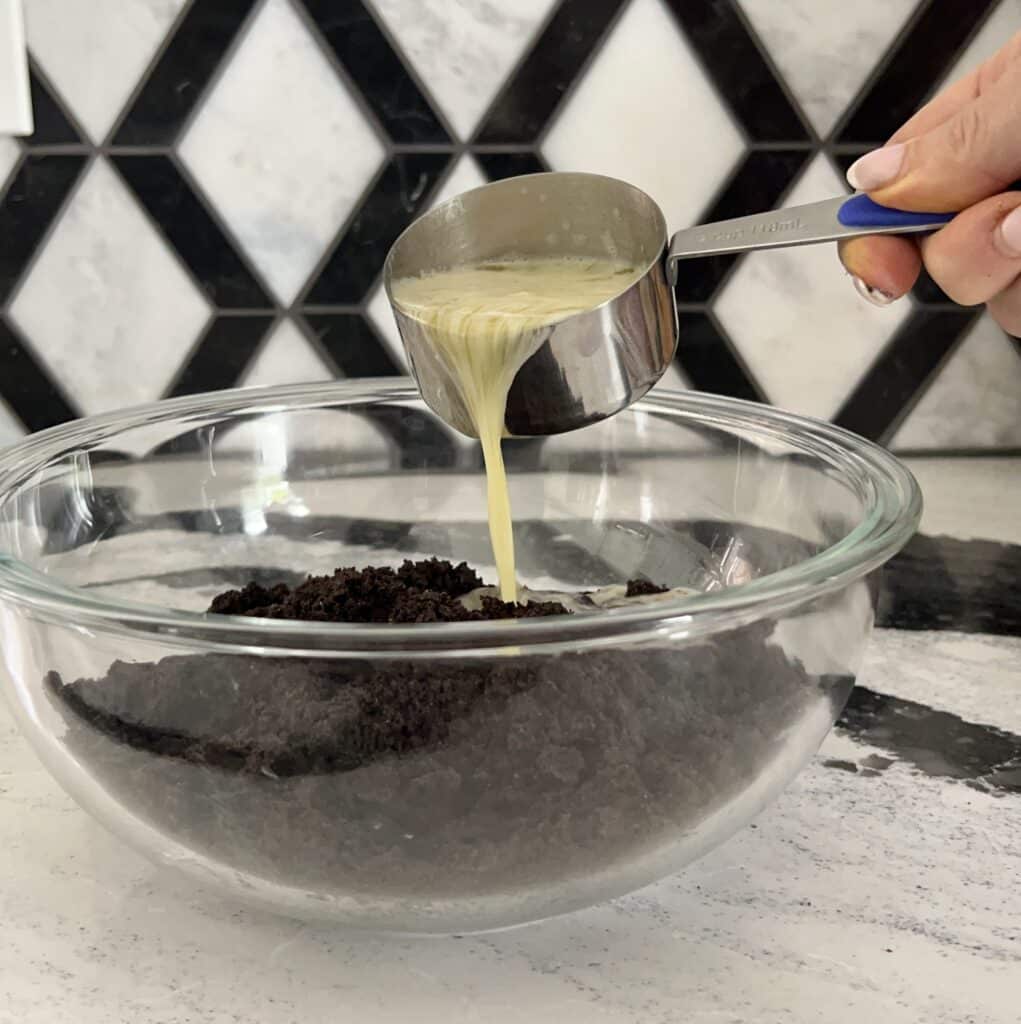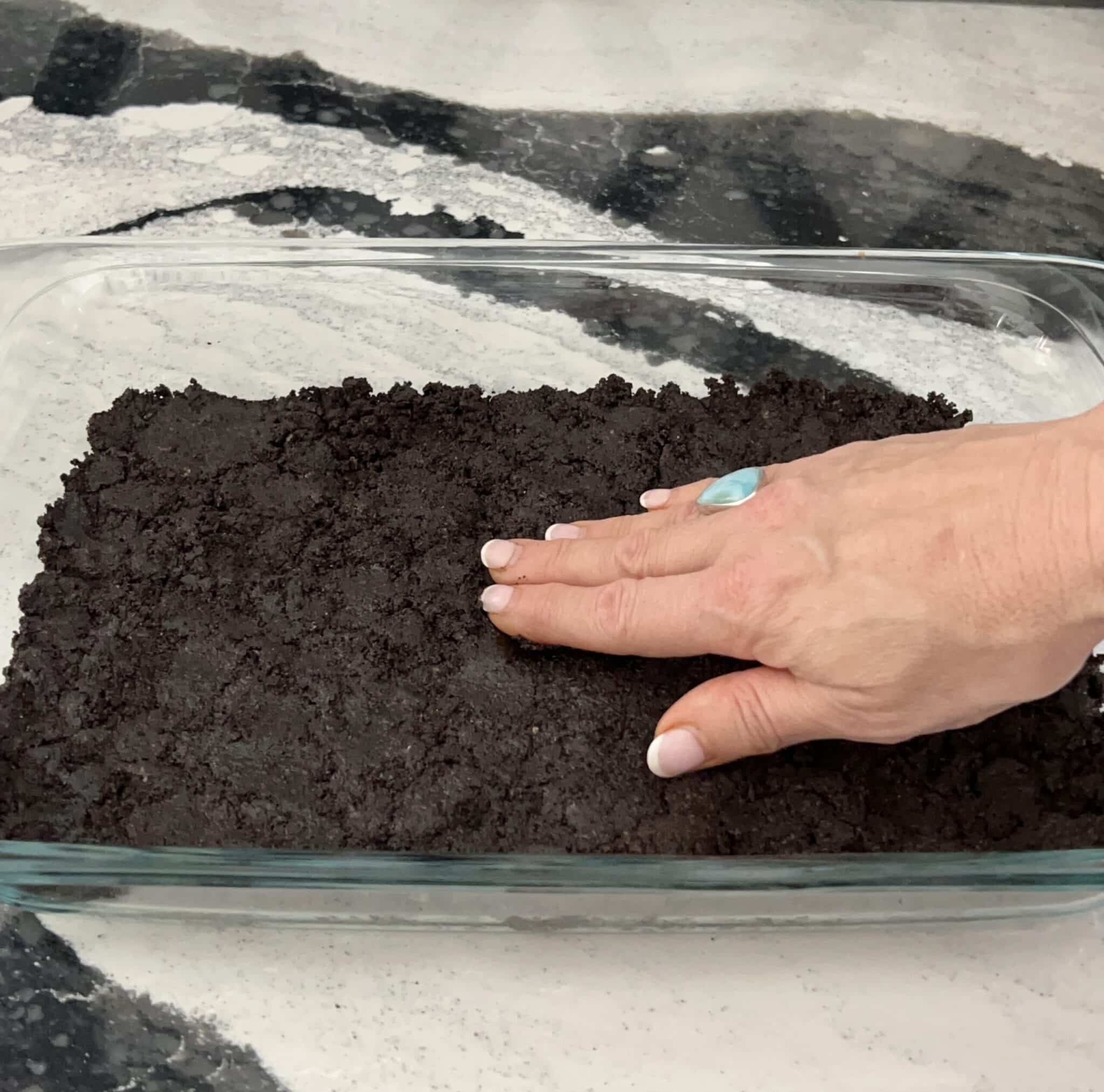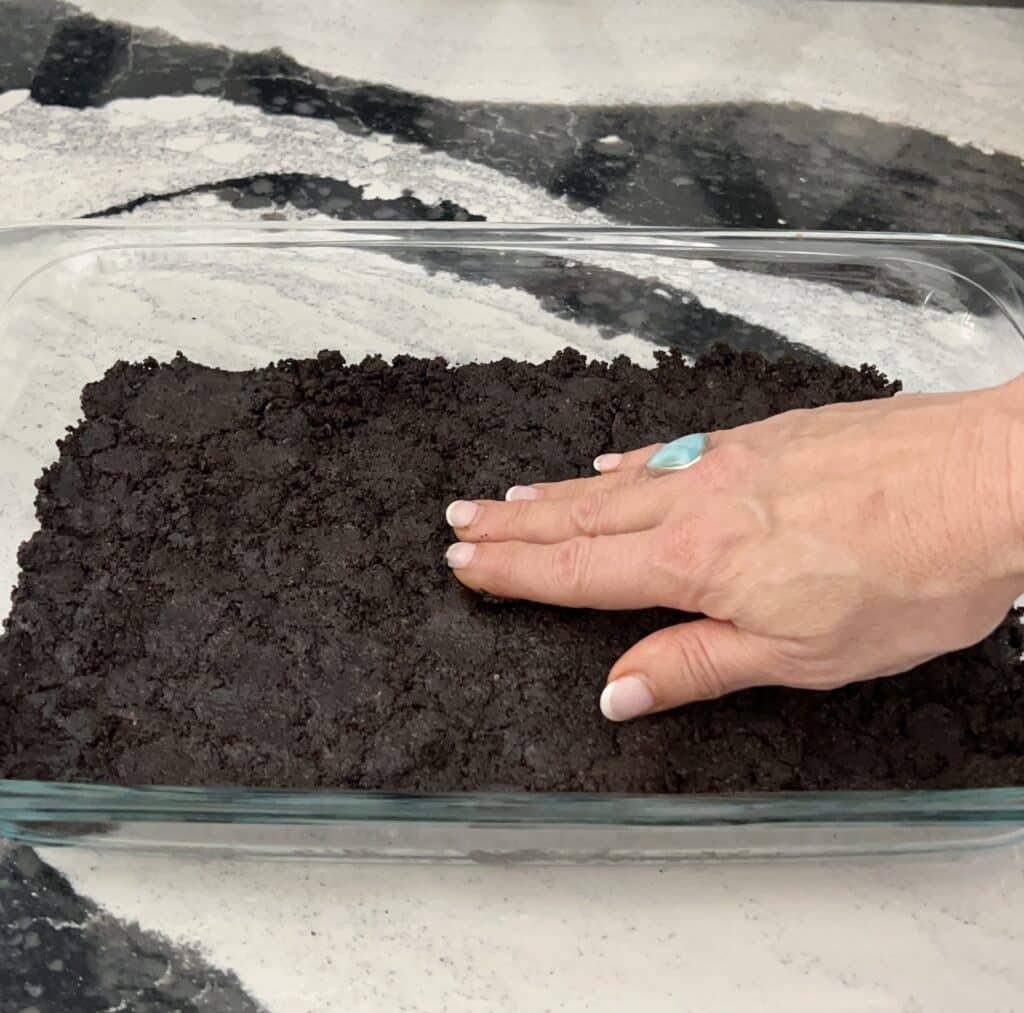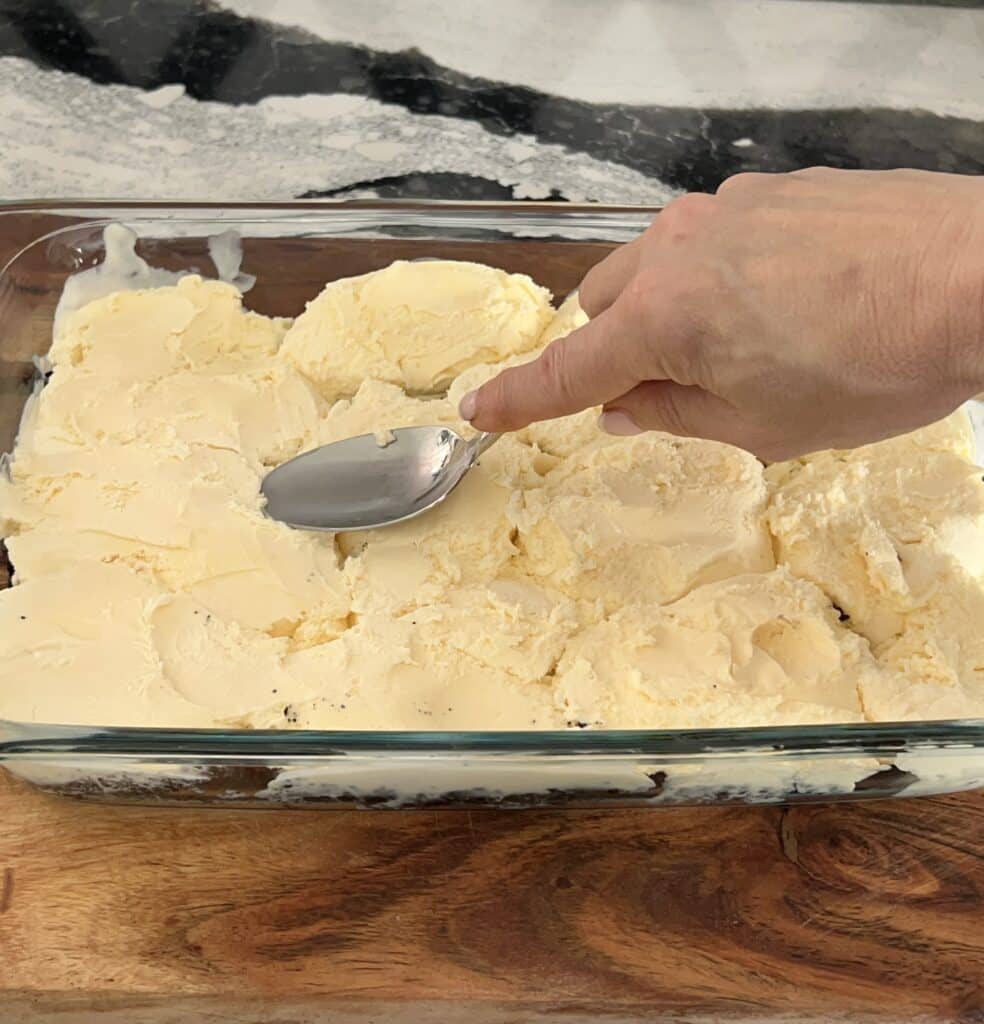 ​Sprinkle peanuts on top of the layer of vanilla ice cream and press them into the ice cream with your hand. Just enough so the peanuts know to "stay put!" Then, into the freezer it goes while you make the chocolate sauce.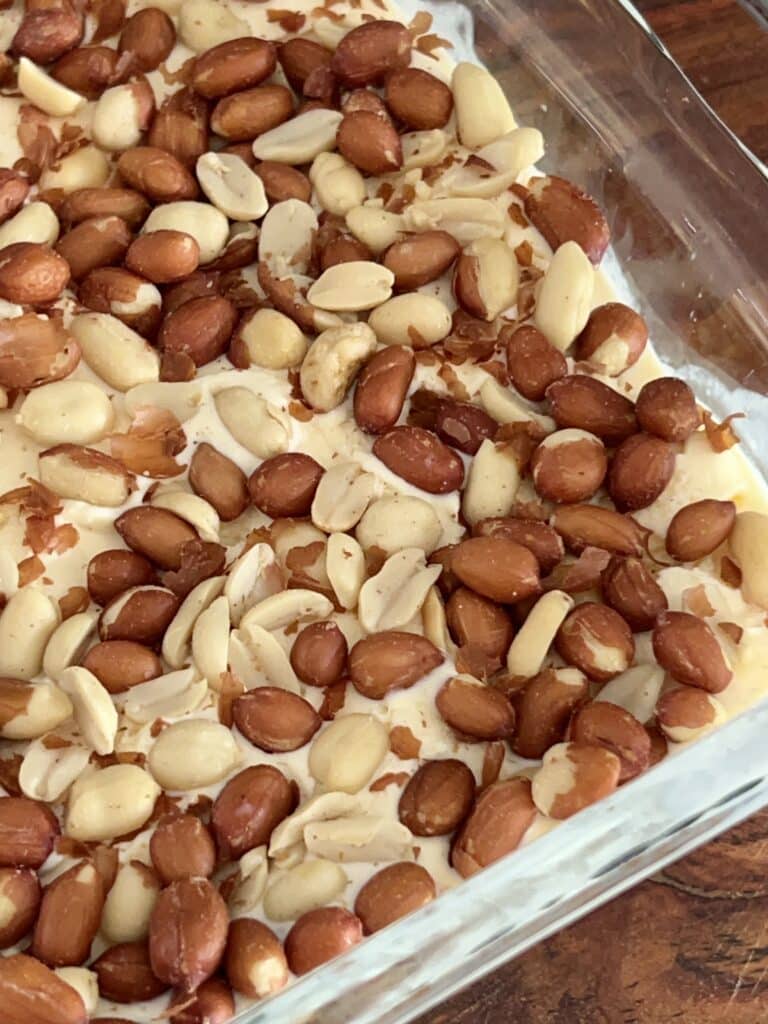 Buster Bar Chocolate Fudge Sauce
The next step is basically creating the yummies hot fudge sauce ever!
Combine the powdered sugar, chocolate chips, evaporated milk, and butter in a saucepan over medium heat. Heat to boiling, stirring constantly, and then lower the temperature to a simmer.
Stir constantly for 10 minutes as it simmers. Just keep stirring!
The sauce will gradually turn into the prettiest, velvety fudge topping. Let this chocolate mixture cool completely.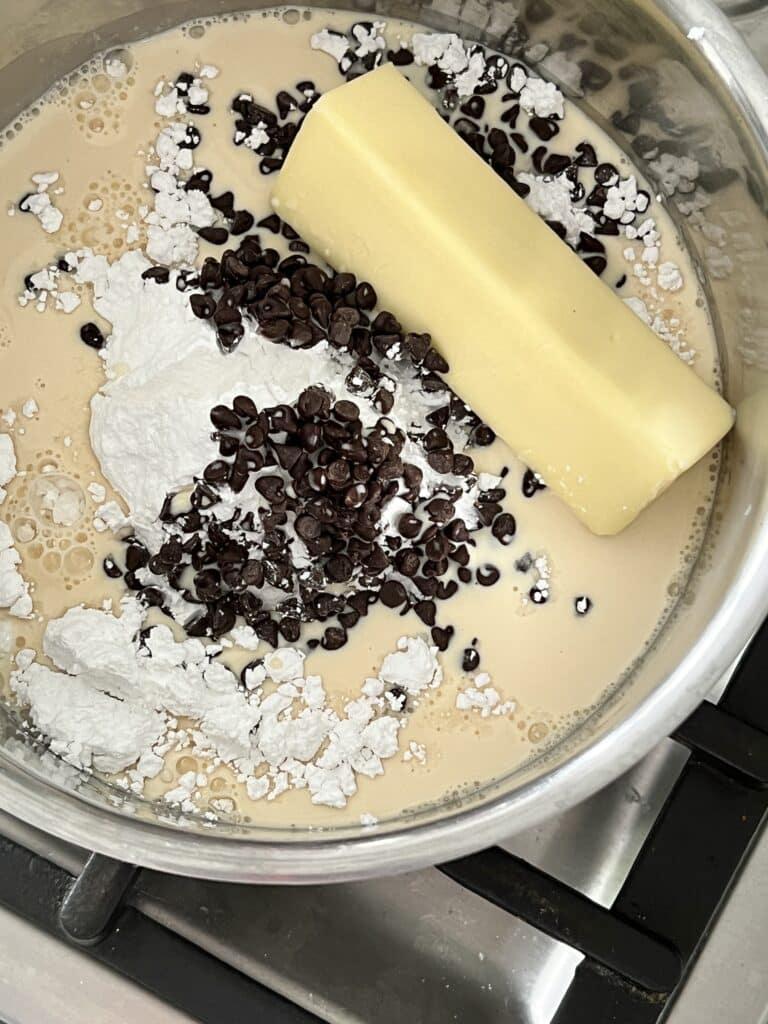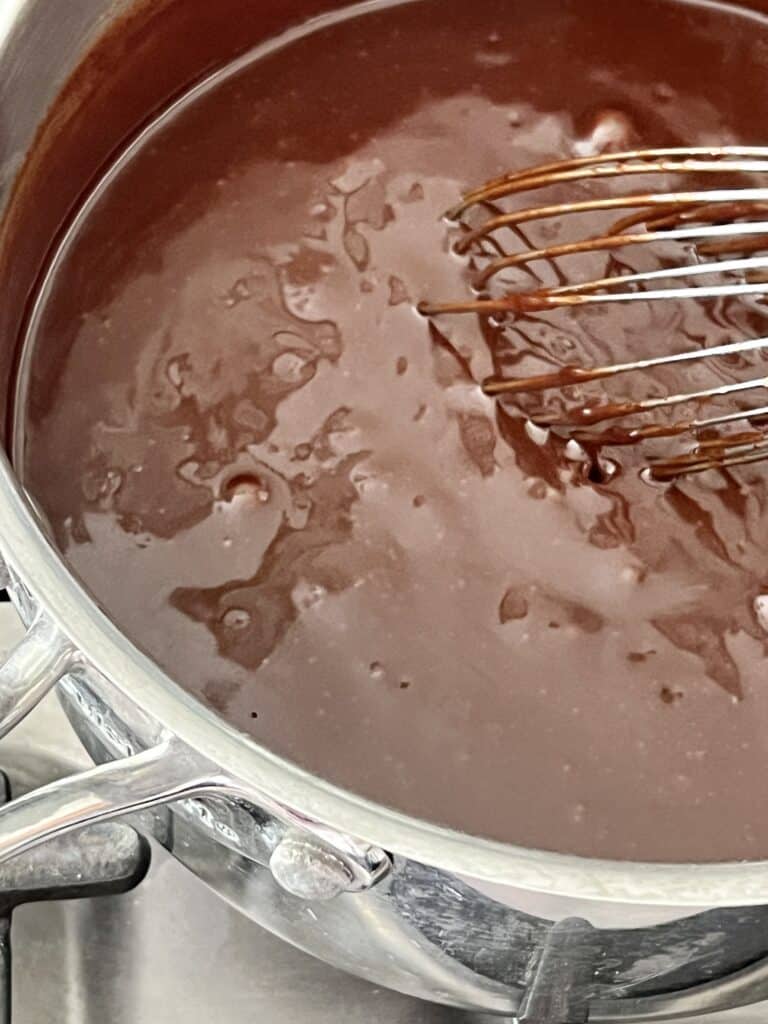 Once the chocolate sauce is cool, pour it over the frozen ice cream and then put it back into the freezer once again for a couple of hours.
When it is time to serve it up, take the dessert out of the freezer and let sit at room temperature for 5-10 minutes. The easiest way to cut this frozen dessert is to wet your knife with a little hot water. Cutting and serving will be a breeze!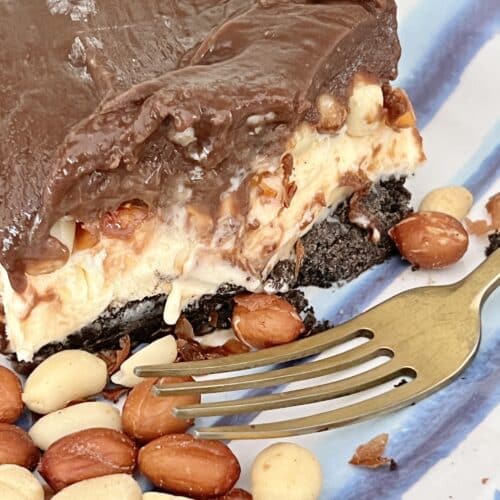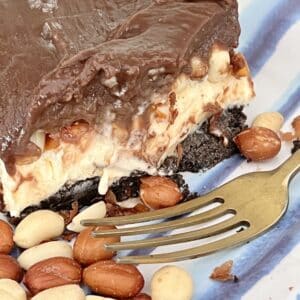 Buster Bar Ice Cream Dessert
This frozen treat is a heavenly combination of creamy vanilla ice cream, a chocolate Oreo crust, creamy vanilla ice cream with peanuts, and a velvety chocolate fudge sauce topping. With each spoonful, you'll experience a delightful blend of textures and flavors that will satisfy your sweet tooth!
Equipment
1 medium bowl

1 9 x 13 pan

1 whisk

1 large saucepan

1 food processor

optional
Ingredients
1

14.3 oz. package

Oreo cookies

crushed

1/2

cup

butter

melted

1/2

gallon

vanilla ice cream

softened

1 1/2

cups

Spanish peanuts

2

cups

Powdered sugar

2/3

cup

semi-sweet chocolate chips

12

ounce can

evaporated milk

1/2

cup

butter
Instructions
Combine the melted butter and crushed cookies in a bowl.

Press the cookie mixture into the bottom of a 9 x 13 pan or dish.

Spread the softened ice cream over the cookie crust. Sprinkle the peanuts on top and place the pan in the freezer while you make the chocolate topping.

With a whisk, combine the powdered sugar, chocolate chips, evaporated milk, and butter in a large saucepan over medium heat. Stir until the chocolate chips melt. Bring to a boil, stirring constantly.

Turn the heat down and let simmer for 10 minutes, stirring constantly. Let the sauce cool completely.

Pour and spread the chocolate topping over the frozen ice cream. Freeze until firm.

Remove from the freezer 5-10 minutes before serving.
​Where Can I Serve this Buster Bar Recipe?
Generally speaking, you can take this dessert anywhere and people will love it! But if you want some specific event ideas, try these!
Birthday celebrations
Bridal shower
Family reunion
Ice cream bar
Holiday gifts (who wouldn't love to receive this?)
Mother's Day, Father's Day…Any Day!
​That's it- you have all you need for a perfect summer dessert!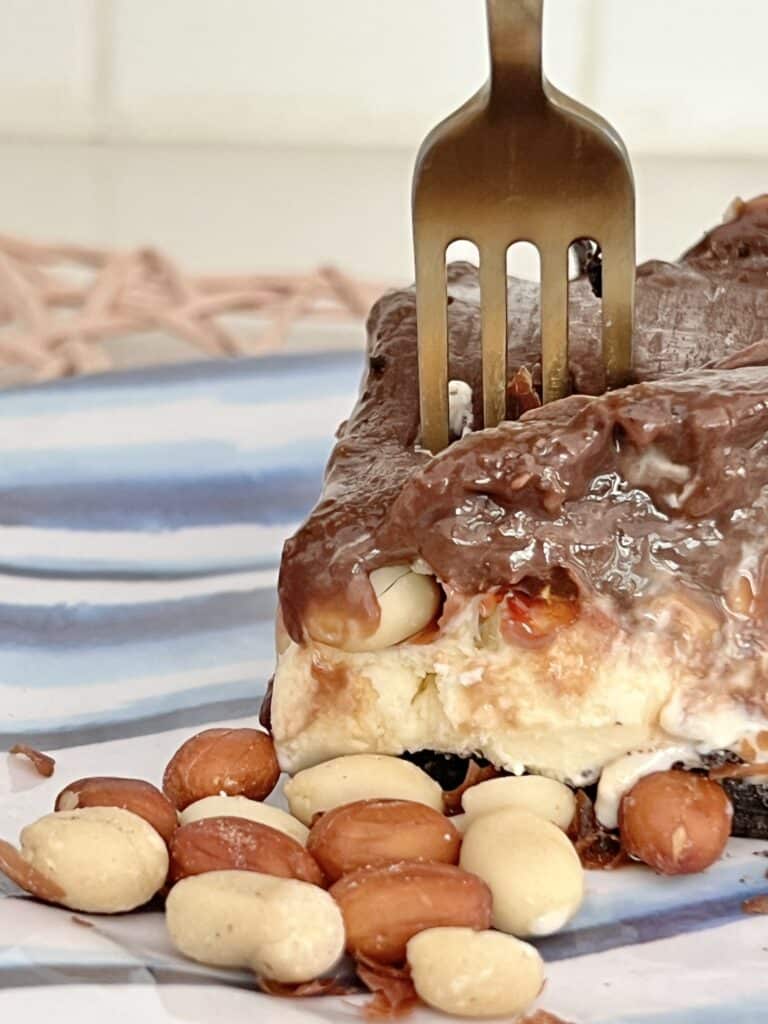 What a delightful and easy way to inject some cool summer vibes into your day. So why not stay at home, gather the few ingredients needed, and spend a summer afternoon crafting up your own delightful rendition of a Dairy Queen summer treat favorite?
And maybe even invite some friends over – I'm sure they'll think you're super cool when you present them with a decadent Buster Bar ice cream treat!
Now who wants to grab that fork so we can dig in?
Cheers!

Let's Be Friends!
Are you following Sonata Home Design on social media? Follow me on Instagram, Facebook, Pinterest, and YouTube, and don't miss any Sonata ideas, projects, or home inspiration!
Don't Forget to Pin It!
Pin the image below to your boards on Pinterest (just click the Pin button in the top left corner). You can also follow along with me on Pinterest!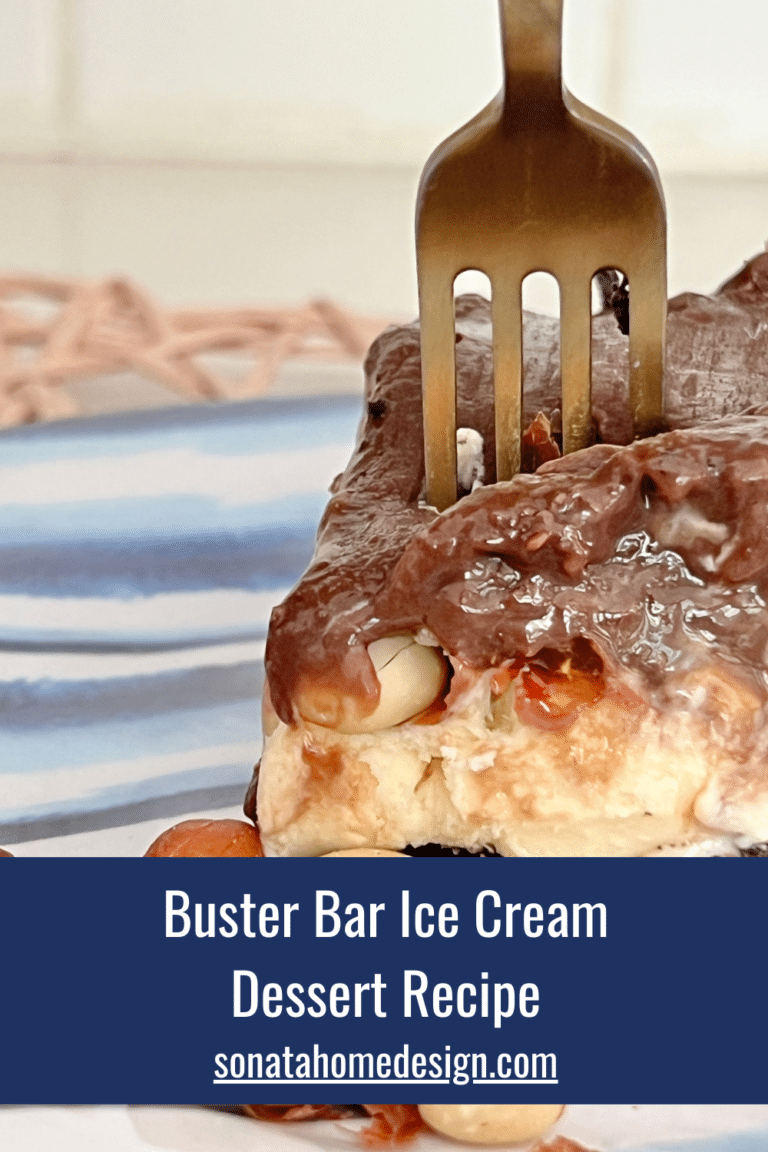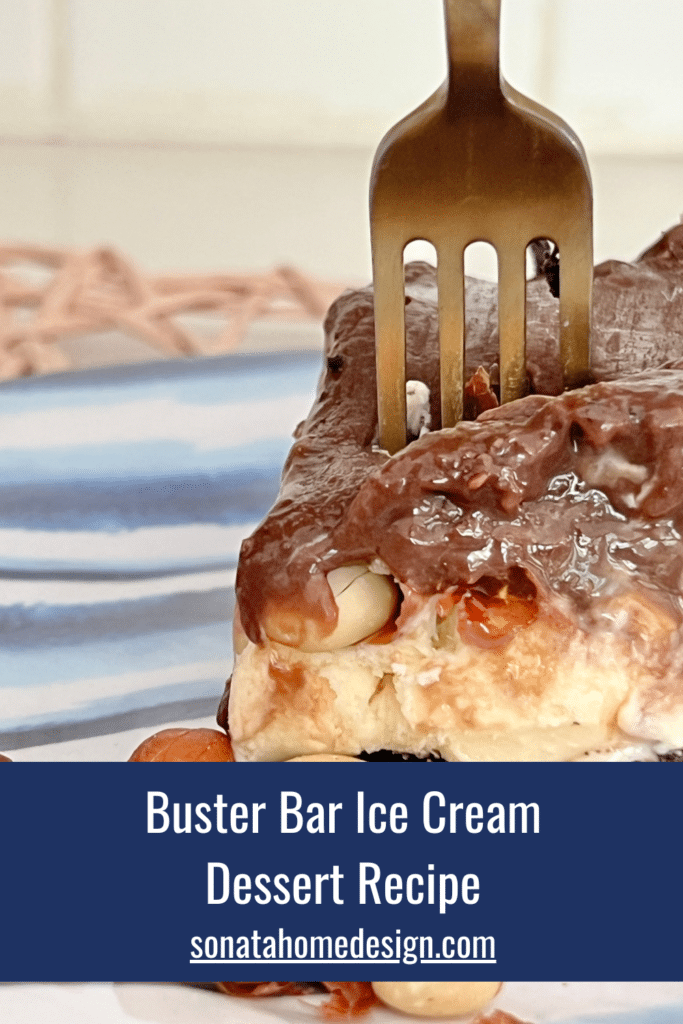 More Chocolate to Love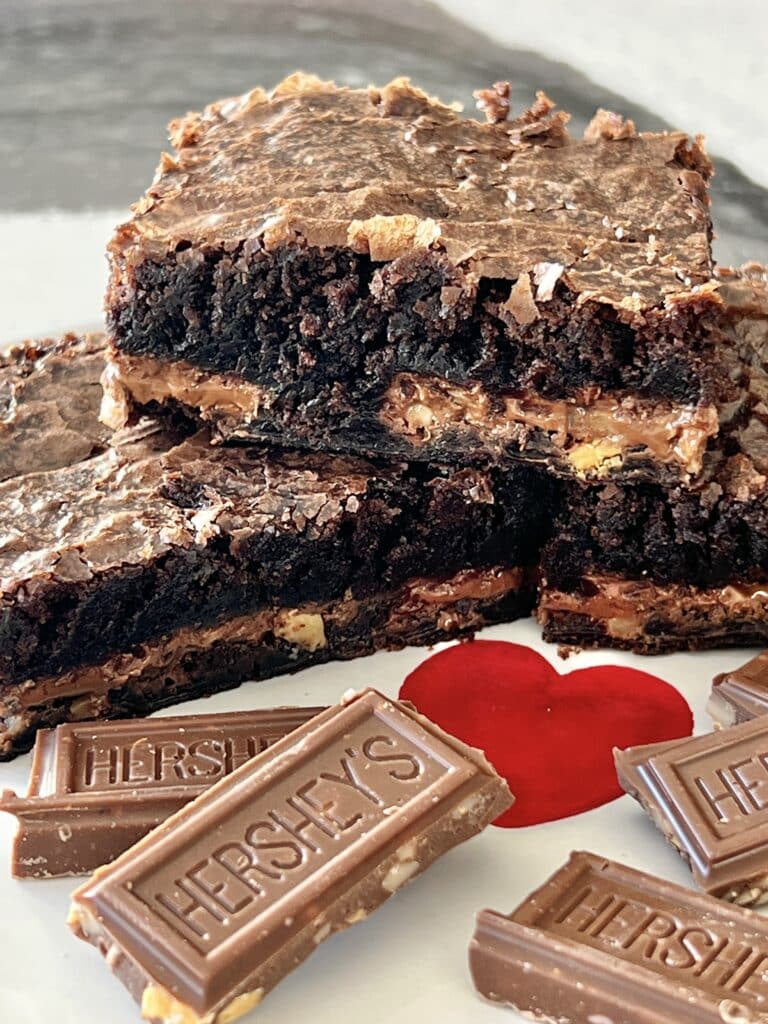 Melt-in-Your-Mouth Chocolate Trifle
Chocolate Truffle Christmas Tree