9 Easy Spring Home Decor Ideas
Looking for some easy Spring home decor ideas? With just a few easy changes, you can stylishly update your home for the spring season.
Let the countdown begin! As the days start to get brighter and warmer, it's hard not to feel inspired to switch up your home decor for spring! I've got some easy spring home decor ideas that are sure to freshen up any living space. From colorful accents to natural touches, these simple projects will bring a breath of fresh air into your home while adding stylish flair—letting you bid farewell (for now!) to winter blues.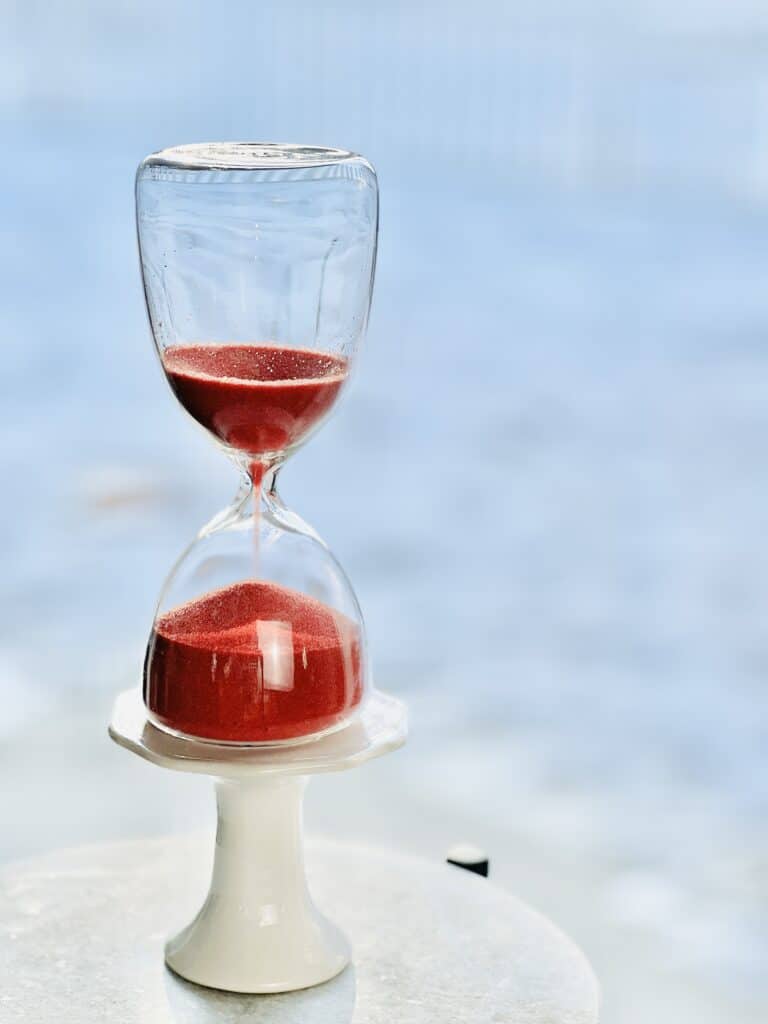 This blog contains affiliate links. This means a small commission is earned if you make a purchase by using this link. The price you pay will be the same whether you use the affiliate link or go directly to the vendor's website using a non-affiliate link. Sonata Home Design is a participant in the Amazon Services LLC Associates Program, an affiliate advertising program designed to provide a means for us to earn fees by linking to Amazon.com and affiliated sites.
Are you ready for Spring?
I'm suffering from my usual February "Is it Spring yet?" mindset.
Do you hear me, Spring? I'm ready!
There are just certain times of the year when the onset of a new season is palpable.
The shift from winter to spring is one of them!
It might still be winter outdoors (brrr!) but spring is blooming inside our home!
I have 9 easy spring home decor ideas that will have you jumping for springtime joy!
1. Front Door Spring Decor
You caught me!
There is no snow on the ground and ice on the driveway and I'm hanging a basket of spring florals on our door!
I may be crazy but I am determined to add some springtime flair to the door.
I think the key to a welcoming front door is in the color!
Color beckons you from the sidewalk.
And front door color signals to the world where your decorating vibe is headed!
Purples, pinks, yellows, and green…this basket sends out a big "Welcome" to the season as well as to family and friends!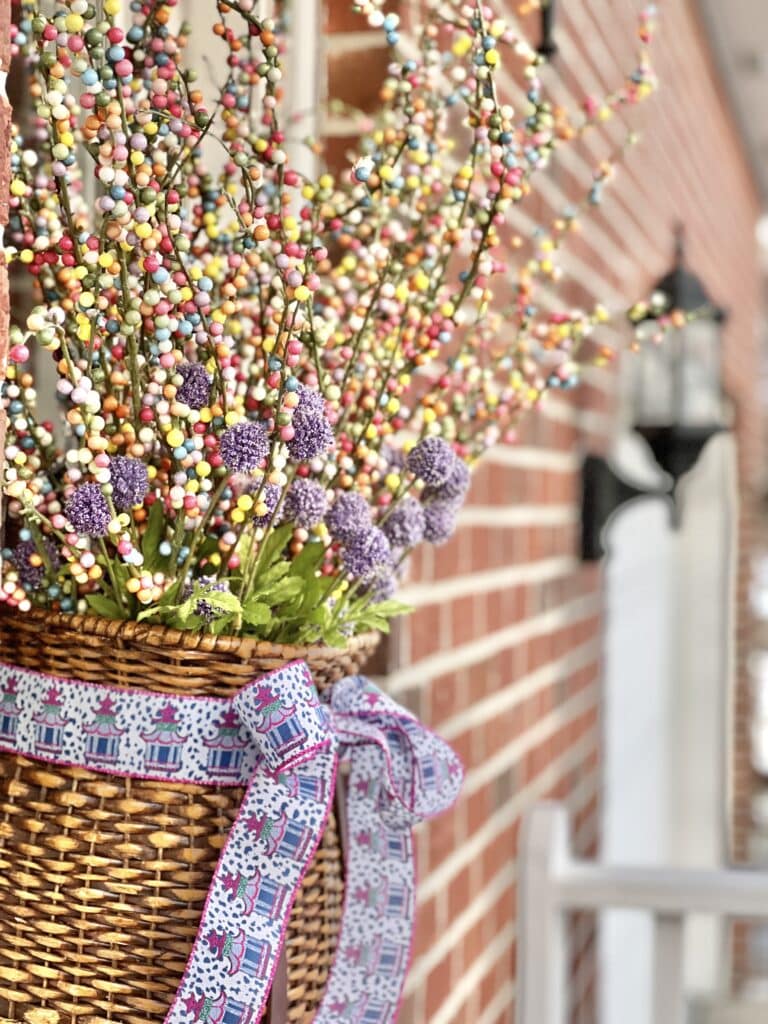 Don't forget a bow!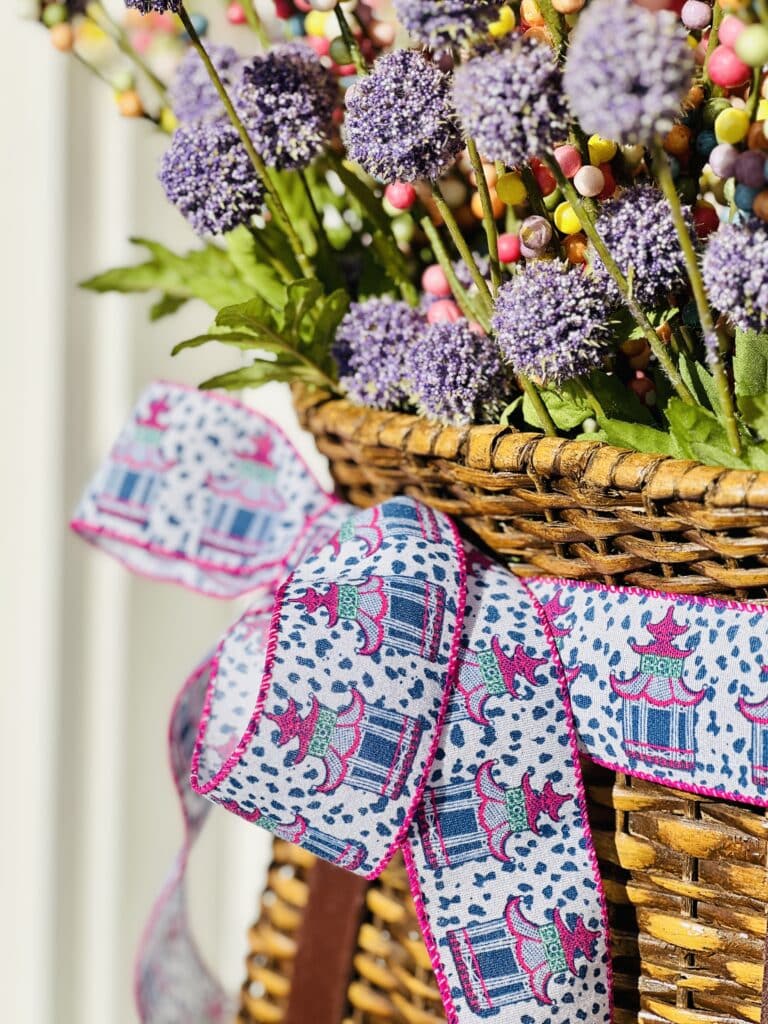 2. Spring Decor Blooms
Let spring bloom inside your home with flowers!
Until the real flowers are breaking ground, take advantage of the many amazing faux florals that are available.
My favorite?
Tulips!
My ultimate favorite?
Bright pink tulips!
Tucked within a sea of blue and white ceramics, these pink tulips grab your attention and cheerfully signal "Spring!"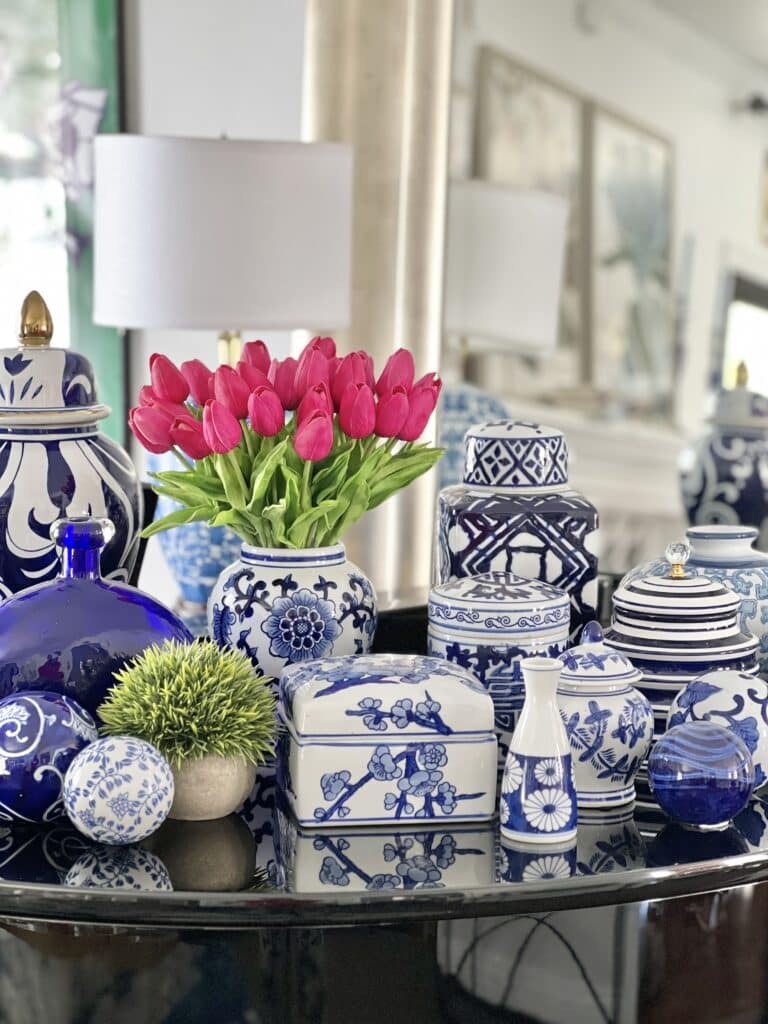 Flowers on a kitchen island are always a good idea!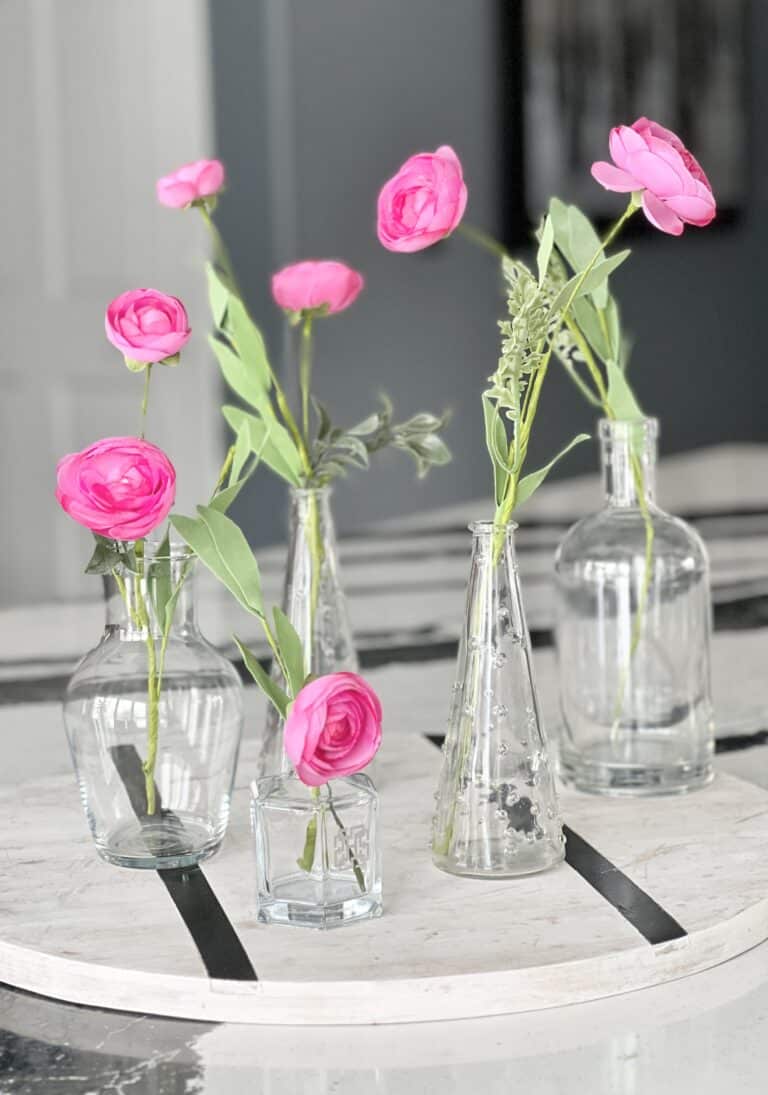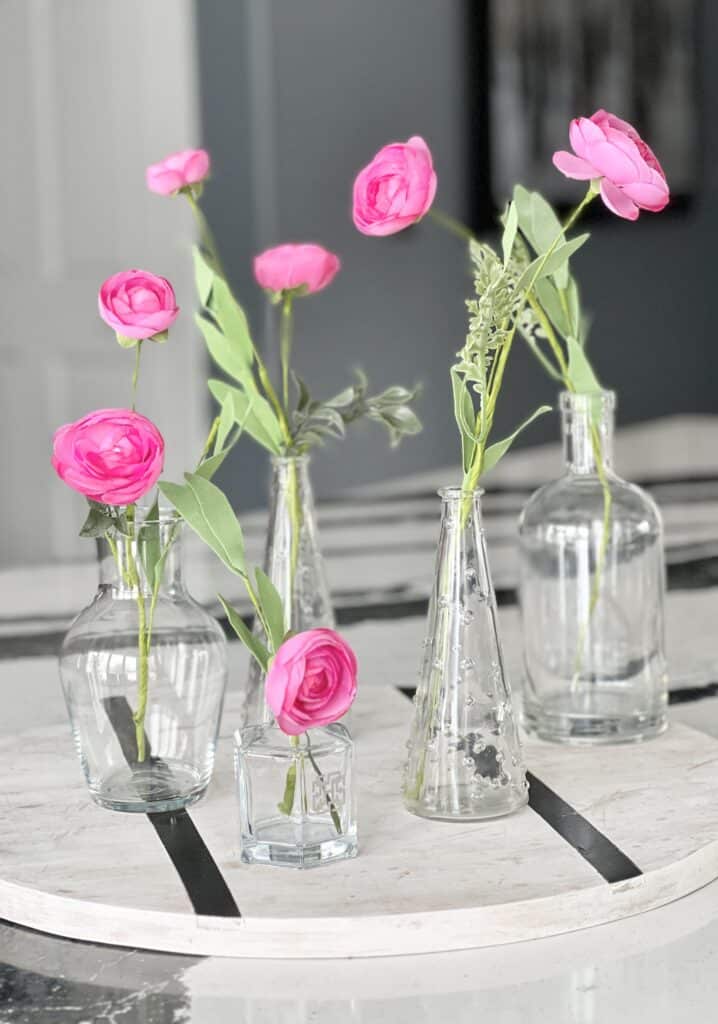 Add some flowers to your kitchen sink work area.
This sweet flower pot comes from Trader Joe's and makes washing dishes a cheerier task!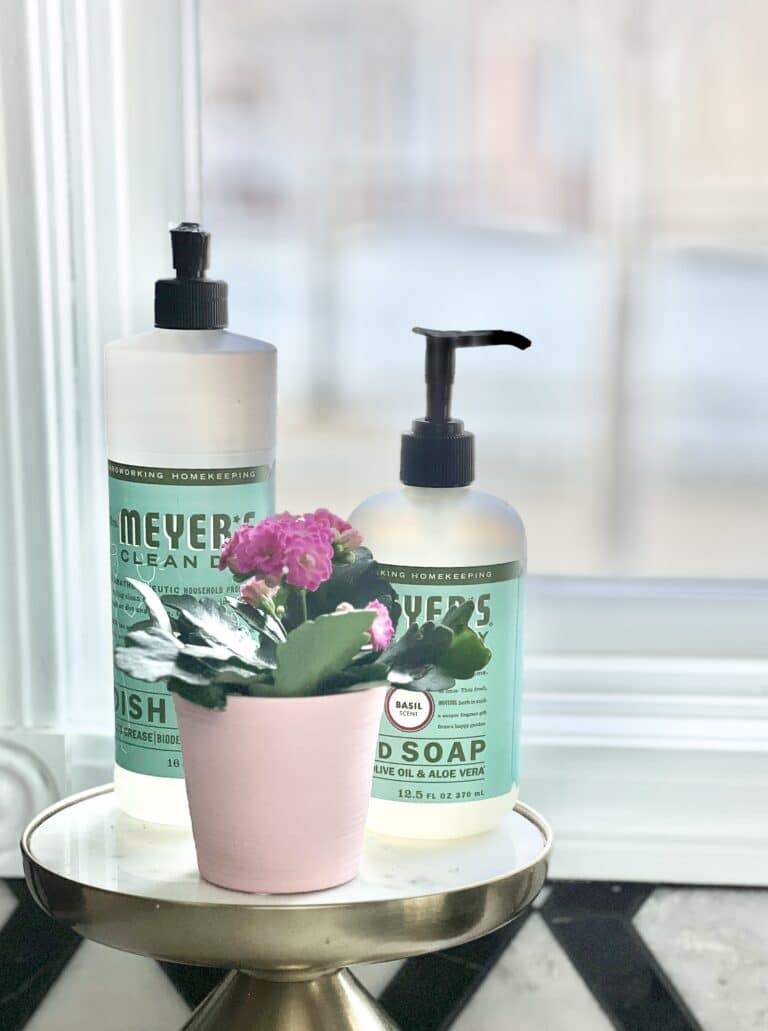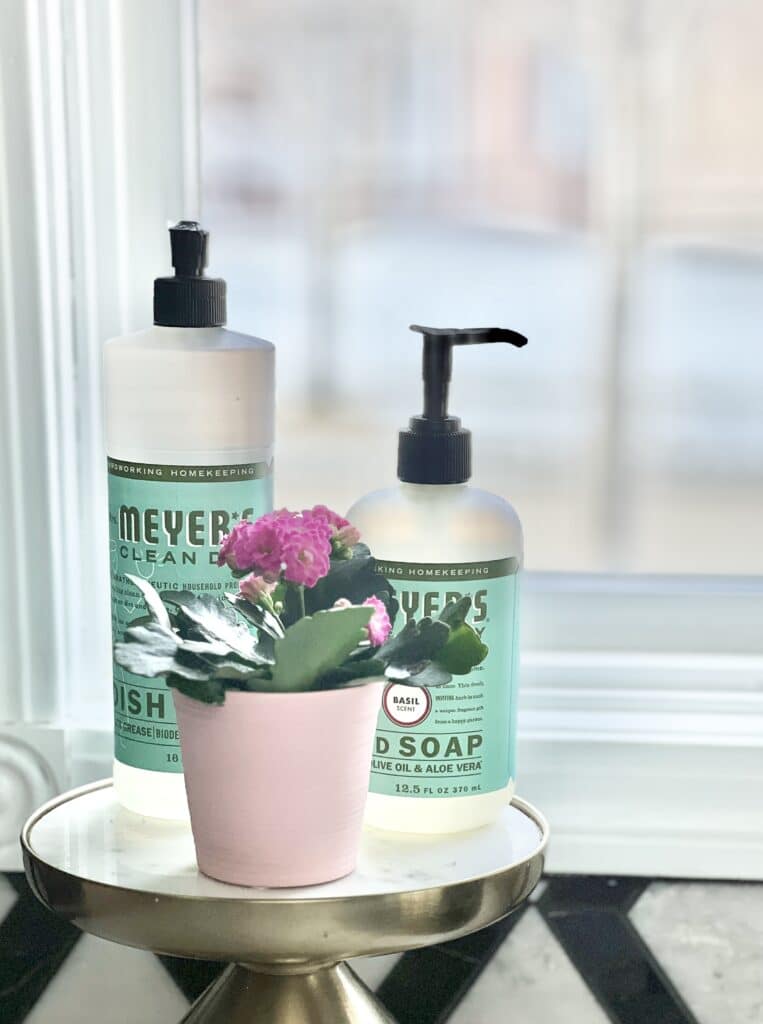 3. Plants
If you are a plant lover, you probably nurture your plant babies all year long.
When spring rolls around, consider propagating some of those plants!
The easiest way…lots of plants can be propagated by simply snipping leaves and plunking them in water.
Give it a little time and you will roots curling underneath the greenery…springtime renewal!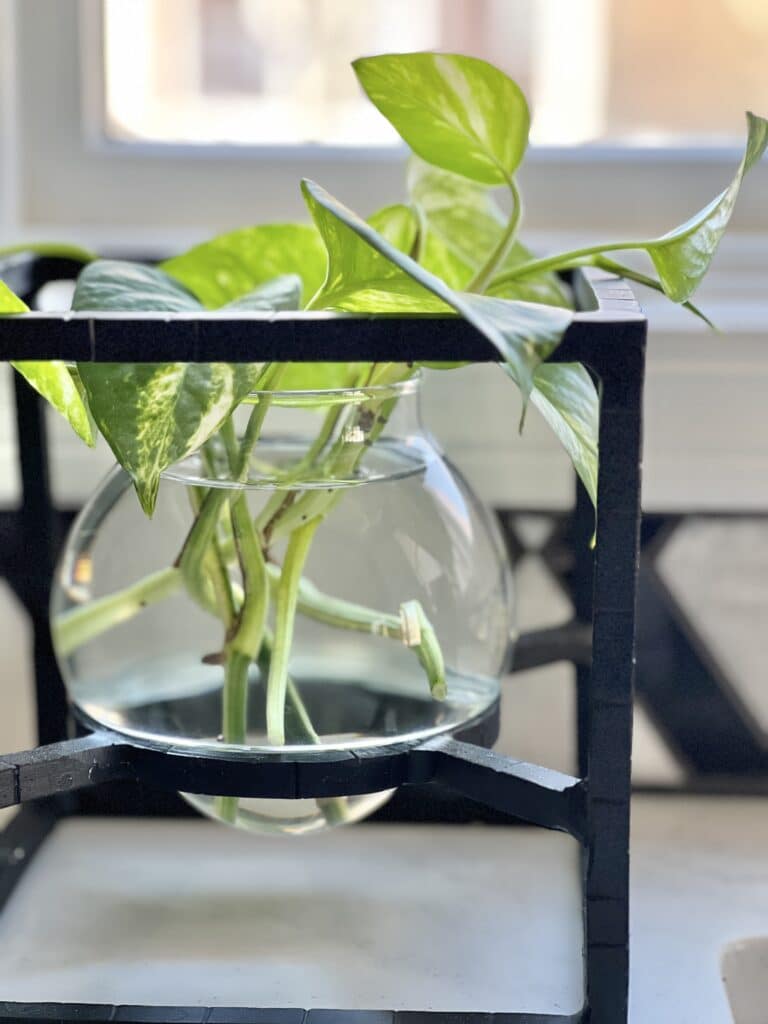 Also, consider moving plants to windows that give the best light.
Light sources change from season to season and your plants will thank you for paying attention.
This fiddle leaf fig (my first and favorite) spent the winter in my office where the light was best.
I love seeing beautiful light on the green leaves!
Now that the days are lengthening, the bright indirect light is best in the kitchen. We will wait for spring together!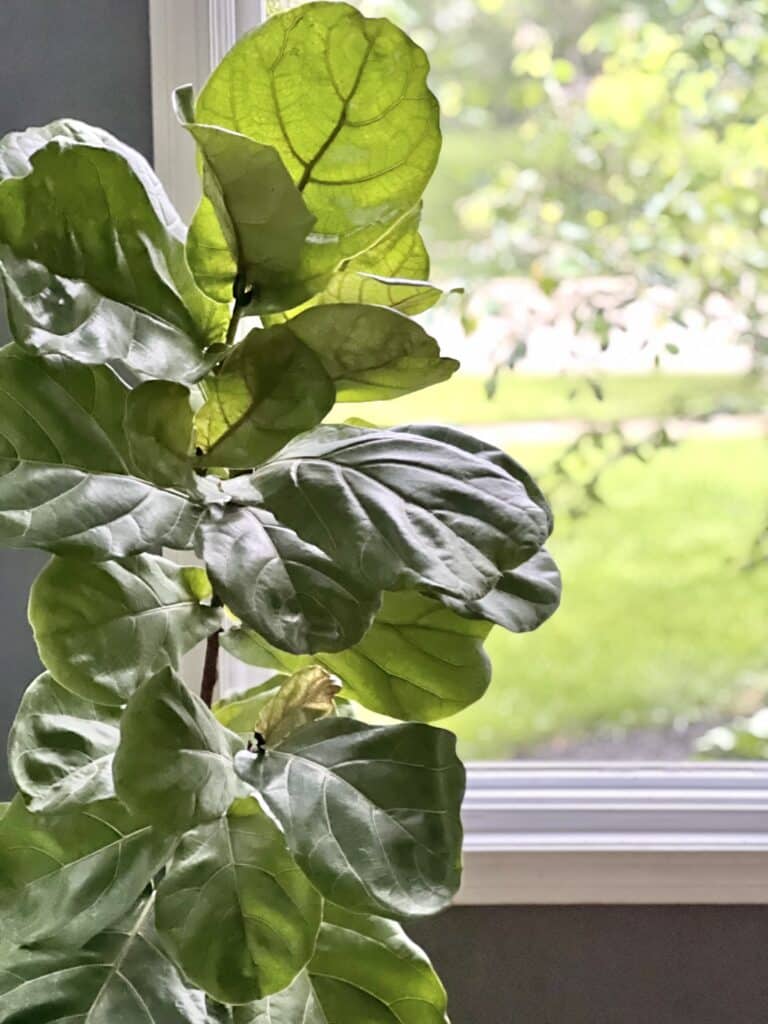 4. Pillows
Possibly the easiest way to transition spring home decor is through pillows.
I've packed away the heavy plaids and course textured pillows and am embracing pillows with the light bright feel of spring.
Blue and white works for me year-round but especially in the spring!
The light and airy pattern of these stacked pillows will give any room a lift!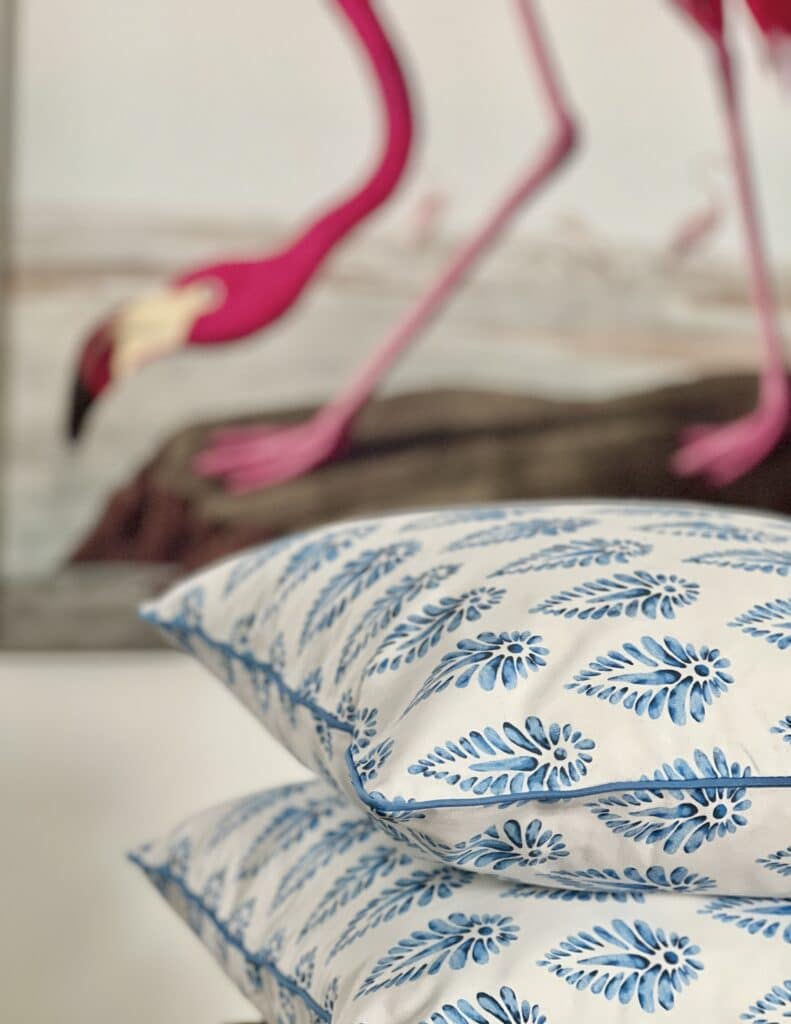 This cobalt blue chair is the perfect spot for a chinoiserie pillow.
This pillow was one of my "souvenirs" from our trip to Charleston last fall.
I call it my "hurricane pillow" and consider it one of my favorites! (Ask me sometime about my tour of Charleston during a hurricane!)
5. Green Moss
When I think of spring, I think of green grass, green leaves on the trees…and green moss!
These green moss spheres displayed in a wood dough bowl are a great way to bring springtime green into your home.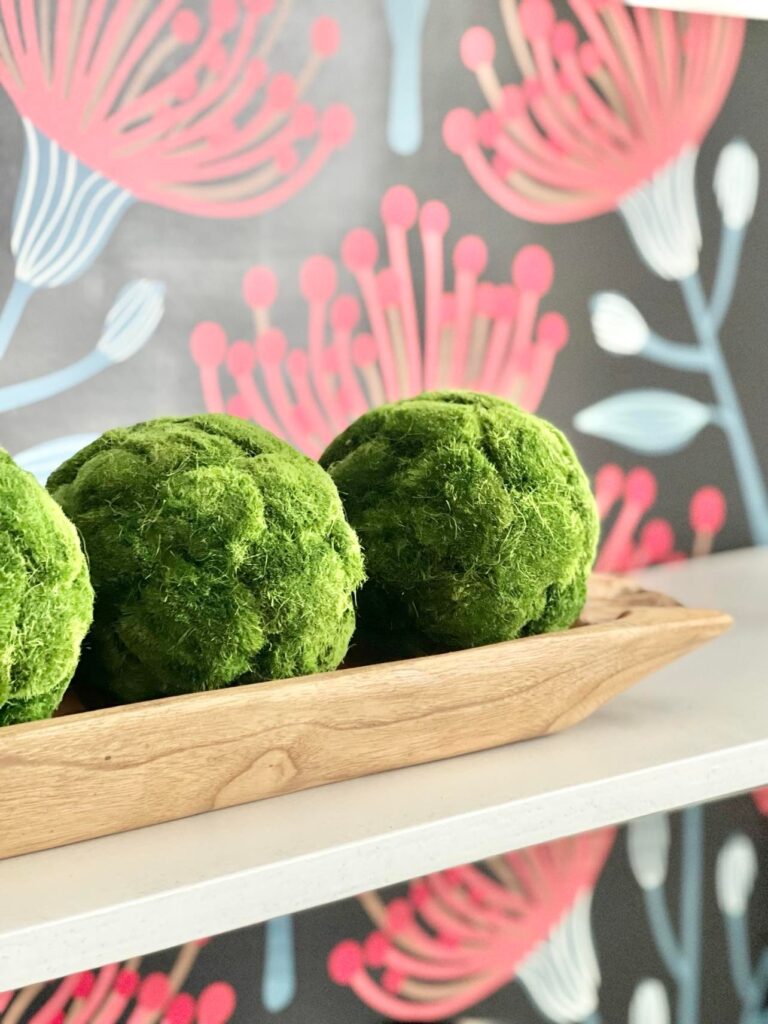 And who wouldn't love this green moss bunny tucked into an arrangement with more green moss!
Guess what?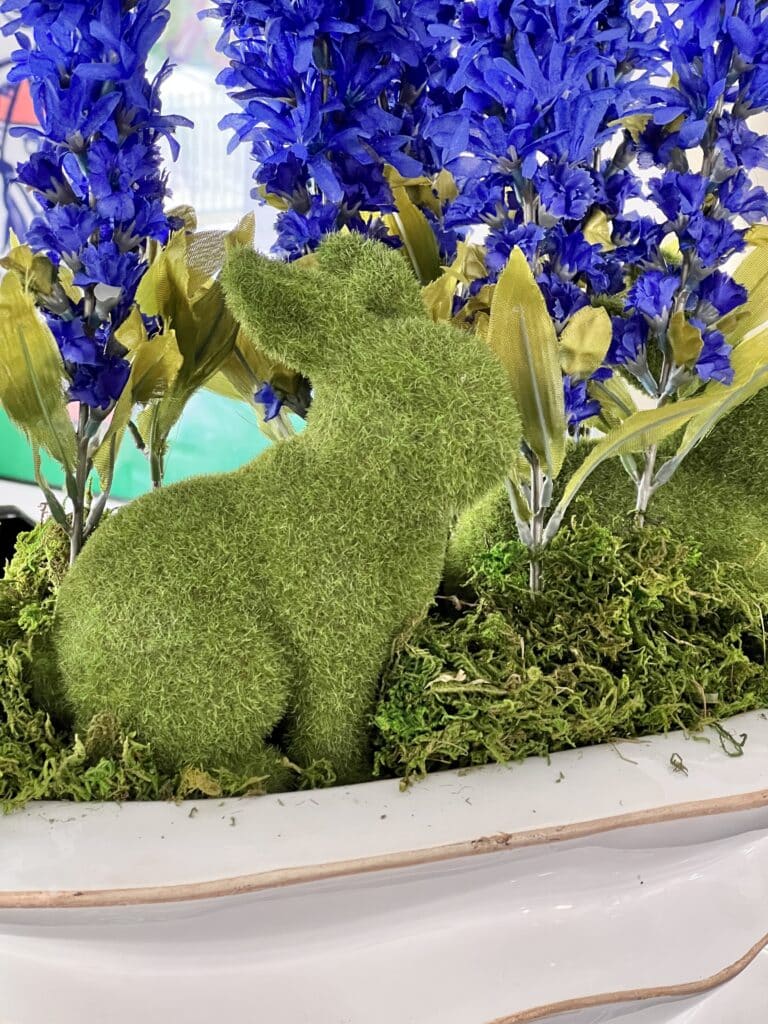 There are actually two little bunnies!
They are ready for spring too!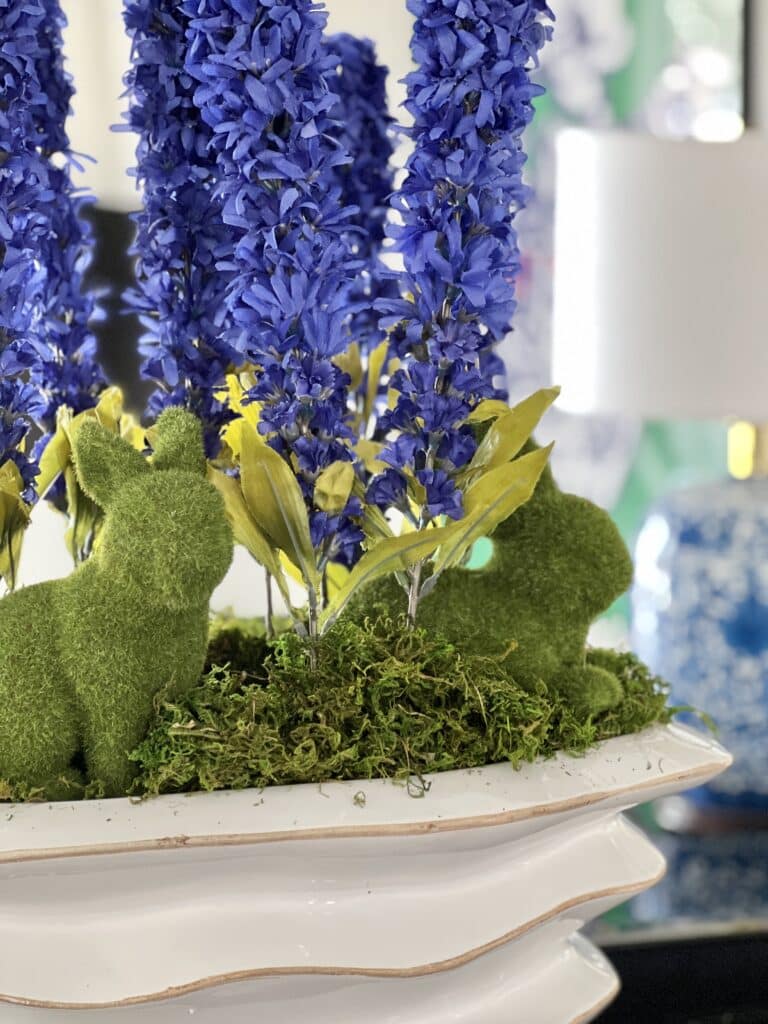 6. Artwork Refresh
Give your walls a springtime refresh with artwork!
Whether muted or bold tones, any color paired with white will give your wall a sense of lightness.
Take it a step further and frame your artwork in a white frame as well!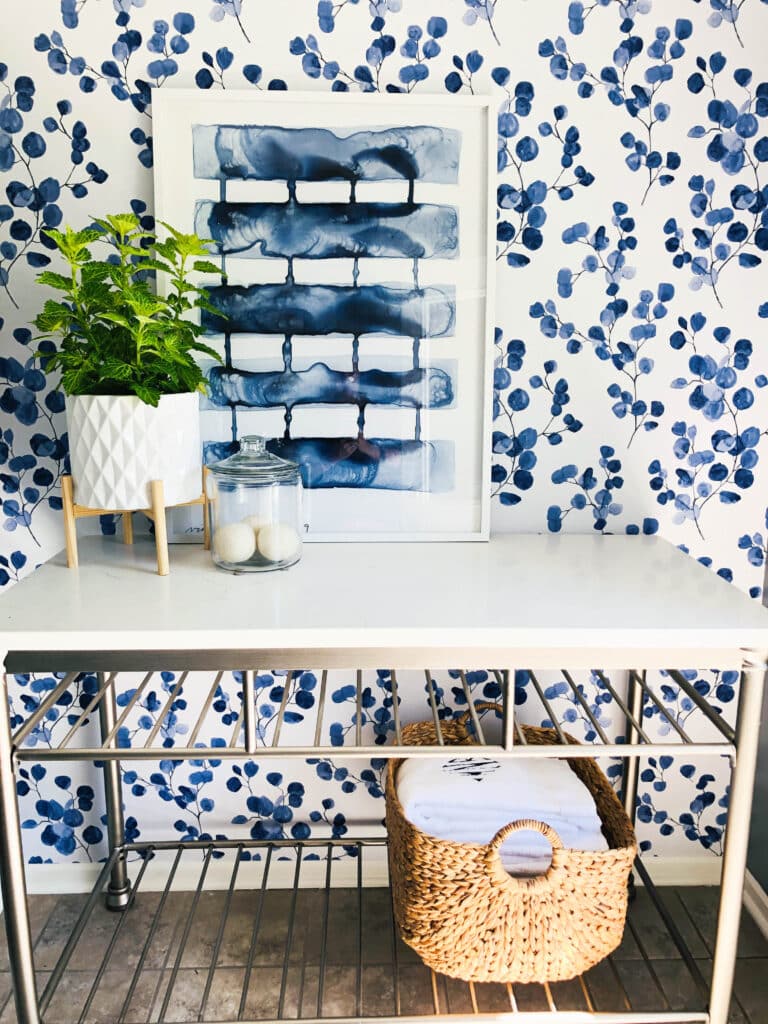 Nothing says "Spring" more than a brightly colored butterfly!
This gorgeous monarch butterfly print from Urban Garden Prints is spending Spring in "The Dot Room." (My craft studio)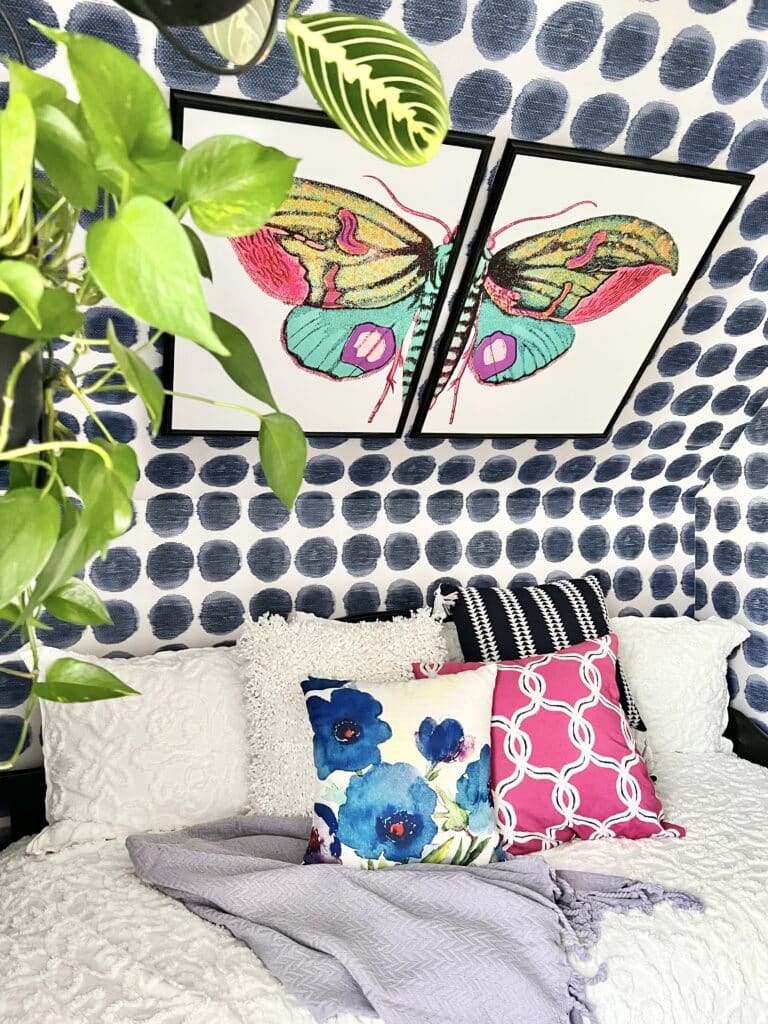 7. Table Centerpiece
It seems like I just packed away all of the holiday dishes and napkins…time to set the table with some spring-y vibes!
White plates, rose gold chargers, fresh napkins, and bright crystal goblets seem to catch the light of the day.
Truth be told, this light is the reflection from the snow outside. (I'm not picky about the source of great light!)
I might sound like a broken record but break out the "good china" and USE it! Better to hold yummy food than to gather dust!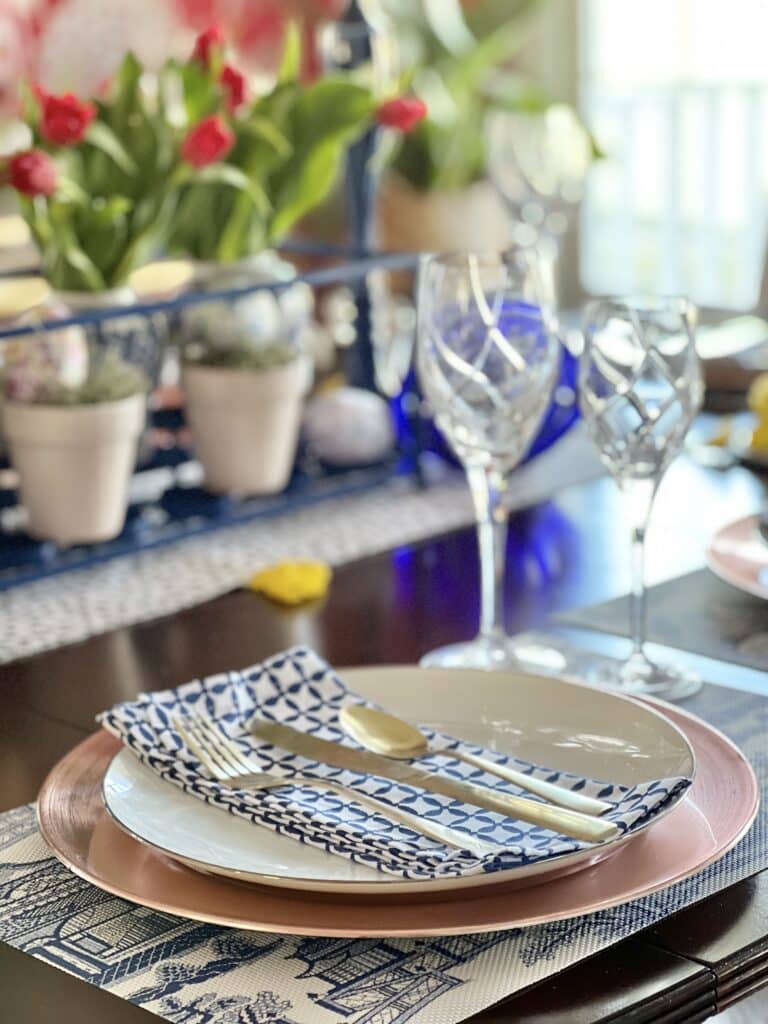 Don't forget the centerpiece!
I combined three placemats to create this table runner that holds red tulips from Trader Joe's!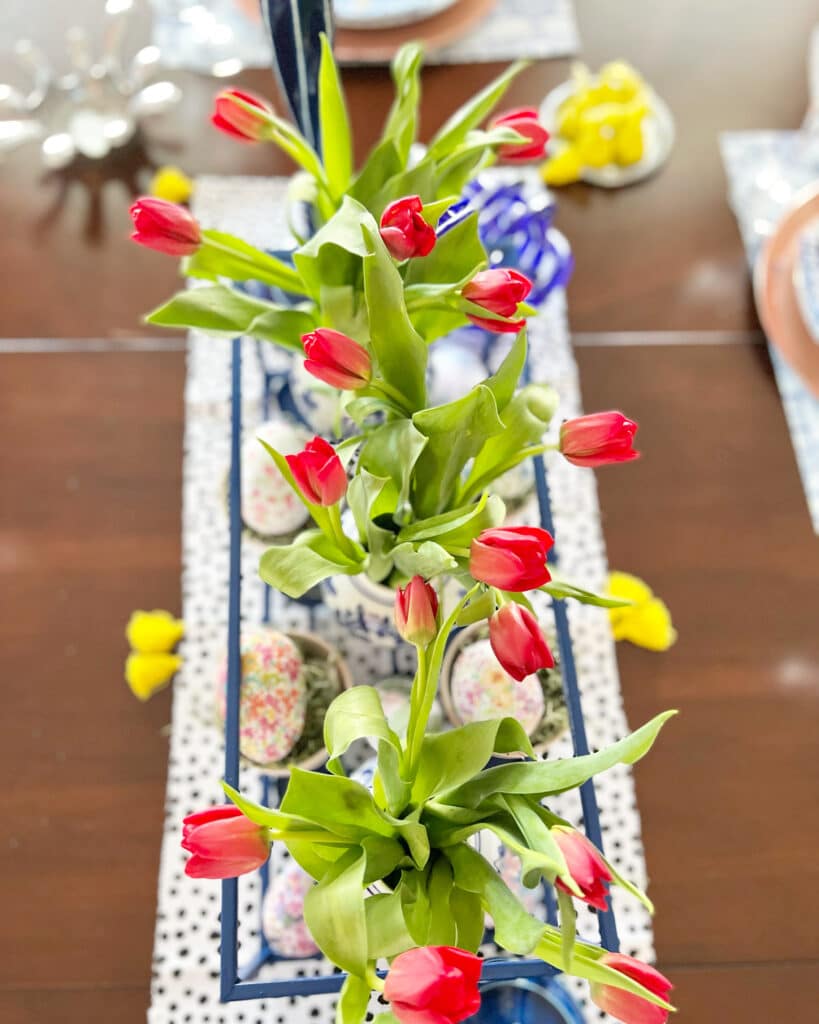 8. Books
I am a sucker for a beautiful book jacket.
And, I do not have the willpower to say "no" to a beautiful garden book.
Display them!
Let the garden inspiration jump off the pages and inspire you for your future spring and summer garden!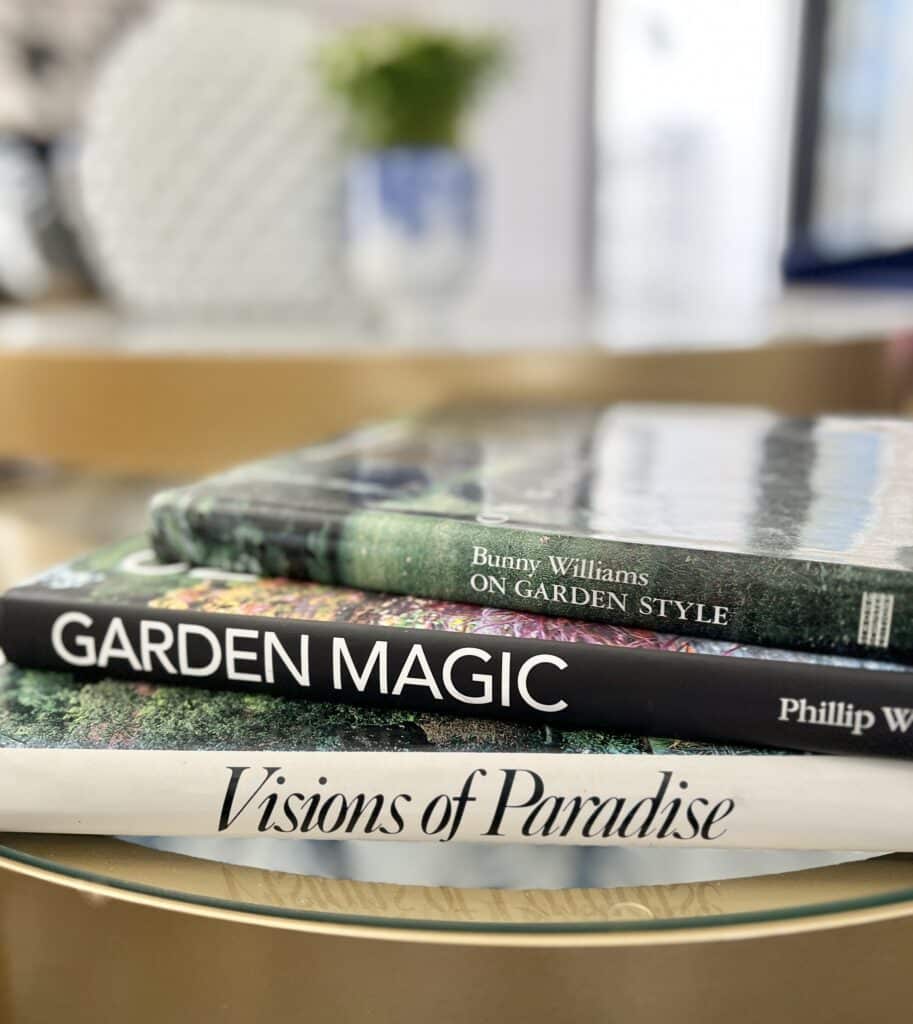 You don't need to keep them closed!
Open a garden book to a favorite page and place a favorite plant or flower nearby.
Spring inspiration!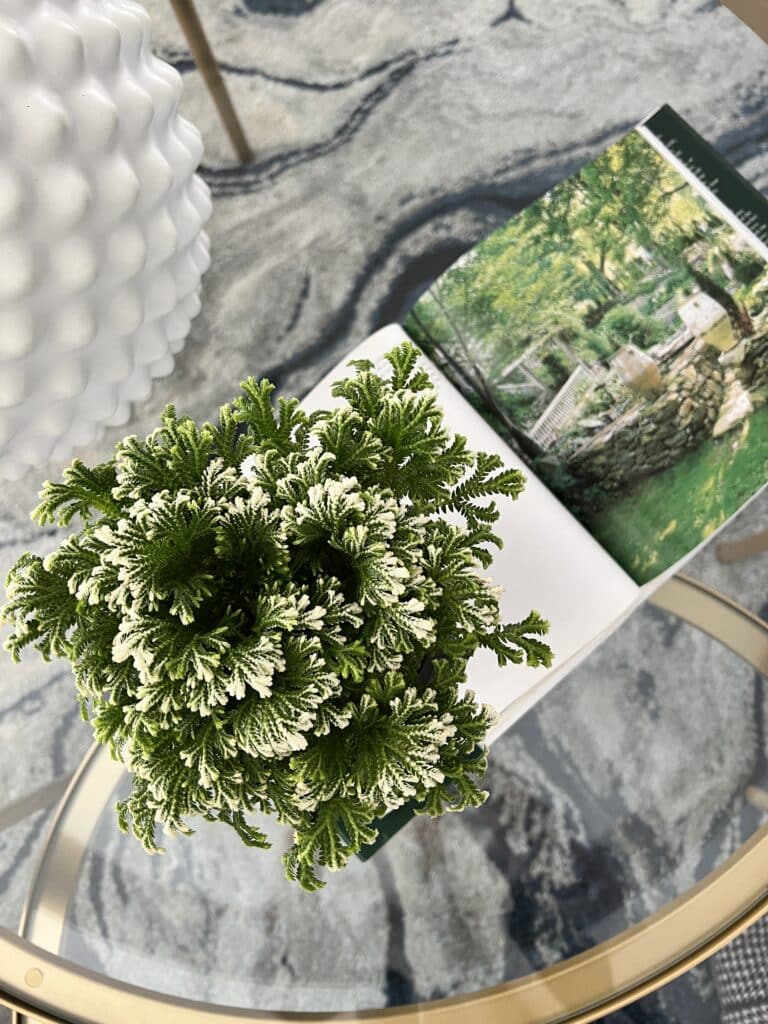 9. DIY Spring Decor
If you can't buy it, DIY it!
Here are some of my favorite DIY projects that are great spring home decor ideas!
This Painted Wicker Basket project.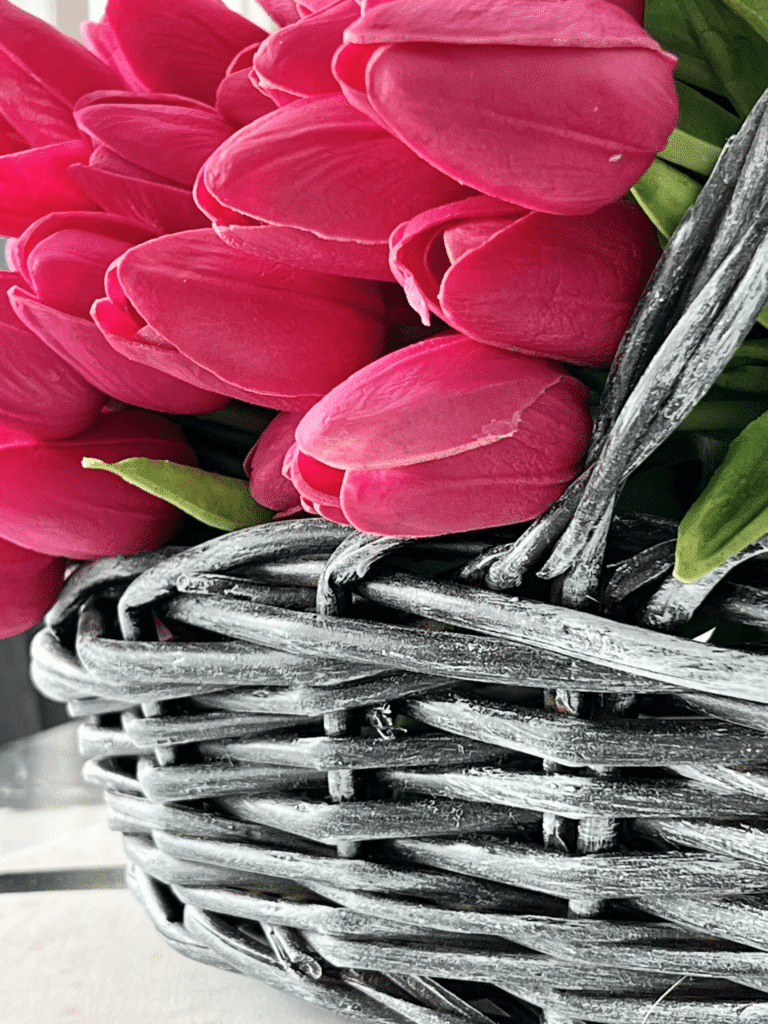 These Spring Decoupage Bottles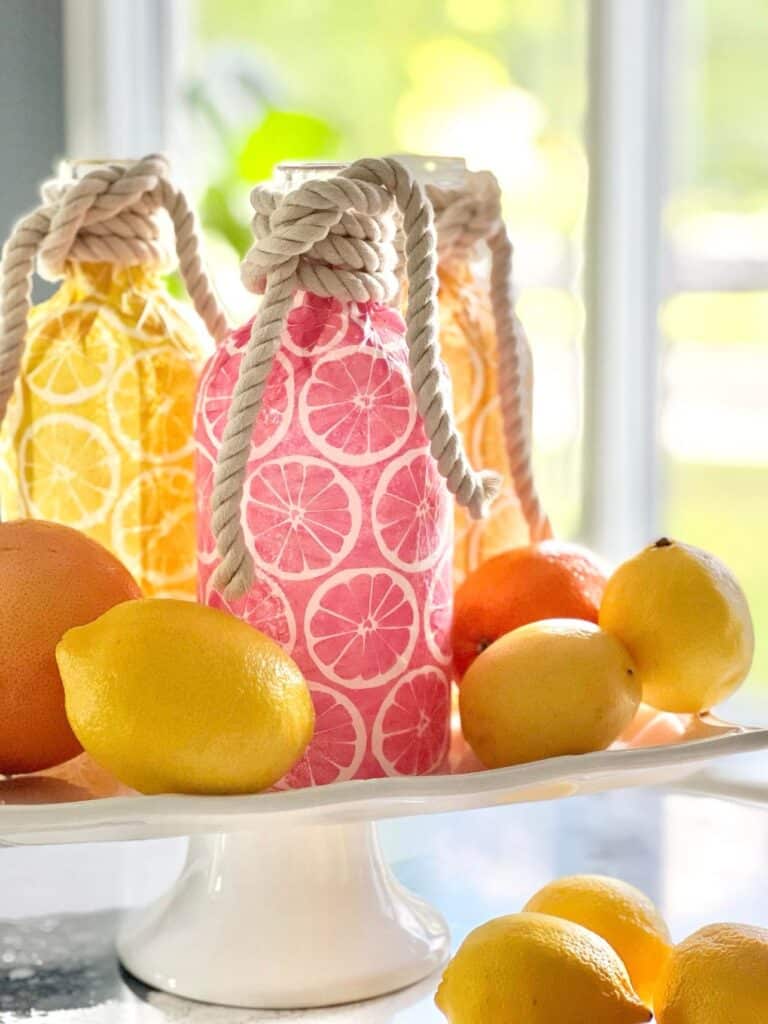 How about Mini Tabletop Greenhouse for all of those springtime plants?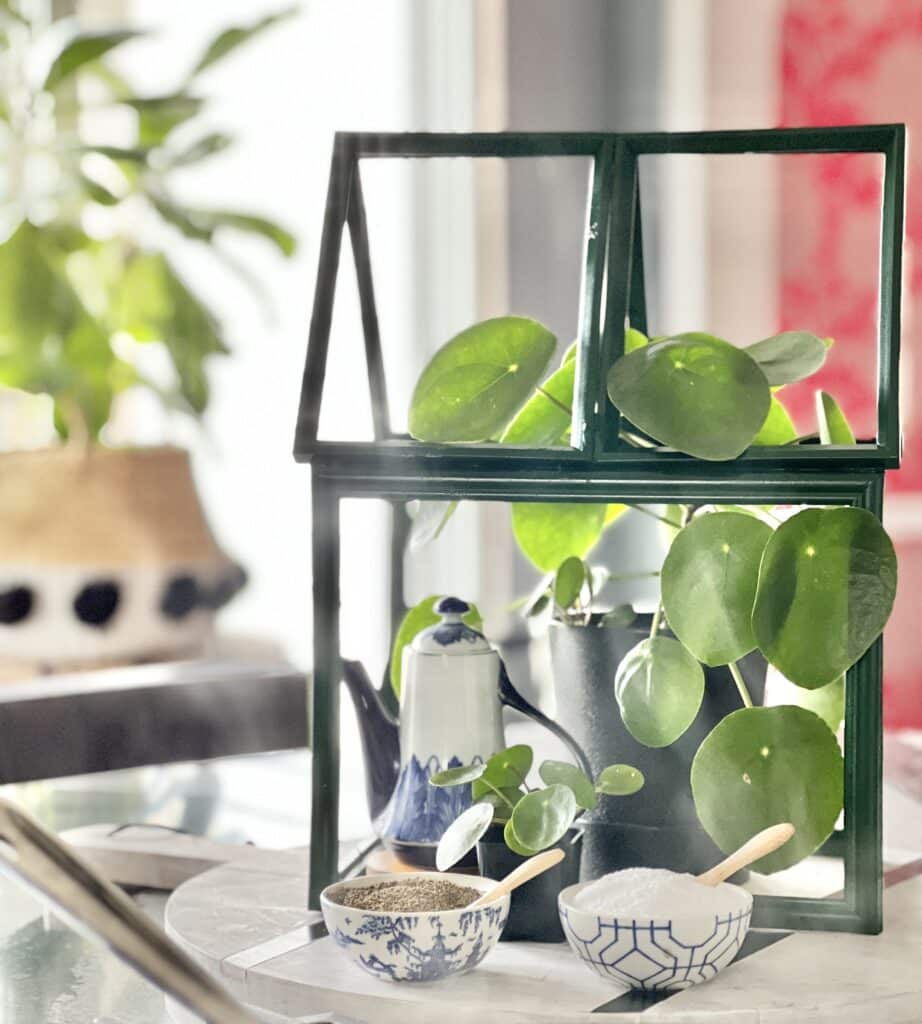 This A Moss May Day Basket…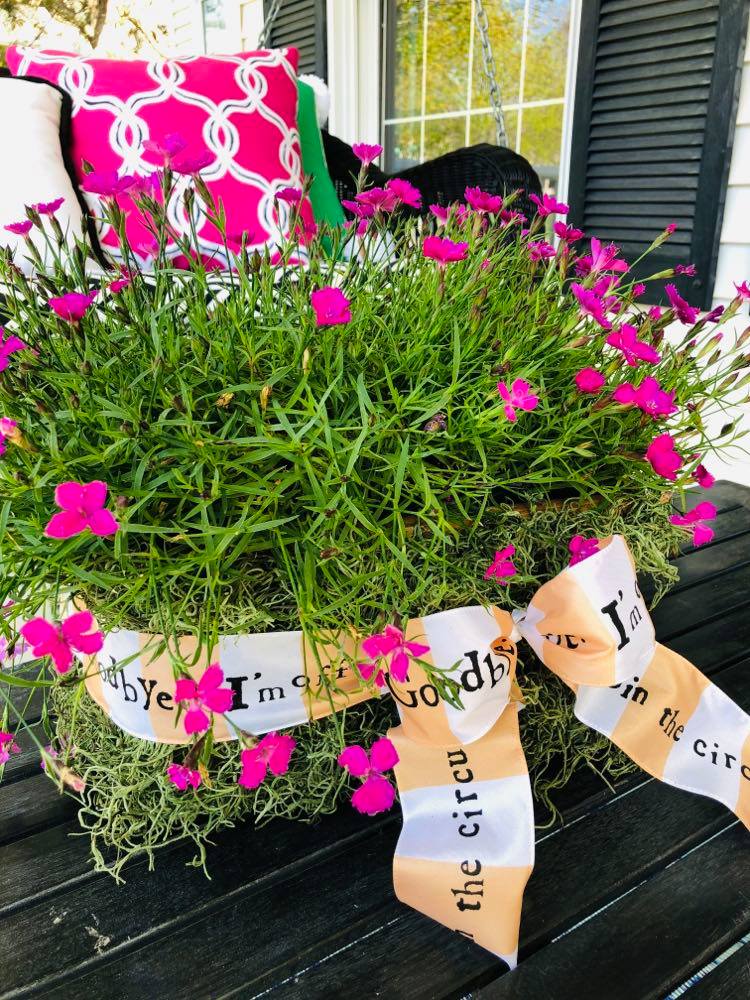 Whew! Who knew there were so many simple and creative ways to spruce up your home for this season?
So, what are you waiting for? Grab some pretty blooms and a book to give your space a springtime feel.
Fill it with plants, pillows, and pieces of art that will have you feeling refreshed and re-energized.
Don't forget that wonderful DIY decor project you've been dying to try out. Liven up your homes with hints of green moss and special spring table centerpieces.
Let's transform our abode into the springtime sanctuary it deserves to be.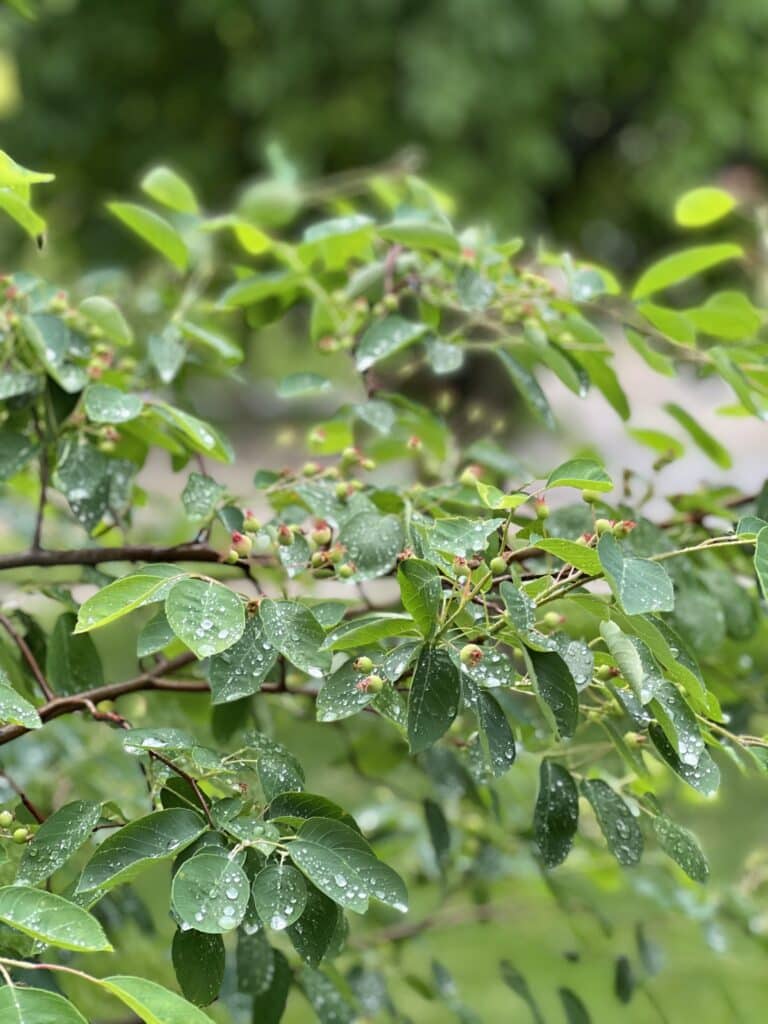 Spring will be here soon, my friends! In the meantime, decorate using some of these easy spring home decor ideas and kick off the warm weather right!
Cheers!

Don't Forget to Pin It!
Pin the image below to your boards on Pinterest (just click the Pin button in the top left corner). You can also follow along with me on Pinterest!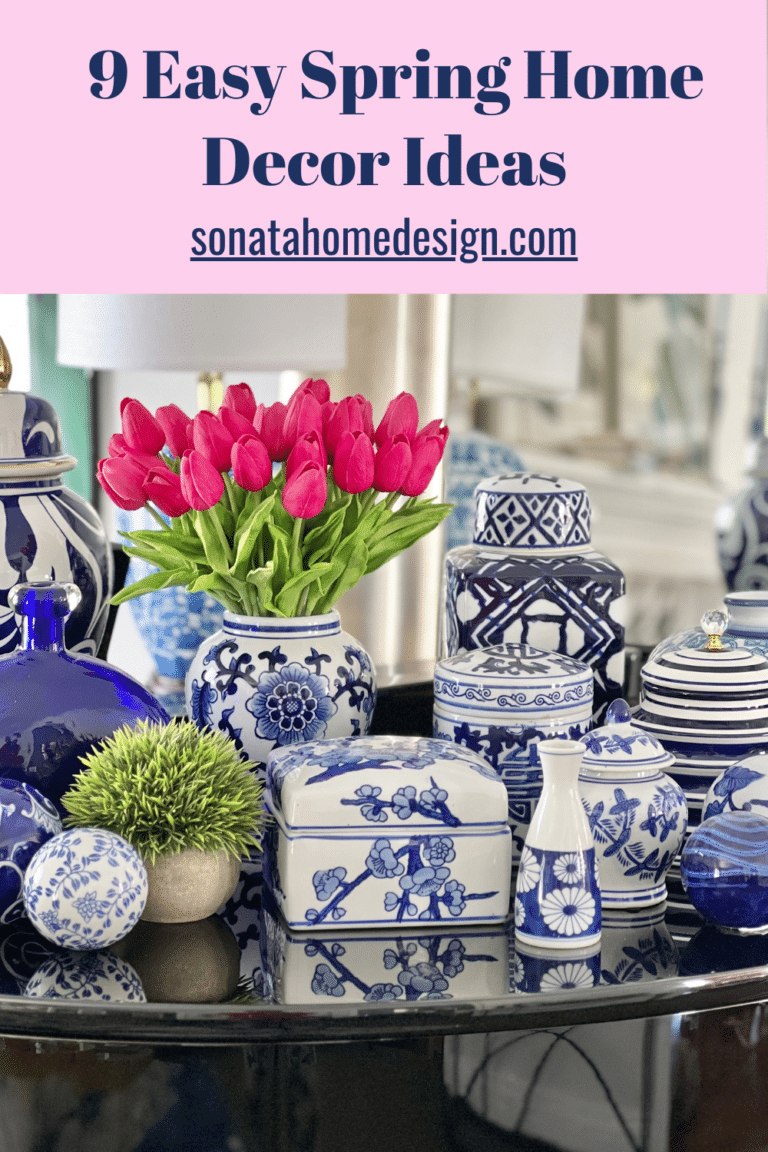 Shop These Springtime Favorites