A Favorite Shape and Bake Fall Leaf Cookie Recipe
Jump to Recipe
If you're anything like me, you've been counting down the days until you can break out your coziest sweaters and indulge in all things fall. And what better way to celebrate this magical season than with a super simple fall cookie recipe shaped into beautiful leaves?
I'm talking about cookies that not only taste like fall but look the part too – charmingly shaped leaves! The best part? These delicious cookies are made easy by using prepackaged dough, so you can enjoy the flavors of fall without spending hours in the kitchen!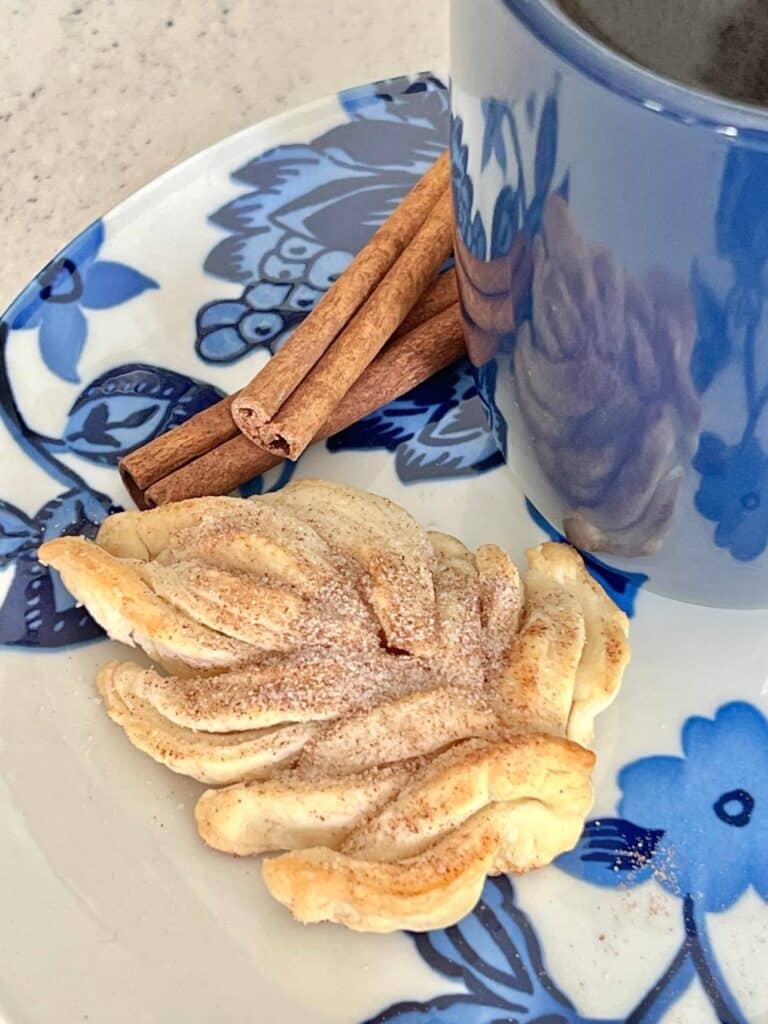 This blog contains affiliate links. This means a small commission is earned if you make a purchase by using this link. The price you pay will be the same whether you use the affiliate link or go directly to the vendor's website using a non-affiliate link.
Leafing No Crumb Behind: Dive into this Fall Cookie Recipe
In my humble opinion, the fall season is the best time of year for baking!
And baking cookies in the fall is one of my favorite things!
Of course, I love baking during the holiday season but there is something about the fall kitchen scent of oatmeal cookies, brown butter snickerdoodles, a classic chocolate chip cookie, and of course, anything that includes pumpkin pie spice! 
This month, the Handcrafted Society challenge is to create something with a leaf theme. If this doesn't put you in the mood for fall, I don't know what will! You may be coming here from Thistlekey Lane…Welcome to Sonata Home Design! I'm sure you love Michelle's paper bag fall leaf wreath as much as I do!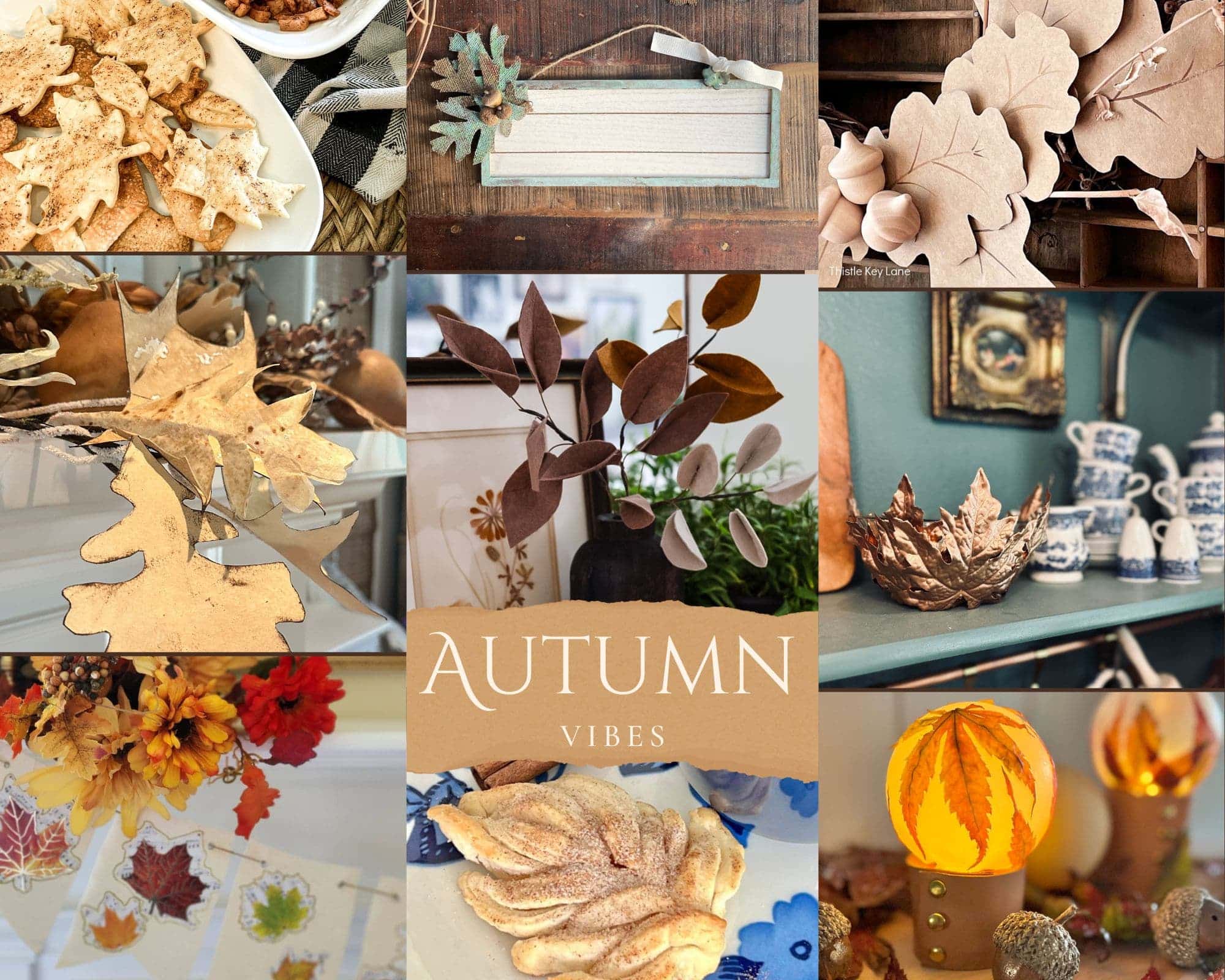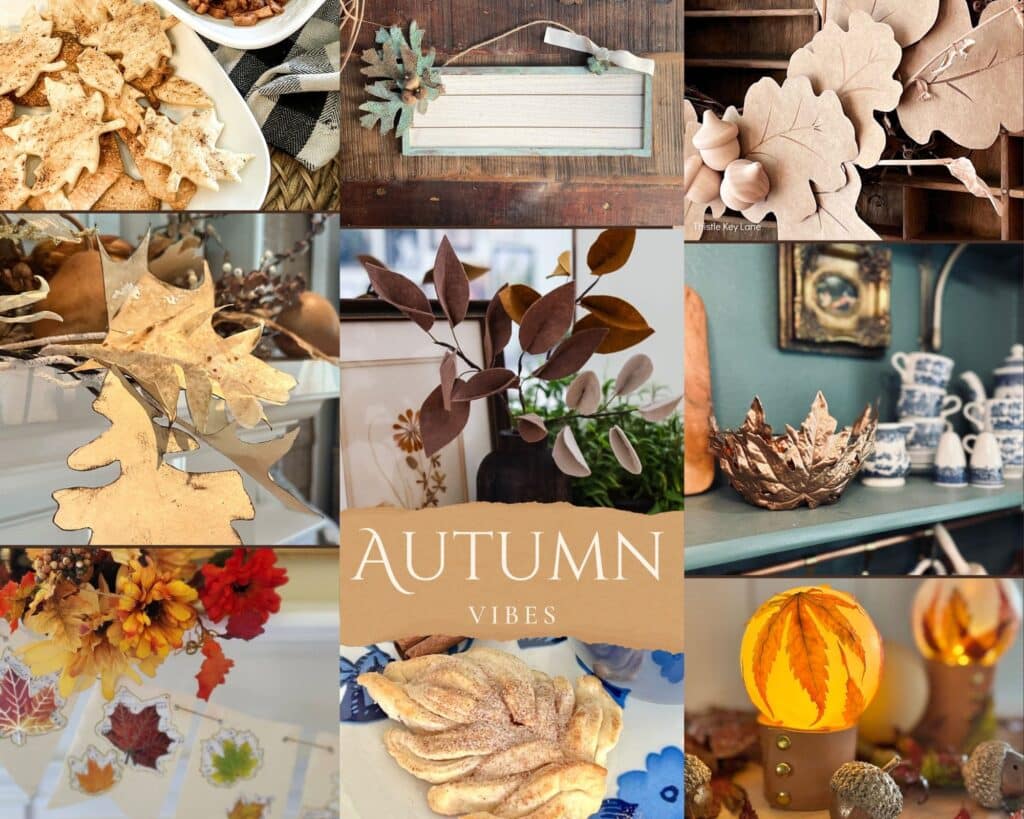 My leaf project is coming to you in cookie form…or should I say cookie forms! I am sharing two different styles of leaf cookies that use two very different types of prepackaged dough.
While I love a cookie made from homemade dough full of amazing fall flavors, I also love quick and easy cookies that are still chock full of flavor but take mere minutes to make!
And I love giving prepackaged dough a creative twist!
For these cookies, my recipe twist…is in the twist!
I discovered this twisting process on TikTok in which an unnamed, mysterious "dough" was twisted into the most beautiful leaf shape. I thought this would be a great way to bake leaf-shaped cookies with prepackaged dough. So I decided to experiment with two types of dough and see if the "twisting" works.
​The first batch was made with refrigerated pie crust and the second was made with refrigerated sugar cookie dough.
Both types of dough work beautifully but in VERY different ways! Let's bake cookies!
Pie Crust Fall Leaf Cookie Recipe
For my first version, I chose a generic store-brand prepackaged refrigerated store-brand pie crust. Because there is a lot of shaping with this cookie, I used 2 tubes and was able to bake a dozen cookies. Not a lot of cookies, but trust me, each cookie is generous in size and so pretty!
First, unroll the pie crust. It will be easier to roll out this dough if you let it sit at room temperature for a few minutes. I then used a rolling pin to thin out the crust slightly.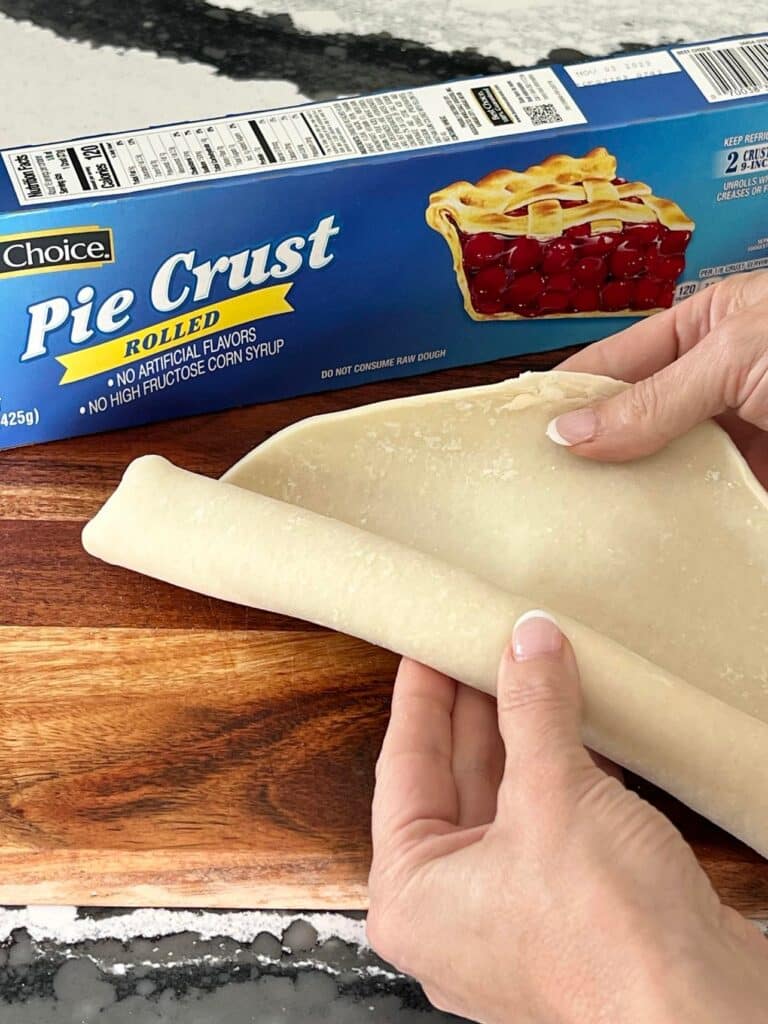 Using a circle cookie cutter, small bowl, or ramekin, cut out circles from the dough. Then, cut the dough circle into fourths.
Take each smaller piece and fold the bottom rounded edge up about two-thirds of the way up so the point of the wedge is still exposed. Once you fold the four wedges, stack them on top of each other.
Take a plastic knife (plastic does work better than actual silverware in this case) and press down on the tips of the four wedges. Don't cut all the way through the dough. Rather, press the plastic knife into the dough wedges just far enough the cut the top of the dough but still hold all of the pieces together.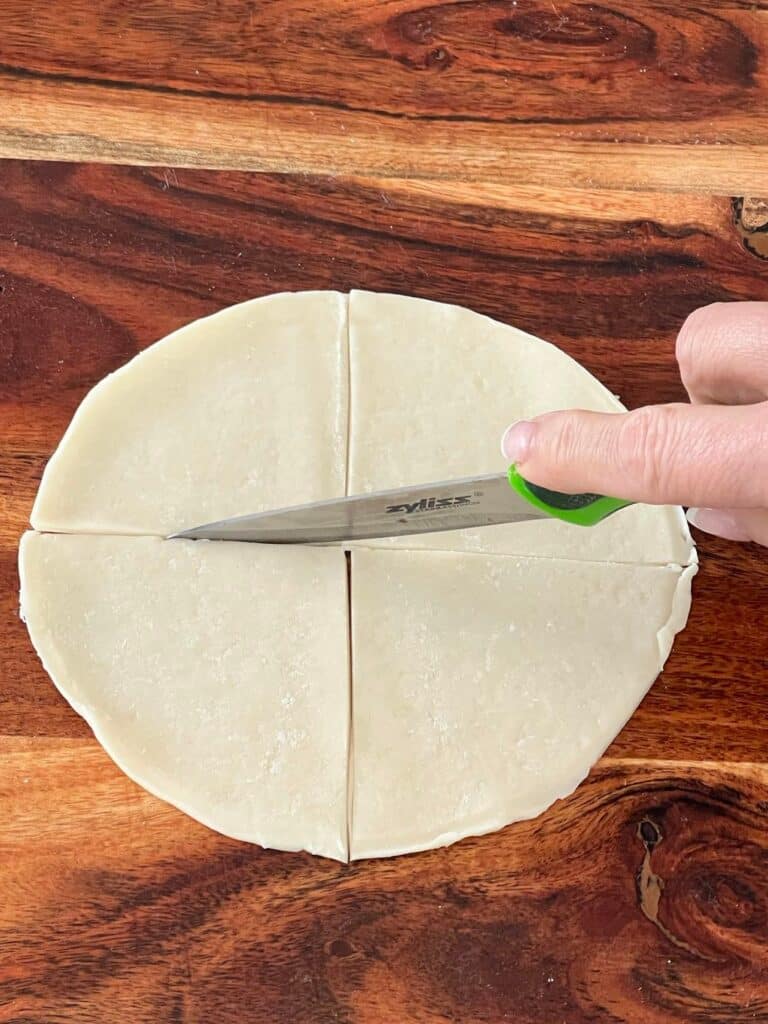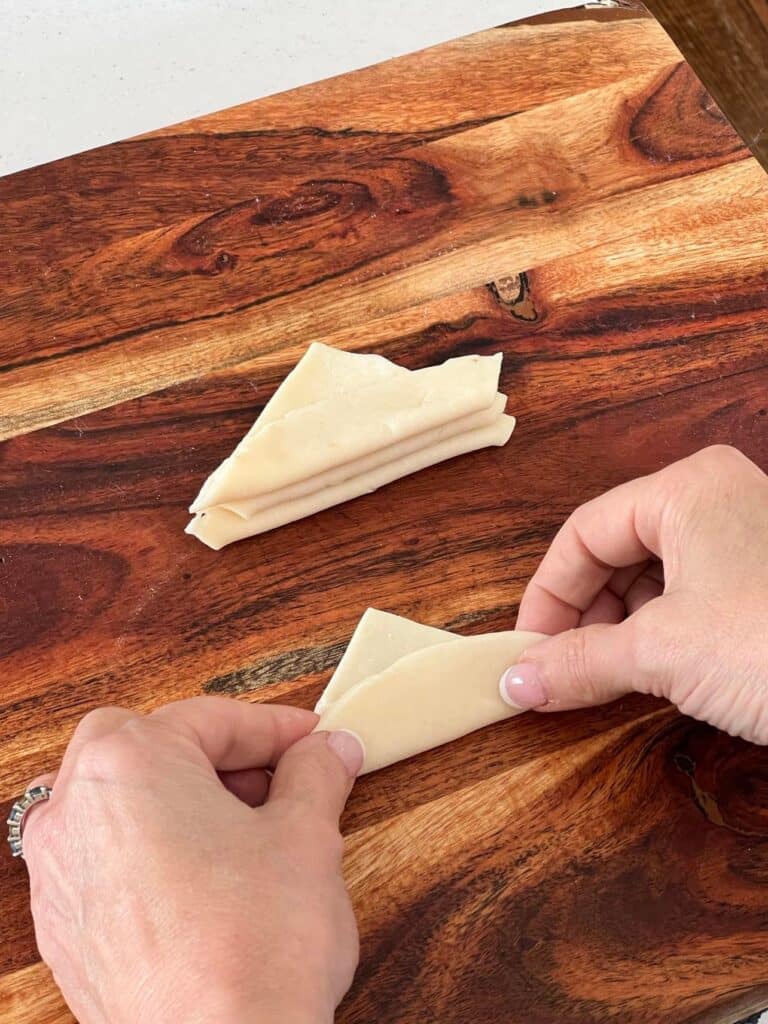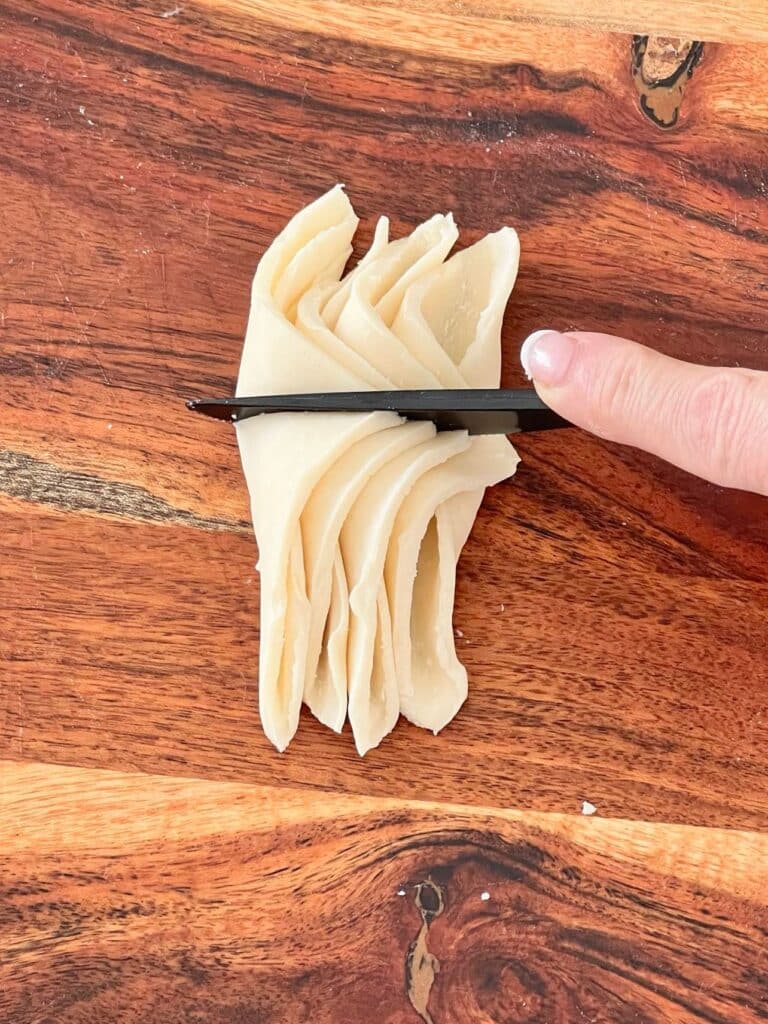 Start to pull the wedge pieces of dough toward the top of the knife blade and pinch them together.
Keeping the knife in place, continue this same shaping and pinching process with each layer of the dough. Once the cookie leaf shape is formed, make sure the top and bottom of the cookie are securely pinched together.
(I'll be honest, this took making a couple of cookies before I got the hang of it and felt comfortable with the dough shaping!)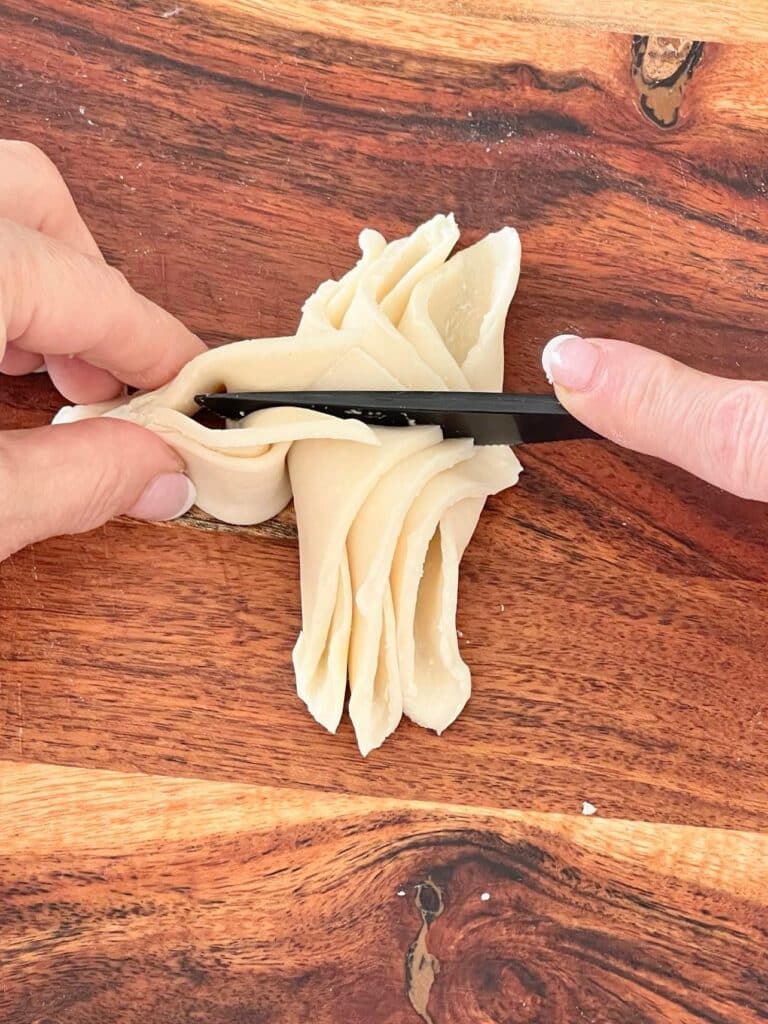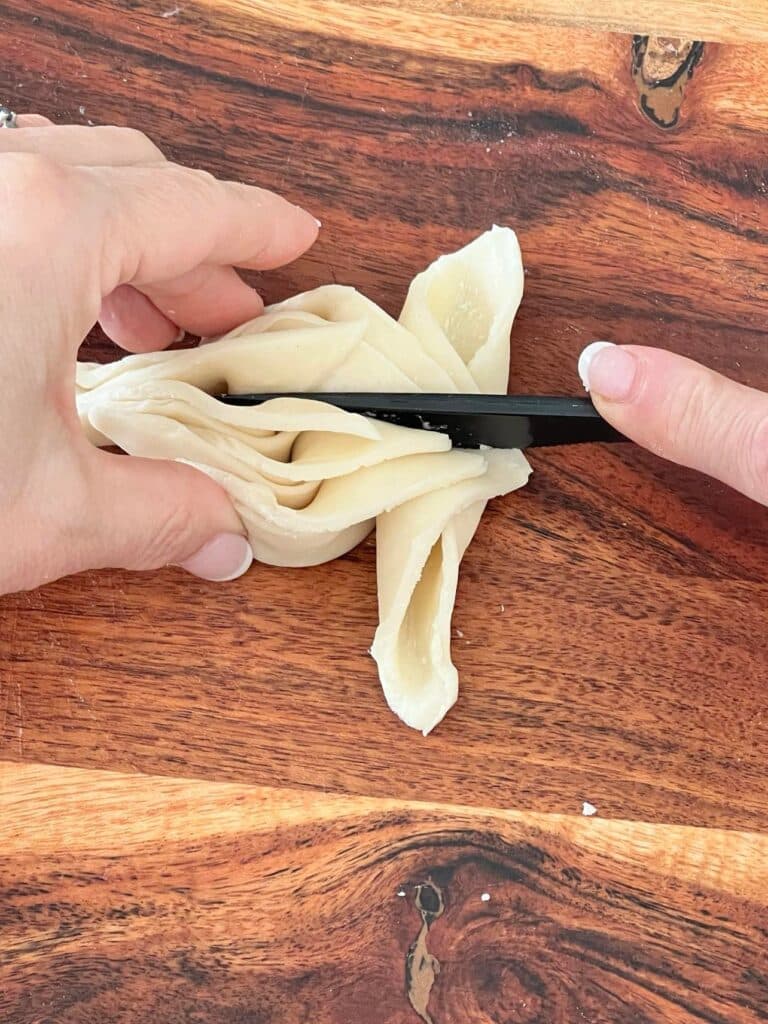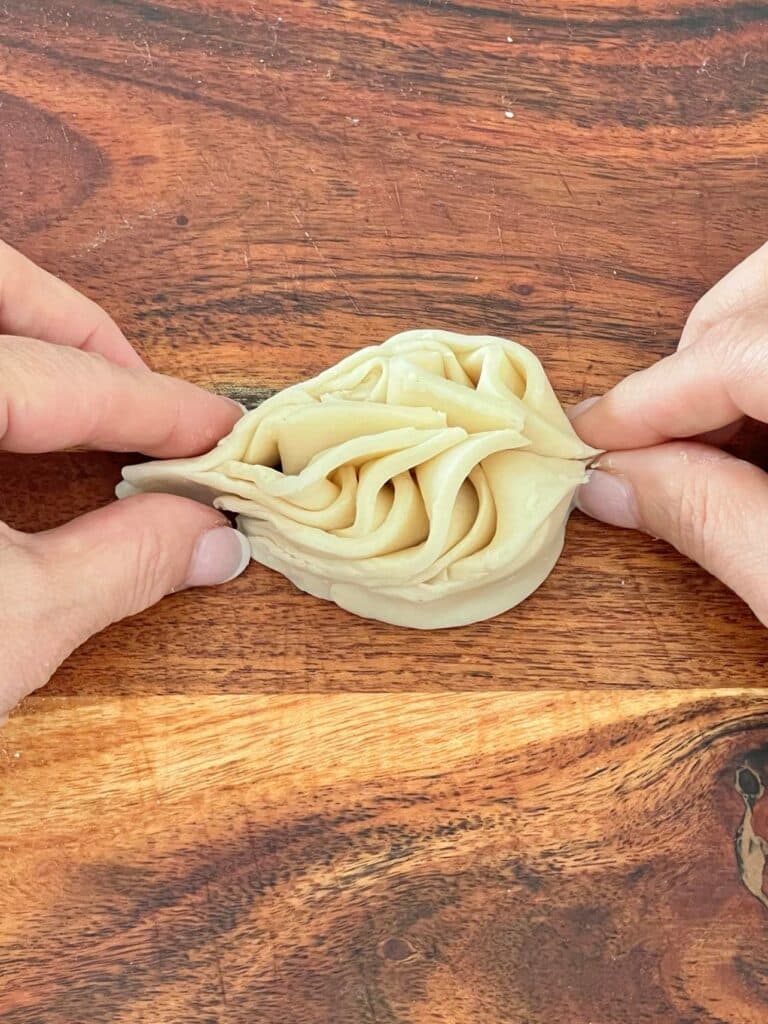 Place the leaf cookie on a cookie sheet that has been lined with parchment paper.
​Generously brush melted butter over the entire cookie and cover with a sprinkling of cinnamon sugar.
Emphasis on "generously!" The butter and cinnamon sugar are the flavor in this pie crust cookie so you don't want to skimp!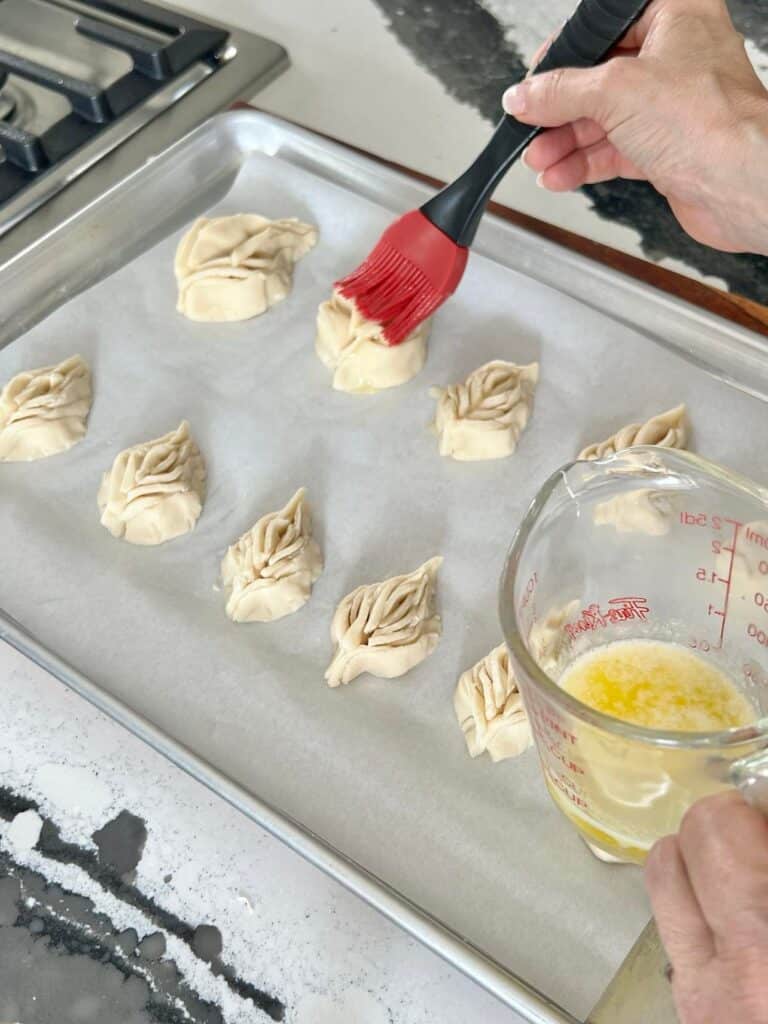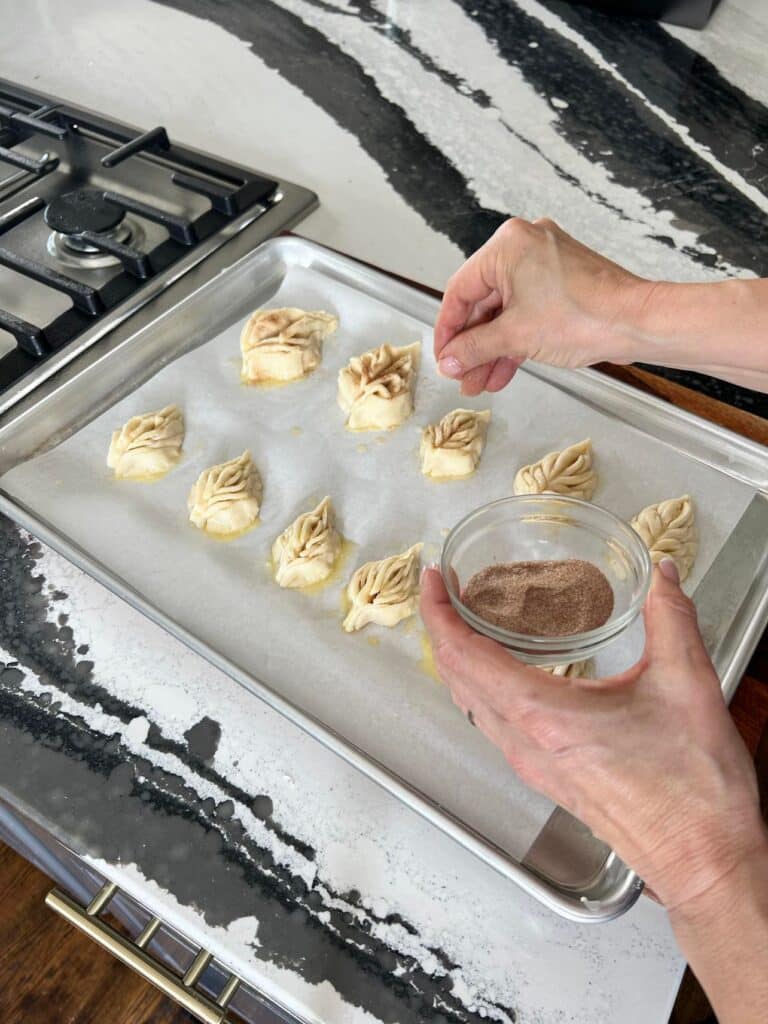 For best results, bake according to the package directions with the cookies covered with foil until the last 2-3 minutes. Once removed from the oven, let the cookies sit for a couple of minutes before moving them to a cooling rack.
These tender cookies are so elegant and are perfect paired with a cup of hot coffee!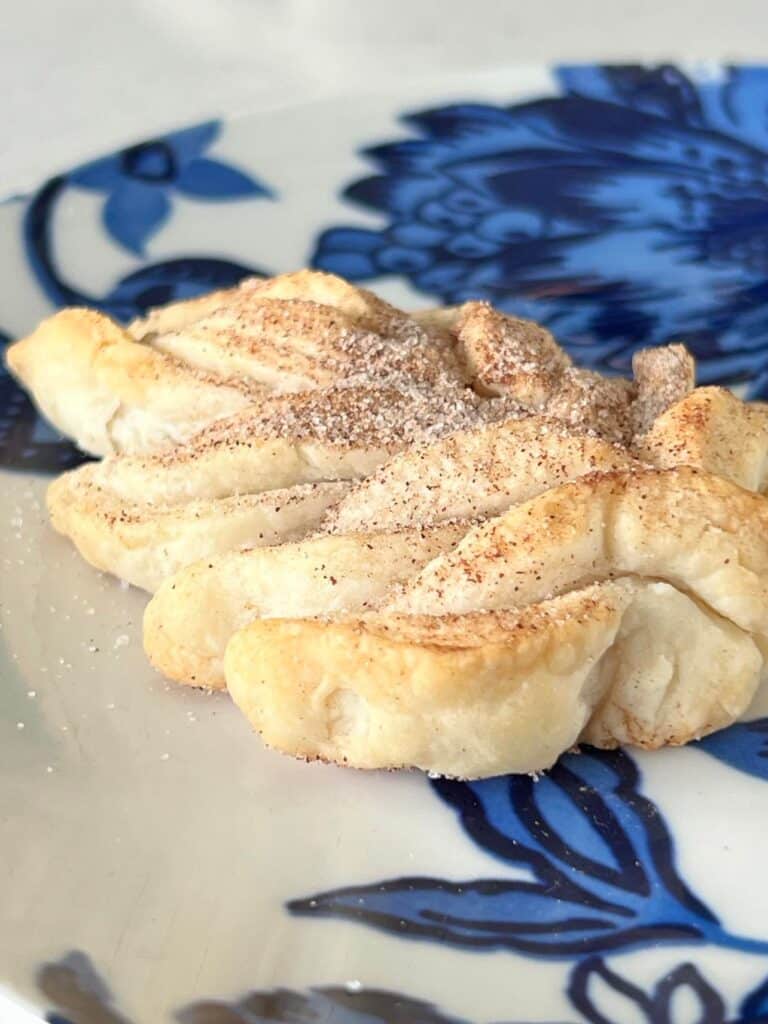 Sugar Cookie Fall Leaf Cookie Recipe
​So once I tried the twisting technique with pie crust dough, I thought I should give sugar cookie dough a try.
These are just as fun but end up with a different taste and texture as well as a completely different look!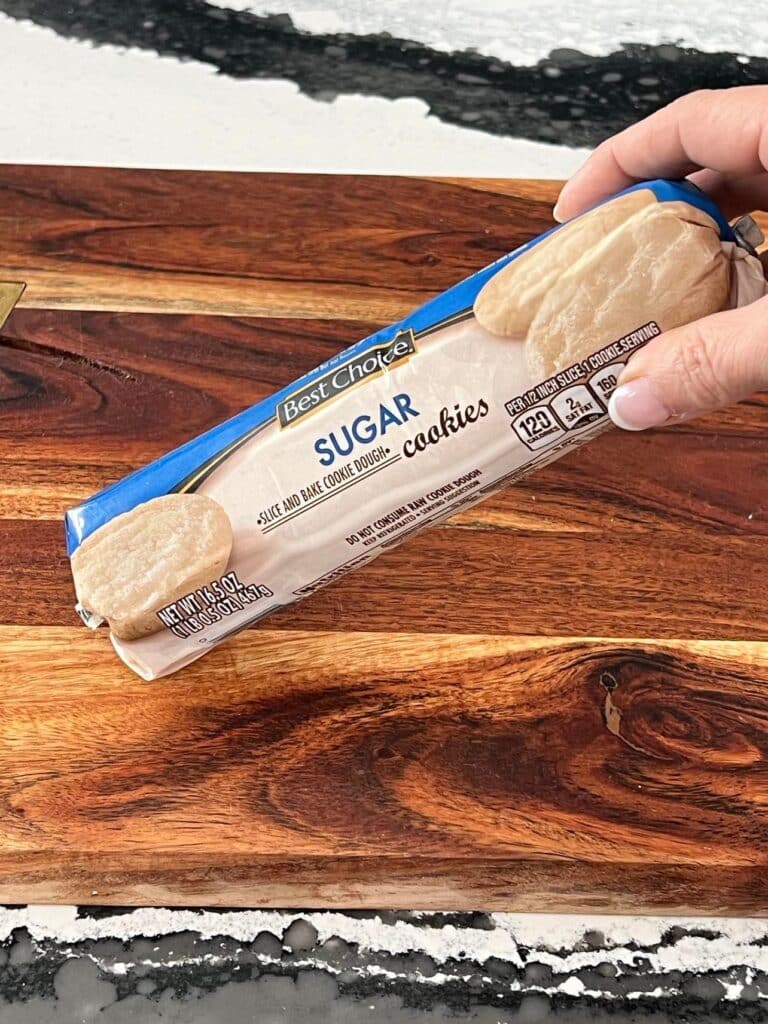 You prep these cookies in the same way that you do the pie crust cookies.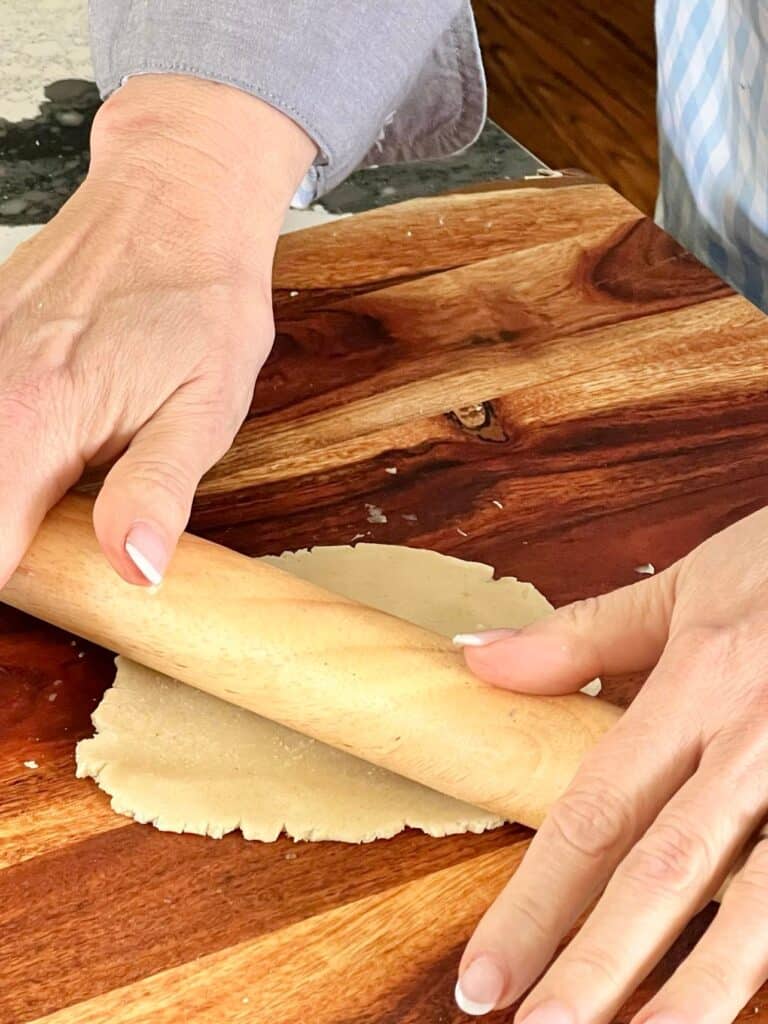 To recap the dough-shaping process:
Cut out a pastry circle and cut it into fourths.
Fold up the bottom of each quarter wedge piece and stack on top of each other.
Press a plastic knife through the middle of the wedges and start to fold the wide "wing" up and pinch together.
Pinch each layer forming the shape of a leaf.
Because this is a sugar cookie dough, I did not brush with butter but I still sprinkled the cookies with cinnamon sugar before baking.
Cover with foil and bake according to the package directions. Remove the foil for the last 2-3 minutes so the cookies brown.
​When my oven timer went off, I was shocked at the flattened cookies but delighted in the subtle embossed leaf pattern on each cookie. So elegant but in a very different way!
These charming, cozy cookies have the delicious taste of a white sugar cookie but with the added cinnamon flavor that makes me think of the first day of autumn.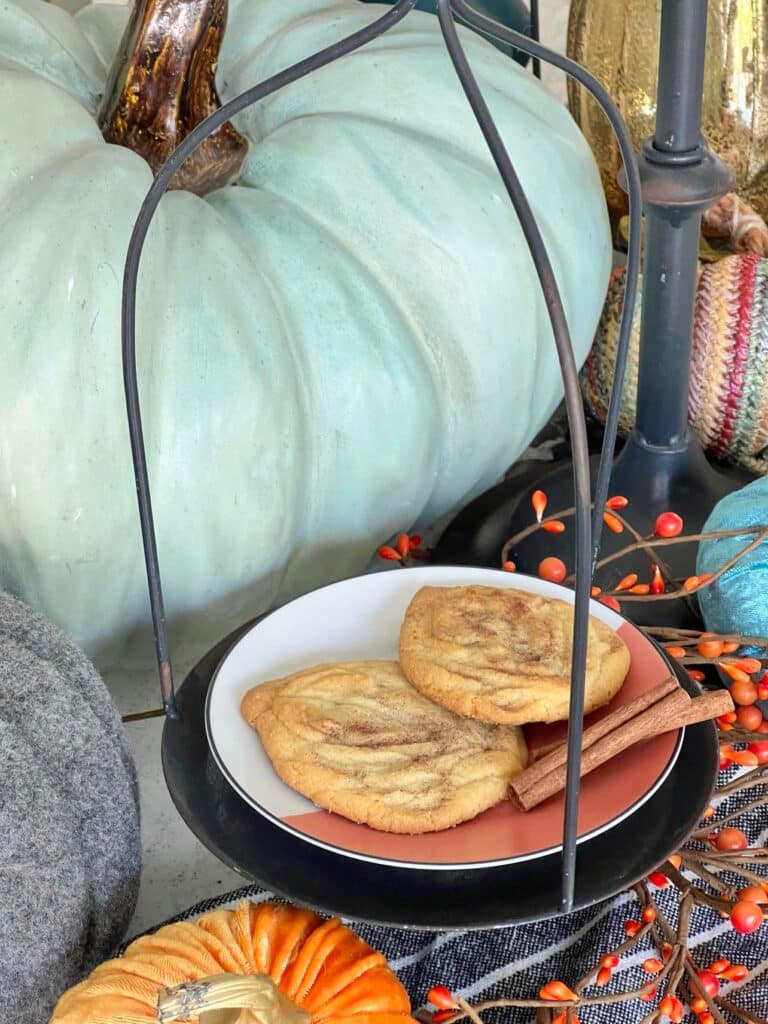 The leaf patterns that are baked into the cookie make these sugar cookies a delicious treat to enjoy with a hot cup of tea or a glass of cold milk!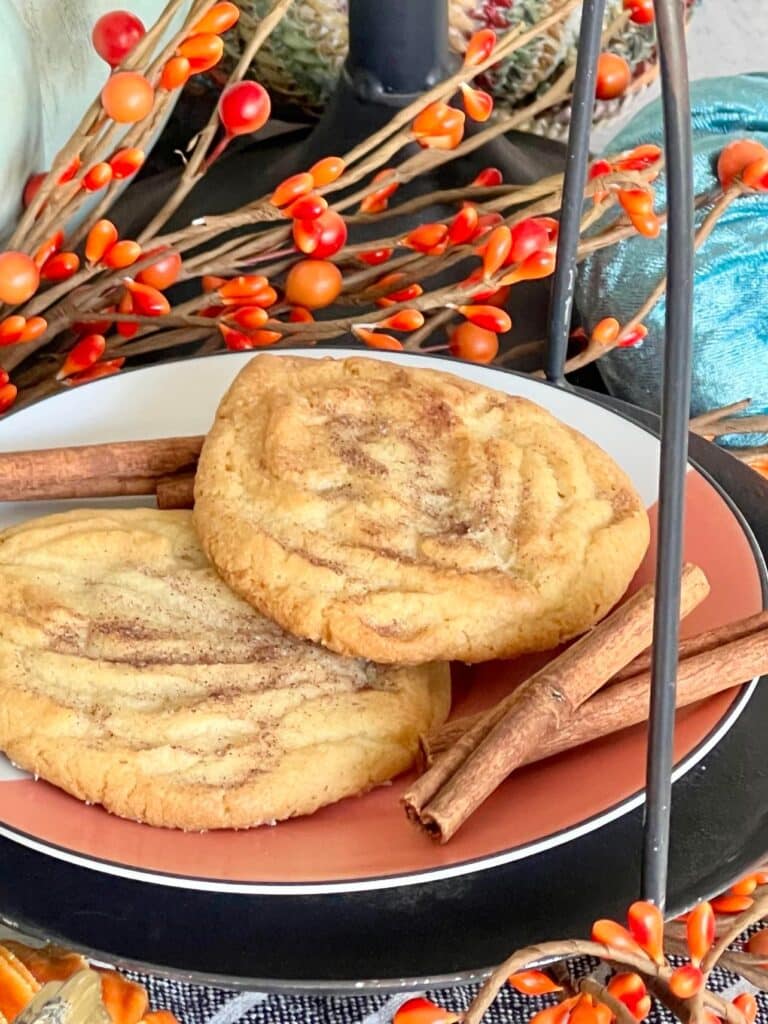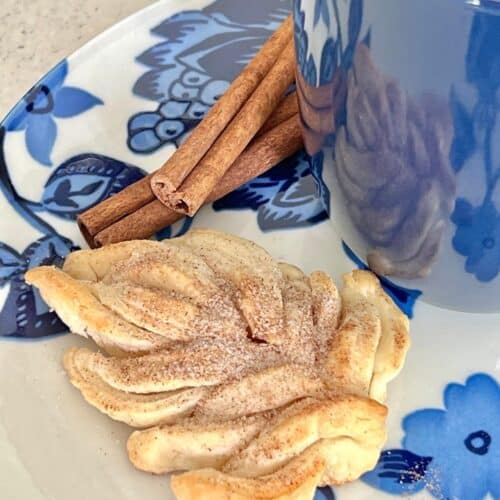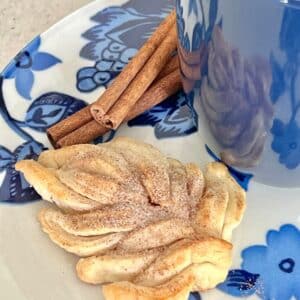 Fall Leaf Cookie Recipe
Delight in these charming, flaky leaf-shaped cookies made from pre-rolled pie crust or sugar cookie dough. Cut, fold, stack, and bake for a taste of autumn in every bite. Simple and scrumptious!
Equipment
1 Rolling Pin

1 Round cookie cutter, ramekin, or small bowl

1 Plastic knife

1 Pastry brush

1 Cookie sheet

Parchment Paper

1 Cooling rack
Ingredients
1

packages

chilled, unbaked pie crust dough

You can make your own dough if you wish.

1/2

cup

butter, melted

4

tbls.

cinnamon sugar

2

packages

refrigerated sugar cookie dough

Alternative dough
Instructions
Unroll pie crust, allow to sit at room temperature briefly. Roll out slightly with a rolling pin.

Use a circle cutter, small bowl, or ramekin to create circles from the dough. Cut each circle into four equal wedges.

Fold the bottom rounded edge of each wedge up about two-thirds of the way, leaving the point exposed.Stack the four wedges on top of each other.

Use a plastic knife to press down on the tips of the wedges. With the knife staying in place, pull the downward pieces of dough toward the top of the knife blade and pinch them together, shaping each layer.Ensure the top and bottom of the cookie are securely pinched together.

Place on a parchment-lined cookie sheet.

Brush melted butter generously over the entire cookie.

Sprinkle with cinnamon sugar.

Follow package directions for baking, covering with foil for the last 2-3 minutes if needed.

Allow to sit for a couple of minutes before transferring to a cooling rack.
Other Spice Ideas for Your Fall Cookie Recipe
The beauty of these cookies is that the dough is already made and you just add some butter and cinnamon sugar. But there are other flavors and warm spices that you could sprinkle on the cookies prior to baking!
Pumpkin spice
Nutmeg
Ground Cloves
Powdered Sugar (Sprinkle this on the cookies after you bake them.)
Dark Brown Sugar (Keep the foil on a little longer so this doesn't burn.)
Maple Glaze
Sea salt
How to Store This Fall Cookie Recipe
Whether you try this technique with pie crust dough or sugar cookie dough, you will want to store leftover cookies in an airtight container. 
If you are layering these cookies, place a sheet of parchment paper or wax paper between each layer of cookies to keep their unique leaf design intact.
How About a Hug?
A warm cookie is like a warm hug! You will want to give one and keep one!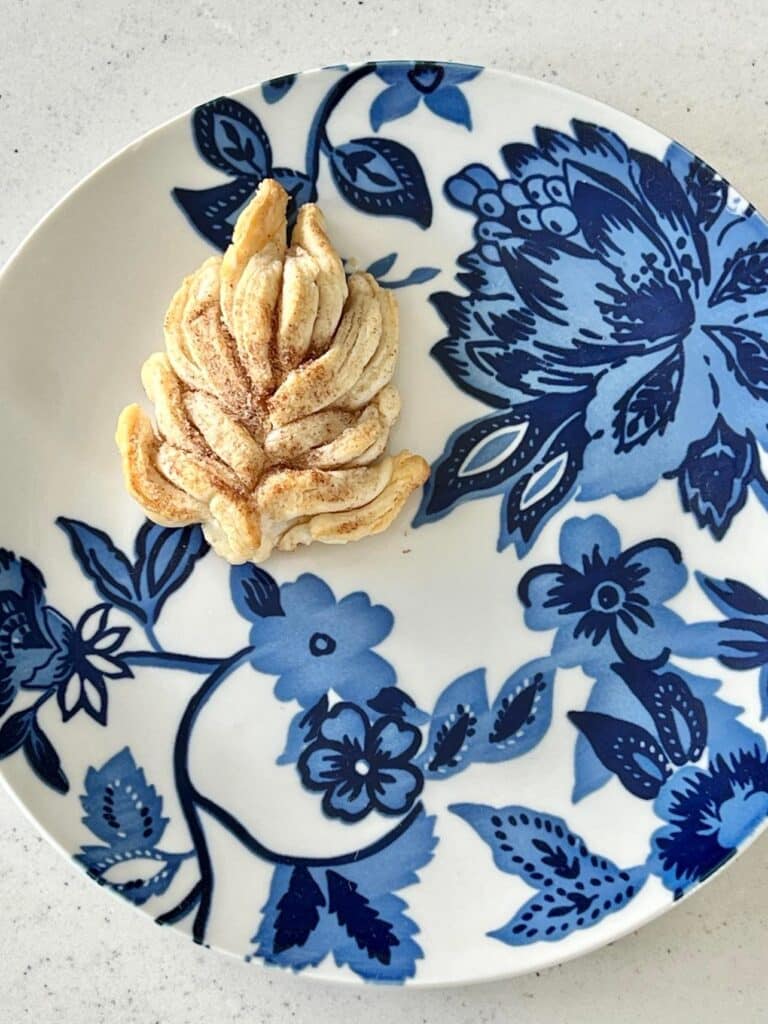 As much as we love baking all of our favorite fall cookies, we also love quick, easy, and delectable! The technique takes just a couple of minutes per cookie with amazing results! Delicious to eat and fun to gift, try this leaf-shaping technique, and these seasonal cookies are sure to become some of your fall favorites!
So bake a few cookies and then head over to Southhouse Designs to see Diane's bold and unique Mod Podge leaf decor project!
Happy baking!
Cheers!

Don't Forget to Pin It!
Pin the image below to your boards on Pinterest (just click the Pin button in the top left corner). You can also follow along with me on Pinterest!
More Baking Hacks!
What? More baking hacks? Try this simple recipe using a box brownie mix and a surprise chocolate toffee surprise!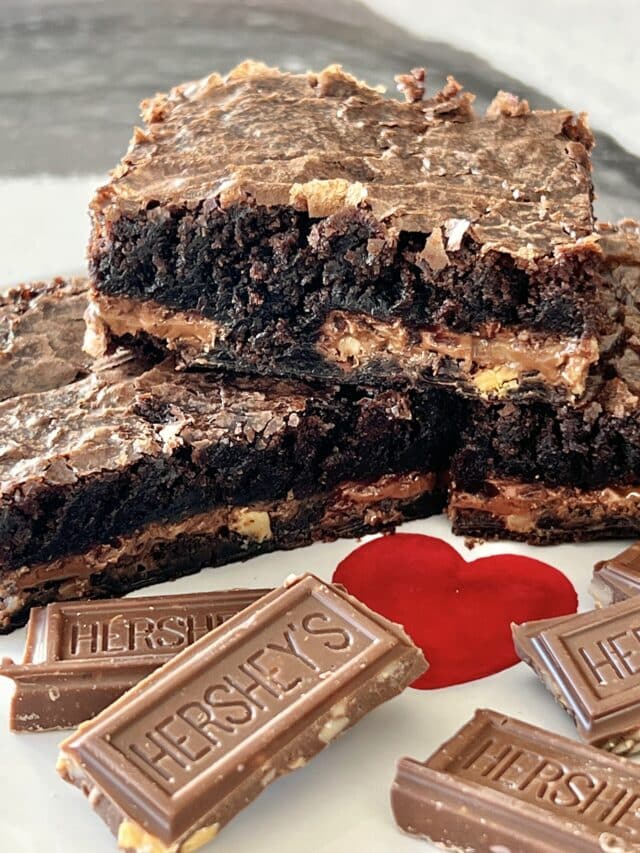 Peanut Butter Cereal Cookie Recipe
One of my childhood cookie favorites, this is a chewy cereal cookie that satisfies my peanut butter obsession!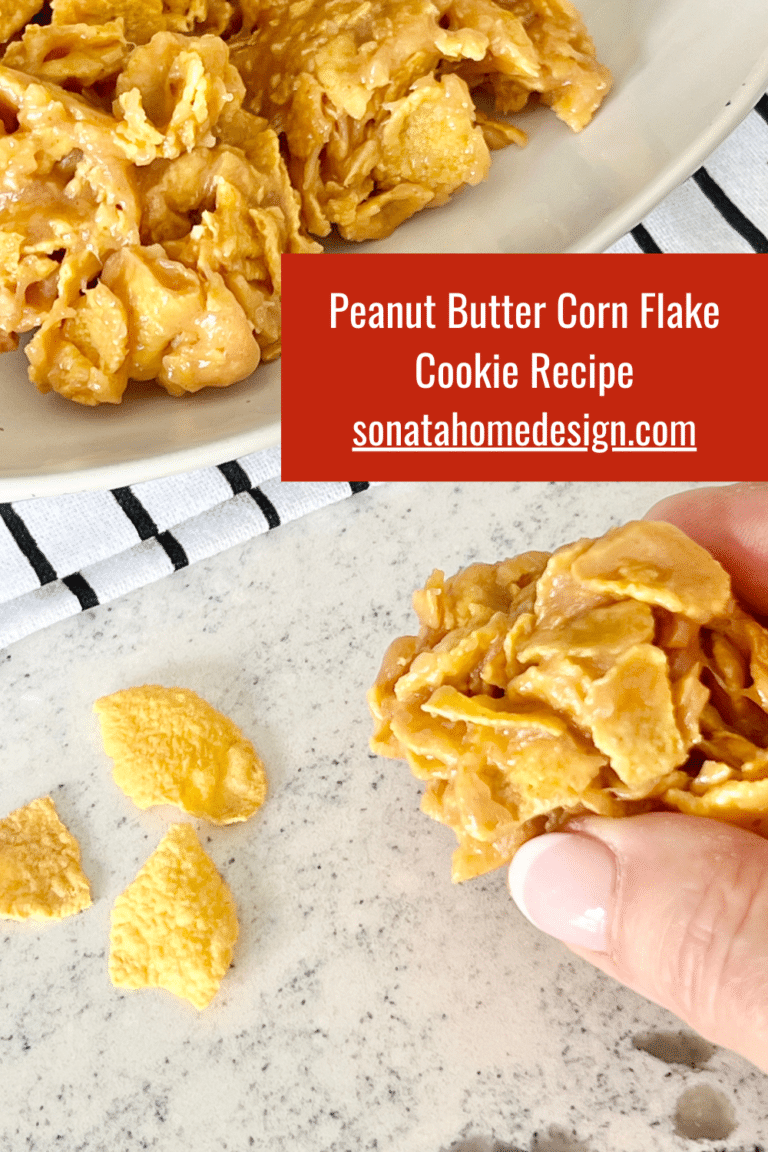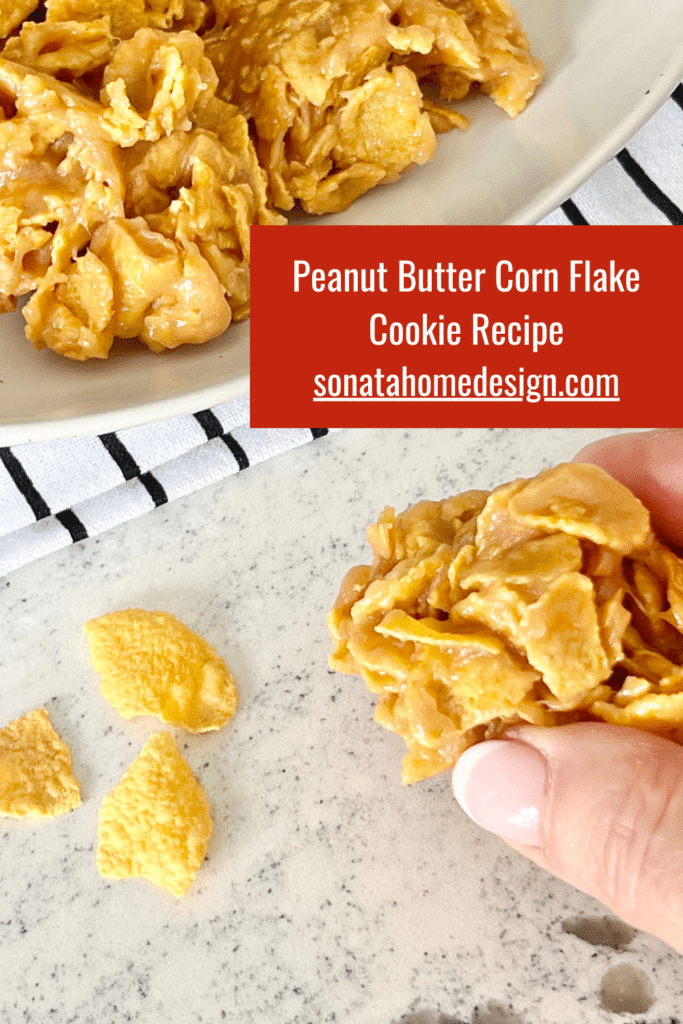 Easy Three Ingredient Strawberry Cake Cookies
This is another cookie hack where most of the work is done for you by using a box cake mix. Who says quick and easy can't be yummy?