Easy Recipe for 3 Ingredient Strawberry Cake Cookies
Jump to Recipe
Are you ready for an amazingly delicious and ridiculously easy cookie recipe? Get ready to treat your taste buds with these 3 ingredient strawberry cake cookies! . With only three simple ingredients, you'll have these yummy treats on the table in no time.
Get ready for a sweet treat that won't take long to make! Read on for our super-fast and oh-so-tasty 3 ingredient strawberry cake cookies!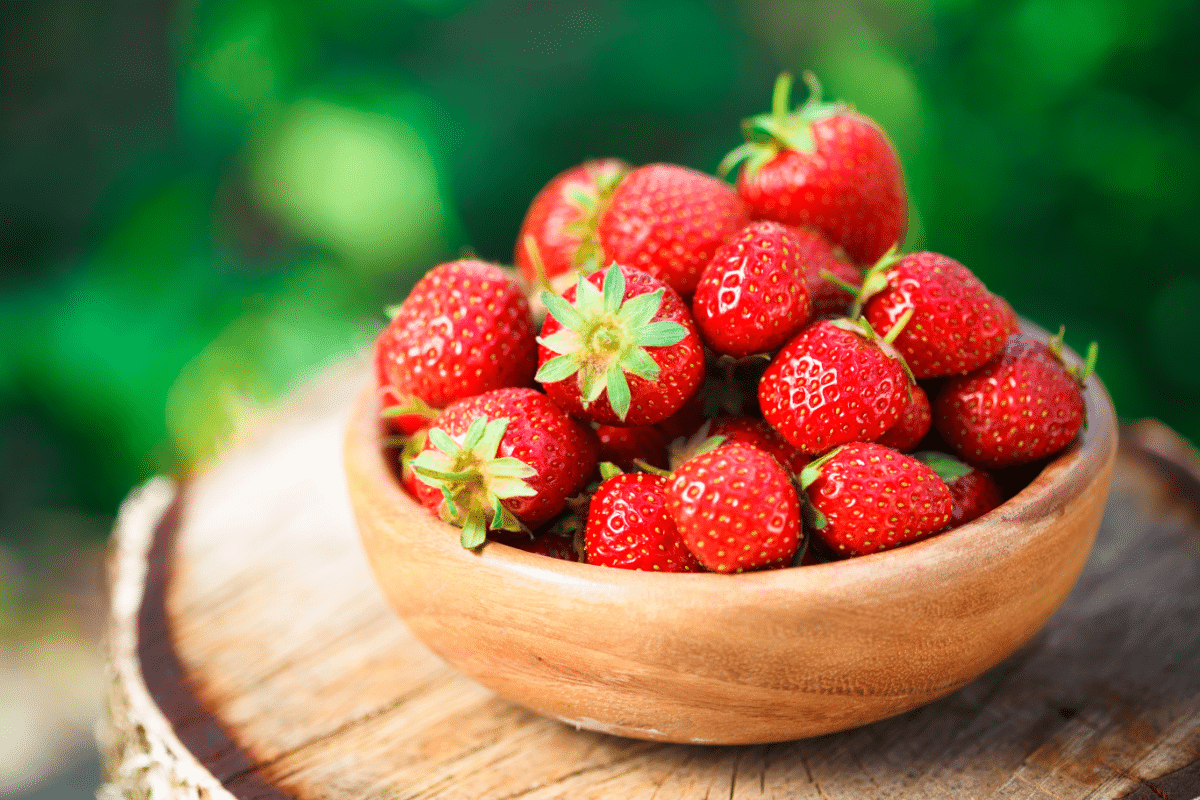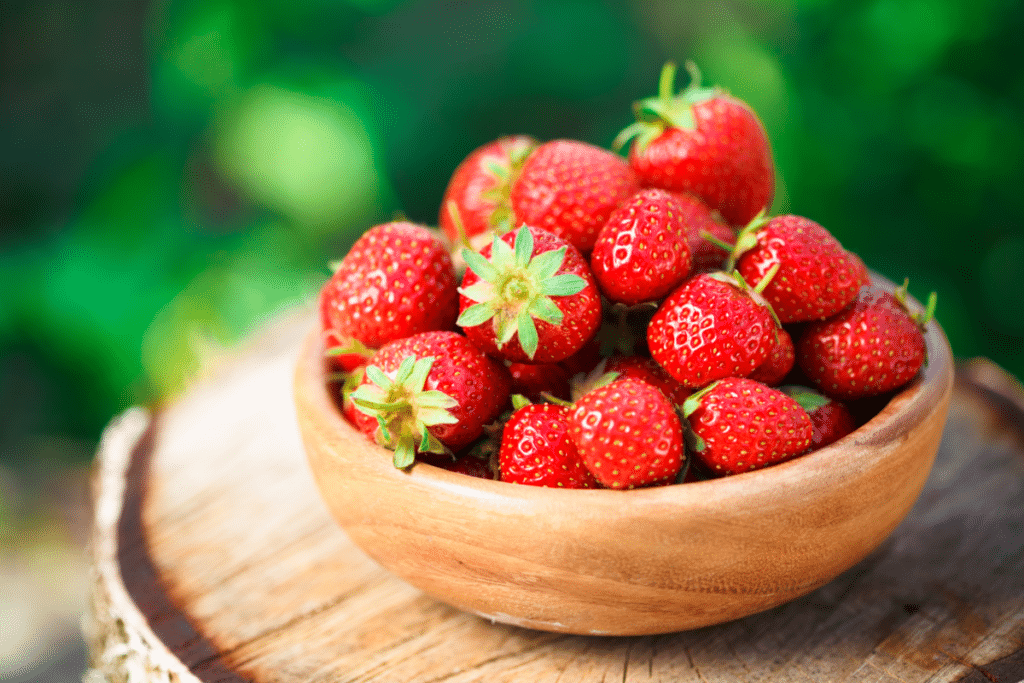 This blog contains affiliate links. This means a small commission is earned if you make a purchase by using this link. The price you pay will be the same whether you use the affiliate link or go directly to the vendor's website using a non-affiliate link.
Have you seen the Barbie movie yet?
I'm planning to see it next week and am tickled PINK to experience Barbie fever!
I have loved the color pink my whole life…I wear pink, I decorate with pink, and I bake PINK!
I'm slipping on my pink sandals, watering my pink potted flowers, and baking a fresh batch of cookies in a sweet strawberry flavor that will hit the spot!
All you need is a box of cake mix, vegetable oil, and eggs! It couldn't be easier!
The 3 ingredients for Strawberry Cake Cookies
Cake Mix
The primary ingredient for these easy cookies is a box of strawberry cake mix. The best part is that by using a boxed cake mix, you are simplifying your recipe but not sacrificing flavor. There are lots of different cake mixes available and any one of them will do.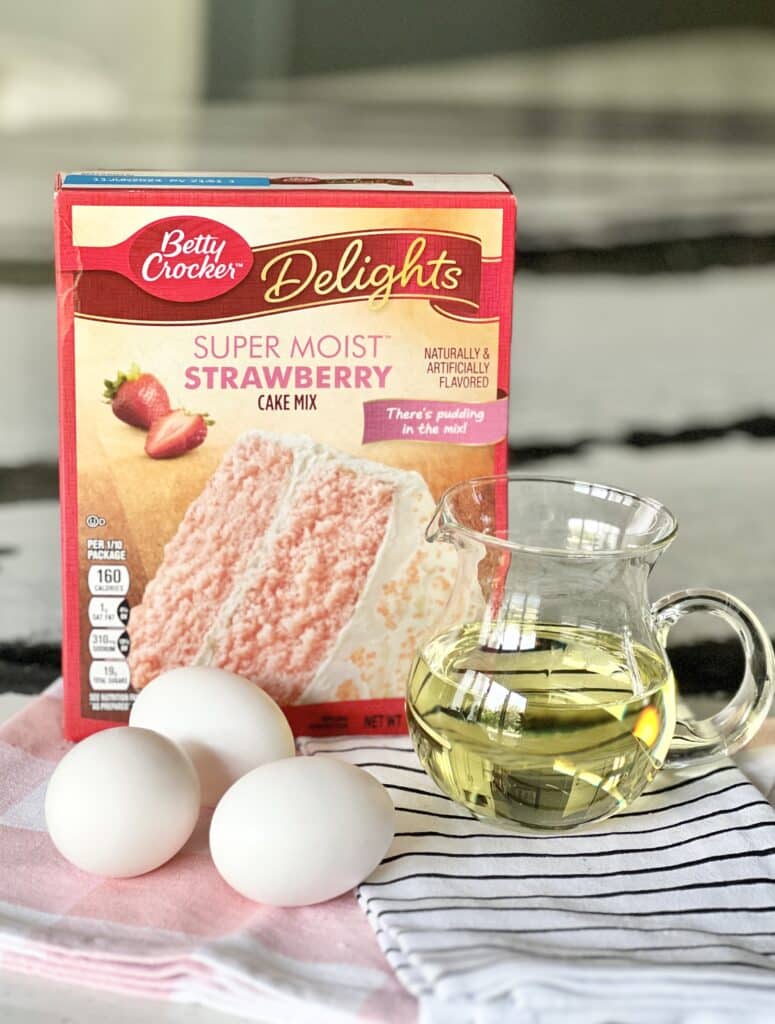 For extra moisture in the cookies, my favorite cake mixes to use are either Duncan Hines Strawberry Supreme Cake Mix or Betty Crocker Super Moist Delights Strawberry Cake Mix. (I have a hard time finding Duncan Hines in our grocery store so Betty Crocker is a good alternative.)
Vegetable Oil
Every cookie needs moisture and this cookie gets it from the oil. You can use vegetable, canola, peanut, or grapeseed oil. (any oil that can withstand high heat.)
Eggs
Eggs are always the essential ingredient that binds the batter and gives the cookies their cake-like rise and delicious chewiness. Large eggs are the best for this recipe.
How to Make 3 Ingredient Strawberry Cake Cookies
Do you have about 20 minutes? With 3 ingredients and just a few steps, you are going to have delicious strawberry cake mix cookies in no time!
Step #1 – Prep
Preheat your oven to 350 degrees. While the oven is heating up, line your cookie sheet with parchment paper. I actually prep two cookie sheets to save time as I'm baking.
Step #2 – Mix
In a large bowl, whisk together the 2 eggs and 1/3 cup vegetable oil. (Don't follow the box ingredient amounts.)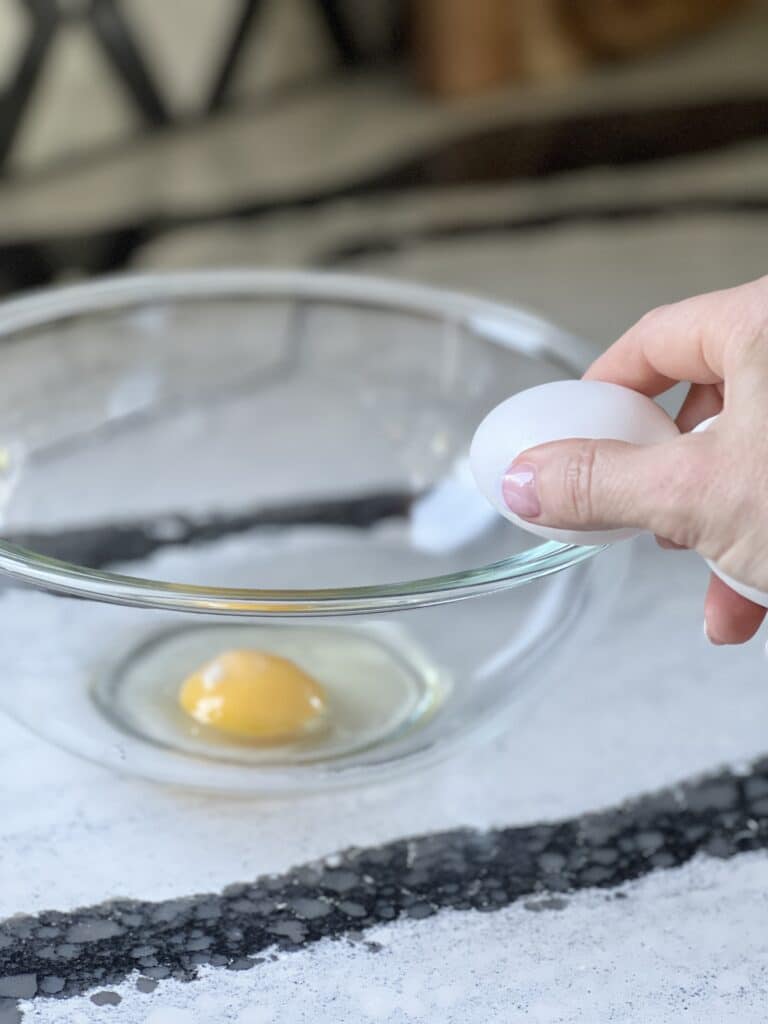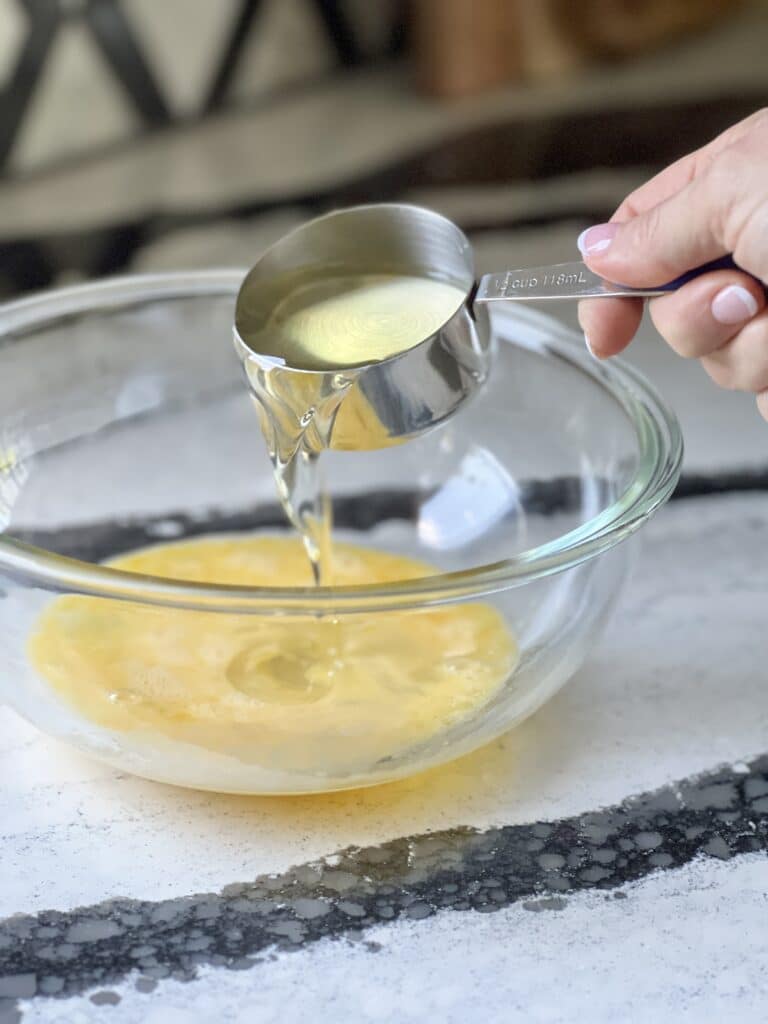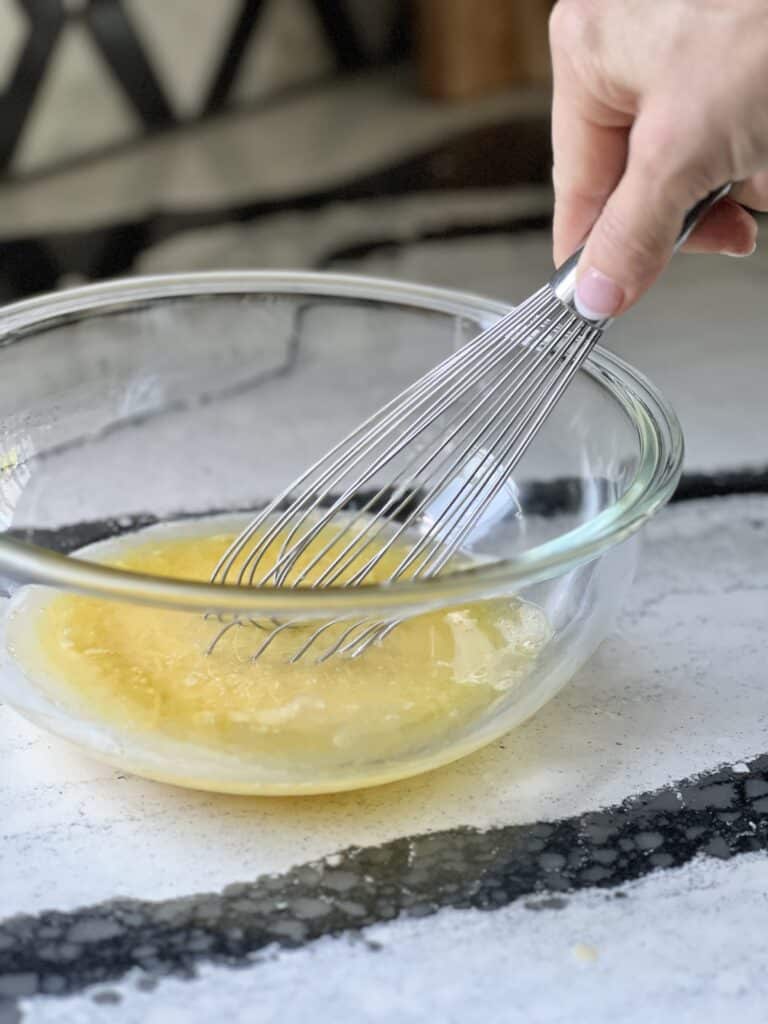 Once thoroughly combined, add the strawberry cake mix and mix together with a wooden spoon or rubber spatula.
Mix just until everything is combined. Overmixing can result in a tough cookie!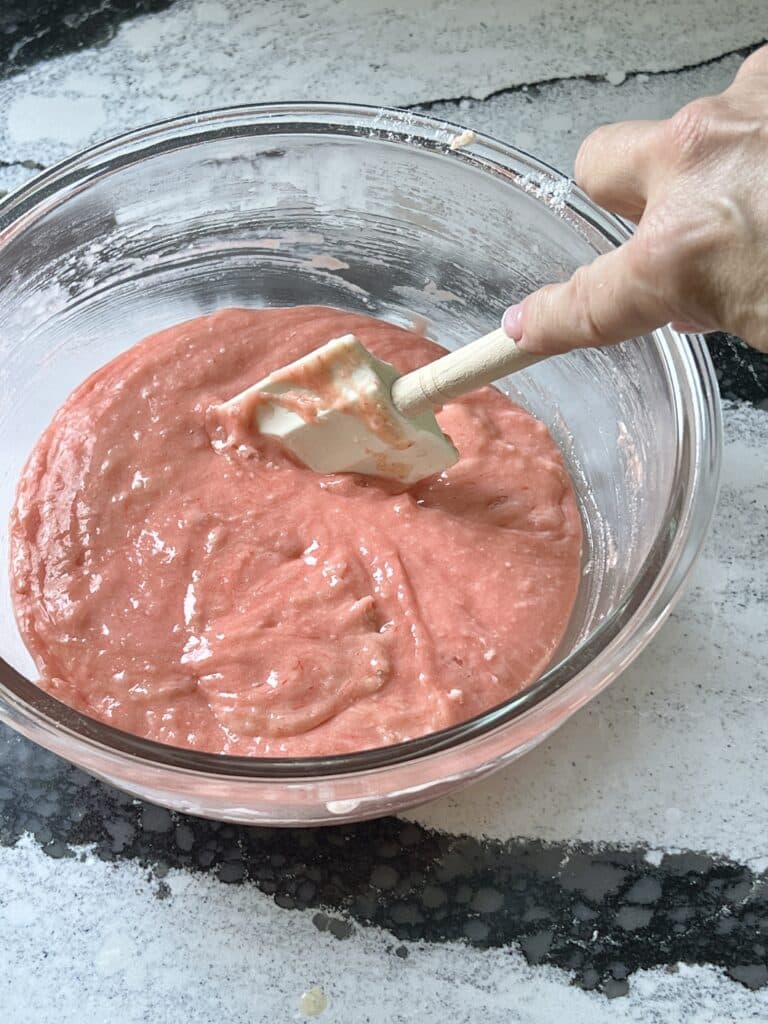 Step #3 – Scoop
Using a small ice cream scoop or a spoon, scoop the cookie batter for individual cookies onto the lined baking sheet. For best results, place the cookie dough balls about 2 inches from each other so there is room for them to spread out.
Give your scoop a quick spray with cooking spray to help the batter fall easily from the scoop!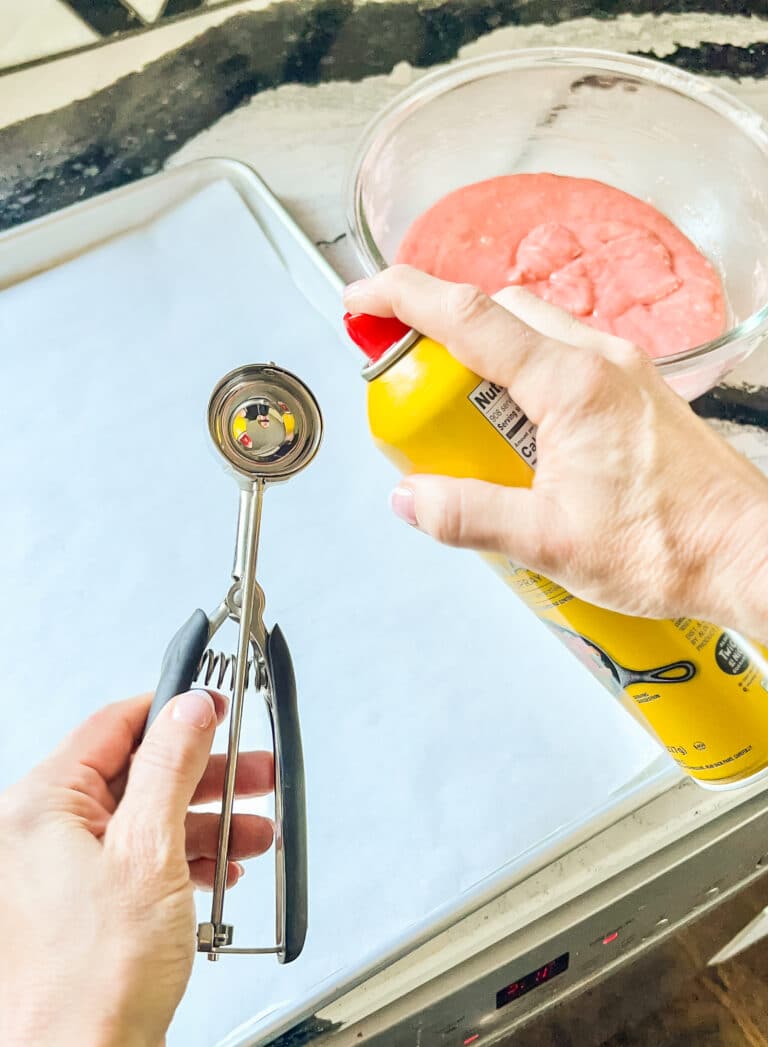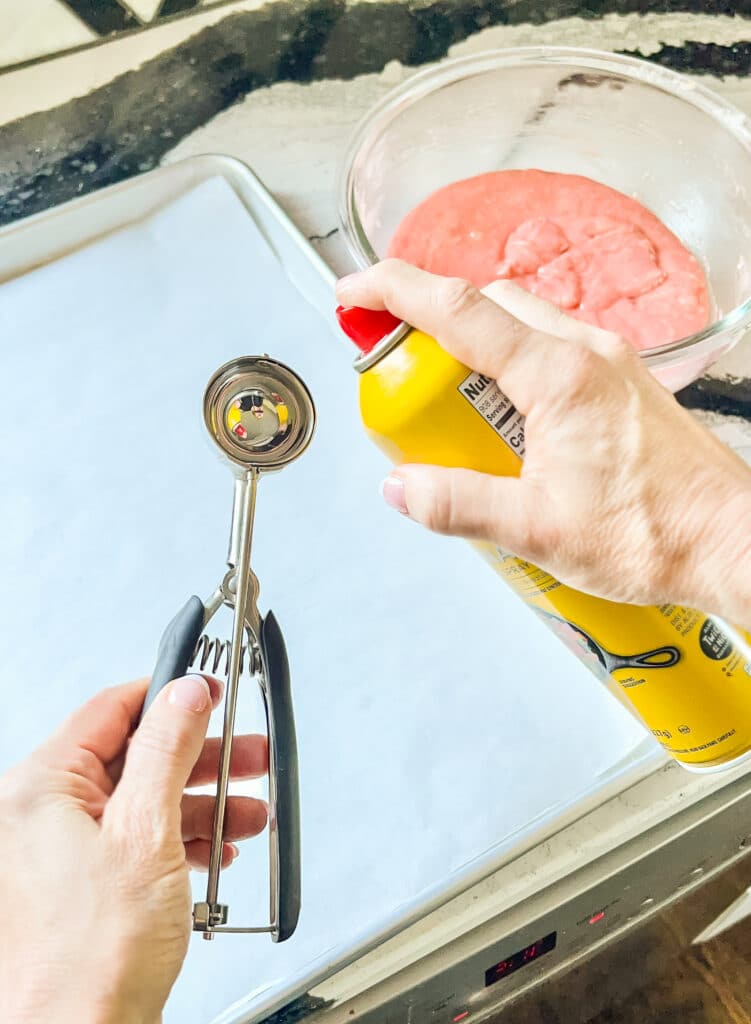 Step #4 – Bake
Place your cookies into the preheated oven and let bake for 8-10 minutes. Turn on your oven light and watch as the cookie balls bake into beautiful strawberry crinkle cookies!
You will know that the cookies are done when the edges turn slightly brown but the middle is still slightly soft. Oh my goodness, the smell of these cookies is amazing!
Once you remove the cookies from the oven, let them cool slightly before transferring them to a wire rack to cool.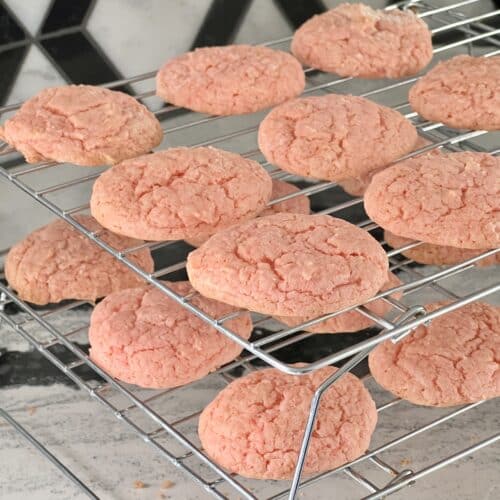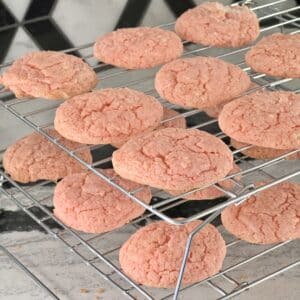 3 Ingredient Strawberry Cake Cookies
These soft and chewy treats are full of strawberry flavor and are a breeze to make with only 3 ingredients.
Equipment
1 medium bowl

1 whisk

1 rubber spatula

1 bakaing sheet

1 sheet of parchment paper

1 spoon or ice cream scoop
Ingredients
1

box

strawberry cake mix

1/3

cup

vegetable oil

2

large

eggs

sprinkles

optional

white chocolate chips

optional
Instructions
Preheat your oven to 350 degrees. Line 2 baking sheets with parchment paper.

Whisk together the oil and eggs in a medium size bowl until well combined. Add the dry cake mix and stir with a rubber spatula until no dry streaks remain.

Spray a spoon or scoop with cooking spray. Scoop the cookie dough and drop it on the cookie sheets leaving about 2 inches between each cookie.

Bake for 8-12 minutes. You will know the cookies are done when the middle is set and the edges are just starting to turn slightly brown.

Let the cookies cool for 5 minutes on a the baking sheets before transferring to a cooling rack.
How to Store Your Pink Strawberry Cookies
Store your cookies in an airtight container to keep them fresh. Better yet, stack them into a pretty glass decorative jar and display on your kitchen countertop.
These cookies also freeze well so you can also toss them into a freezer bag to save for later. This never works for me because I always eat them so fast!
When to Make Strawberry Cake Cookies?
Of course, any day is a good day for this perfect treat! But there are also times when these pink cookies are especially good.
Serve guests at a baby shower.
Give them as a gift on Valentine's Day.
Instead of a traditional cake, pop a birthday candle into the top of each cookie and start singing "Happy Birthday!"
Have these cookies ready for kids when they come home after the first day of school.
Road trip with these chewy cookies stored in an airtight container.
Tuck a cookie into the top of ice cream any day of the year!
Can I Add Additional Ingredients to These Cookies?
If you are looking for a little something extra to add to these cookies, here are some suggestions:
Fresh strawberries (Slices work best. Just lay a slice or two on top of each cookie.)
Powdered sugar
Candy sprinkles (sprinkle on top of the cookies just before baking)
White chocolate chips (add to the batter or place on top of the cookies after baking.)
Lemon curd (I love strawberry and lemon together!)
Strawberry Frosting (Pink on pink!)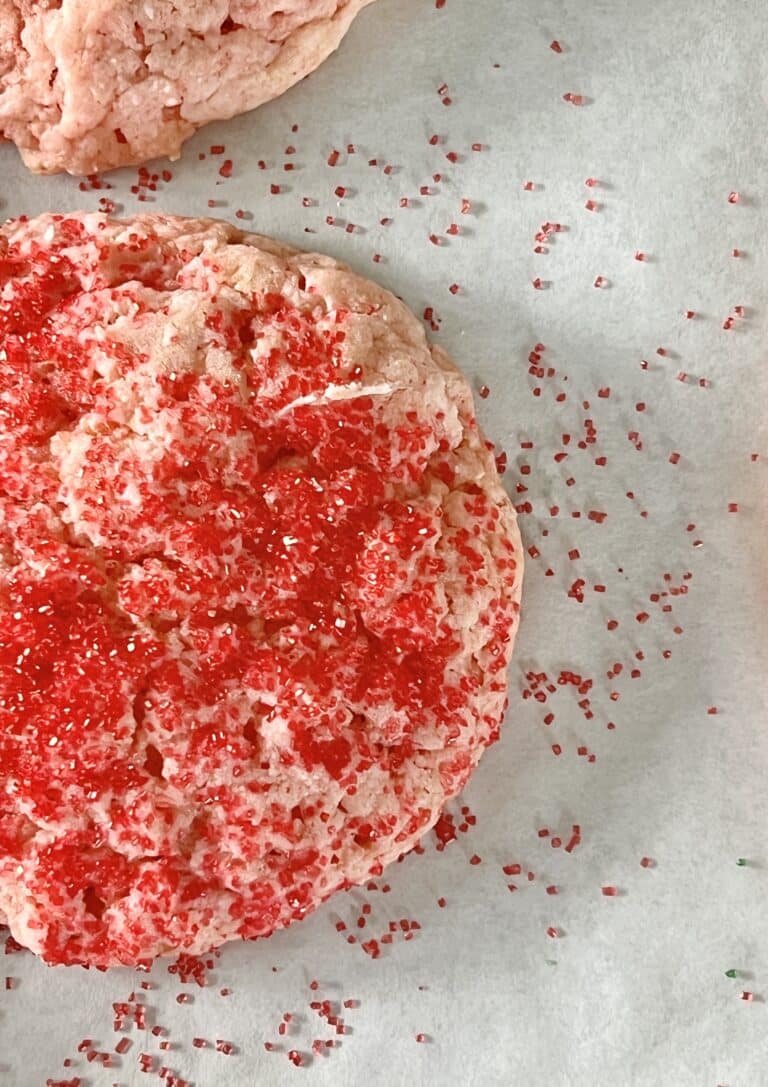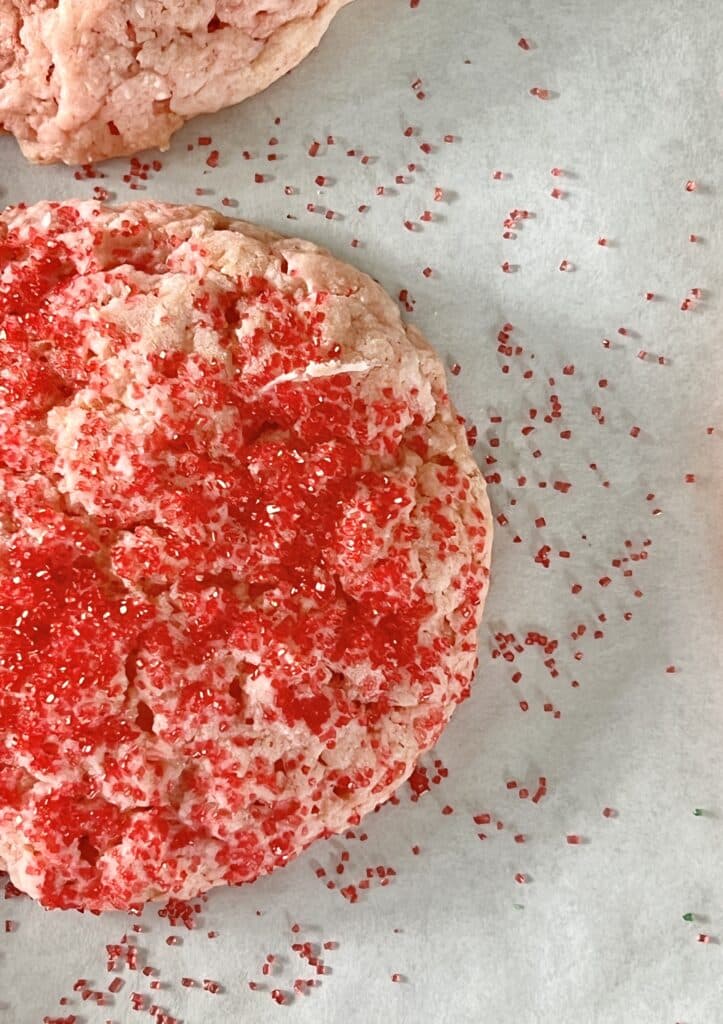 I hope you like this strawberry cake mix cookie recipe as much as I do. This simple recipe helps you spend less time in the kitchen and more time enjoying your yummy treats! A few basic ingredients are all you need. So, grab a bowl, mix the ingredients, and bake some of these easy cake mix cookies!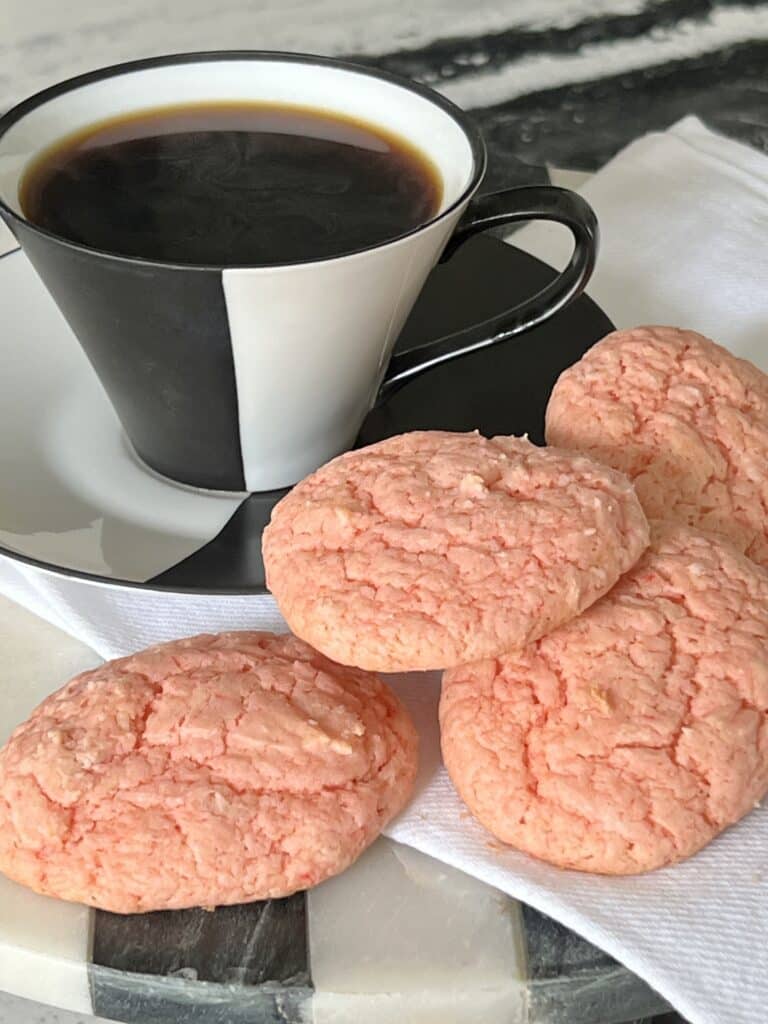 I hope eating these delicious cookies will make your day just a little pinker and a little brighter! Happy baking!
Cheers!

Don't Forget to Pin It!
Pin the image below to your boards on Pinterest (just click the Pin button in the top left corner). You can also follow along with me on Pinterest!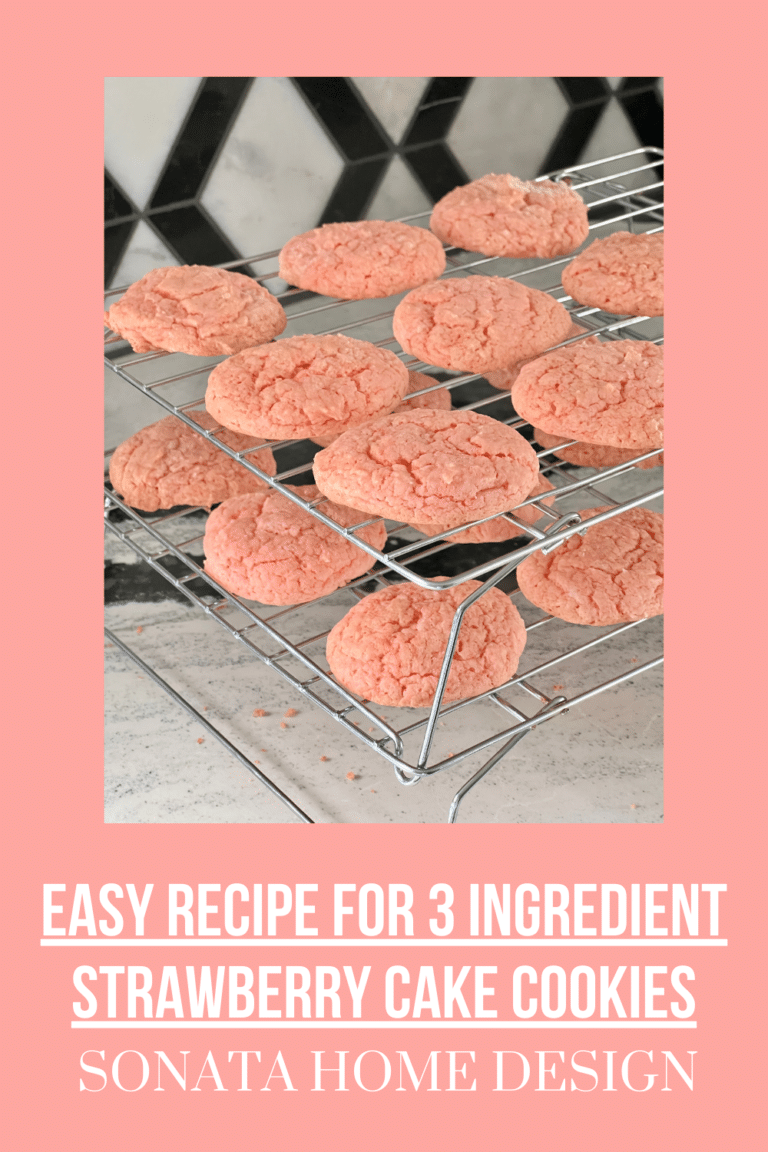 More Sweets!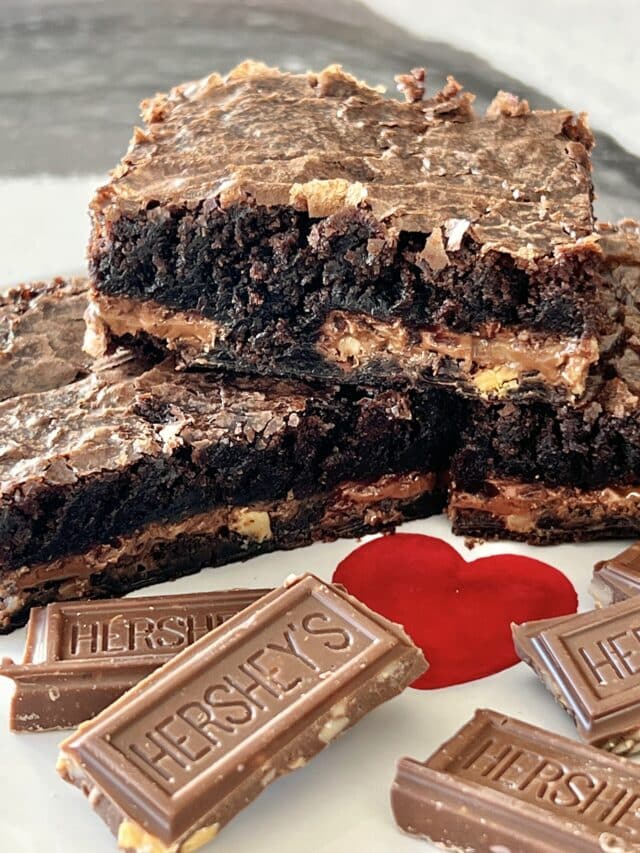 Homemade Buster Bar Ice Cream Dessert