Ideas for How to Arrange Potted Plants on a Patio
Imagine stepping onto your patio, surrounded by lush foliage and vibrant colors, as a gentle breeze carries the sweet scent of blooming flowers. Here are some great ideas for how to arrange your potted plants on a patio and transform your outdoor space into a botanical masterpiece!
Whether you have a small balcony or a spacious deck, get ready to unlock the secrets of arranging potted plants and infuse your patio with natural charm.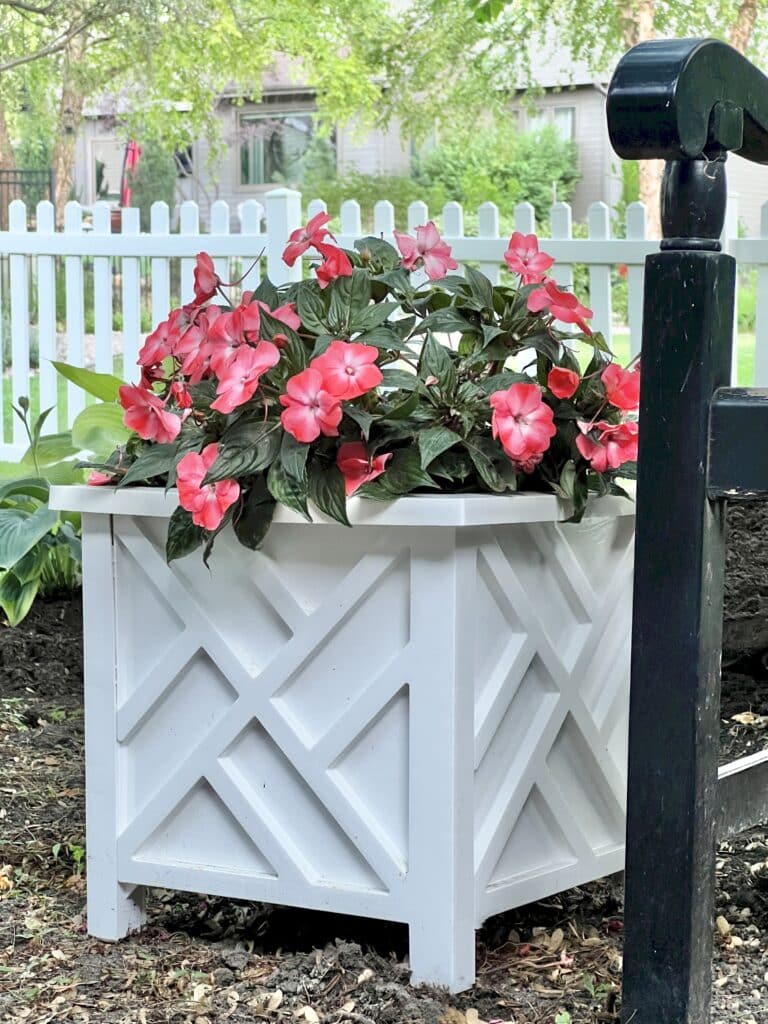 This blog contains affiliate links. This means a small commission is earned if you make a purchase by using this link. The price you pay will be the same whether you use the affiliate link or go directly to the vendor's website using a non-affiliate link.
The new patio is finished!
After years of a functional but rather plain concrete slab, our new cobblestone patio is complete and ready for decorating!
Here is the "Before" patio: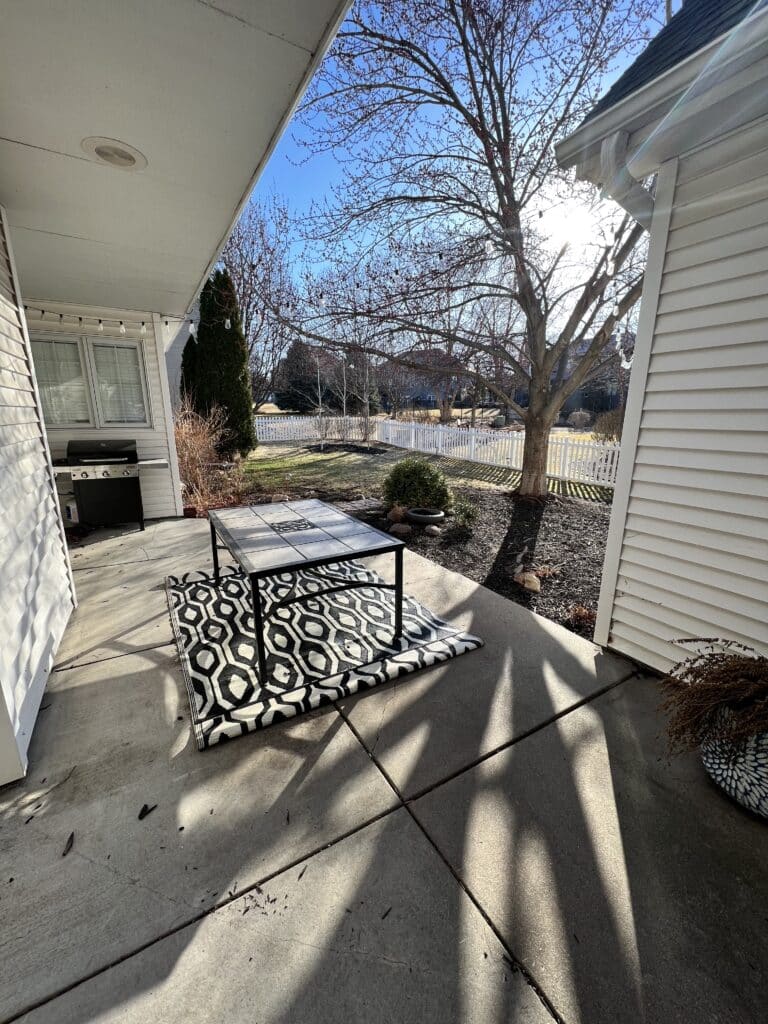 And here is the "After" with new grey cobblestones!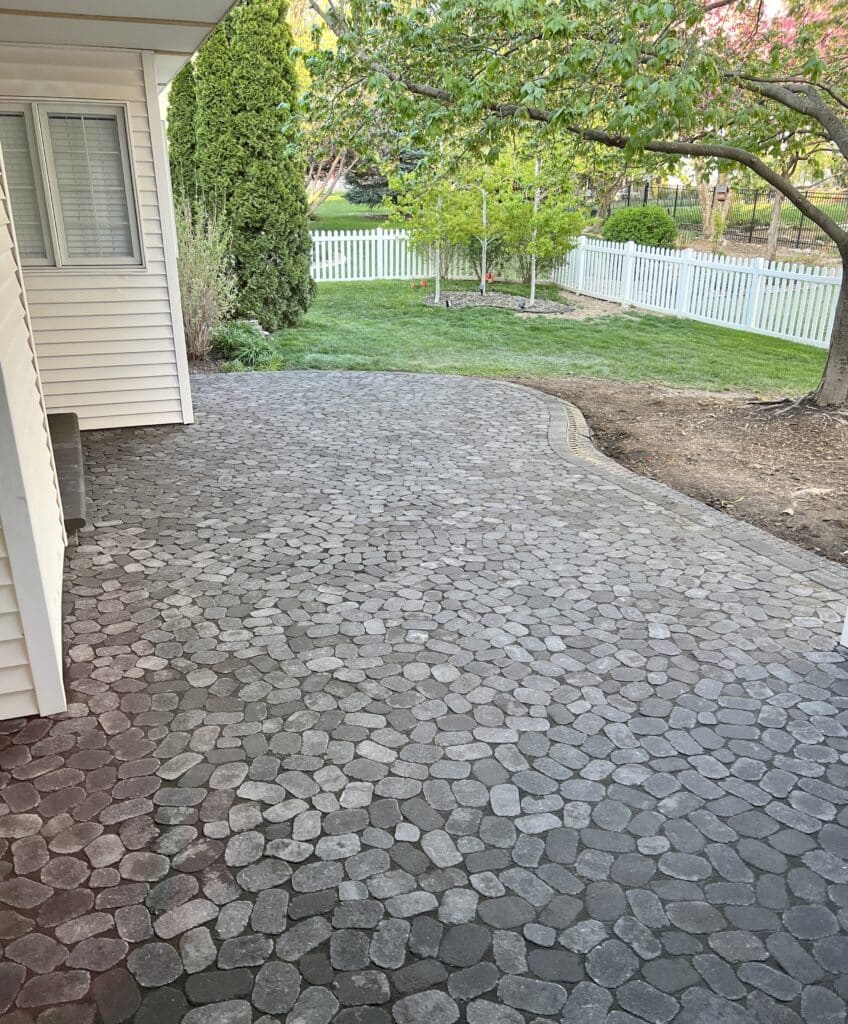 I love the new cobblestones! And, just like learning the ins and outs of a new house, I am taking my time with knowing how I want to decorate the space.
While we enlarged the patio only slightly, it seems so much bigger now. And ready for more potted plants! (Be sure to read to the bottom to see how the patio decor is coming along!)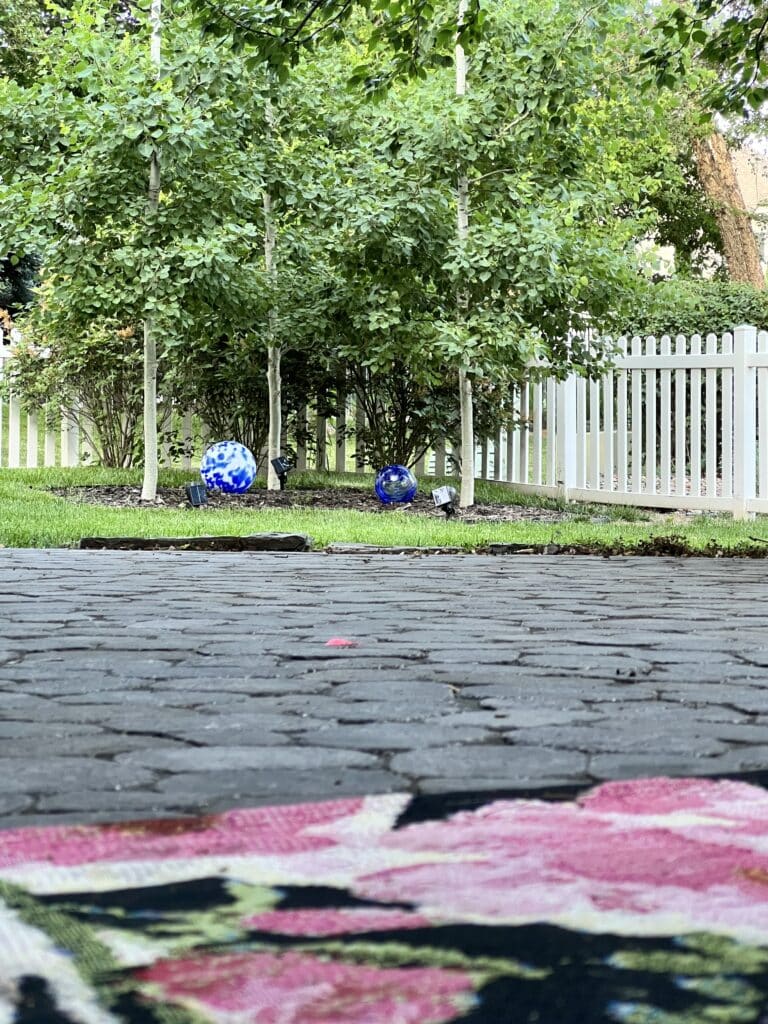 Years ago, I didn't know how to arrange potted plants on a patio but have figured out some general rules, tips, and tricks over the years.
I'm happy to share with you and also give you a glimpse into what I am considering as I decorate our new patio with potted plants!
Assessing Your Patio Space
Before diving into the world of potted plant arrangements, it's essential to assess your patio space and consider its unique characteristics.
Take note of the light conditions, shade patterns, and the overall style or theme you envision for your outdoor haven. Understanding these factors will guide your plant selection and placement decisions, ensuring optimal growth and visual appeal.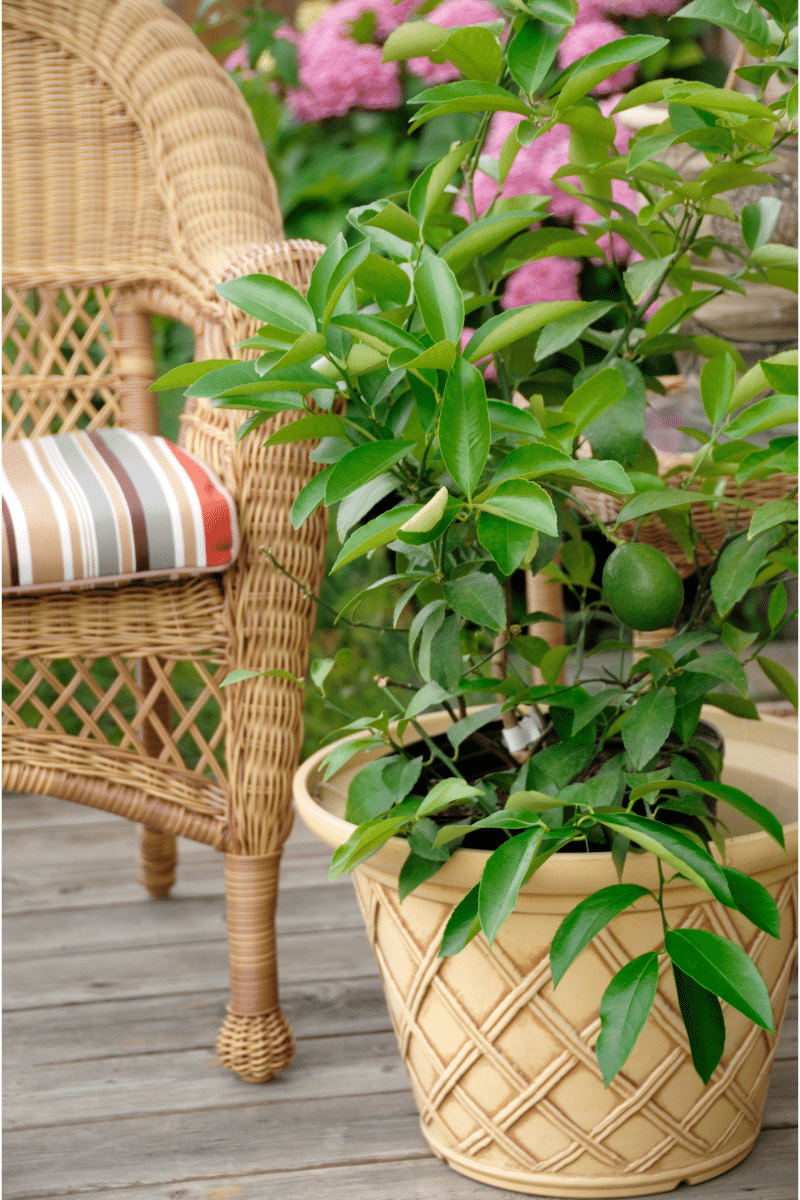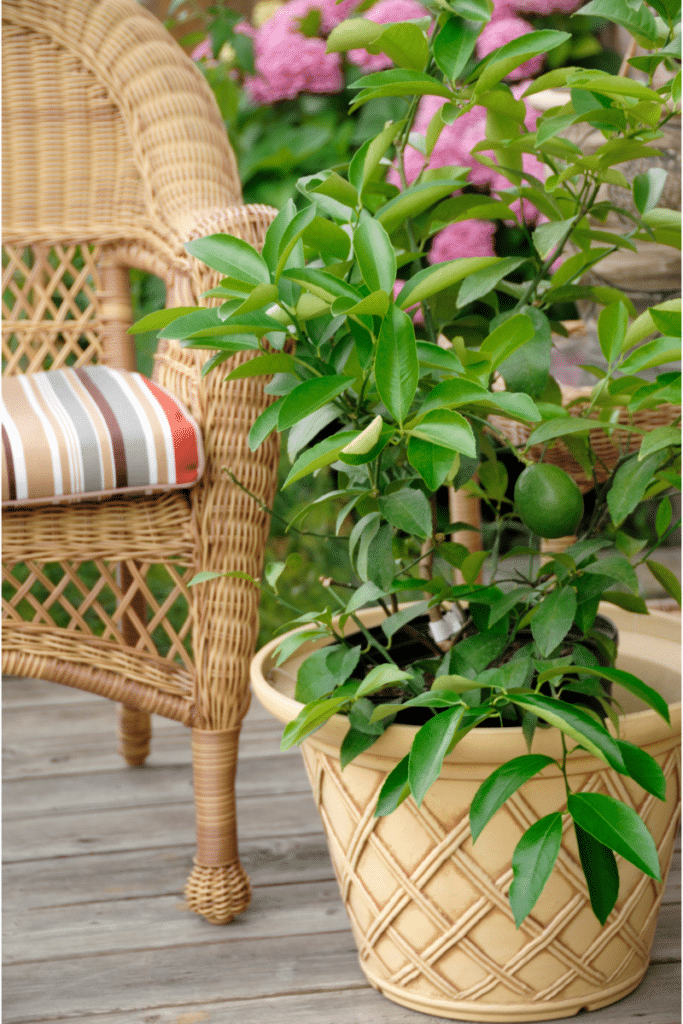 Also, pay attention to your patio hardscape and outdoor furniture placement. Where are the "hard edges?" What needs to be softened?
This patio table is enhanced by a colorful white pot full of bright pink caladiums.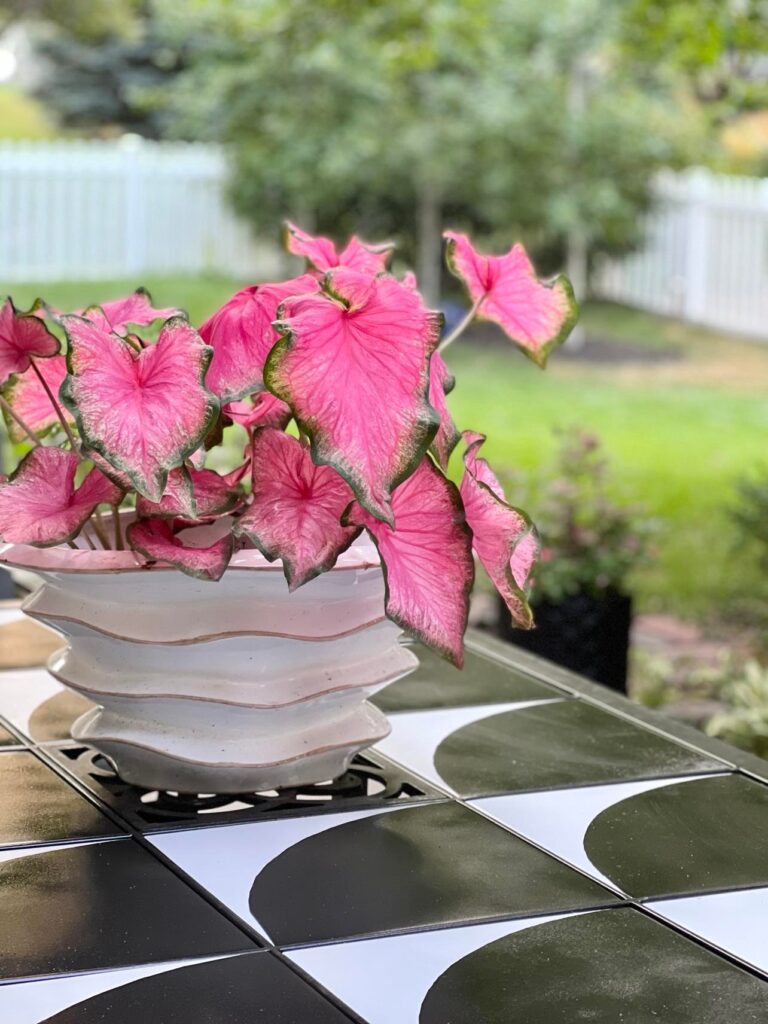 Outdoor potted plant displays can soften the edges of concrete steps or brighten a dark and empty corner. 
This corner of our patio is brightened by flowers and plants displayed in planters and pots in black, grey, and white. Remember my tile planter project? It works indoors for winter and outdoors for the summer!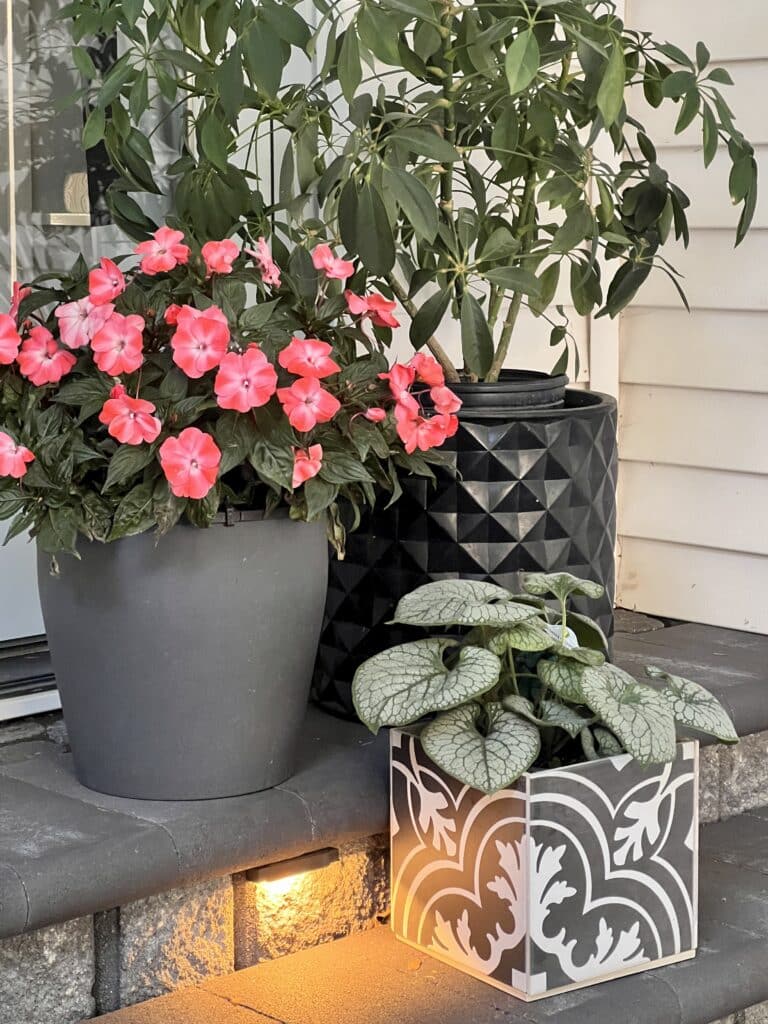 Choosing the Right Plants
Selecting the right container plants for your patio arrangement is crucial for creating an eye-catching display that thrives in its environment.
Consider the following factors when choosing your green companions:
Sunlight Requirements: Determine the sun exposure on your patio—full sun, partial shade, or full shade—and choose plants that thrive in those conditions. For sunny spots, opt for sun-loving plants like petunias, marigolds, or succulents. In shady areas, ferns, impatiens, or hostas can thrive.
Height and Size: Create depth and visual interest with different levels by incorporating plants of varying heights and sizes. Taller plants can serve as focal points while cascading or trailing plants can soften edges or hang gracefully from hanging baskets or wall-mounted planters.
Colors and Textures: Embrace a color palette that complements your patio's aesthetic. Mix and match flowers with similar colors but different hues, foliage with diverse shades of green, and plants with unique textures to create a visually captivating arrangement. Emphasize the bright color of flowers by combining them with lush greenery. (My favorite is sweet potato vine!)
Thriller, Filler, and Spiller: I was taught this recipe for container plantings as a young homeowner and gardener. Include a dazzling showstopper plant, a neutral but full-sized plant, and a trailing plant to spill over the edge of the pot.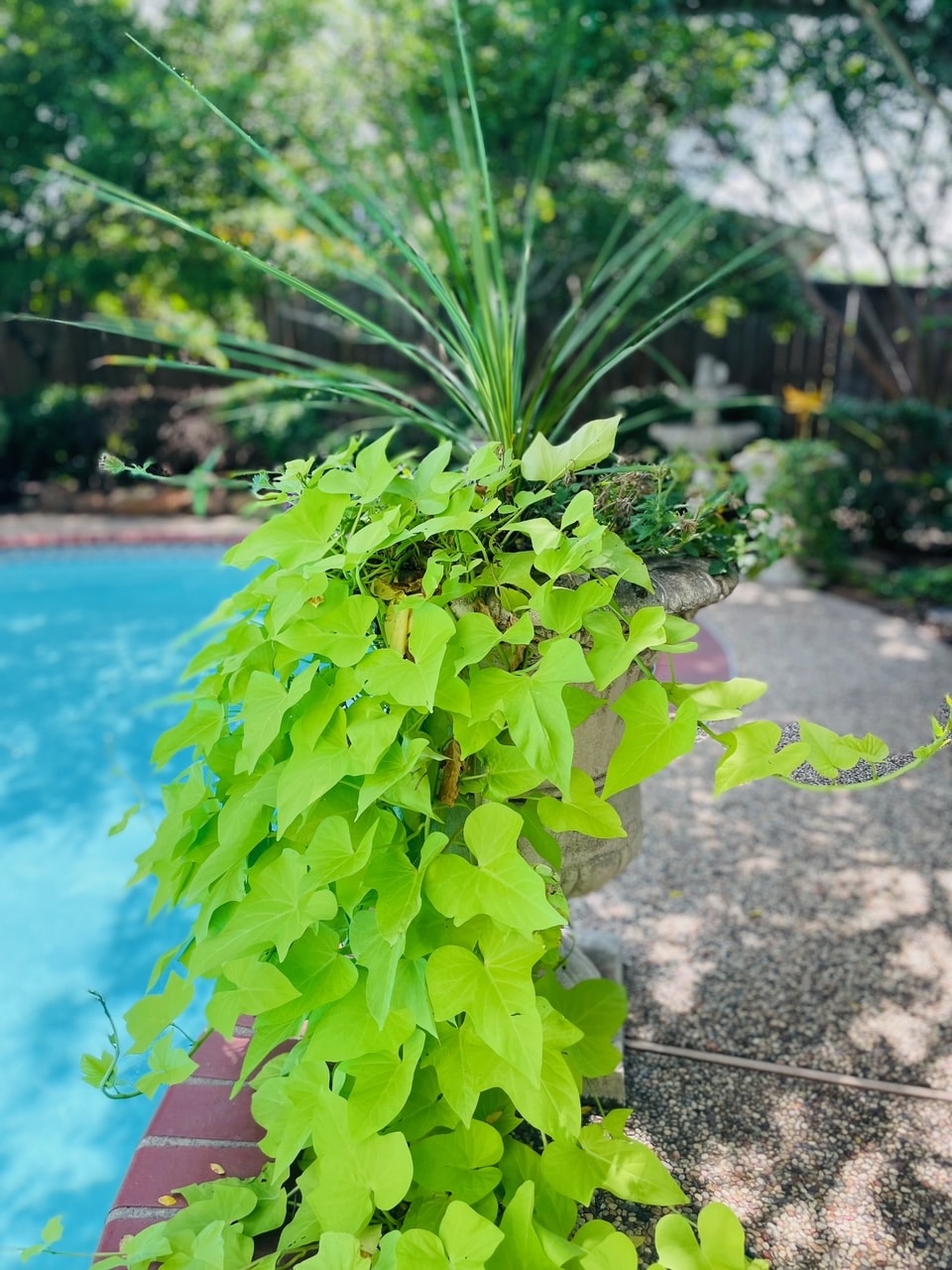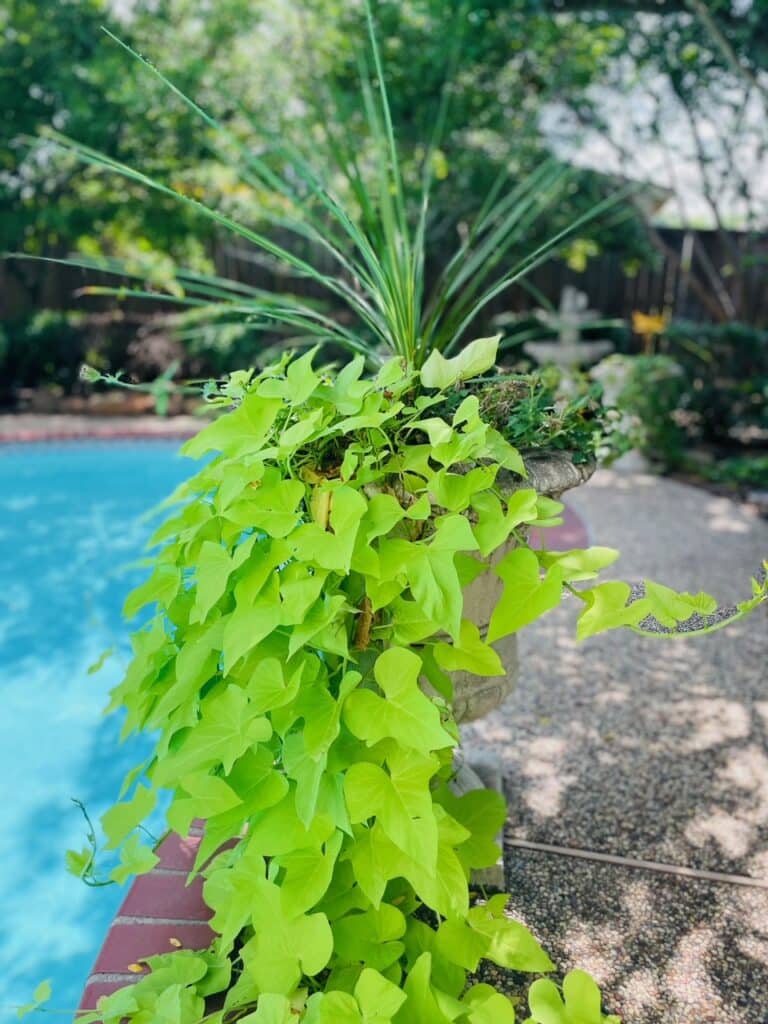 What Are the Best Flowers to Plant in Pots on My Patio?
These are some of my favorites!
Petunias
Geraniums
Begonias
Pansies
Nasturtiums
Impatiens
Zinnias
Vinca
Portulaca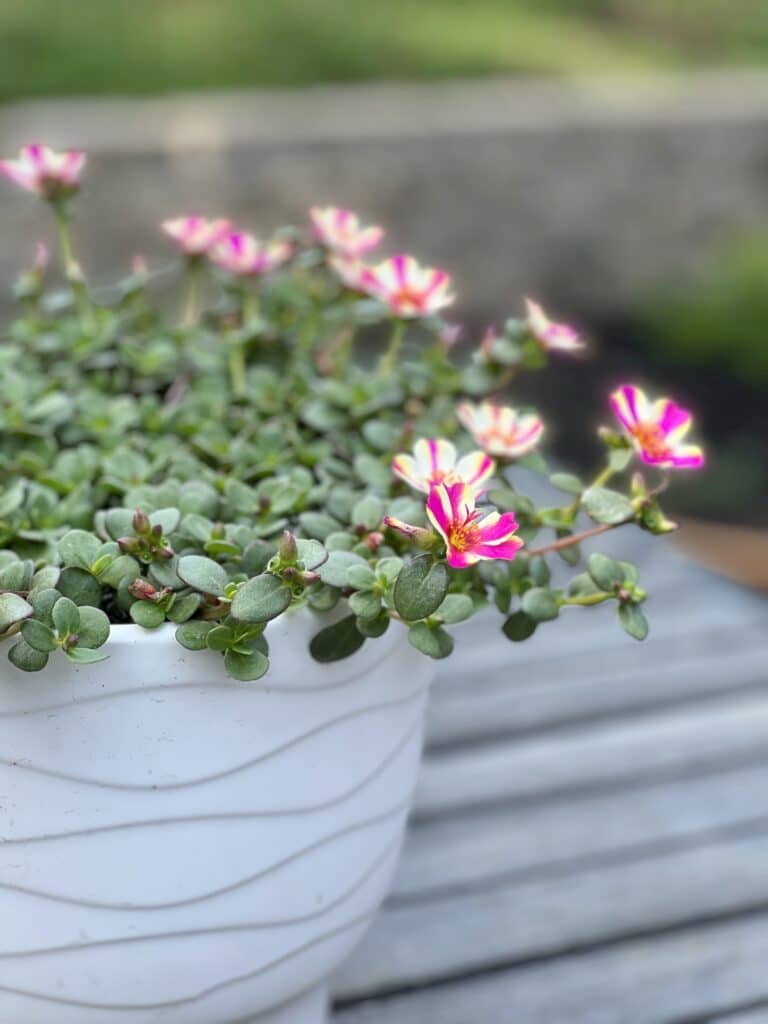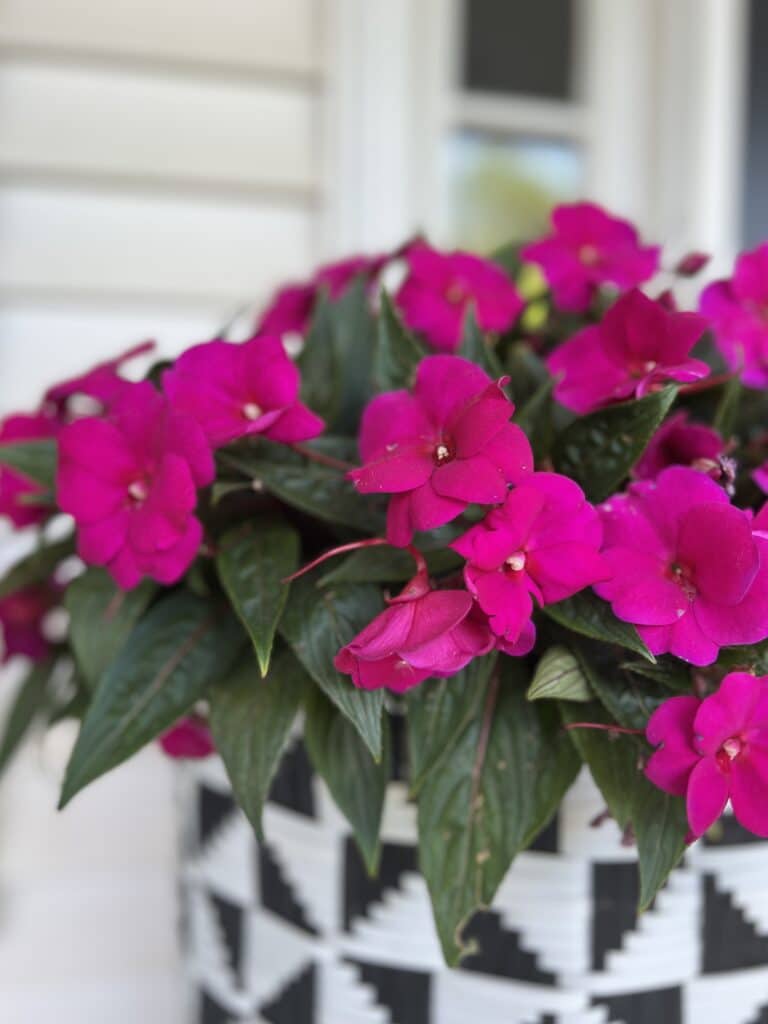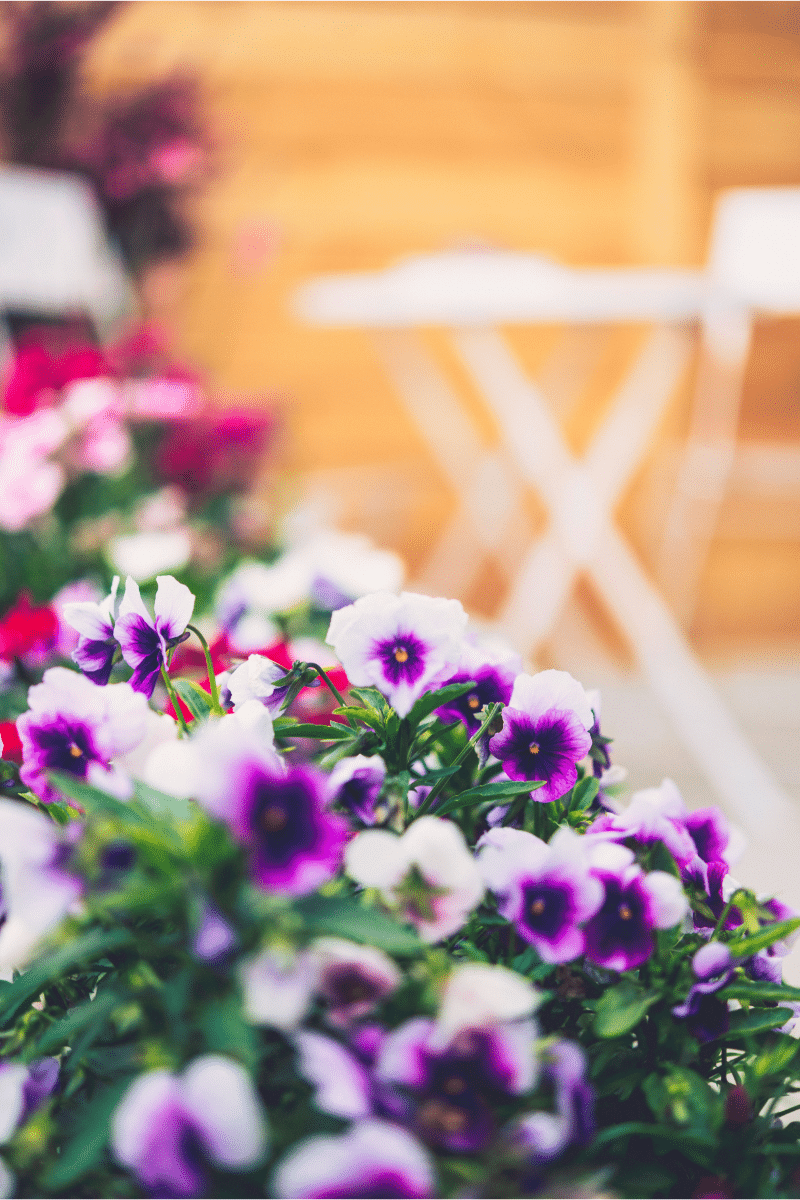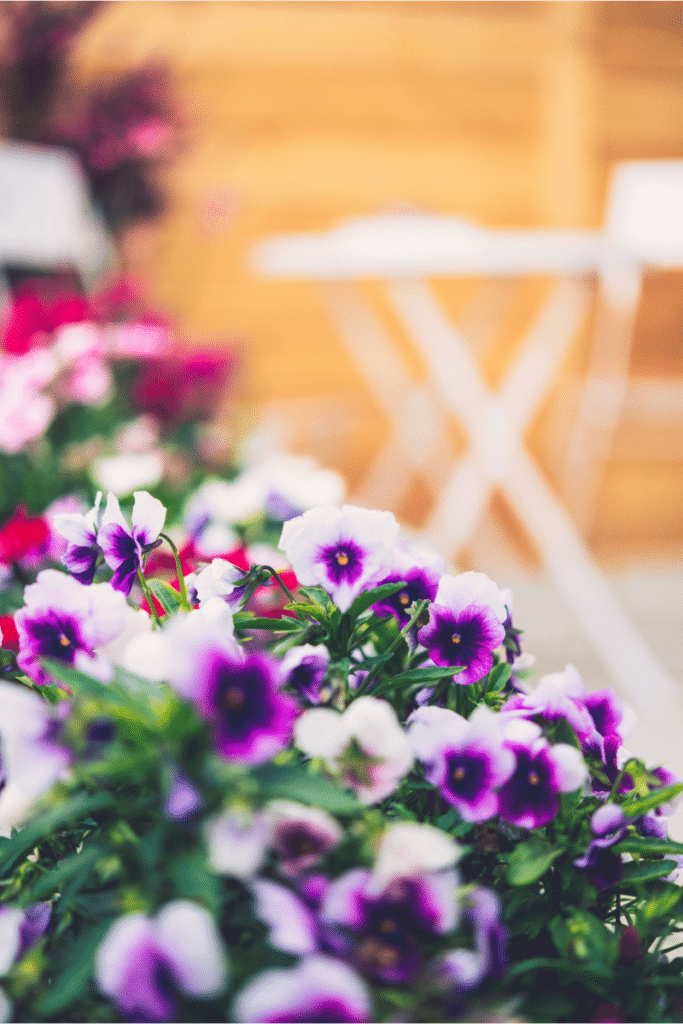 Containers and Planters
Choosing the right containers, planters, or flower pots is not only functional but also adds a touch of style and cohesion to your patio arrangement.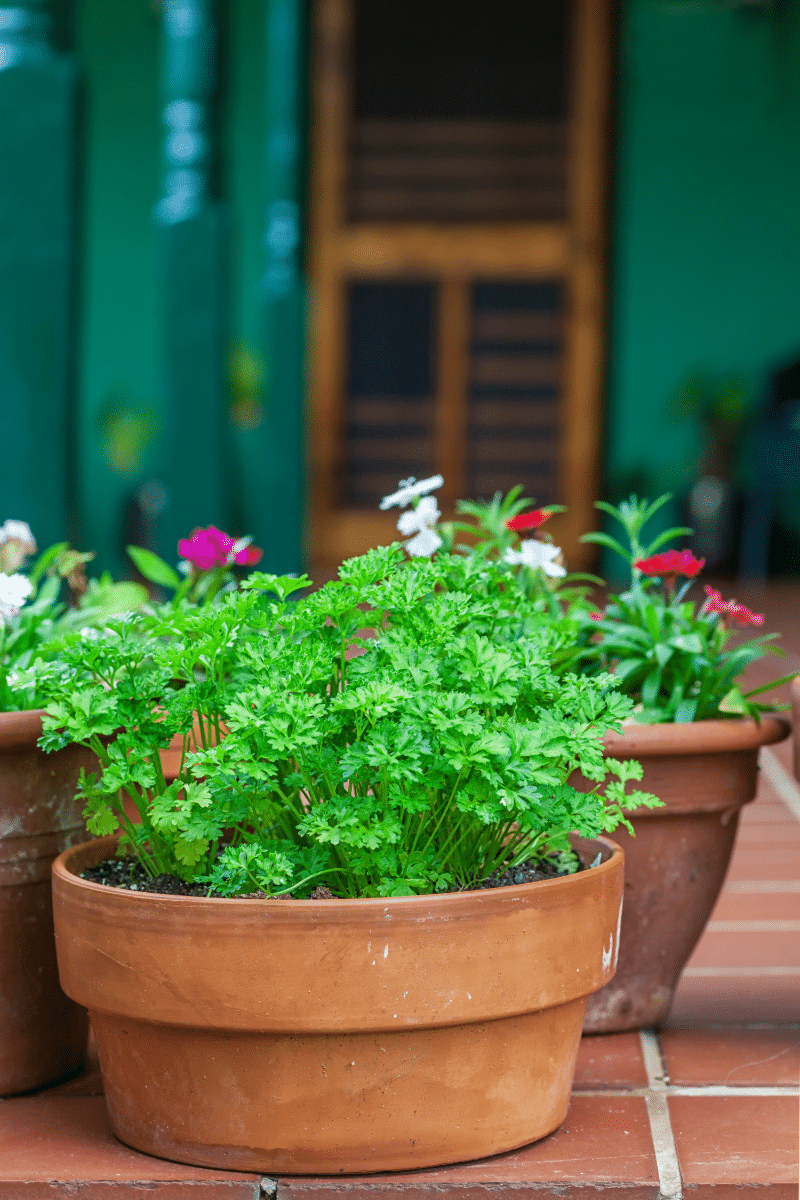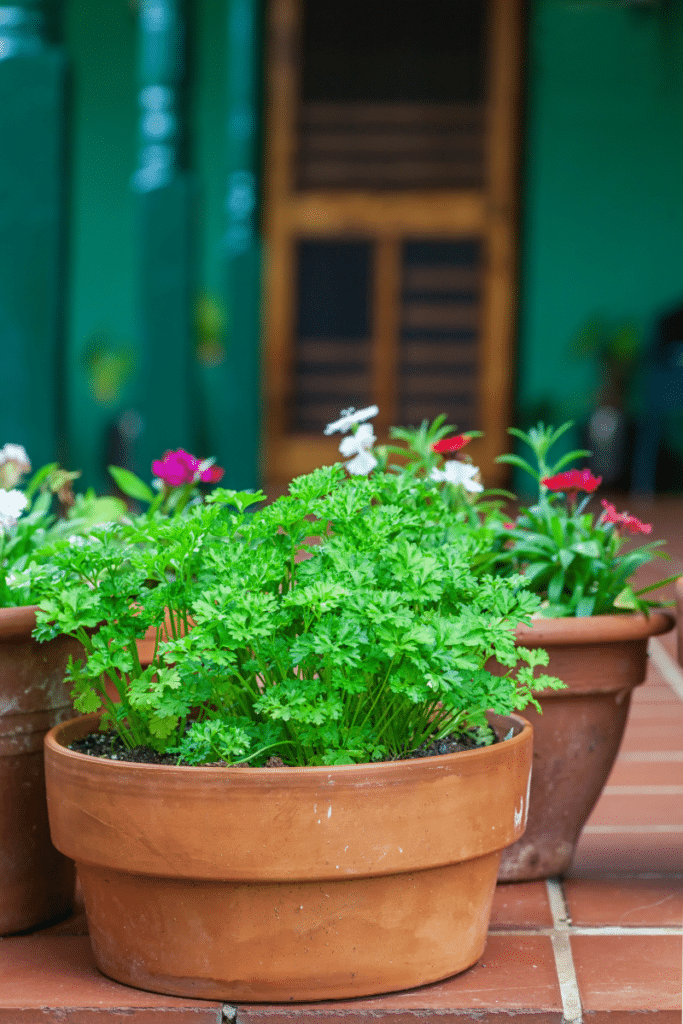 Whichever style your choose, make sure your pots have adequate drainage holes. Try one or all of the following options!
Terracotta Pots: Classic terracotta pots provide a rustic and timeless look, allowing the plants to take center stage. Their porous nature allows for adequate drainage, preventing overwatering.
Ceramic Planters: There are so many decorative ceramic planters available in all colors and sizes. Express your personality with planter pots that reflect your aesthetic.
Saved from Salvage blogger, Regina, shares my love of pairing blue with pink. The color "pops" beautifully with the various textures of the pot sitting behind it.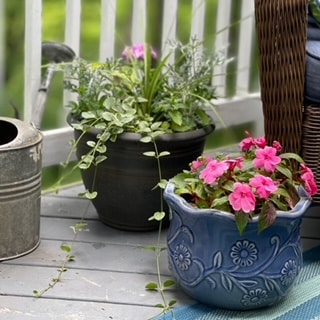 Hanging Baskets: Ideal for small spaces, hanging baskets add vertical interest and save valuable floor or table space. I think hanging ferns are my favorite!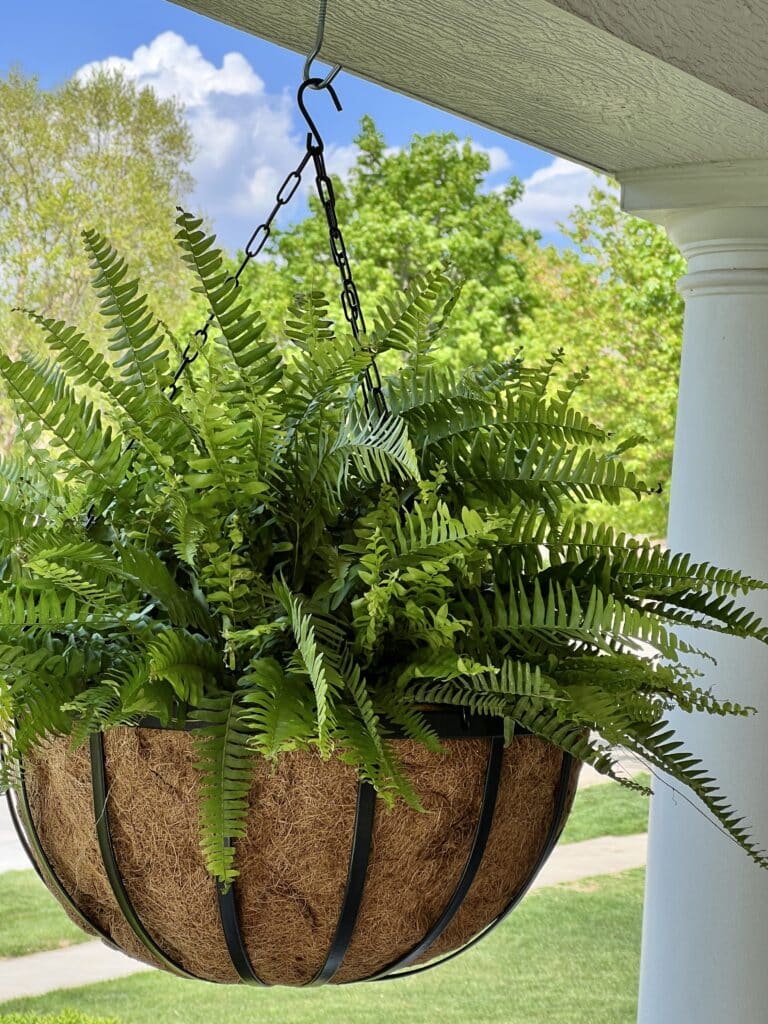 Window Boxes: Perfect for railing-mounted displays, window boxes provide a charming way to showcase a variety of flowers and trailing plants. Opt for weather-resistant materials like plastic or metal for longevity.
Vertical Planters: For those with limited space, vertical planters offer a creative solution. Attach them to a bare wall and fill them with cascading plants and succulents to create a living work of art.
Plant Stands: This is another great way to display patio flowers! Fill with a larger plant and surround one with smaller pots. Or, bring some of your indoor plants and place them on a plant stand as part of your patio garden.
Crystal from Sweet Valley Acres created this unique flower planter from a chicken planter! So clever and beautiful!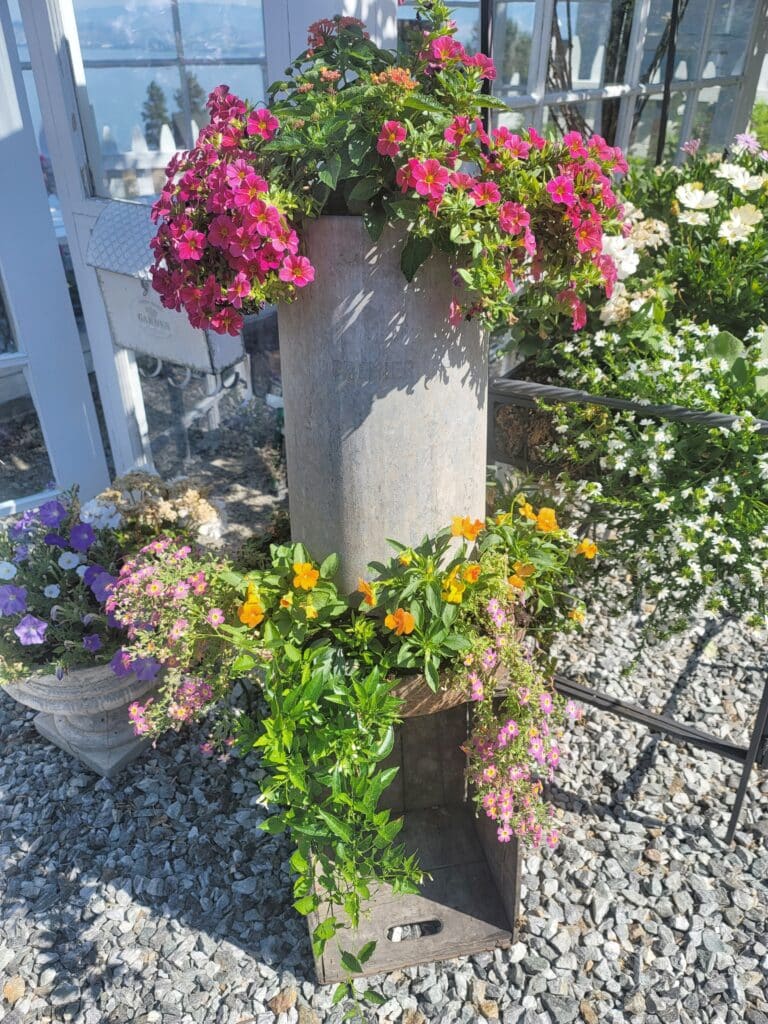 What Can I Use to Fill the Bottom of a Large Planter?
Large planters can be very heavy when filled with dirt and plants. On top of that, it can get very expensive to fill a larger container with quality potting soil.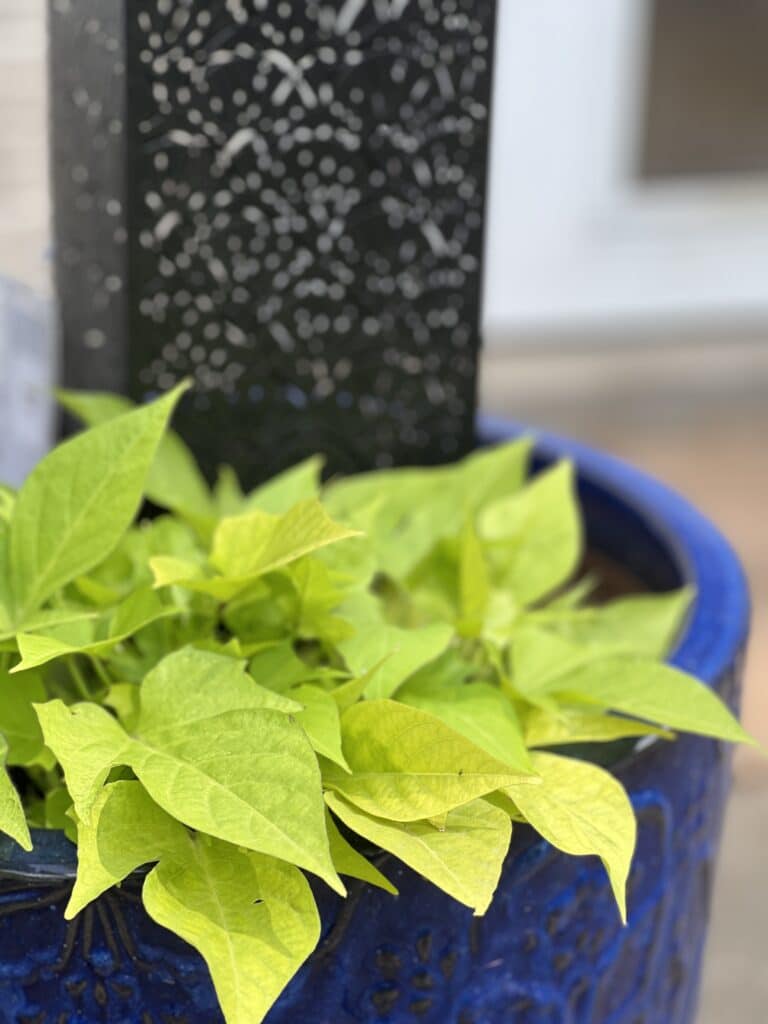 My favorite and most simple way to take up space in the bottom of a large pot is with pool noodles! Simply cut a pool noodle into smaller pieces and place it in the bottom of your empty pot. Pour in the dirt on top of the noodles and start planting!
Here are some other great filler ideas for the bottom of a planter:
Styrofoam peanuts
Broken pottery pieces
Pinecones or wood chips
Mulch leaves
Empty plastic containers or milk jugs (with lids removed)
Plastic Easter eggs
Plastic bottles
Empty detergent bottles
Layout and Placement
Once you have your plant selection and containers ready, it's time to plan the layout and placement of your potted plants on the patio. Time to think like the designer that you are and learn how to arrange potted plants on a patio!
Grouping and Clustering: Create some visual impact by grouping plants with similar growth requirements, colors, or textures together. You can also group pots by the color or design of the pots themselves.
The General Rules of Design: Clustering them in an odd number of pots (e.g., 3 or 5) adds a sense of balance and harmony. Also, you can plan your layout by considering the color of the plants. Place similar colors together or consult your color wheel for complimentary colors.
These beautiful pots of vibrant purple flowers from Erin Evolving enhance the charming tabletop lantern and have a strong impact when grouped together.
Layering: Add depth and dimension to your arrangement by strategically placing taller large pots of tall plants at the back or center, medium-sized plants in the middle, and trailing or low-growing plants in small containers towards the front or edges.
Don't forget to add a pot of flowers to the top of your patio table!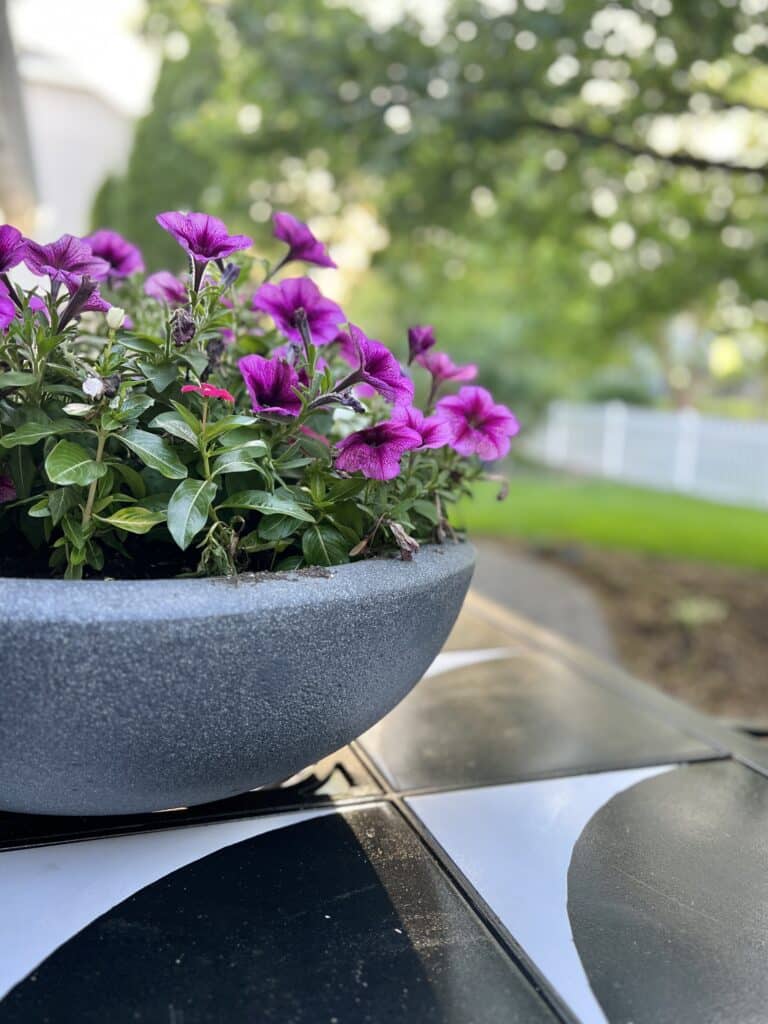 Focal Points: Consider plant placement when setting your planters and pots. You can create a great focal point on your patio by placing a single eye-catching plant or a combination of plants in a prominent spot. This draws attention and is a good idea for a captivating focal element on your patio.
Pathways and Borders: Consider leaving spaces between groups of potted plants to create pathways or borders. This allows for easy navigation and adds structure to your arrangement.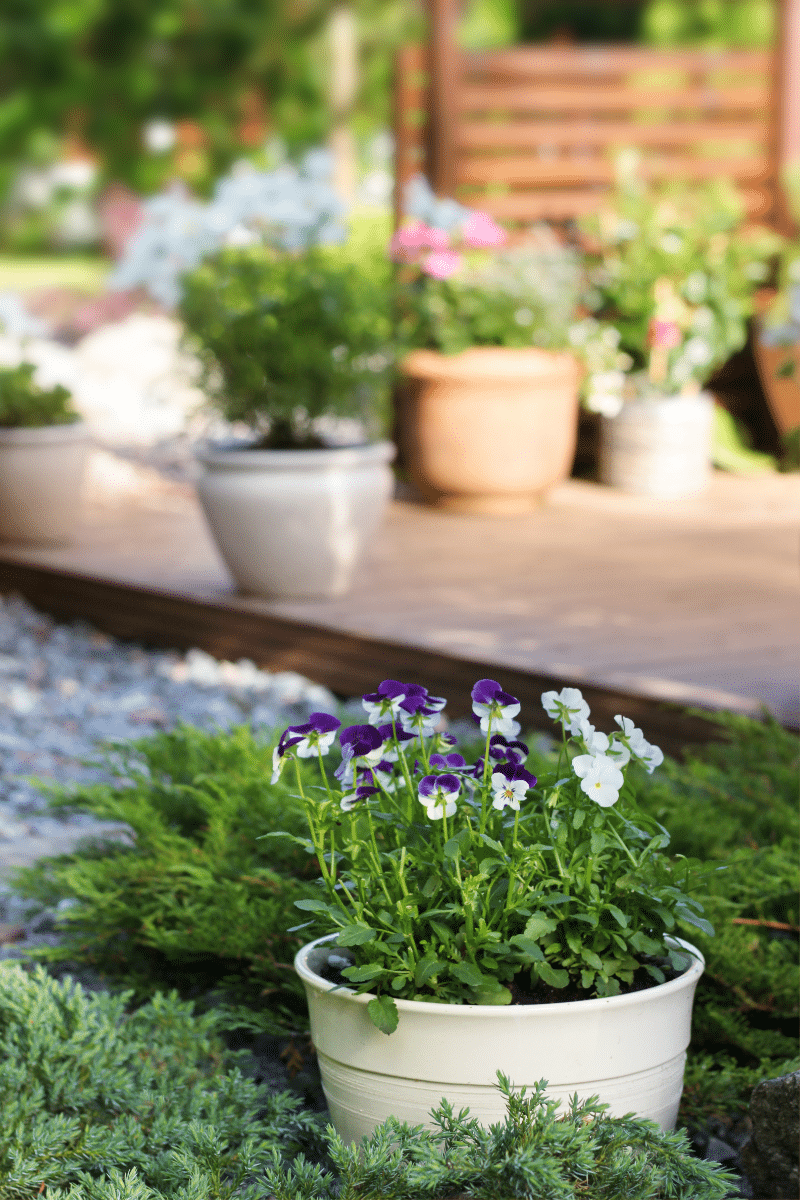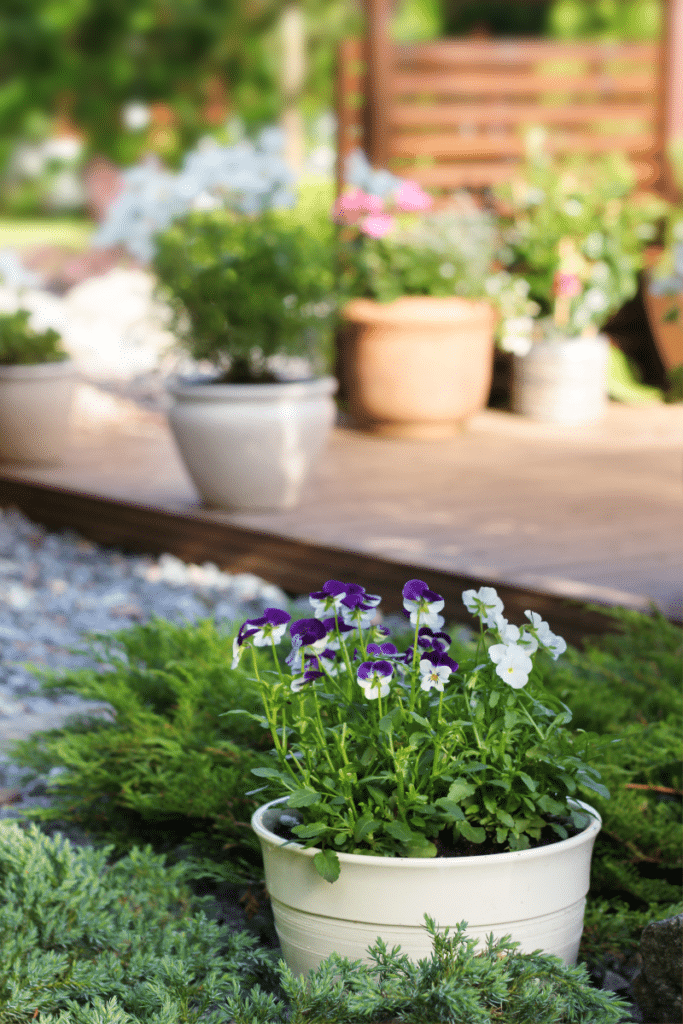 Maintenance and Care
Maintaining your patio plant arrangement is vital to ensure its long-term beauty and health. I like to keep my gardening supplies and tool handy by storing them in my baker's rack on the patio.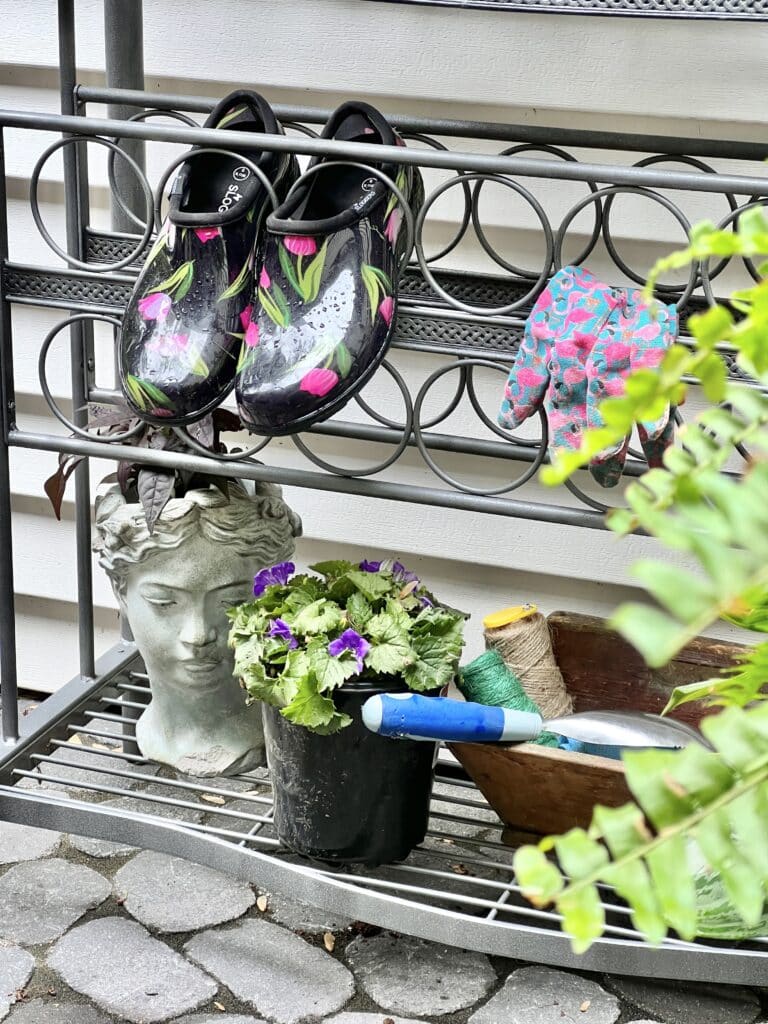 Follow these care tips to keep your potted plants thriving:
Watering: Monitor the moisture levels of your plants and water them accordingly. Avoid overwatering, as it can lead to root rot, and underwatering, which can cause wilting and stunted growth. Check the specific watering needs of each plant, as they may vary.
Fertilizing: Feed your plants with a balanced, slow-release fertilizer or organic plant food to provide essential nutrients. Follow the instructions on the fertilizer packaging for best results.
Pruning and Deadheading: Regularly prune your plants to remove dead or damaged foliage, promote bushier growth, and maintain their shape. Deadhead spent flowers to encourage continuous blooming.
Pest Control: Monitor your plants for pests like aphids, mealybugs, or spider mites. Use organic insecticides or natural remedies to control infestations and keep your plants pest-free.
Decorating any outdoor space, patios included, can be a daunting challenge. Knowing how to arrange potted plants on a patio is a great start in creating a beautiful outdoor spot.
I still have some potted plants that I want to add to our new patio space after we finish planting a new hosta garden and adding some decorative rock. I will post updated photos as we continue!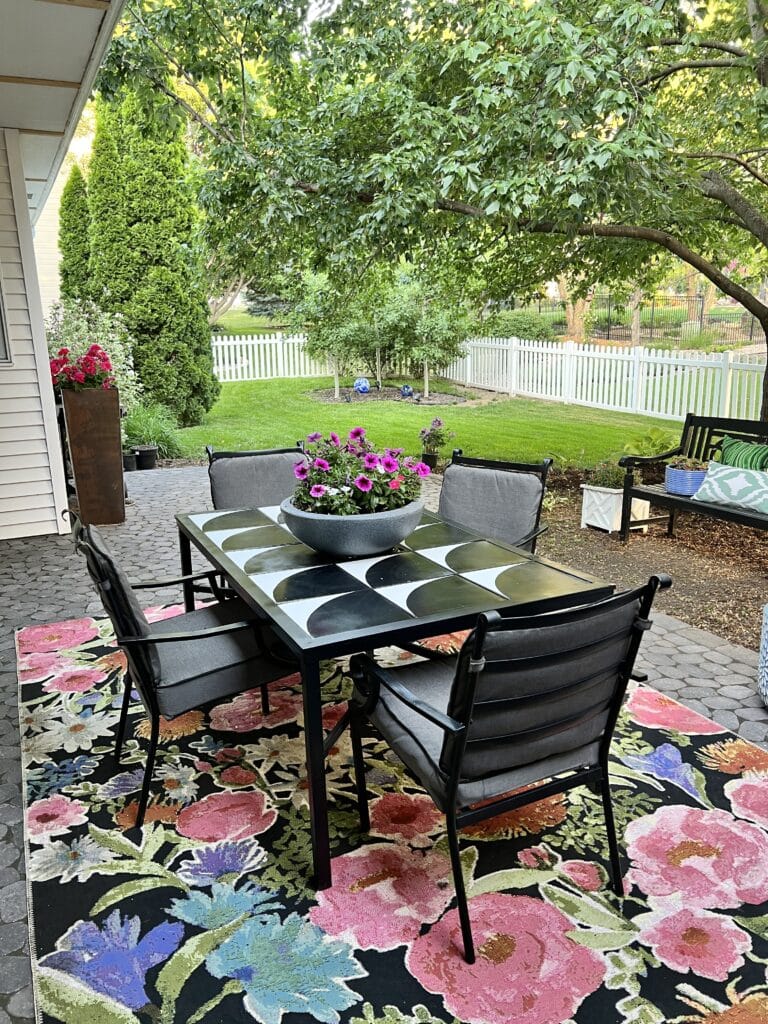 With the right plants, outdoor planters, and thoughtful layout and placement though, you can transform your patio from an empty space to a beautiful oasis. Whether you're a budding gardener, have years of experience with home gardens, or just want to make the most of your outdoor area, mastering how to arrange potted plants on a patio is key for creating stunning style and drama.
Now it is your turn! So, grab your favorite plants, unleash your creativity, and let your patio blossom into a botanical paradise for all of your guests (and yourself!) to admire!
Cheers!

Don't Forget to Pin It!
Pin the image below to your boards on Pinterest (just click the Pin button in the top left corner). You can also follow along with me on Pinterest!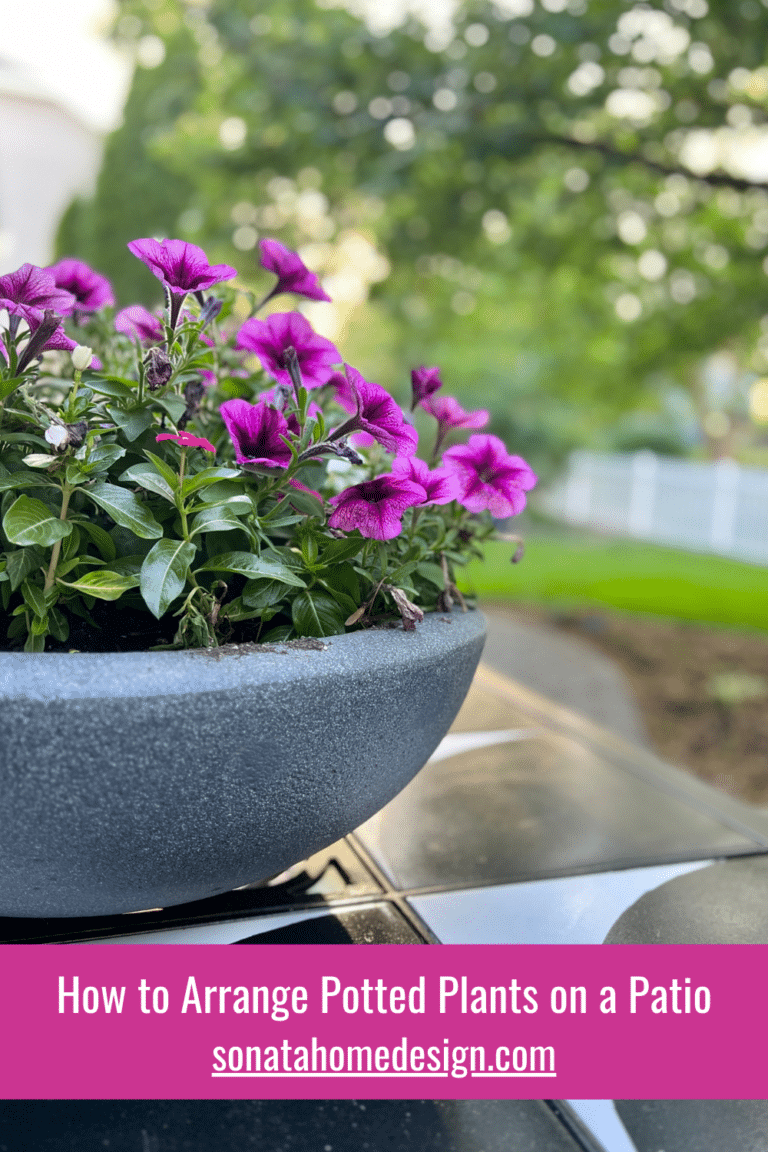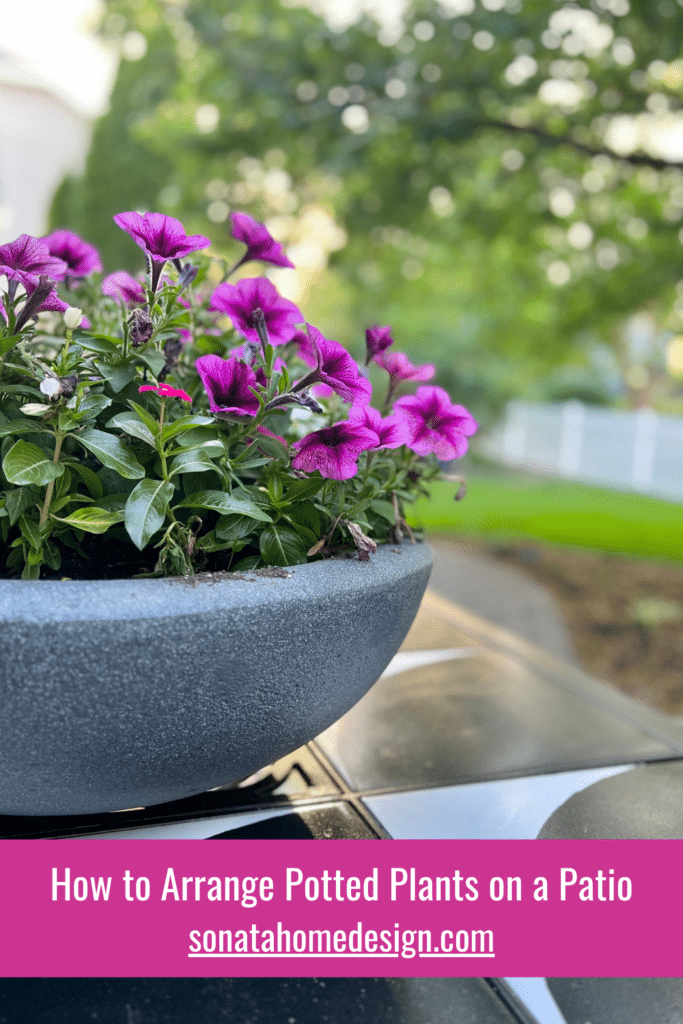 More Outdoor Decorating Ideas
Looking for more outdoor decorating ideas? Here are some fun outdoor decor projects to try!
Make a Tabletop Fire Pit in 3 Easy Steps
The Best Way to Restore Outdoor Solar Pathway Lights