31 Best Ideas for Decorating a Kitchen Bakers Rack
Are you looking for some fresh decorating ideas on how to spruce up a kitchen bakers rack? Whether you're an experienced decorator or simply a homeowner who wants to transform their space, adding the extra touch of a stylish baker's rack can bring charm and sophistication that will make your kitchen stand out.
To help narrow down your choices, I've rounded up 31 of my favorite décor ideas for decorating a kitchen's bakers rack—allowing you to craft the perfect look while still expressing your personal style!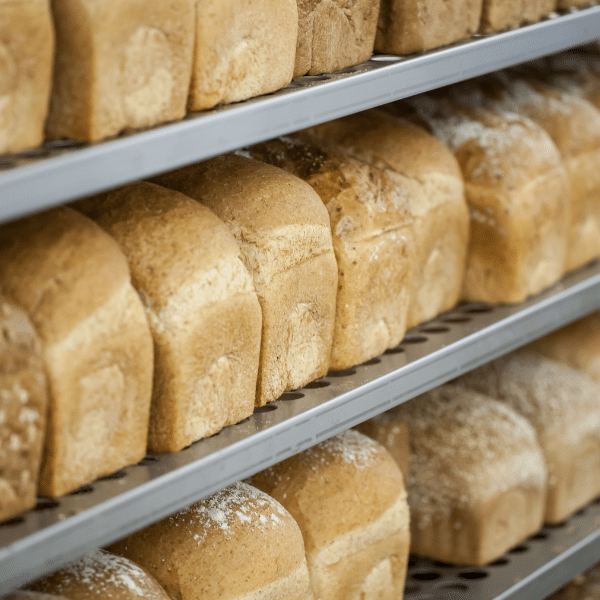 This blog contains affiliate links. This means a small commission is earned if you make a purchase by using this link. The price you pay will be the same whether you use the affiliate link or go directly to the vendor's website using a non-affiliate link.
My kitchen baker's rack has been a game-changer for me!
In our very first home (a small, charming ranch-style home), I was struggling with limited storage space in my kitchen. It was starting to feel cluttered and disorganized. But once I added my bakers rack, everything fell into place.
Two homes later…I still use it to store everything from pots and pans to my favorite cookbooks and decorative pieces. Plus, I love how versatile it is – I can easily move it from room to room whenever I need to change things up. I honestly can't imagine my home without it!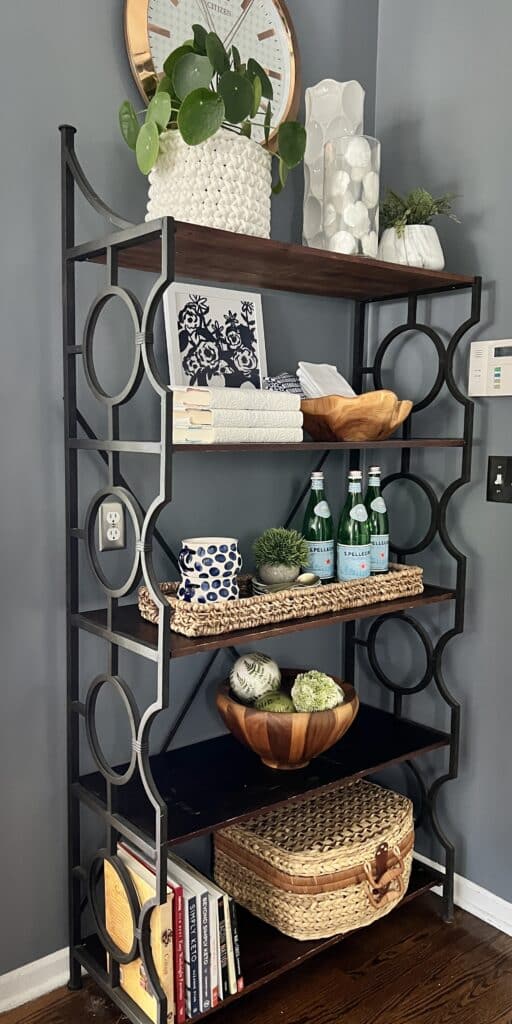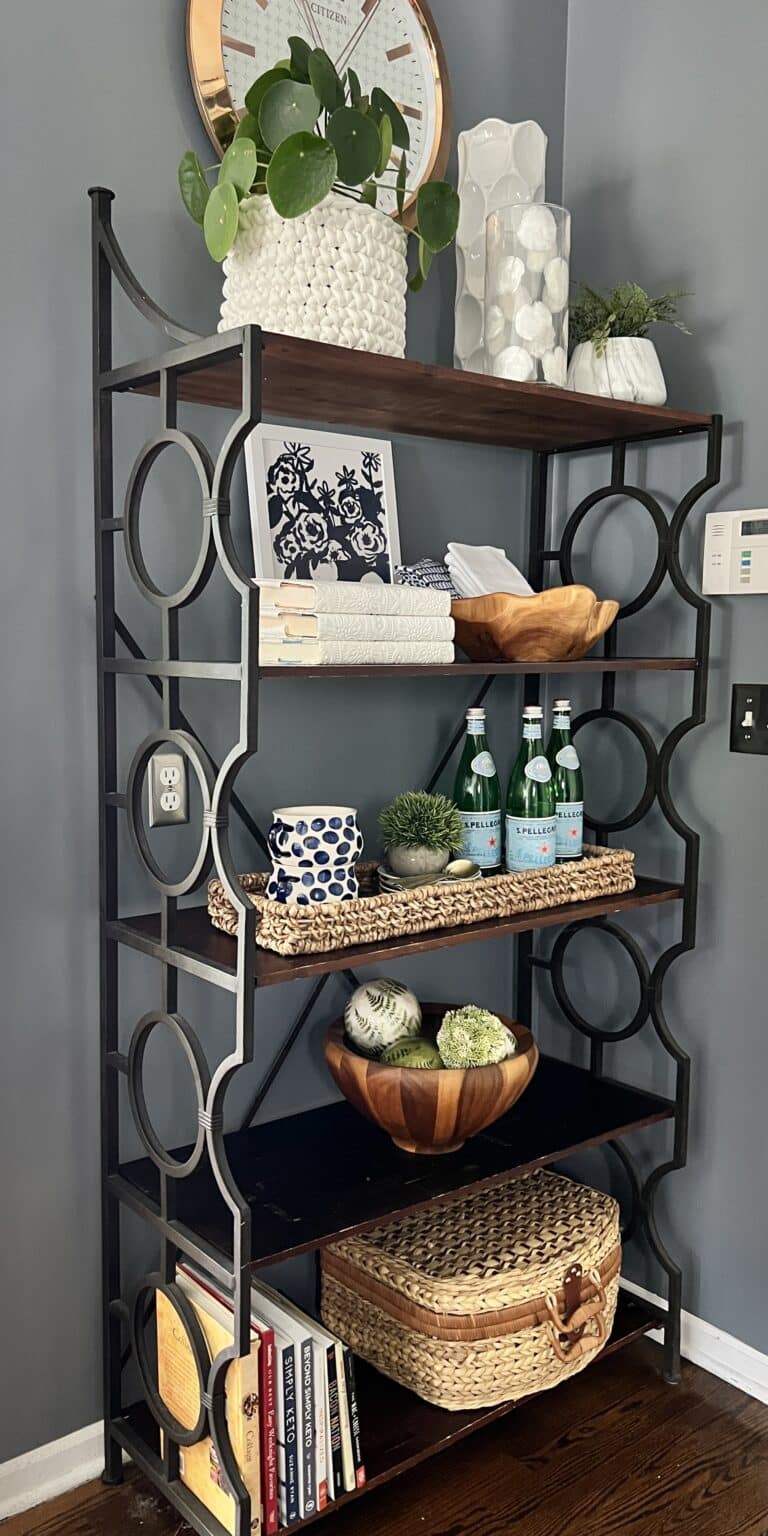 But as I write this post, this question popped into my head…
Are Baker's Racks Outdated?
No, not at all!
Bakers racks have been used for centuries primarily as storage for bread, pastries, and hot pies. These racks were designed with open shelves that allowed air to circulate around the baked goods, helping them cool more quickly and evenly. As the use of these racks became more widespread, they became known as bakers racks.
As times have changed, bakers racks have evolved and made their way from the kitchen to other areas of the home. A versatile piece of furniture, they are a great addition to a dining room, living room, bedroom, bathroom, or outdoor space. And a great idea for small spaces!
With their practical purpose and ability to add style to any room, bakers racks are considered timeless and resistant to frequent trend changes. If you don't have a traditional bakers rack, you can also use a kitchen hutch, metal frame storage unit, or even a metal rack with open shelving.
Bakers Rack Decorating Ideas in the Kitchen
Are you wondering how to decorate this home decor workhorse? Well, I've got 31 ideas for you!
1. Baking Supplies
Stay true to the origin of a bakers rack and store your baking supplies on the shelves. Canisters of flour and sugar will be handy for your next batch of homemade bread or cookies!
2. Kitchen Storage
Use it to store kitchen utensils, dish towels, pots and vases, and other kitchen essentials. Glass canisters are a fantastic option for storing flour and sugar.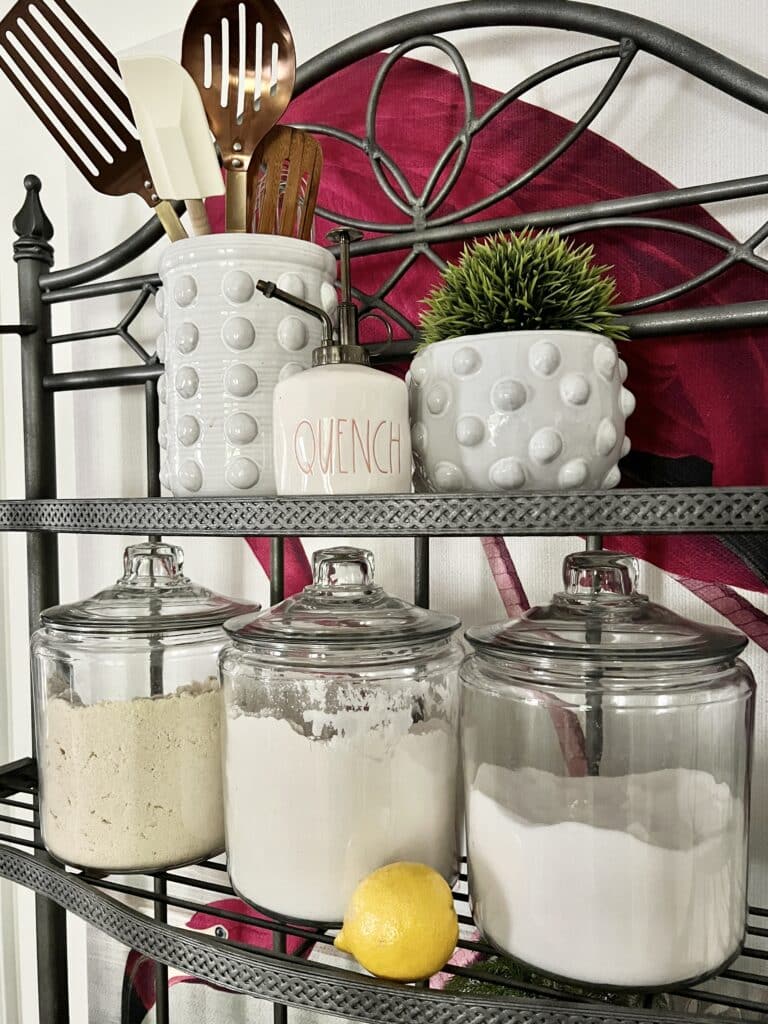 3. Cookbooks
A bakers rack is a great place to display your favorite cookbooks. Stack them neatly on one of the shelves or prop them up against the back of the rack for easy access.
4. Baskets or Boxes
Adding baskets or boxes to metal shelves can help with storage and organization. You can use them to store kitchen supplies or other items you want to keep out of sight.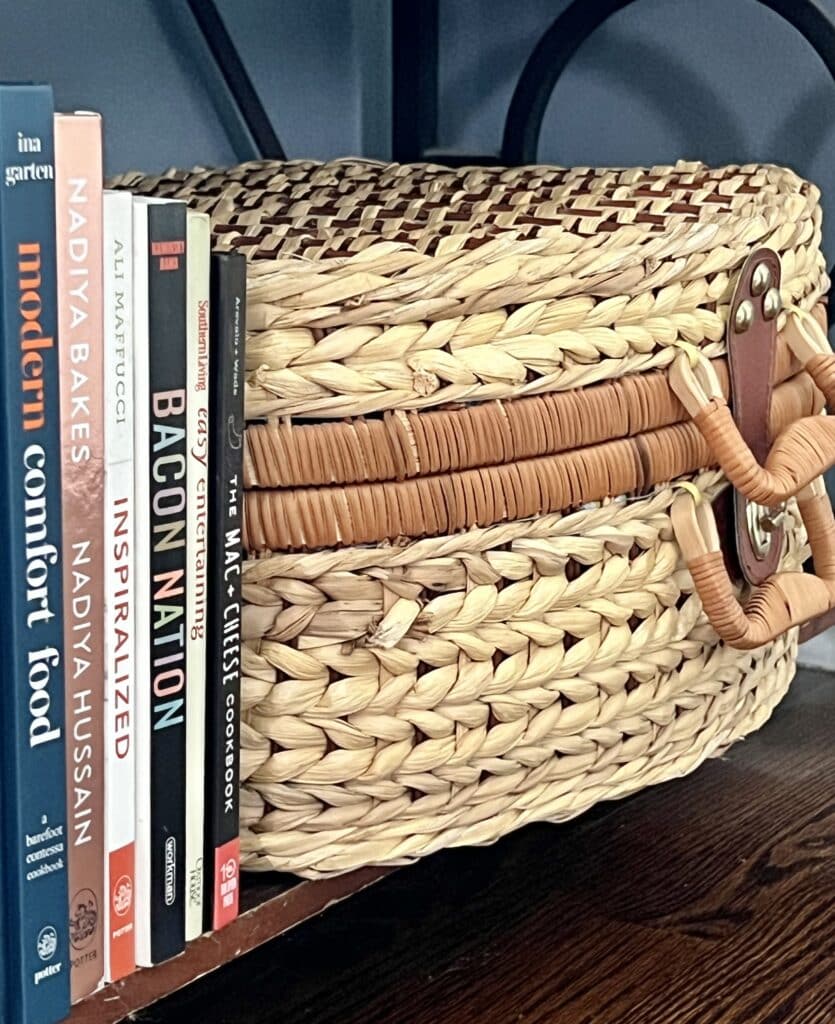 5. Store Your Dishes
If you don't have a lot of cabinet space, you can use a hutch or rack to store your favorite dishes. This is especially handy if you entertain often and need to keep your good dishes within easy reach.
6. Decorative dishes
Displaying decorative dishes and plates can add a touch of elegance to your bakers rack. Mix and match different sizes, colors, and patterns to create an interesting display.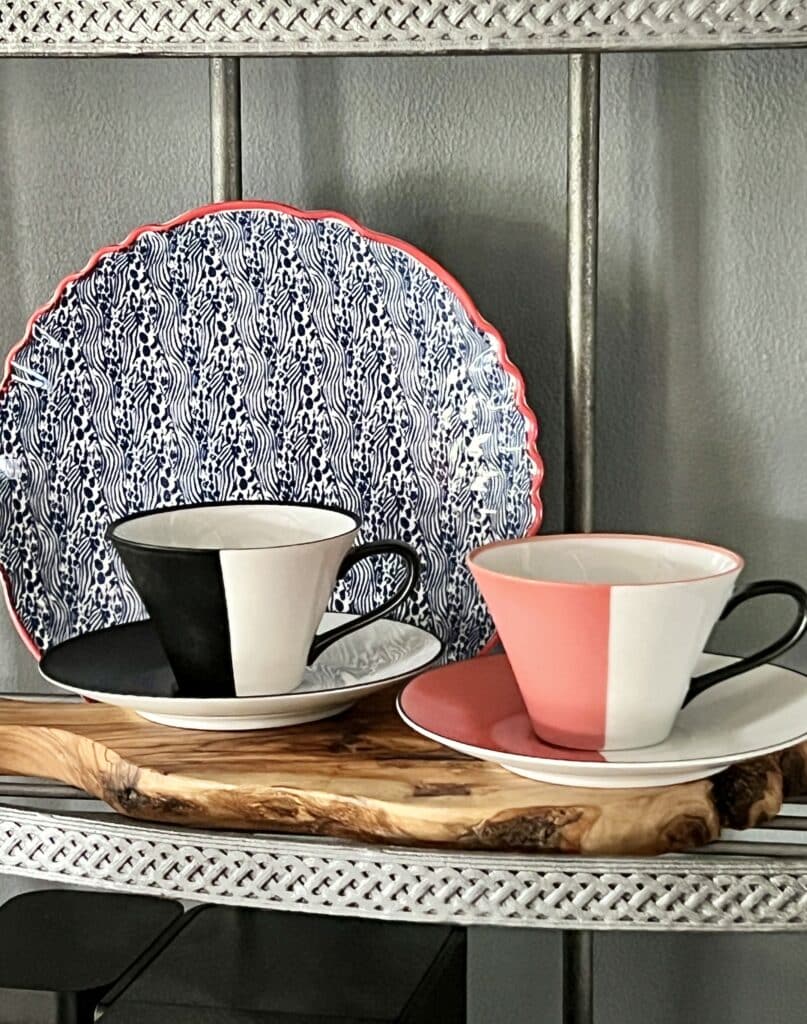 7. Glassware
Showcasing glassware, such as wine glasses or tumblers, on your bakers rack can add a touch of sophistication to your decor. You can stack them neatly or hang them from the top of the rack.
8. Wine bottles
A bakers rack is a great place for wine storage, especially if you have limited storage space. You can add a wine rack to one of the shelves or simply stack the bottles neatly.
9. Serving ware
Displaying serving ware, such as platters, cake stands, or pitchers, on your baker's rack can make it easy to access them when you're entertaining. You can stack them neatly or place them on a decorative tray.
10. Plants
Adding greenery to your bakers rack can help bring life to your space. Potted plants, succulents, or herbs can be placed on the shelves to add a touch of freshness to your decor.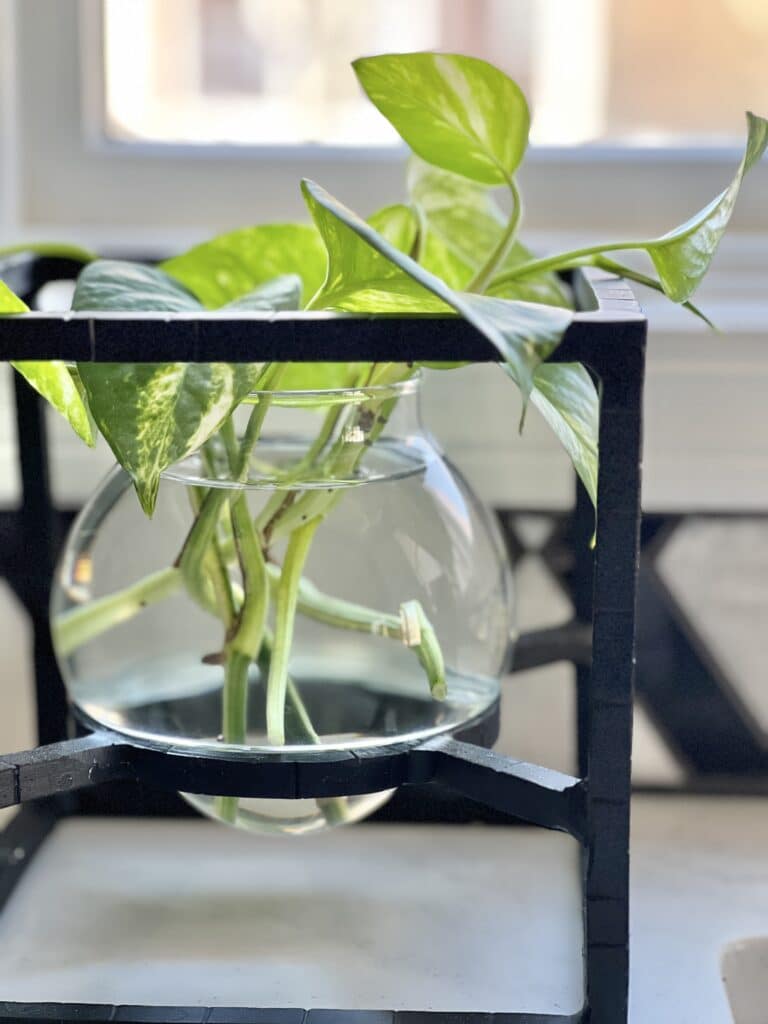 11. Fruits and vegetables
Displaying fresh produce on your bakers rack can add a pop of color and freshness to your decor. You can use baskets or bowls to hold the fruits and vegetables and change them out regularly to keep them fresh.
12. Textiles
Adding textiles to a hutch or rack can soften the look and add a cozy feel. Stack your tea towels on the shelf or roll your placemats and tuck them into wine bottle spaces!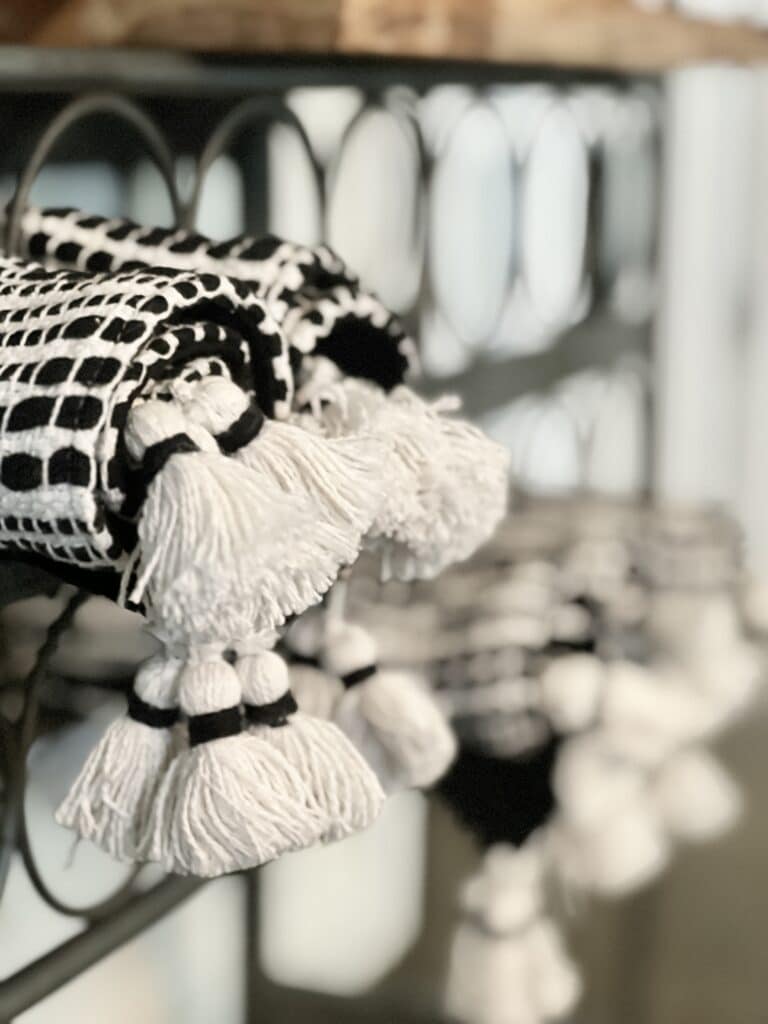 13. Small appliances
If you have limited counter space in your kitchen, a bakers rack can be a great place to store small appliances, such as a toaster, coffee maker, or blender.
14. Pantry
Use extra space on your shelves to store non-perishable food items and keep your pantry organized.
15. Wood Cutting Boards
If you use a certain cutting board every day, lay it flat on the bakers rack or prop it along the back of one of the shelves for quick access and decorative purposes.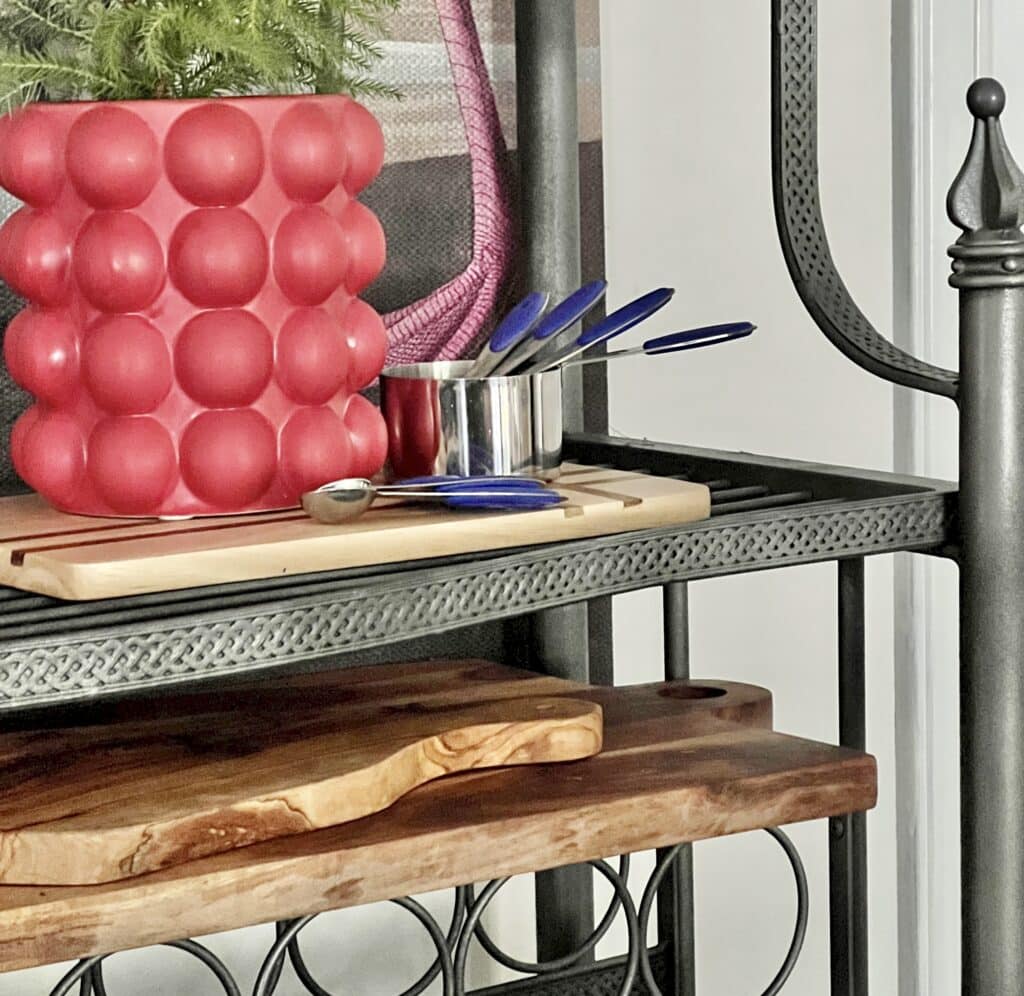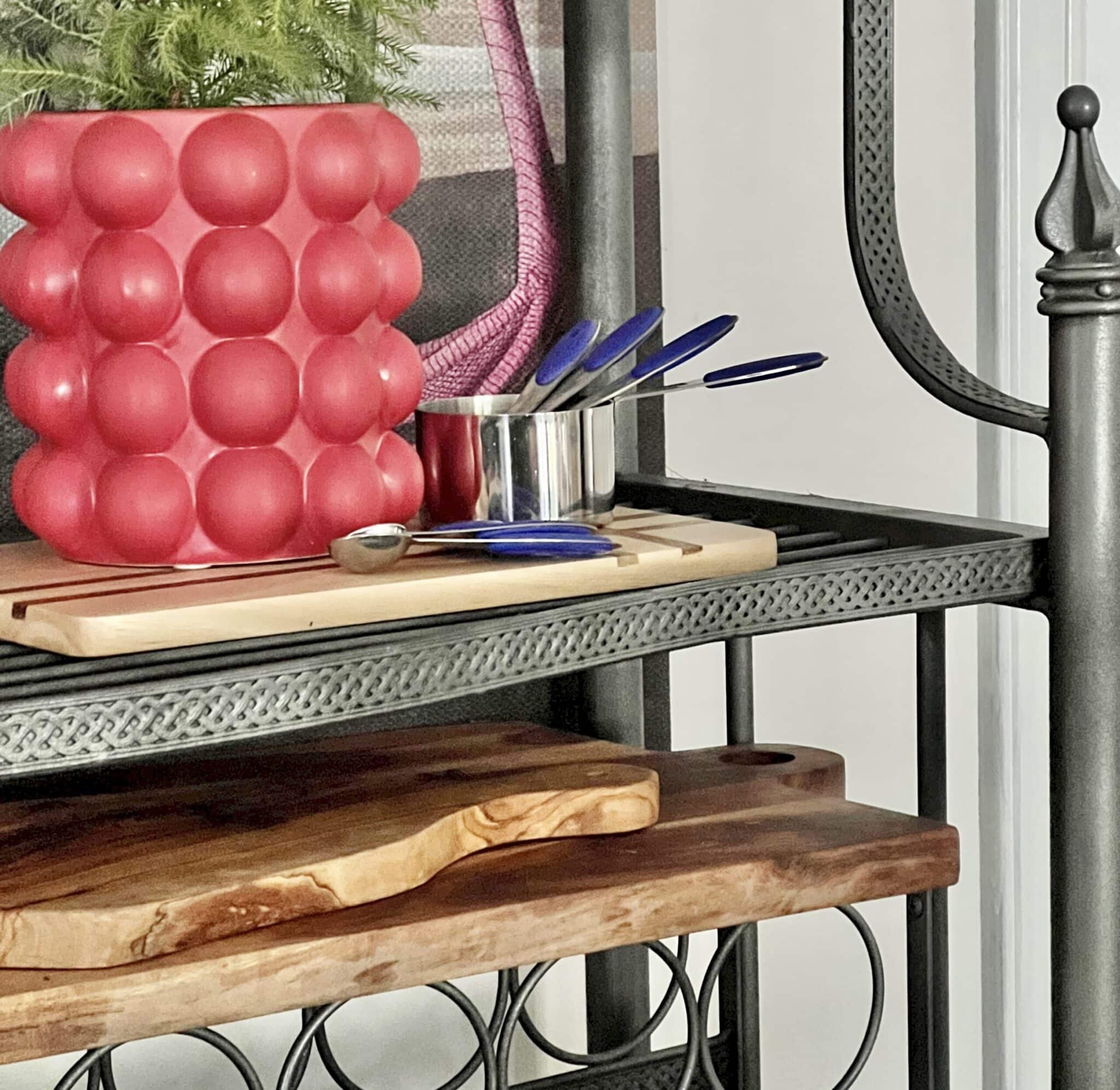 16. Spice It Up
If you like to cook, chances are you have a lot of spices. A hutch is a great place to store them so they're within easy reach when you're cooking. You can either hang them from the racks or store them in containers on the shelves.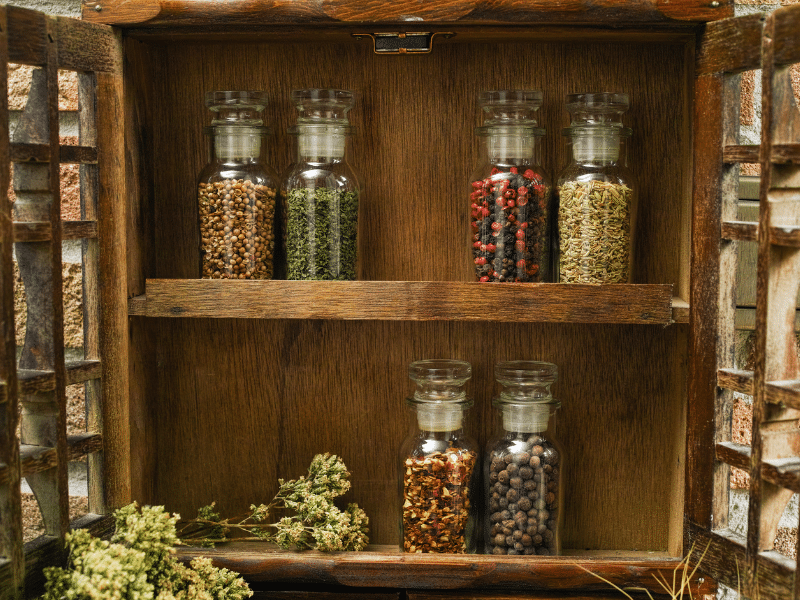 17. A Coffee Station
Keep your coffee maker, mugs, and other supplies on shelves for an easy-to-access coffee station. One of my favorite uses for a baker's rack!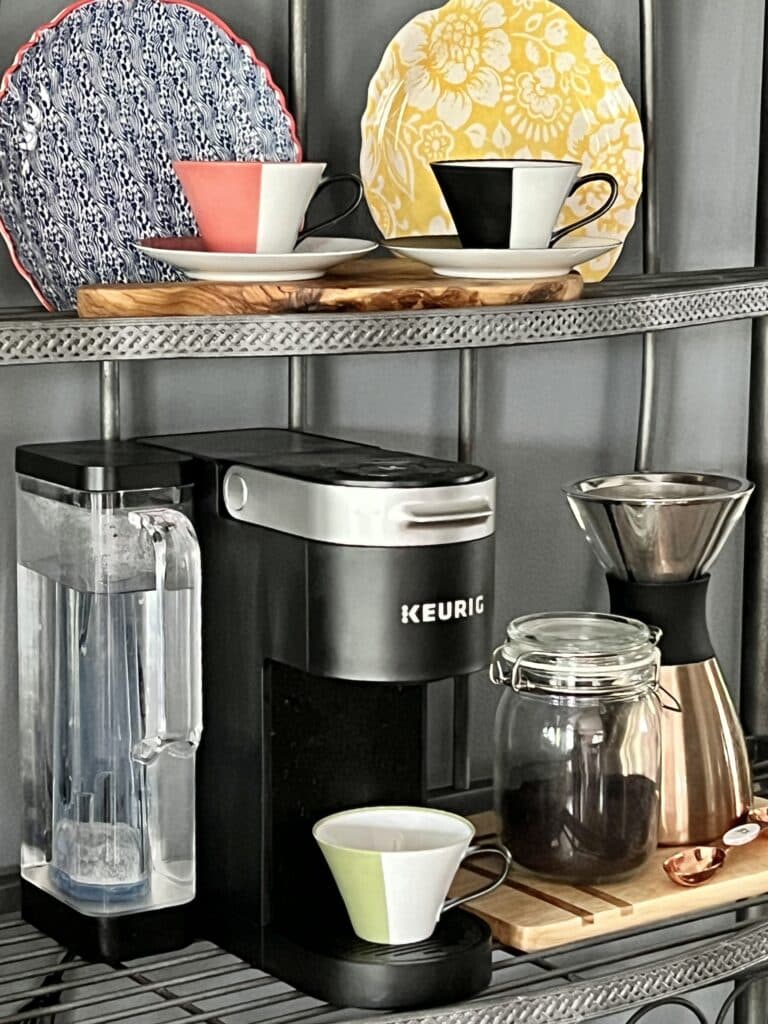 Other Kitchen Bakers Rack Decorating Ideas
There are plenty of ways that a bakers rack can be used in a more non-traditional way!
18. Bar Cart
If you like to entertain, any shelving furniture piece can be used as a bar cart. You can store all of your liquor, glasses, and mixers on the shelves and use the top of the cart for mixing drinks or serving food.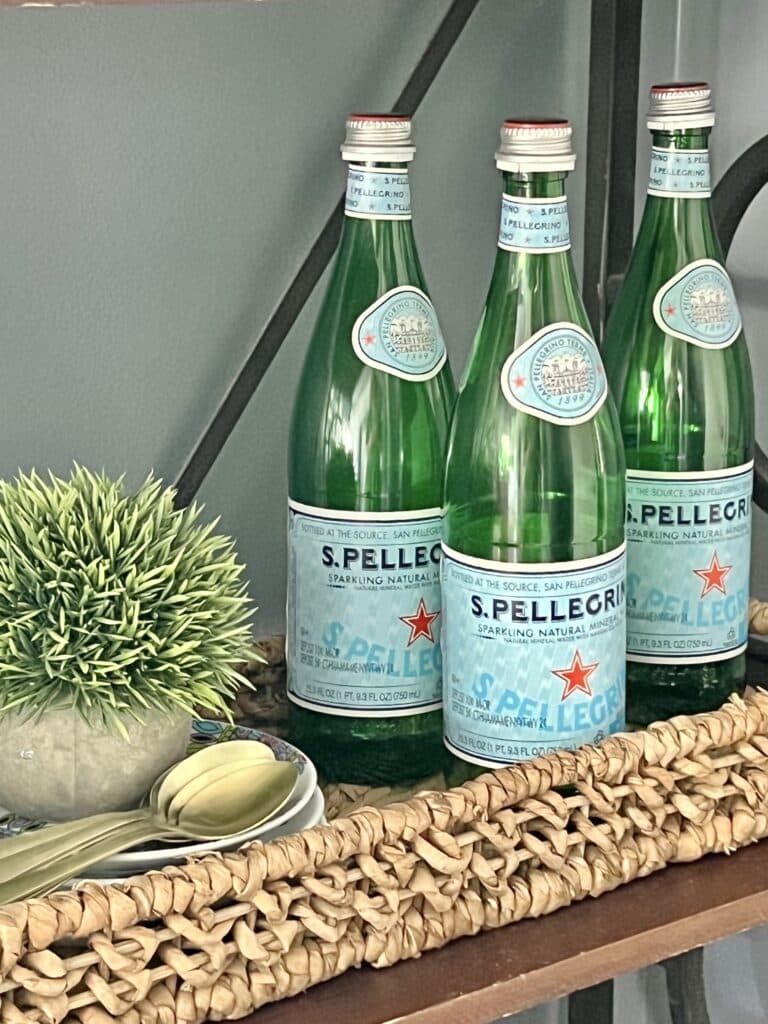 19. Buffet for Entertaining
Use your rack to serve food to a crowd! You have a one-stop area where guests can fill their plates and continue to graze throughout your time together!
Crystal from Sweet Valley Acres artfully used her bakers rack when she hosted an outdoor dinner party!
19. Artwork
Hang artwork above your bakers rack to add visual interest and create a focal point. You can also lean art against the back of the rack or place it on one of the shelves. Or, place your rack in front of one large canvas to create an artistic backdrop for the shelves.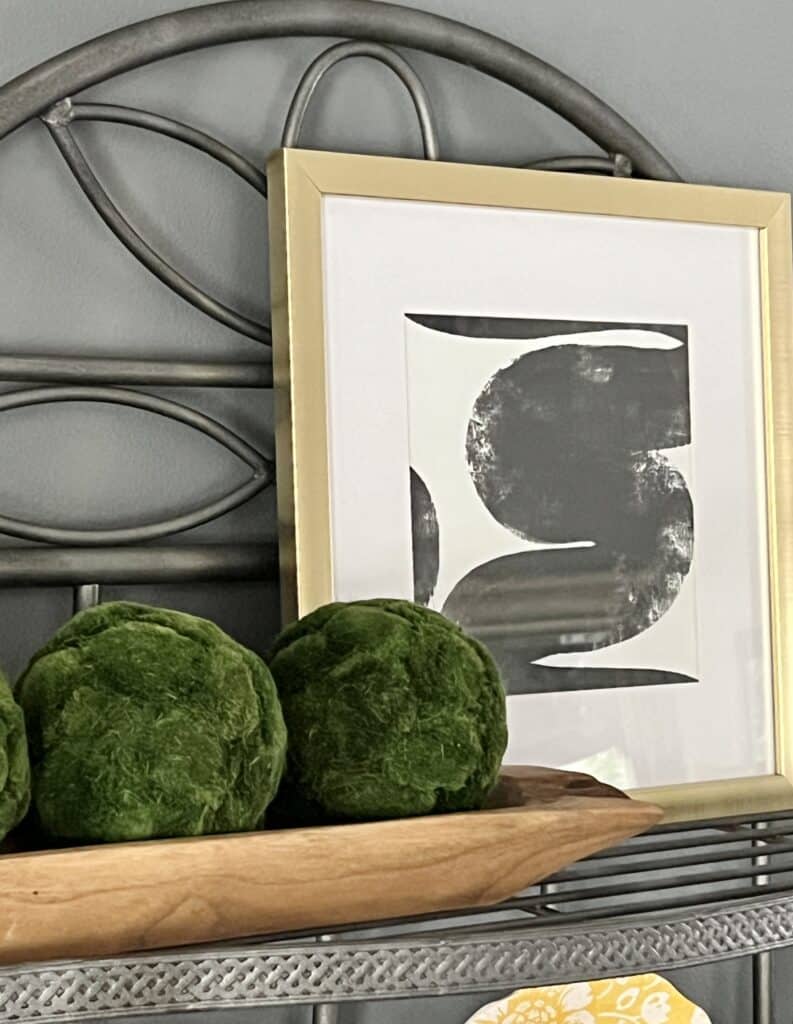 20. Candles
Adding candles to your bakers rack can create a cozy and welcoming atmosphere. Place one on a decorative tray or add multiples on one of the shelves with various candlesticks to add a warm glow to your space.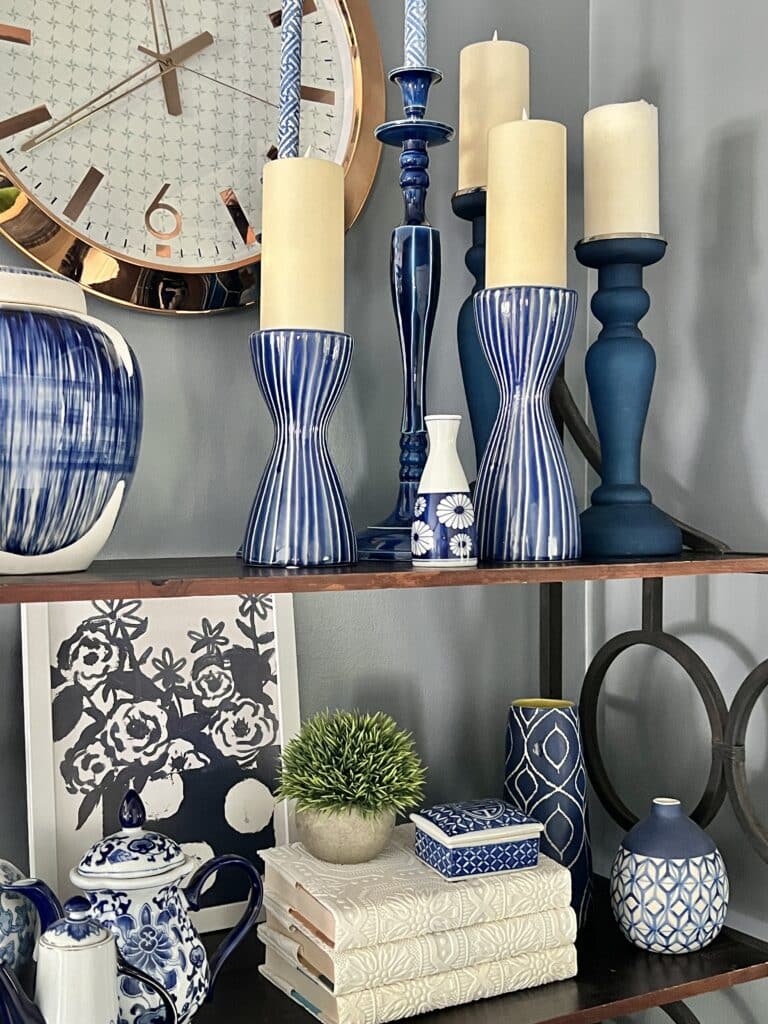 21. Vintage or Antique Items
Adding vintage or antique items to a kitchen hutch can give it a unique and personal touch. Consider displaying old books, antique kitchen tools, or other vintage items on the shelves.
23. Picture Frames
Adding picture frames to your bakers rack can help personalize the space. You can display family photos, artwork, or even inspirational quotes in frames of different sizes and styles.
24. Books
If you're an avid reader, open shelves can be a great place to display your favorite books. You can stack them neatly or use bookends to keep them in place.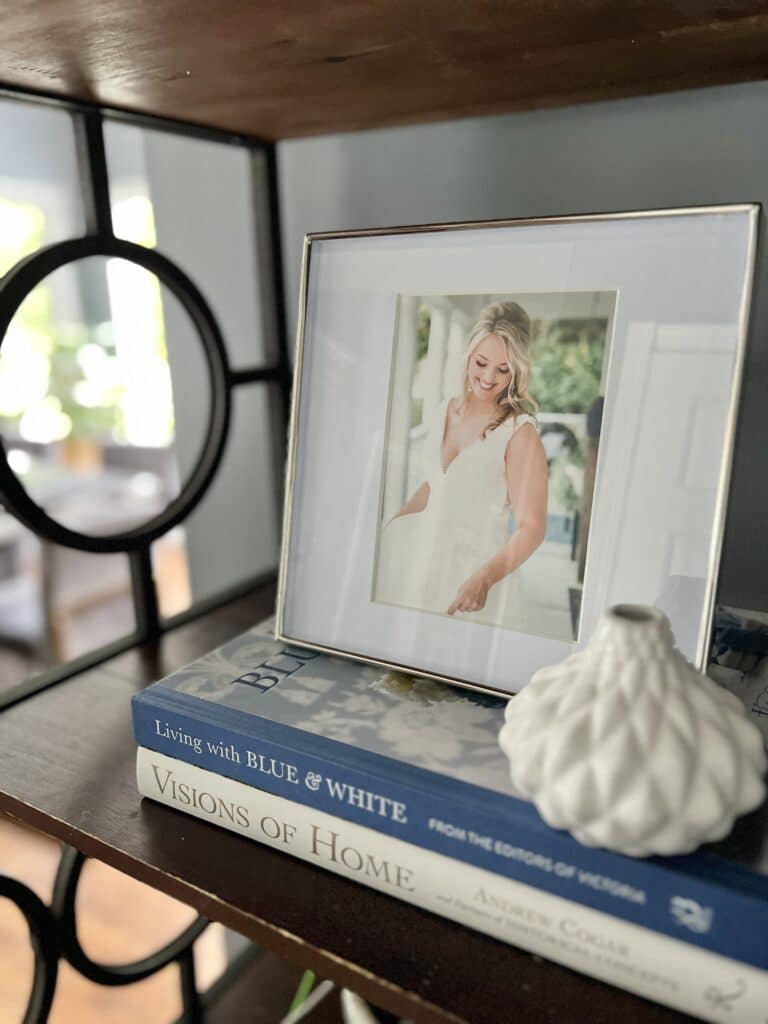 25. Mirrors
Adding a mirror to your bakers rack can create the illusion of more space and reflect light in your room.
26. Entryway Organization
If you have a small entryway, use your bakers rack to help organize it! Include a tray for your keys, a bottle of hand sanitizer, and my best friend, Alexa, who keeps me on time every day!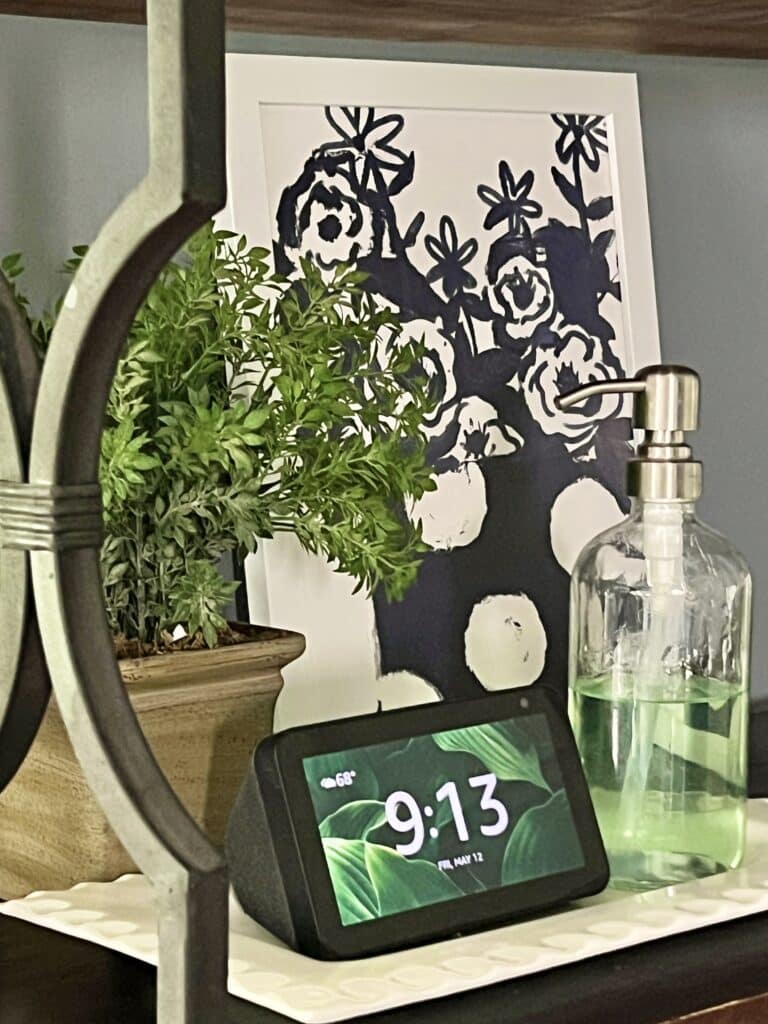 27. Art Supplies
If you're an artist, a baker's rack can be a great option for storing your art supplies and creating an inspiring space to work in. Craft projects are much more enjoyable when you can use store all of your supplies in one place.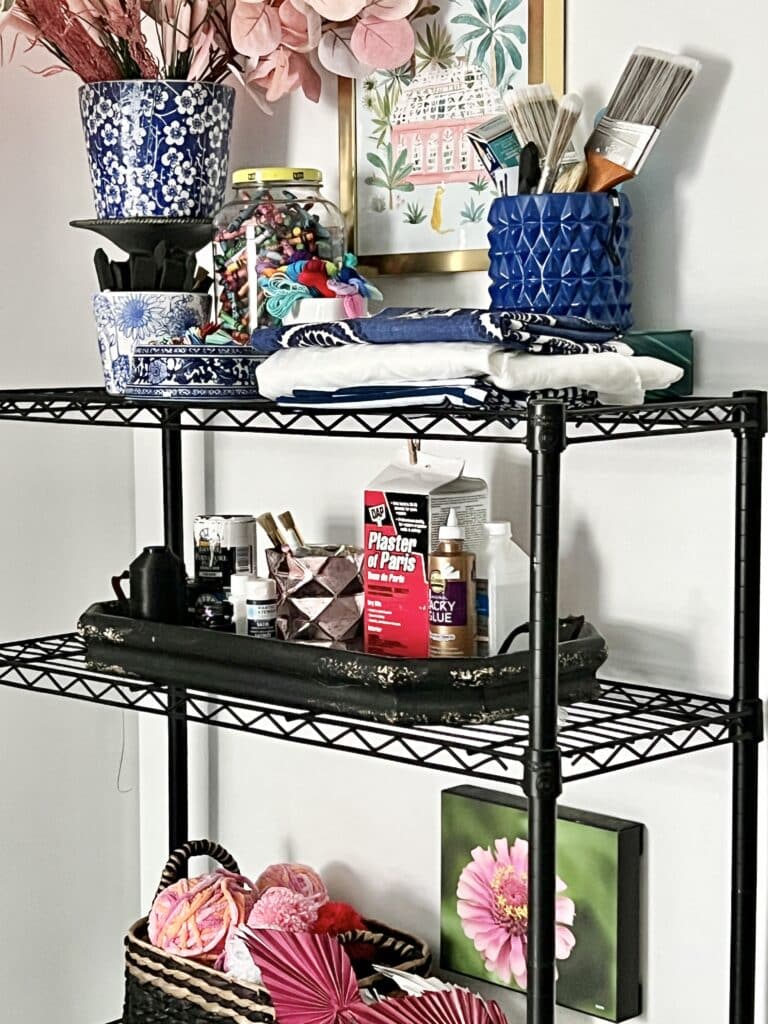 28. Pet Supplies
Keep all the supplies for your fur babies handy by storing them in a handy basket on a shelf. Easy access to those all-important treats!
(Bentley always knows when the treats are nearby!)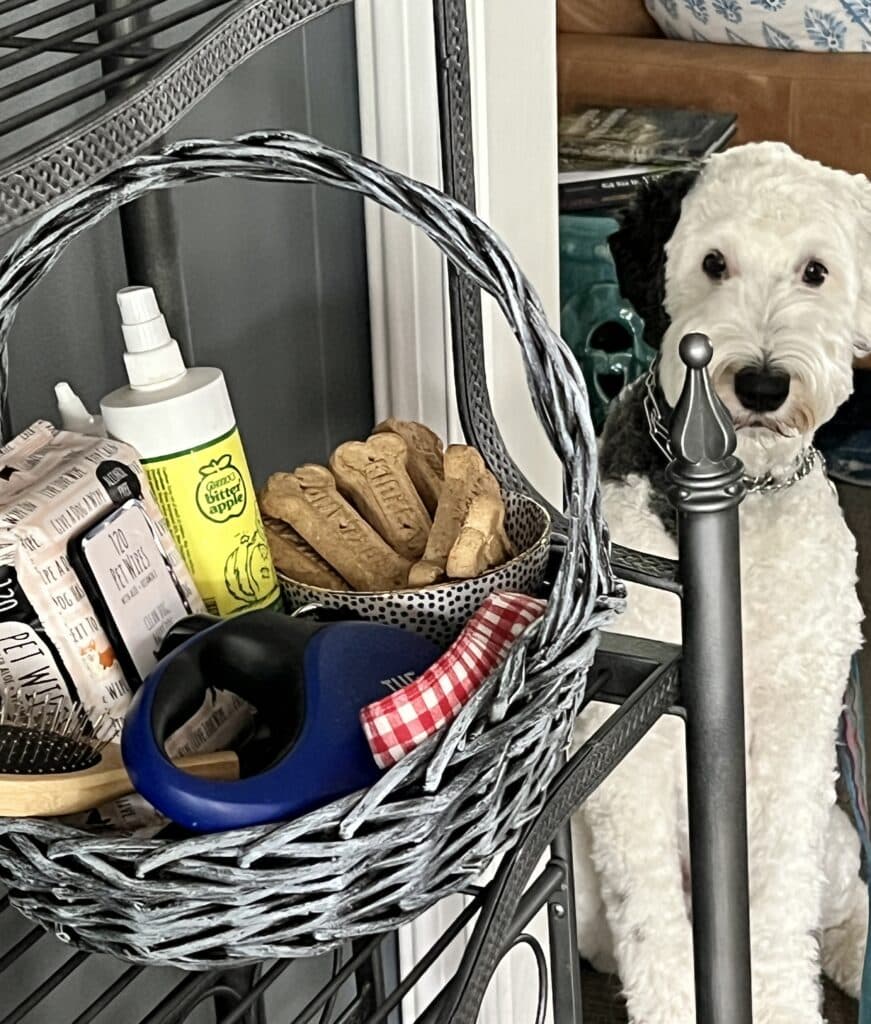 29. Lanterns
Displaying lanterns on your bakers rack can add a cozy feel and create a warm and inviting atmosphere.
30. Seasonal Decor
Switch up your hutch decor with the seasons. For example, you can add pumpkins and fall foliage in the autumn, or ornaments and garlands during the holidays.
Outdoor Spaces
Bring the indoors out and decorate your outdoor space with a bakers rack! All of the above ideas will work outside just as well as inside.
But one of my favorite ways to use a kitchen rack is as a potting bench!
31. Potting Bench
An outdoor baker's rack makes an awesome potting bench! Use the bottom shelves for storing large pots and bags of dirt while using the upper shelves for small garden tools, grow pots, and lovely flowers and plants.
Wendy at WM Design House uses this vintage hutch to store and display her terra cotta garden pots in her amazing she-shed.
My bakers rack has gotten an outdoor makeover with a fresh coat of silver Rust-Oleum spray paint. It is my potting zone for spring!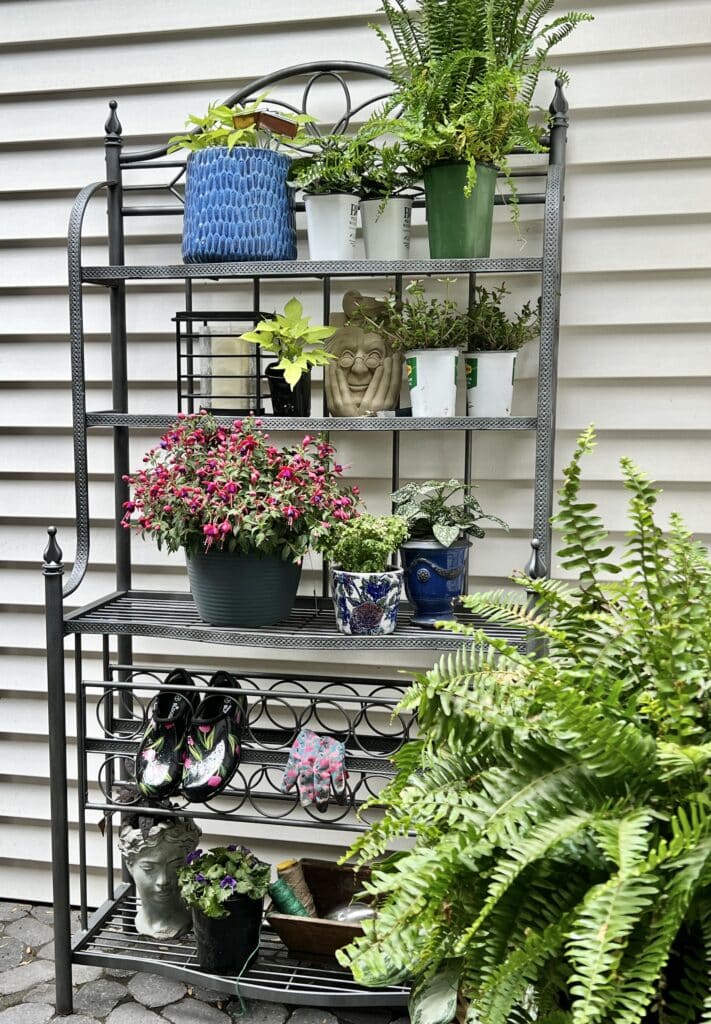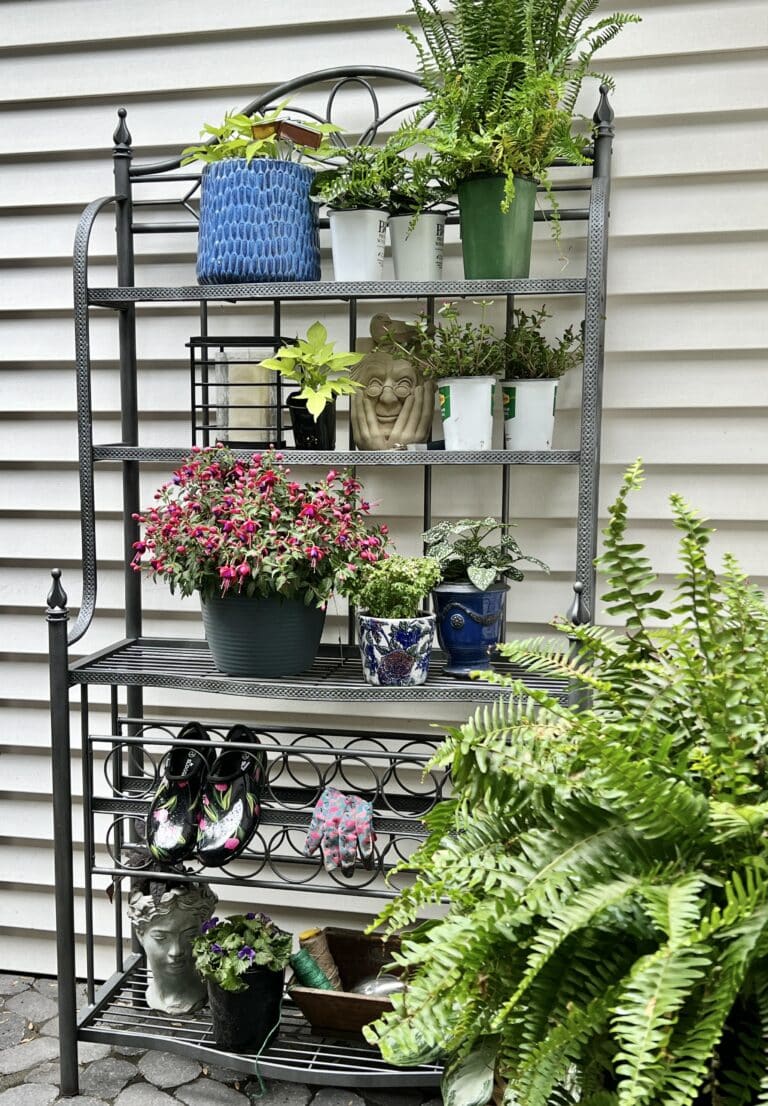 I love to fill all the cubbies with garden tools. Even my garden shoes have a spot!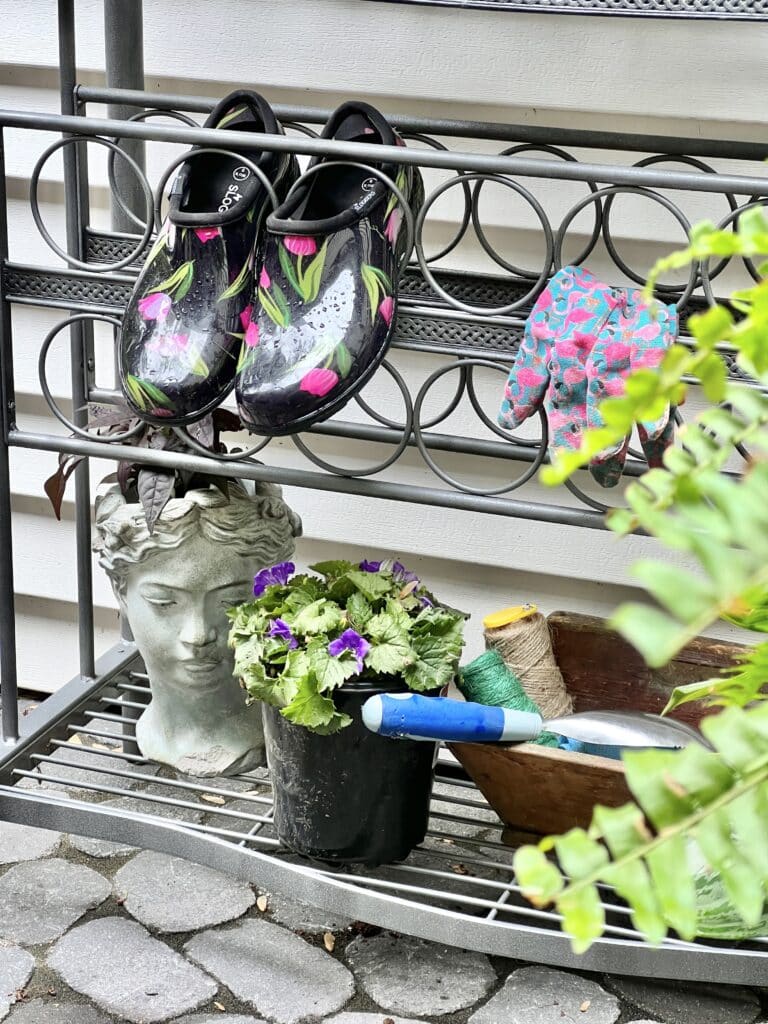 More Kitchen Bakers Rack Decorating Ideas!
The possibilities are endless! Here are more ideas!
Vintage signage: Adding vintage signs or typography to your bakers rack can add a touch of nostalgia and create a unique and interesting display.
Antique bottles: Displaying antique bottles or jars add a vintage feel to your decor and create an interesting display.
Extra office space: If you work from home, use a bakers rack as a mini office space to keep your supplies organized and within reach.
Bathroom Storage: A bakers rack is also great for storing bathroom essentials. Hang towels from hooks, and use the shelves to store things like toiletries and cleaning supplies.
A kitchen bakers rack can add charm and functionality to any kitchen space. Hopefully, from this list, you found some fun kitchen bakers rack decorating ideas that will work for you!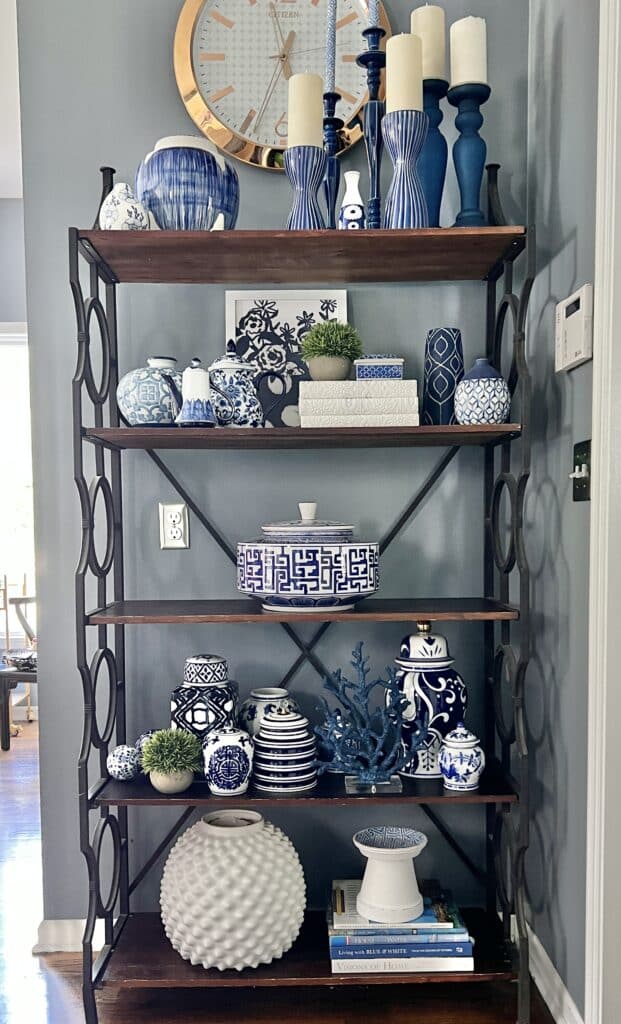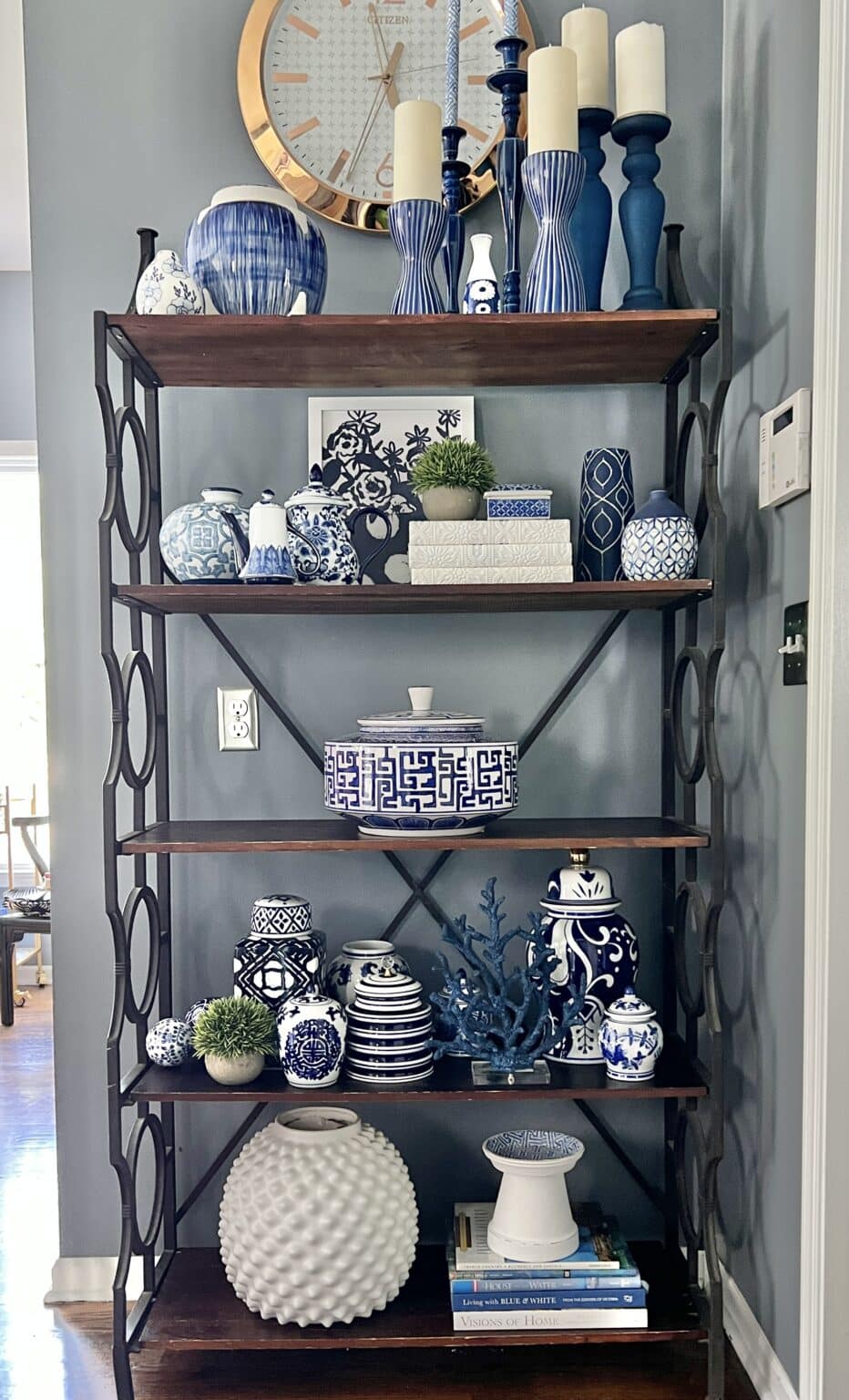 Whether you choose a full-out functional style with kitchen tools and utensils, or style it up with lots of home accents and statement pieces, there are endless ways for you to show off your personal decorating style.
Thanks to all the creative options available in terms of materials, shapes, sizes, and colors – there's no limit when it comes to having fun with your bakers rack! Why don't you let your imagination run wild and create the type of kitchen look that suits you best and gives your culinary zone that special something it needs!
Cheers!

Don't Forget to Pin It!
Pin the image below to your boards on Pinterest (just click the Pin button in the top left corner). You can also follow along with me on Pinterest!