How to Make a DIY Tile Planter Box
Do you have leftover floor or wall tiles? Learn how to make a beautiful DIY tile planter box that will spruce up any patio, porch, or kitchen counter!
Today I'll be teaching you how to make a beautiful and unique tile planter – it's totally easy enough for even the most novice of crafters. So break out those leftover tiles and let's get started on this super stylish DIY project!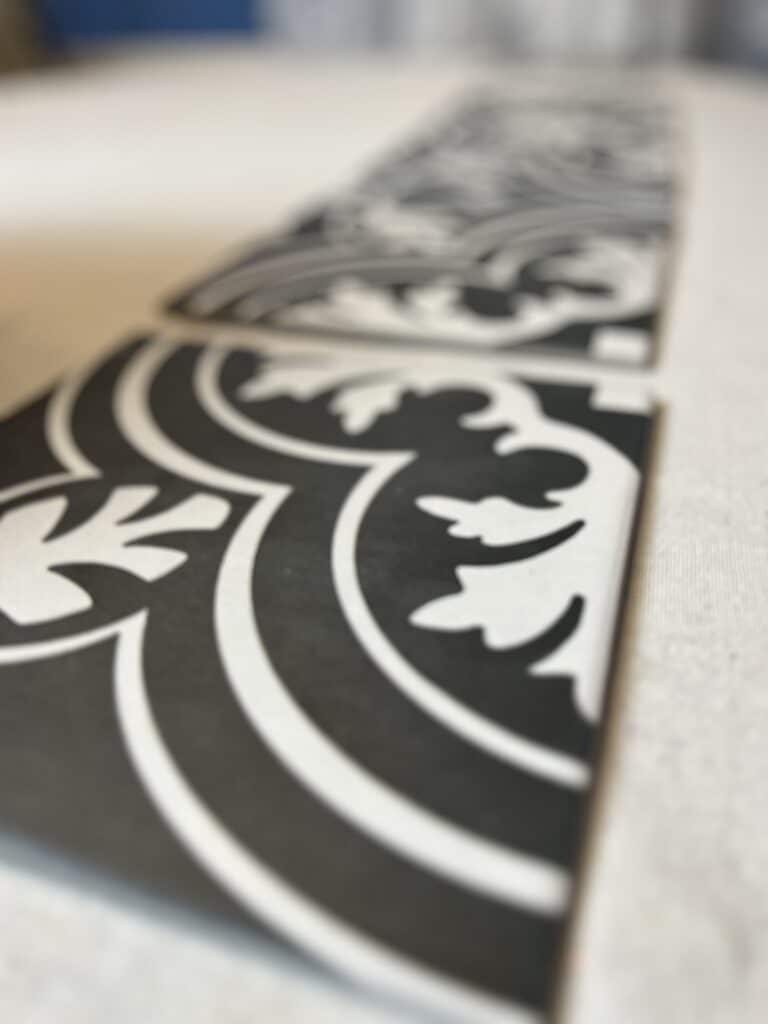 Don't you just love a successful remodel project?
The joy of the before and after photos side by side!
We remodeled our primary bathroom a few years ago and have loved it ever since.
Finally, I had my dream bathtub where I could enjoy a few spa-like moments.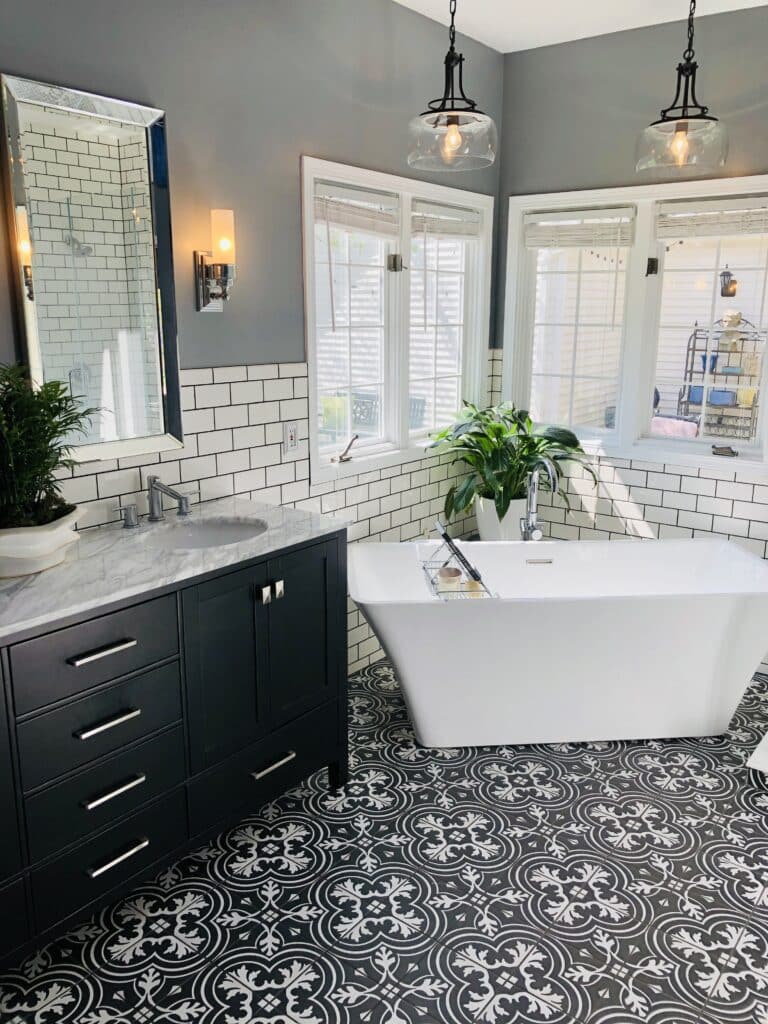 The best part…the floor tile!
It was quite an adventure.
Seriously. You can read more about the tile drama here.
This bathroom floor is one of Bentley's favorite places to snooze!
But, of course, as with any project, there are the "leftovers."
A single box of leftover floor tiles has been gathering dust in the basement store room.
Time for a DIY project!
How to Make a DIY Tile Planter Box
Gather up those tiles!
Floor tiles, wall tiles…vintage thrift stores often have them.
A great place to look is your local Habitat for Humanity ReStore!
You can also purchase single tiles at your local home improvement store.


Here is a full supply list of what you will need:
Supply List
5 square tiles (The tiles do need to be square and do need to be the same size.)
Glueing the Tile Planter Box
Begin by running an even bead of glue on one side of an upright square tile.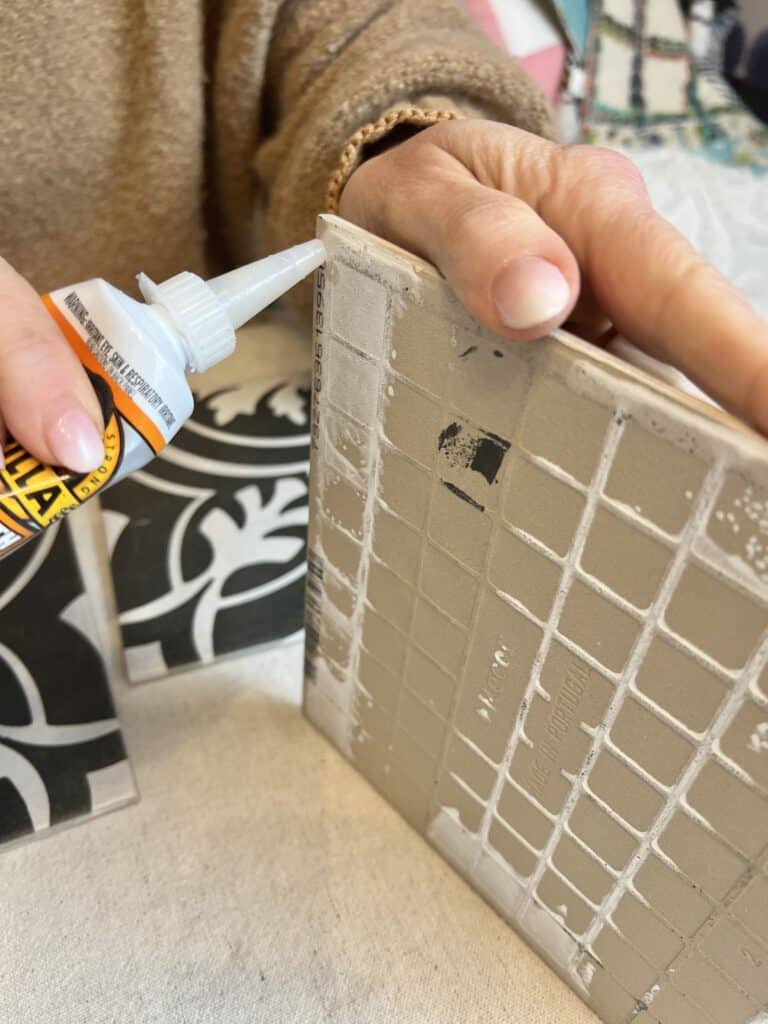 Take a second tile and, holding it upright, press it against the bead of glue to create a right angle. Line up the edges and corners of the tiles so they are even.
Hold for a couple of minutes to let the tiles set a little bit.
Take some strips of painter's tape and wrap them around the glued edges. This will enable you to continue glueing and connecting the other tiles.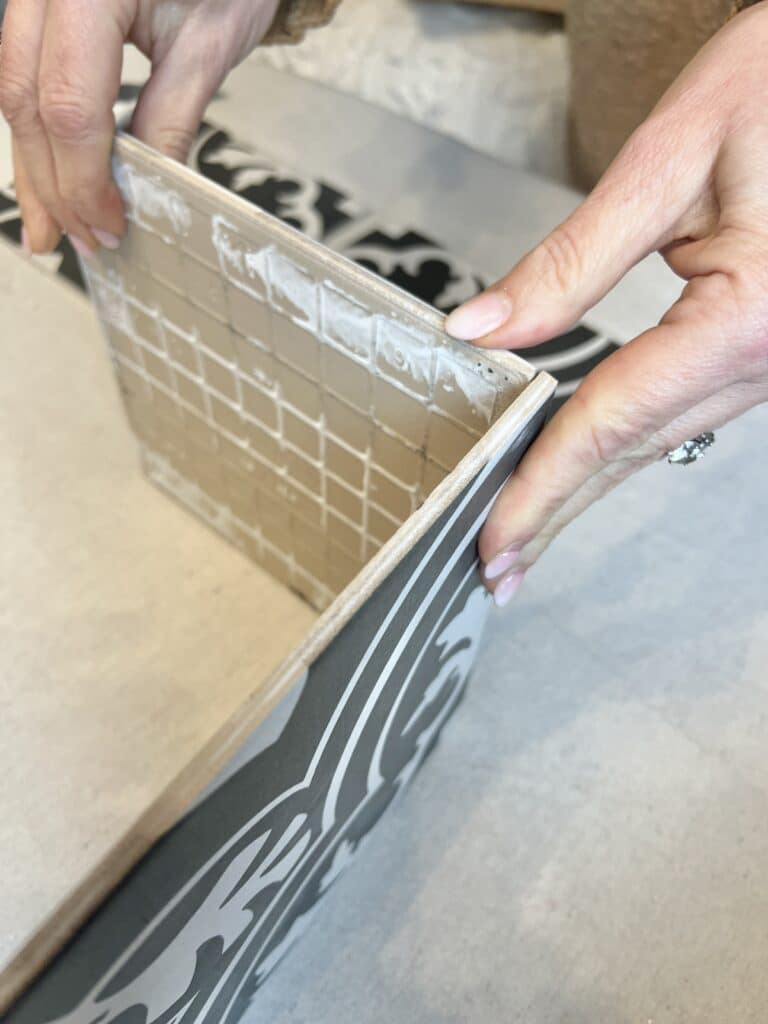 Add the third and fourth tiles by glueing the edges and adding each tile to form an open "box."
Let this set for 24 hours so the glue sets solidly.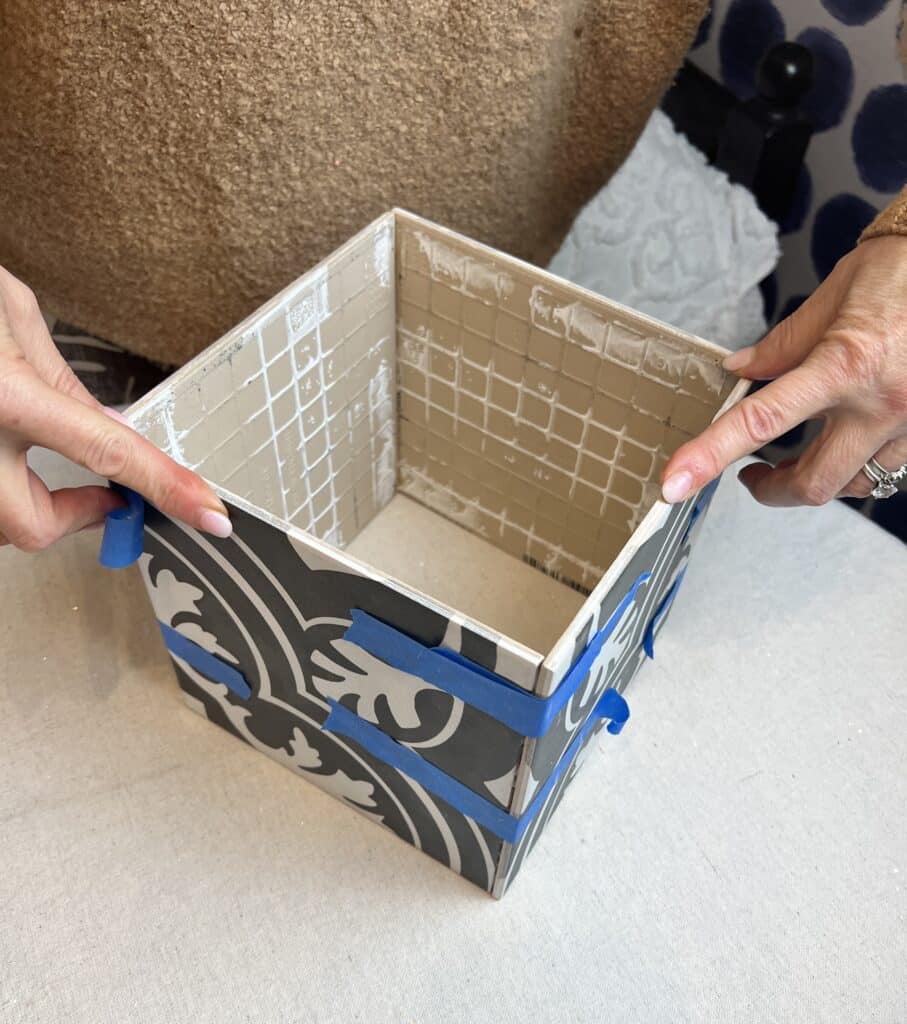 Adding the Tile Planter Bottom
Run beads of glue around the back side of the 5th tile and set the open box on top.
Let set for another 24 hours.
The tile bottom could be added at the same time that you glue the box sides. However, the sides of my box wanted to slide for a bit and I was nervous about it drying wonky so I divided this into two steps.
Once dry, add four felt furniture pads on the bottom of the planter so the box can sit and slide softly on a counter without scratching anything.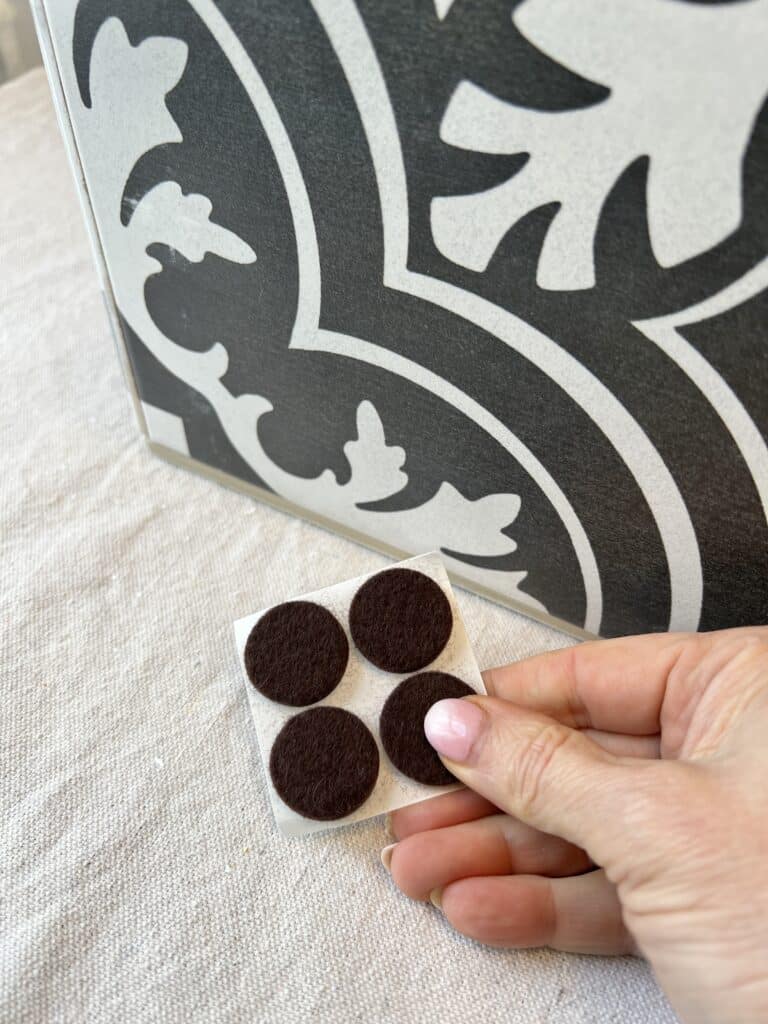 Style Your DIY Tile Planter
You can put whatever you want in your tile planter!
But I had one purpose…plants!
You can plant directly into the box or, like me, simply plop in a potted plant!
Adding some moss to the top edges around the plant is a lovely touch.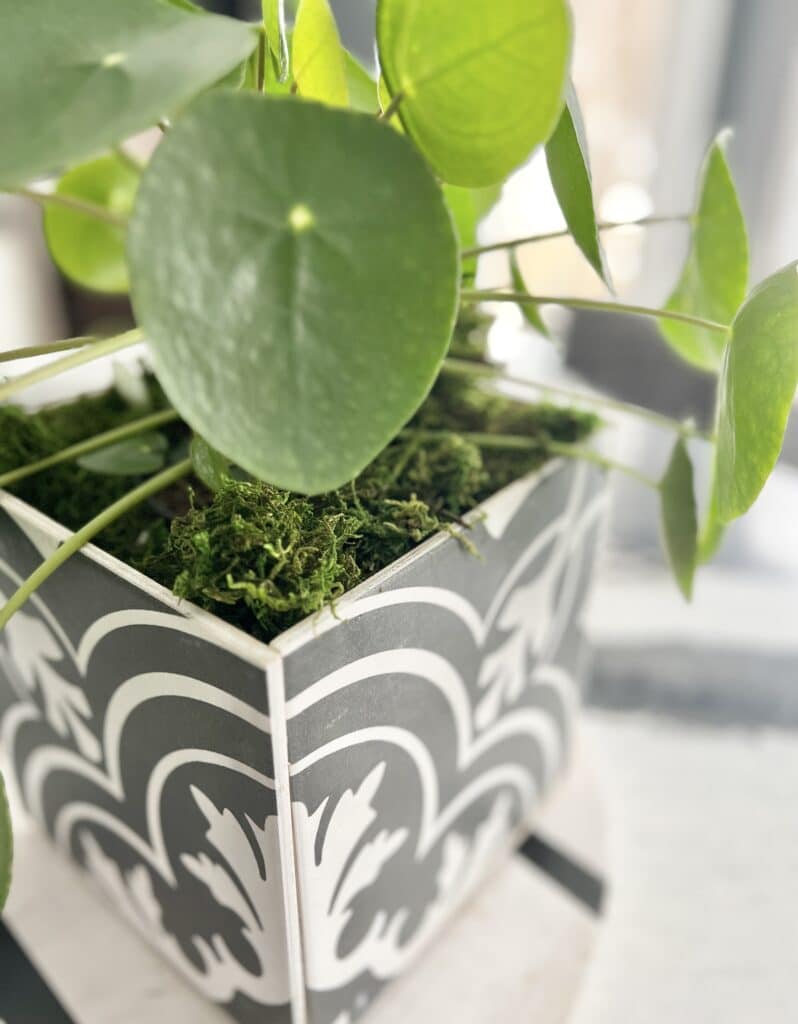 These tile planter boxes are perfect for most types of plants, and they add a touch of greenery to any room!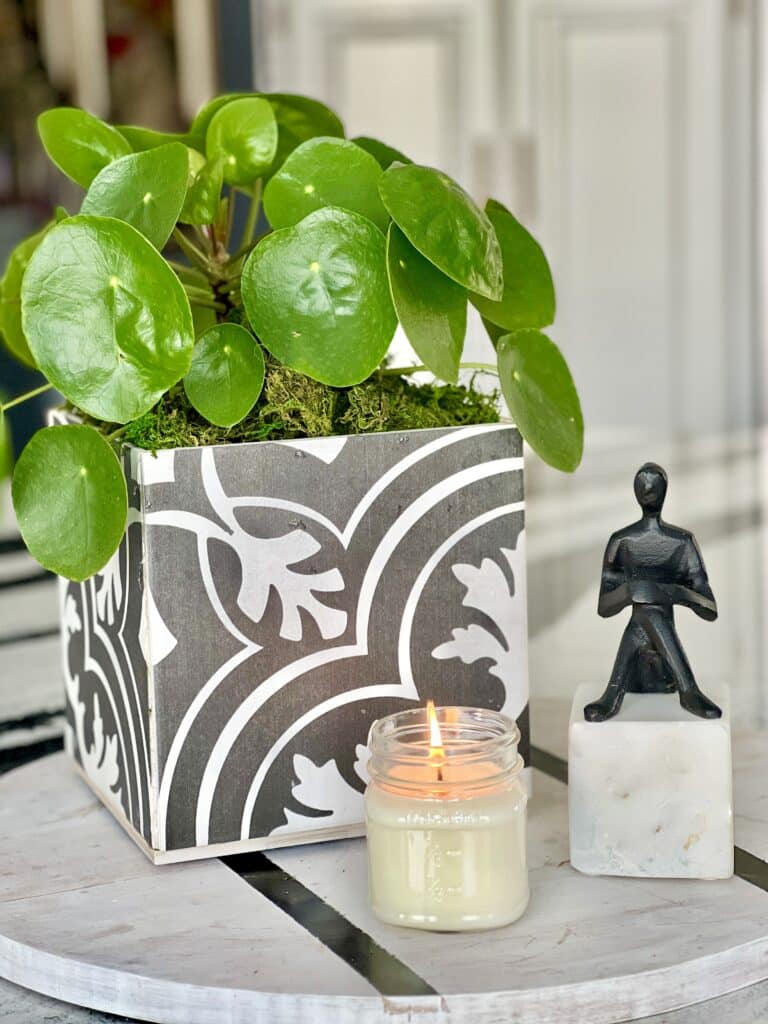 With some creativity and effort, you can make something both beautiful and practical using items that would otherwise be thrown away!
If you have leftover floor tiles, give this project a try – it's easy, inexpensive, and chances are you'll end up with a conversation starter that will get people asking about where you got such a unique planter. Find some leftovers tiles and give it a go!
Cheers!

Don't Forget to Pin It!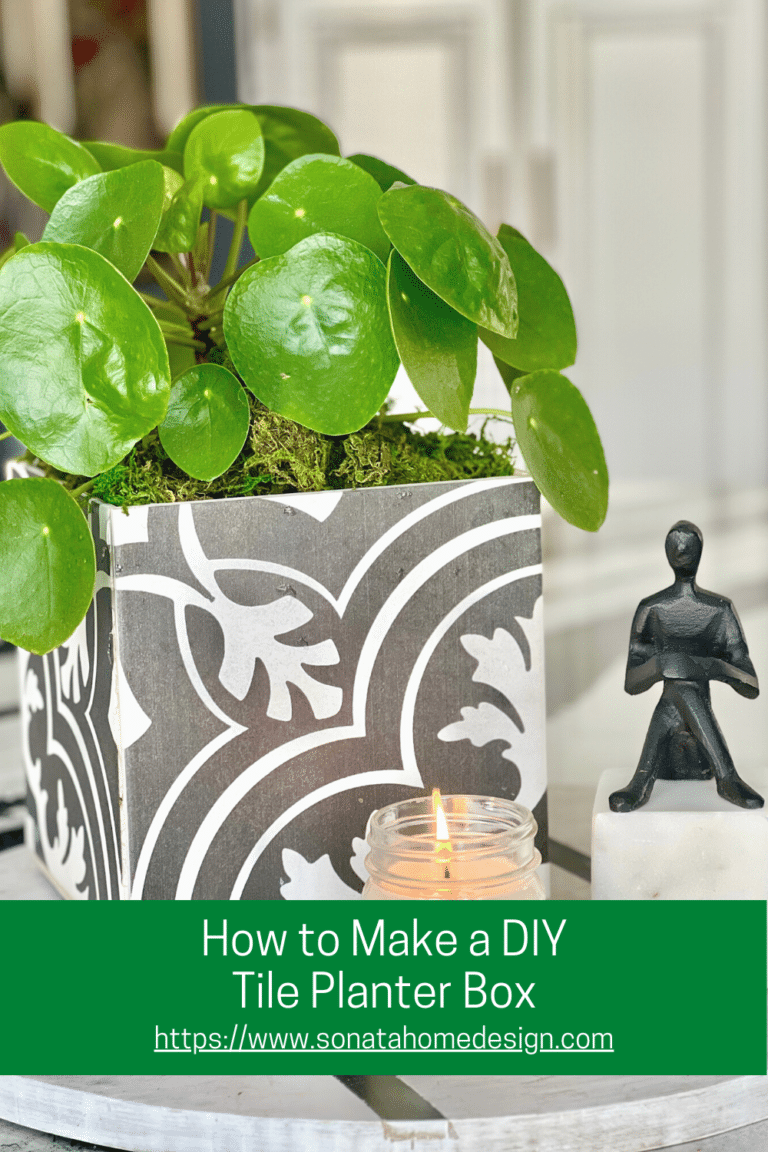 Looking for other ways to display indoor plants? Try these!
How to Make an Indoor Tabletop Mini Greenhouse