Creative Kitchen Fall Decor Ideas to Spice Up Your Space
The season of falling leaves and pumpkin spice everything is here! Fall is upon us, and it's time to let the cozy vibes creep into every corner of your home, especially the kitchen. Let's explore kitchen fall decor ideas that go beyond the classic orange pumpkin!
From dough bowls to glass pumpkins, get creative and dive into fall kitchen decorating to make your kitchen the coziest spot in the house!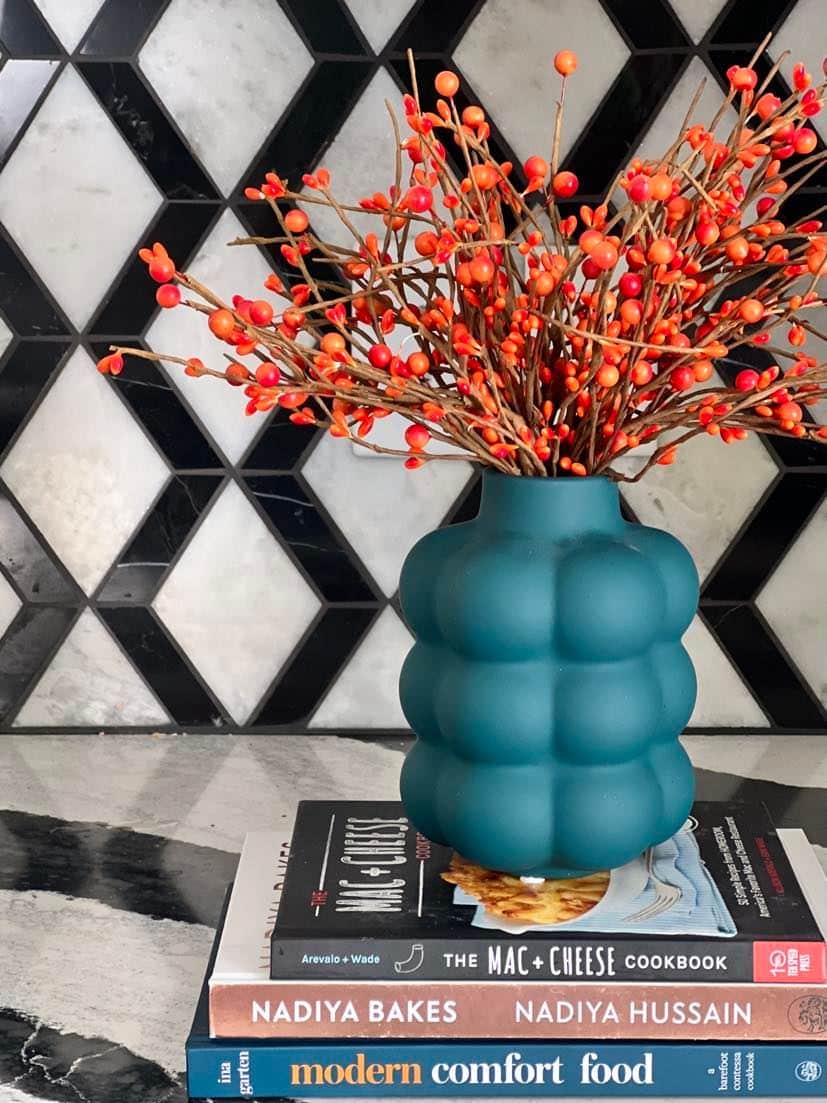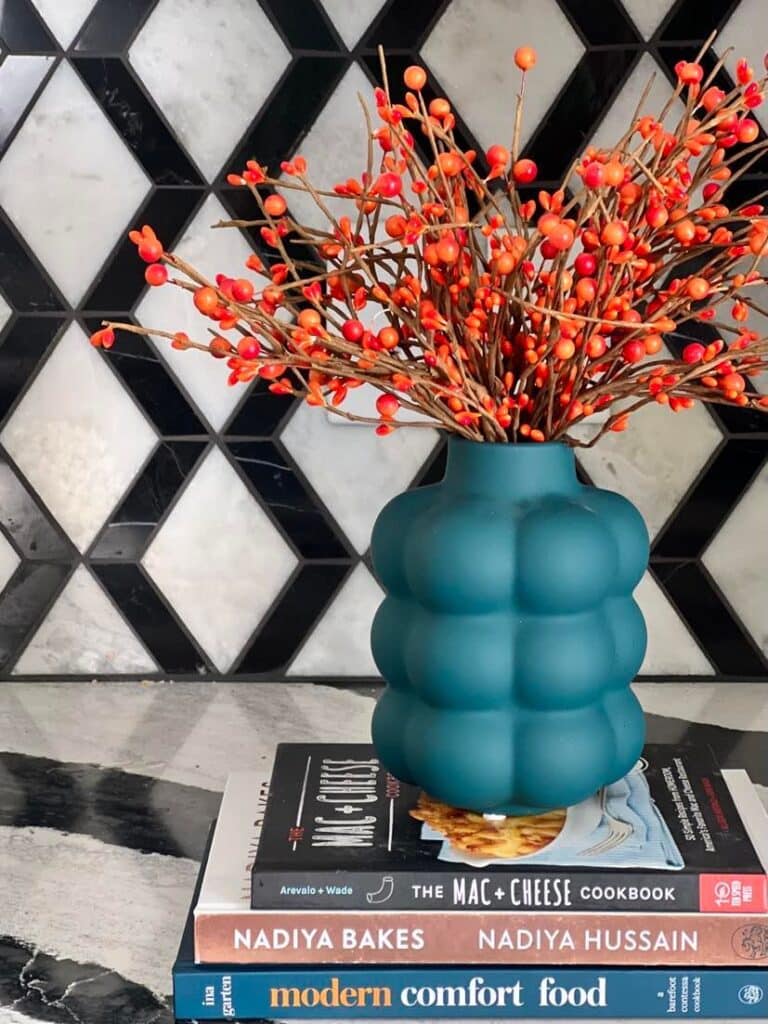 This blog contains affiliate links. This means a small commission is earned if you make a purchase by using this link. The price you pay will be the same whether you use the affiliate link or go directly to the vendor's website using a non-affiliate link.
The fall season is here!
I'm practically doing cartwheels now that the autumn season has officially started. I love to watch the leaves change color outside my kitchen window this time of year…and decorate for fall!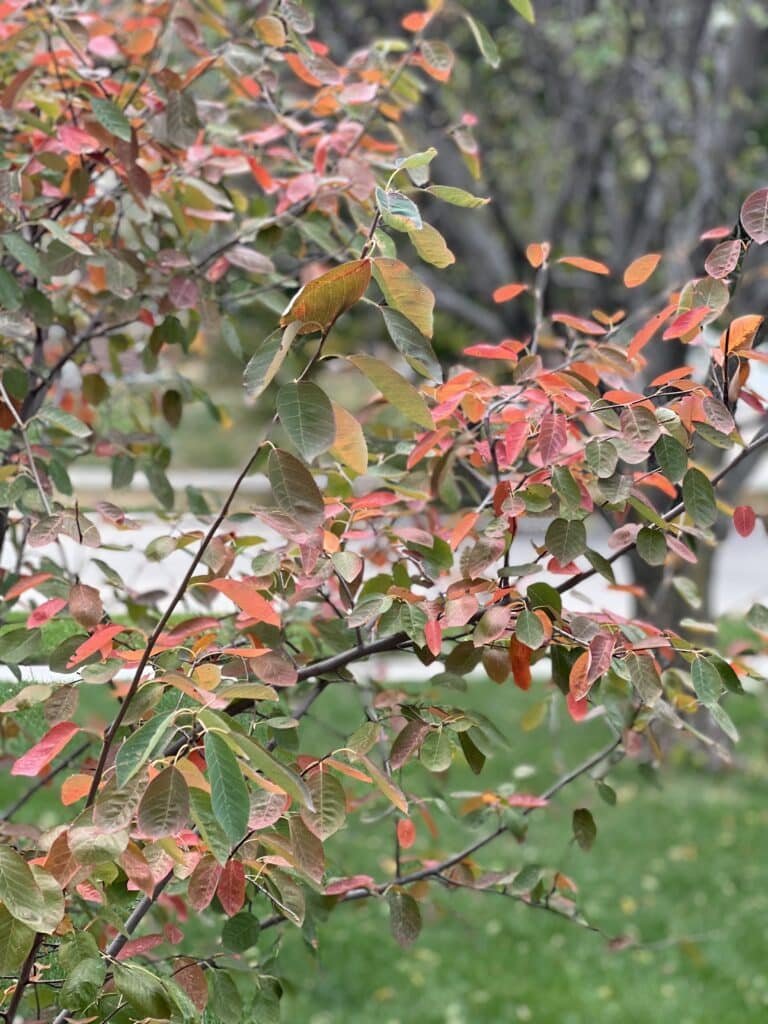 The fall decor storage totes have come out and I have been busy adding touches of fall to the living room, dining room, and the front porch.
But perhaps the best place to decorate for fall is the kitchen!
Since this room is the heart of the home, adding simple fall kitchen decor is a great way to welcome the season in a cozy, welcoming style!
So grab your favorite pumpkin spice drink and start decorating with any of these easy fall kitchen decor ideas!
Fall Colors
Let's kick things off with the basics—fall colors. Your kitchen can instantly transform with the warm, rich hues of the season. With this color palette, think deep oranges, rustic reds, earthy browns, and mustard yellows.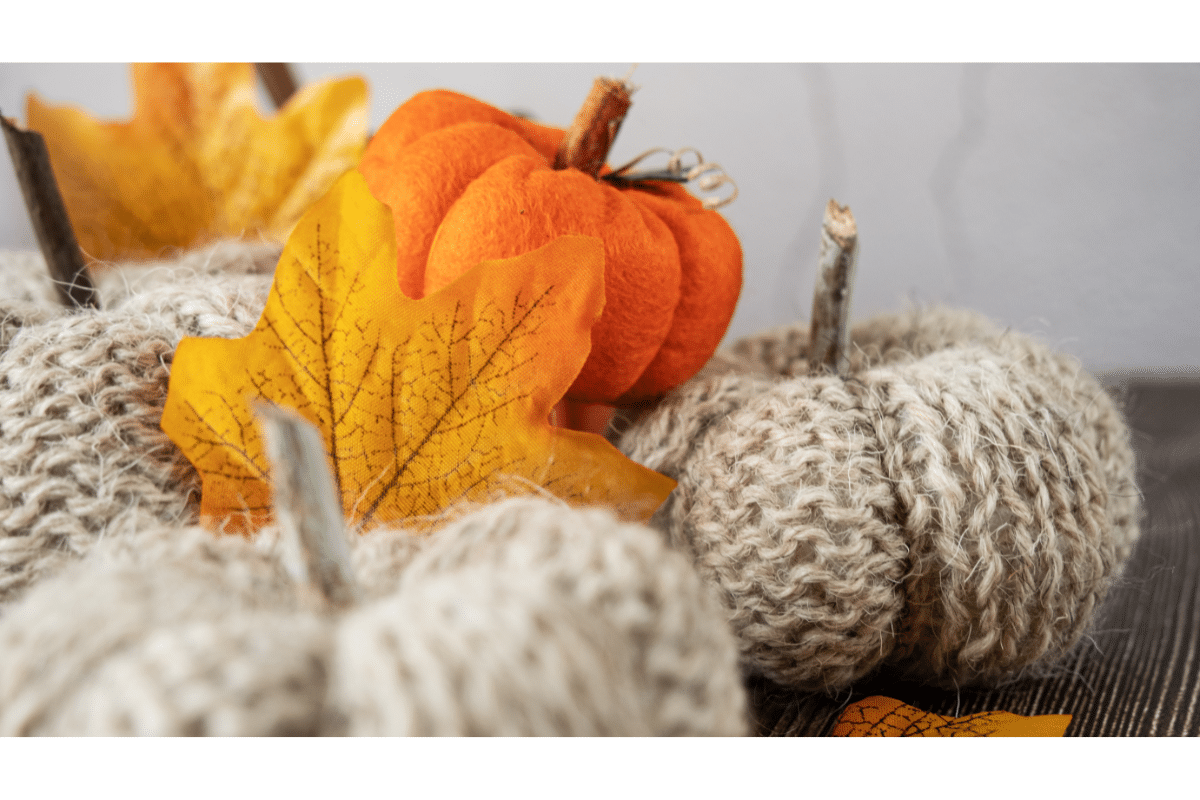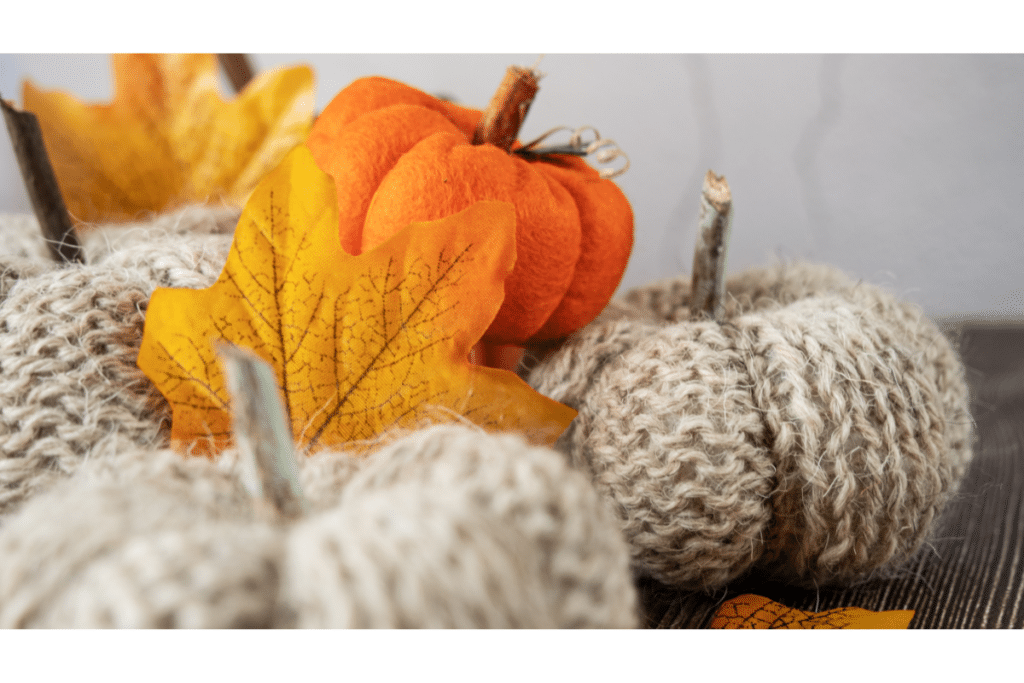 Incorporate these colors into your fall decorations through dishware, tablecloths, and cozy pumpkins. Any home accent you currently have can be temporarily traded out for one that is full of autumnal color.
Nontraditional Fall Colors
Who says you have to stick with the traditional fall palette? Break the mold with unexpected color combinations for your kitchen decor.
Navy blue, deep coral, and even charcoal gray can create unique and sophisticated fall ambiance. Consider swapping out your kitchen linens or adding colorful artwork for a touch of modern autumn chic.
Place colorful, nontraditional-colored placemats and coasters on your dining table. Invest in kitchen gadgets or utensils with colored handles that match your chosen nontraditional palette.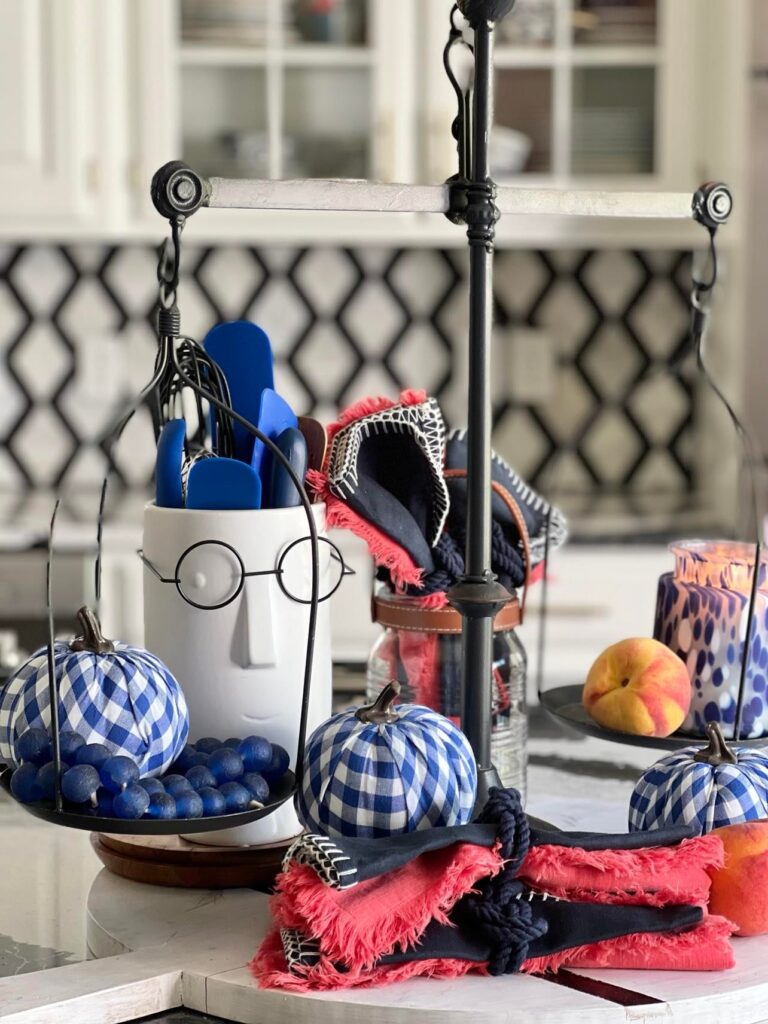 Add patterned pumpkins in whimsical plaids or shake things up with bright pink pumpkins for a surprising pop of color!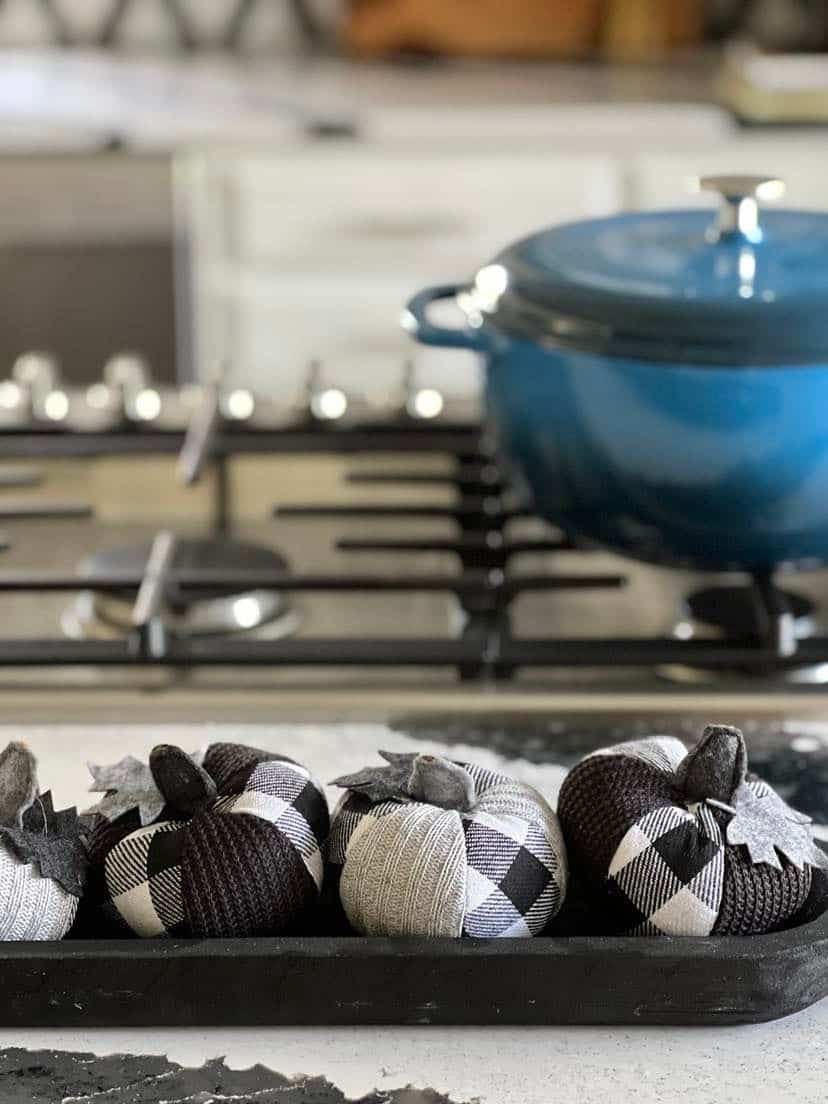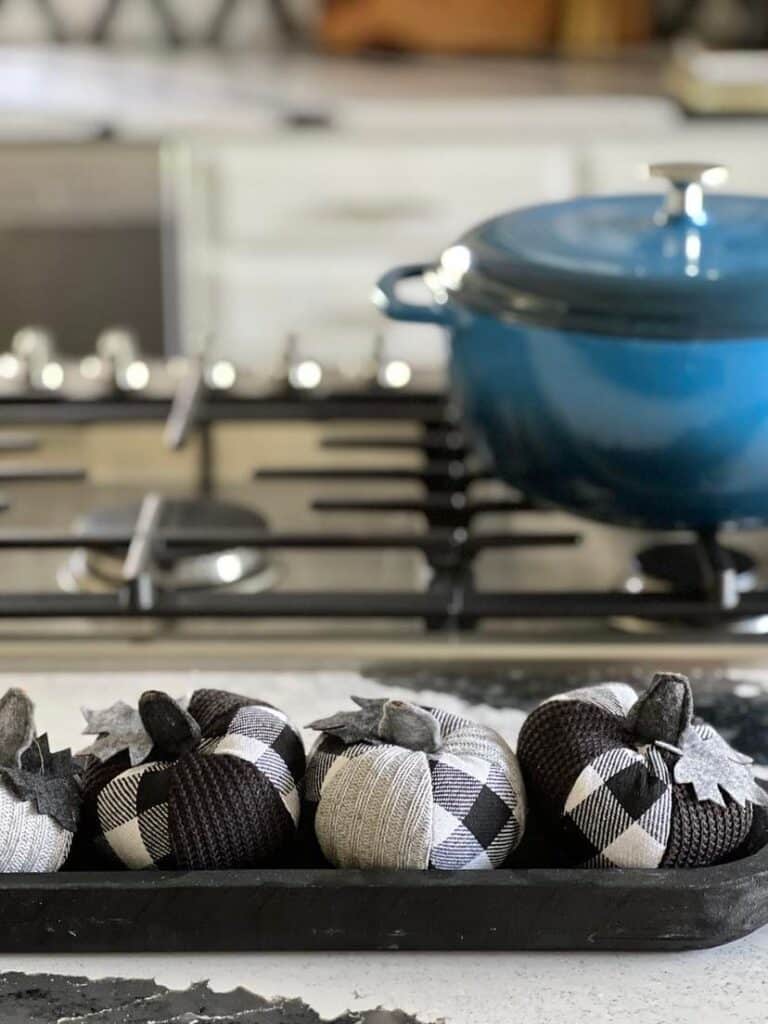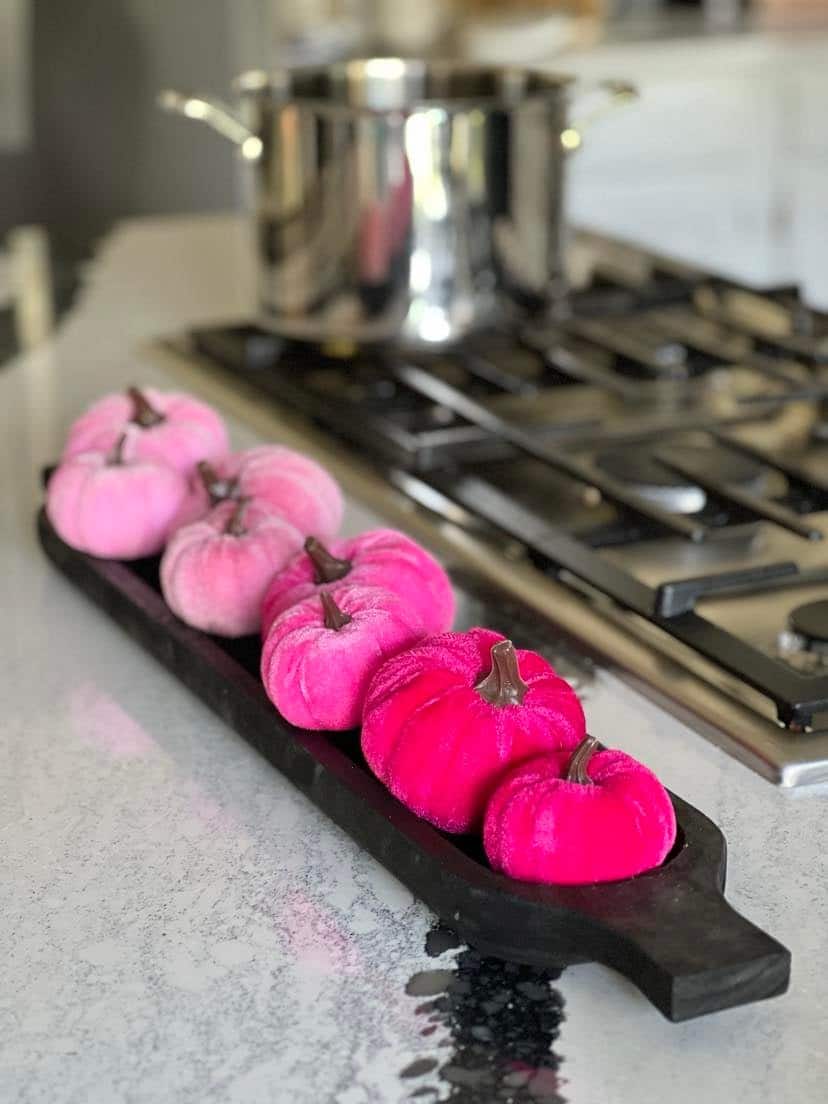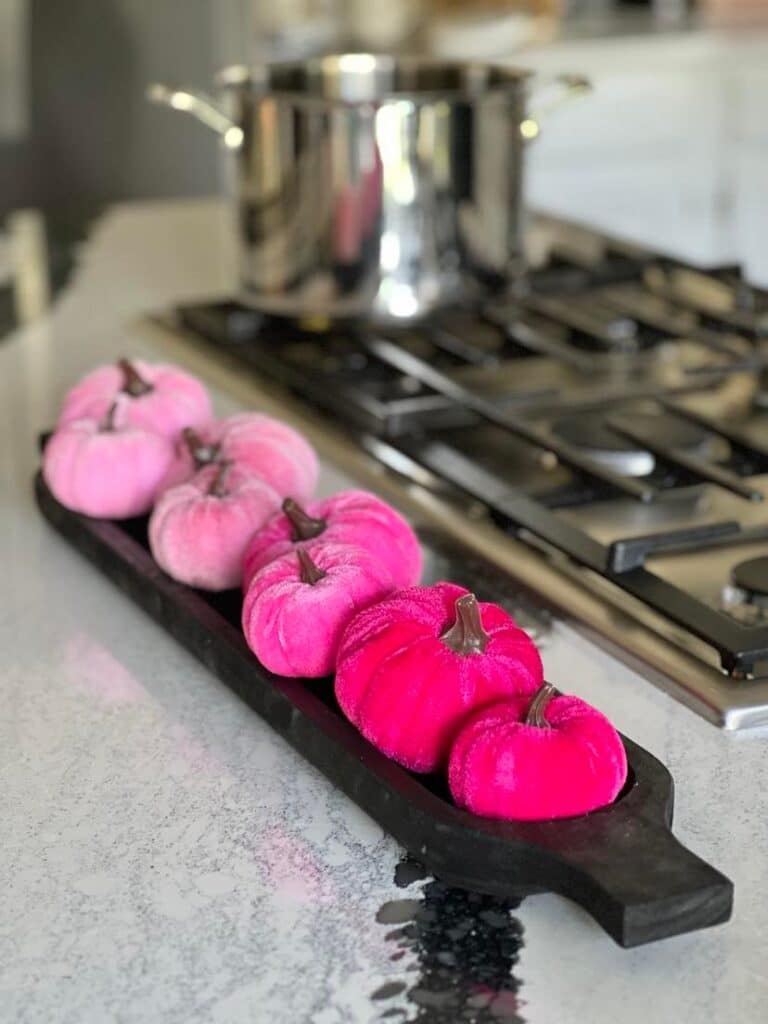 Fall Candles
Pumpkin spice isn't just for lattes; it's a scent that can transform your kitchen into a cozy haven! And pumpkin spice is just the beginning…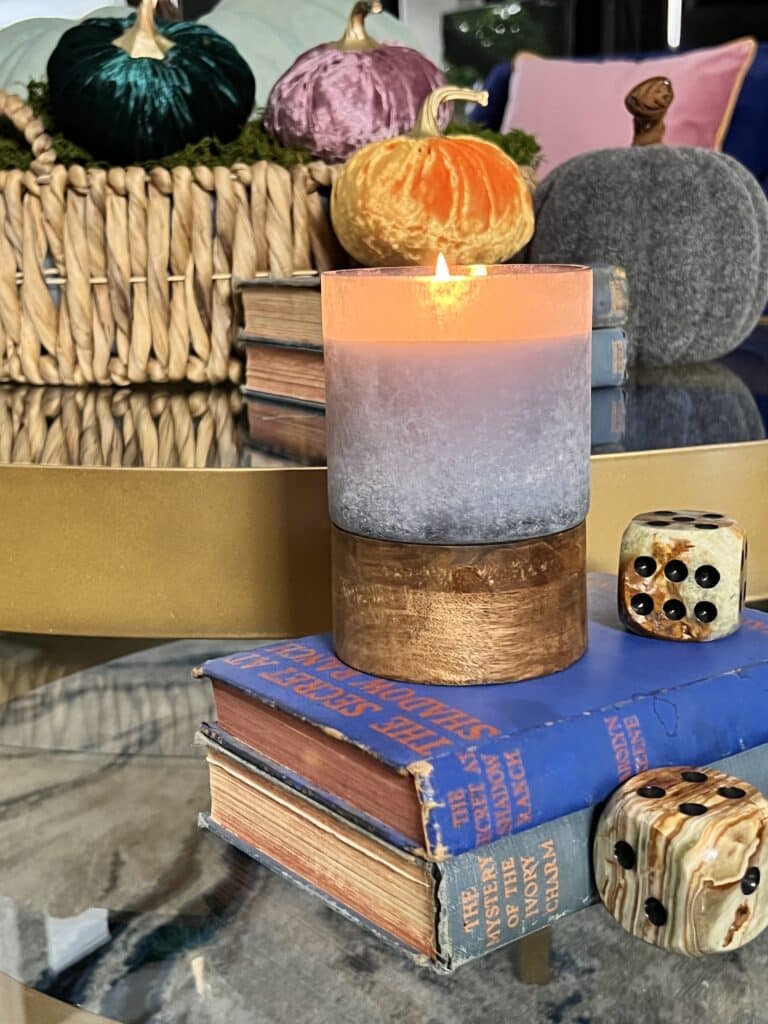 Consider adding fall candles, room sprays, or even potpourri for an aromatic twist to your decor. Consider other fall-inspired candles with scents such as cinnamon spice, apple pie, or pumpkin butter.
Light it Up! Sometimes we buy candles but don't actually light them. Why??? Light your candles and make every day a special day! Light up a fall-scented candle for your kitchen island or countertop. The aroma alone will make you want to curl up with a cup of tea. No one will want to leave your cozy kitchen because it smells so good!
Lanterns
Decking out your kitchen for fall with lanterns is a brilliant way to infuse warmth and charm into the heart of your home.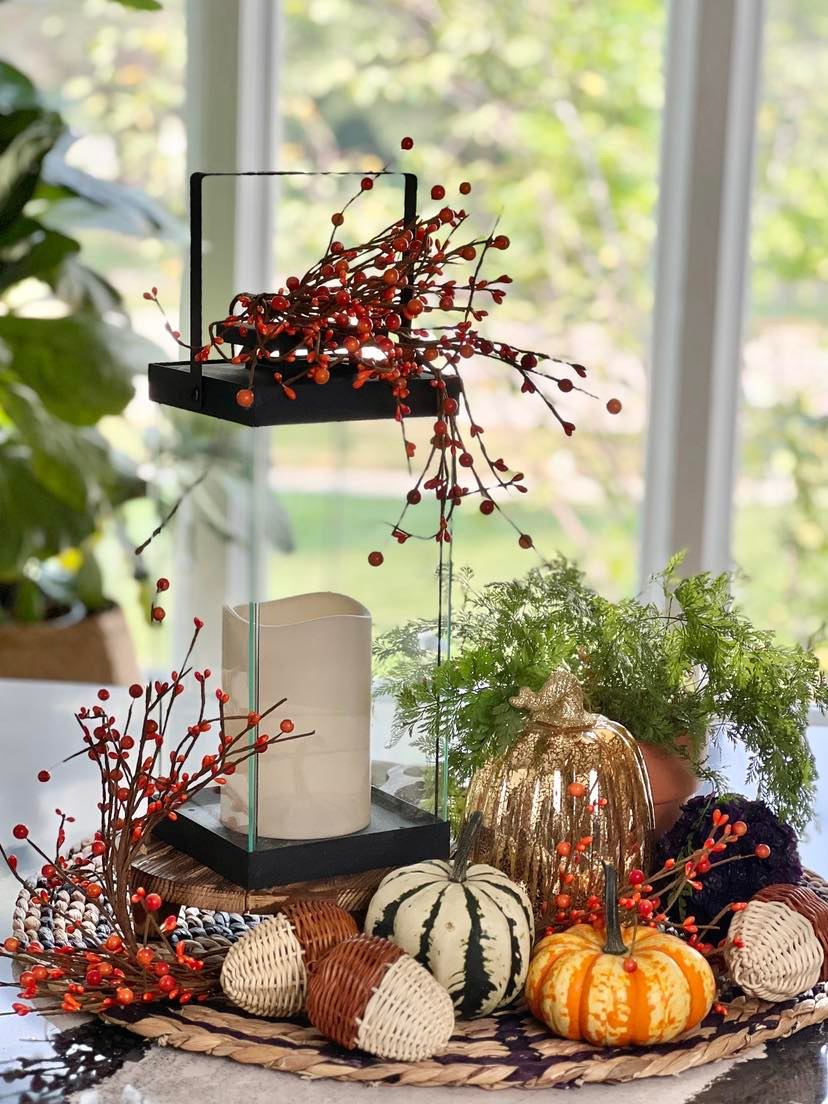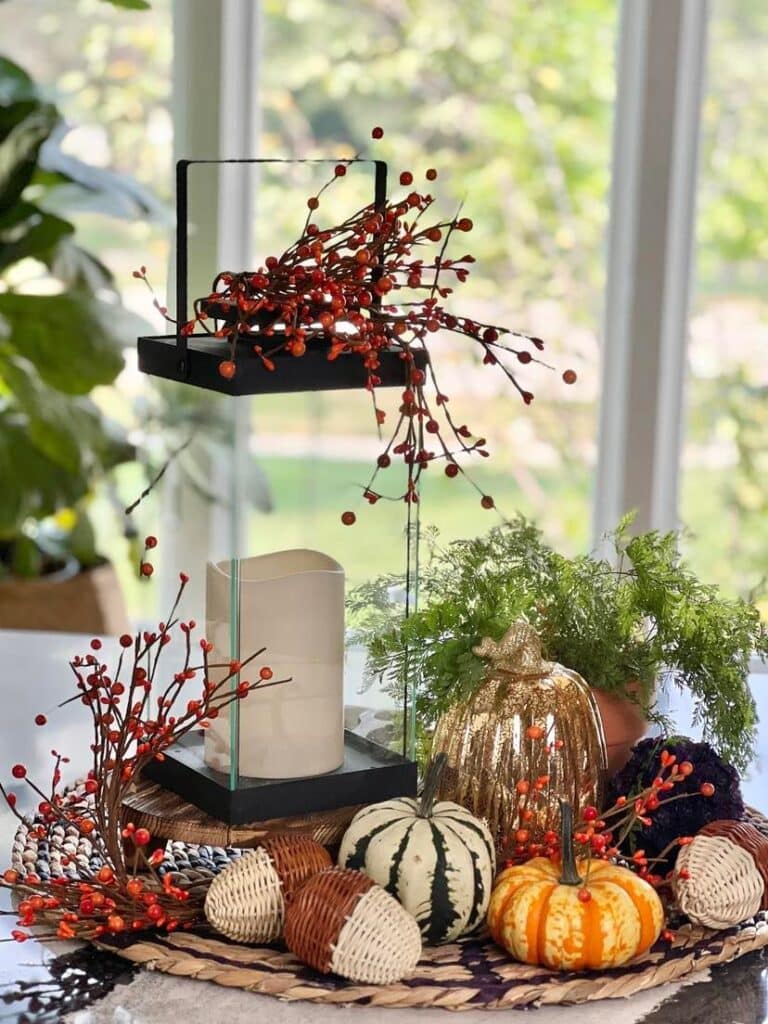 Start by selecting a lantern that reflects the cozy vibes of autumn – think rustic wood or streamlined wrought iron. Fill them with pillar candles or battery-operated LED candles in warm, flickering hues. (Magical ambiance without any fire hazard!)
Place these lanterns strategically on your countertop, kitchen island, or dining table. For an extra autumn twist, surround them with dried leaves, pinecones, or faux pumpkins. These lanterns not only add a touch of elegance to your kitchen but also create a welcoming atmosphere that's perfect for fall gatherings and intimate dinners.
Try this! Hang lanterns from your kitchen ceiling, using sturdy hooks and rustic twine, at varying lengths to form a captivating fall-themed chandelier.
Decorate a Dough Bowl
One quirky yet charming idea is to fill a dough bowl with seasonal goodies. Gather some mini pumpkins, gourds, pinecones, and cinnamon sticks. Arrange them in the dough bowl for a rustic, farmhouse-inspired centerpiece that's sure to make a statement.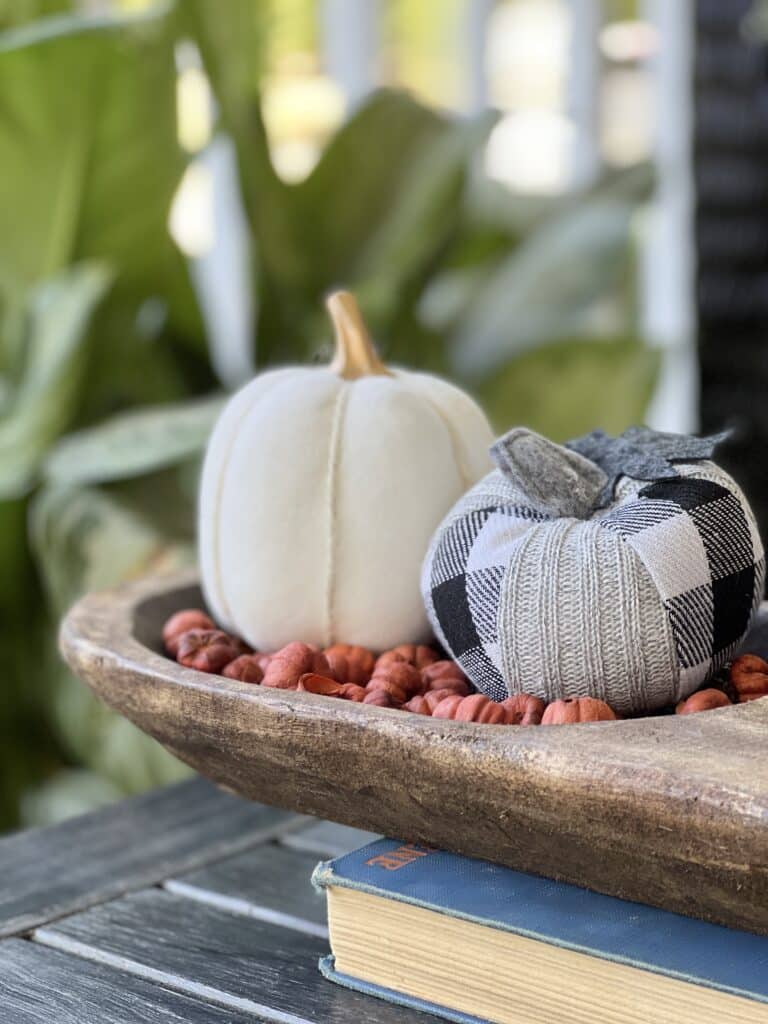 Seasonal Switcheroo: You can also swap out the contents of your dough bowl as the season progresses. For Halloween, add some spooky figurines or candy. For Thanksgiving, introduce dried corn cobs or small decorative turkeys.
Pine Cones
Pine cones are nature's gift in the fall. Simply take a walk or head to your backyard to pick up all of the free autumn decor that has fallen from trees!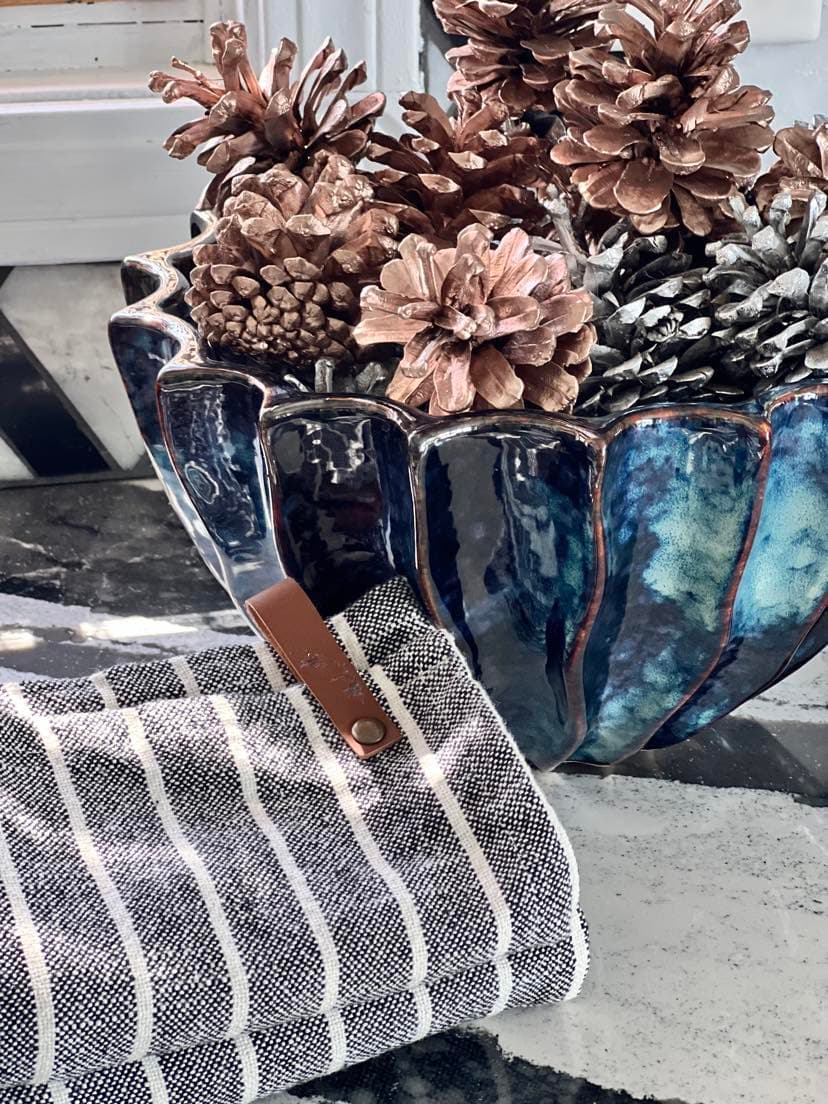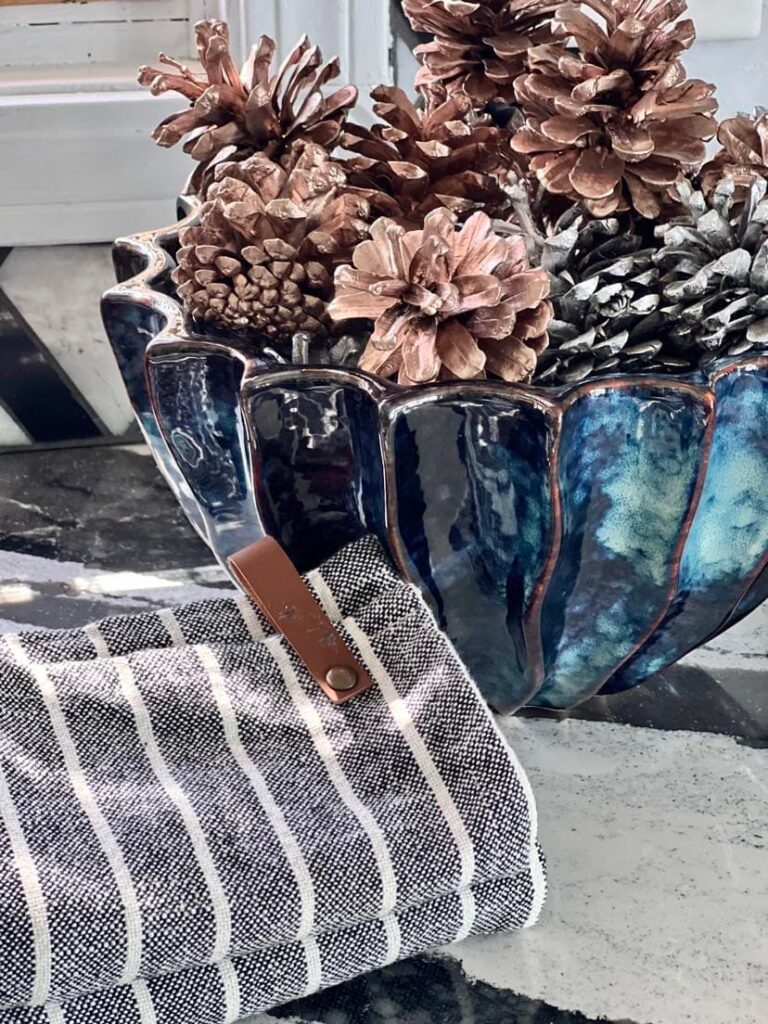 Place in a basket or pot or string together for a garland that can hang from your kitchen window or along your cabinets. Use them in their natural state or bleach them!
My favorite way to decorate with pine cones is to spray paint them with a rose gold or silver metallic finish for a surprise finish.
Faux Pumpkins
Okay, confession time. We all know the classic orange pumpkin, but sometimes they're not quite your style. No worries—there's a whole world of faux pumpkins out there in various colors and textures. Opt for white, metallic, or pastel-hued pumpkins to match your kitchen's aesthetic.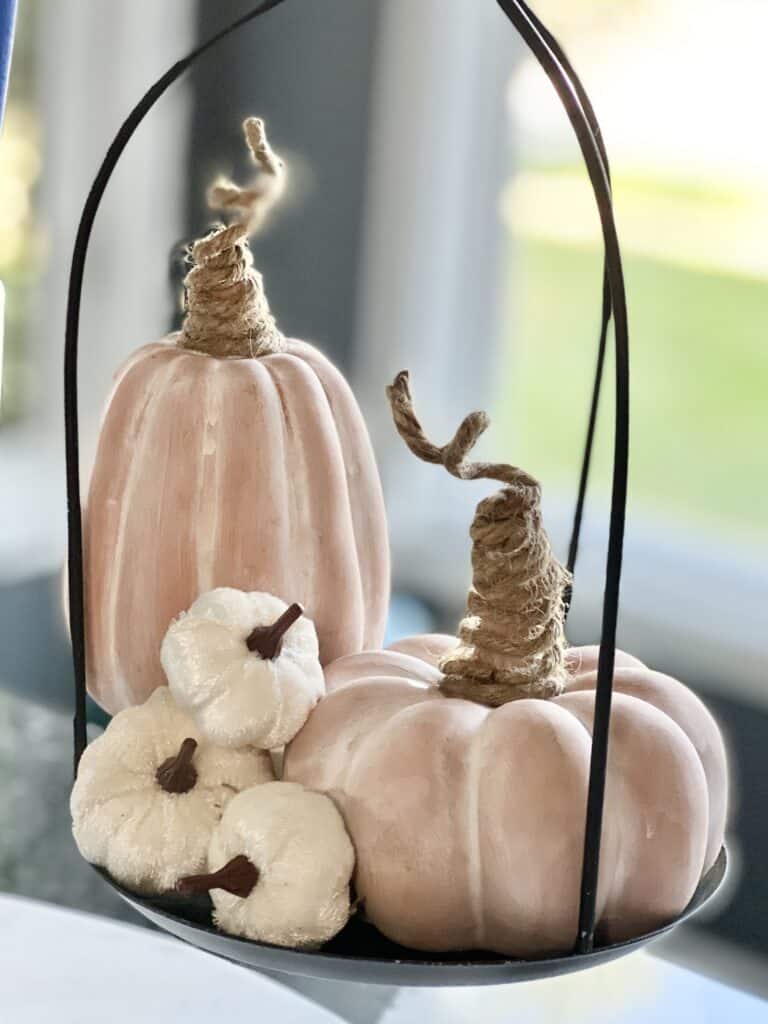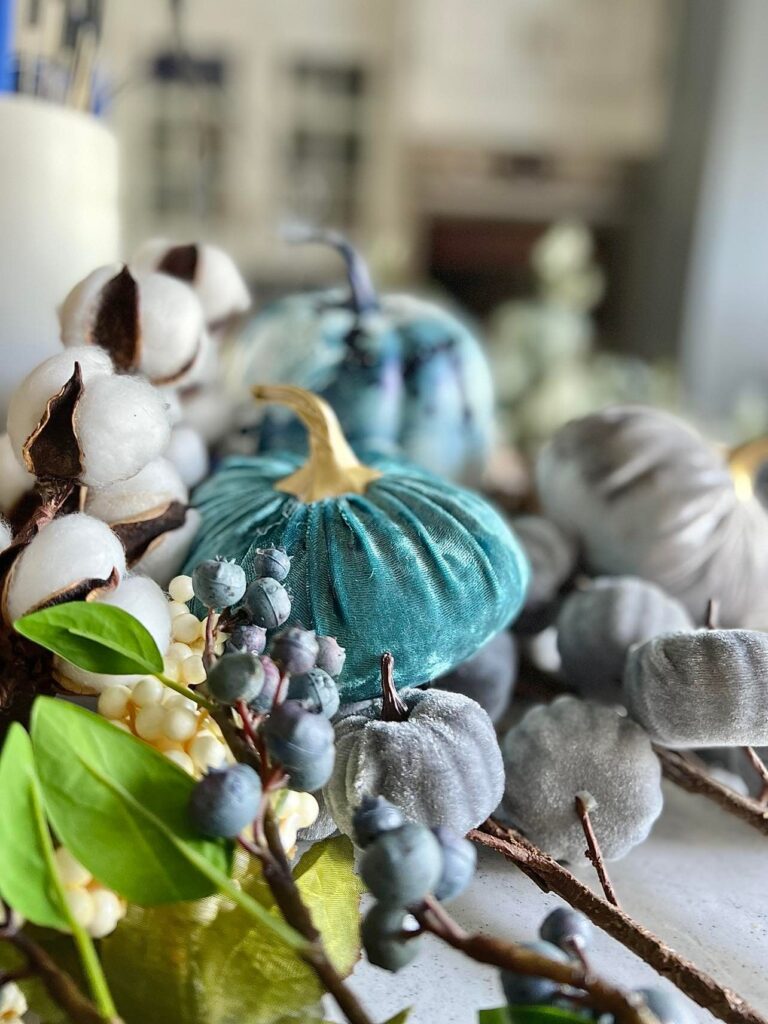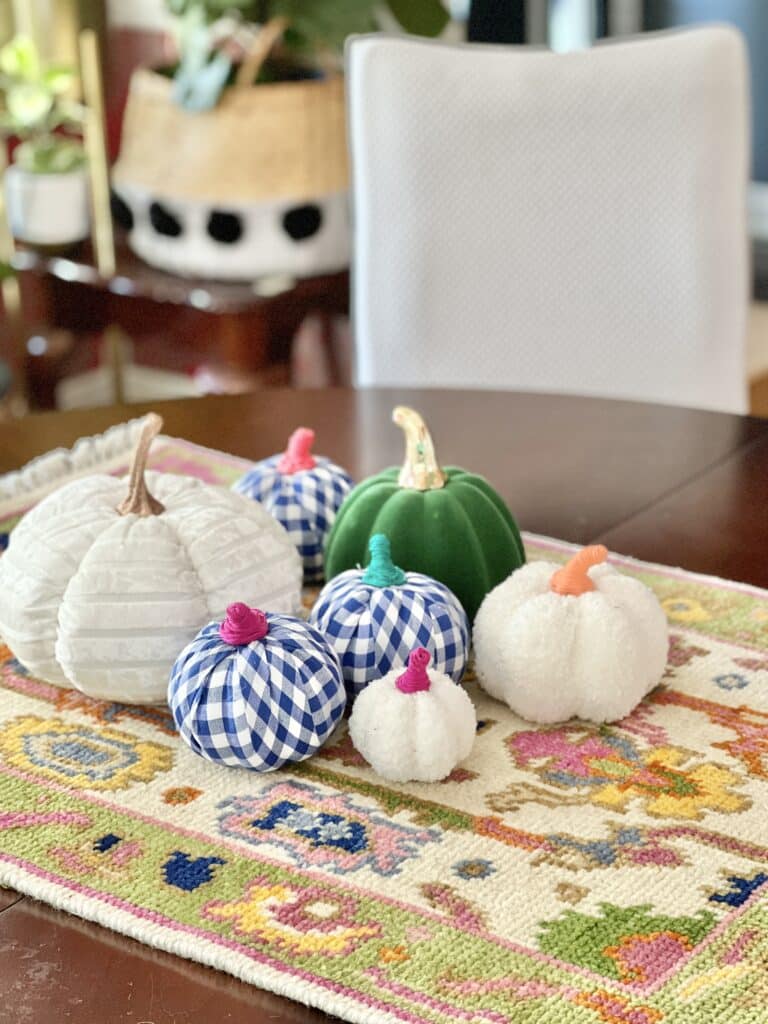 There are lots of ways to decorate faux pumpkins to reflect your decorating style. Mix and match different types of faux pumpkins for a visually interesting display.
Tiered Tray
I use tiered trays year-round in both practical and pretty ways!
Stack them with tiny pumpkins, faux florals, and textured acorns. You can easily swap out the elements as the fall season progresses.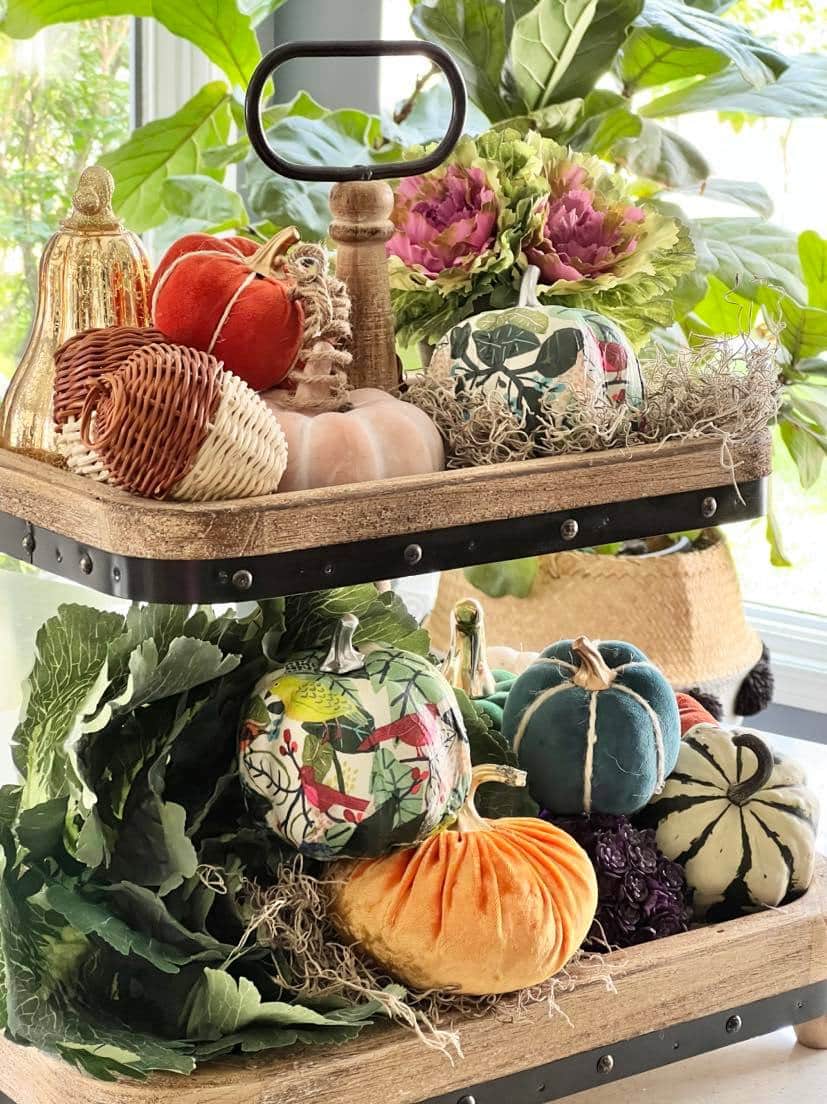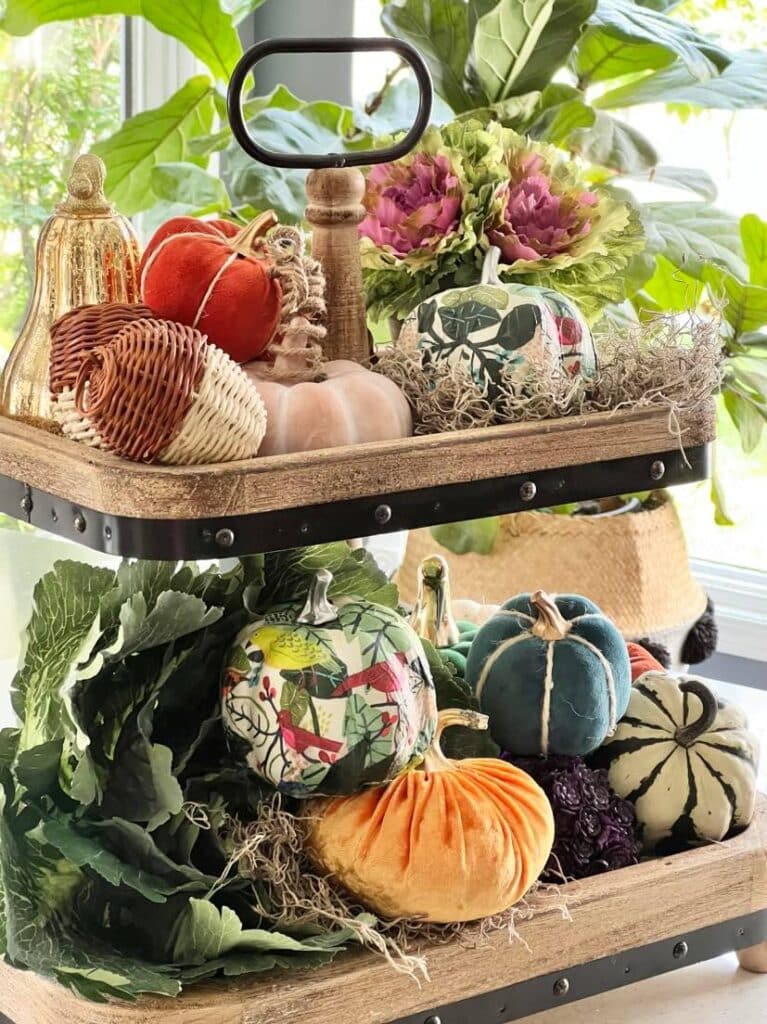 Create a themed tiered tray for each month of fall. In September, feature back-to-school decor. In October, switch to Halloween-inspired items, and in November, transition to Thanksgiving-themed decorations. Tiered trays are a creative way to give your kitchen counters a mini makeover…without the paint cans!
Small Pumpkins
When in doubt, add some small fresh pumpkins to your fall kitchen counter decor!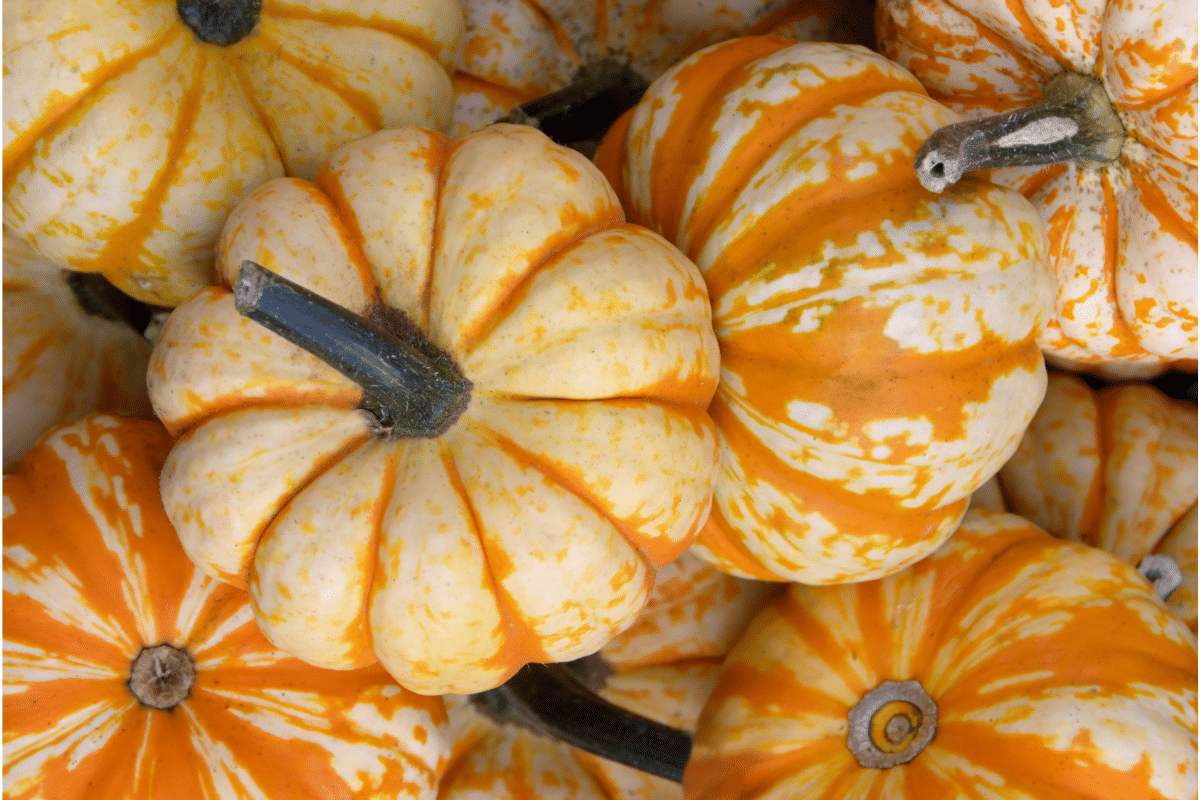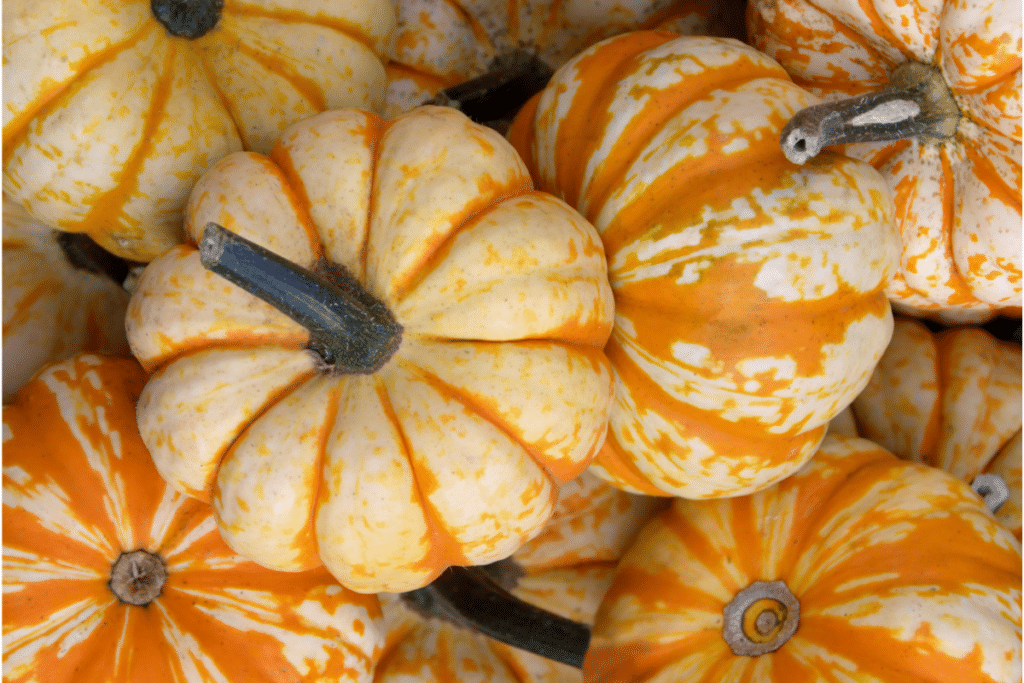 Place a couple of pumpkins on your kitchen island, shelves, or countertops. They're like little nuggets of fall goodness, and they don't take up much space. Plus, they're adorable!
Even something as simple as an arrangement of mini pumpkins on your windowsill will give your kitchen all sorts of cozy fall vibes!
More Ideas for Mini Pumpkins in Your Kitchen!
Scatter them across countertops or shelves for a simple, charming display.
Place them in a decorative bowl or wooden tray as a centerpiece.
Paint or decorate them with fall patterns or messages for a personalized look.
Stack them creatively on a cake stand or tiered tray for added height and visual interest.
Hollow out small pumpkins to use as unique candle holders or vases for fall flowers.
Add them to your kitchen table settings as place card holders for special occasions.
White Pumpkins
The next time you go pumpkin picking, grab some white pumpkins! Incorporating white pumpkins into your kitchen decor is the perfect way to create an easy elegant fall kitchen. These pristine gourds effortlessly blend with all sorts of kitchen styles.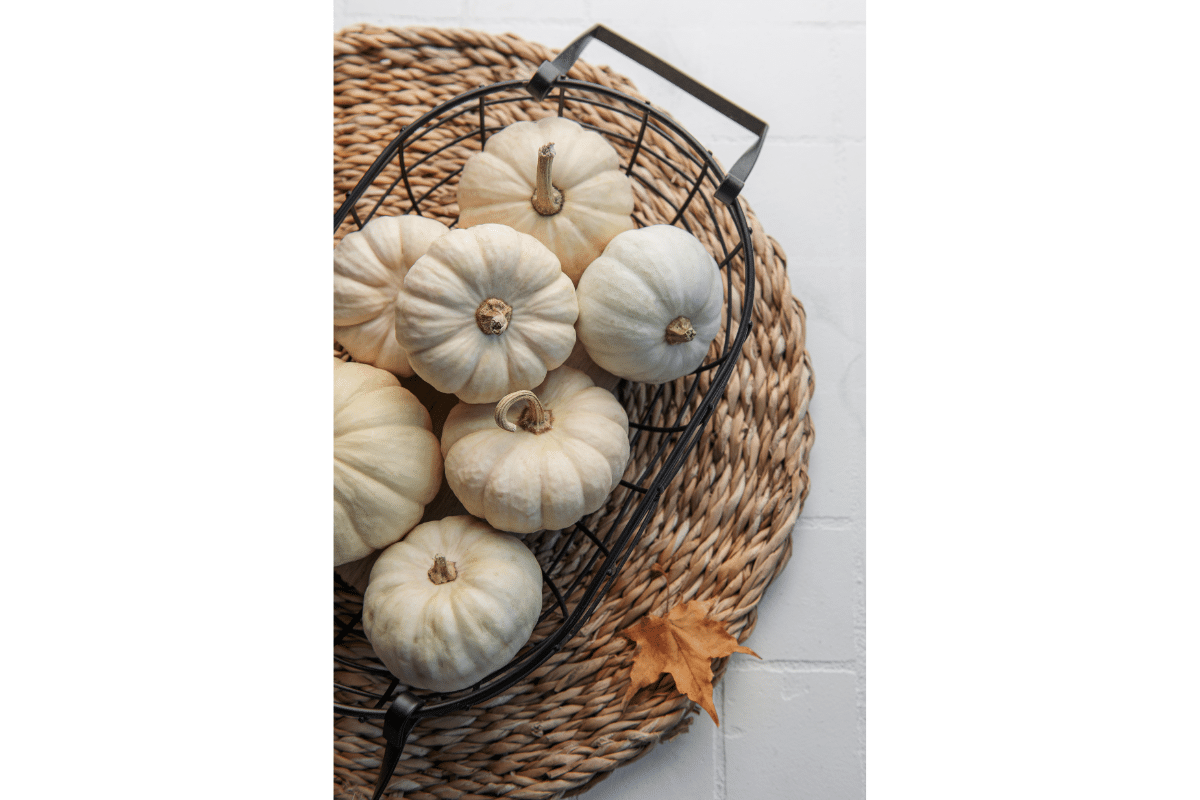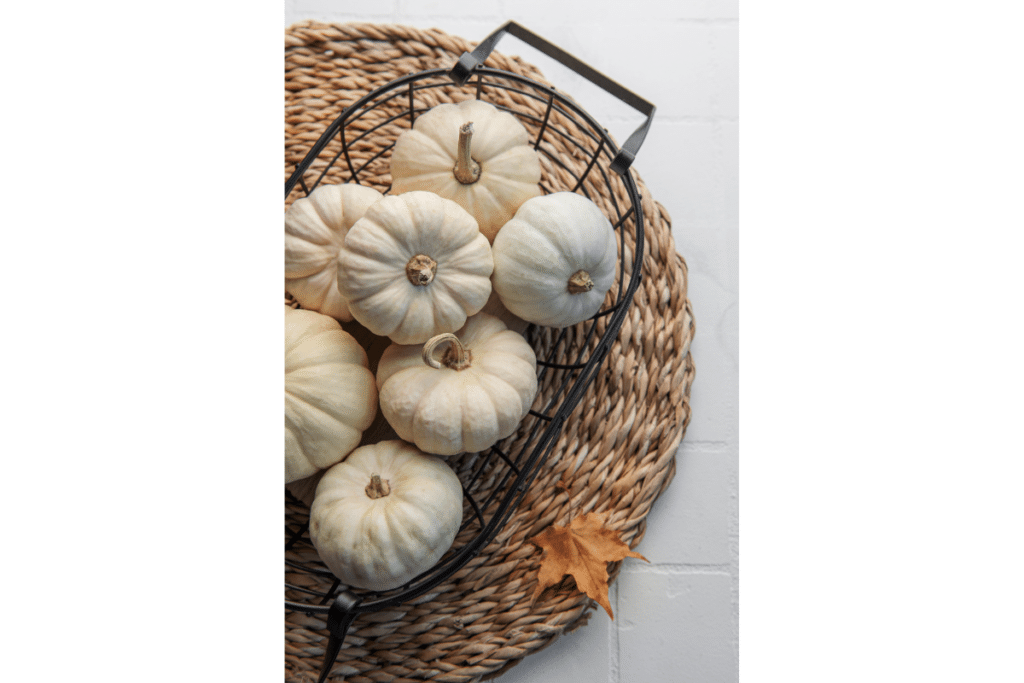 Place a collection of small white pumpkins along your windowsill or scatter them across your countertops for a simple yet charming display. Consider adorning your dining table with a white pumpkin centerpiece, surrounded by flickering candles, for a touch of sophistication during fall dinners.
Just one beautiful white pumpkin surrounded by autumn leaves, acorns, and a few cinnamon-scented candles can instantly transform your kitchen table into a warm and inviting gathering spot.
Mason Jars
Pull a glass jar from your cupboard and decorate with it for fall!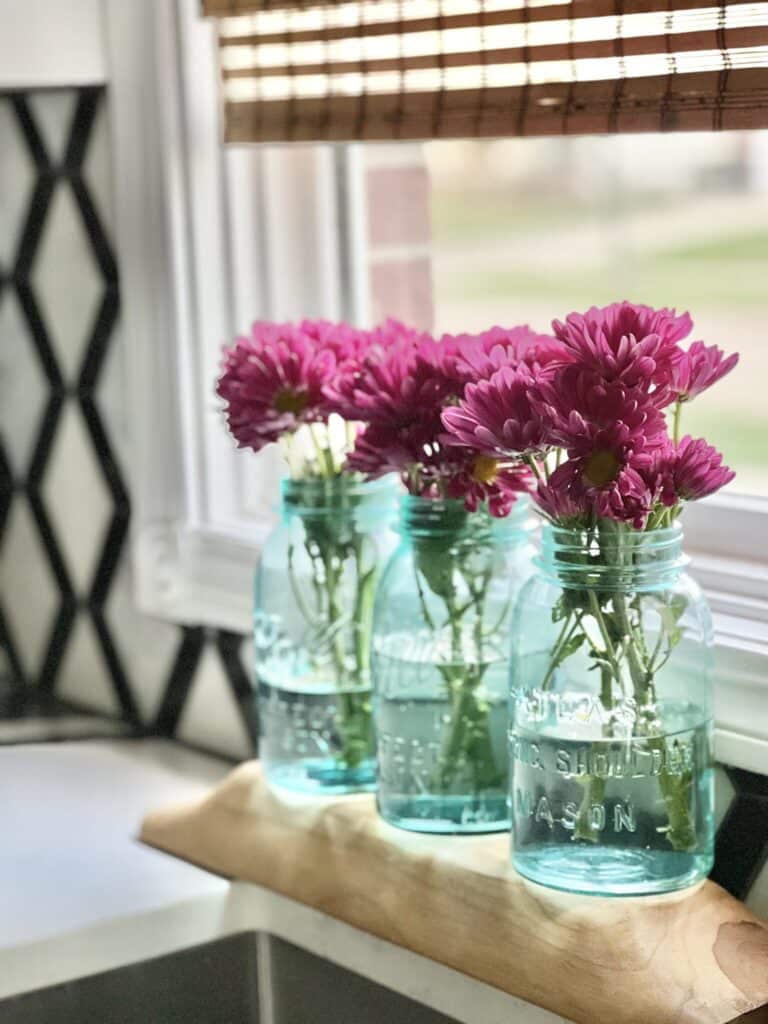 Fill them with simple fall flowers or take it a step further and fill them with vibrant fall leaves and tiny fairy lights for a charming illuminated table centerpiece. Talk about dinner table ambiance!
You could also consider using them as storage containers for your homemade pumpkin spice mix or apple cider concentrate. And don't forget the rustic appeal of mason jar drinking glasses for serving up warm apple cider or spiced lattes to your guests.
Fall Centerpiece
A beautifully crafted arrangement of pumpkins, gourds, pinecones, and colorful fall leaves is a perfect fall centerpiece for the heart of your kitchen.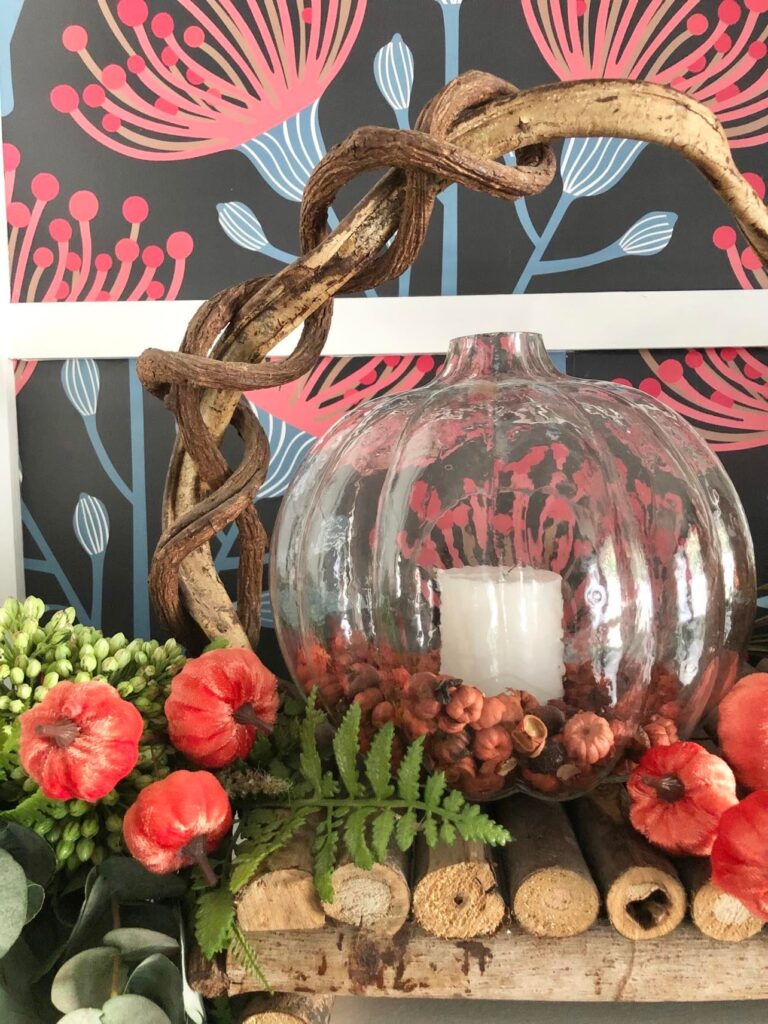 Placed on your dining table or countertop, this centerpiece instantly becomes the focal point of your space. It's like inviting the spirit of fall right into your home!
Get Creative! Mix in some tall candles, dried corn cobs, or even seasonal fruit for a unique twist. The warm, earthy tones and natural textures create a cozy, welcoming atmosphere perfect for family gatherings and quiet mornings with a cup of hot cider.
Natural Elements
When it comes to kitchen fall decor, nothing beats the beauty and simplicity of natural elements!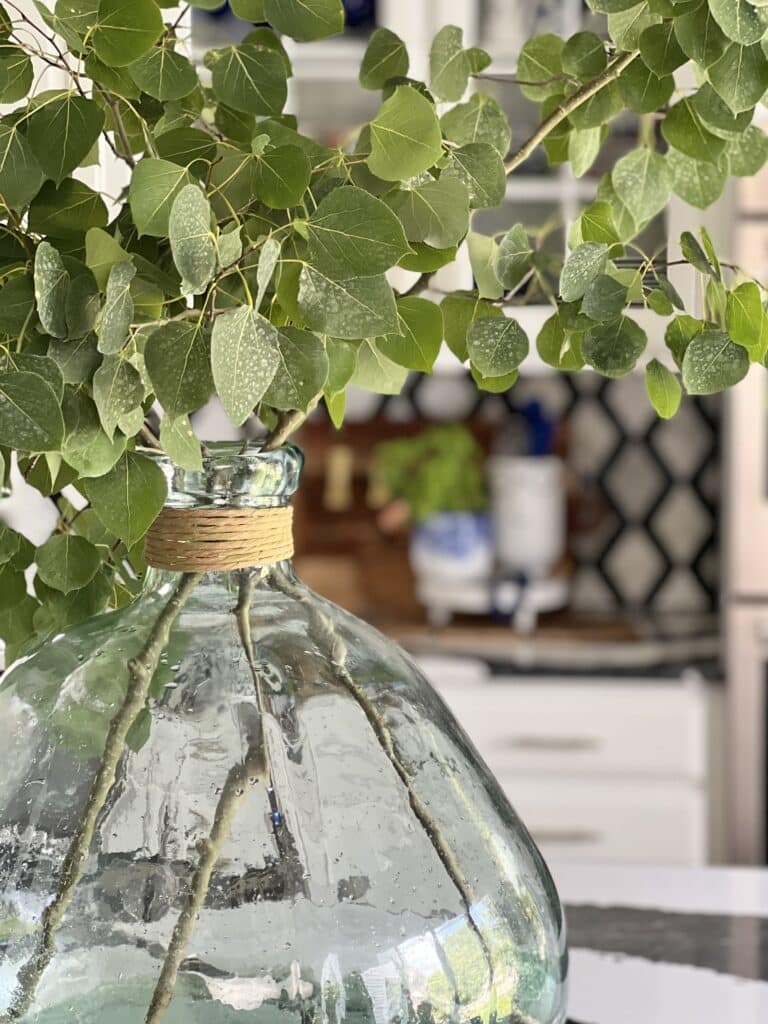 If you grab a basket and some clippers, you might be surprised at what you find outside in nature that you can bring inside for fall kitchen decorations.
Think about bringing in freshly cut branches, deep red apples in a wooden bowl, or even a vase of leaf branches from your backyard. These elements add a burst of seasonal texture and a breath of fresh air to your kitchen. So, let nature help you decorate with the changing seasons!
Open Shelving Style
If you have open shelves in your kitchen, use them to your advantage!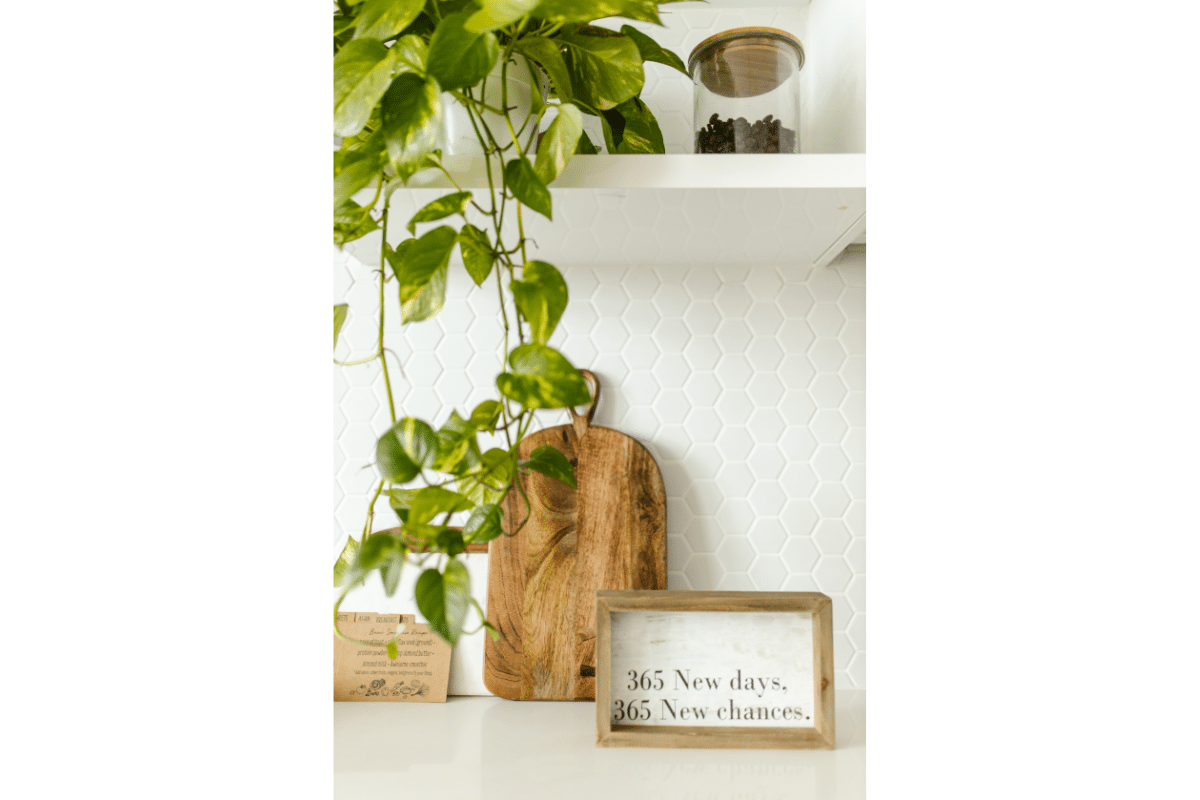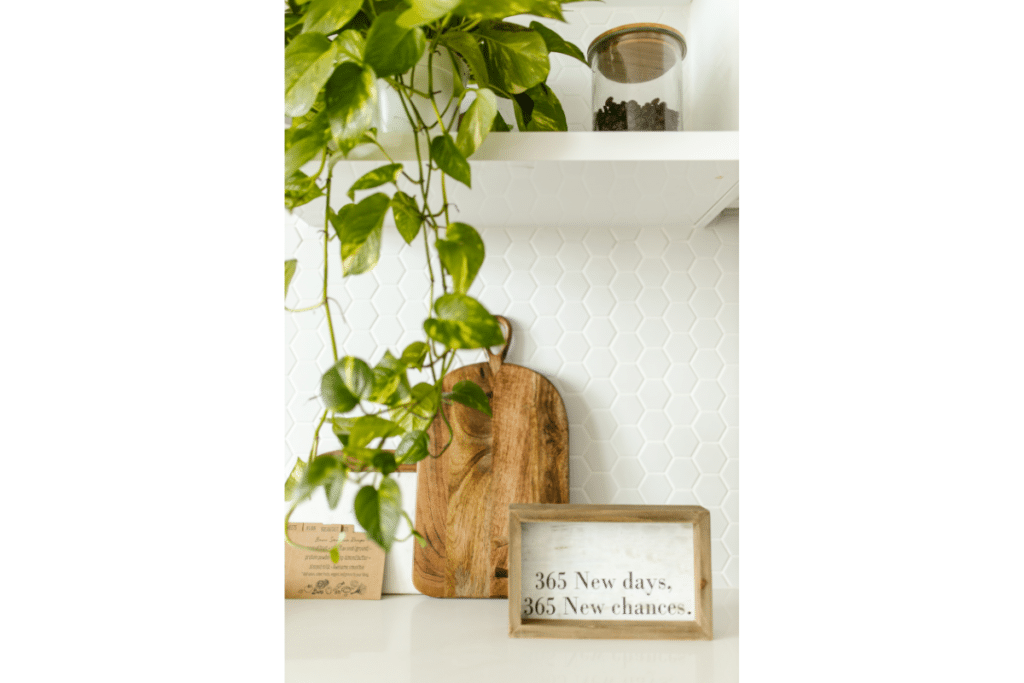 Swap out your everyday dishes for those with fall patterns or warm colors. Display decorative plates, mugs, and even small fall-themed signs. Or try decorating your shelves by creating vignettes or mini-displays. Incorporate small potted fall plants or herbs on your open shelving for a fresh and aromatic touch.
Wooden Cutting Boards
Wooden cutting boards can double as decor items. They add warmth and texture to your kitchen while staying functional for your culinary adventures.
Lean them against your backsplash or display them on your countertop. You can even hang a small collection of wooden boards on a wall for an artistic display.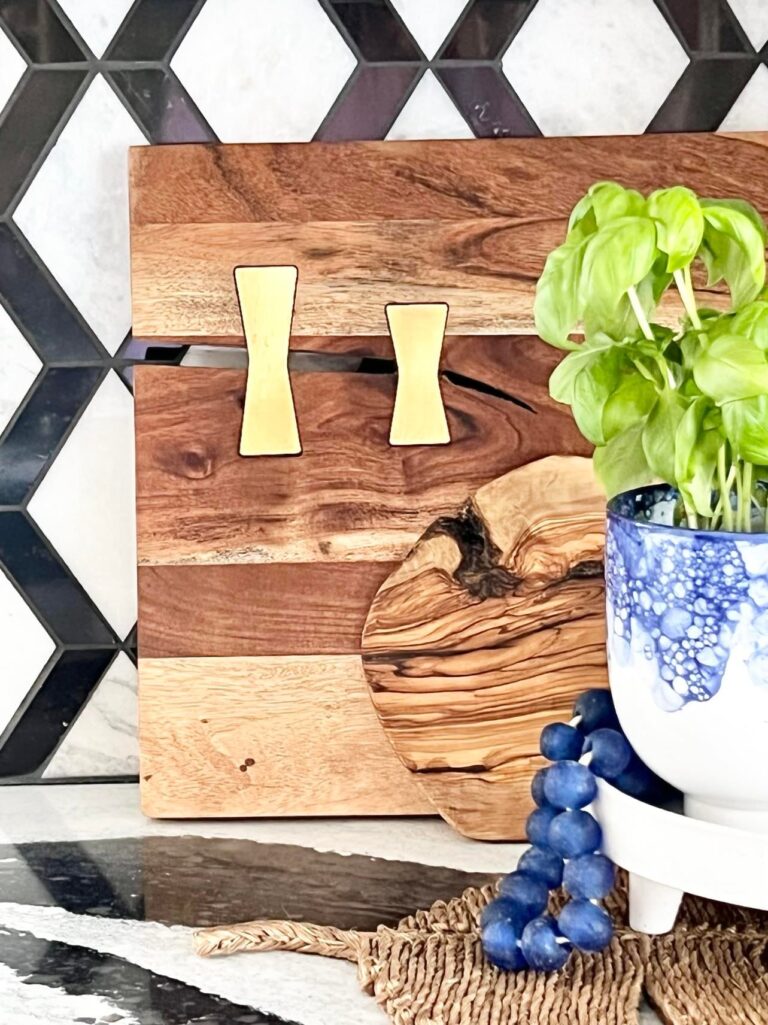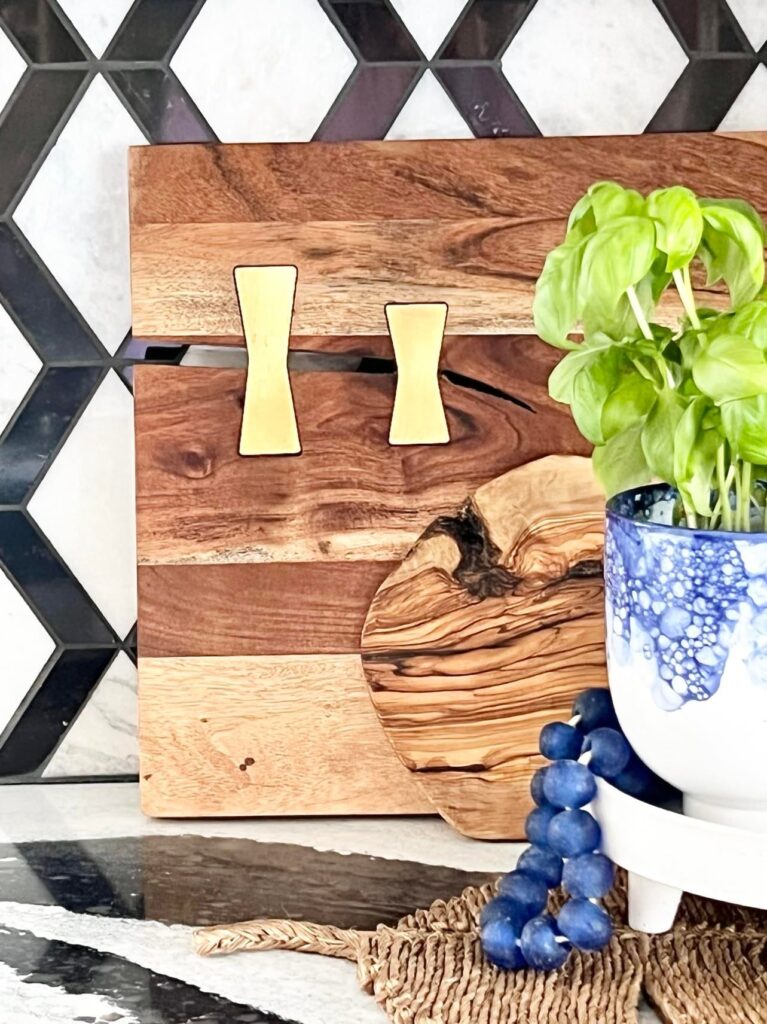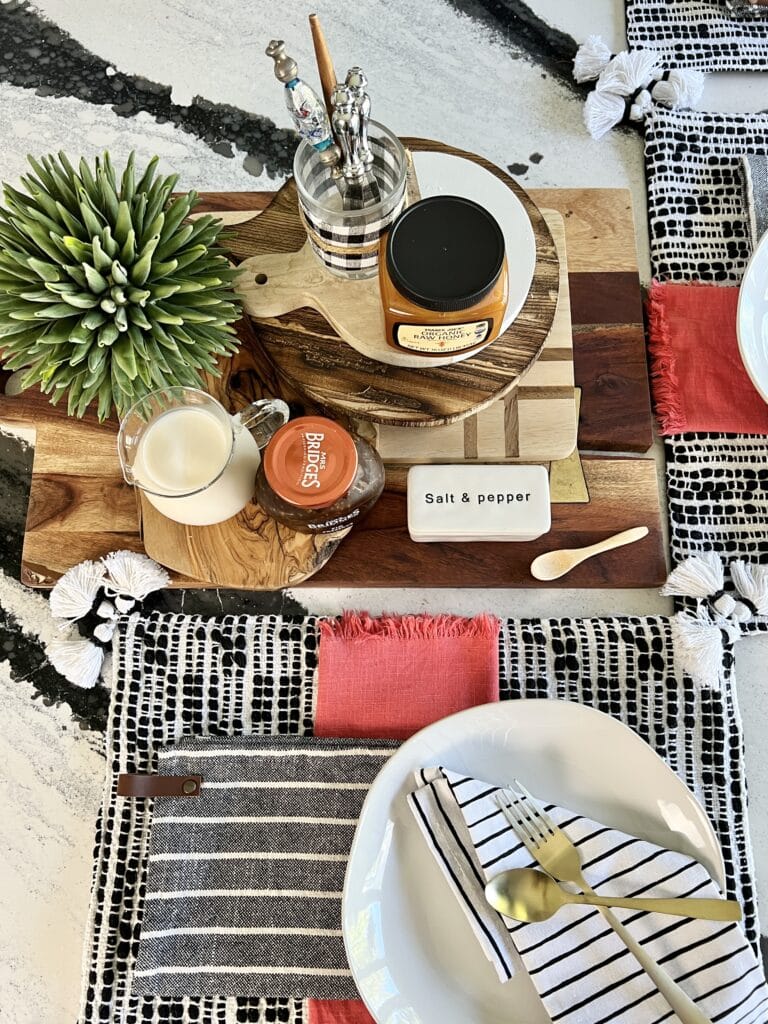 A Great Tip: Keep your wooden cutting board looking good by occasionally wiping it down with vegetable oil or mineral oil. The oil revitalizes dry wood and brings out the beautiful natural wood grain. Your boards will look almost brand new!
Everyday Kitchen Items
Don't forget all of the items that you use each and every day! Explore the beauty of your kitchen tools and leave them on display for everyone to see.
Keep bowls of fall spices on top of a wood cutting board for accessible fall baking. Put glass canisters front and center with charming fall-themed tags hanging from their lid.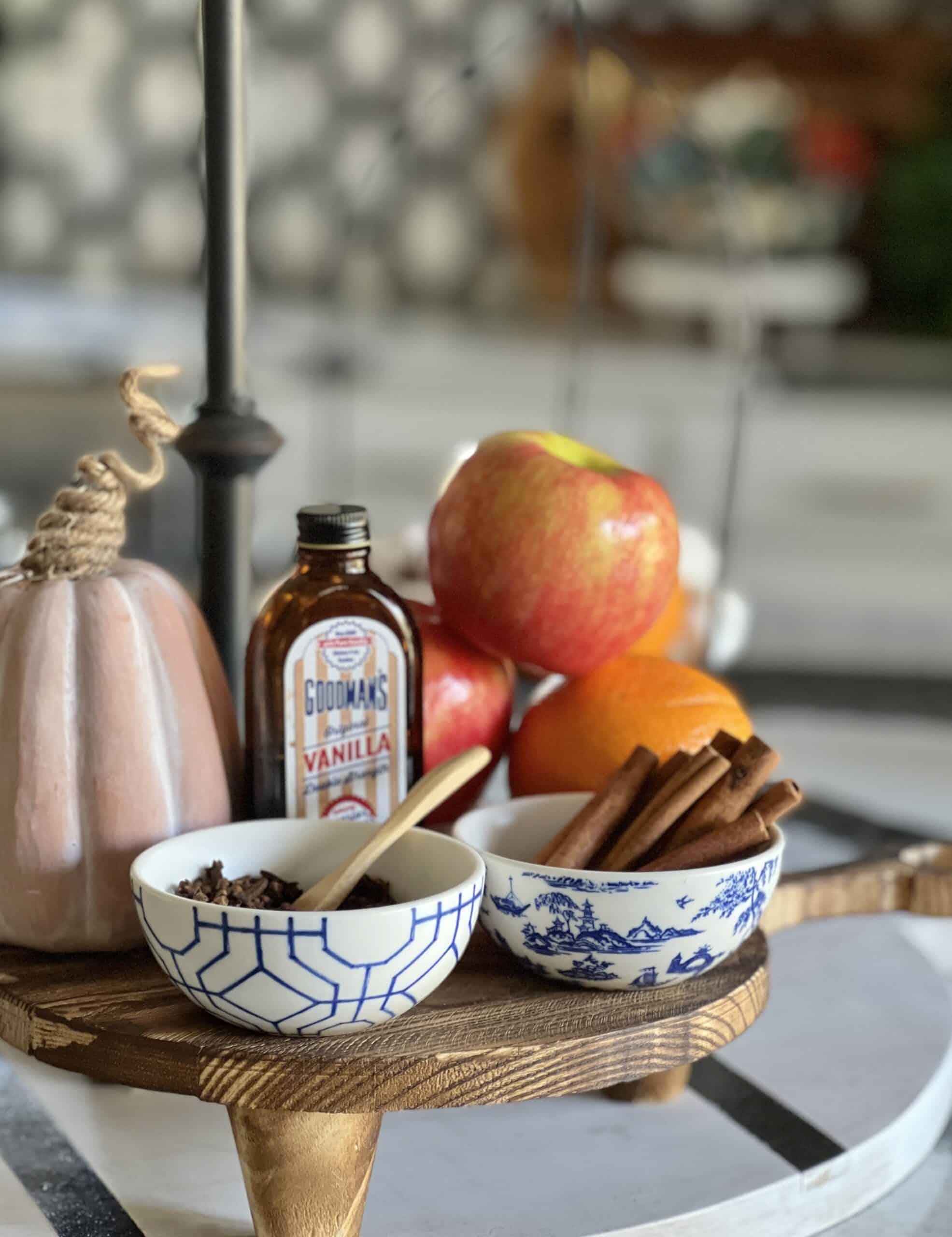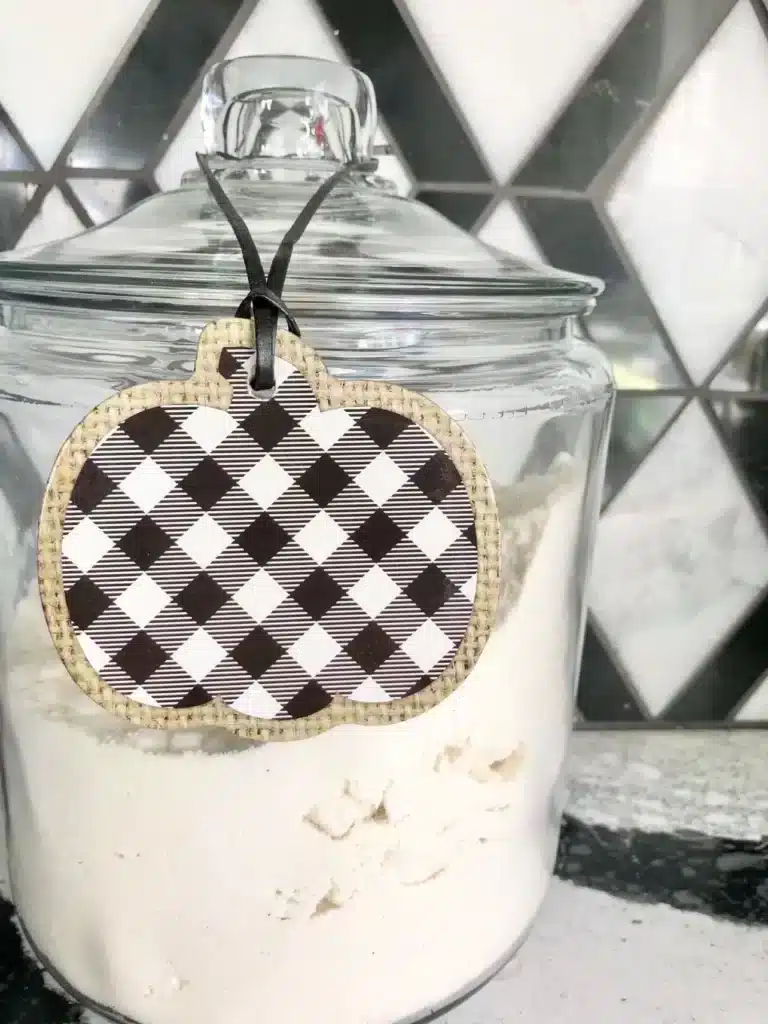 Something as simple as a beautiful tea towel on a wooden cutting board is a great example of creating fall decor out of daily-use items!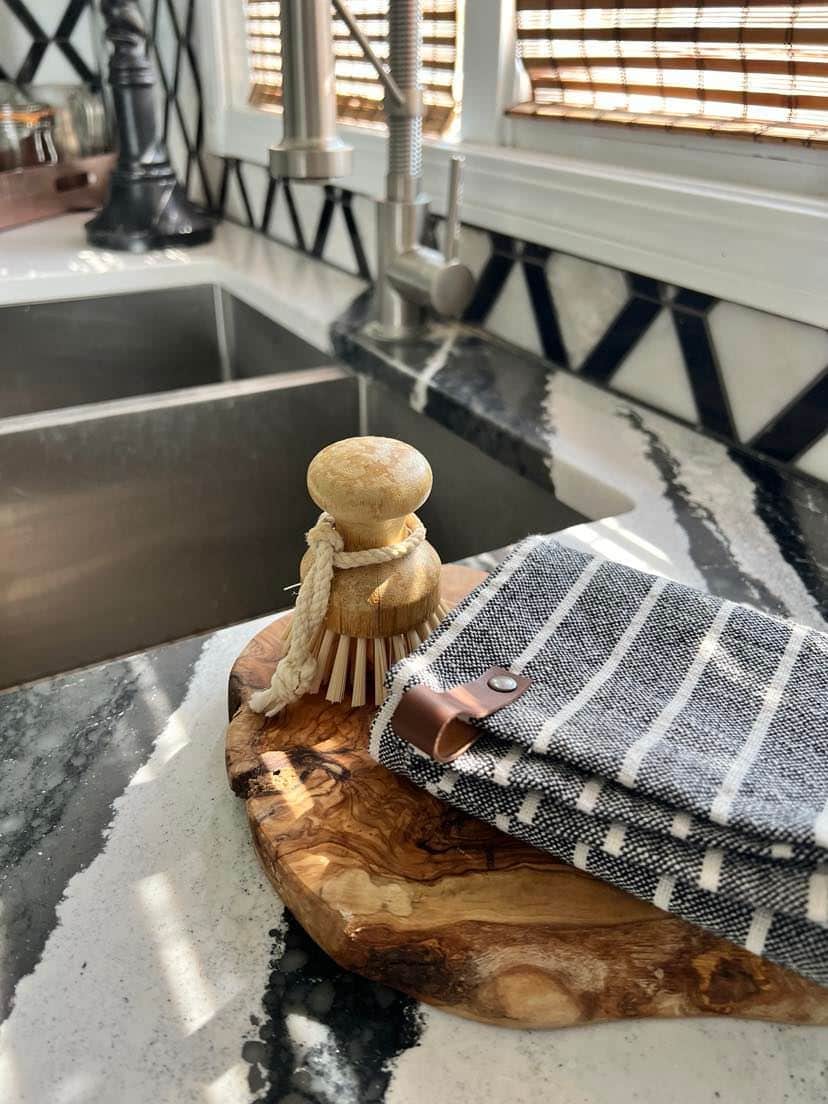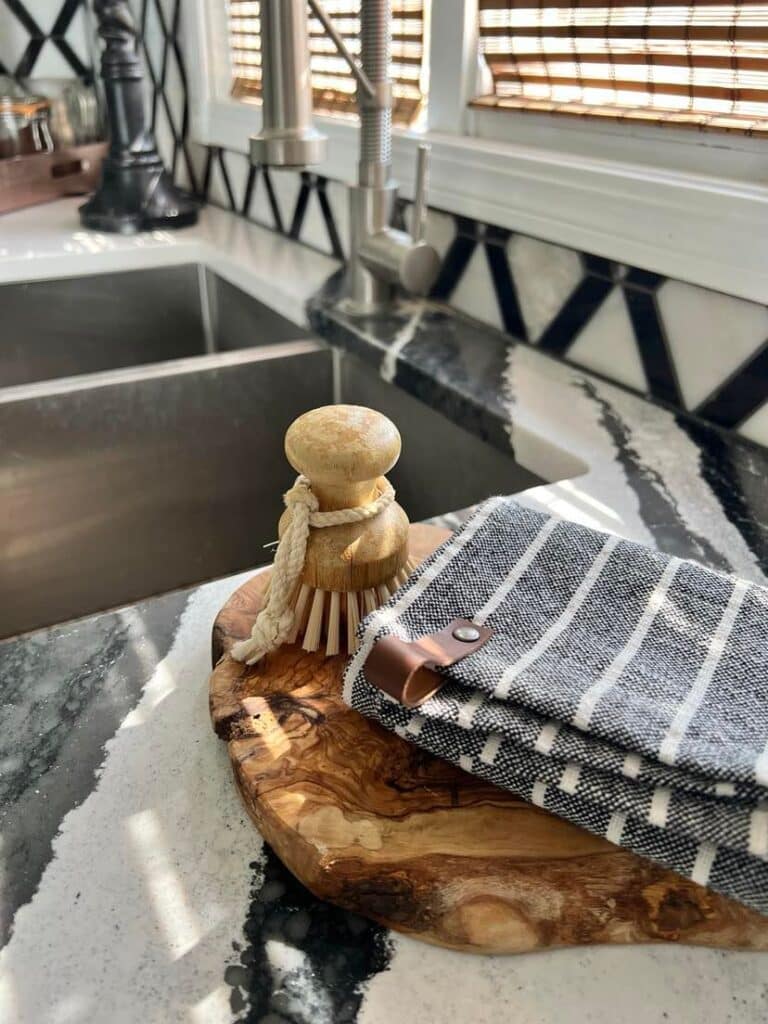 Grocery Store Flowers
You don't need to visit a florist for stunning fall blooms. Many grocery stores carry affordable and beautiful fresh flowers that are inexpensive and can be picked up at the same time you buy milk!
Grab a bunch, and arrange them in a mason jar or vase. Another fun way to display grocery store flowers is to take one bunch of flowers and divide it into multiple single blooms.
Faux Flowers
If you prefer low-maintenance decor, faux flowers are your go-to option. They come in various fall colors and textures, and you won't have to worry about them wilting. You can also mix faux flowers with real greenery for a lifelike arrangement for your kitchen island countertop.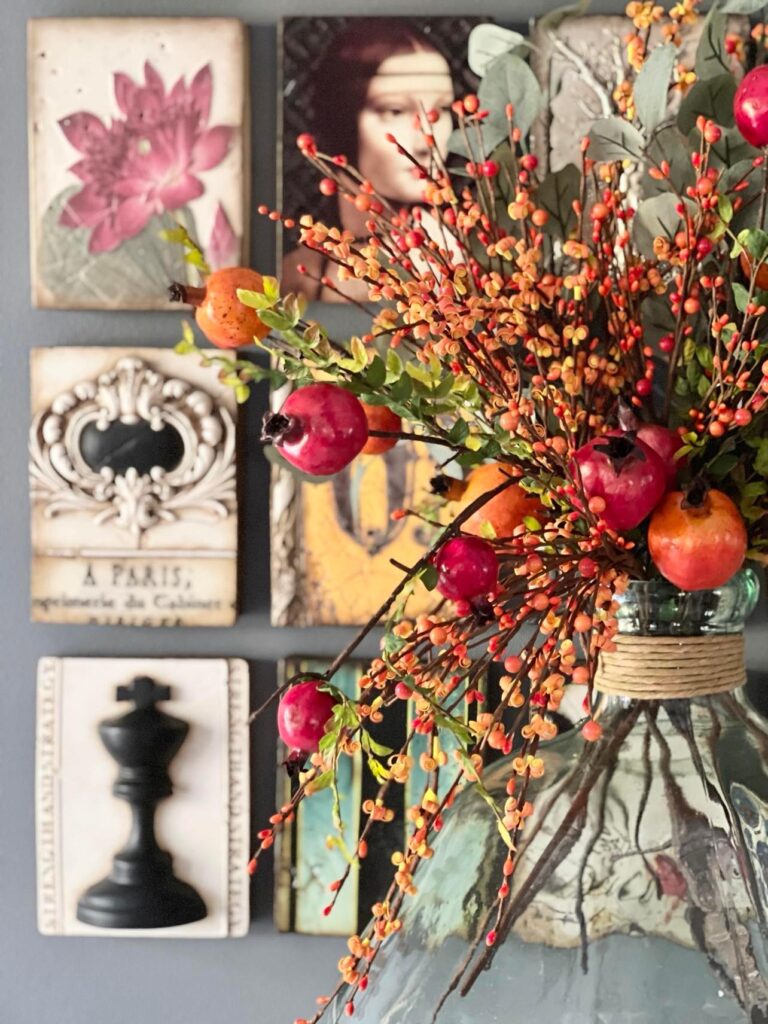 Fall Wreath
Don't neglect your kitchen's entrance! Hang a fall wreath on the back or front door with a hook. This is a simple addition that doubles as a warm welcome to all. It's like rolling out the welcome mat for autumn itself.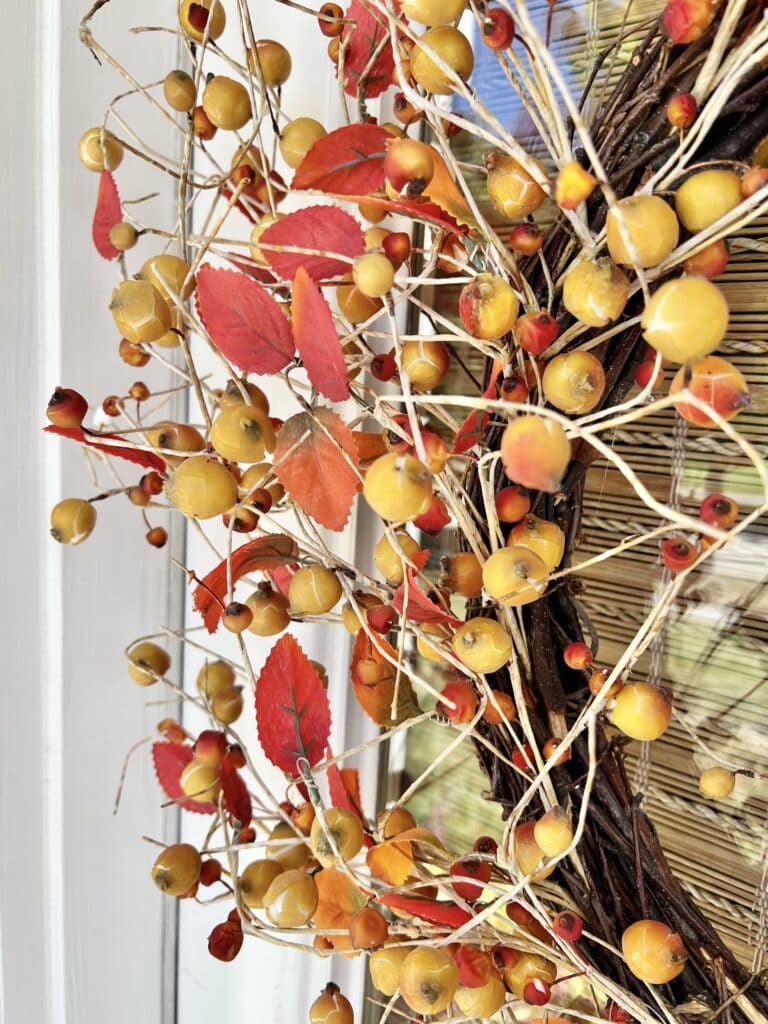 Wine Corks
Wine corks themselves are not just specifically for fall. But their natural colors and cork texture make them an easy addition to your kitchen space.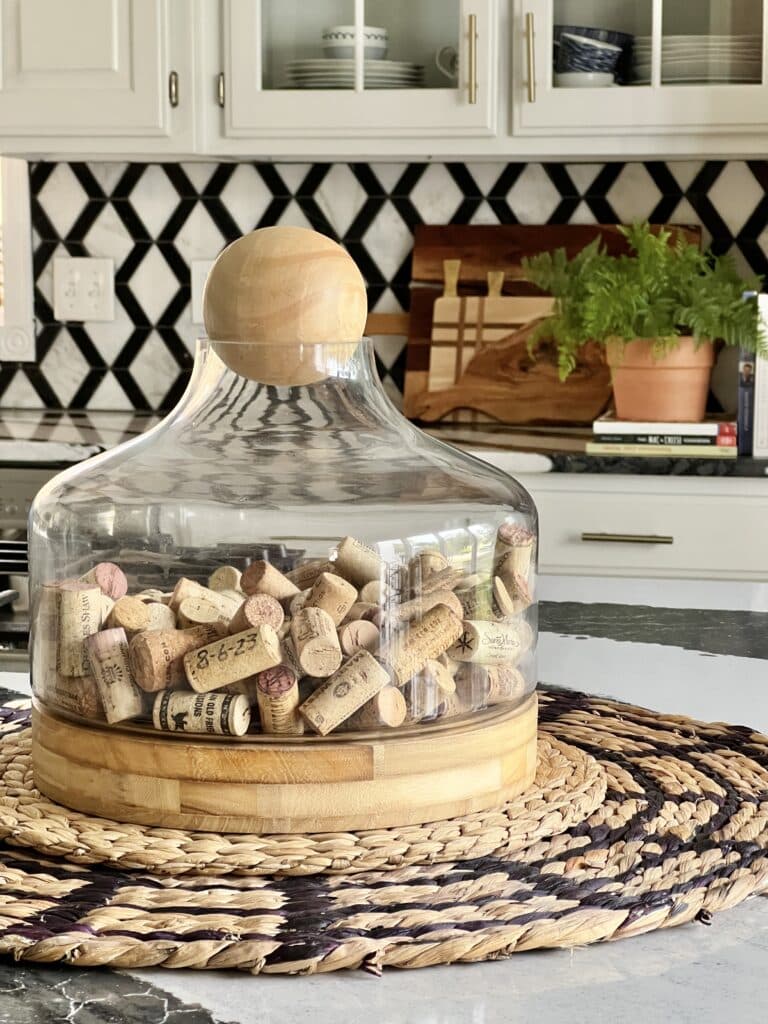 A Great Idea! Collect corks over time and display them in a simple glass jar on your counter. One of the best ways to hold onto special memories is to write the date of special events directly on the corks as you use them!
A Fall Coffee Station
Your morning brew deserves a touch of fall too. Arrange your coffee station with fall-themed mugs, copper-colored measuring spoons, and your favorite pumpkin spice coffee. It's like a daily dose of autumn in your cup.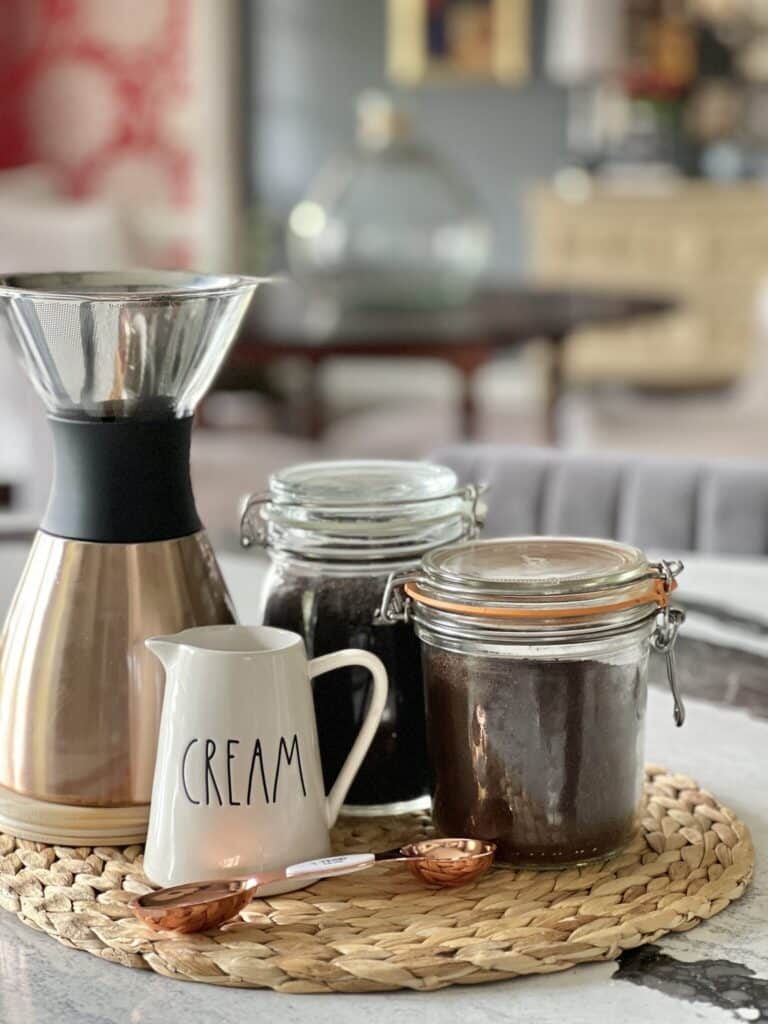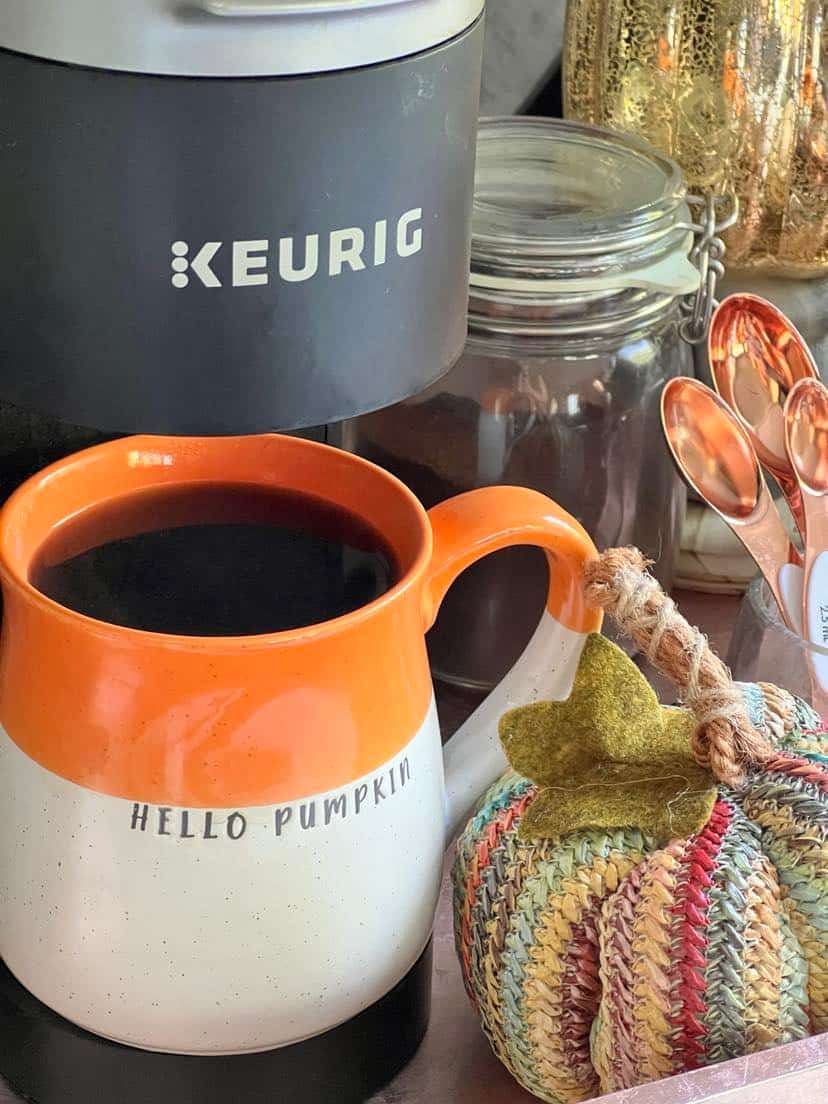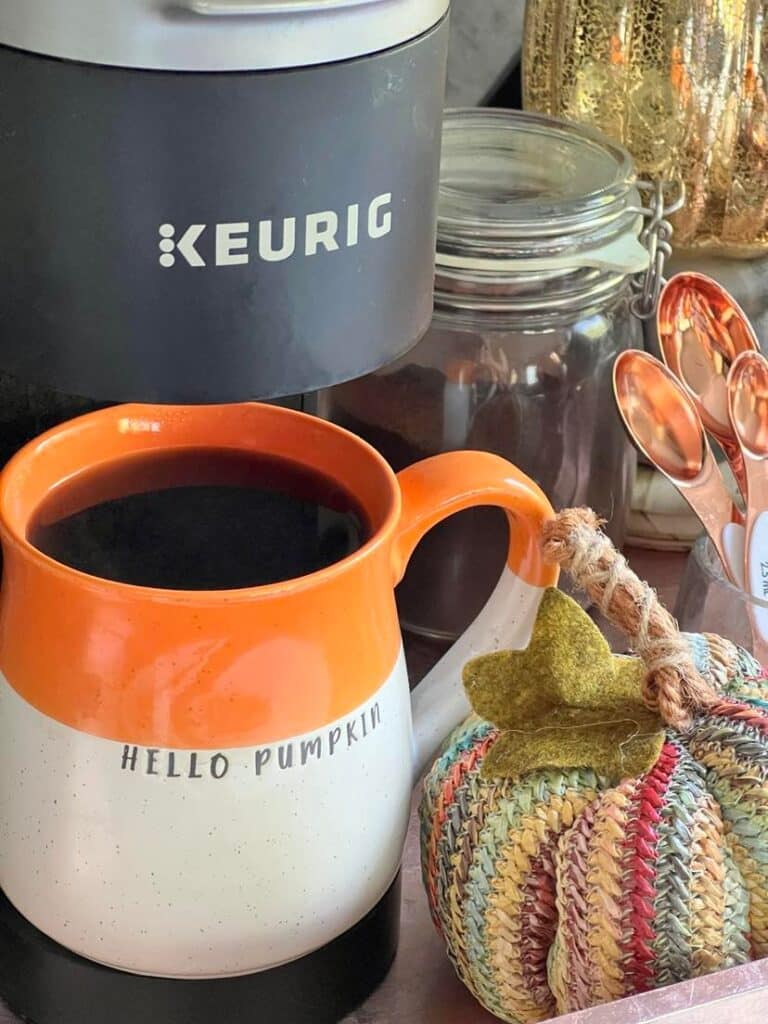 If you love coffee, try this Smoked Butterscotch Latte recipe! It's one of my fall favorites!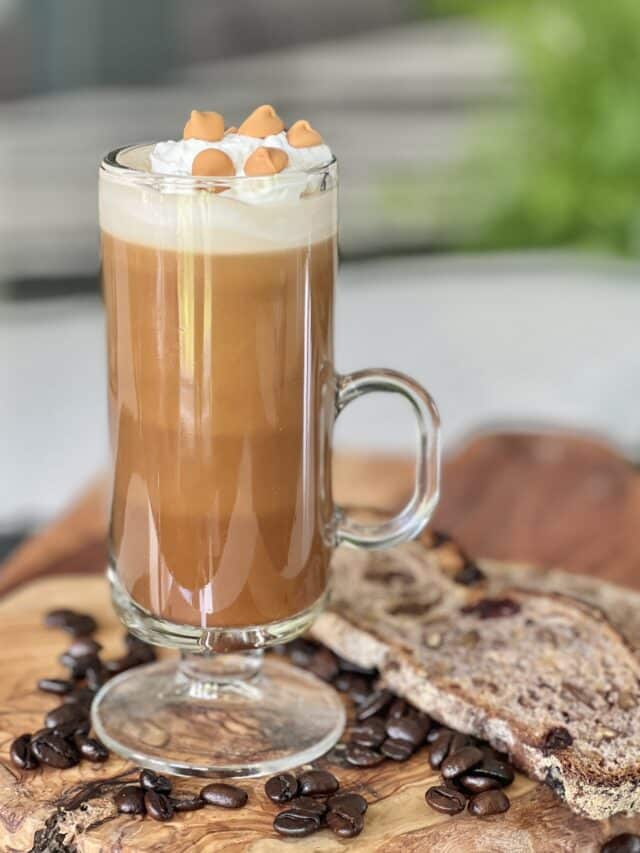 Simmer Pot
There is nothing like a yummy scent in a cozy fall kitchen! Create a simmer pot with cinnamon sticks, orange peels, cloves, and a dash of vanilla extract. Let it simmer on the stove, and your kitchen will be infused with delightful fall scents.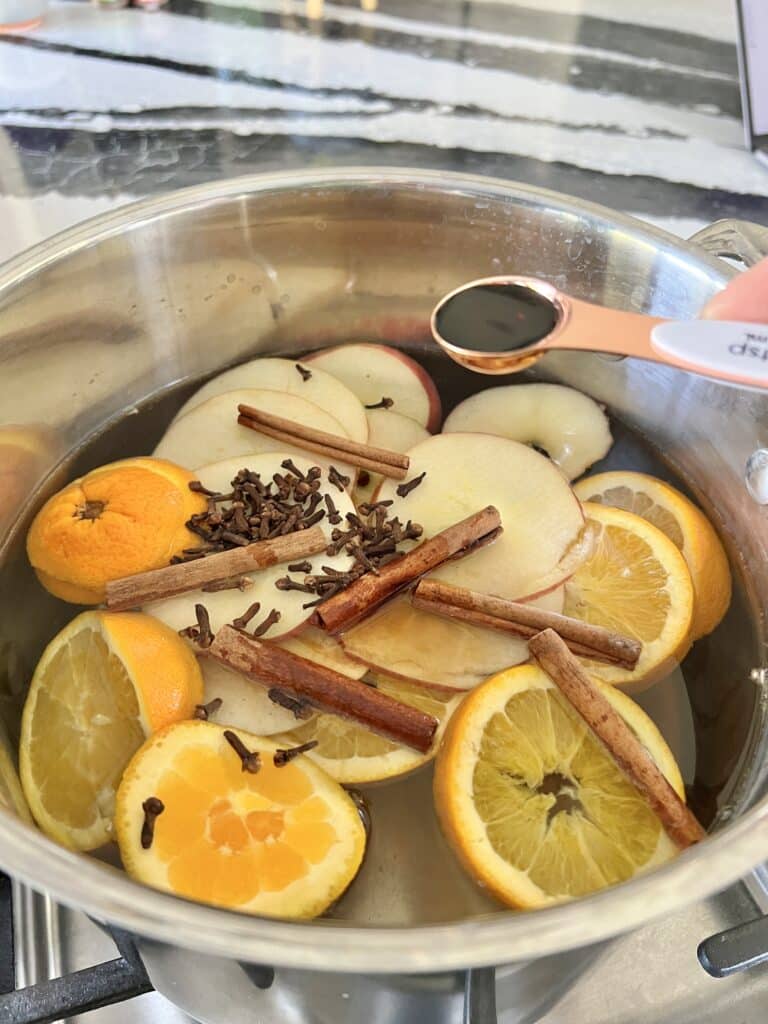 Try experimenting with different simmer pot recipes to change up the scents in your kitchen. Consider adding slices of apple or cranberries for a fruity twist!
Bar Stools
Place a cozy throw blanket or a plaid shawl over the backrest of your bar stools for an extra layer of warmth and style. It is a little touch that will make your kitchen feel extra cozy!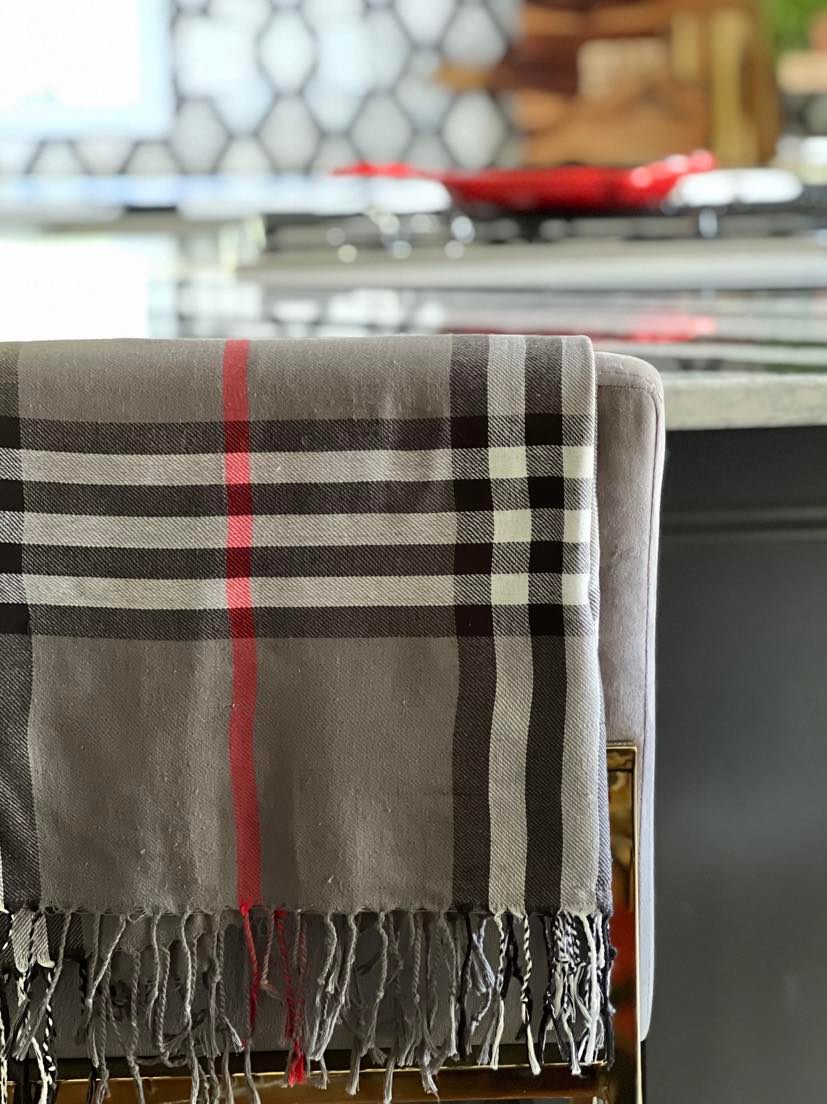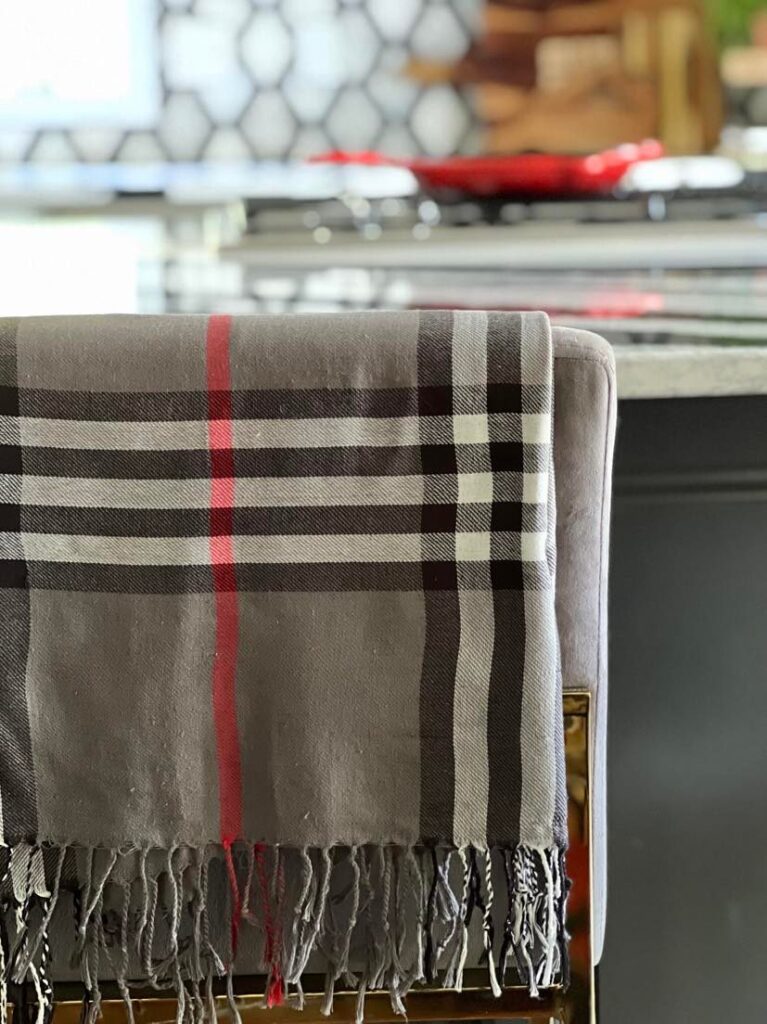 Fall DIY Decorations
You know I love a good DIY project and the fall months are a perfect time to get creative!
Design your own DIY fall wreath, paint some faux pumpkins, or add wrap fall-inspired pieces with colored embroidery thread. It doesn't have to be complicated…sometimes the best ideas are simple ideas!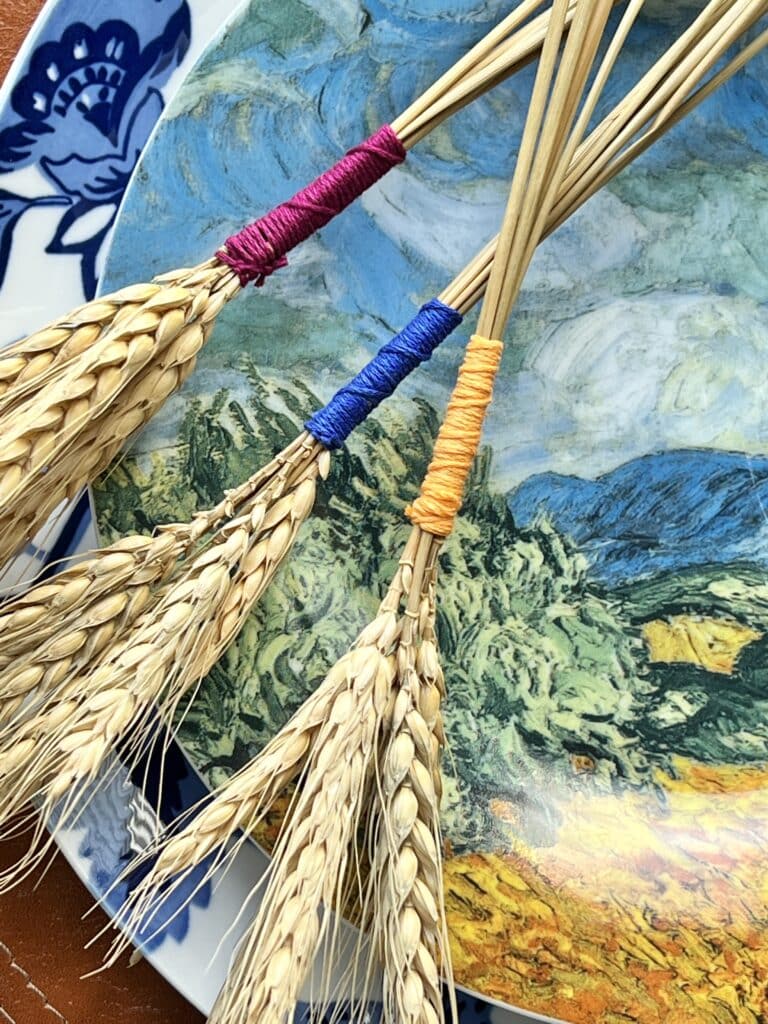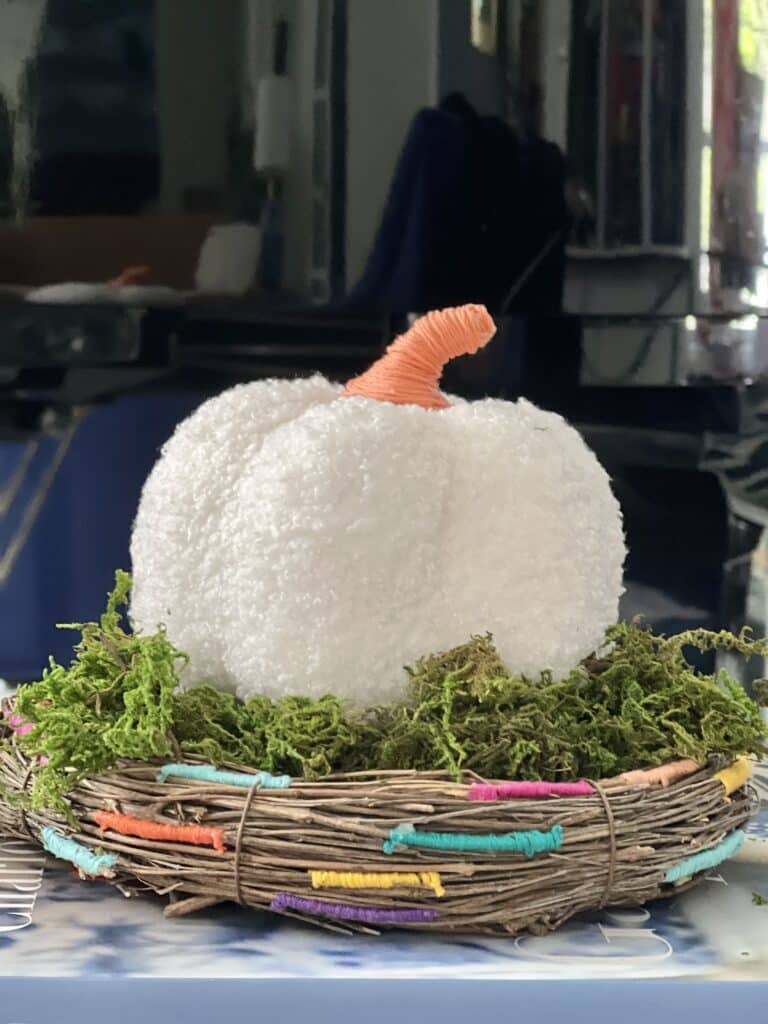 Did you know...that you can decorate faux pumpkins using nail polish as paint?
Check out this fun and easy DIY fall pumpkin project using nail polish!
Glass Pumpkins
I'm a little obsessed with glass pumpkins. (Ask my husband!) I just love how they look when light hits them!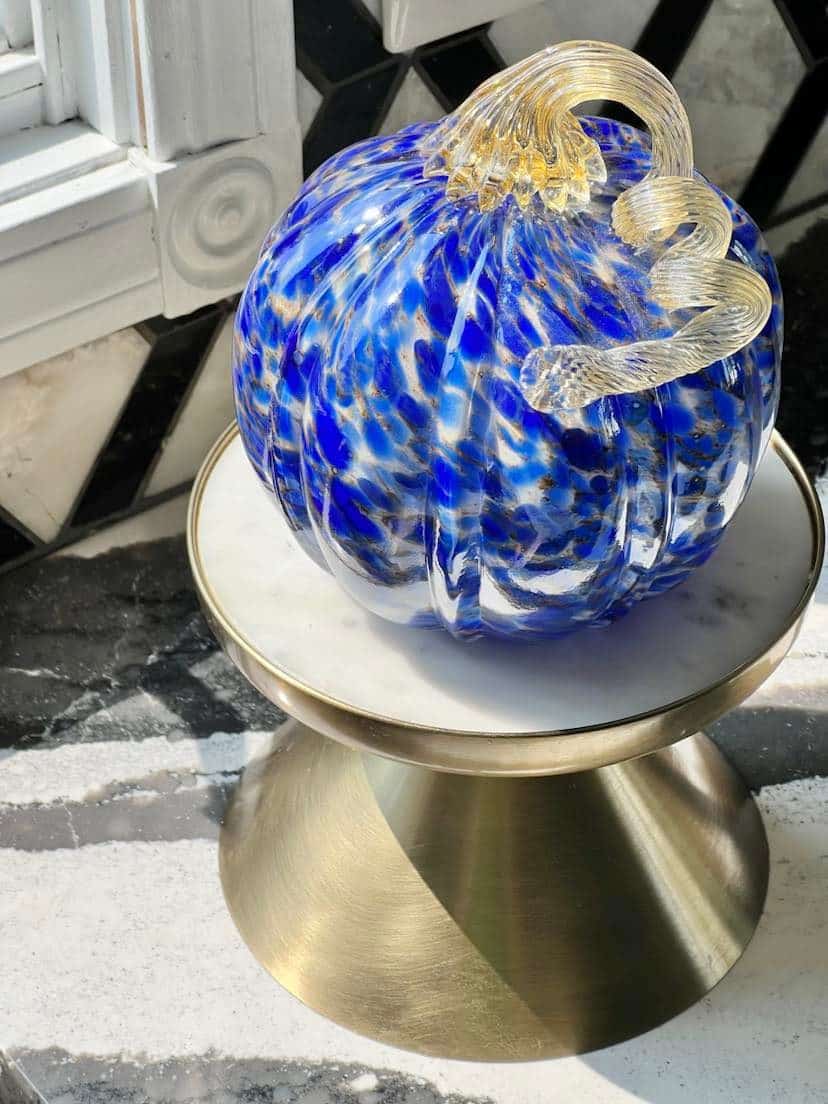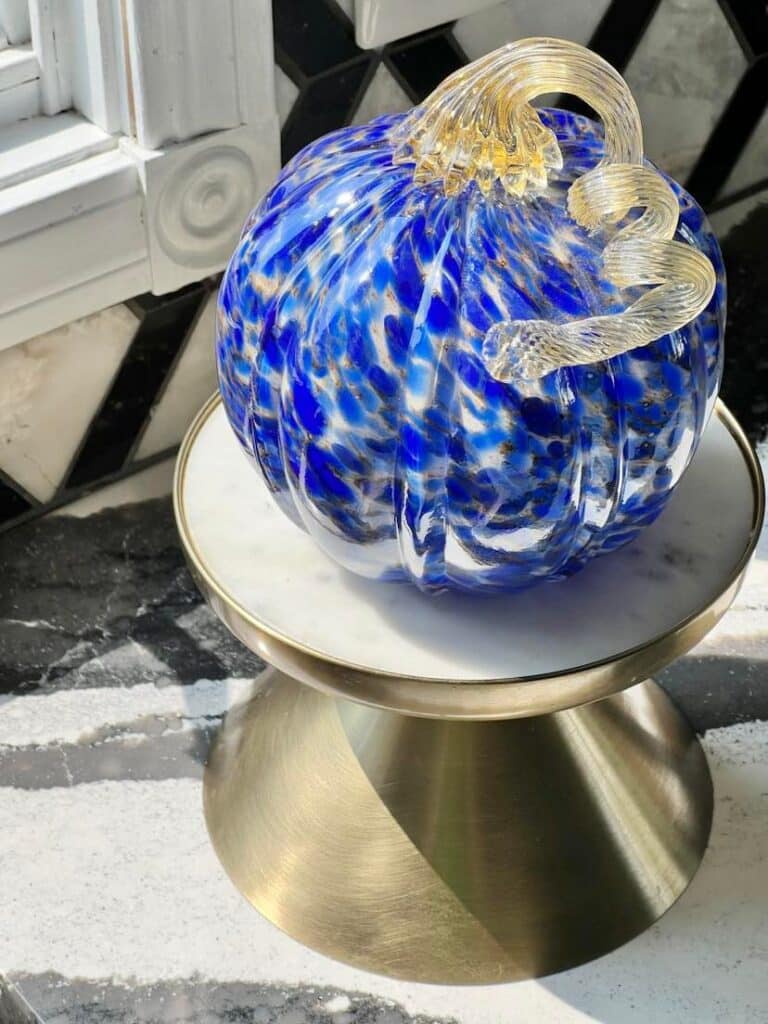 I hope you consider adding glass pumpkins to your decor. I have had great luck finding them at Pottery Barn, Home Goods, TJ Maxx, and even at flea markets and thrift stores. They come in various shapes, sizes, and colors and are always so unique and interesting!
Arrange glass pumpkins in front of a window or natural light source for a stunning visual display. Or, try filling a clear glass pumpkin with string lights or fairy lights for a magical and whimsical glow.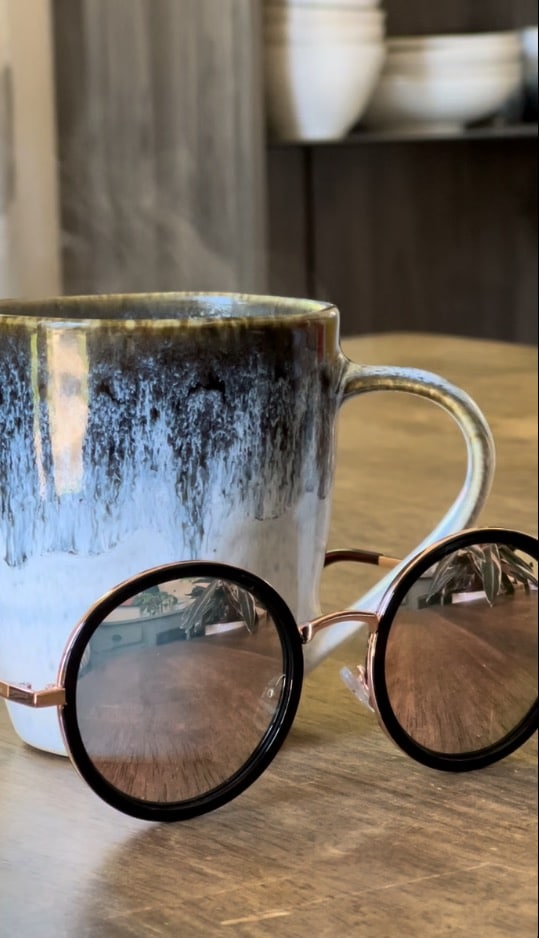 Now you see…your kitchen is more than just a place for cooking; it's the heart of your home! Infusing it with the warmth and charm of autumn not only makes it feel cozier but also creates a welcoming space for family and friends to gather.
Let your creativity shine and embrace the beauty of the season. Happy fall and happy decorating!
Cheers!

A Special Giveaway
I am so excited to tell you about this amazing new book by my friend and mentor, KariAnne Wood of Thistlewood Farms! KariAnne is the Wonder Woman who taught me so much of what I know about blogging. She has written a fantastic new book titled "10-Minute Decorating Ideas" and I'm giving away a FREE copy to one lucky winner!
This adorable book is chock full of stylish quick and easy decorating ideas for your home that you can use every day. And it is a perfect gift for anyone who loves decorating their home! Check out this amazing book HERE!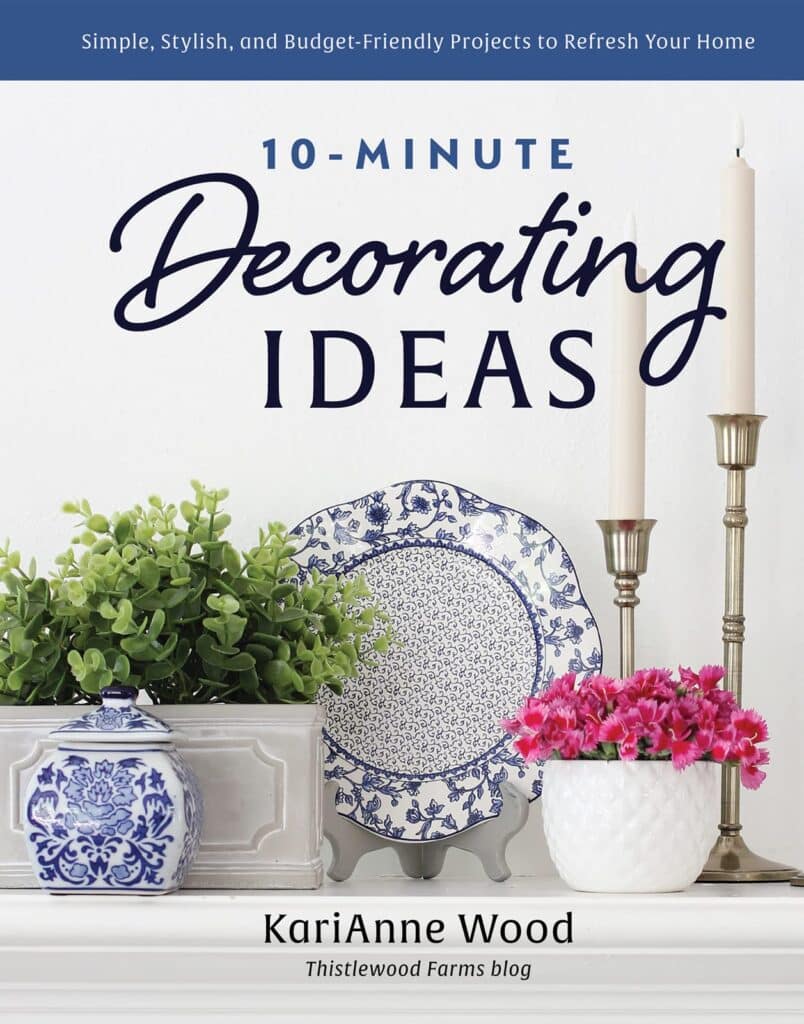 Simply leave a comment in the comment section of today's blog post with your favorite fall decor idea by Sept. 15, 2023, and you could win a copy of this fabulous decorating book that's perfect for year-round decorating!
Don't Forget to Pin It!
Pin the image below to your boards on Pinterest (just click the Pin button in the top left corner). You can also follow along with me on Pinterest!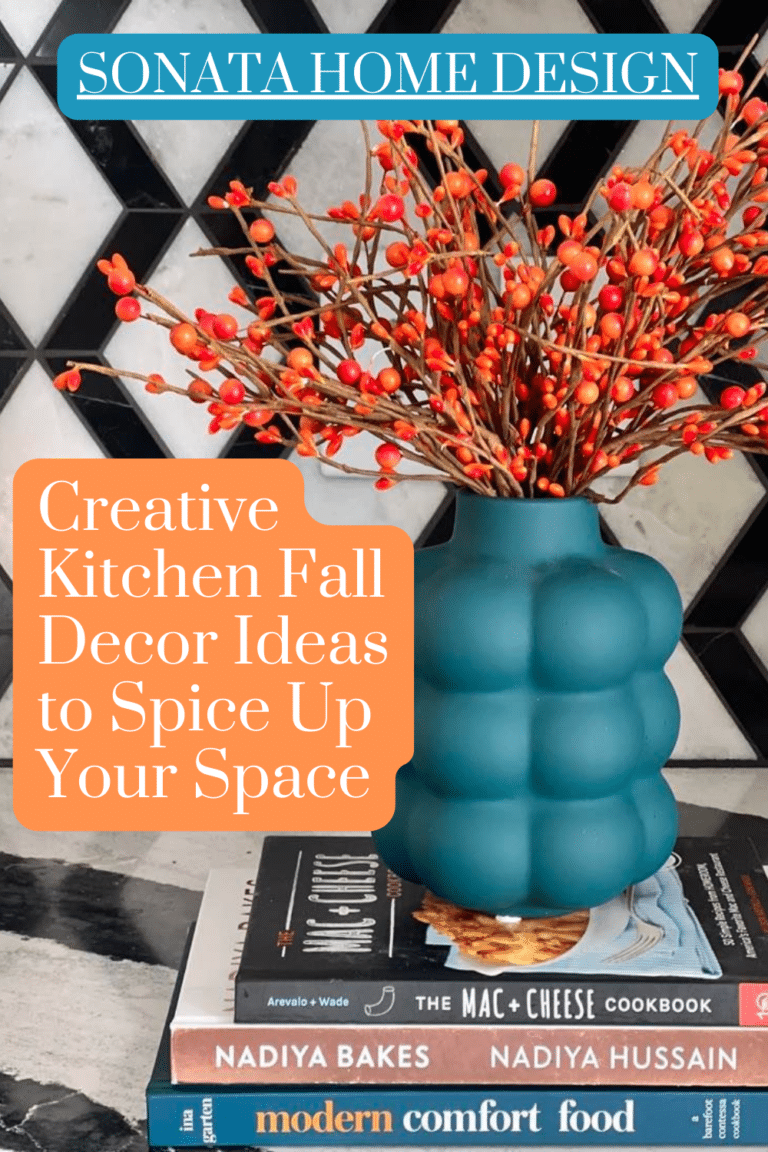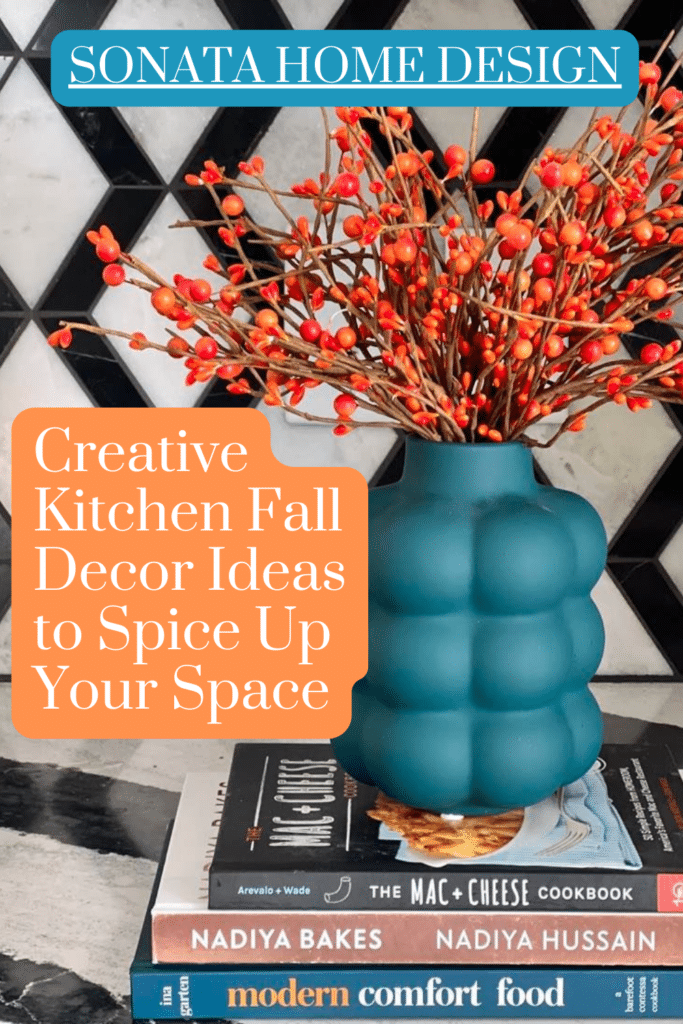 More Fall Decorating
My Favorite Fall Wreaths for Your Front Door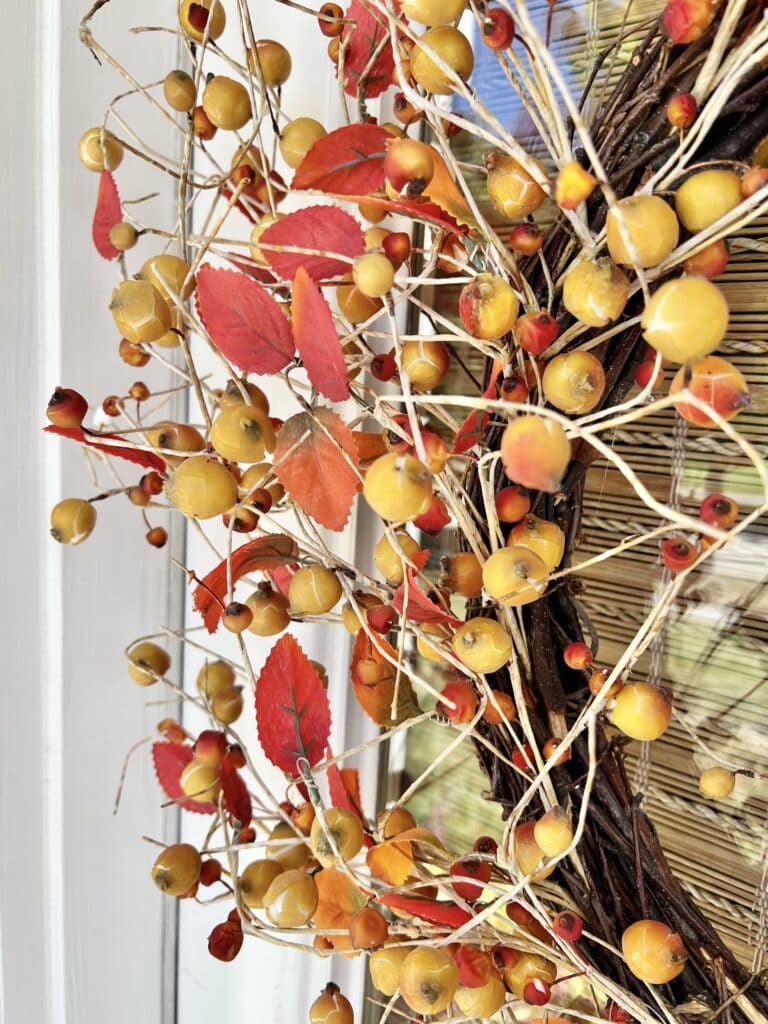 A Fall Simmer Pot to Make Your Home Smell Amazing