An Easy and Colorful Thanksgiving Wheat Decor Idea
Looking to add a pop of color to your Thanksgiving decor? Check out this easy DIY project idea for creating wrapped wheat bundles in any color you desire!
This project is simple enough for even the novice decorator and can be completed in just a few minutes. It's a great way to add a little bit of personality to your table, and it's simple enough that anyone can do it!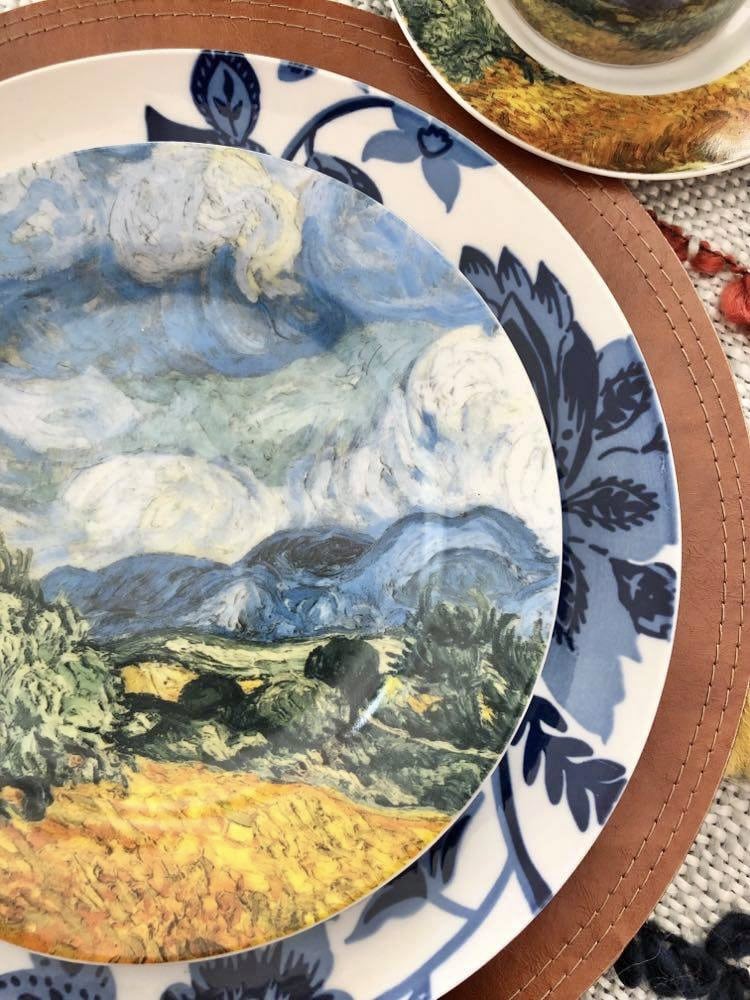 This blog contains affiliate links. This means a small commission is earned if you make a purchase by using this link. The price you pay will be the same whether you use the affiliate link or go directly to the vendor's website using a non-affiliate link.
I'm feeling grateful this fall season, and it's not just the big things that bring a smile to my face.
It's also the little moments, like a warm cup of coffee on a chilly morning or the season-changing view from my front porch. Gratitude has a way of making every day a little brighter and more fulfilling.
I'm grateful for family, friends, health…YOU!
The Thanksgiving holiday is just around the corner, and gratitude is the theme of the day. It's a time to gather with loved ones, share a delicious meal, and reflect on all the reasons we have to be thankful.
But hopefully, gratitude is a part of every day! So, let's remember to express our gratitude not just on Thanksgiving but throughout the year, spreading positivity and appreciation wherever we go.
Thanksgiving Decoration Ideas
I'm grateful to be joining a very talented group of bloggers who are sharing so many fall decorating ideas for your own home. I'm grateful to Carol from Blue Sky at Home for inviting me to join in with this talented group!
If you are coming from Susan at Hen and Horse Design, welcome! I can't wait to try her Thanksgiving feast holiday hash recipe!
I really like saying "holiday hash" over and over again! I'm sure I will want seconds and thirds when I eat it!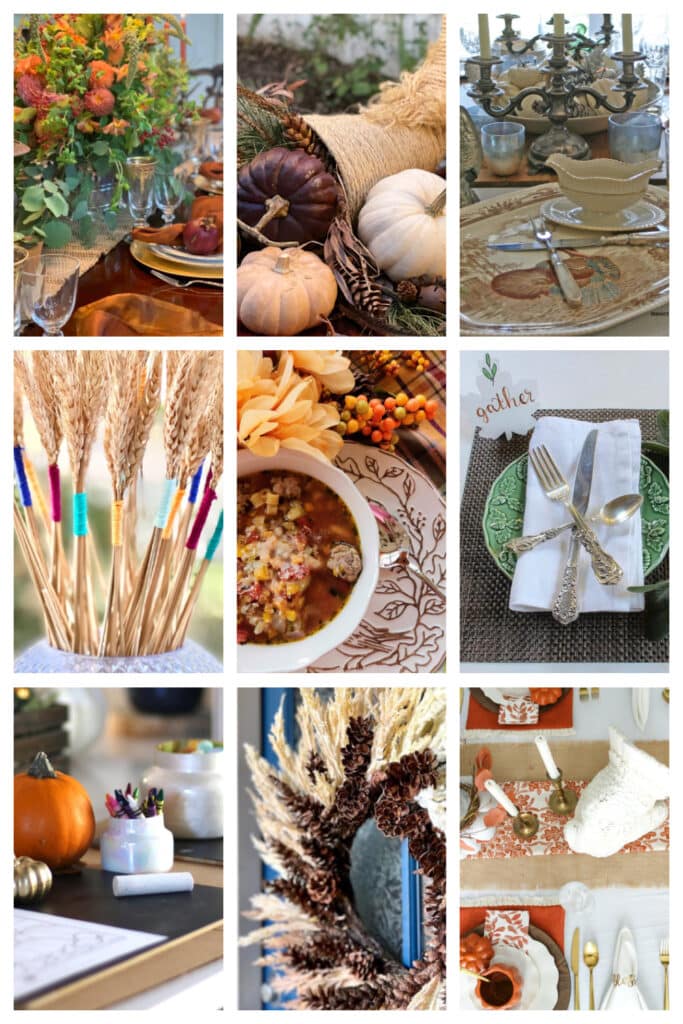 Wheat Fields on a Plate
My mother loves dishes.
I'm thinking this is a hereditary gene.
Like a moth to a flame, seeing and creating new combinations of dinnerware of any kind has a magnetic pull.
And, as we approach the holiday season, the magnet gets bigger and stronger!
These plates belong to my mother and are so connected to my wonderful memories of place settings on the dining room table.
The pattern "Wheat Fields" is based on Van Gogh's famous painting full of beautiful natural elements.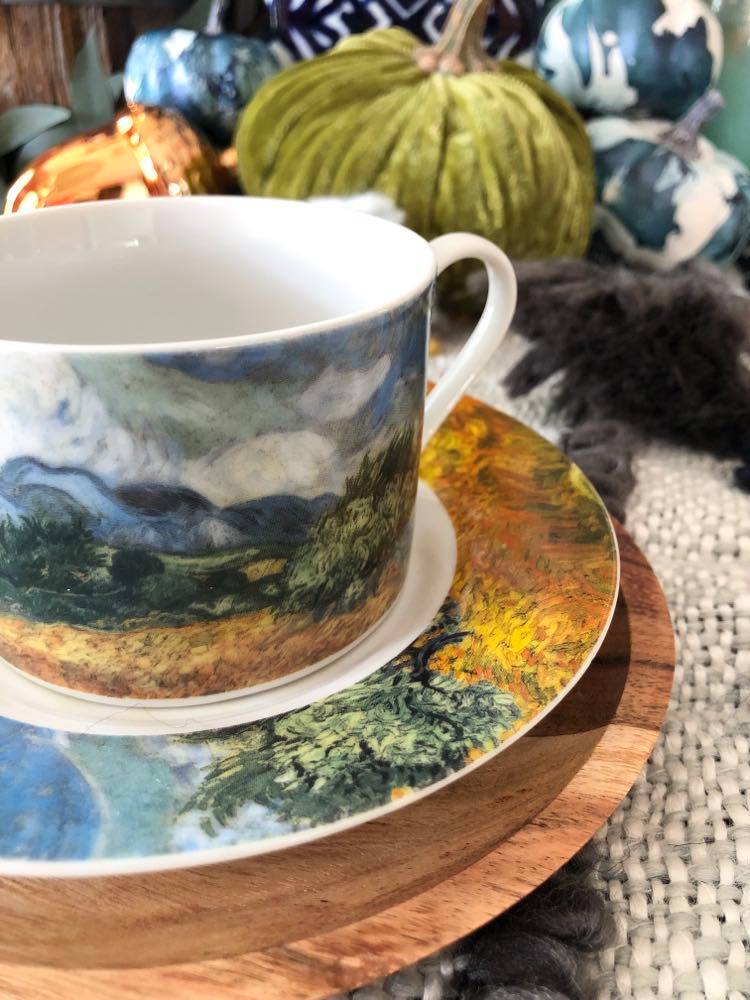 Blue skies, swirling clouds, and gorgeous fields of billowing wheat.
This could be any wheat field in the south of France.
Or in Nebraska, U.S.A.!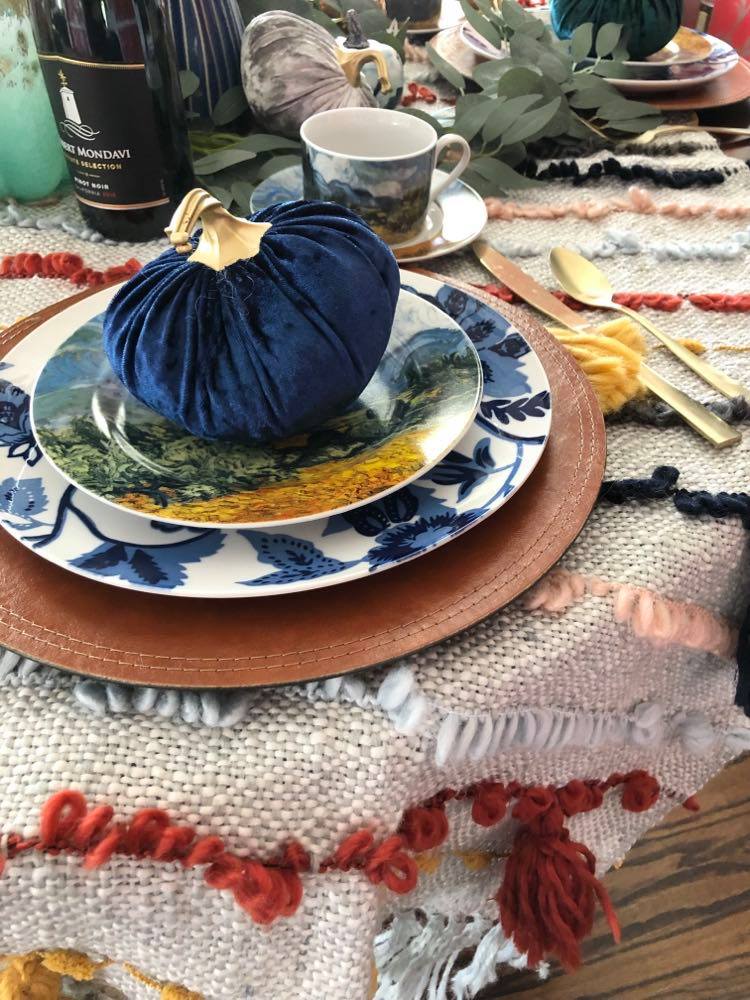 This year, I've decided to build upon this theme by creating some wheat bundle home decor with a little colorful "twist."
Literally!
Bringing in the Sheaves
Because we live in Nebraska, you might think I can just walk into my backyard and harvest my own sheaths of wheat.
Sorry to disappoint…I live on the wrong end of the state for this. I ordered my wheat stems and they appeared on my front porch!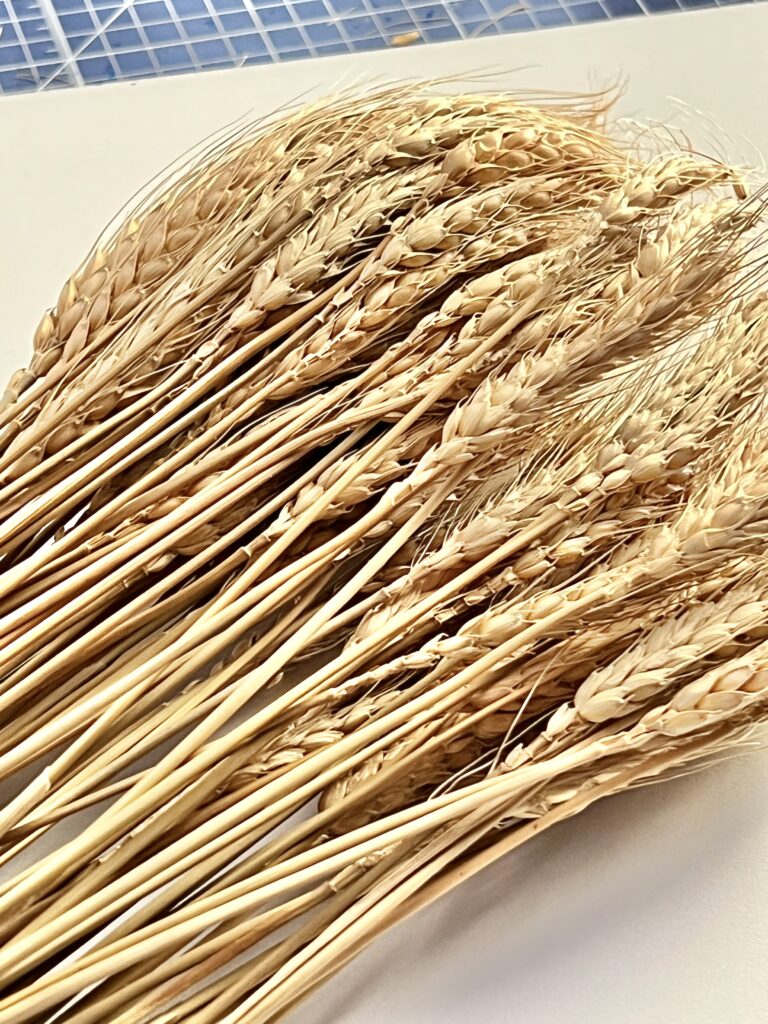 The only other thing needed for this project is embroidery thread.
Any color or combination of colors that you want!
Go neutral or go bold…whichever your heart and table setting desires!
I'm kind of into embroidery thread these days. I started wrapping a wreath with thread and couldn't stop!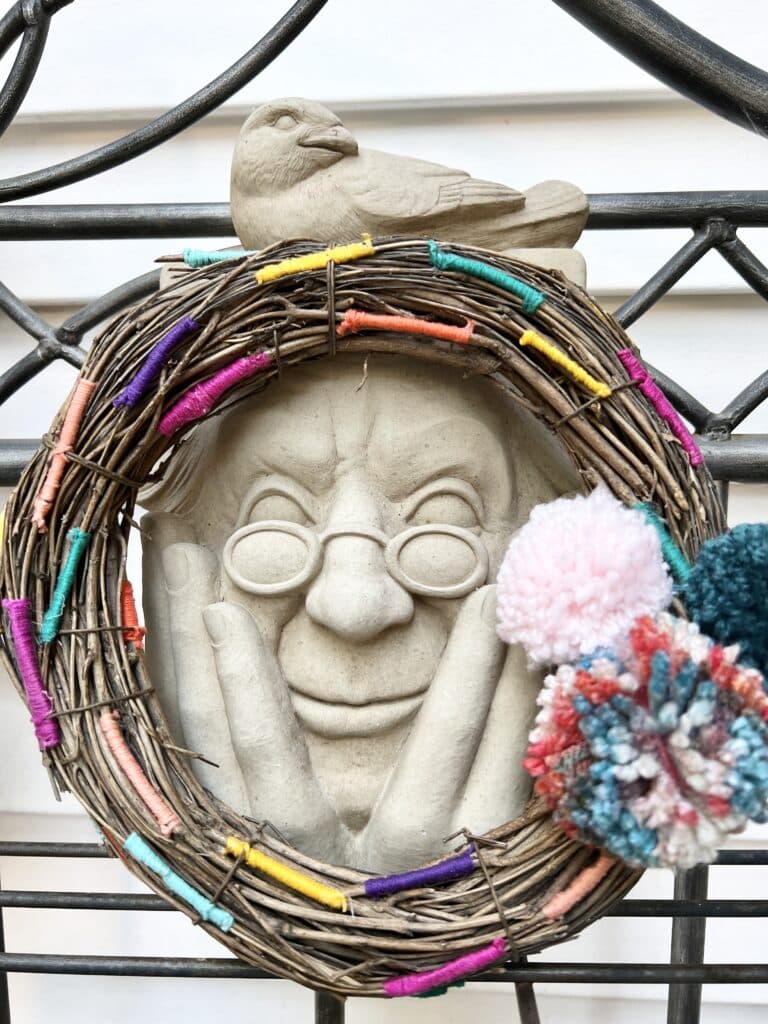 Supply List
I love a short supply list, don't you? Here is all you need;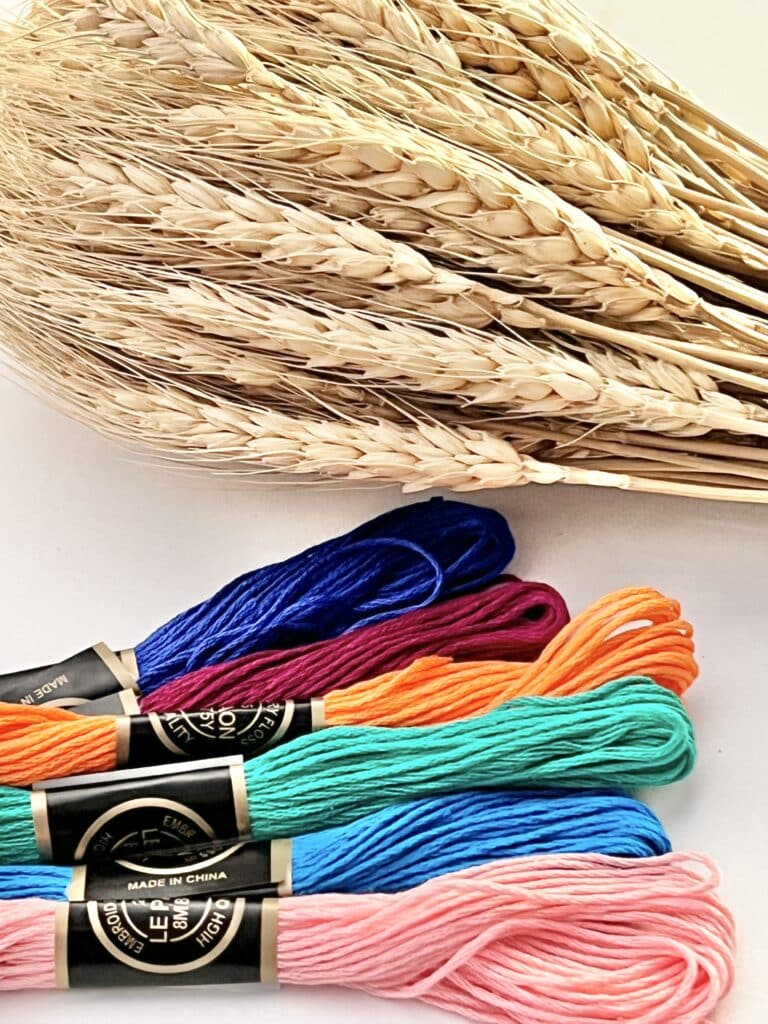 An Easy and Colorful Thanksgiving Decor Idea
This is so incredibly easy!
The first thing to do is to gather a small bunch of wheat stems. Odd numbers are always good…I went with five in each of my bundles.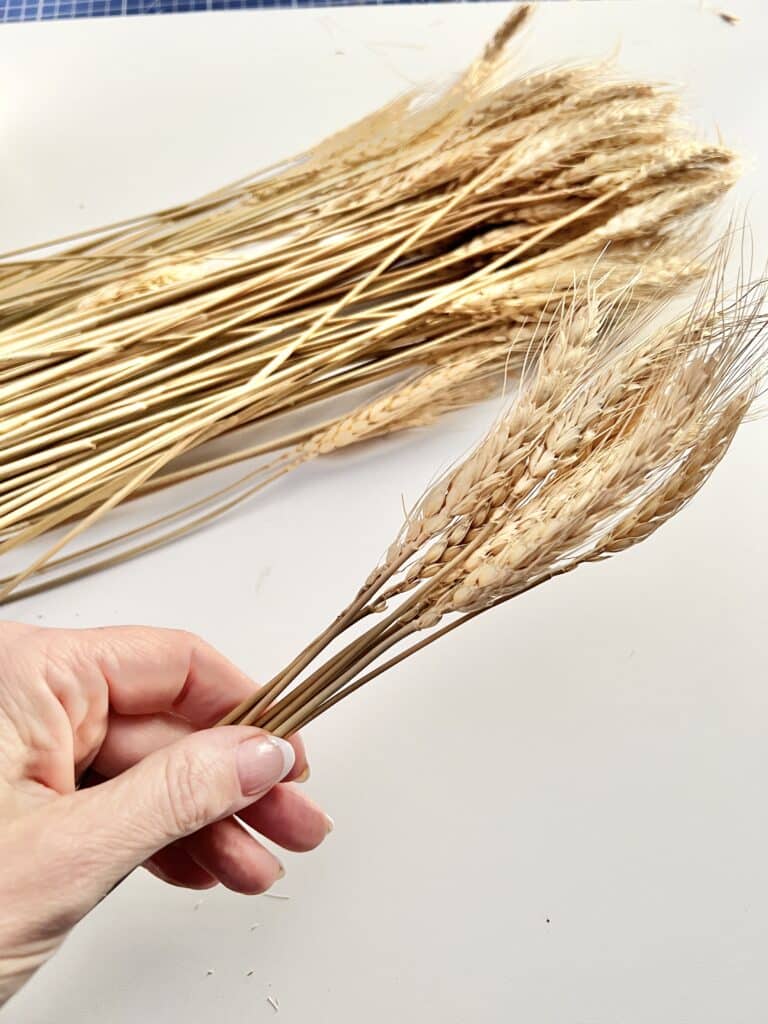 With the embroidery thread, tie a knot at the base of the wheat, leaving a short tail on one end.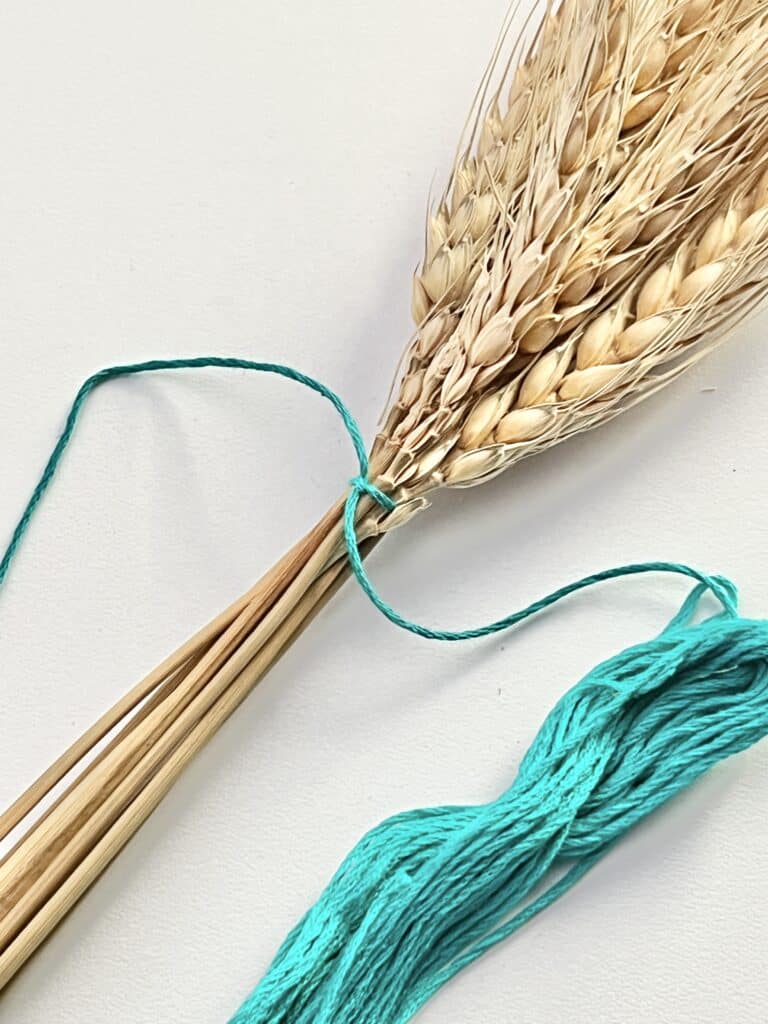 I told you there would be a "twist!"
Start wrapping and twisting the thread around the wheat stalks.
I chose to wrap about an inch on each bundle.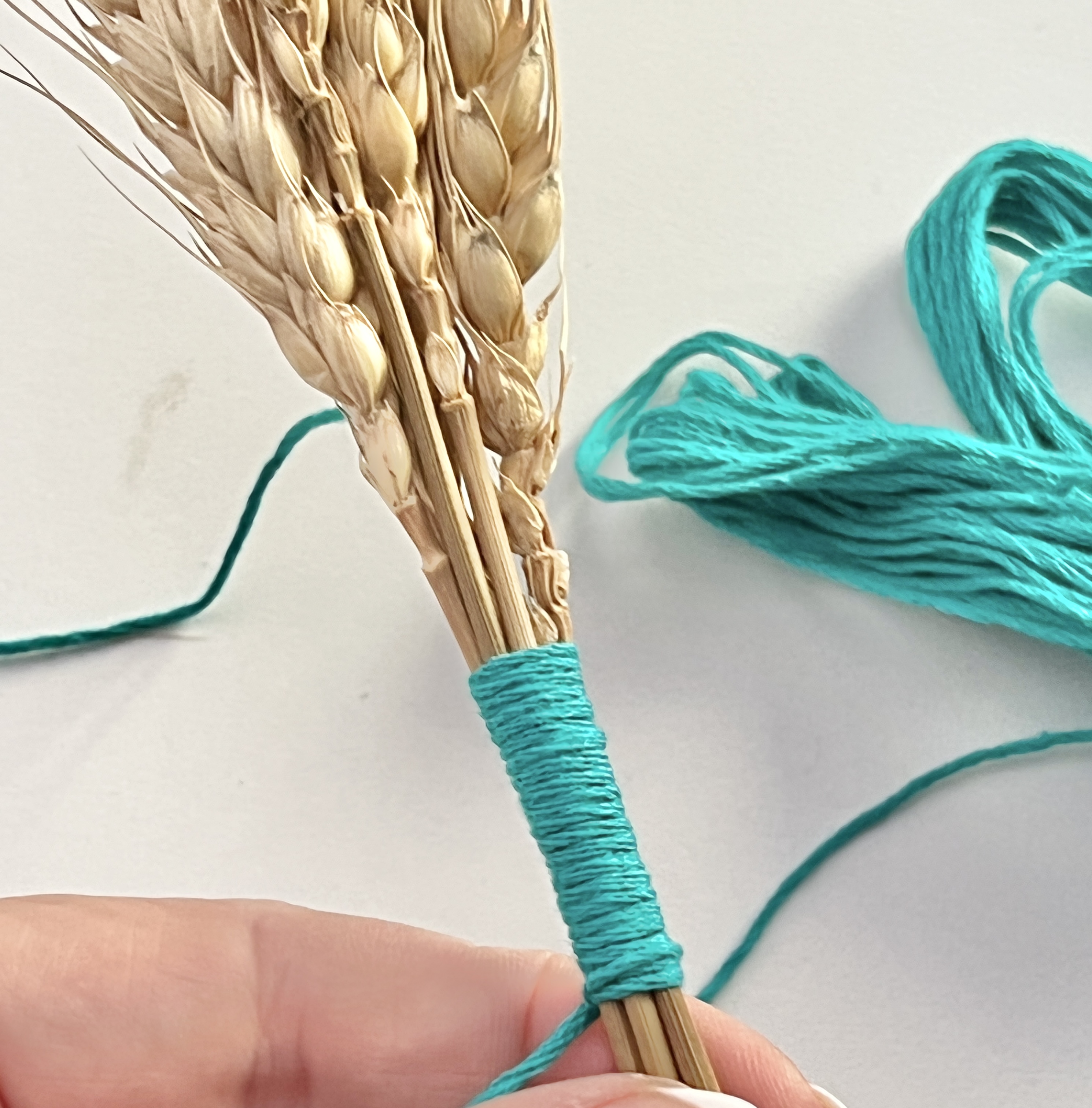 Wrap a couple of times back up to the top and tie another knot using the short tail that you started with.
Cut the tails off and you are done!
How easy is that!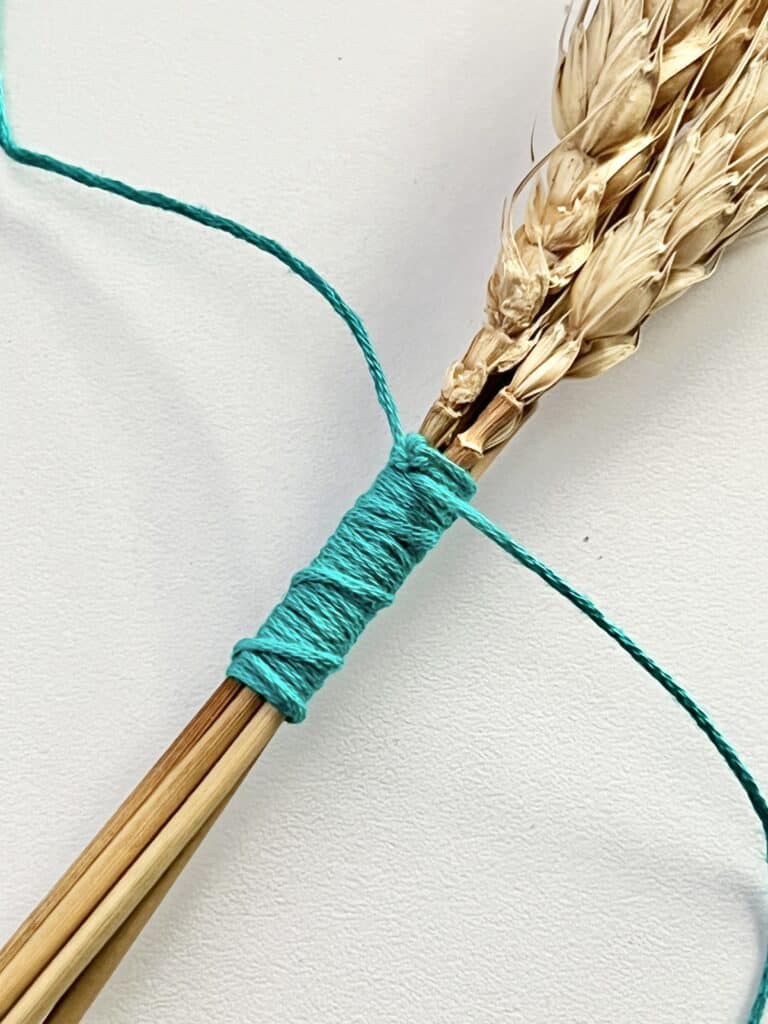 How to Display This Easy Thanksgiving Decor
These remind me of pixie sticks…colorful with a lot of pizazz!
The embroidery colors I chose are reflected in my mother's Van Gogh dishes…wheat on wheat with a blue sky in the background.
I threw in the magenta just to shake things up a bit!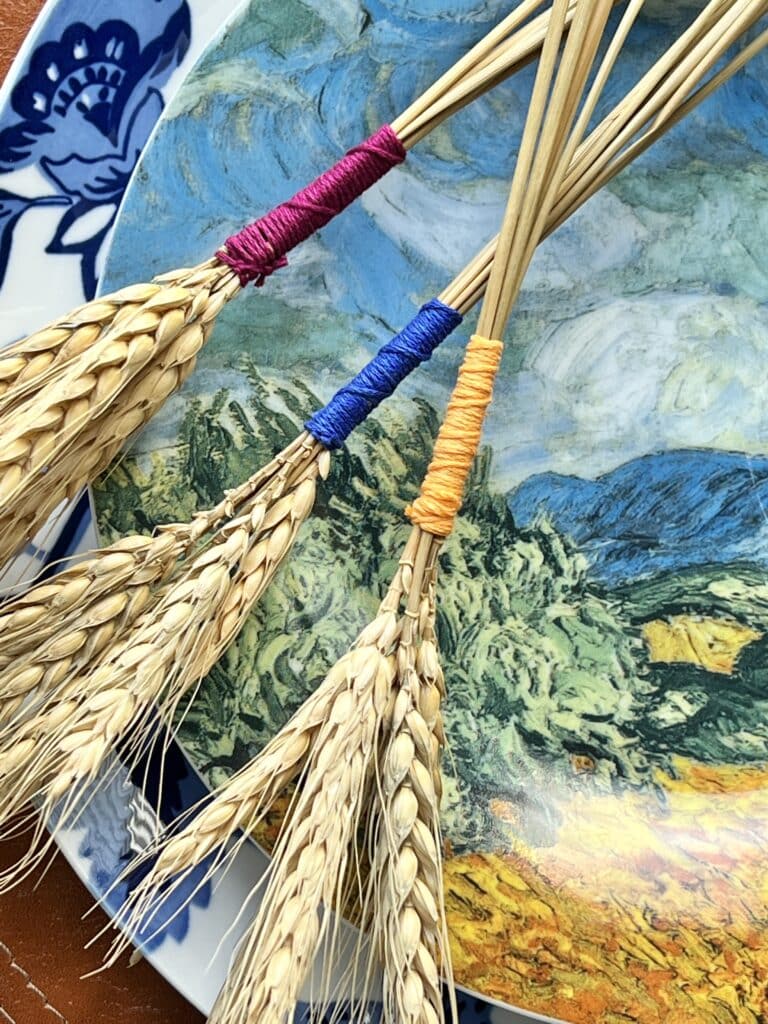 Add these colorful bundles to your Thanksgiving tablescape as an easy decor pick-me-up.
Try laying them on a dinner napkin beside a beautiful plate.
Your guests can take them home as a remembrance of a lovely Thanksgiving dinner and time spent with special people!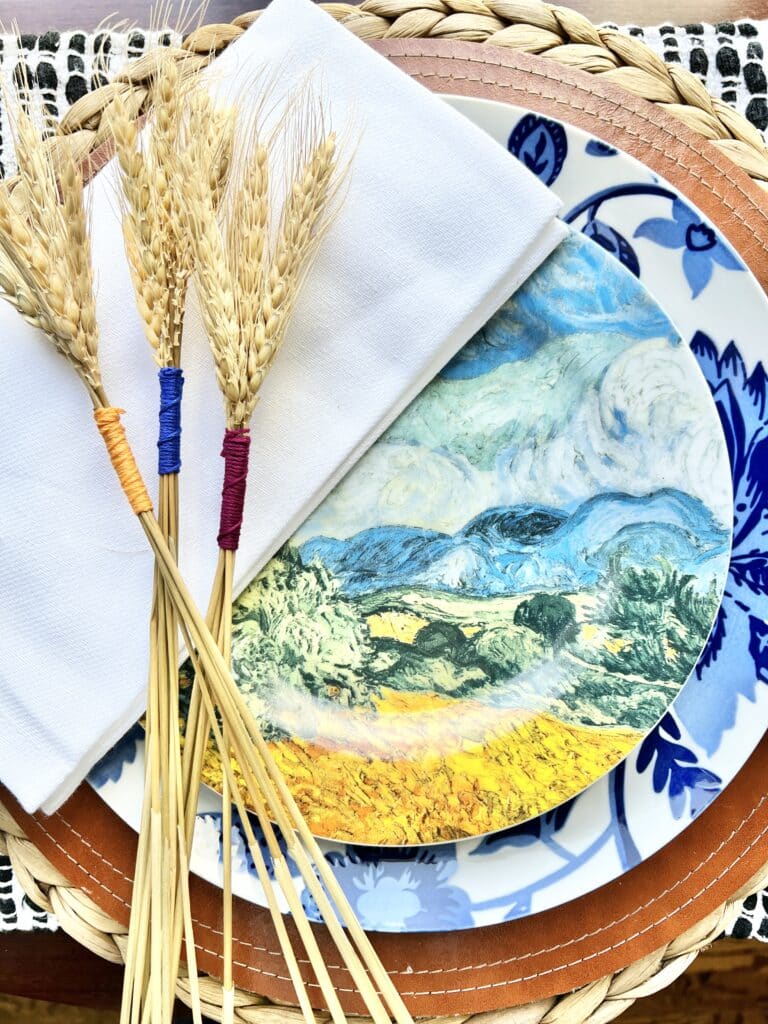 Or gather them en masse in a vase to give your Thanksgiving table centerpiece an elegant look.
Sometimes the most beautiful Thanksgiving decor is the easiest!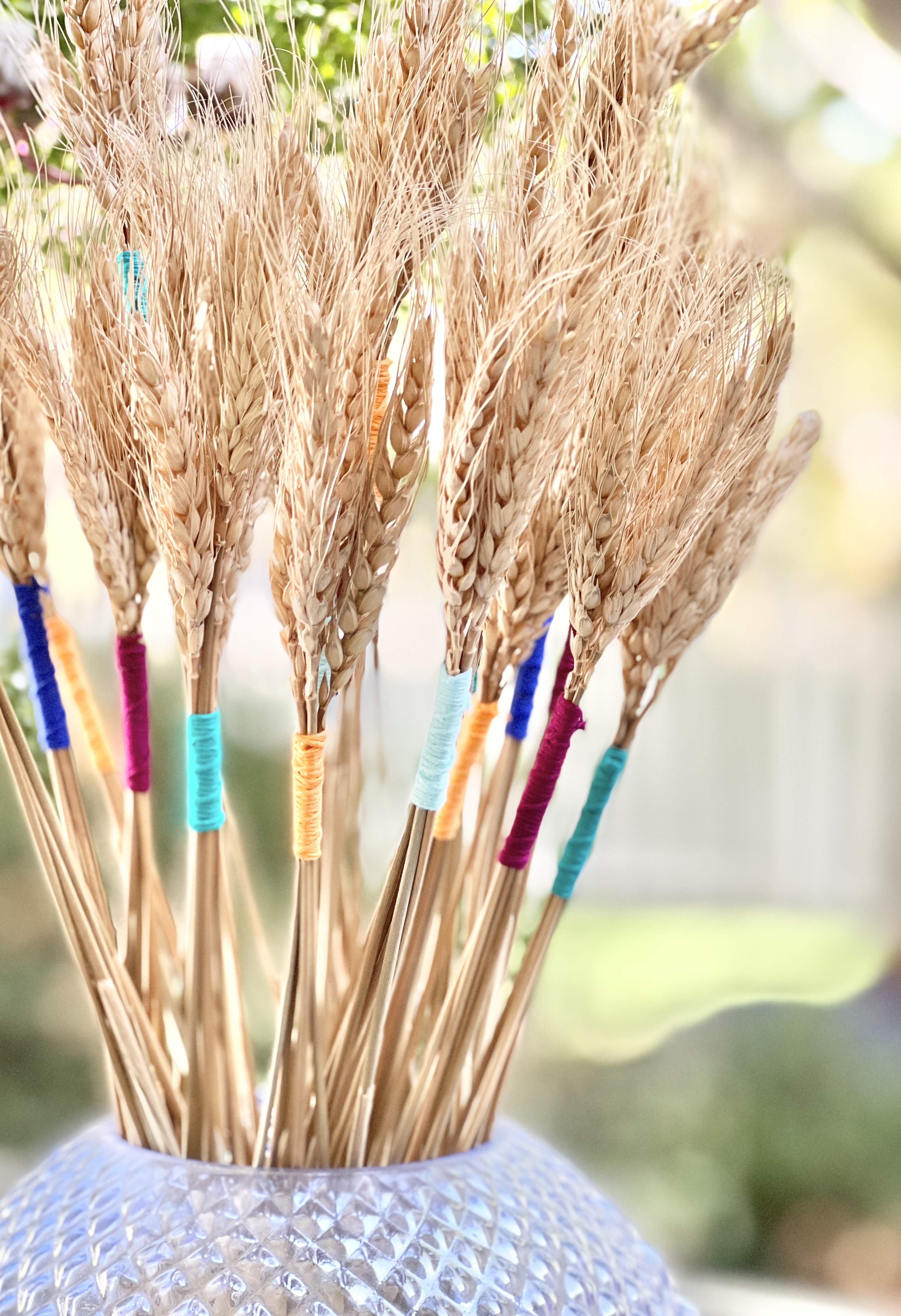 Displaying them in smaller bundles in multiple vases gives a different yet equally beautiful effect.
I love how the light shines through the wheat. Like a mini wheatfield on your Thanksgiving table!
Time for coffee and pumpkin pie!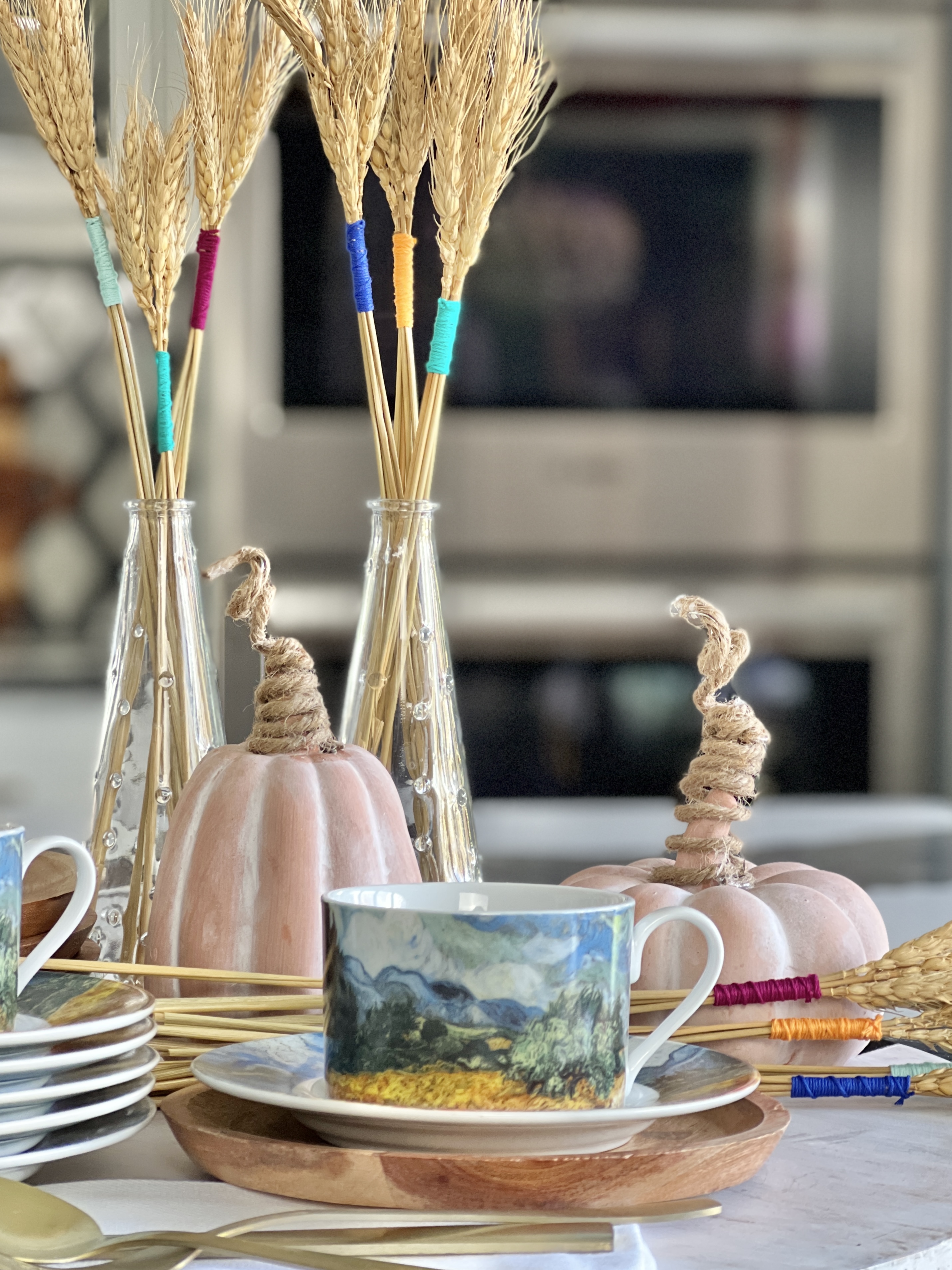 More Wheat Decor Display Ideas for Your Thanksgiving Decor
These ideas incorporate the warmth of wheat with various elements of fall and a hint of gold to create a cozy and festive Thanksgiving ambiance.
Wheat Centerpiece: Create a unique table arrangement using a glass vase filled with bundles of dried wheat. Add a few fresh flowers, fall leaves, and pinecones for a rustic touch.
Mini Pumpkin Place Settings: Place a mini pumpkin floral arrangement at each table setting, and tie a small bouquet of thread-wrapped wheat around the stem with twine.
Table Runner with Wheat: Lay a table runner down the center of your dining table and sprinkle these wheat bundles and mini pumpkins along its length.
Wheat and Fall Leaves Wreath: Create a wreath using wrapped dried wheat, fall leaves, and pinecones. Use it as a centerpiece for your Thanksgiving table.
Rustic Wheat Bouquets: Tie bundles of wheat together with twine and place them in mason jars with fall flowers for your dining table or mantle.
Wheat and White Pumpkin Centerpiece: Combine white pumpkins and thread-wrapped dried wheat bundles on a platter as a charming and simple centerpiece.
Gold-Accented Mason Jars: Paint mason jars with a touch of gold at the base and use them as vases for fresh flowers or wheat arrangements.
Fall Foliage and Wheat: Mix fall foliage, such as colorful leaves and acorns, with dried wheat for a lush and seasonal display.
Mini Wheat Bouquet Place Cards: Create mini bouquets of wheat tied with ribbon and attach name cards for a personalized touch at each place setting.
Golden Wheat Napkin Rings: Craft napkin rings by wrapping dried wheat with thread and gold wire, adding a touch of elegance to your table settings.
Wrapping It Up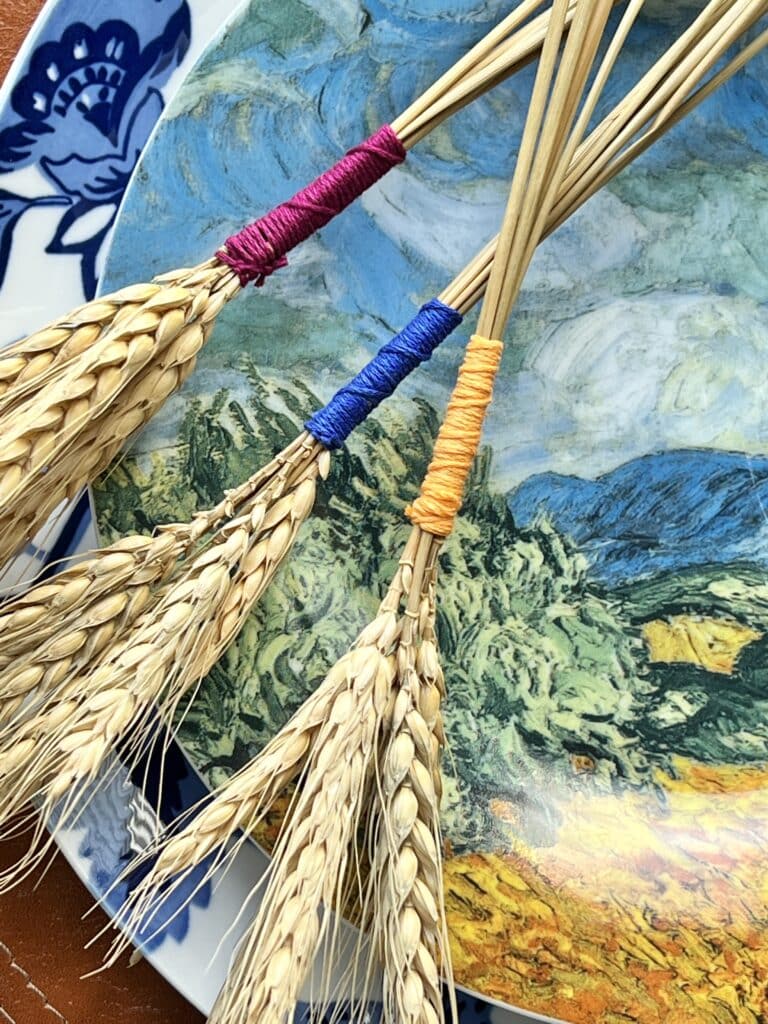 If you're looking for a simple idea to add some color and life to your Thanksgiving day this year, consider giving this Thanksgiving wheat decor idea a try.
With just a few pieces of embroidery thread in your favorite colors, you can wrap the wheat bundles yourself and create an eye-catching display that will set your table apart from the rest.
What an easy way to show your personal style!
Wendy and WM Designhouse is your next stop on this Thanksgiving Decor Train. She has a knack for unique centerpieces you are going to love her beautiful DIY Thanksgiving cornucopia!

We all wish you a wonderful Thanksgiving season and holiday celebration!
Cheers!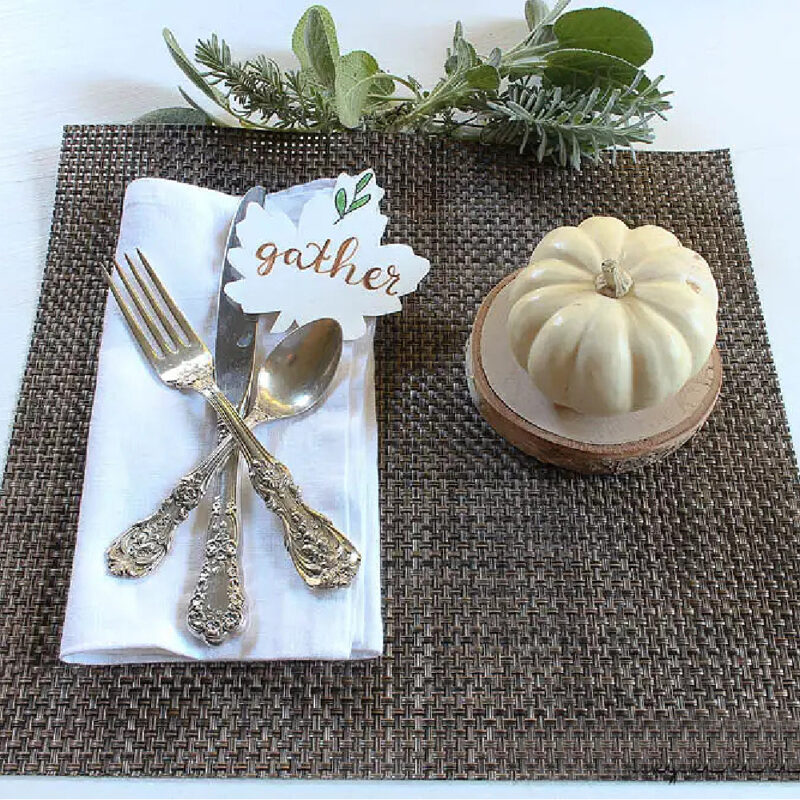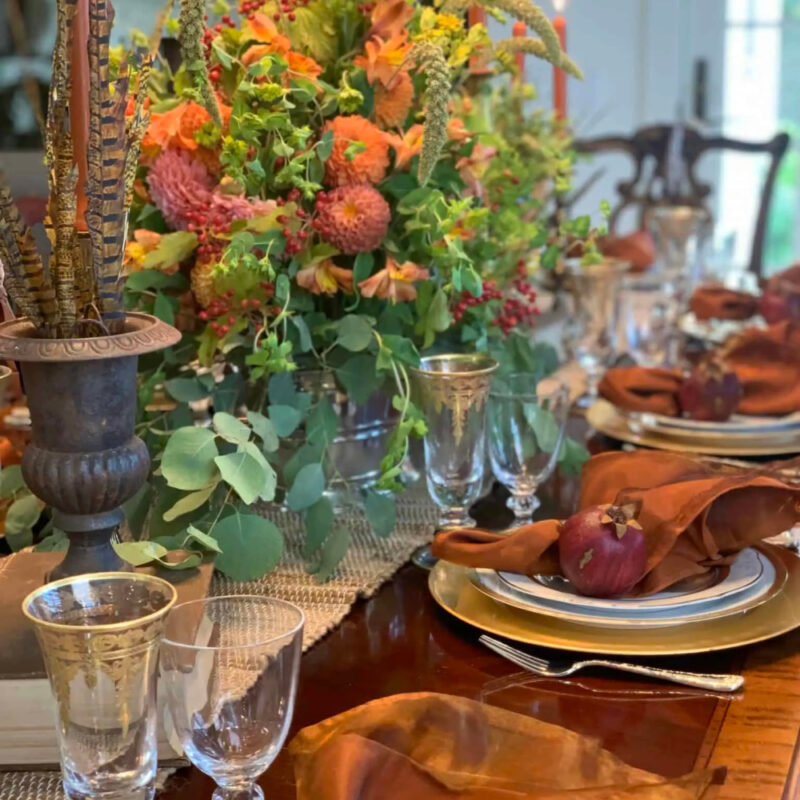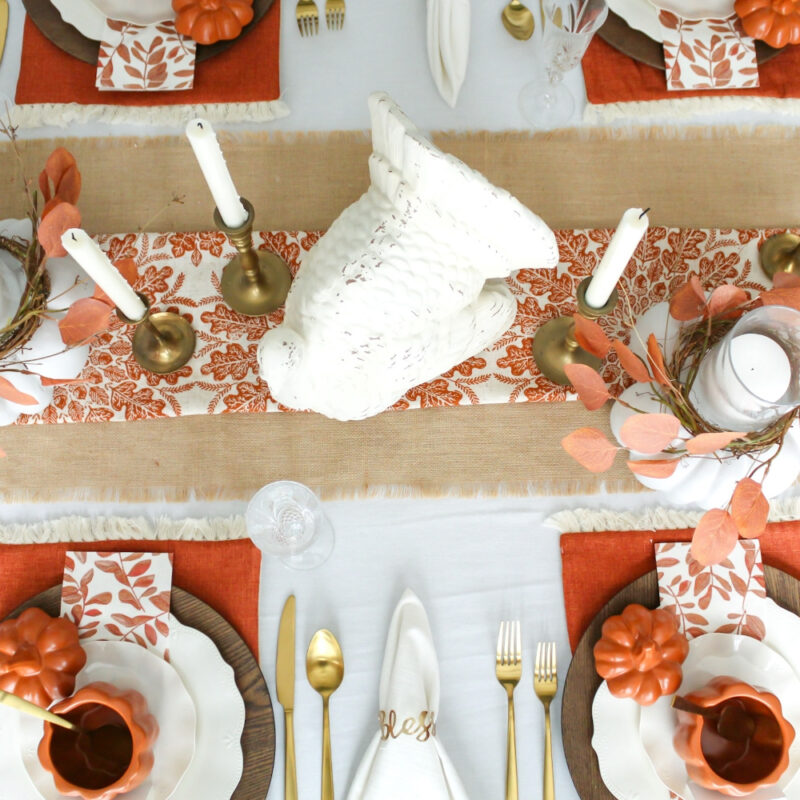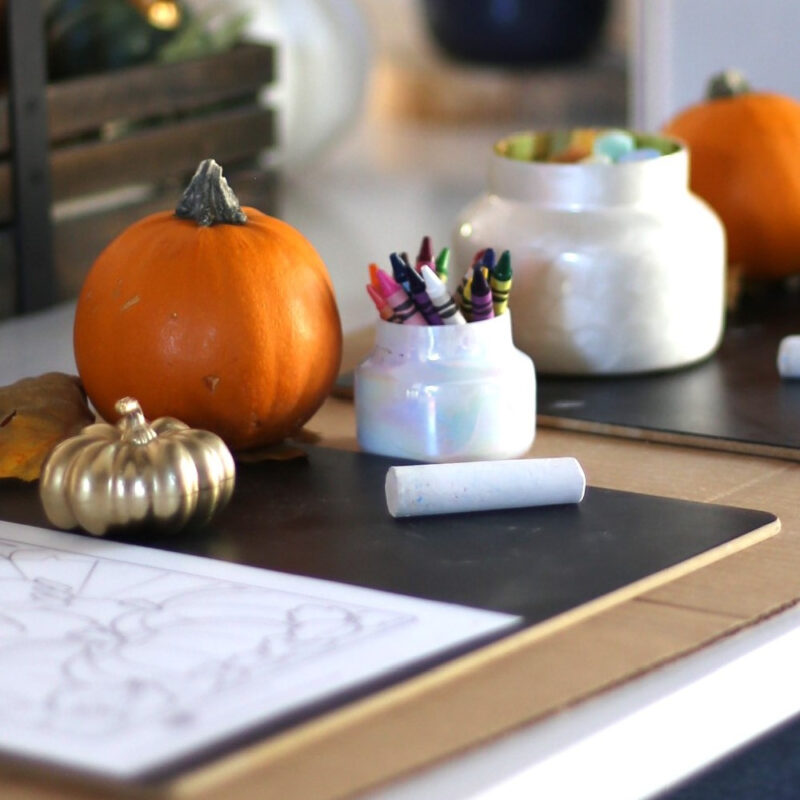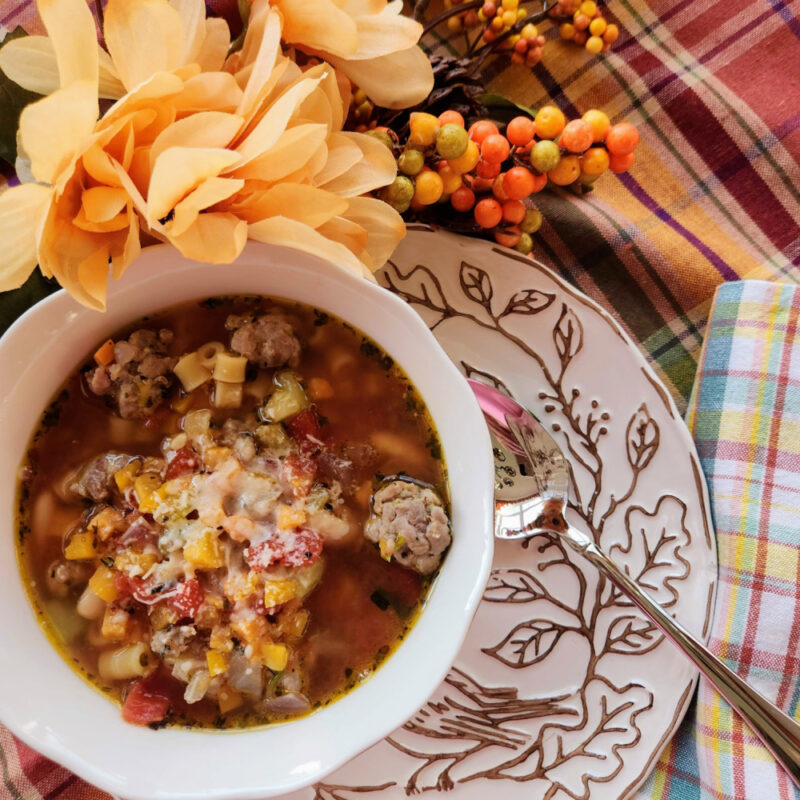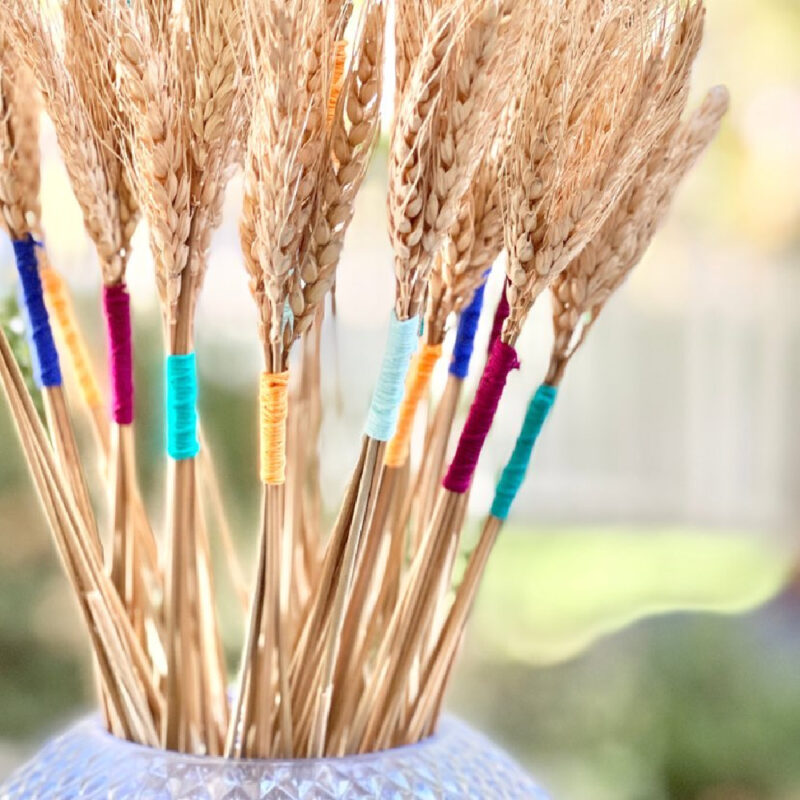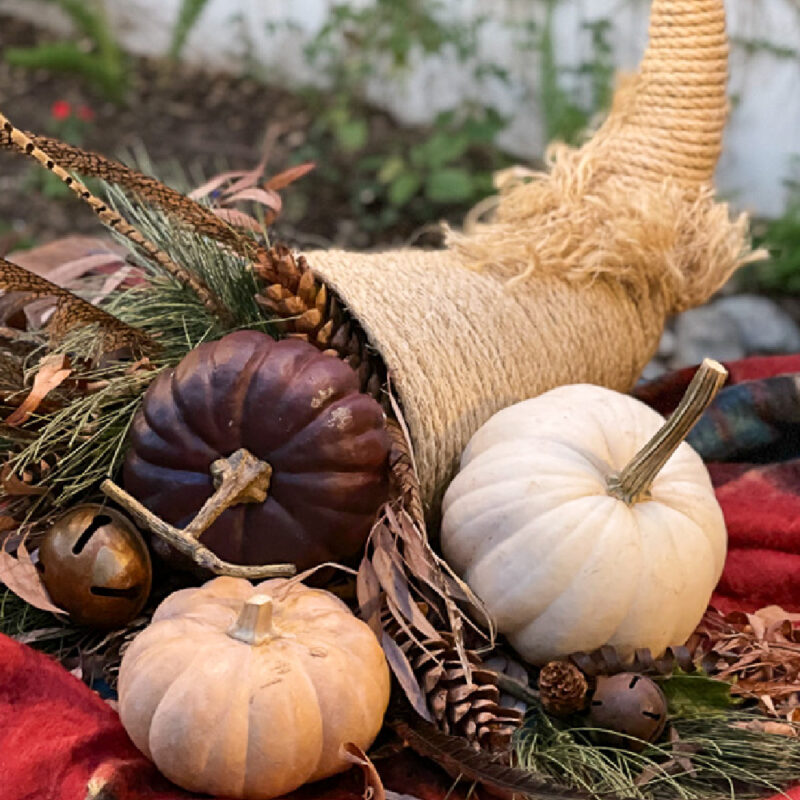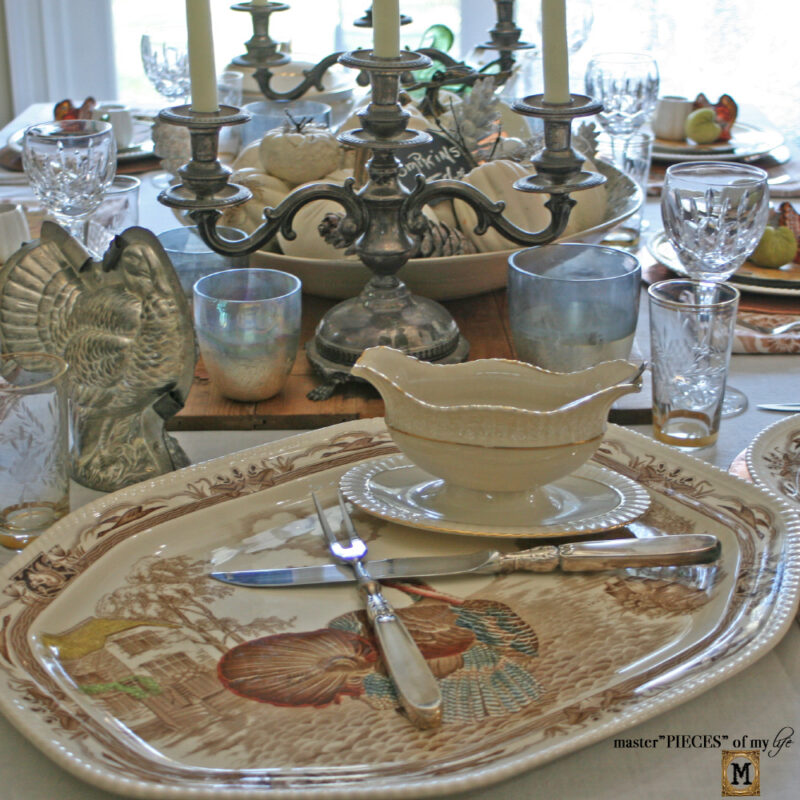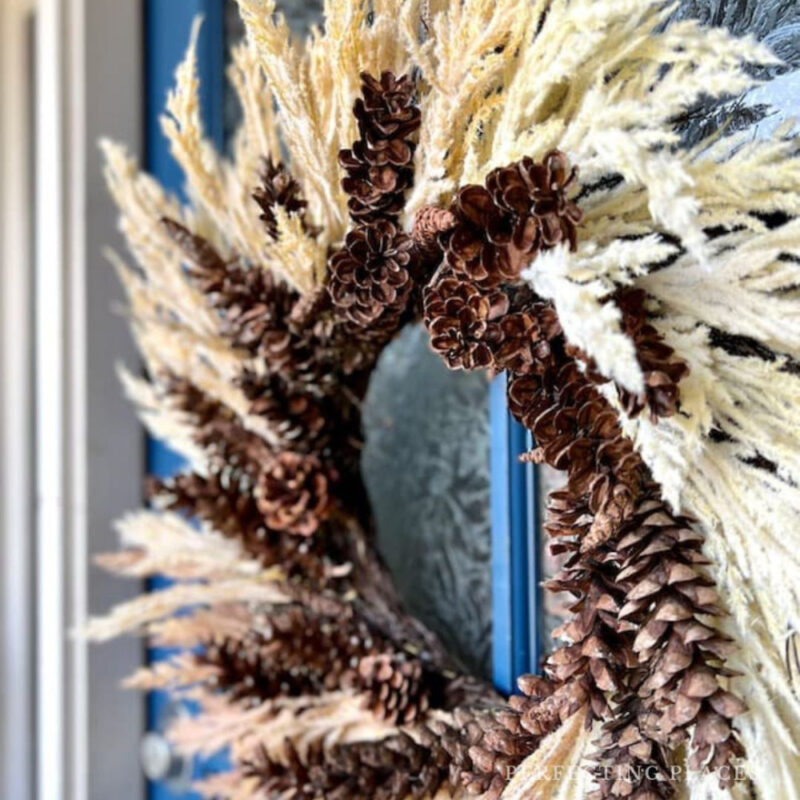 Don't Forget to Pin It!
Pin the image below to your boards on Pinterest (just click the Pin button in the top left corner). You can also follow along with me on Pinterest!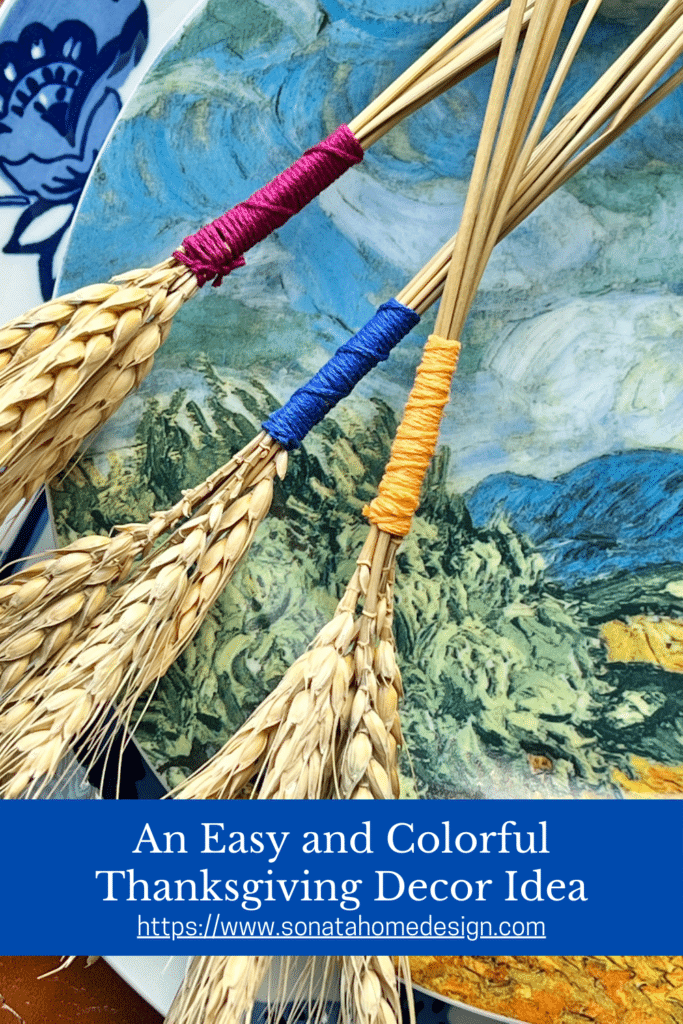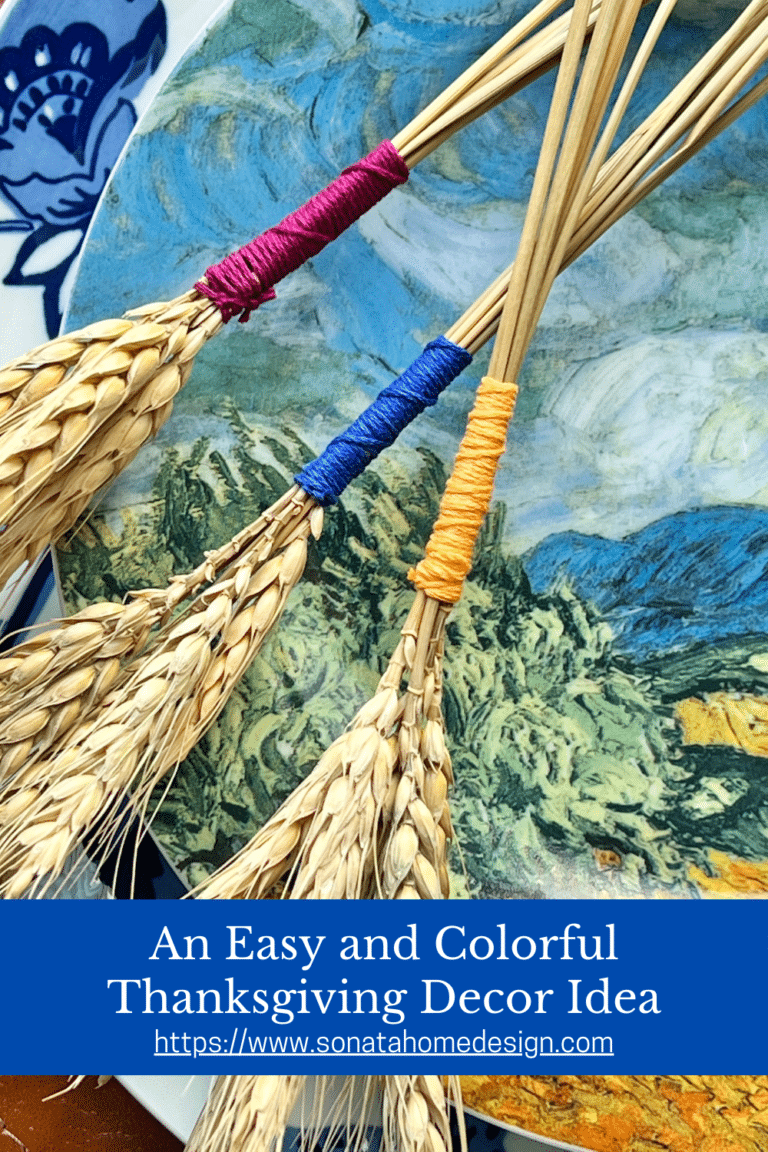 More Thanksgiving Ideas
A Colorful Thanksgiving Table Setting: Add some zing to your Thanksgiving table with velvet pumpkins, layered plates, and a boho style tablecloth throw.
Pumpkin Pie Crunch Cake : Give your usual pumpkin pie dessert a little kick with some crunch!
Simmer Pot Recipes for Every Season: Fall, Winter, Spring, and Summer…make your home smell like the season with these easy simmer pot recipes.