Create A Colorful Thanksgiving Table
Use color and texture to create a colorful Thanksgiving table that is sure to get a happy "Wow!" from your crowd.
Nothing makes me happier than a pretty Thanksgiving table. Even better is a colorful Thanksgiving table!
Sonata Home Design is a participant in the Amazon Services LLC Associates Program, an affiliate advertising program designed to provide a means for us to earn fees by linking to Amazon.com and affiliated sites. Additional affiliates links are also included for your convenience.
The leaves are turning color and we are headed full steam into the holiday season.
And, just around the corner…
glorious Thanksgiving!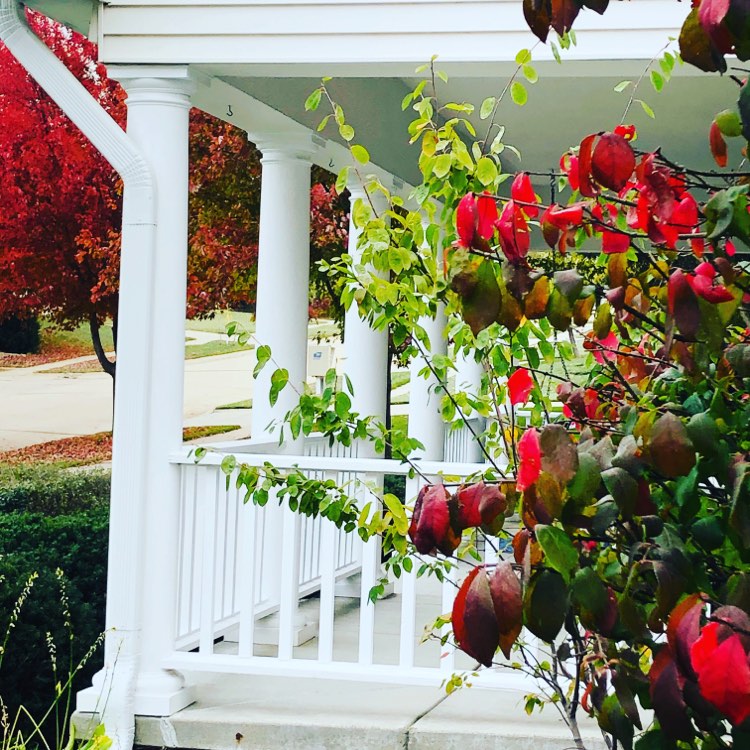 My heart fills with joy and my mouth starts to water just saying the word!
With gathering and gratitude as the focus, the Thanksgiving table is so very important.
Even the act of setting the table is an opportunity for feeling and expressing gratitude for the blessings we enjoy.
From Halloween to Thanksgiving…
My mother always set the Thanksgiving table at least a week in advance. Additionally, she would cover the entire table with clean white sheets so dust did not settle on her beautiful tablescape.
So, our dining room looked a bit like a haunted house in the week prior to Thanksgiving. Boo!
Guess what…it works!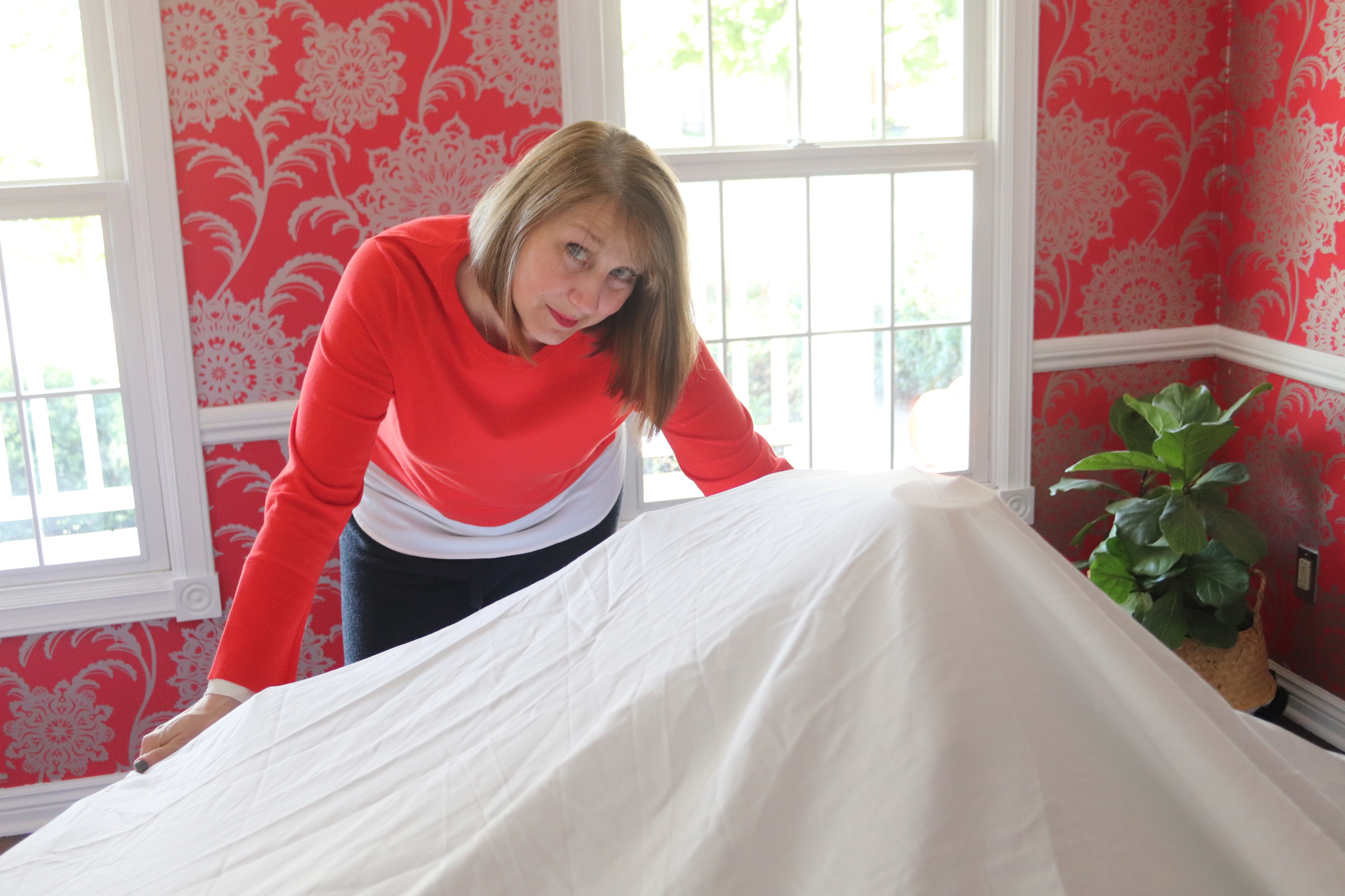 This year, I decided to amp up the table's color palette beyond my usual russets and golds.
We finally finished redecorating in the dining room so it is EXTRA FUN to plan the Thanksgiving table! Here is the link if you would like to see the project.
A Dining Room Makeover: One Dilemma After Another
Don't get me wrong…there will still be russets and golds. However, there will also be blues, greens, pinks, and…well, more blues!
Let's Create a Colorful Thanksgiving Table!
Instead of a regular tablecloth, I am using an extra-large throw blanket that is full of gorgeous color and texture. It has all the colors I love in addition to having great textural loops and tassels.
The texture might scare some people on a Thanksgiving table. However, this blanket is machine washable. So, bring it on!
For added protection, faux leather chargers add will catch spills and help to define each place setting with classic texture.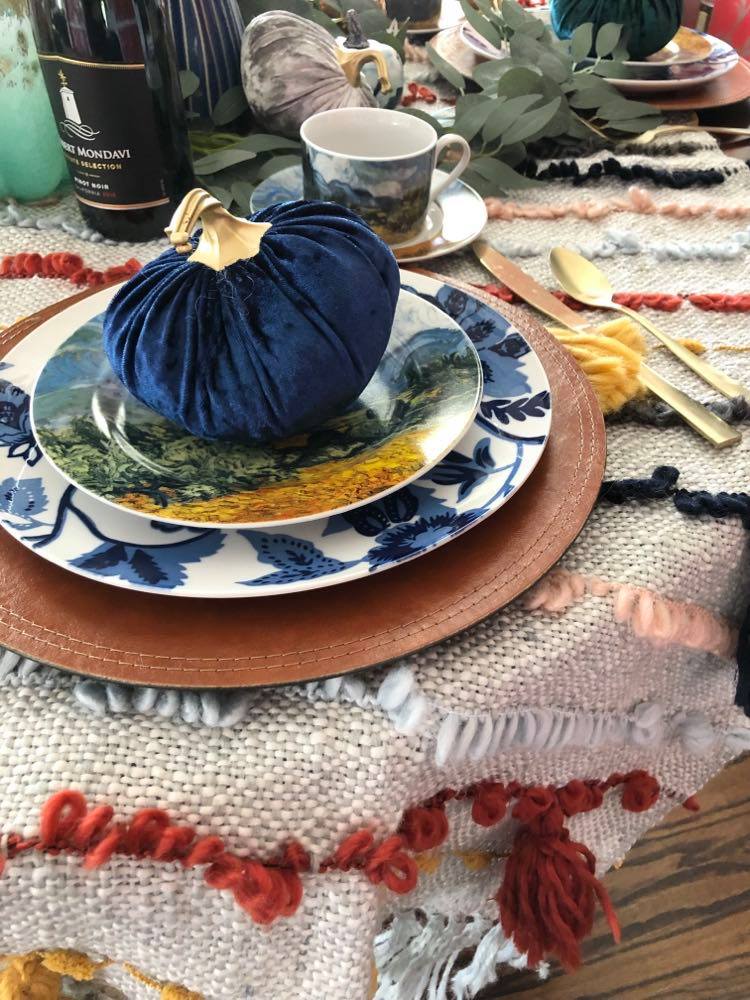 The older I get, the more nostalgic I become. Are you the same way?
I find myself borrowing my mother's dishes for special holidays and events.
These dishes are a beautiful interpretation of the famous artist Van Gogh's painting, "Wheat Field with Cypresses." Obviously, perfect for Thanksgiving!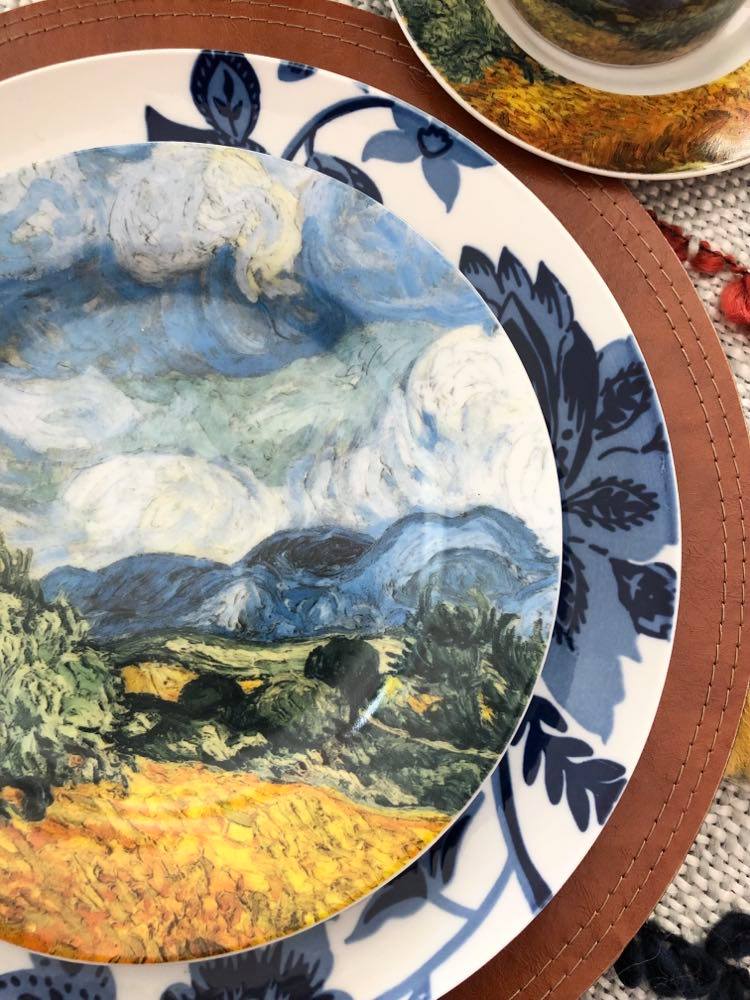 What special dinnerware are you hoarding? We tend to save special dishes for special events and sometimes…gasp…they get forgotten altogether!
Break it out, baby!
I love to use coasters for some fun additional layering on the table. Casual wooden plates under the cup and saucer add texture and a nice contrast to the formal dinnerware.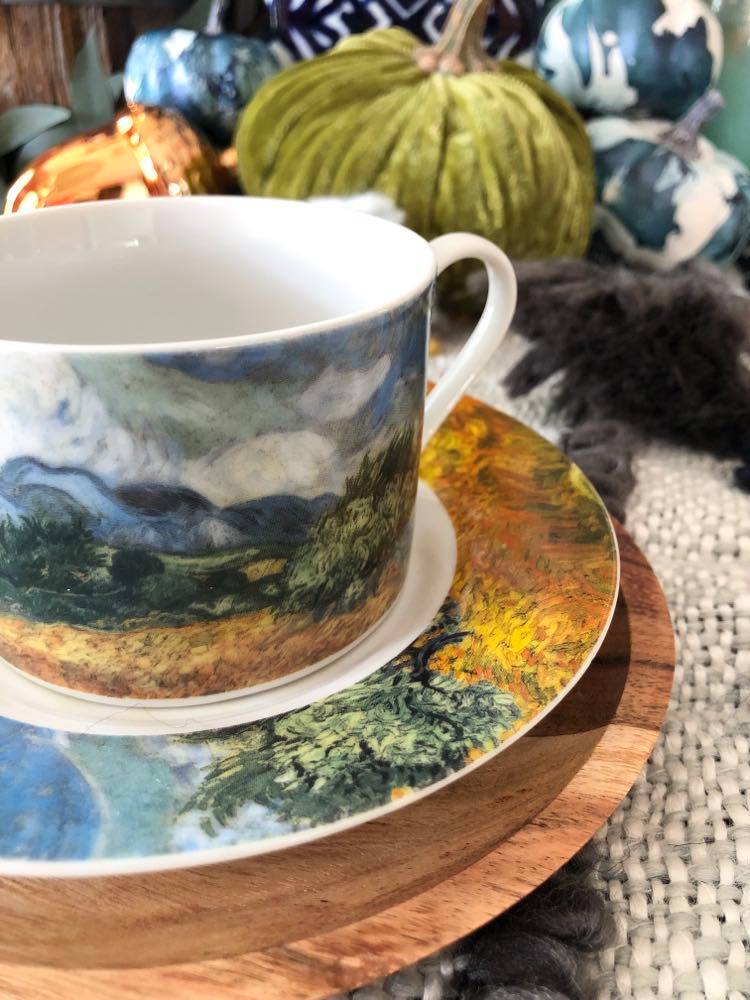 The blue sky of the plate is, undoubtedly, my inspiration for adding blue to the table. (In addition to blue being my favorite color!)
PumpkinFest
Blue pumpkins? Why not!
While we are at it, let's add turquoise, teal, and lavender!
These are a great value set from Amazon. You can see them here.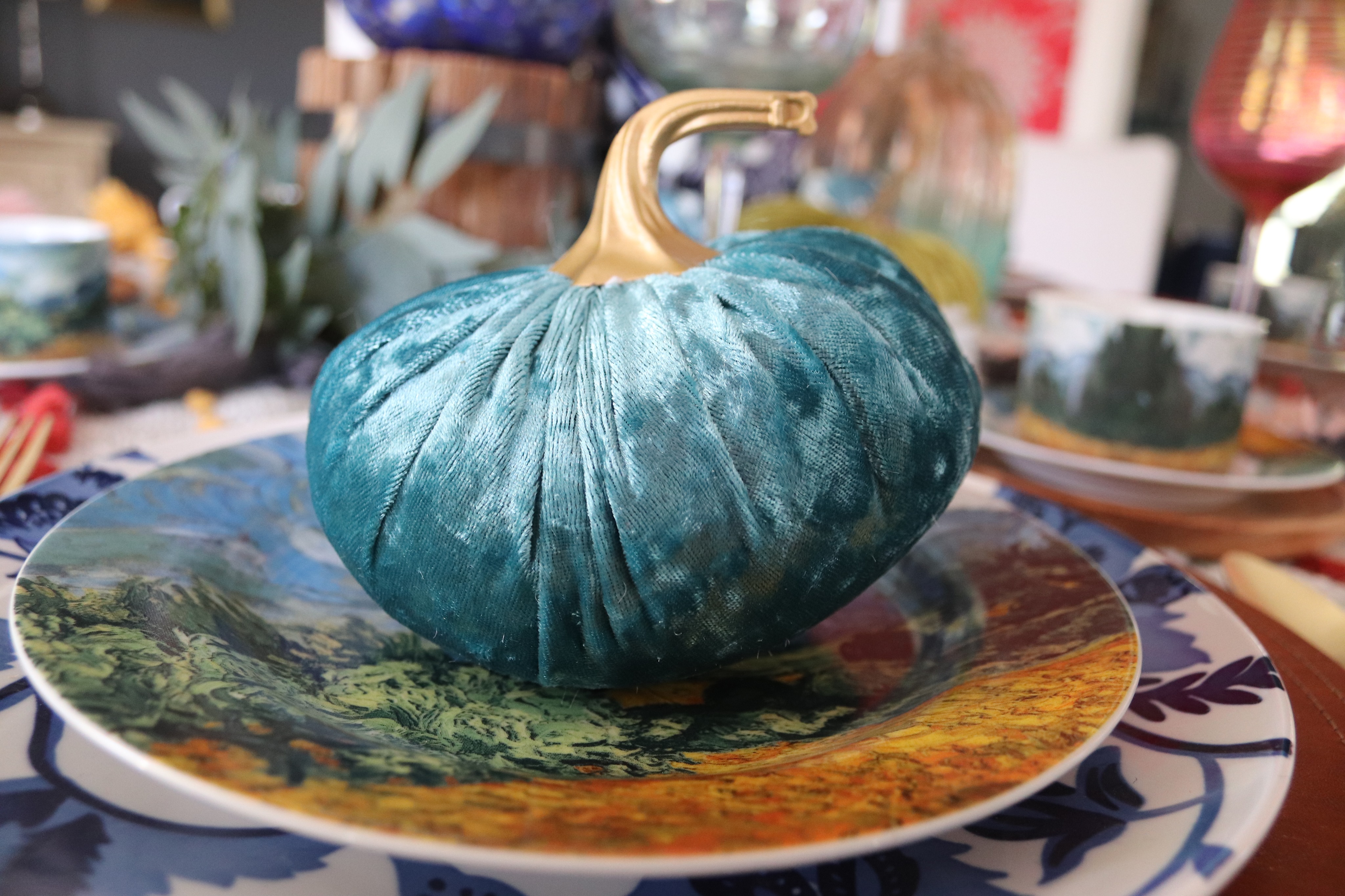 These abstract pumpkins add a nice shot of pattern and break up the solid-colored pumpkins. Believe it or not, I painted them using nail polish! You can see how to make them HERE.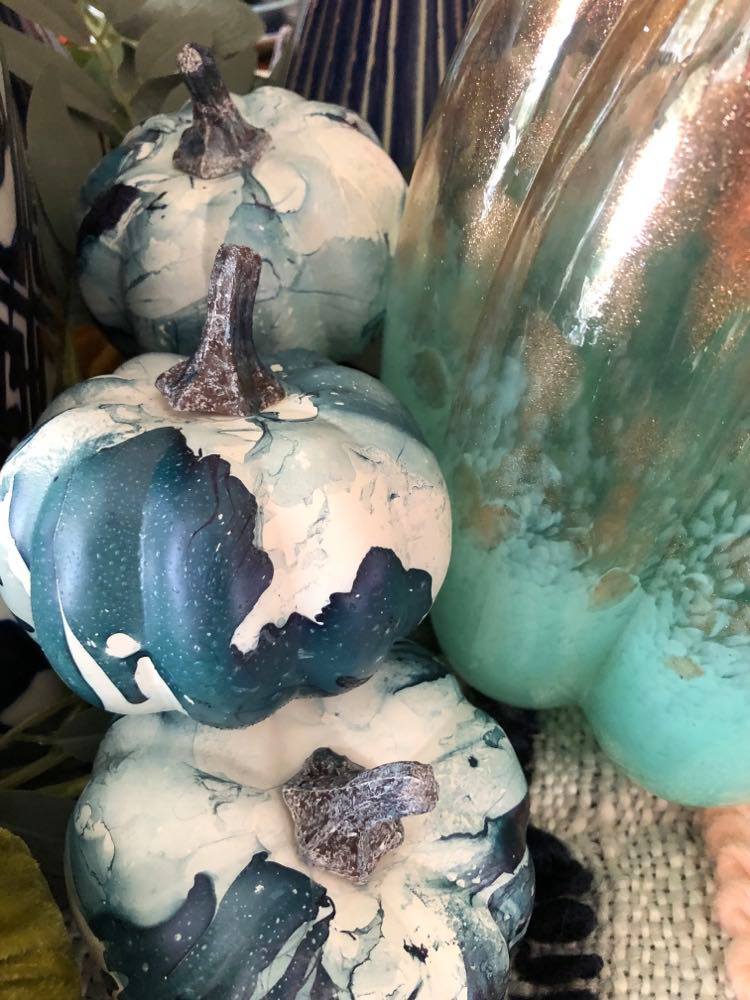 A eucalyptus garland and orange Chinese lanterns bring in fall color in a not-so-subtle way!
Here are some things you might consider adding to your Thanksgiving table:
Pumpkins, pumpkins, and more pumpkins!
Charger plates that anchor each place setting and catch any spills from the plate
Think outside of the box when choosing a tablecloth. Try a large blanket, yardage of fabric, or even curtain panels.
Include unusual color in your tablescape. Compliment russets and golds with navy, purple, blush pink, and teal!
Keep extra plates on hand in case of last minute guests. It is the time for sharing!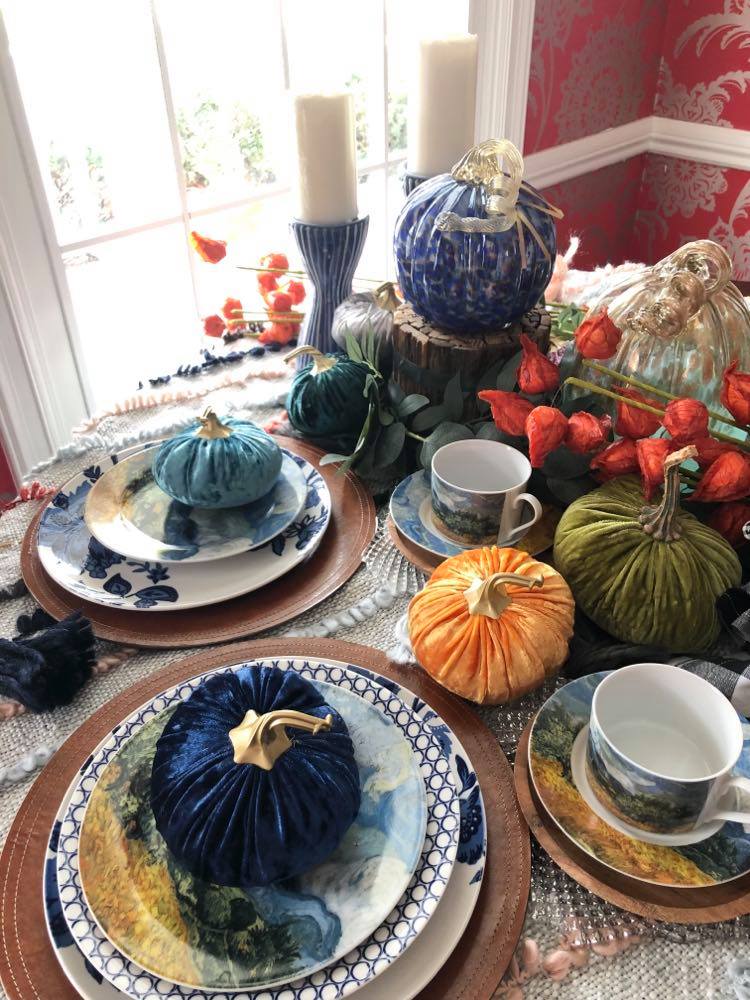 I don't say it enough. I am reminded every day of how grateful I am for YOU! Thank you so much for going on this journey with me and allowing me to share my home decorating thoughts and projects with you. I am truly grateful!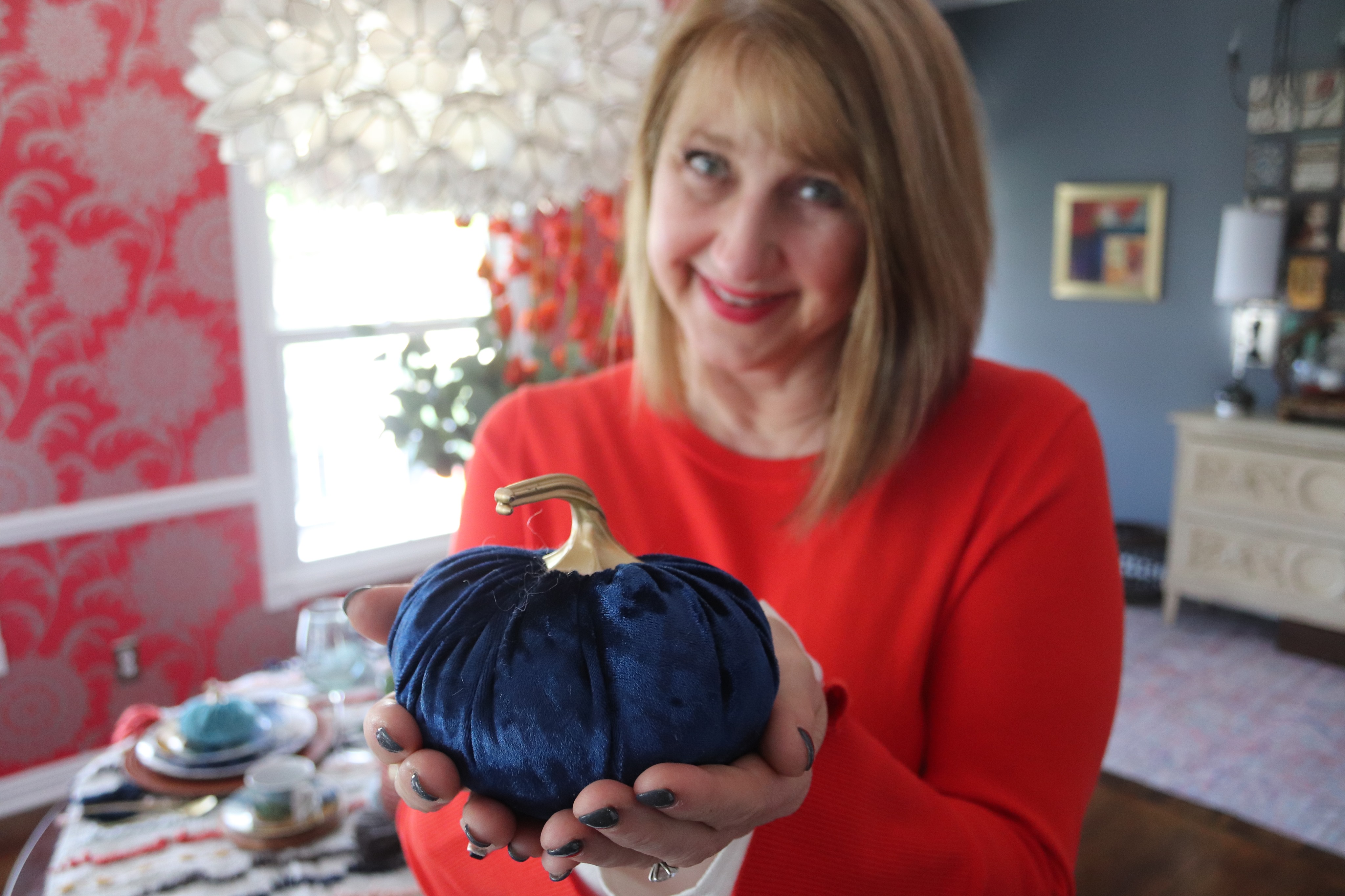 Cheers!

p.s. Need a quick dining room chair makeover? The Simplest Dining Chair Makeover
p.s.s. It's not too late! Register now for "Missy's Merry and Bright Christmas Workshop" and still get EARLY BIRD pricing! Let's get together to create, craft, and decorate for Christmas! Click HERE for details!