How to Creatively Style Pillows on Your Sofa
Creatively style your pillows on your sofa by using pillows in a variety of shapes, textures, patterns, solids, and colors.
Looking to creatively style pillows for your sofa? Ditch the matching pillows that came with the sofa.
Sonata Home Design is a participant in the Amazon Services LLC Associates Program, an affiliate advertising program designed to provide a means for us to earn fees by linking to Amazon.com and affiliated sites. Additional affiliates links are also included for your convenience.
Whoa! That is a strong statement right out of the gate! Ditch the matching pillows?
What? No chit-chat about how much I love pillows? (A lot!)
Or how many pillows our dog Bentley has chewed up? (A LOT!)
No, we are going right to my best pillow styling tip: Ditch the matching pillows that came with the sofa.
Now your sofa is a blank slate and you are the pillow arranging ARTIST!
So, start with a blank sofa.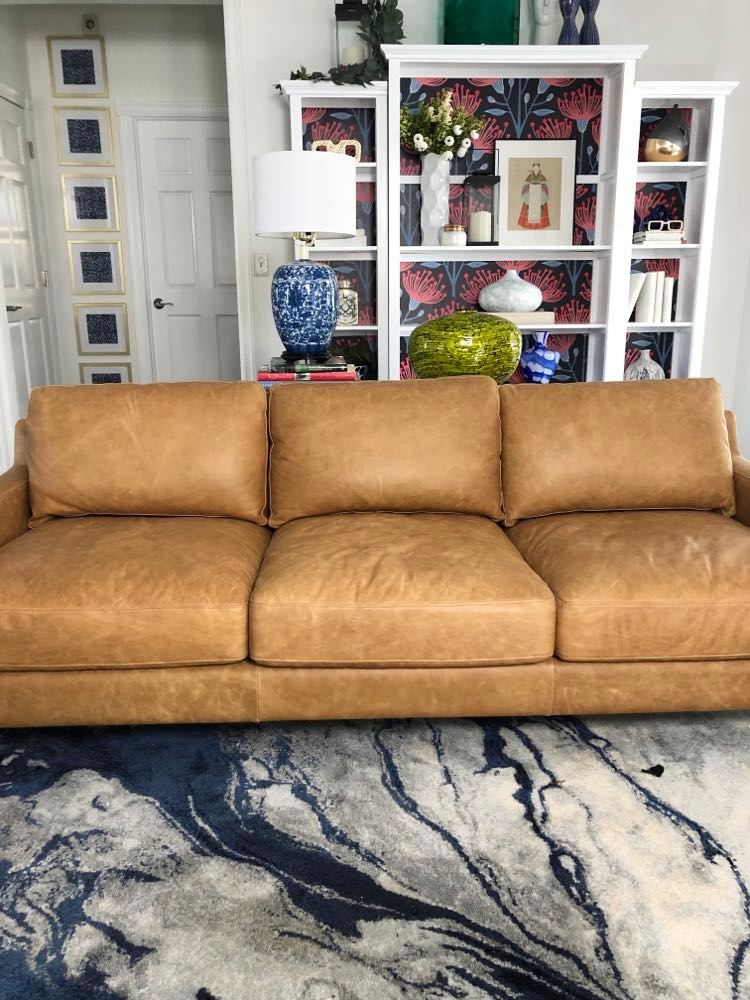 This is our new leather sofa that I ordered from Amazon. We could not be happier with it. Soft, stylish, and perfectly scaled for our room…I can't say enough good things about it. You can see the details and order it HERE.
Our living room makeover kind of centered itself around the leather sofa. You can read about it here. A Living Room Revamp that is Bright and Colorful
Some of you have asked about our rug. It is possibly one of my favorite things in the room! You can see the rug HERE.
Now, on to the pillows!
Let's Style Pillows on Your Sofa!
Think of all the pillows you own.
I'm guessing you miss have quite a few?
Sometimes is a good idea to "Marie Kondo" your pillows to really take inventory of what you have.
That's right! Throw them into one big pile and you might be amazed at the number.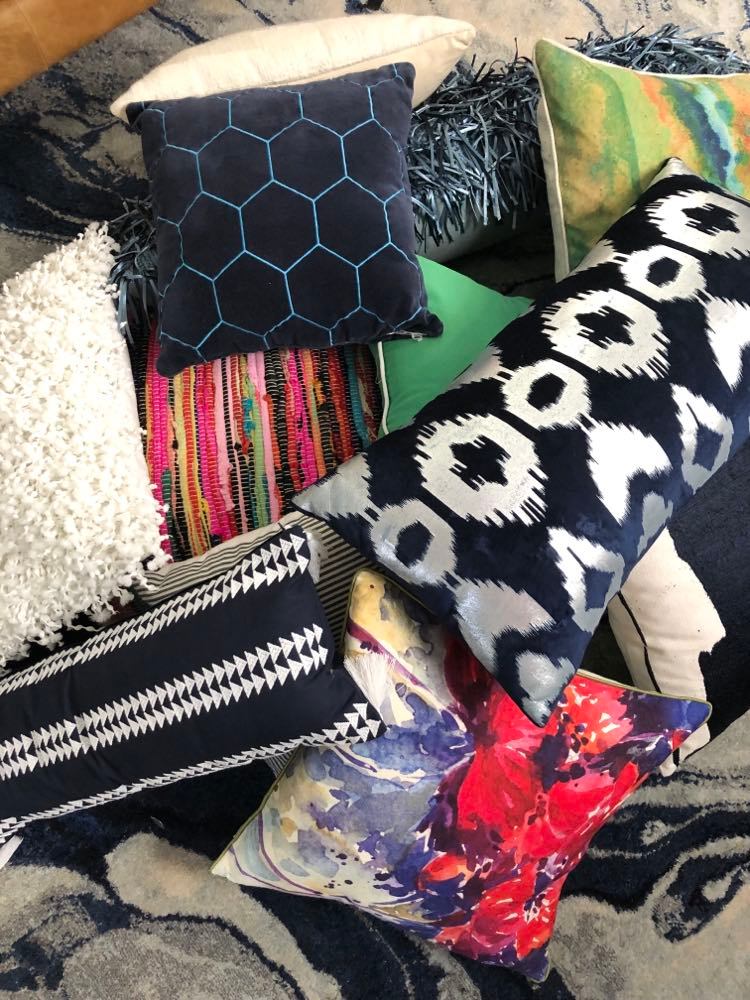 You might also be amazed at the combinations that you didn't think of before.
A Neutral Style for Your Sofa Pillows
When I say "neutral", I really mean blue. LOL!
Neutral may mean something completely different to you.
But, basically, it means you have selected one color to be presented in various shades, patterns, and textures.
So, for my neutral blue pillow scheme, I am focusing on shape, pattern, and texture.
Always texture! (This is what keeps it from becoming boring and makes you want to snuggle in!)
Square pillows. Check!
Rectangular pillows. Check!
White textured pillow. What?
Yes, I am including a white textured pillow to serve as a backdrop and to provide needed texture. Plus, the white pillow "pops" against the brown leather and the blue pillows "pop" against the white pillow.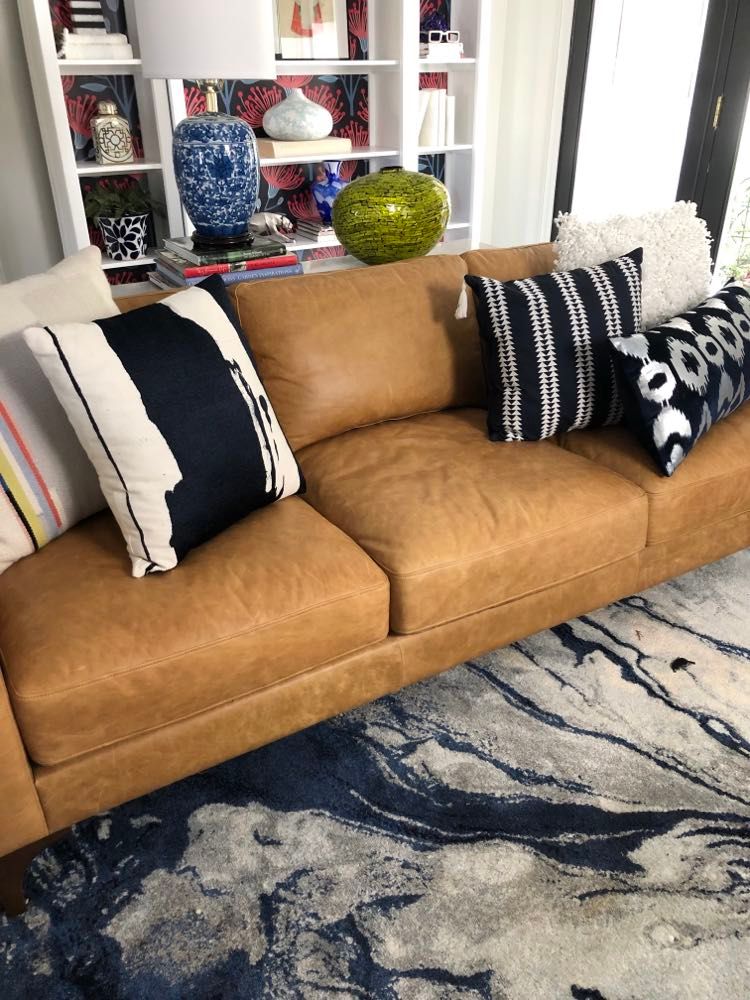 Don't hesitate to throw in other textures like this white faux fur throw rug. Oh, it is so deliciously soft! You can order the faux fur throw rug HERE.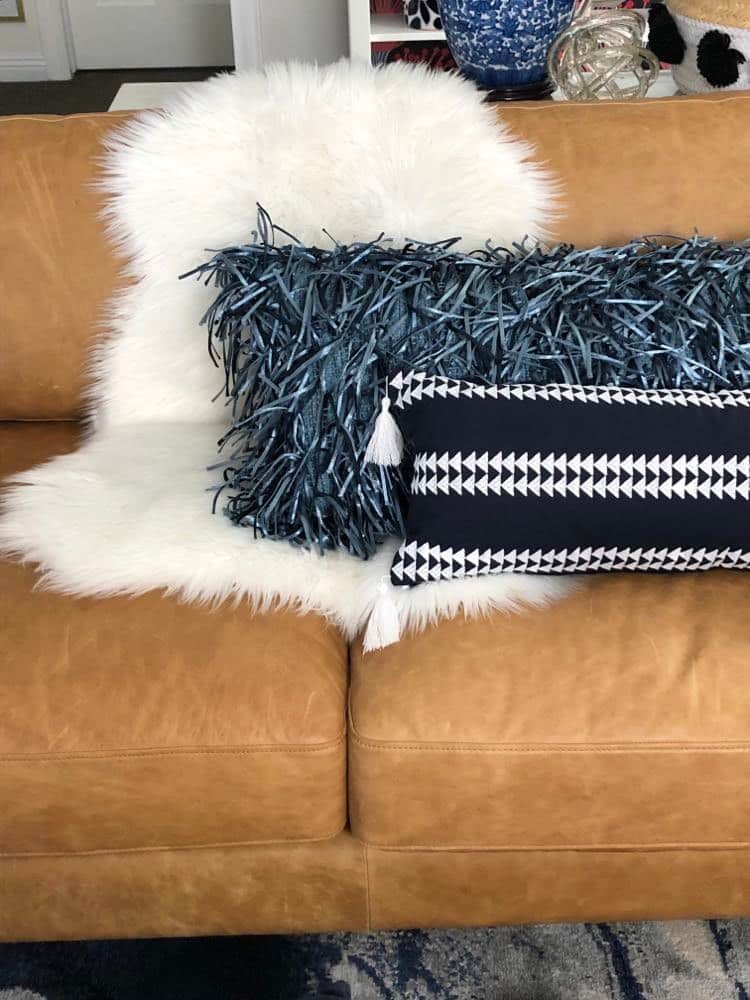 A rectangular lumbar pillow is always a great change of pace when it comes to the shape and size of a pillow. It pairs beautifully with a square pillow. You can see a similar pillow HERE. Also, another one HERE.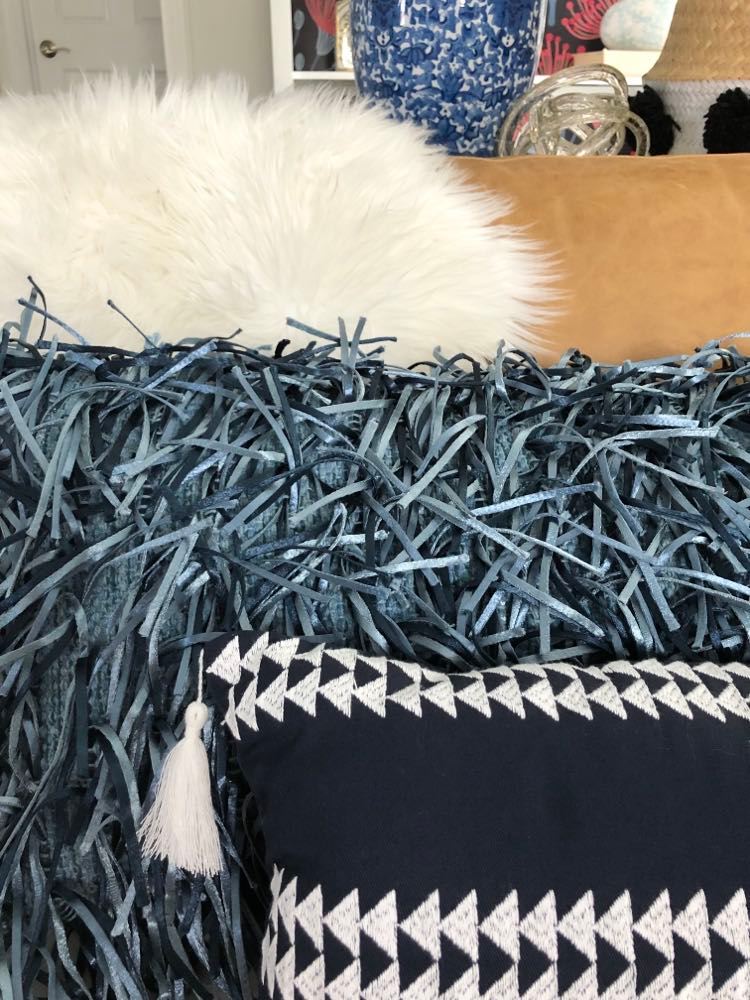 How about some COLOR when your style your pillows for your sofa?
Maybe you would like to add a little color to the arrangement? (Now we're talking!)
Create your arrangement with these three types of pillows in mind. Texture, pattern in both large and small scale, and solid.
In this arrangement, the blue lumbar pillows serve as both a textural and solid pillow. The other pillows pull their color from the large square abstract pillow in the corner.
Do you see it? Texture, pattern, and solid!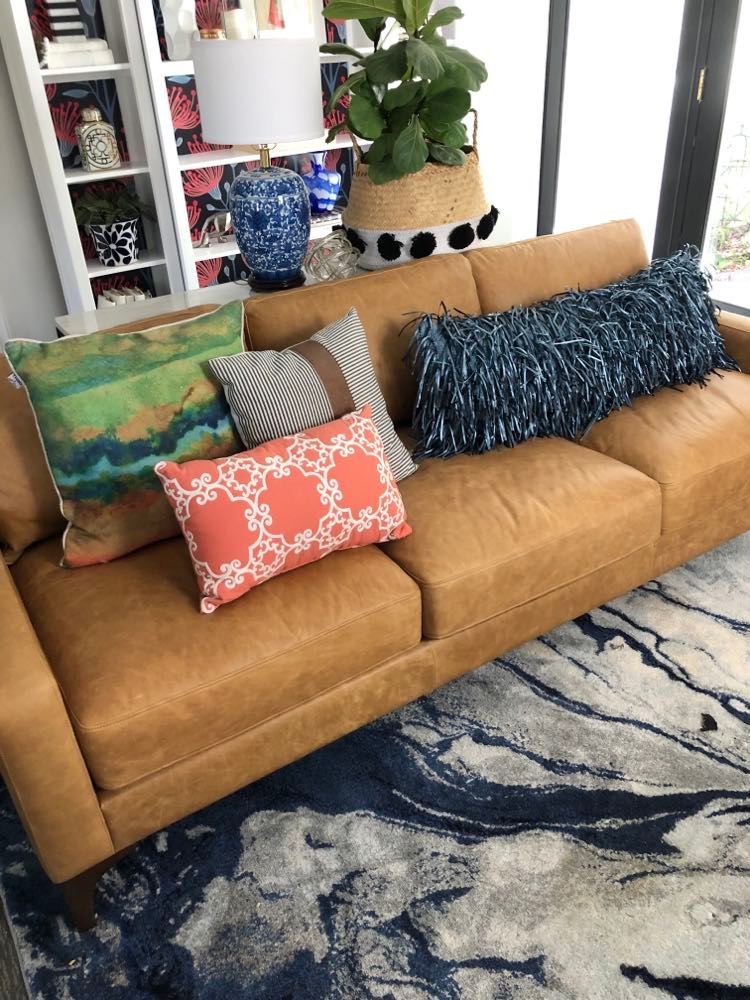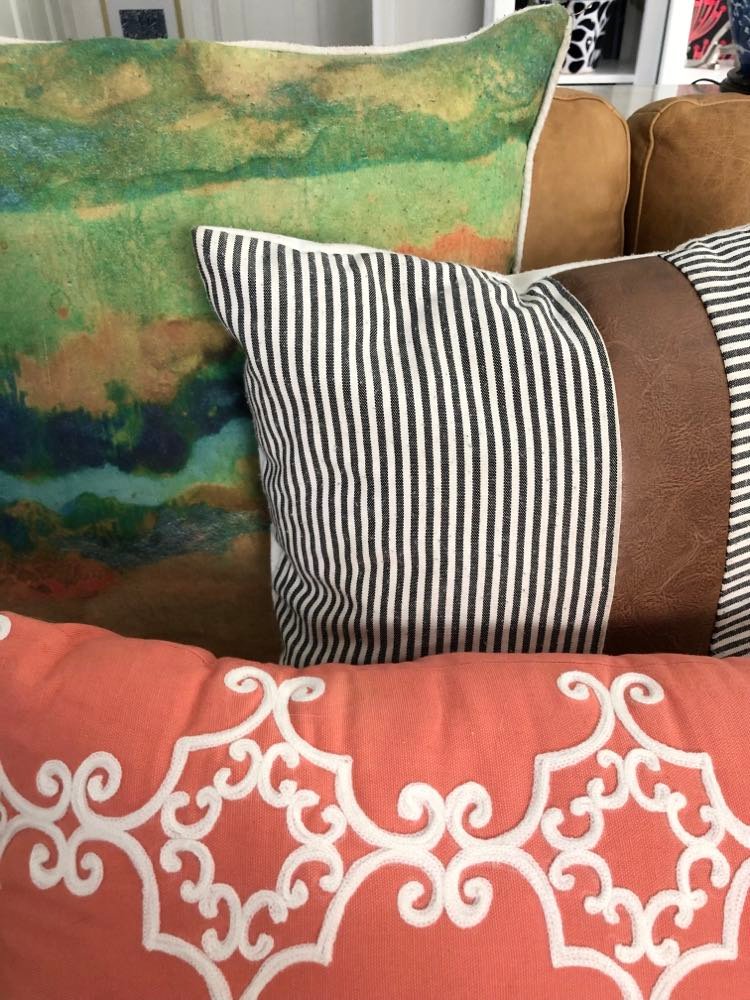 This is one of my FAVORITE pillows! It goes with everything! You can see it HERE.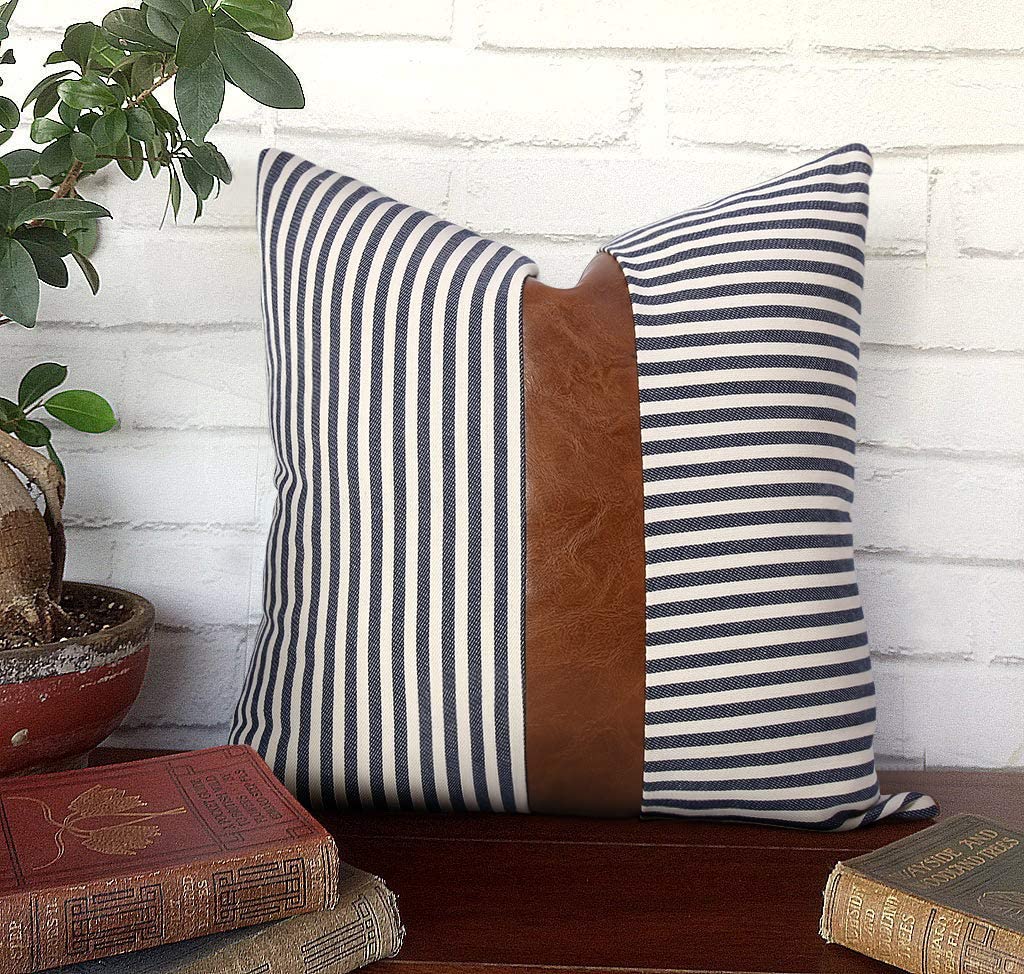 Here are some other pillows that are similar to the photo: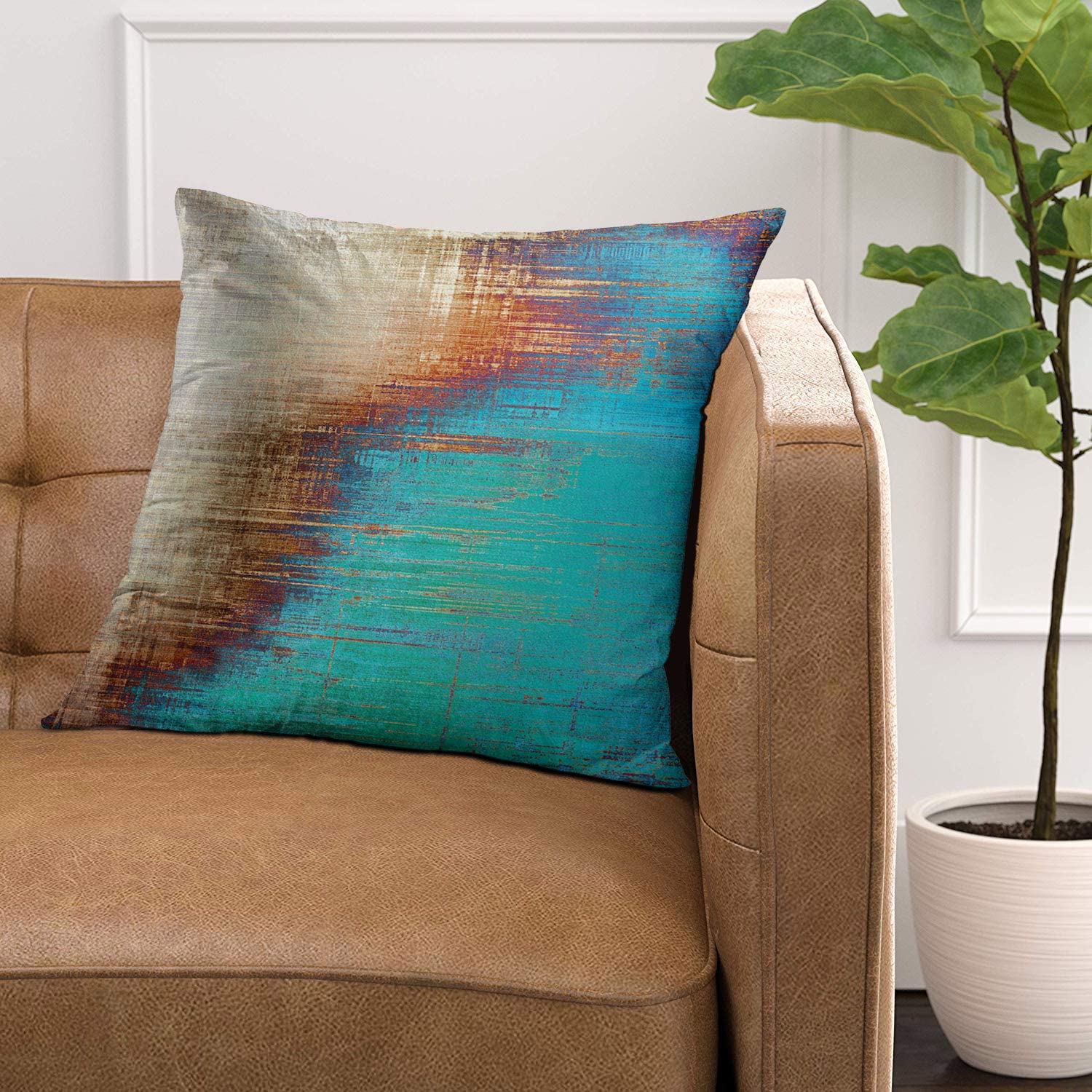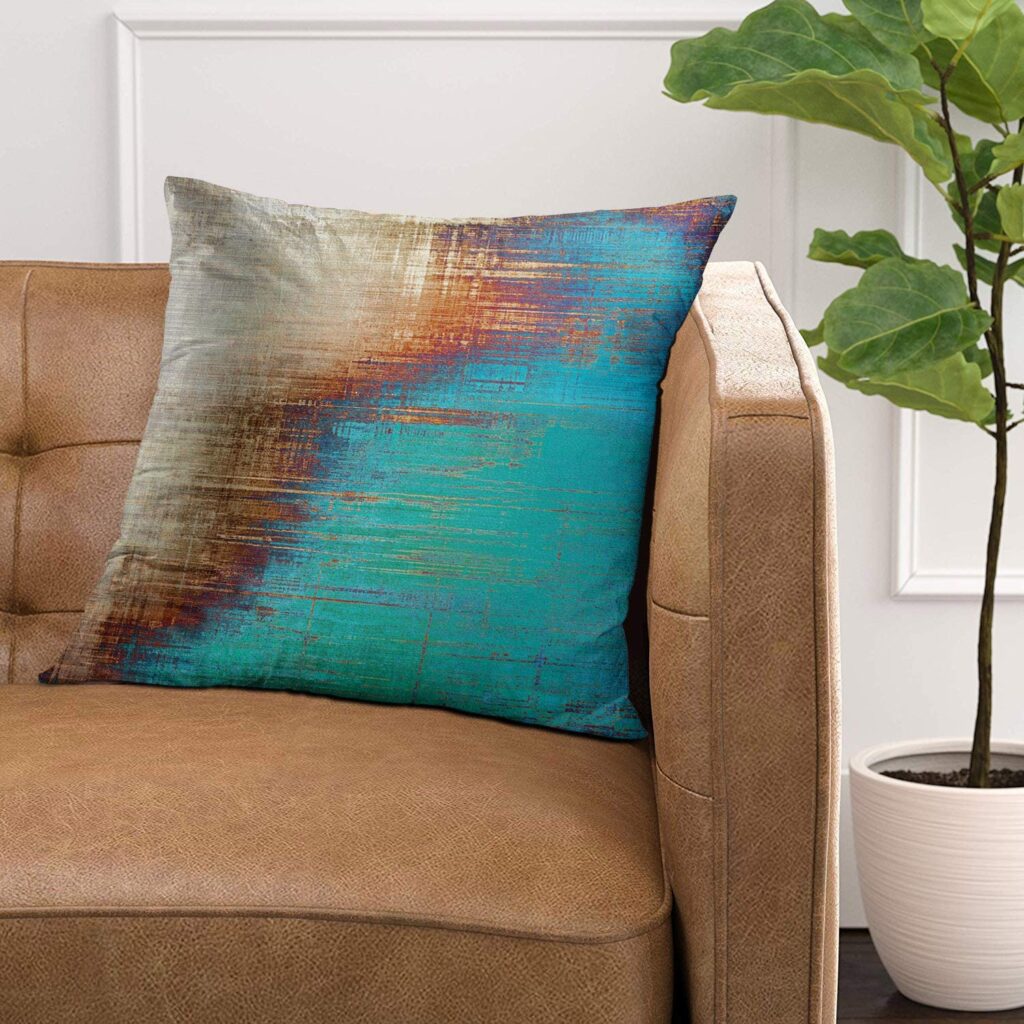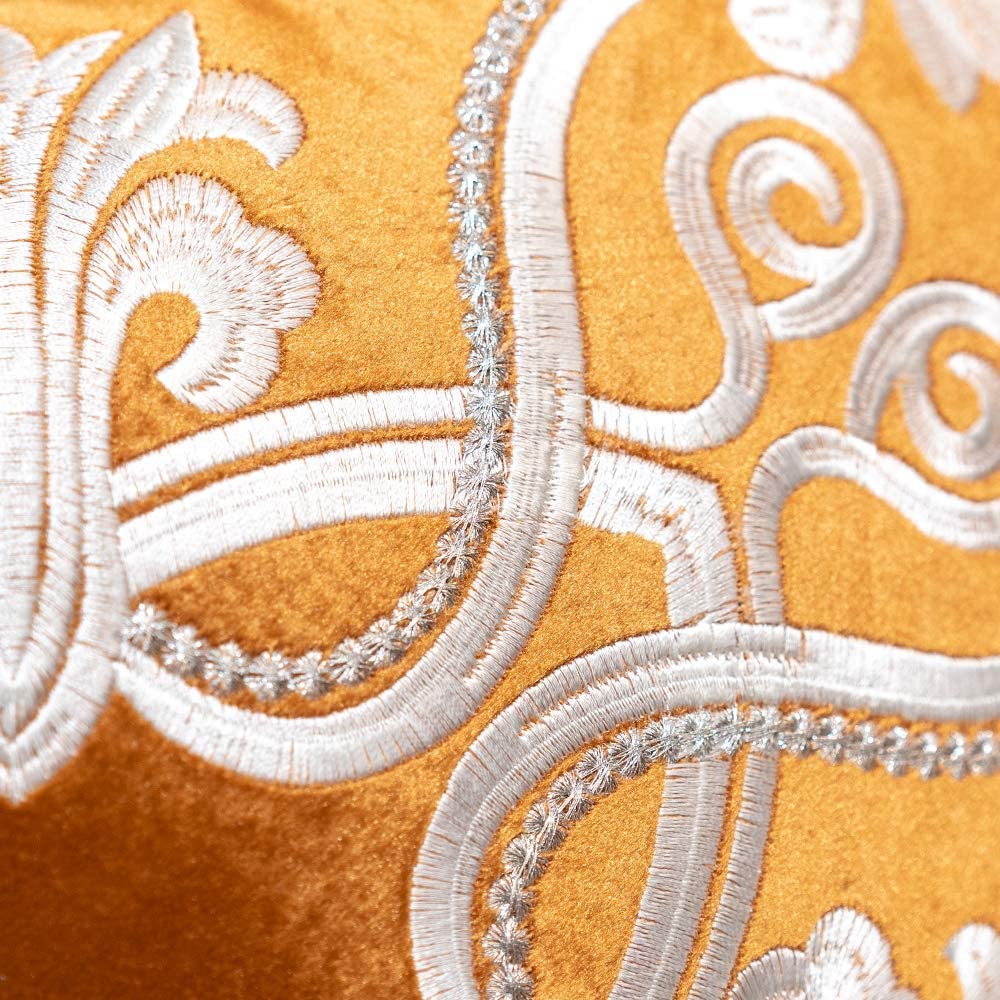 How about some BOLD color?
Ok, time to break out the bold color!
Pinks, greens, reds, and blues…set against a classic leather sofa…
It works!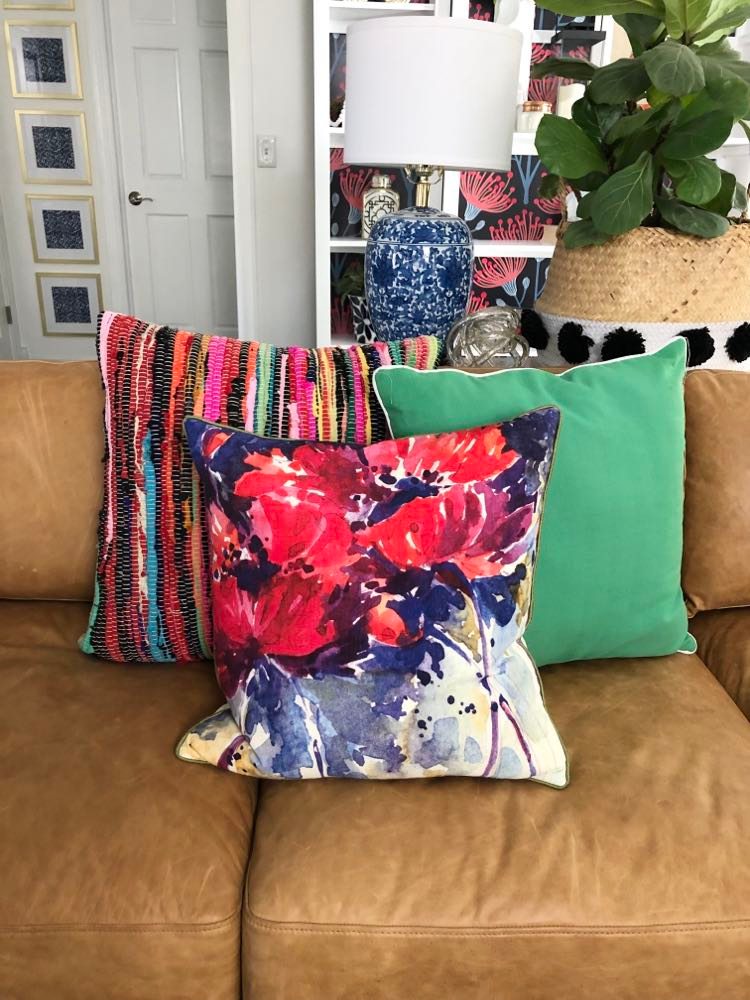 This brightly colored stripe pillow from Boutique Rugs is another one of my favorites. I move it to different spots throughout the house and it always works! You can see a version HERE. (Get 60% off with the code SONATA60)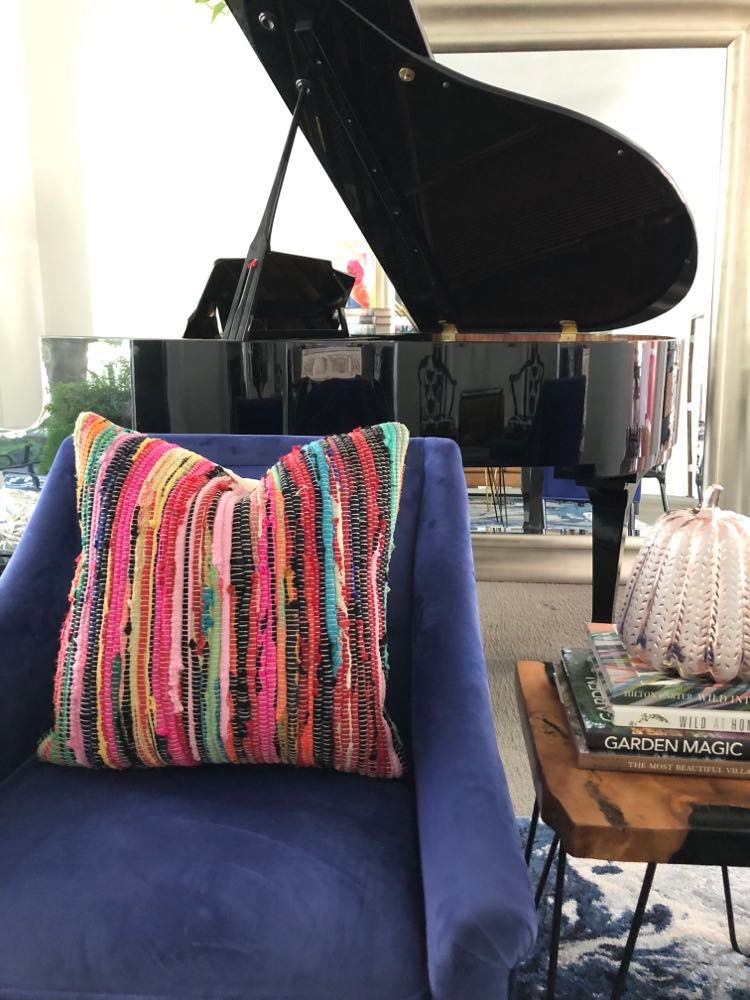 Holiday Pillows
Looking for a clean, crisp holiday look? (Yes, the holidays are coming!)
Take a couple of crisp pillows with lots of texture and use as a backdrop for one holiday statement pillow.
This plaid snowflake is quite dramatic surrounded by the other comfy white pillows.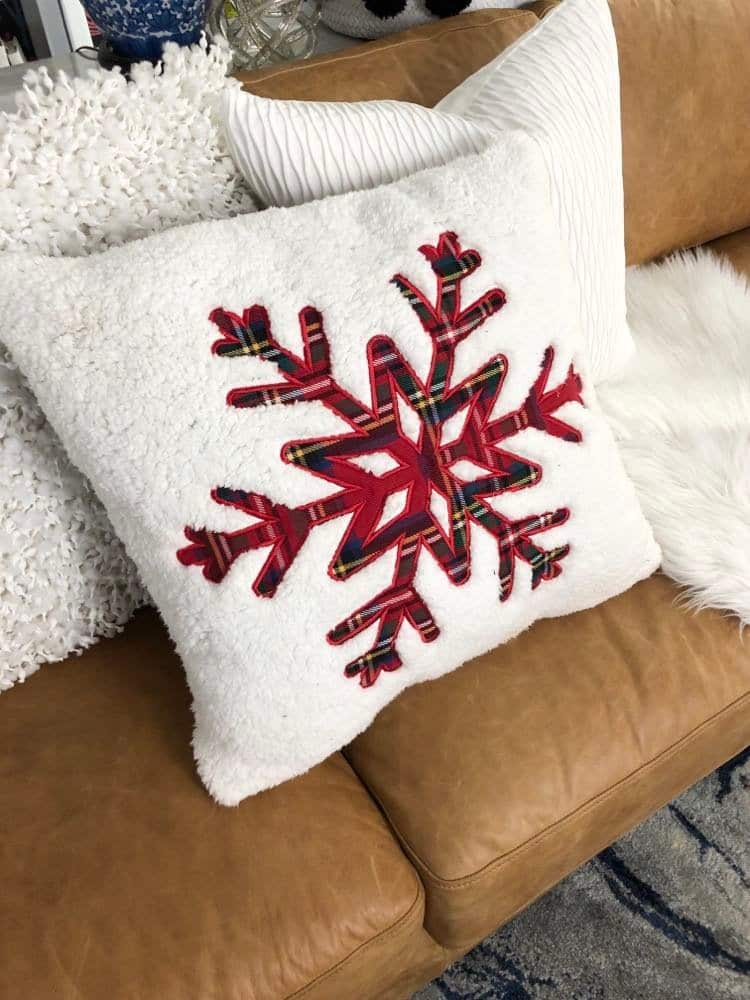 I found this pillow at Costco but you can see a similar one HERE.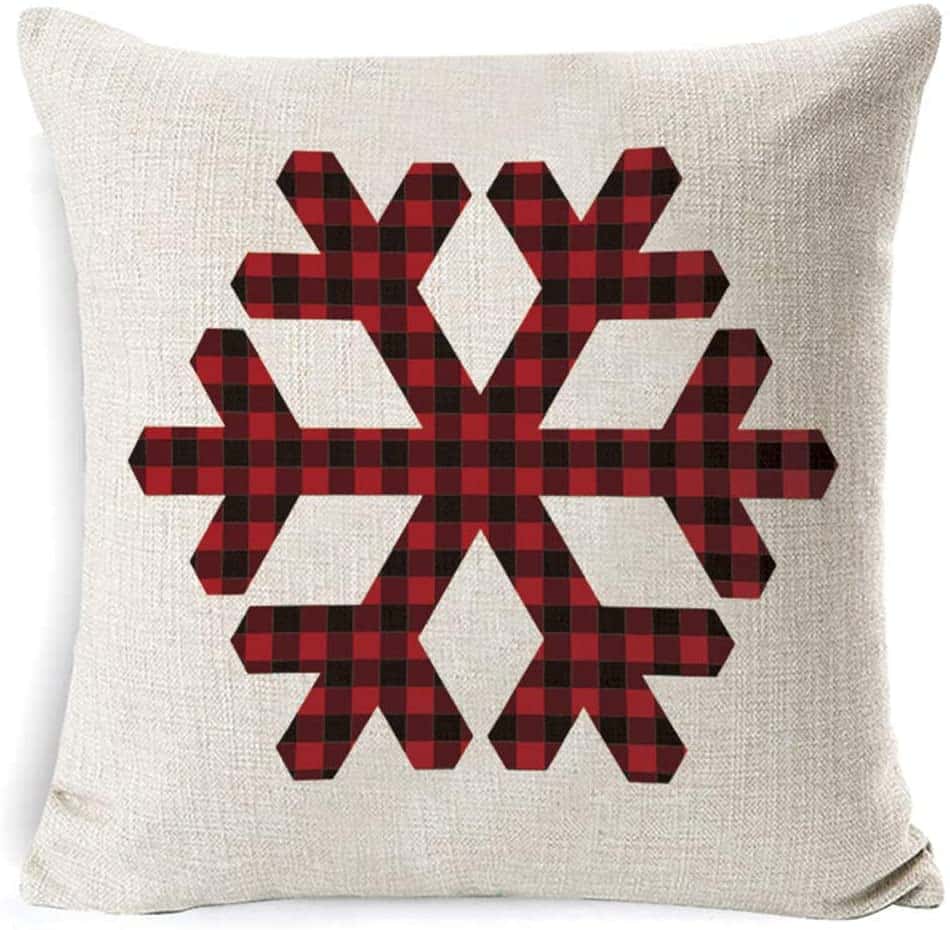 Now if I can only get the family to put the pillows back in the same place after they have been sitting there!
Suggestions anyone?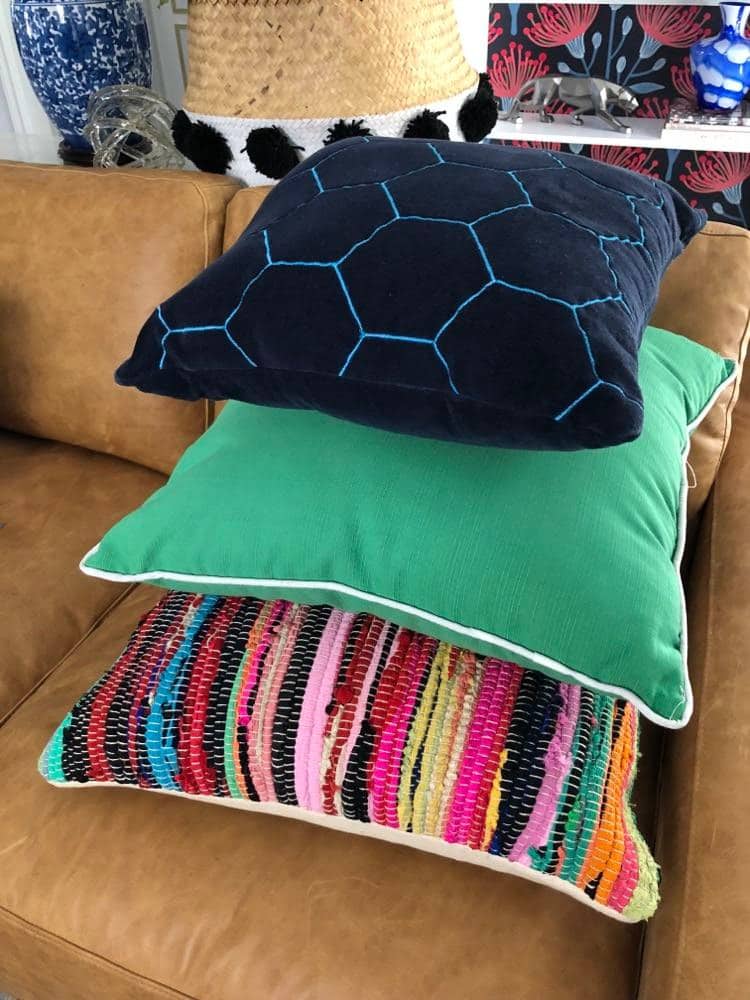 Cheers!

P.S. Looking for other quick and easy decorating tips? How about these?
An Inexpensive and Easy Wall Art Idea
An Easy and Dramatic Bookshelf Makeover Using Wallpaper
A Dining Room Makeover: One Dilemma at a Time
How to Style Glass Front Kitchen Cabinets
Don't forget to sign up for "Missy's Merry and Bright Christmas Workshop!" Early Bird Pricing will be going away soon! You can details and registration information HERE!