How to Accessorize Your Home with Bead Garland
Learn some inspiring ways to accessorize your home by using versatile bead garland in multiple ways throughout your home.
The first time I saw a decorative bead garland…
I shook my head.
Why? What is the purpose?
It doesn't hold flowers, hang on the wall, or emit a lovely fragrance.
(I love decorative home accents but I am definitely a multi-tasker with decor!)
I kept seeing them…and started to really like them!
Then it hit me…TEXTURE!
From the smooth wood of the beads to the raw, rough jute tassel…
bead garlands are a versatile layer of color and texture that enhances whatever it sits upon.
I'm IN!
If you are wondering how to decorate with a bead garland, let me give you some ideas!
***This post contains affiliate links that help to buy me coffee in my retirement. (Have a cup with me!) Sonata Home Design is a participant in the Amazon Services LLC Associates Program, an affiliate advertising program designed to provide a means for us to earn fees by linking to Amazon.com and affiliated sites. Additional affiliates links are also included for your convenience.
On a Vase
Start wrapping my friend!
Don't overthink it. Just start wrapping a bead garland around the top of a vase and let it fall naturally from the neck.
It's like jewelry that falls effortlessly over a cardigan. (Coco Chanel would approve!)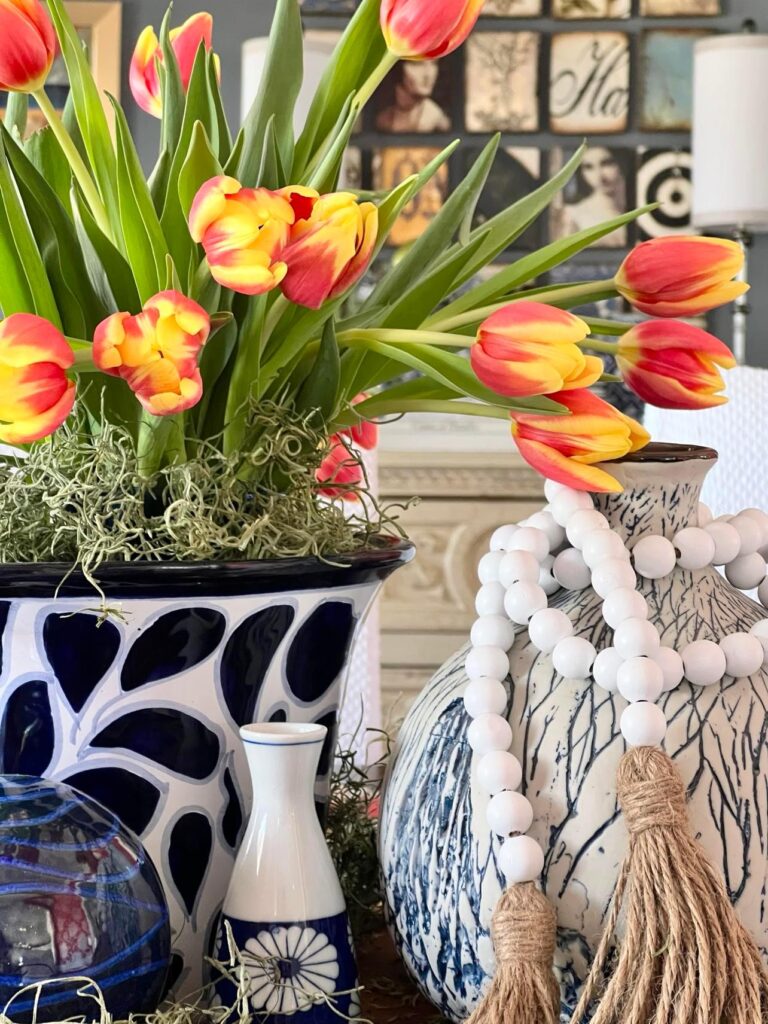 This white bead garland is one of my favorites! Substantial beads with long length and full jute tassels.
AND, it comes in lots of great colors for a great price!
You can see this bead garland HERE.
In a Dough Bowl
The beauty of a dough bowl lies in the rough texture of the wood combined with the textures of whatever you put in the bowl.
Adding beads to a dough bowl display serves to layer fabulous texture upon fabulous texture!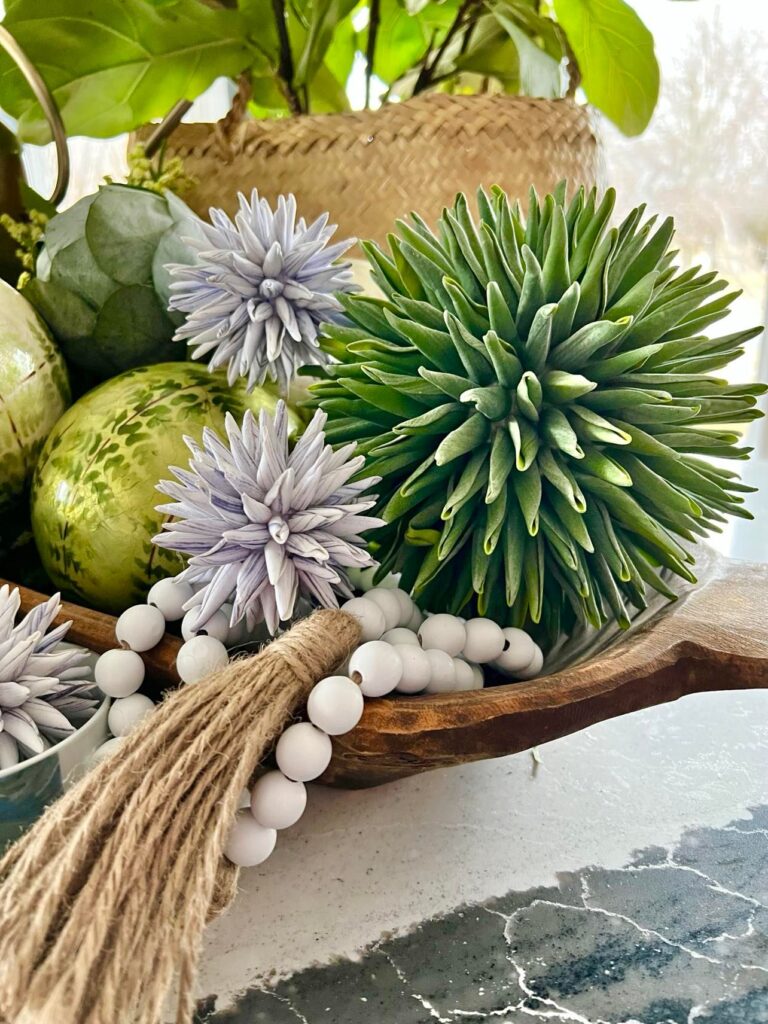 On a Lamp
Again, don't overthink. Just loop it!
This blush pink garland with jute tassels adds amazing texture and interest to this brushed gold desk lamp.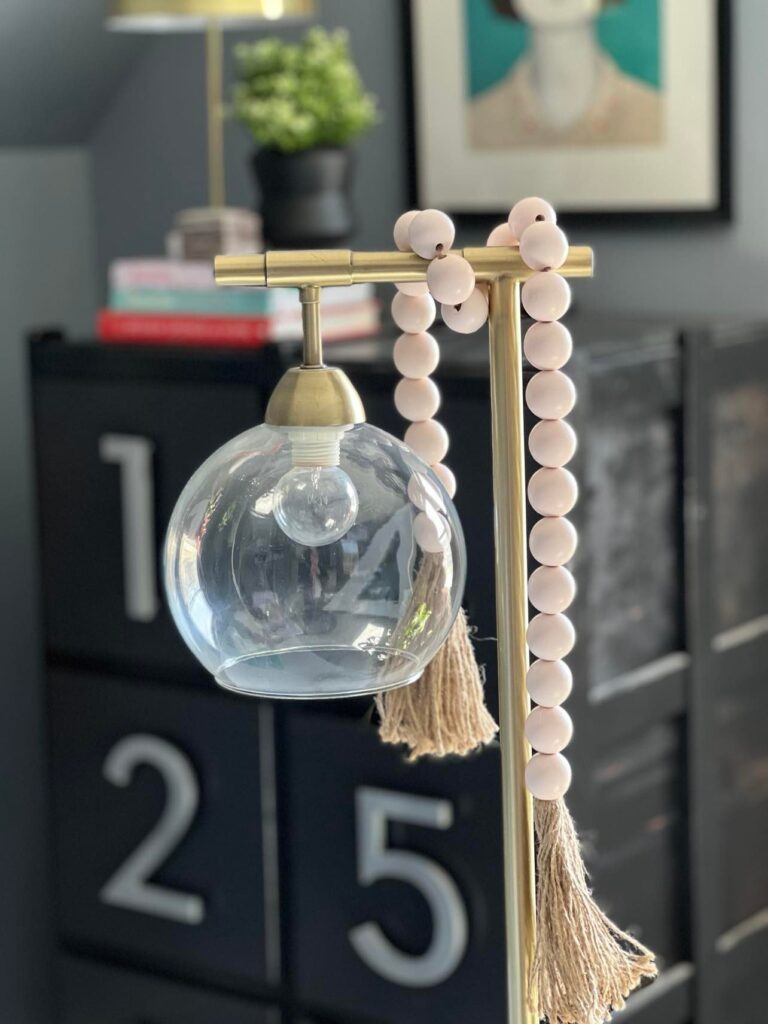 Around a Candlestick
Instead of 30 seconds, this one did take me about a full minute to create. The lip of the candlestick did not stick out very far so I played with the twists and layers of the white garland.
I managed to get three loops around the candle and created a stacked bead look for the side of the candle.
(I'm a sucker for blue candlesticks! You can see a similar one HERE.)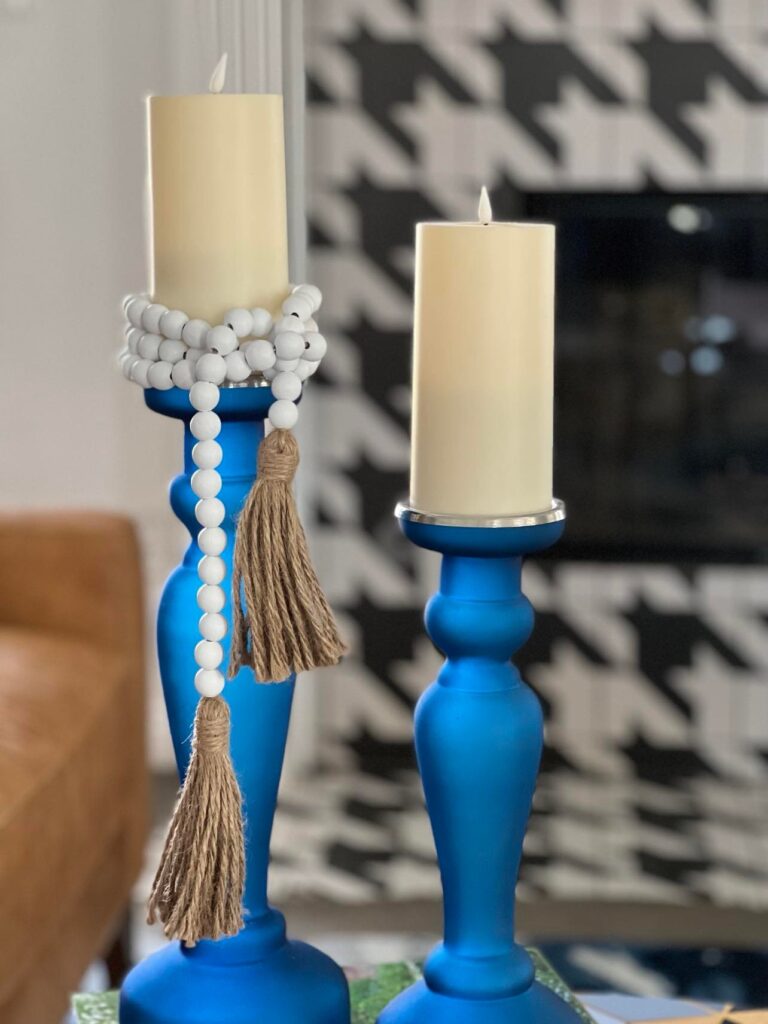 On Some Books
Well, so far, we have wrapped it and looped it. Now it is time to just pile it!
Find some books with interesting covers or book jackets and pile them on a garland in a coordinating color.
This blush pink bead garland ties in beautifully with the pinks in the book jackets.
You can see a similar pink bead garland HERE.
I'm not sure that E.M. Forster had this in mind when he wrote his books but it sure looks good!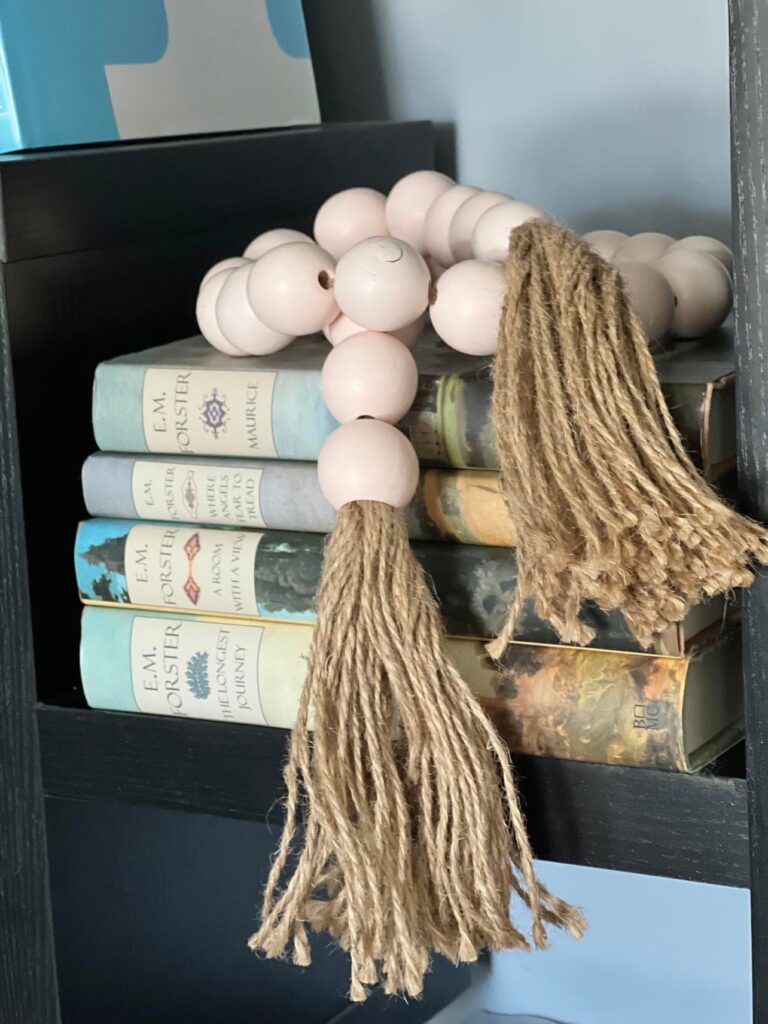 Around a Curtain
This started as an experiment.
I wasn't sure the beads would stay.
But they latched onto each like best friends and became a very functional tie-back for a curtain!
Just one loop…as if tying a shoe…and the beads held!
I love how the brown beads bring out the brown stripe in the curtain panel!
You can see a similar brown bead garland HERE.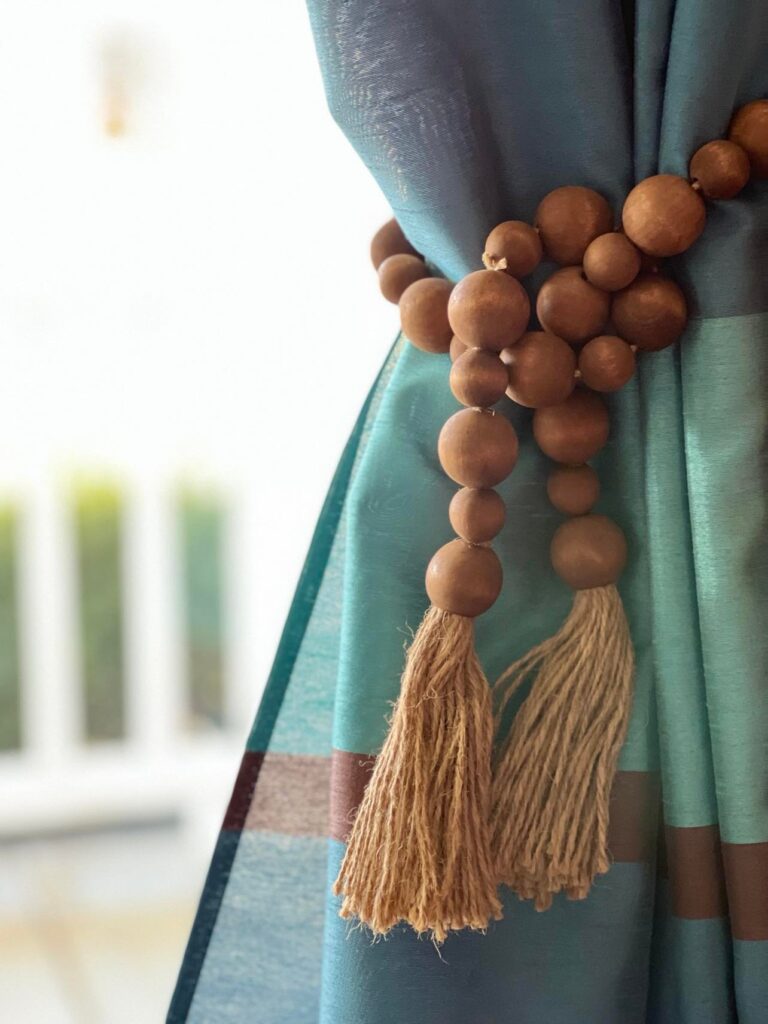 In a Glass Jar
Clear glass often enhances and showcases whatever you put in it.
For this asymmetrical glass bowl, I gathered two bead garlands in different colors and stashed them in the jar. Pull the tassels out slightly so they hang gracefully.
Could. Not. Be. Easier!
This versatile slant cut glass bowl is one of the most used items in my home decor arsenal. A real workhorse! You can see a similar one HERE.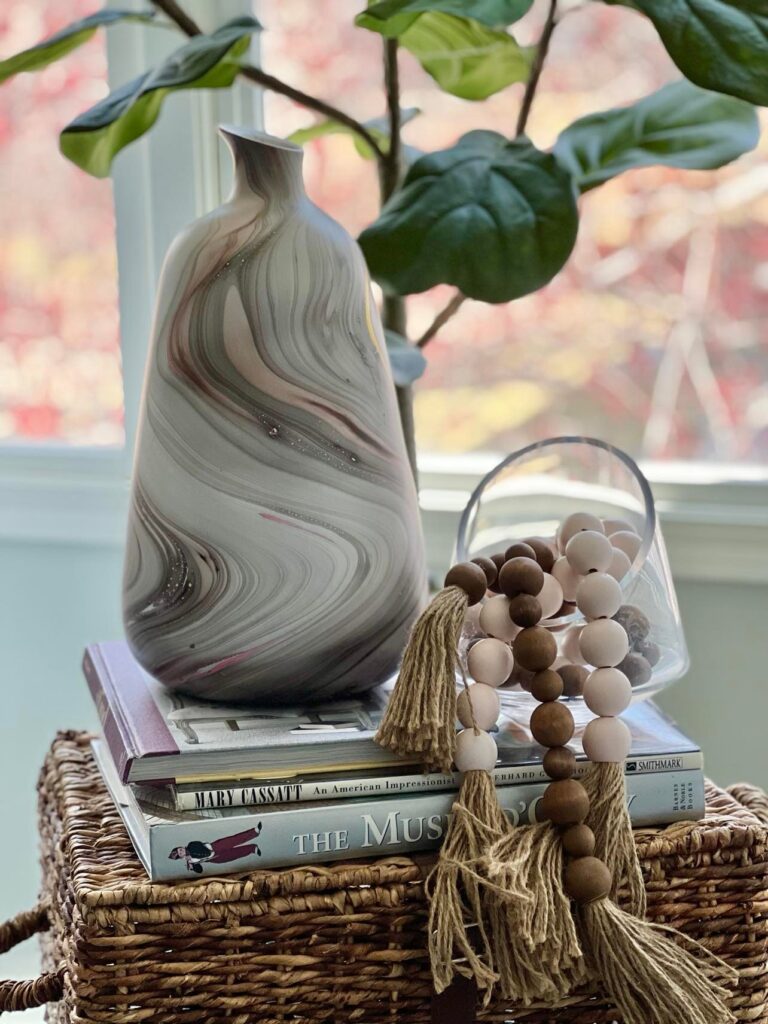 With Some Whimsy
My 9th grade English teacher wore them.
So did my mother.
Even I have worn them!
A stylish eyeglass chain attached to stylish "eyeglasses." Every house has them, right?
Possibly not. But the idea is to look for spots in your home that can use a little chuckle.
Or, at least makes a person do a double-take and then chuckle.
Now my gold frames sport a wood bead garland chain that has been draped on top of the piano.
Looking for some home decor "eyeglasses?" You might consider THESE.
I actually chuckle when I walk past these each day!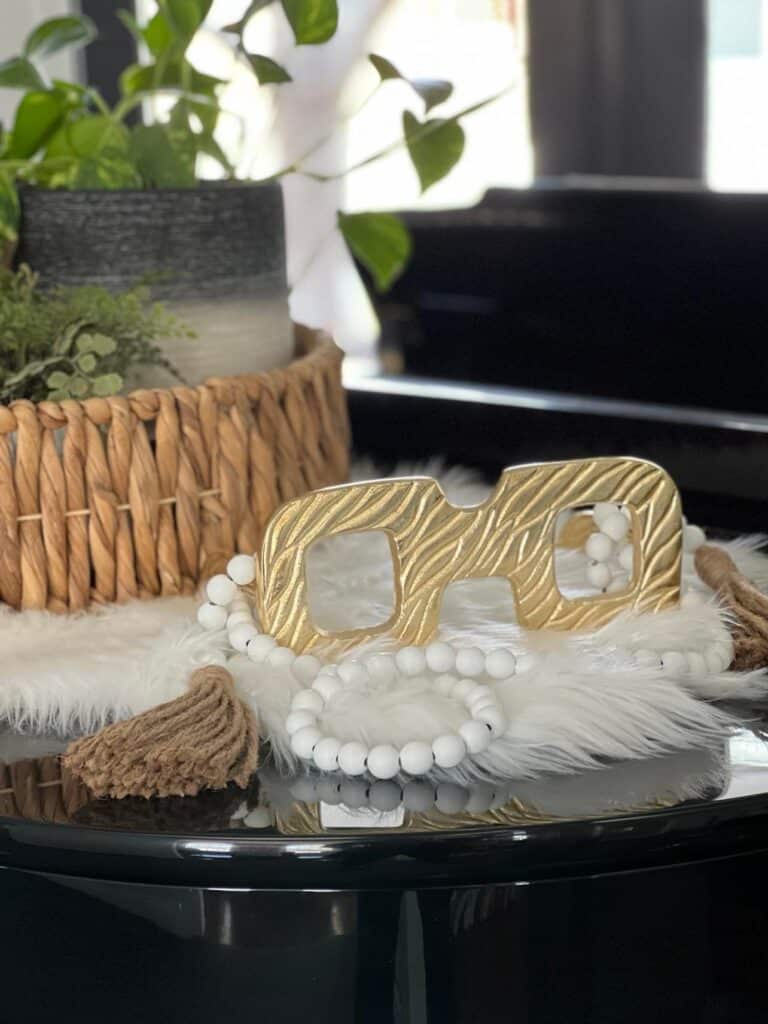 Celebrate the Holiday
With the changing seasons comes the fun of decorating for the holidays.
With Easter just around the corner, these paper-wrapped eggs look charming stacked atop a garland of blue sea glass beads that is casually draped from a plant pedestal.
Yes, bead garlands come in a glass! LOVE!
I found this sea glass bead garland in a thrift store but you can see a similar sea glass garland HERE.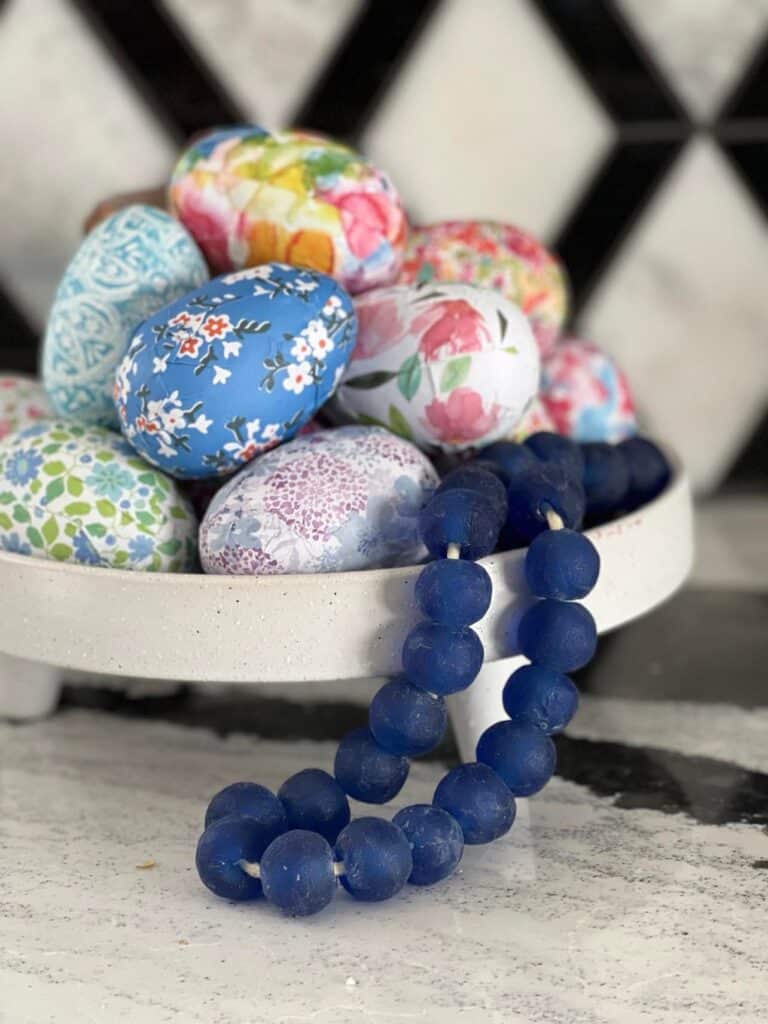 Hopefully, the verbs in this post have popped out at you?
Wrap.
Drape.
Loop.
Stash.
Pile.
The trick in decorating with bead garland is not in the HOW but in the WHERE!
Take a look around your home and discover all the places you can (verb) a garland!
If you don't see any spots, I have some "eyeglasses" you can borrow!
Cheers!

Looking for other ways to style home decor in your home? You might like these…
How to Creatively Style Pillows on Your Sofa