Dough Bowl Decorating Ideas That Will Inspire You
Looking for a way to give your home a fresh new look through your home decor? Dough bowl decorating is the perfect solution!
I discovered the joy of decorating with dough bowls and am sharing some ideas with you today. These easy dough bowl decorating ideas will add a touch of personality to your home decor. So grab a dough bowl and let's get creative!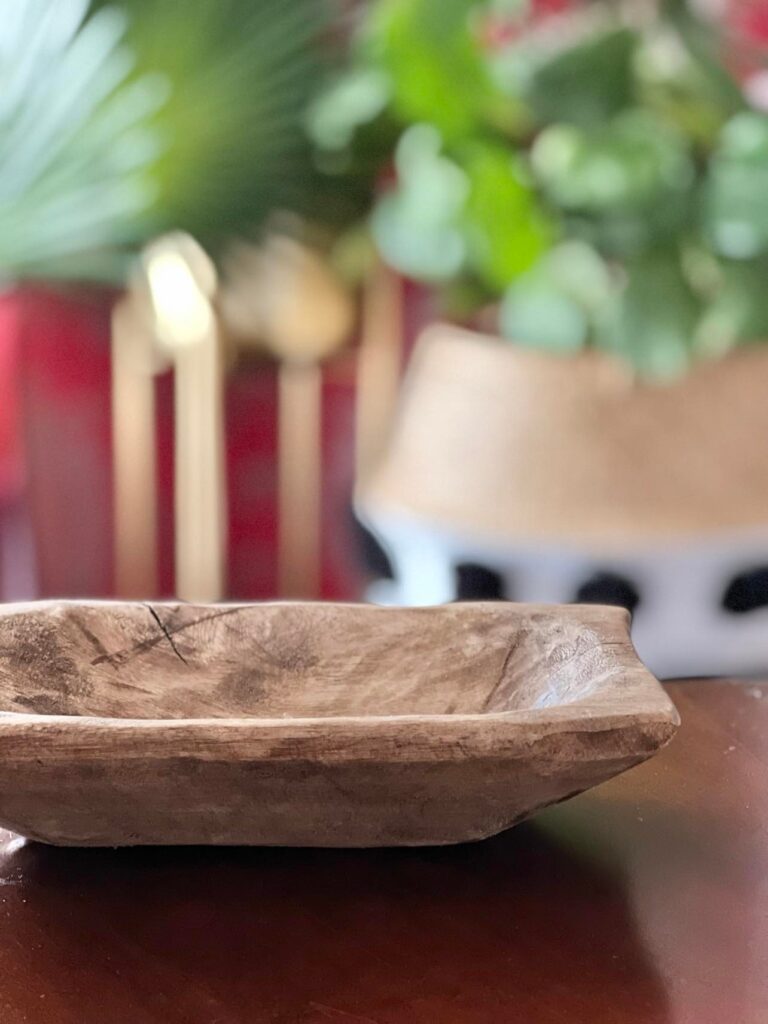 Confession time…
Two years ago, I didn't know what a dough bowl was.
Perhaps because (at the time), I was not seeing them on the hallowed shelves of Home Goods, dough bowls were not on my radar.
But, if you are a vintage shopper, you know all about these home decor gems.
(And now there are dough bowl sightings at Home Goods!)
I have learned of their existence and I LOVE them!
The Sonata Home Design blog sometimes contains affiliate links. This means that I earn a small commission if you make a purchase by using this link. The price you pay will be the same whether you use the affiliate link or go directly to the vendor's website using a non-affiliate link. My retirement fund thanks you!
So, What is a Dough Bowl?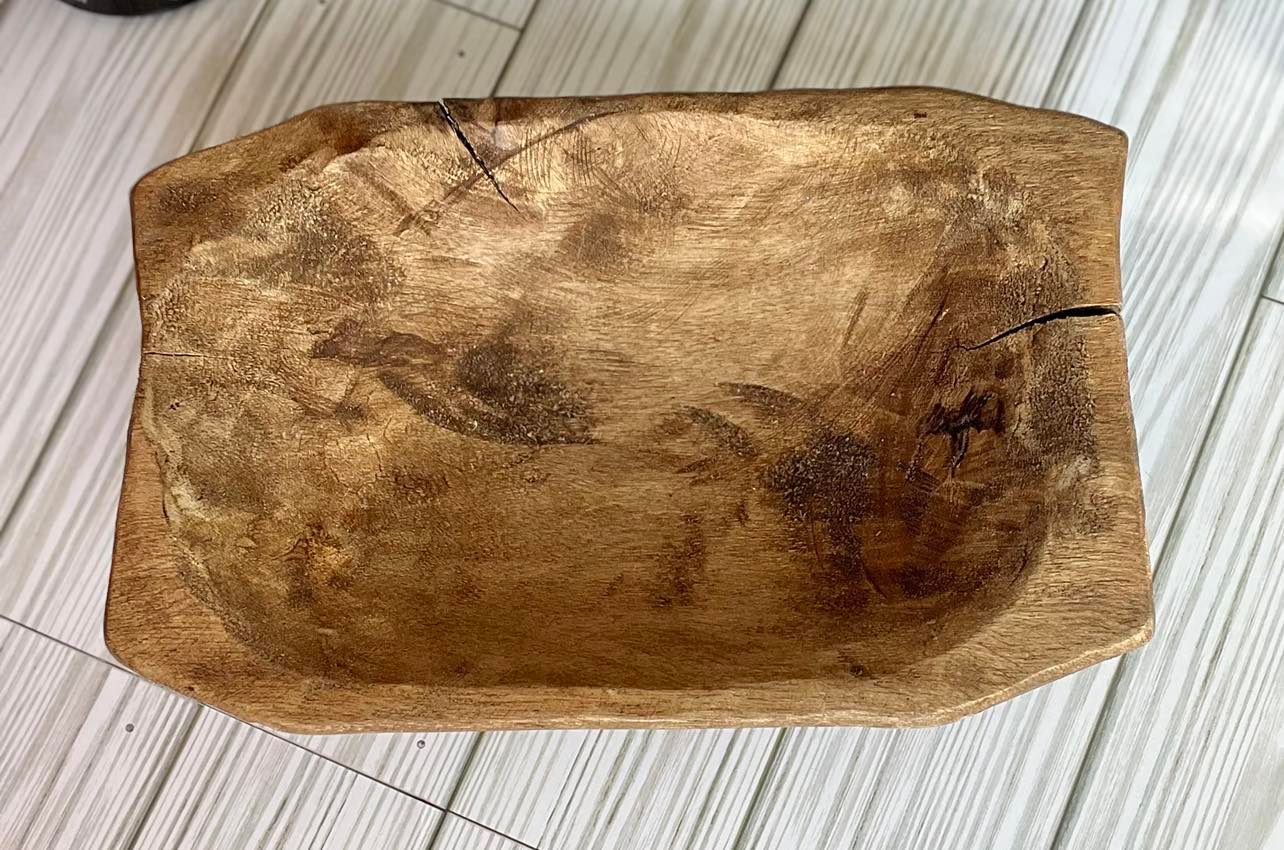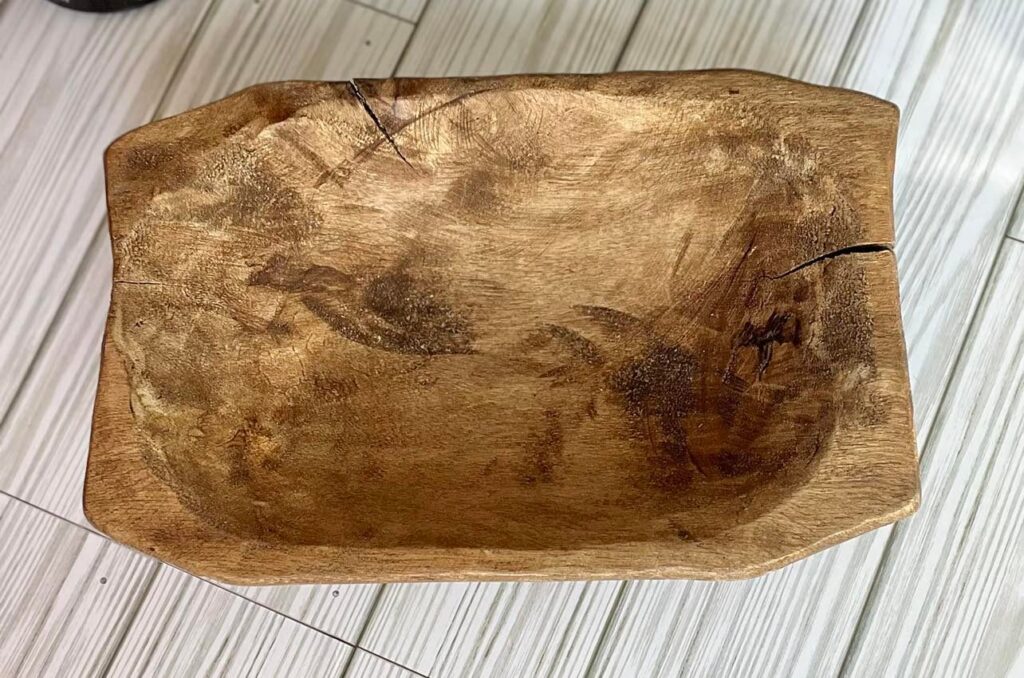 A dough bowl is a shallow bowl used for kneading dough. They are often made of wood, and sometimes have a handle on either side.
(I have visions of myself kneading dough every time I watch the Great British Baking Show. I'm afraid that's as far as my bread-kneading dreams have gone…)
Dough bowls have been used for centuries, and their history is closely intertwined with the history of bread-making. In the United States, dough bowls were brought over by European immigrants, who used them to make traditional breads like challah and brioche.
Oh, how I love a good Brioche!
Today, dough bowls are still used by bakers around the world, and they can also be found in many homes as decorative objects.
Ok, now we are talking about my world…decorating!
How Do You Accessorize a Dough Bowl?
Inquiring minds want to know!
And, our dog, Bentley evidently wants to know too!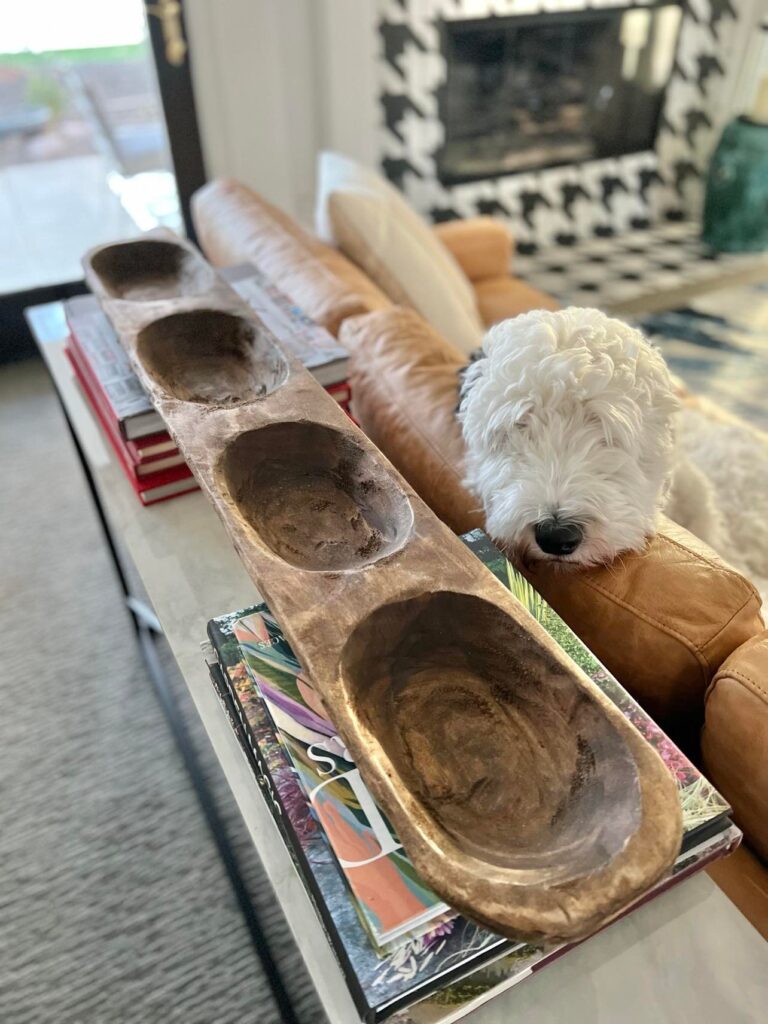 Dough bowls are a fantastic part of any home decorator's arsenal and are the perfect way to spark your decorating creativity.
A dough bowl can be used to accessorize a coffee table, end table, or even a windowsill. Dough bowls come in a variety of sizes and shapes, so finding one that fits your home's decor is easy.
The most important thing to keep in mind when decorating a dough bowl is to have fun and be creative.
Dough Bowl Fillers
Fillers are one of the best dough bowl decorating ideas
The sky is the limit!
Anything that can fit into any type of bowl can be used to decorate a dough bowl.
Use natural elements like pine cones.
Hello? They're free! And beautiful!
I gathered pinecones from our yard and bleached them before filling this narrow dough bowl.
The beautiful texture of the pinecones goes perfectly with the rustic wood of the dough bowl.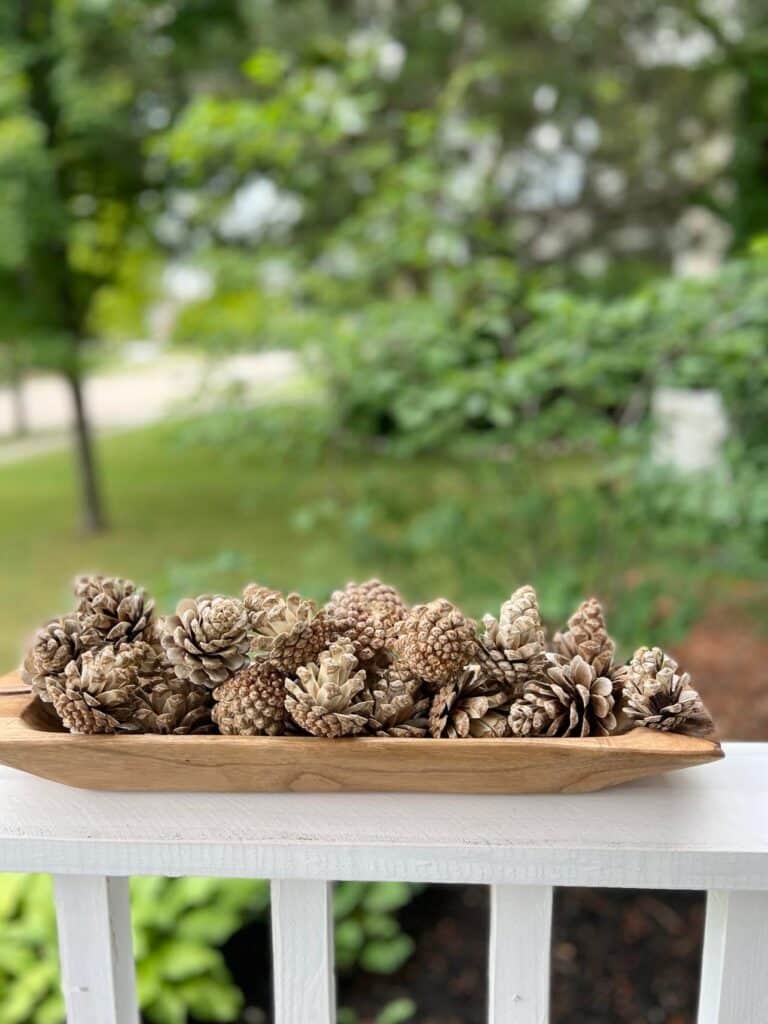 Here is the same dough bowl…
…but now just 50% rustic!
Blue and white decorative ceramic balls love finding a home in a dough bowl.
Don't you just love the contrast between the rustic and the refined?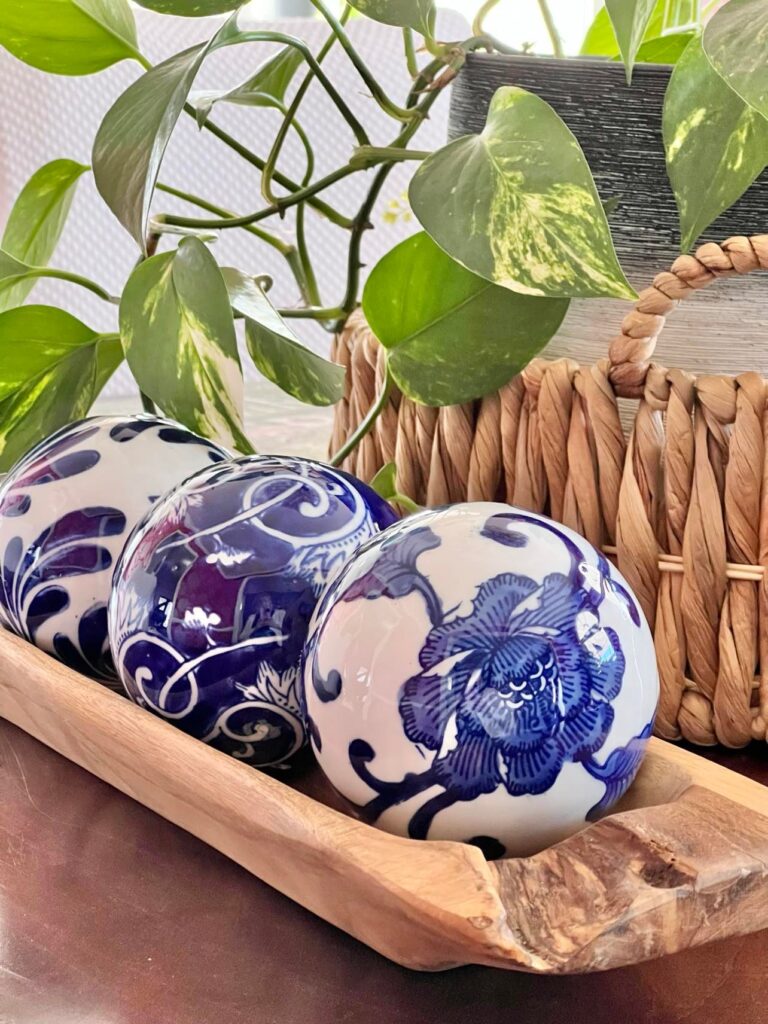 You would be surprised at how much a dough bowl can hold!
Load it up!
This dough bowl centerpiece is all about the color green.
Layered and lush…various shades of green complement each other by using faux greenery, textured balls, and wood bead garland. Lovely for a kitchen island or dining table!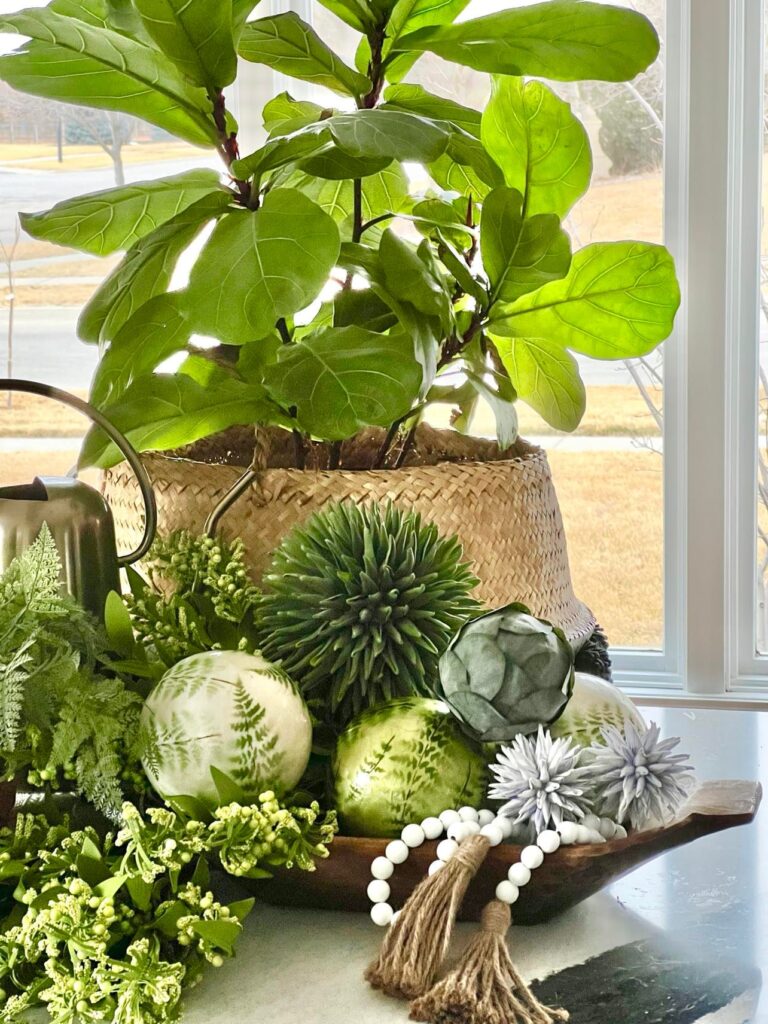 Get Sentimental with Your Dough Bowl
Do you have special photos, collectibles, or other important keepsakes?
Honor them by using them as dough bowl decor.
This dough bowl holds all of the darling little baby shoes worn by my twin daughters.
Their initials are on the bottom of each shoe.
I love the scuffs on the toes.
Now they have grown up, but I treasure the memory of their childhood through this bowl of toddler shoes.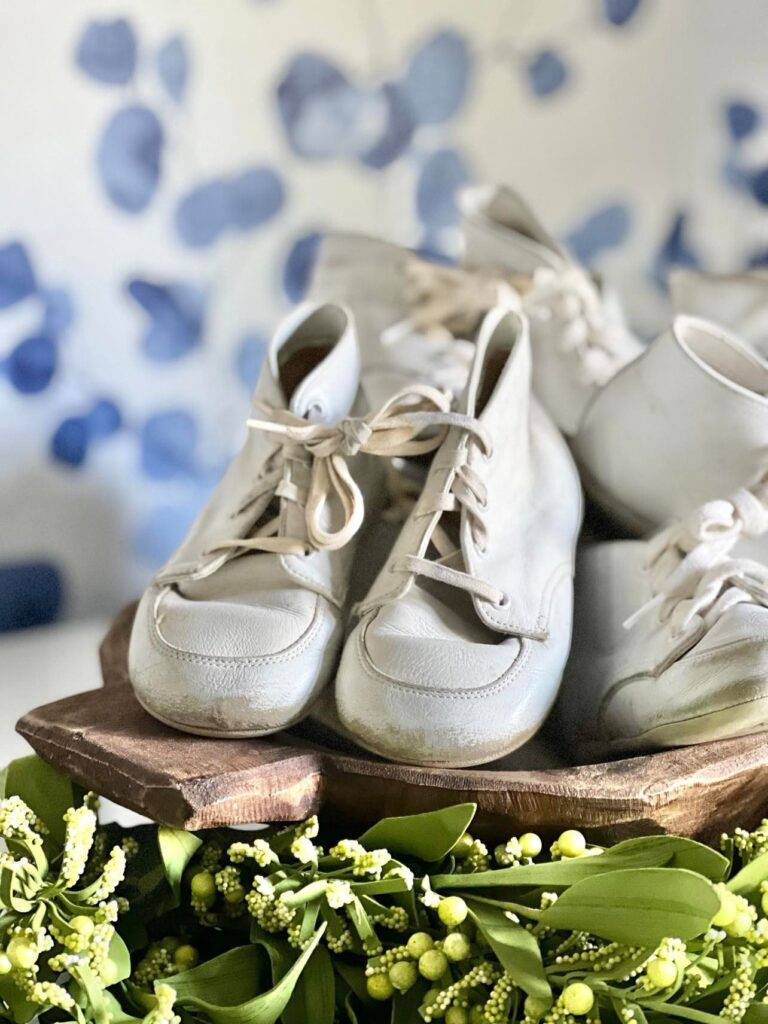 Party Time!
An obvious use for a dough bowl is to serve food in it!
Depending on what you are serving, just make sure the bowl is food-safe and watertight.
For this dough bowl pool party tray, I layered colored glass on the bottom of the bowl so the cupcakes and sodas would stand evenly.
Note that a rustic wood dough bowl can look festive and fun with bright, saturated colors!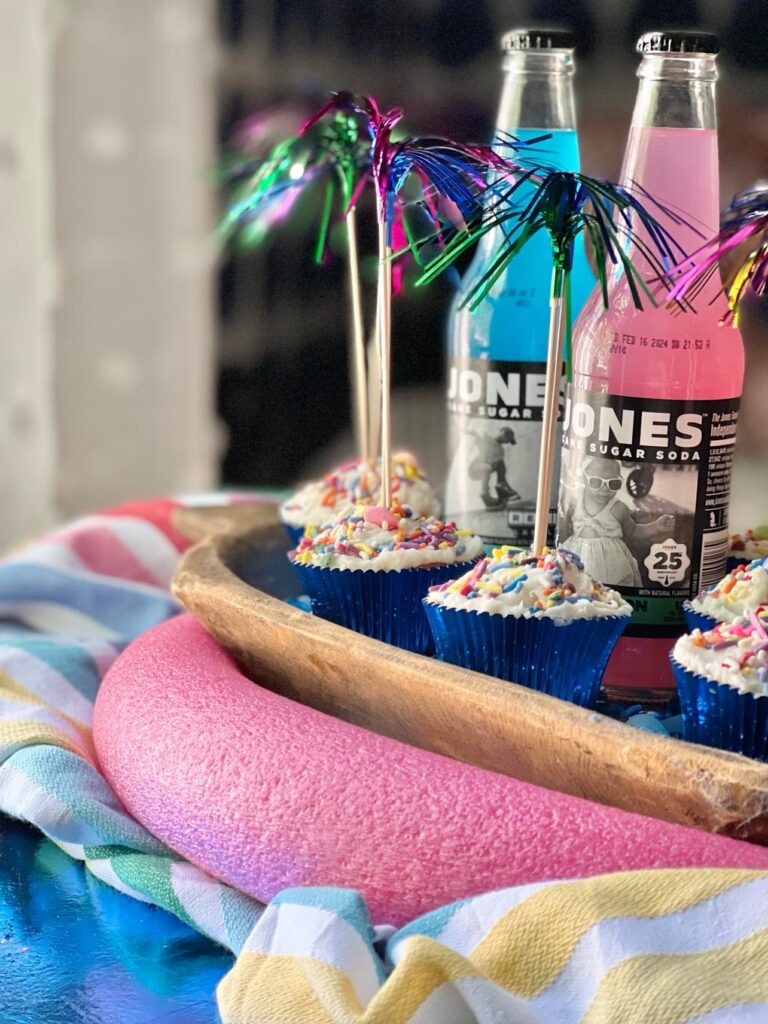 Did you know you can paint a dough bowl?
I know, I know…painting wood can be controversial.
My philosophy is…if you want to paint it…paint it!
YOU DO YOU!
This tiny dough bowl got a quick coat of white paint before I applied cut-out figures from a favorite western-themed Katie Kime wallpaper…in pink!
Now the dough bowl has the look of toile and is the perfect citronella candle holder for an outdoor picnic!
This pink pooch looks like he is hanging out by the campfire!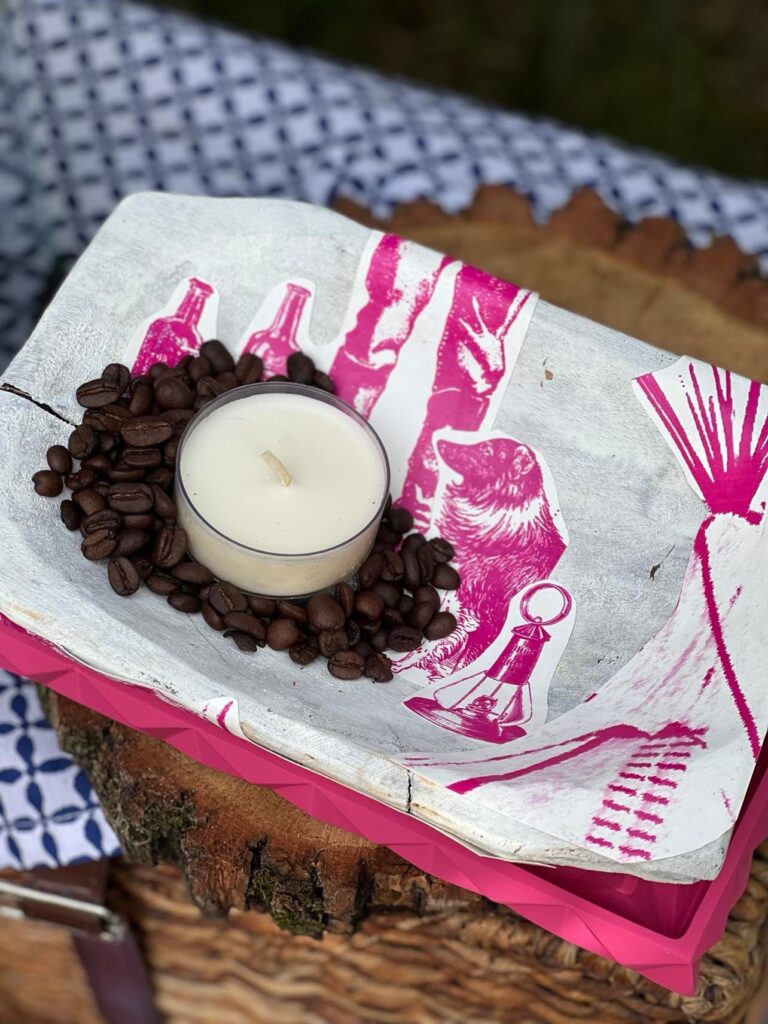 Home on the Pink Range!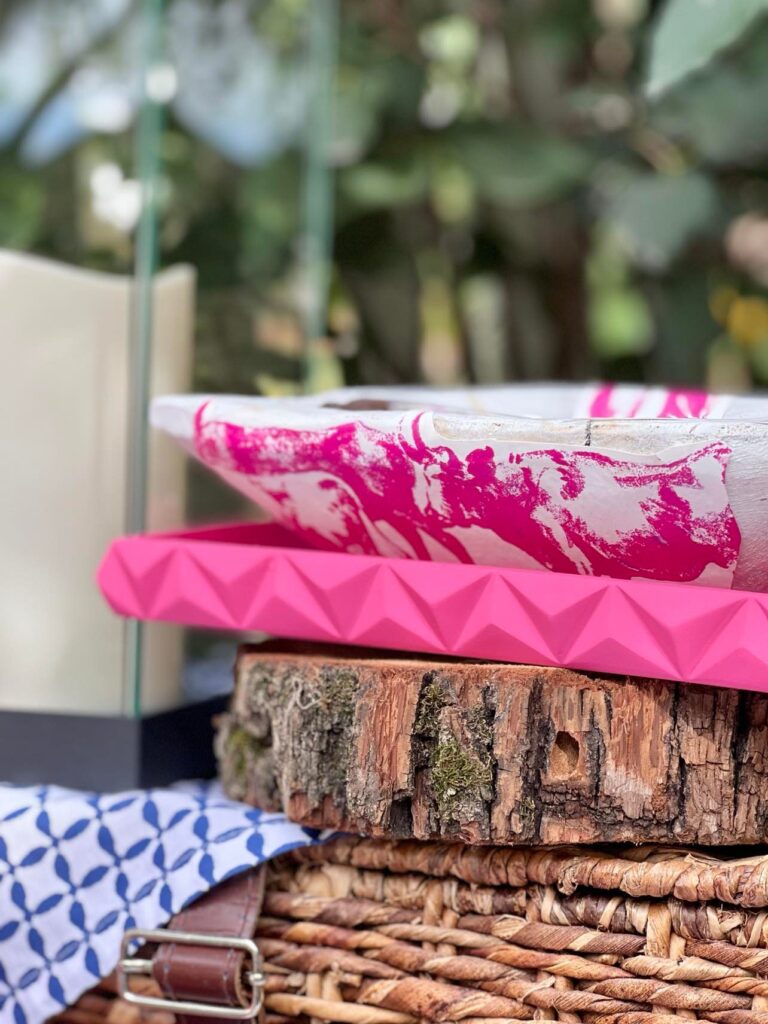 If you are enjoying my blog, you can sign up to receive my blog updates here.
Dough bowls are the perfect way to show off your creative side while also adding a touch of rustic charm to your home.
With just a few simple decorations, you can turn an ordinary dough bowl into a work of art that will be admired by all who see it.
So, get creative with your dough bowl decorating ideas and enjoy the process!
Your dough bowl is just waiting for you!
Be sure to snap a few pictures of your masterpiece so you can share them on my blog or social media pages. I can't wait to see what you come up with!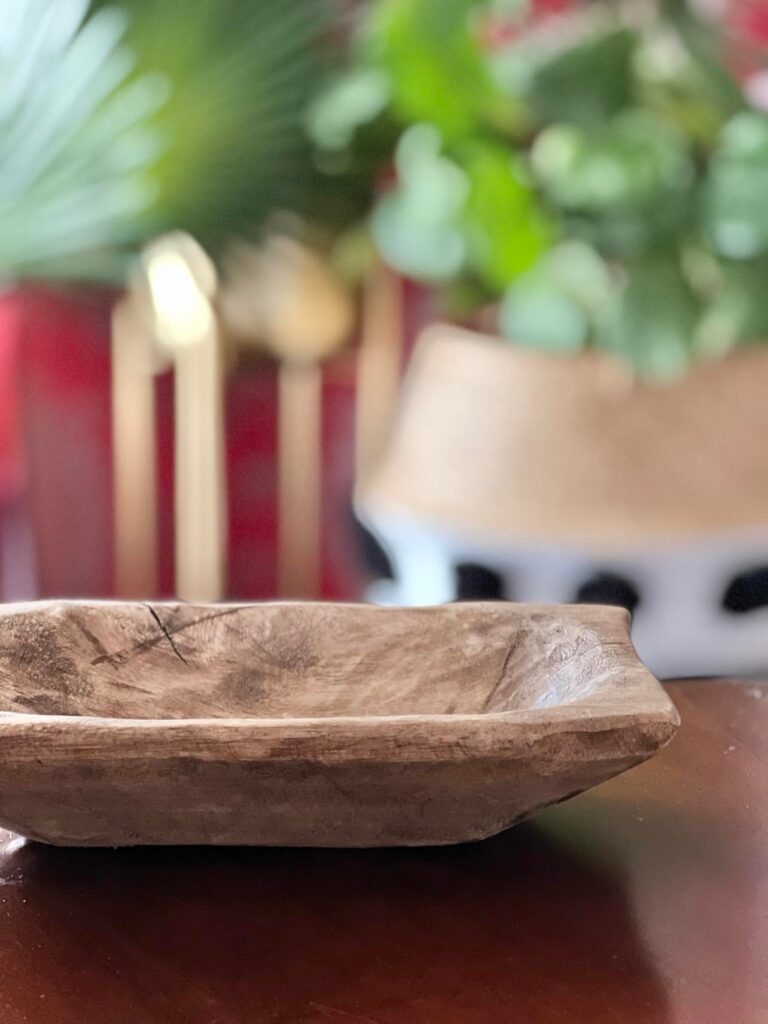 Cheers!

Looking for a dough bowl? These are some of my current favorites!


Pin the image below to your decor boards on Pinterest (just click the Pin button in the top left corner). You can also follow along with me on Pinterest!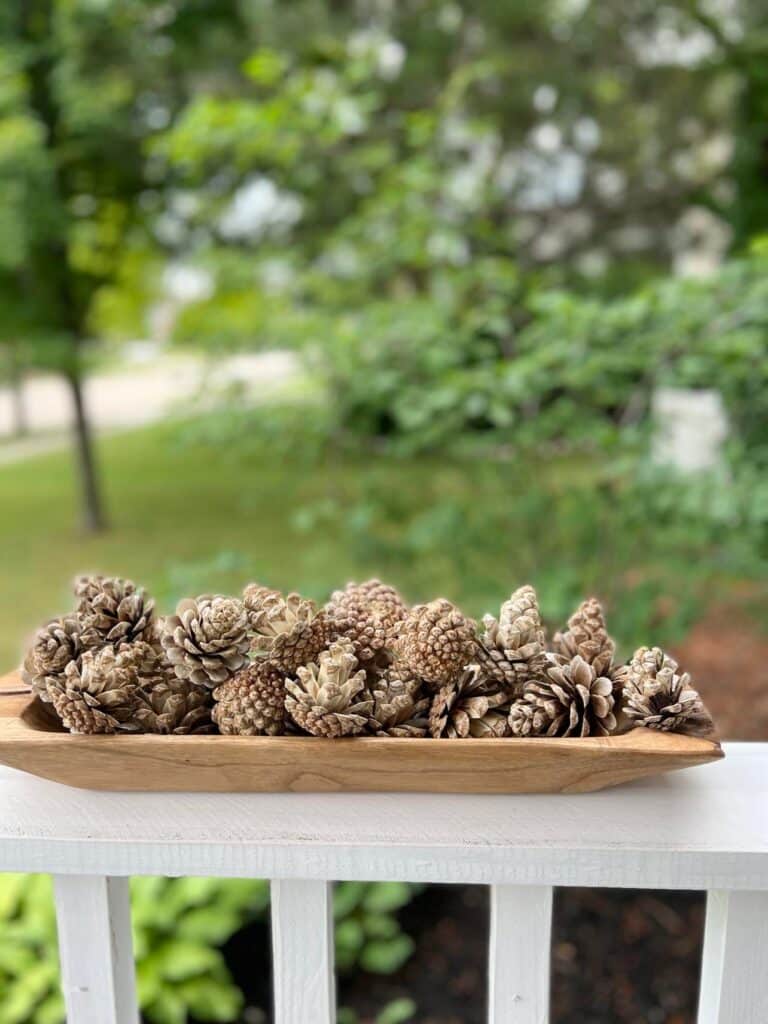 Here are some additional great dough bowl fillers that I love!


One last thing…I love using wood bead garland in a dough bowl. Here are some favs!