29 Ways to Add Colorful Home Decor to Your Interior
Are you looking for ways to add a splash of color and personality to your home? Create a vibrant home interior with these unique and stylish ideas for adding colorful home decor without breaking the bank.
Interior design can be as simple or complex as one chooses, but what's important is finding the right balance between color, patterns, and textures. Whether you're redecorating an entire room or just adding small touches here and there, these ideas are sure to make a big impact on your interior space!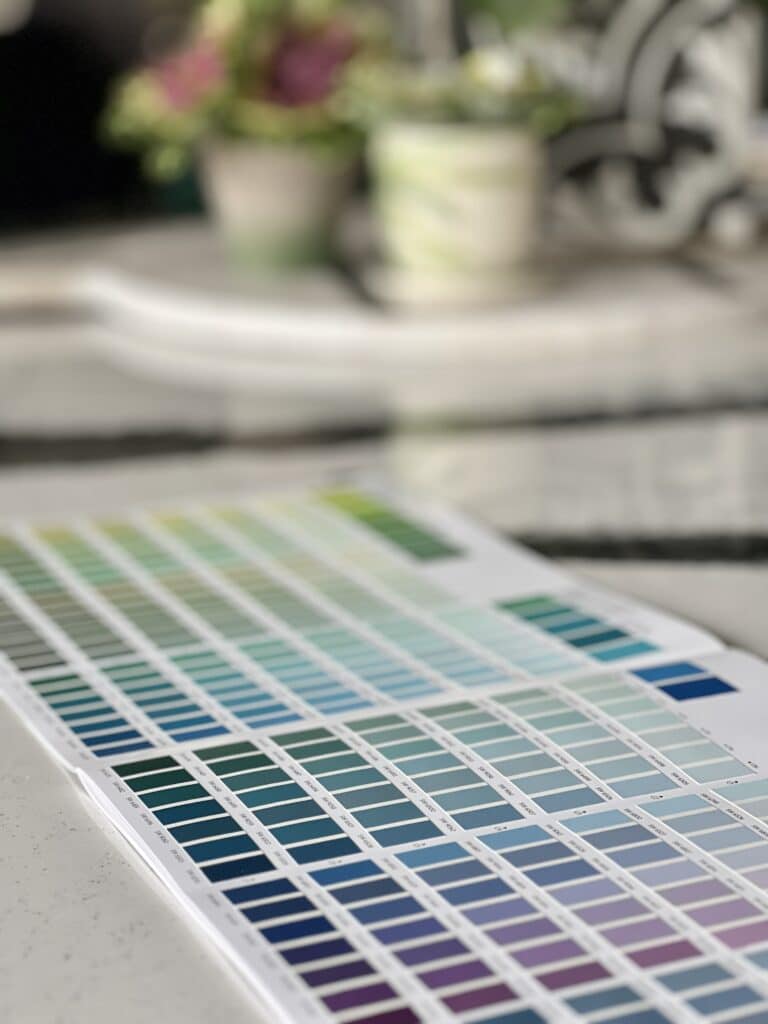 This blog contains affiliate links. This means a small commission is earned if you make a purchase by using this link. The price you pay will be the same whether you use the affiliate link or go directly to the vendor's website using a non-affiliate link.
Giving yourself the green light…
This is a golden opportunity…
You'll be tickled pink…
Color inside the lines…
And then color outside the lines!
Dream (and decorate) out loud in color!
Whether you want to drench your home in vivid hues or just want an occasional pop of color, today I'm sharing 29 fabulous ideas for incorporating colorful home decor into your interior!
How Do I Decorate with Colorful Home Decor
Open yourself to the possibilities! If decorating with color is outside of your comfort zone, experiment with just one or two pops of color or lean toward more muted colors. Or, be bold and go for it!
The great thing about home decor is that, for the most part, it is relatively easy to change something out if you don't like it or change your mind.
And, colorful home decor can be used in small or large ways! Read on for 29 great ideas!
1. Throw Pillows
If you're looking to add a pop of color to your room, then colorful throw pillows are your new best friend! Not only can they add an instant burst of color, but they're also practical.
Mix and match patterns, textures, and vibrant hues to create the perfect amount of interest. Plus, pillows are not a permanent color commitment and you can easily swap them out with the seasons or for a quick decor update.
2. Art Prints
Art is like seasoning to a delicious dish, it's the final touch that brings everything together! And if you're looking to spice up your living space, colorful wall art is the way to go.
Go bold with oversized abstract paintings, or keep things light and whimsical with pastel prints. The key is to find pieces that reflect your personality and enhance your home's decor. And don't be afraid to mix and match different styles and colors.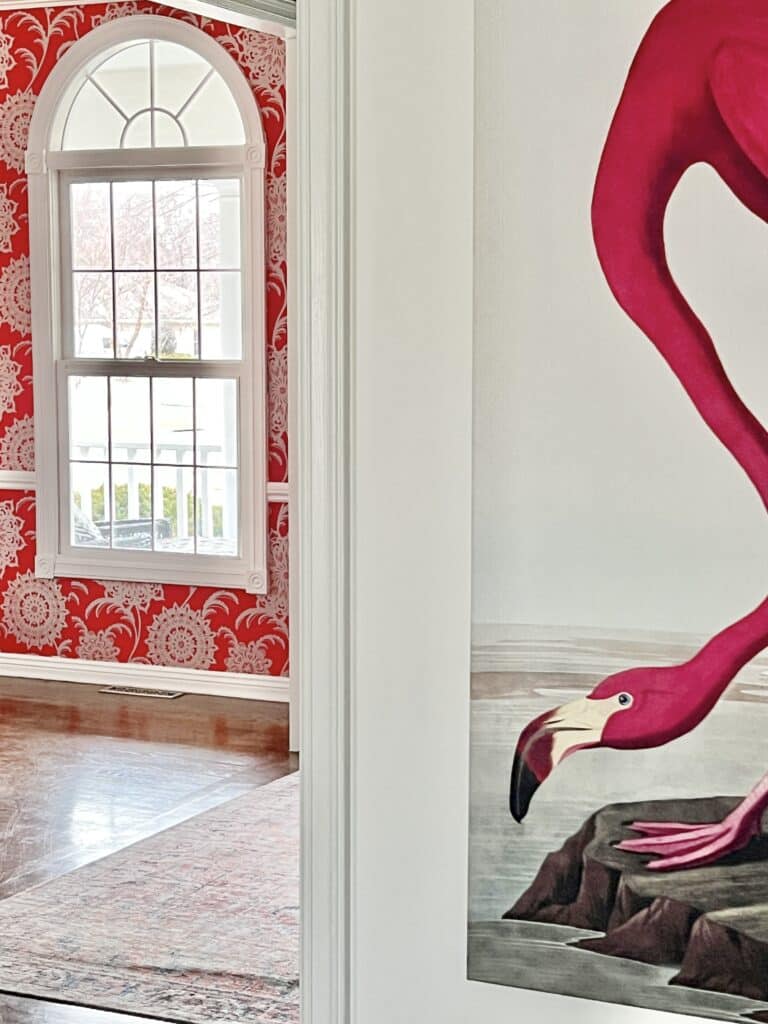 The beauty of colorful wall art is that it knows no boundaries, so let your creativity run wild! Just remember, if life imitates art, a colorful home equals a colorful life.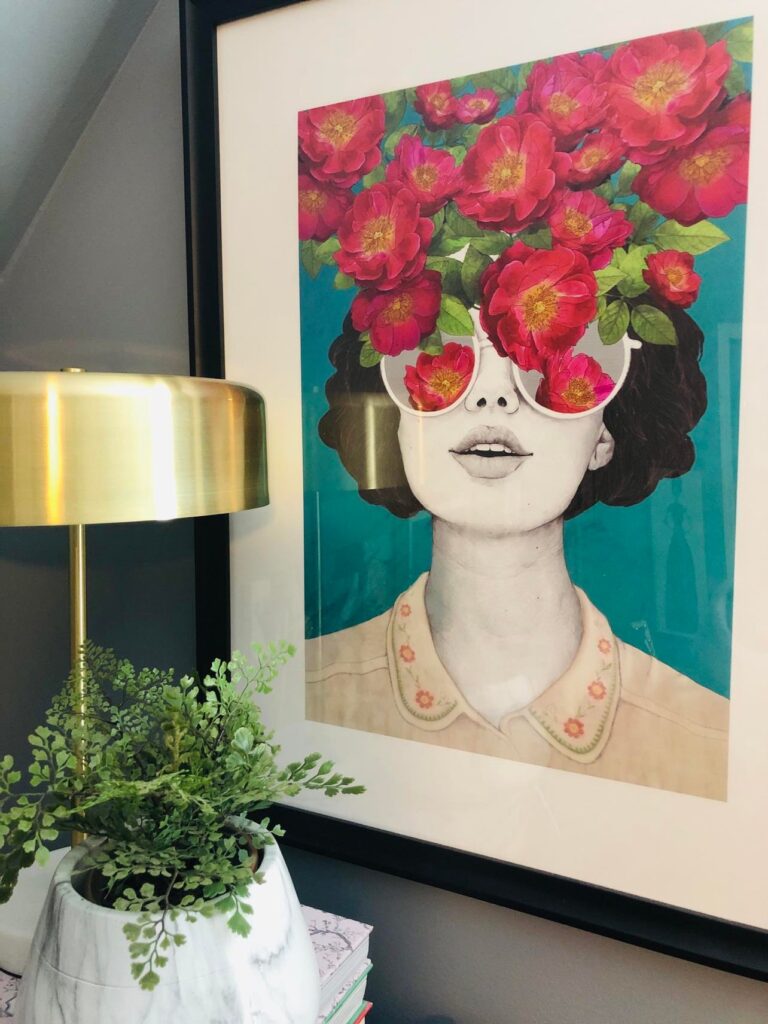 3. Gallery Wall
The first step in creating a color-infused gallery wall is to choose a color scheme. Pick two or three main colors that you love and feel inspired by.
Next, gather a variety of art pieces that fit the color scheme. Mix it up with different sizes, shapes, and textures. Don't forget to include personal touches like photos or sentimental pieces. Play around with different arrangements until you find the perfect balance. And voila! Your walls are dressed to impress!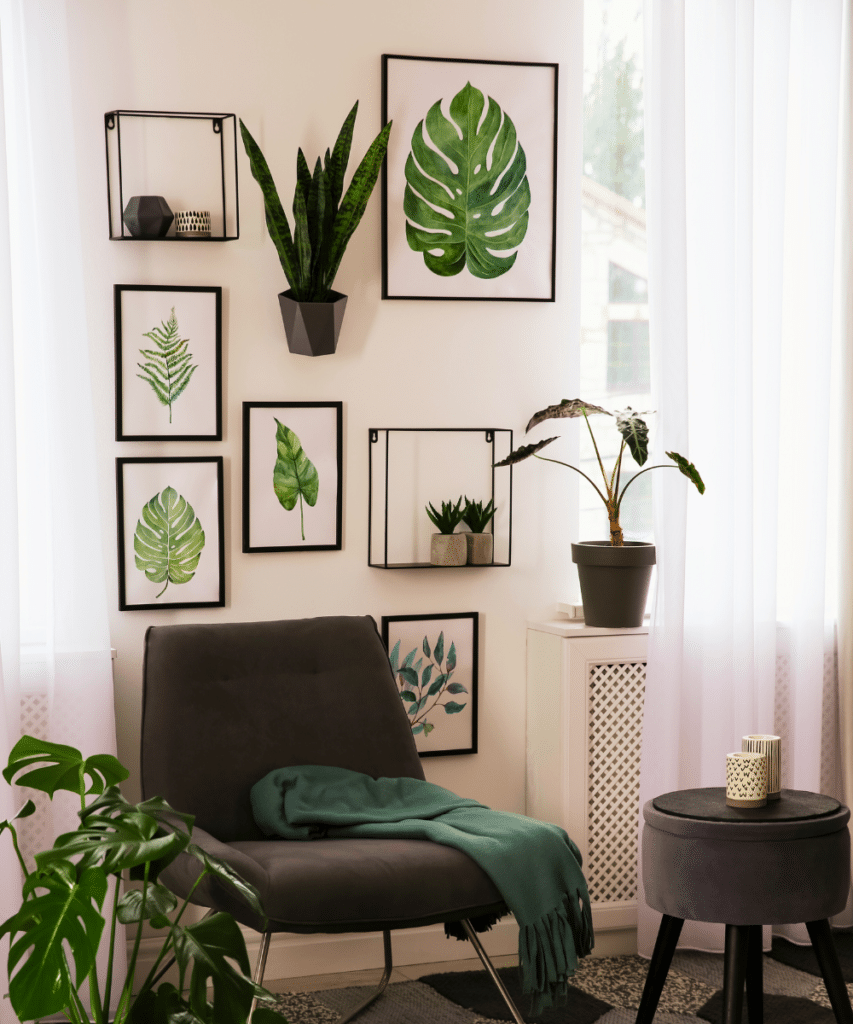 4. Curtains

Colorful curtains are a great way to bring bold colors into a room. Do you have white walls? Choose. colorful curtains with patterns that will stand out in the room. Do you have an accent wall? Pull that wall color into the curtains to cross-pollinate the color.
Just remember, balance is key. Pair louder curtains with neutral furniture and accessories to avoid sensory overload. Or, go for it and drench the room from walls to curtains with the same color!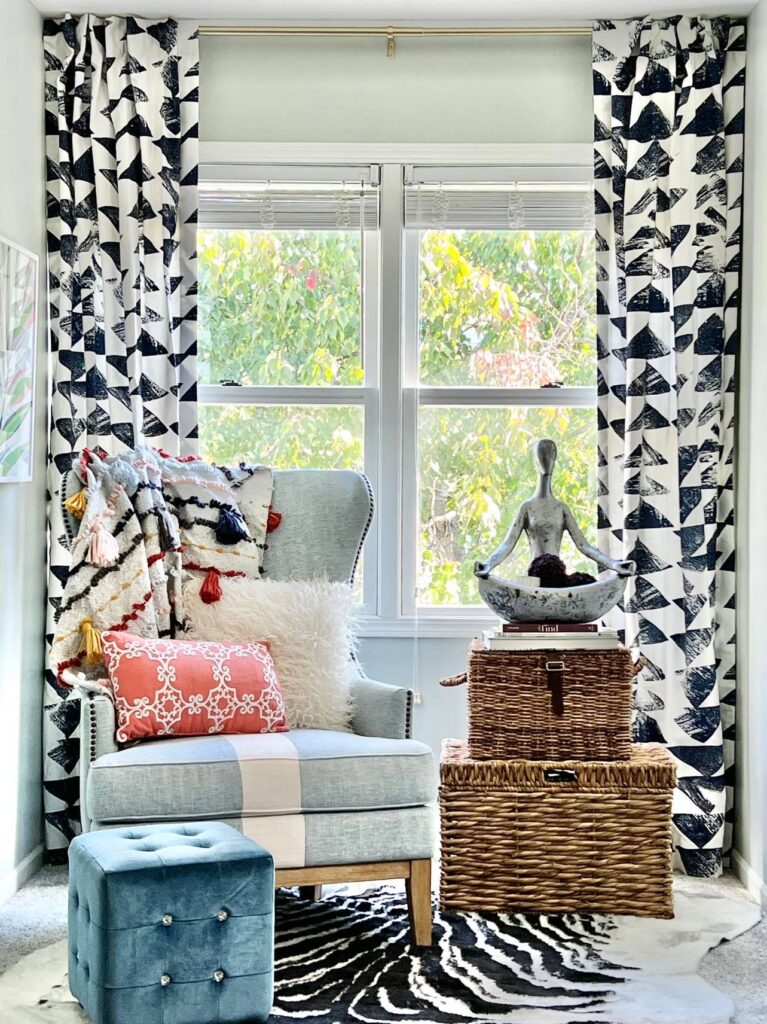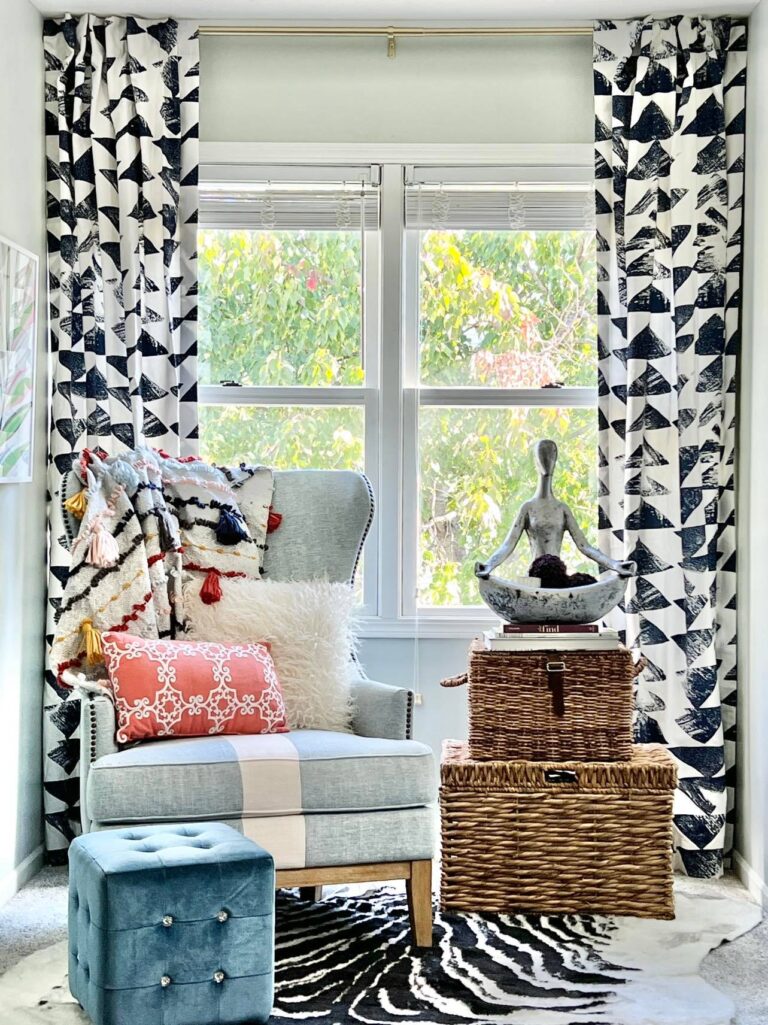 5. The Front Door
Adding a splash of color to your front door is the perfect way to welcome guests with warmth and cheer.
While classic black or white entrances have their charm, a colorful door can make a bold statement that reflects your personal style. Painting your front door is an affordable and easy DIY project that can transform your home's curb appeal.
You can choose from bright hues like red, yellow, or green, or go for a more muted shade like navy, blush, or mint. Whatever color you choose, make sure it complements the rest of your exterior and adds just the right amount of warmth and charm to your home.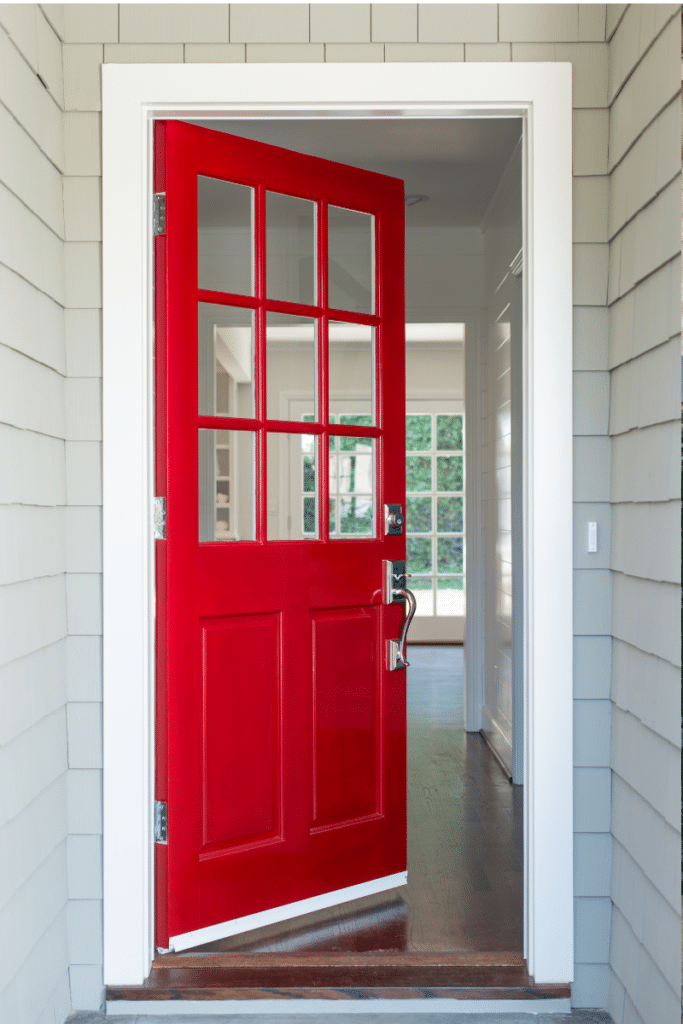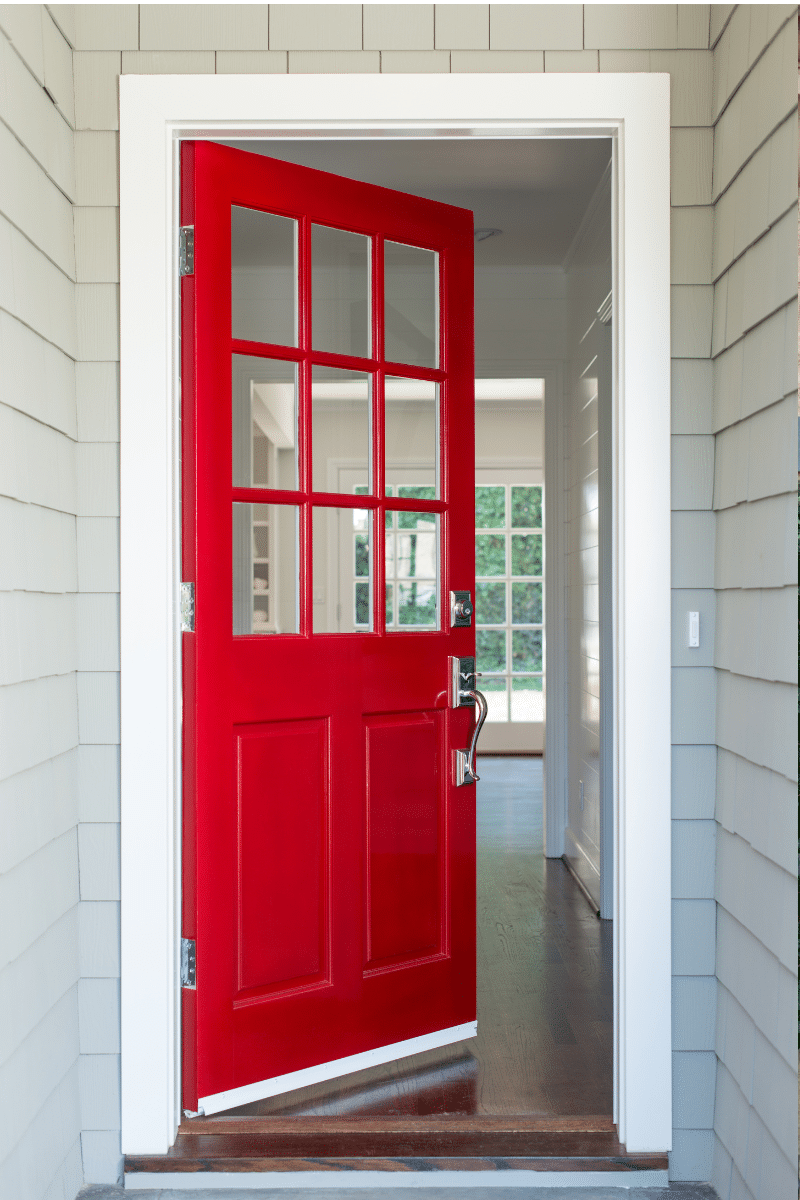 6. Objet d'arte
Objet d'arte are those interesting, unique, personality-driven home accents that truly say "you!"
When styling your home with colorful home decor, stick with a color palette that aligns with your personal style. Next, mix and match various pieces of art, from paintings and sculptures to ceramics and textiles, to create a dynamic display. Don't be afraid to play with scale and layer items to add depth to your decor.
Shop your favorite stores, pick up unique pieces as you travel, and don't forget all those amazing thrift stores and flea markets! There are treasures to be found!
Decorating with colorful objet d'art is not a science, so have fun and showcase your unique personality through your decorating choices!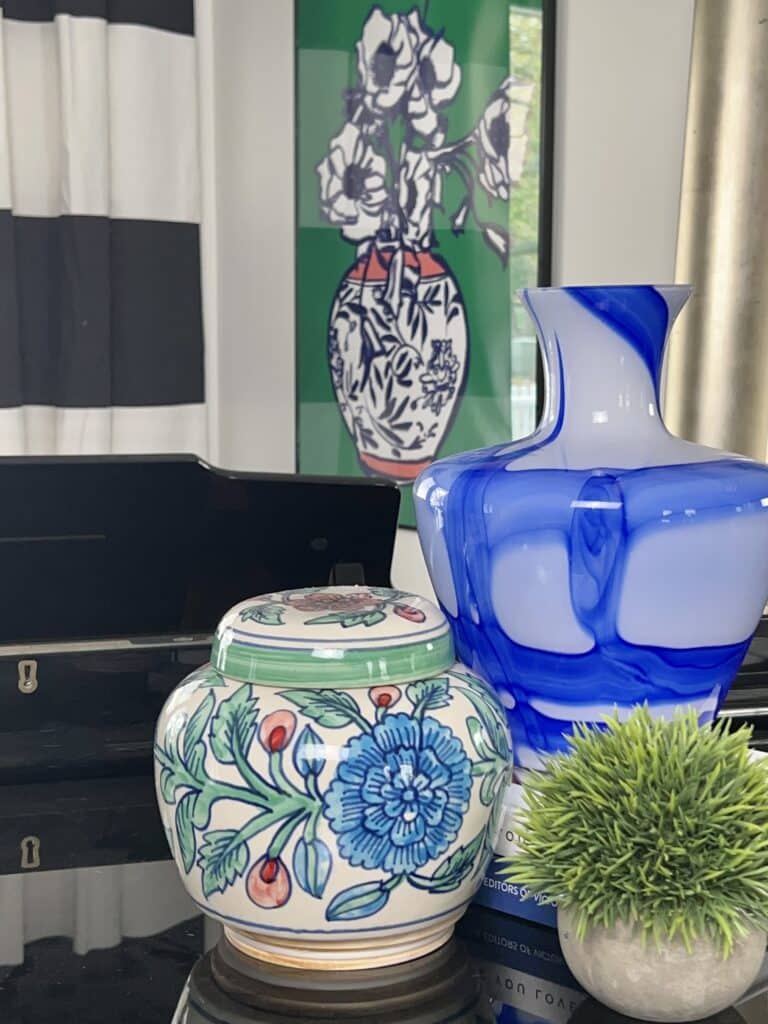 7. Flowers as Colorful Home Decor
There's something special about decorating with flowers. They bring color, fragrance, and natural beauty into any space. From small arrangements to large bouquets, flowers can be used to create a focal point or add a pop of color to any space.
Consider the vase or container you want to display them in. From there, the possibilities are endless. You can create a simple and elegant centerpiece…
add pops of color throughout your home…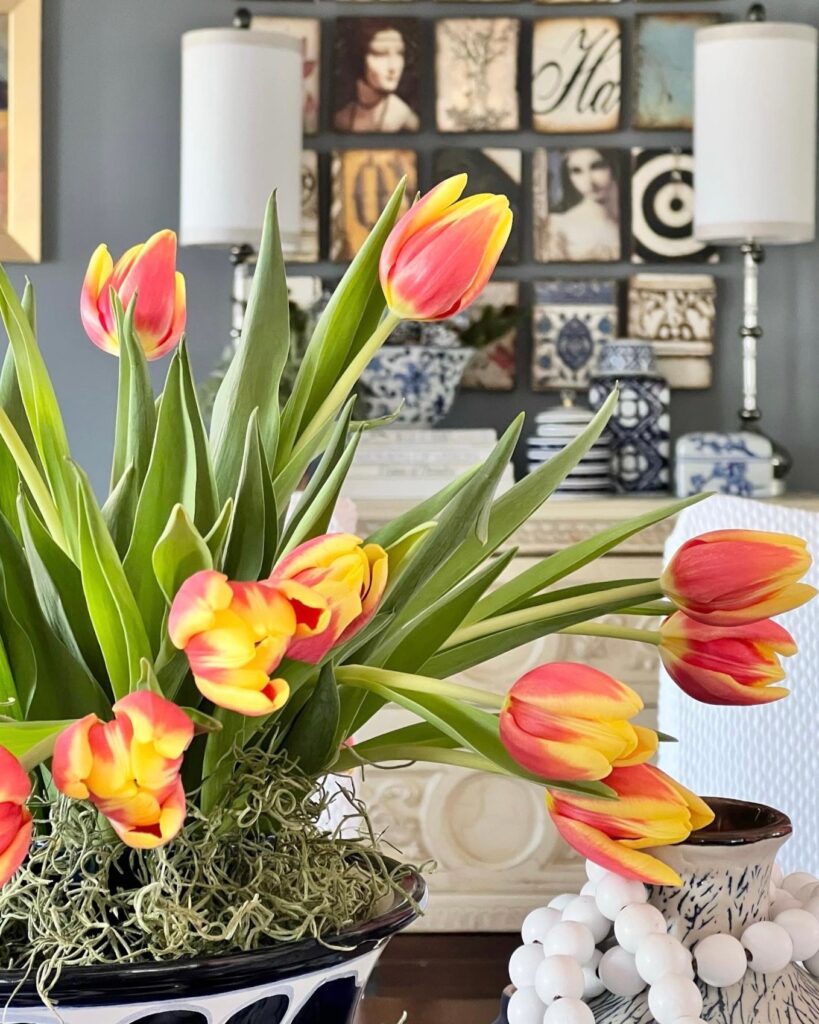 …or even add a single bloom by your kitchen sink or on a kitchen baker's rack. Elevate your home's aesthetic with the power of flowers!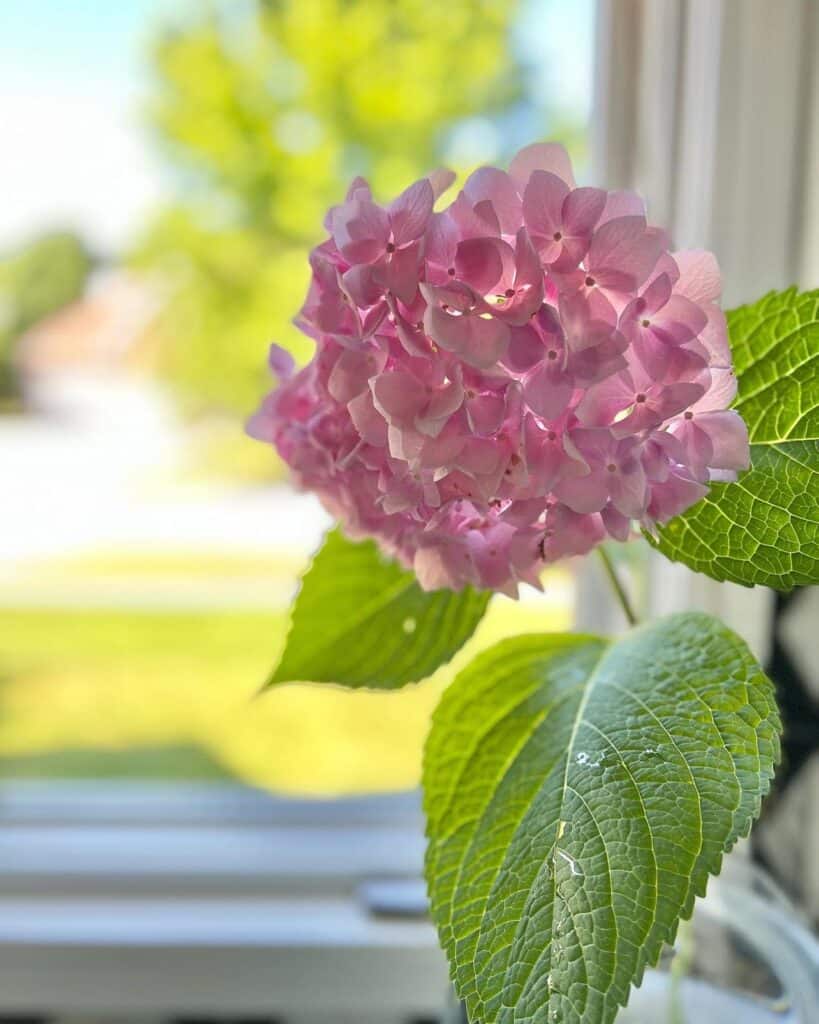 8. Plants
Decorating your home with colorful plants is one of the easiest and most affordable ways to bring a little bit of nature inside. Whether you prefer succulents, flowering plants, or large leafy greens, there are endless options to choose from.
When decorating with plants, don't be afraid to mix and match different colors and textures, and experiment with different types of planters and containers to add even more visual interest. With some creativity and a little bit of greenery, your home can feel like a vibrant garden oasis in no time.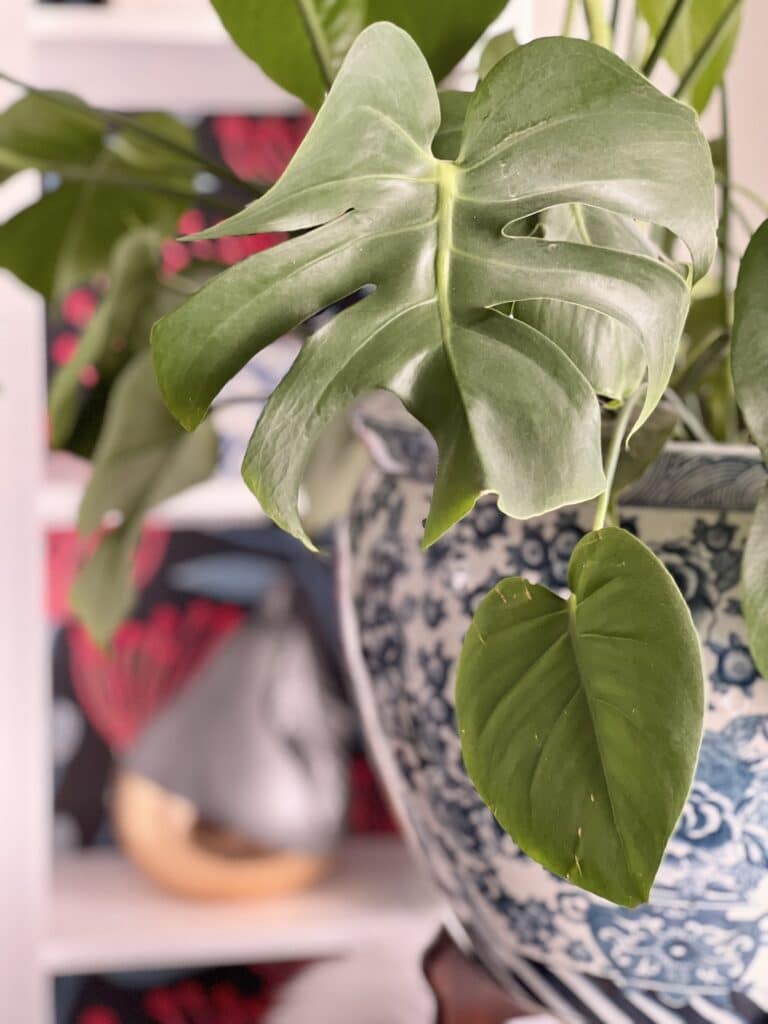 9. Layer One Color
One of the simplest yet most effective ways to decorate a room is by layering one color. The key to successfully incorporating a monochromatic color scheme is to play with different shades and textures of the same hue.
For example, rich navy walls can be paired with a plush navy rug and light blue throw pillows for added depth. Incorporating metallic accents or natural wood elements can add warmth and dimension to a space without distracting from the overall monochromatic theme.
Layering in this way creates depth and visual interest, while still maintaining a cohesive and soothing overall aesthetic.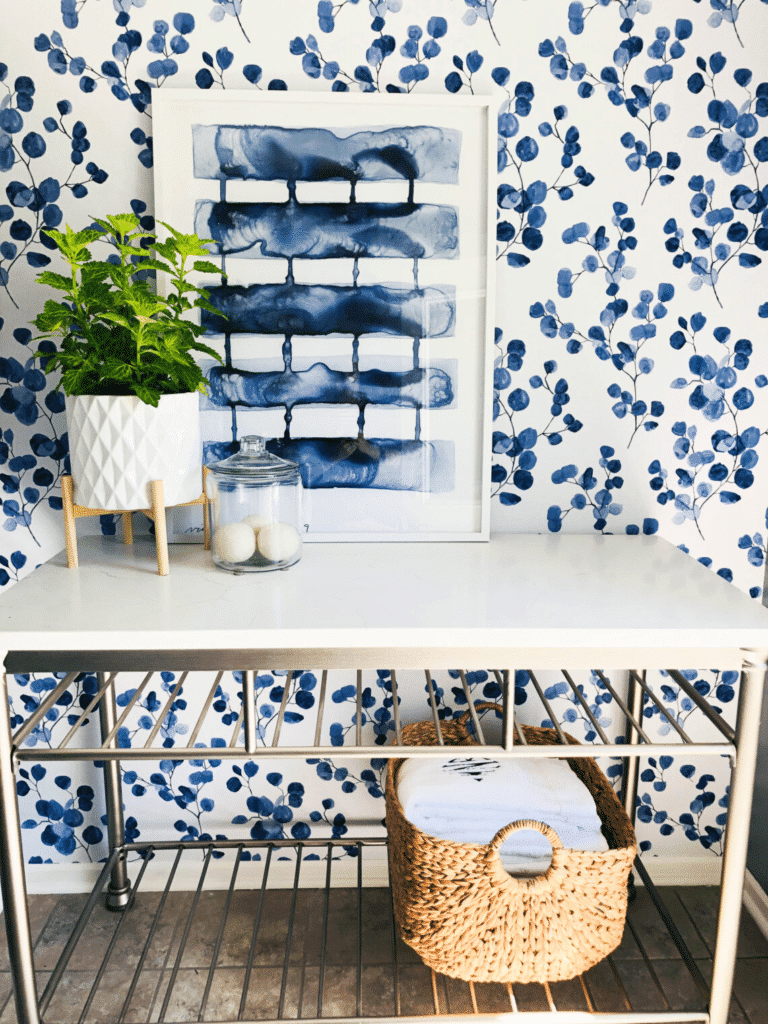 10. Pair Color with Natural Elements
If adding color to your home makes you nervous, a simple way to do it is to ensure that colors and natural elements combine in perfect harmony.
Pair color with natural elements as you consider the mood you want to create. For instance, if you're going for a calming atmosphere, incorporate blues and greens, which are associated with the sea and sky, and then add natural texture! Rattan baskets, wooly rugs, and raw wood furniture will complement the colors for an effortlessly chic look.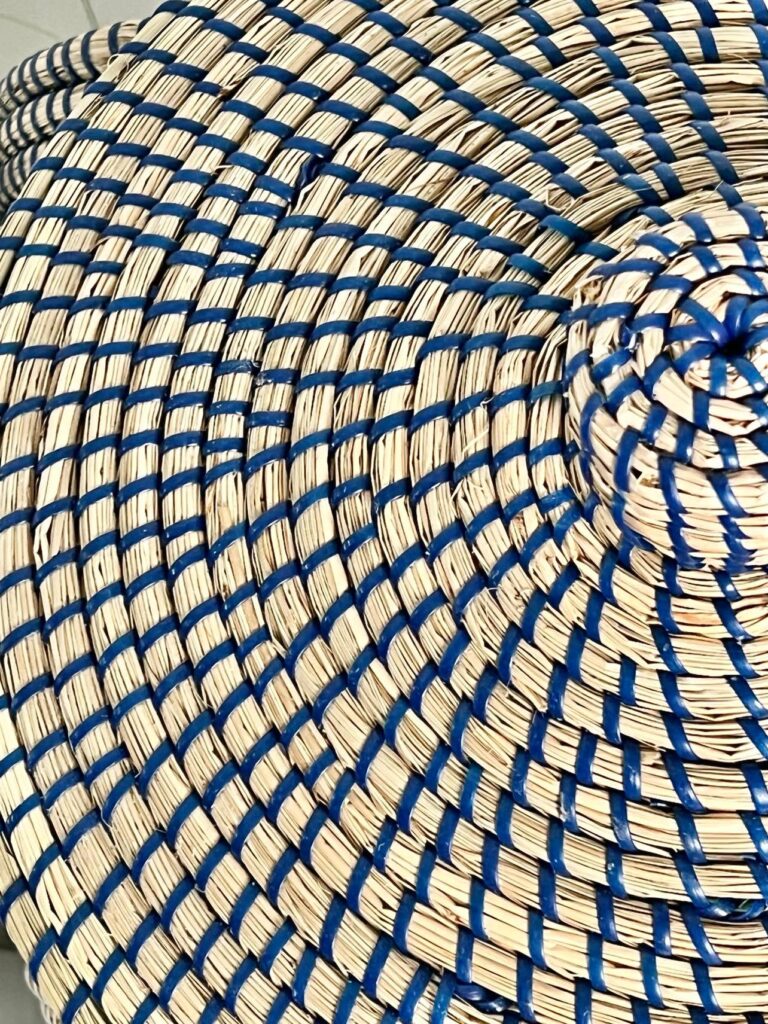 11. Wallpaper on the Wall
An instant pop of color in a dining room, a playful touch of pattern in a nursery, a subtle design that adds depth and texture to a family room space…all of these are ways to incorporate wallpaper into colorful homes.
Pair colorful wallpaper with contrasting textiles, such as pillows or curtains, to create a cohesive look. Don't be afraid to mix and match patterns. Sometimes a bold stripe complements a floral print perfectly!
A tip for going bold…choose a smaller space, such as a powder room or closet, to experiment with bright patterns!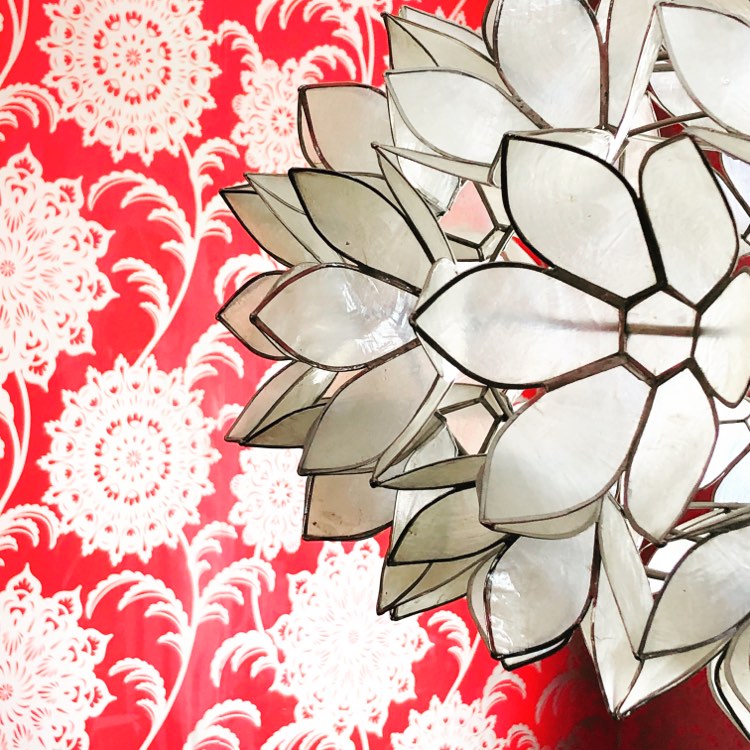 12. Wallpaper the Back of a Bookcase
There's something so charming about a bookcase that not only displays your favorite novels but also adds an element of style to your room. That's why I'm so excited about using wallpaper on the back of a bookcase!
It's an easy way to transform a plain piece of furniture and make it uniquely yours. With so many patterns and colors to choose from, you can really let your personality shine through.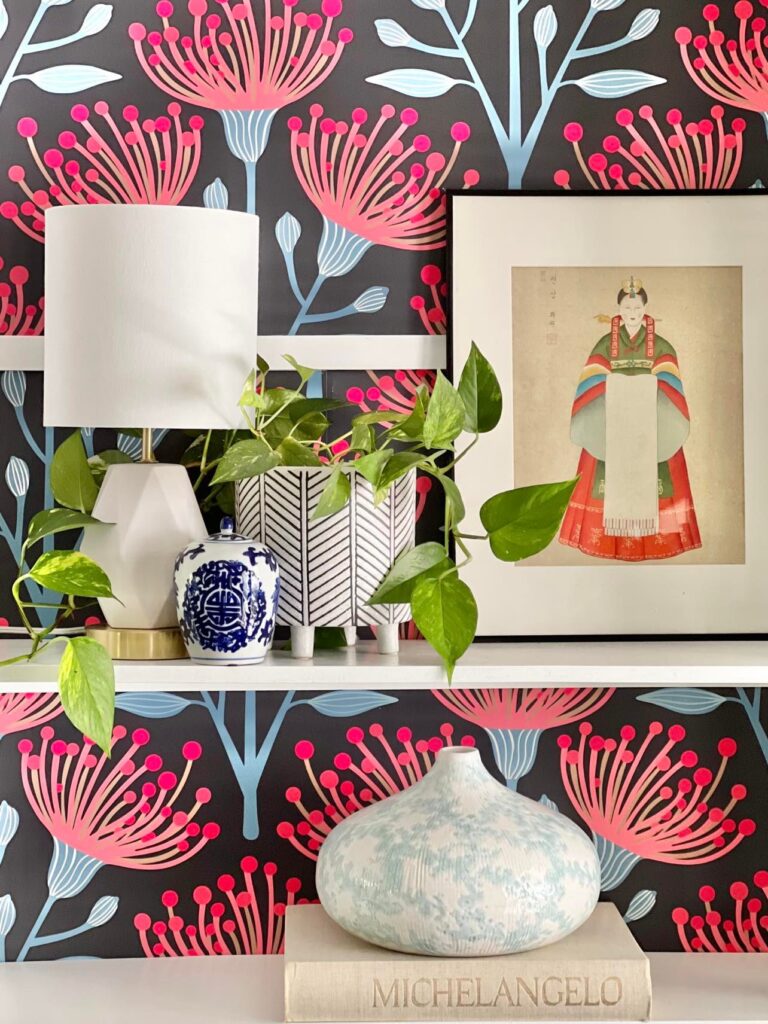 13. Area Rugs
There is no denying that an area rug can completely transform any room in your home. But have you ever considered opting for a colorful one? Adding a colorful area rug to your living space is an instant way to infuse warmth and character.
It's a statement piece that can serve as the focal point of the room while incorporating an extra layer of depth and dimension. Plus, with so many color options available, you're sure to find one that speaks to your personality and style.
So, whether you're looking to add some pizazz to a neutral room or complement existing colorful décor, don't be afraid to go bold and embrace the colorful rug trend.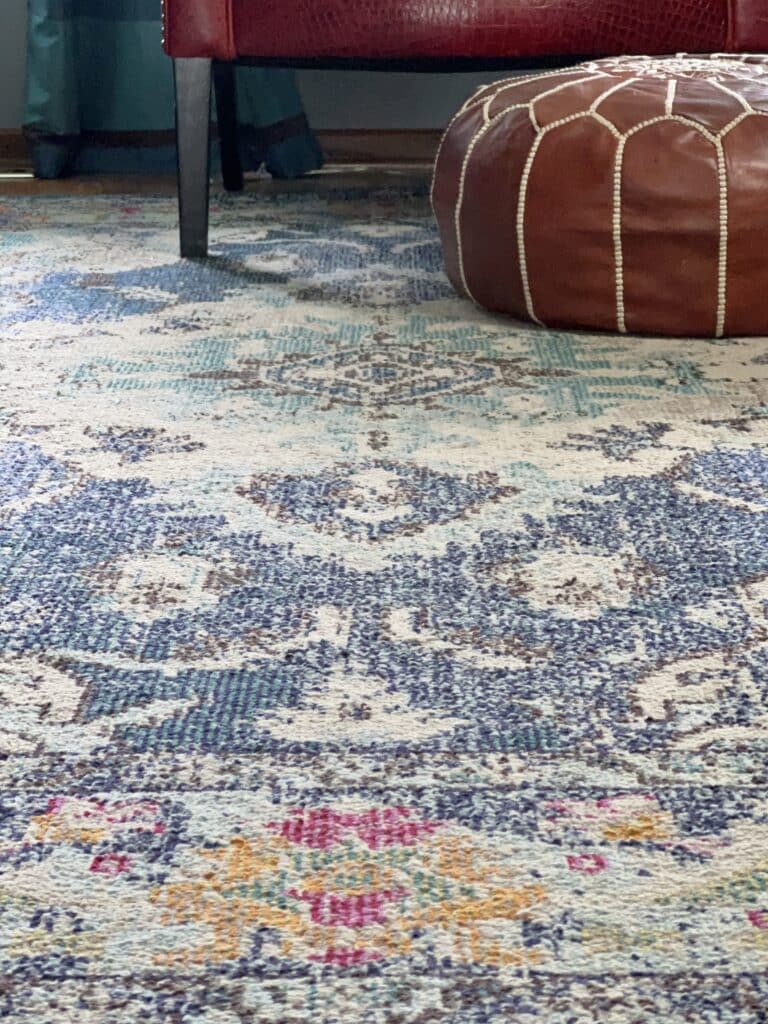 14. A Colorful Lampshade
Looking for the right lampshade for your favorite lamp can feel like searching for a needle in a haystack. But choosing a colorful lampshade is easier than you think.
First things first, consider the color palette of the room the lamp will be in. Pull an accent color from a pillow, upholstery fabric, or even a colorful coffee table book. Or, consider a lampshade with a metallic finish for a cool vibe. Remember, the lamp and lampshade don't have to match perfectly – in fact, mixing and matching can add a playful touch to your decor.
Something to keep in mind…a colorful lampshade will diffuse the light from the lamp. So, ambient lighting is the best goal for a colorful shade.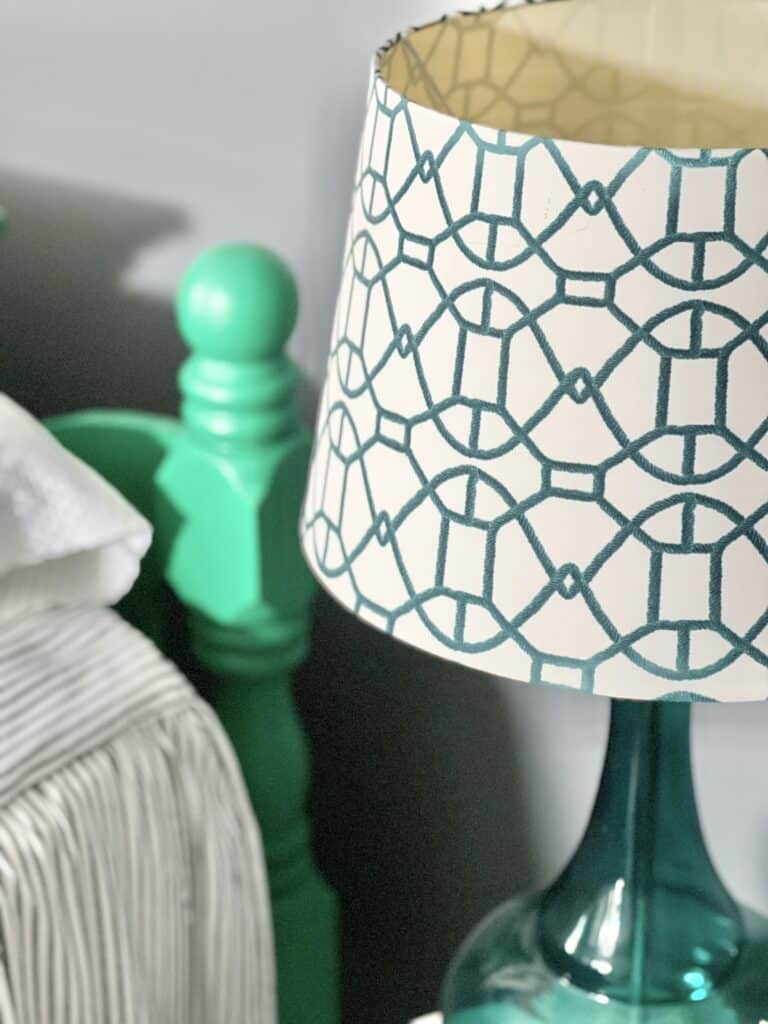 15. Coffee Table Books
There is something magical and energizing about flipping through the pages of a coffee table book. From travel photography to interior design, these books can ignite our imagination and inspire us to try something new.
By strategically placing a few coffee table books on a coffee table, bookshelf, or even bar cart, you can infuse your room with hues that complement your colorful home decor.
Try choosing books that feature vibrant, eye-catching imagery and place them strategically on your coffee table, stack them on a bookshelf, or use them as a pedestal for other home decor.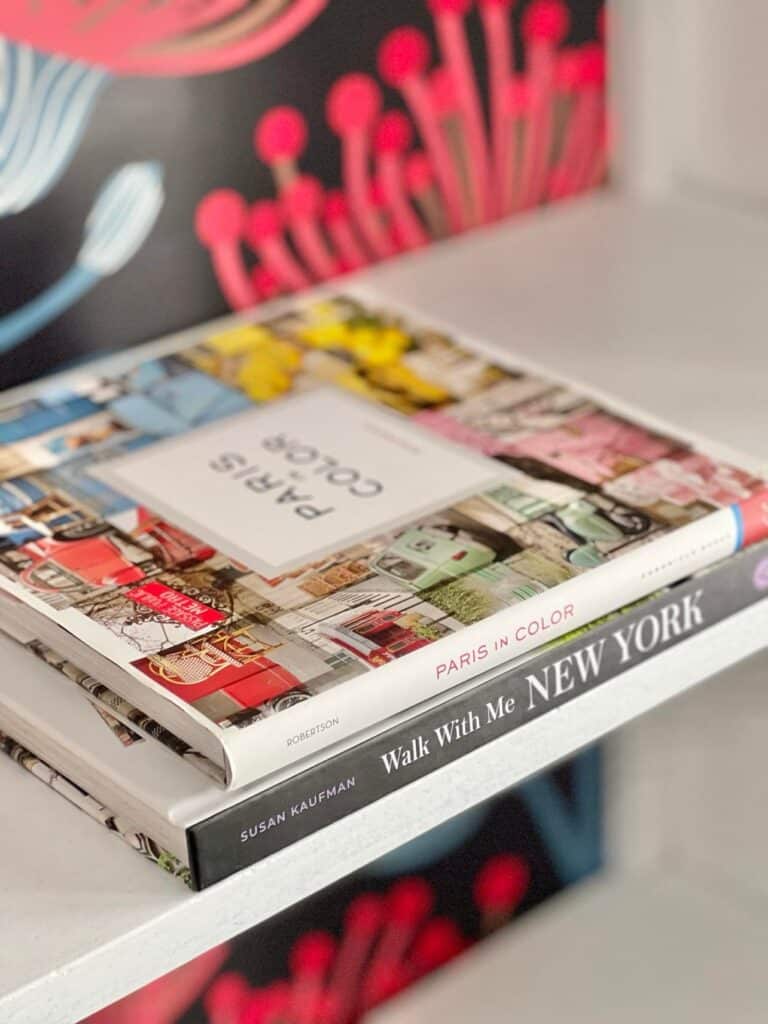 16. Mirrored Color
The colors you choose to decorate with can vastly impact the mood of a room. But what if you could amplify those colors with the strategic use of mirrors?
That's right – mirrors aren't just for checking your reflection, but they can also reflect the colors in your space! By placing mirrors in the right locations, you can create a warm and inviting atmosphere.
For example, if you have a bold red accent wall, placing a mirror opposite it will reflect that color back into the room, making the space feel more vibrant and energized.
Additionally, using mirrors can also give the illusion of more space, making a room feel larger and brighter. So, why settle for dull walls when you can enhance them with the magic of mirrors?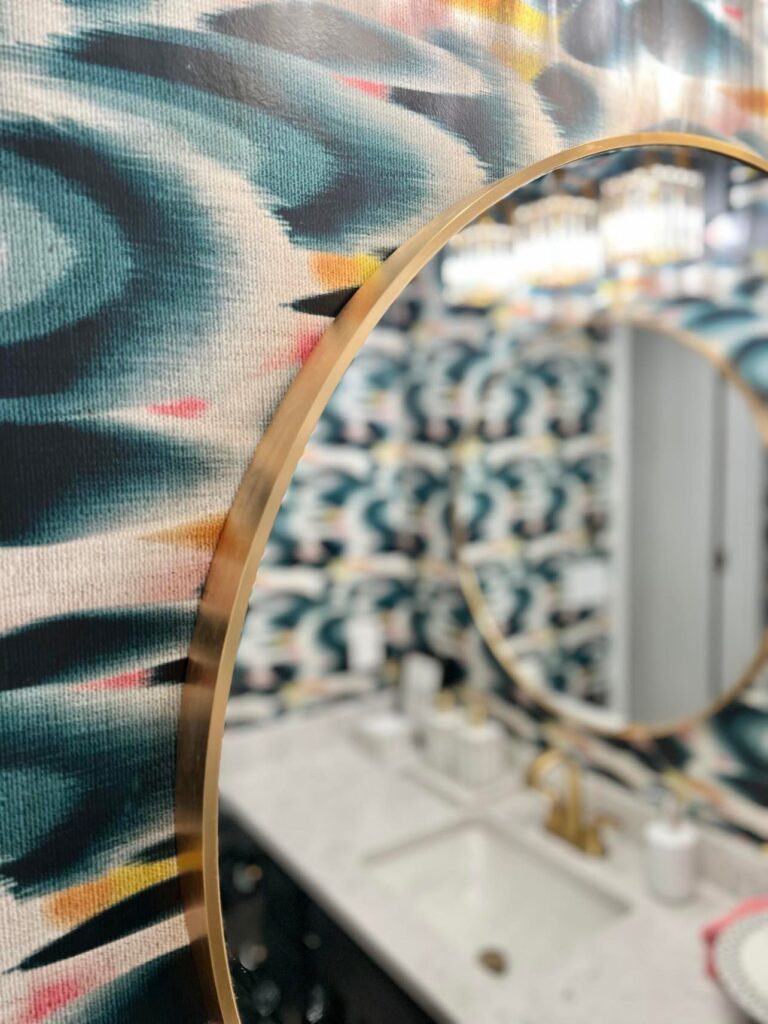 17. The Unexpected Pop of Color
Adding a pop of color to a space doesn't have to be complicated, but it can make a significant difference and create an inviting space.
The eye is drawn to color so consider where you want the eye to fall in a room. Then, use a pop of color to get the job done!
Add a colorful tassel to a drawer knob, surround a framed photograph with a colorful mat, or pop some pink tulips into a collection of white vases…adding a pop of color is effective in a neutral setting as well as a colorful one.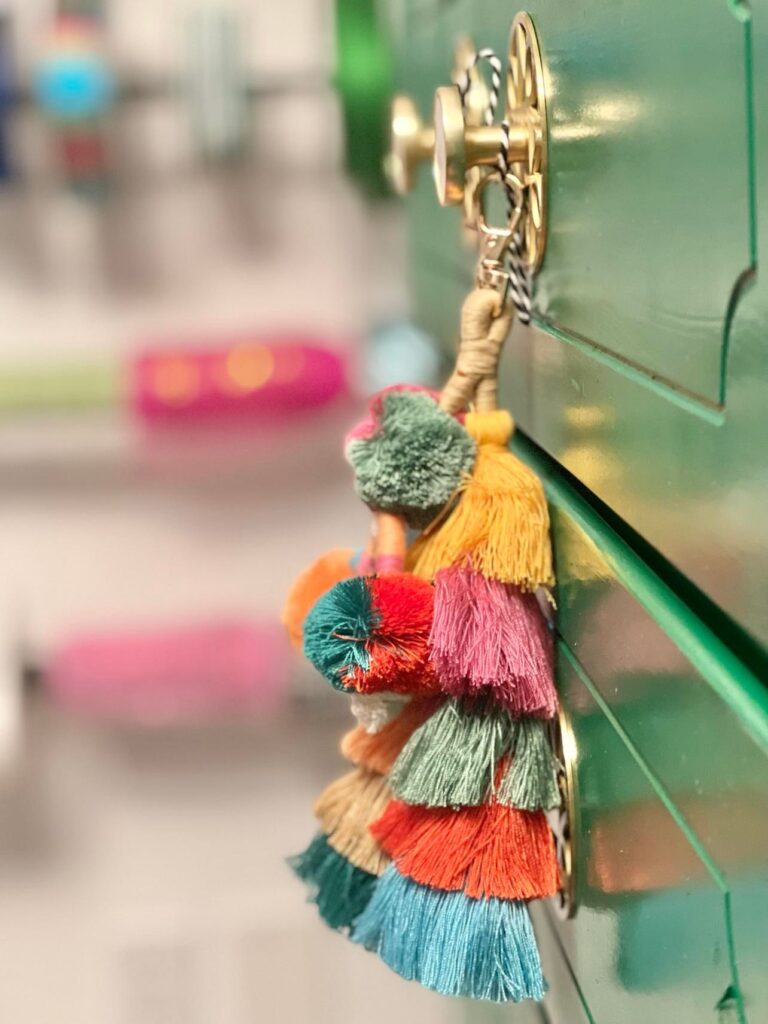 18. Mix and Match Patterns
Mixing and matching patterns is about letting your creativity run wild and experimenting with bold and unexpected combinations. T
Try layering different patterns and textures, such as a floral rug with a striped throw pillow or a geometric wallpaper with a checkered bedspread. Mix in some solid colors to balance out the patterns and add some visual interest.
Even mixing tea towel patterns is a fun way to mix patterns! Have fun mixing and matching until you find the perfect balance for your space.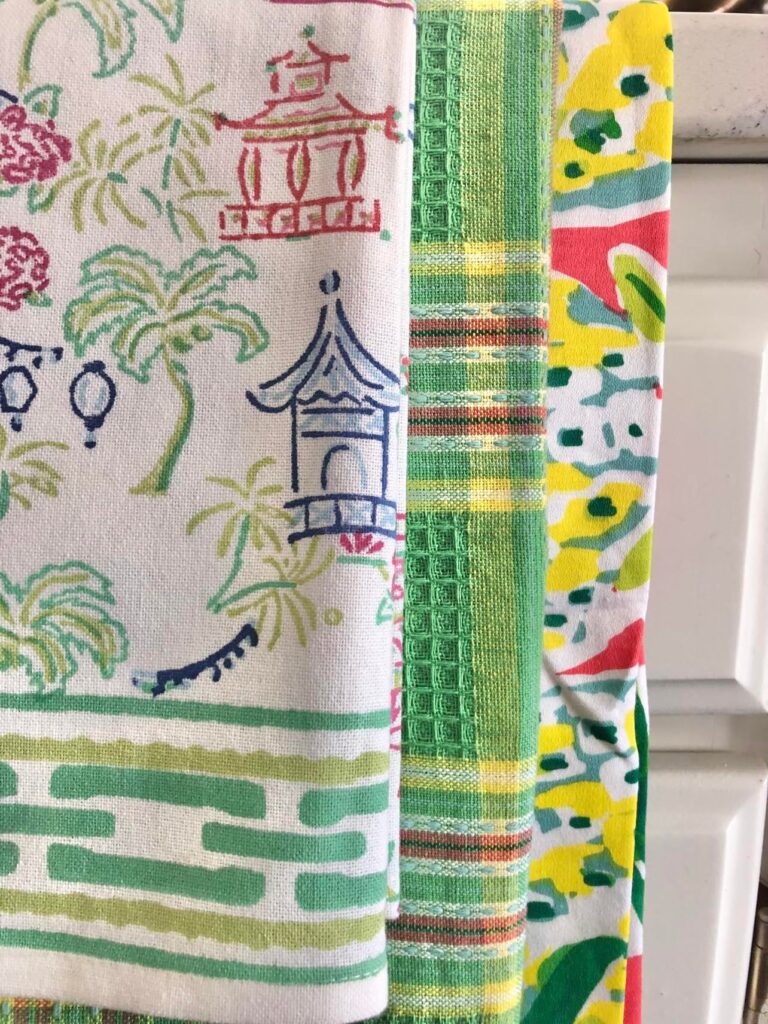 19. Fruits and Veggies
Open your fridge and decorate your home with brightly colored fruits and vegetables!
Imagine a bowl of fresh lemons or oranges as a vibrant centerpiece of your dining table.
Or, how about a glass vase filled with vibrant red peppers, yellow squash, and purple eggplant as a stunning addition to your kitchen counter?
It's easy to add a little fruity or veggie flavor to your home decor!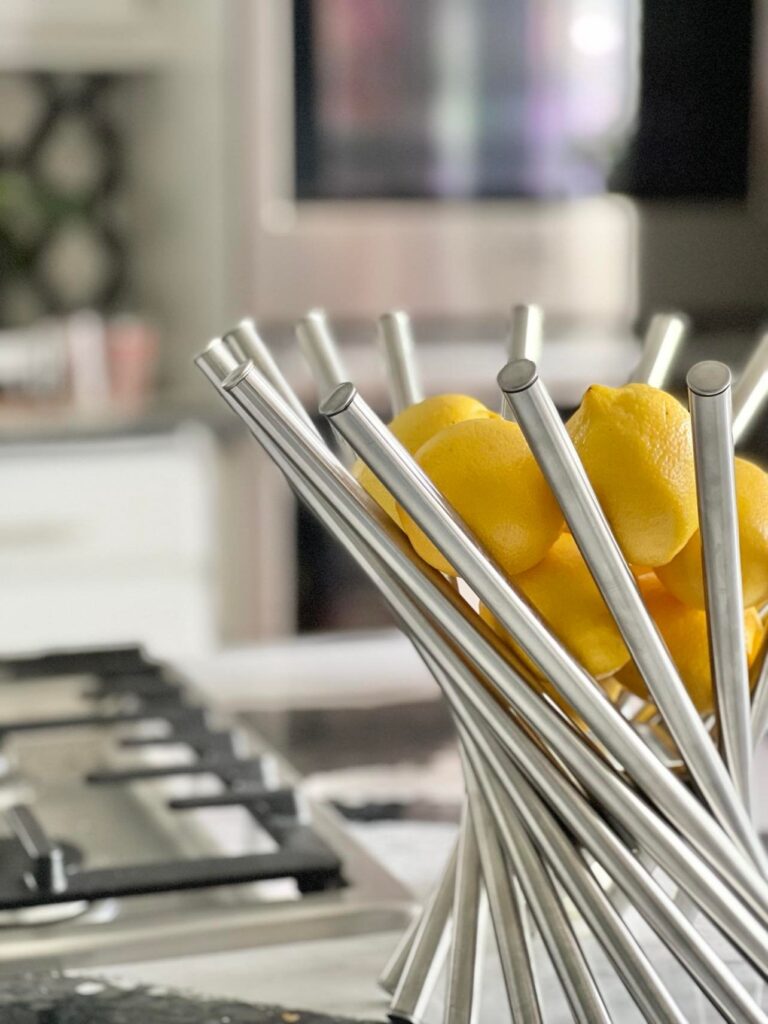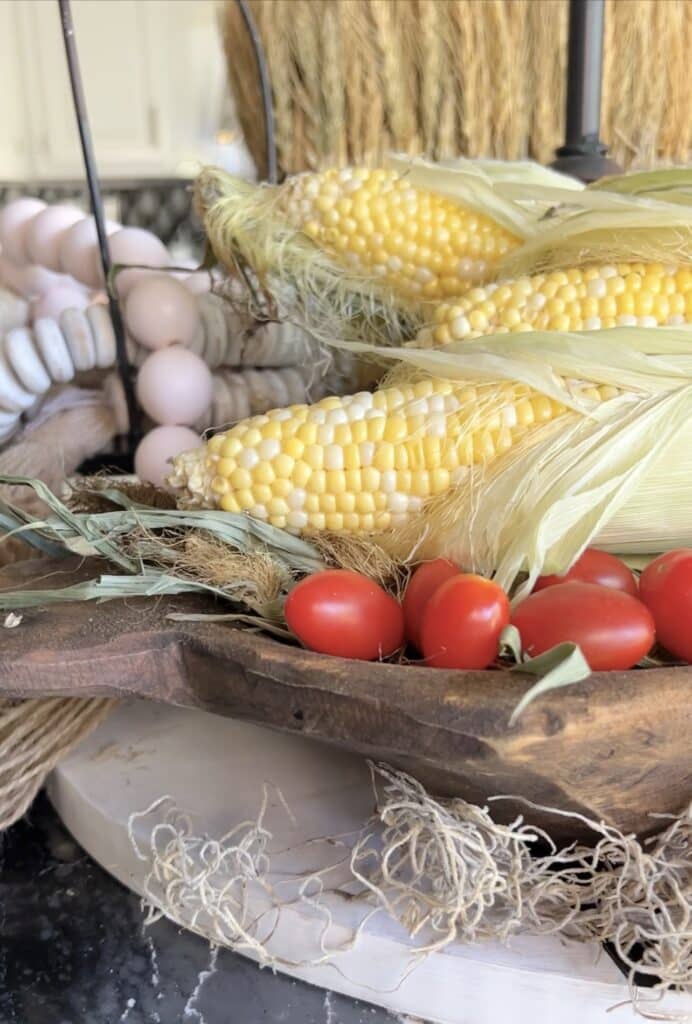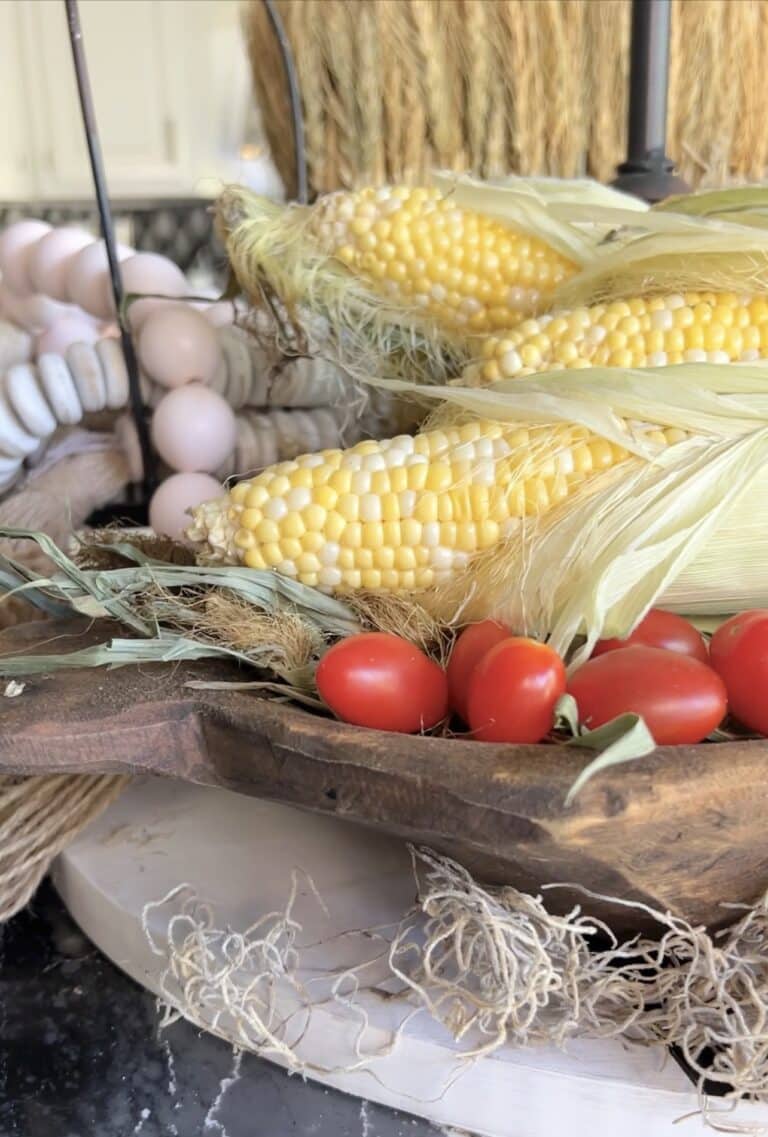 20. Set the Table
Setting a table isn't just about the food, it's about creating an experience for you and your guests. Let that experience include color!
Set your table with bright yellow plates, punchy napkins, and unique flatware for a playful table setting.
Or, for a more sophisticated look, try a crisp white tablecloth or table runner with navy blue placemats, and finish off the look with metallic gold accents.
Don't be afraid to mix and match colors and patterns – the possibilities are endless!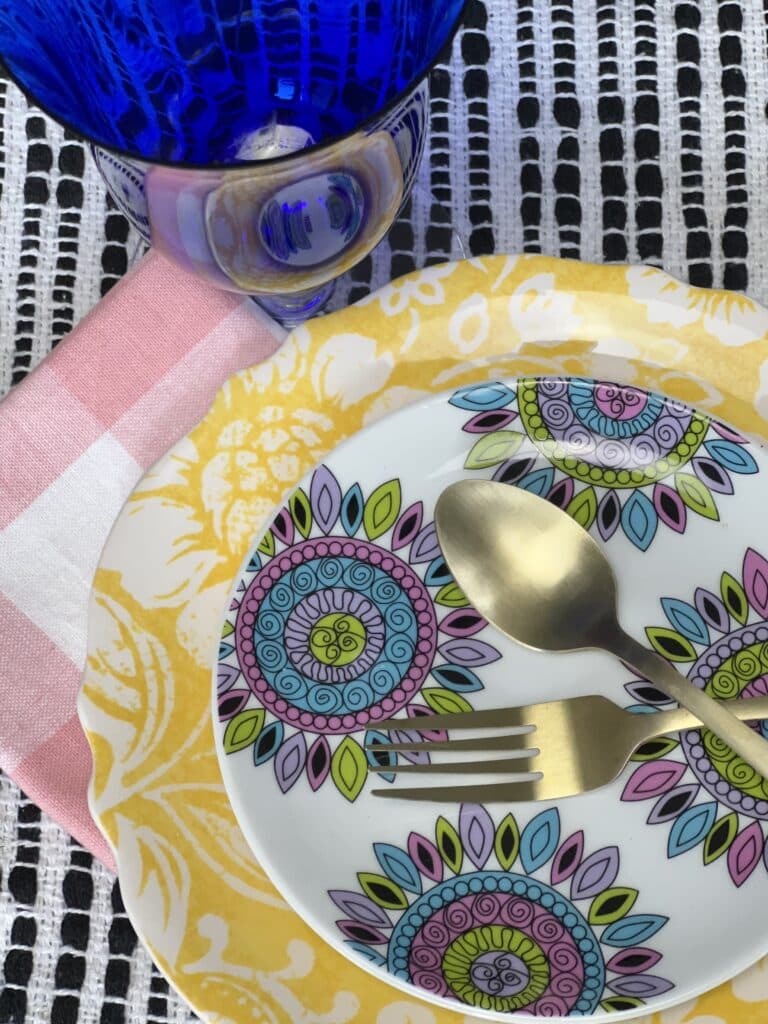 21. Group It Together
One way to elevate your home décor is by using groupings of home accents. By grouping items such as vases or frames in a similar color palette, you can create visual interest and dramatic impact in any room.
For instance, group together a collection of your favorite family photos in a cohesive frame color and display them on a prominent wall.
Additionally, you can use various vases in different shapes and colors and decorate them with fresh flowers or greenery to add a natural touch to your living area. Utilizing groupings of home accents can bring a delightful ambiance to your living space while showcasing your unique style.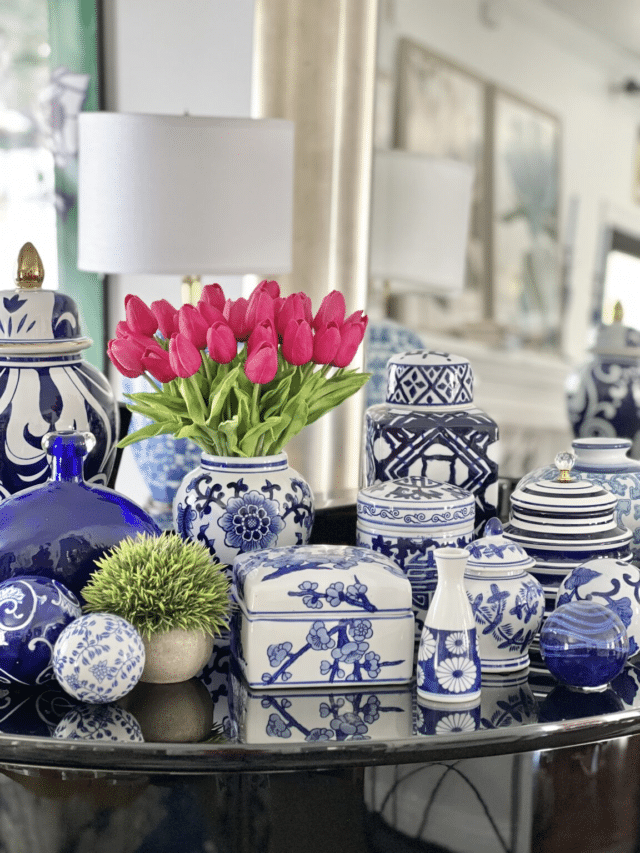 22. Colorful Bedding
One way to infuse personality into your sleeping quarters is by incorporating colorful bedding. The options are endless, from vibrant florals to bold geometric shapes, and everything in between.
Not only does colorful bedding add a cheerful and inviting vibe to your room, but it also opens up doors for further decorating possibilities. You can match your curtains or accent pillows to the colors in your bedding, creating a cohesive look throughout the space.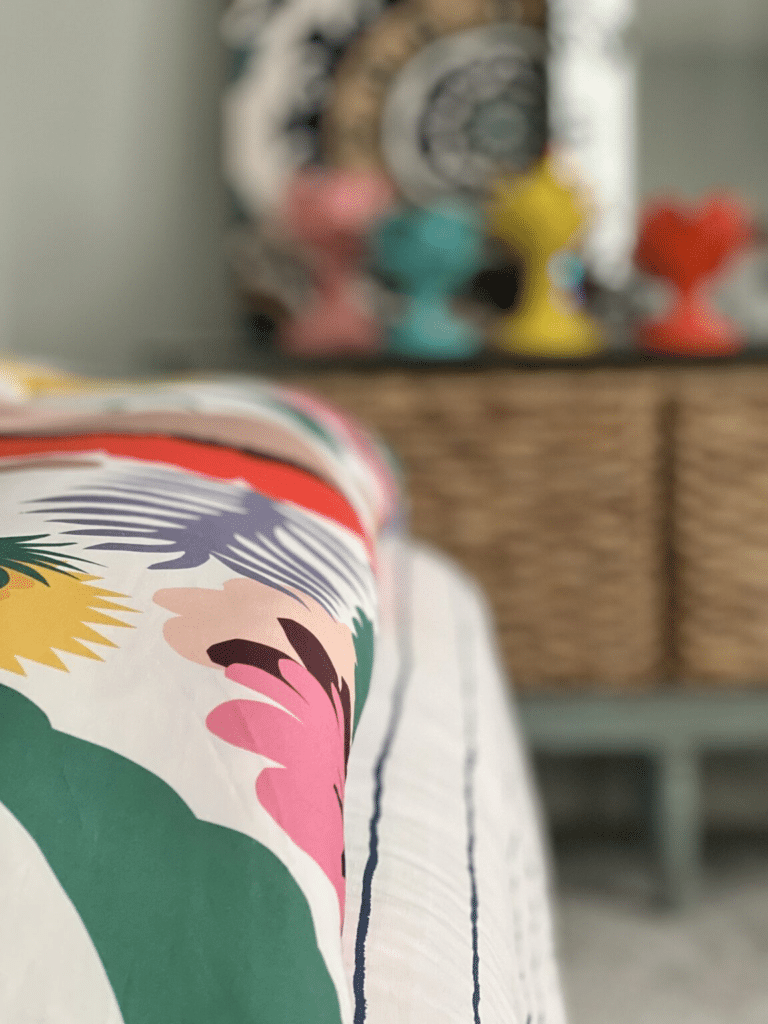 23. Paint a Furniture Piece
Whether it's a dresser, a table, or a bookshelf, taking a plain, wooden piece and transforming it into a vibrant, eye-catching statement is easier than you might think.
Get inspired by the colors and patterns in the room, and then choose a hue that complements or contrasts with them. With just a few coats of paint and some careful attention to detail, you can turn a drab piece of furniture into colorful home decor for the room.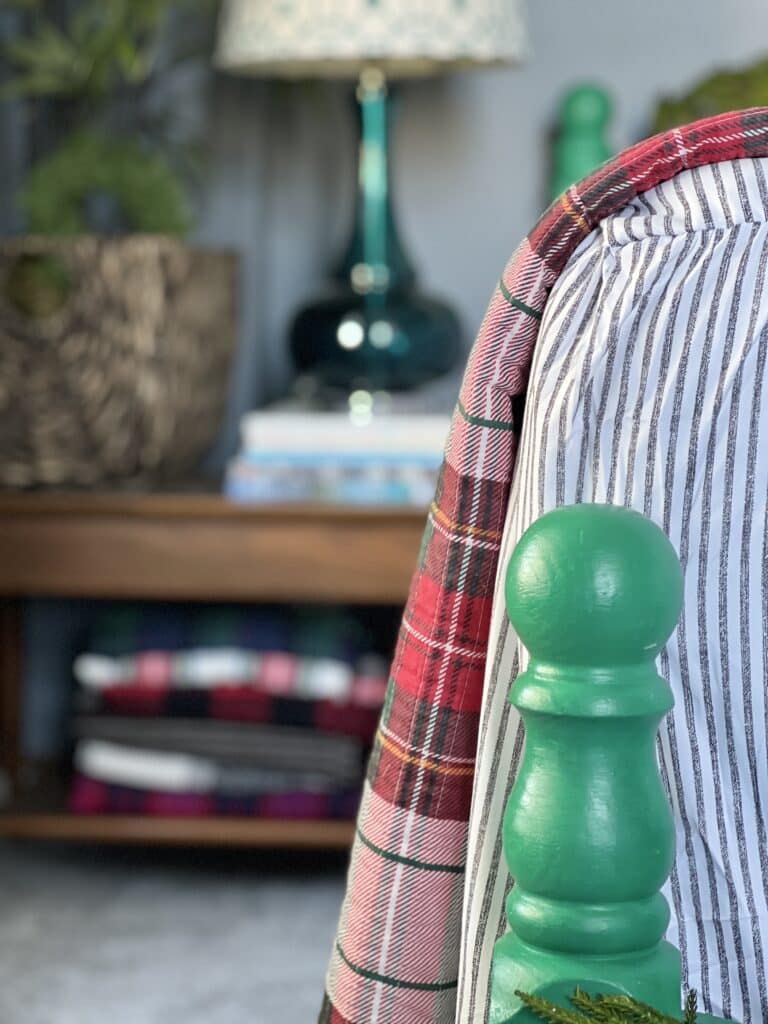 24. Reupholster a Chair
Transforming a chair with a burst of color is an effortless way to enliven any space in your home. Rather than buying a new piece of furniture, why not reupholster a chair with a bright and cheerful fabric?
A colorful fabric will not only add personality but also create character in the room. Picture how much fun it would be to come home after a long day at work and plop down in a vividly-hued chair that makes you feel happy and uplifted!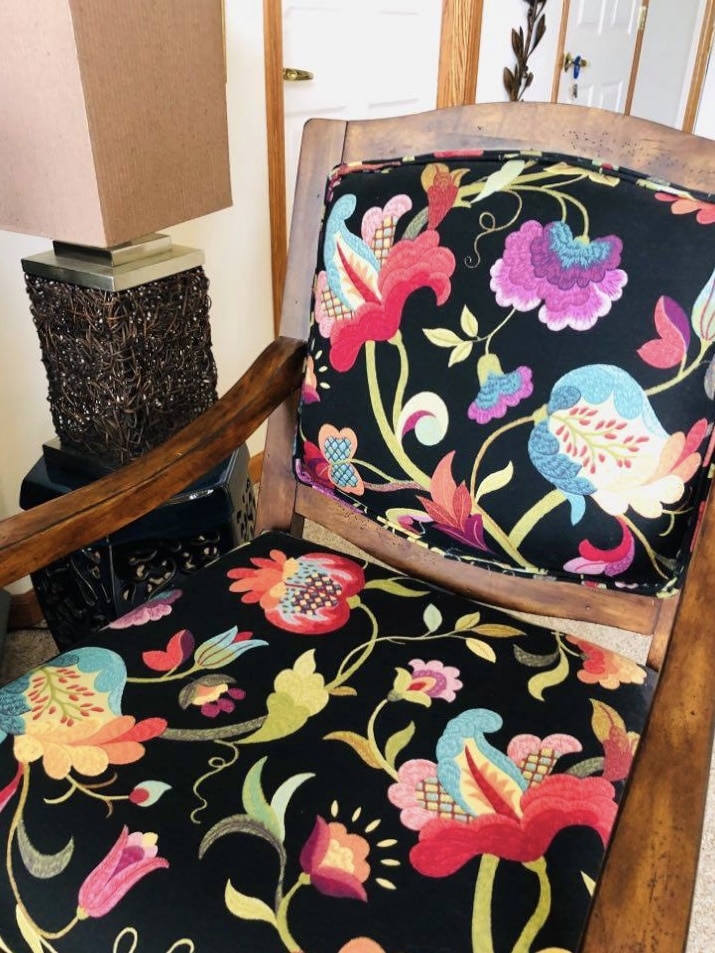 25. Throw Blankets
Decorating your home with colorful throw blankets is a fabulous way to add a pop of vibrancy to your living space!
You can drape a throw blanket over the armchair in your favorite vibrant shade to make it look more inviting. Or, you can choose a throw blanket that complements your existing color palette but has an interesting texture or pattern.
You can also fold a brightly colored throw and lay it on the foot of your bed to create a cozy atmosphere. Overall, the possibilities are endless when it comes to adding bursts of color and texture to your decor with these versatile blankets.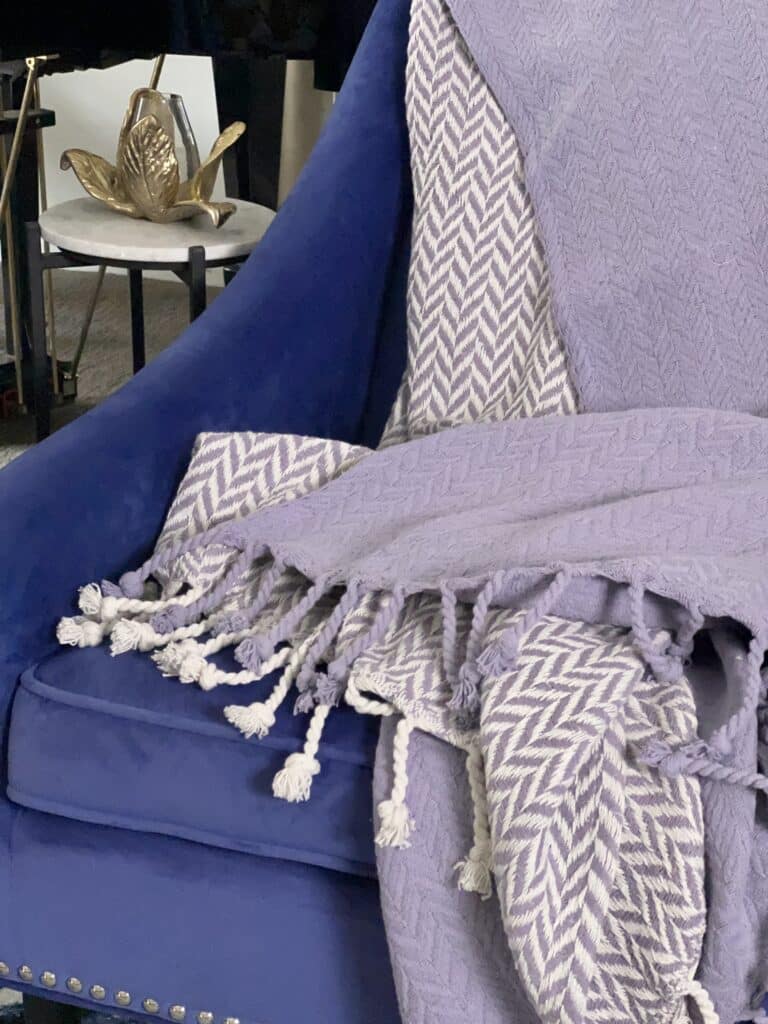 26. Energize The Home Office
A home office should be a space that inspires you to work hard, stay organized, and feel comfortable. Decorating with the right colors can help create the best atmosphere for you to be productive in.
To give your home office a warm and welcoming vibe, consider choosing colors that evoke feelings of calm and security, like blues and greens. These colors can help reduce stress and improve focus, making it easier to tackle your workload.
For pops of personality, try adding colorful accents like throw pillows or a rug in shades of yellow or orange. Whatever colors you choose, make sure they bring you joy and help you feel confident as you work from home.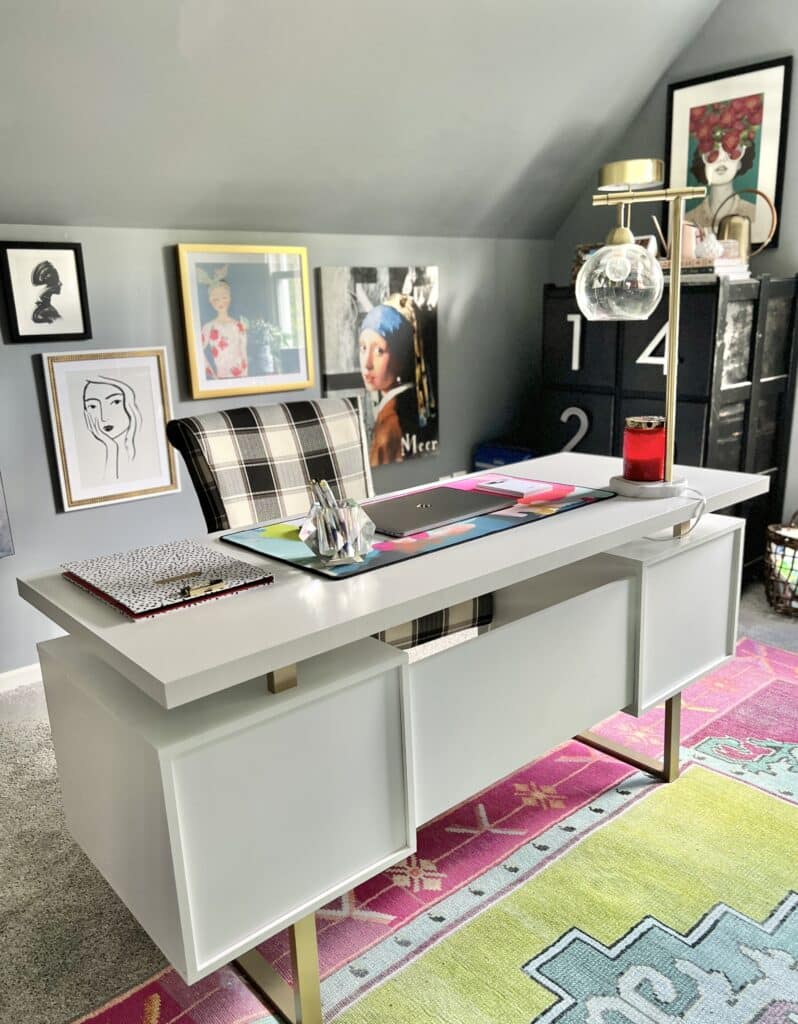 27. Elevate the Everyday with Color
It's amazing what a little pop of color can do to brighten up your day. Whether it's your favorite emerald green coaster on a living room table or a vibrant blue tea cup to scoop your sugar for your morning coffee, incorporating color into your everyday items can bring some much-needed joy and energy into your life.
Not sure where to start? Here are some ideas!
Brightly colored desk lamp
Patterned tea towels with colorful geometric shapes
Coffee mugs in vibrant colors
Small touches of color can go a long way in making your daily routine more enjoyable and uplifting. So go ahead, embrace your love for color, and make every day a little brighter!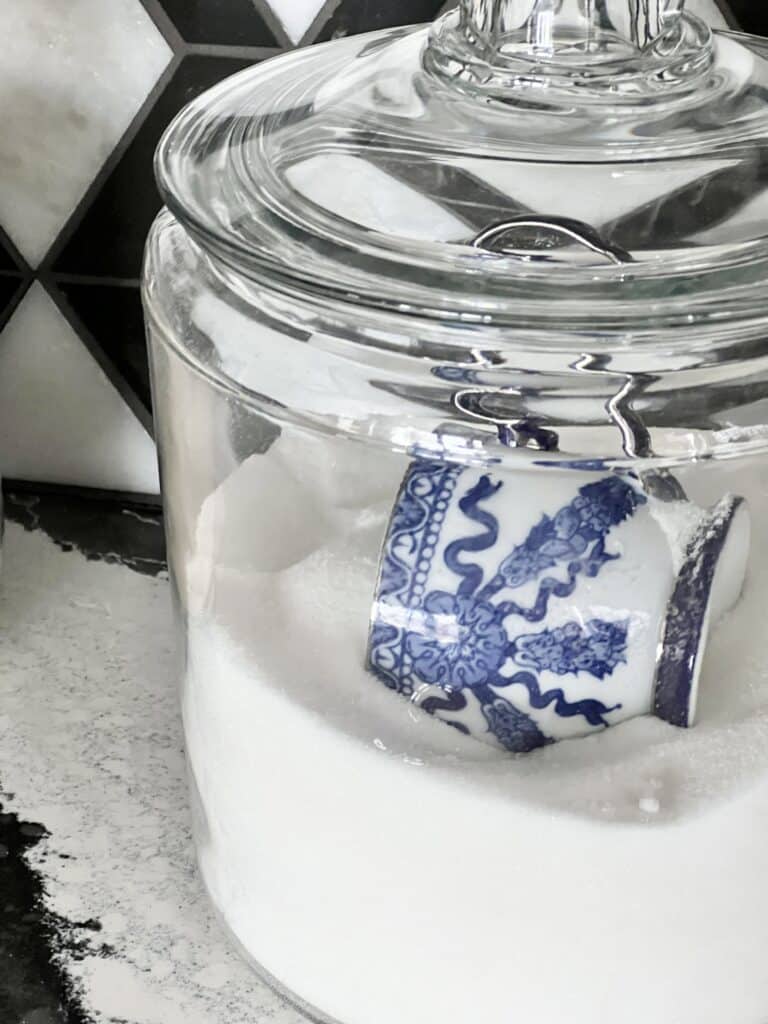 28. Color Block It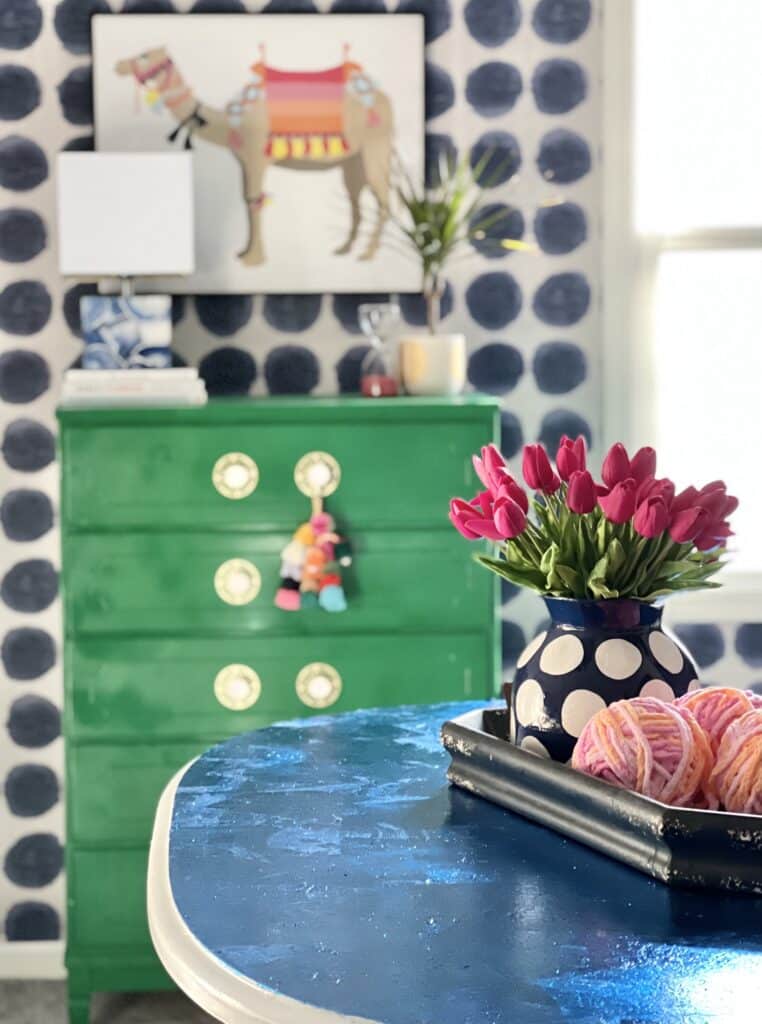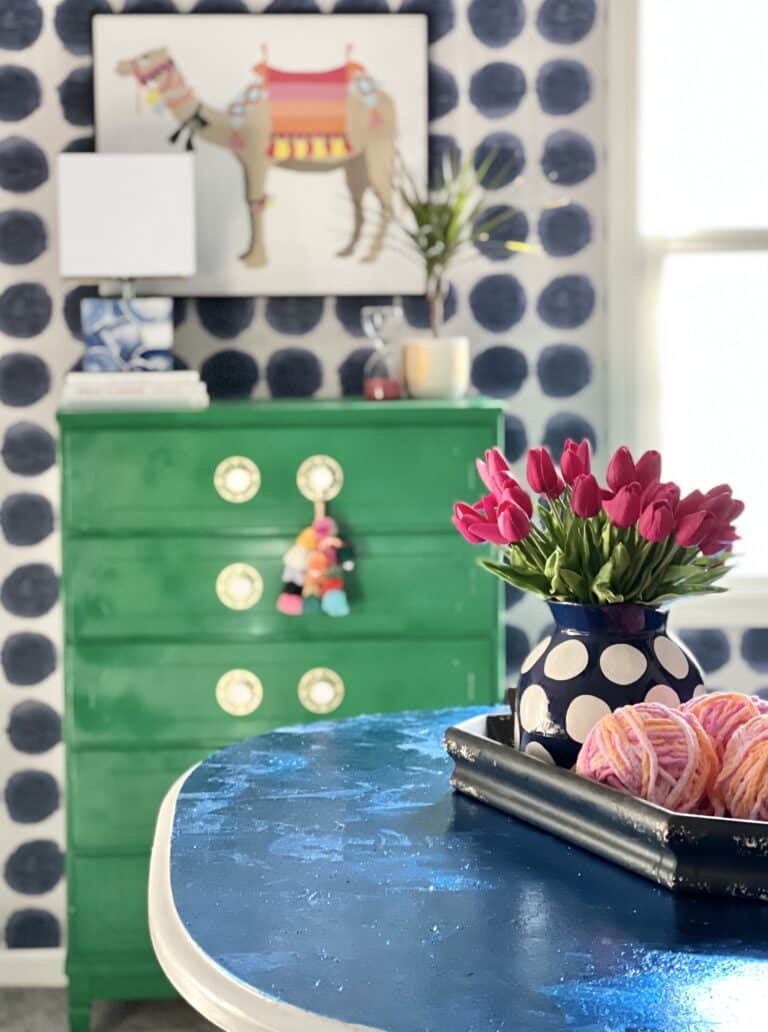 Color blocking involves pairing contrasting colors in a bold and eye-catching way, creating a fresh and modern vibe in any room. To get started, pick a color palette that speaks to you and experiment with different shapes and patterns. Think outside the box and don't be afraid to mix and match different textures and materials.
The key is to pick colors that complement each other and balance them out throughout the room. Take a look at your trusty color wheel to find hues that make great color-blocking partners.
29. Don't Forget Outdoor Colorful Home Decor
Decorating with color can be a great way to spruce up your outdoor space. One way to add a colorful touch is by incorporating vibrant throw pillows or outdoor rugs. Another option is to choose colorful planters and fill them with plants that will bloom in an array of colors.
Start by selecting a primary color that speaks to you, then choose complementary shades to create a harmonious palette. Add a pop of color with brightly colored outdoor pillows or a colorful umbrella. You can also opt for colorful planters or garden decor.
Dazzle your guests with an outdoor retreat that's anything but ordinary!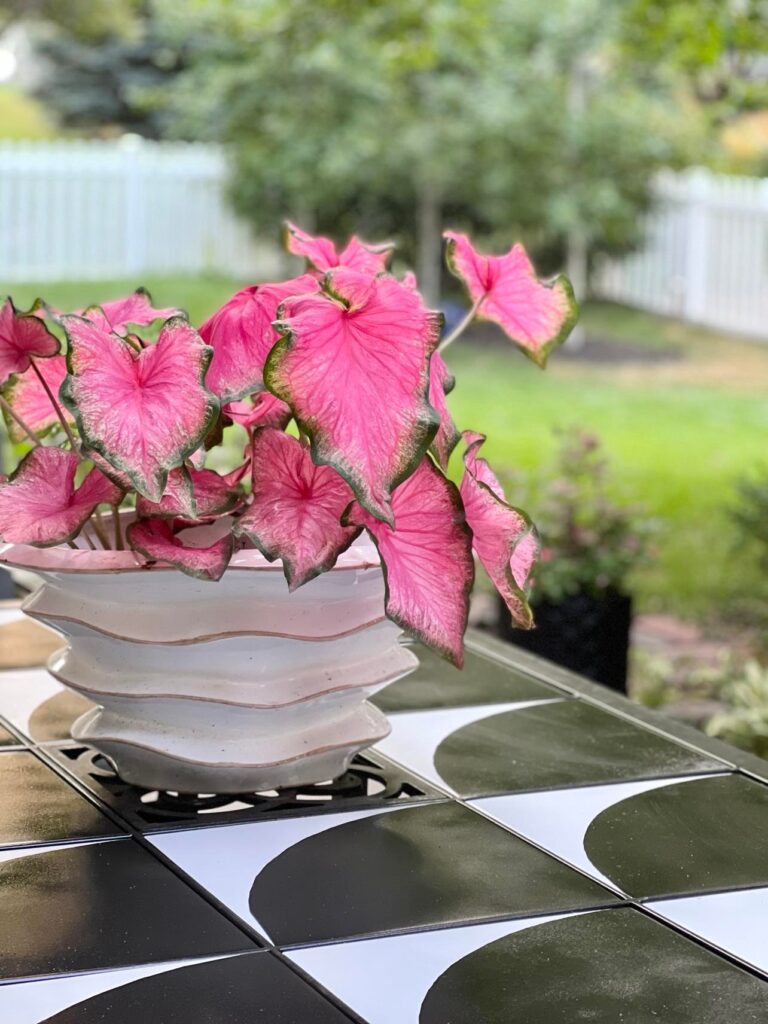 You now have 29 sources of inspiration to start embracing color in your home. From wall art to rugs and everything else in between, there are endless creative possibilities when it comes to bringing vibrancy into your living space with colorful home decor.
Creating a colorful space for yourself and your family doesn't have to be difficult or intimidating either; there are plenty of ways big and small to gradually bring color into your home. You don't have to make drastic decisions overnight nor do you need lots of money – just pick a few ideas from here and show your true colors!
Cheers!

Don't Forget to Pin It!
Pin the image below to your boards on Pinterest (just click the Pin button in the top left corner). You can also follow along with me on Pinterest!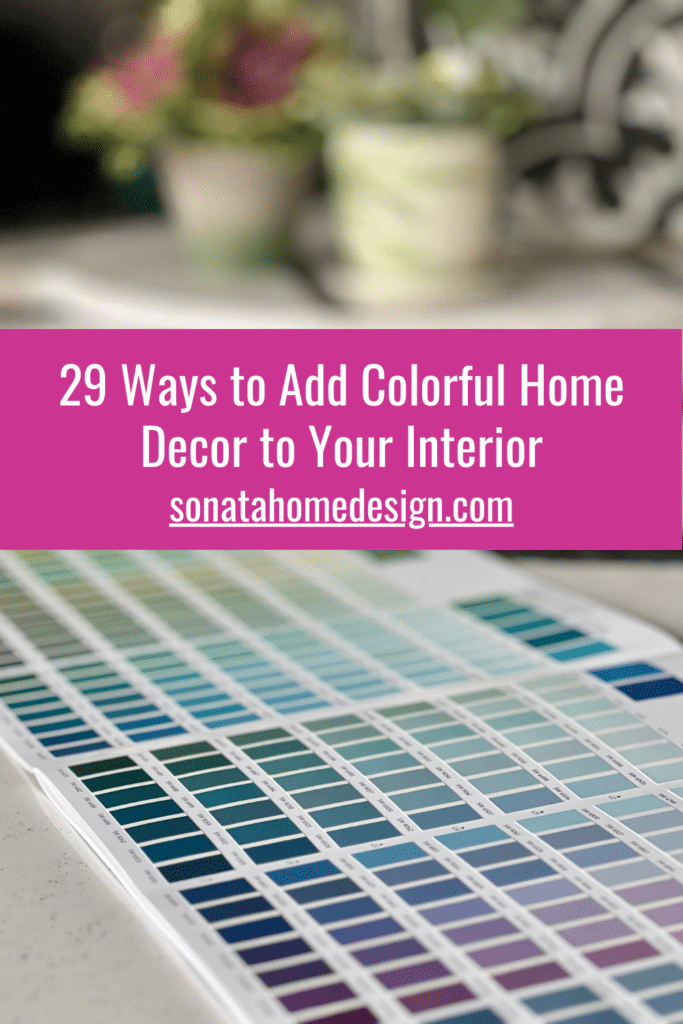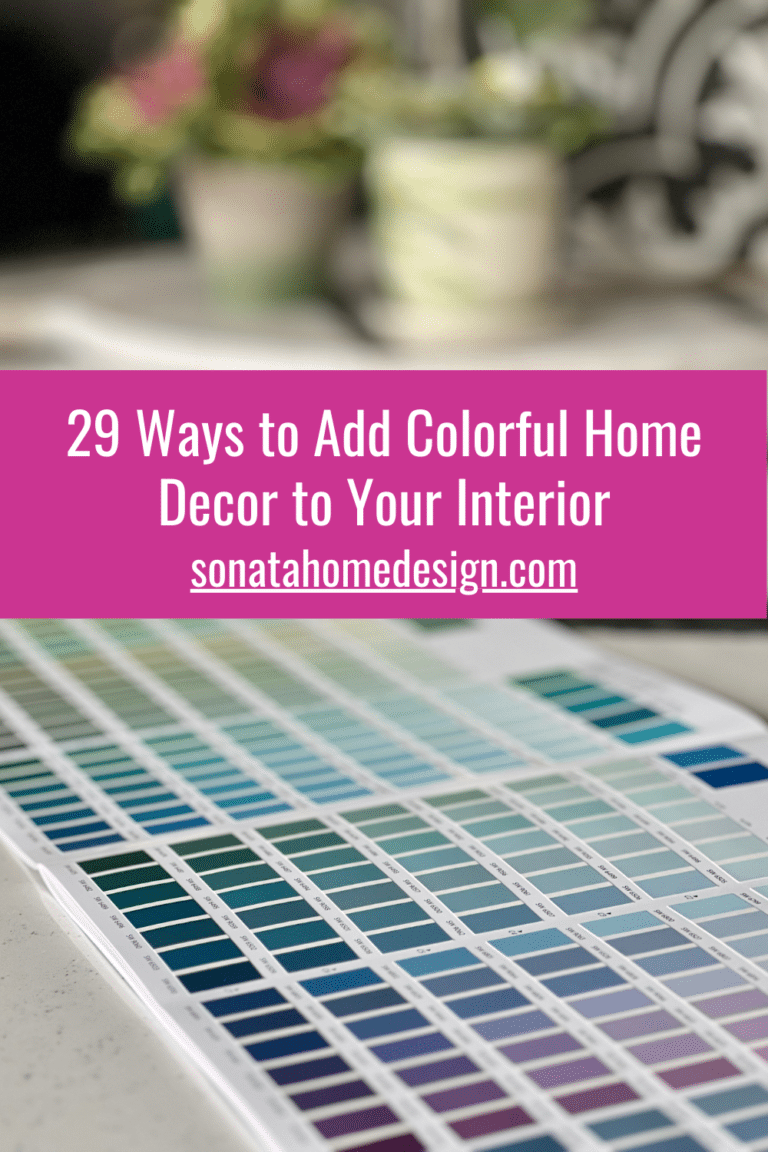 More Colorful Ideas