Dollar Store Wallpaper in an Unexpected Place
Dollar Store now carries peel and stick wallpaper sheets! See how I transform (and tidy) a hallway closet with Dollar Store wallpaper!
When I retired from teaching last May, one of my goals was to clean out and organize all the closets in our house.
Kind of a to-do list that I haven't imposed on myself since the early days of the pandemic.
I thought I would start small…with the smallest closet in the house.
This tiny closet sits outside our primary bedroom.
The purpose has always been a little unclear.
Too far from the front door to be a coat closet.
And too small and far from the kitchen to be a fully functioning utility closet.
So it just filled up.
With stuff.
And more stuff….a closet black hole!
I needed some motivation.
This blog contains affiliate links. This means a small commission is earned if you make a purchase by using this link. The price you pay will be the same whether you use the affiliate link or go directly to the vendor's website using a non-affiliate link.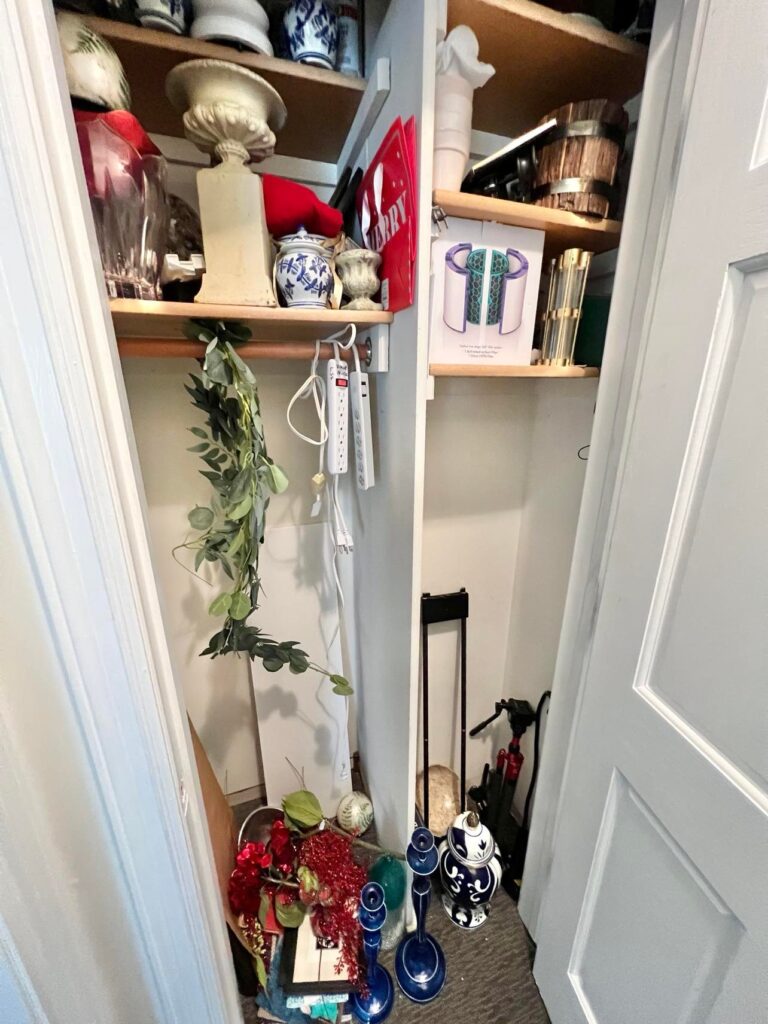 I Need Motivation!
I found my motivation…at a dollar store!
As is often the case when I visit a dollar store, I walk in with a specific shopping list and walk out with a whole lot more!
In this case, with sheets of peel and stick wallpaper!
Yes, you can find wallpaper at the dollar store. In this case, The Dollar Tree!
There were 8 patterns to choose from but I fell in love with this wood tone herringbone pattern. Perfect for adding some warmth and interest to the back of the closet.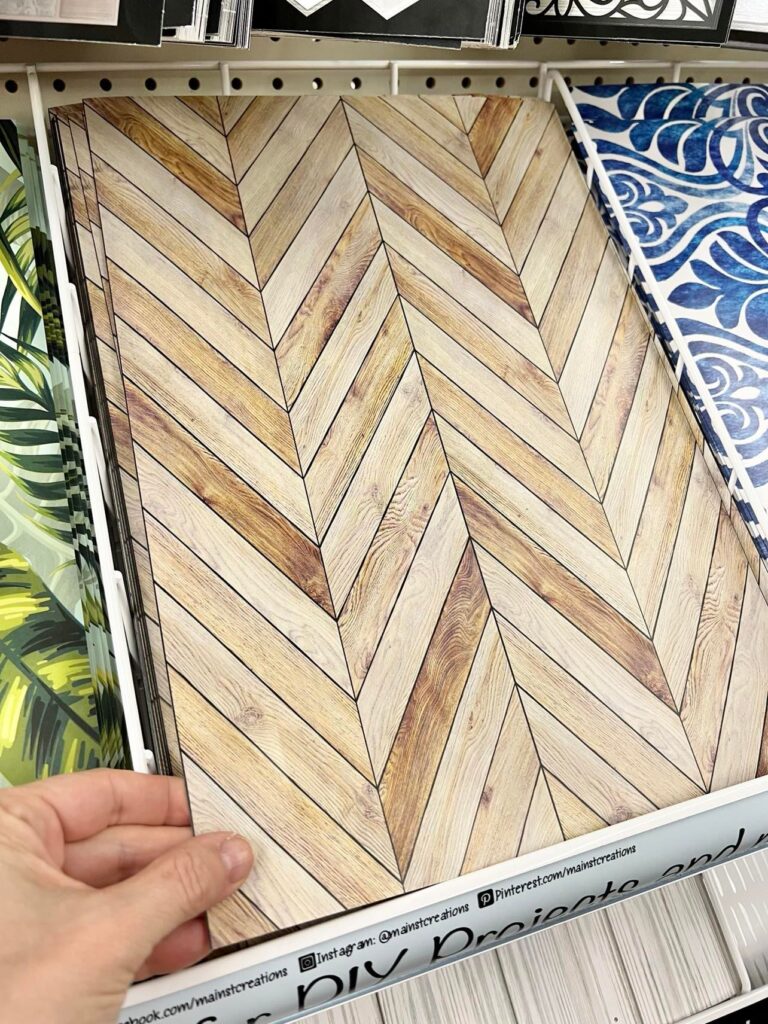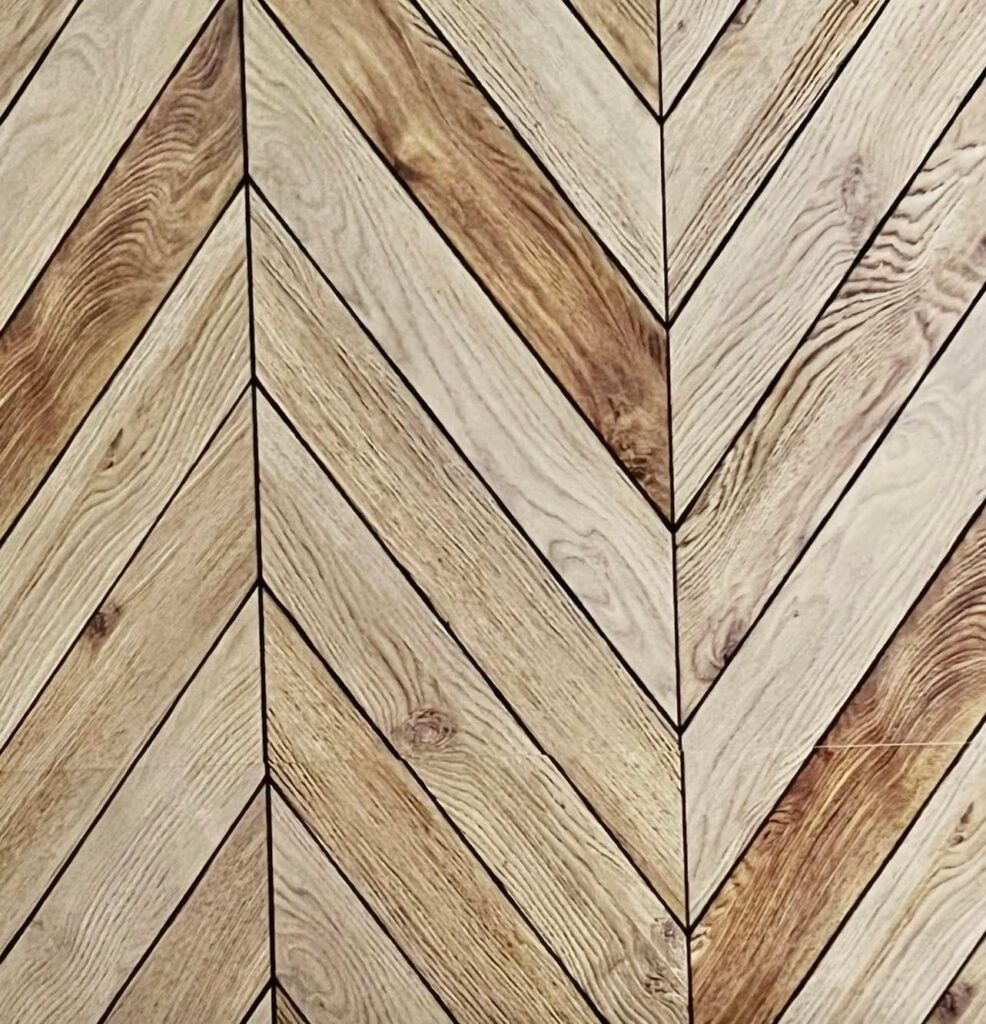 Clean It Out
The dreaded clean out…
But when when the closet was empty, my motivation sky-rocketed!
It is still a small closet but now seems twice the size!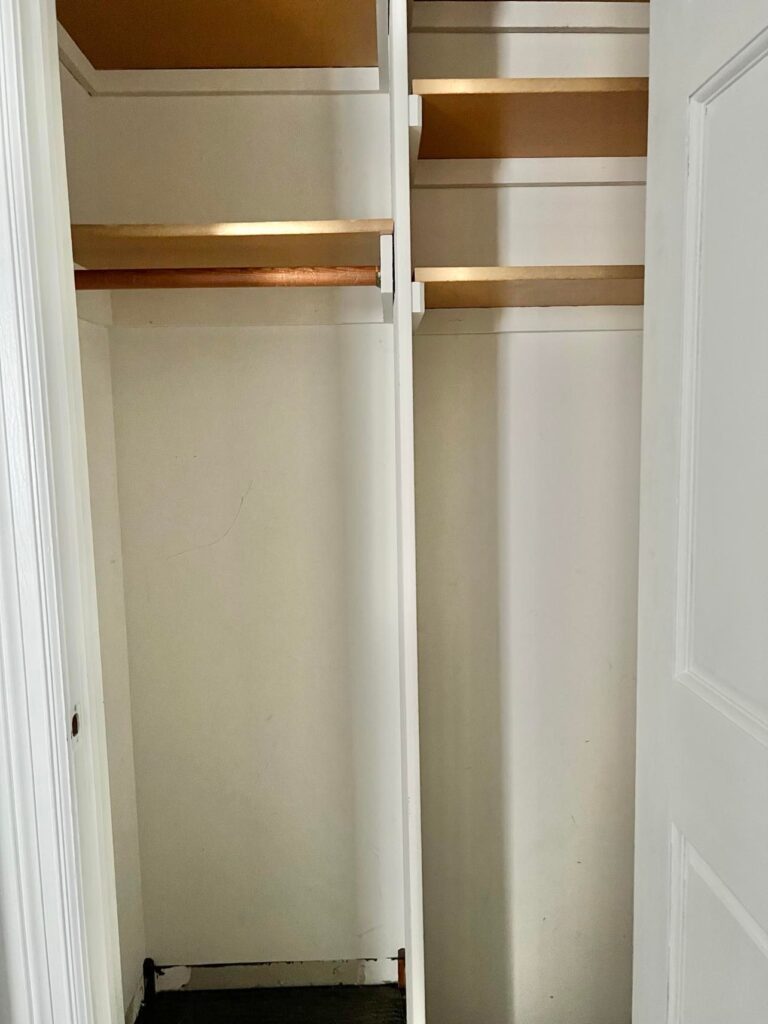 Peeling and Sticking
The wallpaper sheets went up so easily. Peel off the back of the sheet and stick it on the wall.
There was no bubbling and the sheets are small so I never felt "out of control."
The sheets fit perfectly except for about 3 inches on the side. Because of the pattern on the paper, I had easy guidelines for cutting smaller pieces.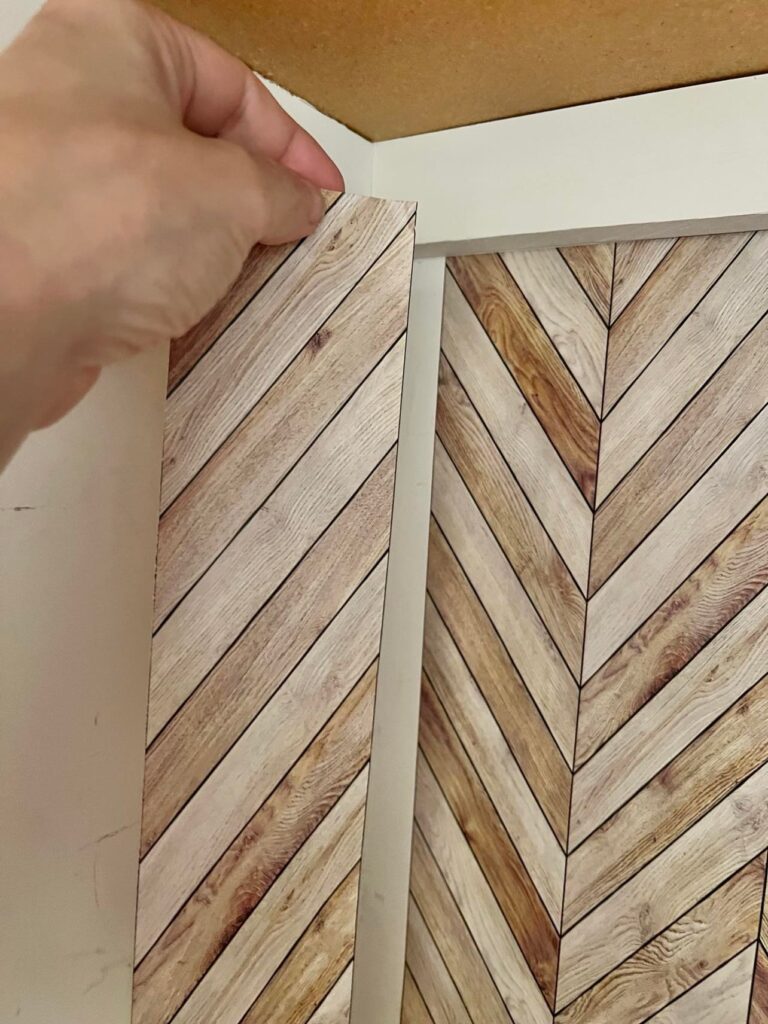 A simple razer blade was all I needed to trim the edges.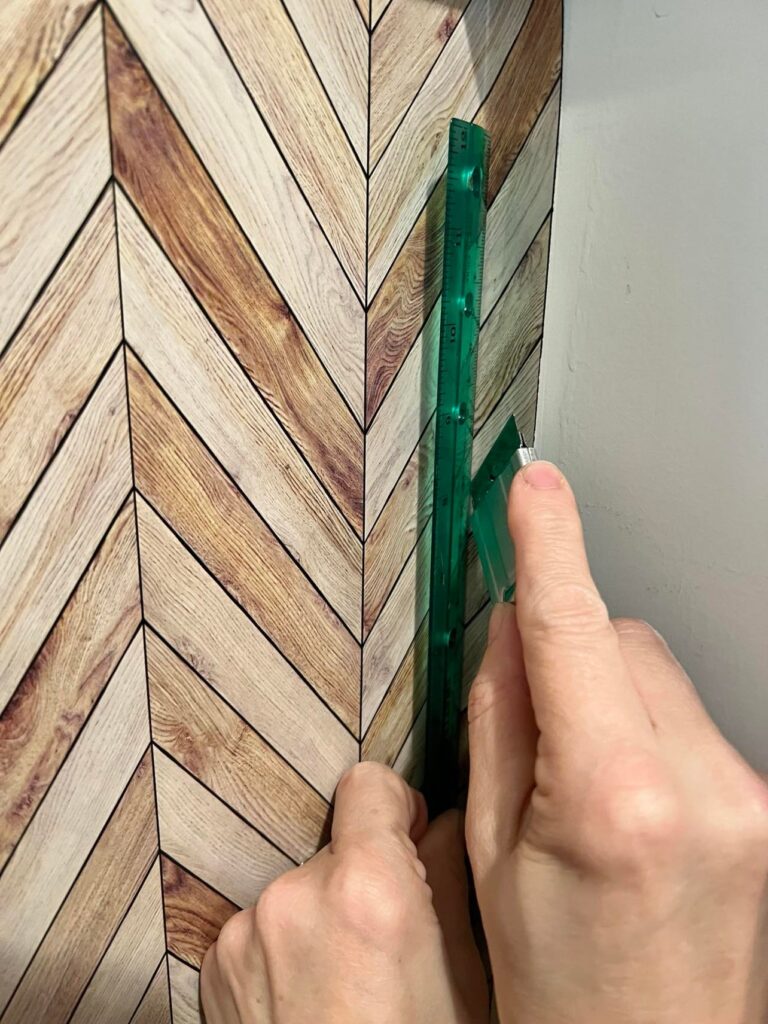 Now What?
Now the closet looks like it has a very intricate built-in wood design.
At $1.25 a sheet, I spent just a little over $18 to wallpaper the entire back of the closet!
This closet previously suffered from an identity closet. No more!
This closet is now home to home decor items that get transitioned in and out of our home throughout the year.
I am organizing my home decor by category.
Candlesticks all together!
China teapots and chinoiserie jars…together!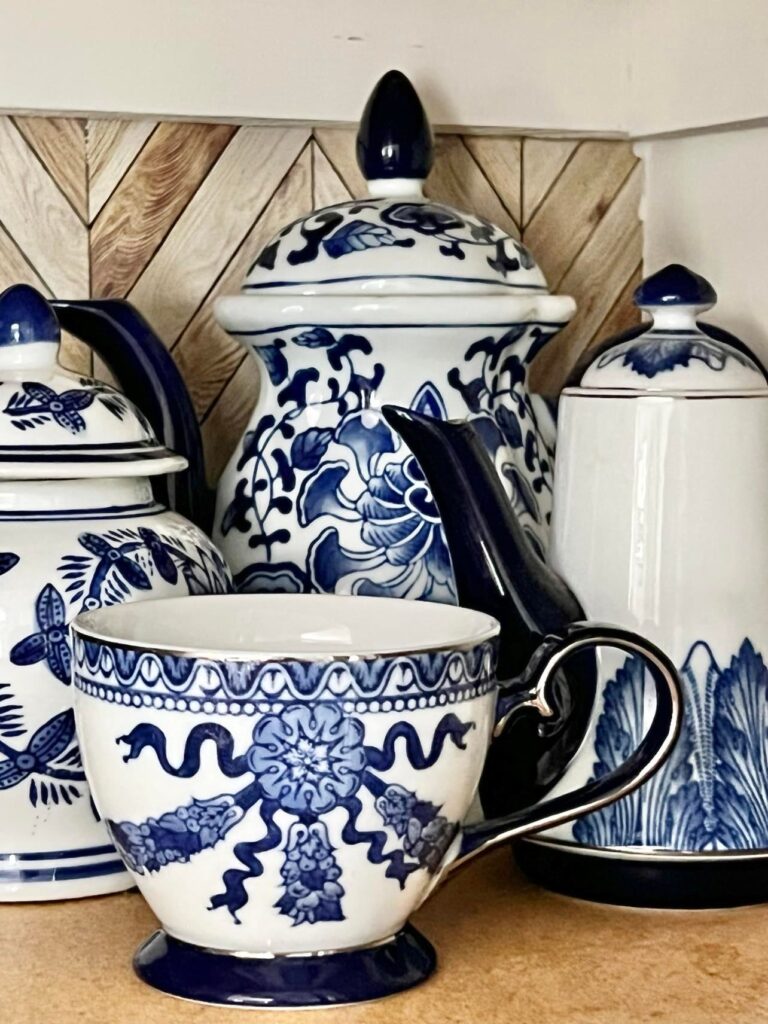 It's not all pretty home decor…although my Shark Navigator Vaccuum looks pretty good with the wallpaper backdrop!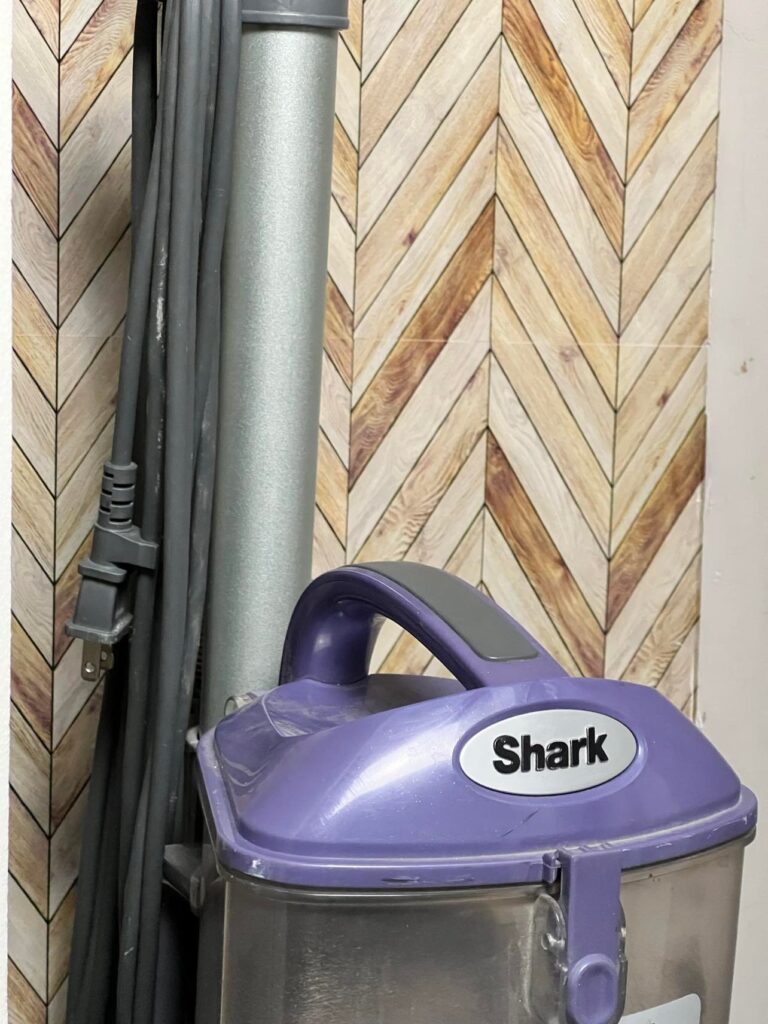 Ta-Da!
Now I don't hold my breath when I open the closet door!
I'm sure I will be adding more items to the closet. There is more shelving up top for less frequently used items.
Now, instead of a dark closet "hole", I can see everything and am actually inspired to use pieces when I see them on the shelf!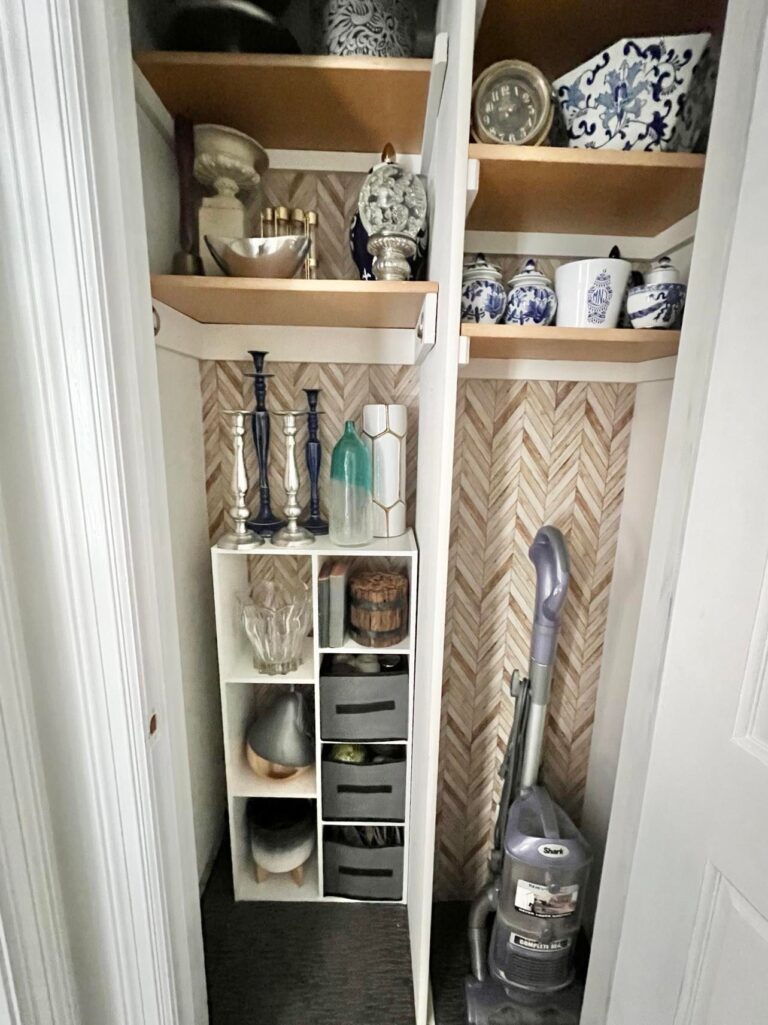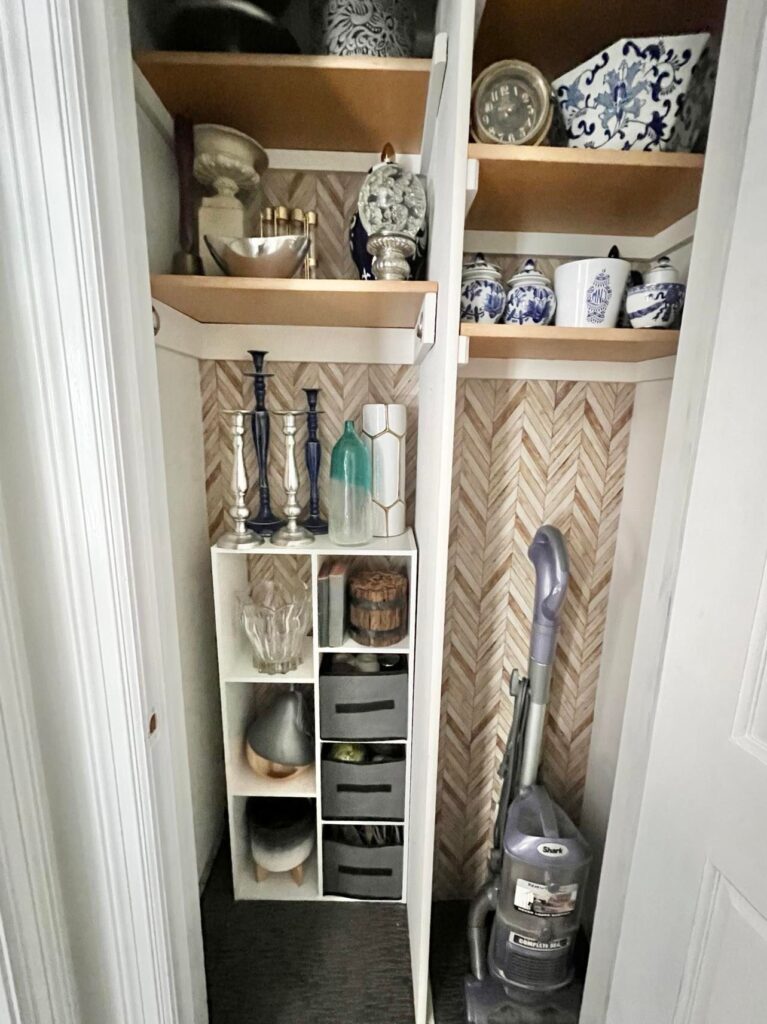 This dollar store wallpaper make-over was worth every $1.25 sheet!
Cheers!