The Best Table Runner Ideas for a Round Dining Table
Have you ever wondered how to use a table runner on a round table? Check out these table runner ideas for sprucing up a round dining table.
When it comes to round dining rooms, table runners often get forgotten in the design process. Too long and they look awkward; too small and they can appear inadequate. But when done right, a stunning table runner is the perfect way to accentuate any round dining table – adding texture, personality, or even color with ease.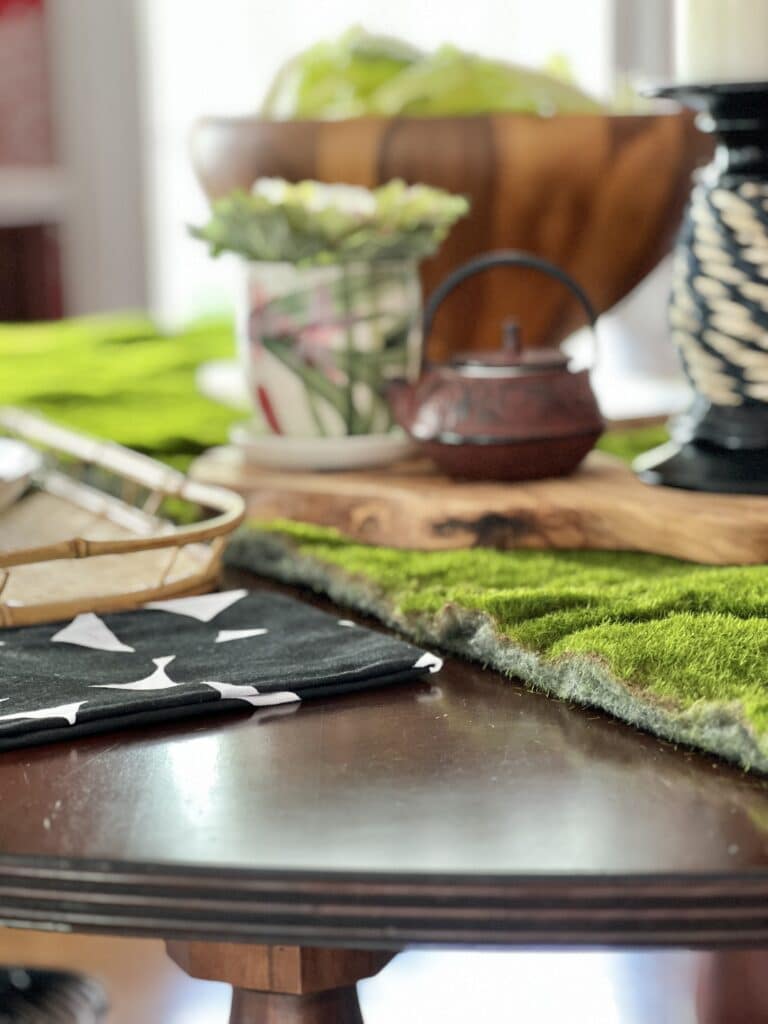 This blog contains affiliate links. This means a small commission is earned if you make a purchase by using this link. The price you pay will be the same whether you use the affiliate link or go directly to the vendor's website using a non-affiliate link.
I can't just walk by a bare table.
Always…I want to add something.
Maybe something colorful. Or, maybe something with texture.
Maybe something to signal that dinner will be ready soon!
Table runners are a fantastic way to highlight table decor and as well as other decorative elements on a table.
Can You Put a Table Runner on a Round Table?
Absolutely! In fact, adding a rectangular table runner to a round table is a fantastic pairing of contrasting shapes.
The rectangular shape of the table runner is a wonderful contrast with the circular shape of the table. Different shapes on a dining room table are a great thing to try when going for a layered and dimensional look.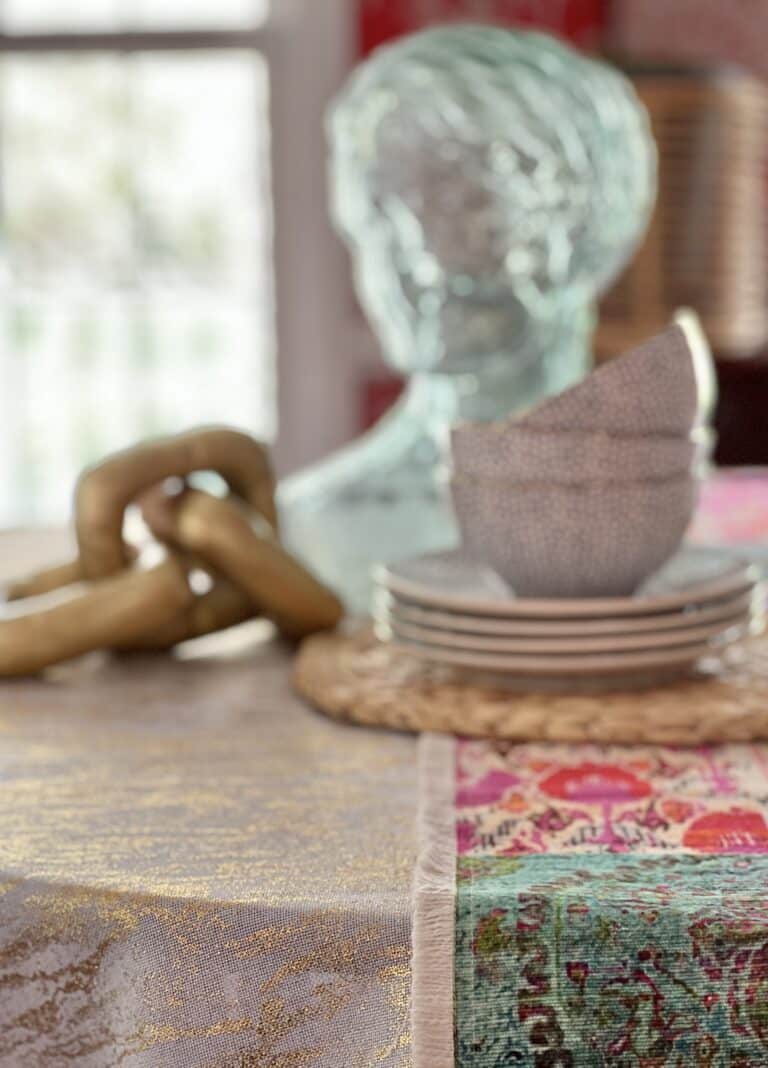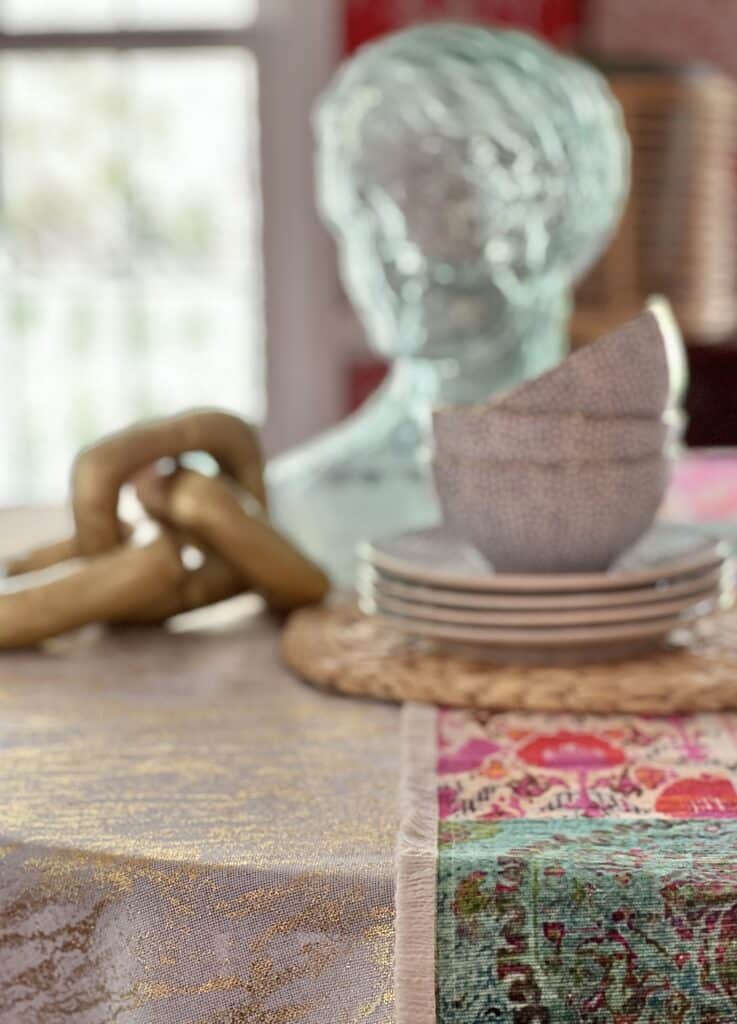 Table runners are a great way to protect the surface of a table or even hide a scratch or blemish on the table.
Plus, a table runner can add a pop of color or an interesting pattern to a table surface that might otherwise be damaged or just plain bare.
So don't let the fact that your table is round stop you from adding a table runner. In fact, go for it!
Table Runner Ideas for a Round Table
The simplest way to place a table runner on a round table is in a straight line down the center of the dining or kitchen table. This adds a linear element of color and/or pattern to the tabletop that you can leave as is or continue to decorate.
Leave the rest of the table bare for a simple design or layer on top of a tablecloth for more formal occasions.
You can also add round placemats on the side of the table for each table setting. Just make sure you leave enough space for the placemats to sit completely on the table and not hang over the edge.
If one is a good thing, two can be even better!
Criss-cross two table runners to create four perfect place settings!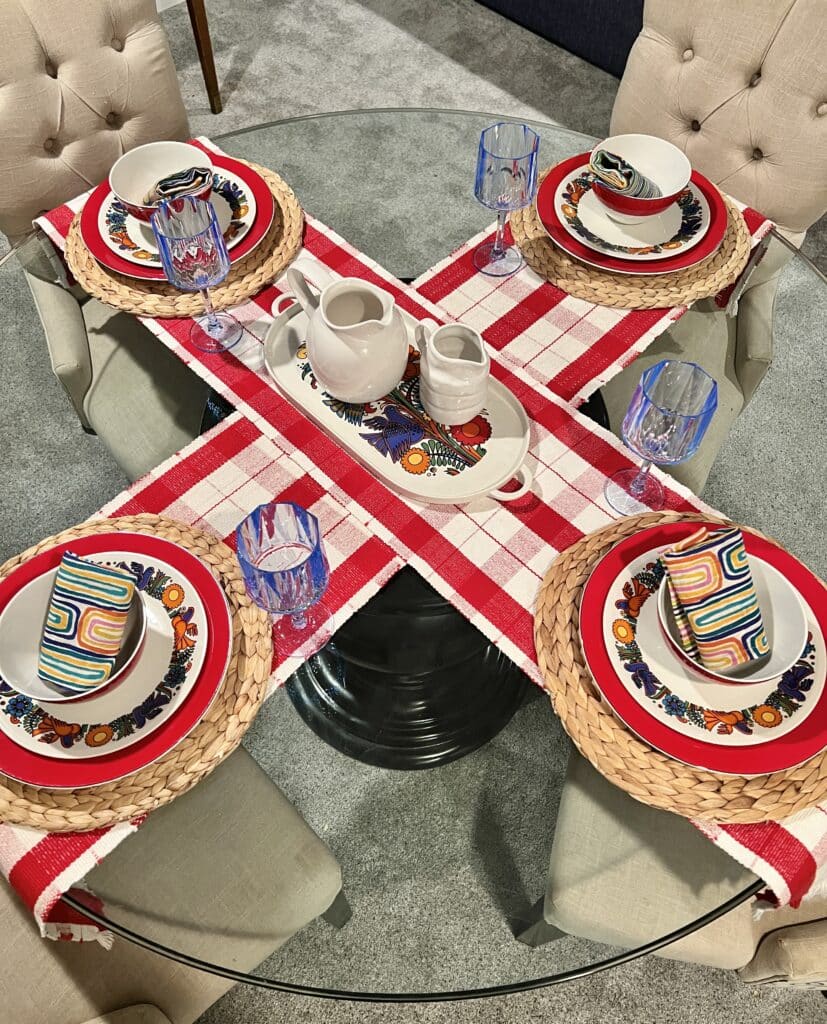 Should a table runner hang over the table?
If you're tired of playing Goldilocks with your table runners – too long, too short, just right – I have some good news for you: there are no hard and fast rules! That's right, you can run wild with your personal preference.
The general rules for a long table runner are that the length of your table runner hangs at least 6 inches over the edge of the table and that it is not longer than any underlying tablecloth.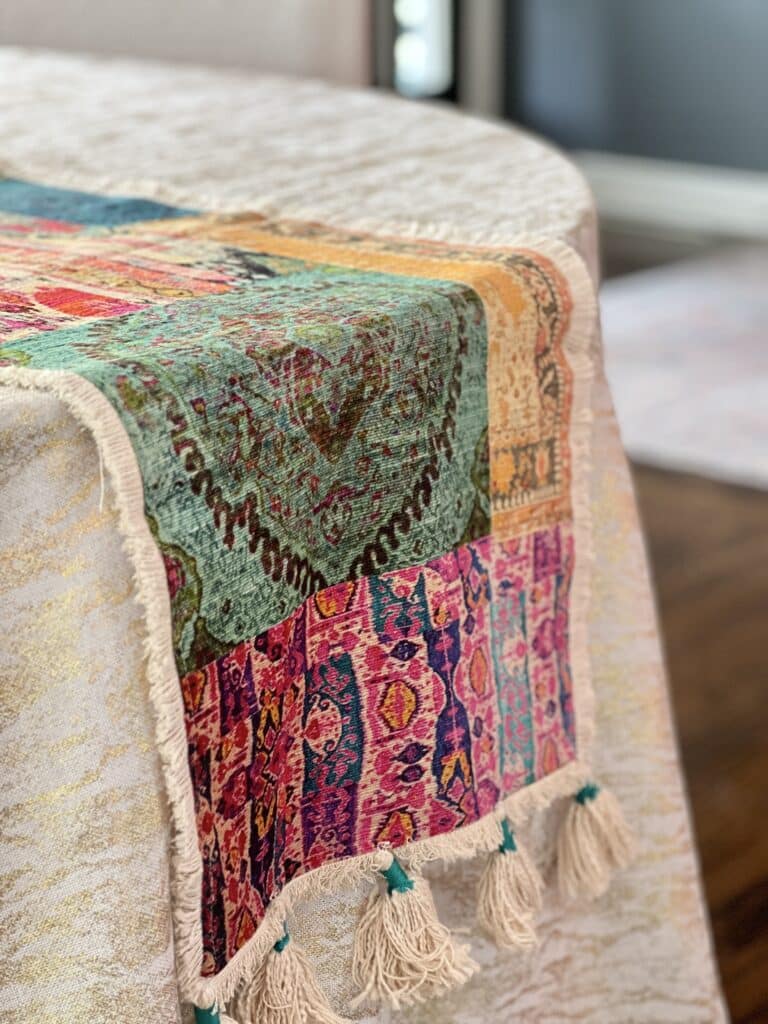 However, make sure that as it hangs down over the table end, it doesn't invade the personal space of any guests. No one like a pile of fabric in their lap while eating!
There is no need to stress or really measure – just let your creativity flow and let your table runner run free!
Can you use a short table runner on a table?
A short table runner can have just as much impact as a long runner!
It is a great way to bring focus to any table centerpiece or display.
If you've got a centerpiece that's begging for attention, go ahead and showcase it with a shorter table runner.
Great Ideas for Alternative Table Runners
There are different ways to create a table runner for a dinner table. Think outside of the box and try one of these ideas for a table runner.
How about a green moss runner?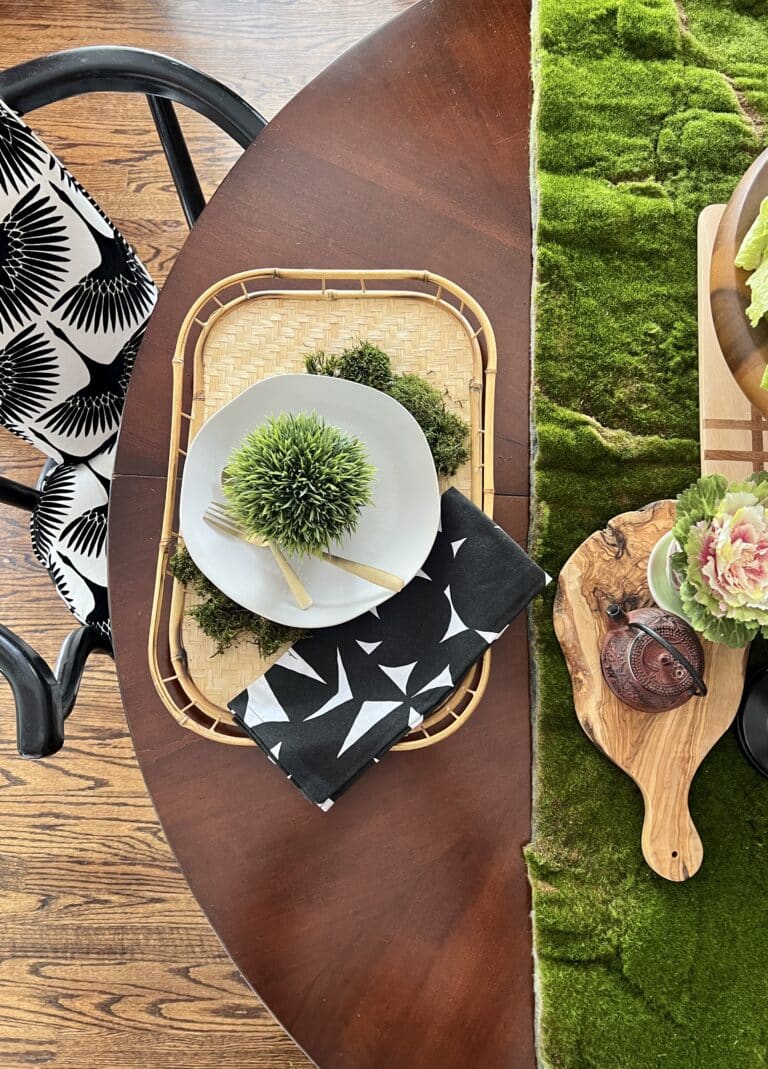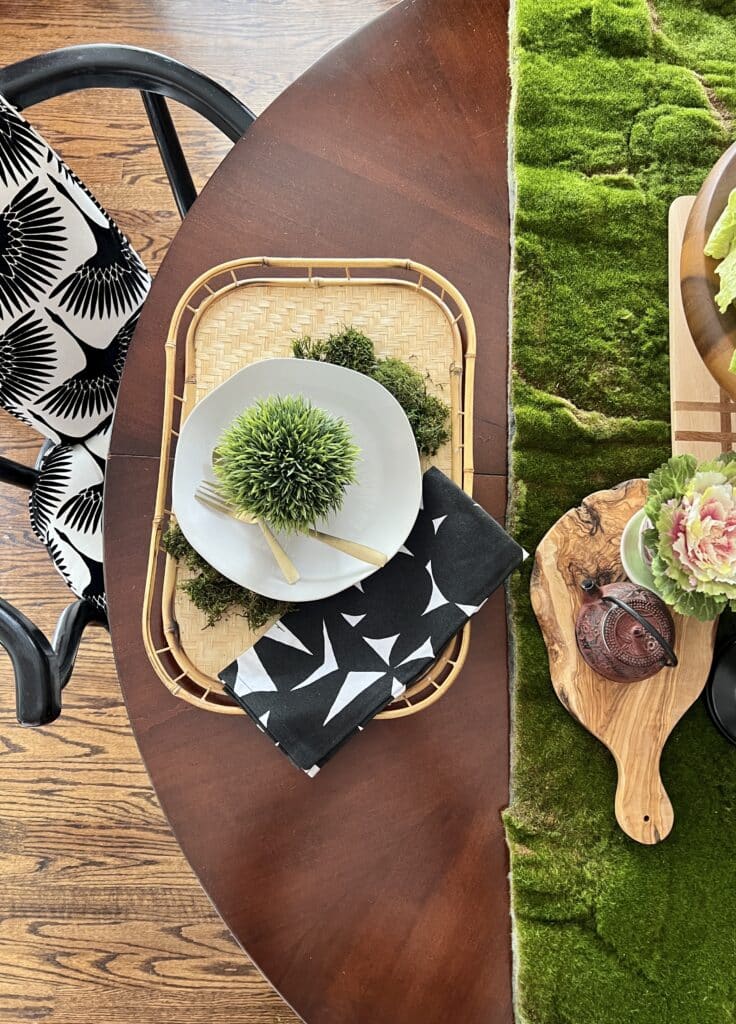 Or, take a length of fabric and artfully drape it along the table.
Try laying several placemats beside each other to create one runner.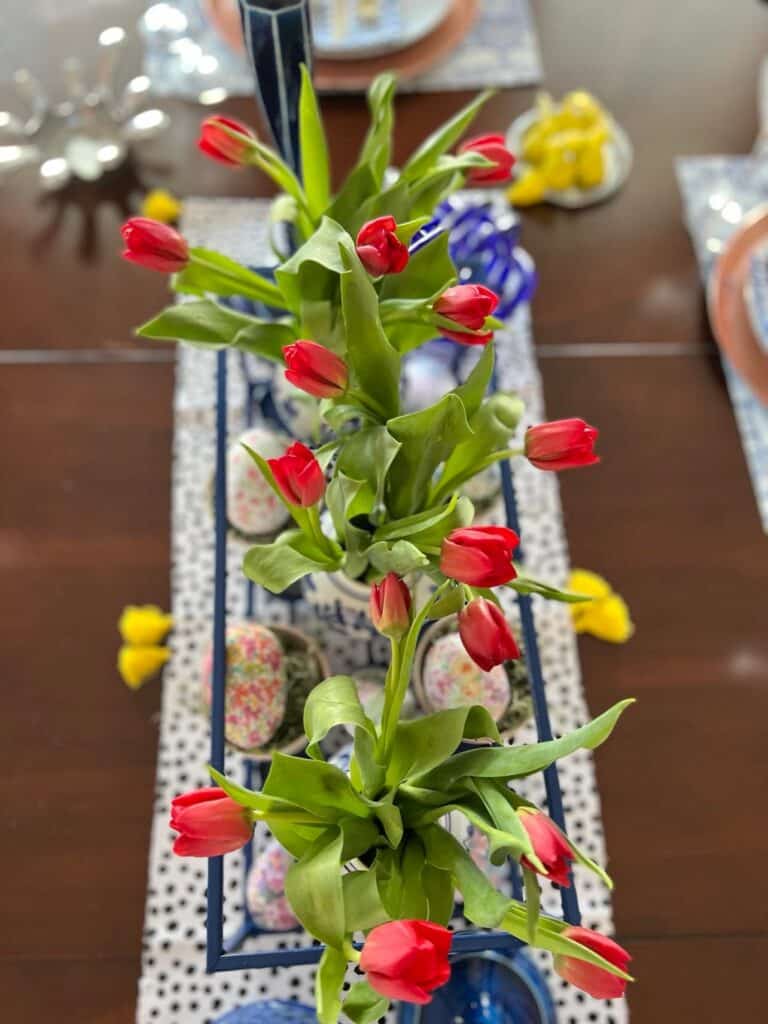 Pick up a used burlap coffee bean bag from a coffee shop and create a unique burlap table runner.
Or, try using a faux fur rug and use it as a short yet elegant table runner.
Speaking of rugs, any 2' x 3' woven rug is an unexpected way to create a table runner.
Don't forget your holiday table! Table runners are fantastic at Thanksgiving, Christmas, or Hanukkah.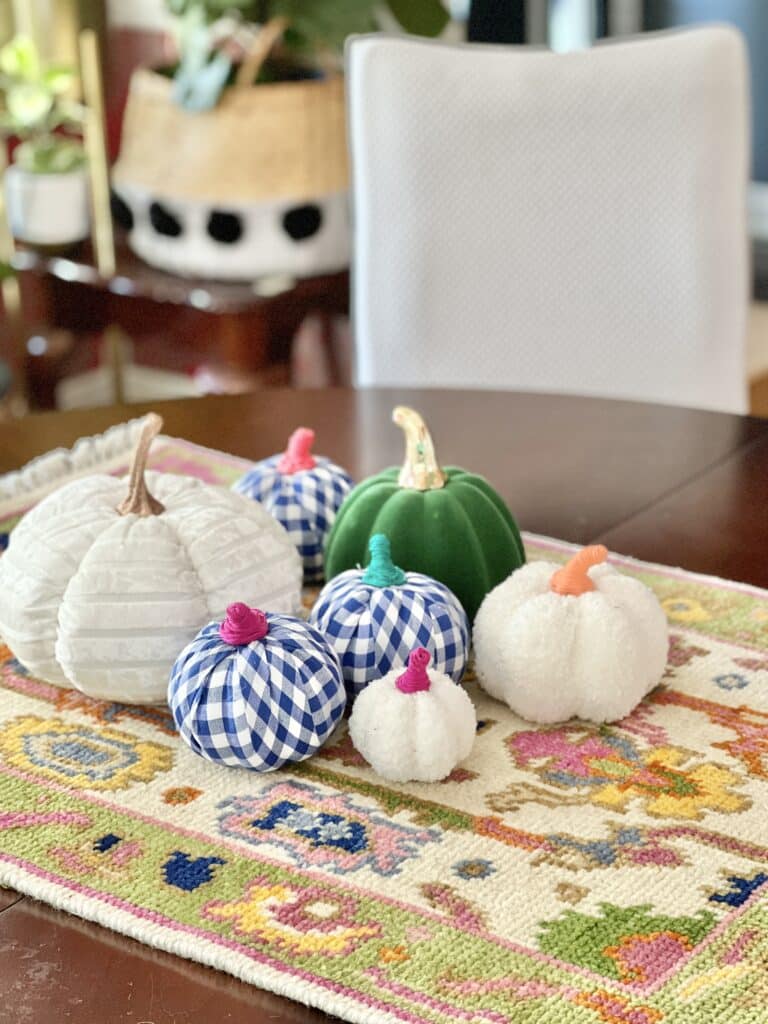 What Do I Put on Top of a Table Runner?
I've got you! Here are some ideas for what to put on top of a table runner.
Fresh or faux flowers
Crystal from Sweet Valley Acres displayed these stunning flowers on top of a table runner that doubles as charming artwork.
It is the perfect complement to the amazing view behind it!
Candles are always a good idea!
Purchase your favorite or make your own DIY wrapped tapers.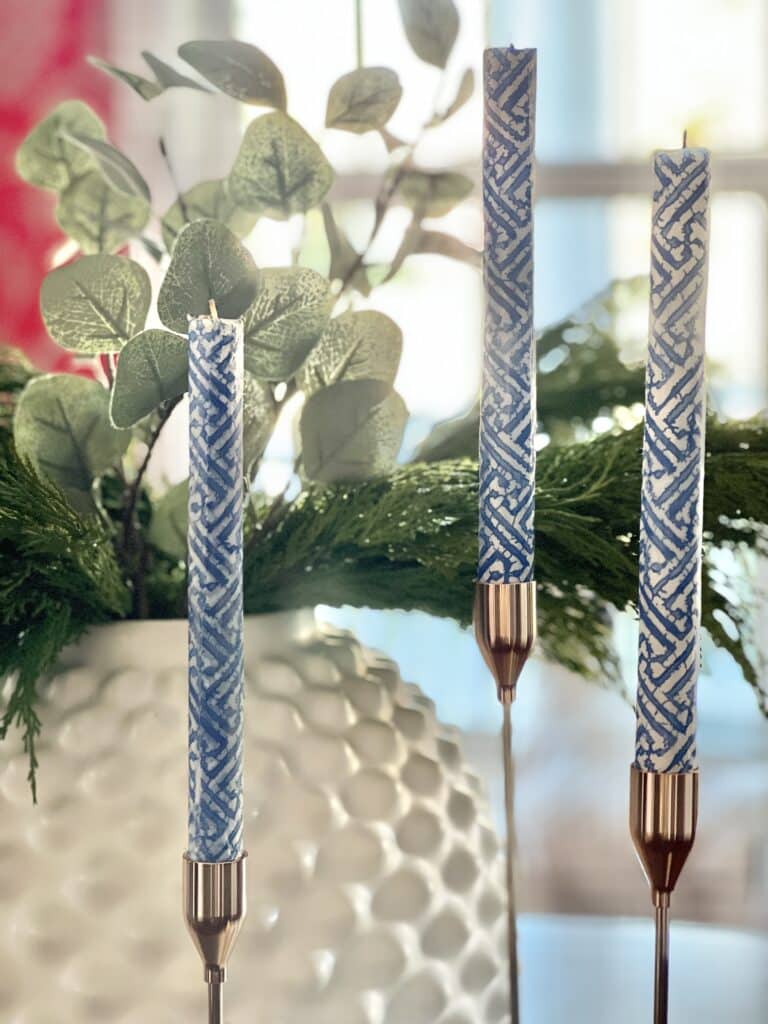 Trays or Wooden Boards
Any sort of tray or wooden board is a lovely yet practical way to hold condiments, spices, syrups, or other meal accompaniments. Everything will look collected and organized when placed on the table runner.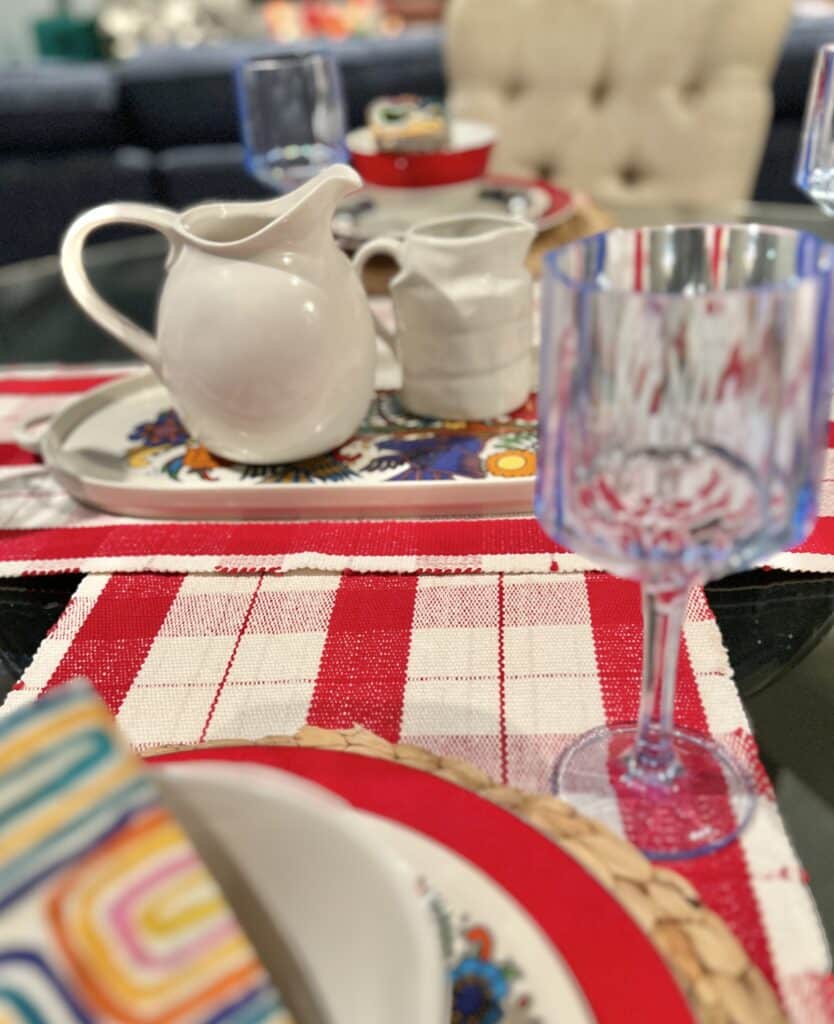 Dough Bowls on Table Runners
Dough bowls are an incredibly versatile piece of home decor and will fit perfectly on a table runner.
This party dough bowl (filled with yummy cupcakes and sodas) is sitting on top of a pool noodle…
…sitting on top of a draped piece of fabric…
…and sitting on top of a round table!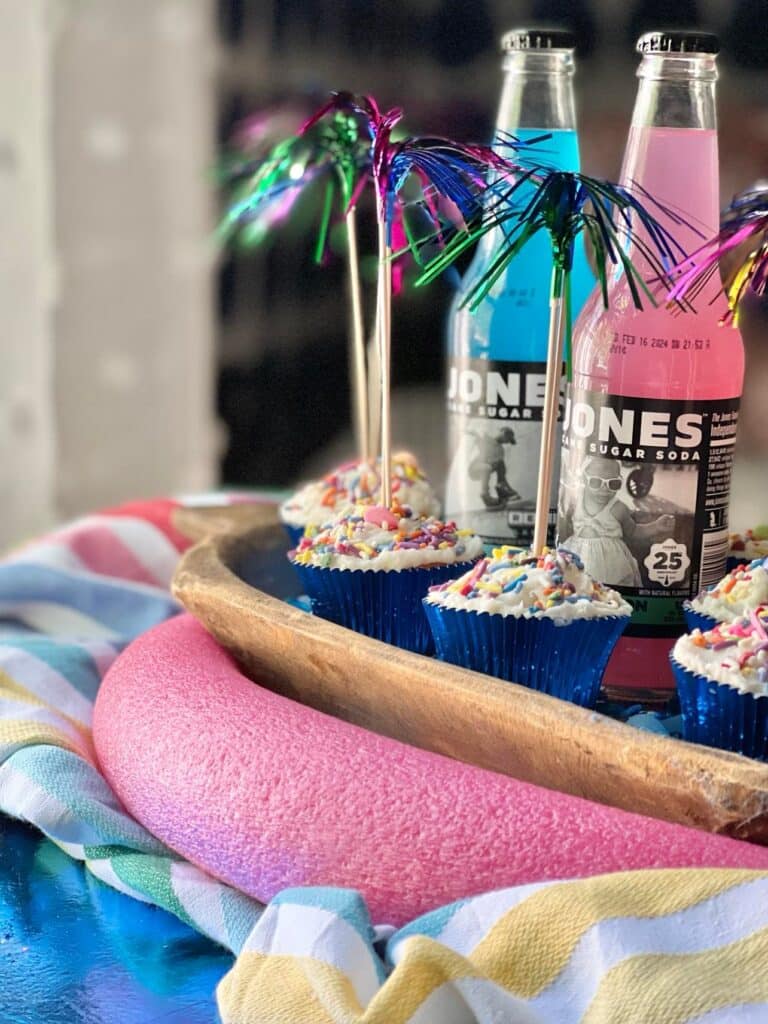 Home Decor
Shop your house and find home decor that speaks to you. Then, decorate the middle of the table by adding your own decorating personality.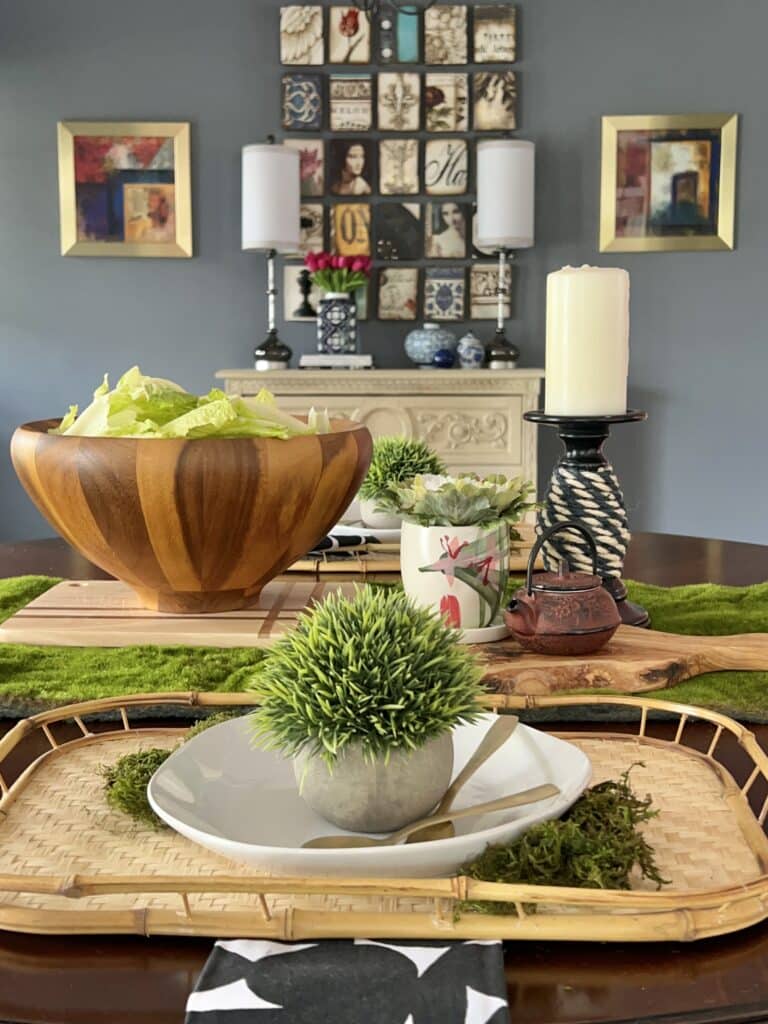 Some of My Favorite Table Runner Ideas for a Round Table
Jumbo Mood Floral Table Runner
Wow! Who knew you could do so much with a table runner and an ordinary round table?
At this point, your creativity should be running wild!
How would you layer the runner with placemats or chargers to emphasize the perfect dash of color? What other interesting shapes can be used to accentuate a round table setting and make it 'pop'?
Now that you have discovered all these tricks for adding a little pizazz to your decor, don't be shy about experimenting! If at first something doesn't work as planned, don't give up. Mixing textures and colors can take some practice and patience until it's just right.
So, pull out those table runners and get creative with styling your round table!
Cheers!

Don't Forget to Pin It!
Pin the image below to your boards on Pinterest (just click the Pin button in the top left corner). You can also follow along with me on Pinterest!