13 of the Best Blue Area Rugs
Looking for blue area rugs? You're in luck! I've rounded up 13 of the best options, perfect for adding a blue pop of color to any room.
From bold and bright blues to soothing and calming shades, there's something for everyone here. So whether you're looking to upgrade your home décor or are just starting out, be sure to check out these picks.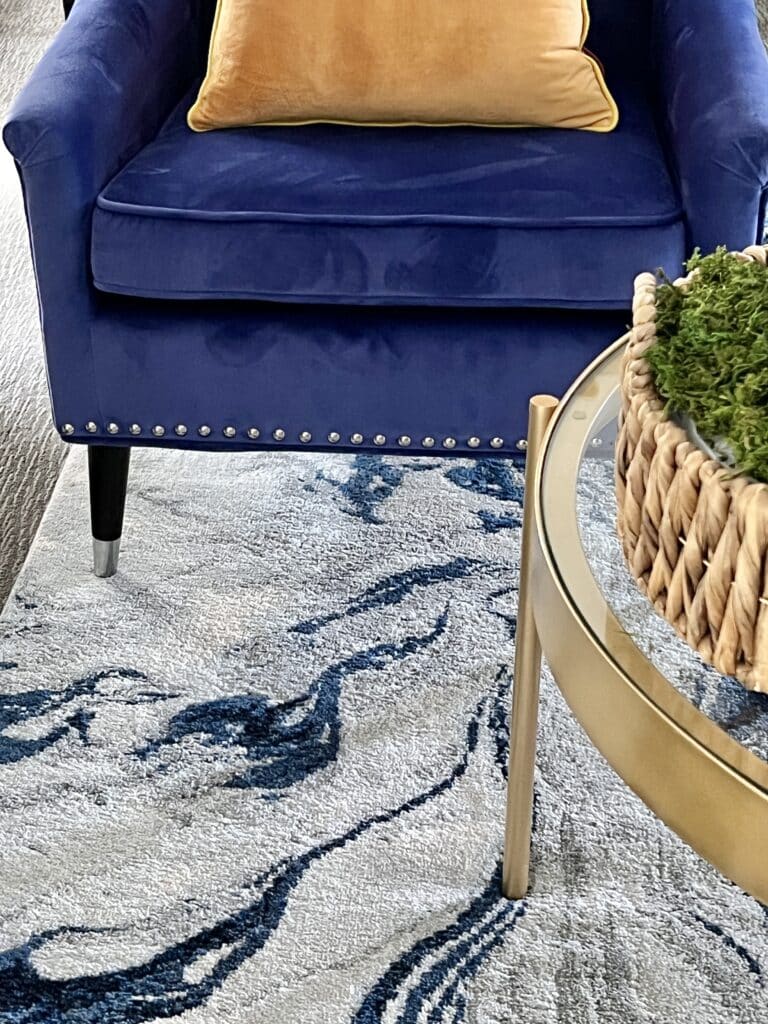 Don't you just love a beautiful rug?
It is often the first thing I notice in a room and the first thing I noticed when there isn't one in a room!
An area rug says "Sit down here!"
"Here is something important!"
"In case you didn't know, this is the dining area!"
The area rug was a major key element when we revamped our living room!
Benefits of Area Rugs
An area rug can add a touch of color and style to any room, and it can also serve a practical purpose. Here are just a few of the benefits of an area rug:
-Practically speaking, an area rug can help to protect your floor from wear and tear. If you have hardwood floors, an area rug can help to prevent scratches and scuffs. And if you have carpet, an area rug can help to extend its life by absorbing some of the wear and tear.

-Reduce noise! Have you ever noticed how "loud" a room with a wood floor can be? Rugs muffled that echo. And, if you live in an apartment or townhouse, an area rug can help to muffle footsteps and other noise. This can be a godsend for your downstairs neighbors!

-An area rug can help to keep your feet warm. If you have tile or concrete floors, an area rug can provide a bit of warmth on chilly mornings. And in the winter, an area rug can help to insulate your floor against cold drafts.

-Best yet, an area rug can add visual interest to a room. A well-chosen rug can tie together all the elements in a room and create a cohesive look. And if you're ever tired of your current décor, an easy way to change things up is to switch out your area rug.
The Beauty of Blue in Area Rugs
Did you know that blue is my favorite color?
I'm pretty obvious about it…blue is everywhere in our home!
Did you know that our favorite color is reflected in our personality?
If blue is your favorite color, check out your color personality profile here!
Blue is the color of the sky and the ocean, so it's no surprise that it's often associated with feelings of calm and relaxation.
But blue can also be playful and energetic, making it a versatile choice for decorating.
Whether you're looking to create a tranquil oasis or inject some life into your space, blue is always a good choice.
And there's no need to limit yourself to blue accessories, furniture, or fabric— include this fabulous color in your area rugs to create a beautiful blue space.
13 of the Best Blue Area Rugs
I've chosen 13 of the BEST blue area rugs!
Some are all blue…some are blue and white…and some are blue with a lot of other colors.
But blue is the star!
This is the rug that we have in our living room.
I stalked this rug for a long time.
You know…when you put it in your online cart and it sits there while think about it!
So glad I hit the "order" button!
Blue, ivory, and a touch of grey…it is interesting, unique, and has a real sense of movement to it.
This distressed rug has the most gorgeous patina to it.
I immediately thought…"Modern Old World."
It looks as if it has been handed down from generation to generation…
but still looks so updated!
This navy blue and burgundy rug sports a botanical motif with an old-world spin.
Place in a modern room with white walls and black trim…
Or in a traditional room painted in rich saturated color.
You can't go wrong!
4. Safavieh blue and white rug
Crisp and fresh…this rug has a formal pattern yet is so inviting and welcoming.
Is geometric your vibe?
This rug features bands of the most interesting blue and cream geometric patterns.
Perfect for a boho style but actually works beautifully as well with modern farmhouse, traditional, and modern styled rooms.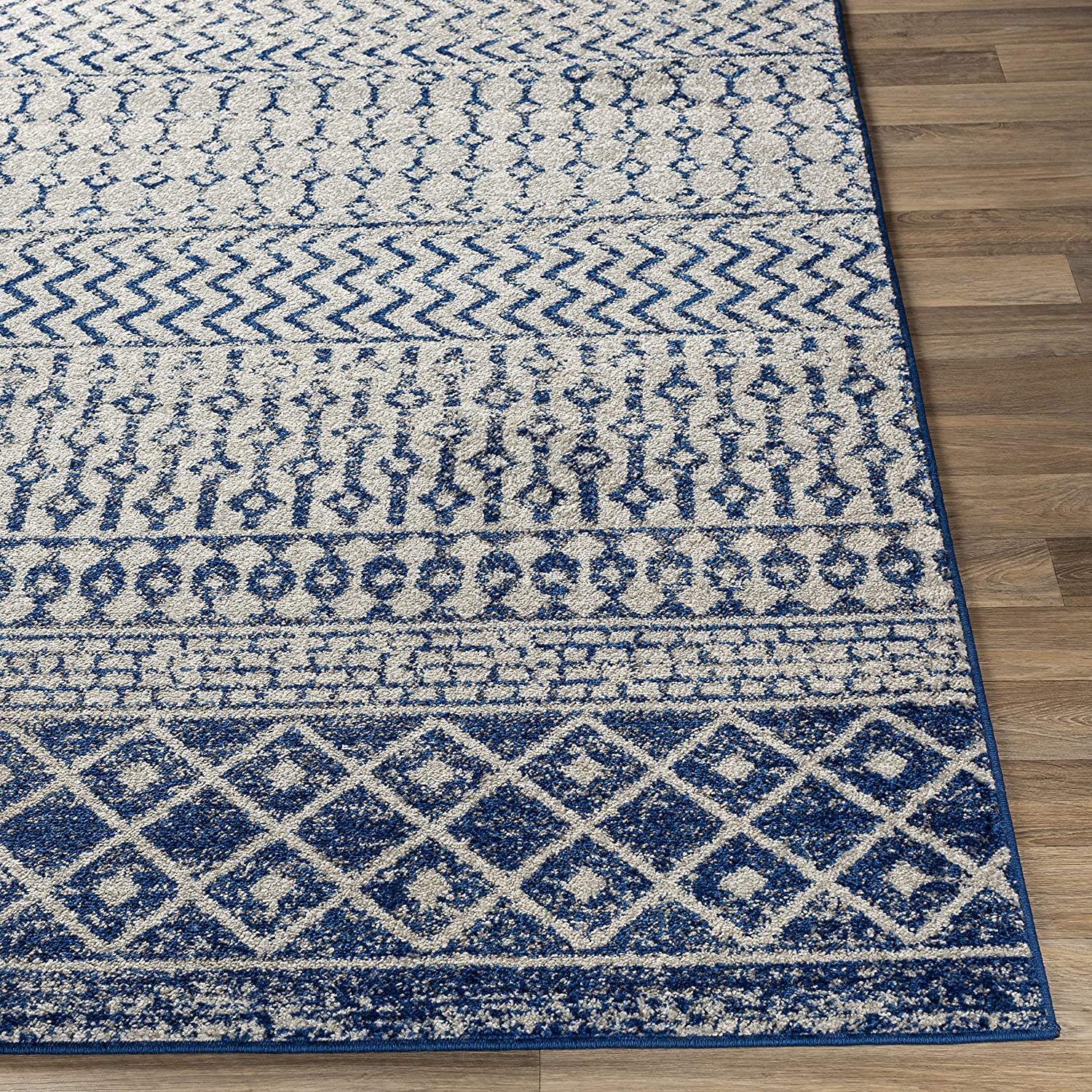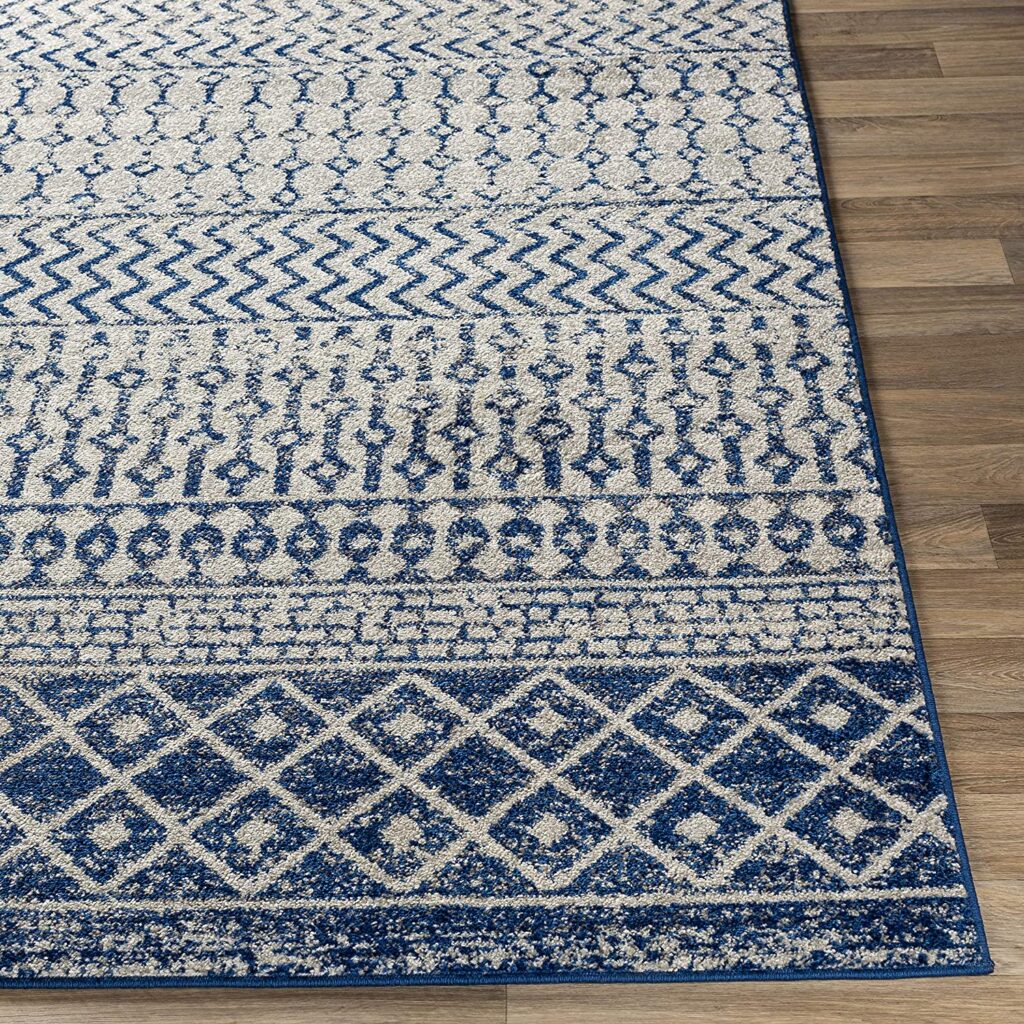 The Baker's Dozen Continues…
Woven rugs in natural materials bring so much interest to a room.
This jute rug comes in so many size configurations and brings a cozy vibe to any room.
Kitchen, sun room…how about a mud room! Love it!
7. Evoke Navy/Ivory Distressed
There is actually a whole lot going on in this rug pattern.
Yet, it has a very neutral feel to it.
I think it is the gorgeous shading of the blues that captures my heart!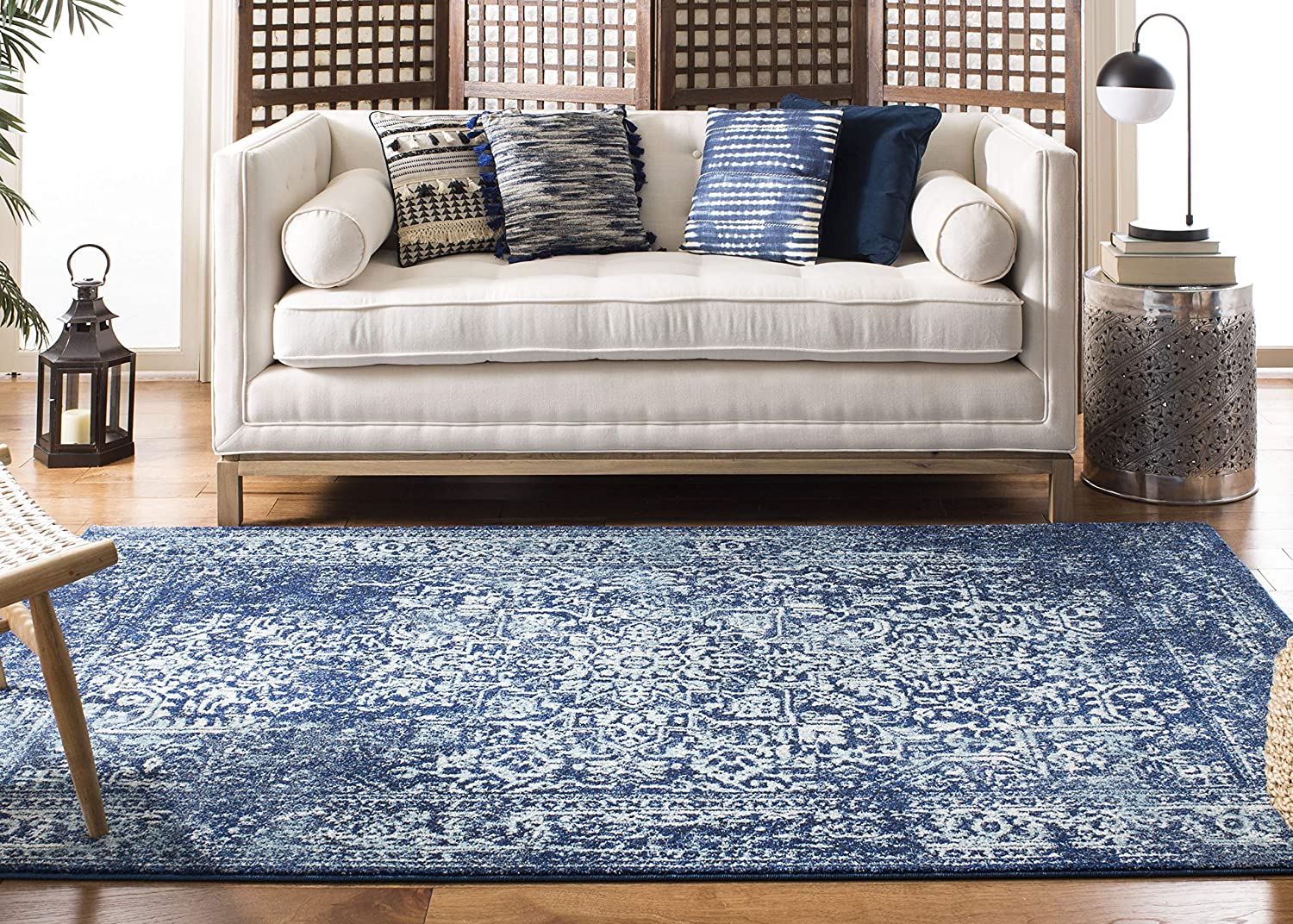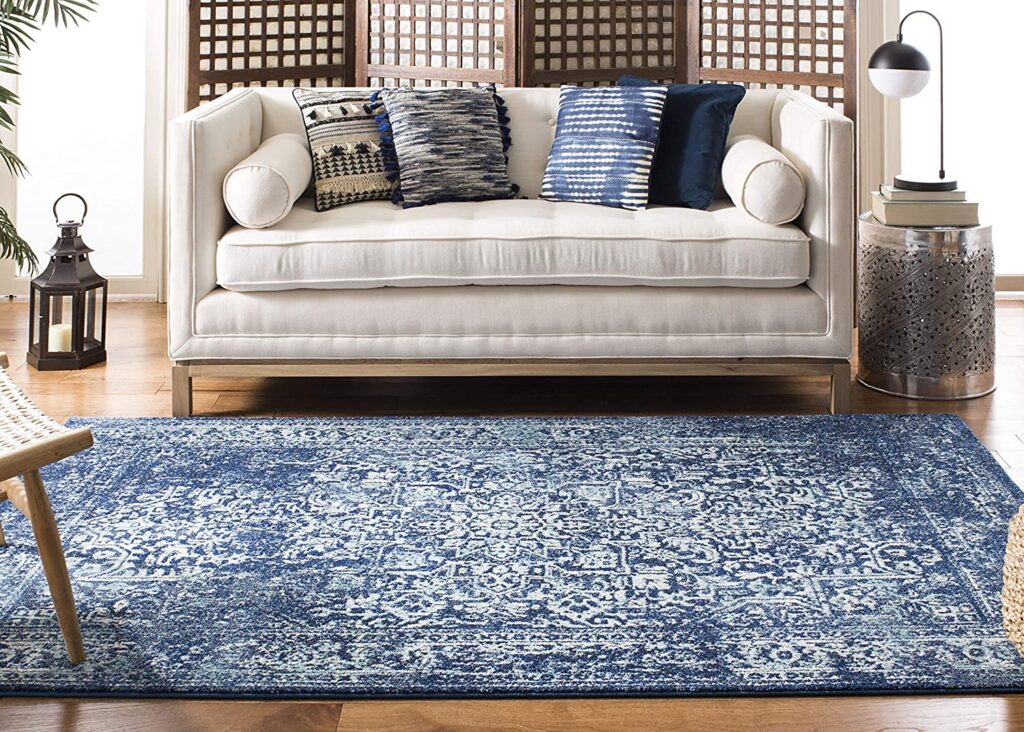 Blue does take a secondary role with this cream and blue rug but still manages to be a star!
It gets the Oscar for "Color in a Supporting Role!"
Just look at those amazing colors in a stunning pattern!
Here is another example of how a busy pattern functions as a neutral.
An animal print that has modern instinct!
Dramatic…but peaceful and calm at the same time!
I just had to include a blue rug with a shot of hot pink! One of my favorite color combos!
Modern design with a cool gradient pattern…keep in a modern room or add to a traditional room for some unexpected "zing!"
More color!
And what beautiful color it is!
Pinks, orange, and yellow absolutely sing with navy and turquoise.
It is like a very vibrant and lively choir!
Albeit, not your typical area rug, a bathroom mat can give a shower, tub, or vanity area some real style…
…just like a large area room rug.
And this bath mat does just that!
The shape…the pattern…the rich navy…stunning!
One More Beauty!
Bring the beauty of intricate Moroccan tile into your home with this two-tone rug.
You definitely want to sink your toes into this one!
So, if you're in the market for a blue area rug, I've got you (and your floors) covered!
But really, any color rug can bring life and interest to a room—just be sure to choose something that speaks to your personal style.
And don't forget: even if your floors are carpeted, an area rug can still add warmth and personality.
So, go ahead and add a pop of color to your room with one of these blue area rugs. You won't regret it!
Which rug is your favorite?
Cheers!

Don't Forget to Pin It!