A Living Room Revamp that is Bright and Colorful
As the main living space in our homes, a bright and colorful living room revamp can be the answer to comfortable living and entertaining.
<!-- Ezoic - under_first_paragraph - under_first_paragraph -->
<div id="ezoic-pub-ad-placeholder-108"> </div>
<!-- End Ezoic - under_first_paragraph - under_first_paragraph -->
We gave our living room a bright and colorful revamp and I can't wait to share it with you!
Sonata Home Design is a participant in the Amazon Services LLC Associates Program, an affiliate advertising program designed to provide a means for us to earn fees by linking to Amazon.com and affiliated sites. Additional affiliates links are also included for your convenience.
<!-- Ezoic - under_second_paragraph - under_second_paragraph -->
<div id="ezoic-pub-ad-placeholder-109"> </div>
<!-- End Ezoic - under_second_paragraph - under_second_paragraph -->
Sometimes you just need a change to shake things up.
It's 4 am.
And I am awake.
It is so dark outside, here is my early morning reflection in the window.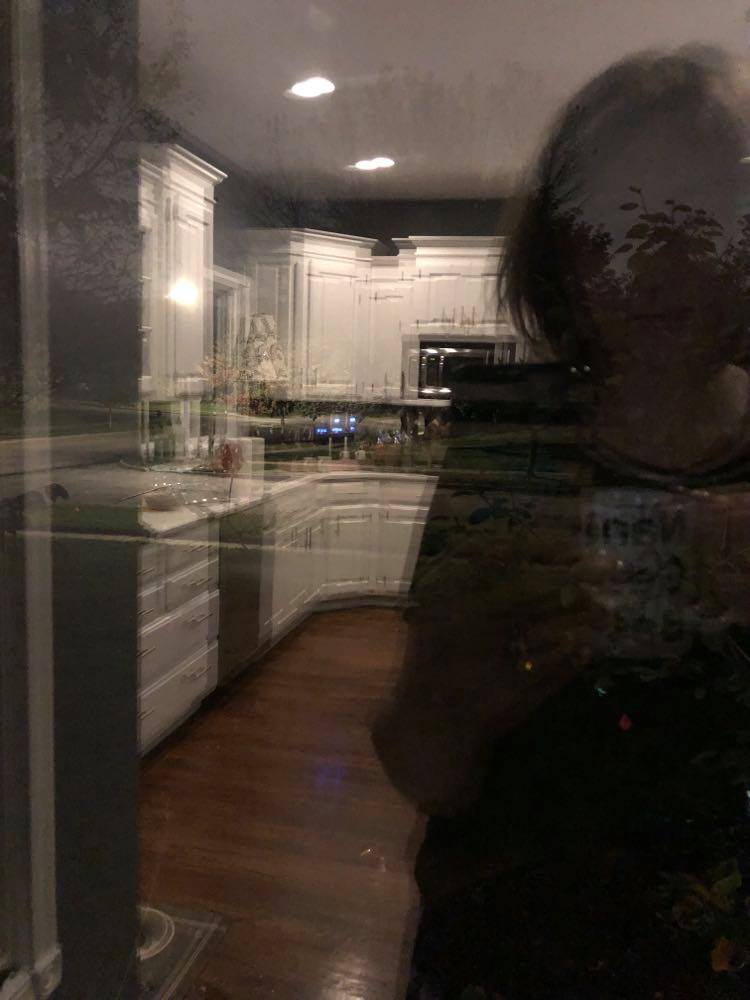 What to do at 4 am?
I am drawn to the living room.
Our NEW living room!
True, I am an insomniac.
I wake up in the middle of the night and, inevitably, can't get back to sleep.
Staring at the ceiling, my mind fills up with lists: To-do lists, planning lists, project lists, etc.
So, I get up and work on stuff: emails, planning, and rewriting my lists.
Surely, you do the same thing? (Yes, I know I am in the minority here!)
However, my mind has been filling with a different type of thought these past few nights.
"Isn't the new sofa comfy!"
"How fun is that new pillow!"
"Won't Christmas decorating be fun in the living room!"
I can't sleep! So, I get up and sit in the living room. Yes, I just sit in there with my cup of coffee…and look.
The Before
Our previous living room was lovely. There was room for guests, space for chatting and reading, and already lots of my beloved color.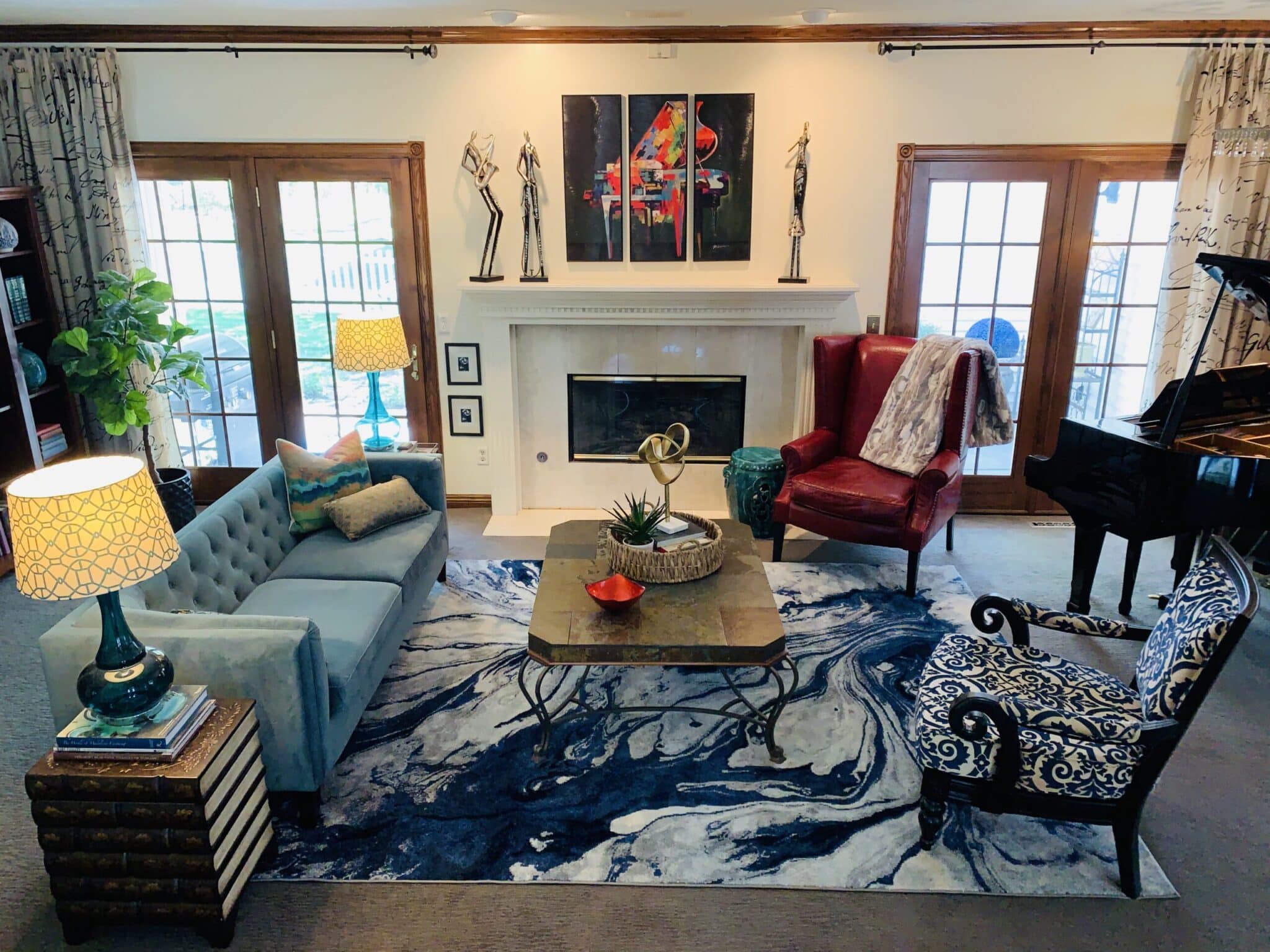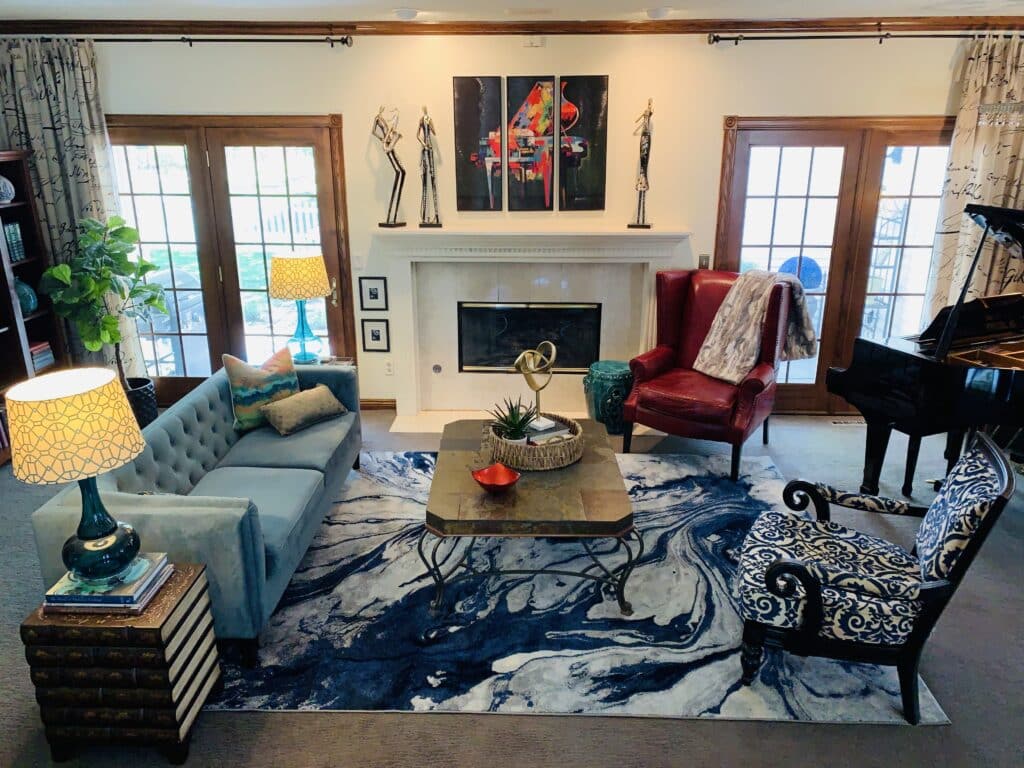 But, the room always felt a little dark. Notably, while there are windows, there is rarely any direct natural light in the room. (the downside of a covered front porch.) The cream walls and brown woodwork were nice. However, the room needed some brightening.
So, we gave our living room a colorful revamp and, because I love it so much, it is literally calling to me in the middle of the night!
But, let me give you a little 4 am tour!
<!-- Ezoic - mid_content - mid_content -->
<div id="ezoic-pub-ad-placeholder-111"> </div>
<!-- End Ezoic - mid_content - mid_content -->
First Look
This is the view from the entry as you walk in the front door.
Indeed, I love color and pattern. And, I did not hold back. Yet, it was WHITE PAINT that was the pivotal change to the room.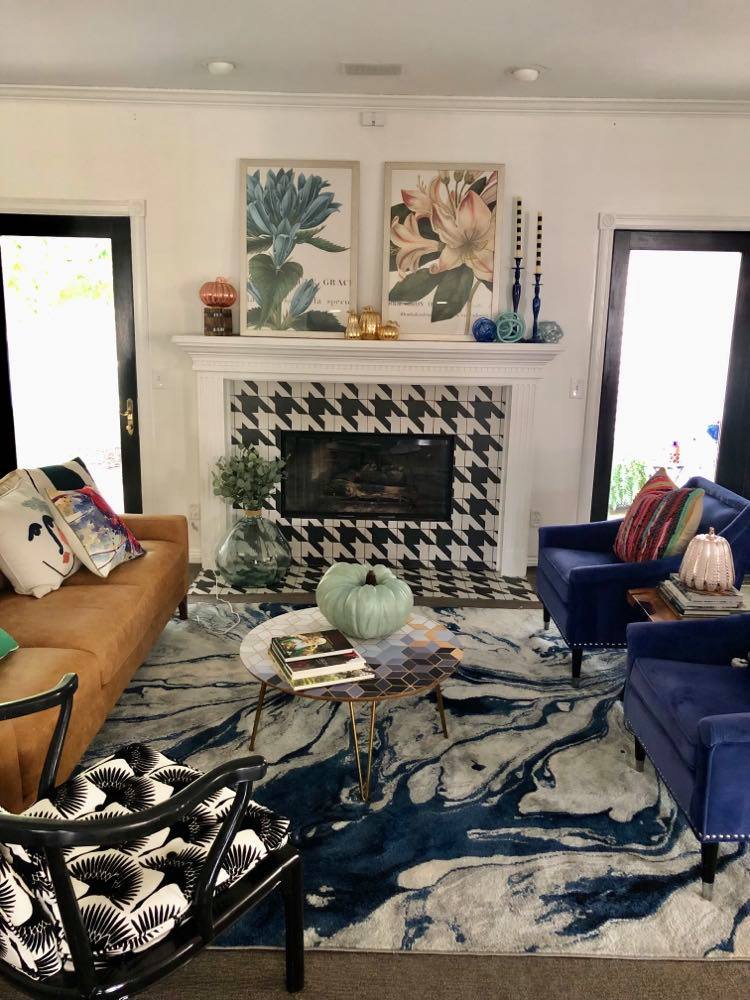 Sherwin Williams Pure White is our new best friend for BOTH the walls and the trim. In this case, the difference is in the finish. Eggshell on the walls and semi-gloss on the wood trim proved to be a great combo. Ultimately, just that little difference in sheen was enough to brighten the room and give definition to the woodwork
It was a lot of work and took us a LONG time. However, it was SO worth it in our living room revamp!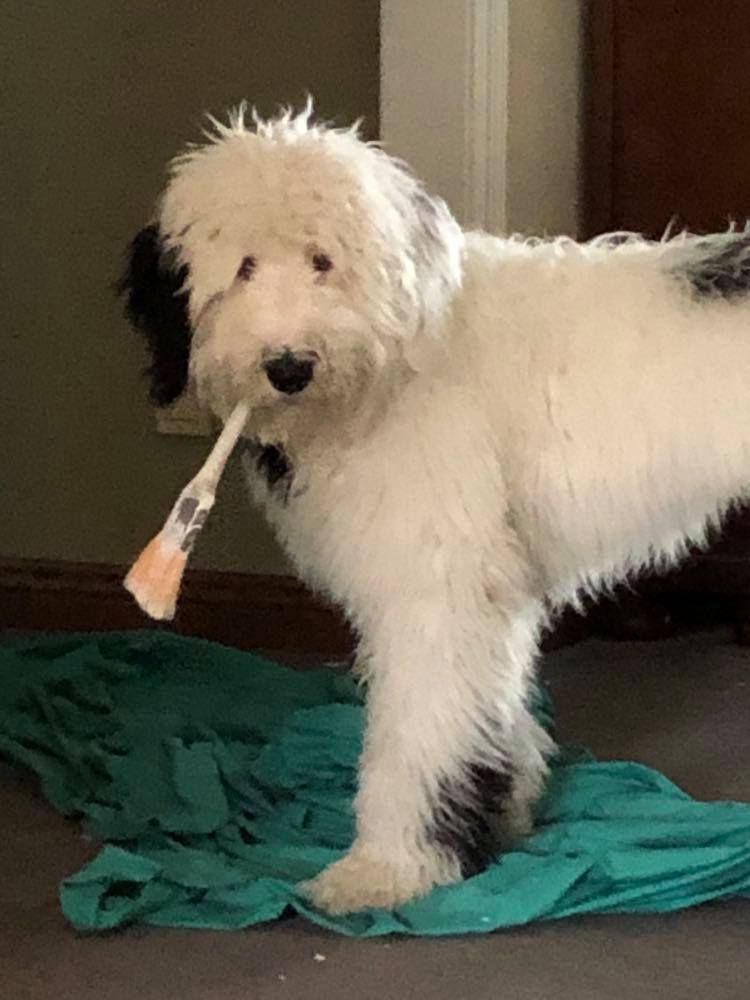 Tip: What is your view when you walk through your front door? Actually, take the time to walk into your home with objective eyes and see the first look that guests experience as they enter your home.
Meanwhile, the Fireplace
With your first look, did you notice the fireplace?
I embraced my love of a pattern and replaced the plain, cream fireplace tiles with a black and white houndstooth pattern.
Bold? Yes. But still classic.
It makes a strong statement. However, in this case, a traditional, everlasting pattern in a "go with everything" black and white color scheme acts like a patterned neutral.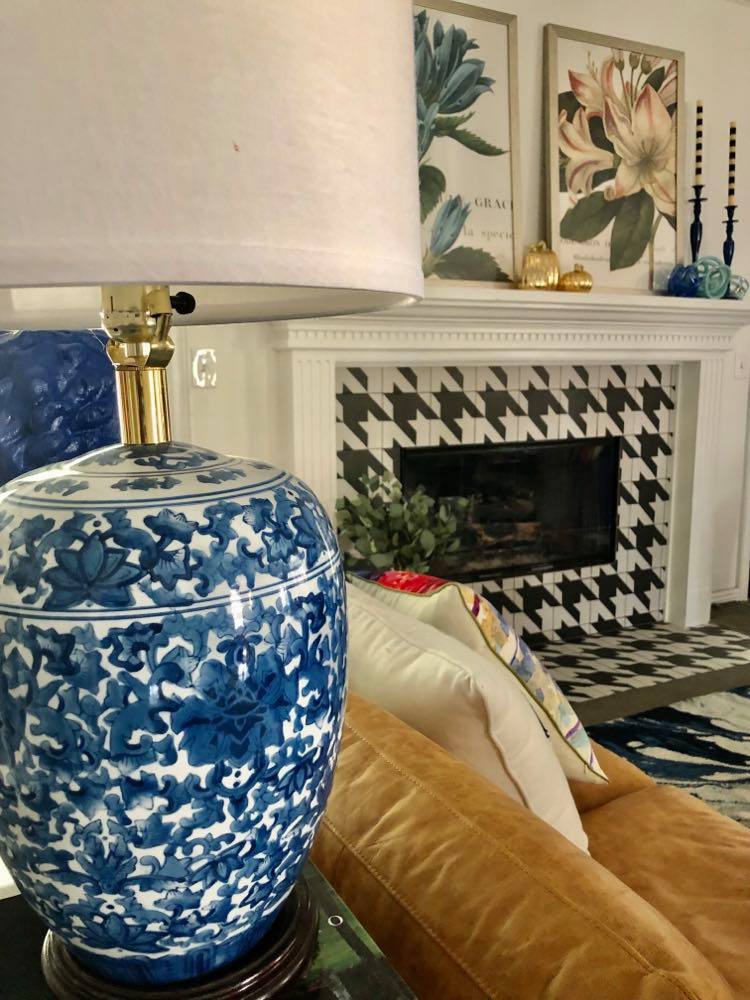 Tip: A black and white pattern looks as beautiful surrounded by a neutral color palette as by a colorful palette. Even if dramatic in nature, it gives you tremendous flexibility as you decorate and style the rest of the room.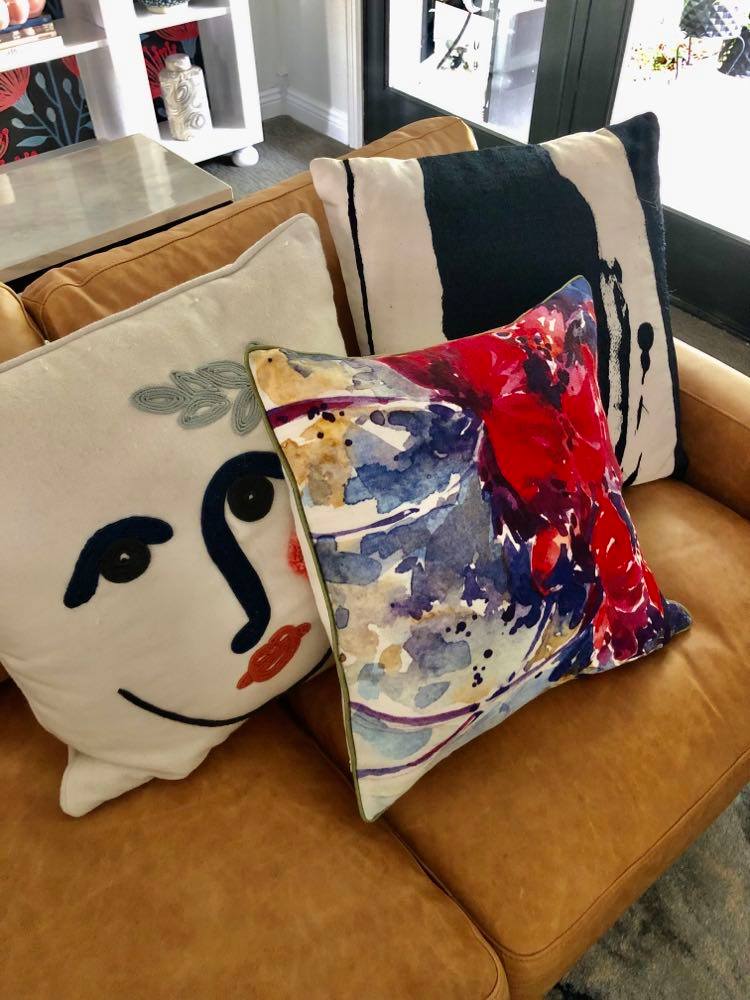 The Living Room Furniture
A brown leather sofa is used to add an element of warmth and texture to the room.
Moreover, a new sofa with fun pillows invites me for a sit down at any time of day…even at 4 am!
Tip: Mix up the patterns of your pillows and don't be afraid to add a little whimsy!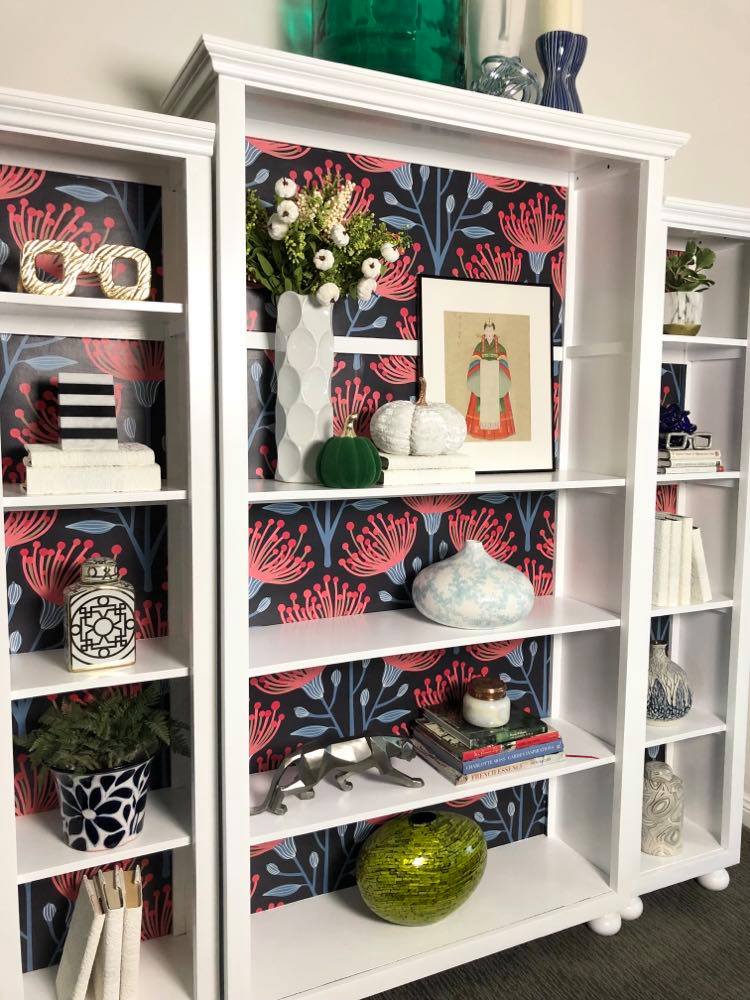 Our beloved bookcase got a revamp as well with paint and wallpaper. You can see this Easy and Dramatic Bookshelf Makeover here..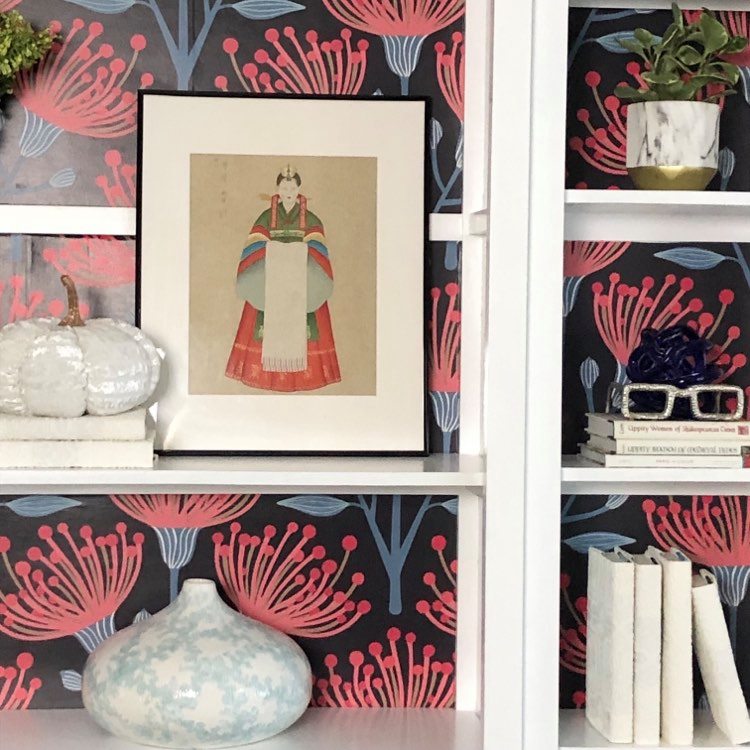 So much opportunity for displaying cherished items that reflect our family and home story.
Here are 13 Ways to Decorate Your Bookshelves for Fall.
Tip: Include an area in your living room where you can display books, photos, and decor items that have meaning for you.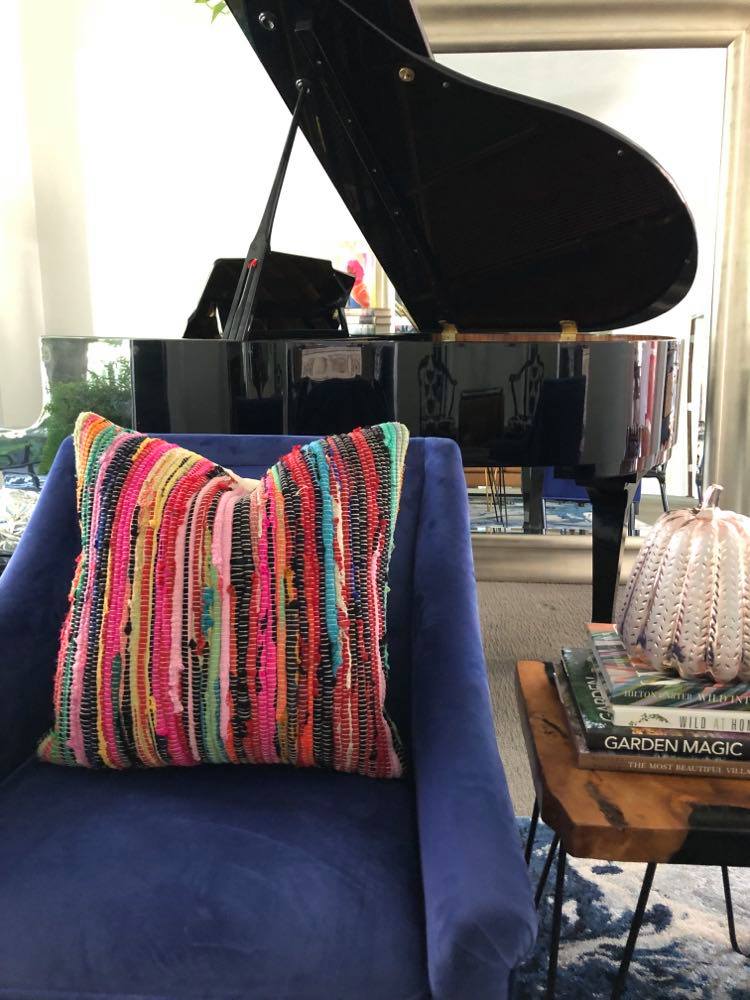 Our piano was the first major piece of furniture we ever bought as a married couple and will always be a focal point in our living room. After all, I am a music teacher!
Oh, the hours that our girls spent singing and practicing at the piano. Now, as empty-nesters, it is my turn!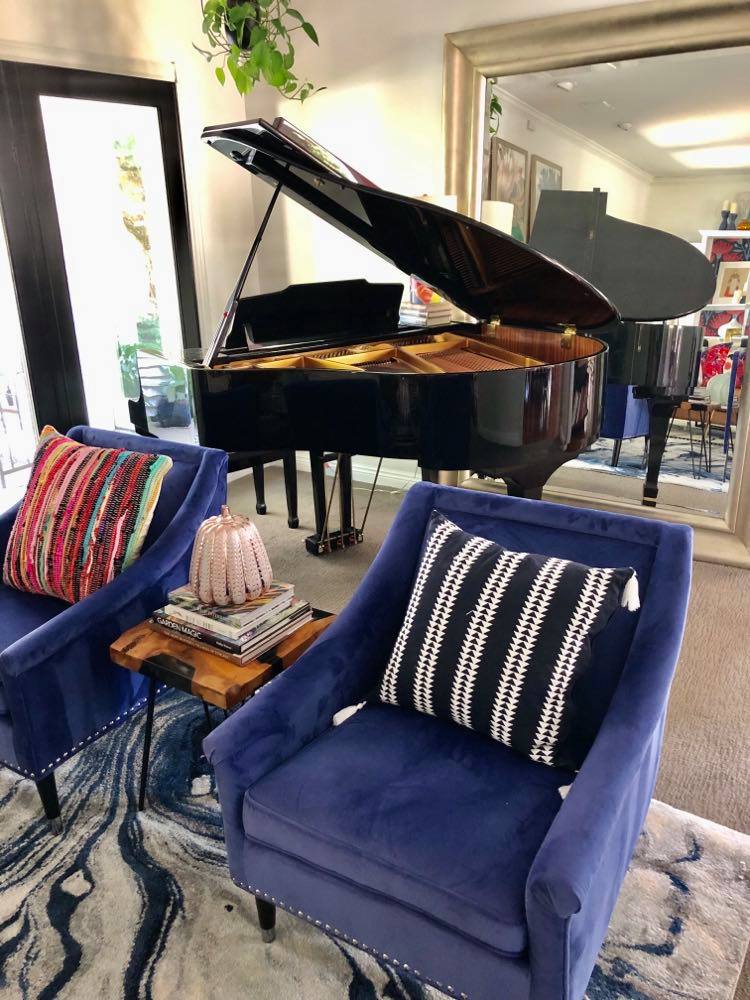 Tip: A large mirror on a wall will make your room look larger. This pier mirror is placed behind our piano. It makes the room look larger and gives the illusion of two pianos. Duets anyone?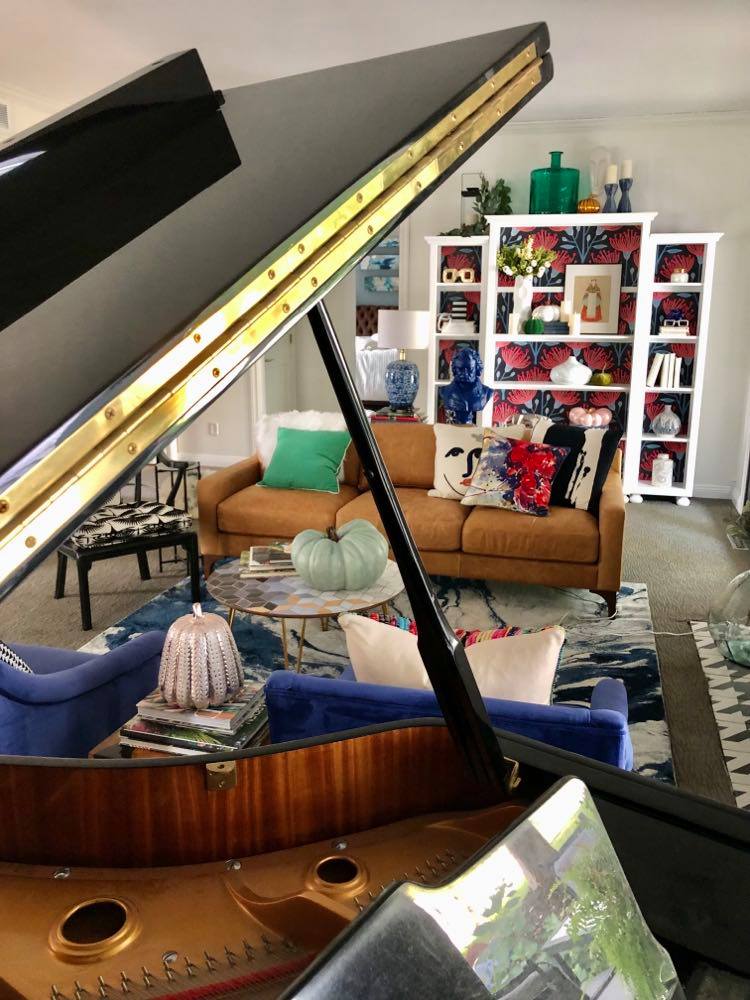 Living Room Furniture Arrangement
Occasionally, I do play the piano when I have a few minutes and love the view from the piano bench.
Tip: Floating furniture in the middle of a room allows for great social conversation. In this case, by placing the sofa and three accent chairs as a grouping in the middle of the room, we are able to have up to six people chatting in near proximity. We could, additionally, include a small bench and some poufs and the conversation circle gets even larger!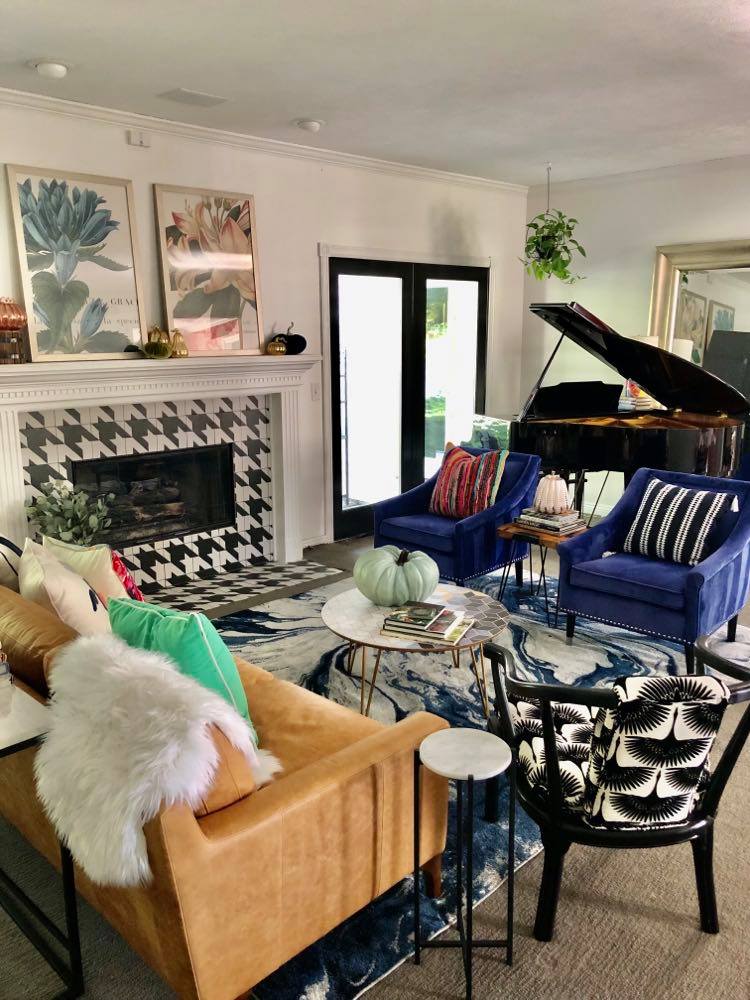 It feels so good to have the project completed. Or is it?
I still want to add…
Curtain panels
Wall Art on the other side of the room (that I have not photographed yet)
Mini plant garden in the corner by the piano bench
Dream of dreams…replace the carpet with hard wood flooring.
Ceiling Hanging Light Fixture for the middle of the room.
Honestly, there is always something more to dream and do, isn't there!
In the meantime, I'm going to nestle into our new colorful and bright living room…day or night!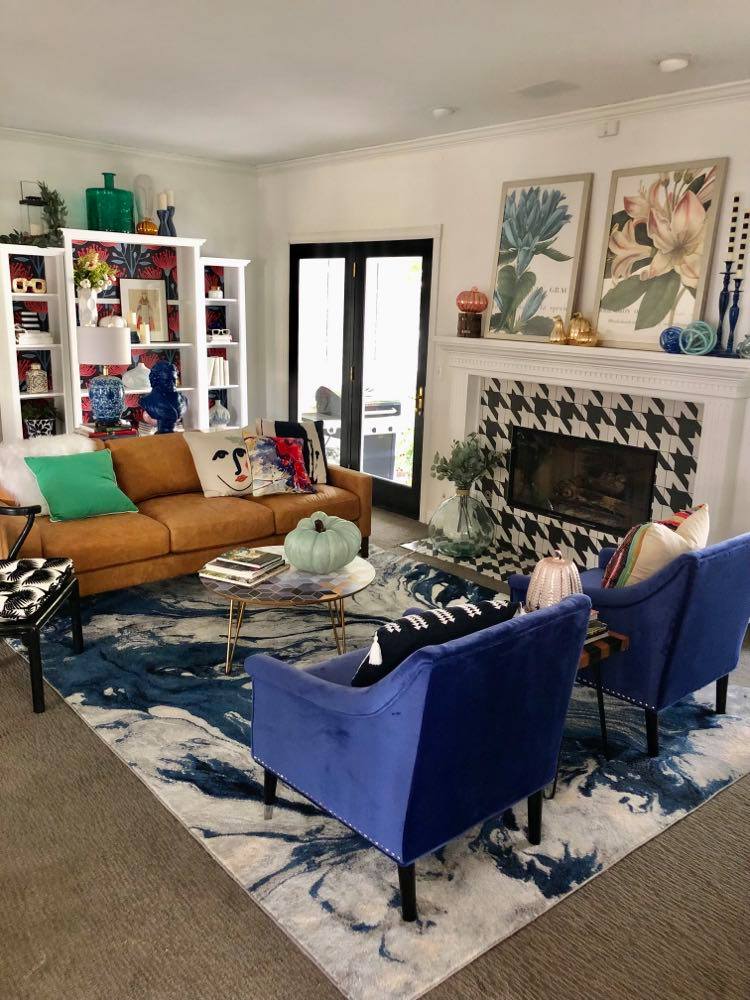 Cheers!

p.s. We have been renovating and refreshing other rooms in our home. You can take a look here…
A Tale of Two Tiles: A Bathroom Renovation