13 Ways to Decorate Your Bookshelves for Fall
I'm not sure what is making me more excited…getting a chance to decorate my bookshelves for fall OR being a part of my first blog hop! I am SO excited for both!
Sonata Home Design is a participant in the Amazon Services LLC Associates Program, an affiliate advertising program designed to provide a means for us to earn fees by linking to Amazon.com and affiliated sites. Additional affiliates links are also included for your convenience.
Welcome to Sonata Home Design!
If you are new to Sonata Home Design and coming from Susan Scampini's blog at Hen and Horse Design, lucky you! I am so happy to call Susan a friend and I am always inspired by her beautiful tablescapes and creative ideas!
She and I and so many others are incredibly lucky to have met through KariAnne Wood and her Mastermind VIP group at Thistlewood Farms. The blogging world is full of creative, amazing people and I have been welcomed into this world by the BEST!
For those of you are Sonata returners, I welcome you ALWAYS and know that you will welcome our new guests as well!
Now on to some more decorating inspiration for your fall home!
We recently completed an Easy and Dramatic Makeover for our Bookshelves. (You can see it here!)
You can see how the bookshelves fit into our Bright and Colorful Living Room Revamp.
With the project complete, I can't wait to decorate for fall.
I want to show you 13 ways that you can decorate your bookshelves or bookcase for fall!
1. Candles
Burning candles in the fall is a season must!
Whether spiced apple, forest glen or pumpkin pecan pancakes, our home constantly has a candle burning in the kitchen or bedroom or mantel or office…well, you get the picture.
But burning a real candle on a shelf can be downright dangerous. Enter Infinity Candles by Lights.com!
These realistic candles have the look and touch of a real candle. And, because they are battery-operated, I don't have to worry about scorching a shelf.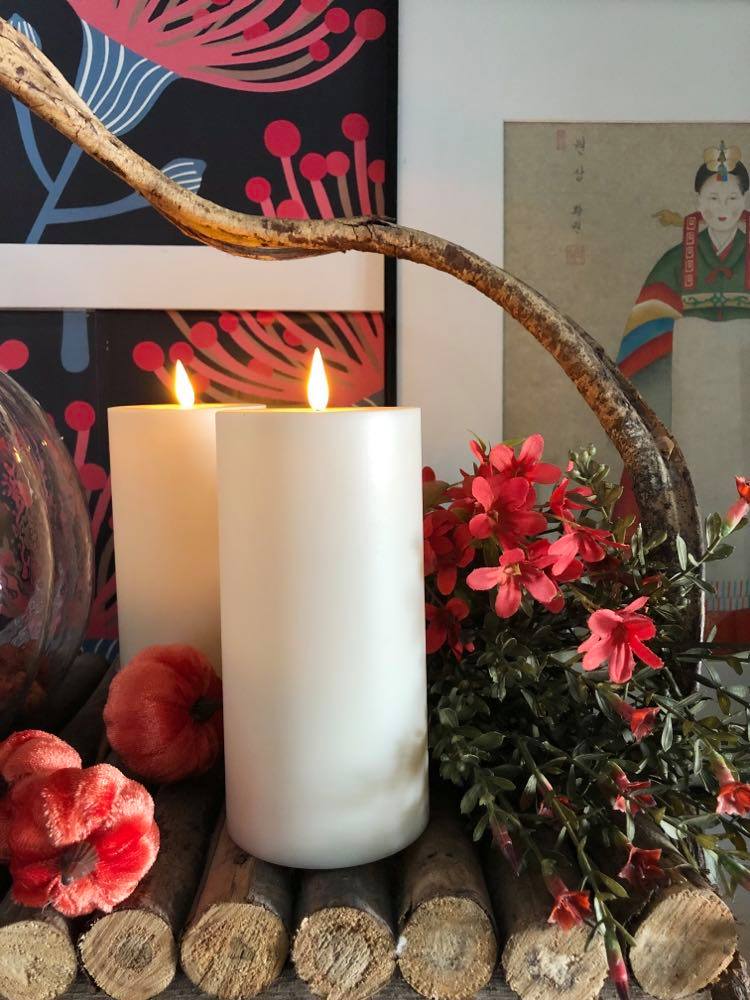 2. Books
Decorating with books is one of the best ways to give a space color, texture, and visual interest.
Line up vertically to frame an area or stack horizontally for a ready-made pedestal.
Display the spines or flip the books over for a neutral canvas.
I took my mother's Nancy Drew books from her childhood and displayed them in two different ways.
The aged blue and orange covers are PERFECT for an autumnal display and even have mysterious titles to take us into October.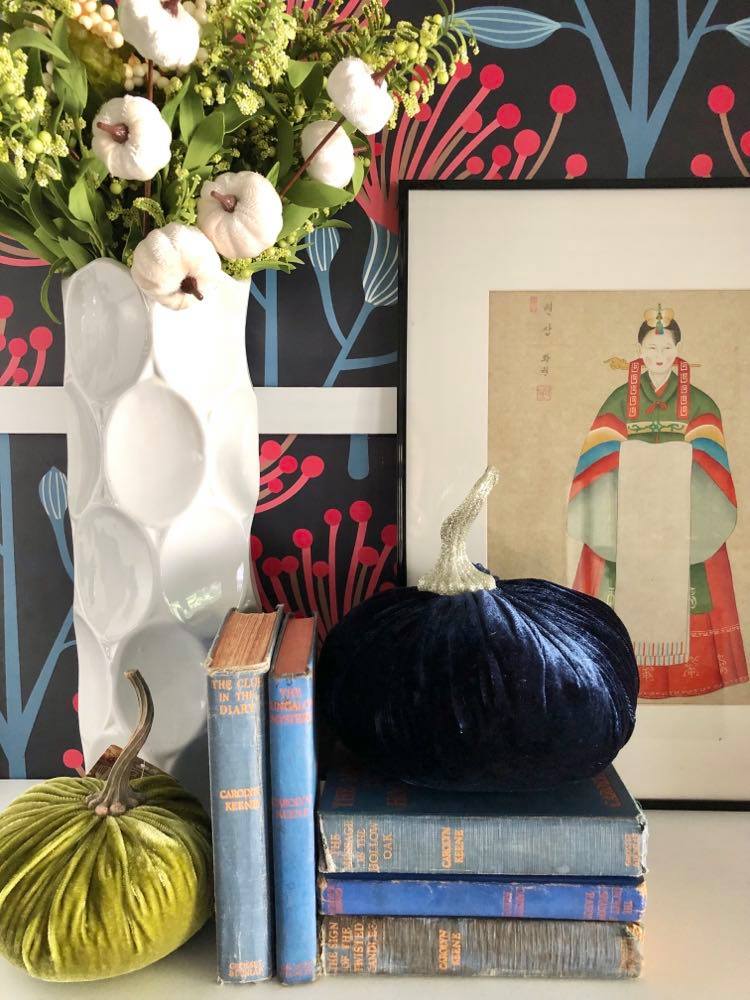 I was a HUGE Nancy Drew fan growing up. I used to read them laying upside on the sofa. (As in, my head was on the floor, and my feet were hanging diagonally on the sofa cushions!)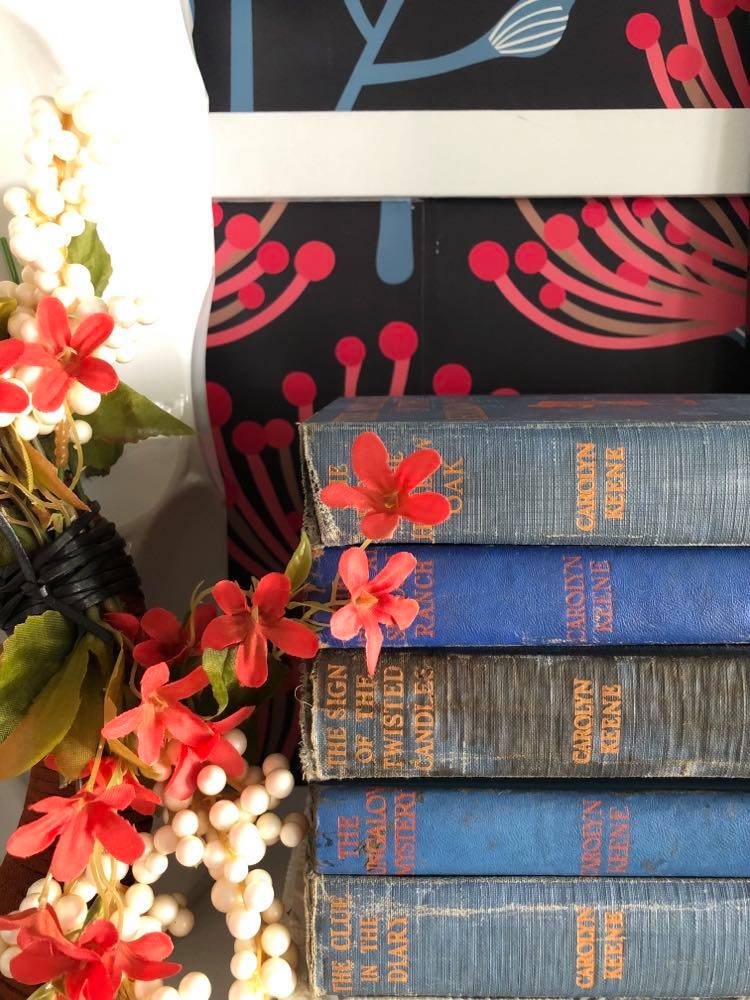 3. Readers!
What do I need for cozy evenings when I was to read a Nancy Drew book but the sun is setting sooner?
If you have known me for any length of time, you the answer to be my READERS!
If you've got 'em, flaunt 'em!
Decorate your bookshelves for fall by displaying all of your reading glasses in a beautifully grained wood bowl. Place an "autumnal" reading glasses toward the top and you set for fall reading!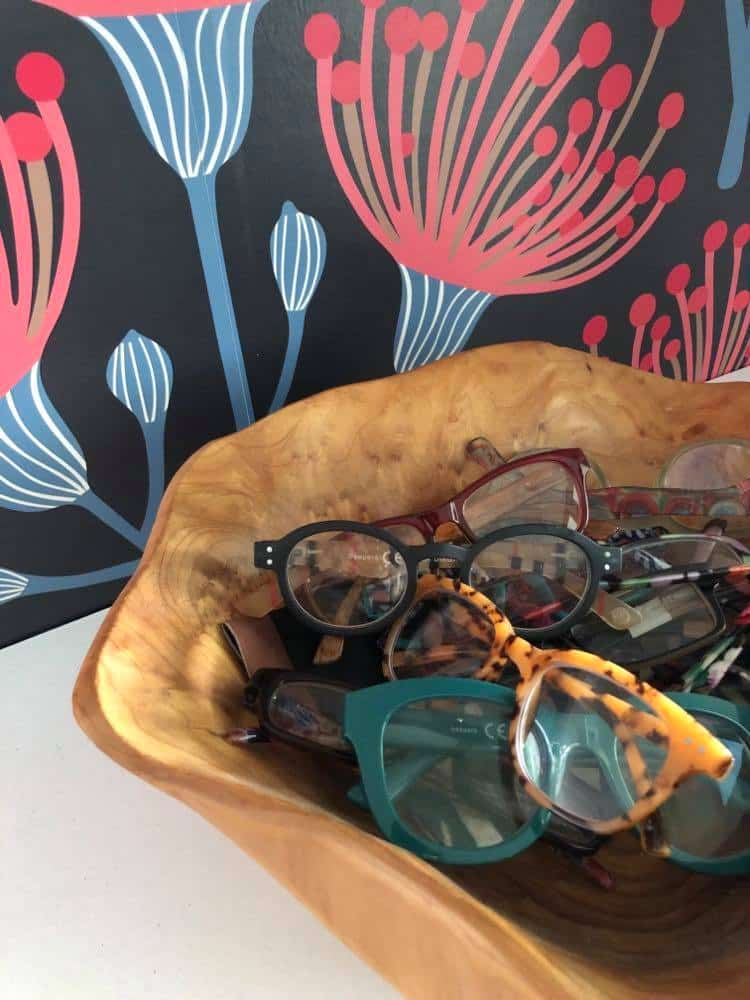 4. Texture
What words can you think of to describe fall?
Inviting. Cozy. Earthy. Enchanting!
All of these words have one thing in common…texture!
Why not add texture to your shelves using fabric (a scarf or shawl), beads (admit it…you play with them too!), and jute tassels. Set against a mercury glass pumpkin, the words that come to my mind are…
Warm…inviting…cozy…earthy…enchanting!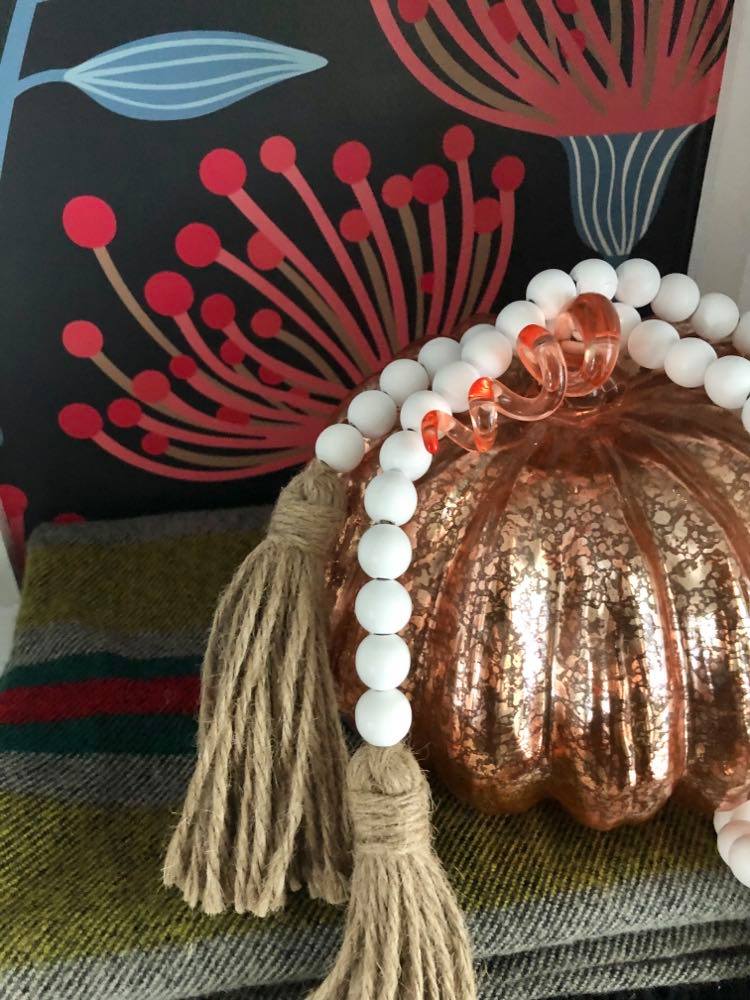 5. Wreath
Don't let your front door have all the fun! Hang the wreath from a hook, lay horizontally around candles, or tuck among greenery and fall florals.
This suede-wrapped wreath was made from a wreath form and florals from the dollar store. Wrapping with leather lacing was an easy and quick project.
You can see how to make this Fall Wreath Idea in 3 Easy Steps here.
6. Wood
You can add wood accents in all shapes and forms: trays, candleholders, sculptures, plaques, frames, etc.
Wood brings the outdoors in and gives us a connection to nature and the changing season.
The gnarled handle on this tray always makes me think of our family trips to Colorado. It adds warm texture to the white shelf and provides a perfect spot for a pumpkin-filled pumpkin!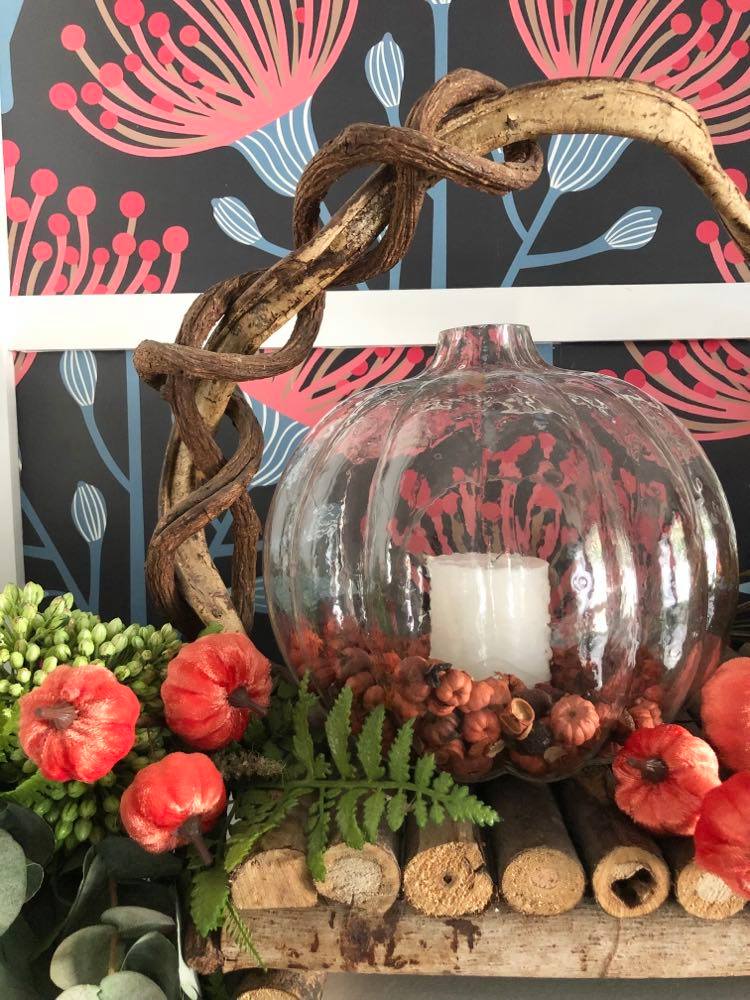 7. Orange and Red
The sugar maple trees in Nebraska are breathtaking every fall. The oranges and reds are quintessential fall colors and can give your shelves some fall jazz as well!
Use faux florals, real branches from your own trees, or some quirky velvet pumpkins like these that I found at the dollar store.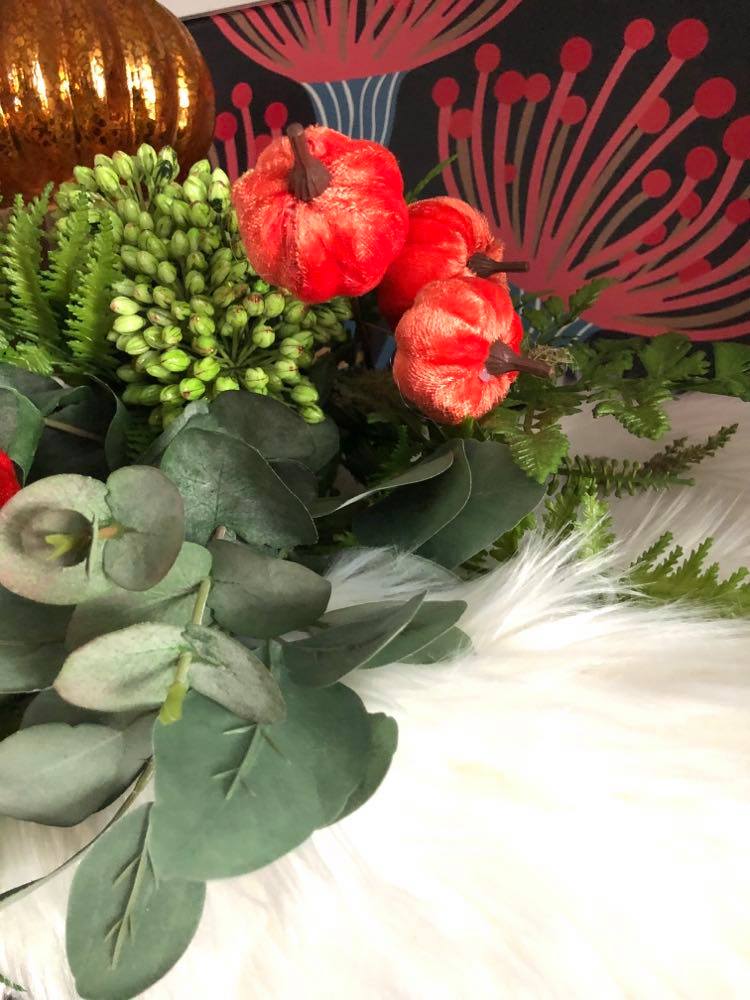 8. Wine
For some reason, when I think of wine and wine bottles, I think of FALL!
Who says that wine bottles have to stay tucked away in the kitchen.
Perhaps you have some empty bookshelves or perhaps you have a large armoire that used to hold a tv from days gone by? Create a bar out of your armoire…a BARMOIRE!
The books, the wine glasses, the marble tray, and especially the red-capped wine bottle make me think of chilly evenings with warm friends and a glass of wine!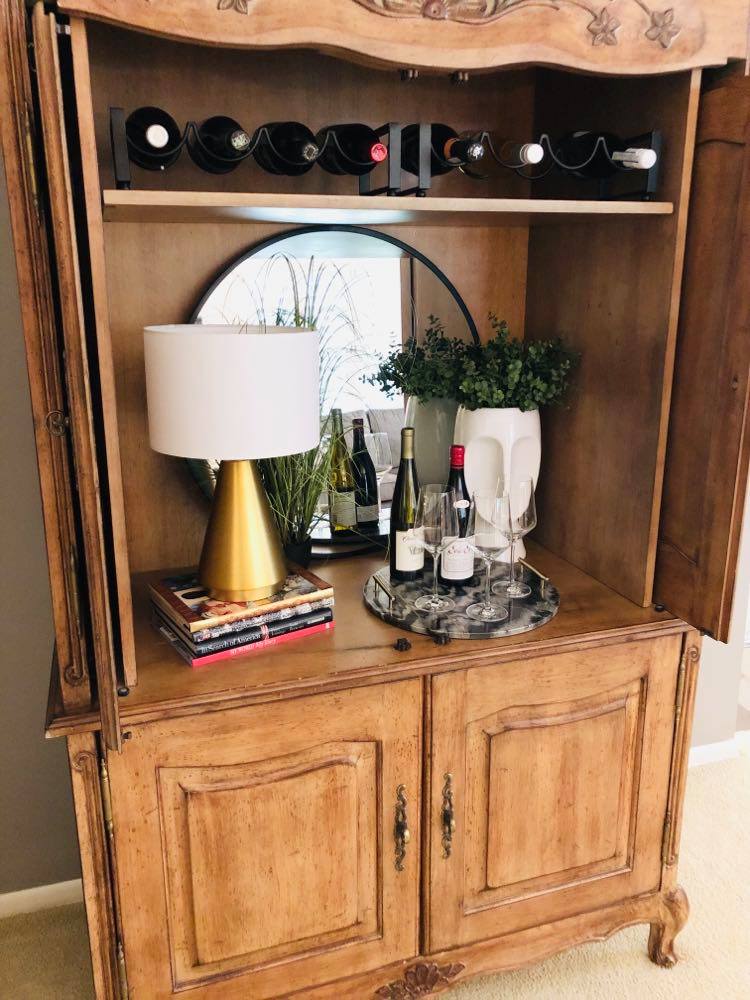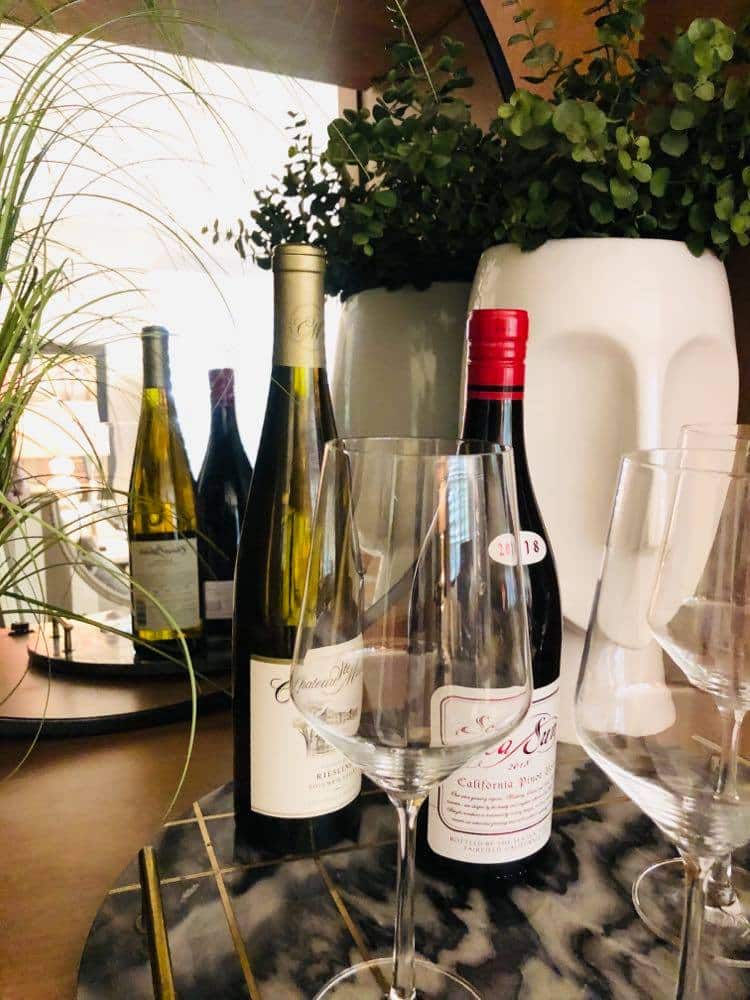 9. Pumpkins, of course!
Big or small…or teeny-tiny, pumpkins are a classic decor accent in the fall and are perfect for your bookshelf!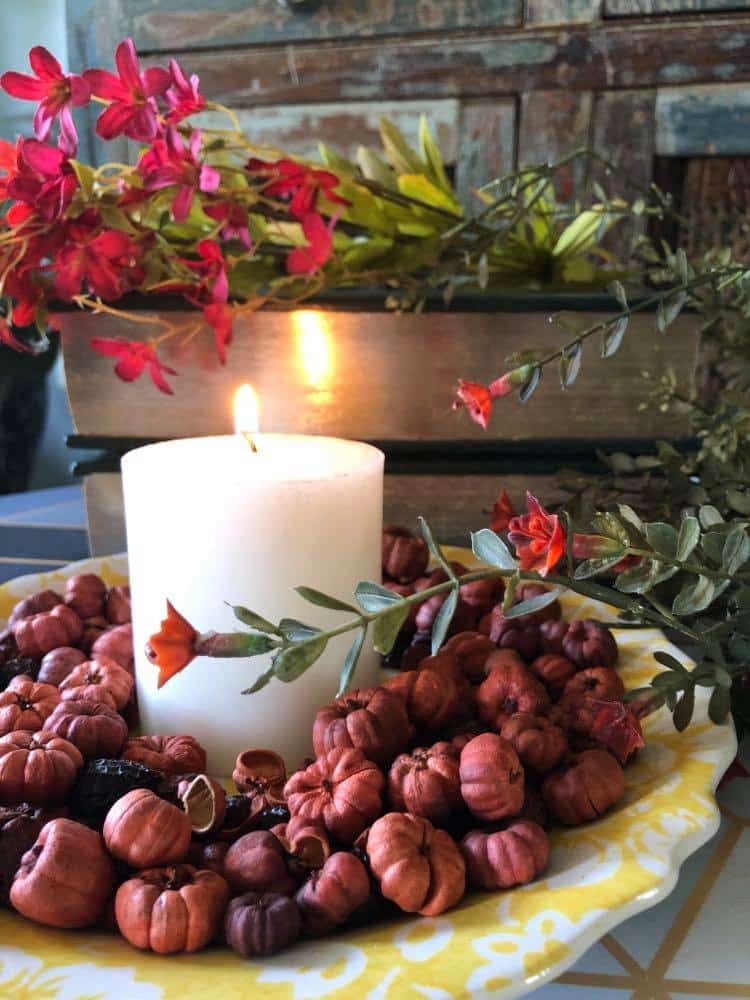 10. Sheepskin Rug
What? A sheepskin rug on a bookshelf?
Well, usually there is a chair nearly so why not make it a part of the shelf!
Place a chair near your bookshelves and drape with a small sheepskin rug. (This is one of my favorite home staging and styling accents!)
Talk about an invitation to "come closer!"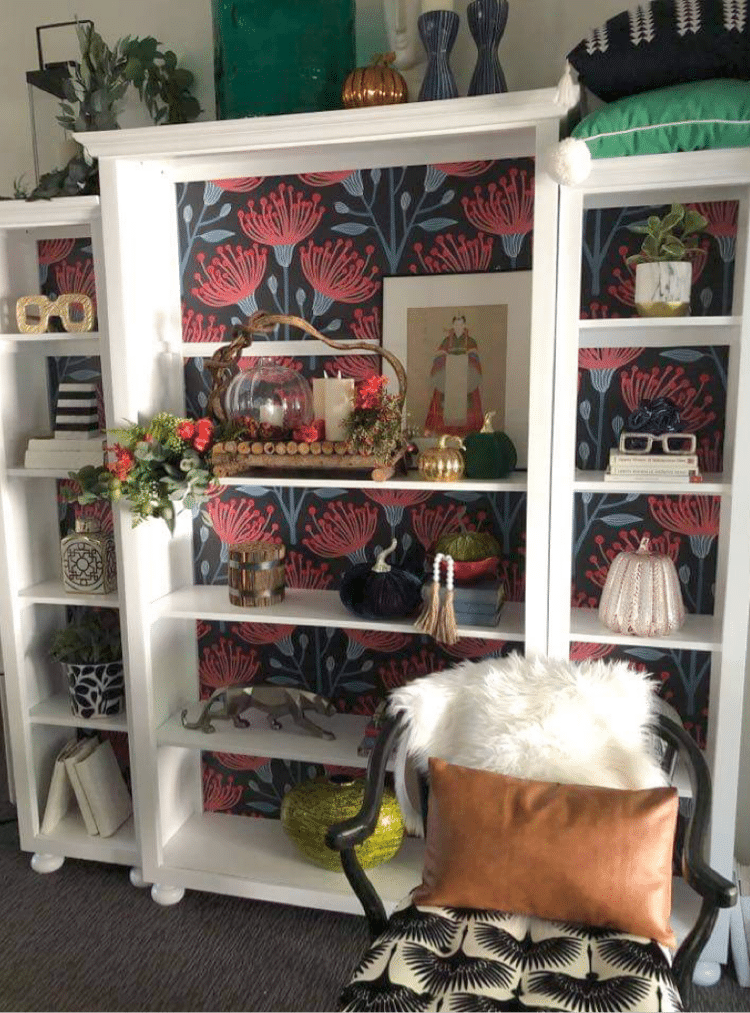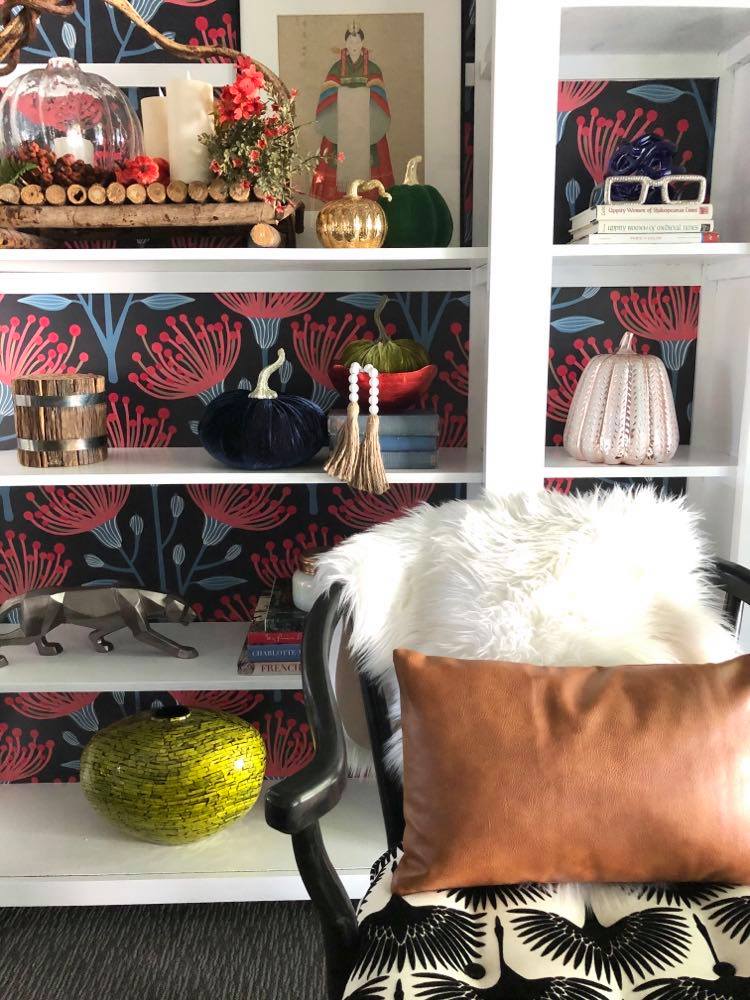 I dare you to not take a seat and start reading a Nancy Drew mystery!
Need a few more decorating ideas for your bookshelves? How about…
11. Photo frames: Change out the mats in your framed photos to ones with fall colors or patterns.
12. Platters and plates: Bring out your Thanksgiving dinnerware and display it vertically as a backdrop for other decor gems.
13. Plaid: Place a stack of plaid scarves on a shelf beside a pumpkin. I don't know about you, but I can't resist a stack of various plaids!
So now, my dear blog hoppers, I am sending you over the Wendy McMonigle at WM Design House. (Another amazing friend from the blogging world! You should see us all at Haven, the blogging conference…fun, fun, fun!)
Wendy is going to share her amazing placemat project! https://wmdesignhouse.com/diy-placemats-for-fall/
Thanks for stopping by! You are always welcome at Sonata Home Design!
Cheers!

Join me on Instagram, Facebook, and Pinterest for more ways to decorate your bookshelves (and mantel, and kitchen island, and front entry, etc. for fall throughout the coming months!
*This post contains affiliate links for your convenience.