A Fall Wreath Idea in 3 Easy Steps
Jump into the spirit of autumn and use this easy fall wreath idea inside and out!
I don't normally think of the dollar store as my inspiration for a fall wreath idea.
Yet, the dollar store has a strange hold on me. My favorite is Dollar Tree as it always has a great selection and is very conveniently located.
I typically stop by every couple of weeks to pick up dog treats, floor cleaner and reading glasses for my husband. (To replace the ones our dog chews up!)
However, once there, I find myself wandering the aisles with amazement at everything that costs only ONE DOLLAR!
Furthermore, I catch myself staring at items that I did not intend to buy but somehow make their way home with me.
Once, a complete dish set of four place settings ended up in our kitchen. Can you guess which of these plates are from the dollar store?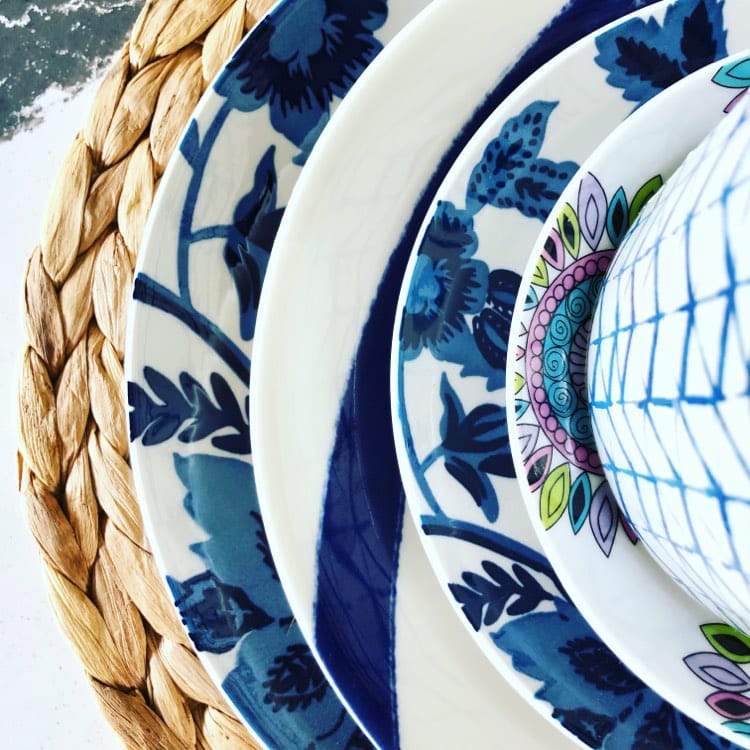 Another time, I loaded up on skeins of yarn so I could make pom poms for some outdoor pillows.
Speaking of pom-poms, you can see my pom-pom pillow project here!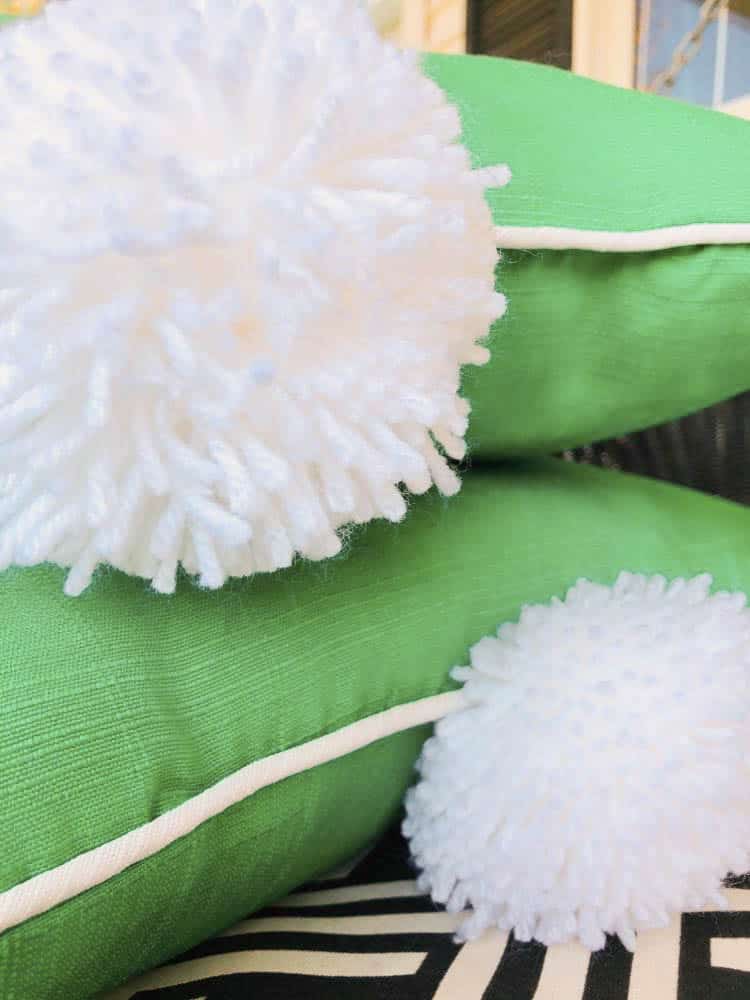 A couple of weeks ago, I caught myself staring at styrofoam wreath forms at the dollar store.
Nothing fancy.
Just 9″ styrofoam wreath forms.
What could I do with those?
And, as I often do, I bought a couple of them without knowing what I would do with them.
Well, after all, they are only a dollar each!
A Fall Wreath Idea Takes Shape
The next step in figuring out what to do with my random purchase is to raid my office closet. Surely something will jog a thought.
Bingo!
I rediscovered a spool of brown suede leather stripping that I had bought on another "I can do something with this!" shopping trip. Then I found the black leather lacing spool just tucked underneath.
Lightbulb!
The idea was born and I didn't look back.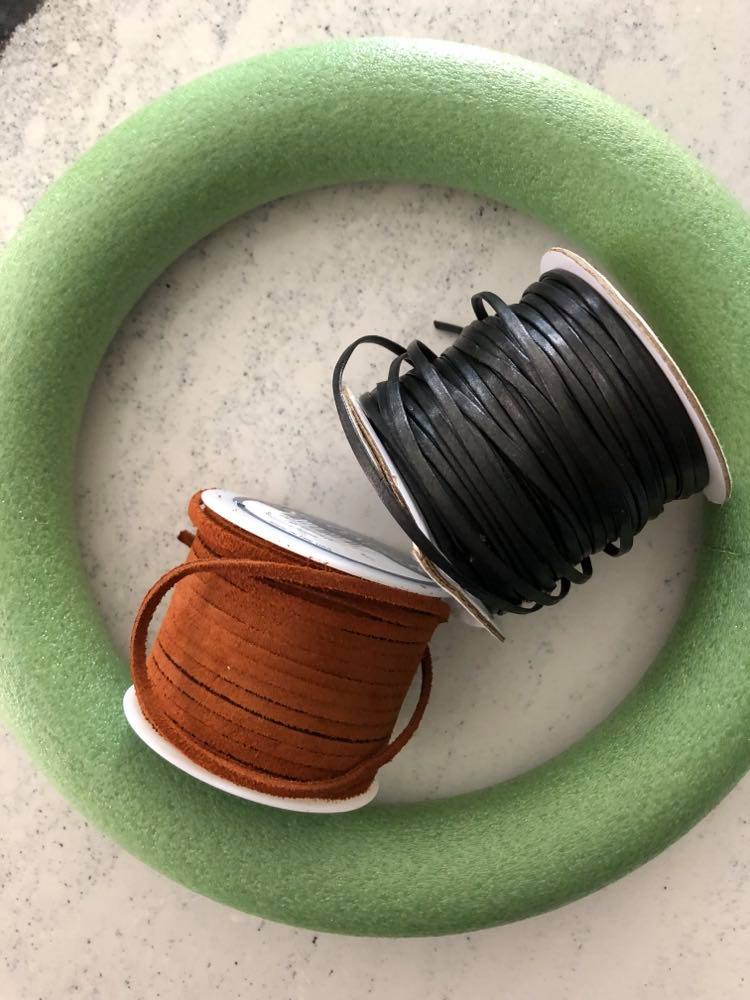 In fact, three easy steps later, I was hanging my wreath on an outdoor metal lantern.
Supplies Needed
Styrofoam wreath (Hello dollar store!)
Spray paint (I used black.)
If desired, a spool of leather lacing in a contrasting color (I chose black)
Various faux flower and/or greener stems (also found at the dollar store!)
Step #1
Spray paint the styrofoam wreath in a color that you don't mind peeking through the laces. (The laws of physics don't allow full coverage on a round form so the background color will show a little.)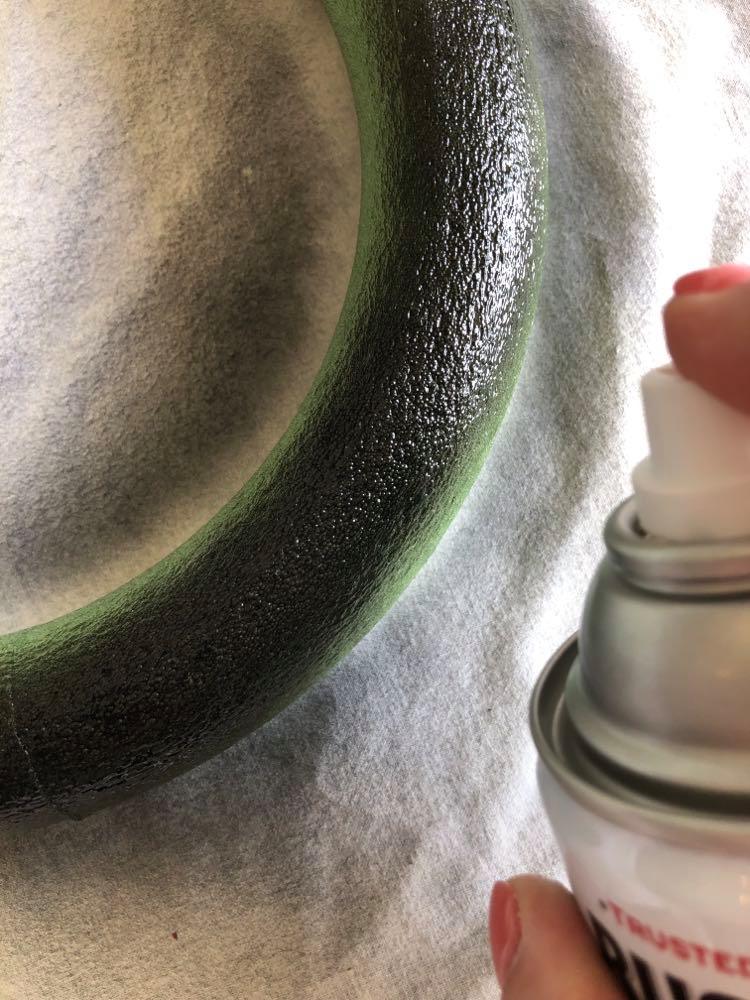 Are you a fan of spray painting like me? You might like this…12 Spray Paint Projects that are Fun and Easy!
Step #2
Wind the leather lacing around the wreath form. No need to glue or pin. I merely tucked the beginning and ending threads under the leather as I wound it around.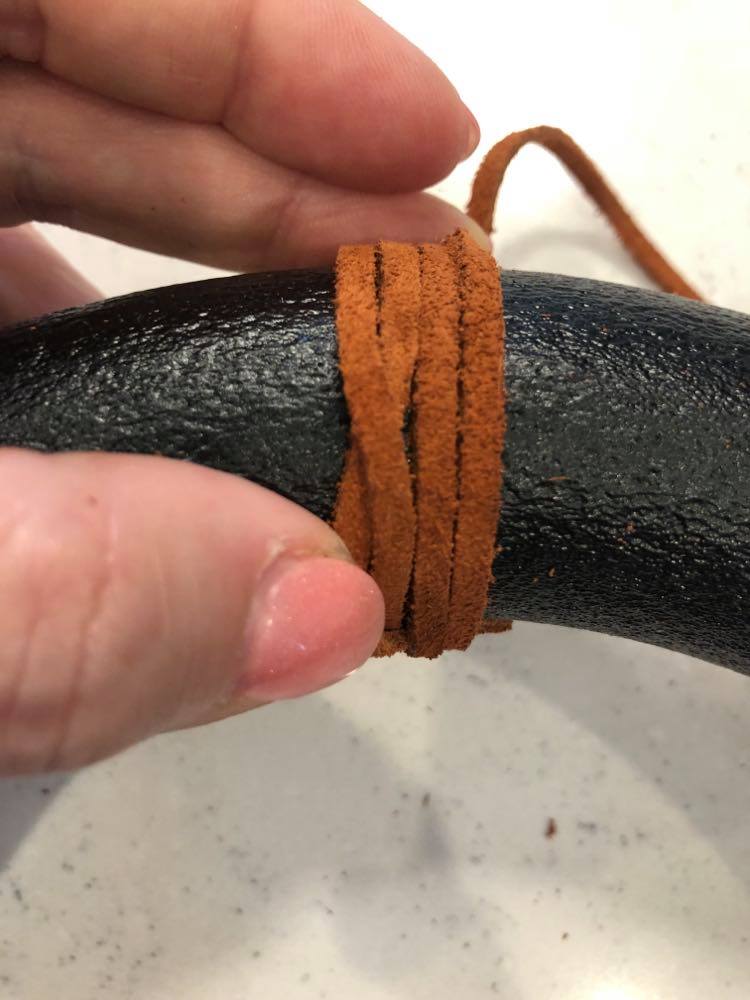 Just keep winding…just keep winding…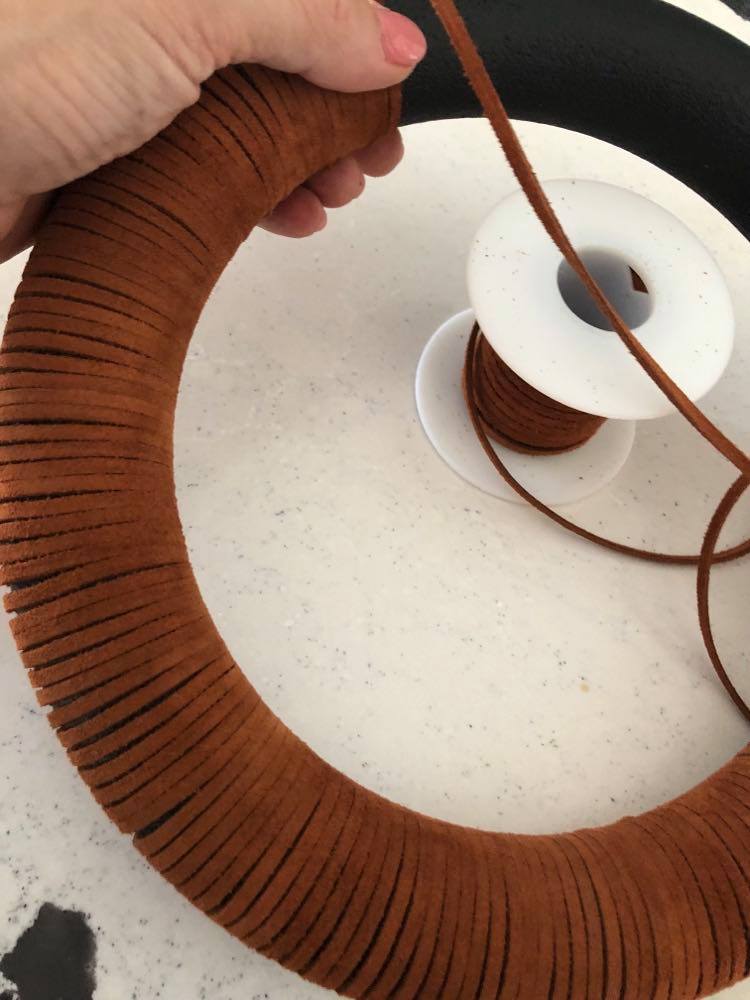 Step #3
Gather your faux flowers or leaves (or both) and tie them to the side of the wreath form with the contrasting leather lacing.
I used just a simple knot. No fuss!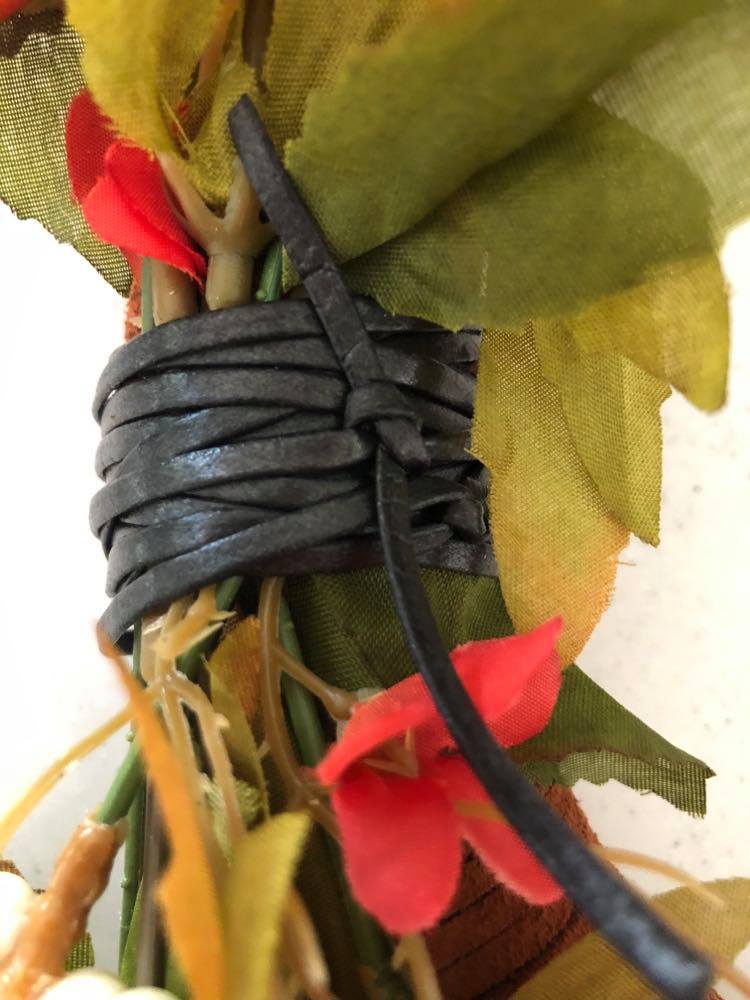 Hang your new fall wreath creation on any window, door or doorknob.
My wreath found a home on the front of a metal lantern that sits atop a planter on our front porch.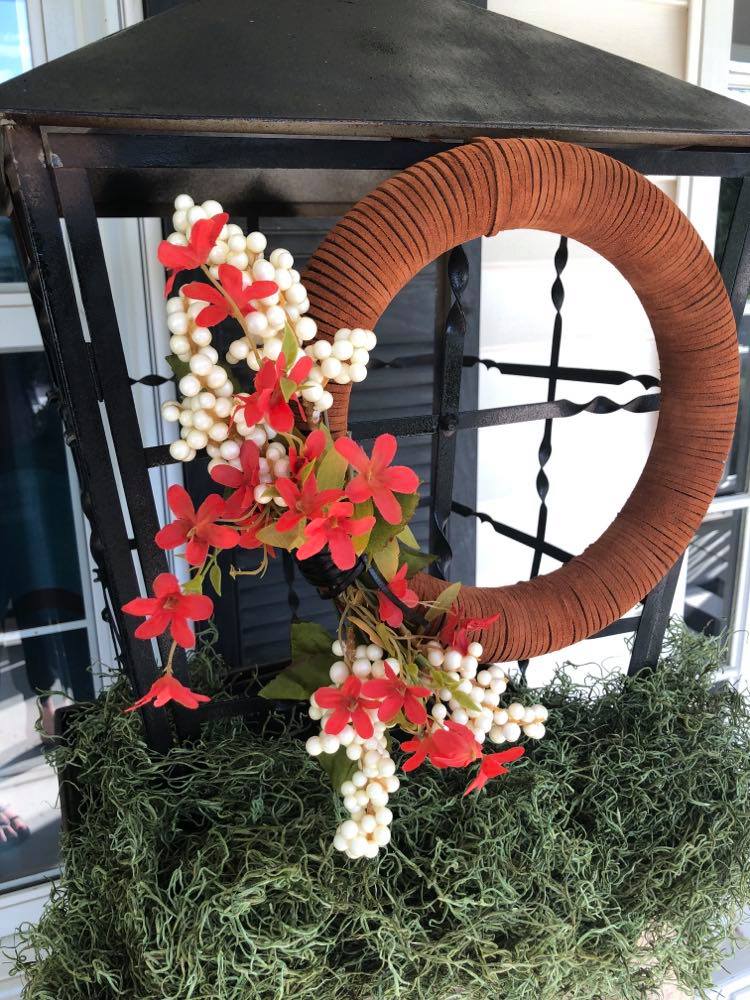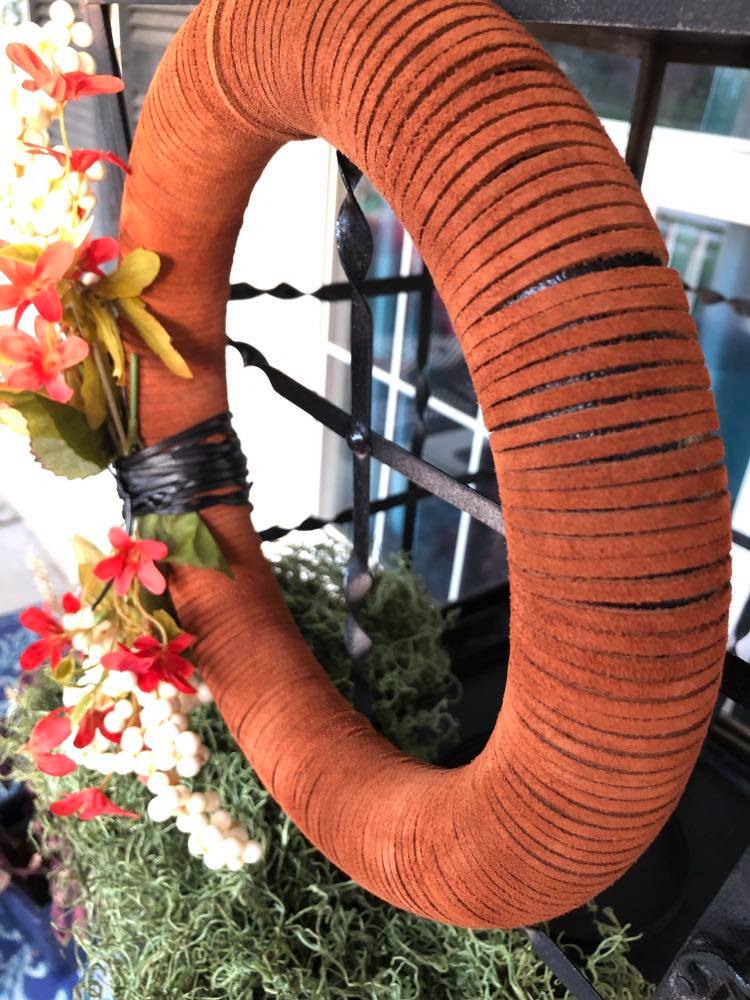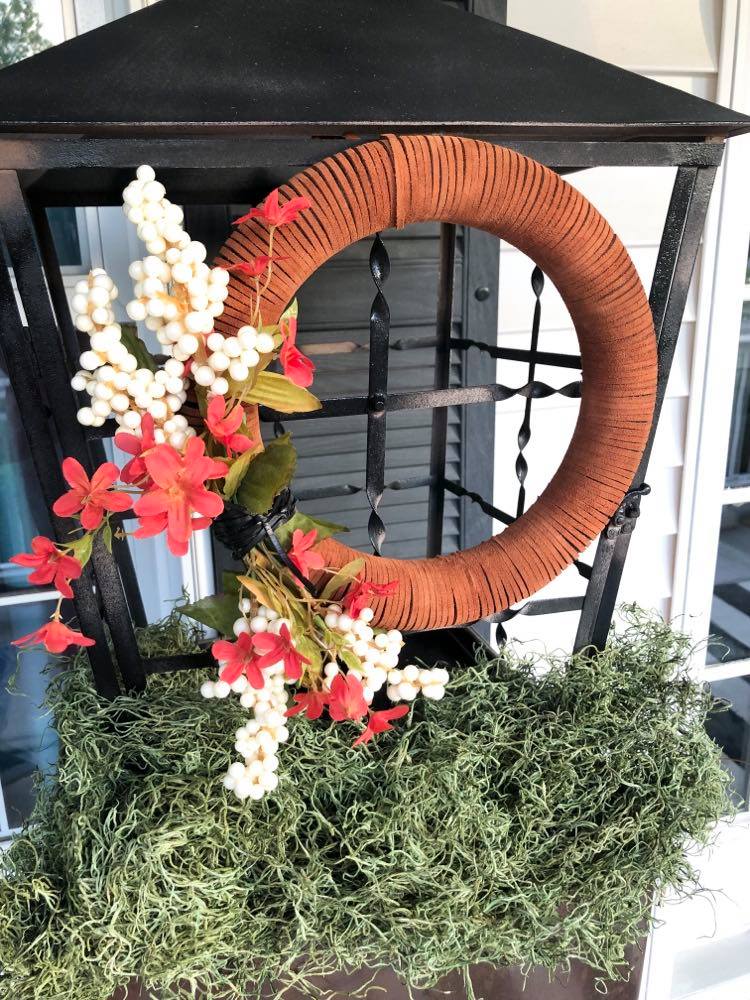 Check out how I displayed this wreath in our bookcase…Decorate Your Shelves for Fall
And, if interested, here is the tutorial on the Bookcase Makeover!
The total cost for this fall wreath idea was about $20.
Have I mentioned…I love the dollar store!
Good thing I have another wreath form and supplies…I have another lantern to adorn!
Cheers!

p.s. If you like this wreath idea, you might like a very unexpected door decoration from a previous post. Check it out!
An Unexpected Way to Decorate Your Door for Fall
p.p.s. With fall on the way, check out this amazing rug for your front entry…machine washable!
Are Machine Washable Rugs Worth It? This One is!
Let's Be Friends!

If you are a visitor to my blog, I truly hope you enjoy the content and ideas and find value in what I share. If so, would you please sign up for the Sonata Home Design email list so you don't miss up and coming posts? In fact, I have a big project that I am launching in the next few weeks and I am SO EXCITED about it! I would love for you to be a part of it! You can sign up below.
[contact-form-7 id="2437″ title="Contact form 1″]