An Easy Grapevine Wreath for Fall
Fall is in the air, which means it's time to start decorating your home for the season! A grapevine wreath is a great way to add some Fall flair, and it's easy to make too.
All you need is a few supplies and a little bit of patience. So if you're looking for a fun DIY project, read on for an easy grapevine wreath idea that anyone can do!
Have you ever had your eyebrows threaded?
When I was young, I pretty much ignored my brows. (I was young. I could ignore them!)
Once I hit my forties, I started to pay more attention by tweezing (get in line, little ones!) or waxing them. (Ouch!)
Recently, I had my eyebrows threaded for the first time. There is still an "Ouch!" factor but I'm liking the end result.
And, since Brooke Shields and I are the same age, I am always wanting to look good in the brow department!
The Magic of Thread
So, if thread can work magic on my eyebrows, why not a grapevine wreath?
Ok, the comparison ends here. My brows did not look like a grapevine wreath.
(At least, I hope not!)
First, pull out those skeins of embroidery thread from your cross-stitch days and put them to good use!
There is an unending palette of embroidery thread colors.
Think of a box of crayons on steroids! The color choices are over the top!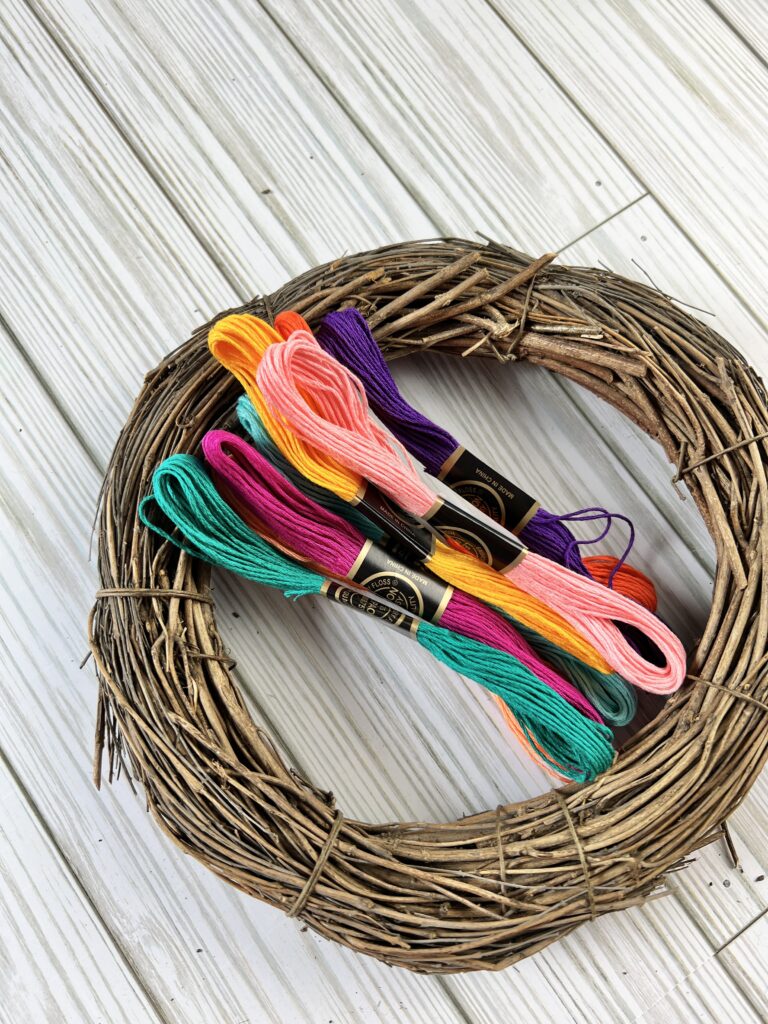 Threading a Grapevine Wreath
Next, grab a grapevine wreath, thread a needle, and start wrapping the individual branches with thread.
For my project, I chose a small wreath but you can go as large as you want!
Choose whatever color story you want for your living room, family room, or kitchen.
I decided to go multi-colored and used bright purple, pink, blue, gold, coral, light blue, and salmon.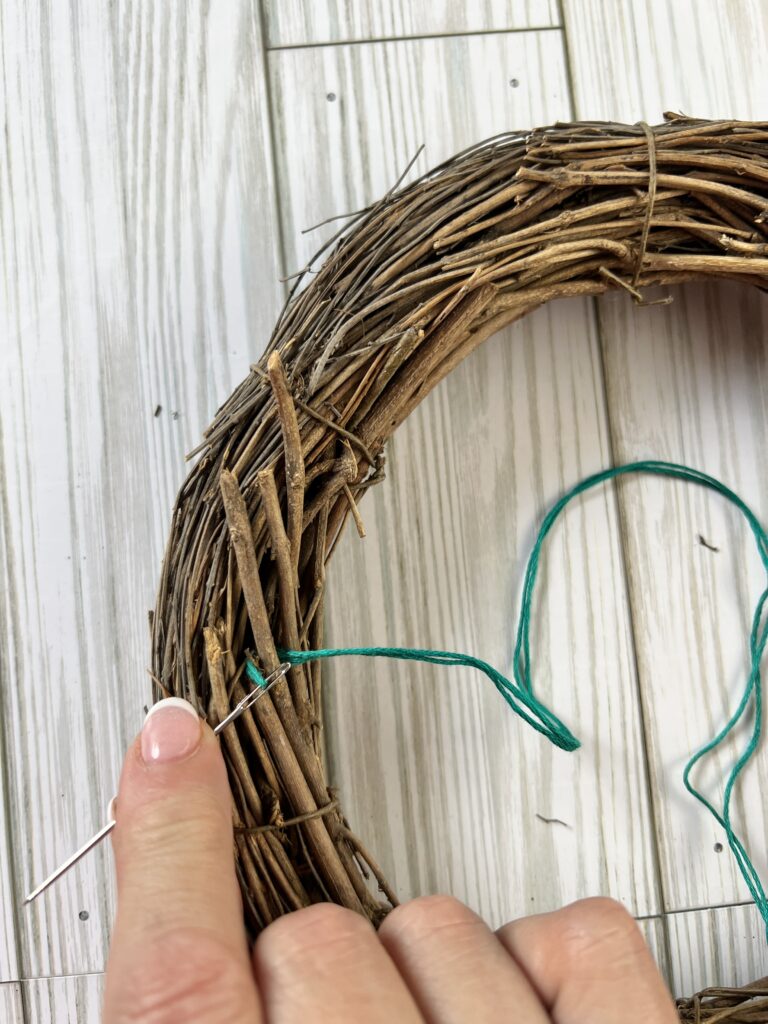 My grapevine wreath was very tightly woven so the needle was very helpful in wrapping the vines.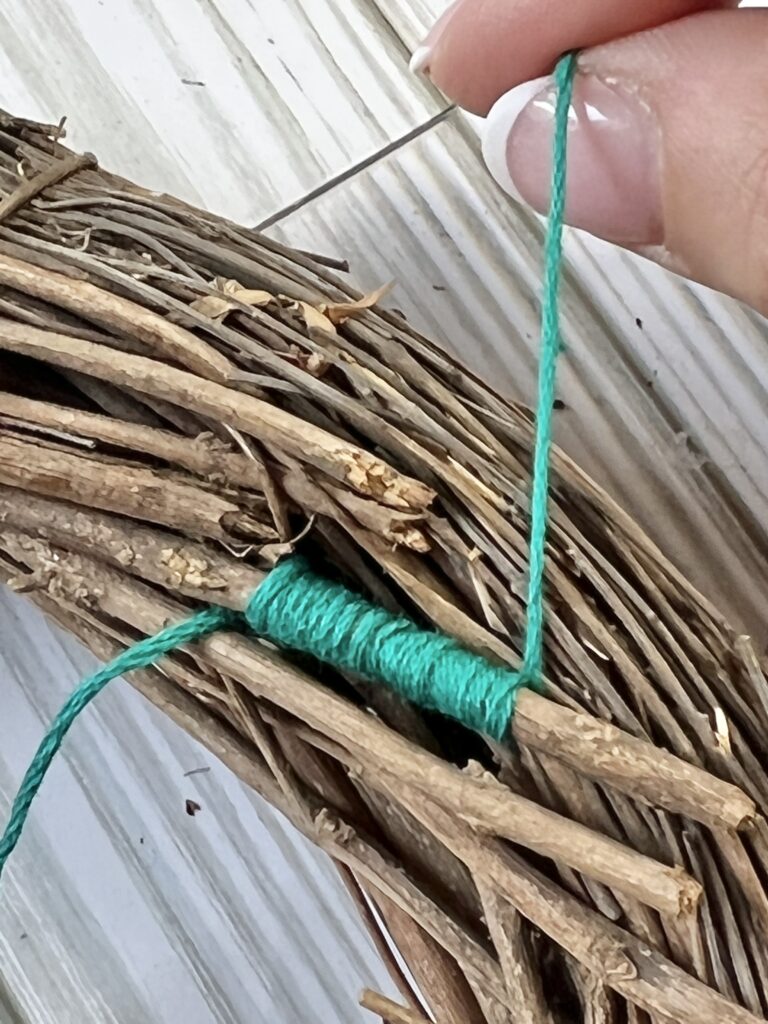 Once you finish wrapping a vine, you can either tie off the ends in a knot or add a little white glue. A separate needle is helping in pinpointing where you want the glue to go.
I tied off most of my threads but did use white glue when the vine weave was a little more open. Don't want the threads unwinding!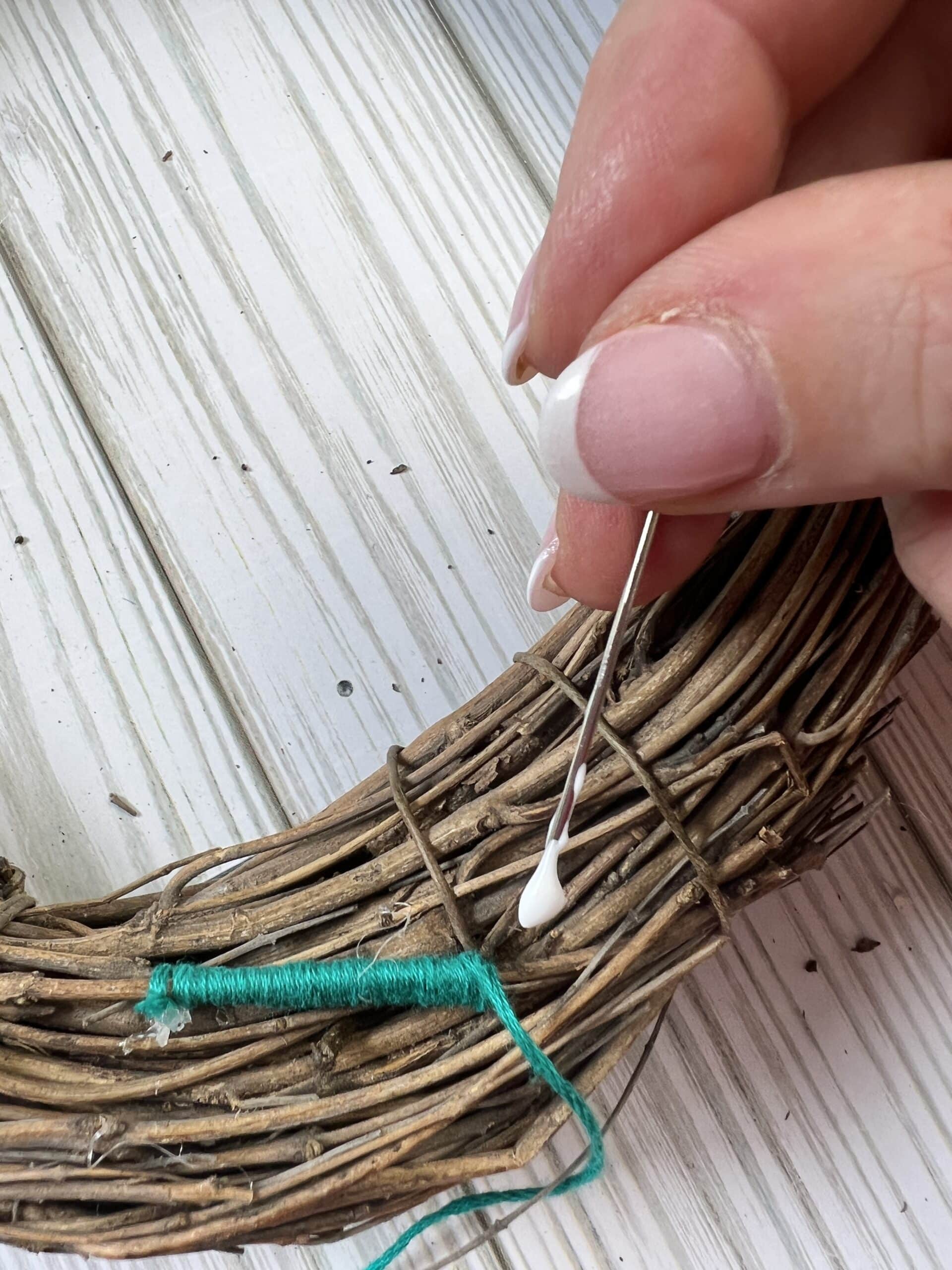 For my wreath, I sporadically changed the thread colors for the multi-colored look.
I did try, though, to give each color a certain number of times to shine!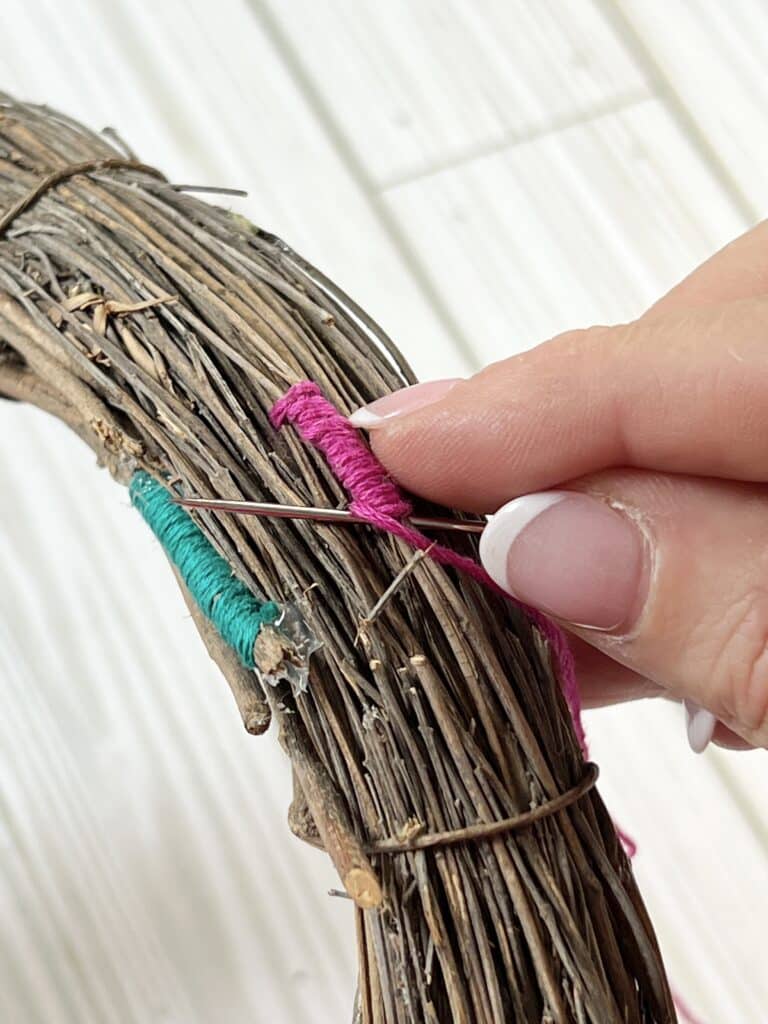 At this point, you can call it good if you wish.
When I showed my husband the finished wreath, he thought the threads were beautiful beads from a distance.
Of course, I thanked him!
This small threaded grapevine wreath looks great hanging simply from a door handle.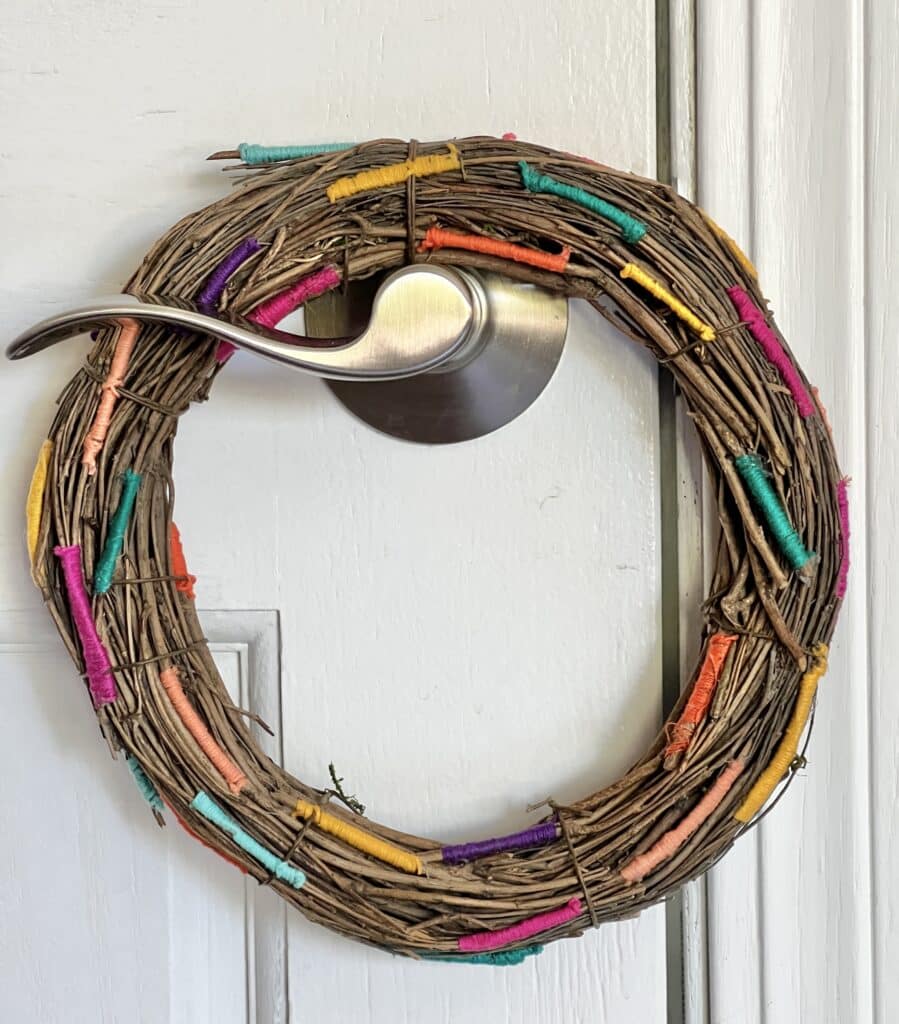 But I also love it as a small "nest" for one of my pumpkins!
Thread must be a theme…I had earlier used some of the same embroidery thread to colorfully cover the original plastic pumpkin stem.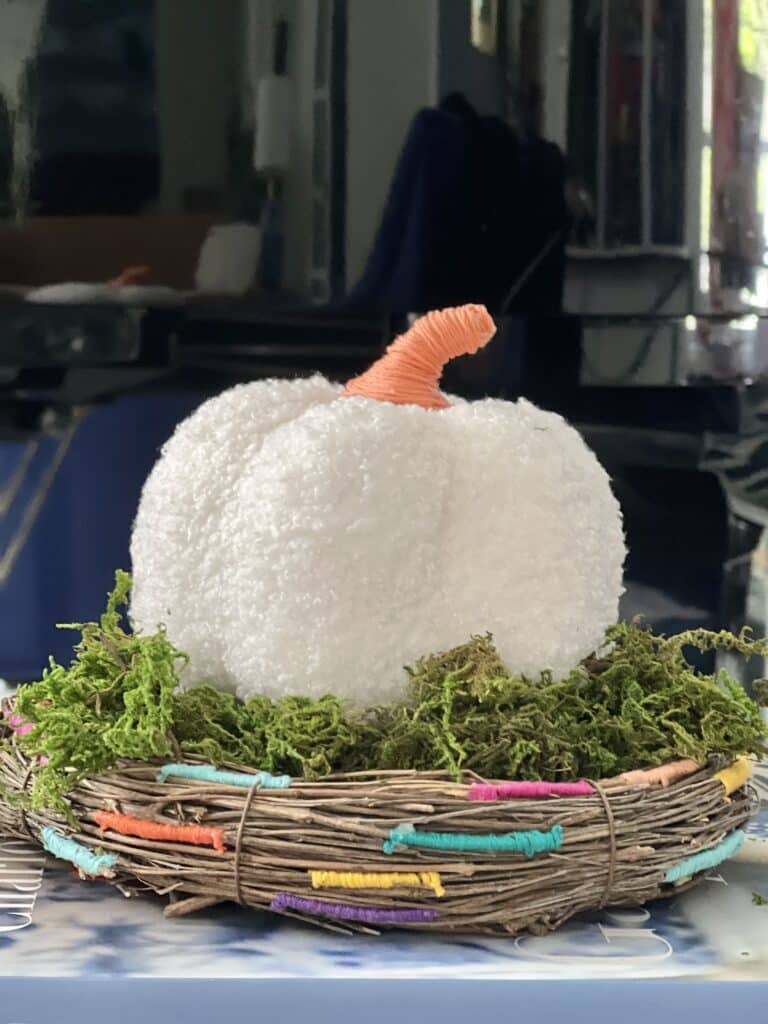 But Wait…Let's Add Some Pom Poms!
Why not add a little more texture and just a hint of whimsy?
Pom Poms are a great addition to this wreath and so easy to make.
You can learn how to make pom poms by reading How to Create Pom Pom Magic.
If you prefer, here is a video tutorial for making pom poms.
Look at this amazing multi-colored yarn that has some of the same embroidery thread colors.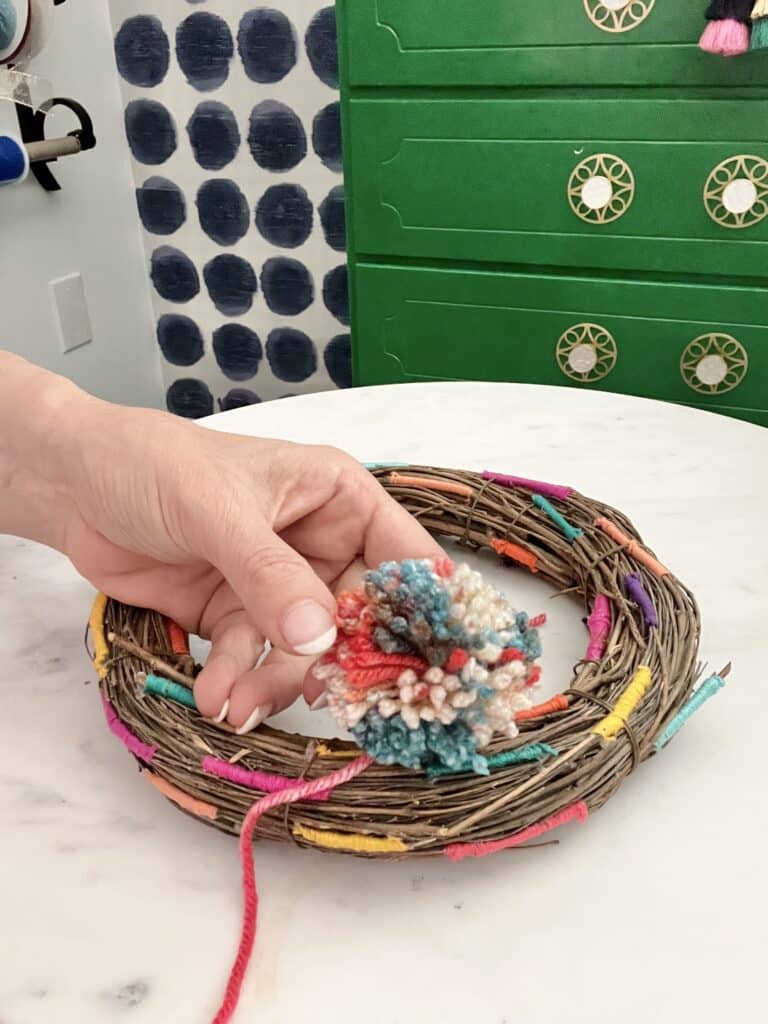 But I also added a couple of solid-colored pom poms to help ground all the color.
Just use the tails of your pom poms and tie on to the wreath as a small pom pom cluster.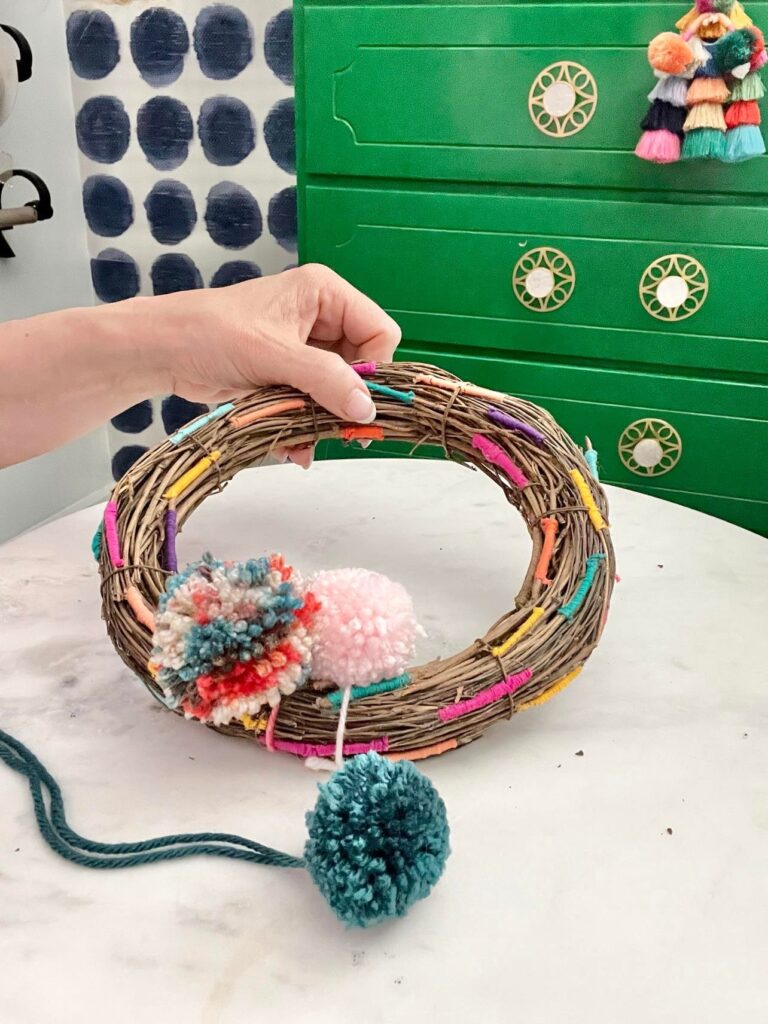 I propped this grapevine cutie in our dining room window!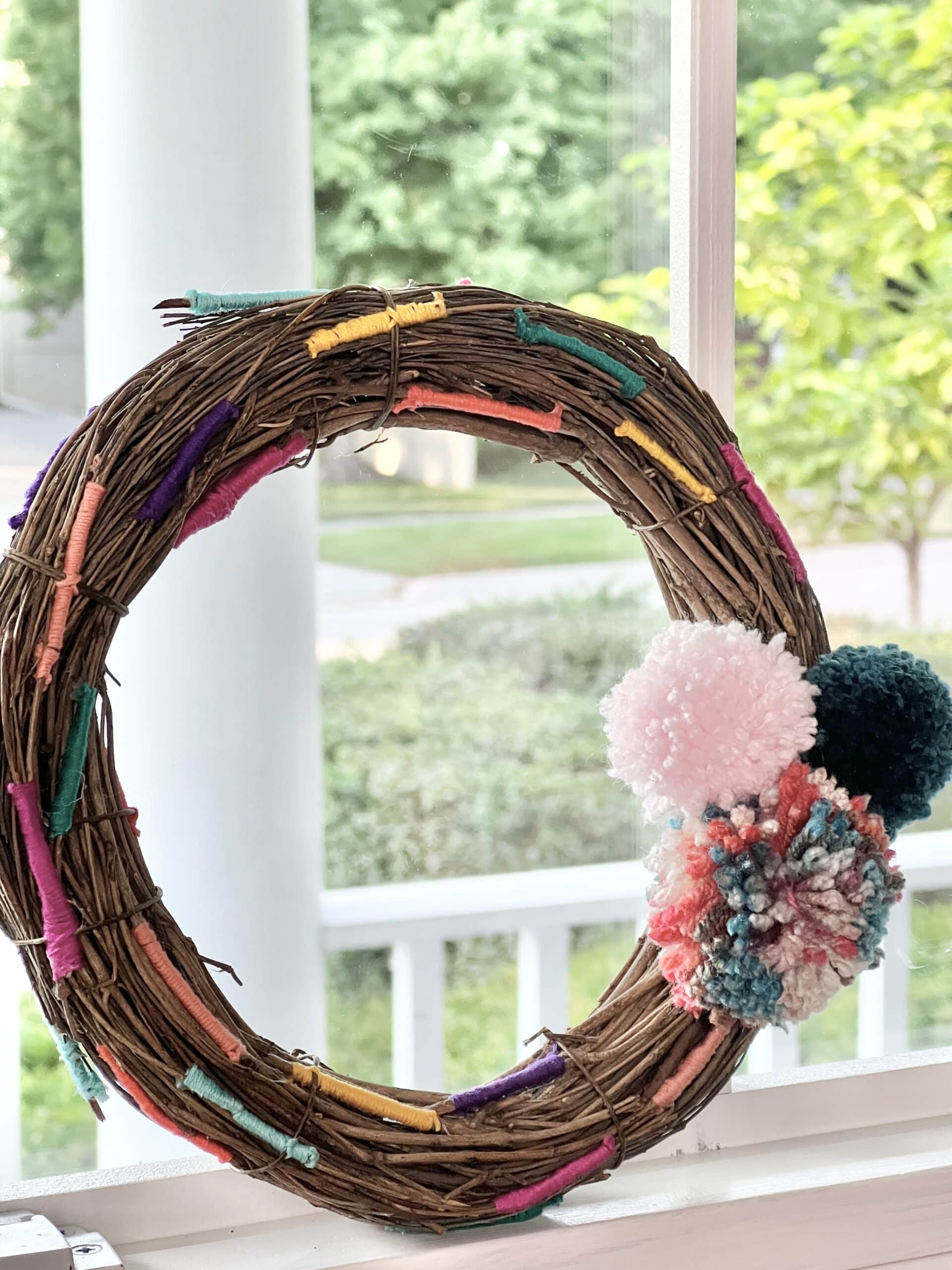 Here is the wreath propped against some books on a fireplace mantel.
So cute surrounded by the velvet pumpkins!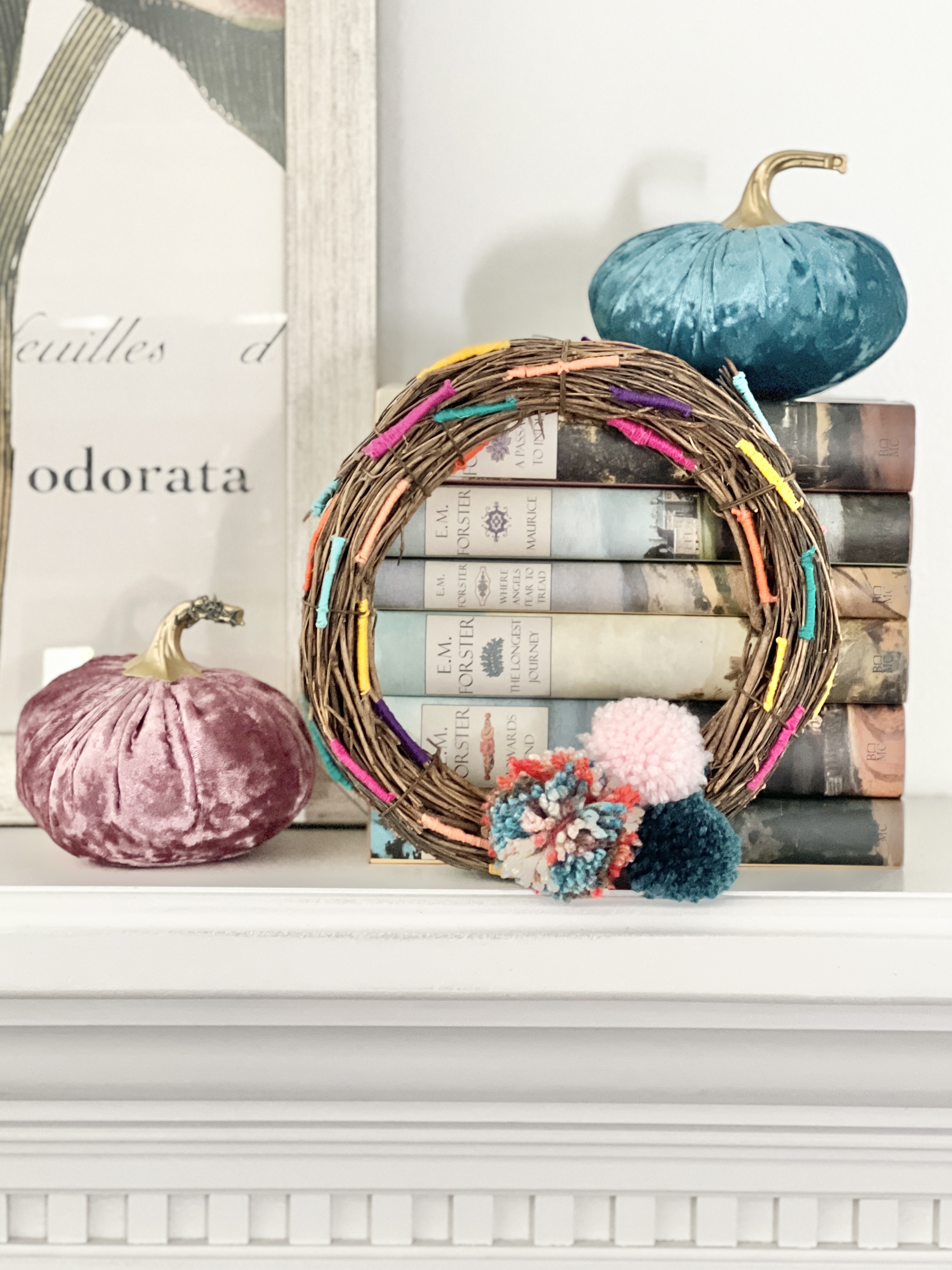 Other styling ideas? Let's get whimsical with this!
I couldn't resist framing my little buddy that sits on our patio baker's rack!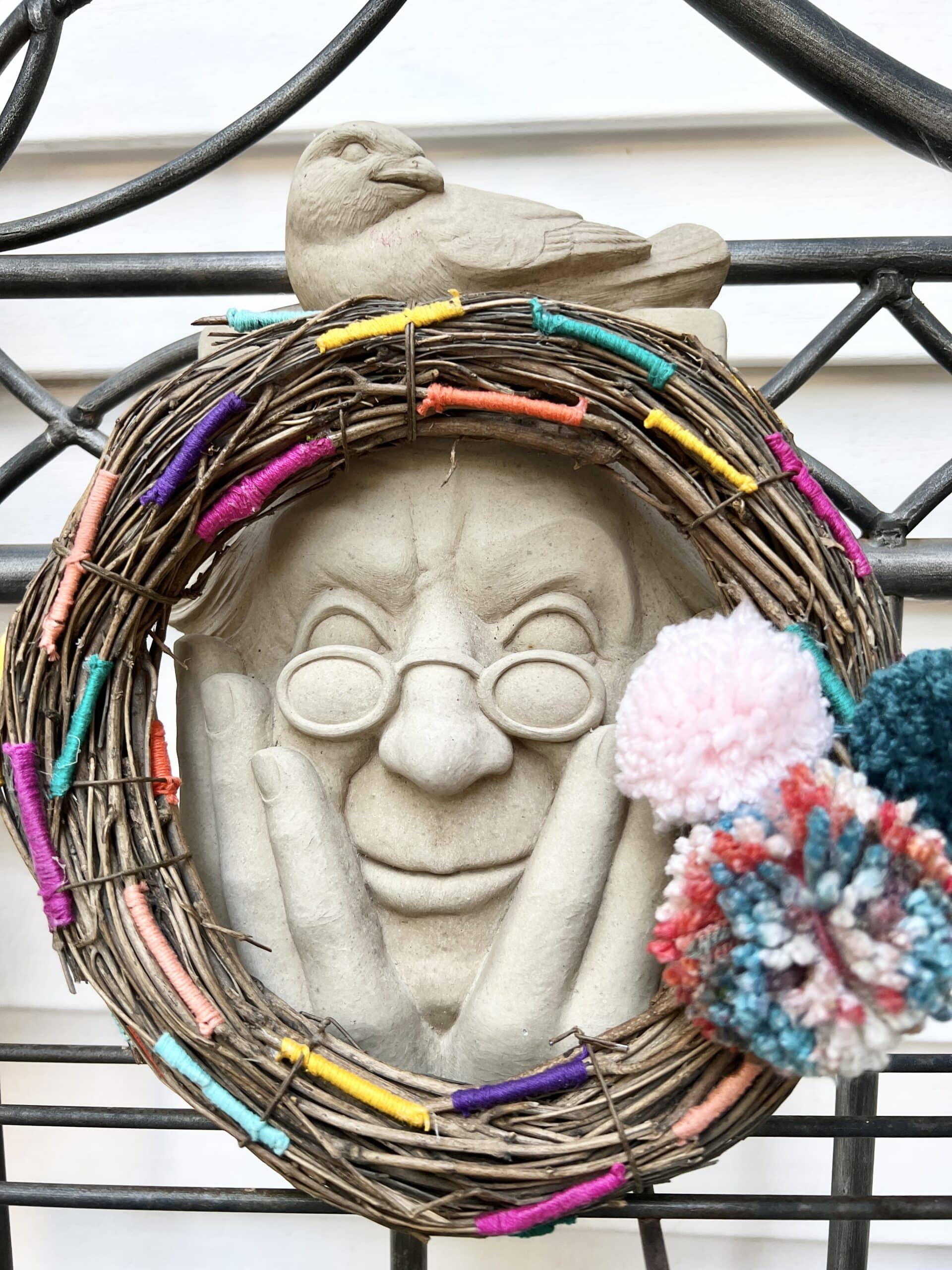 Hanging from a cabinet pull is a little unusual, but adds a really fun punch of fall fun!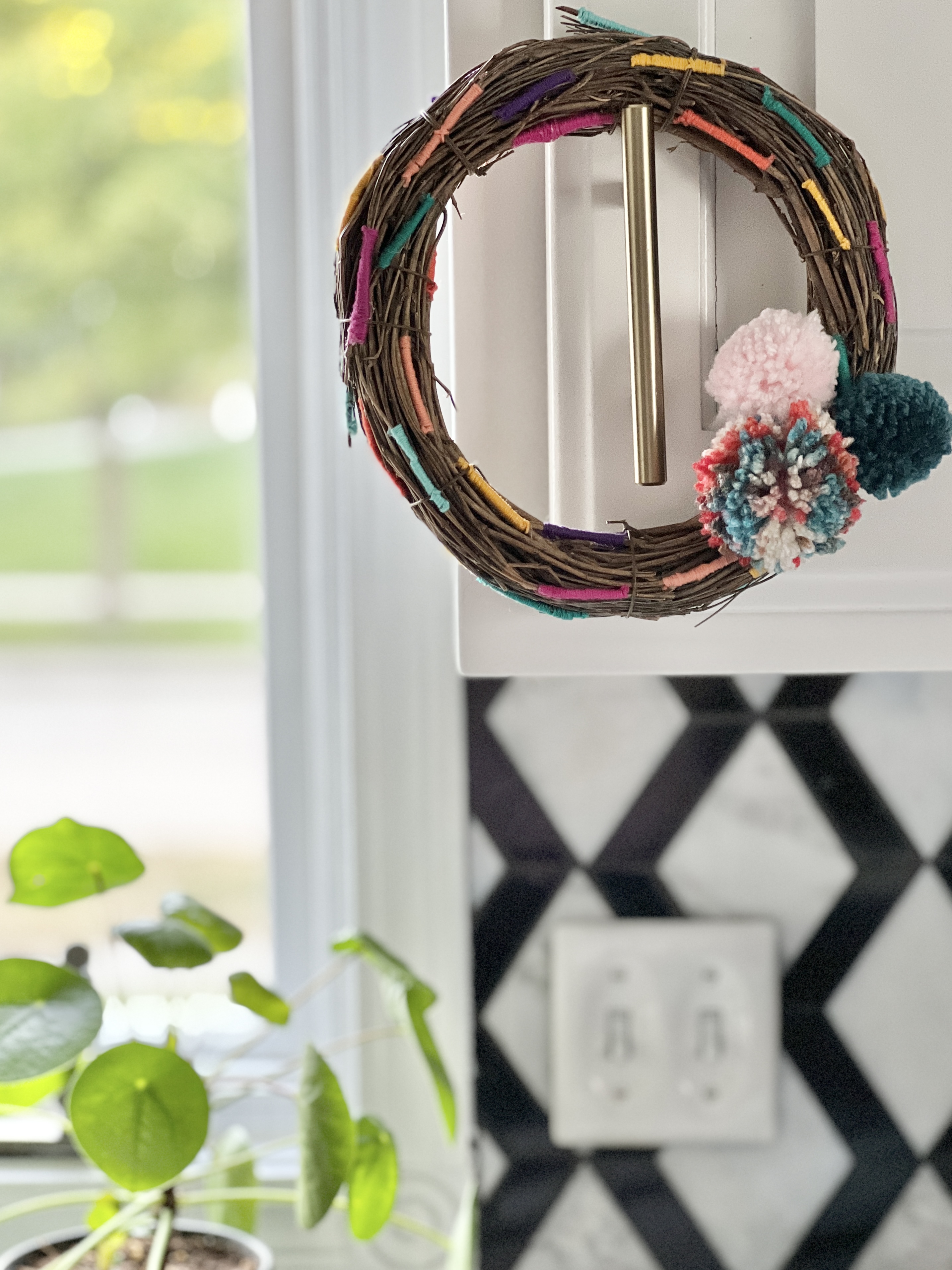 So, put on your crafty hat and get started with this easy fall project!
With a little bit of effort, you can have a beautiful grapevine wreath adorned with festive embroidery thread and pom poms. Hang it up on your door to welcome guests or give it to a friend as a sweet autumnal gift. Ready to start stitching?
Cheers!

p.s. I must be into wrapping things! Here is a Fall Wreath Using Leather Lacing!
Or, here is an easy and colorful Thanksgiving Decor Idea using embroidery thread!
Don't Forget to Pin It!
Pin the image below to your boards on Pinterest (just click the Pin button in the top left corner). You can also follow along with me on Pinterest!