A Little Fall Tour in the Living Room
As the leaves start to change color and the air gets crisp, it's the perfect time to cozy up your home for fall! Join me for a little fall tour in the living room. See how this living room (and entry!) is decorated for Fall with cozy fall decor, colors, and textures.
From our front entry to our living room, I've decked out our space with festive autumnal decor that will make anyone who comes over feel welcome and warm!
If you are coming from The Jenny Wren…lucky you! Rose always delivers when it comes to beautiful home decorating!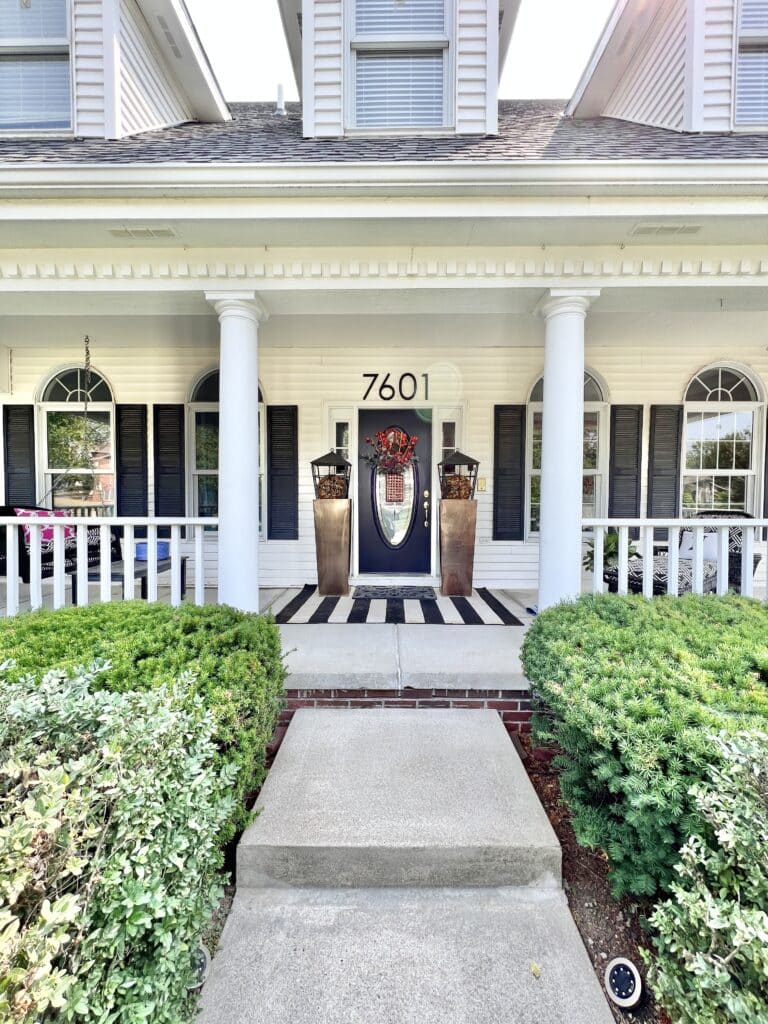 Table of Contents
Welcome to my home!
Ooh! This is so exciting!
First of all, I love having guests over and hanging out in our living room!
And, second, I have some amazing blogger friends who are also sharing some fantastic fall decorating inspiration in today's "Fall is in the Air" blog hop! Keep reading and each post will direct you to the next fantastic, inspiring post!
The Foyer
I think foyer decor (now that is a fun rhyme!) begins with the front door!
After all, this is the initial point of entry and should also always give a welcoming hint as to what lies beyond the front door.
A beautiful fall wreath is always a good idea!
I used a lantern for the front door!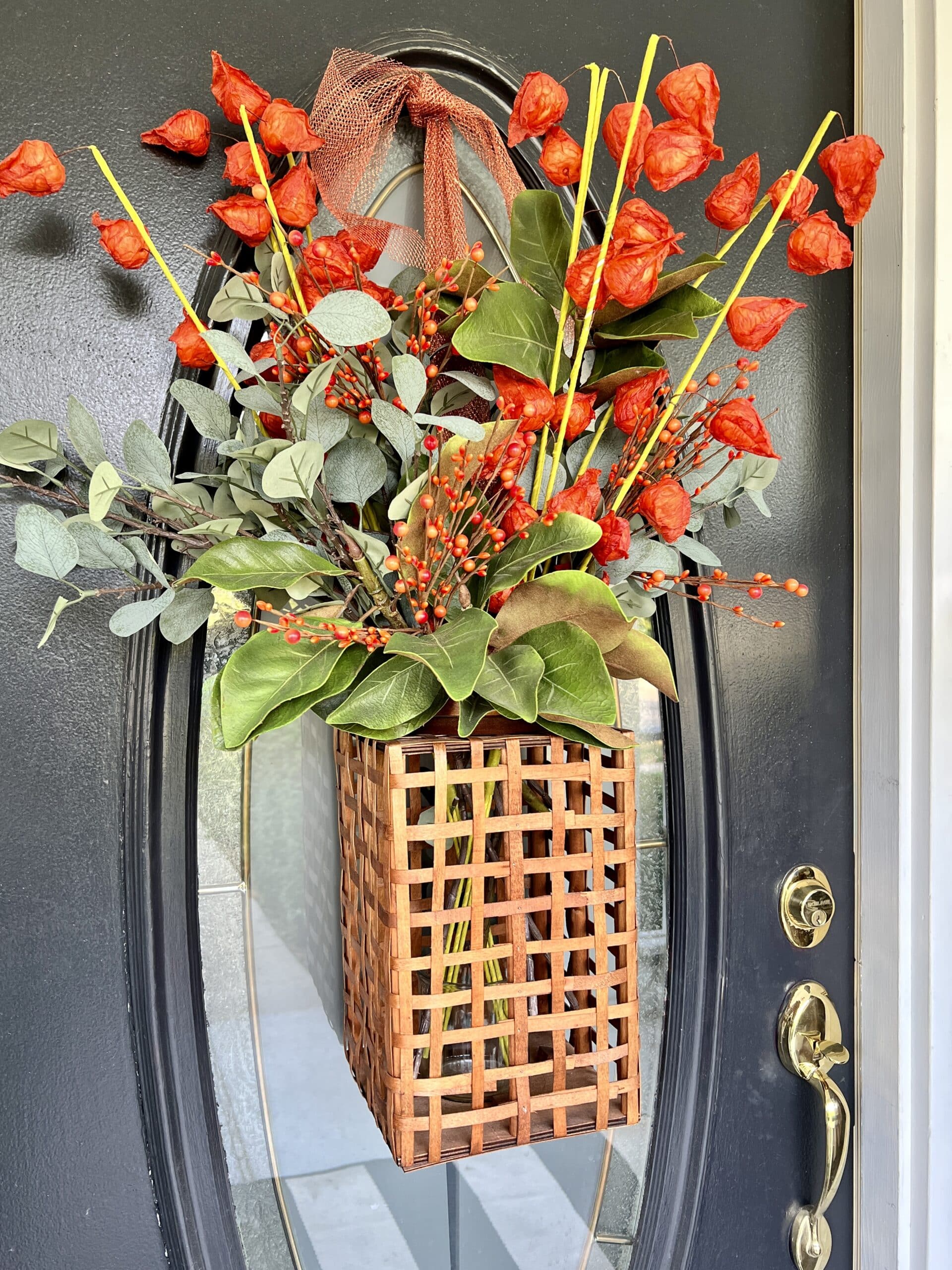 This woven beauty has been sitting inside the front entry for a few weeks now. When I was contemplating how to decorate the front door, my gaze happened to swing past the entry table.
Why not hang a lantern from the front door!
A quick tie of a ribbon was all it took to hang it. Then, I filled it with faux florals in beautiful fall colors.
Chinese lanterns, pip berries, and magnolia leaves…all things that I can't grow myself but can certainly purchase as a lovely faux alternative!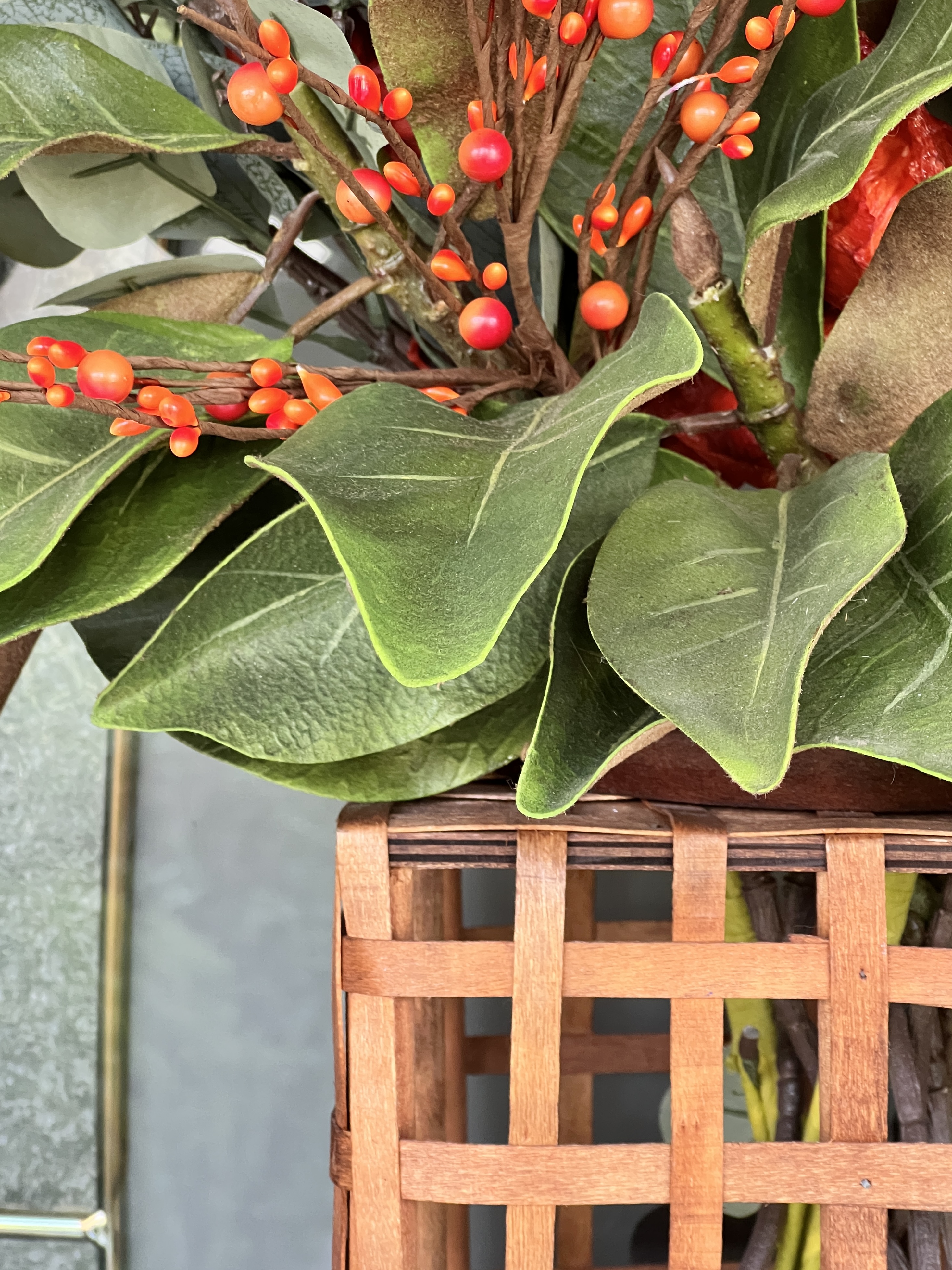 Let's not stop there! Come through the door and see the floral welcome continue!
As soon as you walk in the front door, you're greeted by a festive fall arrangement.
It is a statement display and, other than the lamps, is the only decor on the table.
Notice the regal stare of woman on the "Sid Dickens" tile. She won't let it be known but I think she really likes the flowers!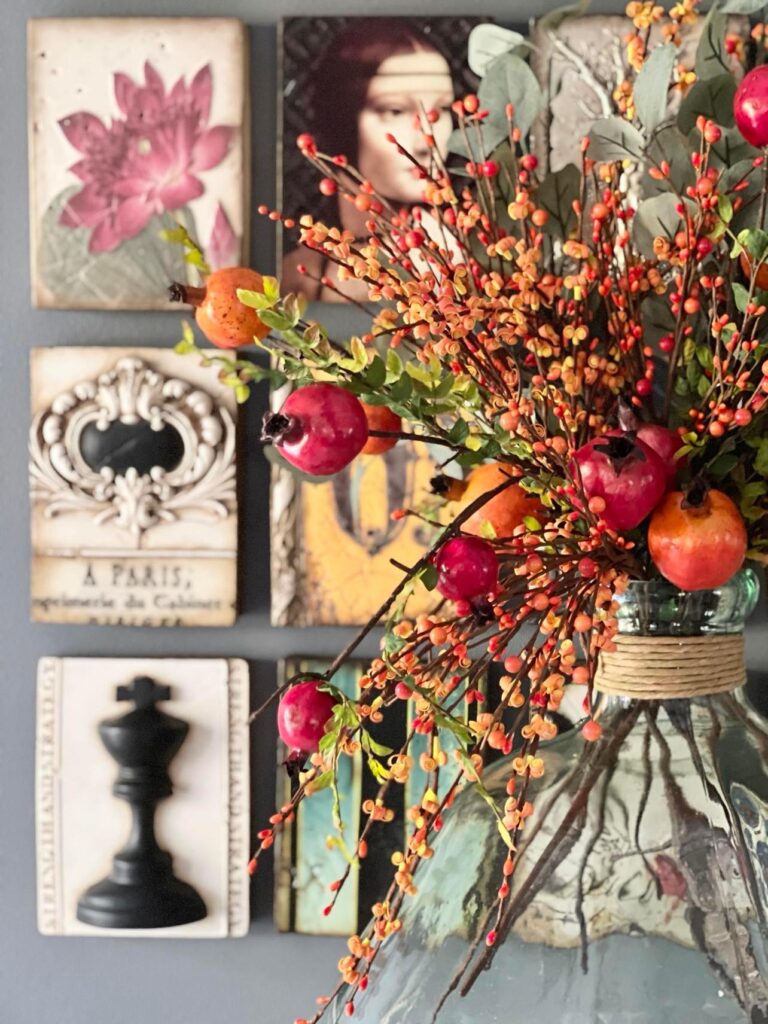 But, it stands beautifully on its own.
This time, pomegranates, bittersweet, and eucalyptus are the flowers of choice.
Take a look at those pomegranates! The orange and red are such an amazing color combination for fall!
So…Go big or go home! (Well, I guess we are already home!)
Our Fall Living Room
We live in a world of beautiful colors.
And, our living room reflects that.
For the summer months, I love to use vibrant colors paired with pristine whites.
However, for fall, it is nice to warm things up a bit.
So, pure whites now lean more toward ivory, and creams with natural wood decor accents are their best friend!
While our brown leather sofa sits in this room year-round, it is joined by the leather stitched ottoman and a small wood table situated between the cobalt blue chairs.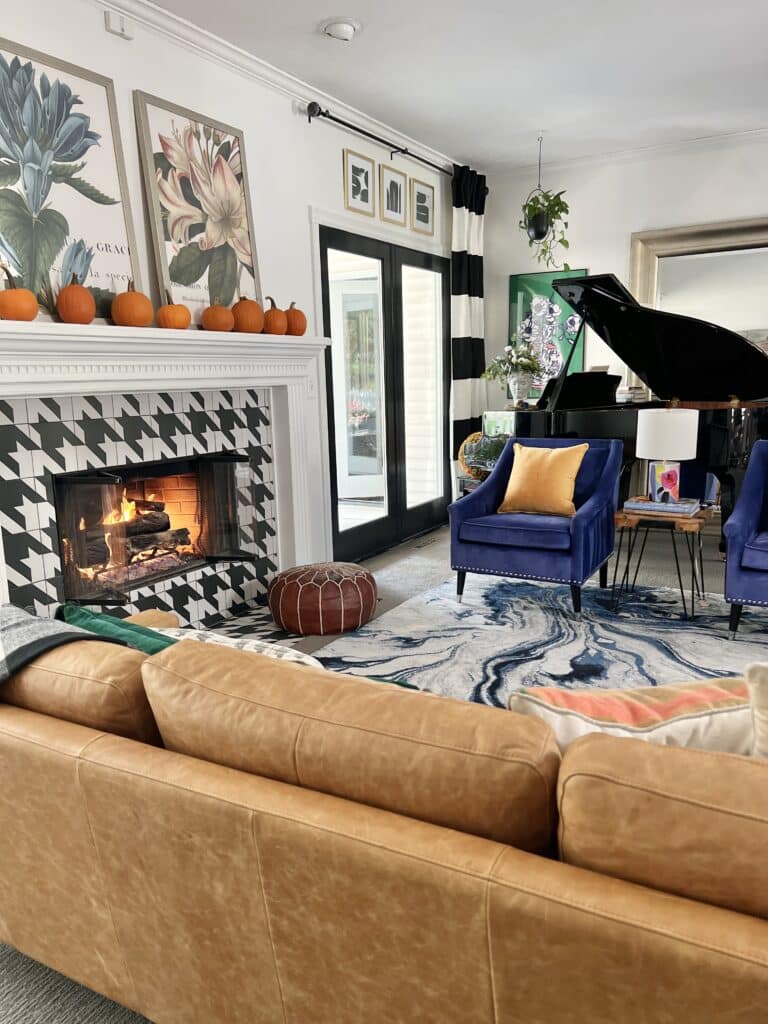 A Pumpkin Fireplace
As you can see, I've lined my mantel with 9 adorable little sugar pumpkins. Each one is so cute on its own.
Simple.
But as a collection of 9…major impact!
Intentionally, I kept this area fairly fuss-free as I want the focus to be on these adorable pumpkins!
(Ironic disclaimer: When I took this photo, it was 95 degrees outside and the air conditioner was running full blast as the flames crackled in the fireplace. Can we get some cooler temps outside please?)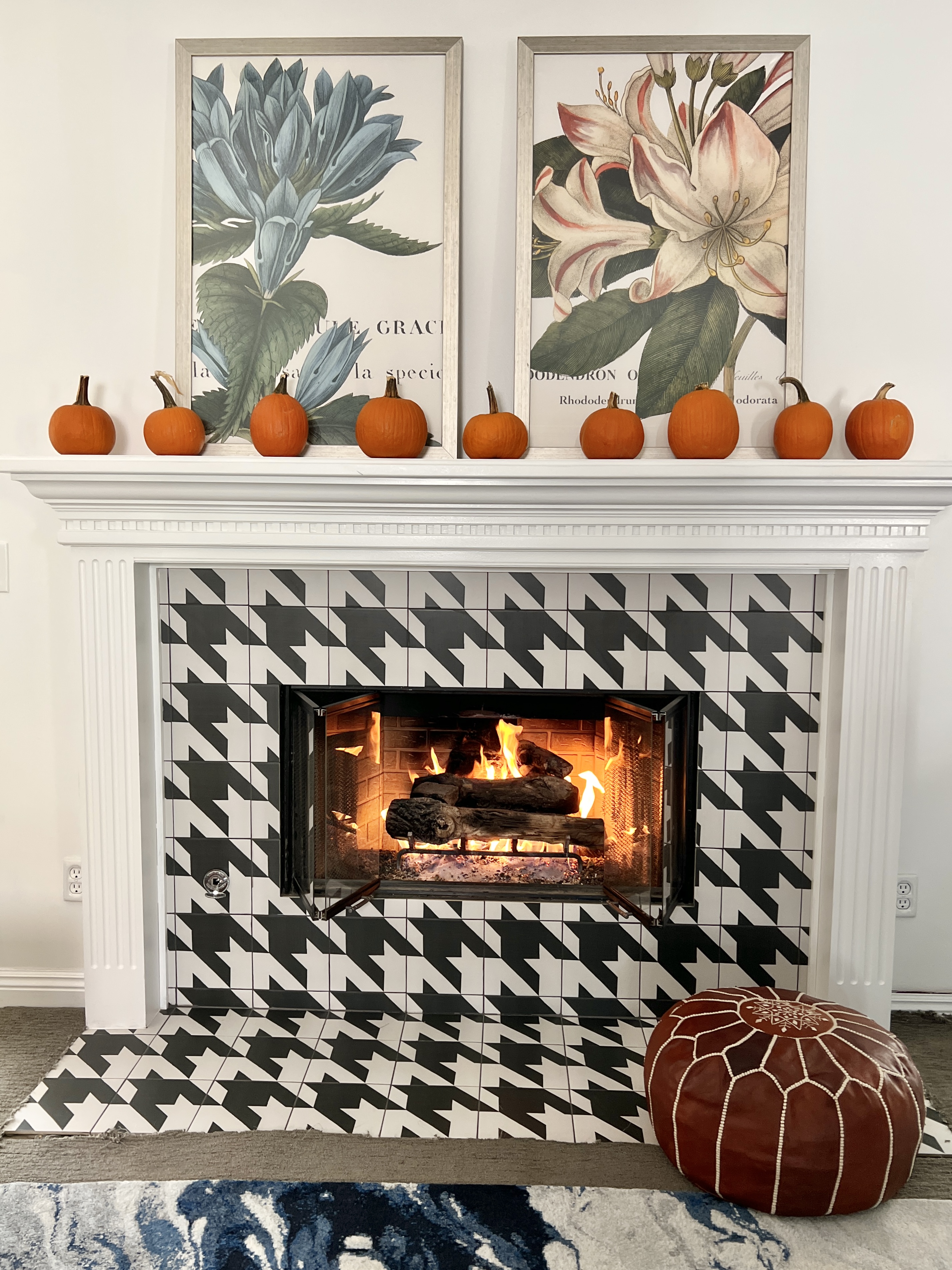 Oh my…I love that this is the first thing you see when you walk through our front door!
Additionally, I love the way they look against the black and white houndstooth tile of our fireplace. As much as I love combining patterns, I try to keep things simple around the fireplace to let the tile have its moment!
"Fall In" to the Sofa
Have a seat!
As you sink into the sofa, you'll find oodles of pillows in autumnal colors.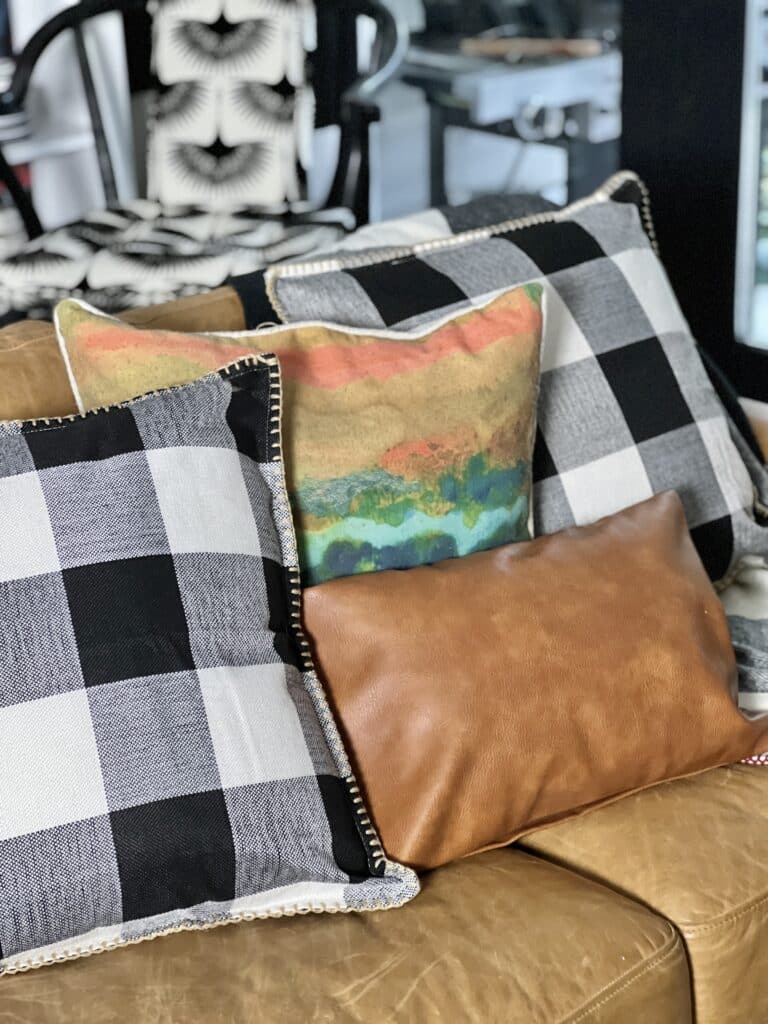 Don't forget…pinks are wonderful shades for autumn! Think of leaves that turn a rosy shade of pink befor turning red.
Also, sometimes it is fun to repeat a pattern in the room. Does this darling houndstooth pillow remind you of anything in the room?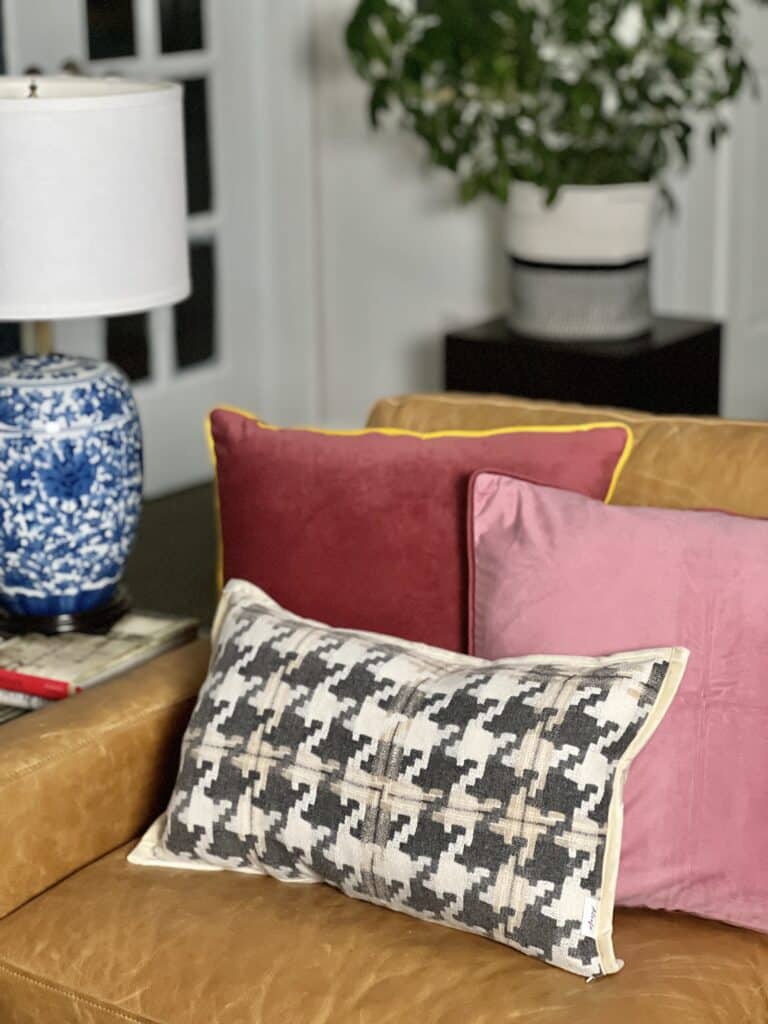 Several of these solid colored velvet pillows are reversible so you can switch them out for different moods as the season changes.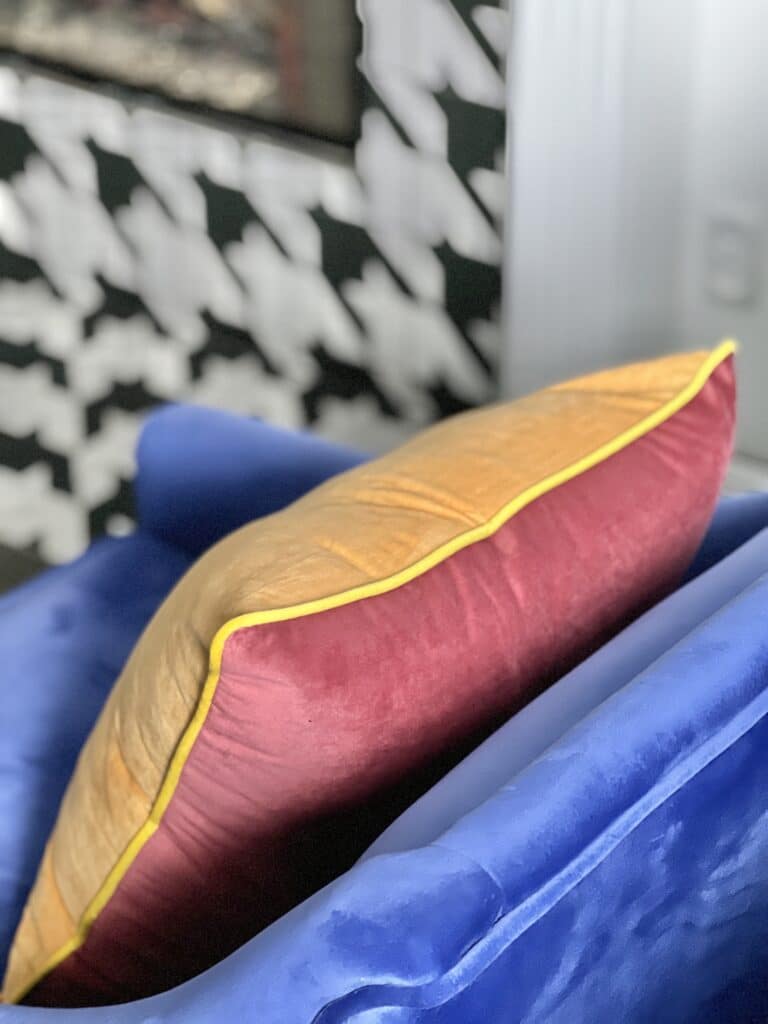 Speaking of blankets, there's one waiting for you on the back of the sofa—help yourself!
One of the easiest ways to add some seasonal flair to your home is to simply change out your pillows and blankets. Swap out any bright colors or patterns for more subdued, earthy tones. This will not only give your home a cozier feel but will also make it more inviting.
A Cozy, Glam Coffee Table
(As of 10 pm of writing this post scheduled for the morning, Fed Ex just now delivered our brand new coffee table. Exciting…but talk about the last minute! Guess it is time to get to work!)
Whew! It is now 6 am on posting day and I managed to put the table together, style it, and get some decent sleep!
I feel like Rosie the Riveter but with a teeny tiny allen wrench!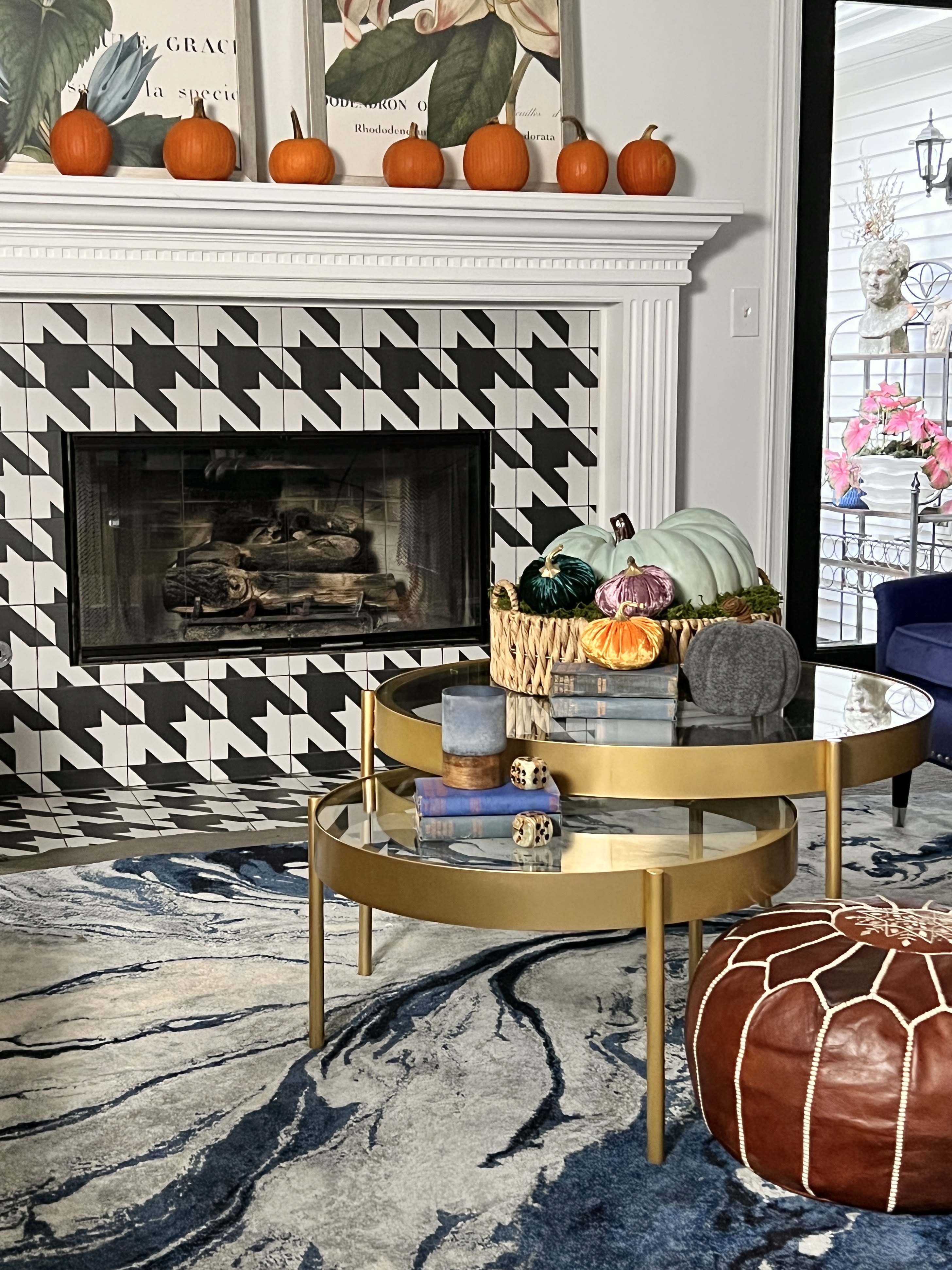 If you take a seat on the comfy sofa, you'll notice that the coffee table is styled with a woven basket and some lively velvet pumpkins. I love using baskets as styling pieces because they add both texture and visual interest to a space.
I love the way the warm colors of fall blend together in this arrangement.
And can I say…the coffee table was worth the wait!
Cozy glam!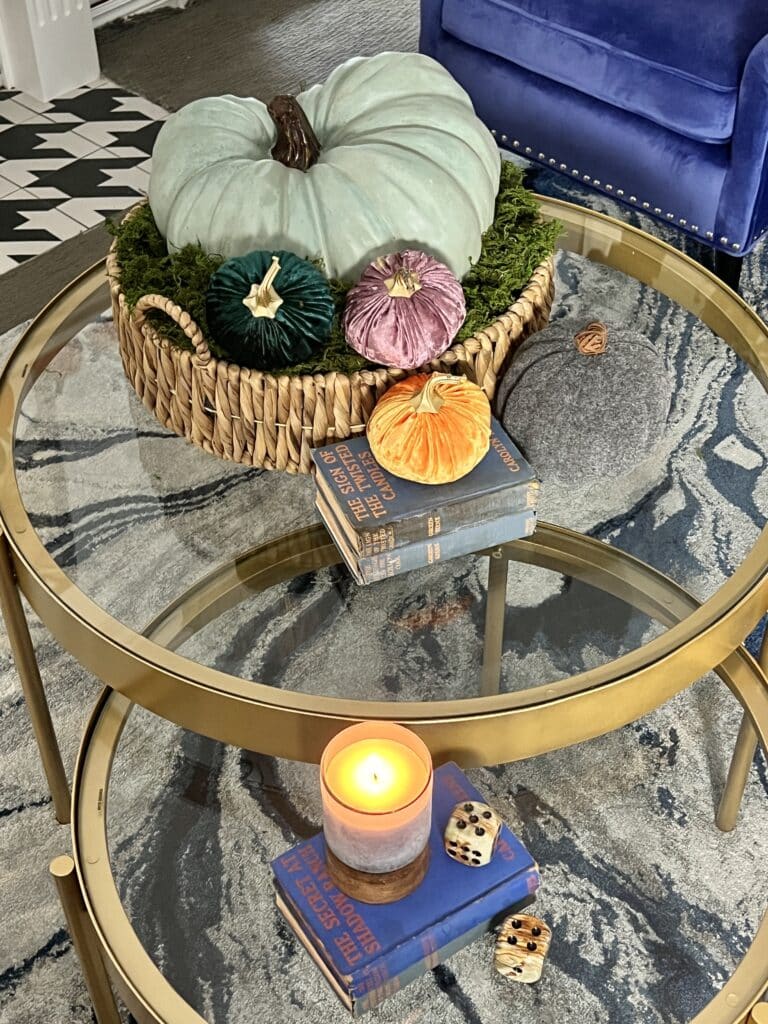 And of course, no fall home tour would be complete without mentioning the fall spice candles burning throughout my house. Nothing says fall like the smell of pumpkin spice!
This is the perfect spot for some Nancy Drew reading!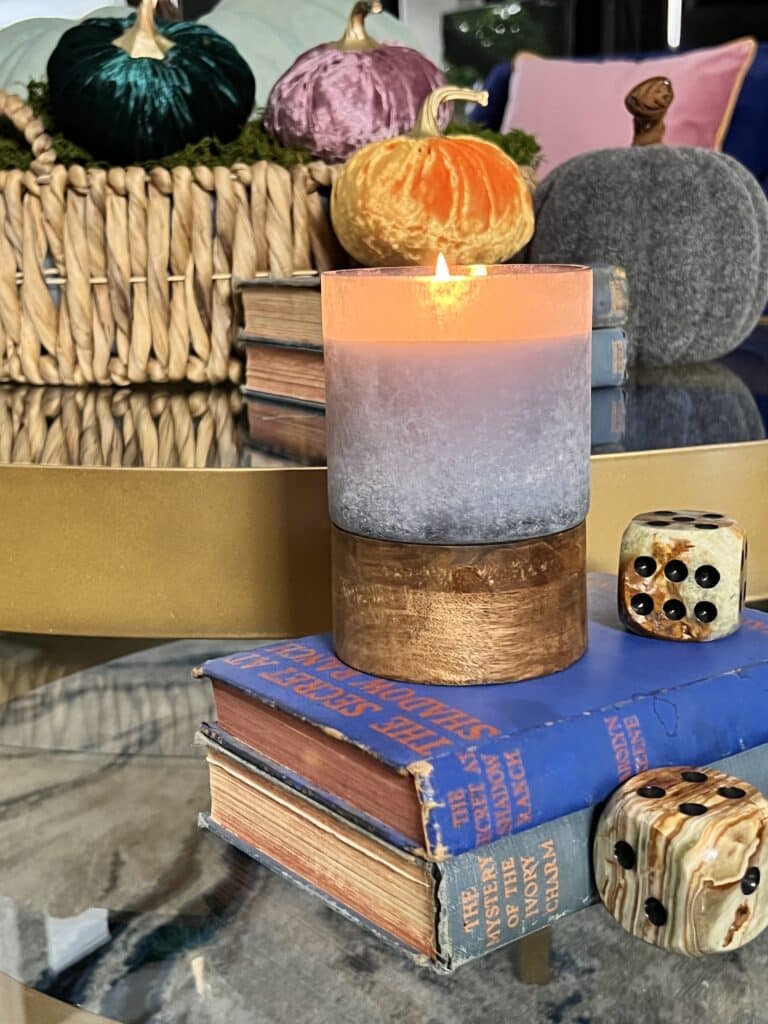 A Side Note
We have a narrow wall opposite the fireplace that also got some autumnal love.
The wall art already has some amazing colors. Adding richly colored velvet pumpkins seemed a good idea!
Oh, and a panther! A panther is always a good idea!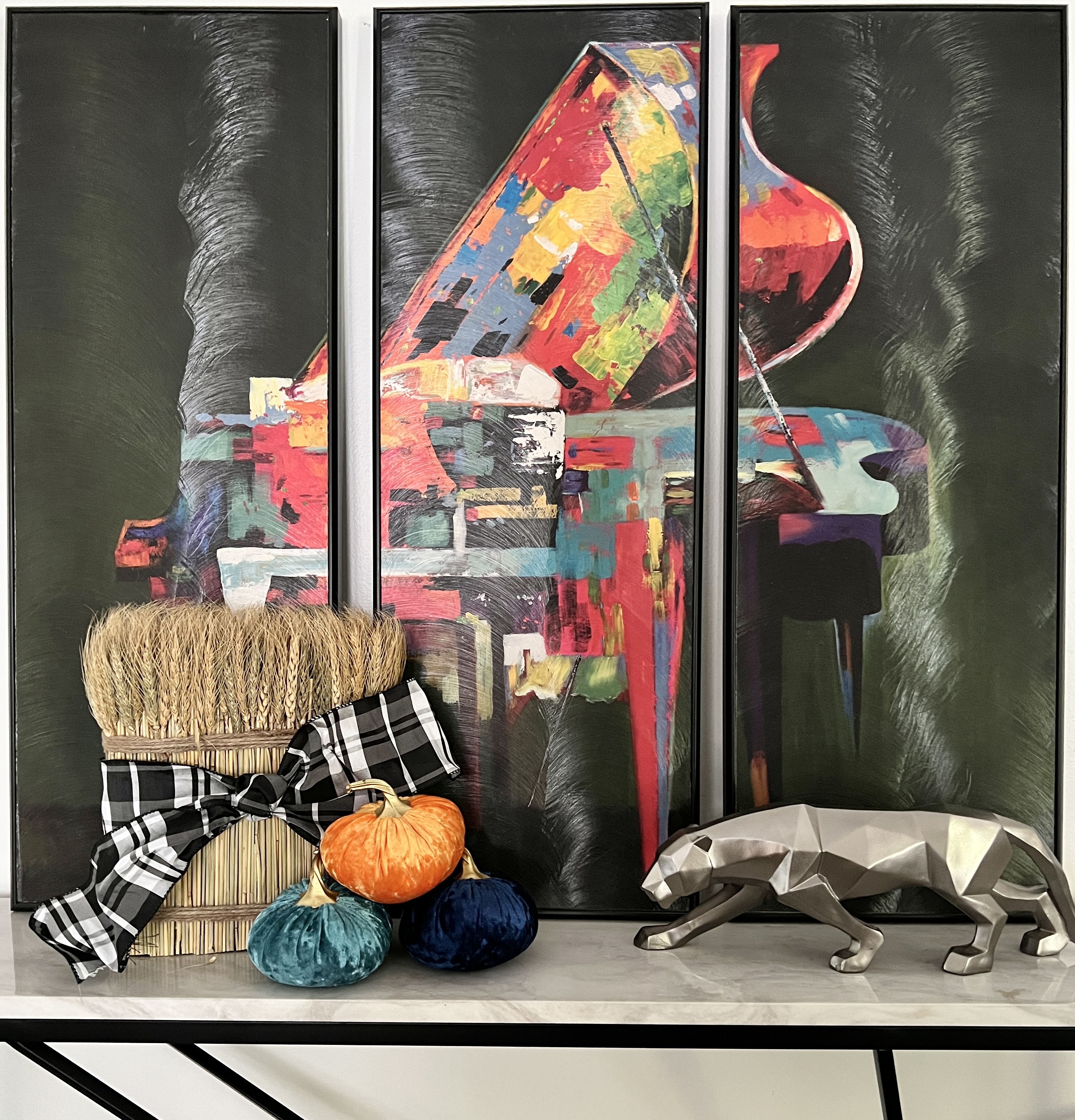 The gathered bunch of wheat is a lovely natural neutral that serves to ground all of the exuberant colors.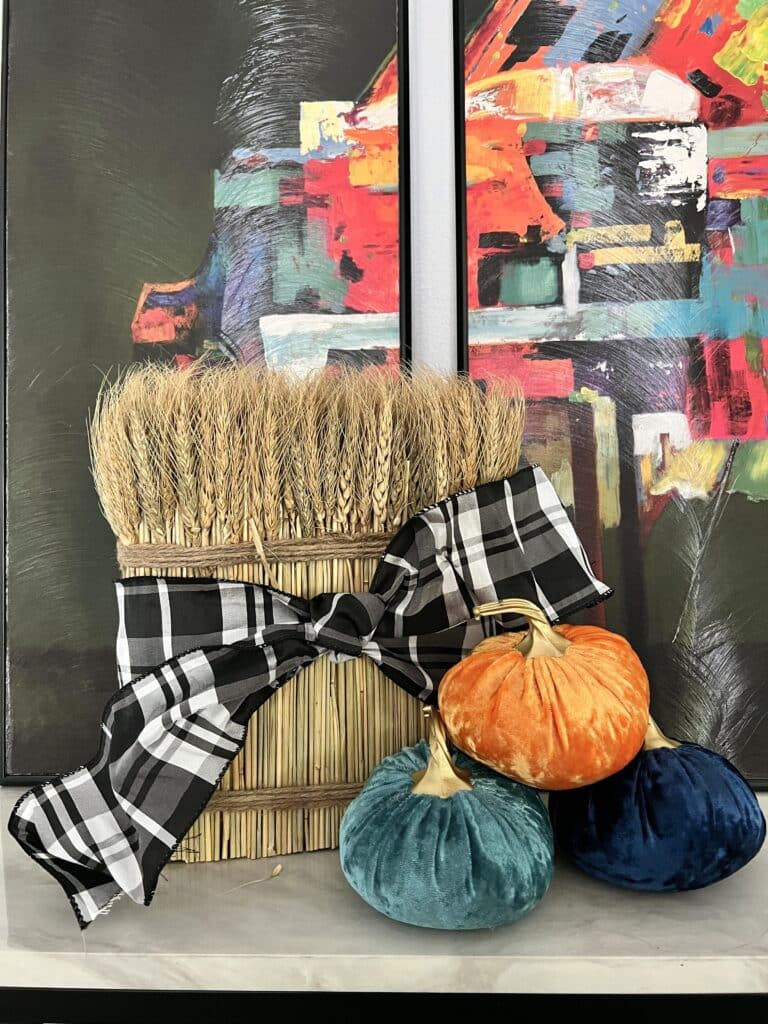 The Best Accessory of All!
Well, if you are going to hang out in our living room, you have to share some space with Bentley!
He knows the coziest spots in the house!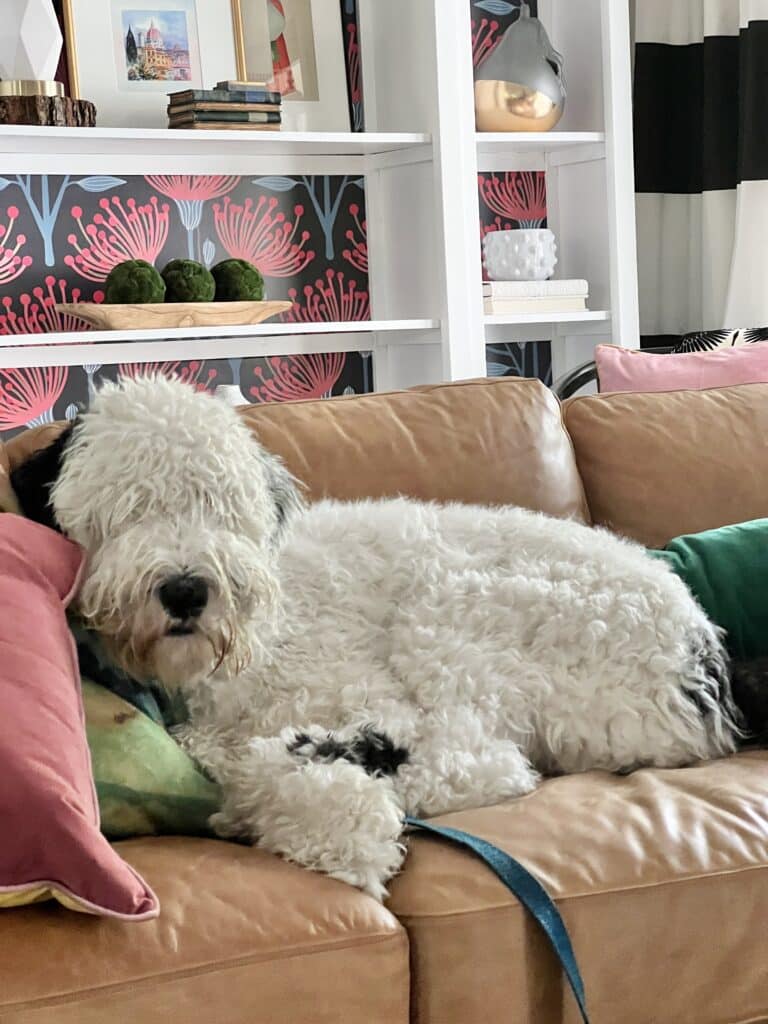 I hope you enjoyed this tour of my fall-decorated home! By incorporating warm colors, florals, and textures, I was able to create a warm and inviting space that's perfect for entertaining or simply relaxing by the fire.
With just a few small changes, you can give your home a whole new look this fall. So don't be afraid to experiment and have fun! After all, there's no place like home in the Fall!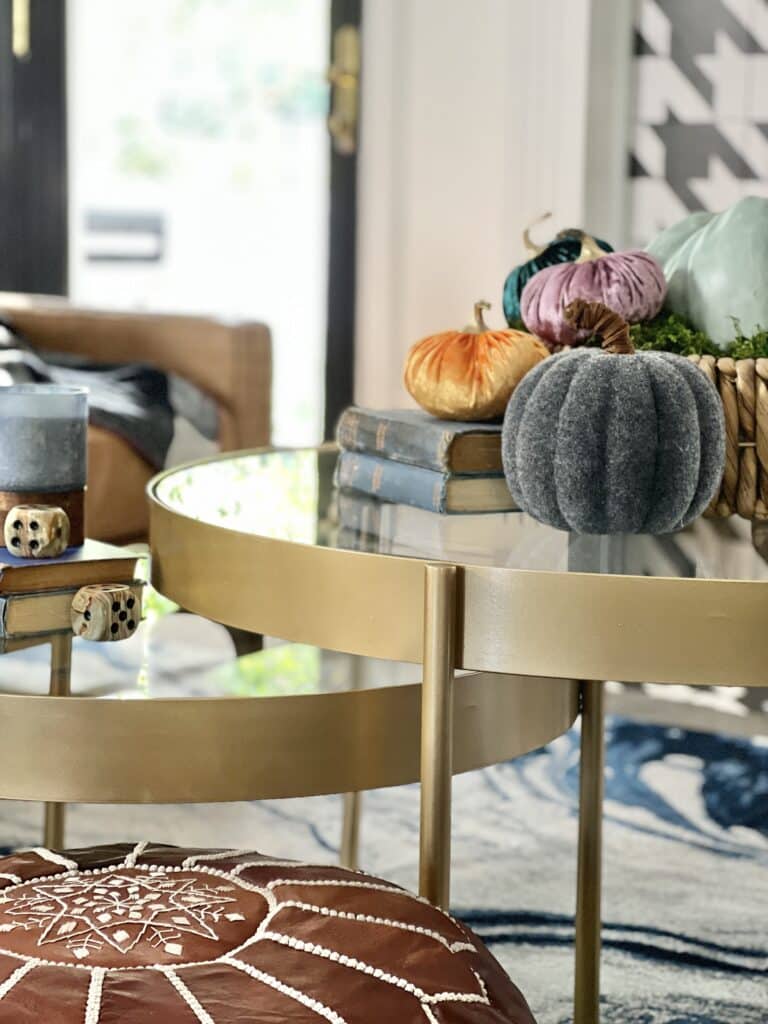 Thank you so much for taking the time to tour my home with me. I hope you enjoyed seeing how I've incorporated some of my favorite fall elements into the decorating scheme.
Up next…Now that you are in a fall decorating frame of mind, head over to Hen and Horse Design for some great fall mantel decorating ideas. I ADORE Susan! You will too!
Can I get you another cup of coffee?
Cheers!

Special thanks to Kristy from At Home with Kristy for organizing this "Fall is in the Air" blog hop!
Don't Forget to Pin It!
Pin the images below to your boards on Pinterest (just click the Pin button in the top left corner). You can also follow along with me on Pinterest!