3 Easy Ways to Make Plastic Pumpkin Stems Look Amazing!
As the days grow shorter and the air a little chillier, it's time to start thinking about how to decorate for fall. Beautiful faux pumpkins are everywhere in our favorite stores and craft rooms. But those plastic pumpkin stems?
Sometimes pumpkin stems just don't match the beautiful pumpkin because they look…"plastic-ky!" Here are three simple tricks that can make even the most basic pumpkin look amazing! Take a look at some of the simplest ways to add a touch of fall style to your faux pumpkins using easy materials like thread, leather lacing, and rope.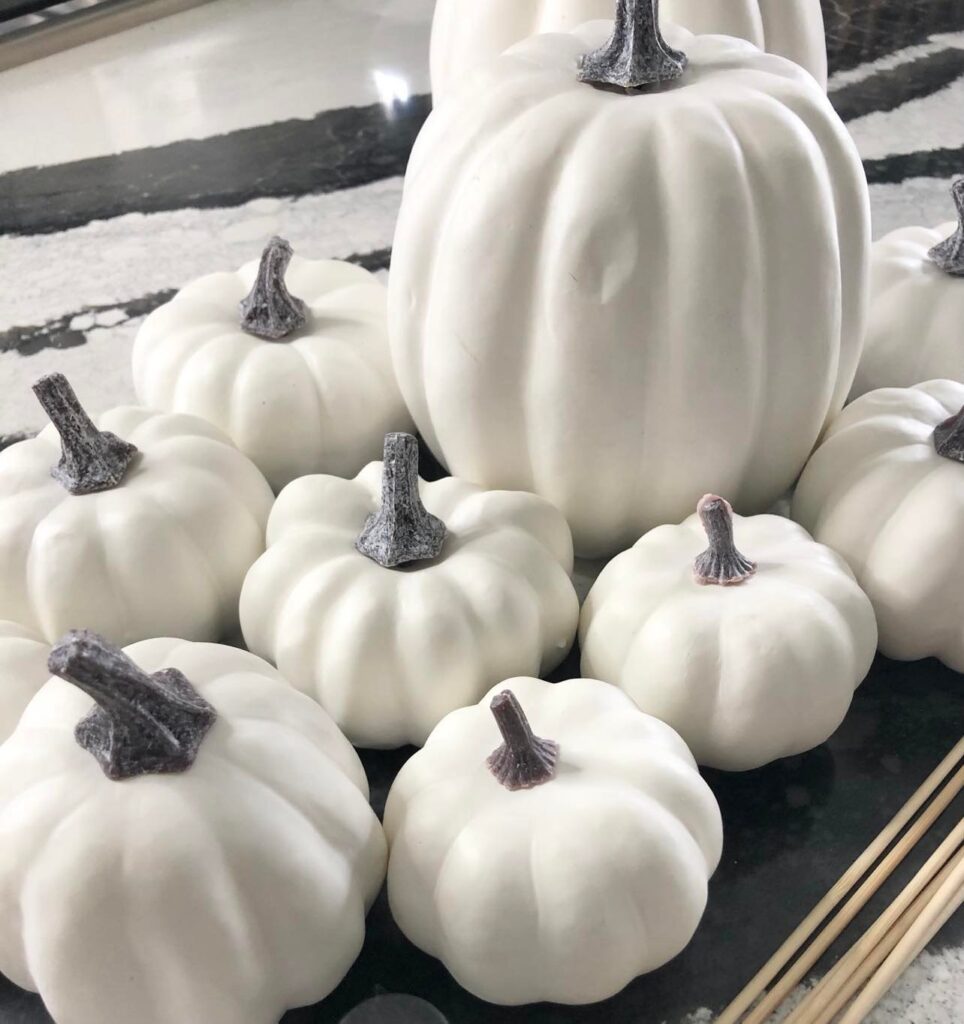 Raise your hand if you have purchased decorative pumpkins!
And raise your hand if those pumpkins have a plastic, shiny, generic stem!
(I see all those hands up in the air!)
I can't help myself. I see a plastic pumpkin stem and I just want to give it a makeover!
Here are three different ways to improve those plastic pumpkin stems in about 10 minutes each!
Threaded Pumpkin Stems
I found some adorable blue and white gingham pumpkins at a dollar store but their stems were shiny and one-dimensional.
As a color addict, I love to add shots of color so decided to cover them with…
Embroidery thread!
I had lots left over from my cross-stitching days and the colors…Whoo Hoo!
This could not be easier! As in…it is two steps to "Fabulous!"
Give the base of each stem a little touch of white glue and start winding.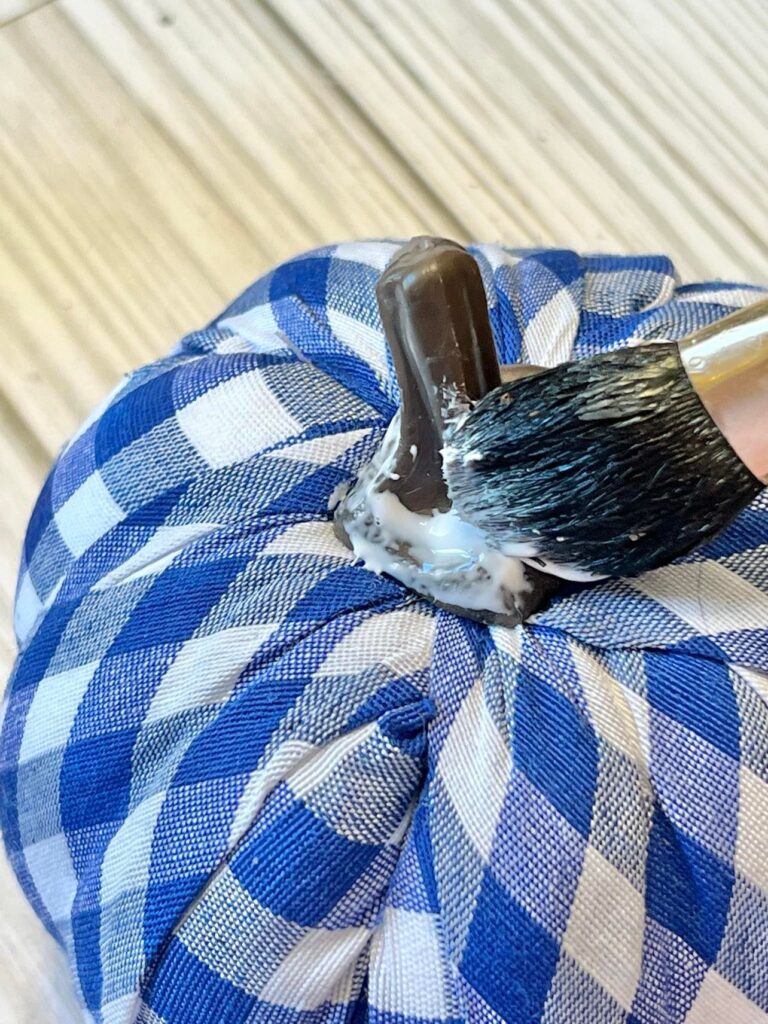 You might add a touch of glue here or there as you wind and use a needle to keep the threads in place as you go.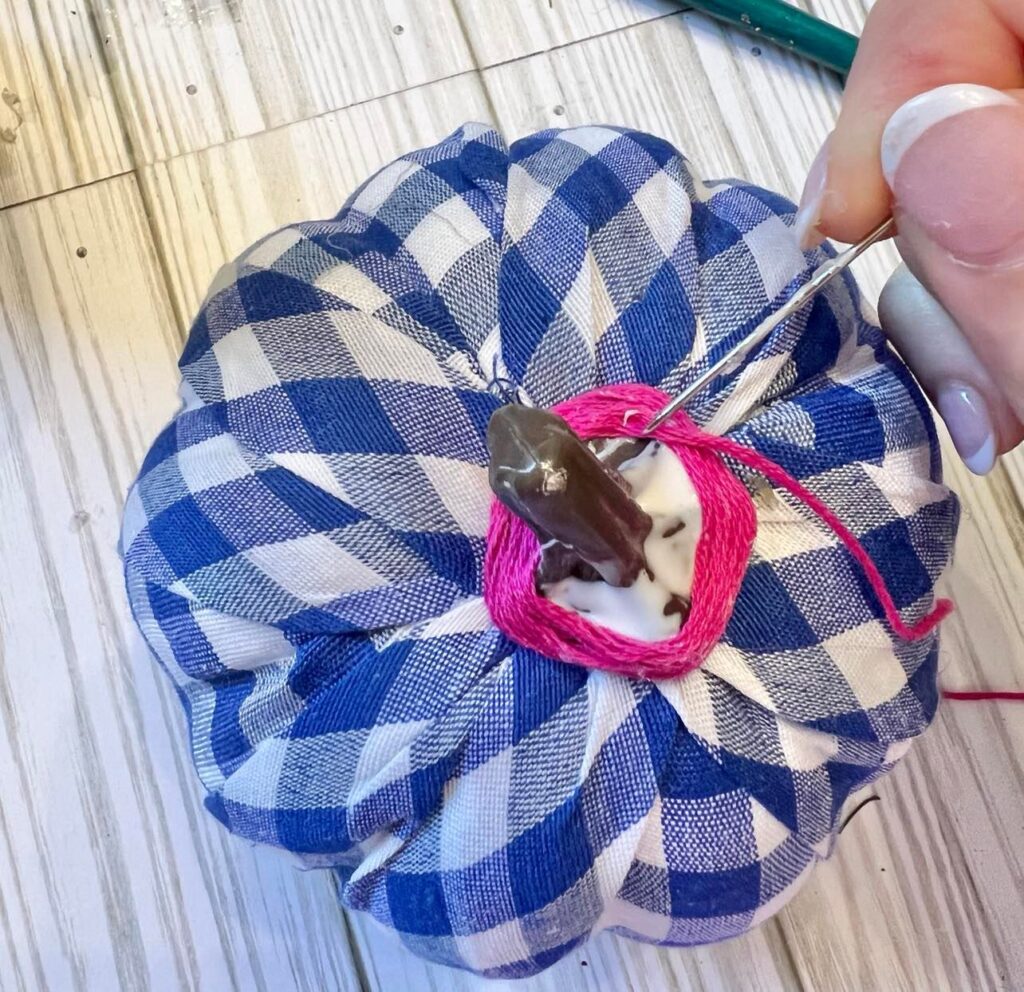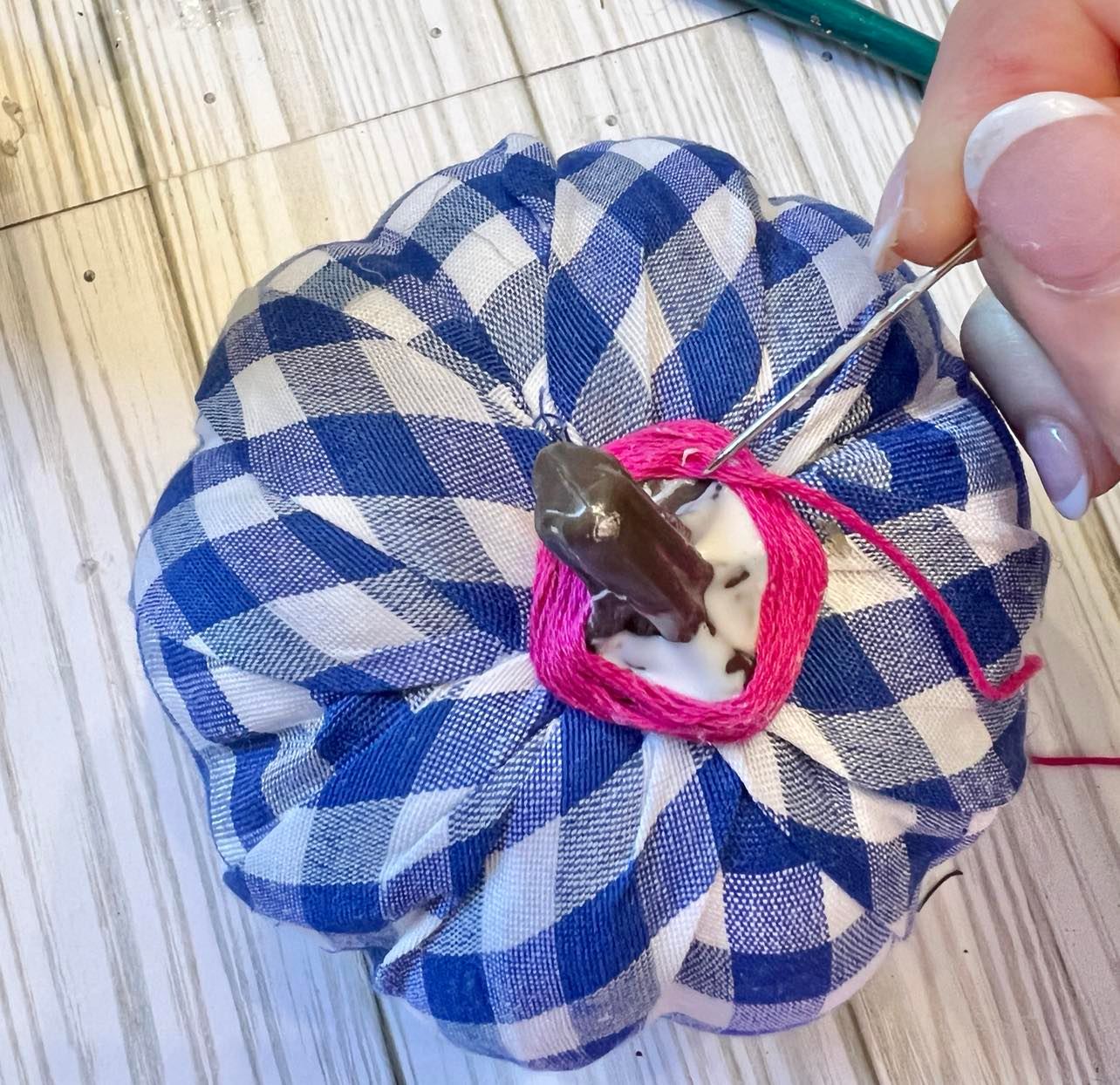 The blue gingham pumpkins are bright and cheerful.
But even more cheerful with a pink, tangerine, or blue stem!
I "threaded" the white pumpkin as well because they look so good sitting nestled beside the gingham pattern.
So cute!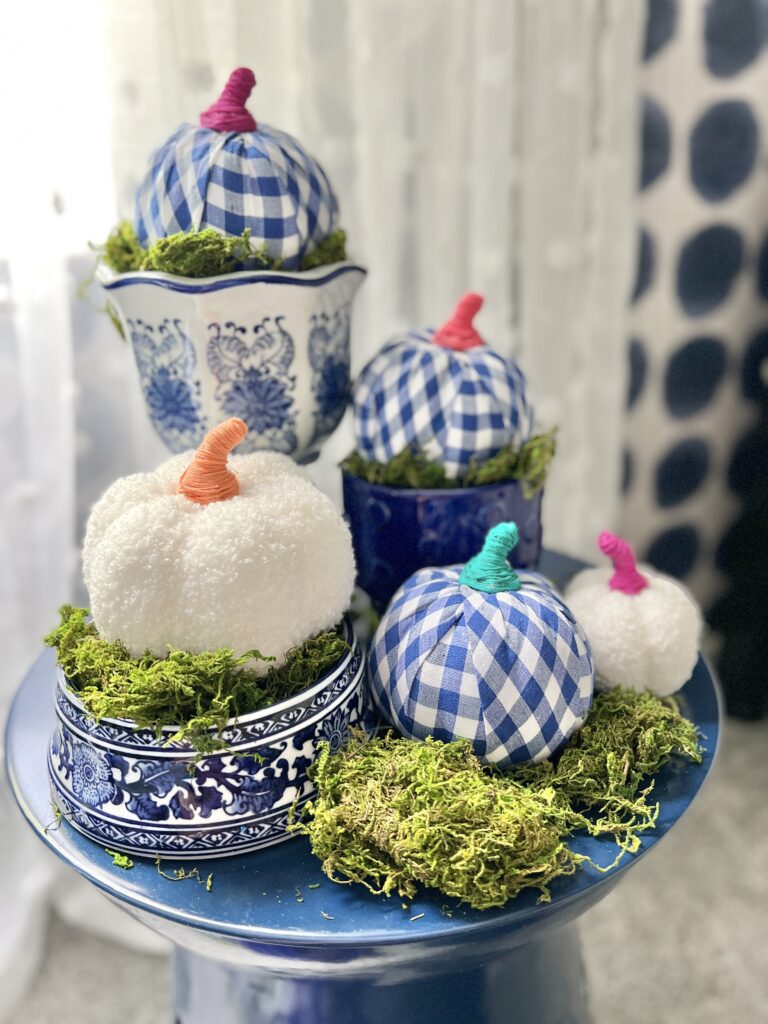 Pumpkin Stems with Jute Rope
What could be simpler than jute rope? It can be found in any home improvement store or dollar store.
Even better…use wired jute! It is malleable and does exactly what your fingers tell it to do!
These terra cotta pumpkins were beautiful. Even the terra cotta stems were lovely and could absolutely be left alone.
But I wanted a little more texture.
So, using the same two-step process (glue and twist!), I used a glue gun to attach the jute rope to the base.
I purposely did not anchor the rope beyond the base so that it would curl away from the base.
Again, so cute!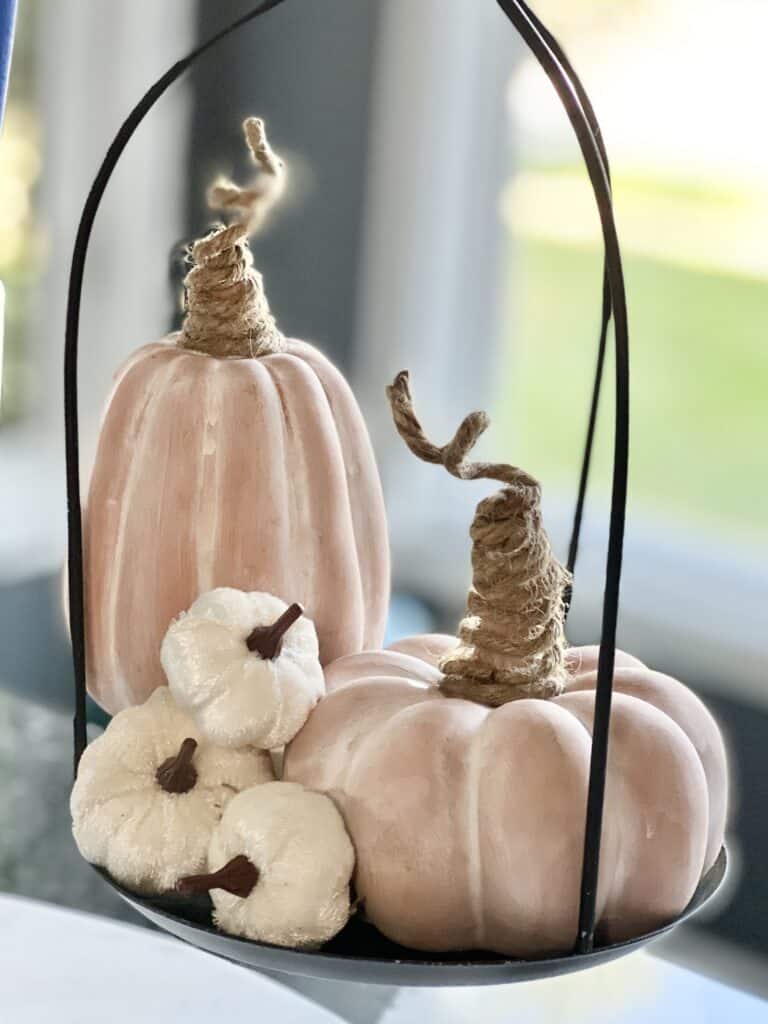 The Look of Leather
To my way of thinking, leather details make me think of fall.
Talk about texture…perfect for pumpkin stems!
This pumpkin was a $2 find at a local thrift store. I LOVE the fuzzy grey surface of the pumpkin!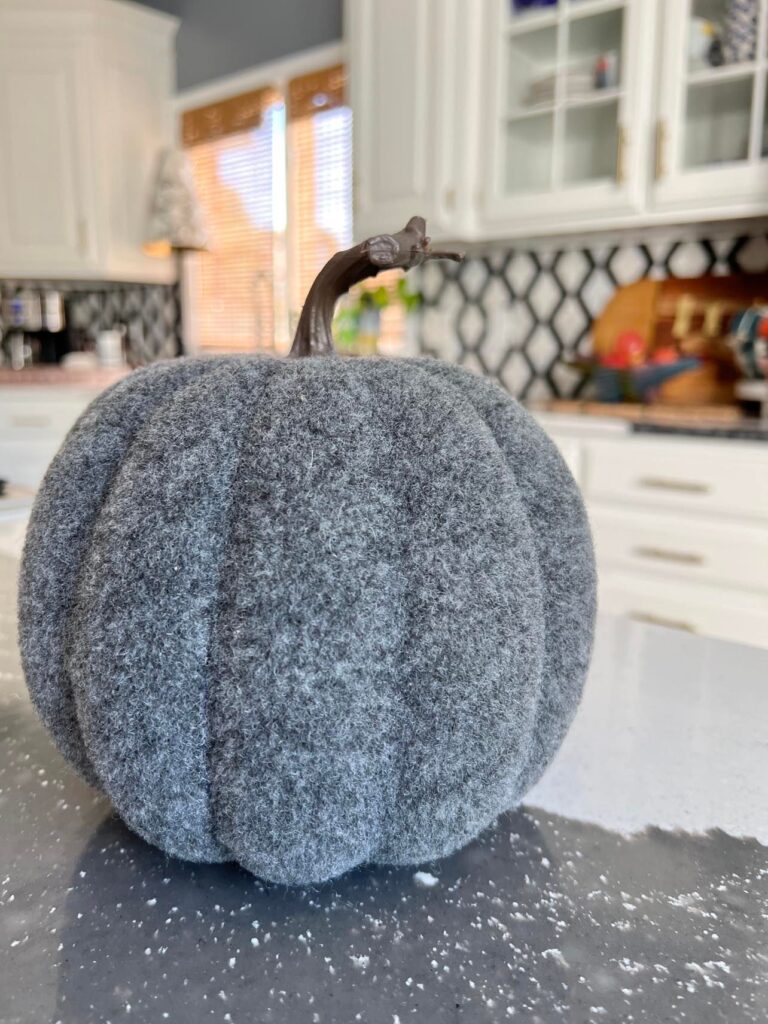 But NOT happy with the plastic stem.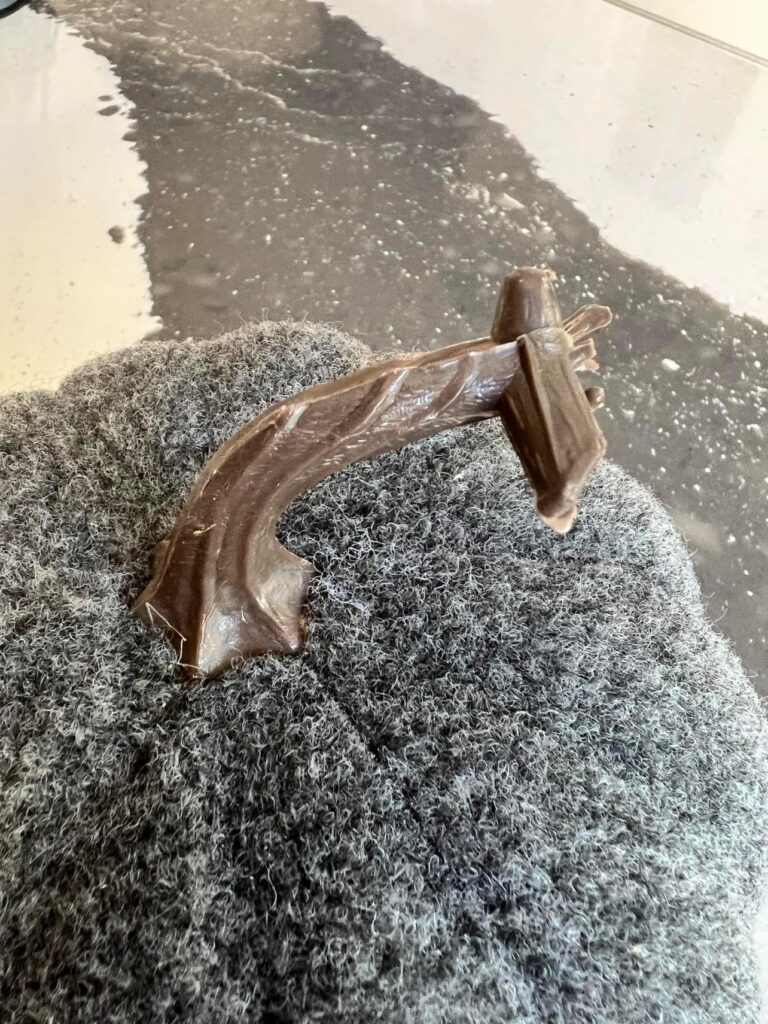 Using a glue gun, I tacked brown leather lacing to the base of the stem and started winding.
Very methodically, I started gluing and then decided that I liked a little zig-zag in the winding. After all, natural pumpkin stems are zig-zaggy!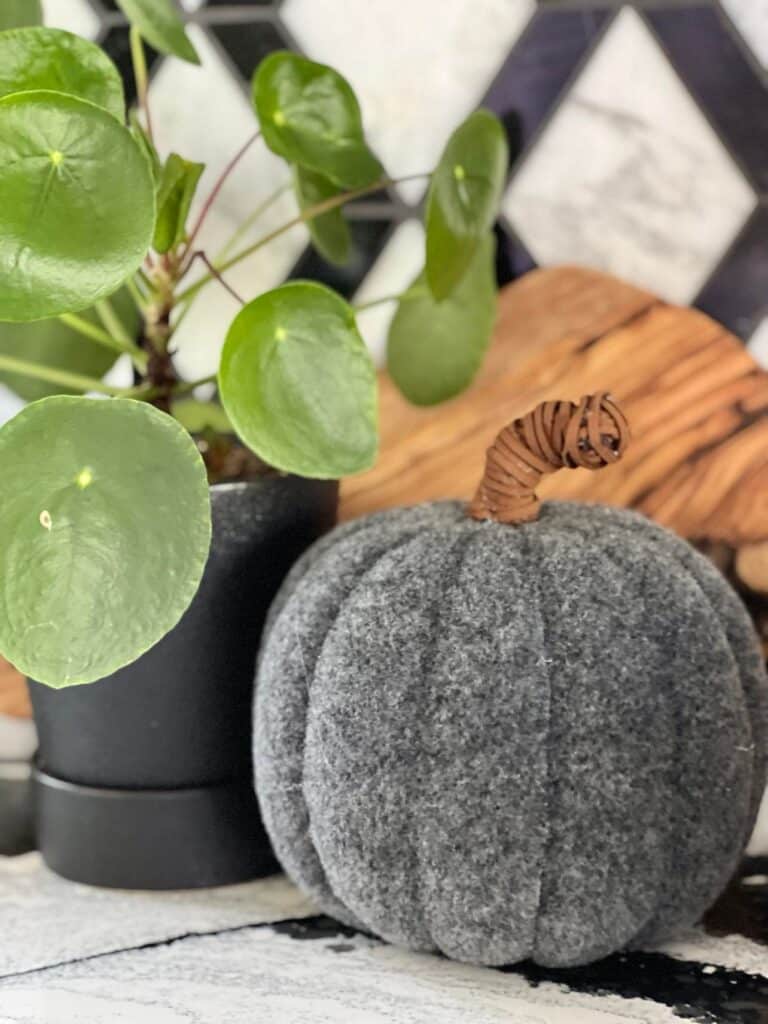 A Bonus "Wrap"
While not a pumpkin stem, this thrift store candlestick got a quick but effective makeover using jute rope.
I bought it for $3.99! What a deal!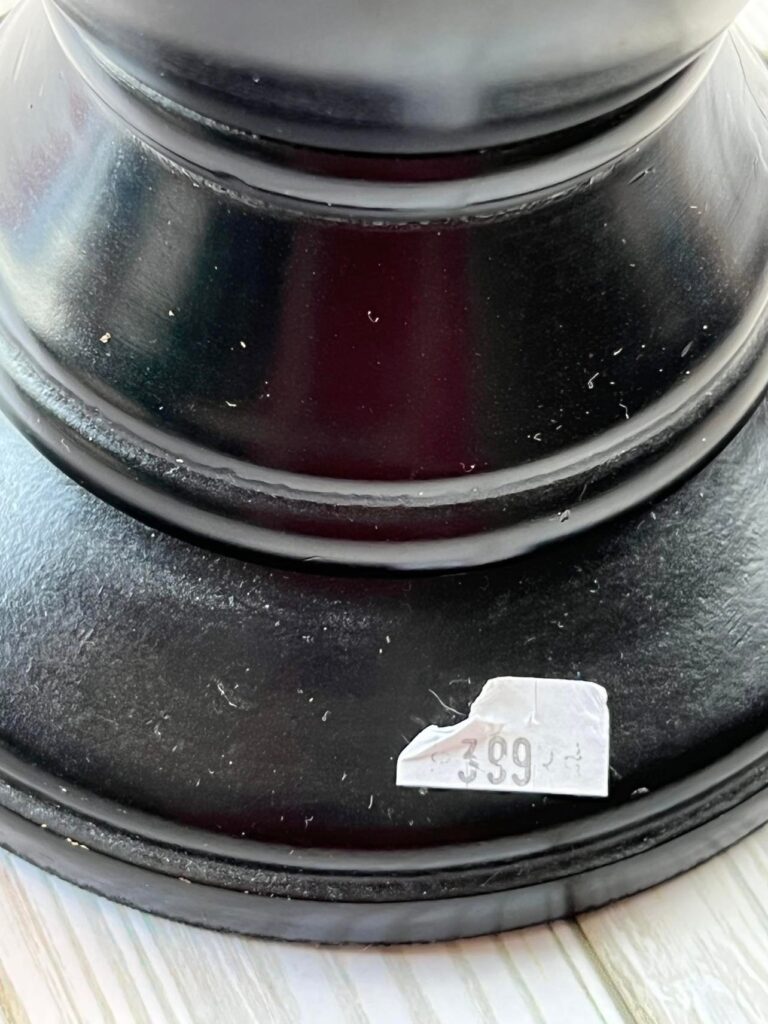 Then, I found jute rope in this wonderful stripe. It is actually a very dark blue stripe but, against the black candlestick, it really looks black.
Shhh! Don't tell anyone!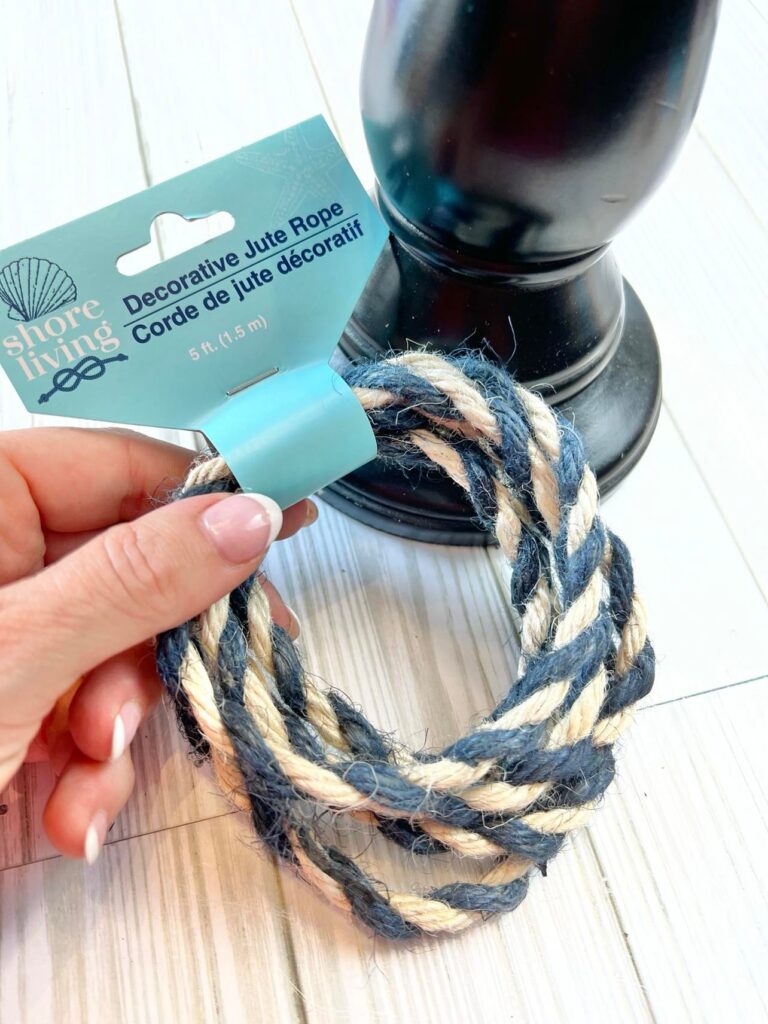 What do you think?
Texture and pattern in one fell swoop!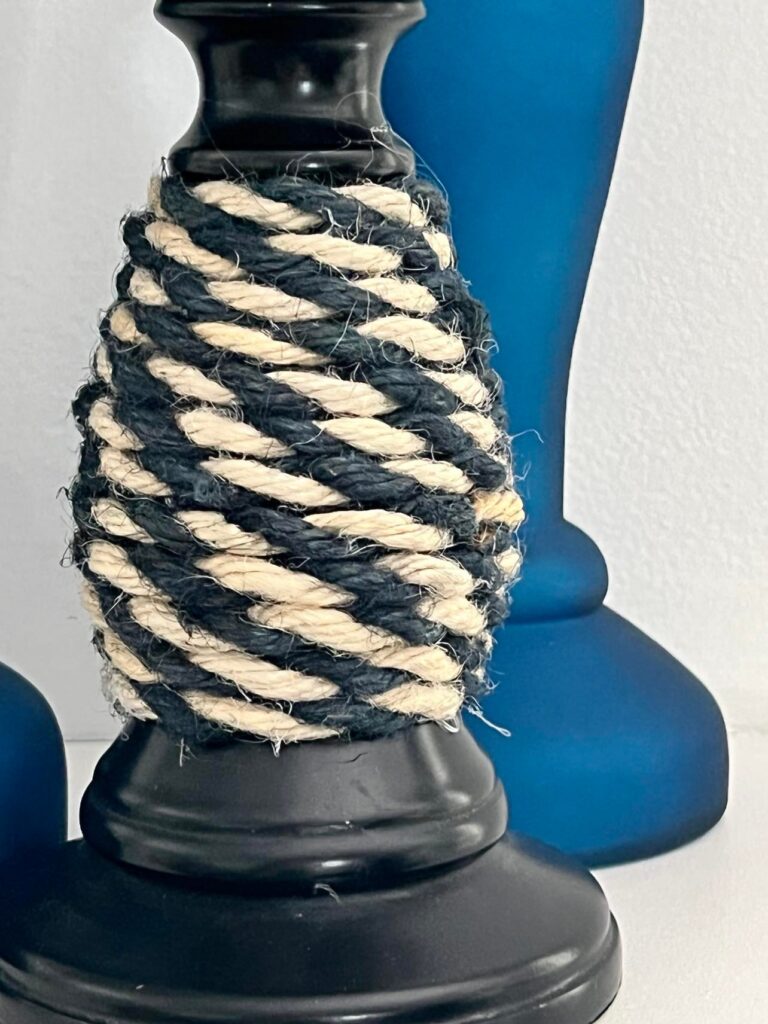 I decided to display it on our piano but not as a candlestick. Rather, as a pedestal for a black and white sculpture!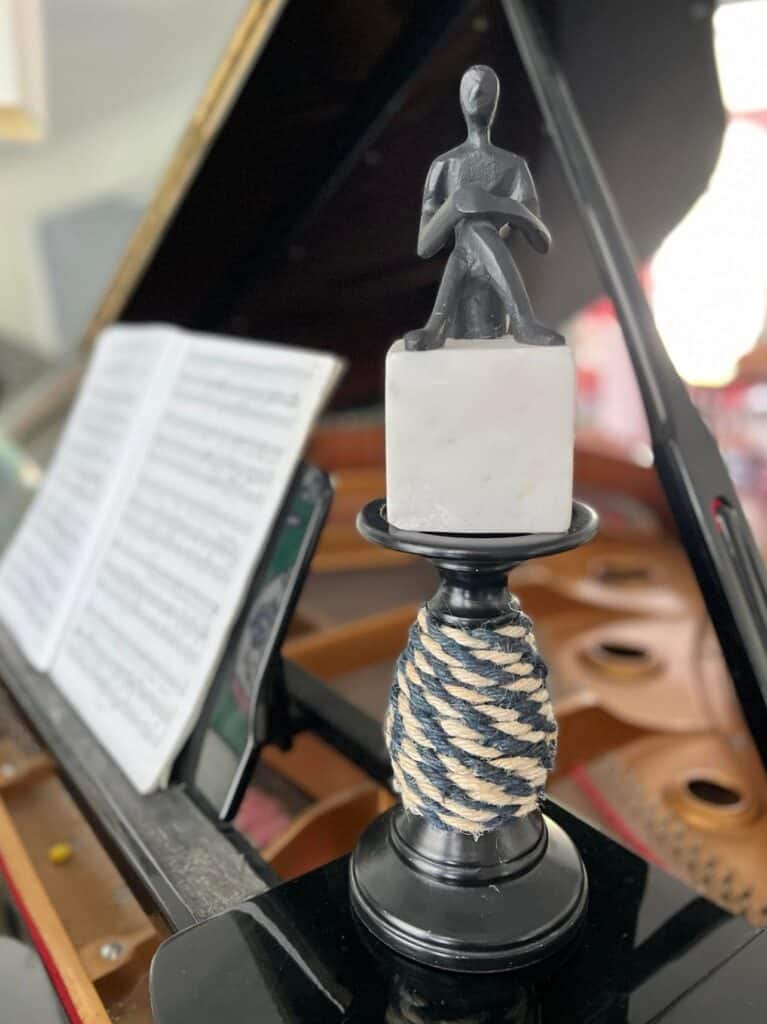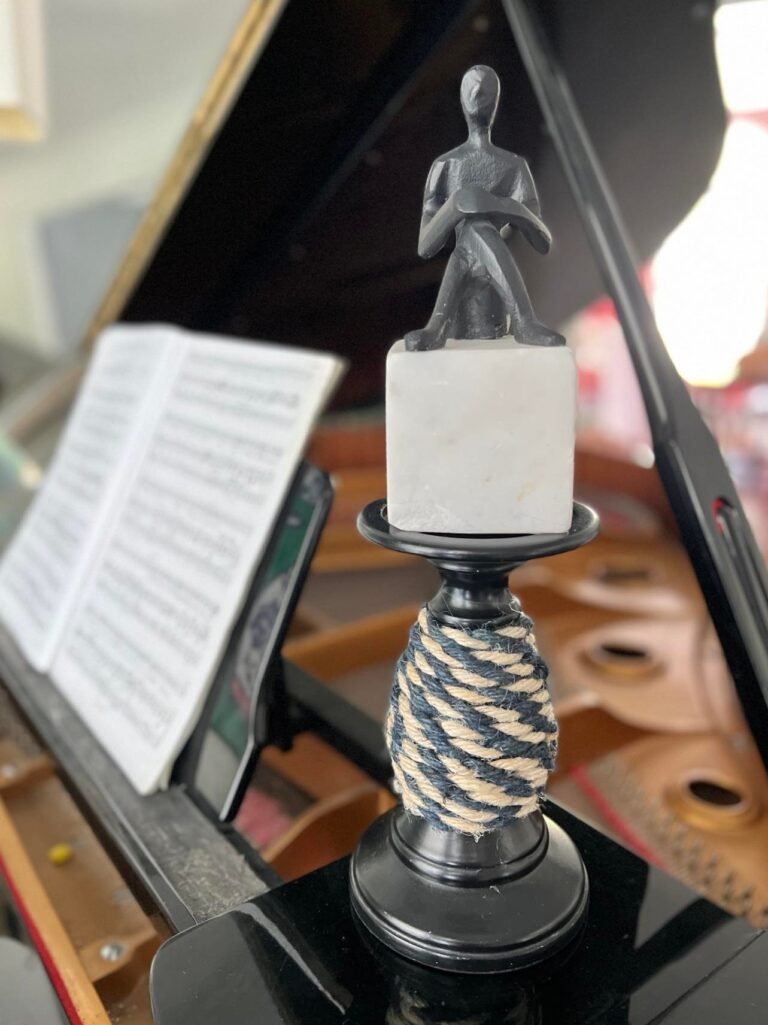 The great thing about faux pumpkins (and other fall decor) is that you can be as creative as you want to be!
By adding easy elements like thread, jute rope, and leather lacing to plastic pumpkin stems, you can create a truly unique and eye-catching fall decoration.
So go ahead and experiment with different materials and colors – the possibilities are endless!
That's a "Wrap!"
Cheers!

Don't Forget to Pin It!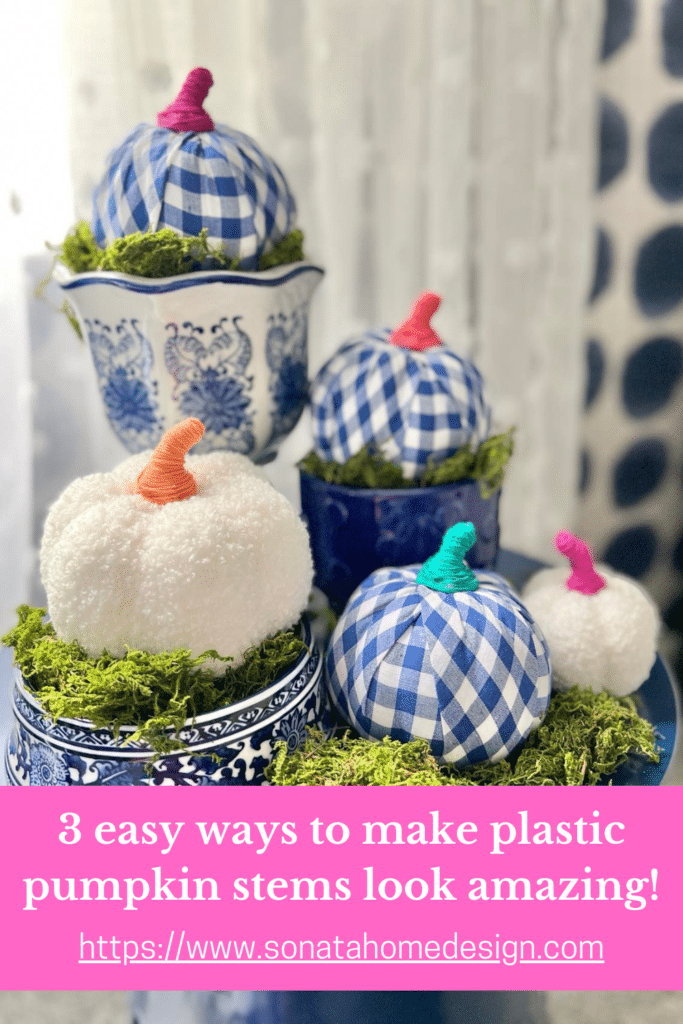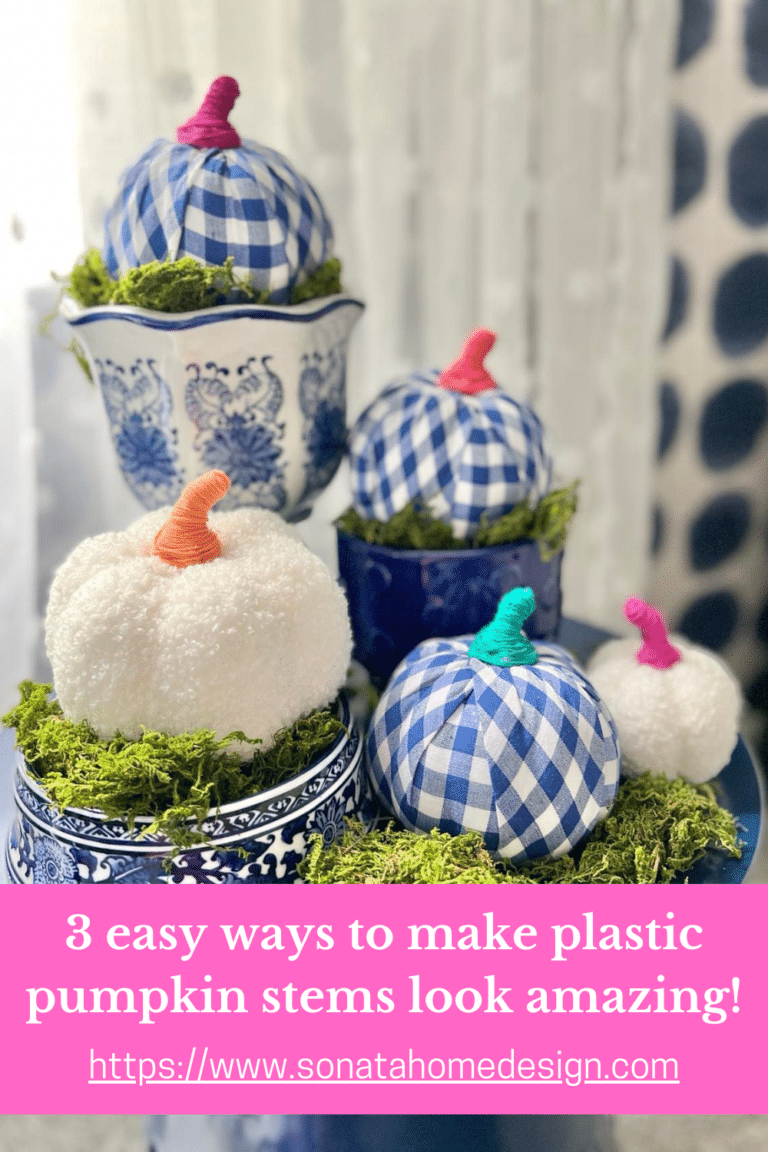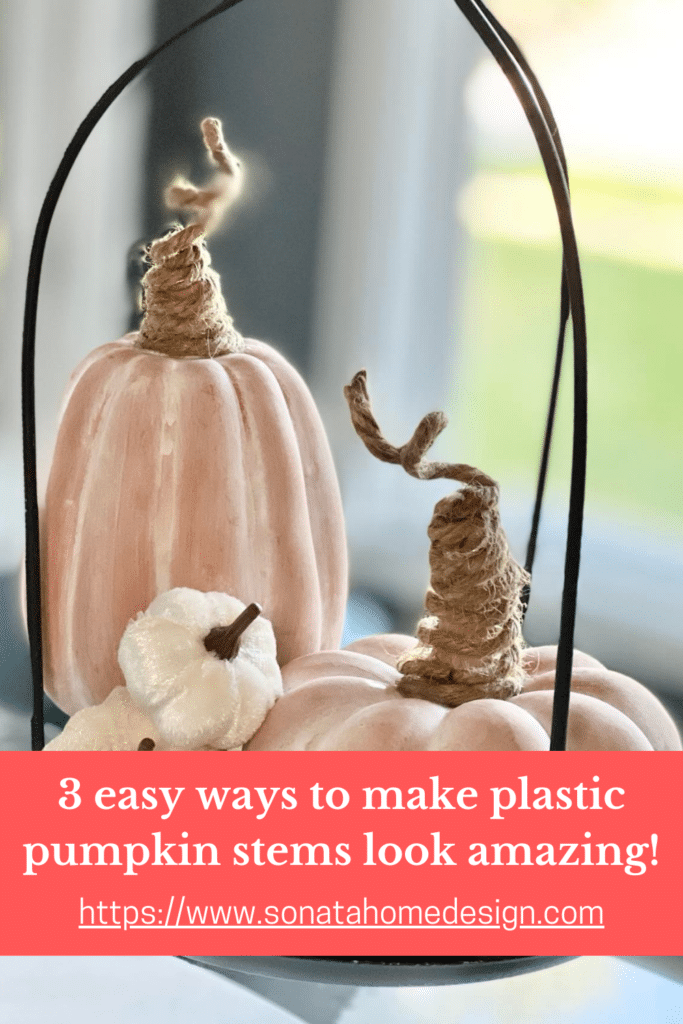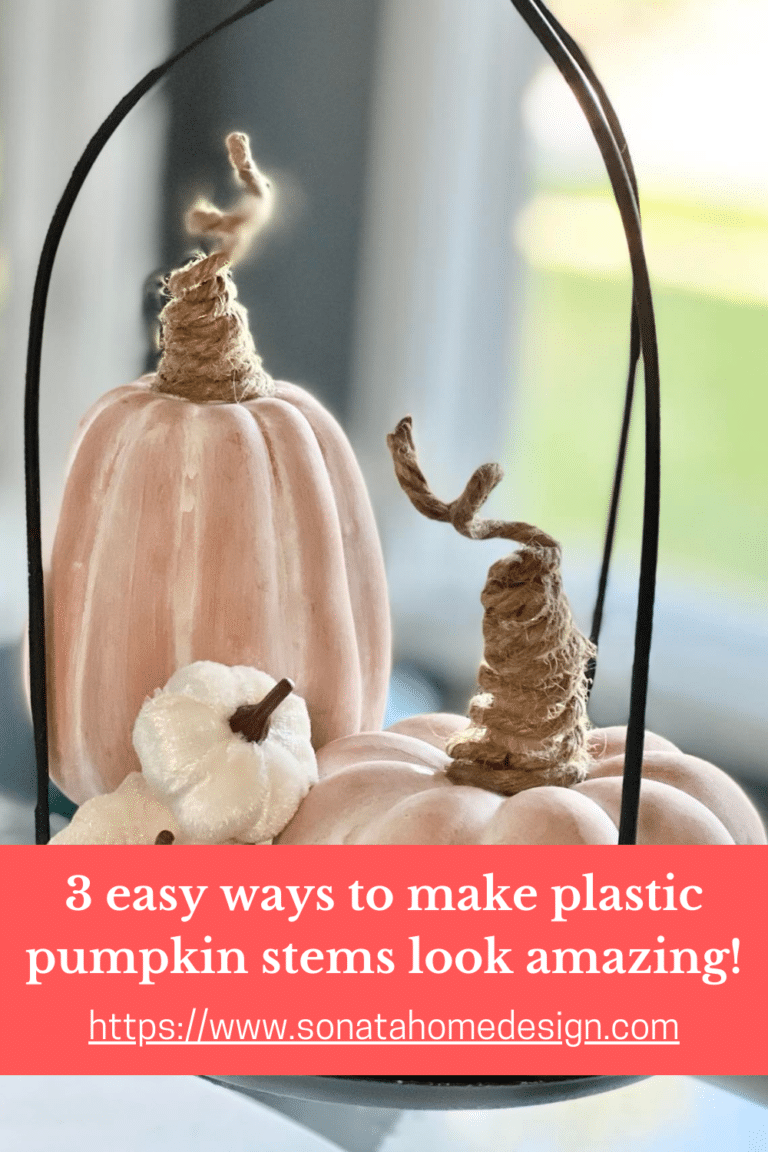 If you liked this post, you might also like these!
How to Make a Hanging Pumpkin Ball
A Layered Fall Floral Arrangement
Fall Decor Ideas for Your Home