A Layered Fall Floral Arrangement
Fall is in the air, and that means it's time to start decorating for the season! If you're looking for a simple and chic way to add some autumnal flair to your home, this faux floral arrangement idea is perfect.
This easy DIY project is perfect for any style of home, and it's a great way to add a touch of fall spirit to your home. Let's get started!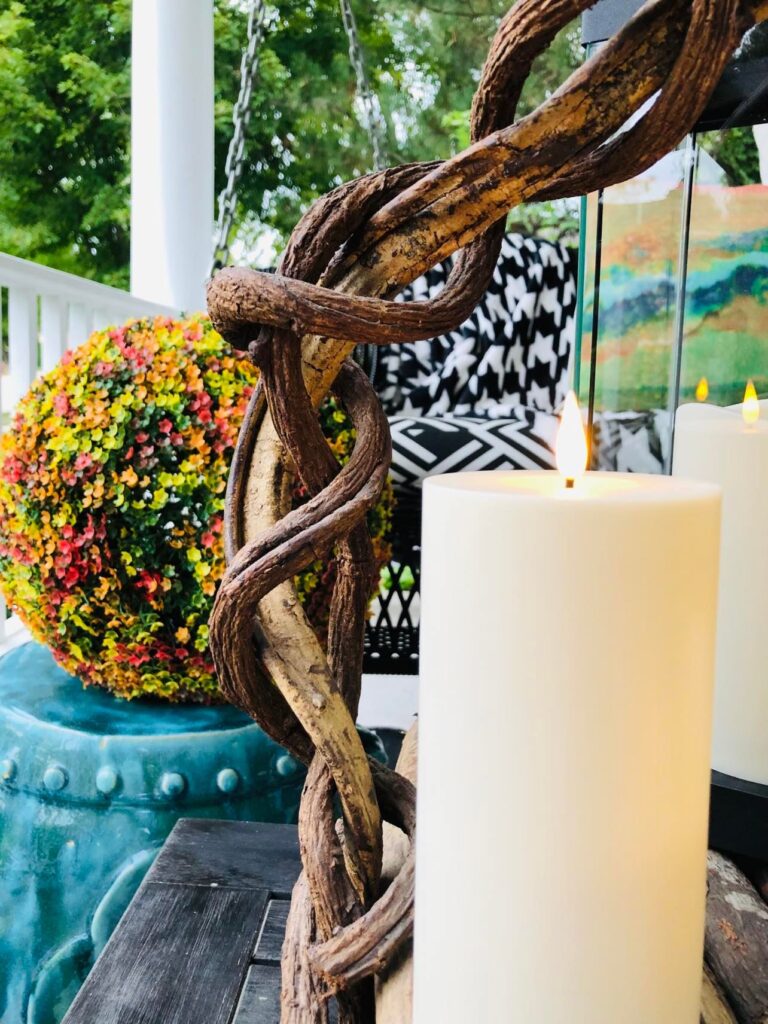 I was reading yesterday afternoon on the porch swing and suddenly discovered that the light was disappearing…and it was only a little after 7:30 pm!
Yikes! Those long summer hours are waning and fall is just around the corner.
The transition from summer to fall is beginning! And, it is time to start decorating our homes for fall!
To get started, you might take a look at these Early Fall Decor Ideas for Your Home.
Hanging a wreath on your front door is another way to get started.
When the season changes, I love to re-work something that is a decorating workhorse.
What is a decorating "workhorse?" Something that you use in your home again and again but in different ways throughout the year.
This blue and white chinoiserie planter pot is just that.
Blue and White gorgeousness! Just look at the shades of blue and the amazing pattern!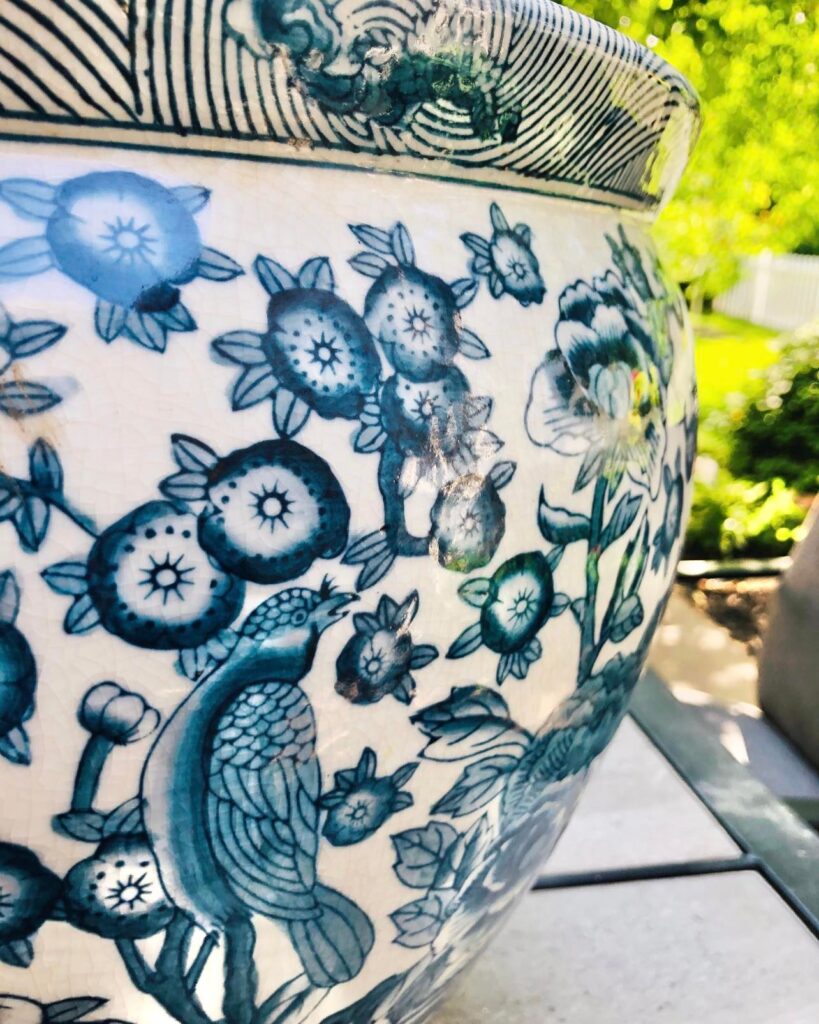 I bought this at a yard sale a year ago and have loved changing it out with the various seasons.
This past spring and summer, it was the home for one of my "pandemic plants." I ordered this monstera plant from Amazon during the lockdown and it has almost tripled in size!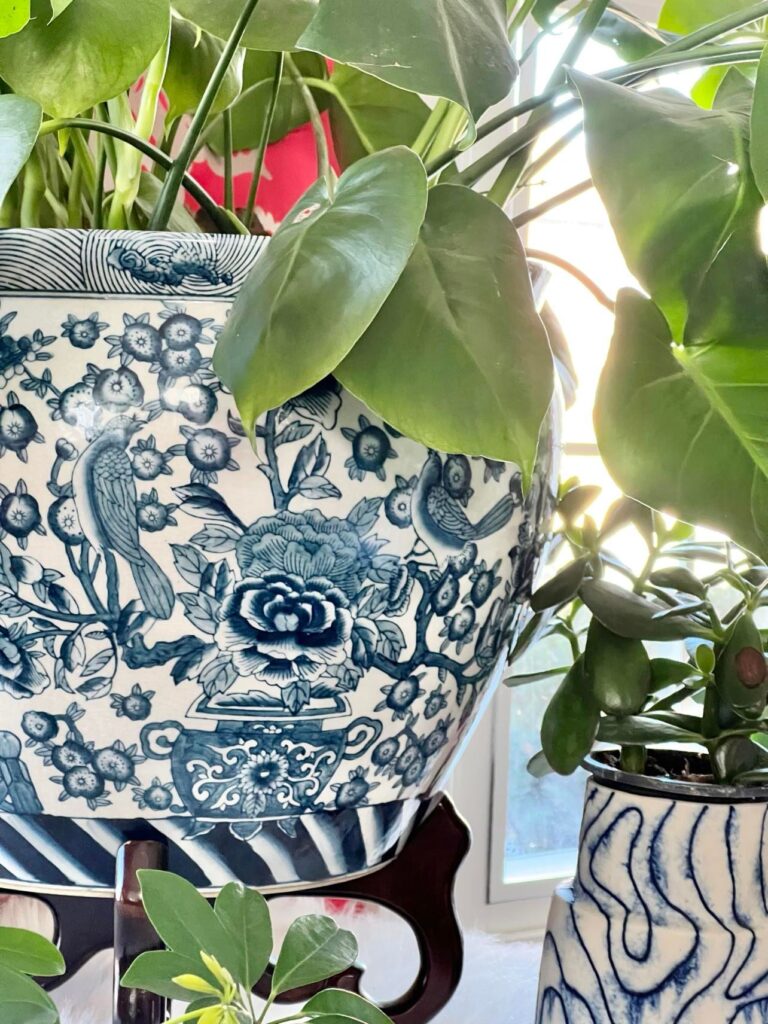 Prepping the Arrangement
Unless you want your floral stems floating willy-nilly in your planter, you need something with which to anchor the flowers.
This is a perfect way to re-use styrofoam so it doesn't end up in the landfill. Tuck a brick or two of styrofoam (you may need to cut it in order to make it fit.) and then fill in the open areas with paper packing.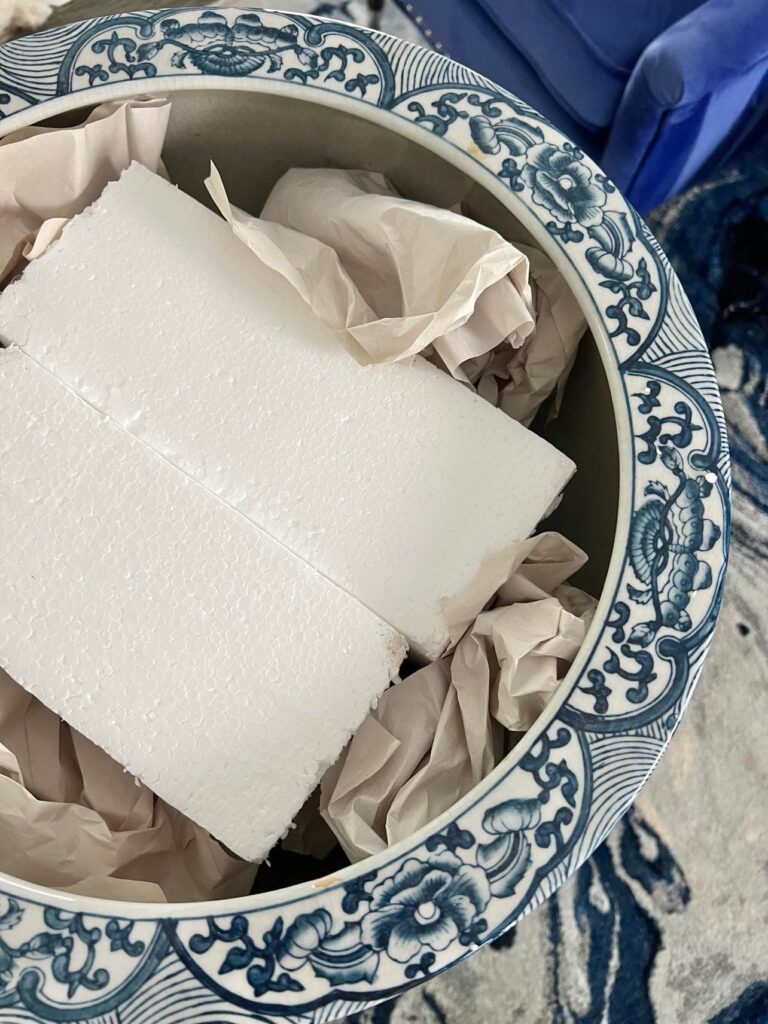 Let the Layering Begin
I always like to fill out the rim of the planter with a wreath…or two!
These are actually two summertime wreaths…one is a green boxwood wreath and the other is full of pretty purple blooms. Setting them on the rim sets the backdrop for the rest of the arrangement.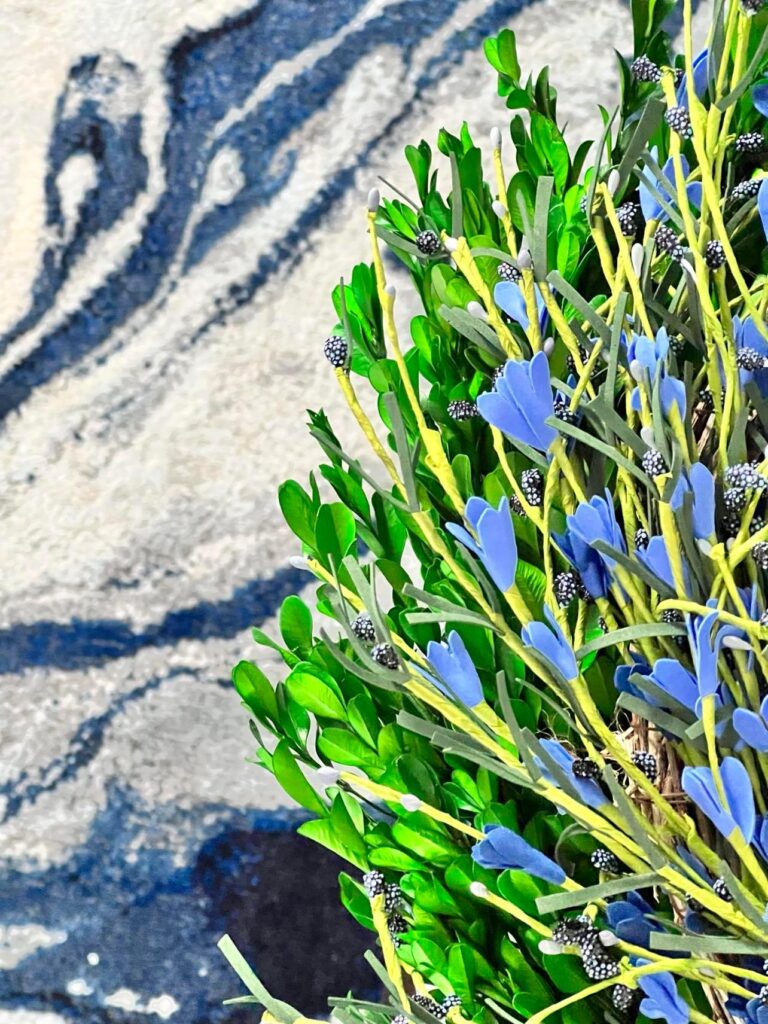 Next, how about some birch logs? They are beautiful but need something to anchor them.
So…
Cut a hole in the styrofoam that is slightly larger than the diameter of the birch log. Next, insert the birch log into the styrofoam. If needed, you can secure it with a glue gun.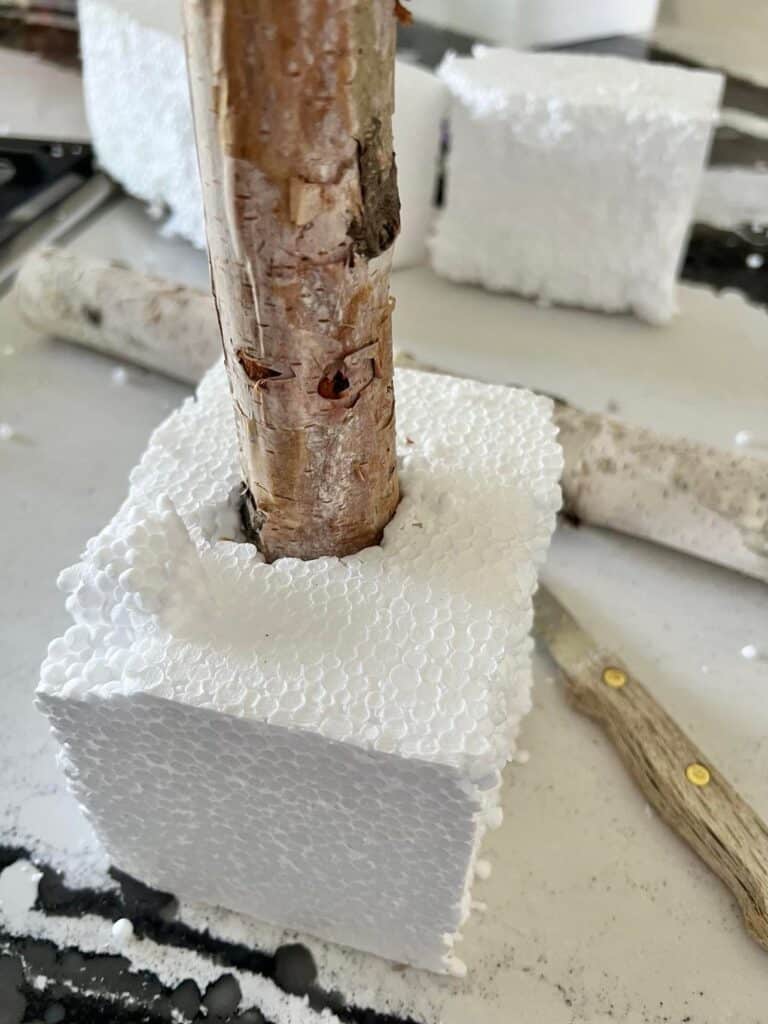 Eucalyptus
Eucalyptus is a beautiful leafy green that can add a touch of elegance to any fall floral arrangement. Though eucalyptus leaves are often associated with the winter season, they can also be used to create stunning fall displays.
When choosing eucalyptus for your arrangement, look for leaves with a deep green color but with a hint of dusty grey. You can also find eucalyptus with red or burgundy accents, which can add a pop of color to your arrangement.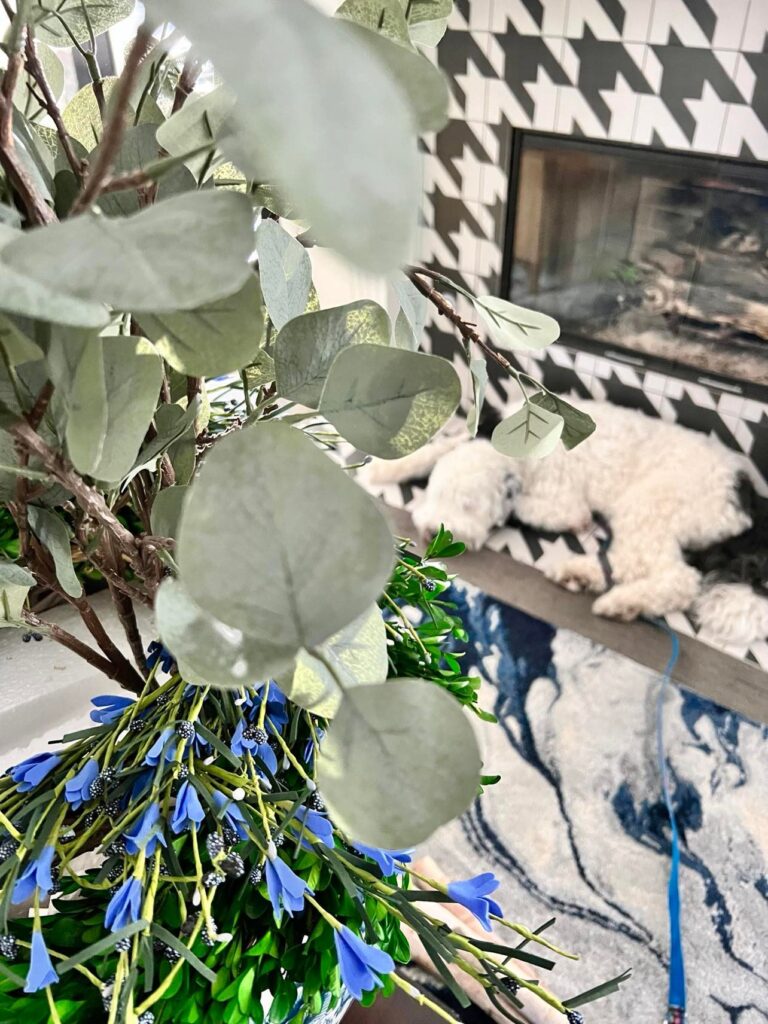 Fun Fall Floral Stems
One of the best things about fall is the wide variety of floral options available. From traditional autumnal favorites like chrysanthemums and pumpkins to more unexpected choices like ornamental kale and dahlias, fall florals can add a touch of beauty to any home.
Here are a few fall floral options that will bring a touch of warmth to your décor:
Chrysanthemums: Also known as "mums," these fall flowers come in a variety of colors including yellow, orange, red, and white.
Sunflowers: A fall favorite, sunflowers add a touch of brightness to any arrangement.
Dahlias: Dahlias come in an array of colors and offer a variety of shapes and sizes, making them perfect for fall arrangements.
Marigolds: Marigolds are available in shades of yellow, orange, and red, and their bold color can really make a statement.
Less traditional options might include:
Cotton pods: These fluffy pods have great texture and colorful florals really pop against the white.
Leaves and Berries: These aren't just for Christmas. There are all sorts of berry stems available in different colors. Blue, white, orange…so many to choose from!
Velvet Pumpkins: These treasures of fall are very on trend right now. Velvet pumpkins can be found on floral stems in various colors and patterns. And, of course, why not add a large velvet pumpkin into the mix?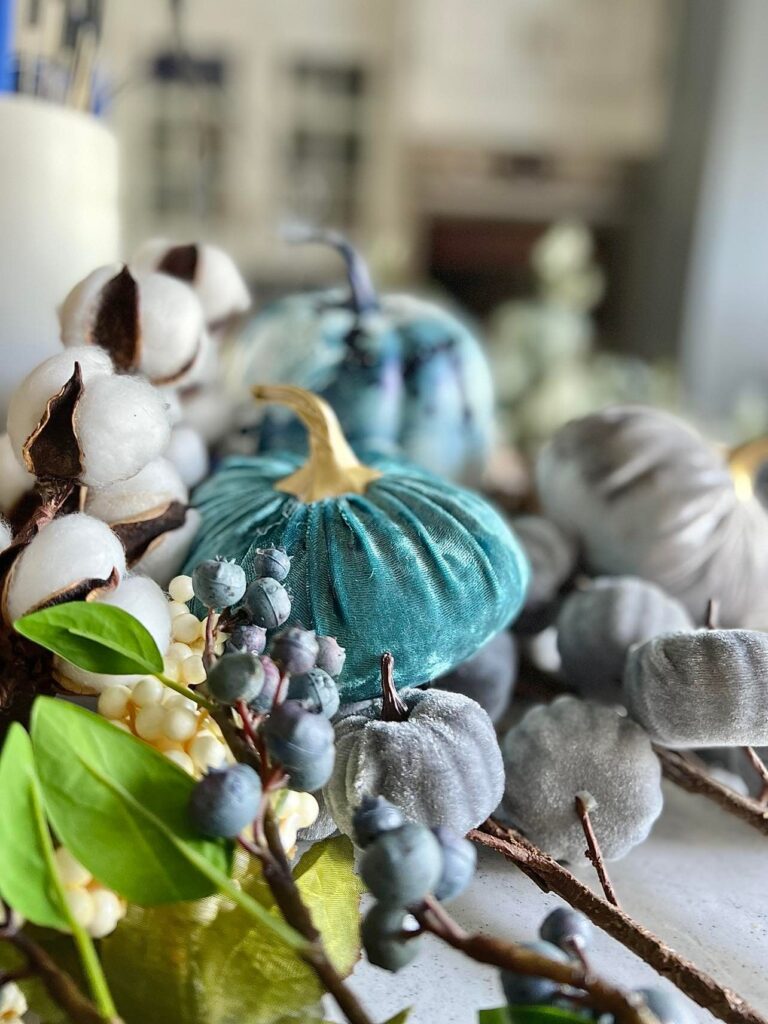 What Goes Where?
For a symmetrical arrangement, begin by placing the tallest stems in the center of the vase, then fill in with the smaller flowers around the edges. Finally, add some greenery for extra color and texture.
I love an asymmetrical arrangement and will often begin by placing the tallest stems off to one side and then filling in with other stems.
In this arrangement, I placed the birch logs off to the side and then fill in around them.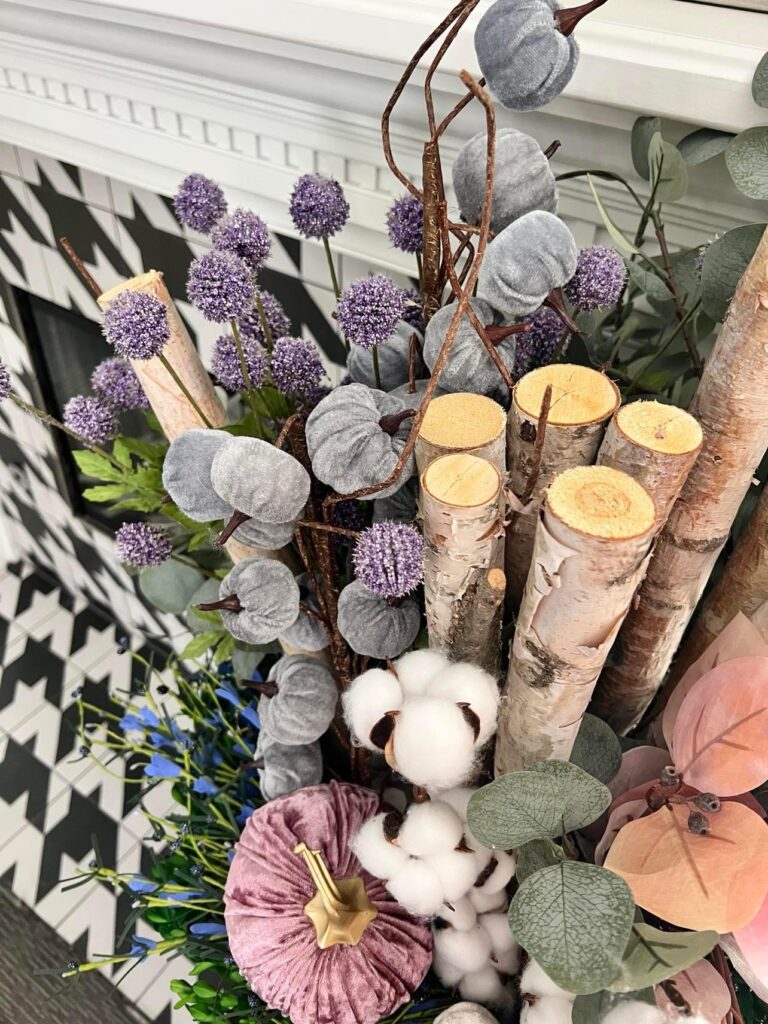 As you arrange your stems, pay attention to how the colors and textures work with each other.
Fluffy cotton balls with smooth eucalyptus leaves… the contrast is good!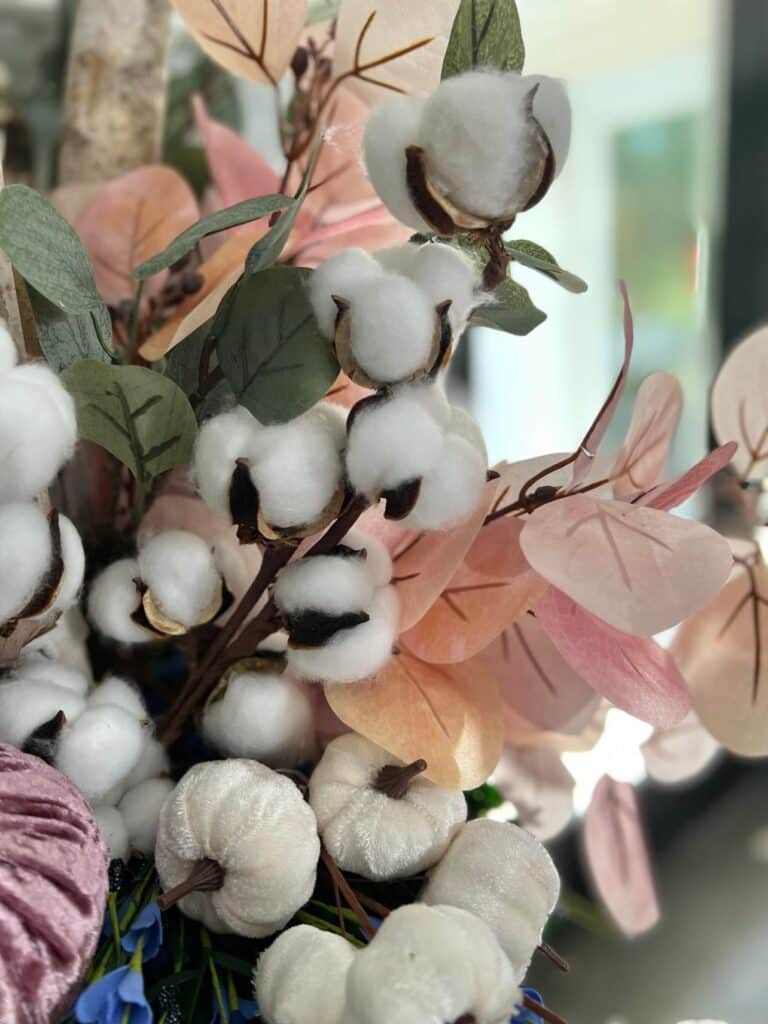 The faux fall floral arrangement is the perfect way to enjoy the beauty of autumn flowers without having to worry about wilting leaves and dried-out stems.
By using artificial flowers in a variety of autumnal colors, you can create a stunning centerpiece or mantelpiece decoration that will last throughout the season.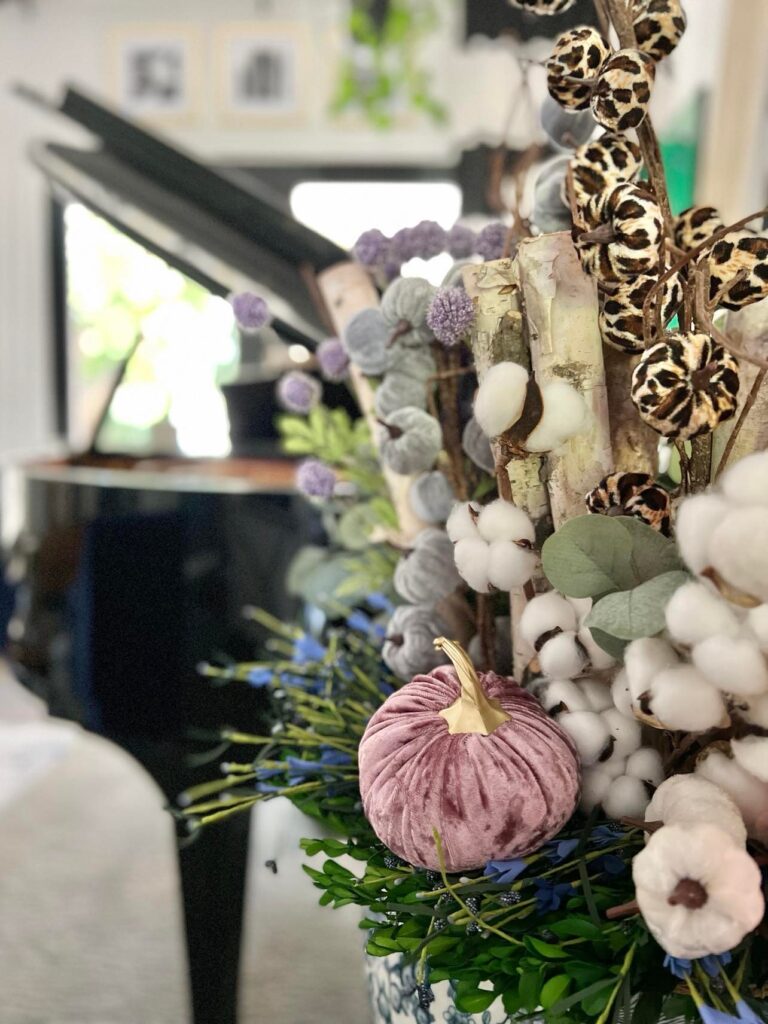 So go ahead and be creative with arranging your flowers – with a little bit of imagination, you can make your home a warm and inviting haven for fall!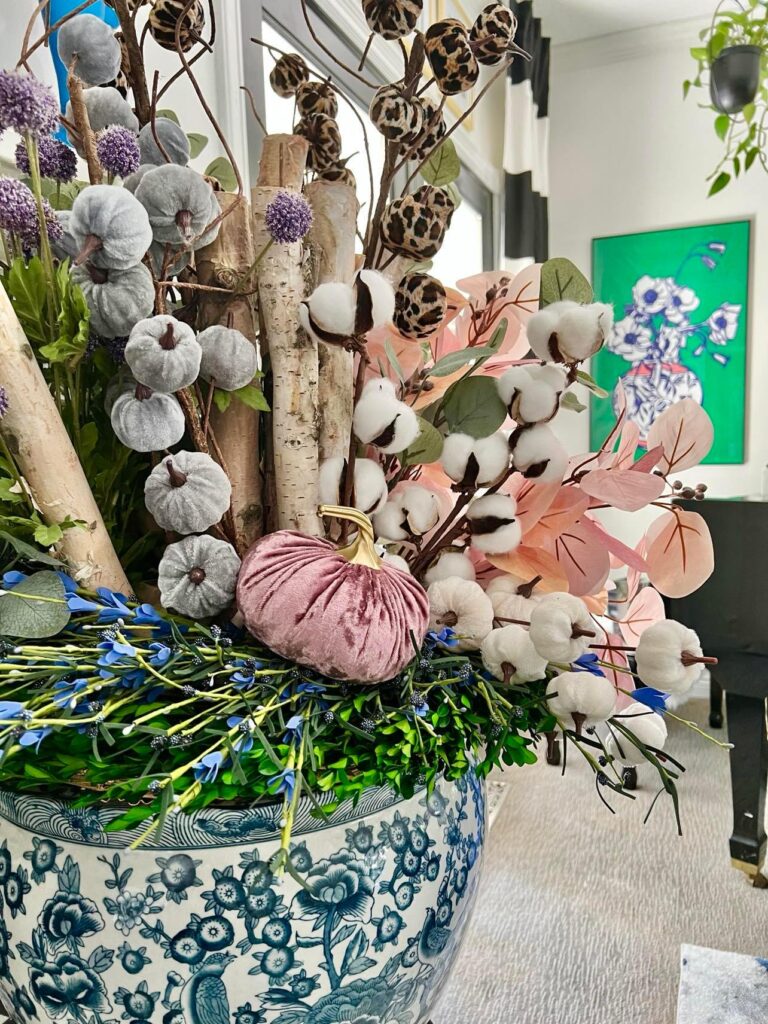 Cheers!

Some other decorating projects you might like:
13 Ways to Decorate Your Bookshelves for Fall
An Unexpected Way to Decorate Your Front Door for Fall
Don't Forget to Pin It!
Pin the image below to your boards on Pinterest (just click the Pin button in the top left corner). You can also follow along with me on Pinterest!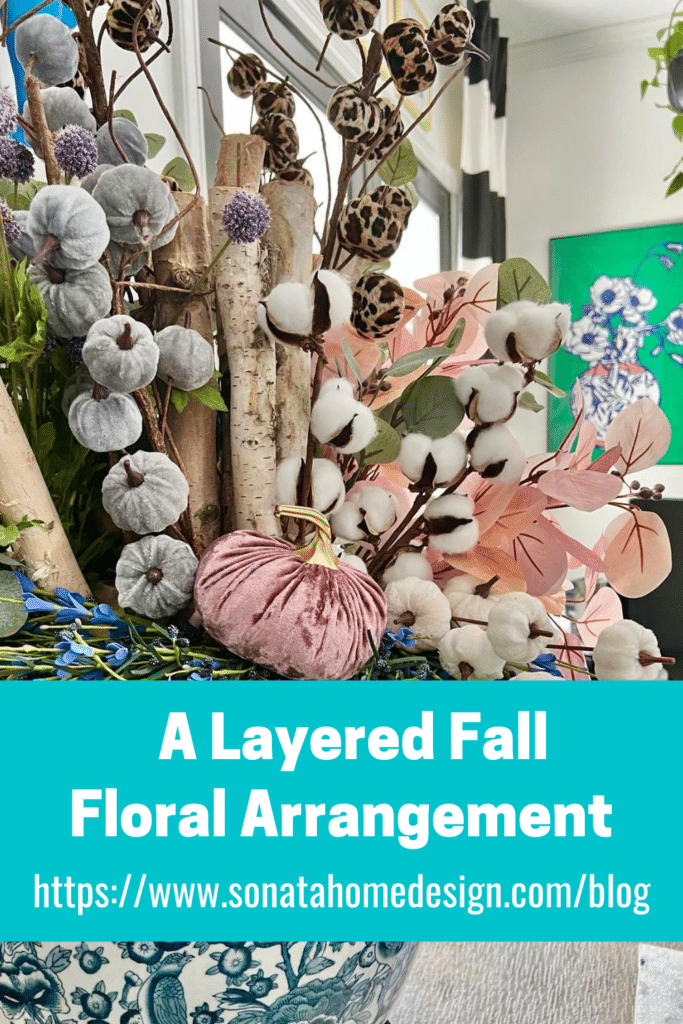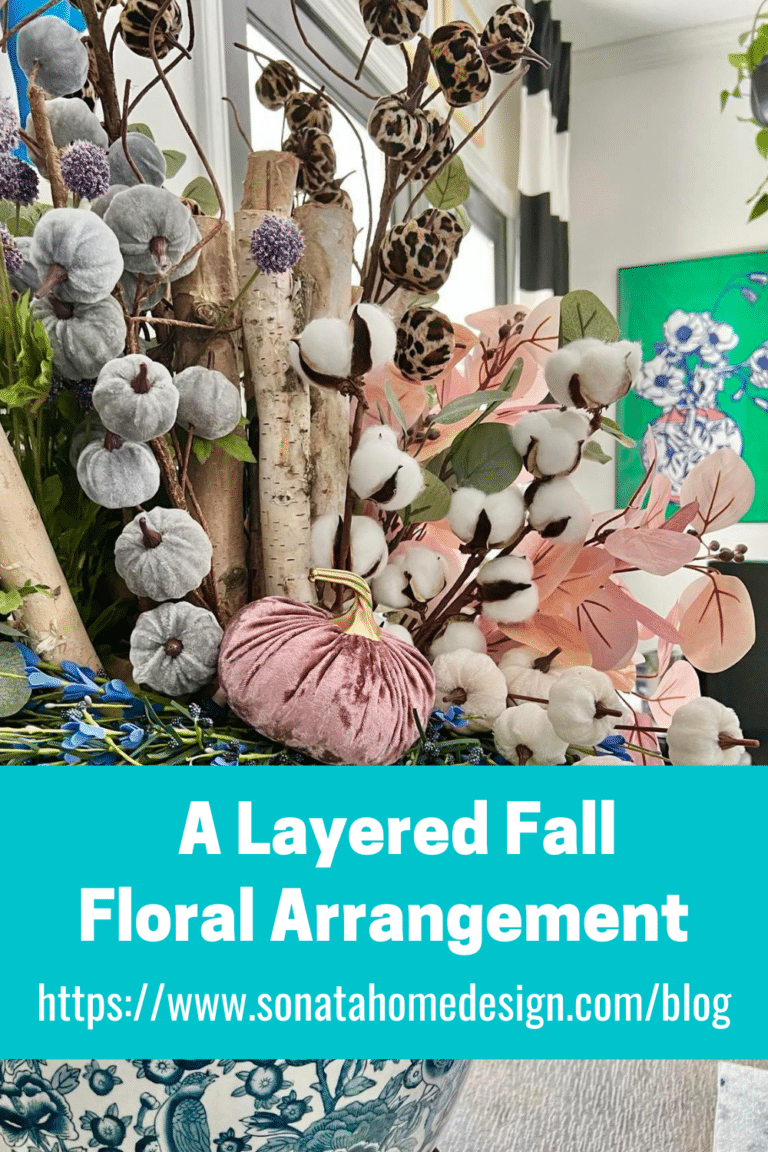 Shop the Post