3 Ways to Light Up Your Fall With Lights.com
With the new season, here are 3 ways to light up your fall with Lights.com!
I am honored to partner with Lights.com to light up your fall create a welcoming fall front porch seating area.
It is 88 degrees outside and, in contrast, I am layered up in a long sleeve hooded cardigan, corduroy leggings, and my favorite boots.
But, it is September 1!
WHOO HOO!
Just the flip of the calendar signals crisp, cooler air and seasonal color.
Nearby, the thermometer might not agree but I am READY for jeans and boots, mums and gently falling golden leaves, and anything made from apples!
(Pardon me while I move the fan so it hits me directly in the face. The weather is trying to drag me back a month!)
Welcoming Autumn!
This is the time when I emerge from my August hibernation (Lincoln can rival Hotlanta!) and enjoy time on the on the swing on the front porch.
By the way, do you remember my spring porch swing set up? You can see it here.
Whether alone, with my husband, or with a dog or cat (never both), the porch swing is usually where you will find me in the fall. Ideally, this scenario includes a cup of hot coffee and a snickerdoodle cookie (or four!)
LET'S GO!
So, I am eager to share my change of season enthusiasm with you in the form of 3 ways to light up your fall with the help of Lights.com.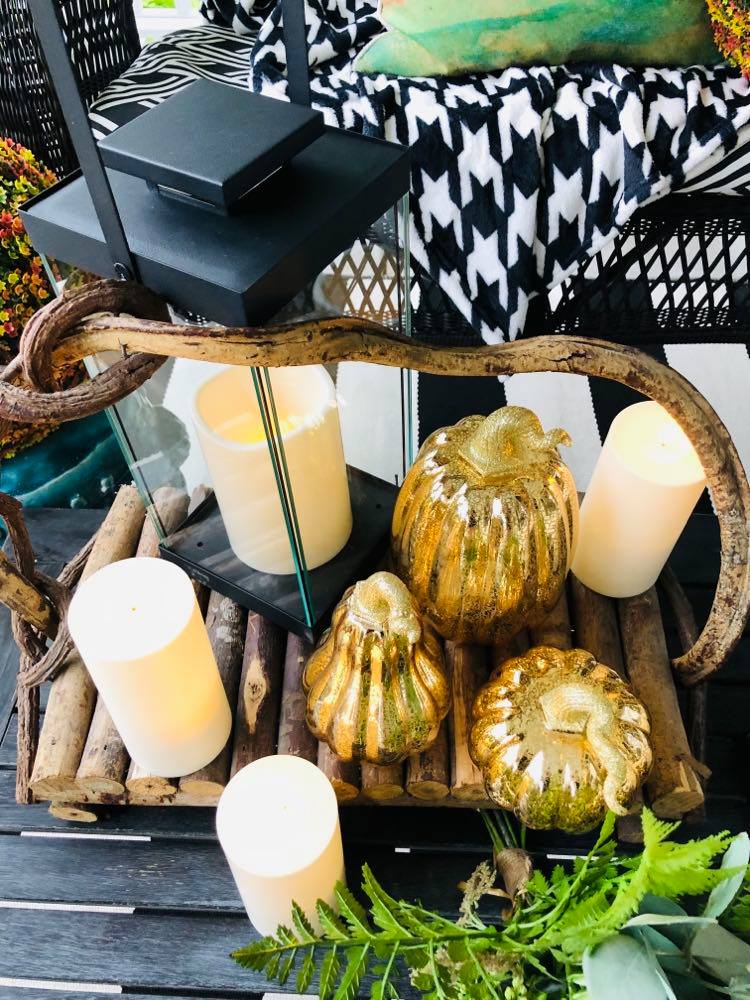 Not Just Any Candles
Classic white pillar candles are a staple for any home, especially was we approach the fall and holiday seasons.
Indeed, candlelight creates mood in all good ways.
Let me introduce you to the Lights.com Infinity Wick Collection.
My friends, the flame on these candles look REAL!
Not kidding! These truly look like a real flame when turned on.
Consequently, instant mood!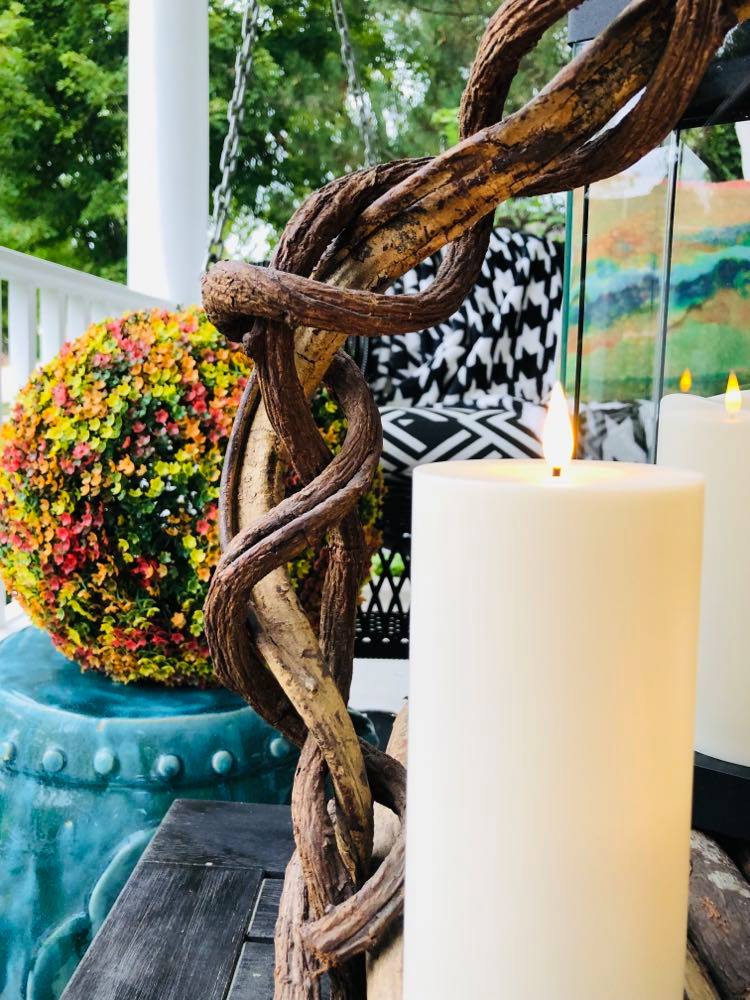 The flame has an ultra-realistic flicker with none of the worry of a real flame.
Even the pillar itself has a wax-like feel to it.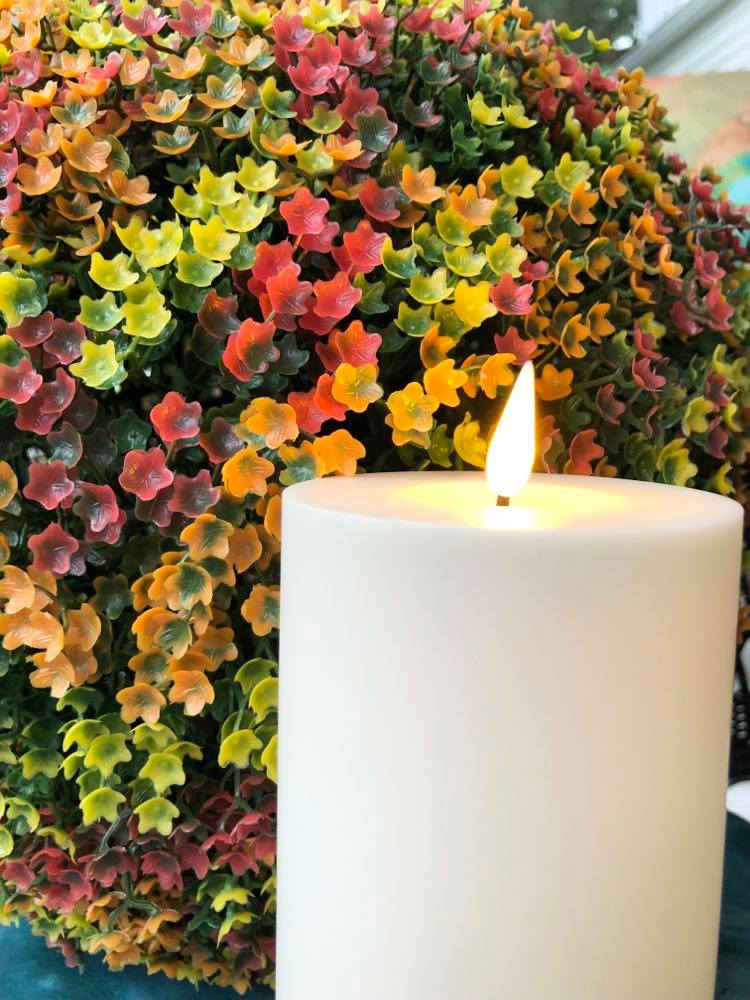 Tuck these candles into tablescapes, fireplace mantels, entryways, bathrooms, bedrooms, kitchens…the list goes on and on!
Infinity Wick candles are battery operated and have a timer. Perfect for outdoor fall decorating!
Let the Pumpkin Love Commence
September 1 hits and the world becomes obsessed with pumpkin "anything!"
It took me a while but I have officially gotten on the Pumpkin Spice bandwagon and am obsessed with decorating with pumpkins.
(Also, I am know obsessed with Pumpkin Chocolate Chip Oatmeal Muffin Cups. Check out this recipe by my friend, Stacey on her blog, Stacey Lives.)
Lights.com offers this set of GORGEOUS illuminated gold pumpkins. Pumpkins never looked so elegant!
But don't let elegant get in your way. I paired these glowing goodies with a rustic, twisted wood tray. In contrast, Beauty meets Beast for a perfect combination.
Somehow, the contrast in texture makes the pumpkins look even more stunning.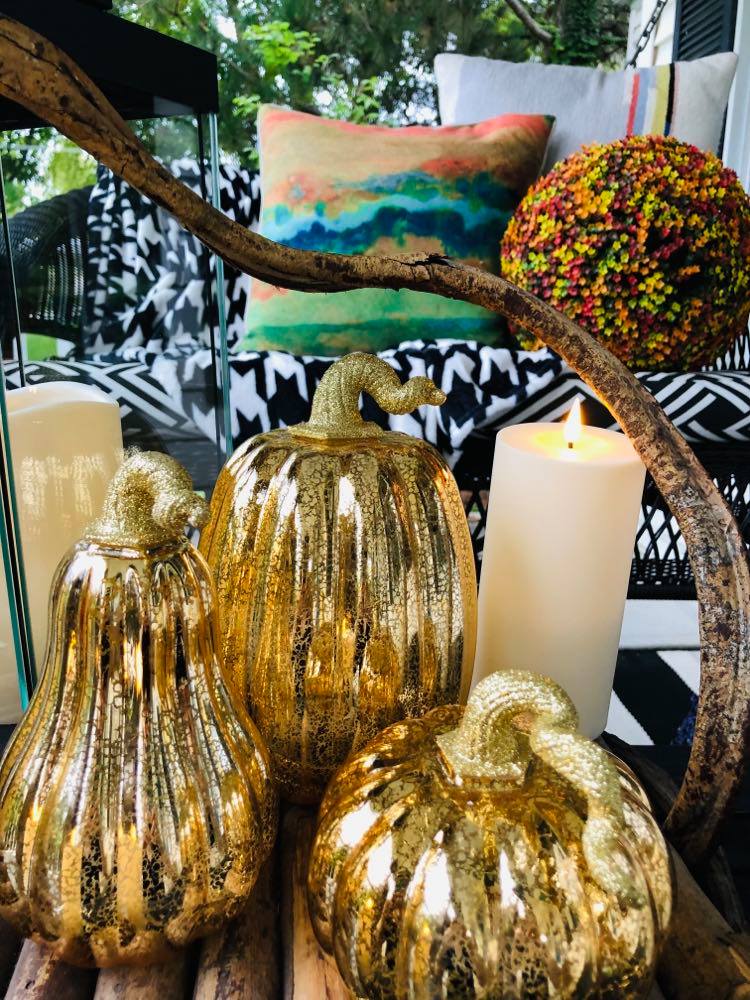 And at night…
…when they are illuminated?
Look at the detail! Breathtaking!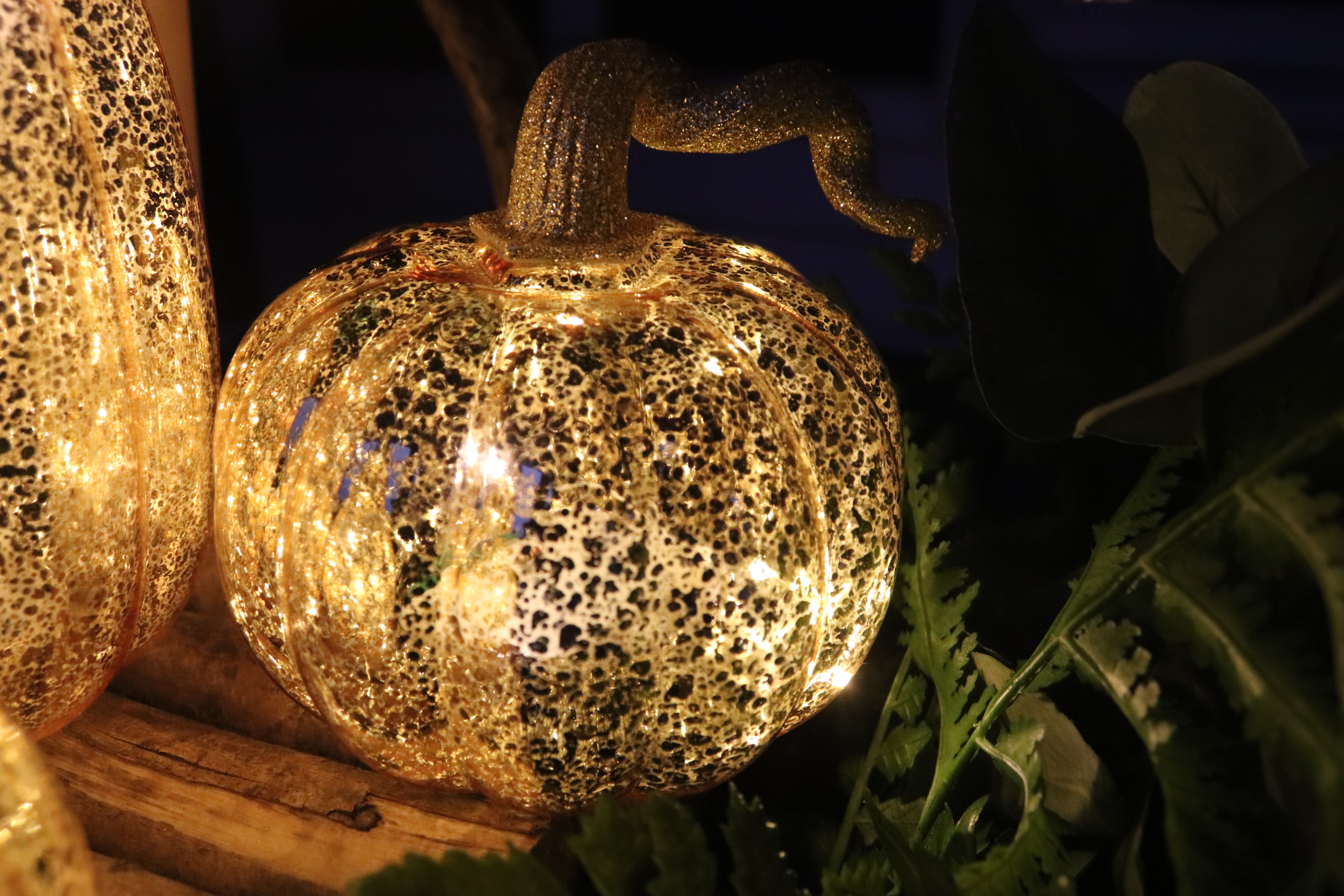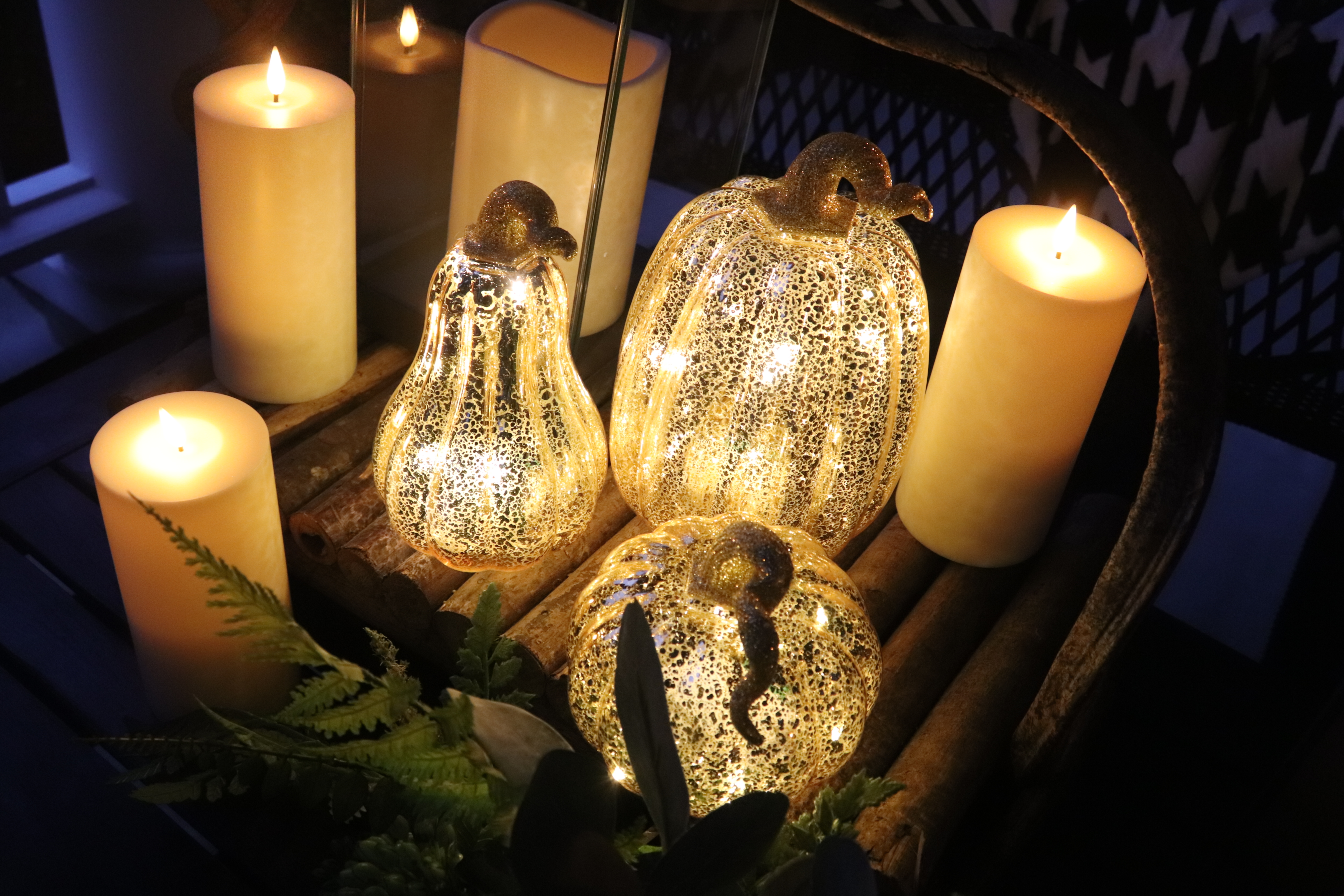 Light Up Your Fall with Lanterns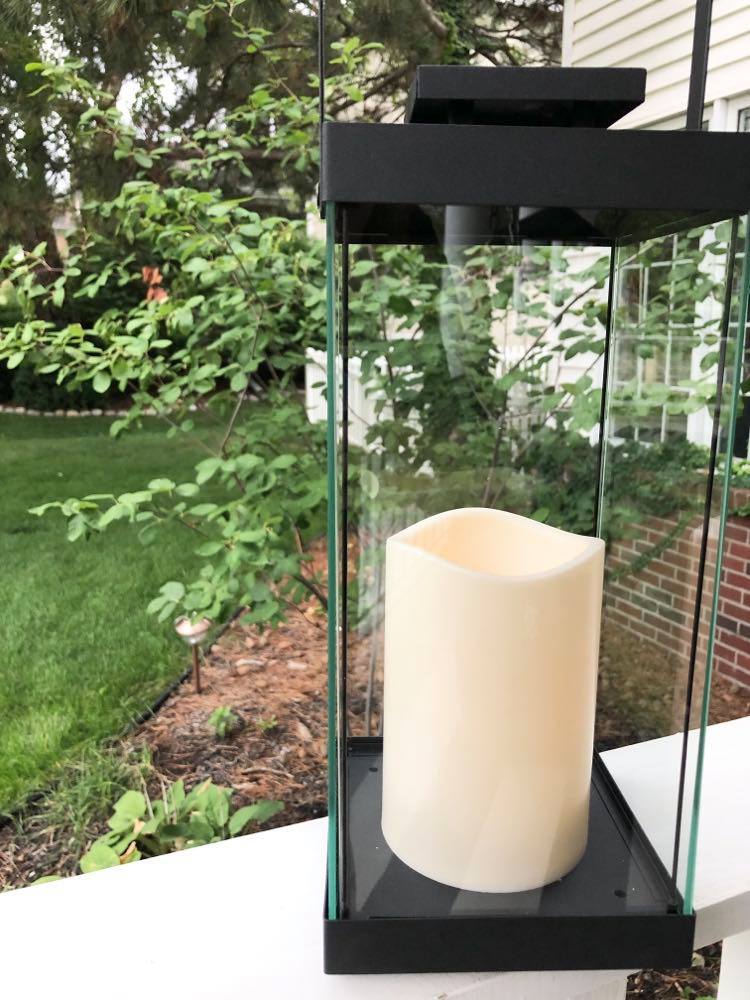 I have always had a love affair with lanterns.
Equally important, lanterns are portable architecture with a handle!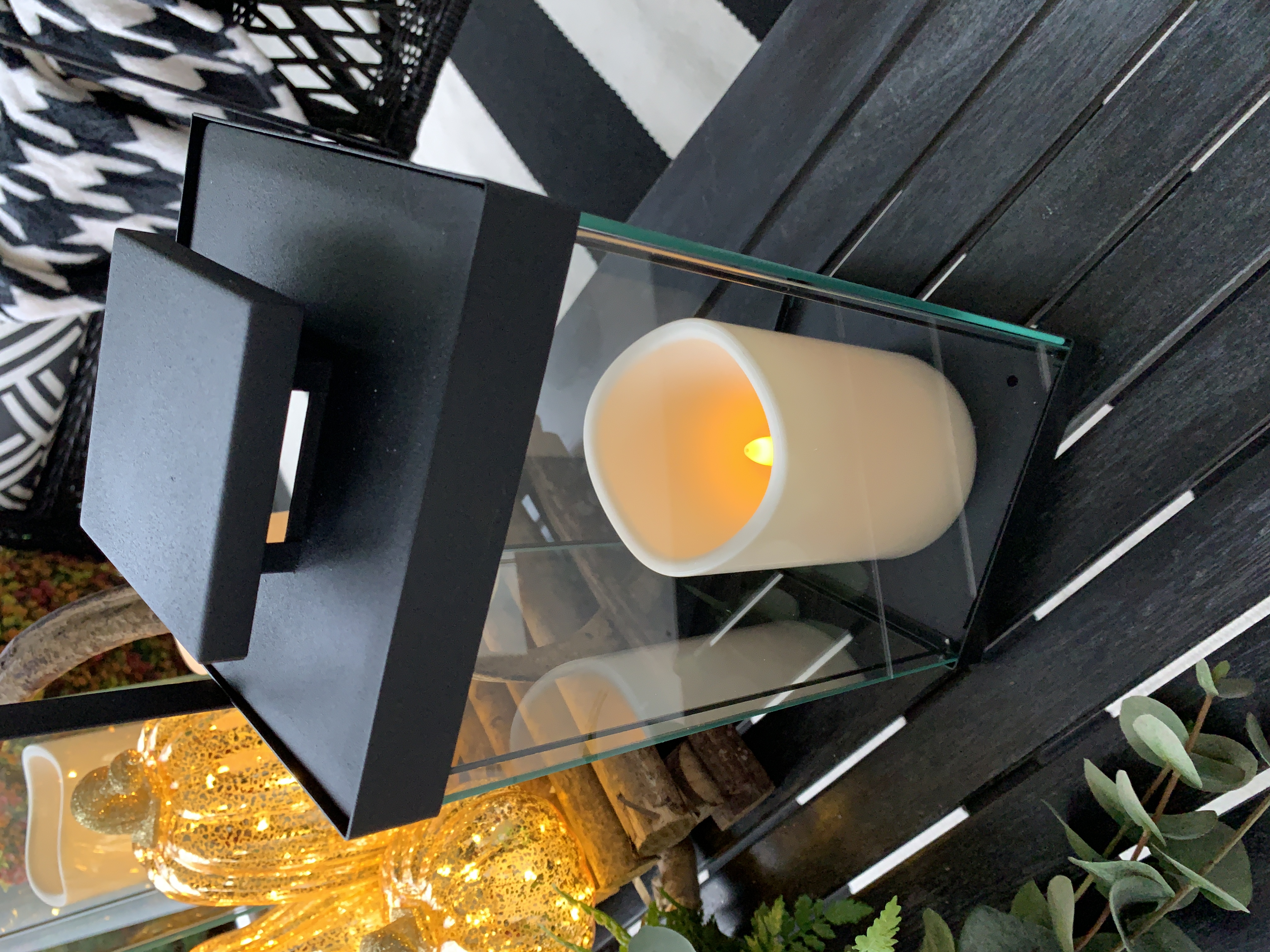 Lights.com has lots of lanterns to choose from…so hard to choose!
After much thinking (and overthinking), I went with my first gut choice. The Wythe Black Glass Lanterns.
The design is clean and classic. Consequently, there is so much you can do with it.
For example, you could try any of these ideas.
Tie a fall plaid ribbon to the top
Nestle into a planter
Surround the candle with faux florals
Tuck into a bevy of porch pumpkins
Place on a bathroom counter at night for a stylish nightlight
Center on an interior window as a nighttime beacon for late night returns home
Fill the lantern with tiny pumpkins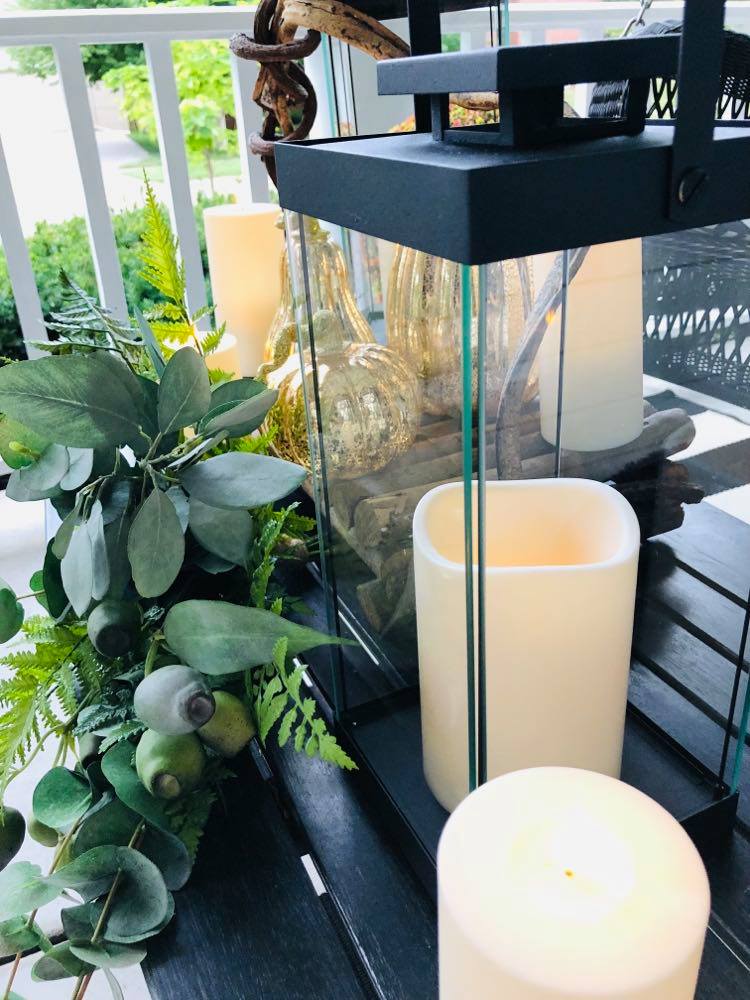 Get this…the flameless candle is ATTACHED to the bottom of the lantern!
No more tipped candles and trying to light the candle through a teeny tiny space.
And it gets better…there is a remote control for the lantern candle!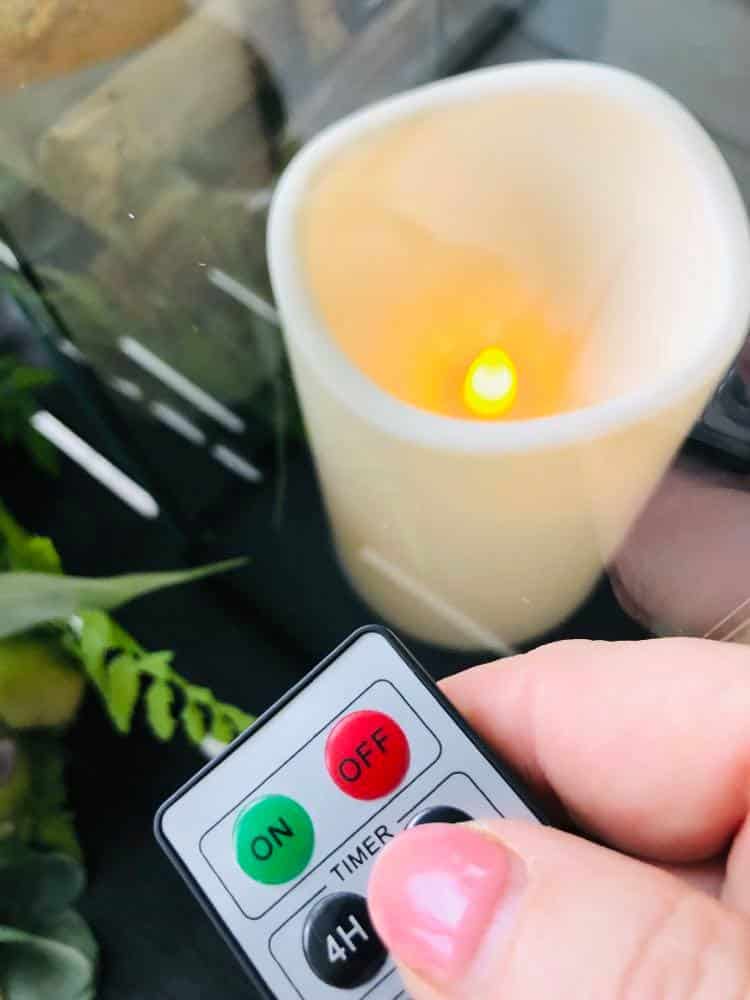 Cue Sunset
With the Infinity Wick Candles on a timer and a remote control for the lantern candles, I can nestle into the porch swing and create perfect fall evening ambience with the press of a button!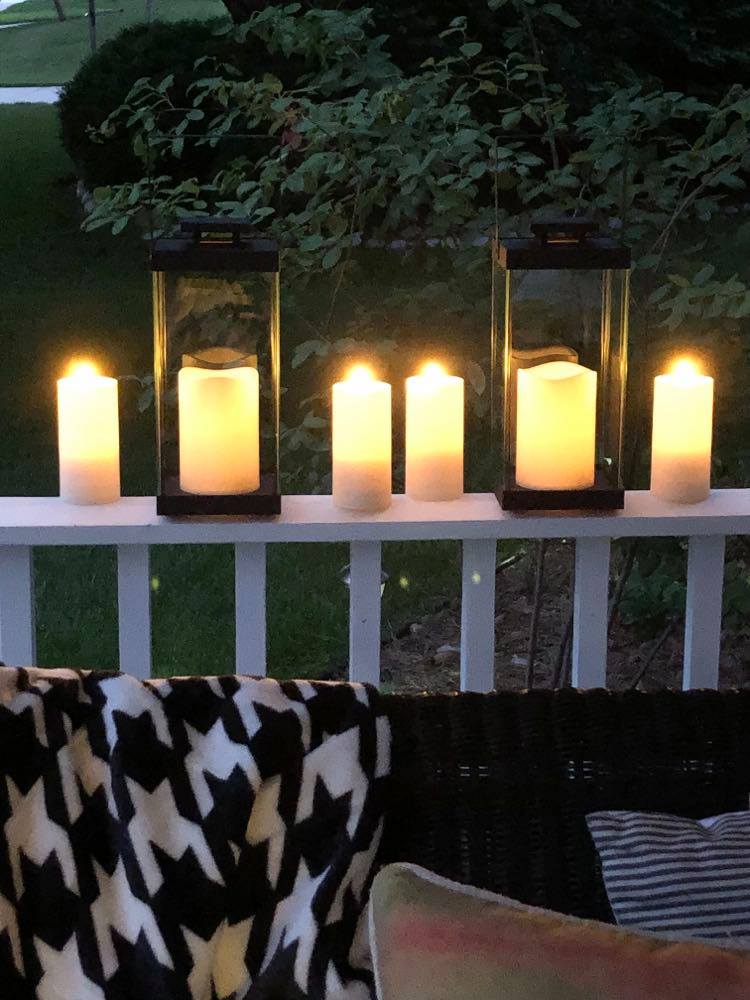 Usually, I place a table in front of the porch swing. This is the perfect place for the Lights.com Infinity Wick Candles, illuminated gold pumpkins, and Wythe Black Glass Lanterns. As a result, I have lighting trifecta!
Layers of light from Lights.com!
Truly, I feel as if I am on the set of a romantic movie. On the whole, not a bad place to hang out.
While I shown your 3 ways to light up your fall with Lights.com, be sure to check out the Lights.com website. They have so many amazing lighting and home decor items that offer creative versatility in your home decorating!
I'm off to buy a pumpkin spice latte for some serious porch swing time!
Cheers!

I would like to invite you to join the Sonata Home Design email list. I treat my email subscribers like family…I share home decorating inspiration and ideas with love and always try to do my best for you!
Also, some great holiday projects are coming up….you don't want to miss out!
Sign up HERE!
[contact-form-7 id="2437″ title="Contact form 1″]