A Dining Room Makeover: One Dilemma After Another
We created a dining jewel box in the middle of our home. But the dining room makeover didn't start that way…
We seemed to run into one dilemma after another, but finally finished our dining room makeover!
Sonata Home Design is a participant in the Amazon Services LLC Associates Program, an affiliate advertising program designed to provide a means for us to earn fees by linking to Amazon.com and affiliated sites.
Hello Friend!
Having grown up in a home with a separate dining room, I always just assumed that this was the floor plan that I wanted in my grown-up home.
I have vivid memories of my mother entering the doorway to the dining room with a cake on a pedestal and singing "Happy Birthday" loud enough to cue us all in together.
Other wonderful memories include all of the Thanksgiving, Christmas, and Easter dinners that we ate together as a family…stuffing ourselves senseless and then groaning when we were called to do dishes!
Mother sat on one end. (The seat closest to the door and the kitchen.) And, Daddy sat on the other end. Two kids on one side and two kids on the other.
Even as we raised our own twin daughters, the dining room was the room of celebration! Great memories!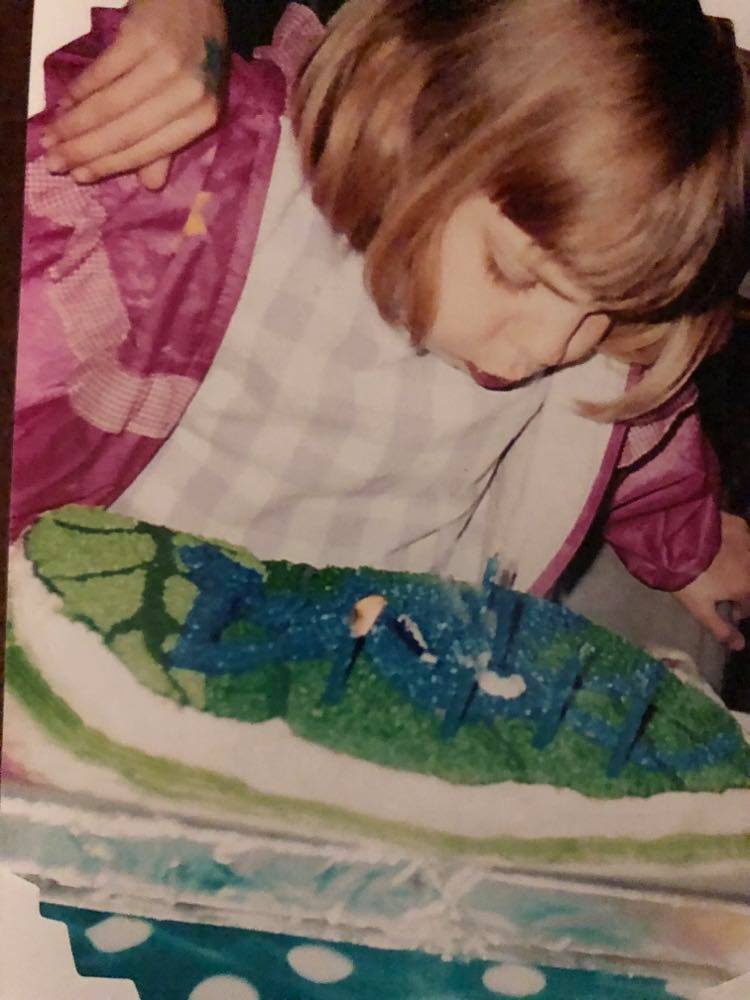 However, the room was used for just those purposes: birthdays and holidays.
Other than that, the room sat quiet and empty with a lovely floral centerpiece or faux fruit display.
As a child, I loved that faux fruit display so much that I took a bite out of a wax apple.
I didn't like it so much after that!
The Sledge Hammer Dilemma
Fast forward to my adult homes. We have done lots of renovation projects. You can see a couple of them here.
A Closet Makeover Using Leftovers!
Over the years, all three of our homes have had a separate dining room!
When the open concept trend hit, I have to admit to feeling a little left out. Tearing out walls looked so EASY on HGTV. Just swing a sledgehammer and kick your way through with a smile.
We didn't have the guts to try it until a couple of years ago. Our kitchen remodel took a turn when I threw out the idea of putting in a cased opening between the kitchen and the dining room.
No surprise…much debate and discussion followed.
But we decided to go for a big dining room makeover. And, we did it.
BEST DECISION EVER!!!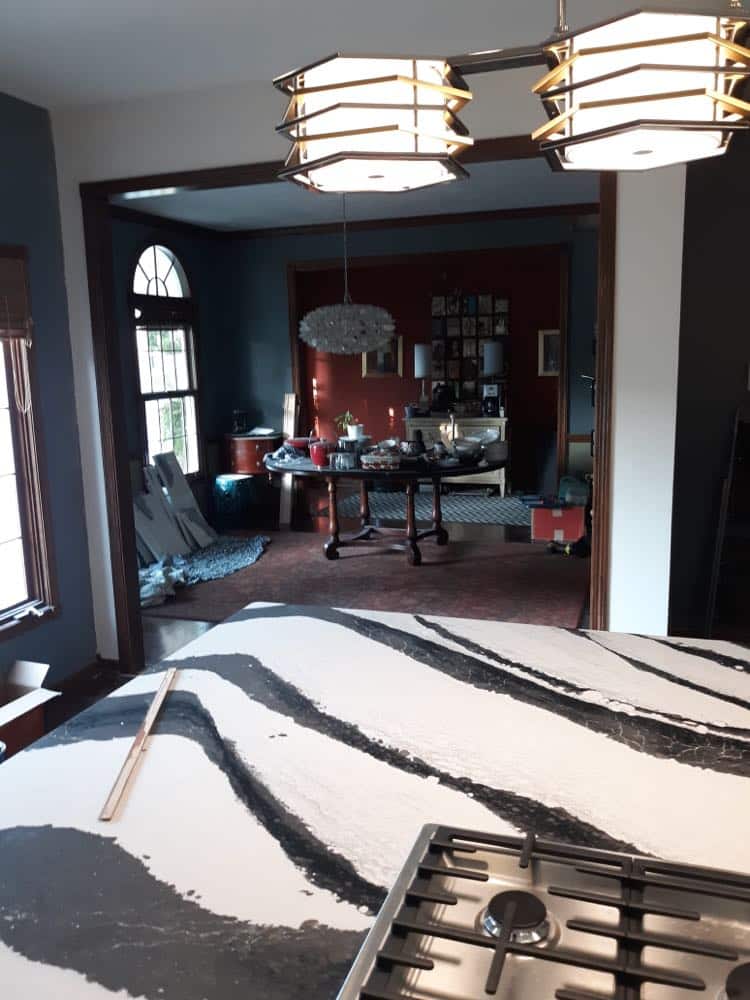 See more of Our Kitchen Renovation here.
Some of you have asked about our kitchen island light fixture. You can see it here.
While the kitchen and dining room are still separate rooms, both rooms felt ENORMOUS with the cased opening.
Sledgehammer for the win! (Don't applaud us too loudly. We hired the sledgehammering done!)
The Wallpaper Dilemma
No surprise…I love wallpaper!
For me, an amazing Saturday afternoon would be flipping through wallpaper books.
This beauty caught my eye and my heart!
The gold pattern on a vivid coral red…it was singing my name!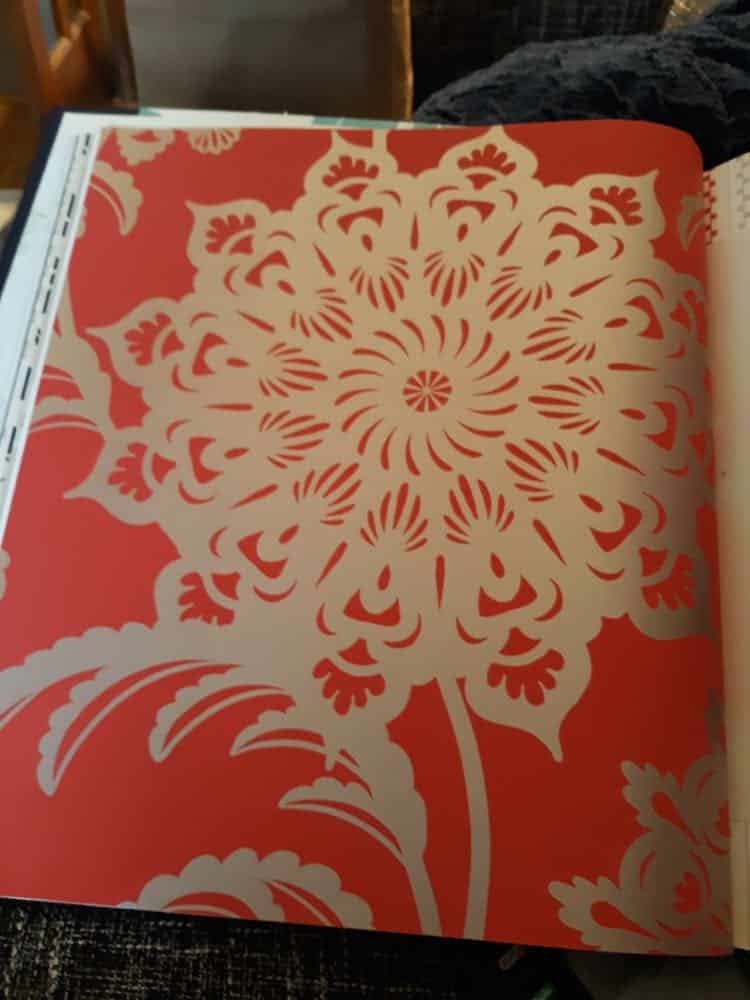 Once on the walls, I liked it. I really liked it.
But I didn't completely love it. With the dark wood trim, the room leaned a little Victorian which is not the vibe of the house.
On top of that, the green velvet dining chairs did NOT work.
This photo really made me question my wallpaper choice.
Not finished yet!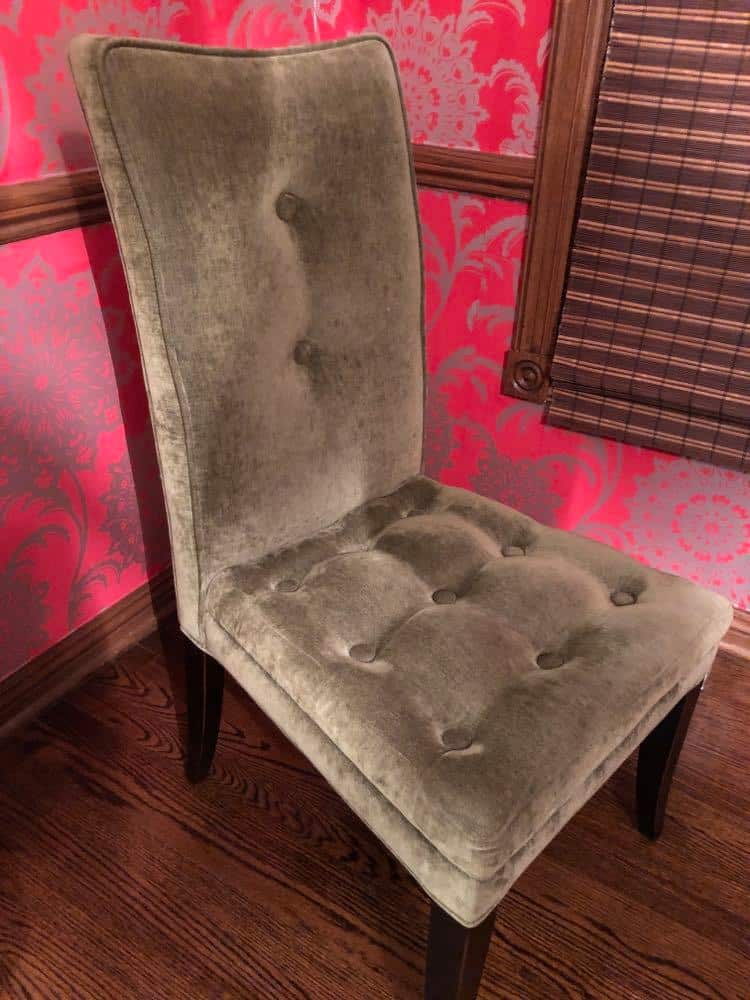 See how I solved the green chair issue by checking out my Simplest Dining Chair Makeover!
Our Ultimate Dining Room Makeover Dilemma
The beauty of natural or stained wood is not lost on me. I love a beautiful wood finish and really appreciate a stunning wood grain.
However, painting the wood trim white in the dining room seemed a no-brainer to me. Unfortunately, painting the trim in the dining room meant painting the wood trim on the entire first floor!
So, painting the wood trim became the never-ending focus of our dining room makeover. Bye, bye lazy summer days!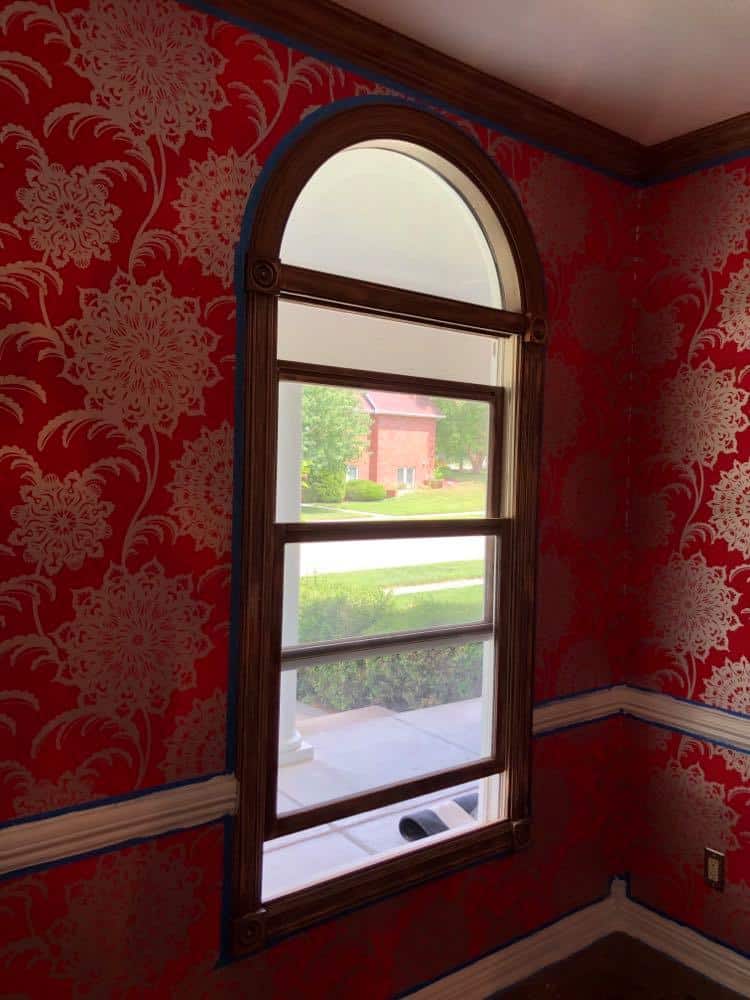 It was a lot of never-ending work. A lot! And, we are actually still working on painting other rooms.
Sherwin Williams Pure White for the win!
BEST DECISION EVER!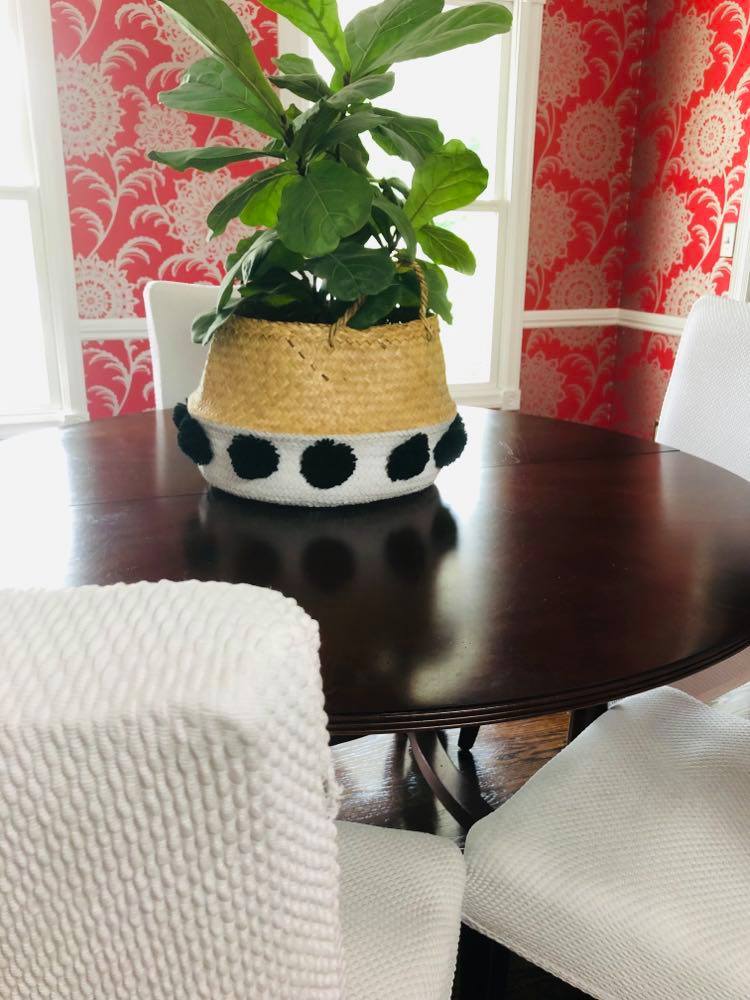 You can see the slipcovers here.
Remember when I added pom poms to pillows, placemats, and baskets? Here is a refresher!
4 Simple Steps to Creating Pom Pom Magic
Or, if you like your pom pom belly basket ready-made, here is a great option!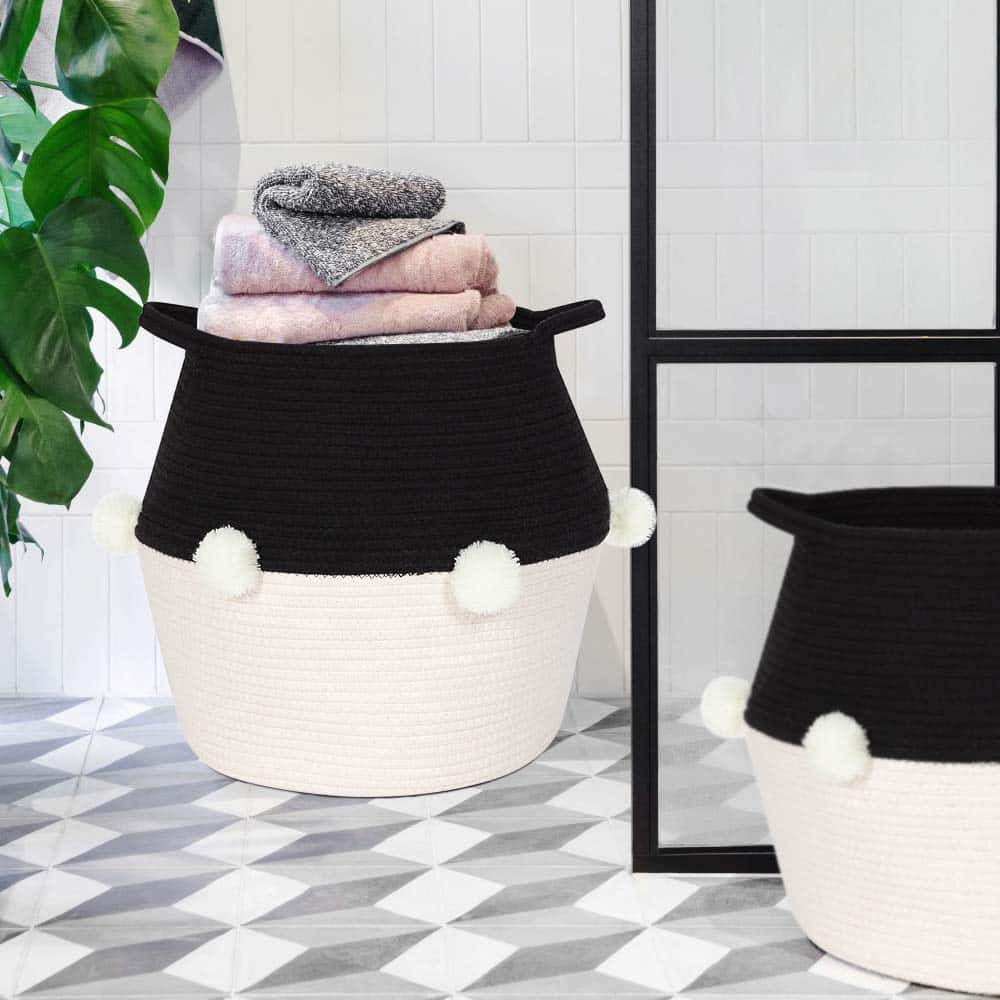 The room feels twice as big and twice as bright!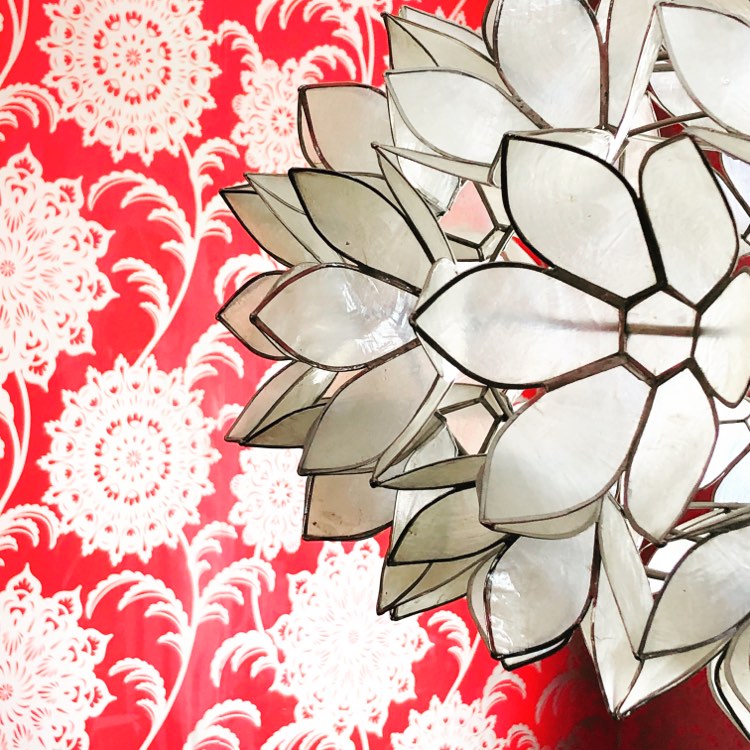 The coral wallpaper really looks like coral!
Setting the table is so much fun now!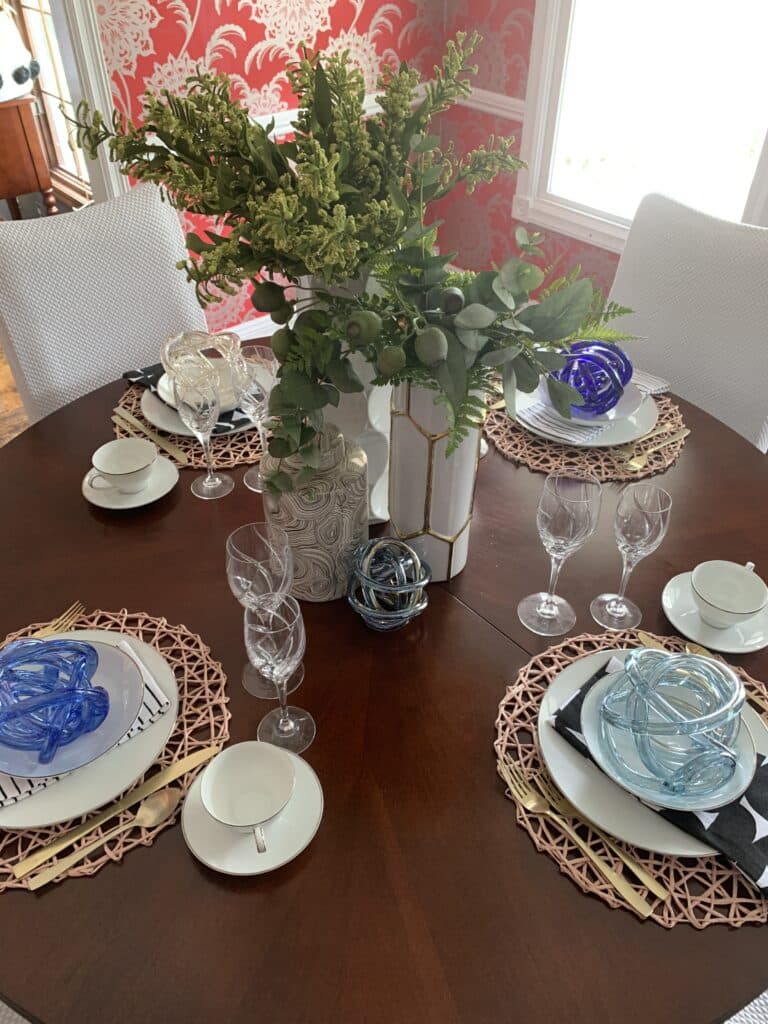 Centerpieces are a JOY!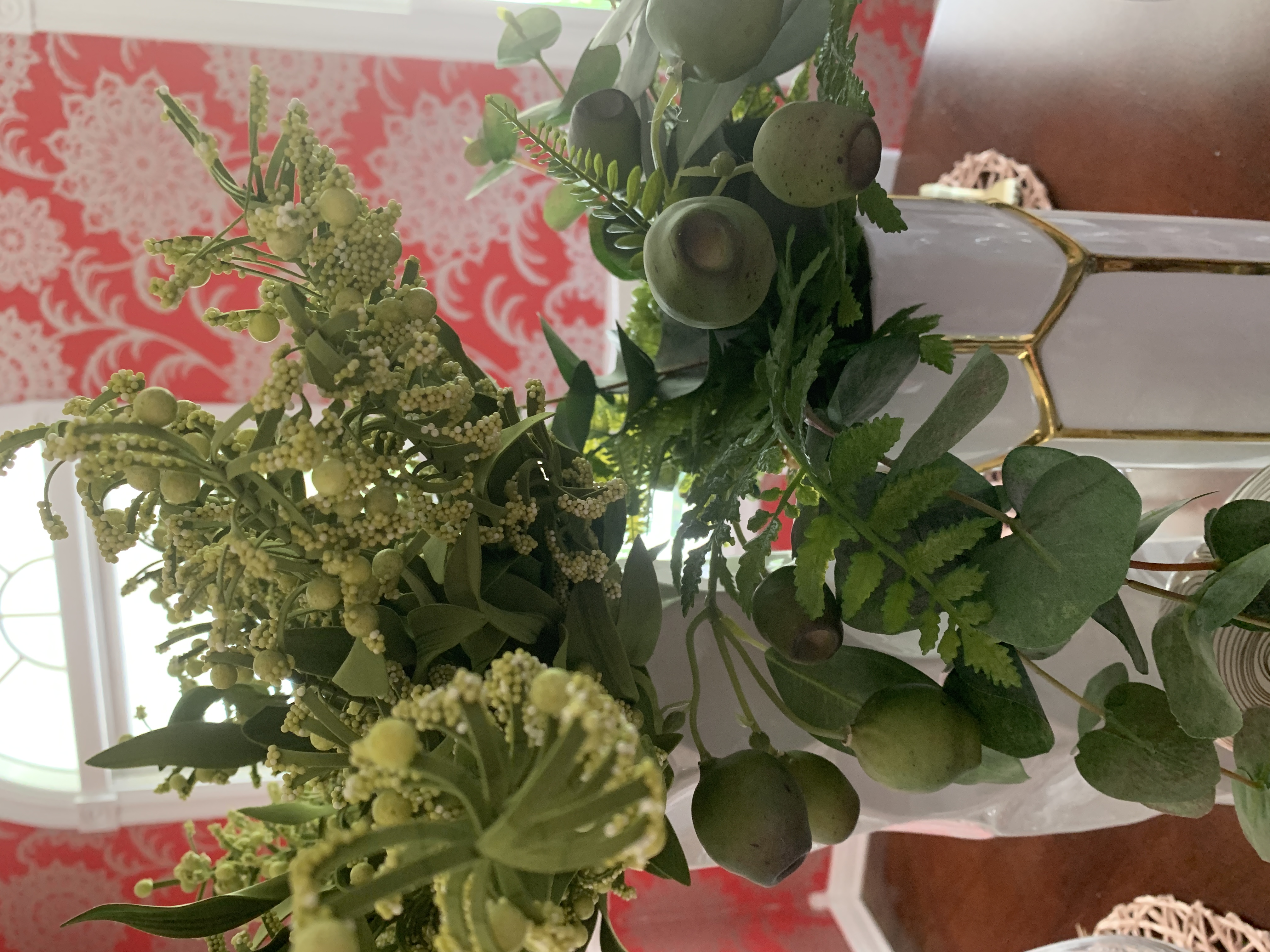 White vases are always a great choice with any color palette. Here are few that would be amazing in a dining room.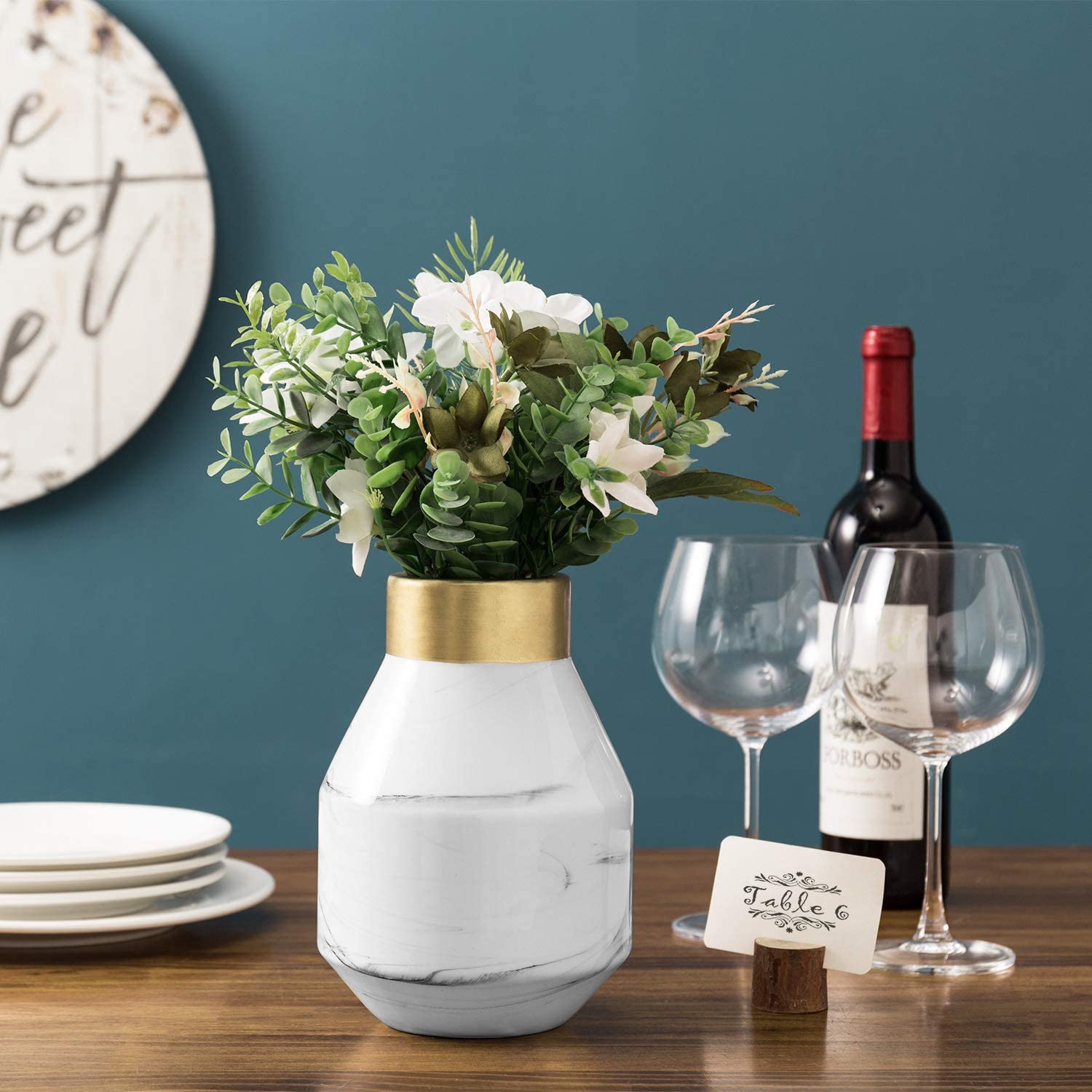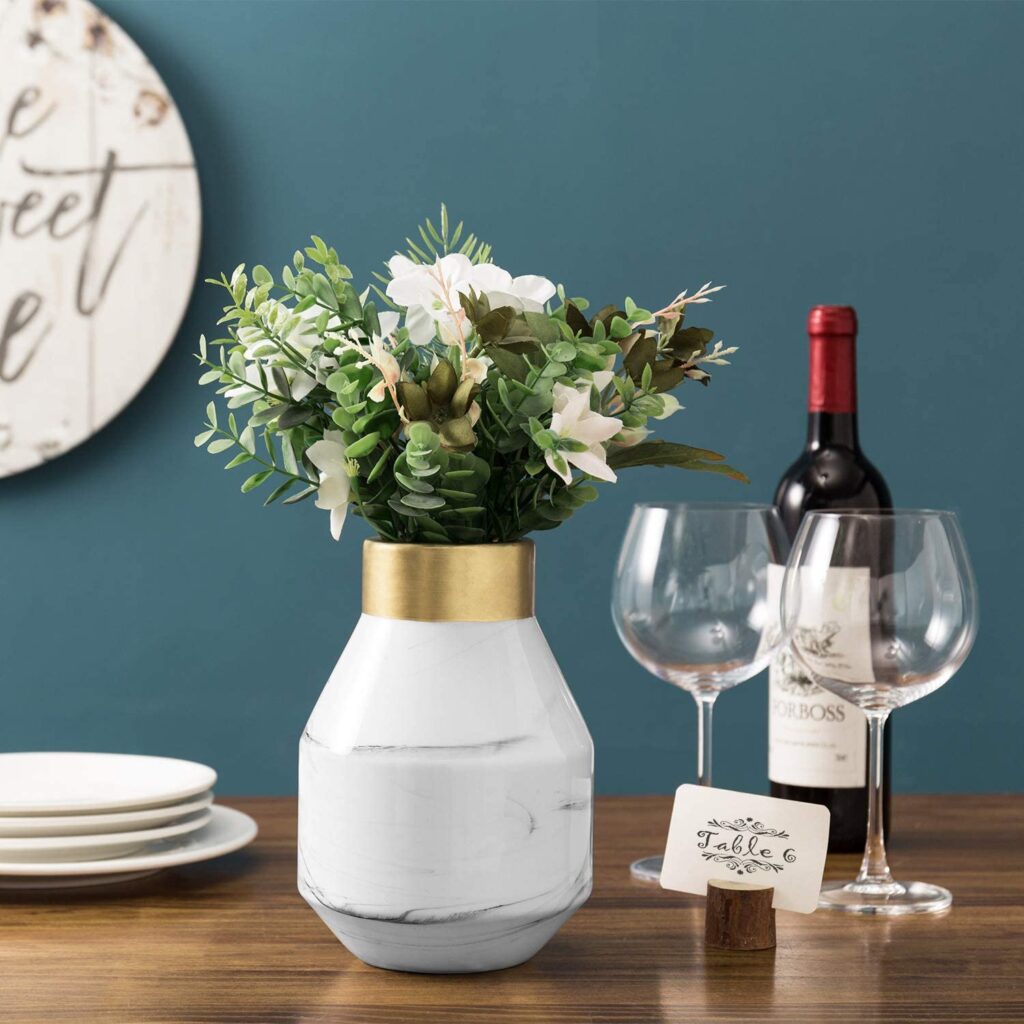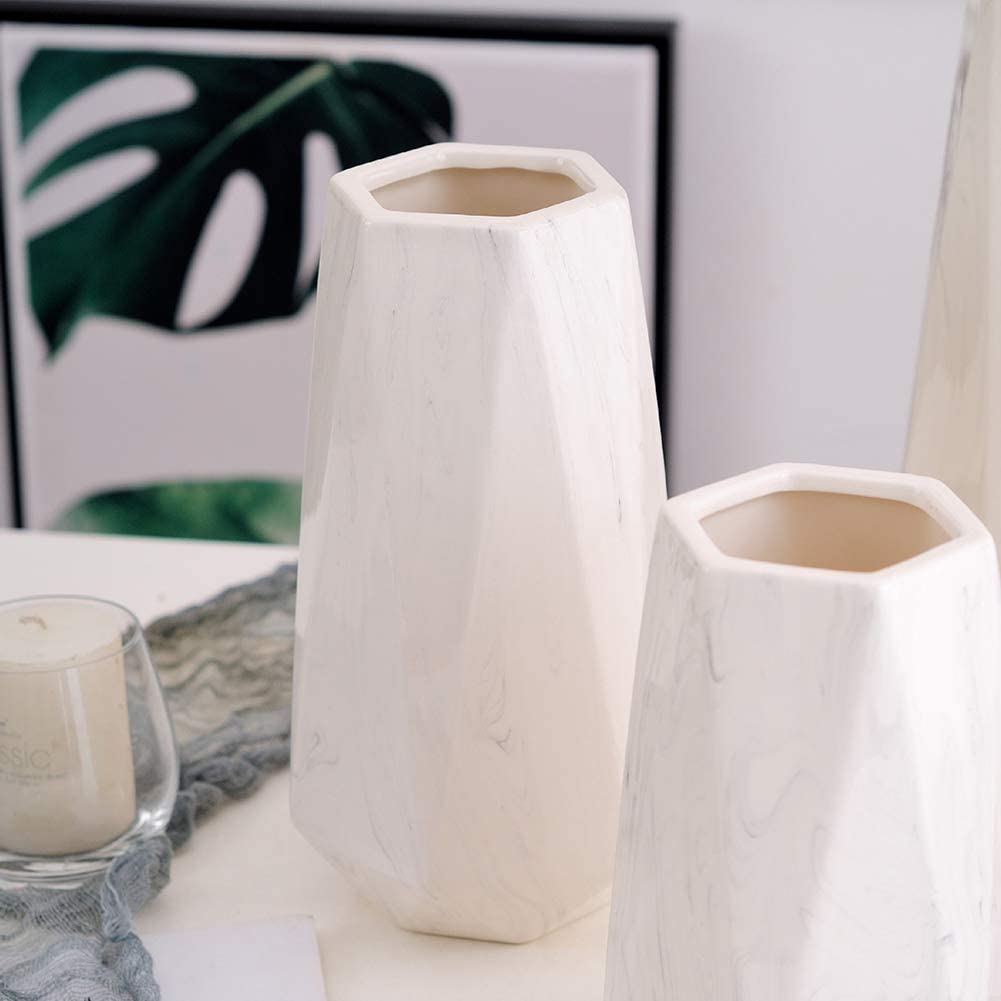 Regardless of the controversies of the cased opening, wallpaper, and painted wood trim, all three dilemmas turned into…
BEST DECISIONS EVER!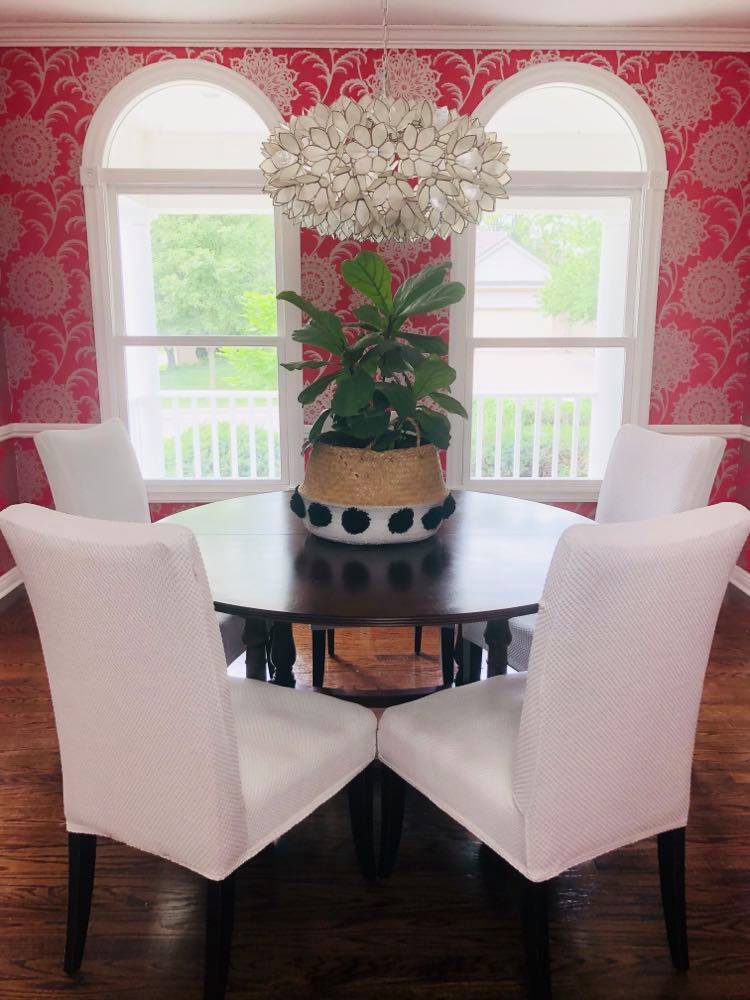 Now, in addition to birthdays and holidays, we use this room for morning coffee, zoom chats, craft projects, and evening sips of wine.
My favorite…I hang out in the dining room and chat with my husband while he makes dinner. Lucky me!
It feels like the jewel box of the house and now…I love it!
Cheers!

p.s. I love a room refresh! You can see our Bright and Colorful Living Room Revamp here!