How to Make Over Your Closet Using Project Leftovers
See how to make over your closet using leftover materials from other projects.
Do you wonder what to do with leftover materials once finished with a home project? Here are some ideas on how to makeover your closet and save money in the process! (Always a good thing!)
Sonata Home Design is a participant in the Amazon Services LLC Associates Program, an affiliate advertising program designed to provide a means for us to earn fees by linking to Amazon.com and affiliated sites. Additional affiliates links are also included for your convenience.
There is nothing like a bathroom renovation to teach you humility.
Indeed, a bathroom is one of the ultimate makeover projects.
Removing a corner whirlpool tub, ripping out the vanity, pricing everything from tile to fixtures to tubs…
This renovation project taught us some serious humility!
But it was worth it! Don't you think?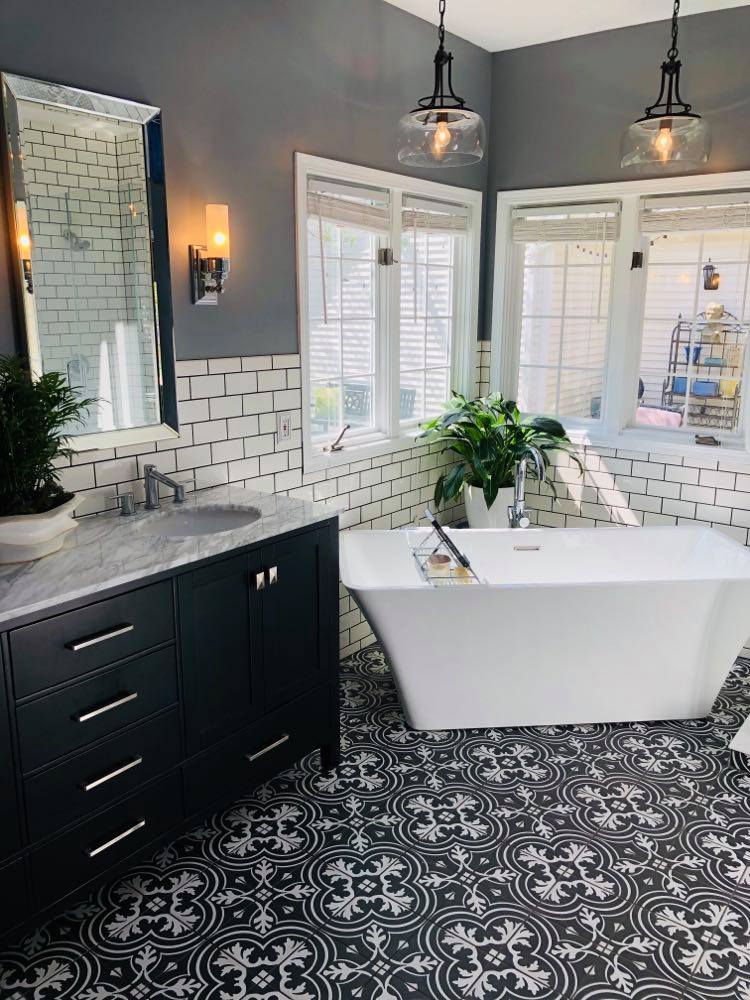 (Read more about our bathroom renovation here.)
I almost forgot…renovated an upstairs bathroom as well! Check it out here!
Beauty and the Beast
Unfortunately, the adjacent walk-in closet did not get the star treatment like the bathroom.
It was like Beauty got the spa treatment and then had to get dressed in the "Beastly" back alley!
Visions of closet systems, gigantic dressing "islands" and spinning shoe carousels danced in our heads…
Ok, not really.
We didn't need nor want a million-dollar closet.
But we did want something that made sense with our beloved new bathroom.
The closet was a basic rectangle shape with some particle board shelves.
In fact, the space is not THAT big and we had no budget dollars left after creating our dream bathroom.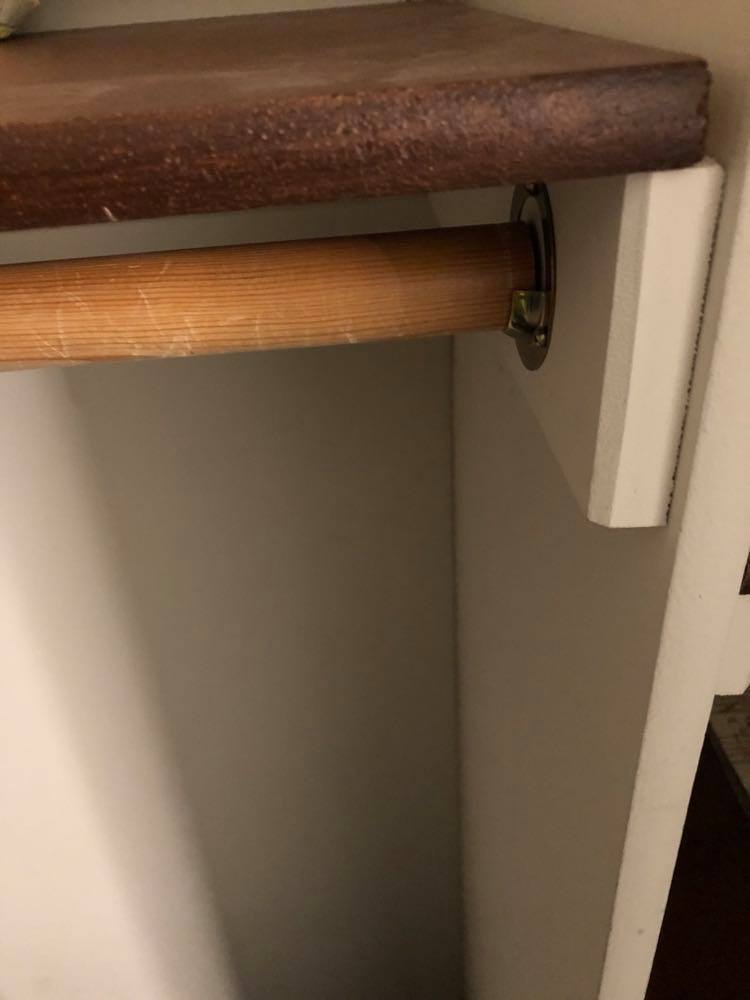 (Ok, maybe I was dreaming of a closet dressing island…)
BUT…
We had leftovers!
To be specific, we had leftover paint and leftover floor tile.
Make Over the Closet with Leftover Paint
The thought of using the leftover paint was a little scary, though, because it was a dark grey that worked perfectly in a light-filled room. Would it work in a small, windowless closet?
You bet! (We did splurge on a new light fixture which really helps to keep the room bright!)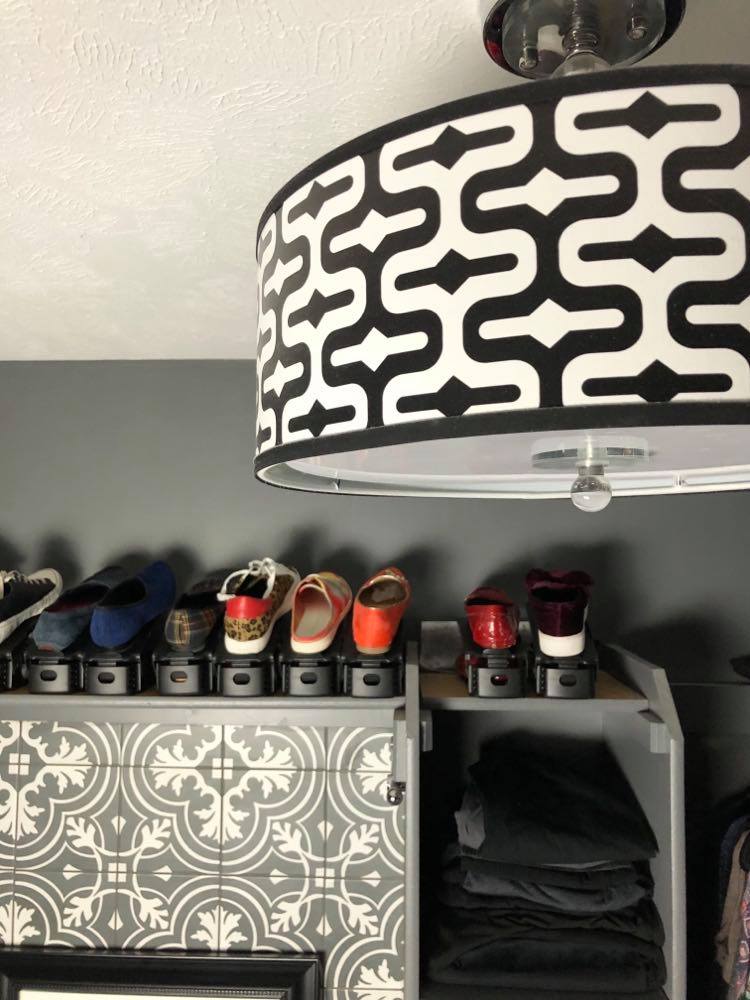 Leftover Floor Tile…On The Wall!
Part of our bathroom makeover included this beautiful floor tile.
Maybe floor tile used as wall tile?
After some discussion about clothes organization, we agreed that we could give up the middle hanging area of the closet. (Admittedly, this was our cue to clean out some clothes that we didn't want or need.)
As a result, the lower shelf made a wonderful vanity with this leftover floor tile used as wall tile above it!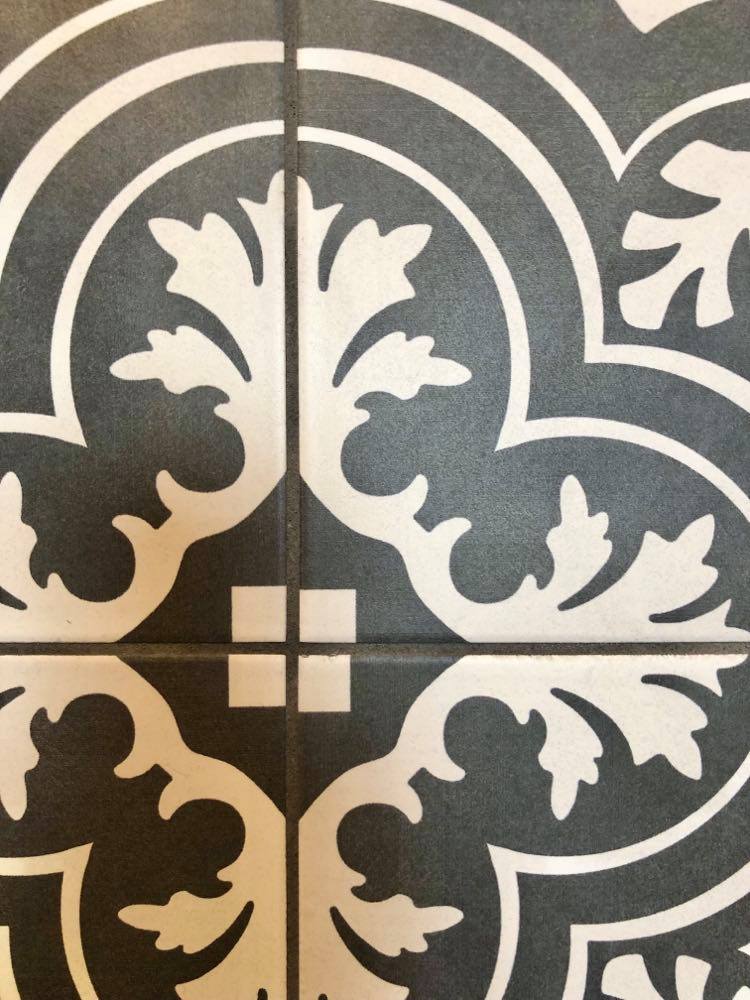 Thrifting the Ultimate Leftovers for your Closet
For underneath the shelf, I found a great dresser at the Salvation Army.
With a coat of black paint (leftover!), we were able to tuck in the new, (I think sophisticated!) dresser and quadruple the storage space!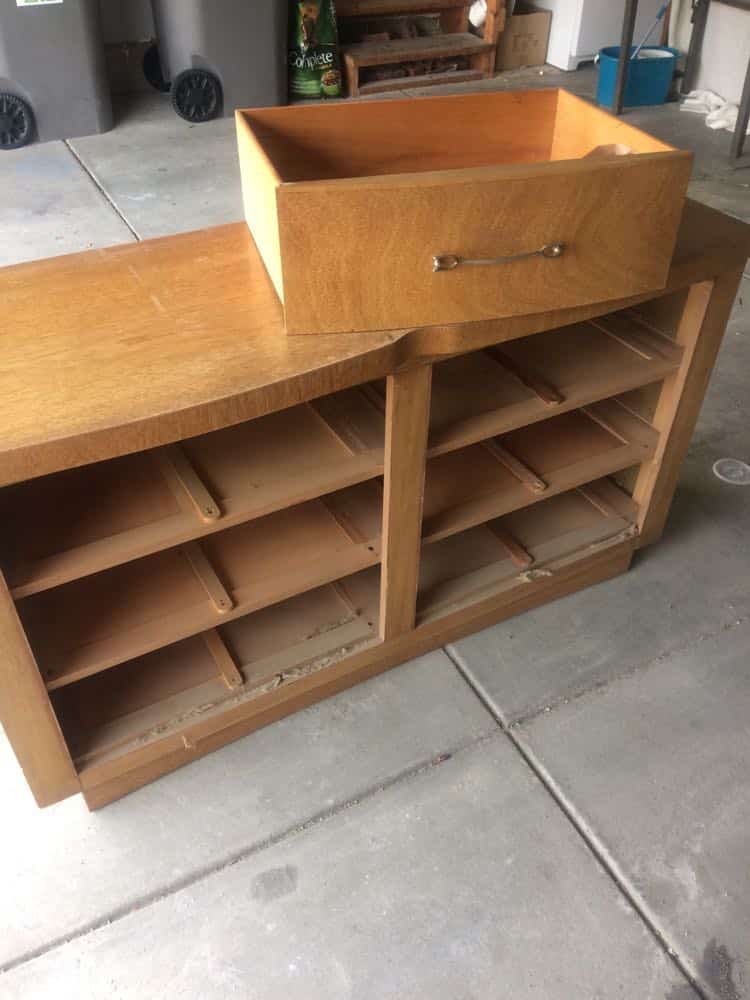 Equally important, the hardware got a makeover with leftover silver spray paint.
For more spray paint projects, don't miss 12 Spray Paint Projects that are Fun and Easy!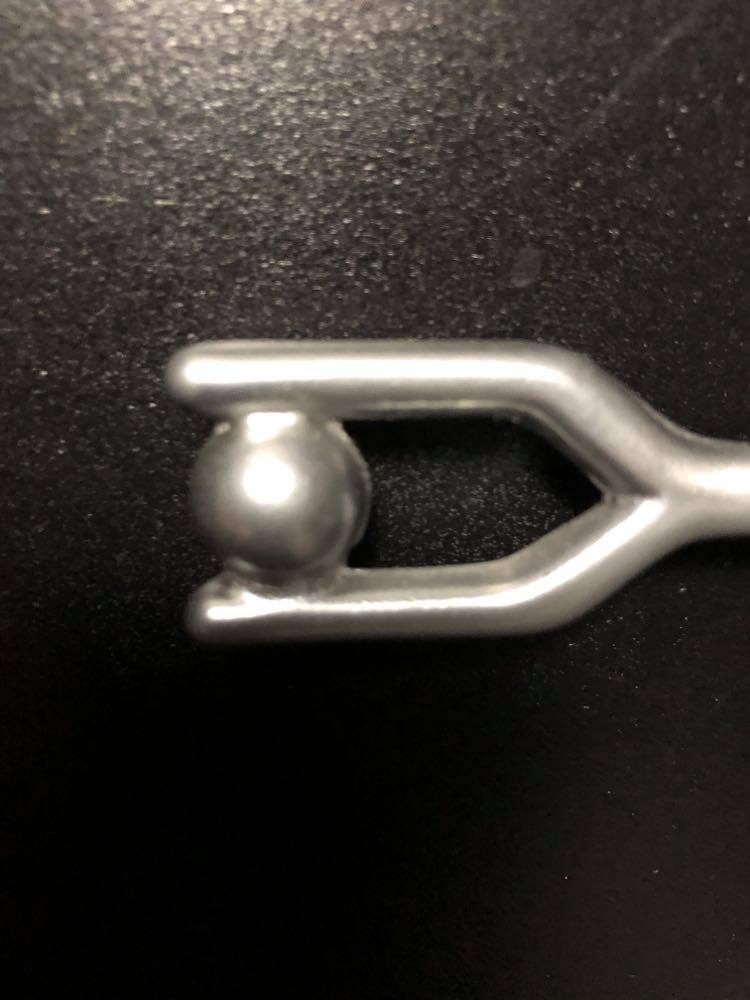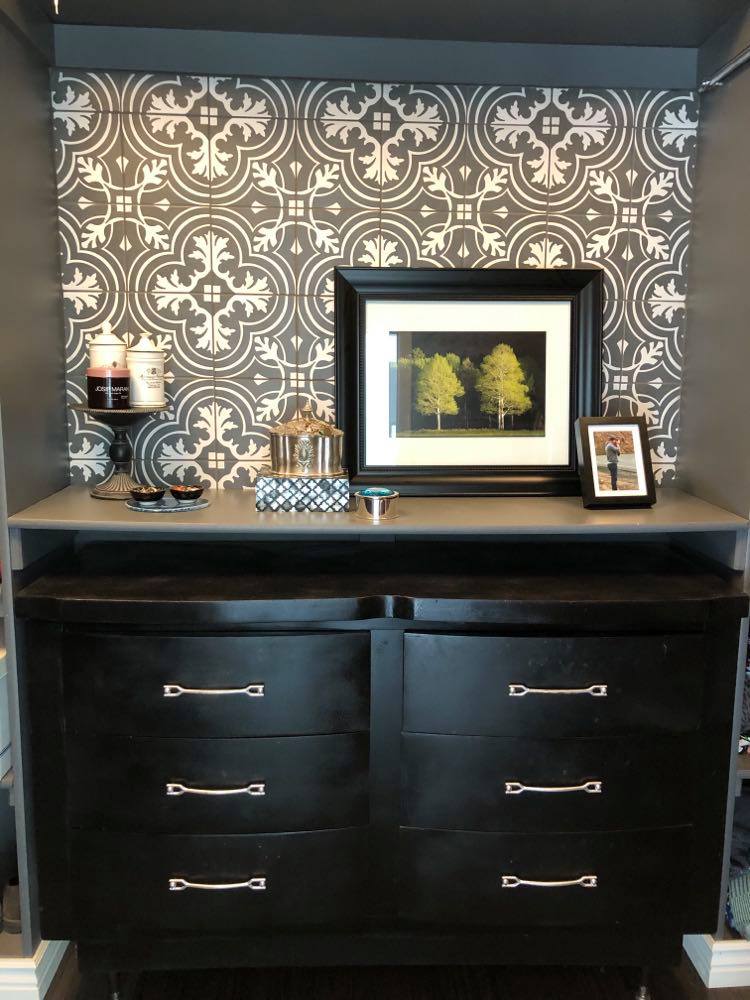 It is so nice to have space for jewelry boxes, photographs, and trinket boxes. As a result, I have a vanity!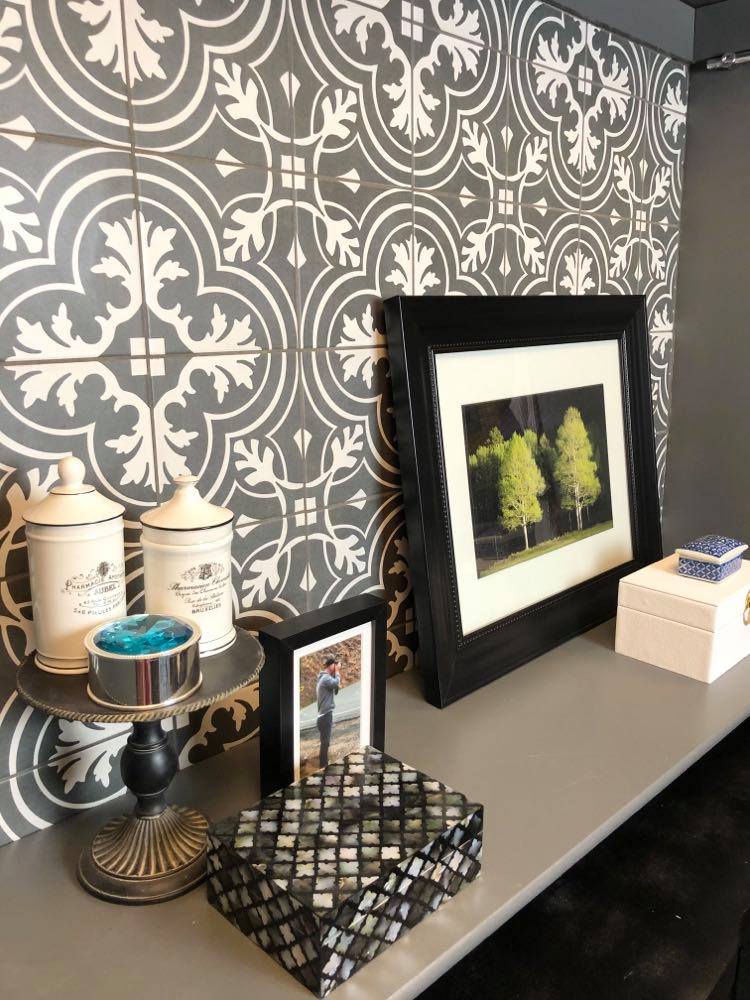 Sweat The Details
While we were shooting for only using leftovers, we did make a few purchases for our new closet. Consequently, the few purchases made created such a difference in the functionality of the closet.
A valet hook allows me to choose my outfit the night before and have it ready in the morning.
Also, it is perfect for when something needs to be steamed!
I love creating looks on this valet hook so much that I actually started to write some fashion blogs…like this one!
Thin, velvet hangers give the closet (and clothes) a cohesive, boutique vibe.
Because the hangers are thin, more clothes can be hung!
Uh oh… the rationale for shopping!
Shoe Storage? Look Up!
With the addition of the dresser, we lost valuable floor space for shoes.
Plus, with the addition of our sheep-a-doodle, Bentley (who LOVES to chew shoes!), we needed a vertical system.
Enter the Shoe "Slot"!
Suddenly, the space needed for shoes was cut in half with these amazing stacking shoe "slots".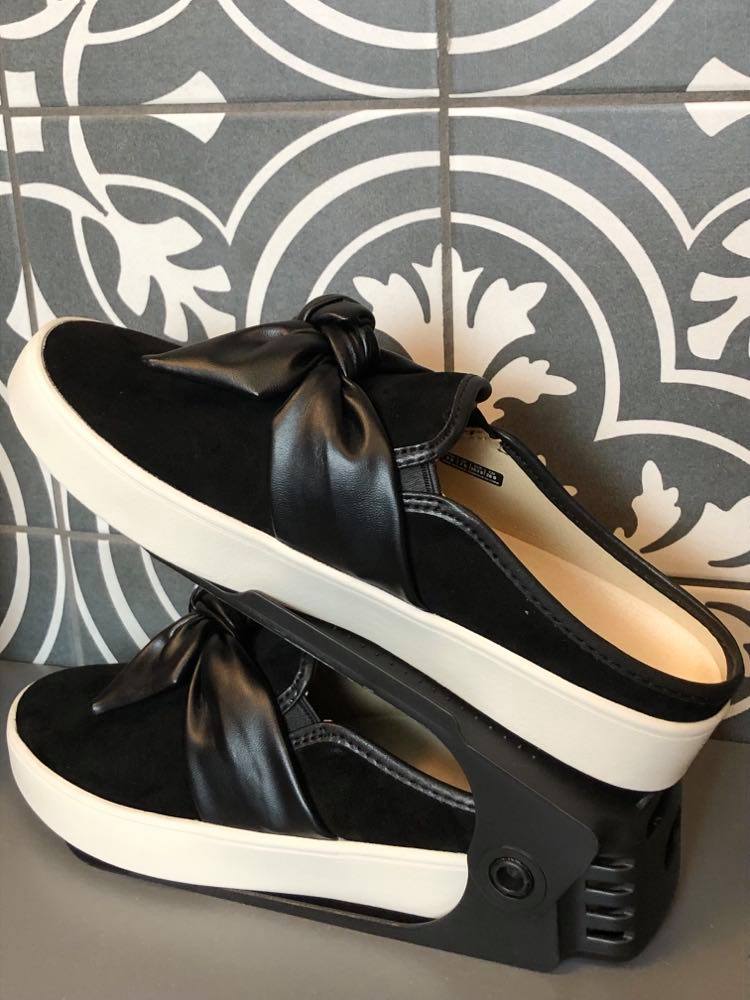 There is no way Bentley can get a hold of these!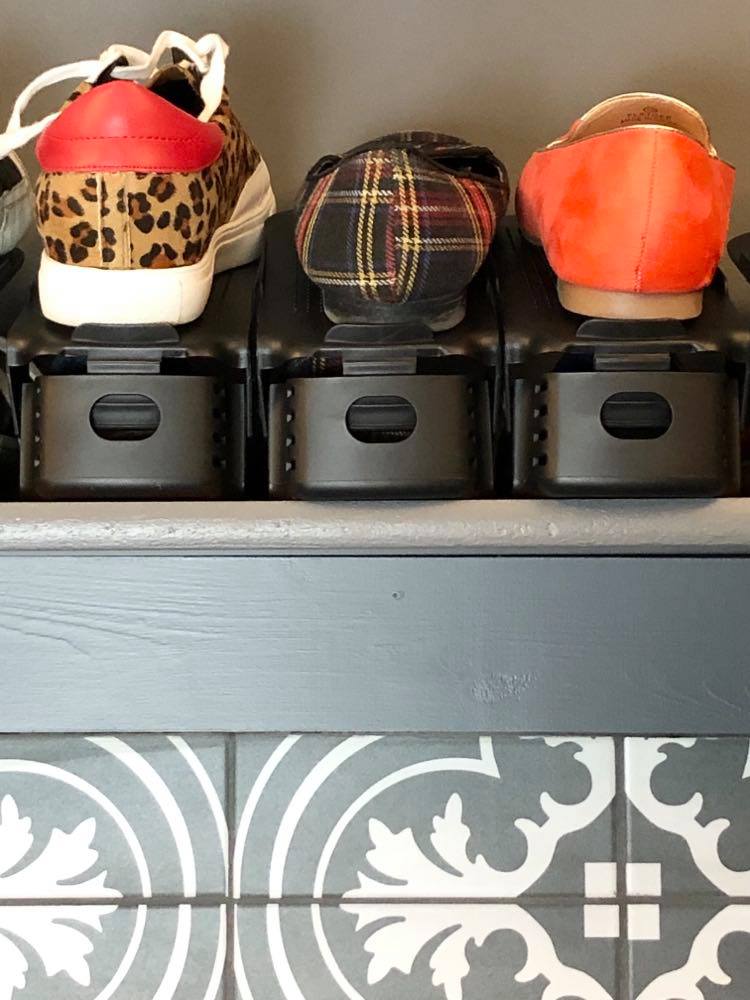 Boo Hoo, Bentley!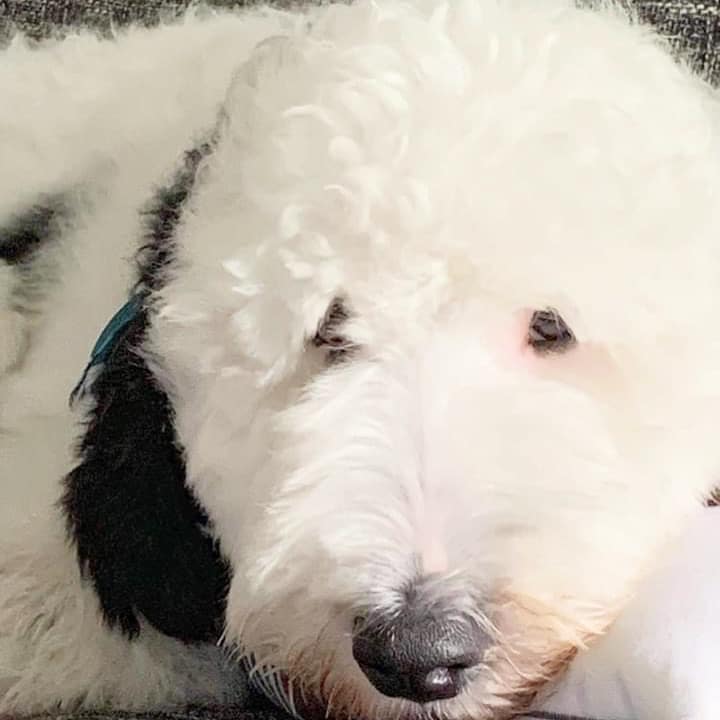 See Leftovers Everywhere!
Lastly, we had one more "leftover" to use.
This frameless oval mirror had been removed from the bathroom before the bathroom renovation.
Still in great shape, it is now the perfect place to spot-check an outfit before heading out for the day!
No matter the size of your closet, make it a special place for your belongings and treasures.
Take a serious look at the "leftovers" in your house. As a result, you might be surprised at how easy and inexpensive a closet makeover can be!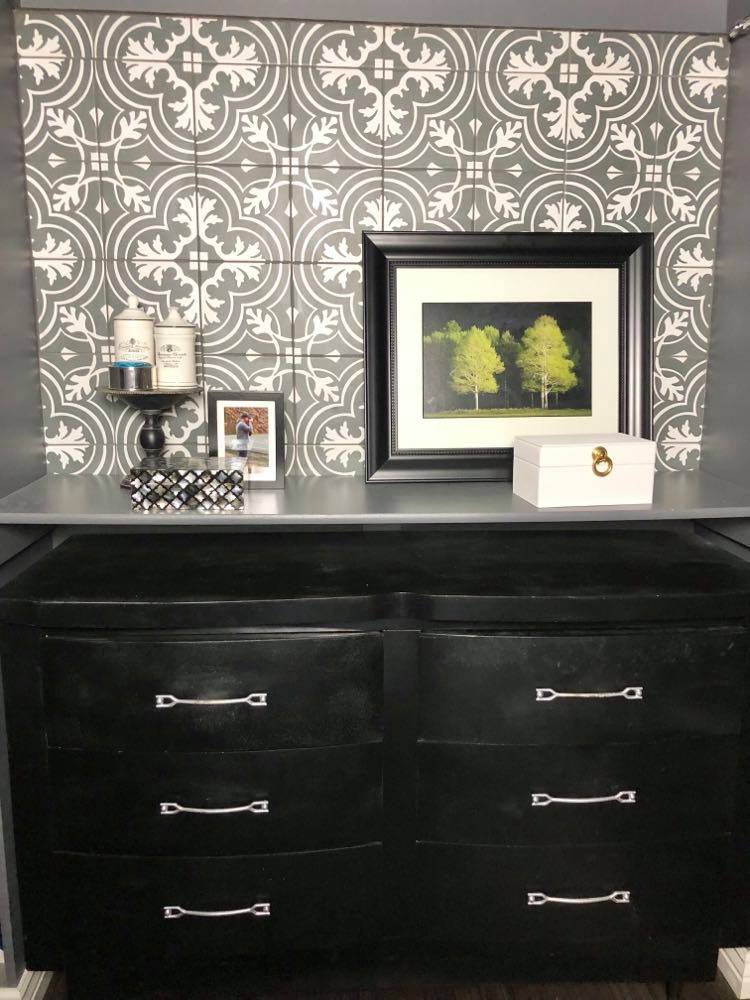 Cheers!

p.s. Don't miss out on future Sonata Home Design projects! Won't you join me on Instagram, Facebook, and Pinterest?