A Stylish and Unique Front Door Entrance Decor Idea
Ready to make a grand entrance? Spice up your front door decor with this unique and stylish fashion-forward idea. Take a cue from your closet and discover an easy and creative way to decorate your door.
Your home is often the first impression that people have of you, so why not make sure that it stands out? I love using unique decor for our front door. This time I was inspired by one of my favorite handbags!
Welcome to my home…and my closet!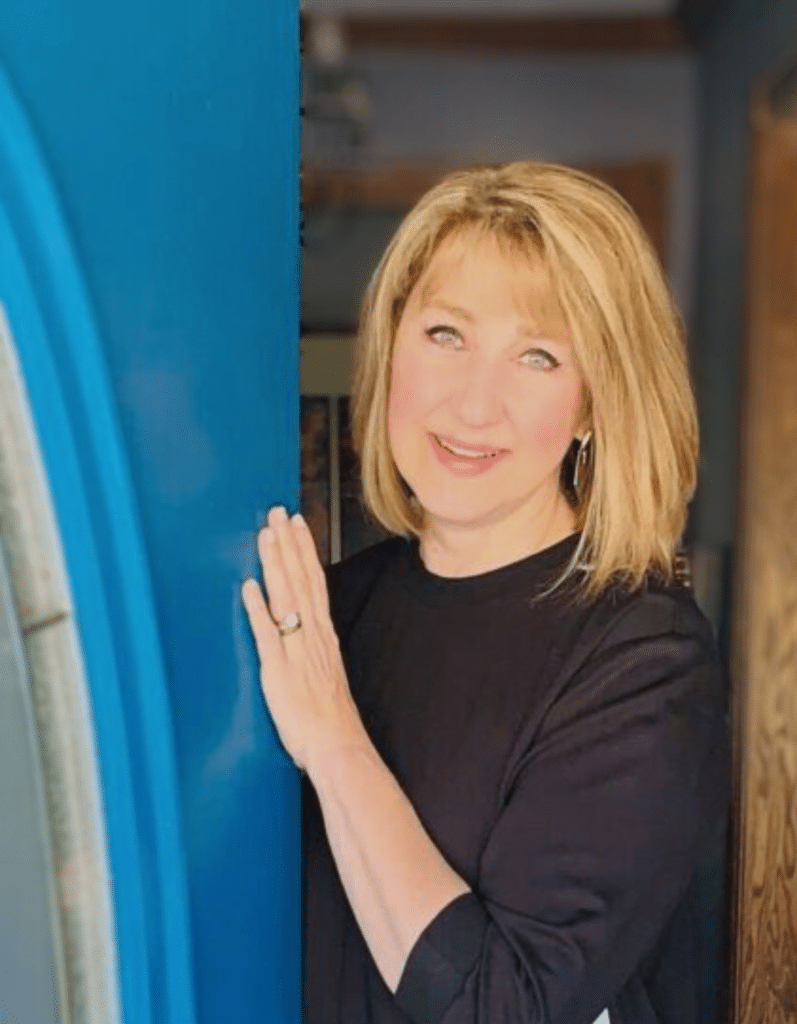 This blog contains affiliate links. This means a small commission is earned if you make a purchase by using this link. The price you pay will be the same whether you use the affiliate link or go directly to the vendor's website using a non-affiliate link.
What is it about a front door that is so appealing?
Truth be told, I have a small obsession with front doors.
I love to check them out from afar when I walk the neighborhood.
The front door design board pages in my HGTV magazines are my first viewing go-to when each issue arrives.
The "Exterior" board on my Pinterest is full of gorgeous doors and beautiful decorating ideas that I aspire to.
The front door is like a blank canvas for decorating!
Front Door Decor is in the Bag!
Let's go for something beyond the usual wreath.
Don't get me wrong…I love a stunning wreath!
But I'm thinking of something that is colorful, stylish, and unique.
How about…my handbag!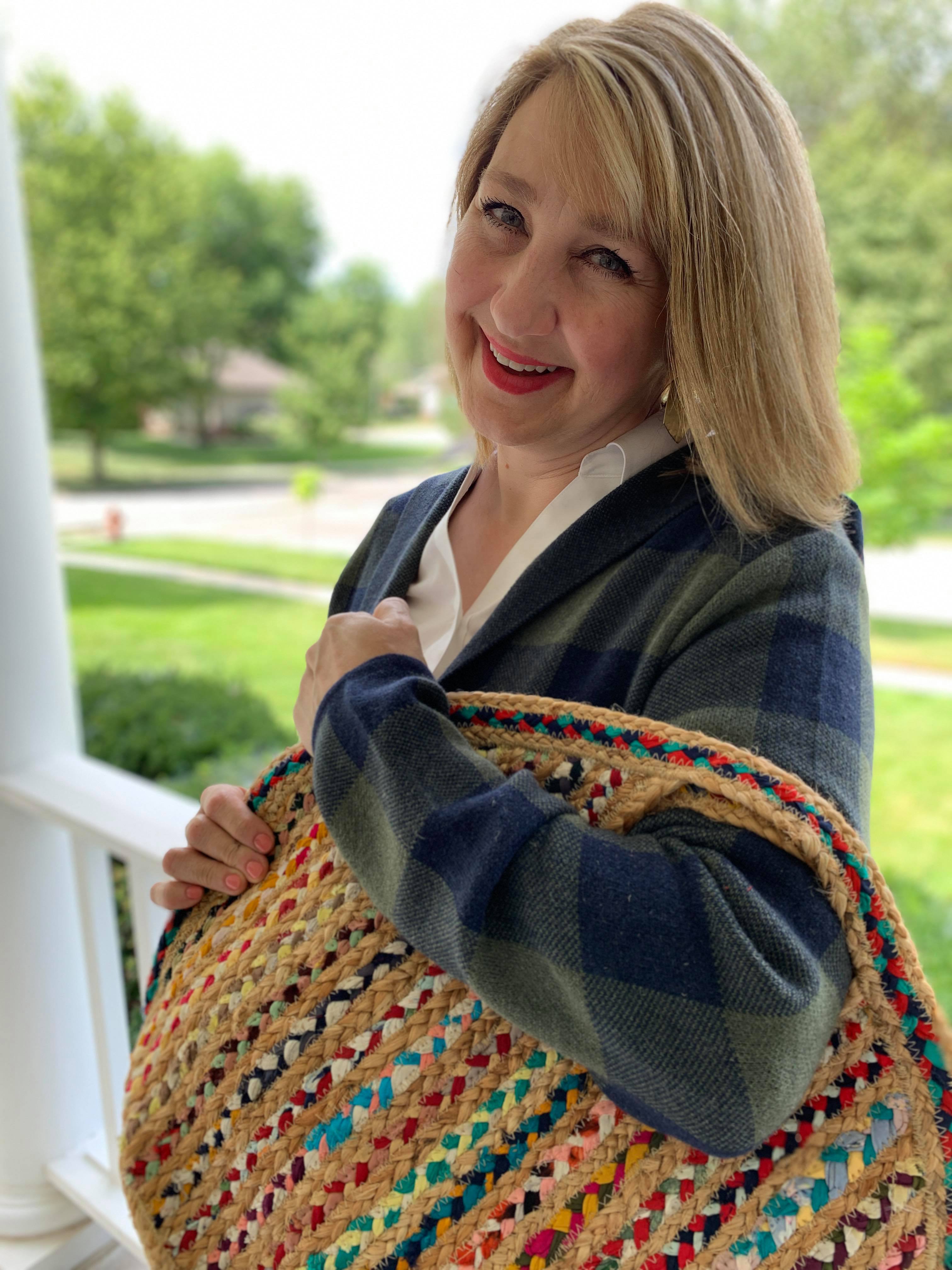 Such great texture and color that really pops with the weave of the bag.
The best thing is that it is large and roomy so it will make a real statement at our front door entrance!
It also will be the perfect "base" for a front door decoration!
Woven bags are, with good reason, very popular right now and I see such beautiful pieces every time I am shopping online or in person.
Feel free to go shopping or invade your closet!
Building the Bag for this Front Door Decor
I found it easiest to start with the handbag already hanging from the front door and design the decor from there.
There were a few curious comments from neighbors passing by. So, I guess this front-door home decor is also a good conversation starter!
This particular bag hangs beautifully from an adhesive hook on the door glass. However, a wreath hanger will work just as well.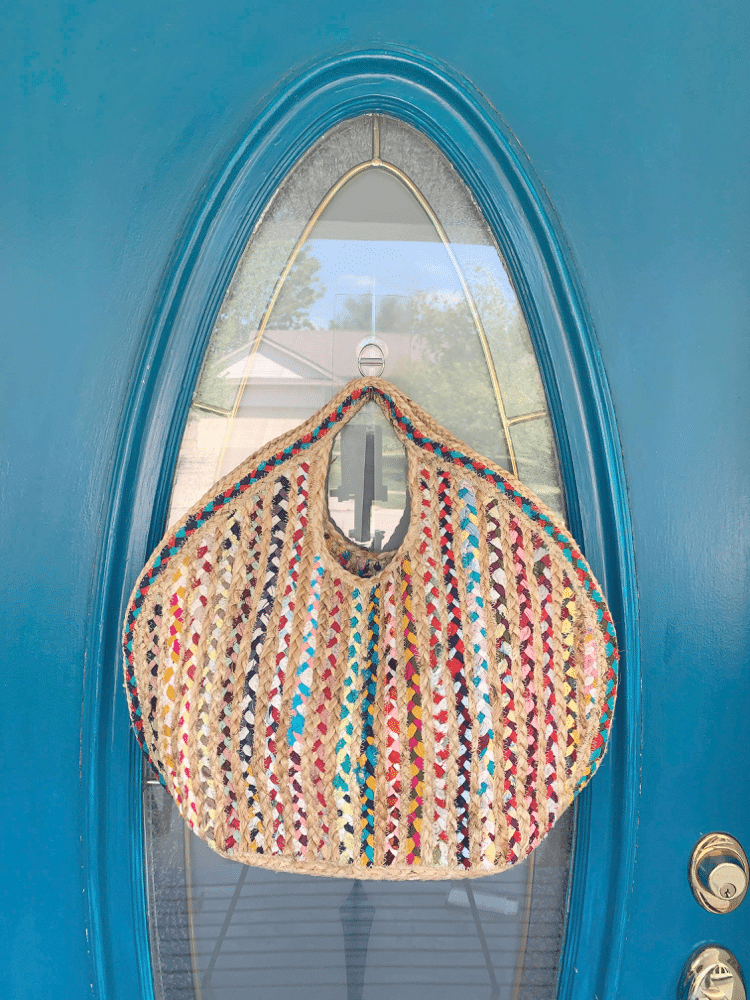 Start with Layered Greenery
With this arrangement, layering is the word of the day. I used a variety of faux flowers and greenery in a combination of colors that are also in the weave of the bag.
First, I created an all-around backdrop with eucalyptus stems. Positioning the stem in a fan-like manner took just a couple of minutes and set the stage for additional stems.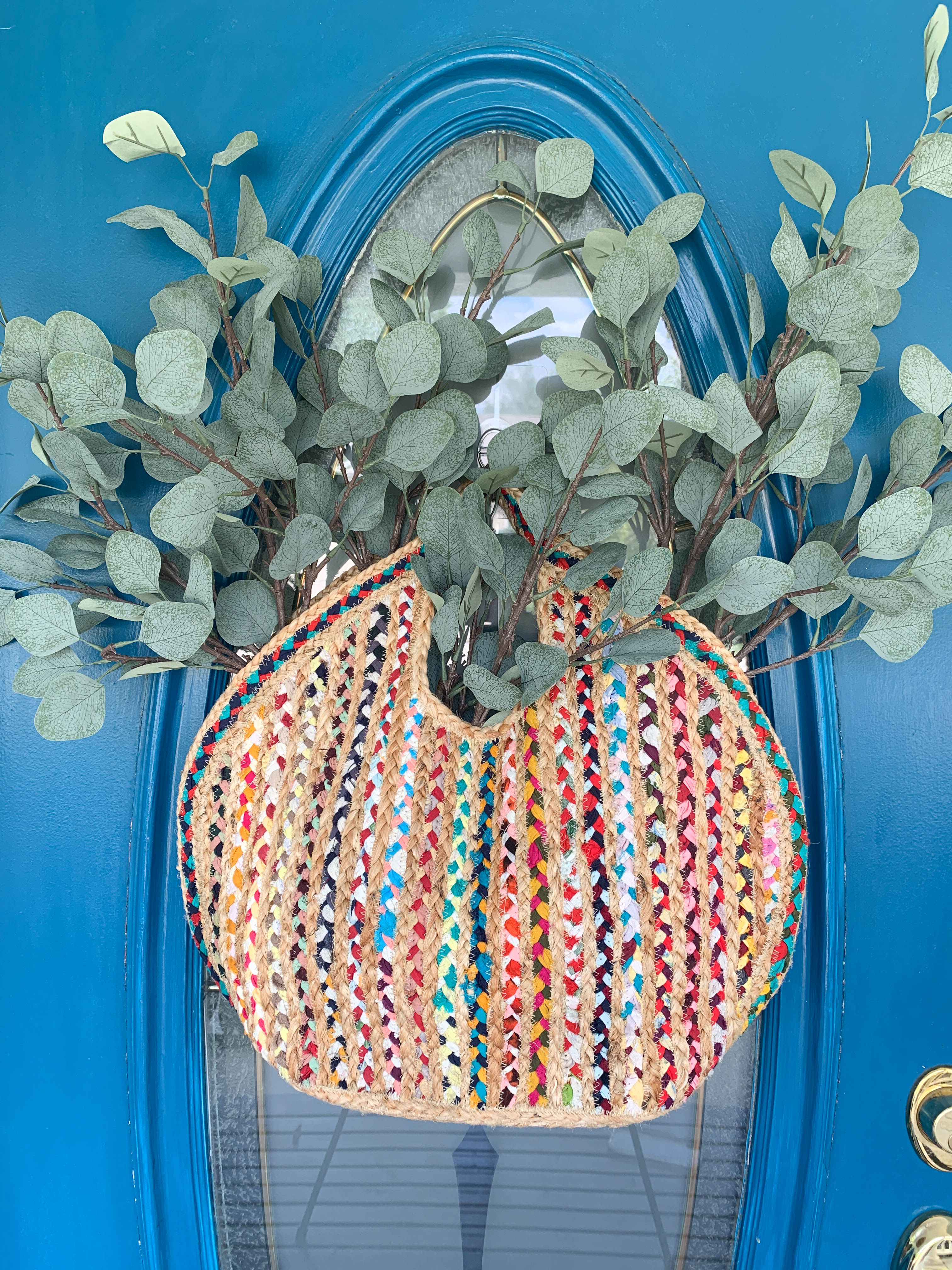 The second layer consists of a couple of magnolia leaf stems tucked in asymmetrically. I love that you can see some of the brown colors under the leaf. It looks so real!
Already, the green colors and different textures make such an interesting display.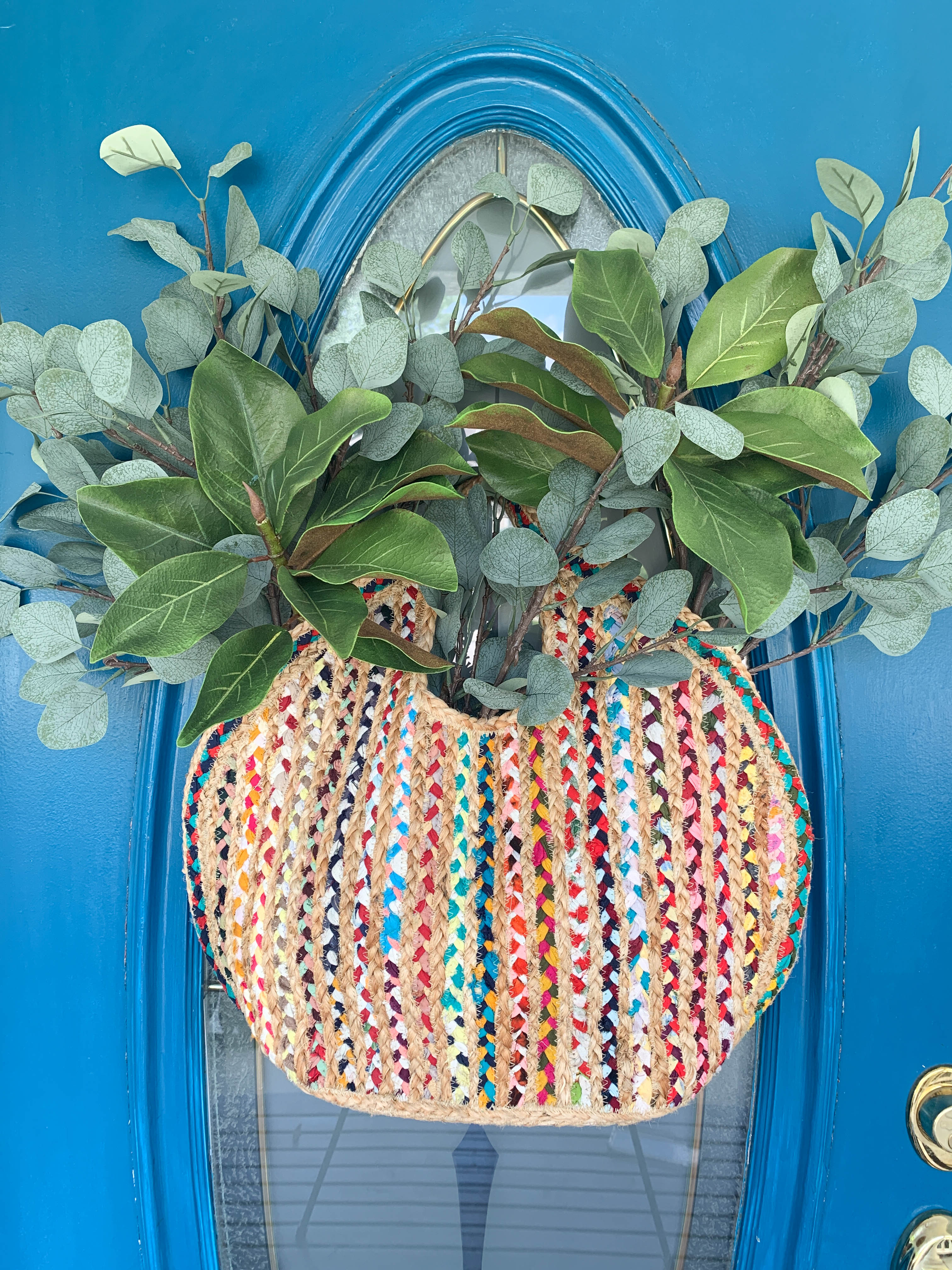 Nature is not always symmetrical and neither is the door arrangement. So, a differently shaded eucalyptus stem gets tucked into one side and pops up higher than the rest.
Again, more shades of green and unique texture.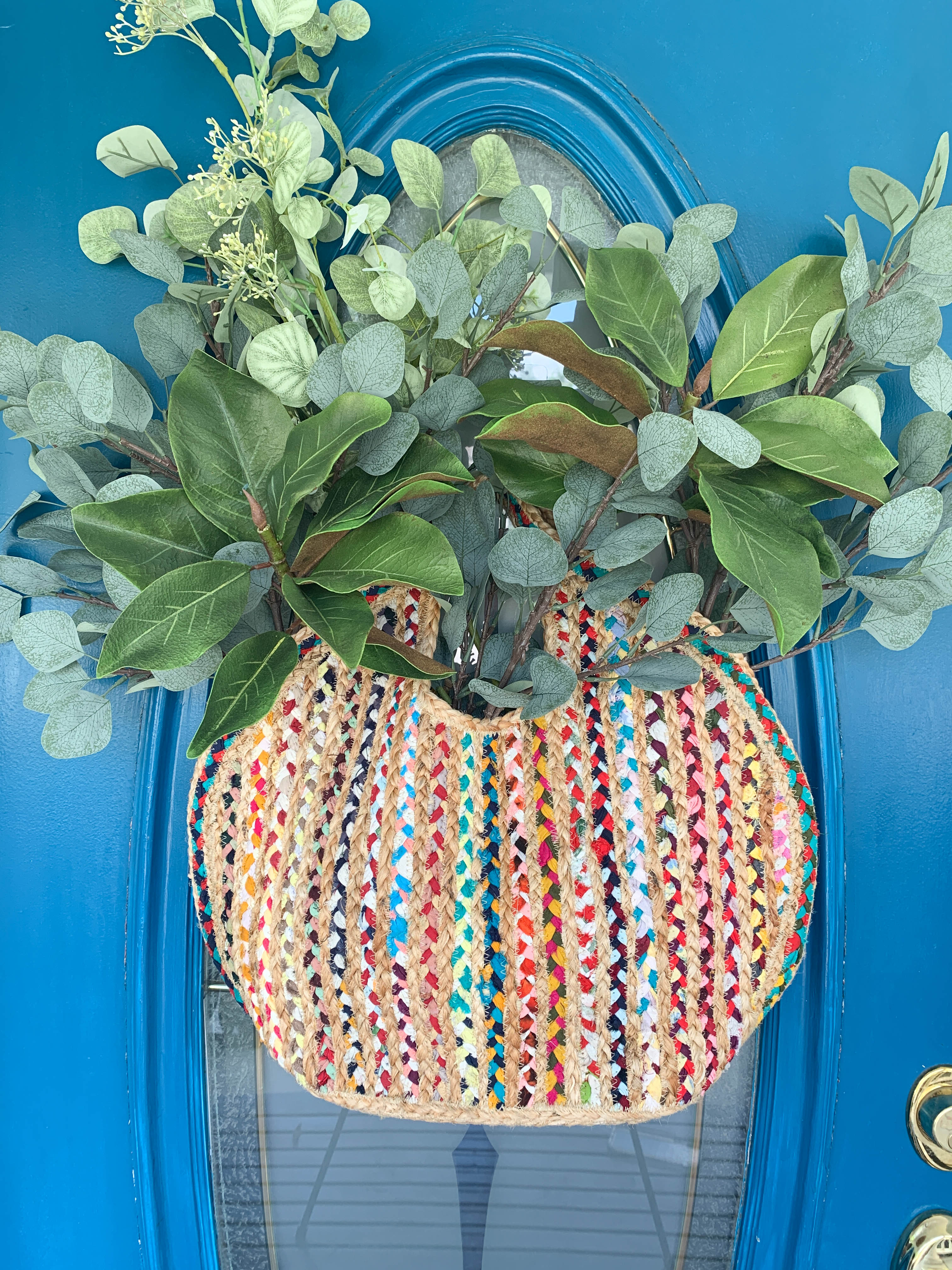 Adding Vibrant Color
Now the fun part...COLOR!
I do not know what this faux flower is, but I know that I love it. I will call it my "orangey spiky zinger!" (If someone knows the name of this flower, please let me know in the comments!)
I could add a ribbon bow. Hmm…but what ribbon? I went through all my ribbons and nothing was grabbing me.
Then, a lightbulb moment!
I decided to use my favorite tassel charm instead of a bow!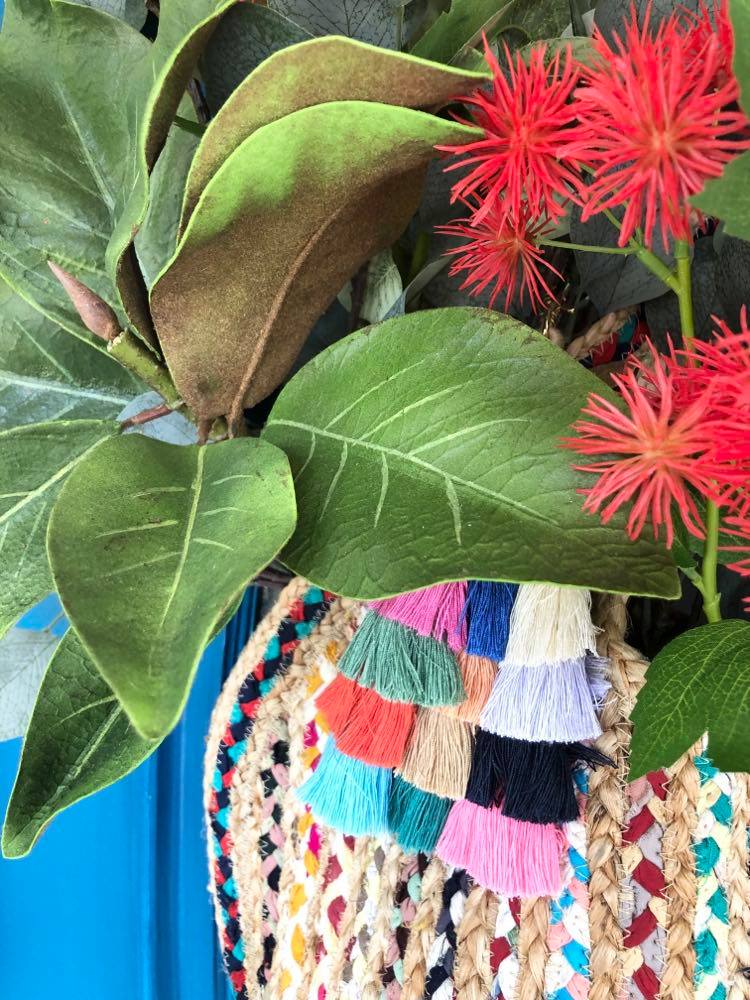 In addition to accessorizing my purses, I have used this tassel as A Wicker Trunk Tassel Handle. What a fun project that was!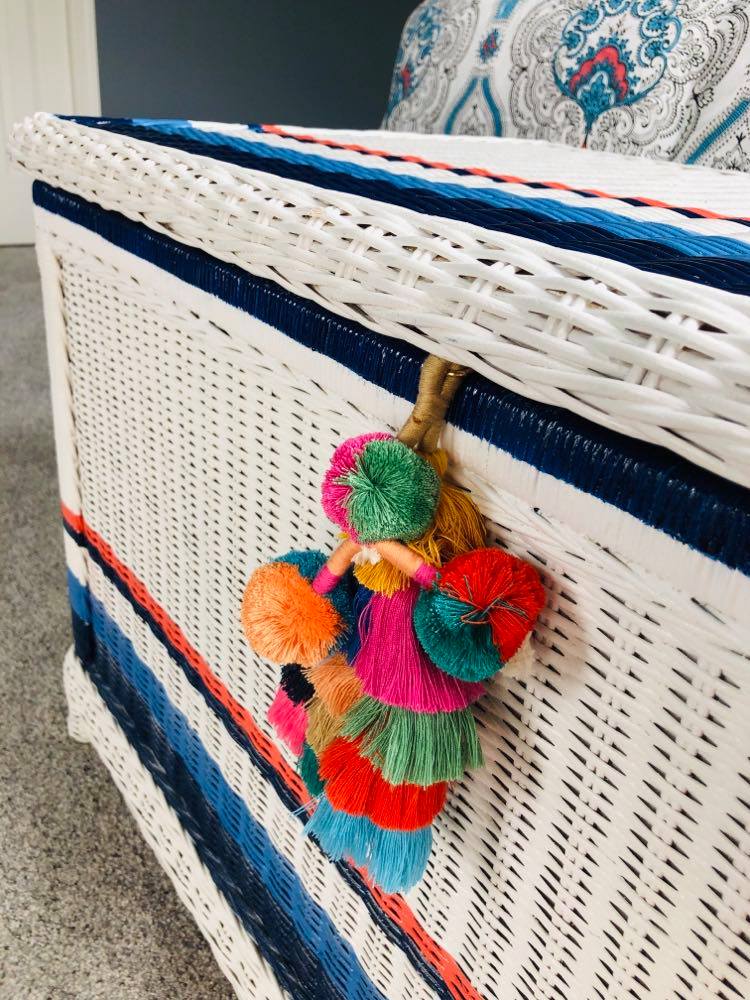 Stylish Front Door Decor
Voila! Fashion-influenced decor for your front door!
The best thing about this is that the bag works equally well year-round. I can just change the stems according to the season…or my latest decorating whim!
And if needed, I can just empty the bag and wear it!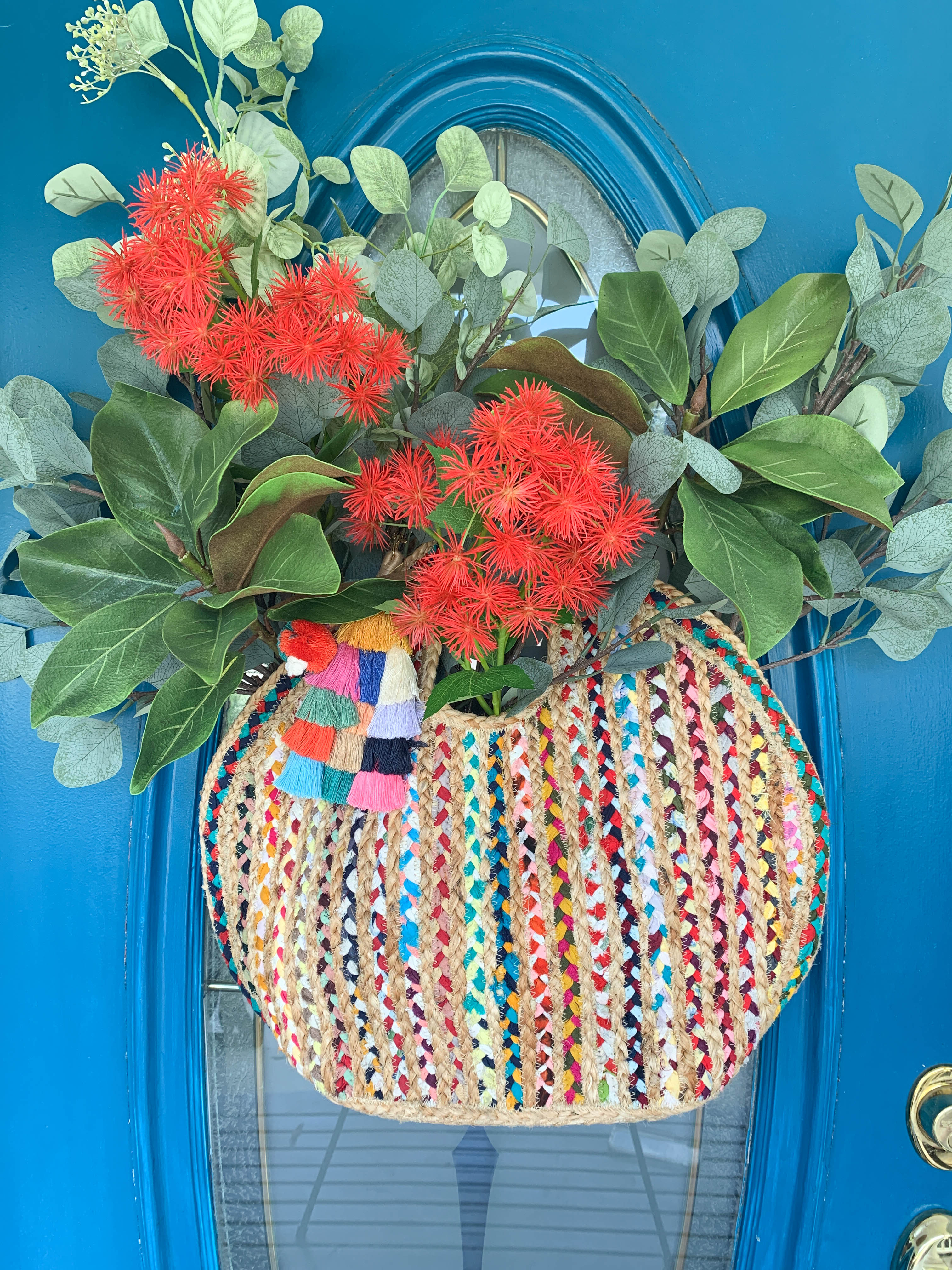 Combining beloved fashion pieces and the right accessories to create unique door decor is a great way to give your front entrance an extra bit of style.
While there are plenty of traditional wreaths that make beautiful decorations, sometimes changing things up can be refreshing! So take a cue from your wardrobe and create some unique front door decor with whatever speaks to you the most.
Get started today and see what unexpected flair you can bring to your doorway!
Cheers!