Colorful Desk Styling 101 for an Inspiring Work Space
Is your desk a hot mess? Are you feeling uninspired every time you sit down to work? Fear not, friends! In this post, we will be discussing colorful desk styling tips that will help get your creative juices flowing.
With a few tips and ideas, you'll be able to create a beautiful and organized workspace that is perfect for productivity. So what are you waiting for? Let's get started!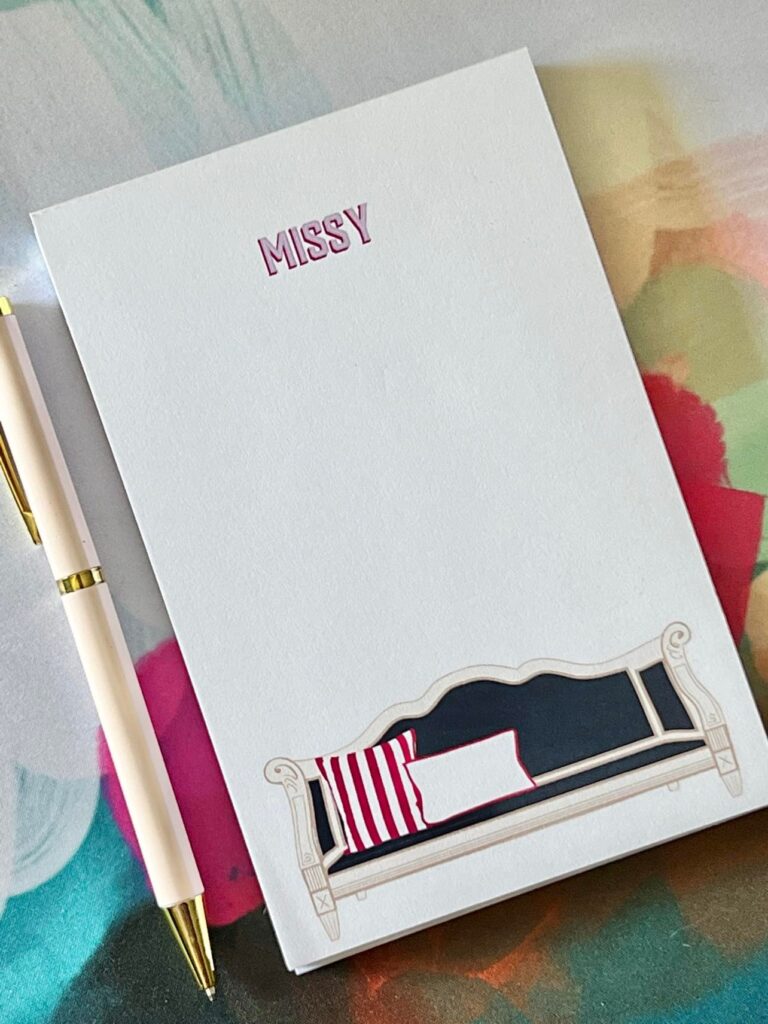 A desk is a personal workspace that should reflect your personality. The desk is where I do some of my best thinking, creating, and writing. It's where I get organized and get creative ideas.
But It Wasn't Always That Way
This was my home office space.
Meh.
That paper shredder might as well have shredded my creativity in so dull a room.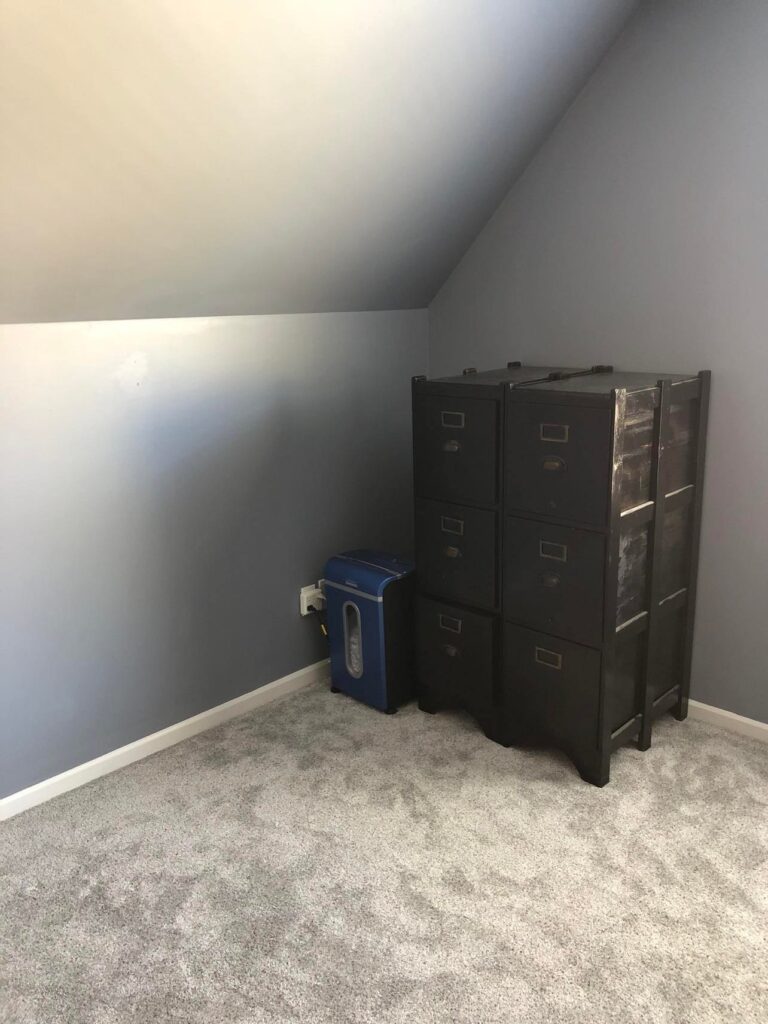 The Desk Itself
Desks are the one item in an office that everyone can agree on.
They're necessary, functional, and (often) not too expensive.
But when it comes to choosing the perfect desk for your space, the options seem endless. Do you want a desk with drawers? Or one that's more open? What about the color?
The perfect desk for you depends on how you plan to use it. If you need a lot of storage, then a desk with drawers is a good option. But if you don't have much to store, then an open desk might be a better choice.
And as for color, well…believe it or not, I chose this white desk from Amazon. Wide open workspace with drawers on either side for storage.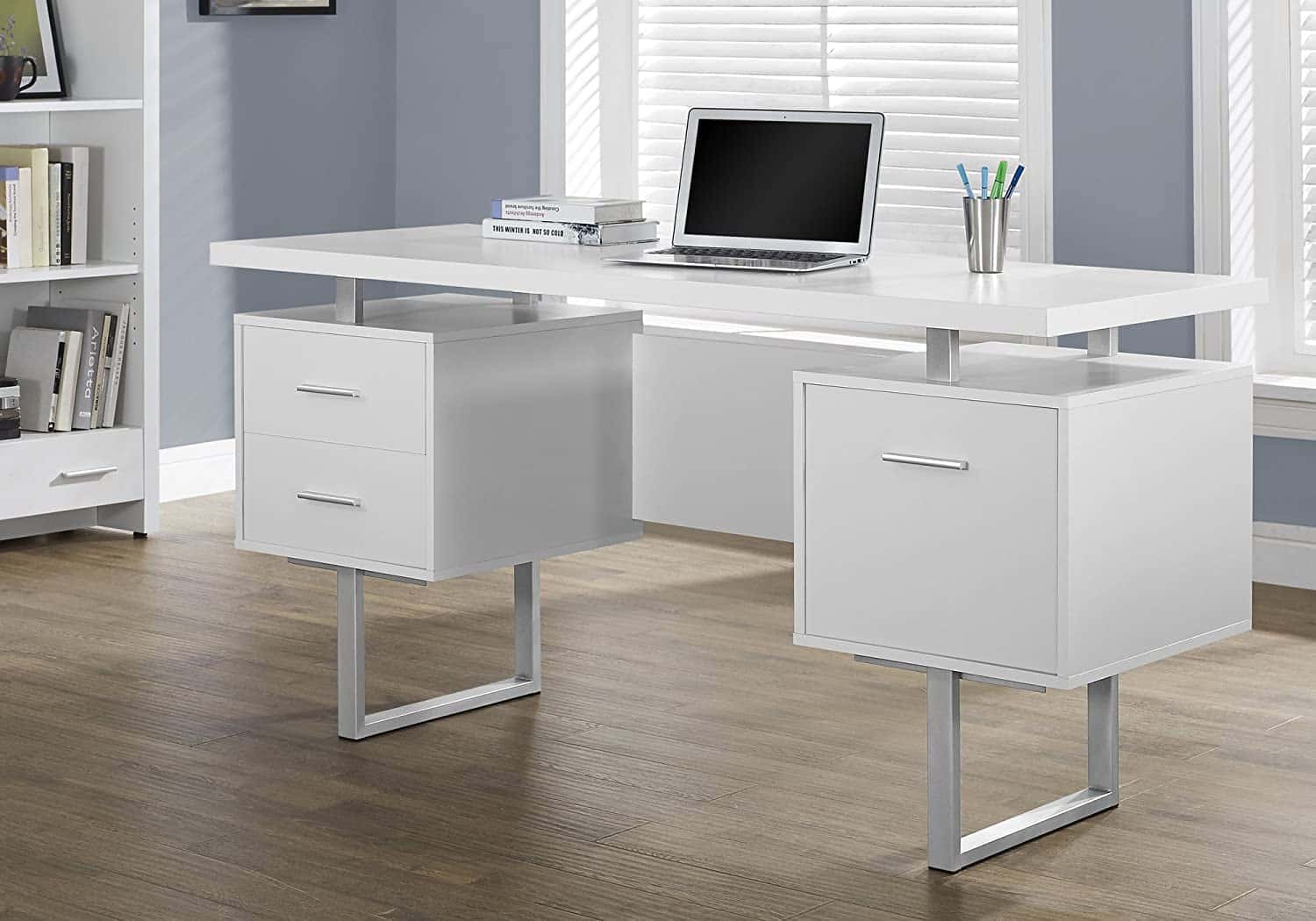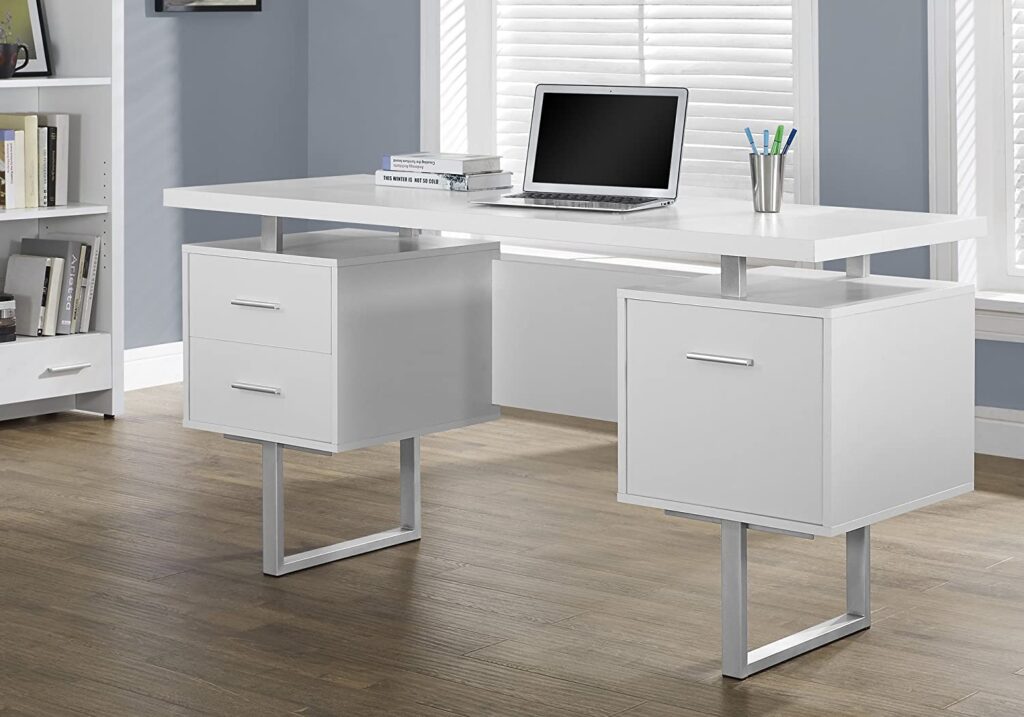 A beautiful white desk is the perfect backdrop for a bevy of colorful home office accessories!
Let the Accessorizing Begin!
Check out this desk mat in "Pink Sky" from Society6!
Oh my goodness, the glorious color! Generous in size, it is cushy and soft so I don't feel like I'm working on top of a rock!
And it ties in perfectly with my lime green, turquoise, and pink "Timeless" rug from Rugs.com.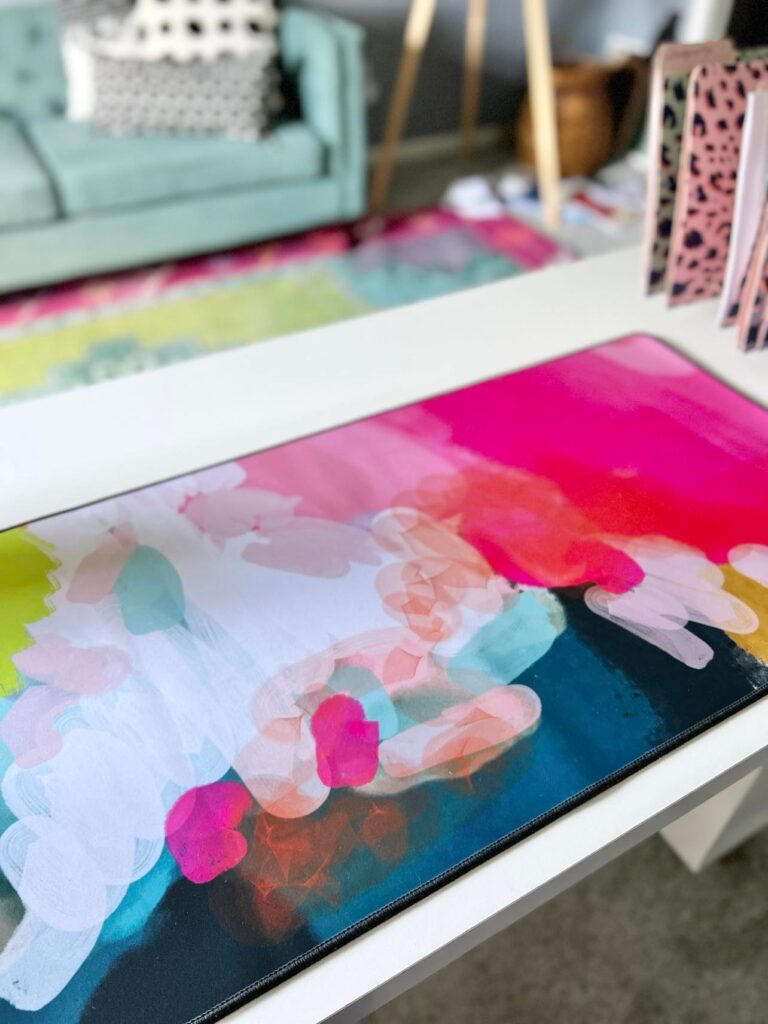 Stylish Desk Organization
I am a paper hoarder.
The stacks get away from all the time.
I need file folders and I need a file holder so I organize and SEE my files.
There are so many super fun file folders available in all sorts of colors and patterns.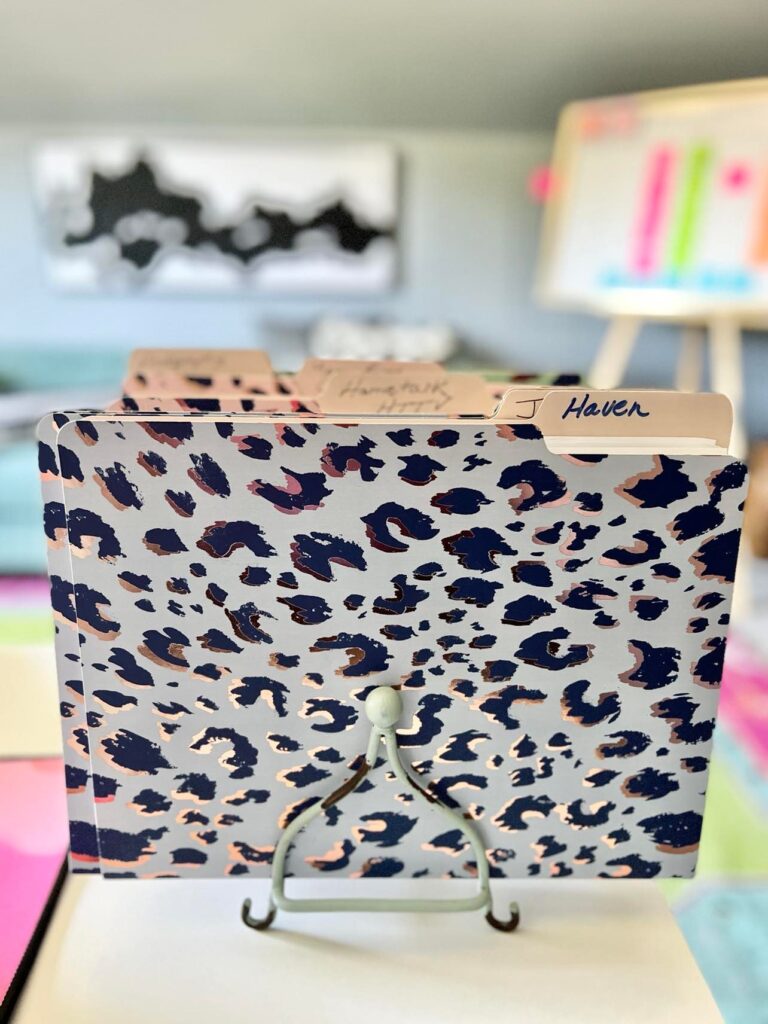 Go ahead…splurge on some FUN folders!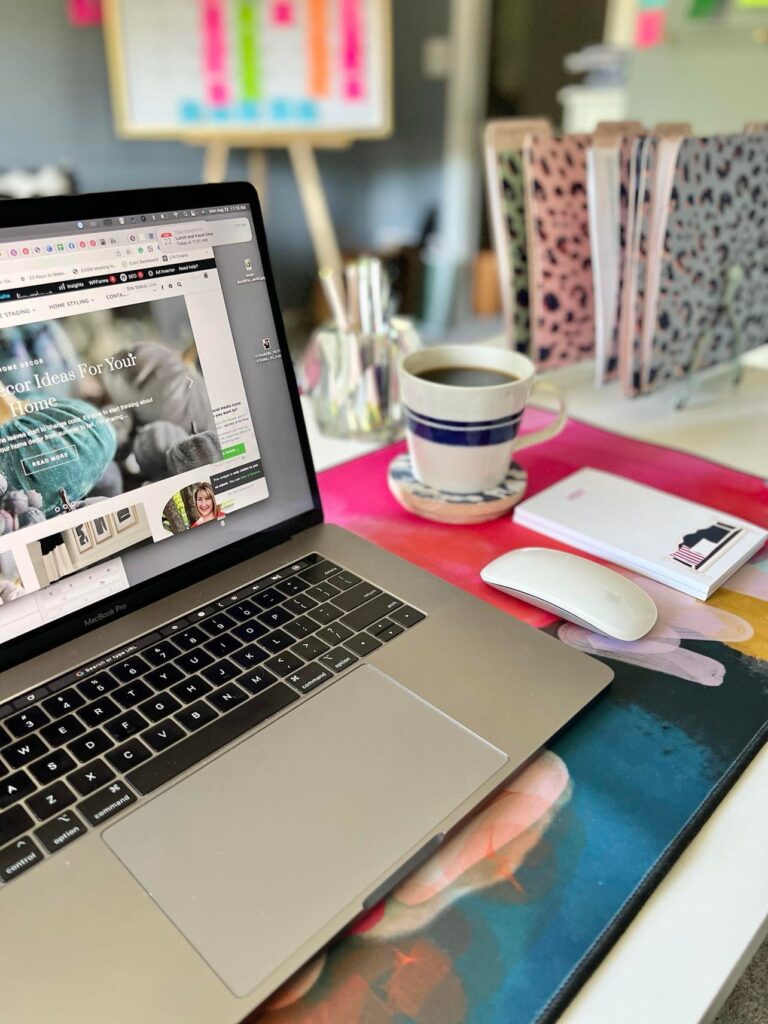 The Desk Chair
Choosing a desk chair is no laughing matter. You want something that is comfortable, stylish, and affordable. But desk chairs are not all created equal. Some desk chairs are too hard, while others are too soft. Some desk chairs are too big, while others are too small.
Is Goldilocks in the house?
So how do you choose the right desk chair for you? Here are a few tips:
First, consider your budget. Desk chairs can range in price from a few hundred dollars to a few thousand dollars. If you want a top-of-the-line chair, be prepared to pay top dollar. But if you're on a tight budget, there are plenty of decent chairs that won't break the bank. (Mine didn't!)
Second, think about comfort. You're going to be spending a lot of time in your desk chair, so it's important that it's comfortable. That means choosing a chair with the right amount of support and padding. Don't forget to try out the chair before you buy it!
Third, take style into consideration. Desk chairs come in all sorts of styles, from traditional to modern. Choose a chair that fits your personal style and the overall aesthetic of your office or home workspace.
With these tips in mind, you're sure to find the perfect desk chair for you!
I wanted an upholstered chair with arms so decided on this traditional plaid desk chair.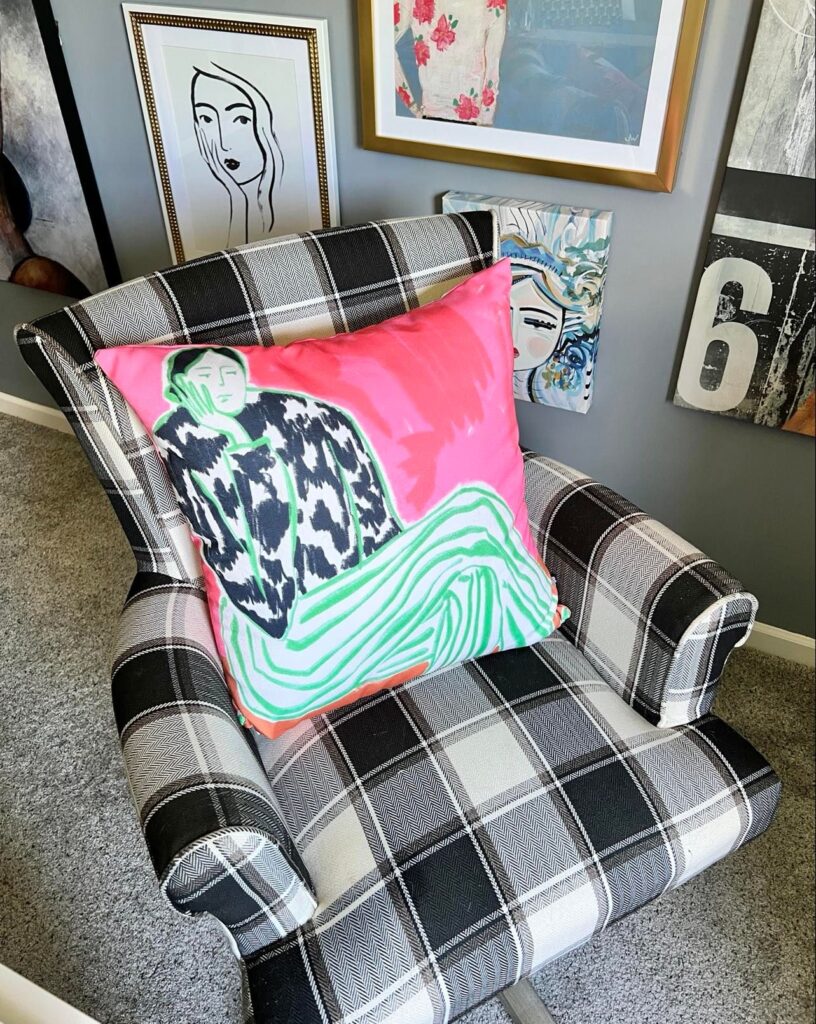 And added a colorful, whimsical pillow called "Calm Woman" from Society6.
"Calm woman"…Ha! I can only aspire!
She looks like she is just "hanging out" in my chair!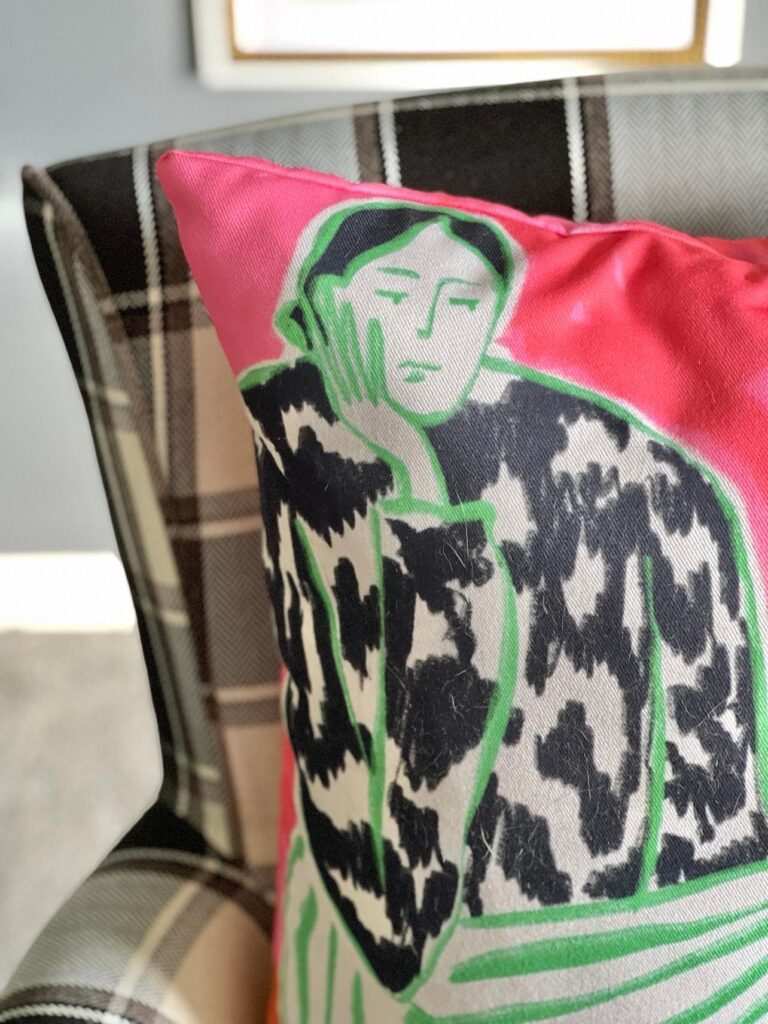 Desk Styling 101
So, what are you waiting for? Add a pop of color to your desk with some fun accessories!
Whether you're looking for something to brighten up a dreary day or want to add a little personality to your workspace, color is the perfect solution.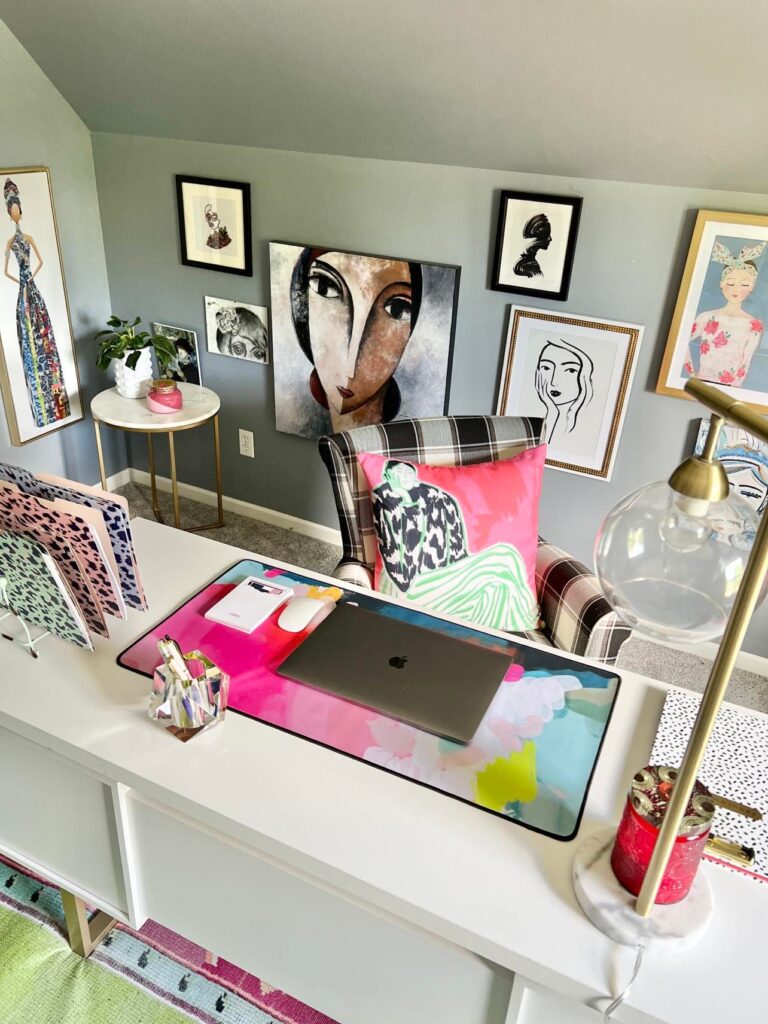 And don't forget – using color can inspire you and help improve your mood and productivity, so go ahead and indulge!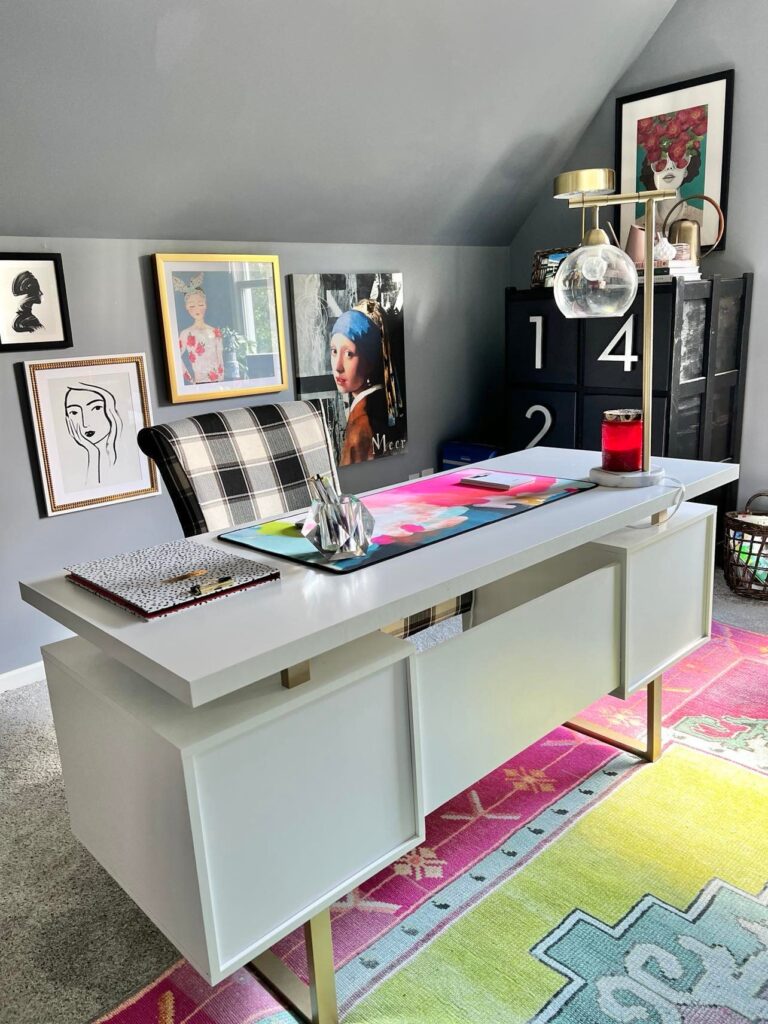 What colorful desk accessory will you choose first?
Cheers!

Some Other Home Office Projects You Might Like:
Don't Forget to Pin It!
Pin the image below to your boards on Pinterest (just click the Pin button in the top left corner). You can also follow along with me on Pinterest!