How to Make a Hanging Pumpkin Ball
It's that time of year again when everything is pumpkin spice-flavored, and it seems like every store has some kind of pumpkin decor. But what if you want to get in on the pumpkin fun, but want to create it yourself?
Check out this easy tutorial on how to make a hanging pumpkin ball! You can hang it from your porch or anywhere in your home that needs a little Fall decoration. So gather your supplies and let's get started!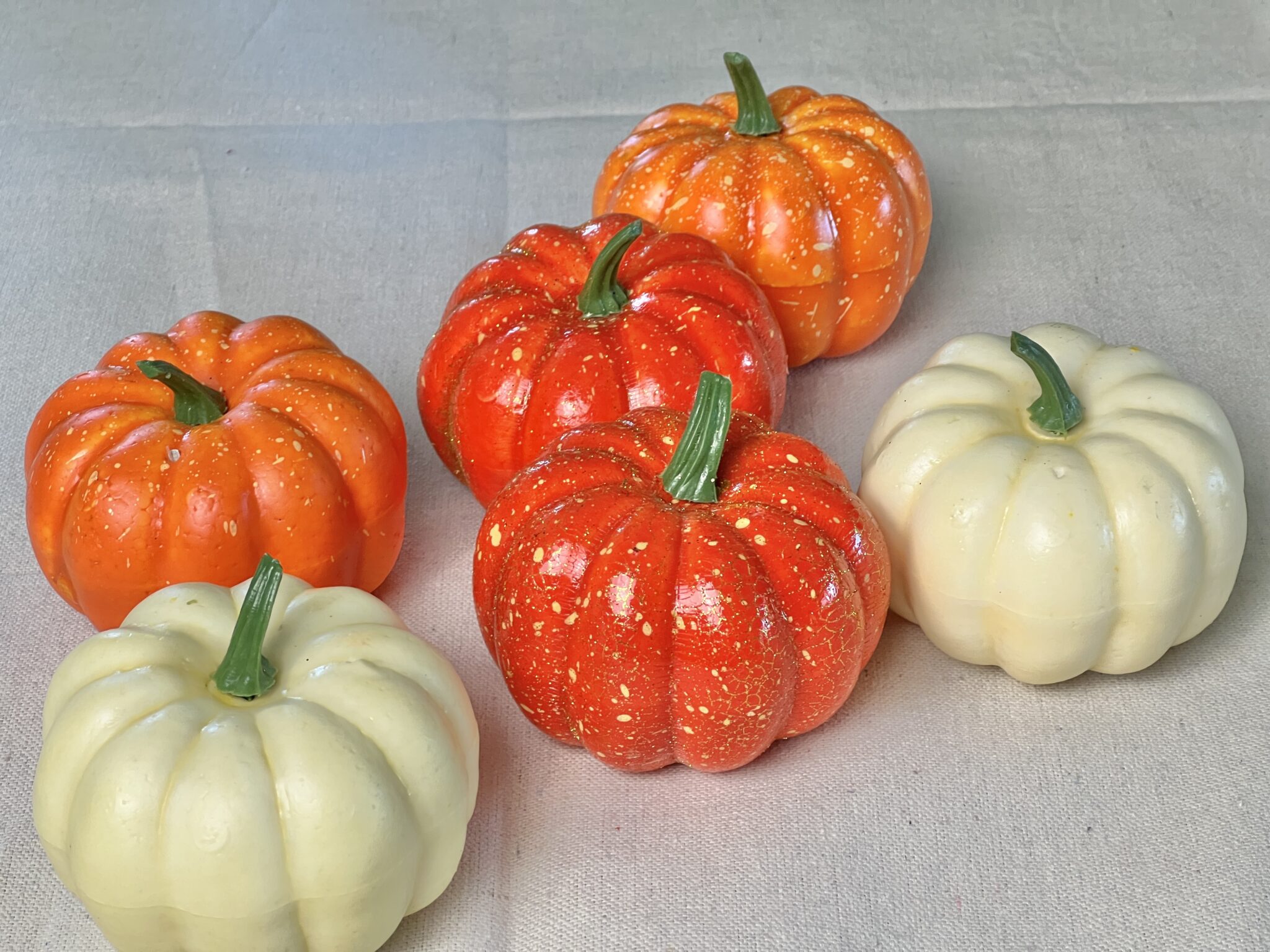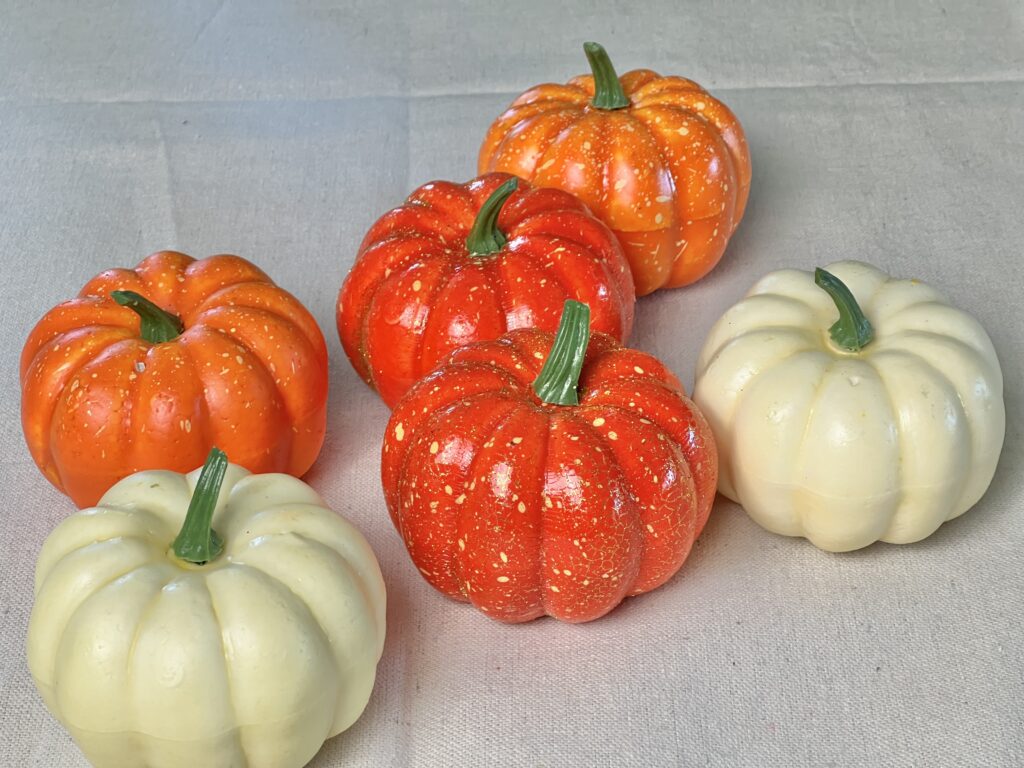 We have turned the calendar page into September and fall decor can now take center stage!
It may still be 90 degrees but I am pulling out my flannel shirts.
I can always just turn up the air conditioner until the real fall temps kick in!
My collection of pumpkins has grown over the years and some of my favorites are ones that I have made.
One of my favorite challenges is transforming faux pumpkins from a dollar store.
Today, we're going to take simple faux white pumpkins and succulents from a dollar store and turn them into a showstopper!
Table of Contents
Why a Hanging Pumpkin Ball?
Jump ahead to the Christmas season and think of a beautiful hanging "Kissing Ball" that hangs so elegantly from an archway in a beautifully decorated home.
A hanging pumpkin ball is just like that only…you guessed it! With pumpkins!
And, in this case, we are also using faux succulents from…yes, the dollar store!
Pumpkin Ball Supply List
Here's what you'll need:
Small faux pumpkins
Small faux succulents
Floral Wire
Spray paint
Styrofoam ball
Glue Gun
Glue Sticks
Scissors
Optional: needle longer than the styrofoam ball
First, let's prep the pumpkins!
Plastic pumpkin stem always look…well, like plastic!
So, I removed the stems by just pulling them from the pumpkins. Then, I spray painted them with a subtle silver nickel spray paint.
If you are happy with the color of the pumpkins, you can just leave them as is. However, I was thinking of something other than bright orange. How about a multi-layered sage green color?
To start, I spray-painted all of the pumpkins with Rust-Oleum white spray paint.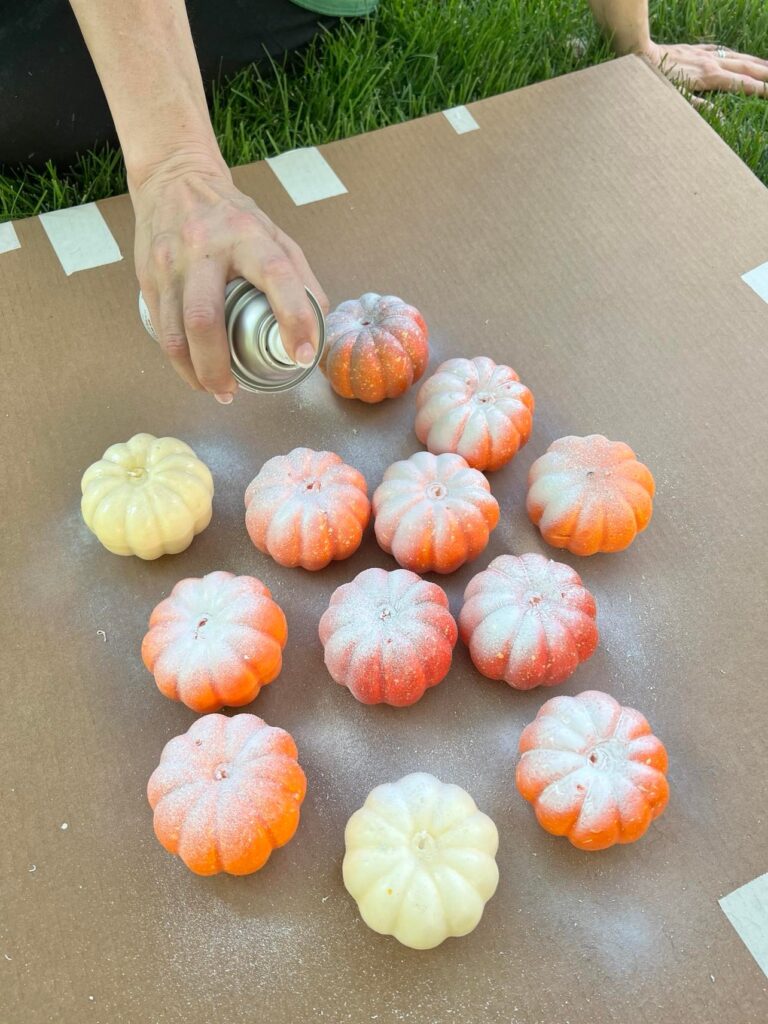 Once they dried completely, I lightly sprayed the pumpkins with Rust-Oleum "Leafy Green" spray paint.
I layered the pumpkins with light dustings of green paint until I got the shade that I wanted. They ended up a lovely shade of sage green and I love it!
They pair so beautifully with the faux succulents!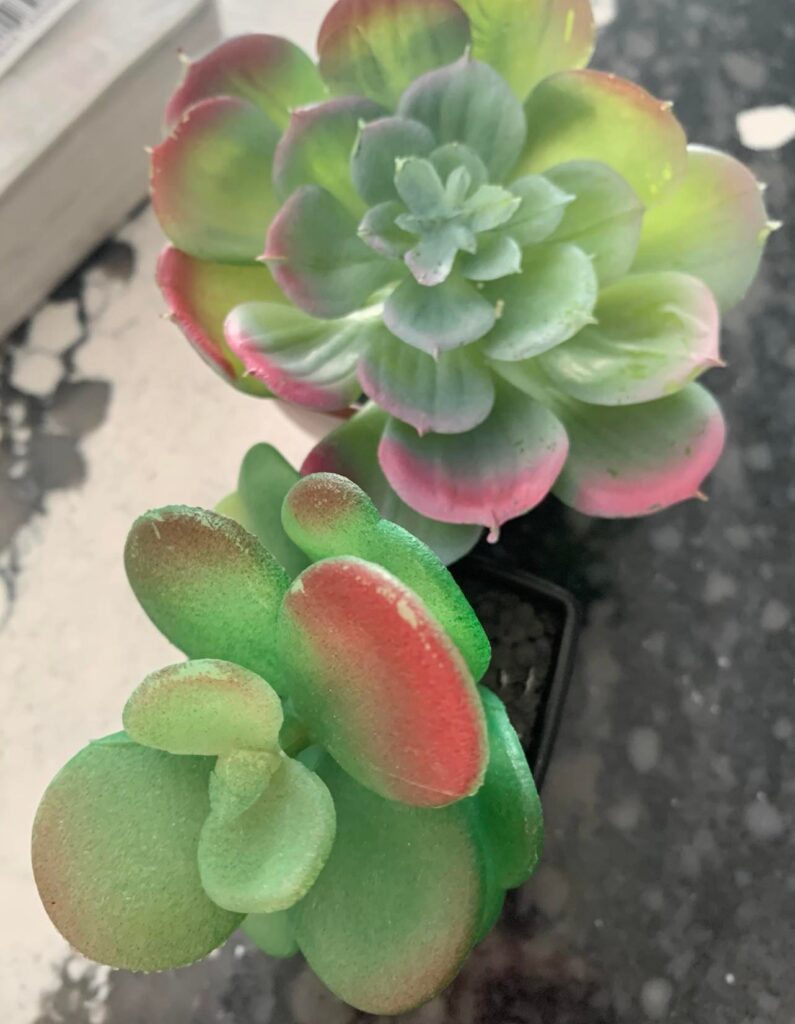 Now, a Little Engineering is Required!
Next, you will want to create a loop to hang the finished ball. It is important to do this before you start attaching the pumpkins.

Pierce the ball with a long needle ( I used an upholstery needle because my styrofoam ball is pretty big!). Cut some floral wire into a length that is about twice as long as the styrofoam ball.
Push the folded end of the wire through the ball and pull it out on the other side. Twist the wire at the base to create a loop. On the other end of the ball, pull the wire "tails' up the side of the ball and stick them into the sides of the ball. You have a wire loop and can hang the ball when finished!
Now the Fun Part!
Time to glue the pumpkins and succulents!
(Now is a good time to push the silver-painted stems back into the pumpkins now that they don't look so "plastic-ey!)
There is no real pattern for gluing the pumpkins. However, it helps if you think of the pumpkins in groups of three with a succulent in the center. This way you have an even distribution of pumpkins and succulents.
To attach each pumpkin to the ball, use a hot glue gun to apply glue to the bottom of each pumpkin. Press onto the styrofoam ball. Hold in place until each pumpkin is set.
Careful not to burn your fingers!
As you glue the pumpkins, you will create spaces for the succulents. The dollar store succulents that I found had a long enough stem so I could just poke them into the ball. Every once in a while, I needed to glue a leaf to keep the succulent anchored.
Once the pumpkins and succulents are glued to the ball, you will notice there are still nooks and crannies. Fill these with moss! A little hot glue is all you need to attach the moss and fill the spaces!
I think this is my favorite part of the project because I can really see what the ball is going to look like!
Last, tie a simple ribbon to the wire loop and you now have a beautiful pumpkin ball ready for hanging!
Hang It Up!
I was so excited when I finished the hanging pumpkin ball!
In fact, I paraded it around the house and showed it off to everyone…everyone being my husband, our dog, and our cat.
They all loved it!
Outside I went…
Here it is hanging from a shepherd's hook in our backyard. I nestled it among our aspen trees and it was a perfect addition!
This is so beautiful with late summer outdoor colors and will continue to be so when fall colors continue to change throughout the season.
I love seeing it in the yard!
But…
It also looks great on our front porch as well.
I can't decide!
Where do you think I should hang it?
So, what are you waiting for? Get to your nearest dollar store, get yourself some pumpkins and succulents, and start creating your own hanging pumpkin ball masterpiece.
It's easier than you think and the results are simply gorgeous.
Happy crafting!
Cheers!

P.S. Another great way to decorate your front porch is the front door! Hang a beautiful wreath to complement your pumpkin ball!
Don't Forget to Pin It!
Pin the image below to your boards on Pinterest (just click the Pin button in the top left corner). You can also follow along with me on Pinterest!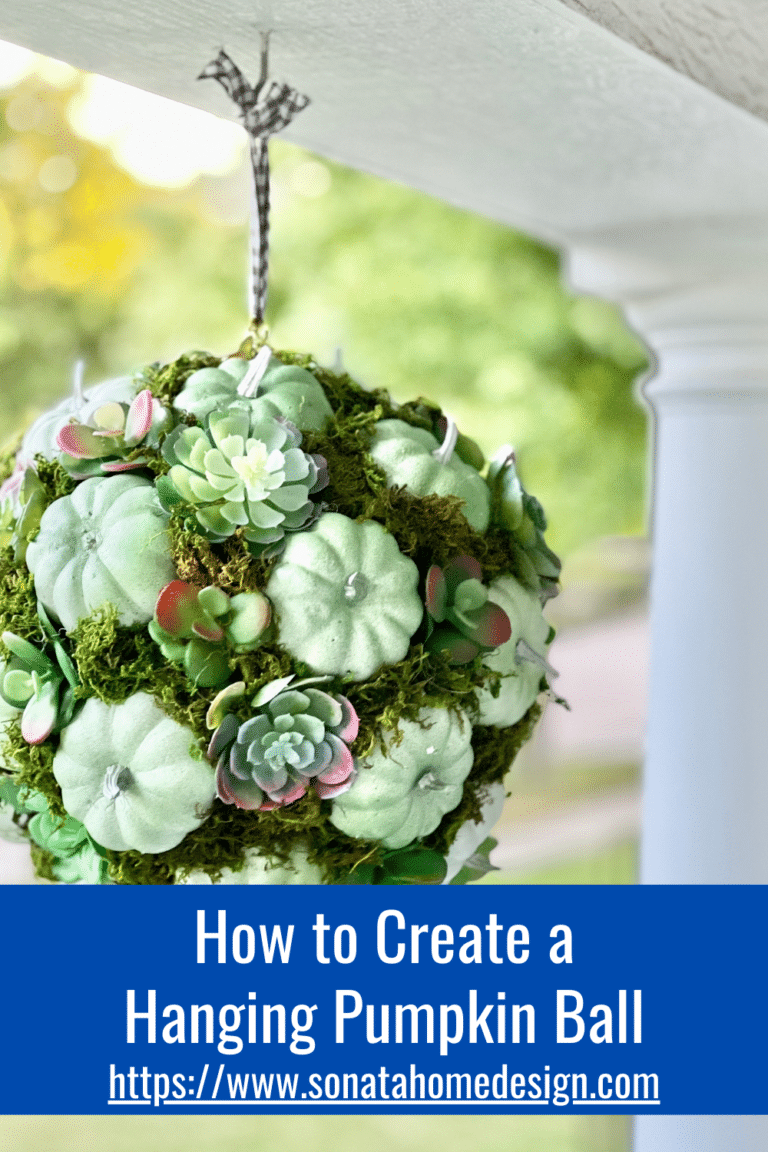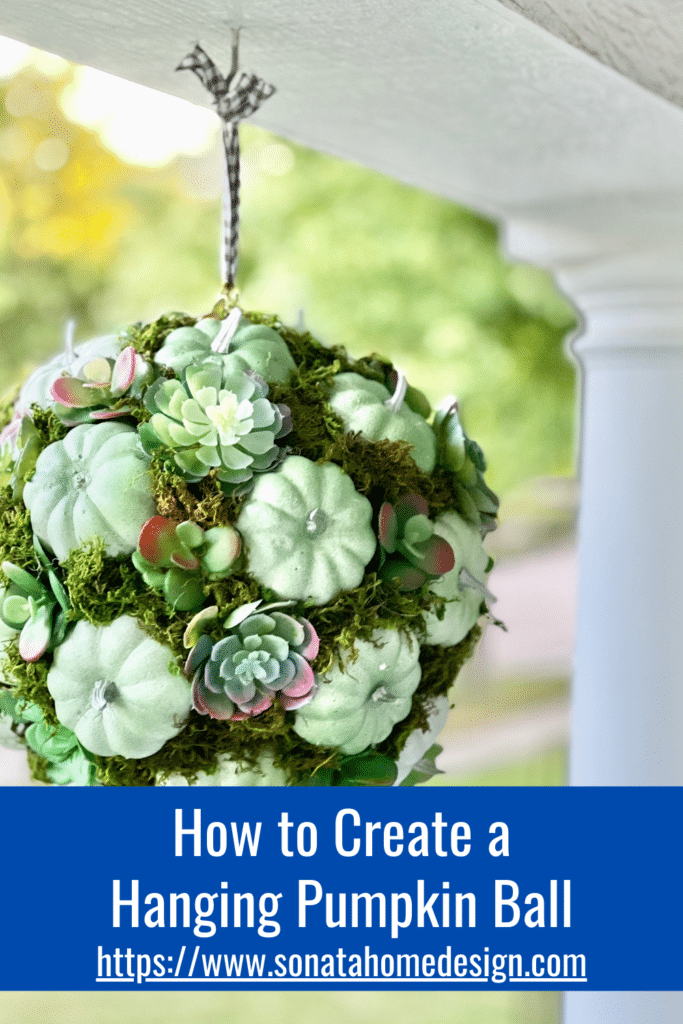 Some other craft projects you might enjoy!
Craft a Decorative Bowl Using Wallpaper!