Hands Down…This is My Favorite Wall Art Hack!
I'm always on the lookout for new ways to spruce up my home decor, and I have to say, I have a favorite trick. It's so easy and cheap, and the results are really beautiful. It's my favorite wall art hack!
I wanted to share it with you all, in case you're looking for a simple way to add some color, character, and personality to your walls. You won't believe how versatile this idea is. I'm going to show you how to make your own wall art with just a few simple steps!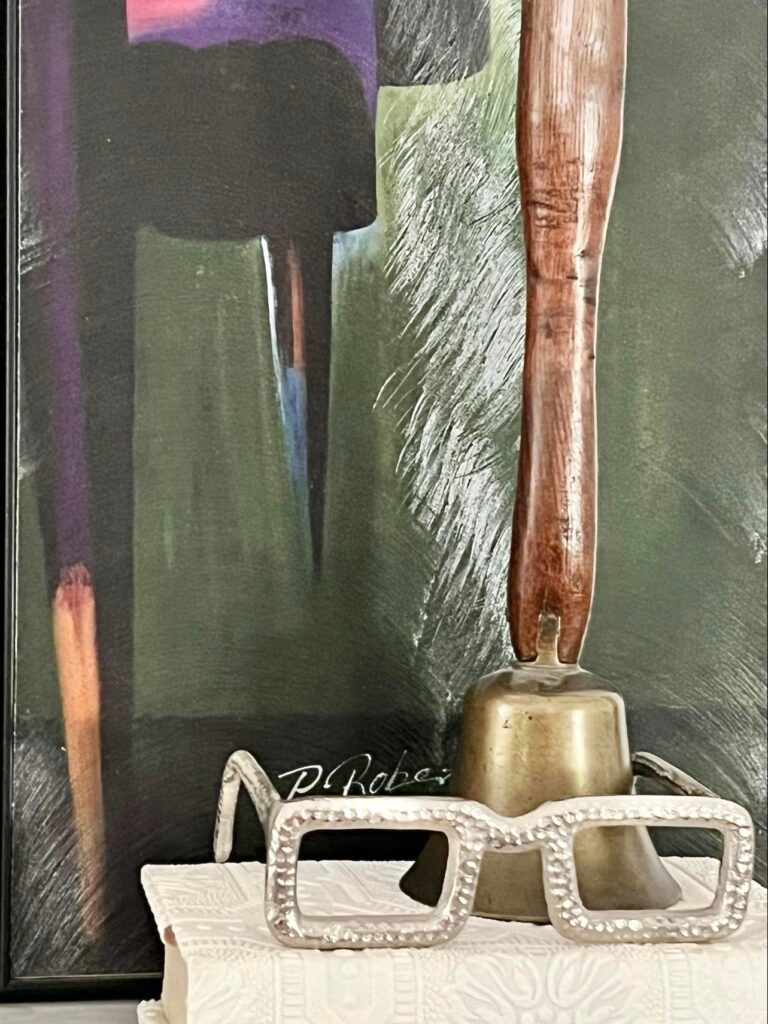 Hello, my friend! Can I share a "Show and Tell?"
A friend of my parents gifted me this school teacher bell.
It takes me right back to my childhood obsession with "Little House on the Prairie" books. I must have read those books 100 times!
I remember the school teacher, Miss Beadle, ringing a bell similar to this every day. She would ring the clanging school bell and children would come running.
We tested my school bell…it is so LOUD! I think you could hear it a mile away!
It is back to school time here and so signals the transition to a new season.
It is definitely a new season for me as I am entering this school year as a retired teacher.
No more classes. No more lesson planning.
I'm feeling a little bittersweet this week. Thrilled to be retired (and blogging full-time!) but also wrestling with the feeling that I am missing out on something because I am not in school.
I miss my students! I guess 34 years of teaching music is not an easy habit to break!
I needed a distraction and decorating our home is always my go-to. I'm pulling out fall decor but there are still some general decorating spaces that need attention.
Mainly, this area here…
Do you see it?
The new stripe curtain panels are amazing but they highlight the issue.
See it yet?
That empty space between the door and the curtain rod…empty, hollow, crying out for attention!
Wall art is needed!
Trickier than you might think. Finding just the right artwork…and wall art can be expensive!
I've created wall art in different ways…
Like this Tablecloth Wall Art Project
And this project where I "merged" two pieces of wall art into one
Or my Decoupage Pom-pom Mirror Project
Then, I remember my favorite wall art hack!
Gold frames!
This gold frame belongs to a set of 9 identical square frames. Mattes included!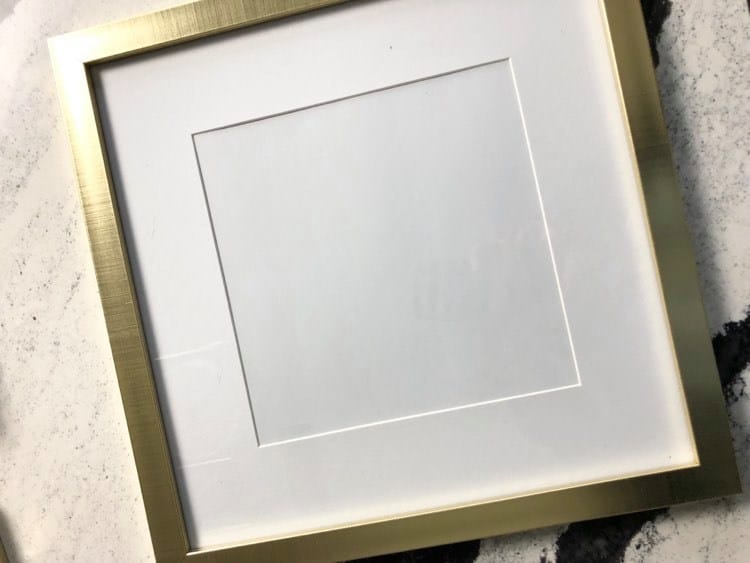 My frames have been transformed so many times using…wrapping paper! No more expensive than the last roll that I buy!
And each time is an experiment with color, pattern, and imagination!
Care to see some of the transformations? Truly, this is so fun!
Grab some leftover wallpaper that you love! Cut out a piece of the paper that will cover the photo frame opening.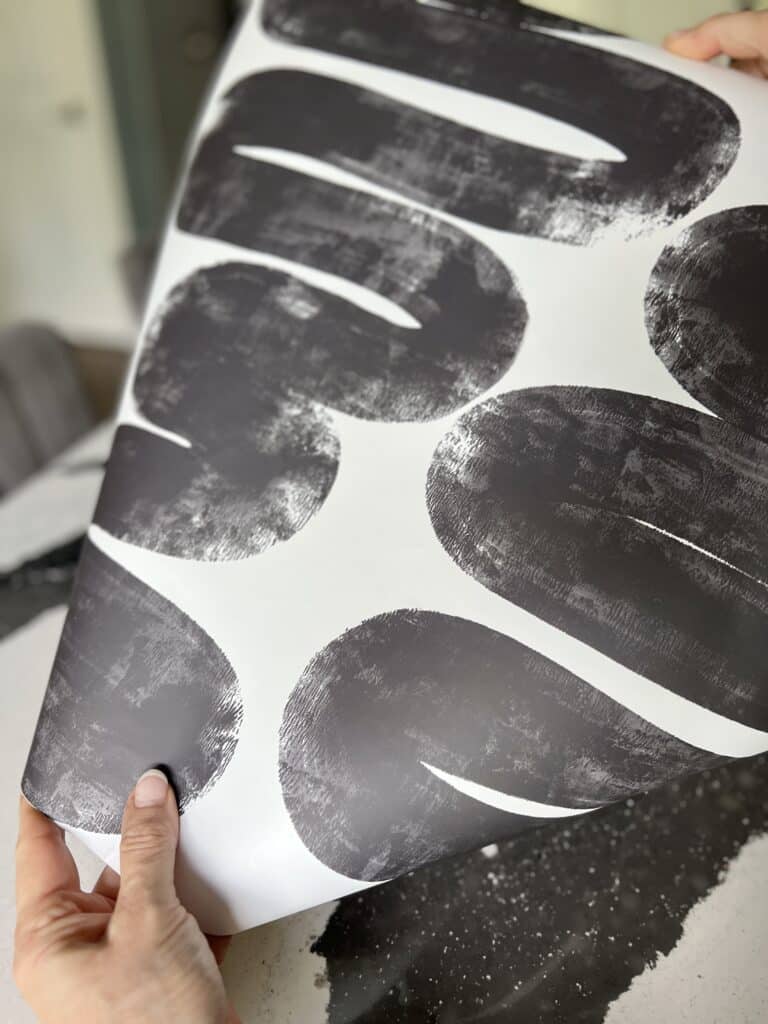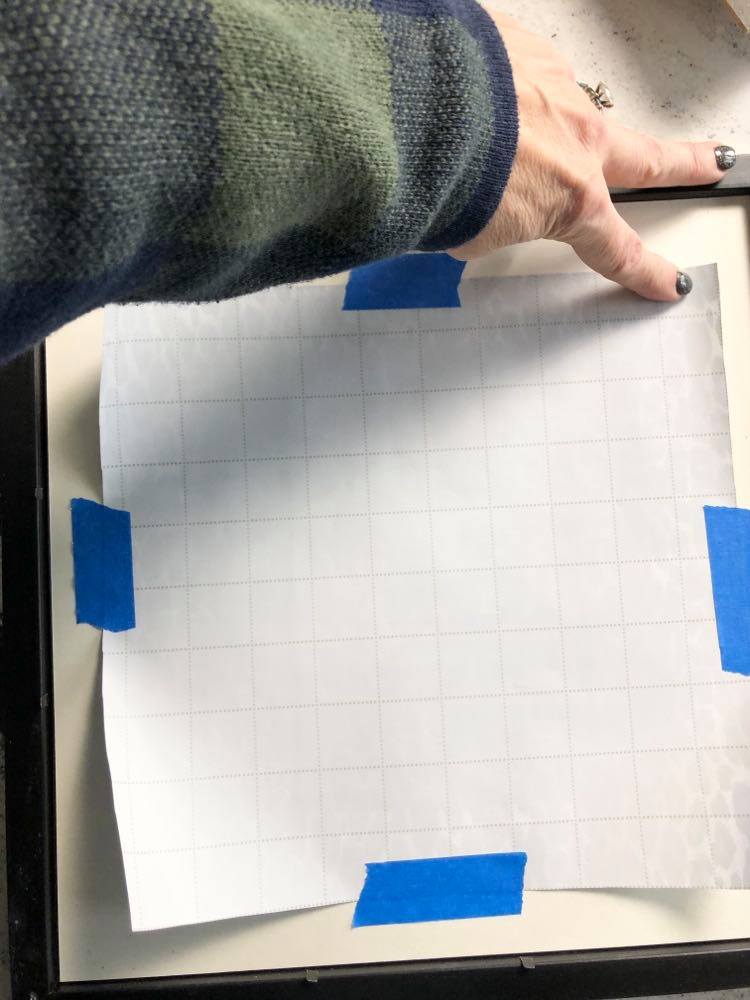 The Many Faces of a Frame
How about some blue animal print wrapping paper? It made me smile every time I walked by.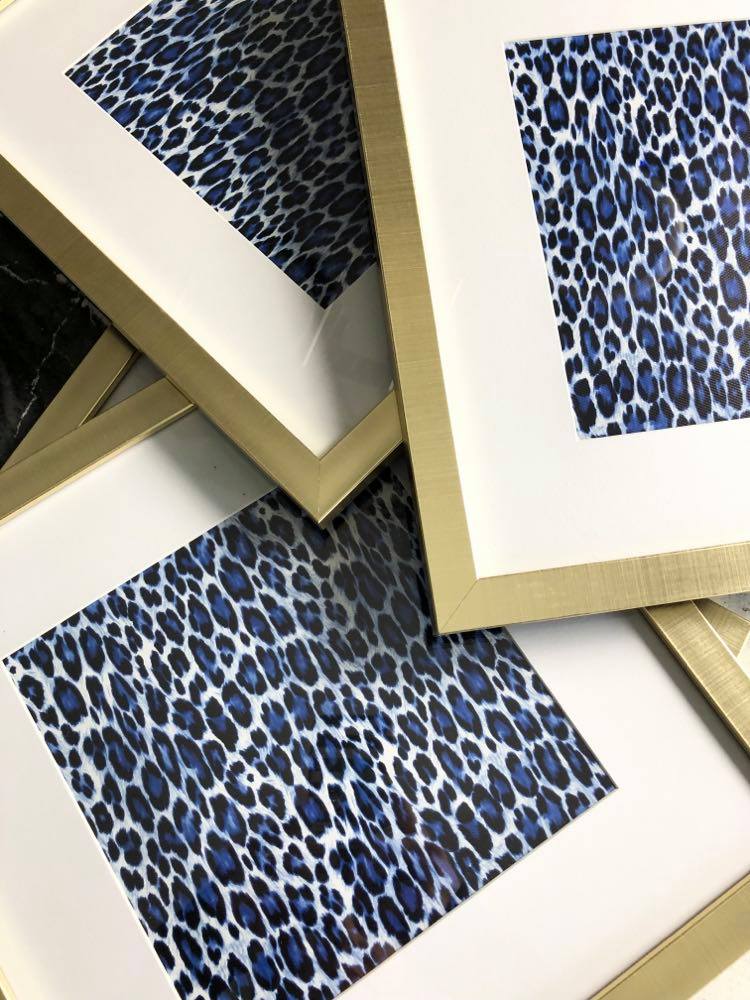 From floor to ceiling, this cheetah wrapping paper fit the bill!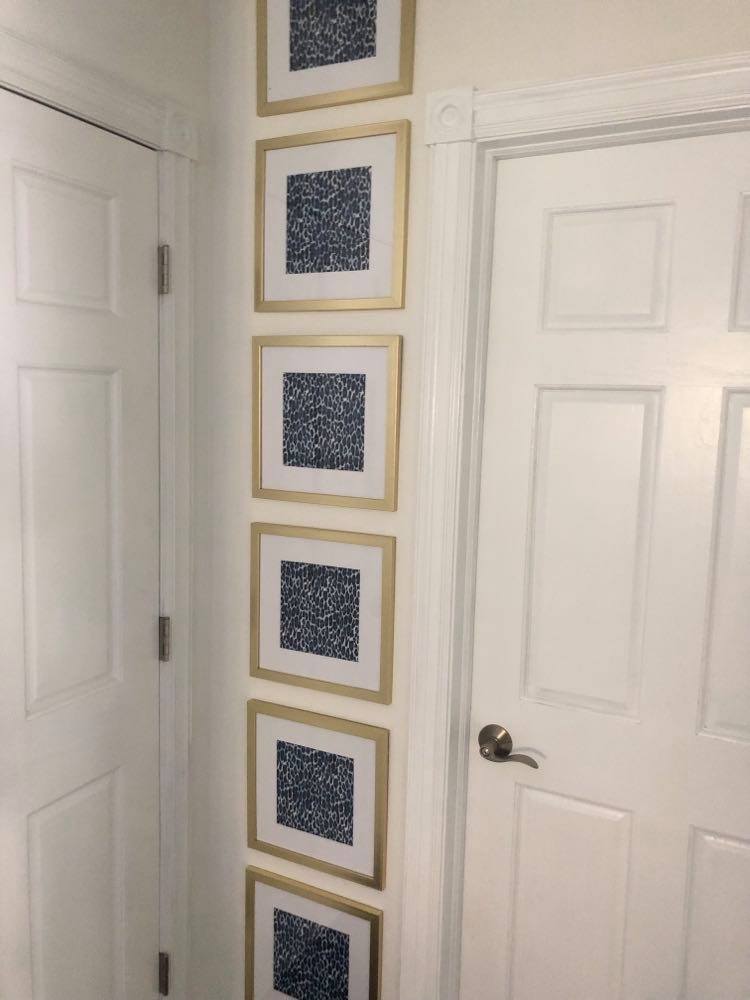 When holiday time came, changing to various plaid wrapping papers gave this challenging closet area some Christmas cheer!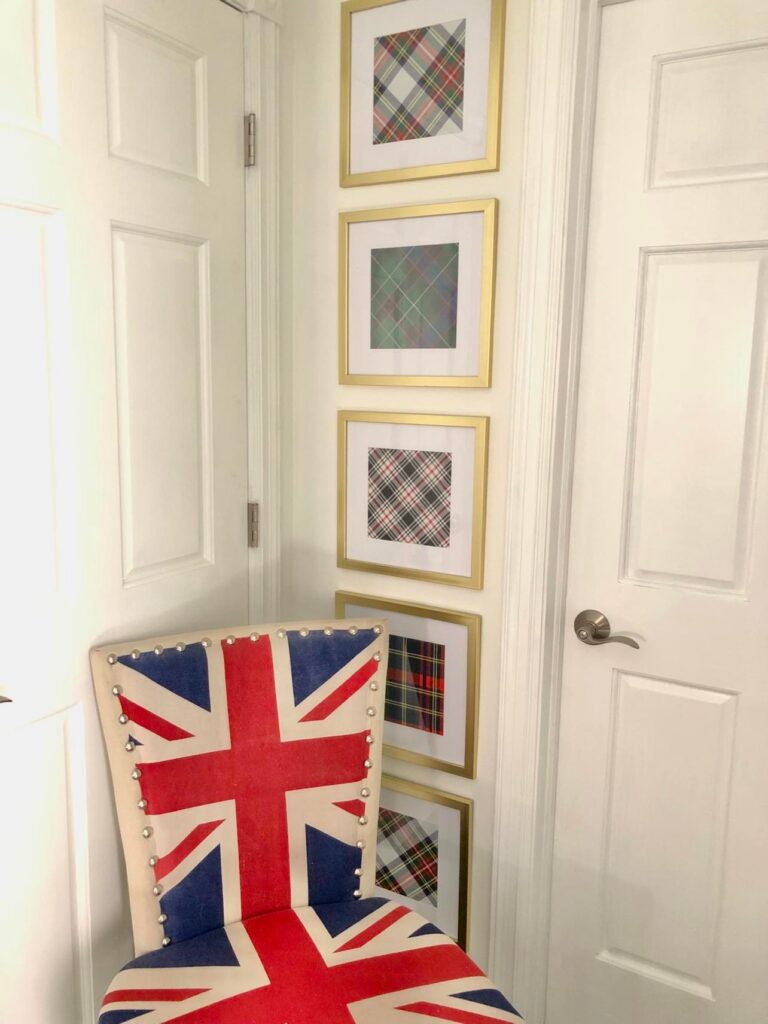 Don't you just love plaid?
And the different colored plaids are each given a moment to shine in their gold frame!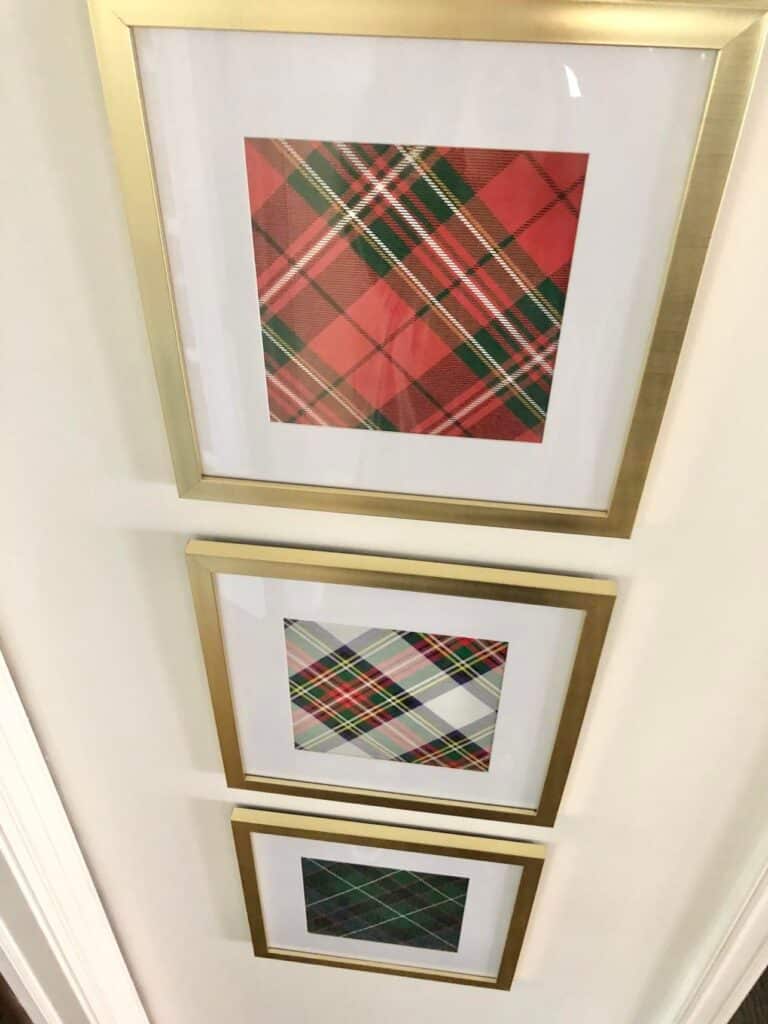 The Curtain Rod Dilemma
Back to the original photo…
These black and white stripe curtain panels are new and look great hanging on one side of our newly painted black patio doors. They are big and bold and are a good balance for the dramatic fireplace tile.
The curtain rod is hung very high close to the molding….for two reasons.
Reason #1 is that I wanted to use the existing holes in the wall and not create new ones.
Reason #2 is that hanging the curtain panel closer to the ceiling gives the room even more height.
But that empty space…
Gold frames to the rescue. But this time…with wallpaper!
This Bobby Berk black and white design "Wiggle Room" by Tempaper wallpaper is big, bold, and strong enough to handle a bold curtain on one side and bold fireplace tile on the other.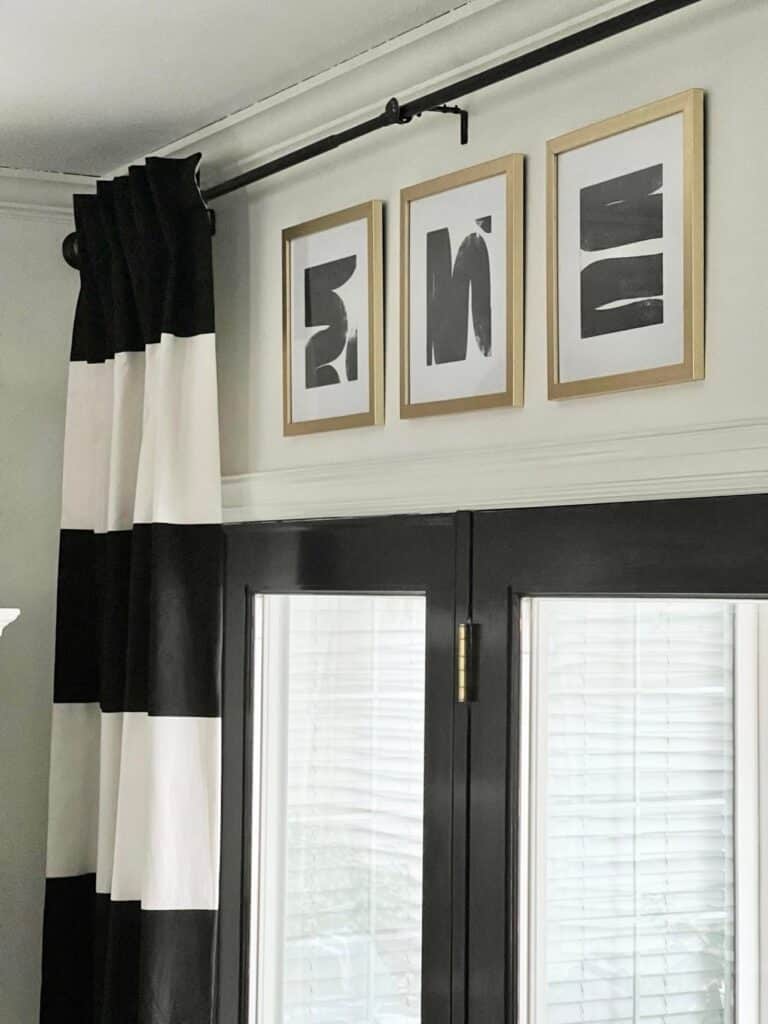 The overall pattern is very quirky and appears random. (I have dreams of wallpapering an entire room with this quirky peel and stick paper.)
My creativity got a boost as I cut and framed nine different pieces from the wallpaper.
Nine wallpaper cuttings equal nine very different pieces of wall art!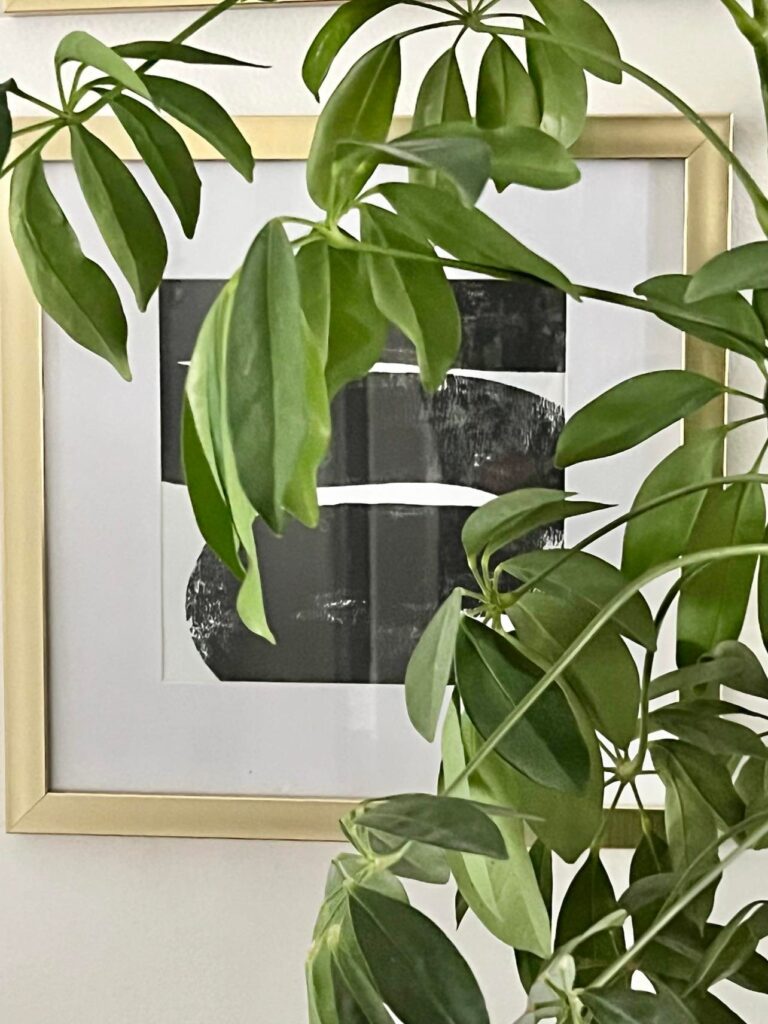 We have two sets of doors in the room so each set got three framed pieces. The other three frames are still over by the infamous closet.
The gold frames remind me of a classic gold bracelet…jewelry for the room!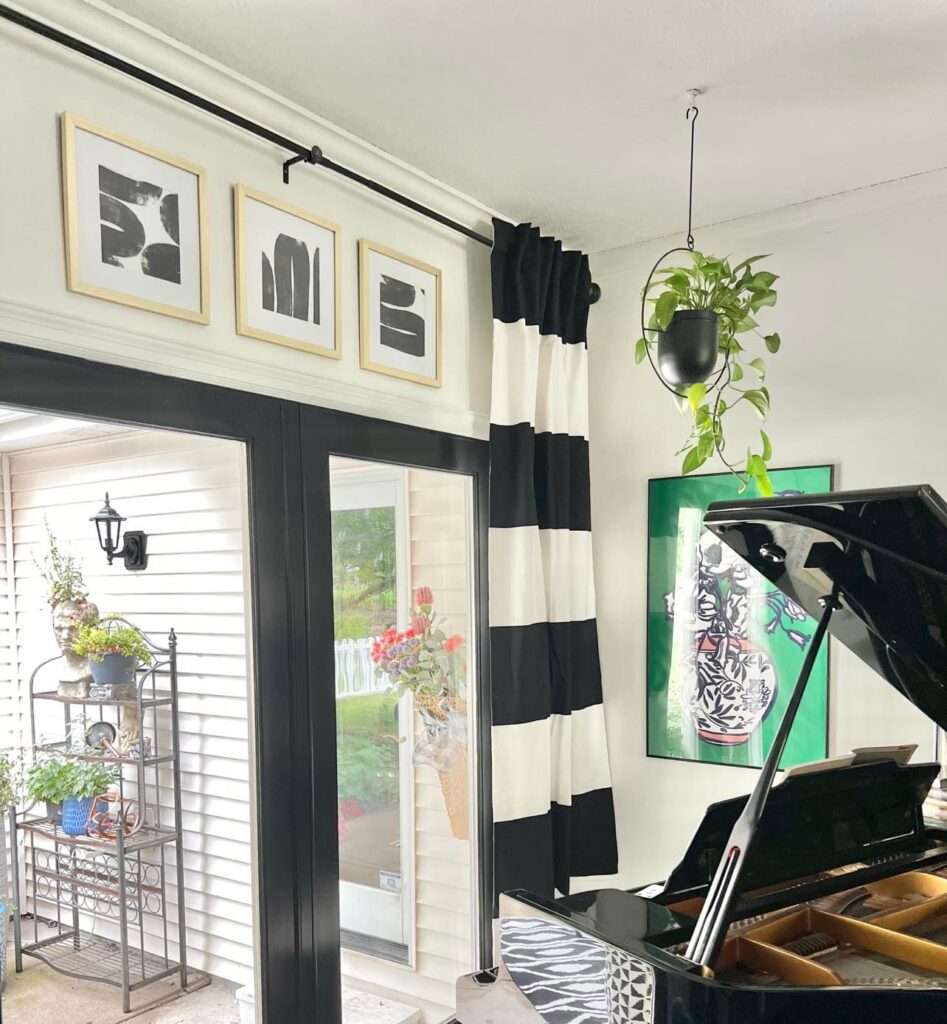 Now the curtain, curtain rod, and doors feel connected through the wall art!
Favorite Wall Art Hack Award
I'm telling you…these frames are my most utilized and versatile wall hack…I think I need more sets for the rest of the house!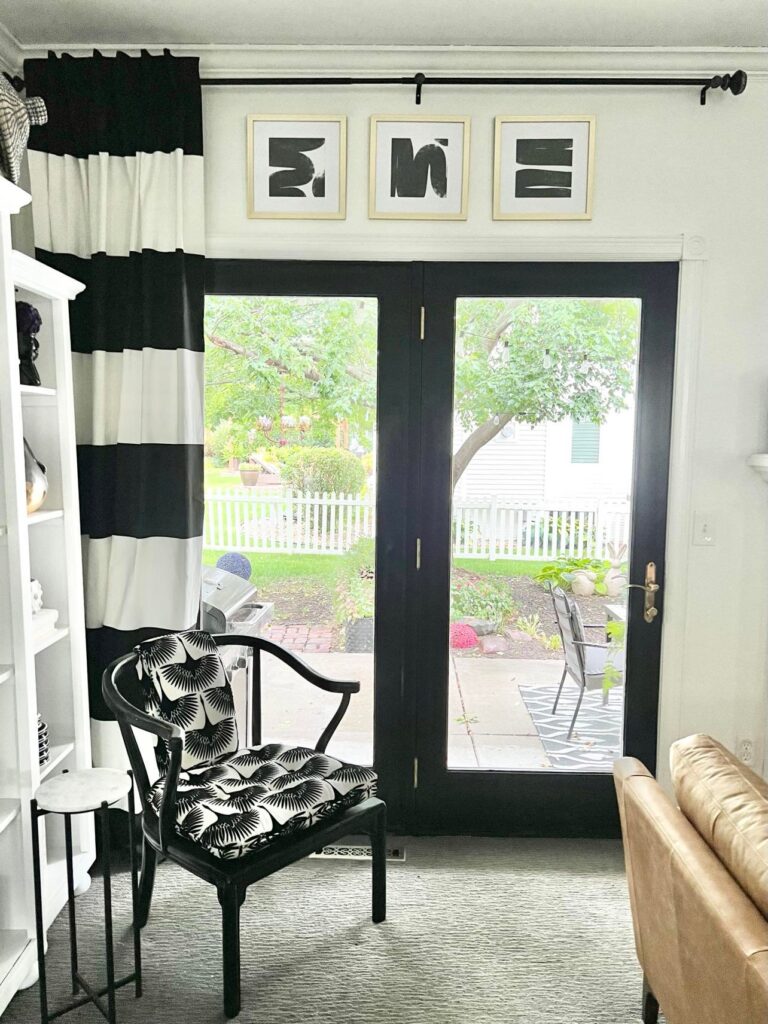 Wall art is a great way to add personality and character to a room, but it can also be expensive. This wall art hack is not only affordable, but it's also super easy to do! So if you're looking for a way to change up your decor without spending a lot of money, this is the project for you.
Have you tried this wall art hack yourself? If so, let me know how it went in the comments below. I'd love to see your finished product!
Cheers!

Pin the image below to your boards on Pinterest (just click the Pin button in the top left corner). You can also follow along with me on Pinterest! (Thank you if you are already following! You all are the best!)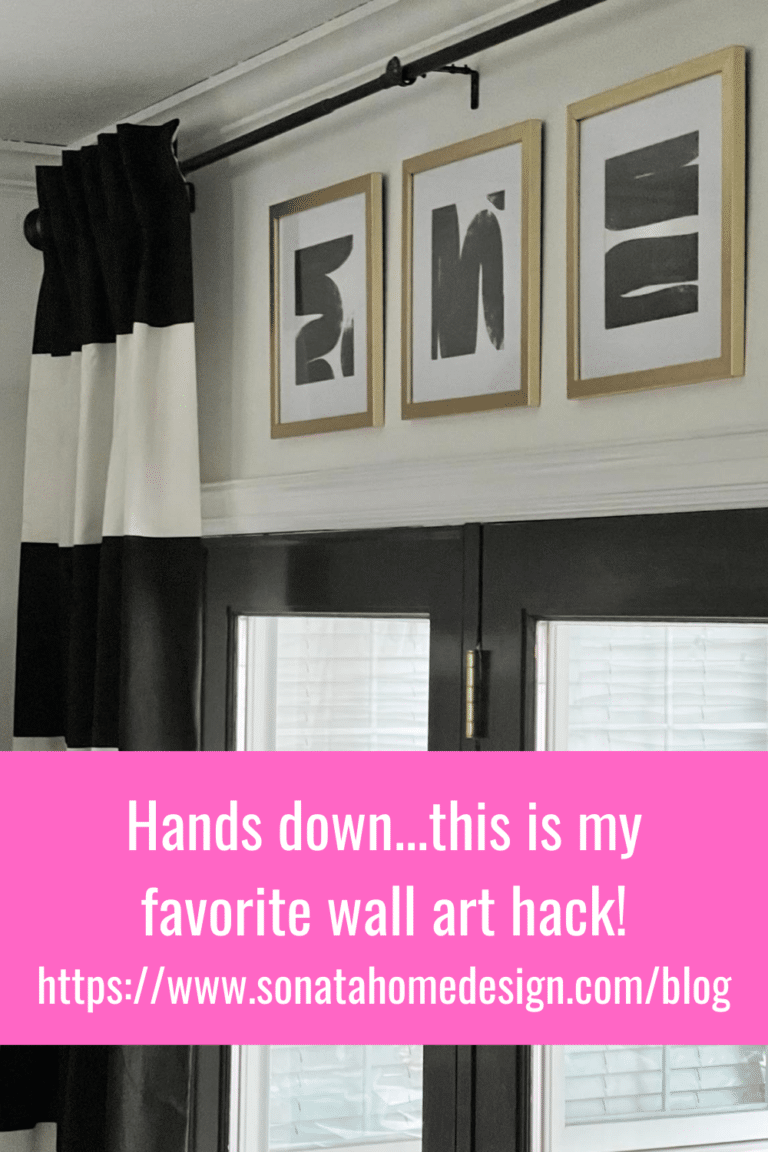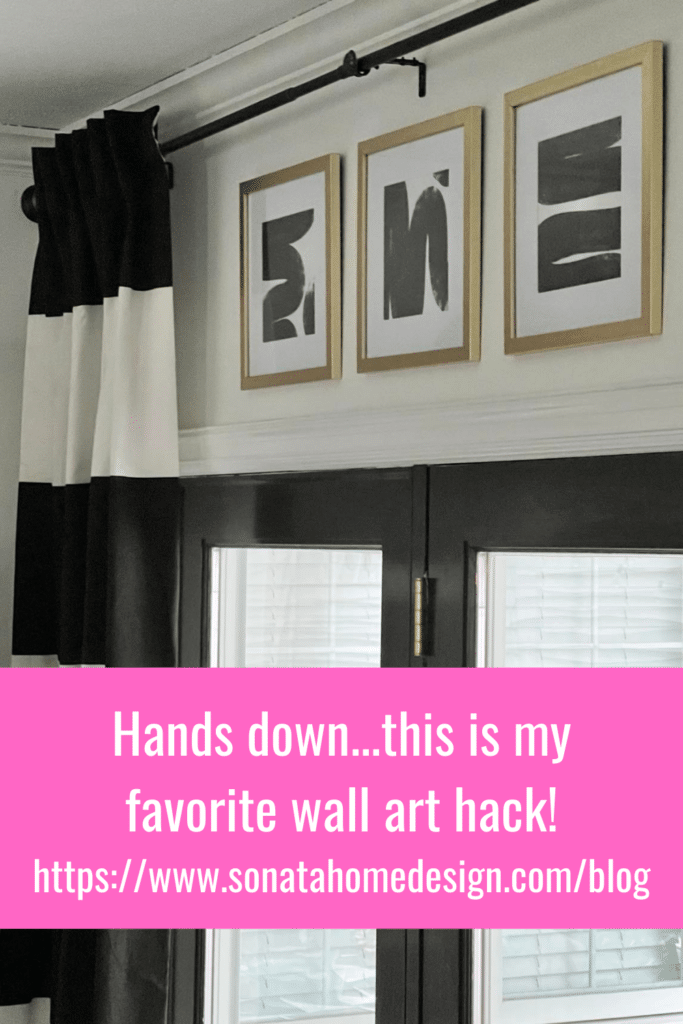 This hack starts with a great set of nine frames. These are home decor "gold" in our home!