Early Fall Decor Ideas For Your Home
As the days grow shorter and the leaves start to change color, it's time to start thinking about how to transition your home decor from summer to fall. I'm sharing fall home decor ideas that will help you update your look without spending a lot of money or breaking a sweat!
Today, I am joining with some of my very talented decorating blogger friends to share oodles of ideas for transitioning from summer to fall decor. With a few simple tweaks, you can bring the beauty of fall indoors and enjoy it all season long!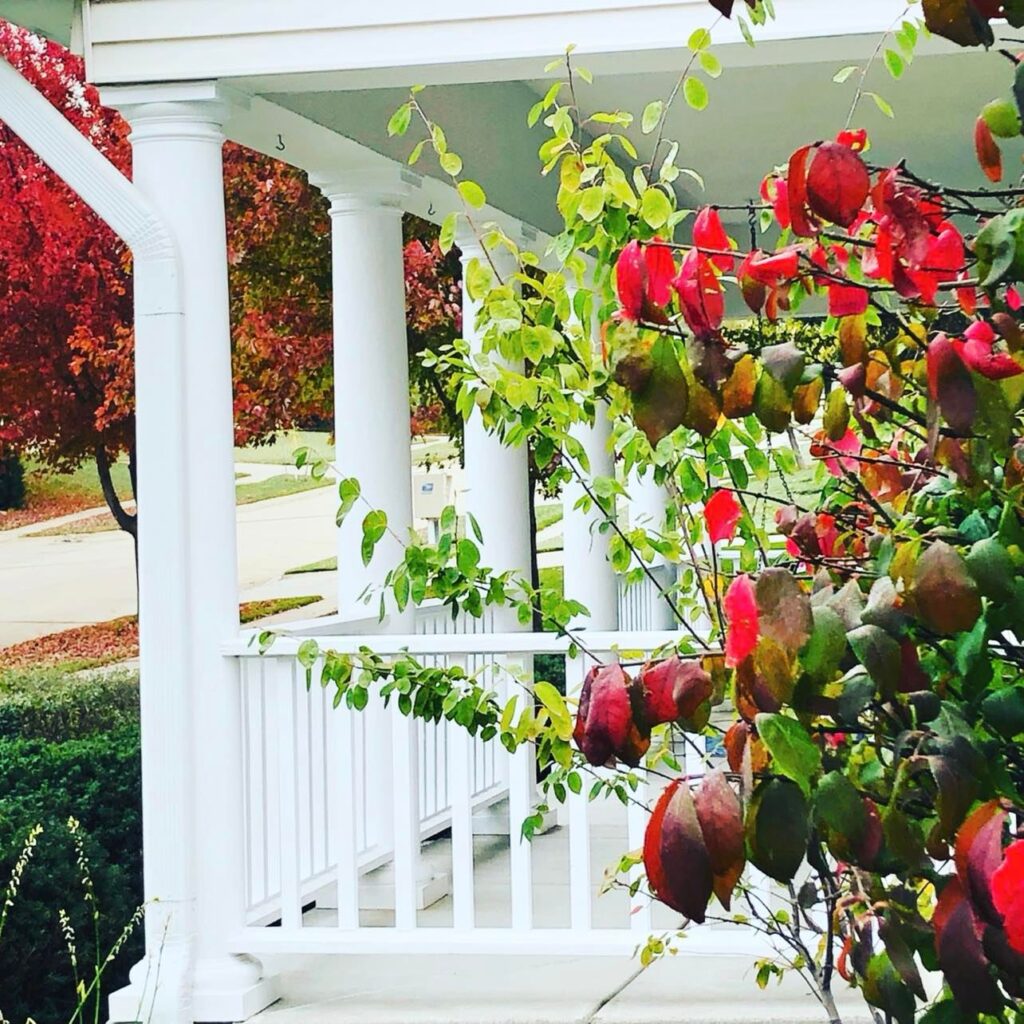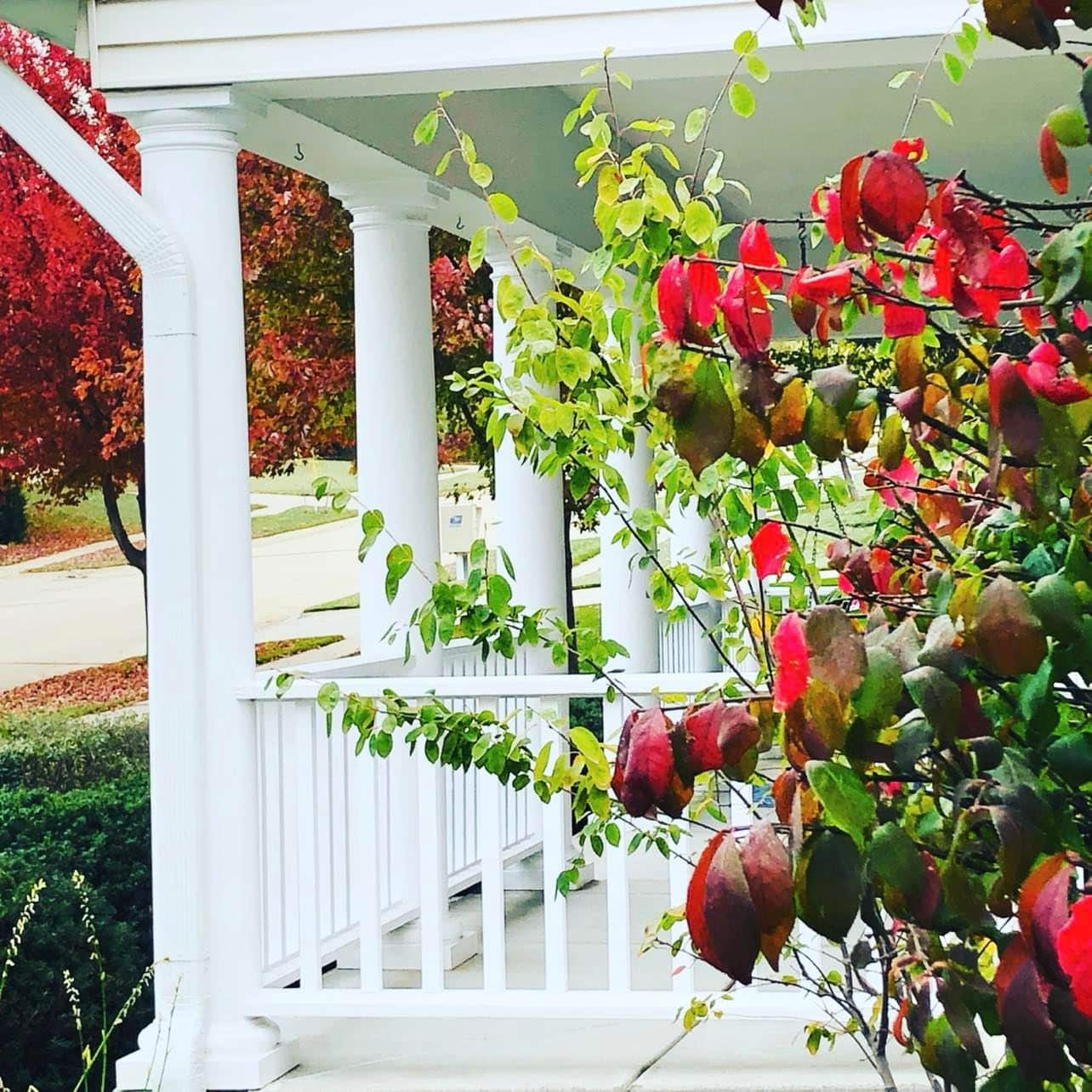 Many of you might be coming to this post from Susan at Hen and Horse Design. She is so good with home styling and has such great fall decor ideas for a fall mantle! Welcome to Sonata Home Design!
It's clear (whether we like it or not) that summer will soon be coming to an end. But there's no need to mourn the loss of sunny days and long evenings spent outdoors. Instead, let's embrace the changing season with some fresh fall decor.
Let's Start with "Super Easy!"
A quick, easy, and inexpensive project is always a good place to start!
These darling gingham pumpkins came from a dollar store. They are basically pressed cardboard in the shape of pumpkins.
But, oh my goodness…how cute is that pattern!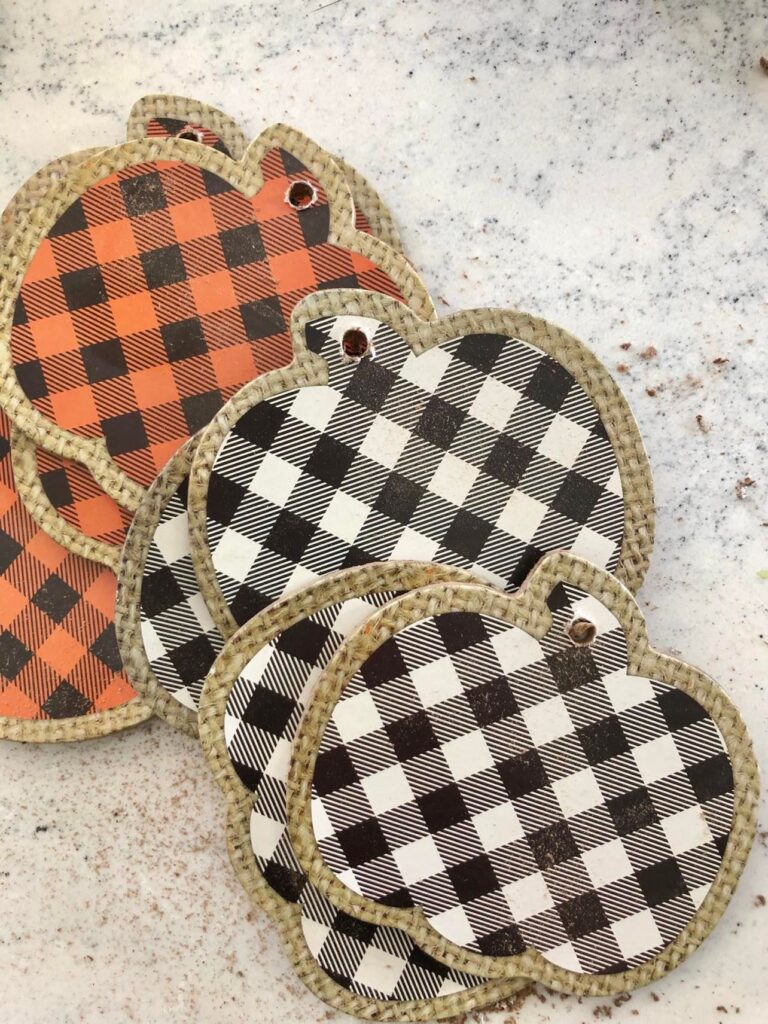 Here is how I made them into adorable tags. (Don't blink…that's how easy this is!)
Drill a hole in the stem
Loop some leather lacing through the hole
Oh…that's it!!! You're done!
How did I use these little dollar wonders?
How about cute tags on my kitchen canisters?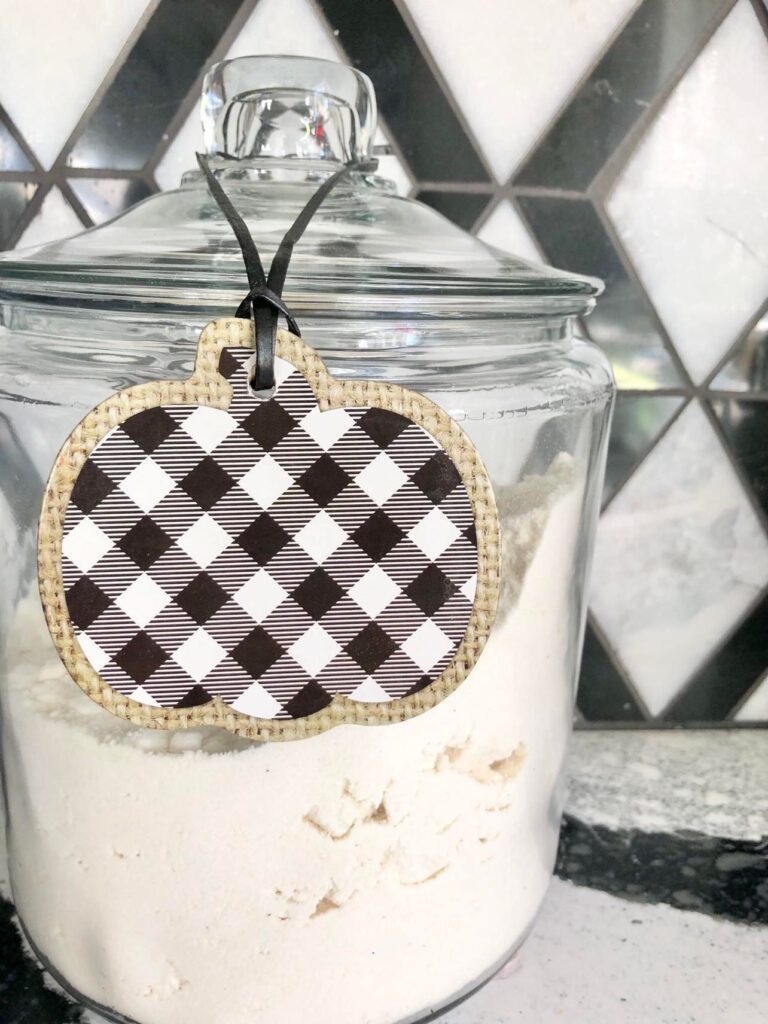 Summer to Fall Color
Summer is the time for fun in the sun and bright, cheerful colors. But as the summer days start to get shorter and the temps start to cool, it's time to think about transitioning your home decor from summertime hues to fall-friendly shades.
Now, if you follow me, you know that I use lots of bright colors throughout the year. But, in the fall, I do love to use deep, saturated colors that remind me of the changing colors outside.
Russets, blues, golds, navys, creams, and even shots of fuschia pink…the "fall sky is the limit" when it comes to fall colors!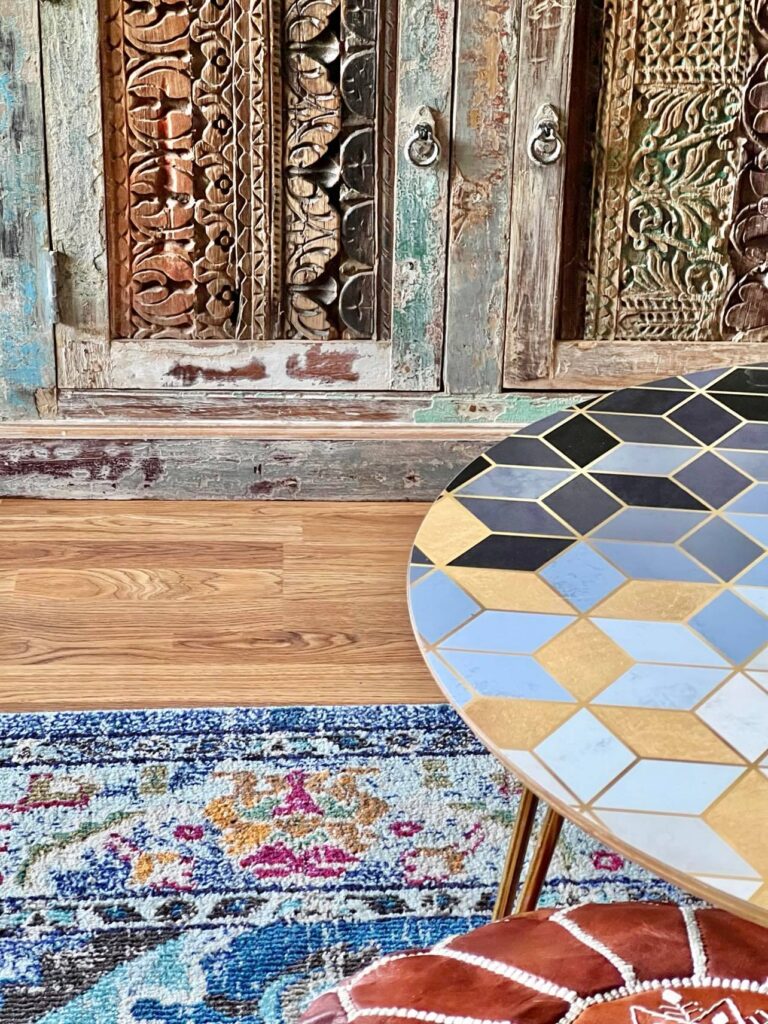 Let's Start Coloring for Fall!
One easy way I like to do this is by swapping out summer's light, bright color combinations for more saturated shades. An example might be taking your summer sky blue and bright white and transitioning to shades such as navy, cream, and coral.
Here, I combined blue and white gingham pumpkins (what a great combination!) with navy and coral cloth napkins.
I used this beautiful kitchen balance scale to combine the colors of blue, whites, coral, and peach (literally peaches!) in a wonderful kitchen island display that has a touch of summertime nostalgia and a hint of the cooler fall to come!
The white pot with the charming face and eyeglasses is repurposed as a utensil holder.
He doesn't mind!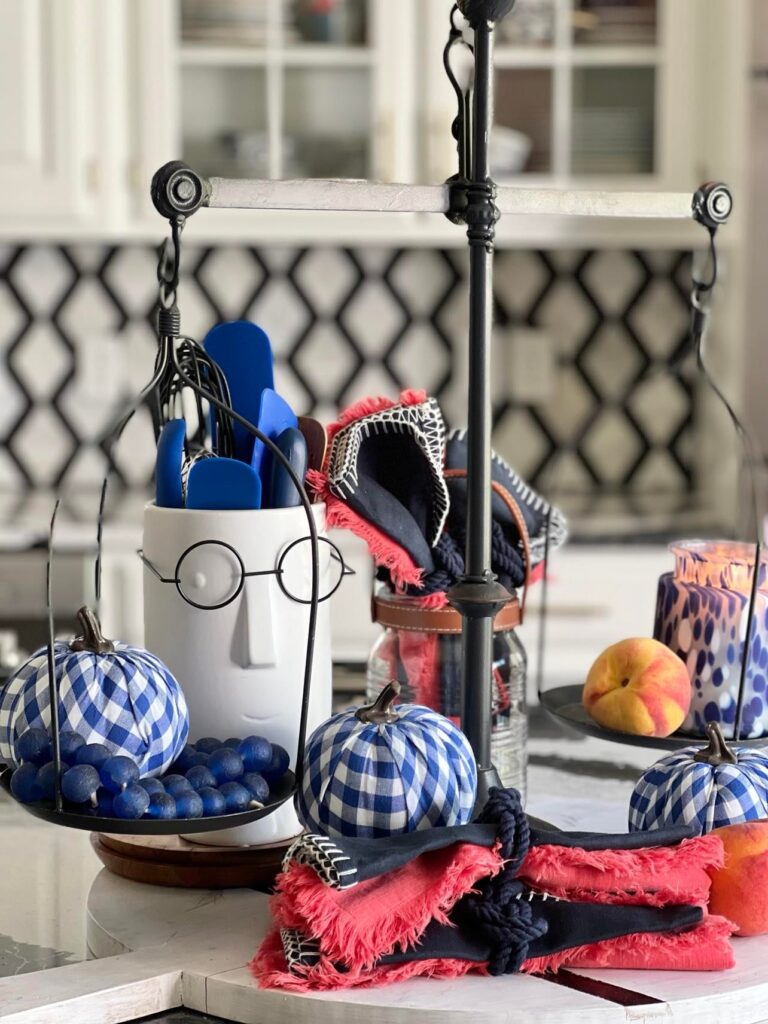 Peaches are one of my favorite summertime fruits but also has my some of my favorite fall color hues!
See the golds and the russets!
Natural Wood Elements
Whether a crackle of burning wood in a fireplace or a favorite family wood trunk, one way to cozy up our homes for fall is to decorate with natural wood elements.
Natural home decor not only adds warmth and depth, but it also creates a sense of coziness that is perfect for fall. By incorporating wood into our homes, we can enjoy the best of both worlds – the comfort of our homes and the beauty of nature.
Call me a home decor geek, but I got SO excited by just stacking 3 birch logs in this dough bowl on the fireplace mantel. (Being a geek is a good thing!)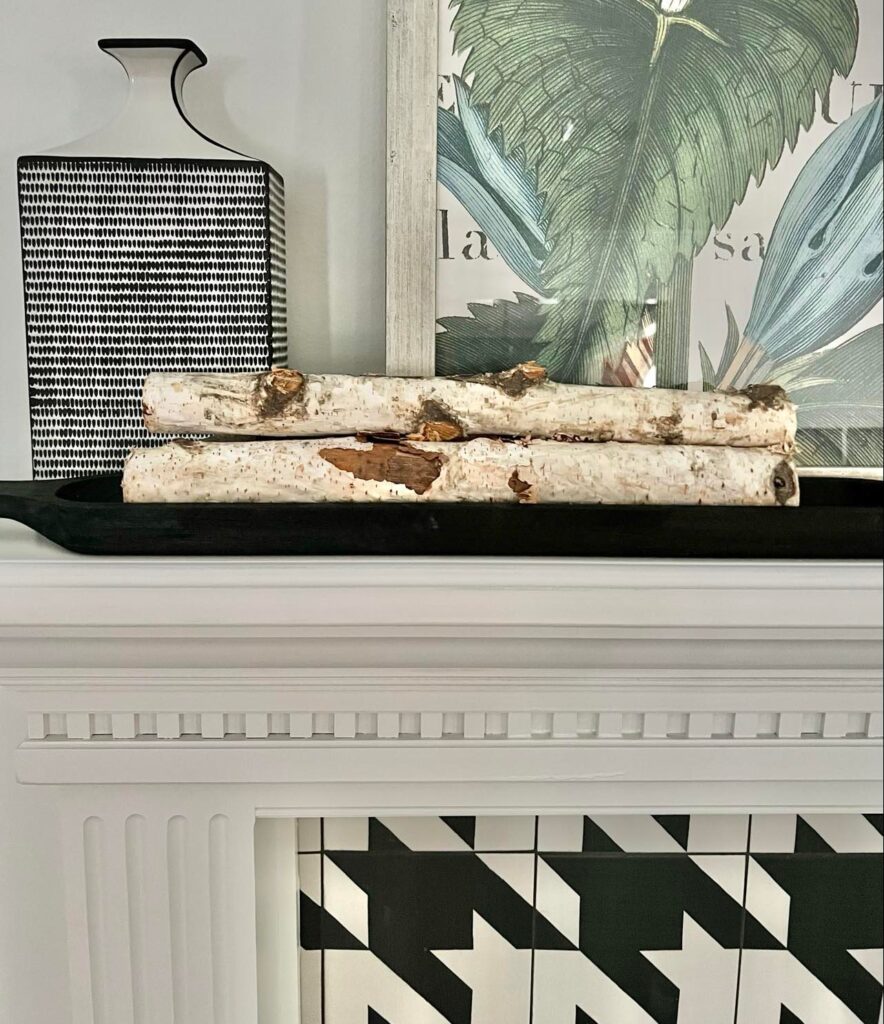 I have a wonderful collection of black metal lanterns that I consistently use in our home throughout the year. However, this woven wood lantern give this foyer chest a warm, cozy, and inviting feel. The antique school bell is a gift I received years ago and sports the most amazing wood handle. With school back in session, it seemed appropriate to give it a place of honor in the entry!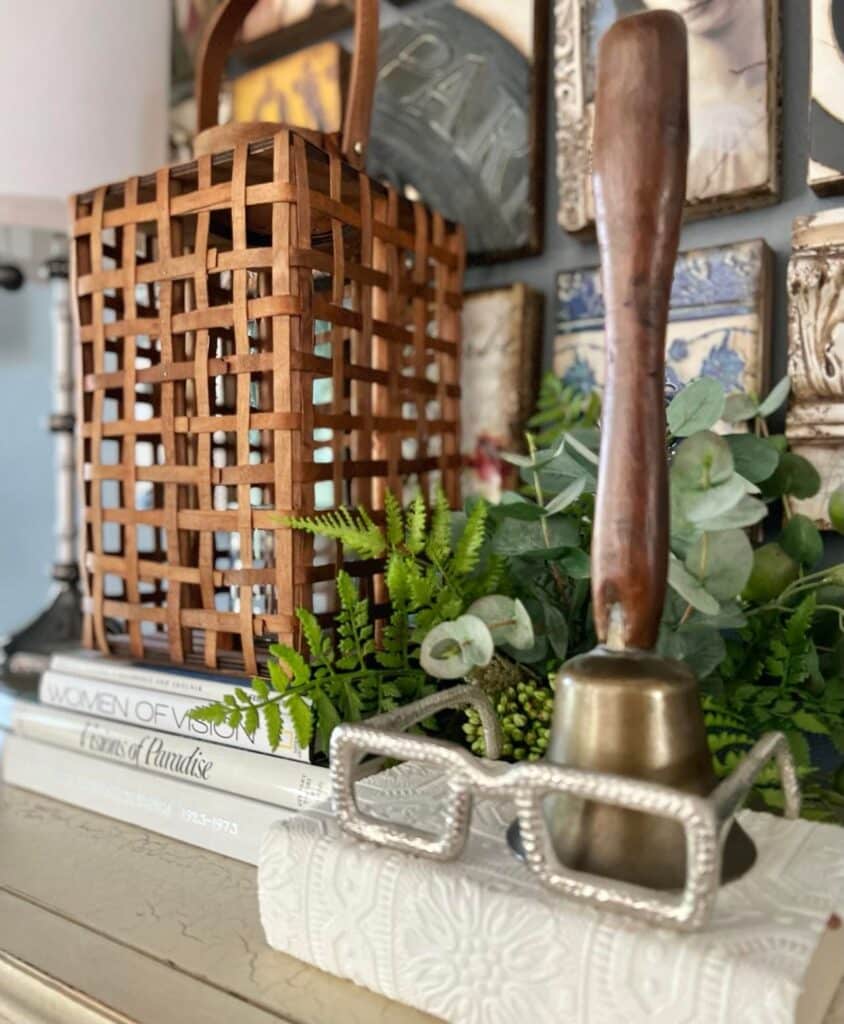 So as you start to transition from summer to fall, consider adding some wood elements into your home decor. You may just find that they make your home more than simply a place to live – they may make it a welcoming haven.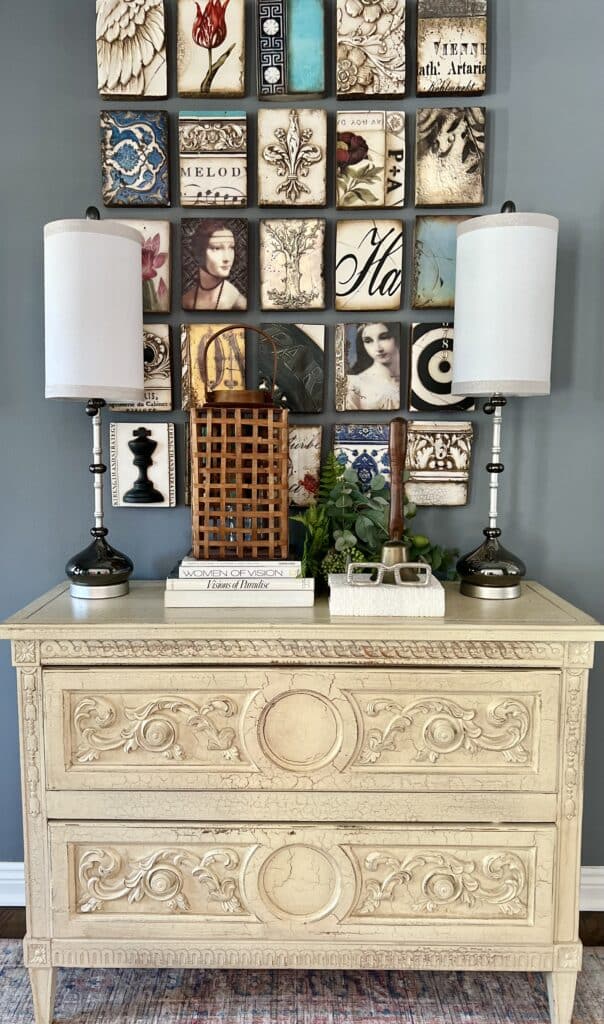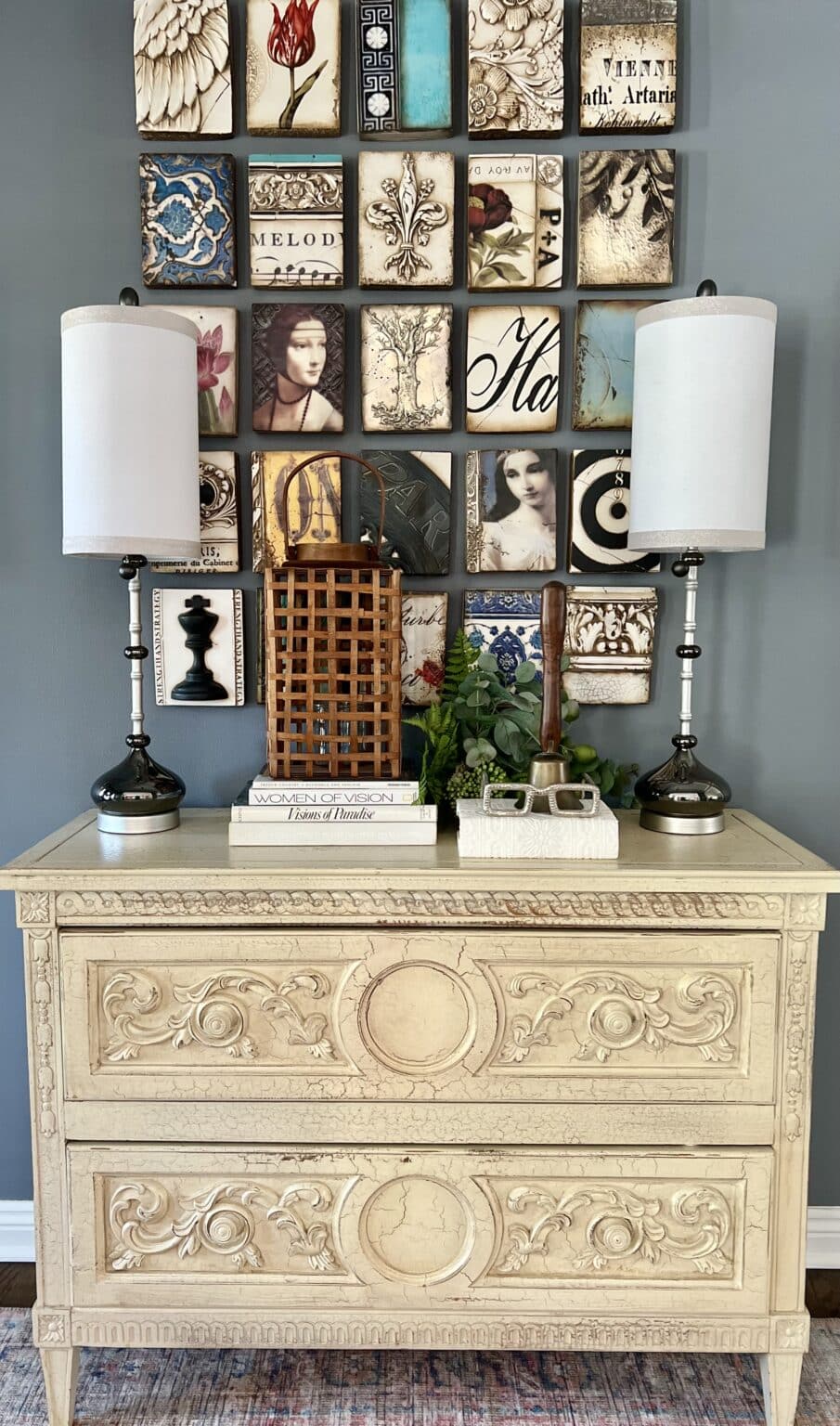 Vintage Books
There's something about vintage books that just screams "fall" to me. Maybe it's the warm, earthy tones of the covers or the aged pages that look like they're straight out of a fairytale. Either way, vintage books make for perfect fall decor.
And the best part is, they're easy to find and relatively inexpensive. Just head to your local secondhand store or peruse the stacks at a garage sale. You're sure to find a few hidden gems.
Once you've gathered your vintage books, it's time to get creative. One simple way to style them is to stack them on a bookshelf. This creates a simple, yet stylish, display that can be easily changed up from season to season.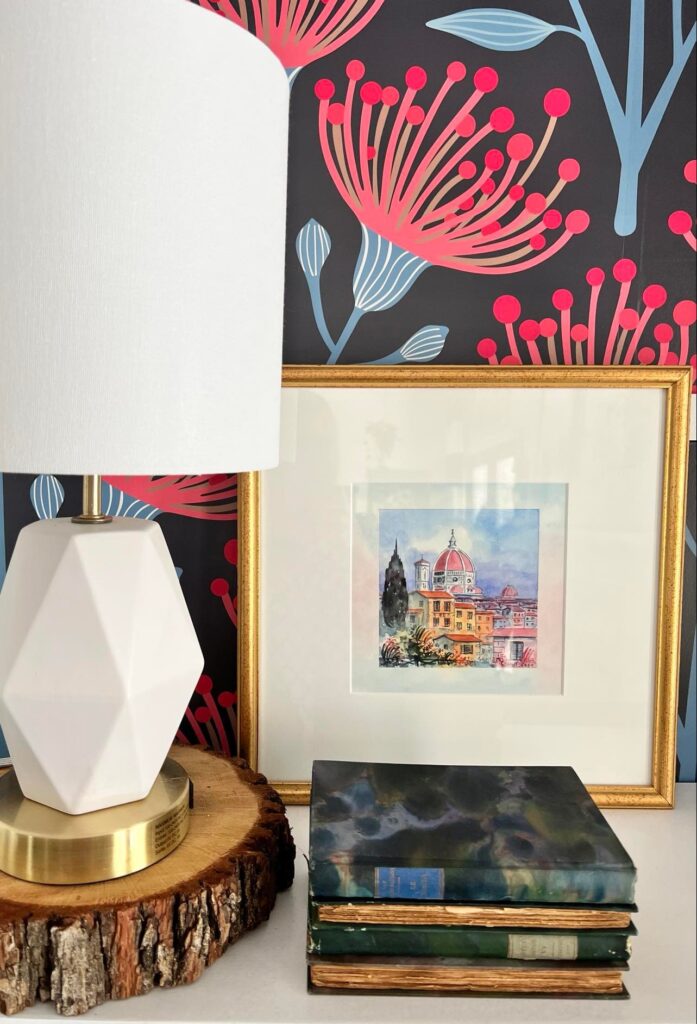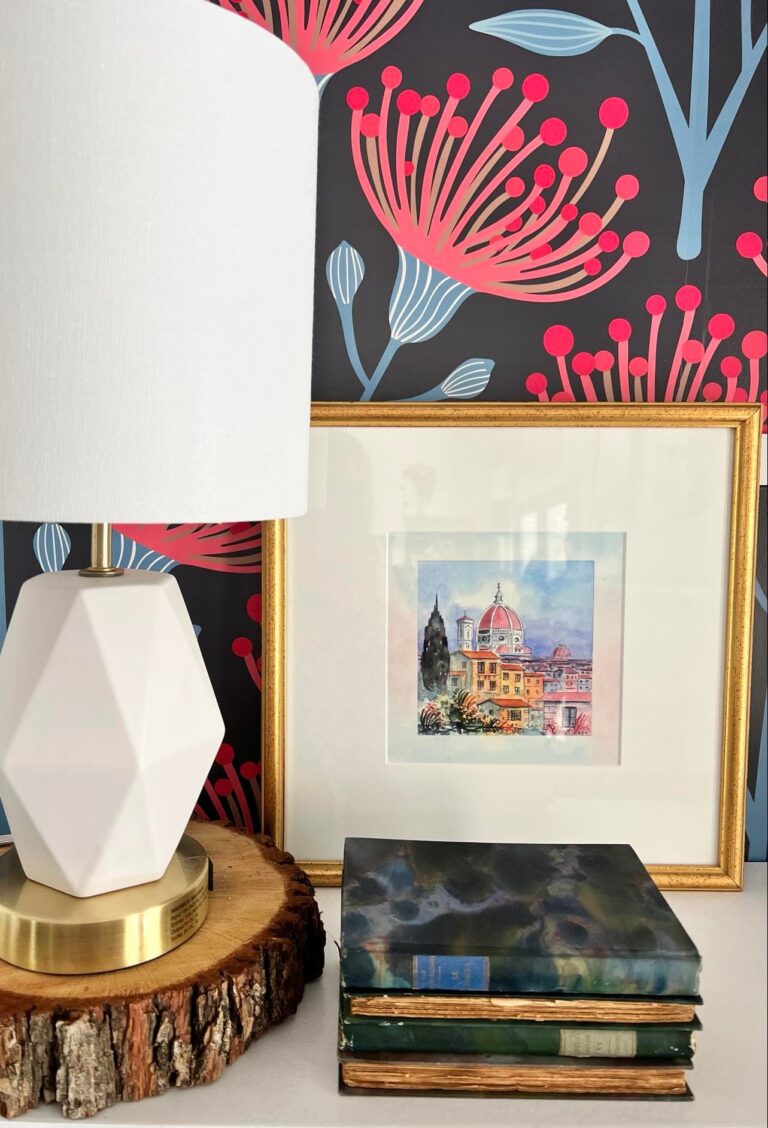 This beautiful stack of vintage books was gifted to me by a fellow retired teacher.
Look at the book covers…GORGEOUS! Swirling, muted shades of blue and green with yellowed, aged pages in between.
And, even better, because my friend taught French, these aged books are all written in the French language. I can't read them but I can sure enjoy looking at them!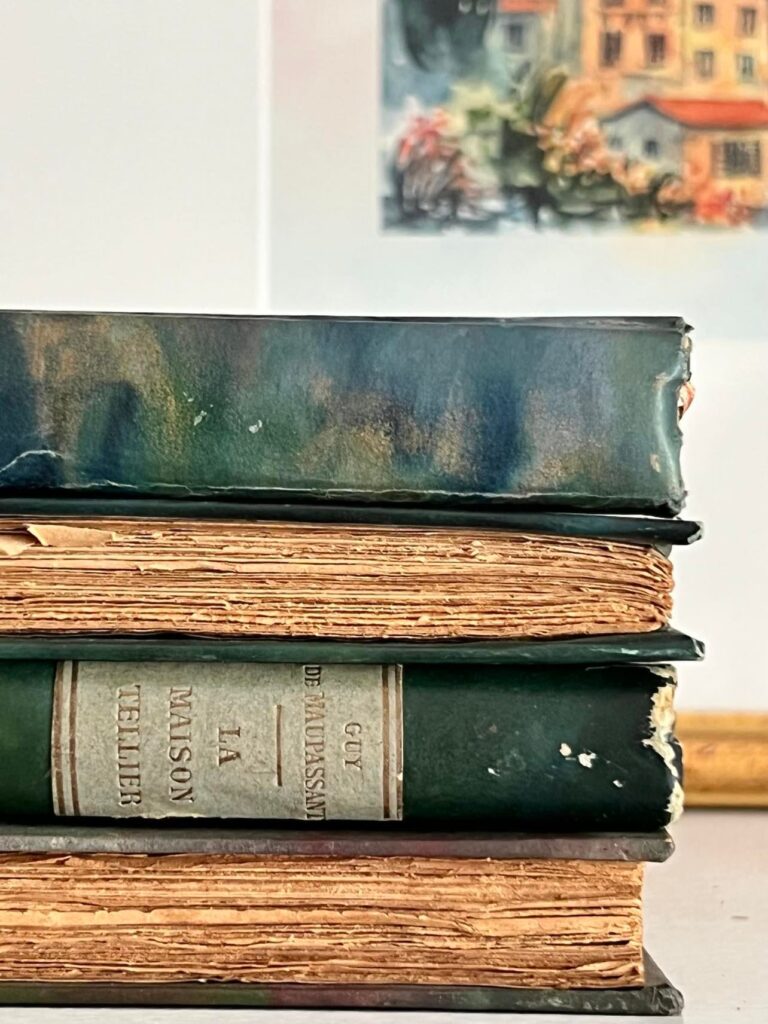 These vintage Nancy Drew books belonged to my mother. The navy and burnt orange covers are perfect for fall home decor!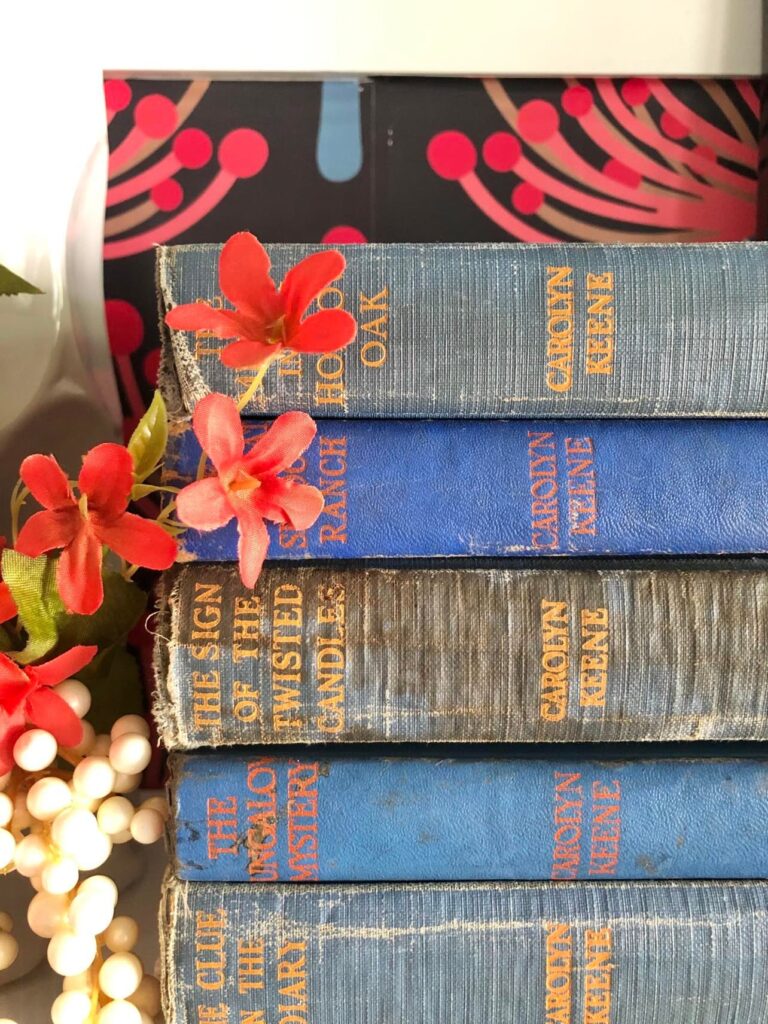 Fall Florals and Picks
One easy way to update your home for the new season is to switch out your summer pots for fall-themed ones. However, how about using a more summery pot for a fall arrangement?
For a chic and sophisticated look, try using a blue and white porcelain planter pot. This type of pot is perfect for displaying fall florals and picks.
To create a beautiful fall arrangement, I filled the pot with styrofoam (leftover from another project) and covered the top rim of the pot with a boxwood wreath and a "purpley flower" wreath. (Note the included bits of summer!)
Next, I poked birch logs vertically into the styrofoam.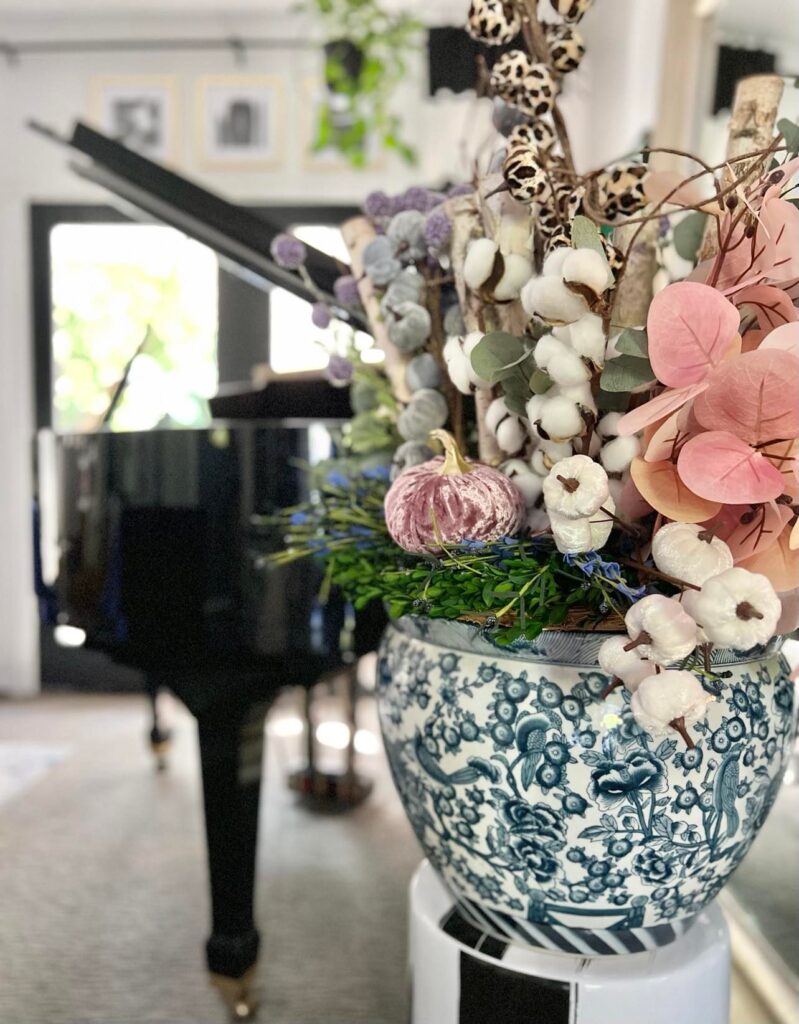 Then I started placing fall picks in the pot. Blue-green eucalyptus, blush pink eucalyptus, purple allium, grey velvet pumpkins, cheetah patterned pumpkins…this arrangement is chock full of color, texture, and fall color yumminess!
Simple.
Stylish.
But complex in fall layers.
I could be describing a fine wine! Cheers to that!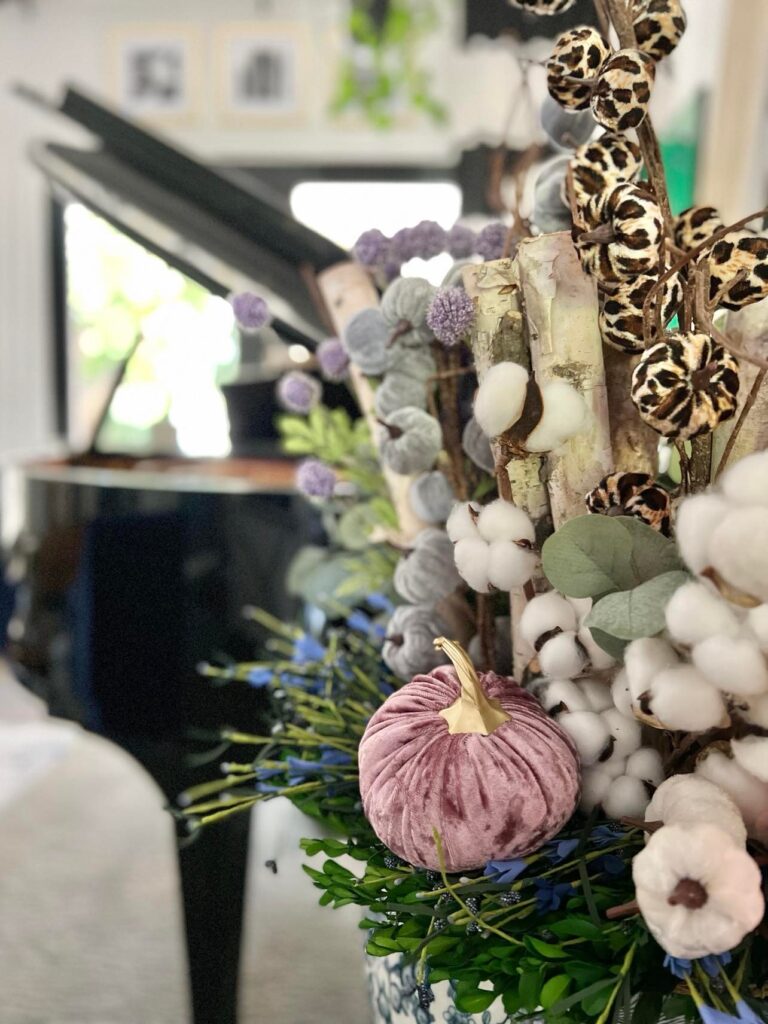 Fall Home Decor Ideas Must Include…Pumpkins!
If we are talking about fall home decor ideas, I would be very remiss if I didn't include a section for pumpkins.
My 70's childhood was filled with traditional orange pumpkins with toothy grins for Halloween.
Fast forward 50+ years and pumpkins have taken on their own category as a decor item for fall!
I'm into velvet pumpkins these days. Rustic, yet refined!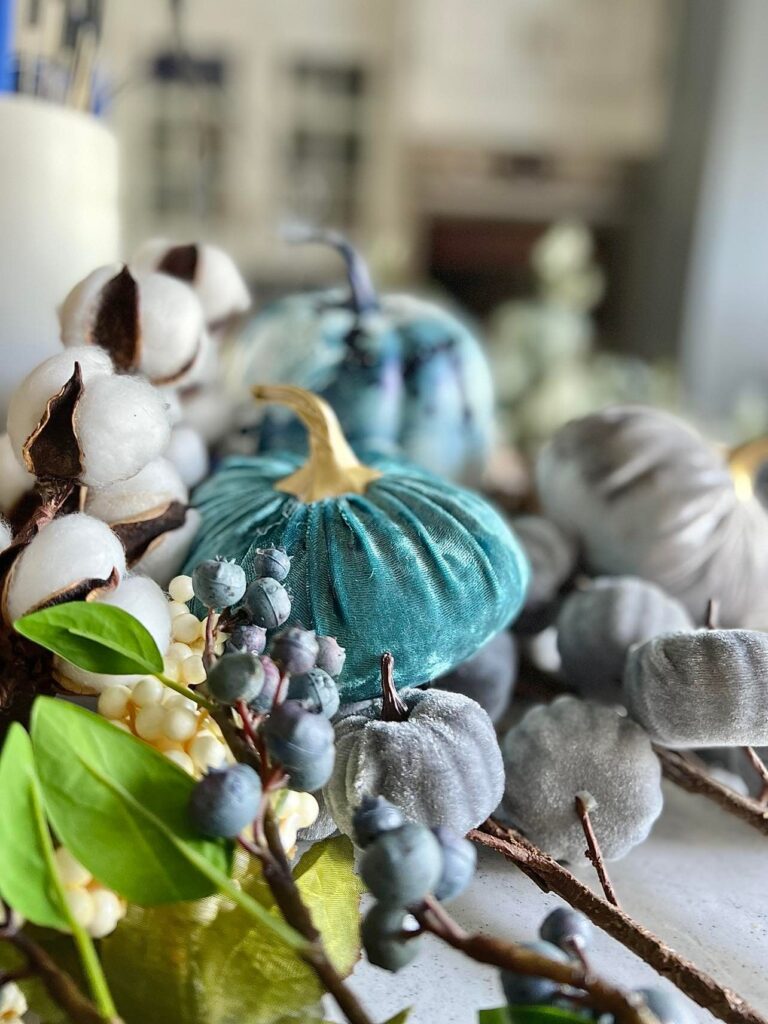 White pumpkins nestled among spring greenery is the perfect marriage of the summer to fall home decor transition!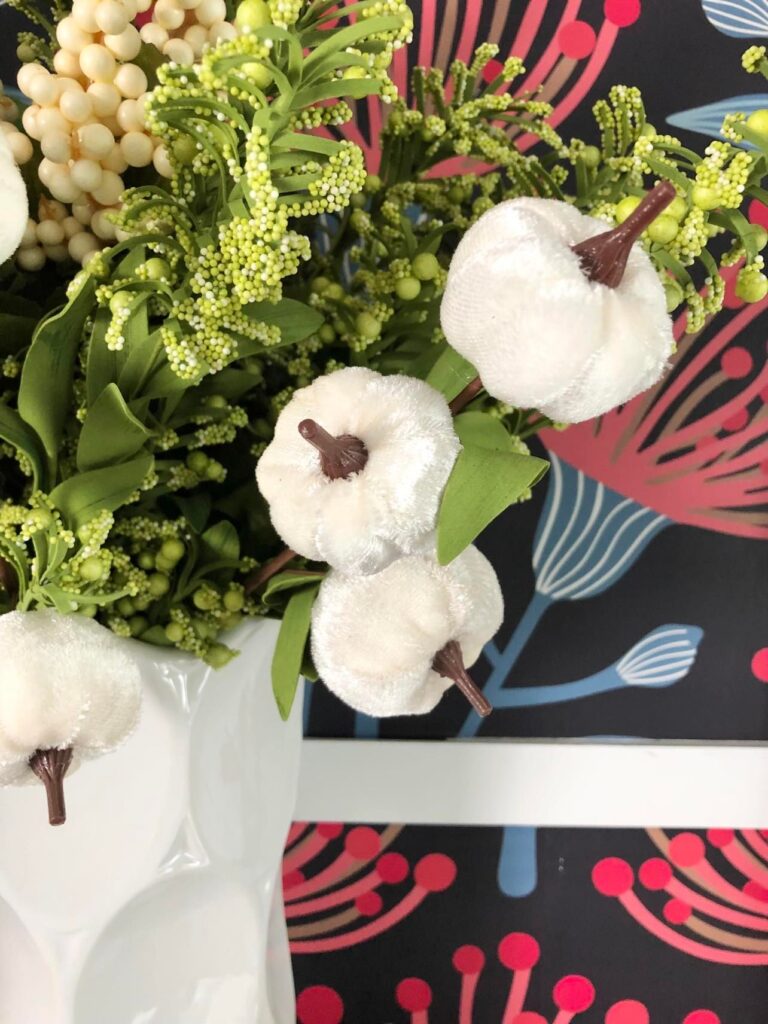 These mini russet pumpkins found a home in a large glass pumpkin and is surrounded by bright orange velvet picks.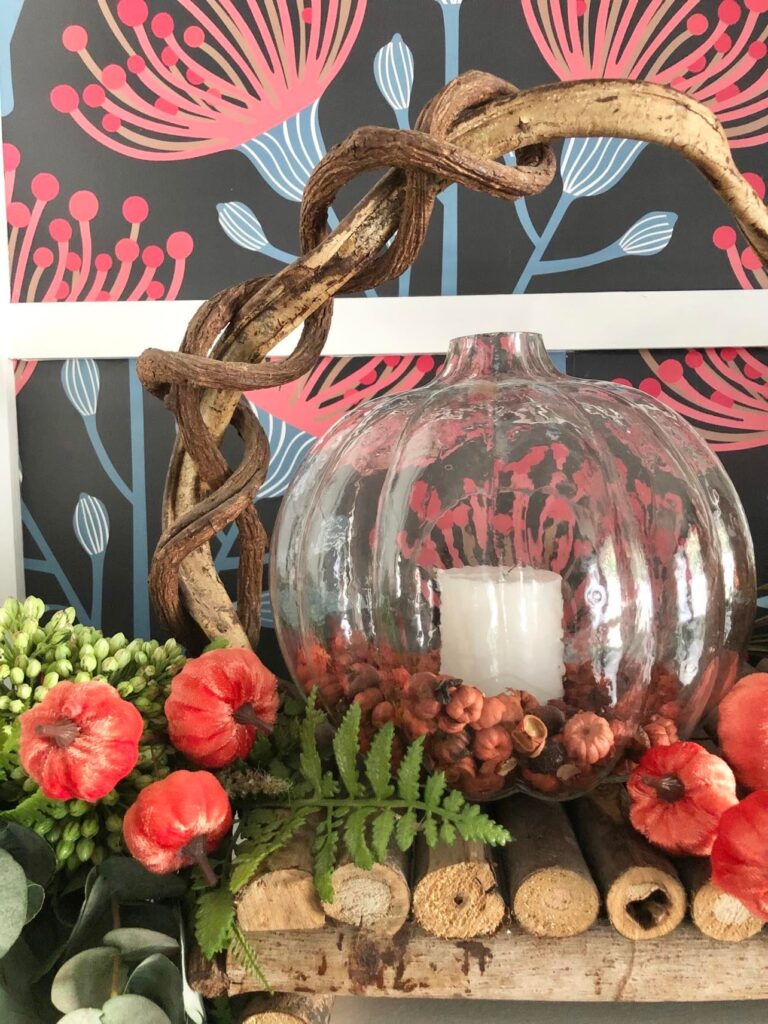 I invite you to keep following today's blog hop. Your next stop is with Regina at Saved From Salvage. She is so clever with her projects and has an incredible eye for home decor. Plus, she has a wicked cool sense of humor!
Thank you for joining me today! With a few simple changes and some fall home decor ideas, you can enjoy all that autumn has to offer – from cozy fireside chats to cuddling with your favorite throw blanket. So welcome fall into your home with open arms – and maybe a few extra throw pillows, too!
Cheers!

p.s. Looking for a few Fall craft projects? Here are a few of my favorite!
A Fall Wreath Idea is 3 Easy Steps
An Unexpected Way to Decorate Your Front Door for Fall
Don't Forget to Pin It!
Pin the image below to your boards on Pinterest (just click the Pin button in the top left corner). You can also follow along with me on Pinterest!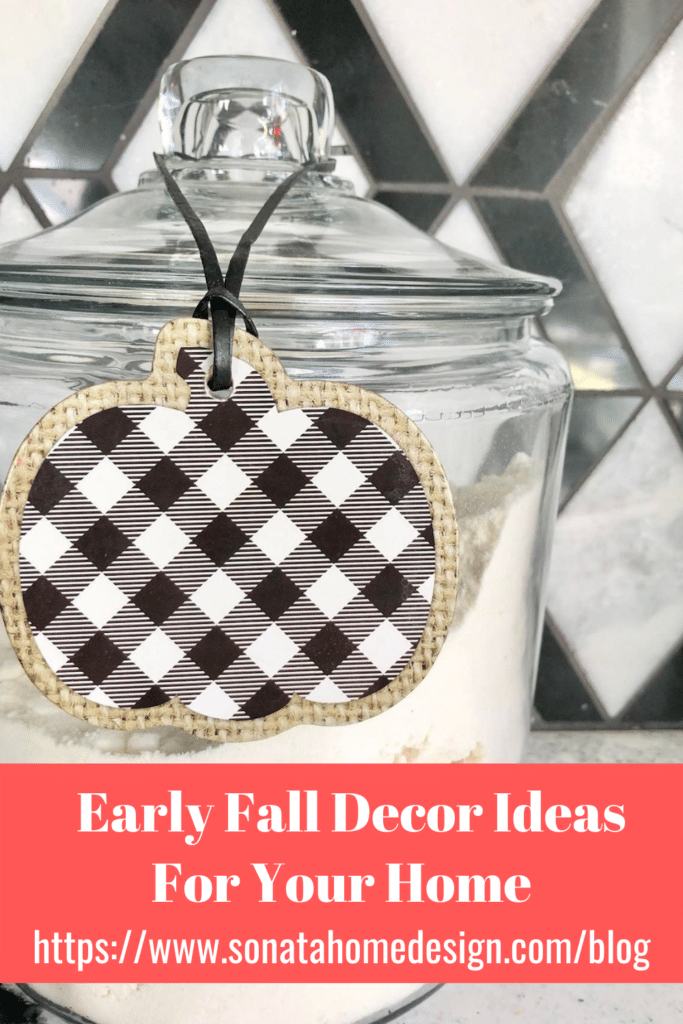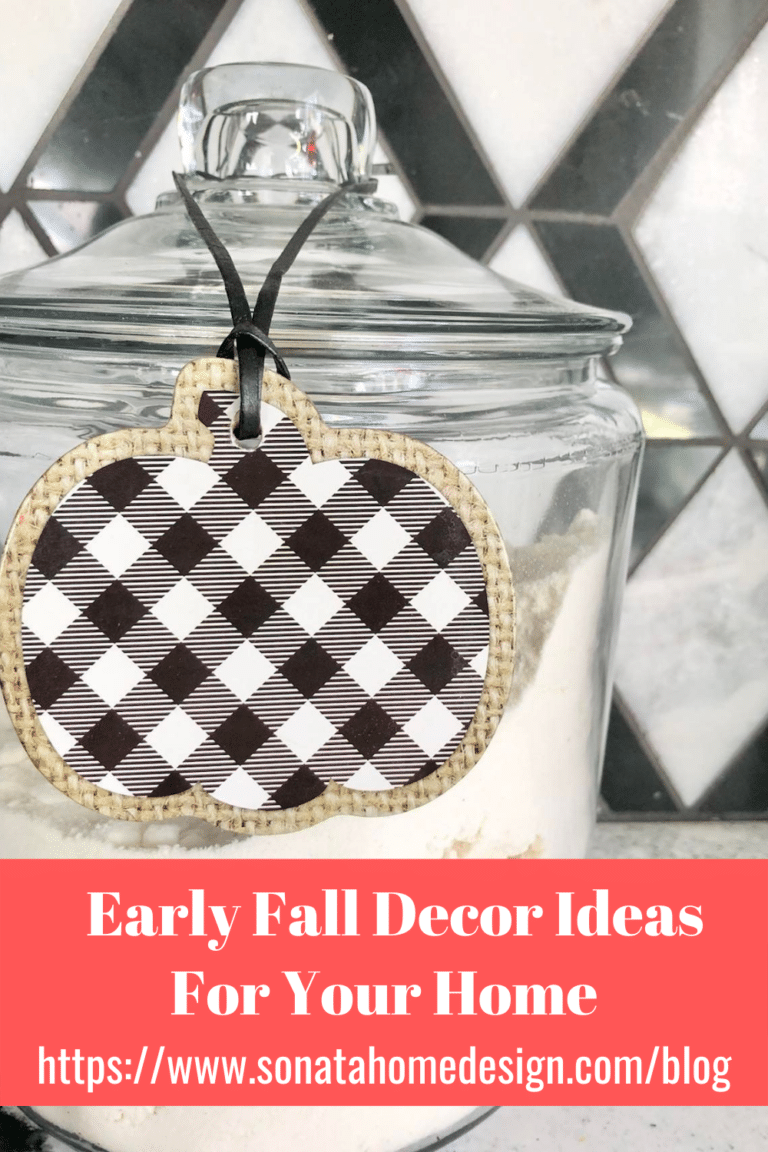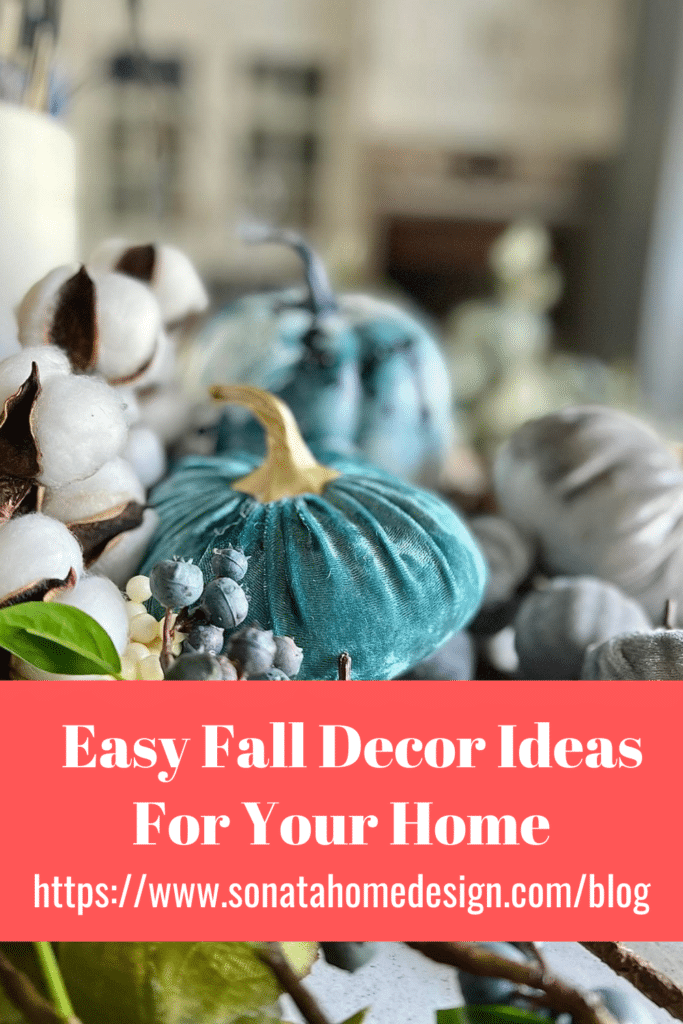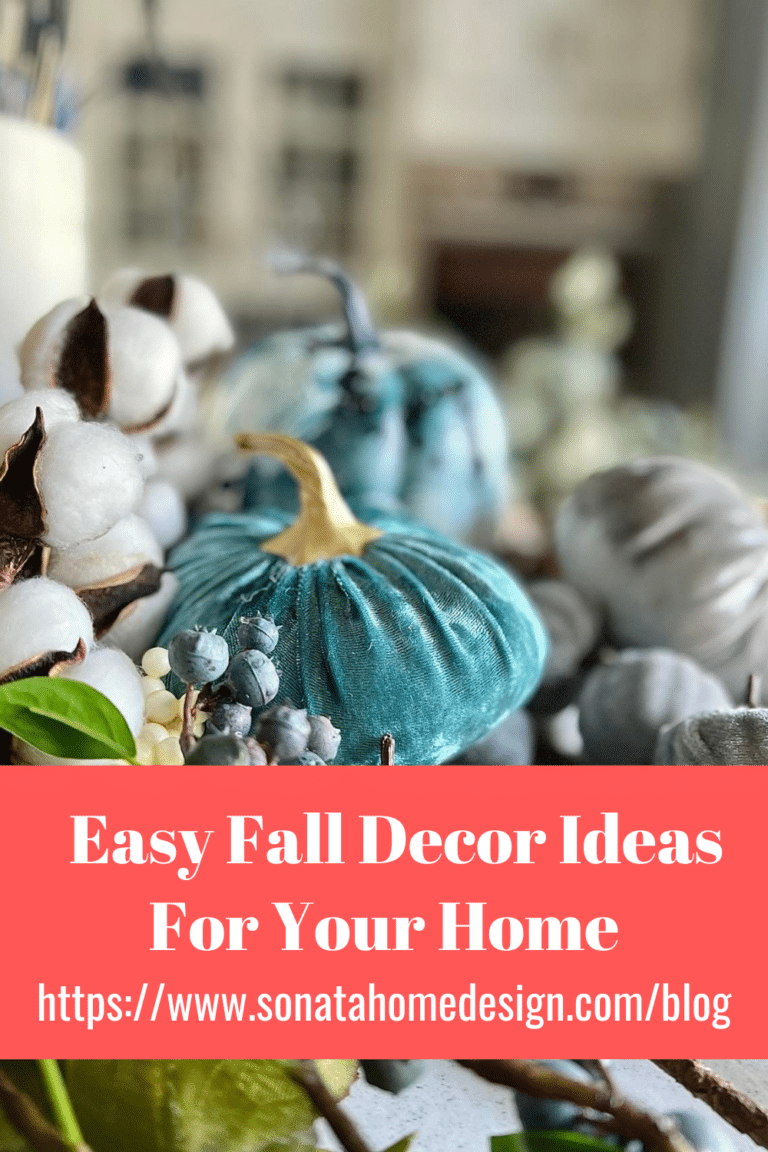 Shop My Favorites