Easy Fall Front Porch Decorating Ideas on a Budget
It's the perfect time to transform your front porch into a warm and inviting spot for the fall season. But here's the best part: you don't need a bottomless wallet to achieve that cozy, seasonal look. In this blog post, I'm sharing an array of delightful fall front porch decorating ideas on a budget.
So grab a pumpkin spice latte, put on your coziest sweater, and let's dive into the world of budget-friendly fall porch decor!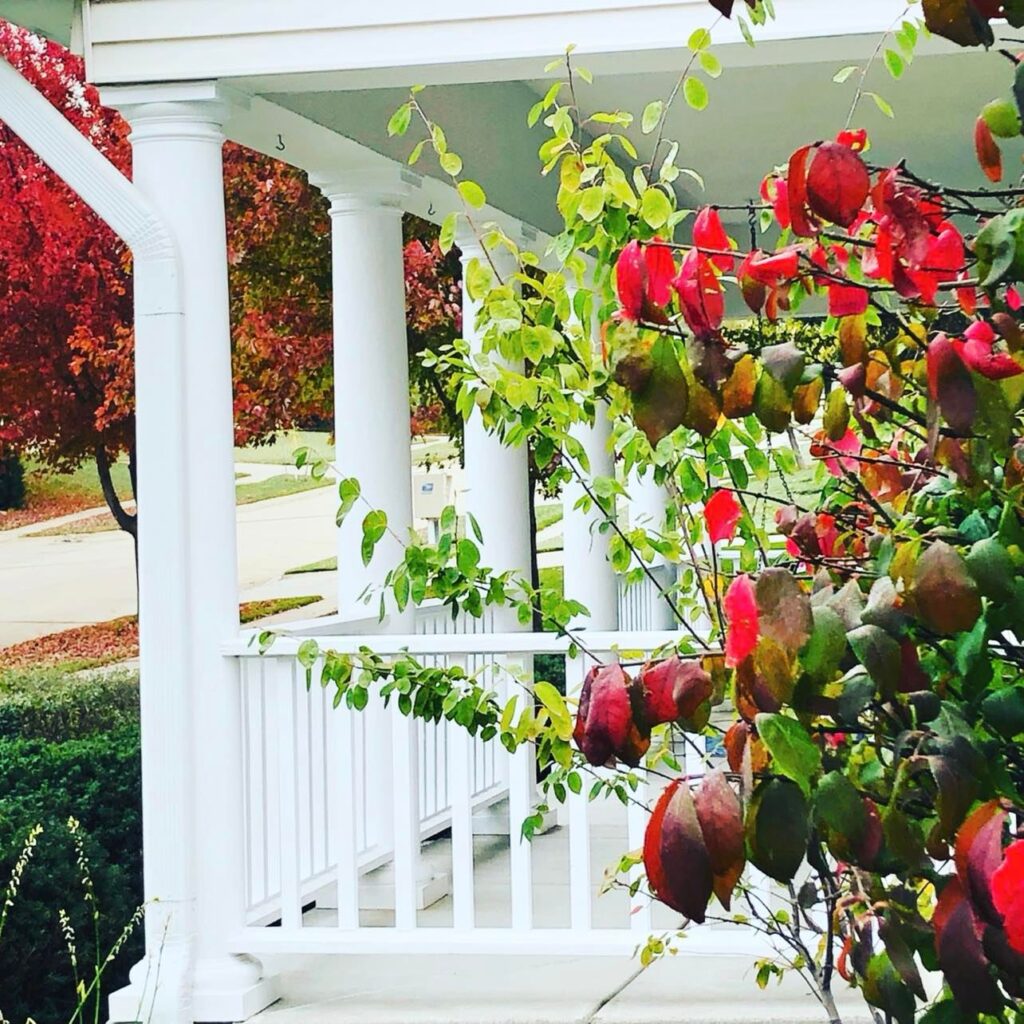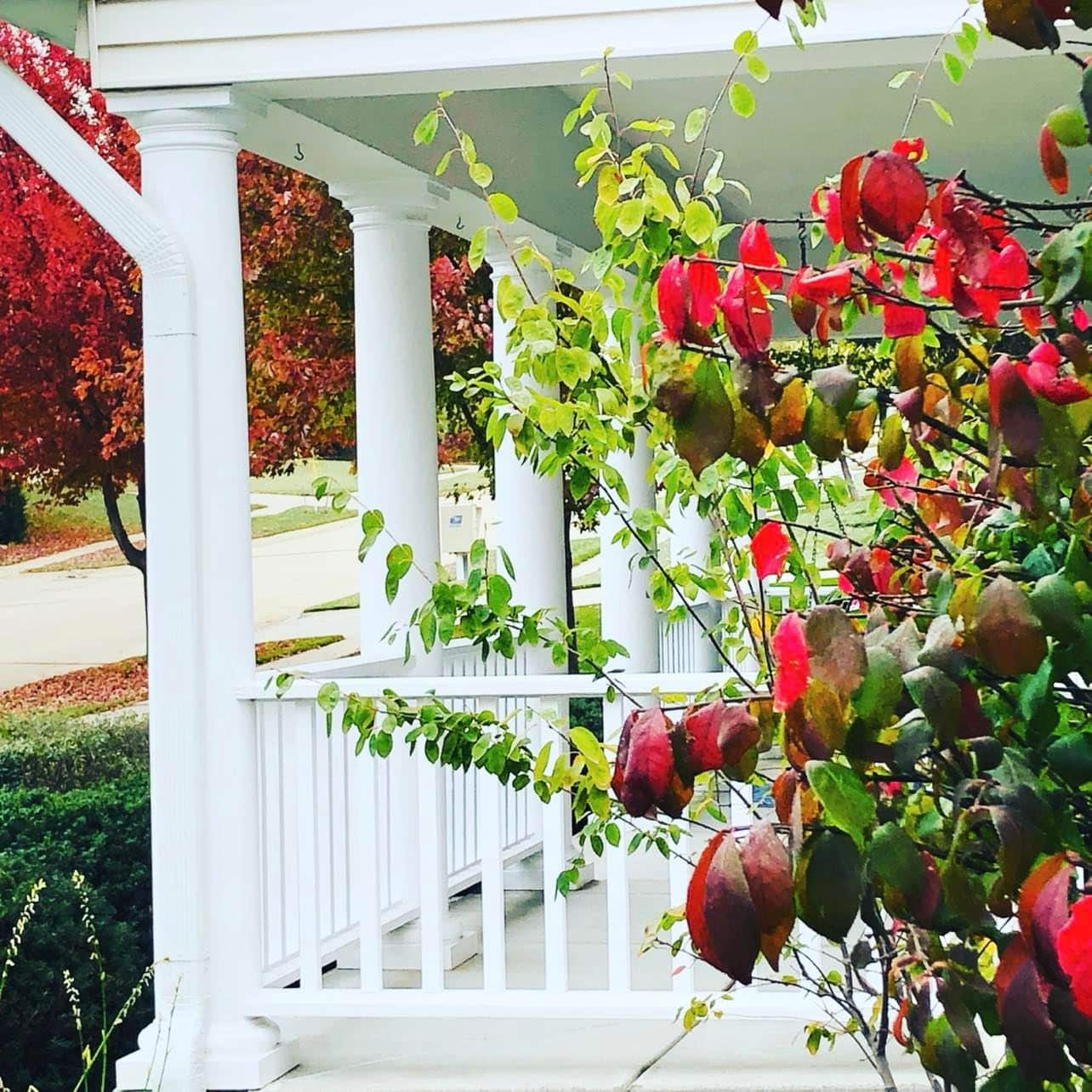 This blog contains affiliate links. This means a small commission is earned if you make a purchase by using this link. The price you pay will be the same whether you use the affiliate link or go directly to the vendor's website using a non-affiliate link.
​
It's the time of year that has me out walking our neighborhood and loving every moment.
FALL!
I think it is part of Midwest life to "walk the block" when autumn returns each year. Our corner lot has seen a lot of walking traffic lately!
​Bentley loves to stand at our kitchen window and let us know when someone walks by. (That's a nice way of saying that he barks!)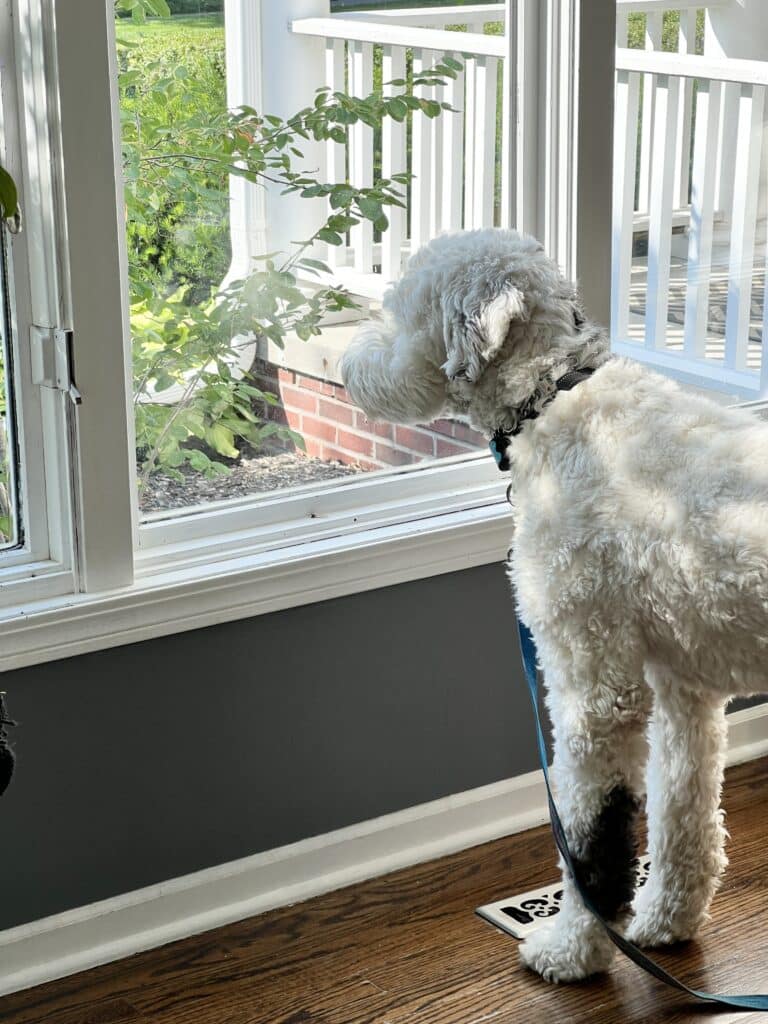 When I am out walking, I love to check out all of the fall curb appeal. I get lots of inspiration for front porch ideas from our walks.
​True confession time…sometimes I wonder how much they spent for all of that autumn gorgeousness!
We are blessed with a large porch and I love to decorate this outdoor space with the changing seasons, but I don't like to spend a lot of money!
So I don't!
​Fall decorating doesn't have to break the bank!
​Don't let a tight budget deter you! With a little creativity and some clever fall decorating, you can boost your curb appeal without spending a lot of money.
Remember, it's not about how much you spend, but the warmth and charm you bring to your front porch that will make it a welcoming space for both you and your guests to enjoy throughout the fall!
The Budget-Friendly Approach to Fall Decor
Before we start decorating, let's chat about the budget-friendly mindset.
Embracing a "less is more" philosophy can be your best friend. Start by utilizing what you already have, like potted plants or vintage pieces, to create a warm and inviting atmosphere on your large porch. Focus on simplicity, creativity, and repurposing items you already have.
This approach not only saves money but also allows you to inject your unique personality into your porch decor.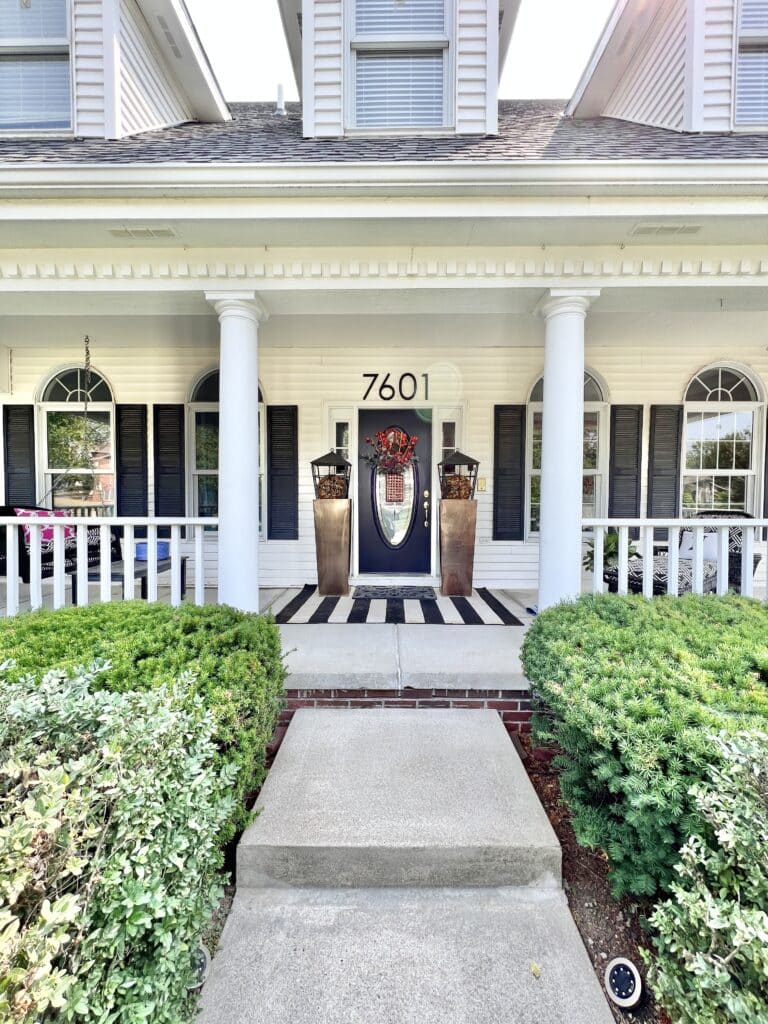 Now, let's get started!
Welcoming Front Door Fall Decor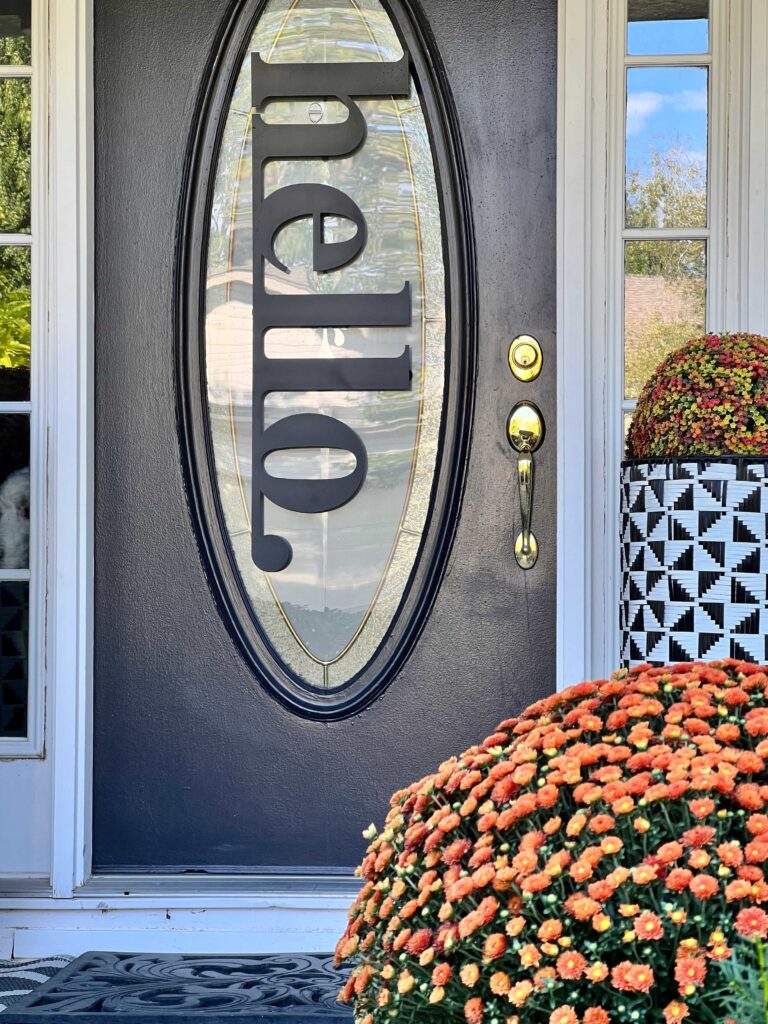 Welcome sign
Why not be obvious and just say "Hello!"
A metal or wood sign with a cheerful greeting sends a hearty welcome from the porch to the street for not much more money than a wreath.
Speaking of Wreaths…
There are so many affordable fall wreaths that you can find in stores or online. I even have a list of my Top Ten Favorite Fall Wreaths.
A fall wreath for your front door is a classic porch decor item, and you can create one on a budget. My friend, Wendy from WM Designhouse is the "Queen of Foraging" and creates gorgeous wreaths using what she finds in nature.
Seasonal Doormat
Swap out your usual welcome mat with one that has a fall-themed design or message. These can be found at most home stores, and they instantly set a welcoming tone for your porch.
You can also take a year-round outdoor rug or mat and give it a fall look by simply surrounding it with orange pumpkins. The orange color will "pop" from the street and invite your guests to the front door!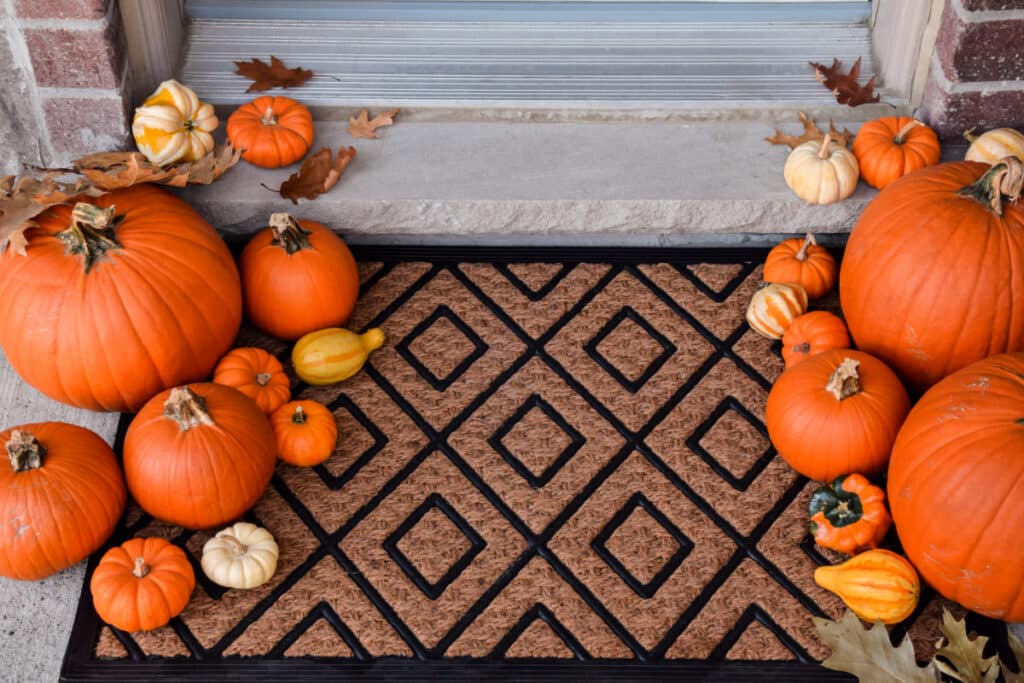 Pumpkins on Parade
Pumpkins and gourds are fall's best friends, and they're incredibly versatile!
Real Pumpkins
Embrace the authenticity of the season by adorning your front porch with real pumpkins in various shapes and sizes. Place a cluster of them on your doorstep, arrange some on your stairs, or simply place them on a porch banister. Their earthy textures and warm hues will infuse your porch with a genuine fall spirit.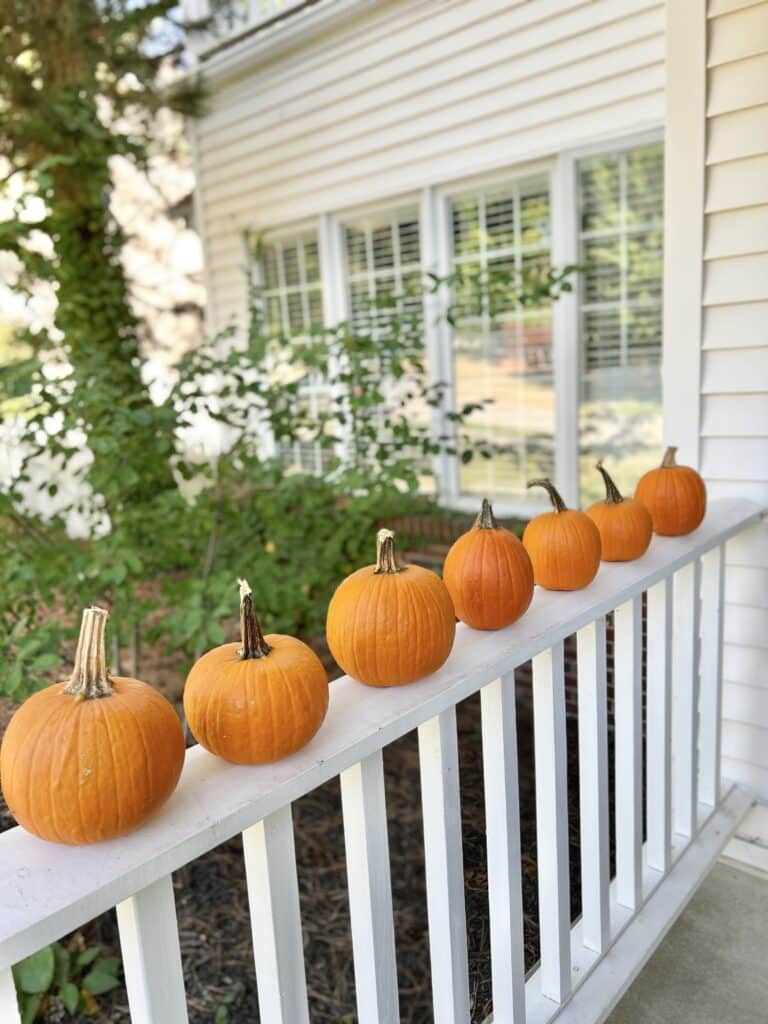 Faux Pumpkins
If you want a decorating idea that can last throughout the season and beyond, opt for faux pumpkins.
These durable and reusable decorations come in a multitude of colors and styles, allowing you to express your creativity without worrying about spoilage.
Create an eye-catching pumpkin centerpiece for an outdoor side table or a wreath that will maintain its charm all autumn long.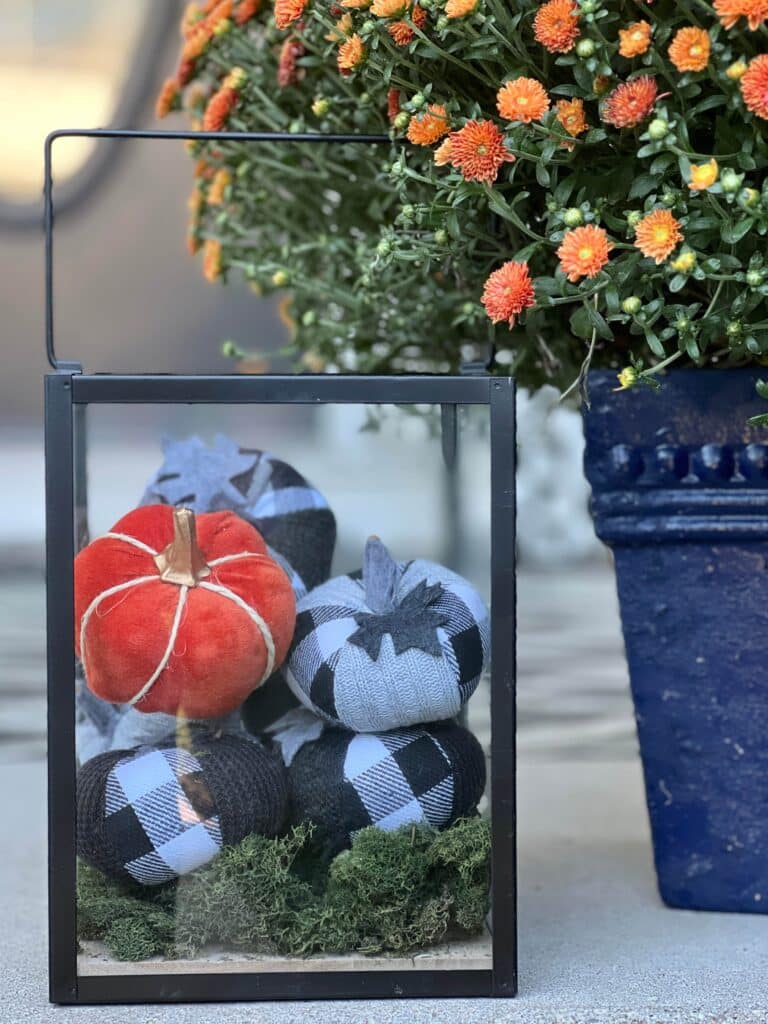 Small Pumpkins
Small pumpkins can have a big impact on your front porch. Scatter mini pumpkins along your porch steps or arrange them in rustic crates for a charming display. Their petite size is perfect for filling nooks and crannies, adding delightful touches of fall to every corner.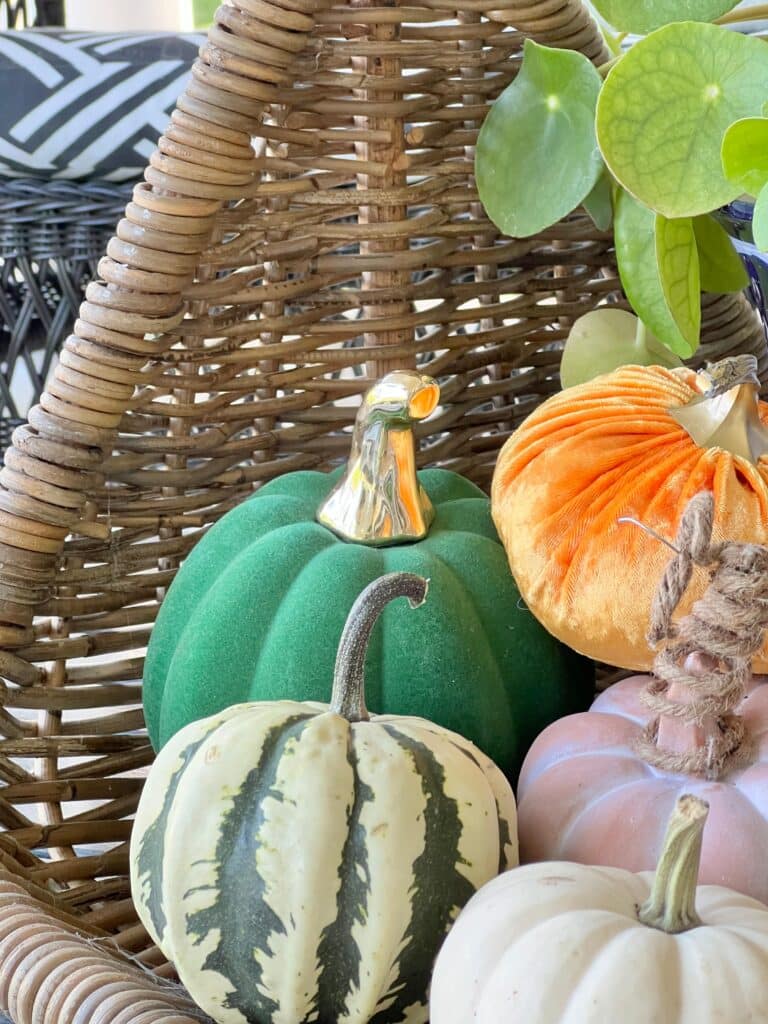 Orange Pumpkins or White Pumpkins?
No wrong answer here…use one or the other or both!
Sometimes a classic is best…orange pumpkins are a timeless symbol of fall. Arrange them in various sizes and heights on your porch steps or in decorative containers. Combine them with traditional fall foliage like cornstalks and mums for a traditional fall-themed entrance.
For a more elegant and neutral look, consider decorating with white pumpkins. Their crisp, clean appearance pairs beautifully with metallic accents and muted fall foliage. Arrange them on a burlap runner or in baskets for a chic and sophisticated front porch display.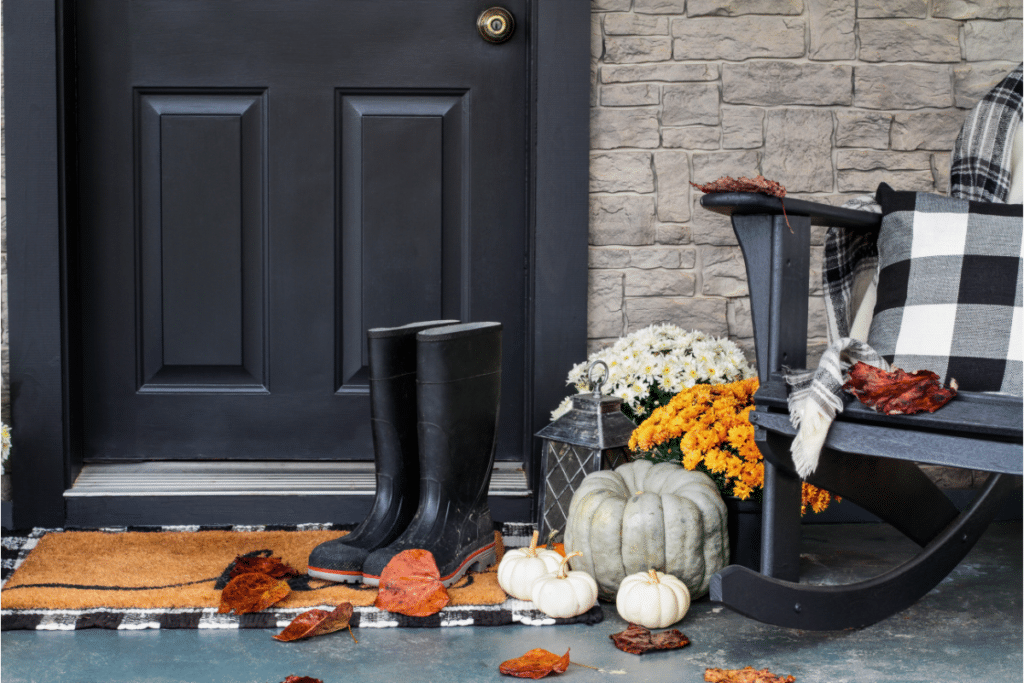 Friday Night Lights (or any night of the week)
The Magic of Candlelight
Decorating your front porch with faux candles is a brilliant way to add a warm and inviting ambiance without the worry of wax drips or open flames.
Start by choosing high-quality LED candles in various sizes and styles to suit your porch decor. Place them strategically in lanterns, hurricane vases, or even nestled in a bed of autumn leaves for a cozy fall feel.
To create a magical atmosphere during the evening, set your faux candles on timers so they automatically illuminate as the sun sets.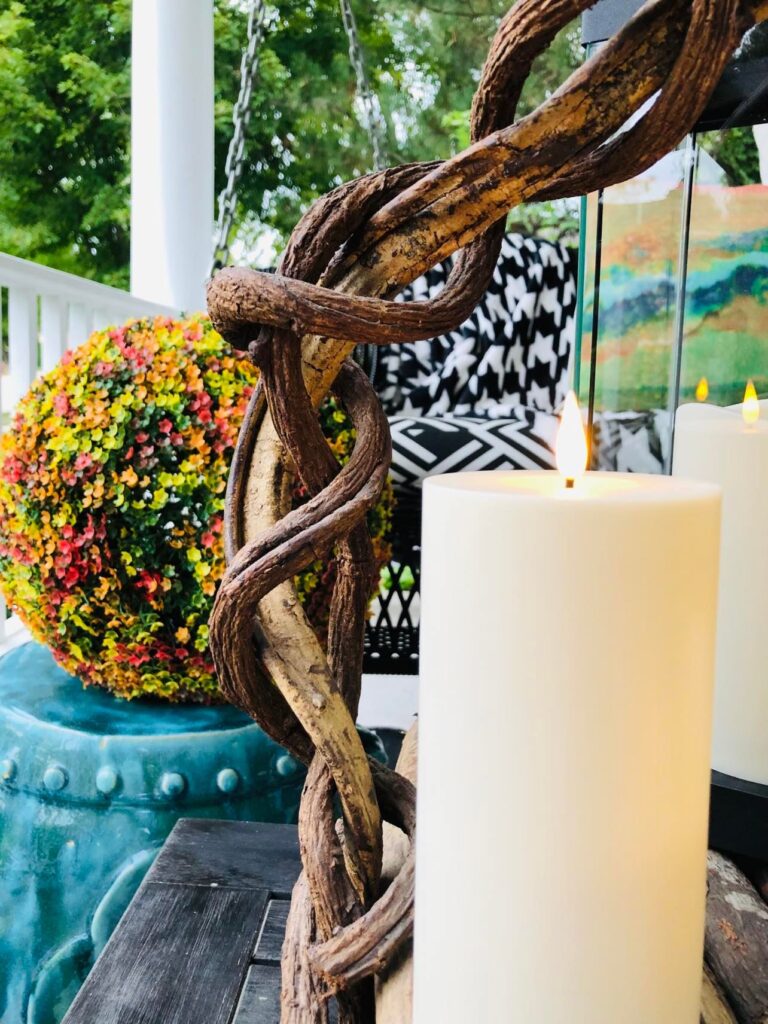 String Lights
String lights are very affordable are readily available in various shapes and sizes.
Then, get creative with their placement—drape them along your porch railing, weave them through potted plants, or hang them overhead for a magical canopy effect.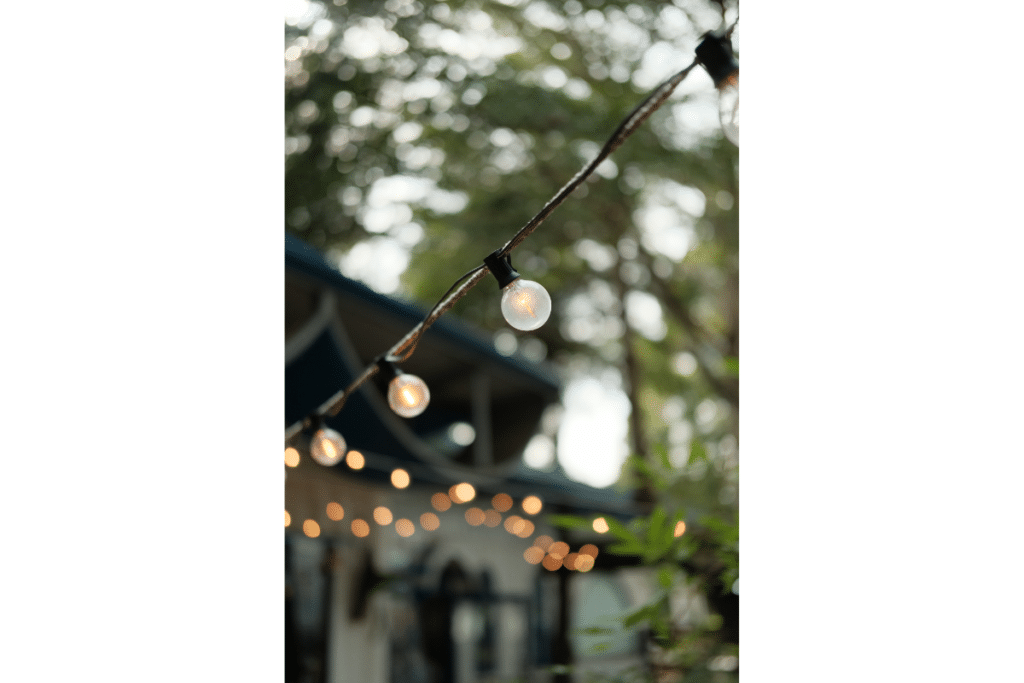 The warm, inviting glow of string lights will instantly elevate your porch's charm, making it the perfect spot for sipping cocoa on chilly evenings or hosting cozy gatherings with friends and family without breaking the bank.
Lanterns
Lanterns with battery-operated candles inside are not only budget-friendly but also cozy and inviting.
If you don't want to spend money on a new lanter, scour garage sales, thrift stores, or discount shops for affordable lantern finds. Then, simply insert battery-operated LED candles or strings of fairy lights inside them for a warm and cozy glow.
Arrange these lanterns along your porch steps, hang them from hooks, or place them on a small table for an enchanting atmosphere. You will love the fall glow in the evening!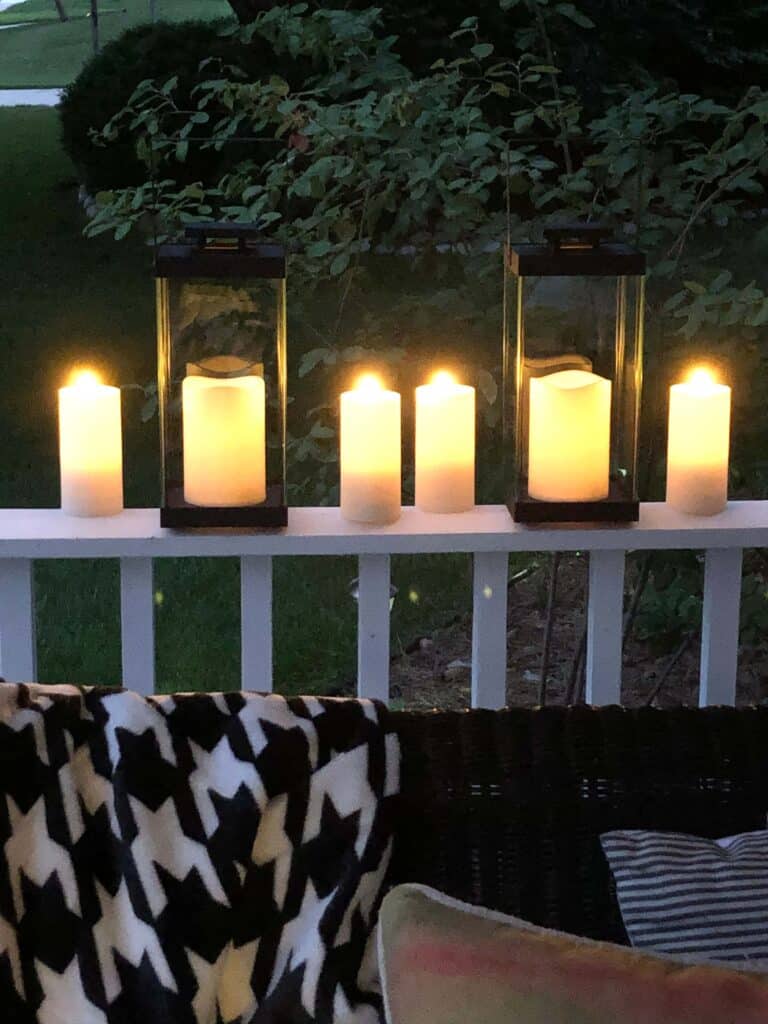 Fall Flowers
Marvelous Mums and Mesmerizing Marigolds
Fall flowers of any kind are great to display on a front porch. Colorful mums and marigolds are especially budget-friendly and are an easy way to bring fall vibes to your porch.
Burnt orange, spicy gold, and colorful purple and magenta are just some of the colors that you can find with affordable mum plants and marigolds. Or, add some white mums to your decorating budget for a neutral palette or to enhance a colorful display.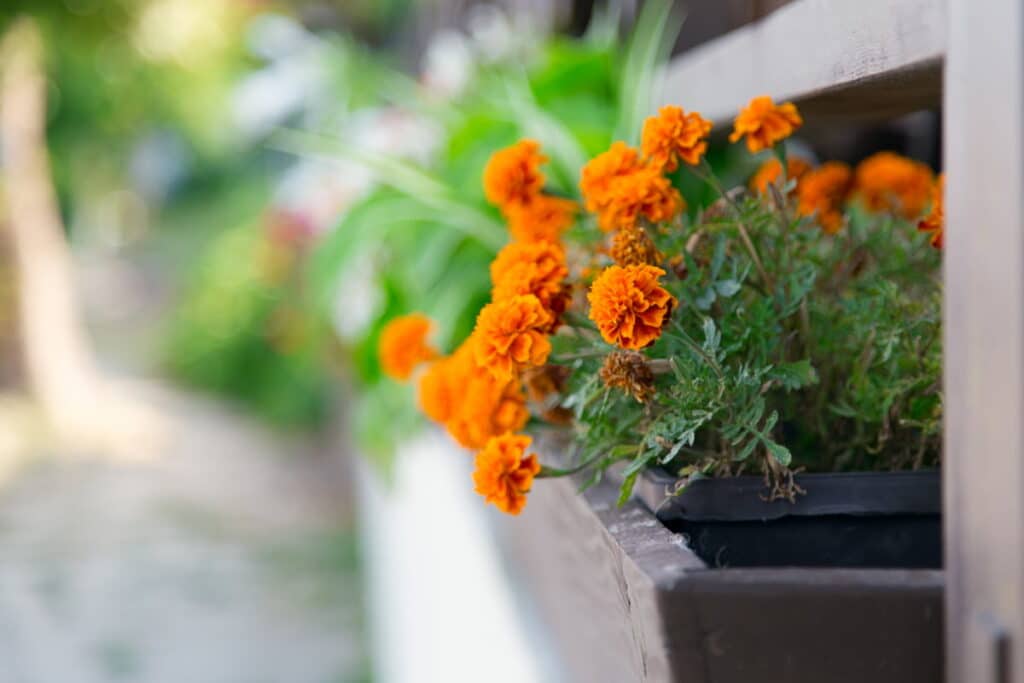 Place them in decorative window boxes, planters, or even re-purpose old buckets.
Budget Tip: Add some faux or fresh ornamental kale for a chic designer look.
Faux Flowers
Head to your local craft store or even thrift shops to find budget-friendly artificial blooms in various colors and styles. Then arrange them in inexpensive pots or containers you might already have.
Be creative in where you place them. Try displaying them on a side table, nestled among some pumpkins, or even in a basket on the front door!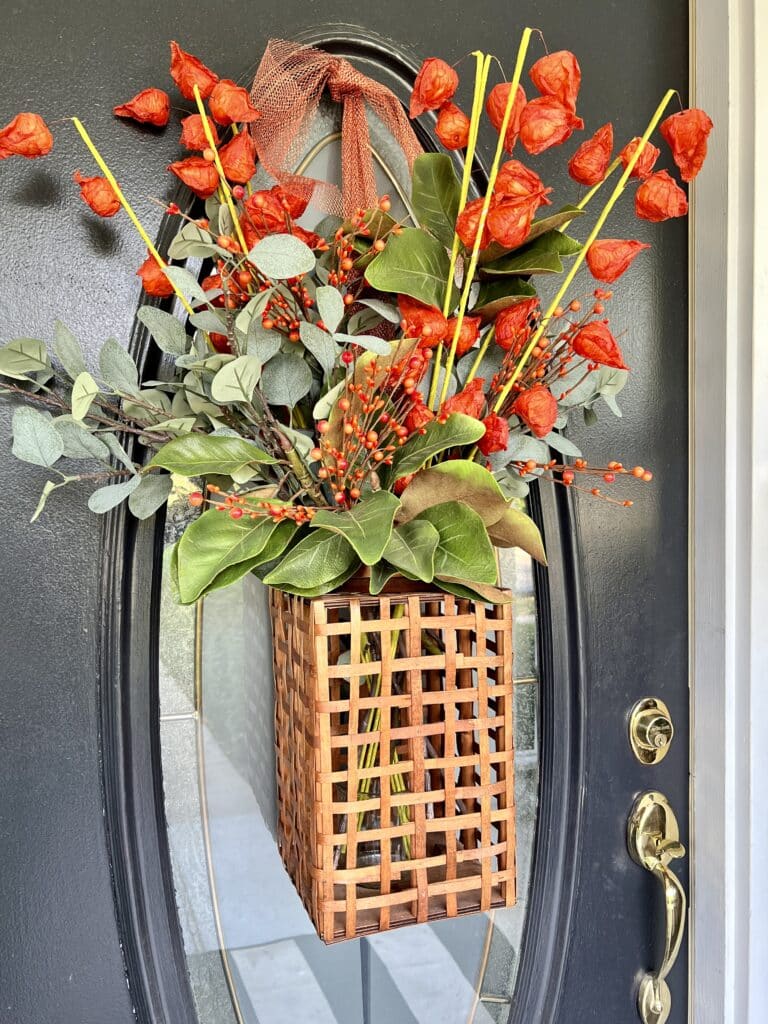 Whether you prefer a burst of colorful blossoms or a more subtle, natural look, faux flowers can instantly brighten up your porch without the need for constant watering or maintenance.
Natural elements
Mother Nature has you covered with her abundant gifts!
Gather fallen leaves, pinecones, and corn stalks for free right from your backyard or a nearby park. Create a charming fall wreath with colorful autumn leaves, stack corn stalks at your entrance for a rustic touch, and display pinecones in a decorative basket or dough bowl.
It's amazing how these simple, free treasures from nature can turn your porch into a warm and inviting haven for the season.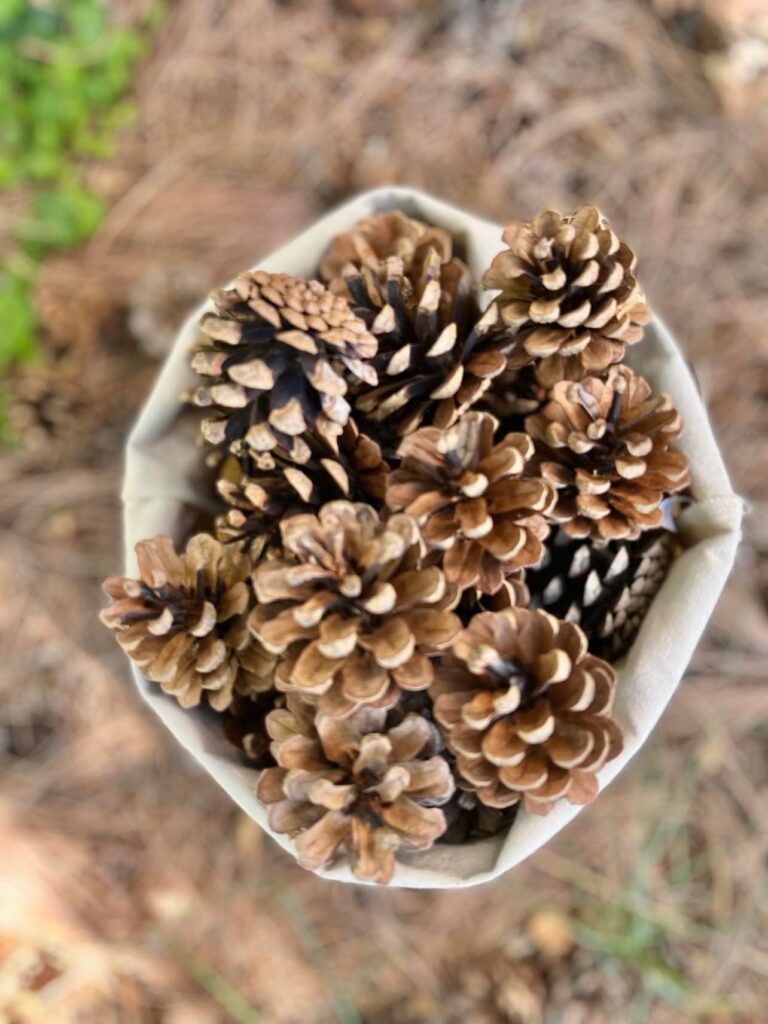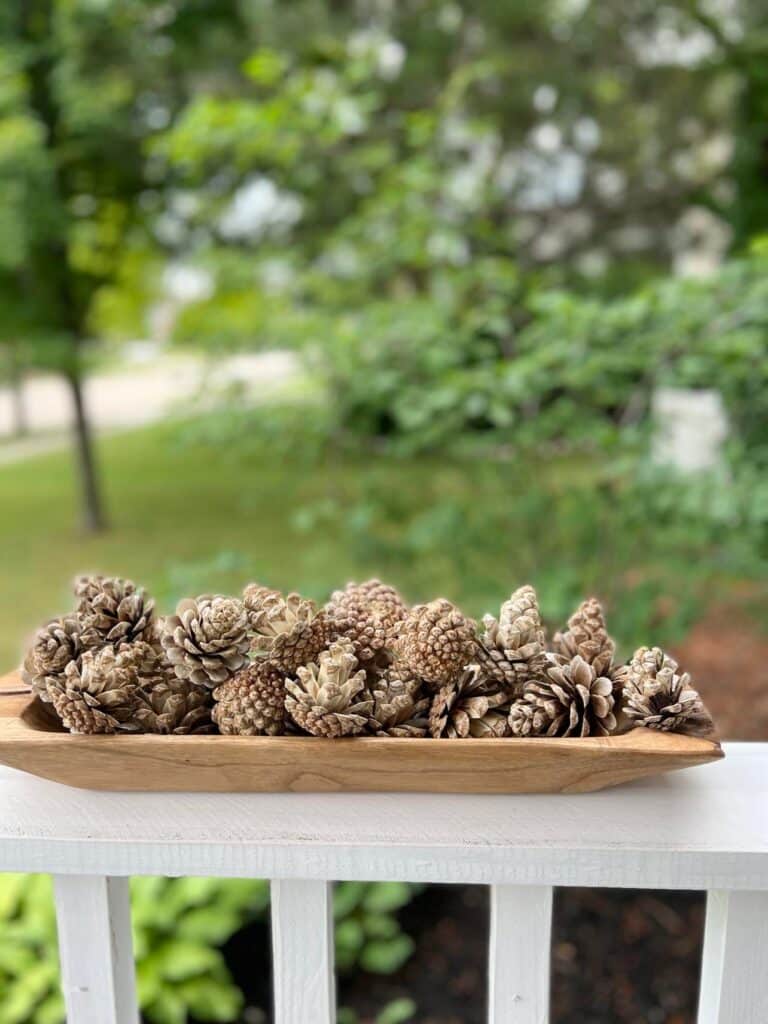 Budget Tip: Slice wood rounds make fantastic pedestals for lifting and elevating decor. Keep this in mind when you or a neighbor is trimming trees!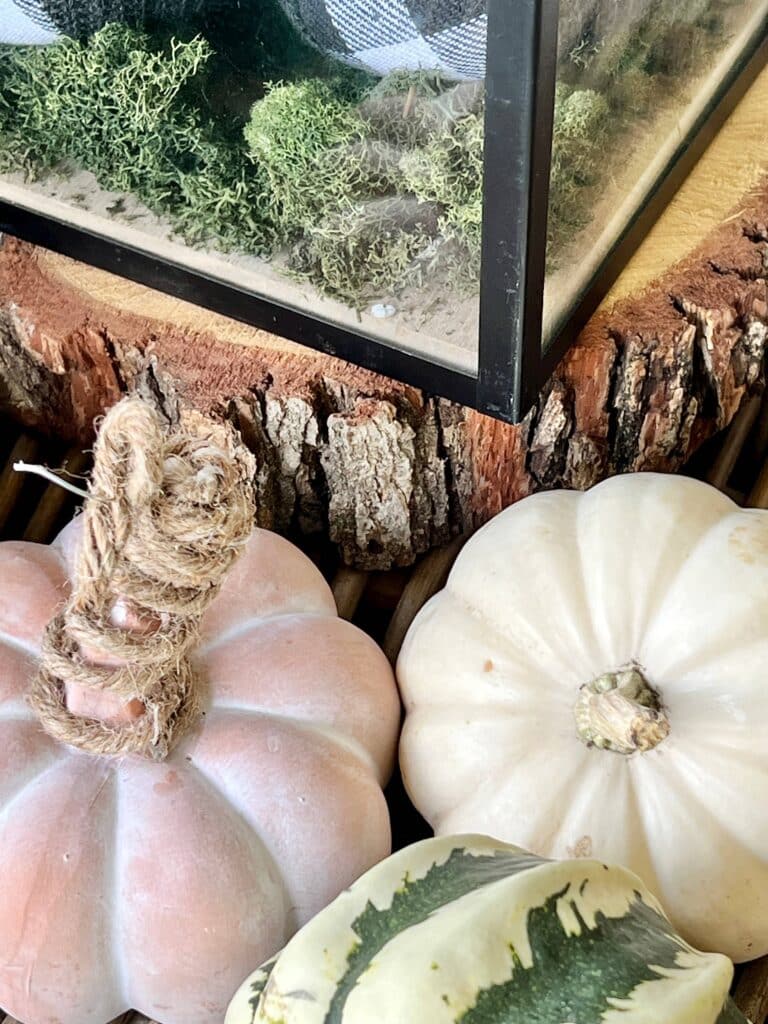 Baskets, Planters, and Pots
These versatile containers can house a variety of seasonal decorations, from vibrant flowers to pumpkins and seasonal greenery.
Fill a wicker basket with colorful mums, arrange planters with cascading vines or place pots with hardy perennials. Or fill a planter with faux apples, pumpkins, and fall foliage. Don't be afraid to mix and match different sizes and styles to add depth and character to your porch decor. It's an easy and cost-effective way to add charm to your porch!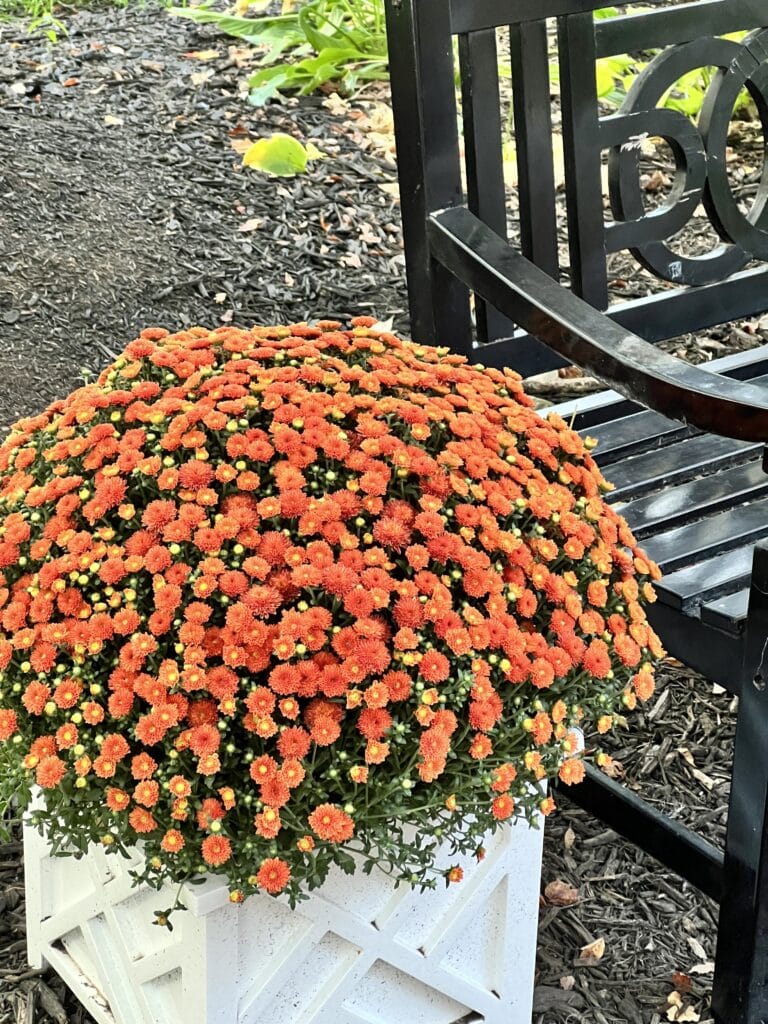 Add an extra layer of charm: Consider DIY painting or staining your containers to match your porch's color scheme. Whether you opt for a rustic farmhouse look or a more contemporary style, these affordable decorating options will make your front porch feel warm and welcoming.
The Porch Swing
If you have a porch swing, maximize its charm in the fall!
Add a touch of coziness with throw pillows. Opt for budget-friendly options like plaid pillows that exude a charming, rustic feel. Or, choose a pillow with a fall quote or saying.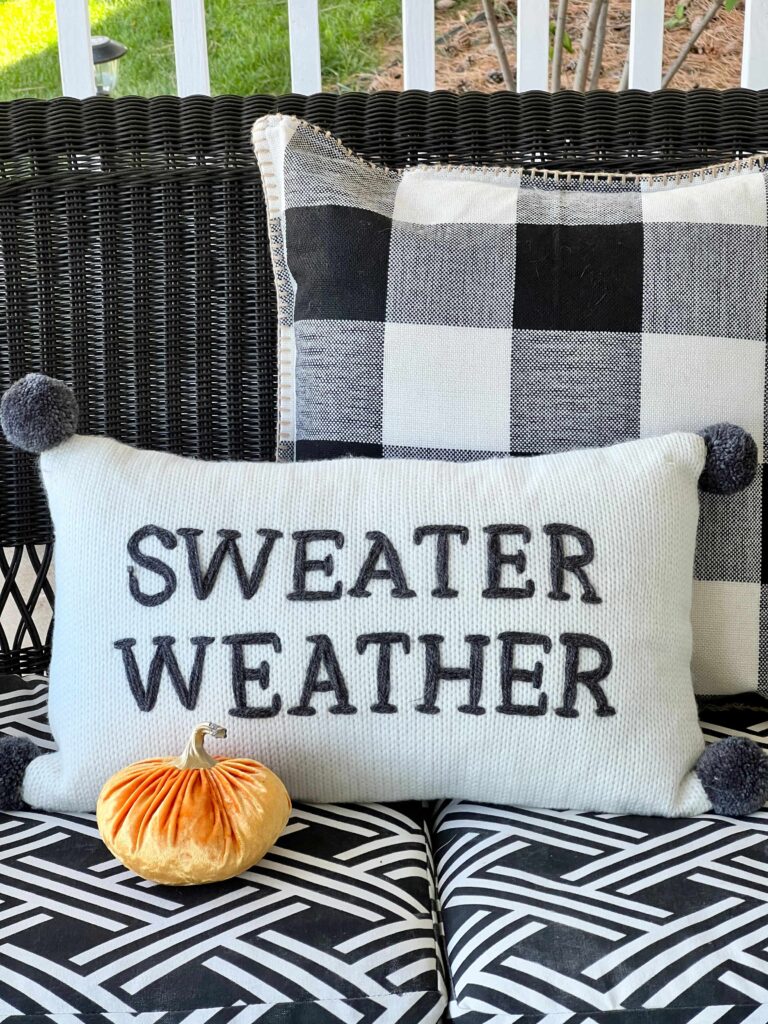 Or make your own porch pillows from inexpensive jute placemats!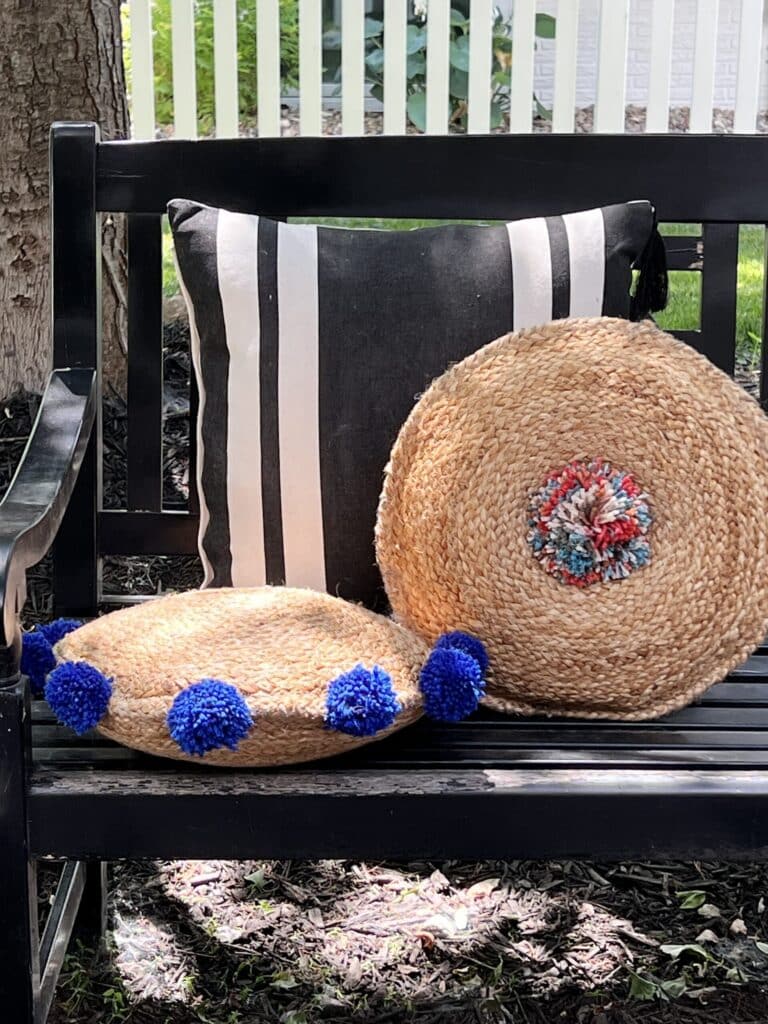 To complete the inviting look, drape a cozy throw blanket over the swing. This also works beautifully with a charming farmhouse style rocking chair!
With this budget-friendly setup, you'll have the perfect spot to unwind, enjoy a cup of hot cider, and watch the world go by right from your front porch.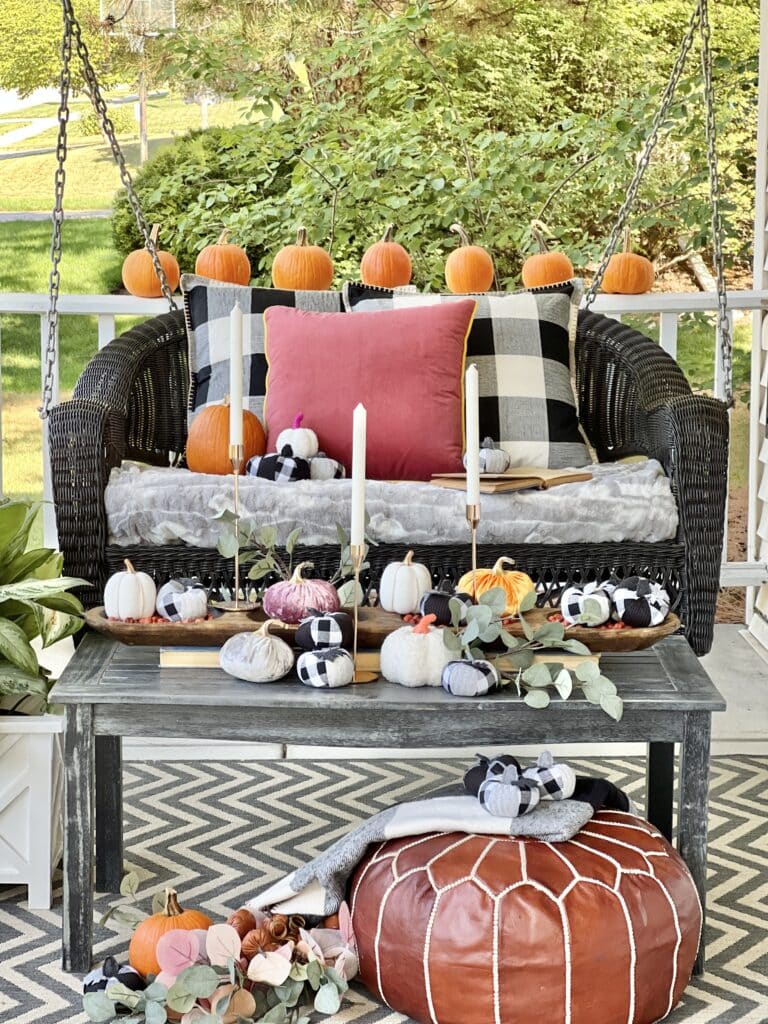 DIY Projects
You know I love a DIY project! What better way to save some money and create exactly what you want!
To get inspired, think of how you can rework typical fall elements such as pumpkins, leaves, twigs, fall colors, textures, and materials.
For example, his Pumpkin Kissing Ball project is one of my favorite creative ideas for DIY fall projects for the porch.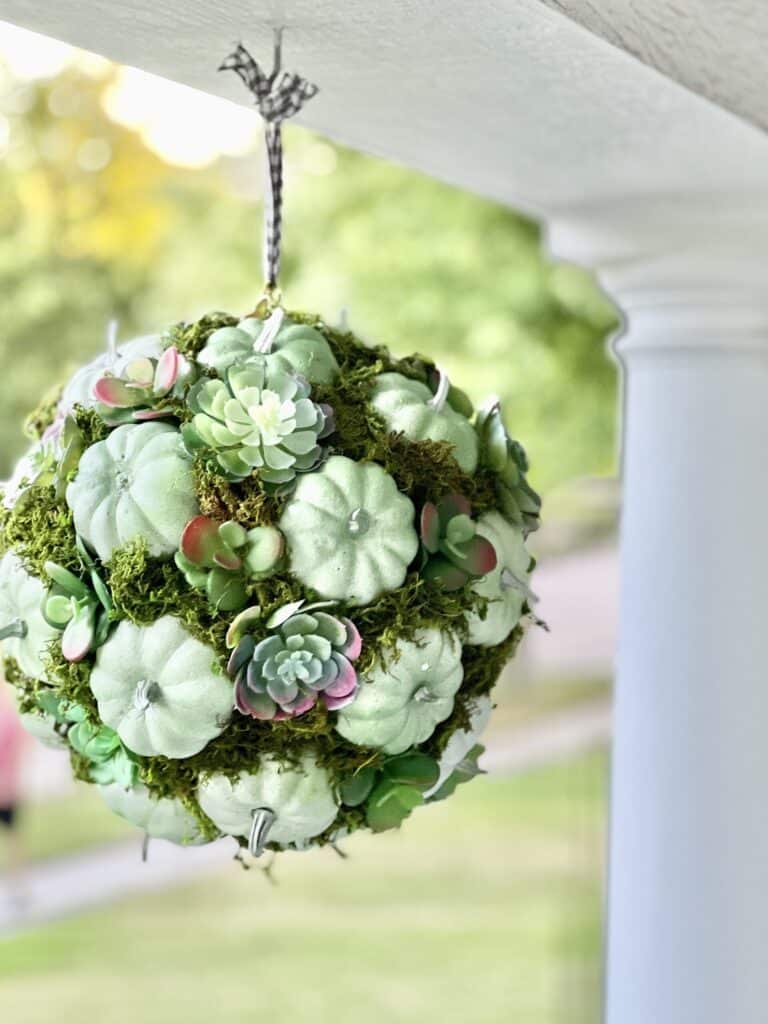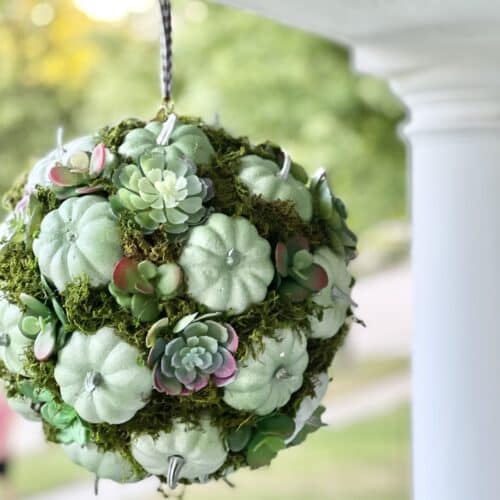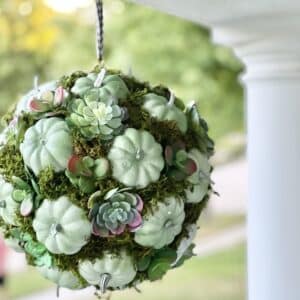 Pumpkin Kissing Ball
This pumpkin kissing ball project is a delightful and whimsical fall decoration crafted from a collection of small pumpkins or faux pumpkins and perfect for your home or front porch
Equipment
1 upholstery needle

1 hot glue gun
Ingredients
1

styrofoam ball

20

mini faux pumpkins

1

can

spray paint

1

bag

green moss or Spanish moss

1

roll

jute twine
Instructions
Spray paint the mini faux pumpkins in a color of your choice.

Thread the jute twine with the upholstery needle and push through styrofoam ball. Tie a knot on both ends and a loop on one end.

Apply hot glue to the faux pumpkins and attach to the styrofoam ball.

Apply moss to the spaces between the pumpkins with hot glue.
Notes
For full details on the making of this DIY Pumpkin Kissing Ball, go to https://www.sonatahomedesign.com/how-to-make-a-hanging-pumpkin-ball/
Troubleshooting Tips for Budget Success
Now that you've got a bevy of budget-friendly ideas, here are some troubleshooting tips to keep your fall porch decorating on track:
Start Small: If you're new to DIY decor, practice on an old item or in an inconspicuous area to get the hang of it.
Mix and Match: Don't be afraid to experiment with different lengths, colors, and textures to achieve your desired look.
Embrace Imperfections: Remember that the beauty of fall decor is in its imperfections, so don't stress too much about making everything look flawless.
FAQs: Fall Porch Decorating on a Budget
Q: Where can I find inexpensive seasonal decor?
A: You can find inexpensive seasonal decor at various places, including dollar stores, thrift shops, online marketplaces, and craft stores during sales. And, of course, you can often save money by DIY crafting!
Q: Can I use any type of pumpkins or gourds for decoration?
A: Absolutely! You can mix and match different types, sizes, and colors of pumpkins and gourds to create a diverse and charming display.
Q: How do I maintain the freshness of potted plants like mums and marigolds?
A: Keep them well-watered and ensure they receive enough sunlight. Trim any dead blooms to encourage new growth.
Q: Can I use real candles instead of battery-operated ones in lanterns?
A: While real candles can create a beautiful ambiance, they require careful monitoring to avoid fire hazards. Battery-operated candles are a safer option, especially for outdoor use.
10 More Fall Front Porch Decorating Ideas on a Budget
Repurposed Garden Tools: Hang or arrange old garden tools like rakes and shovels on your porch wall, adding a rustic, autumnal touch.
Tin Can Lanterns: Transform empty tin cans into charming lanterns by poking holes in them to create unique patterns. Place LED candles inside for a warm glow.
Mason Jar Centerpieces: Fill mason jars with colorful fall leaves, acorns, or small pinecones and place them on your porch railing or steps.
Vintage Ladder Display: Lean an old wooden ladder against your porch wall and use its rungs to display pumpkins, gourds, or potted plants.
Sweater Pillows: Repurpose old sweaters into cozy pillow covers for your porch furniture, giving them a warm and inviting feel.
Burlap Banners: Create DIY burlap banners with stenciled fall messages or motifs to hang across your porch railing.
Window Frame Decor: Hang a vintage window frame on your porch wall and attach faux autumn wreaths or garlands to each pane.
Doorstep Stump Stools: Repurpose tree stumps as rustic outdoor stools or side tables. These natural additions bring an earthy charm to your porch.
Framed Chalkboard Quotes: Place a large framed chalkboard on your porch and change the quote or message regularly to reflect the season's spirit.
Hay Bale Seating: Utilize hay bales as temporary seating or as a platform to elevate your potted plants and decorations, creating a charming farm-inspired ambiance on your porch.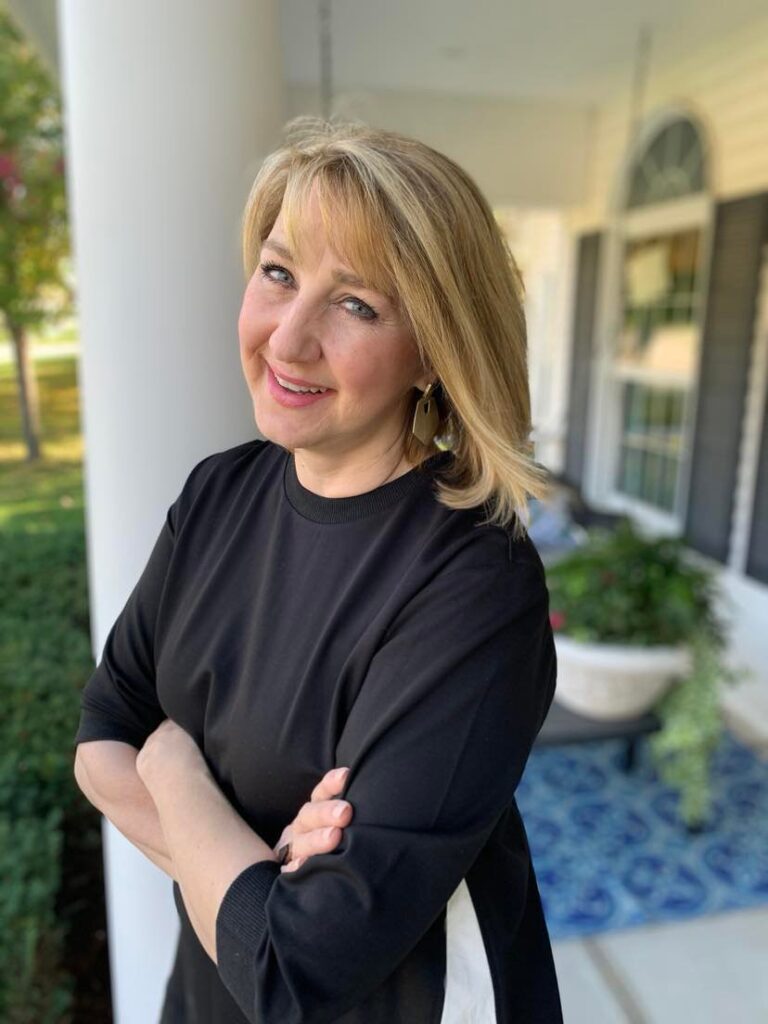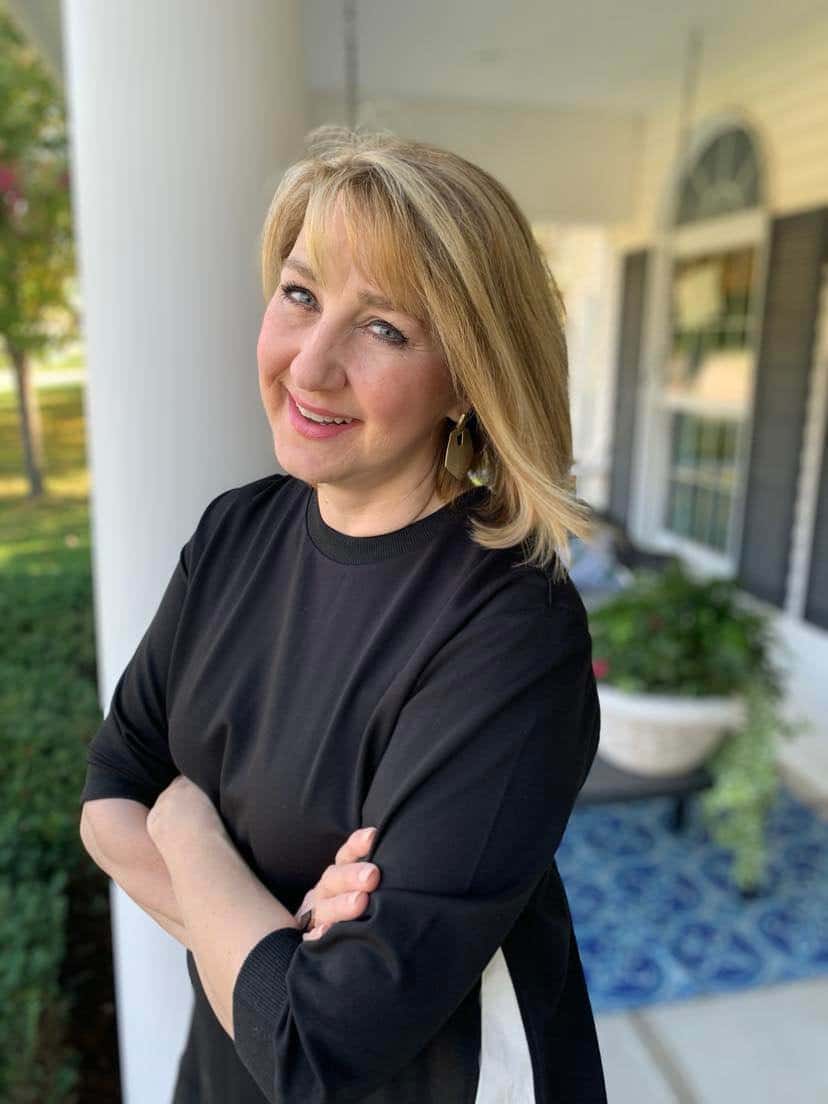 Fall front porch decorating ideas on a budget don't have to look like you are on a budget!
With a bit of creativity, resourcefulness, and some budget-friendly materials, you can create a warm and inviting space that captures the essence of the season. Shop your house, check out online and store bargains, and charge up your creativity!
From my front porch to yours, may your porch be a cozy haven for enjoying the crisp autumn days ahead!
Cheers!

Don't Forget to Pin It!
Pin the image below to your boards on Pinterest (just click the Pin button in the top left corner). You can also follow along with me on Pinterest!