How to Make an Easy DIY Boho Pom Pom Throw Pillow
Are you tired of looking at the same plain sofa cushions every day? Why not get creative and add some boho style to your living room with a DIY pom pom throw pillow? This simple craft project is great for homeowners, crafters, decorators, and anyone who loves interior design.
With just a few materials and minimal effort, you can easily create an eye-catching accent pillow that will give any space an on-trend bohemian vibe. So let's get started – grab your supplies and let's make this fun DIY project!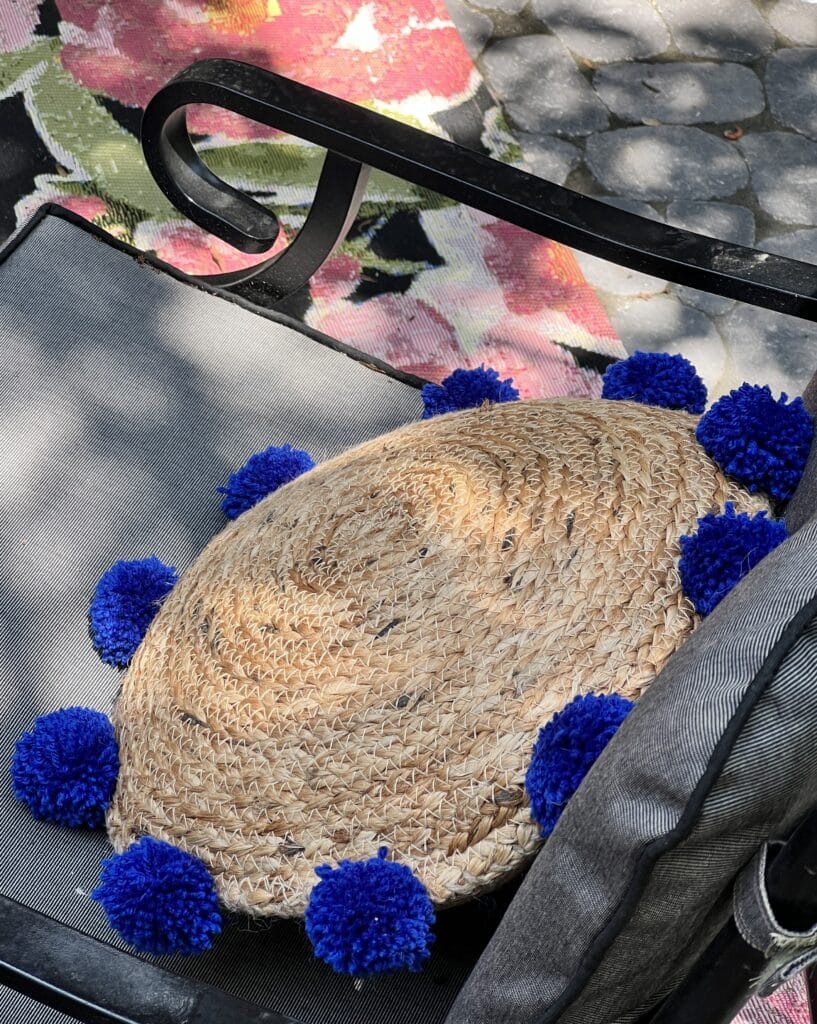 This blog contains affiliate links. This means a small commission is earned if you make a purchase by using this link. The price you pay will be the same whether you use the affiliate link or go directly to the vendor's website using a non-affiliate link.
Setting the table for dinner has its rewards.
A table place setting is a combination of everyday habit and rhythm…'The fork goes here..the napkin here…"
But it is also a time for mental creativity…sometimes with surprises!
"Wouldn't it be fun if I laid the napkin here?"
"How about a vintage plate there?"
"Couldn't I make throw pillows out of these jute placemats?"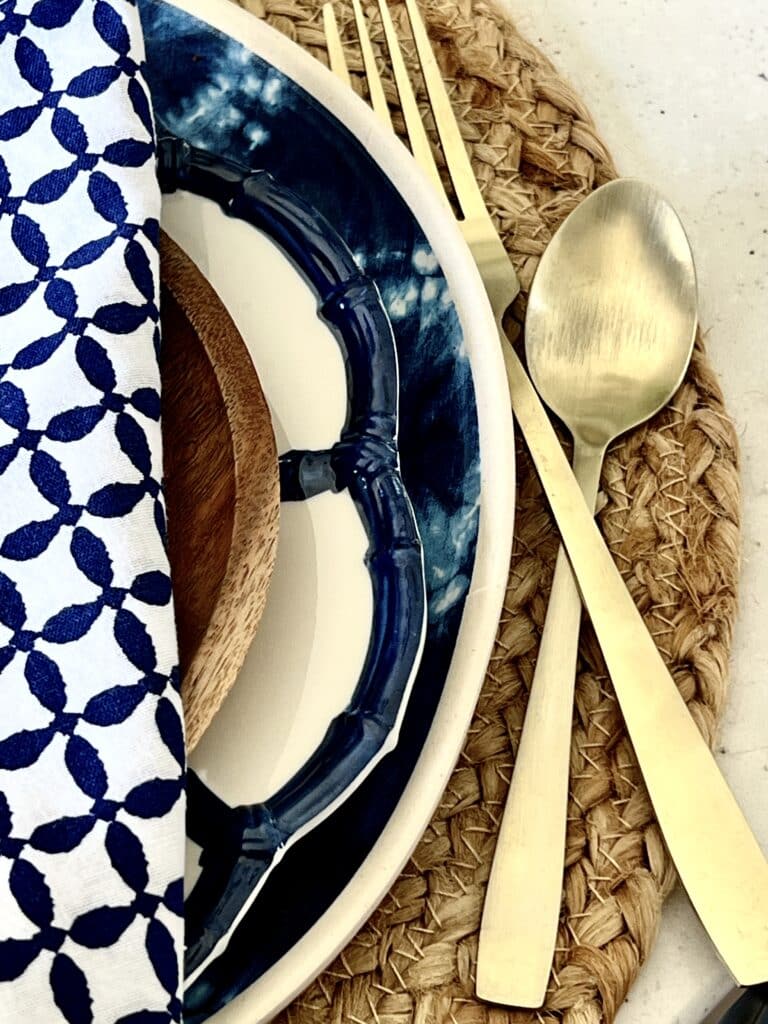 Light bulb moment above my head for question #3!
I use these jute placemats for table setting all the time. All. The. Time.
Natural color, nubby texture, circular shape…they are the perfect basis for a fun and versatile DIY boho pillow!
I've seen adorable boho pillow covers and lumbar pillows in a similar style in retail stores. Using jute placemats seemed a perfect way to make my own!
Why These DIY Pillows Are So Easy and Inexpensive
Jute placemats are easy to find.
No sewing machine is required.
No need for fabric glue or zipper closure.
No pillow insert or pillow form needed
Takes about 30 minutes to make
The best part? It is a fun way to upcycle
Supplies
Where to Find Jute Placemats
Once you are aware of jute placemats, you will see them everywhere!
Decor stores, craft stores, online stores…they can easily be found once you actually look. I've even seen these at the thrift store.
For your DIY boho pillows, the best jute placemats are those that are flexible. A board-like placemat would be very challenging!
How to Make a DIY Boho Pillow
You can make this pillow in just a few easy steps!
Take two jute placemats and line them up with each so you know they are basically the same size. This type of placemat can vary from one to another so try to get them in similar sizes.
There are no right sides to these types of placemats but you might want any sort of visible tag to be on the inside.
Cut a long length of jute twine and thread an upholstery needle.
You can certainly try to use a regular needle with a large head. I found the upholstery needle to be perfect for this project because of its length and ease of threading. I had one in my craft stash but they are inexpensive to buy.
Find a starting point on the outside of the placemats and start to hand sew the placemats together using a whipstitch. This is basically an "over-and-under" stitch that ties the two placemats together.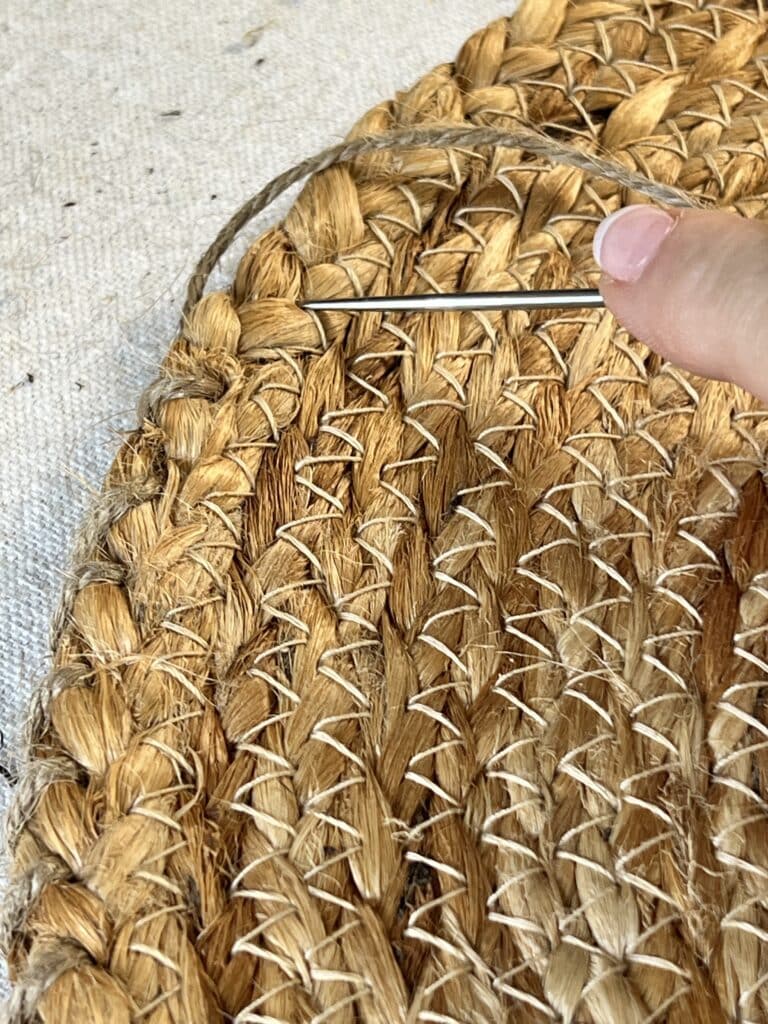 Work your way around the perimeter of the placemats and stop when you are about two-thirds of the way around.
At this point, you start to stuff the pillow with polyfill stuffing. No need for a pillow insert!
How much you use is up to you. I wanted my pillow to be fairly thick so I used about a half bag of poly-fil.
Once you have the stuffing inside, continue to hand-sew the placemats together. Finish with a basic knot at the end.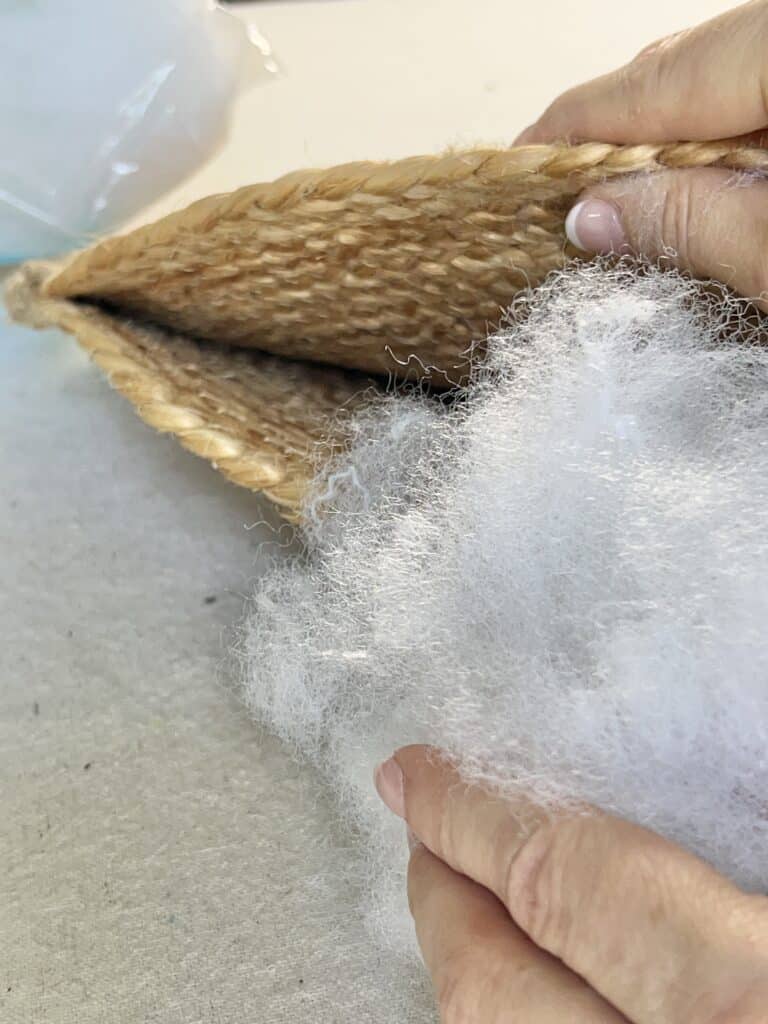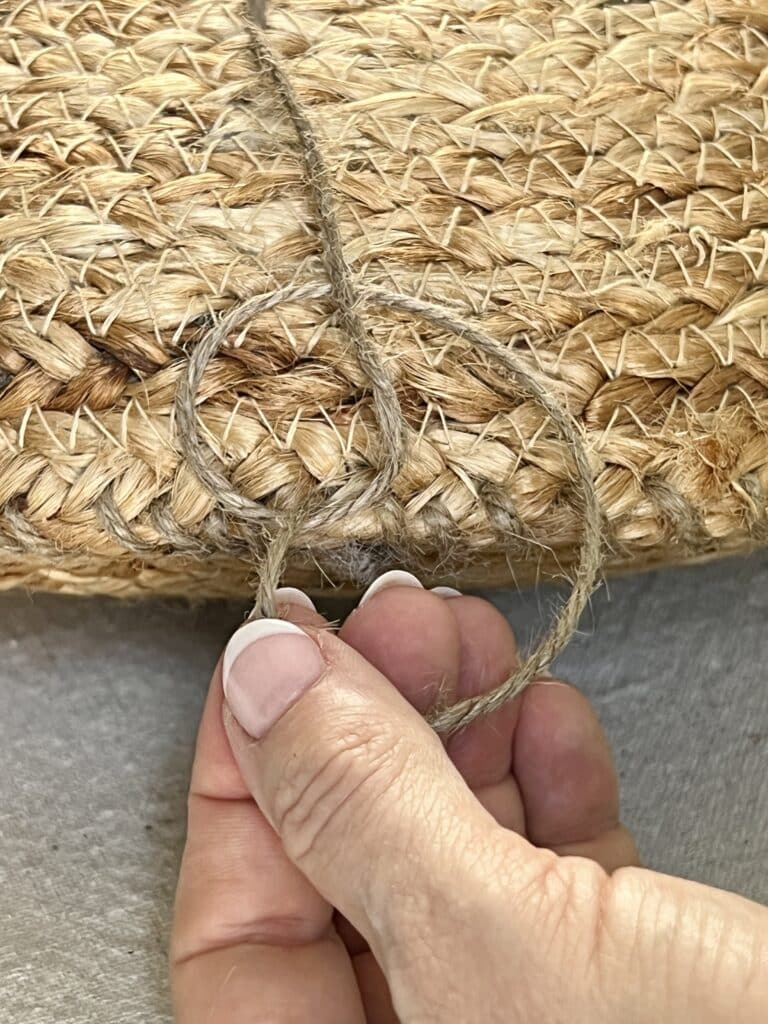 At this point, you have a pillow that could be styled as is. In fact, a basic jute pillow is a great idea for adding texture amidst other textiles and pillows.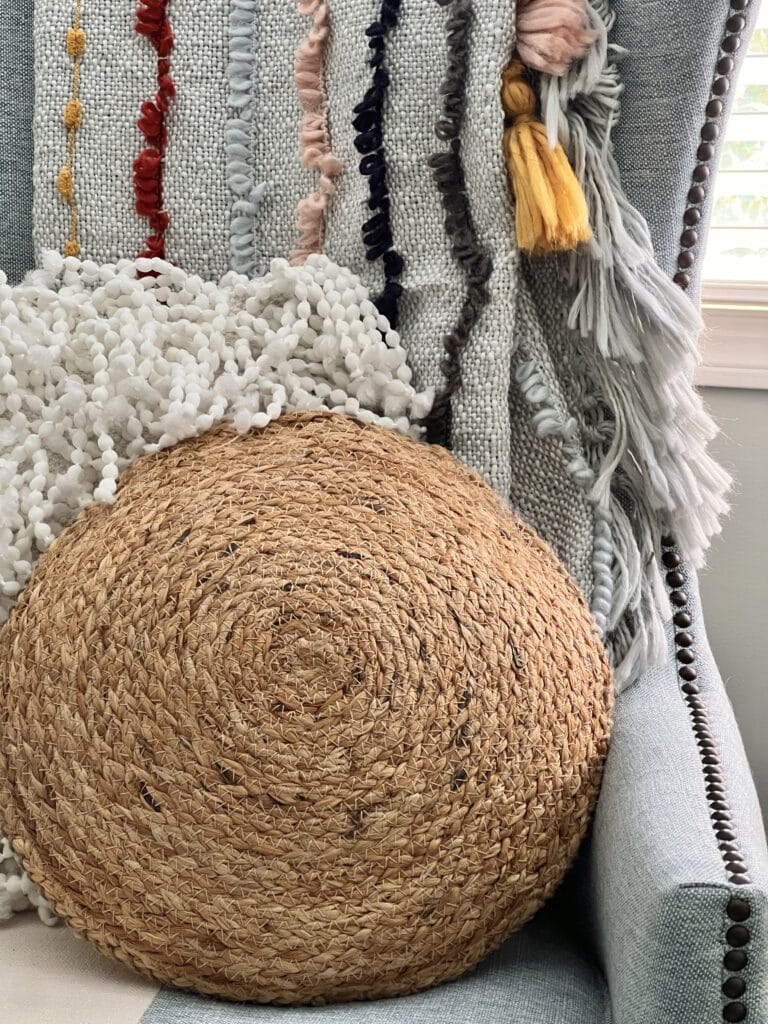 But I took one more step with my pillow to give it a boho feel.
Pom poms!
Making DIY Pom Poms
Making pom poms is easy with an inexpensive pom-making kit. My kit has four different sizes and I have used them all for different projects.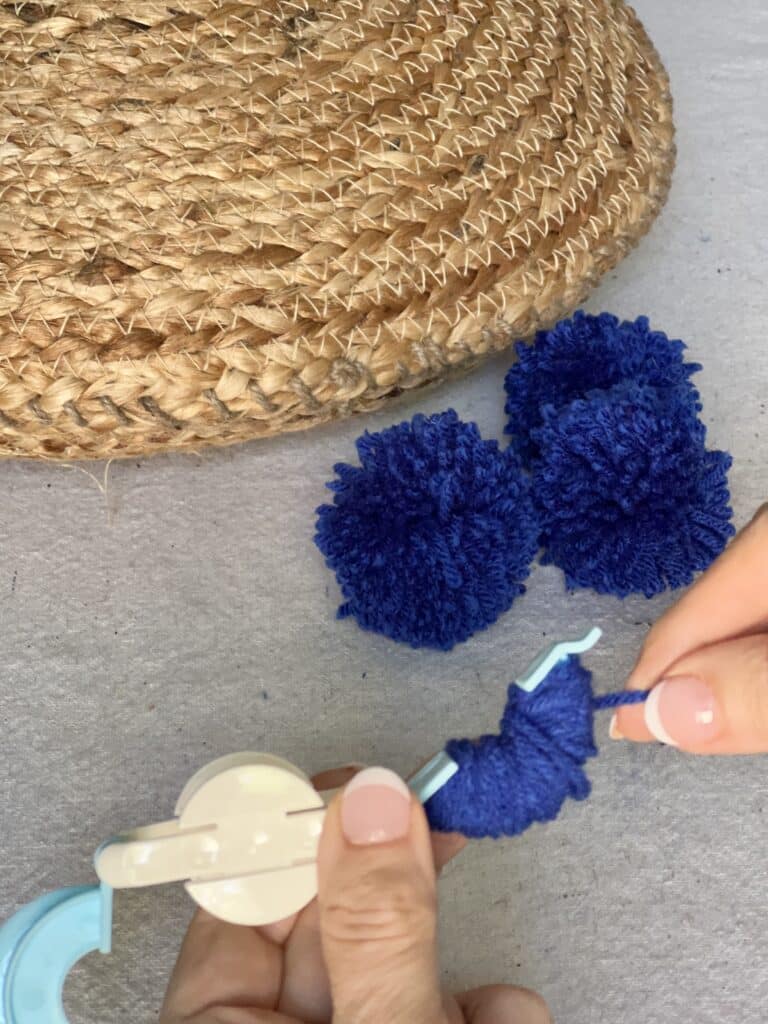 The instructions that came with my kit were very clear and easy to follow. But I always think it is easier to see one made in time. There are a lot of youtube videos showing you how. Here is my own!
DIY Boho Pom Pom Pillow
Once you have the pom poms made, just tack them onto the pillow using the upholstery needle.
I attached 10 navy blue pom poms to the perimeter of this pillow.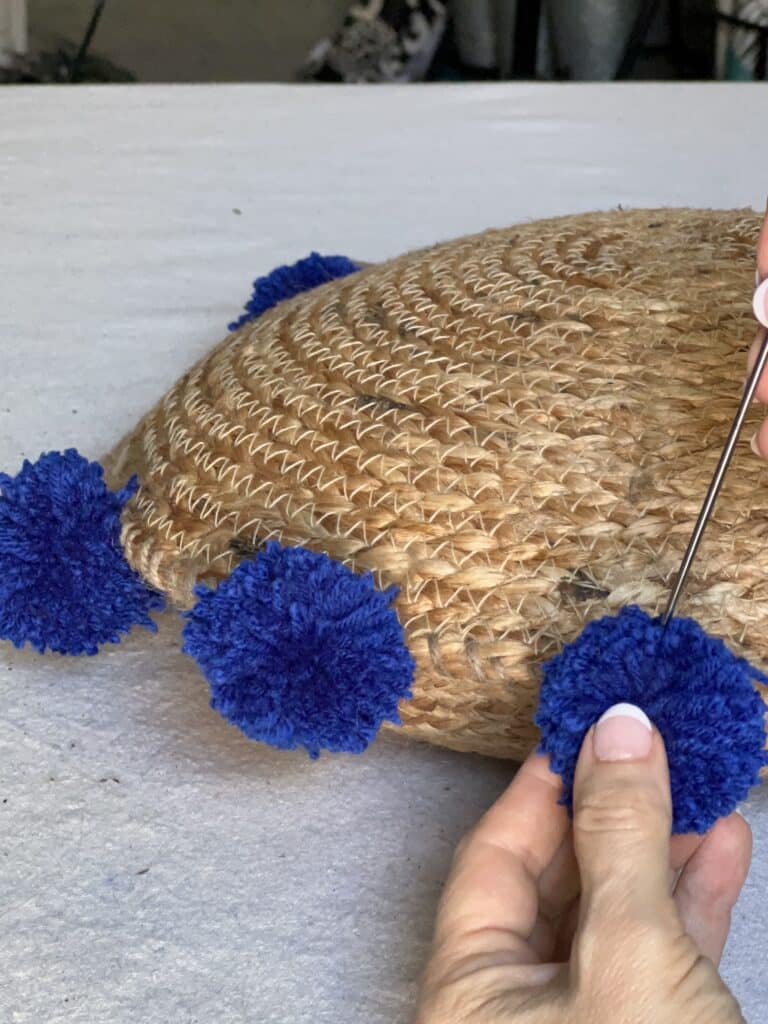 The pillow looks great layered against other pillows on our sofa.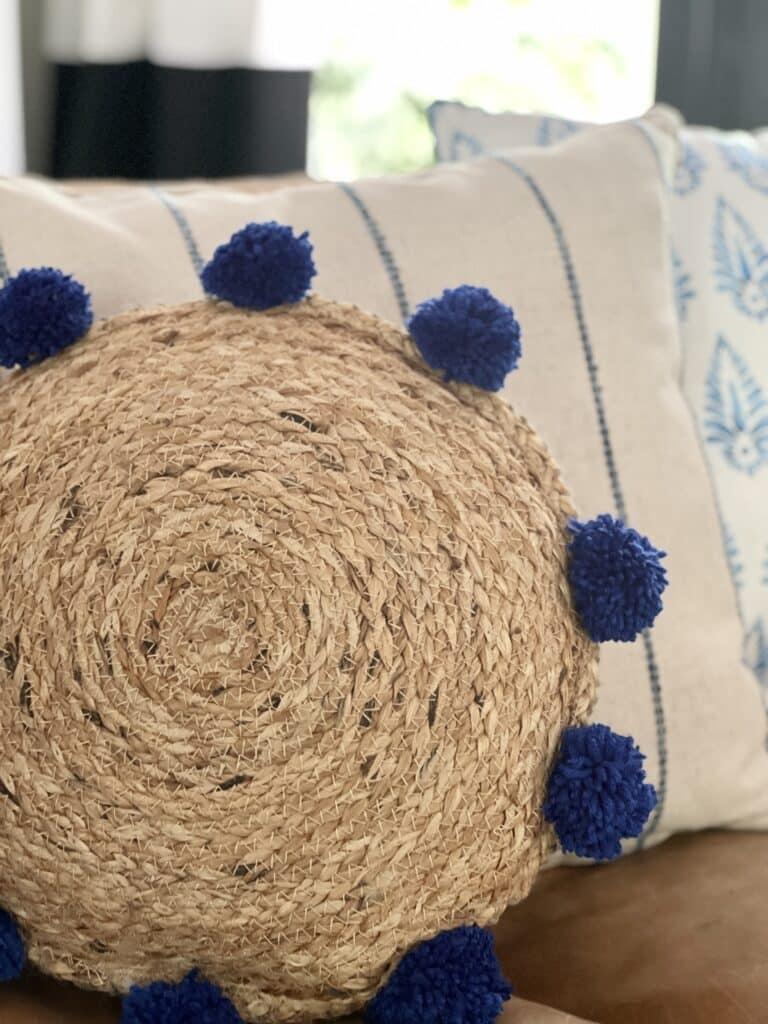 And, I attached two larger, multi-colored pom poms to the center on either side of this jute pillow. I used multi-colored yarn and love how it turned out!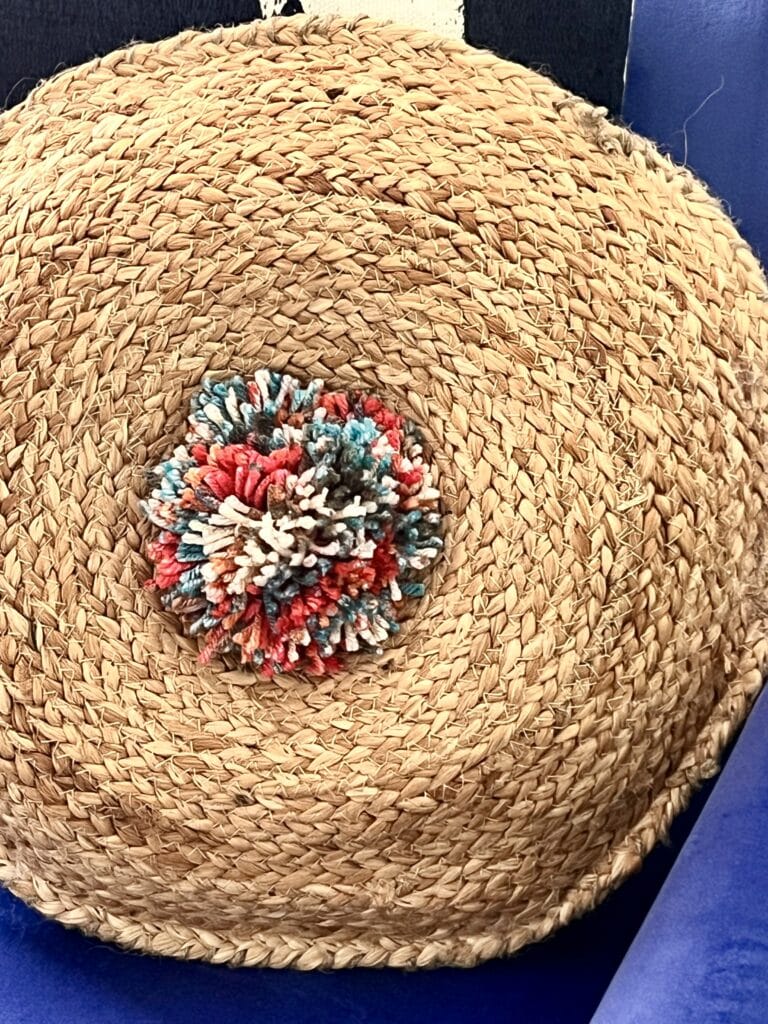 How to Style Your DIY Boho Throw Pillow
While I love the boho look, I do not consider this to be my prime style of decorating. If your style is boho, this pillow is certainly an easy way to add more boho vibes. If not, here are some ways you can incorporate the style into your existing decorating style with your new boho accent pillow.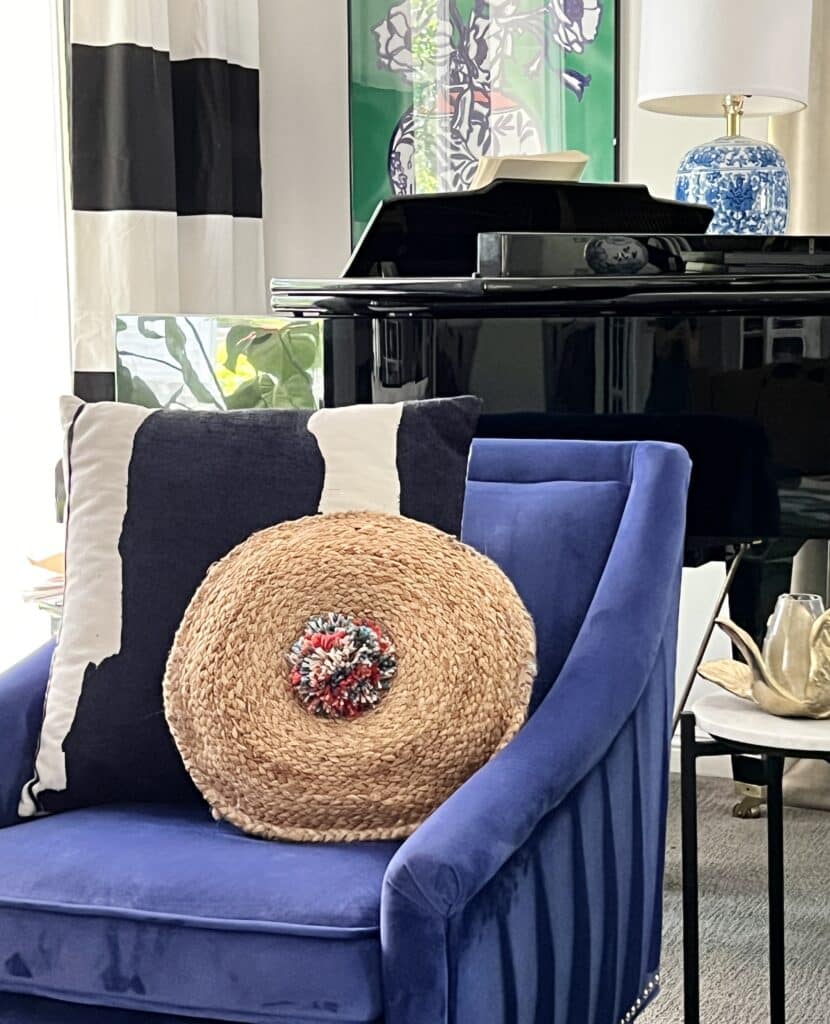 Pair with a larger existing pillow in your home.
Mix and match with other pillows of different patterns, colors, and textures to create a cozy and eclectic look.
Layer your pillows on sofas, chairs, or even on the floor for a relaxed and inviting atmosphere.
Place near faux fur throws, chindi rugs, and floor pillows.
Scatter your boho pillows on outdoor seating areas, benches, and swings.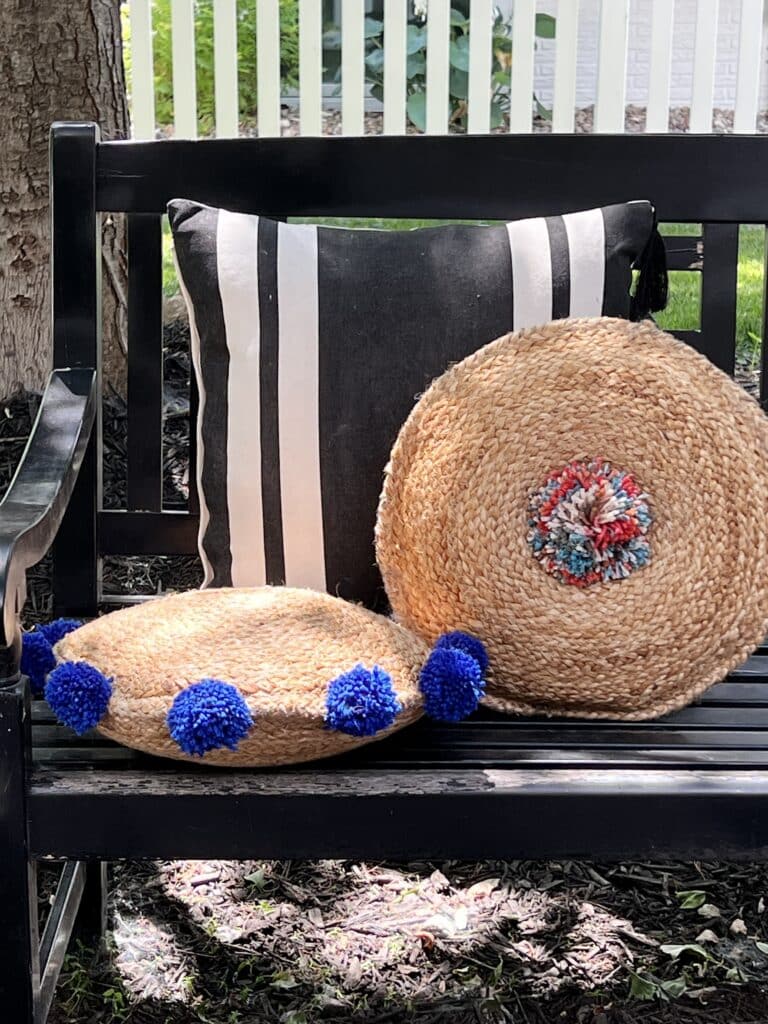 More Fun DIY Projects with Jute Placemats
There is more you can do with jute placemats!
I had found this Lazy Susan at a thrift store and picked it up for a couple of dollars. It was in good shape but the stenciled top was not the look I was after.
After spray painting it black, it took about 30 seconds to attach a jute placemat to the top of the Lazy Susan with a hot glue gun.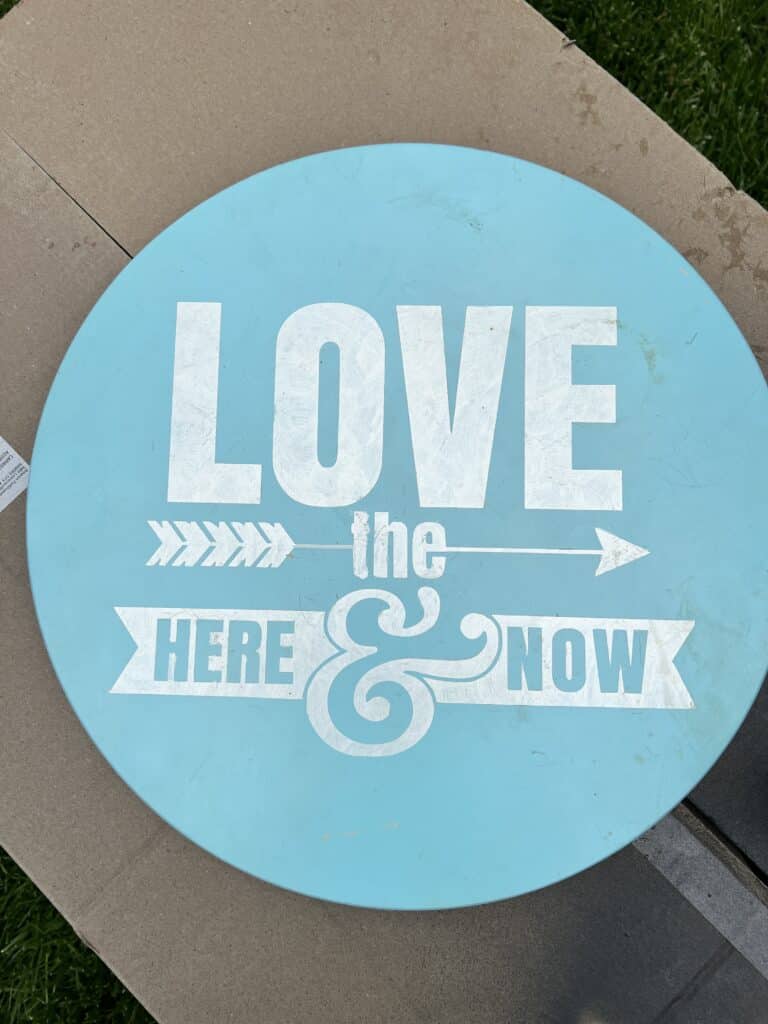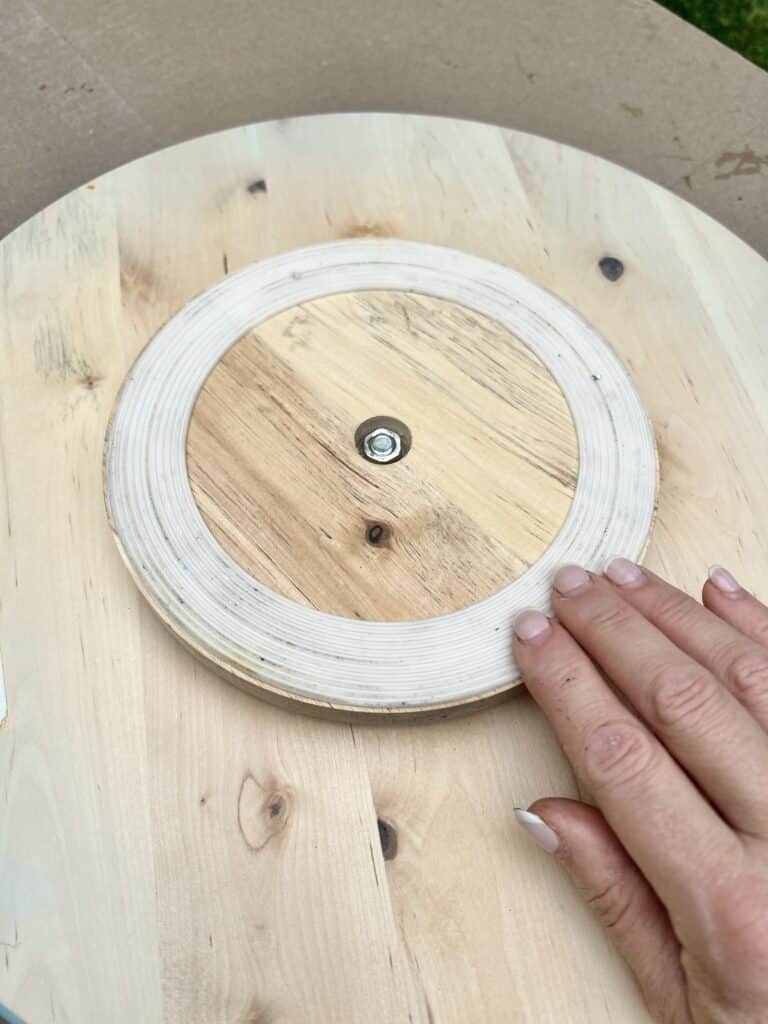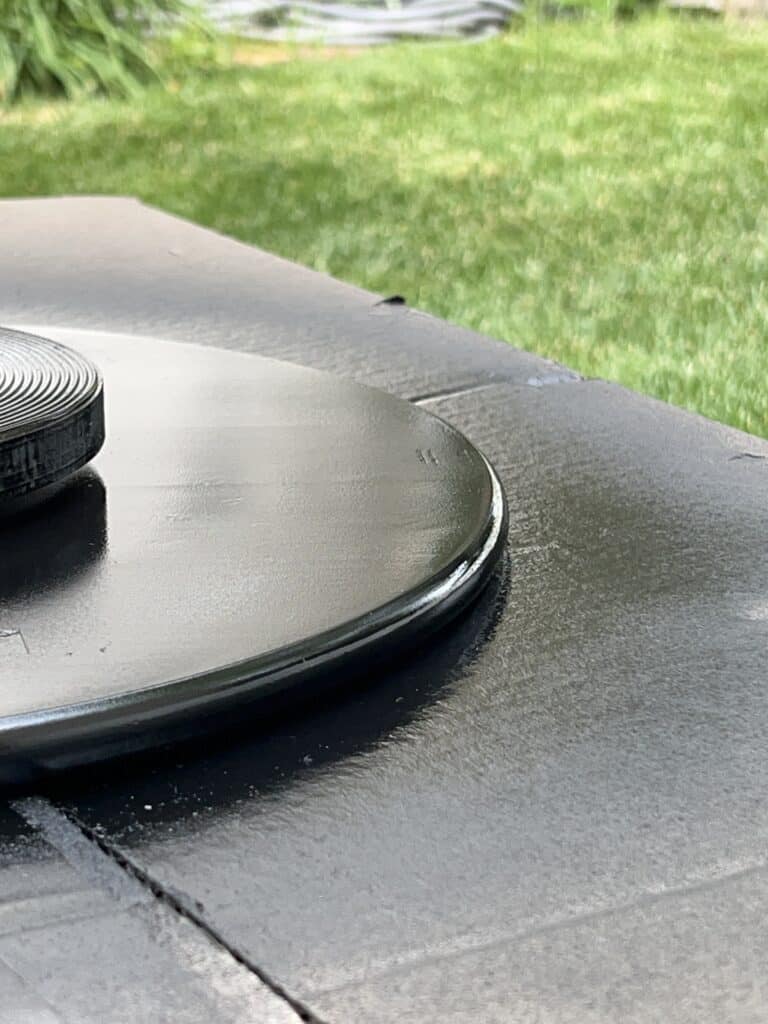 While this would be a great idea for serving food at the dinner table, I chose instead to place various plants on top. Just a quick turn and each plant is ensured the bright indirect light they love!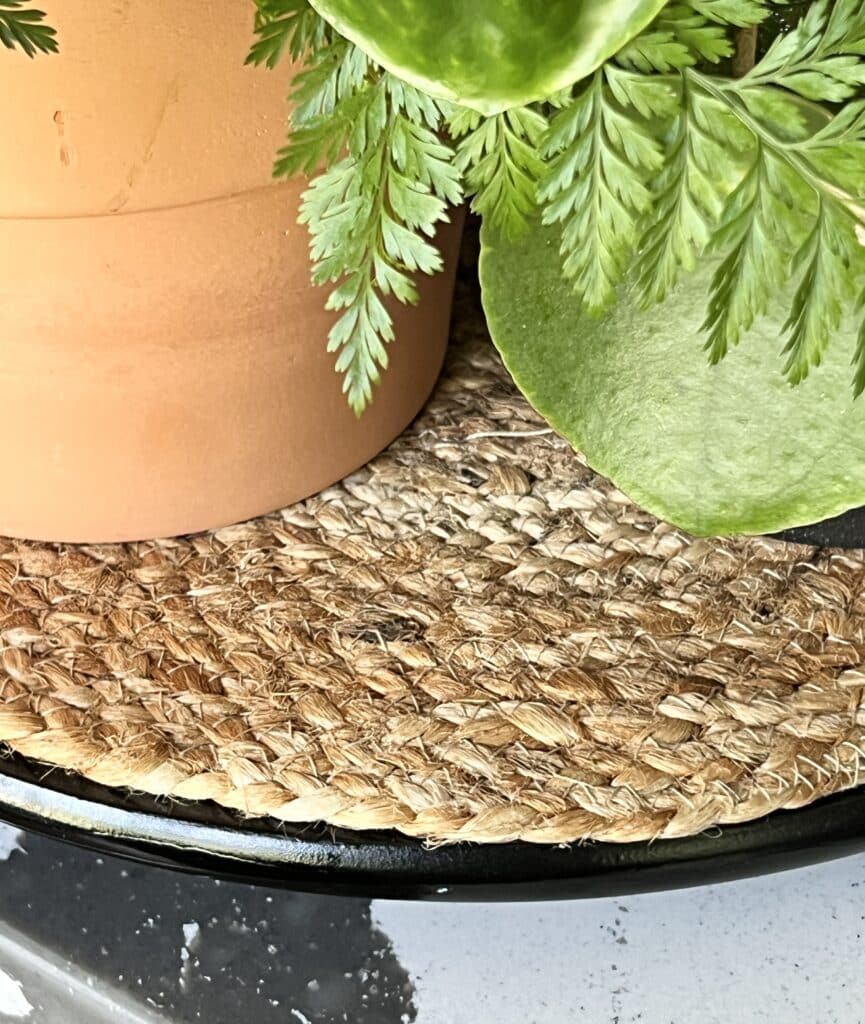 Now that our new patio is in place and I know which plants will work best, I had fun decorating one of my planter pots by gluing jute placemats together to create a boho "wrap". The jute texture looks great amidst the plants!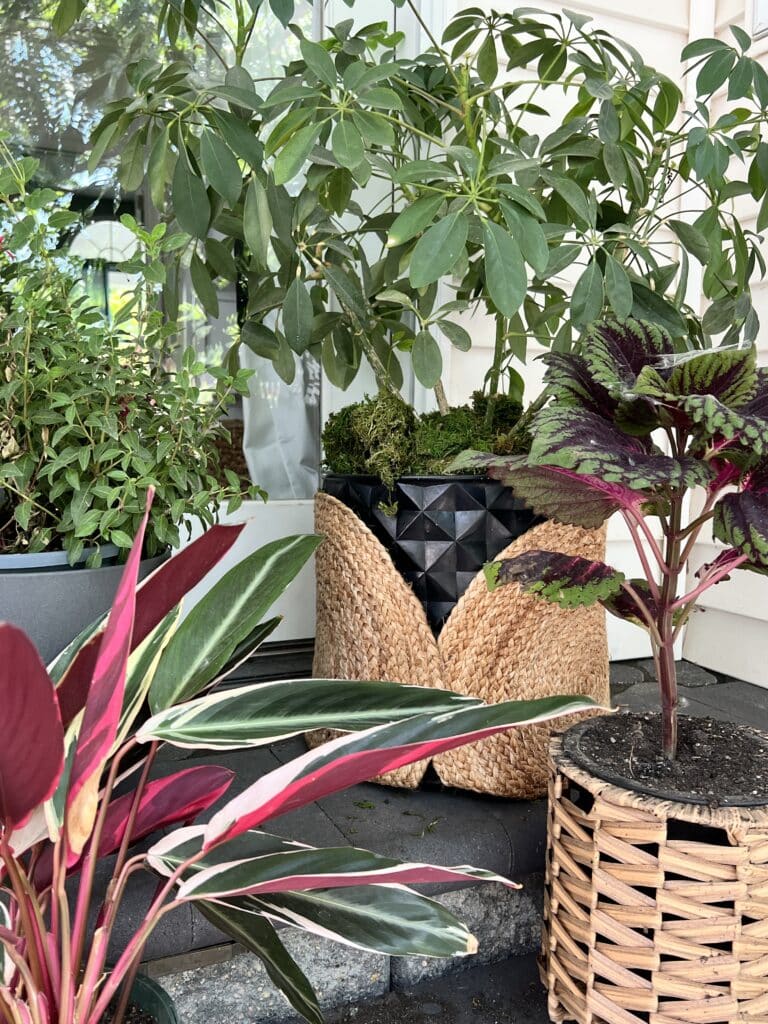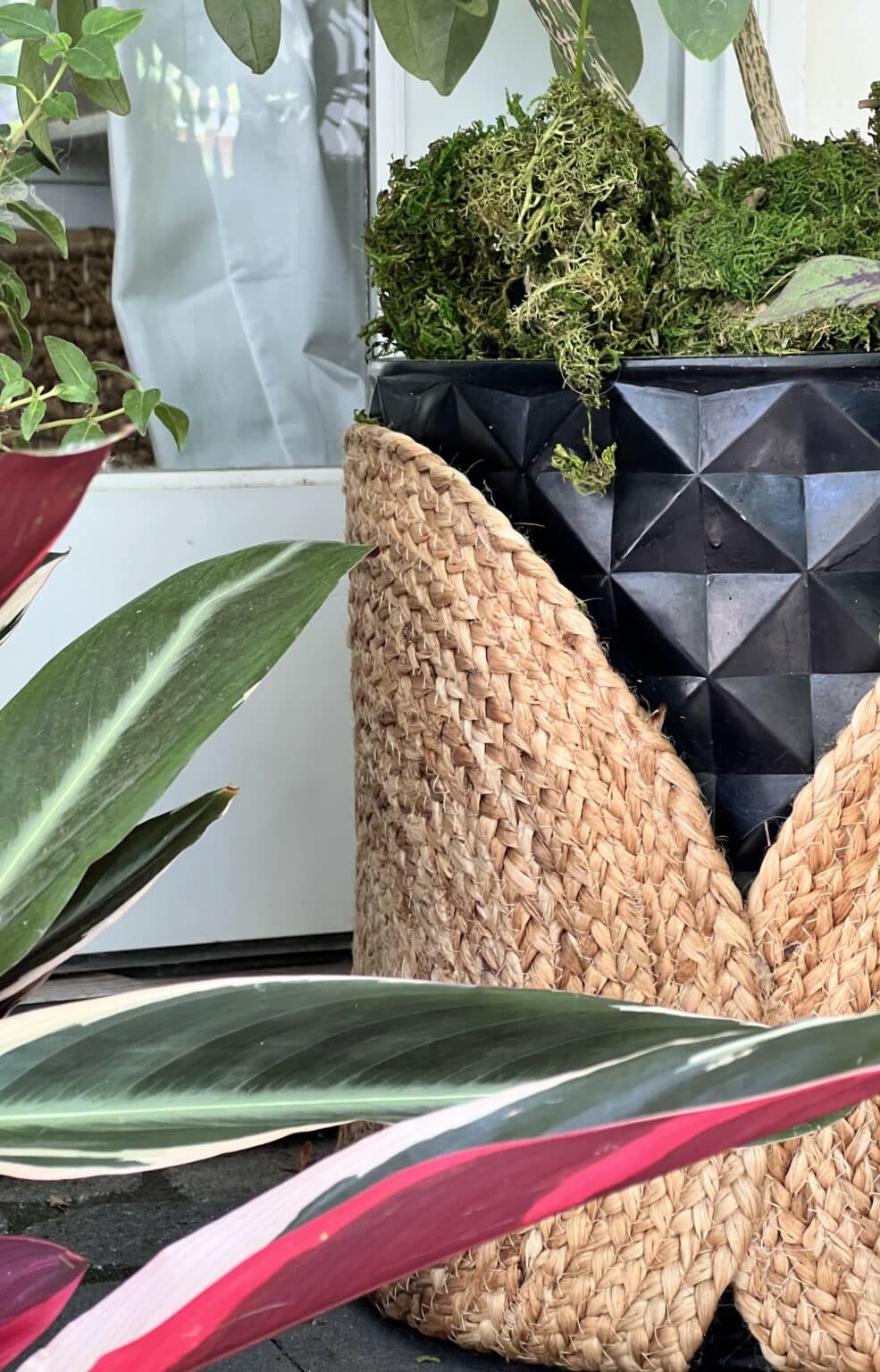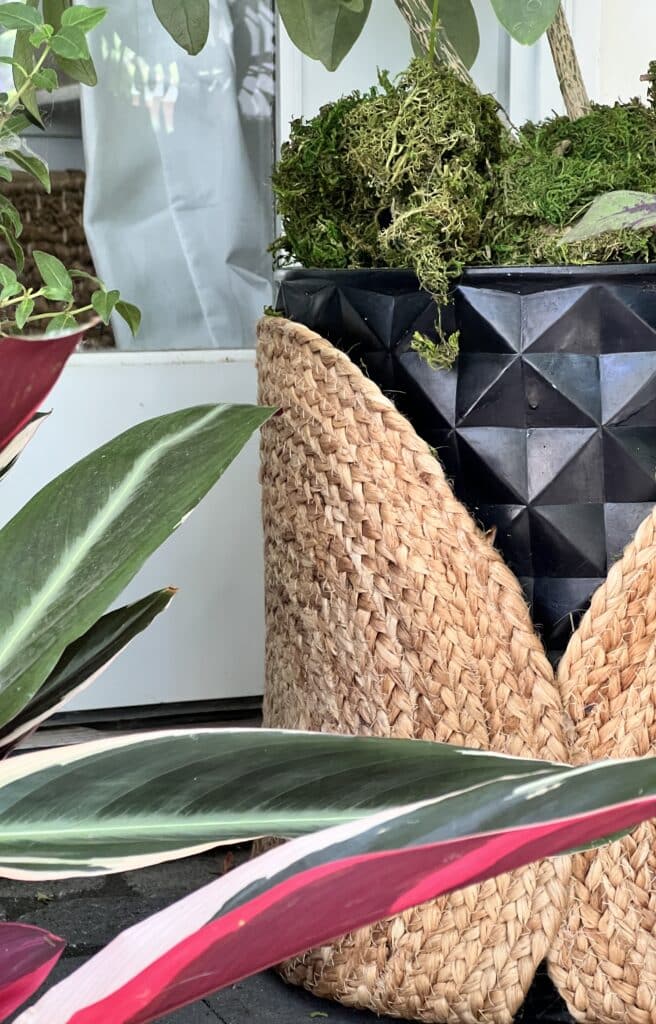 Creating a boho-style pillow and other home decor from jute placemats is a simple and affordable way to introduce an element of bohemian vibes into your home decor.
Plus, these projects require minimal effort and next to no sewing skills!
With just a few simple supplies, it'll only take about half an hour to create something beautiful that will last for a long time in your home- why not get creative and put your own spin on the design? Go ahead– create your own unique boho pillow today!
Cheers!

Don't Forget to Pin It!
Pin the image below to your boards on Pinterest (just click the Pin button in the top left corner). You can also follow along with me on Pinterest!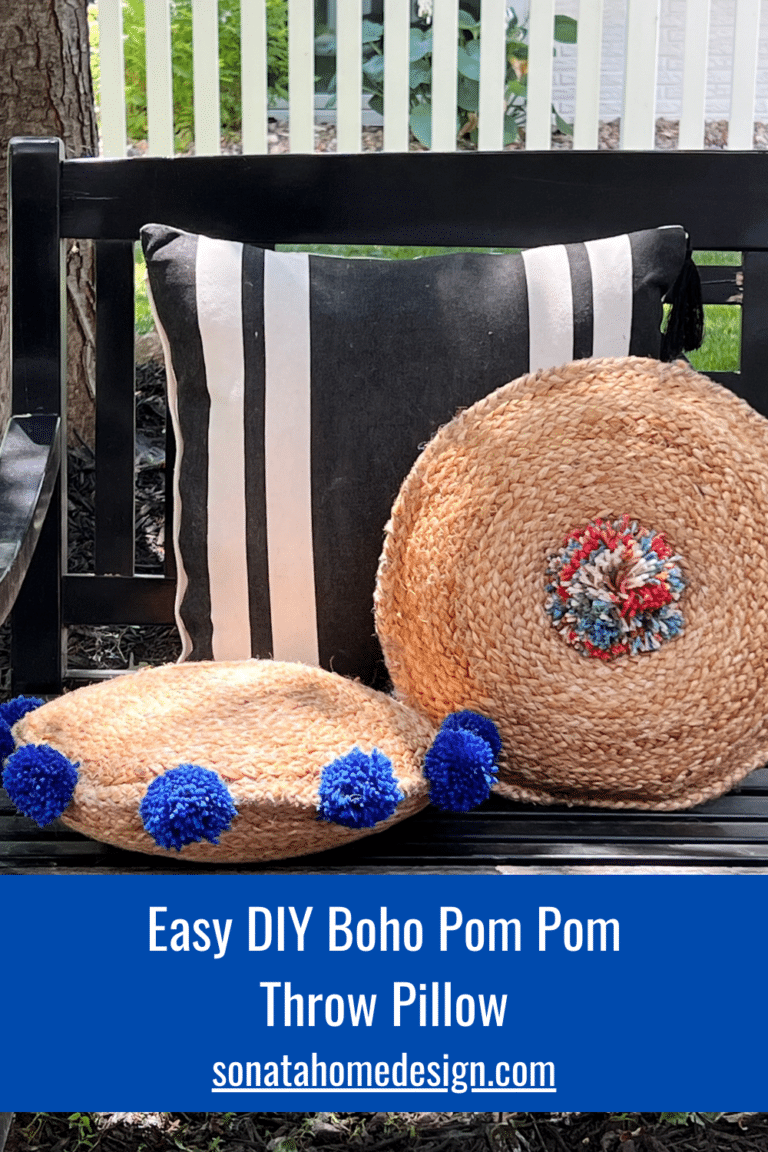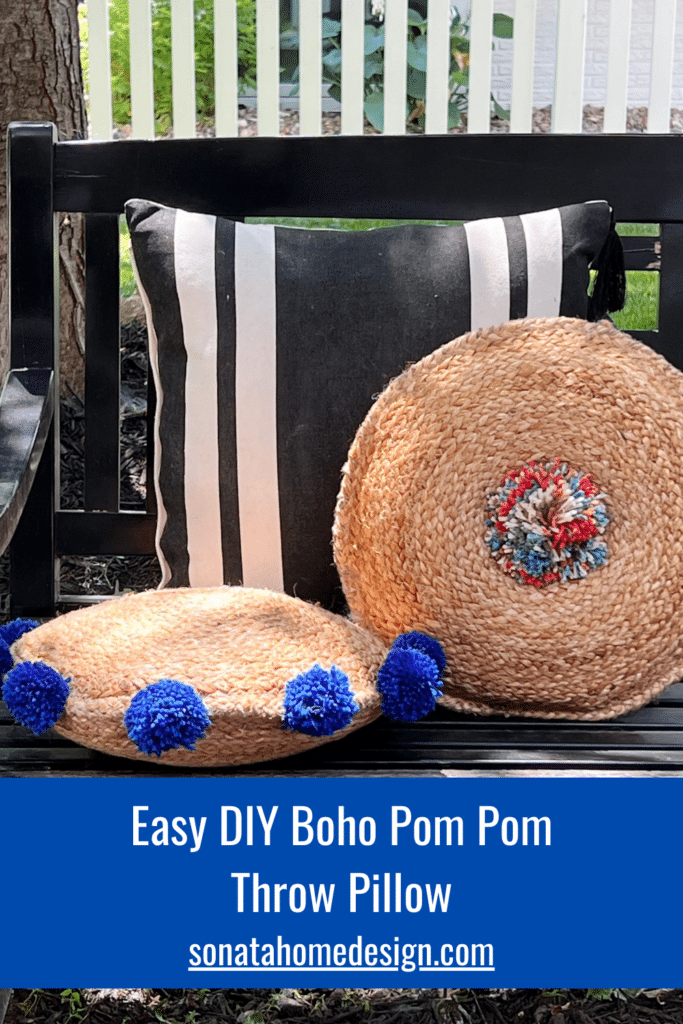 More DIY Projects
An Easy Pressed Flower Vase for Your Kitchen