The Easiest Pressed Flower Vase Decor for Your Kitchen
Bring a touch of nature and personalized beauty to your kitchen decor with these easy steps on making a pressed flower vase!
It is time for the May Handcrafted Society project post. Michelle from Thistle Key Lane chose flowers for our theme. Oh, you are going to love what everyone came up with!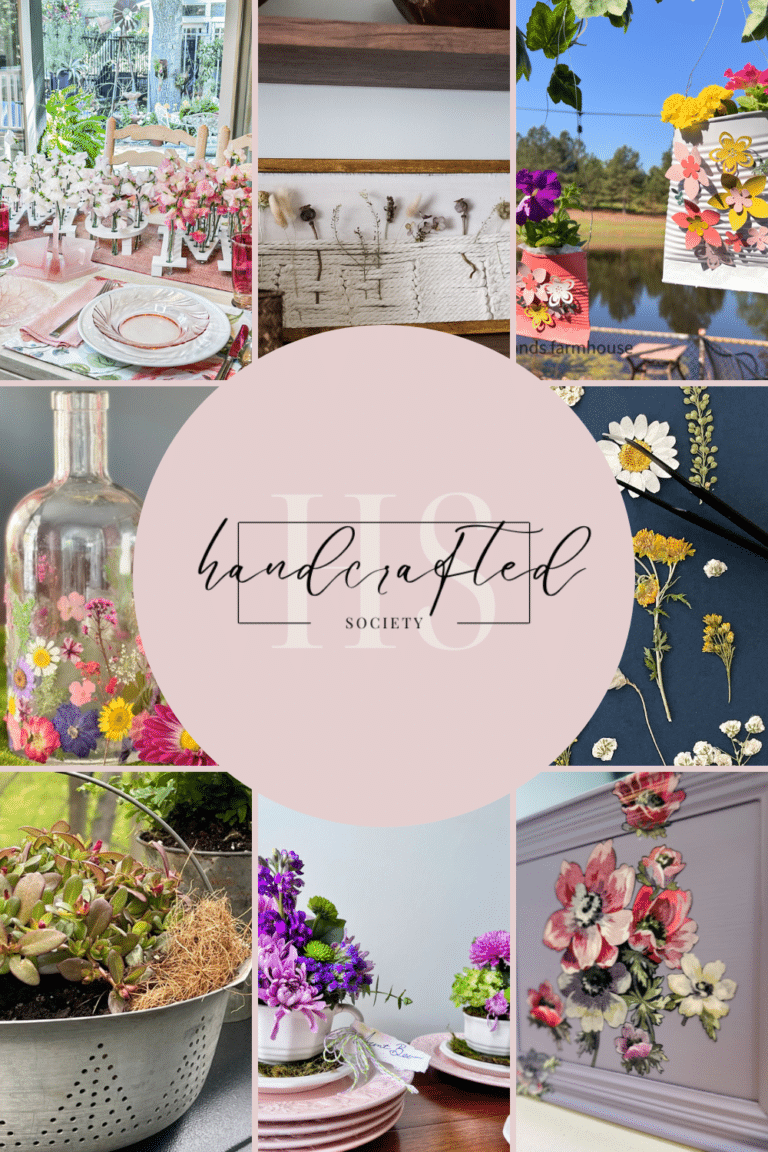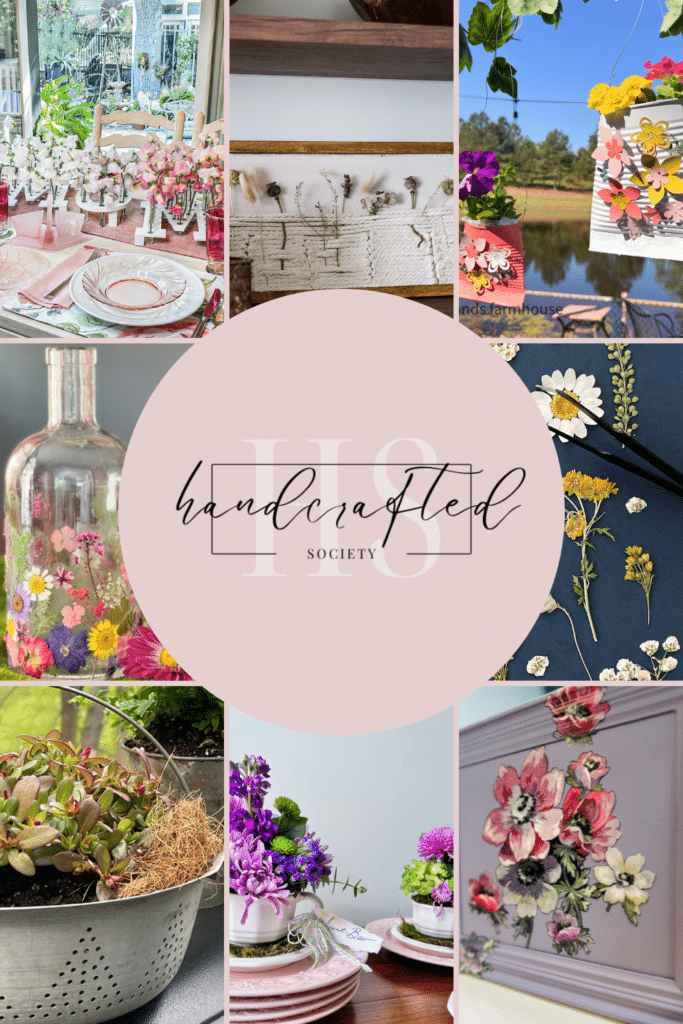 This blog contains affiliate links. This means a small commission is earned if you make a purchase by using this link. The price you pay will be the same whether you use the affiliate link or go directly to the vendor's website using a non-affiliate link.
If you coming over from my friend Rachel at The Ponds Farmhouse, welcome to Sonata Home Design. Don't you just love her plant pots with aluminum flowers? She is so creative!
Pressed Flowers as Decor for Your Kitchen
Don't you just love flowers in the kitchen?
Sometimes the flowers are from the back yard and sometimes they are from the grocery store.
And sometimes I am surprised with a lovely gift of flowers!
I love it when they are fresh and new but always feel a little sad when they wilt and droop.
Well, I've come up with a great way to keep flowers in your kitchen any time you want. A decorative vase with flowers on the vase!
From Bottle Trash to Vase Decor Treasure
I know you come across empty bottles all the time. We rinse them out, recycle them, and then forget about them.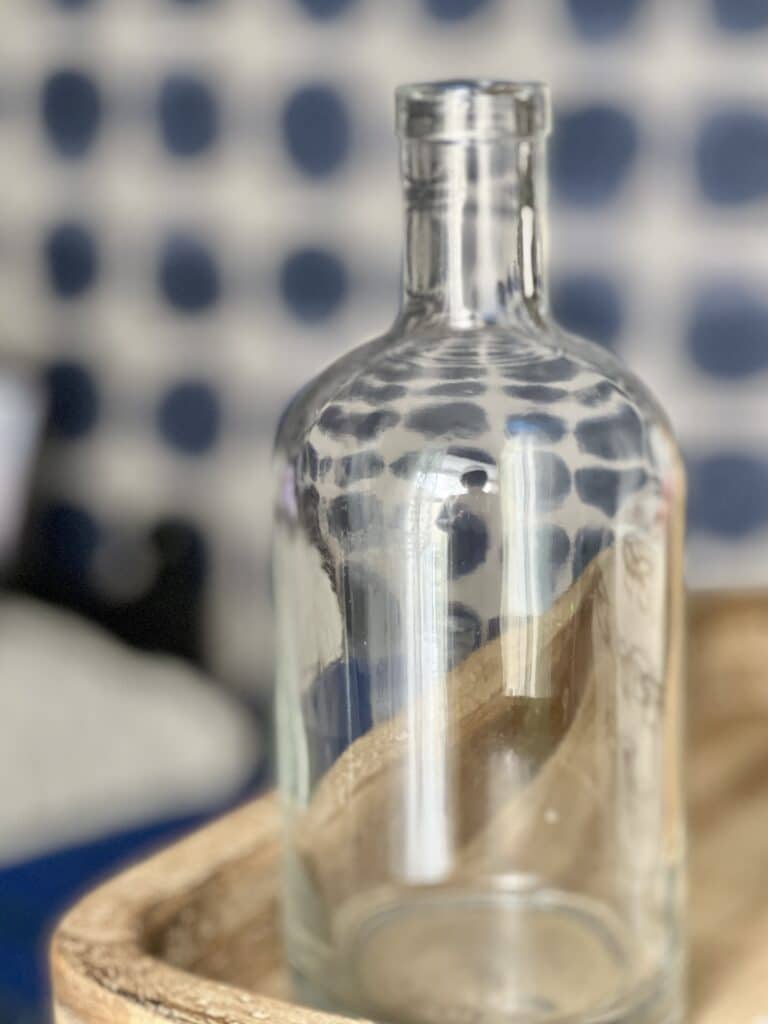 I must have a thing for decorating with bottles in the kitchen because I found all of these past posts on glass home decor in the kitchen!
Glass Bottles with Decoupaged Paper Napkins
What to Put in Decorative Glass Jars in the Kitchen
An Inexpensive Spring Flower Display
Save your glass bottles! You will be amazed at the beautiful home decor you can make with recycled bottles!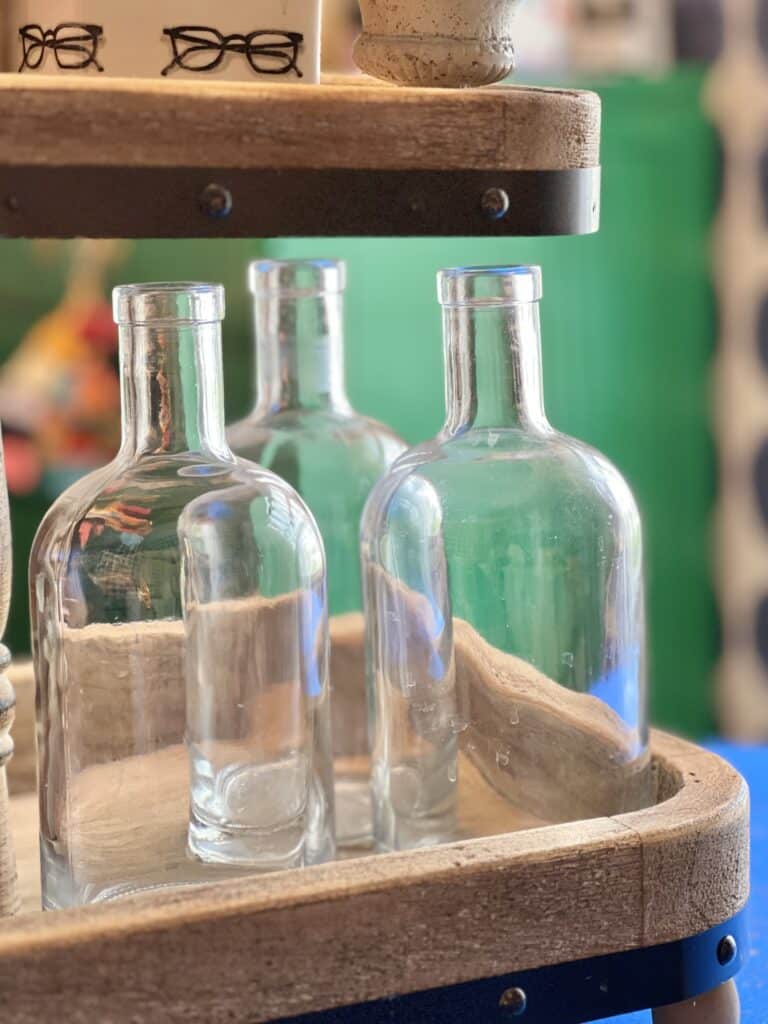 Today I'm sharing a way to upcycle a glass bottle with pressed flowers.
Now, to be totally honest, I did not press my own flowers for this project. Instead, I ordered them directly from Amazon! I was thrilled with the variety of flowers and all of the beautiful colors!
Massive time saver!
But you may want to press your own flowers!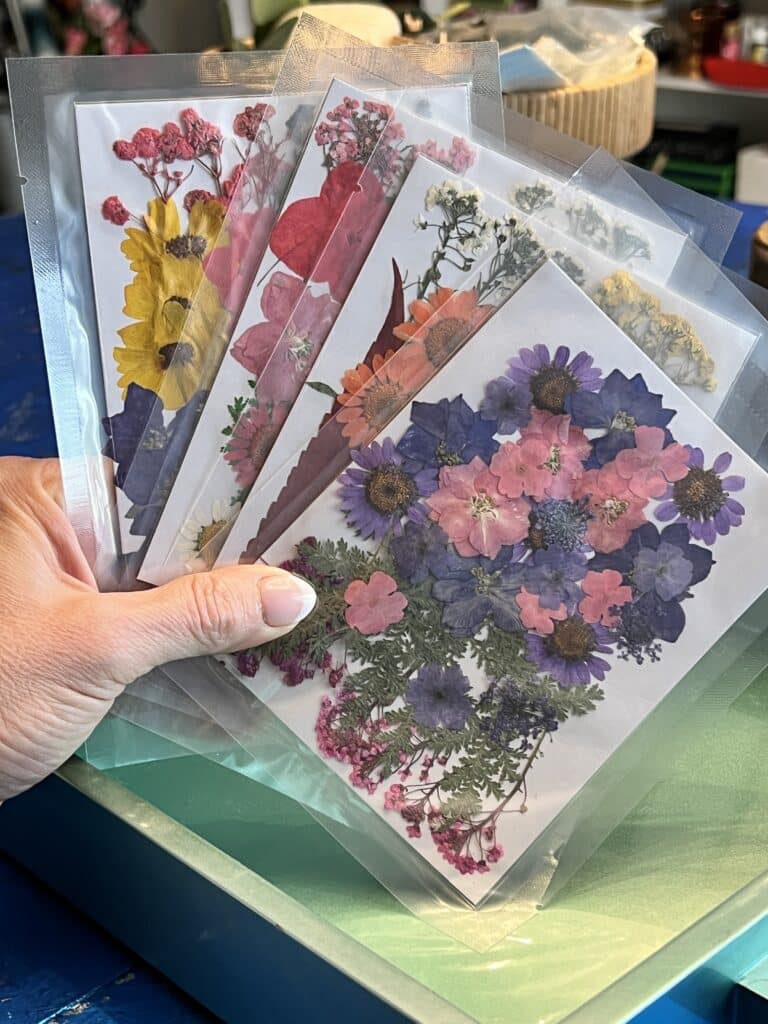 How to Press Flowers
Good news! There is an easy way to press flowers if you want to do it yourself.
Gather your materials. You will need a heavy book, some parchment paper, and of course, your fresh flowers!
Choose your flower. Picking a flower that is flat will work best for pressing. Some good choices include pansies, roses, and daisies.
Prepare your flower. Start by gently removing any excess leaves or stems from your flower. Place your flower between two pieces of parchment paper. Make sure that the petals of your flower are not touching each other, as this can cause them to brown.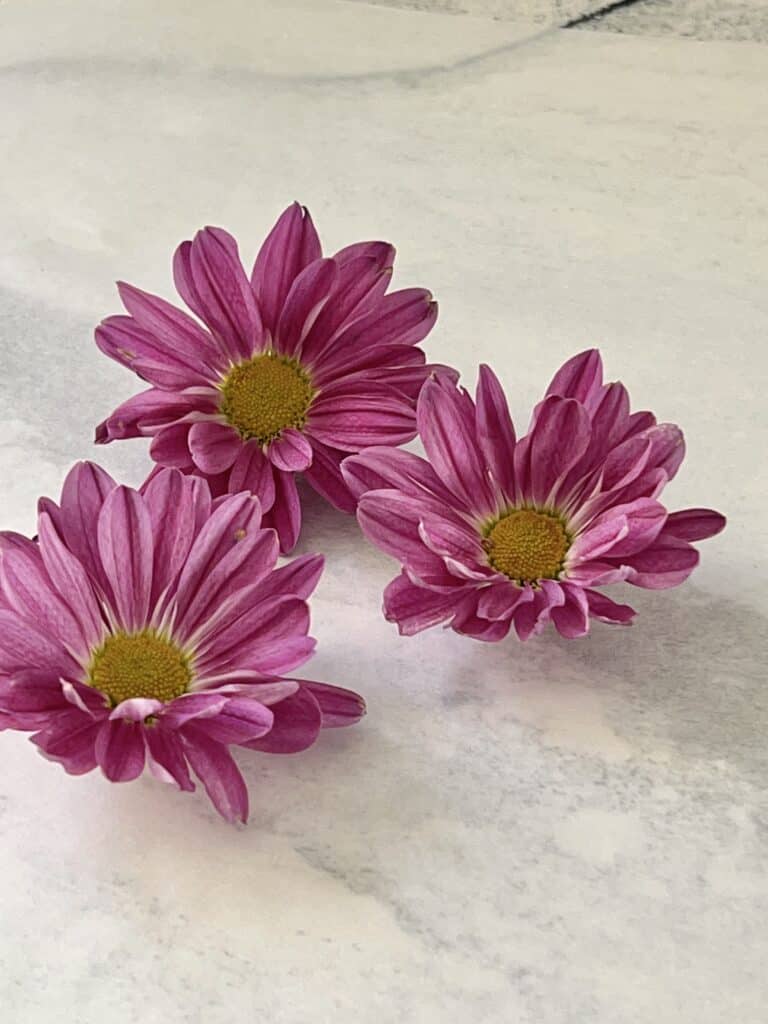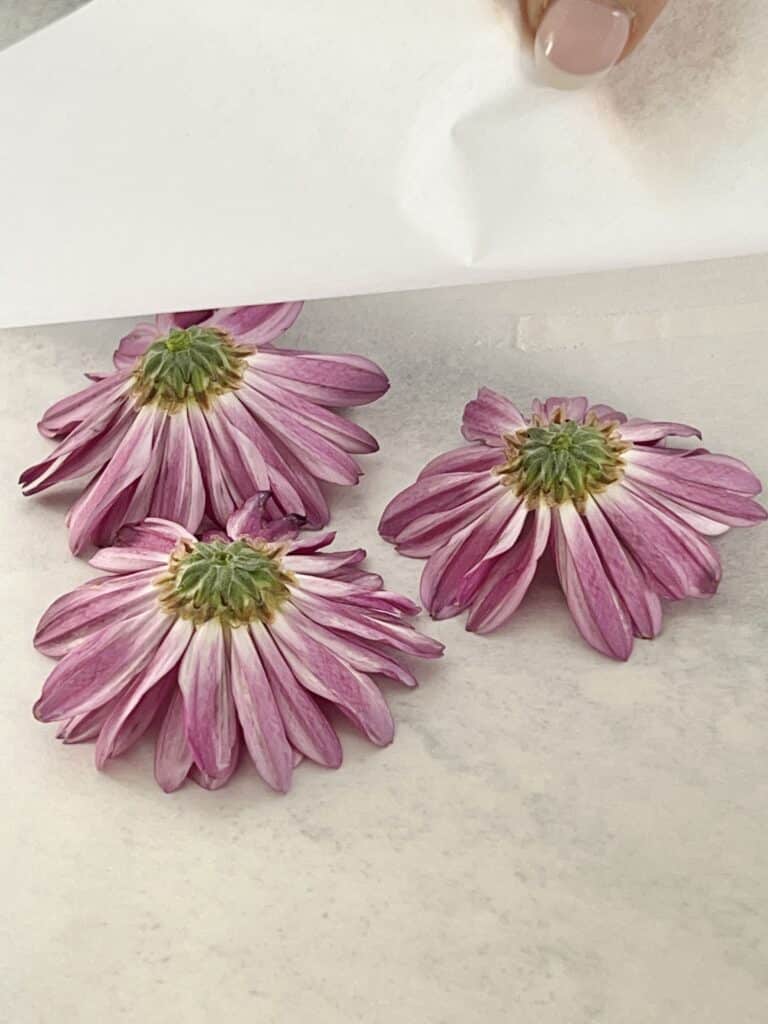 Close your heavy book and weigh it down with some additional books or magazines.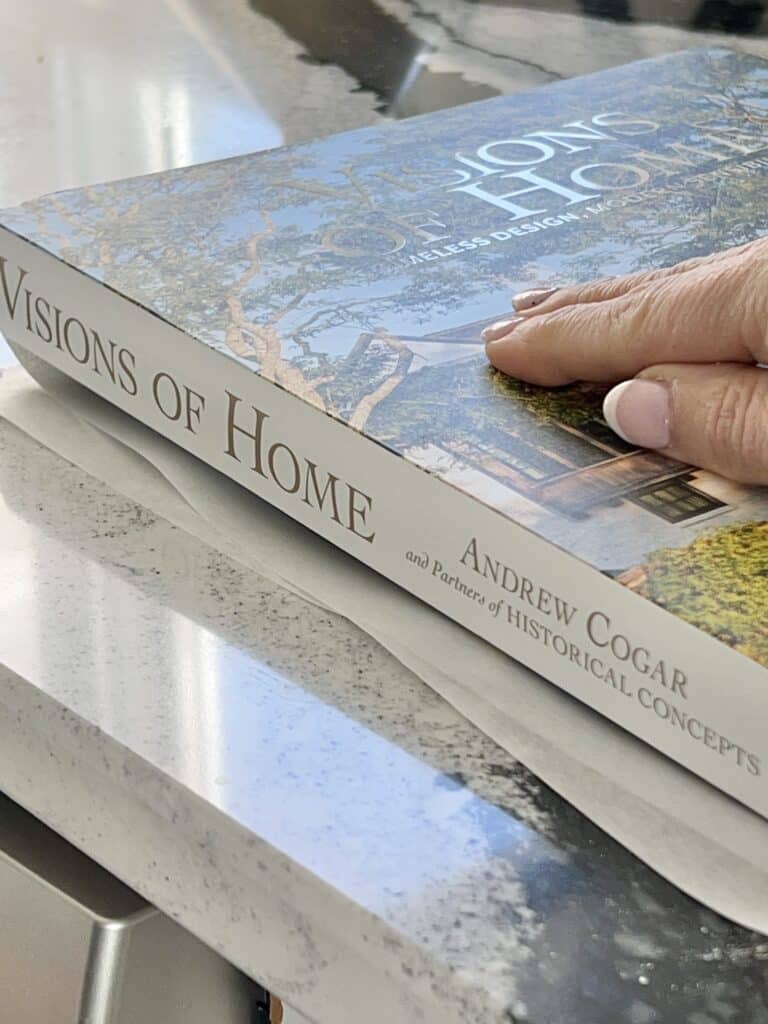 Check on your flowers after about a week to see how they are progressing. If they are not yet dry, leave them for another week or so before checking again.
Once your flowers are dry, you can use them for craft and decorating projects.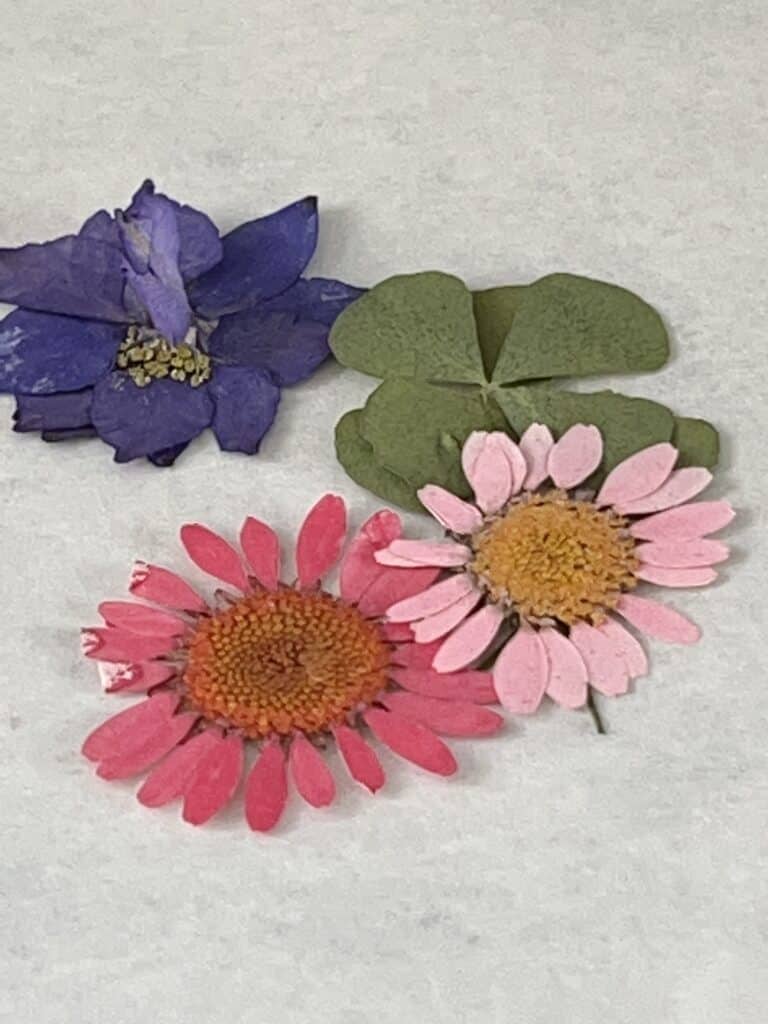 Supplies for a Pressed Flower Vase
Here is what you need for this project.
Smooth clean bottle or clear glass vase (A cylindrical body works best.)
Decoupage glue (I use ModPodge.)
Small paintbrush
Tweezers
Rubbing alcohol or nail polish remover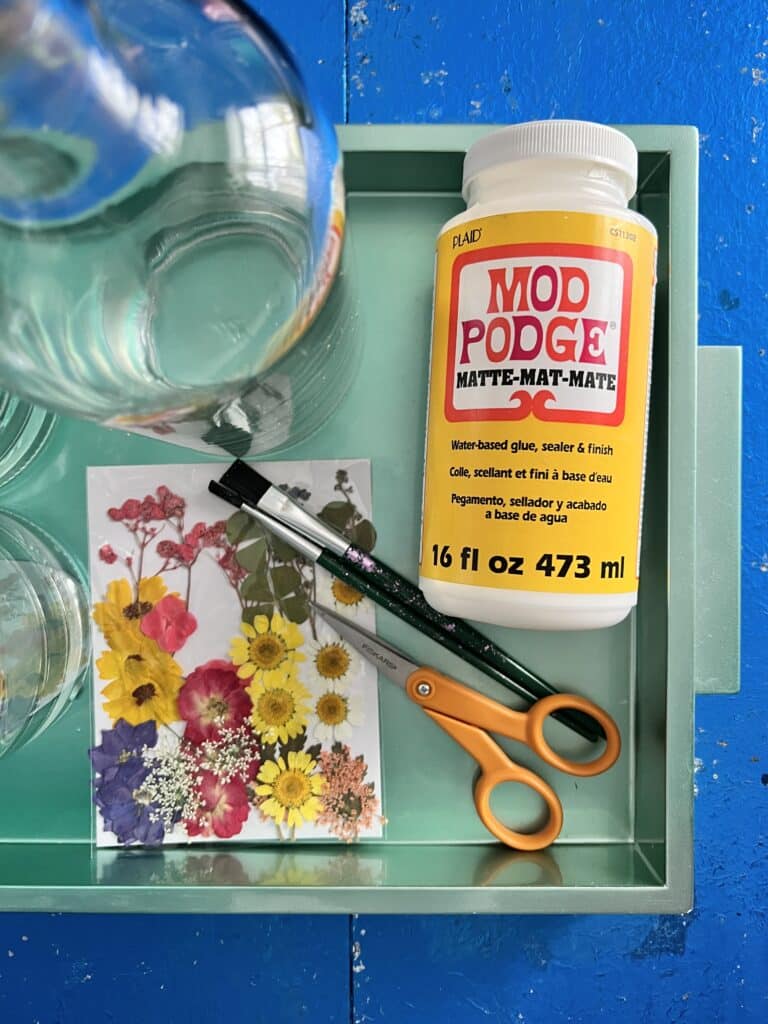 Making Your Pressed Flower Vase
It helps if you lay out the flowers first and arrange them in the general pattern that you want. Try different patterns and variations.
I started with larger "bloom" flowers at the bottom and interspersed taller, wispy flowers for a natural floral display with a variety of heights.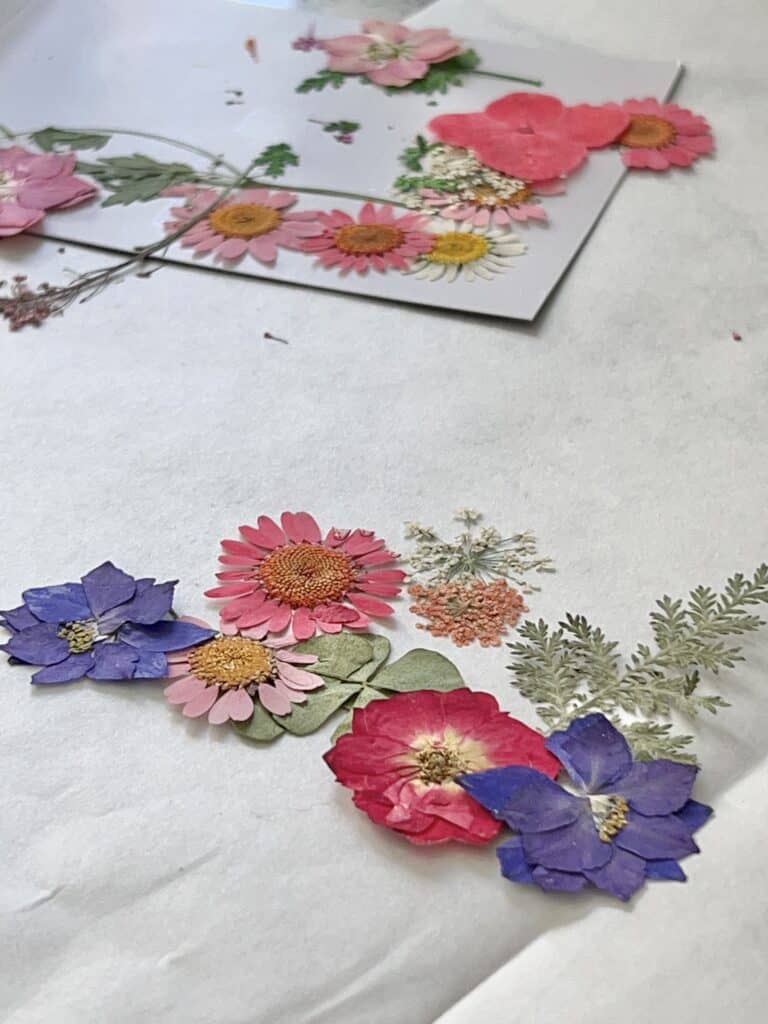 It is helpful to know that pressed flowers are very fragile and delicate. I'm afraid I have pulled off an occasional petal when I got in a hurry and worked too aggressively.
Tweezers are the way to go! It is a good idea to use tweezers to move and manipulate the flowers.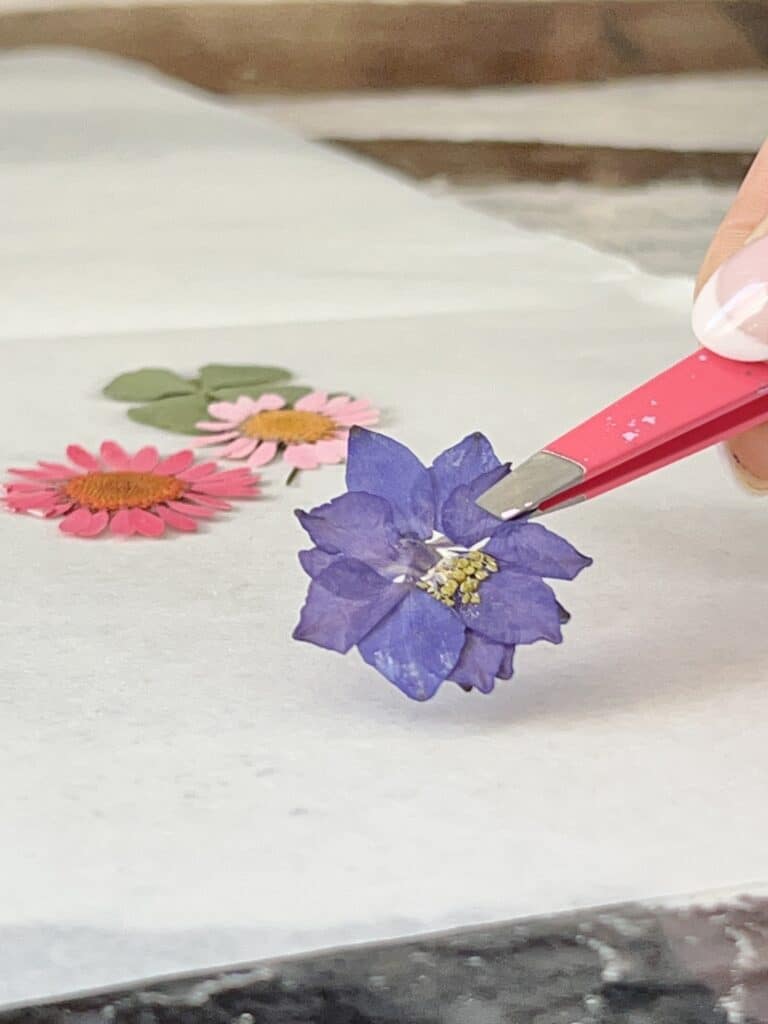 Brush a small amount of glue onto the side of the bottle at the bottom. With your tweezers, grab a pressed flower and place it on top of the glue. Press down on the flower gently with your finger or the tweezers.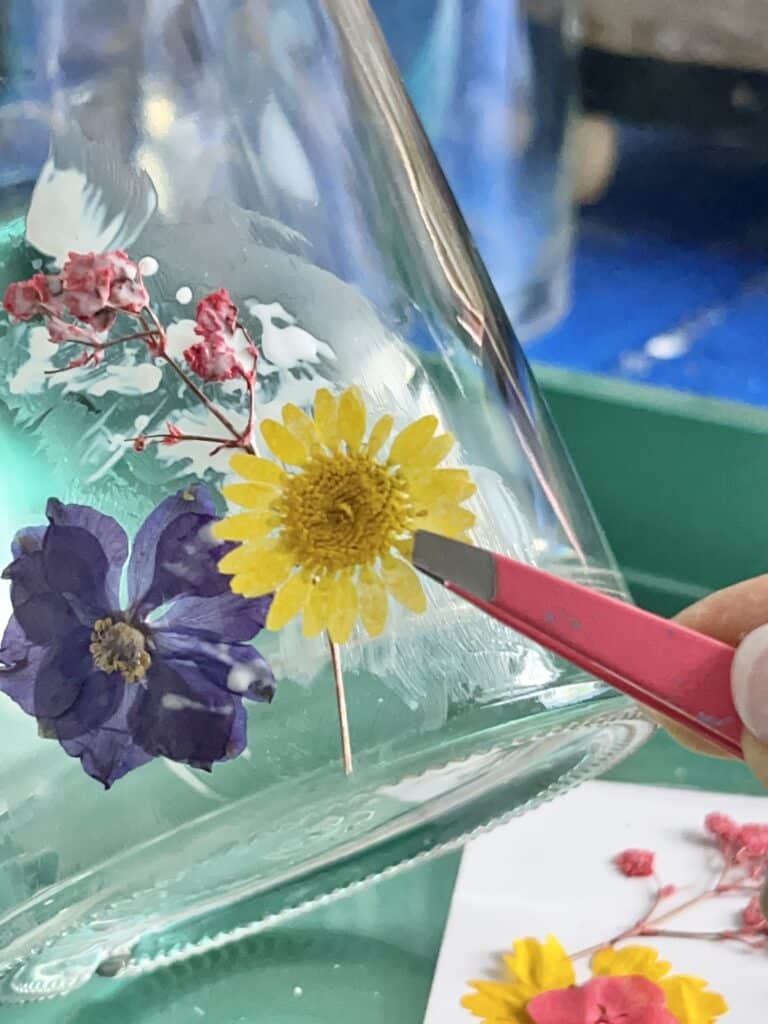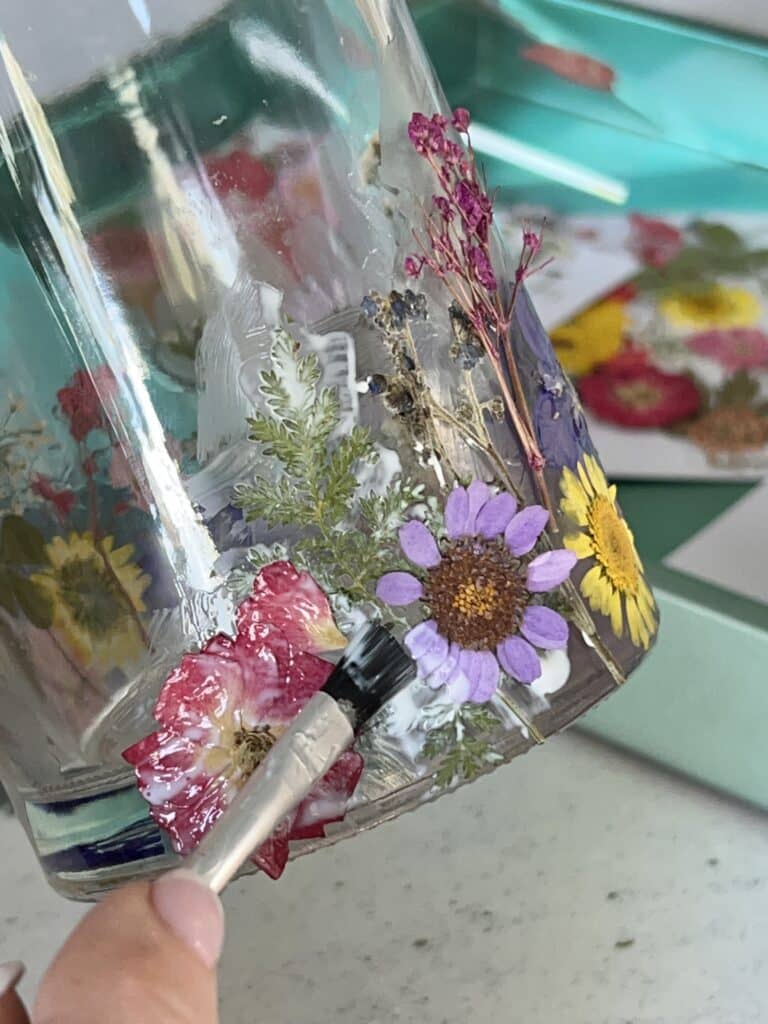 Let it sit for about a minute and then lightly brush additional decoupage glue on top of it.
Continue to add flowers and create your own flower garden around the glass bottle.
Don't be afraid to overlap flowers to create the look of an abundance of flowers. Sometimes with the overlapping of flowers, you will need to add just a little glue between petals.
Continue around and up the sides of the bottle as far as you would like to go.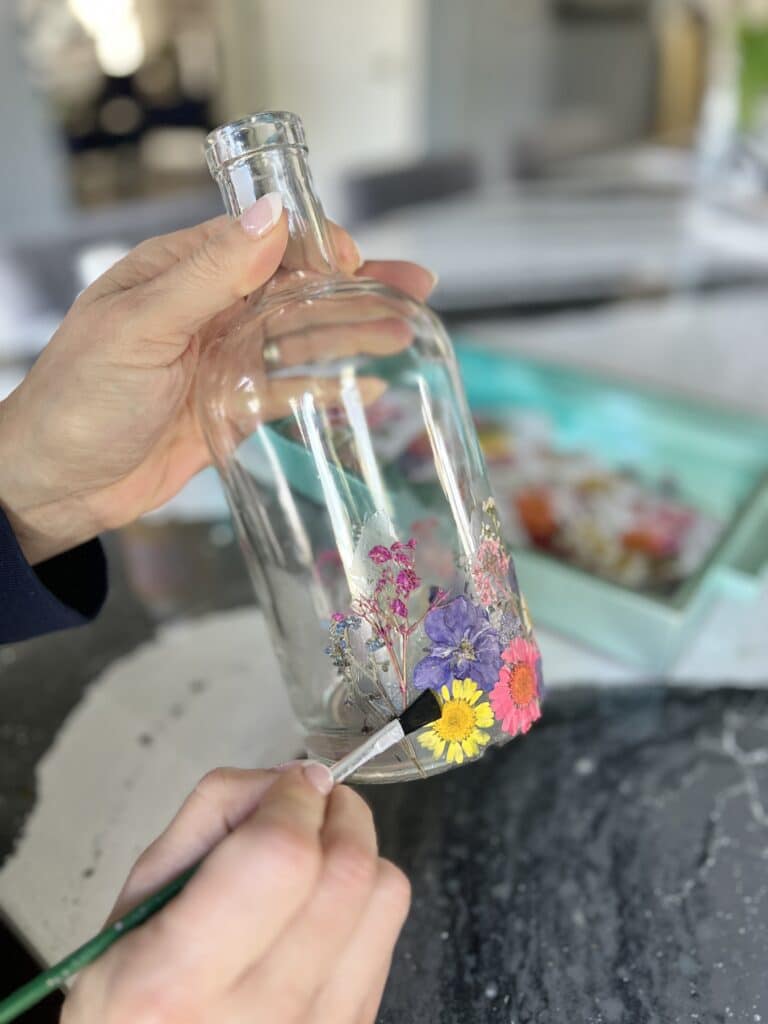 Let your bottle "bouquet of flowers" dry completely.
And, Voila! A beautiful new bottle vase for your home!
How to Decorate Your Kitchen with Your Pressed Flower Vase
Now that you have the basics of pressing and preserving your personal collection of flowers and creating the perfect bottle vase, get creative with it!
This looks so pretty as kitchen island decor or is a perfect addition to a kitchen table!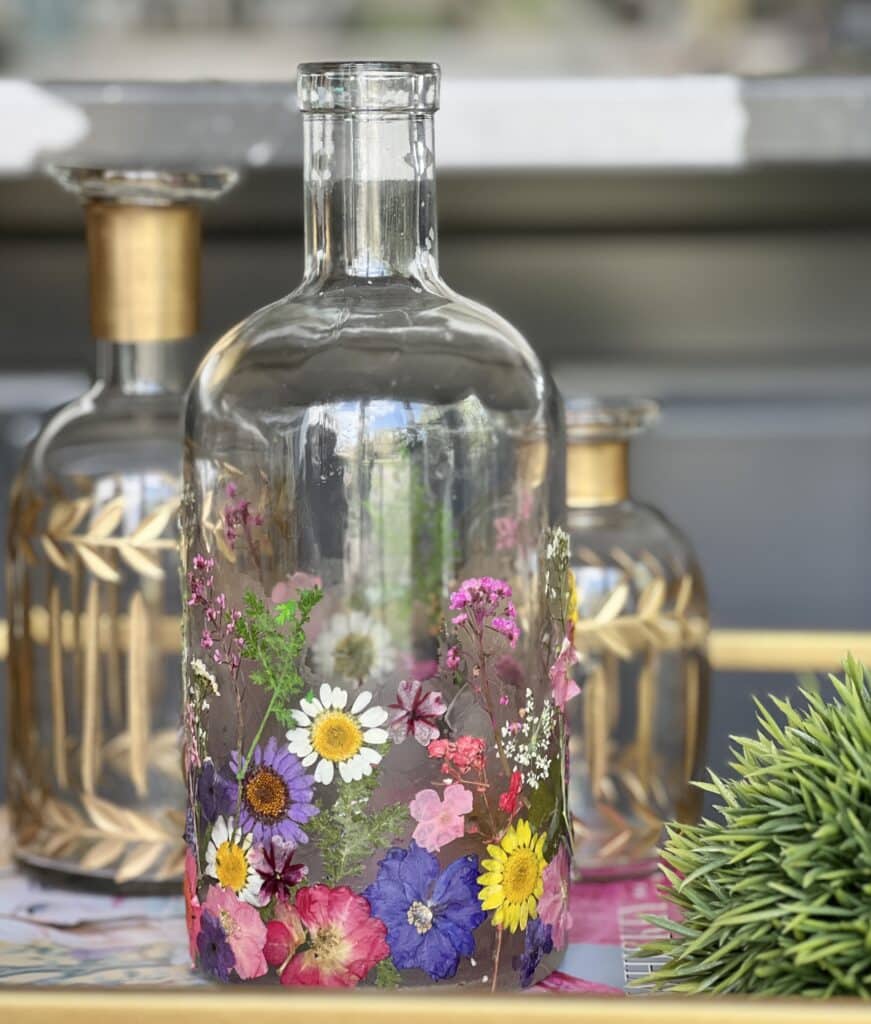 Here are some other ideas for displaying your new bottle vase.
Bud vases are perfect for showcasing a beautiful display of flowers and fresh floral arrangements.
Or leave the bottle empty so the vase itself is the statement piece.
Style your flower bottle on your kitchen counters or island amid other plants or flowers as a beautiful centerpiece.
Place your floral masterpiece against your counter's backsplash or on a kitchen baker's rack for a pop of color!
Bring out your cake stands and place your vase of flowers on top for a touch of elegance.
Set your bottle in front of a window and let the sunshine pour through the glass and illuminate the flowers!
And, if you like, these flower bottles make a great gift idea!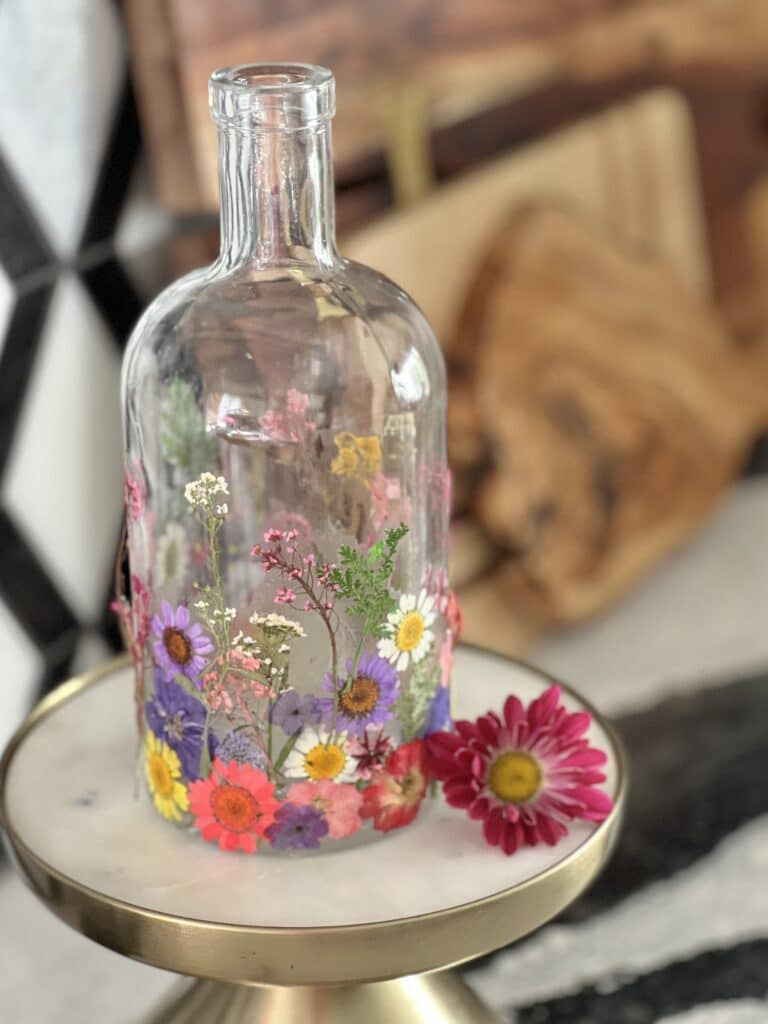 A glass bottle vase with pressed flowers is a beautiful way to keep your kitchen blooming year-round and looking fresh and inviting!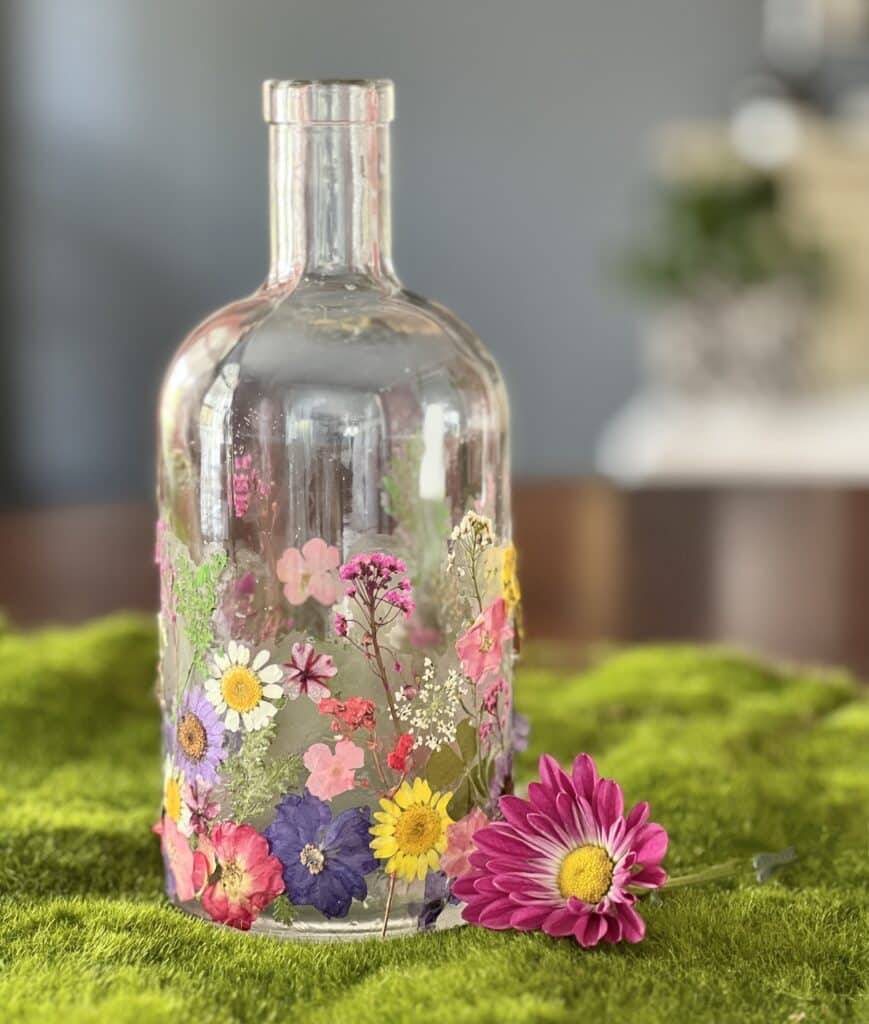 Now head to see Diane at South House Designs. She has an ingenious and clever idea for flower arranging! Trust me…you will love it!
Enjoy all of your beautiful flowers!
Cheers!

Don't Forget to Pin It!
Pin the image below to your boards on Pinterest (just click the Pin button in the top left corner). You can also follow along with me on Pinterest!