An Inexpensive Spring Flower Display
Looking to add a splash of spring color to your home but don't want to break the bank? Create an easy and affordable flower display today!
Who said having a beautiful flower display had to break the bank? You can have a stunning floral display without needing to spend too much. Got $10 and 10 minutes? I've got you!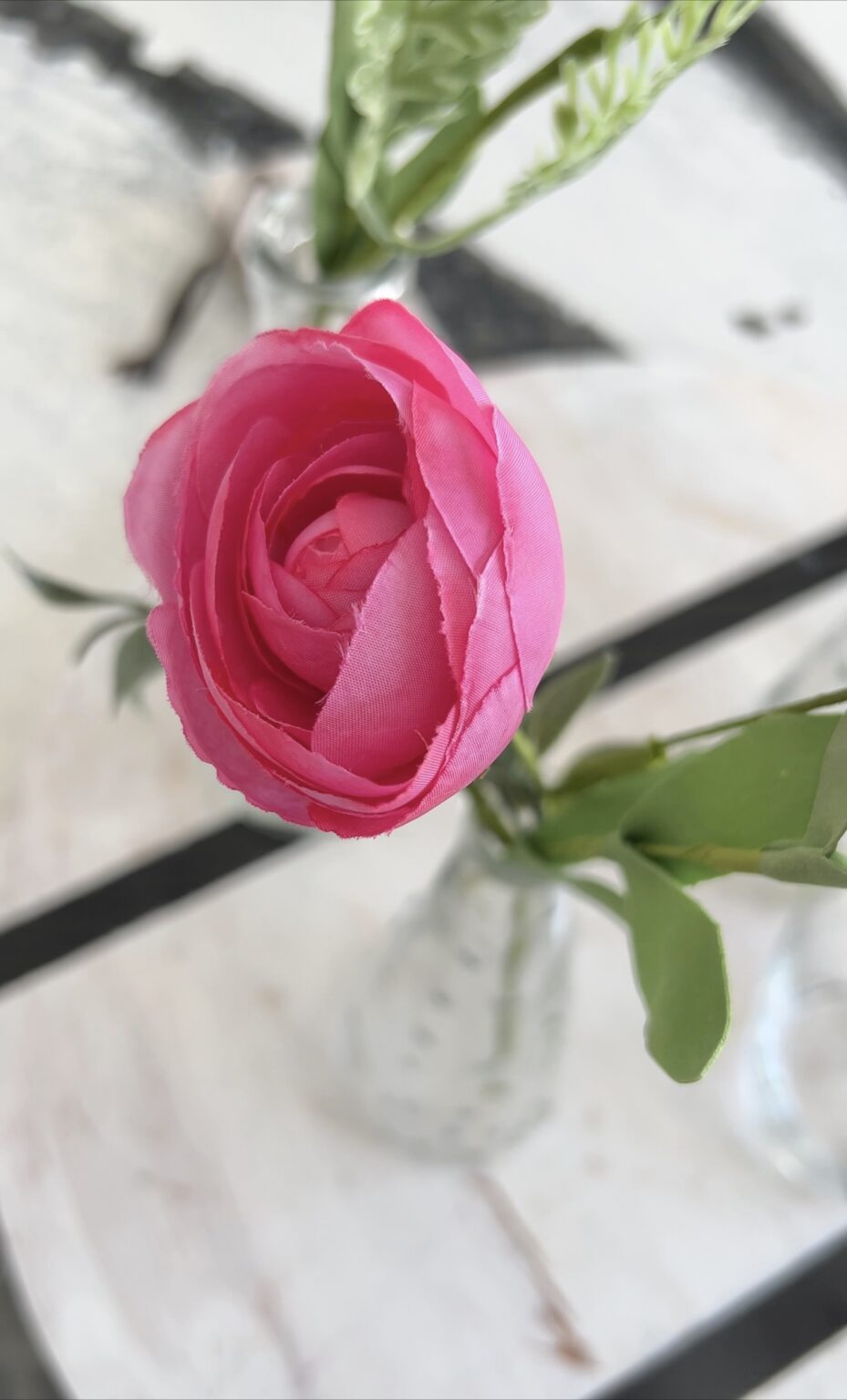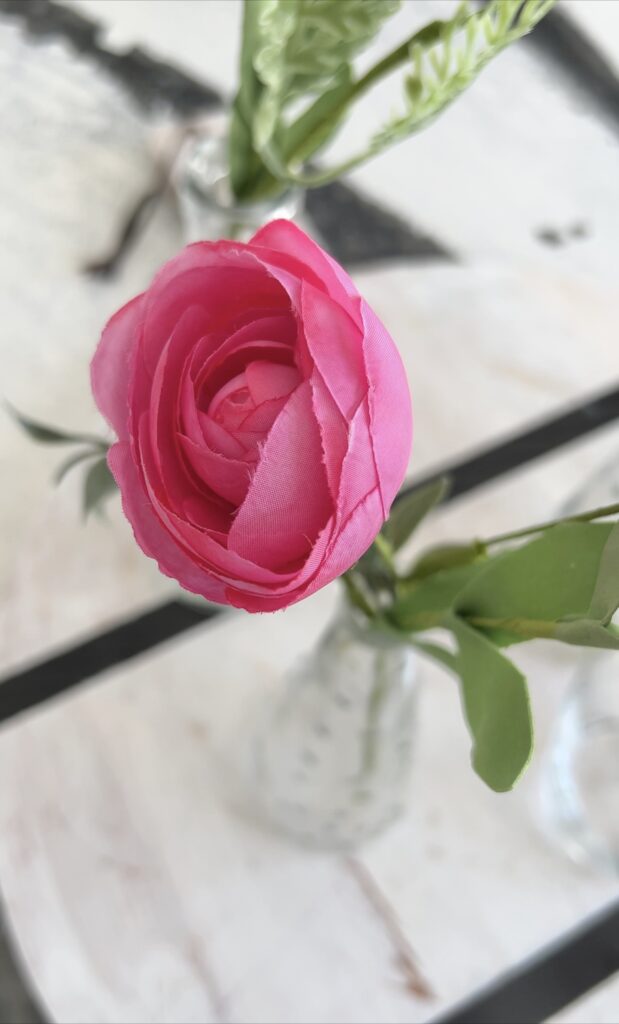 This blog contains affiliate links. This means a small commission is earned if you make a purchase by using this link. The price you pay will be the same whether you use the affiliate link or go directly to the vendor's website using a non-affiliate link. Sonata Home Design is a participant in the Amazon Services LLC Associates Program, an affiliate advertising program designed to provide a means for us to earn fees by linking to Amazon.com and affiliated sites.
Spring is the time for fresh flowers!
Tulips, hyacinths, daffodils…fresh color for a new season.
But some of us didn't get her tulip bulbs planted last fall. (ahem)
Enter…faux florals!
This can be quite the debate…some people loathe faux florals.
Oh my friend, faux can be fantatic!
And, they can be so reasonable in cost!
Over the years, I have found amazing faux florals at Michaels, Hobby Lobby, and Amazon.
Last week, I bought one bush of faux flowers in the most beautiful shade of pink at Hobby Lobby! On sale!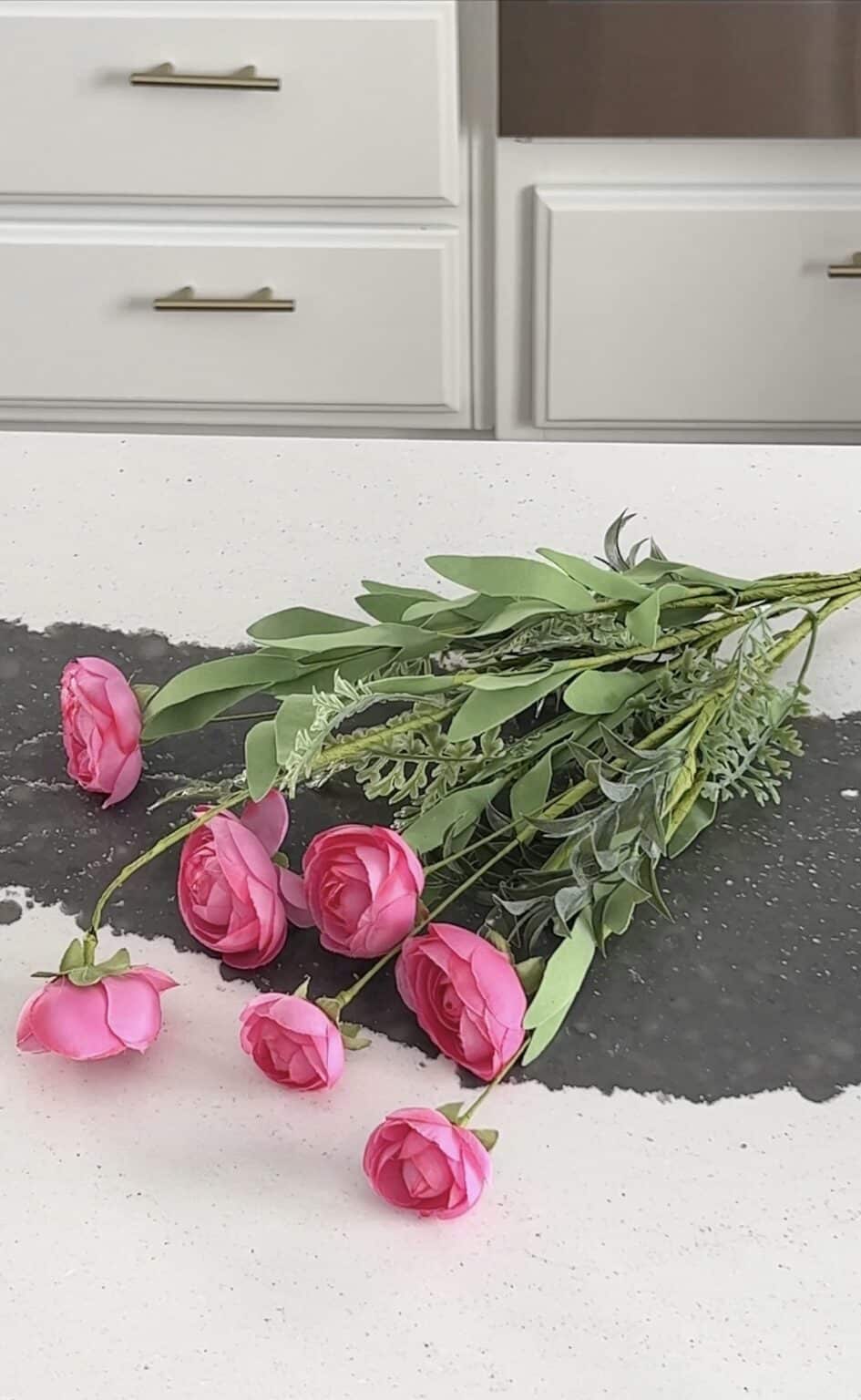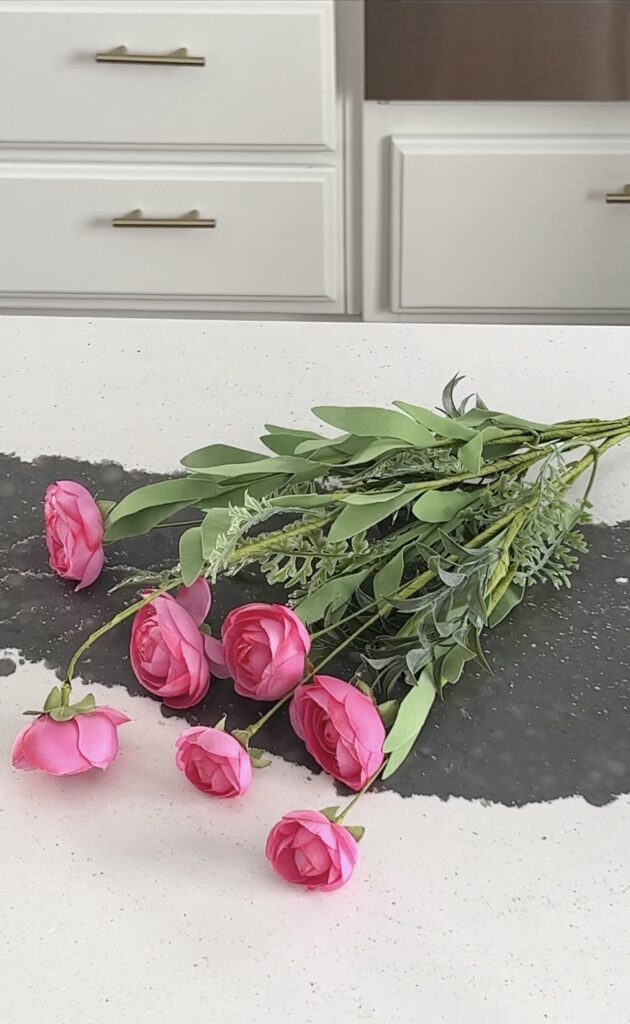 Even the green leaves are lovely!
I could have popped her into a vase, called it good, and enjoyed a fantatic display.
Instead, I tried something different…and I love it!
Here is how!
An Inexpensive (and quick) Flower Display
Here is an easy quick tip to create a floral display in minutes!
Take a bunch of faux flowers…and tear it apart!
Actually, a pair of sharp scissors and a couple of quick snips will do.
Cut and separate each of the blossoms…
—gather an odd number of small glass vases…
…and give each flower its own vase!
Light and airy, this is an easy-to-create impact with one bunch of flowers!
My Glass Bud Vase Secret
Don't have glass vases? Can I let you in on a secret?
Recycle!
This collection of glass "vases" actually consists of
1 recycled grocery store vase
1 recycled reed diffuser bottle
2 inexpensive Ikea vases
1 empty vodka bottle
Save those glass bottles!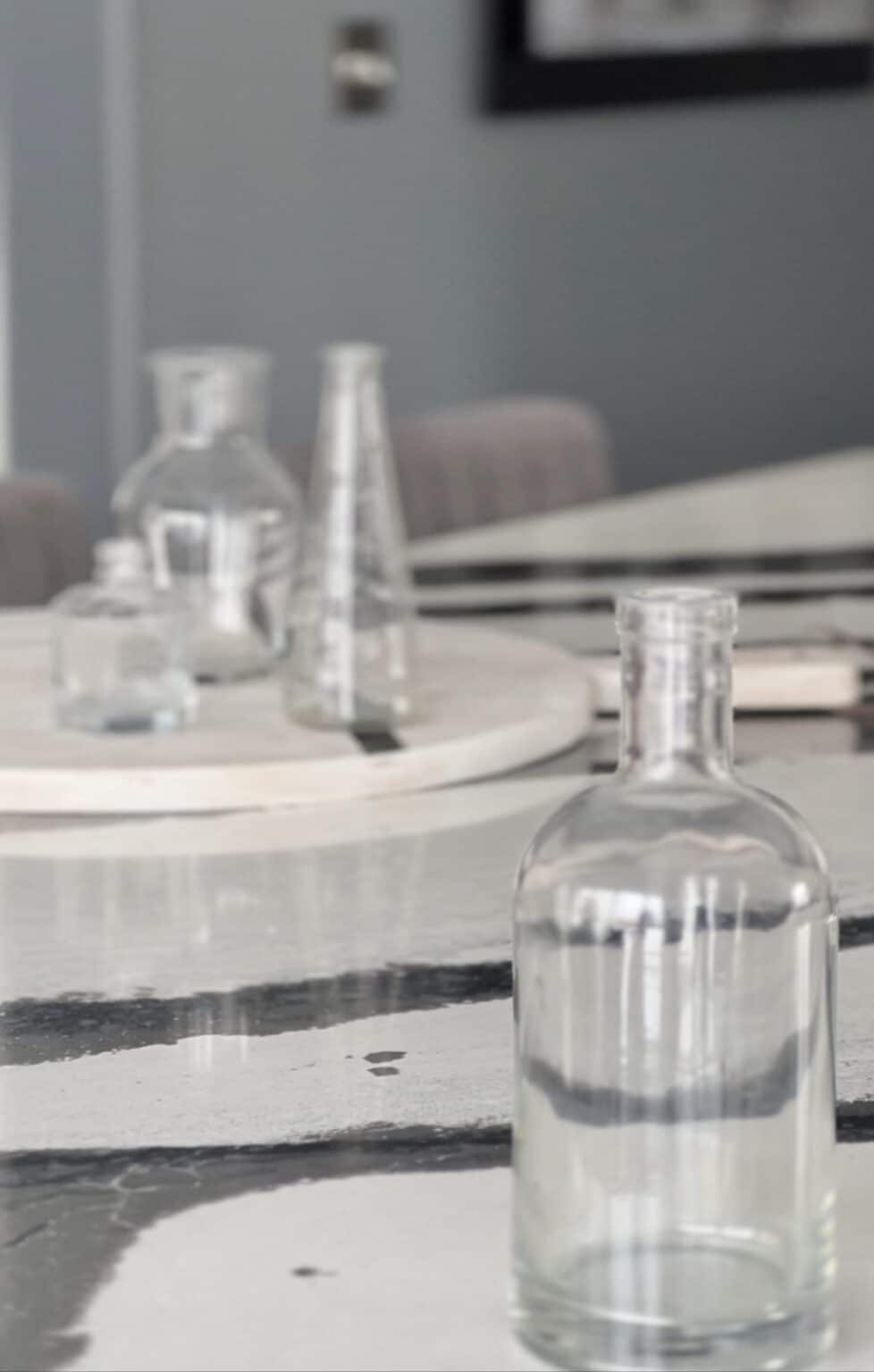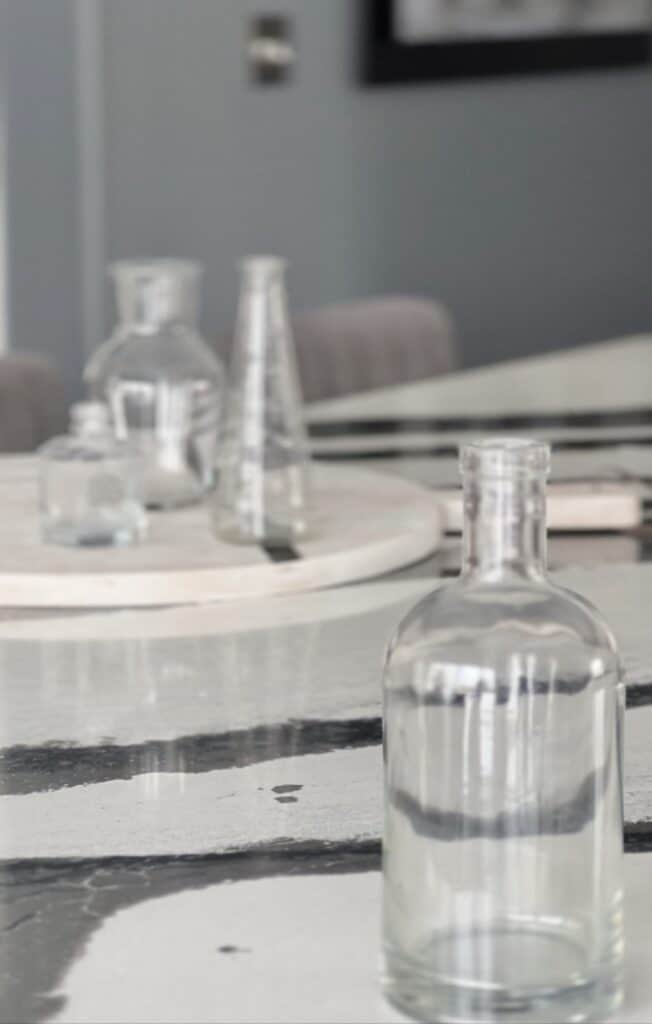 Quite the glass menagerie! But when gathered together with the flowers, they create a beautiful kitchen island centerpiece!
How to Arrange the Single Blooms
Cut your stems to a length that makes sense for each glass bud vase.
Place a bloom in a vase and bend the upper part of the stem so it curves slightly.
Often there is natural curve so it is done for you!
Add a few of the green leaves so it looks natural.
You can even add some water to the vases!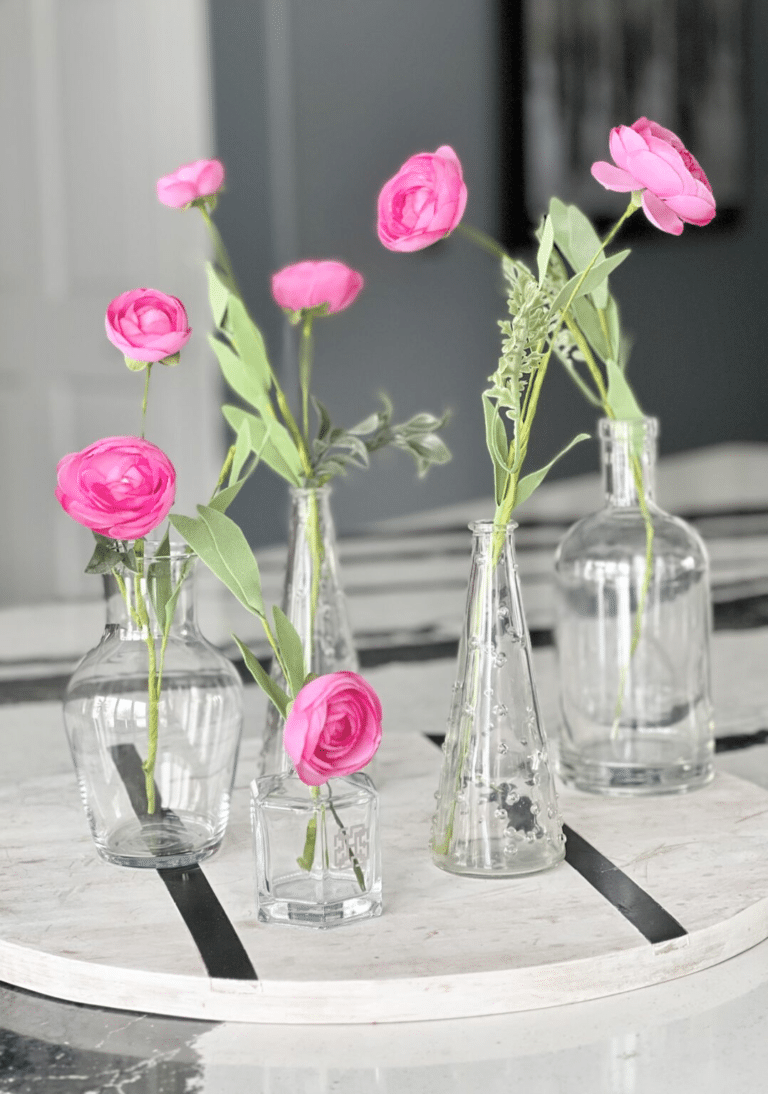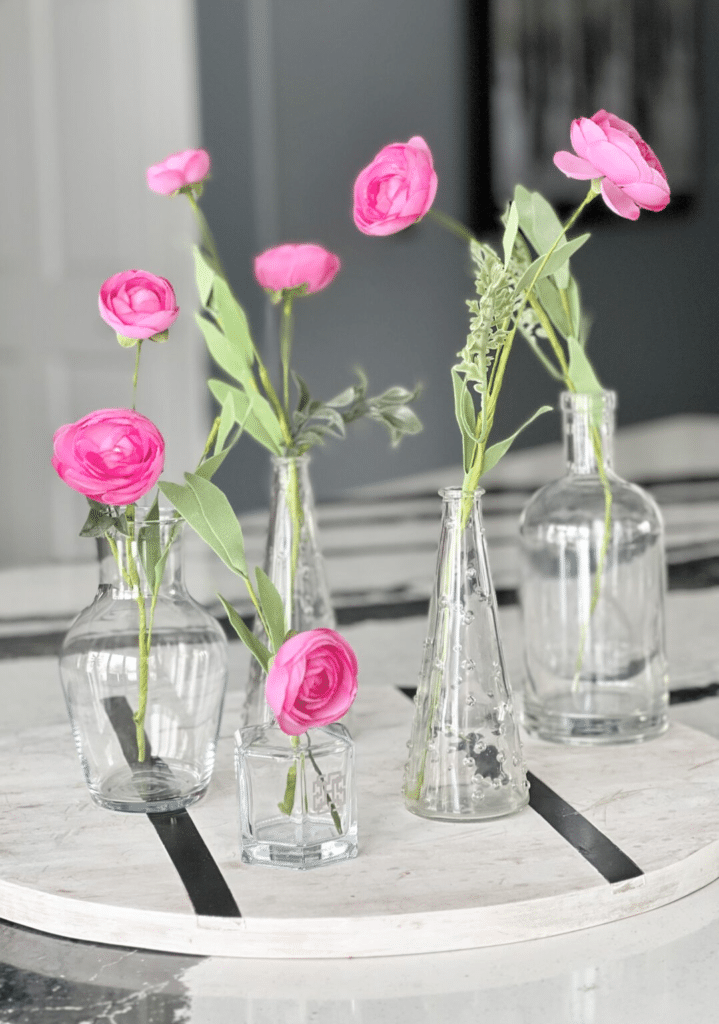 These flowers look like they are waving "Hello!"
This type of arrangement is perfect for a 360 degree space…one where it will be viewed from all sides.
Currently, I have this flower display sitting on our kitchen island.
But, I very well may move it to our coffee table in the living room.
Or, the top of the piano.
Or, as a centerpiece on the dining room table.
Perhaps all of the places will get a turn!
Keep them displayed together as a group or divide them up and spread the spring love throughout your home!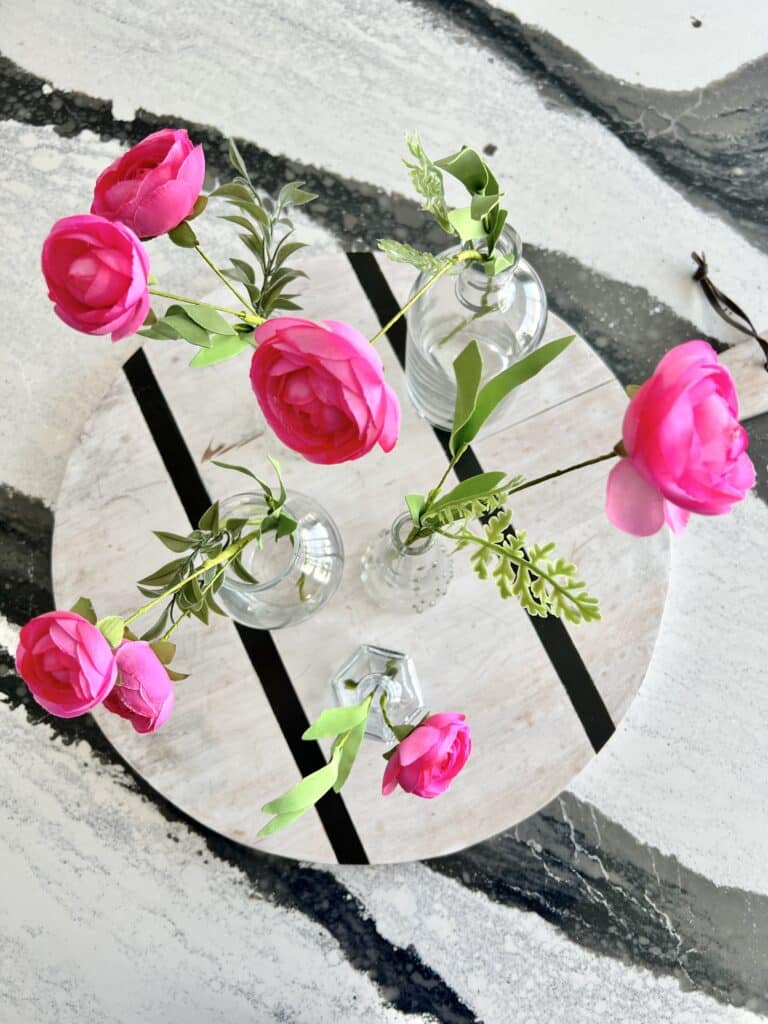 What a great way to spruce up your home this spring!
Light, airy, colorful…Hello Spring!
$10 and 10 minutes! This is the kind of flower display I like!
Using one bunch of faux flowers, we now have a show stopping flower display idea that will bring some life into our rooms!
I certainly think this is a must-try project and encourage you to give it a go.
So go wild with your spring decorations, include faux flowers in your home decor and try this flower display idea – you won't regret it!
Cheers!

Don't Forget to Pin It!
Pin the image below to your boards on Pinterest (just click the Pin button in the top left corner). You can also follow along with me on Pinterest!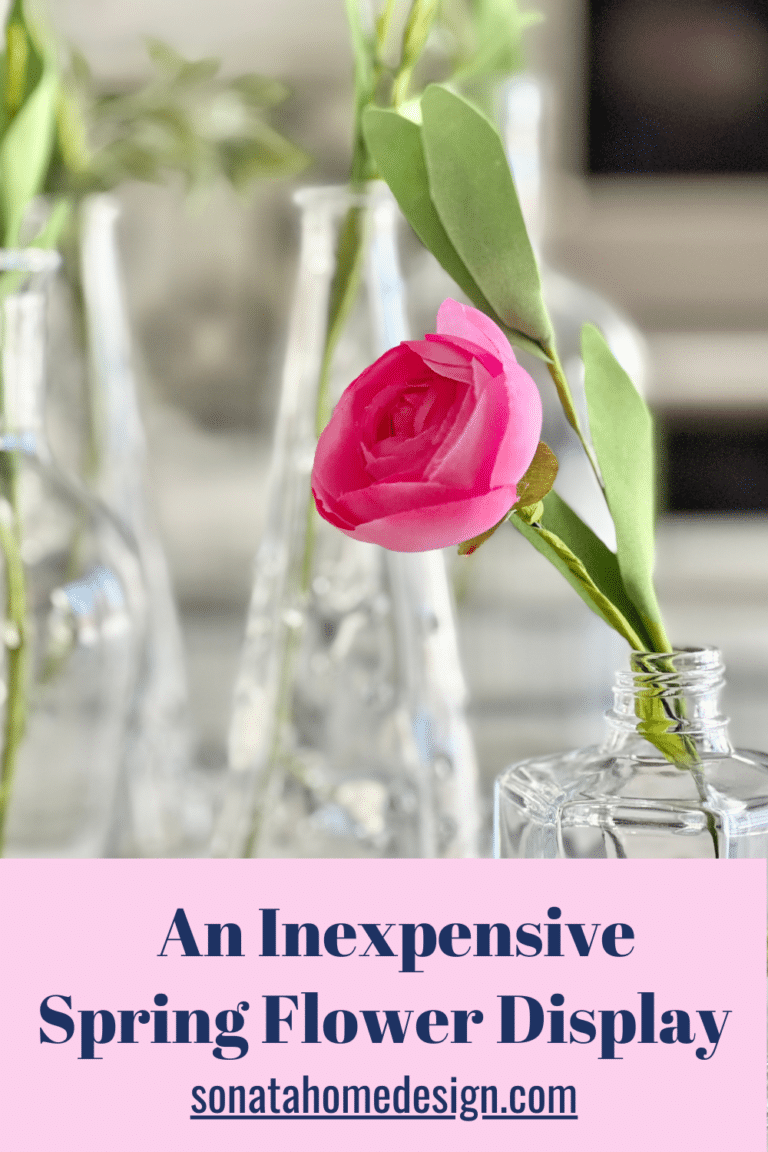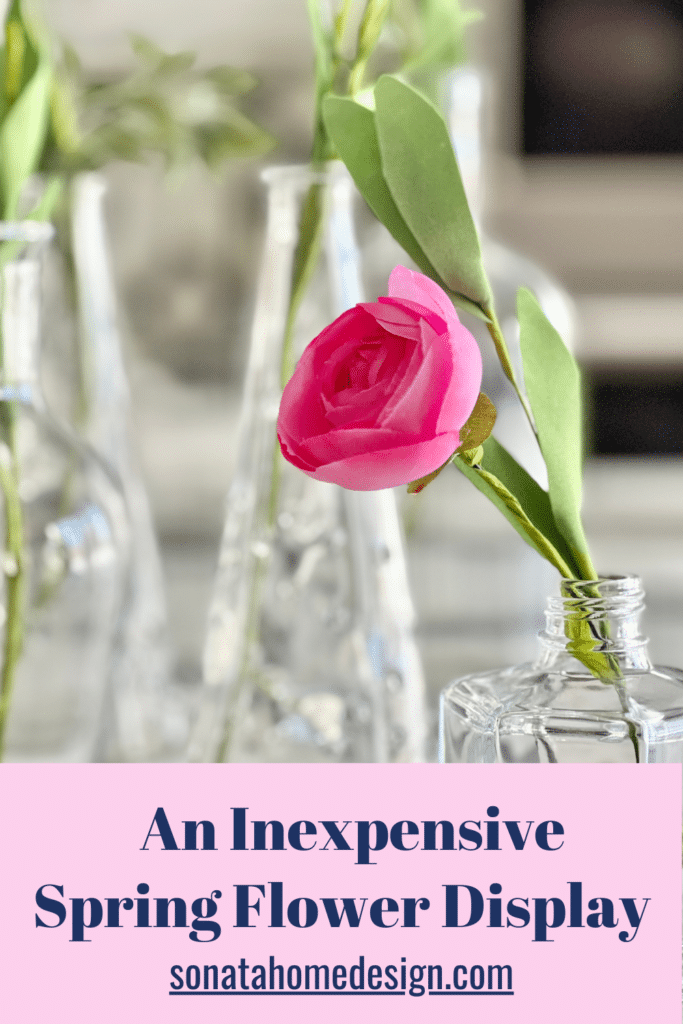 You Might Also Like This
What to Put in Decorative Glass Jars in the Kitchen