How to Make Easy DIY Pumpkin Floral Arrangements
It's a season of cozy sweaters, crisp air, and pumpkins! What better way to embrace the fall season than by adding some DIY pumpkin floral arrangements to your home decor?
Whether you're hosting a Thanksgiving dinner, throwing a Halloween party, or simply want to spruce up your home for the season, these pumpkin floral arrangements are the perfect addition. These charming arrangements are not only a feast for the eyes but also a delightful way to celebrate the magic of fall!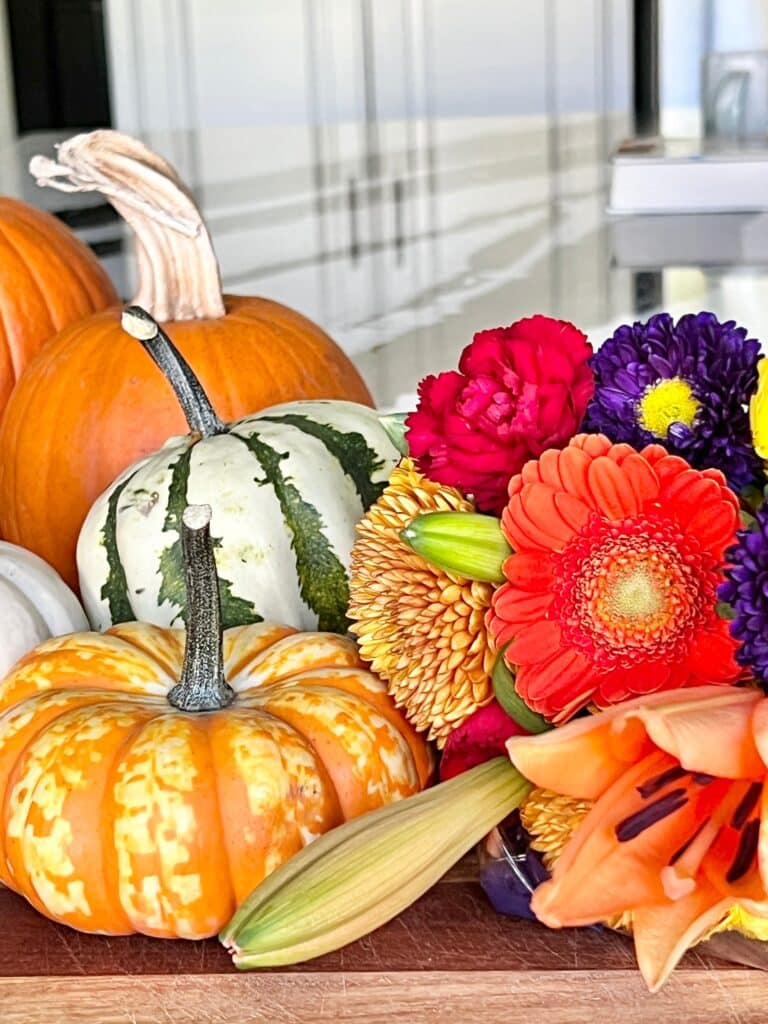 I had my arm elbow-deep in pumpkins this week!
Well, "elbow-deep" might be a slight exaggeration. But I did scoop out several pumpkins this week and my forearm got pretty slimy!
No, I'm not creating jack-o-lanterns…
I'm turning fresh pumpkins into gorgeous pumpkin flower arrangements!
​You see, it is time once again for the Handcrafted Society to share its monthly creativity and this month's theme….quite appropriately, is pumpkins!
If you are coming from Amy's fabulous project at Chateau Chic, then you are in a pumpkin frame of inspiration! Her wood pumpkins are so beautiful and such a great way to decorate for fall!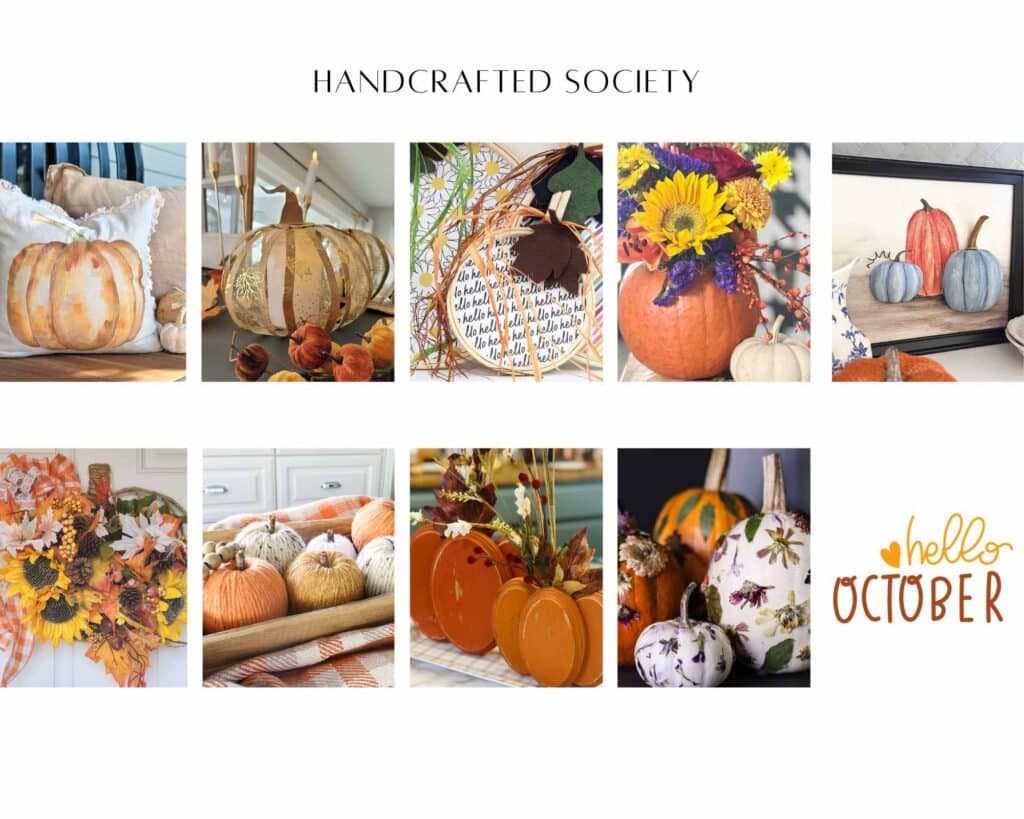 For my pumpkin contribution, I am taking three pumpkins and creating one beautiful pumpkin flower arrangement at a time.
Each one is very different from the others, so take a look!
Why Pumpkin Floral Arrangements?
A pumpkin vase is another fun way to create fall decor to decorate your home!
​A real pumpkin is kind of like a blank canvas. We carve them, paint them, poke them, and line them up on a porch railing. (Well, at least I do!)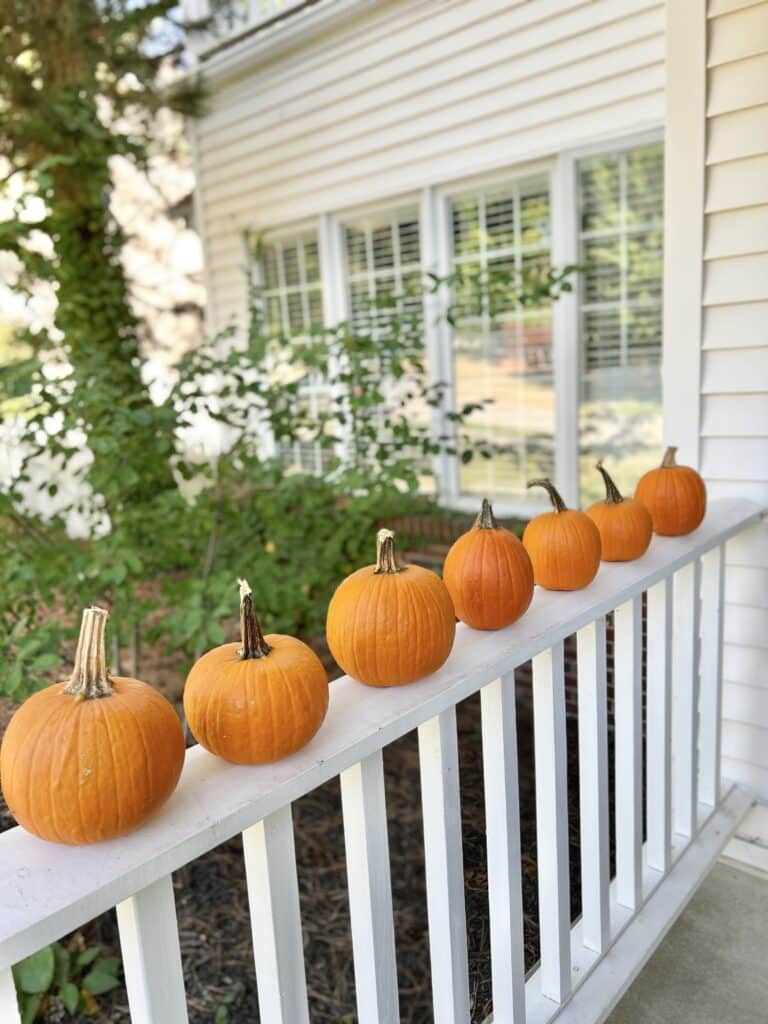 Why not create a striking display piece with flowers?
They make a lovely fall floral centerpiece for any table and are a beautiful way to bring autumn into your decor with just a simple pumpkin and flowers.
So, let's dive into the steps to make your very own pumpkin floral arrangement.
Supply List for Pumpkin Floral Arrangements
Before we get started, let's gather our supplies. You'll need the following items:
Pumpkin: Choose a medium-sized pumpkin with a relatively flat top. You can go for the traditional orange pumpkin, or get creative with a white or even a heirloom variety.
Fresh Flowers: Select a variety of fall flowers in different colors, shapes, and sizes. You don't have to spend a lot of money…I picked up some beautiful flowers from the grocery store. (Trader Joes is always a good bet!) Don't be alarmed…you can use faux flowers too!
Spanish Moss, Greenery, or Faux Stems: To add texture and depth to your arrangement, include some greenery. Eucalyptus leaves, fern fronds or even some twigs from your backyard can work wonders.
A sharp knife or pumpkin carving tools: These will be used to cut the pumpkin and create an opening for the flowers.
A small vase: You'll need something to hold the water and keep your flowers fresh. Floral foam is an excellent choice, but a small vase or a plastic container really works well.
Scissors or floral shears: To trim and arrange your flowers and greenery.
A spoon: This will come in handy when scooping out the seeds and pulp from the pumpkin.
Petroleum jelly or Olive Oil(optional): This will help to keep the pumpkin fresh
Plastic Wrap (optional): You will use this if you need to protect your vase or vessel.
Now that we have our supplies ready, let's dig in…literally!
Prepare the Pumpkin
While you can use floral foam to secure your flowers in the pumpkin, I prefer to use a glass jar or vase. Choose a jar that is slightly shorter than your pumpkin so it will fit inside.
Flip your vase upside down and center it on top of the pumpkin. (You may need to remove the stem.) Trace around the glass on top of your pumpkin with a pen or marker to create a cutting guide.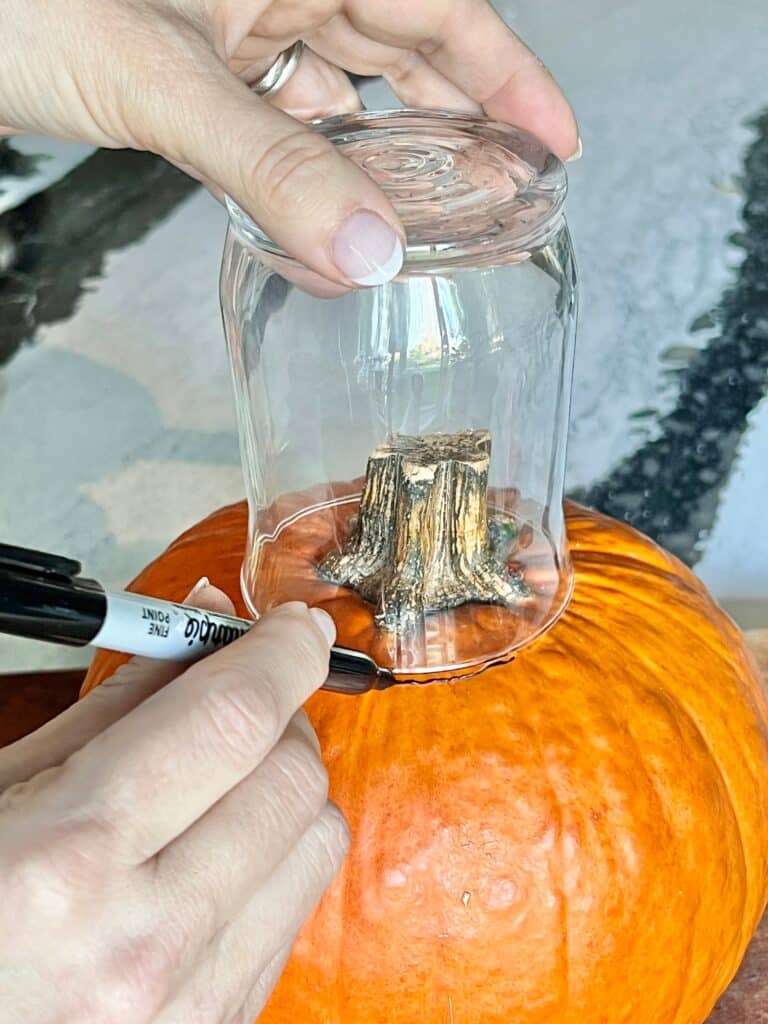 Next, use your knife or pumpkin carving tools to carefully cut out the circle and remove the pumpkin top. Make sure the opening is wide enough to comfortably fit your vase.
Once you've removed the top, scoop out the seeds and pulp from the inside of the pumpkin. You want it to be clean and hollow to create a suitable space for your flowers.
I always have neat and tidy intentions of only using a spoon or scoop to remove the seeds. After about 60 seconds, I give up and dive in with my hand. It's messy but effective!
Now simply, place your vase inside the pumpkin and make sure that it is stable and snug.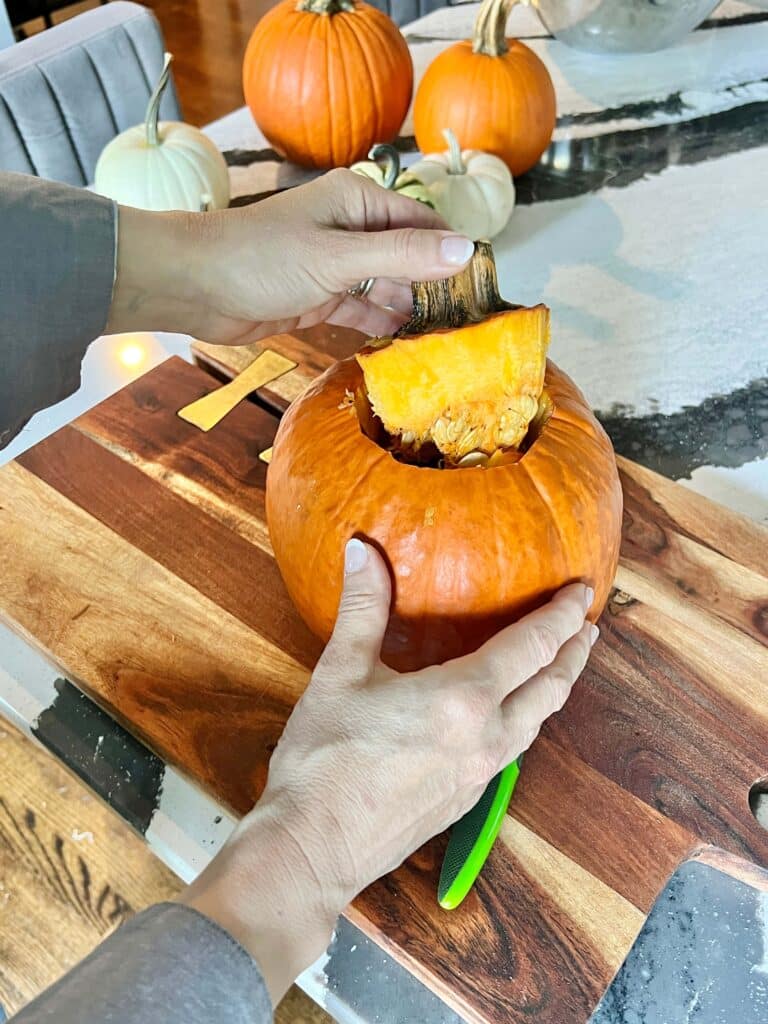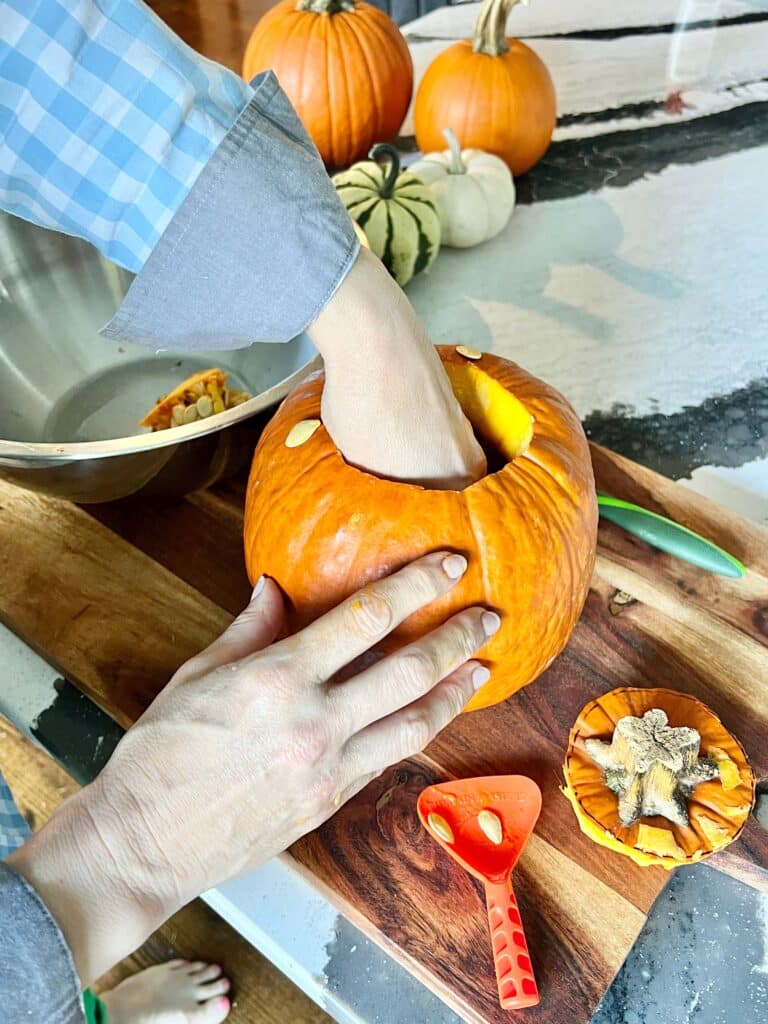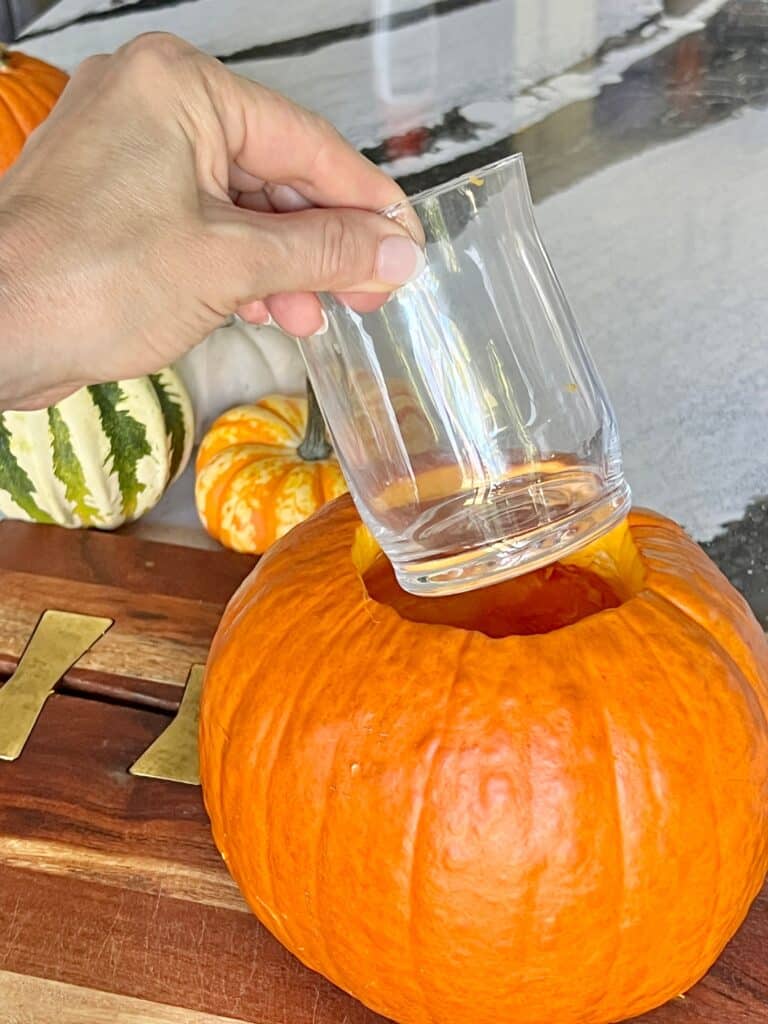 If you're using floral foam, make sure to soak it in water for a few minutes before placing it in the pumpkin. The foam will help keep your flowers hydrated and in place.
Pumpkin Tip: Sometimes the edges of a cut pumpkin can start to age quickly. To prevent this, rub a little petroleum jelly or olive oil along the edge. It preserves the edge and keeps it looking fresh!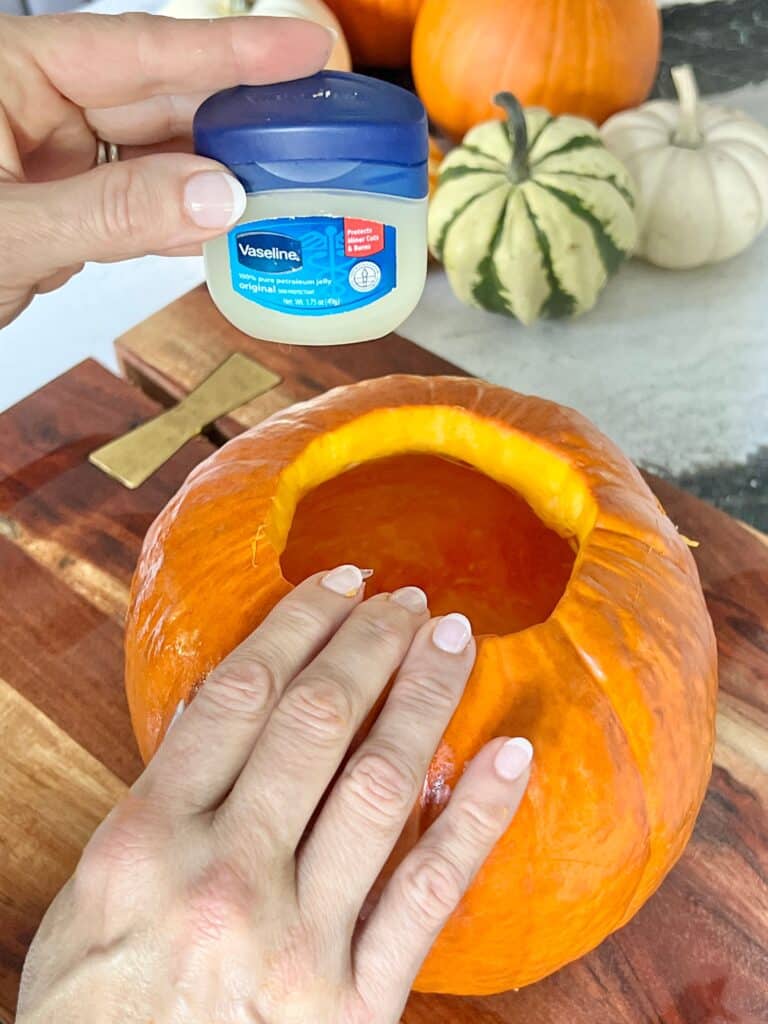 Creating an Easy Flower Frog
Ever found yourself wanting to arrange flowers without the hassle of floral foam or a frog?
Well, here's a nifty little trick: create your own floral frog using cellophane tape! It's easy!
First, fill your vase with water. Then just take pieces of tape and create a criss-cross grid across the top of the glass vase.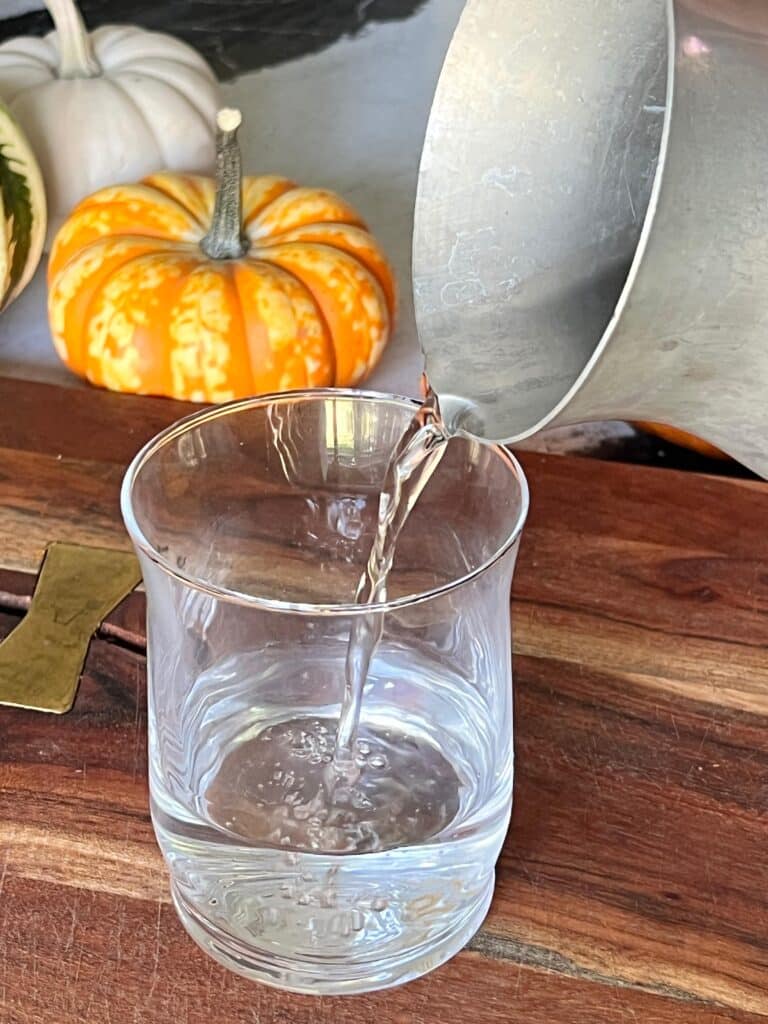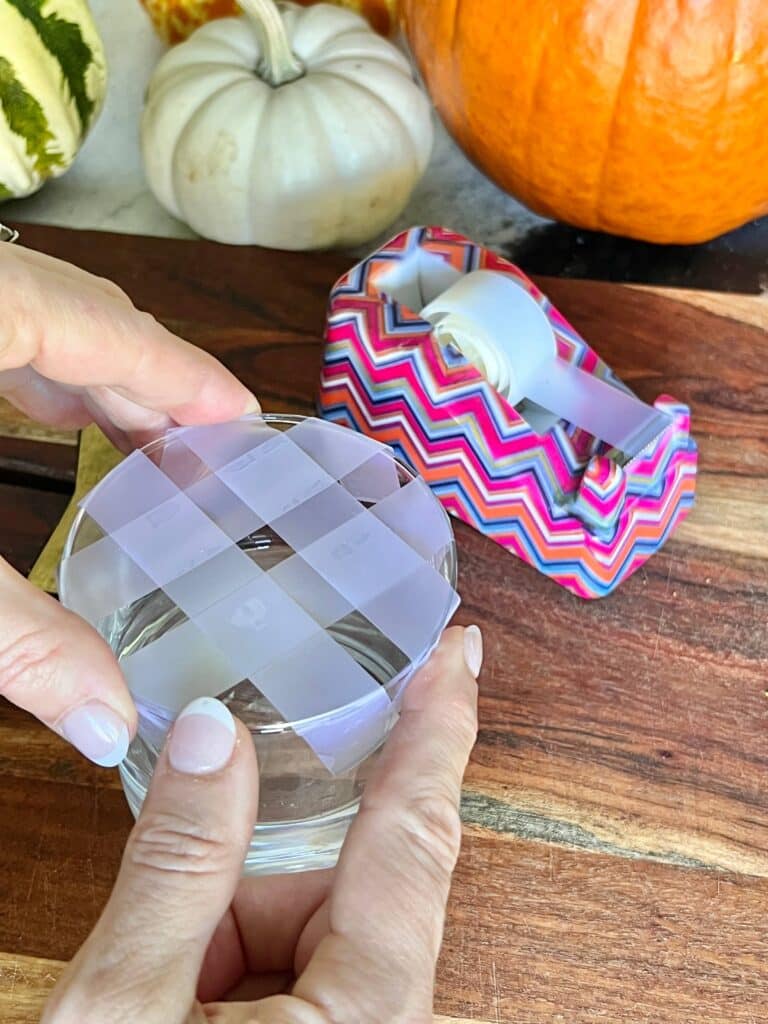 Voilà! You've got a homemade floral frog that'll hold your blooms in place and make arranging a breeze. Plus, it's a handy hack for those moments when you need a quick and simple solution.
Flowers and Greenery
Before arranging your flowers, trim the stems at an angle to the desired length. You can also dip the stems in a liquid floral food so the flowers last longer.
It's a good idea to vary the heights of your flowers for a more dynamic look. Also, remove any leaves or thorns that will be below the waterline to keep the water fresh longer.
Next, start adding your flowers. Place larger blooms towards the center of the arrangement, taller flowers in the back, and greenery along the base.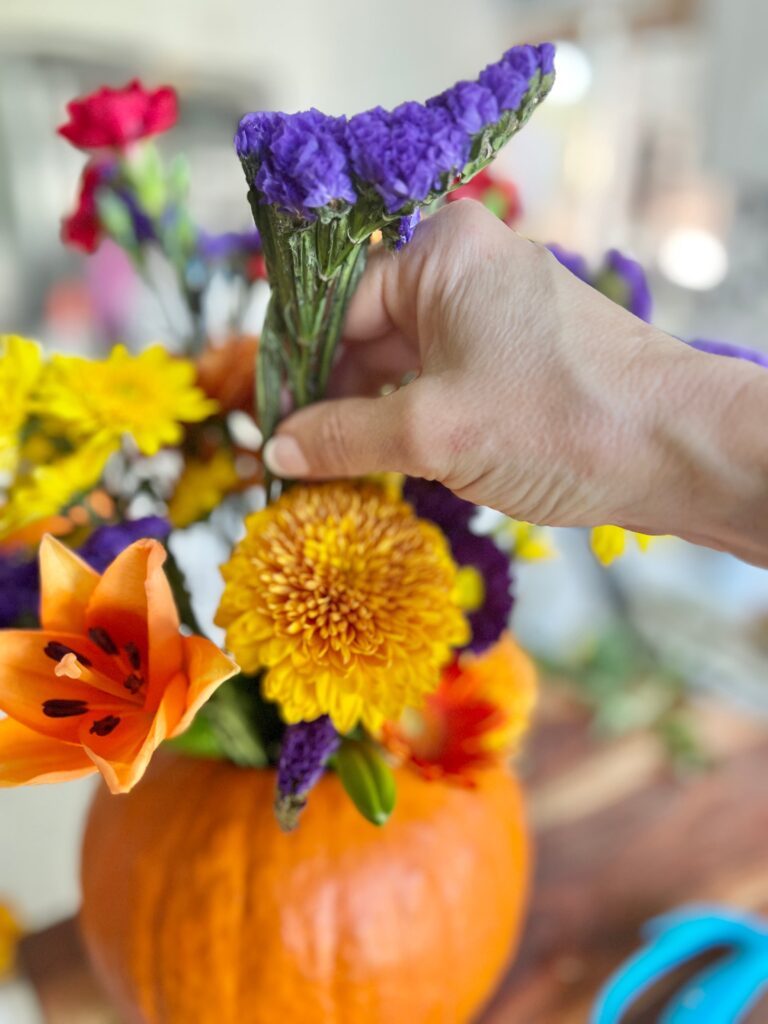 Mix in different flower types and colors in whatever color scheme you like.
Or display a bunch of flowers in a single color for a bold pop of color.
Feel free to experiment with different arrangements until you find the one you love.
Once you've placed your main flowers, fill in any gaps with smaller blooms or additional greenery. This will give your arrangement a full and lush appearance.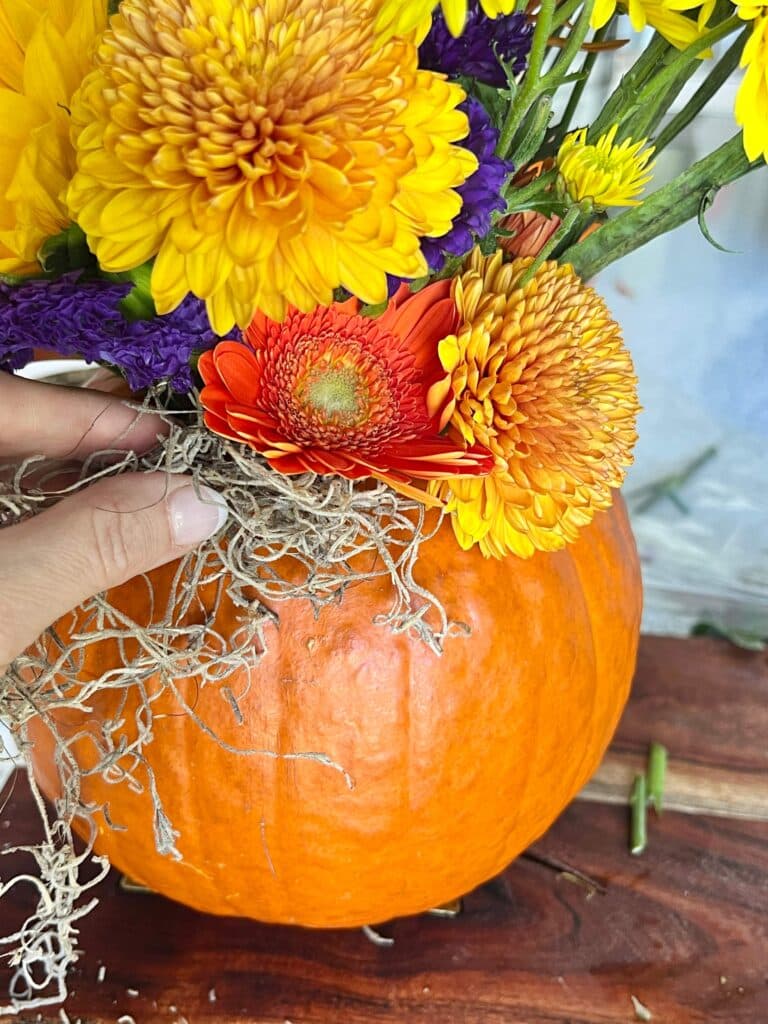 Floral Design Hack: Go faux! Don't be afraid to add faux greenery, picks, or even faux flowers to your pumpkin floral arrangements. It can fill it out and give you more design options.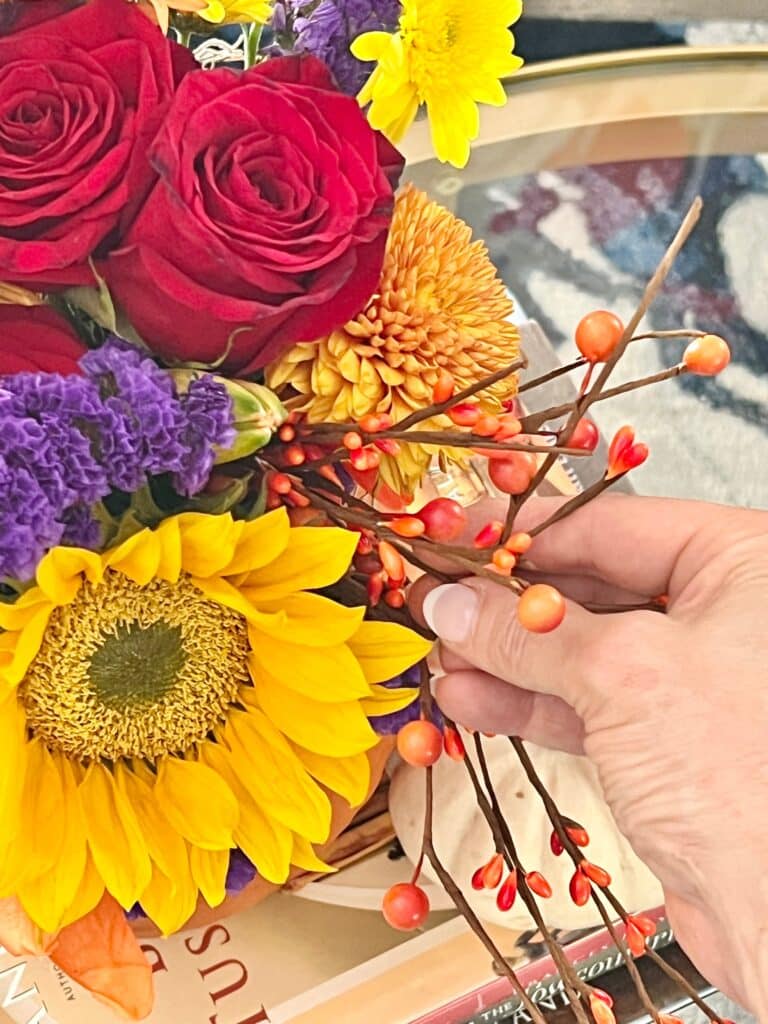 Water and Maintain
To ensure your pumpkin floral arrangement stays fresh, add water to the vase regularly. Check the water level every few days and trim the stems as needed to prolong the life of your flowers.
With proper care, your arrangement can last for up to a week or more.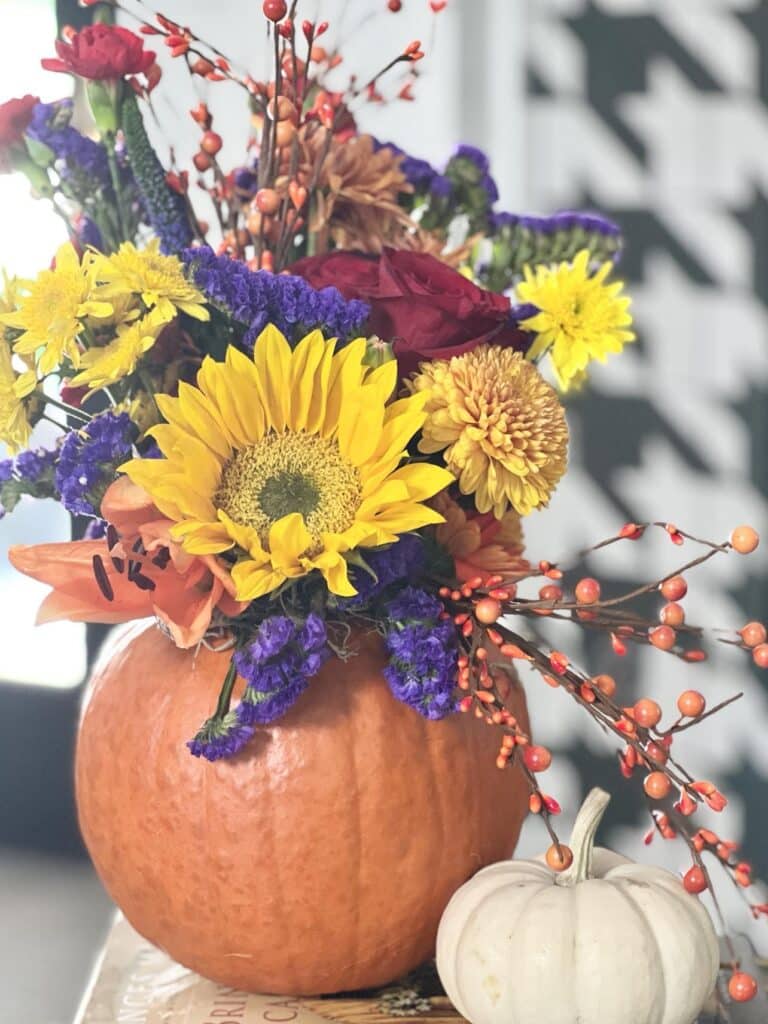 More Pumpkin Centerpieces
Try some of these DIY pumpkin flower arrangement ideas!
Take a small white pumpkin and hollow it out. For a glass vase, use a small glass votive candle holder. It is the perfect size!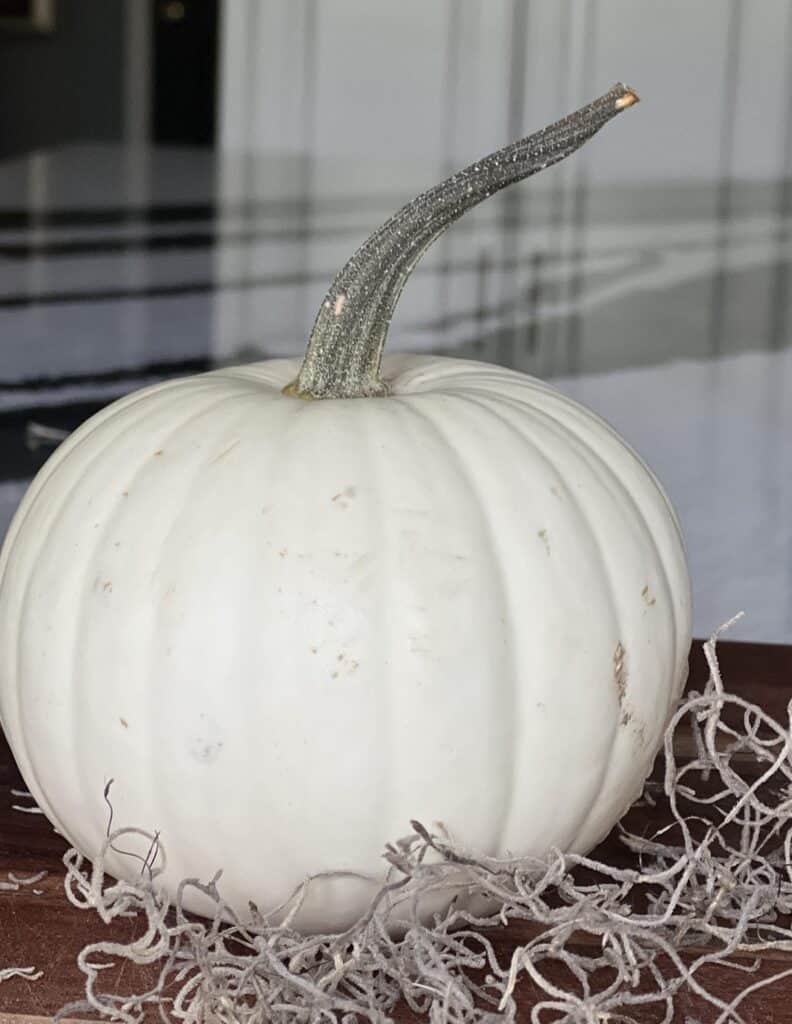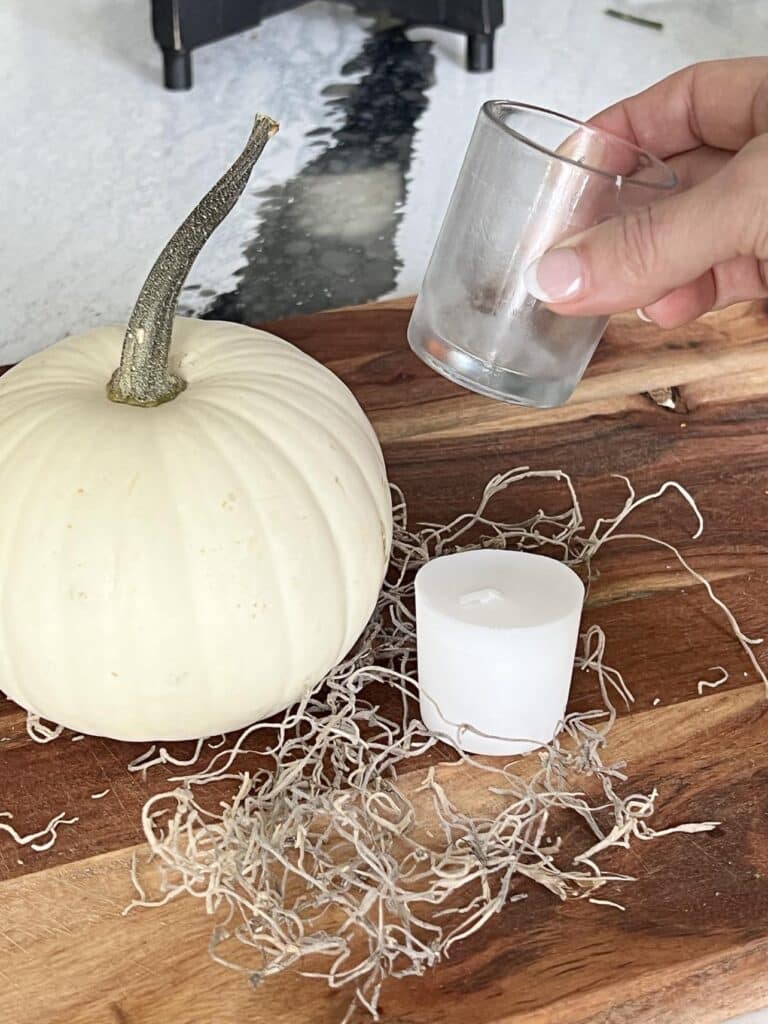 Now, add one single, large sunflower! Nestle it among some Spanish moss and add a twisted pip berry stem around the pumpkin for a stylish effect!
Sometimes a small pumpkin can have a big impact!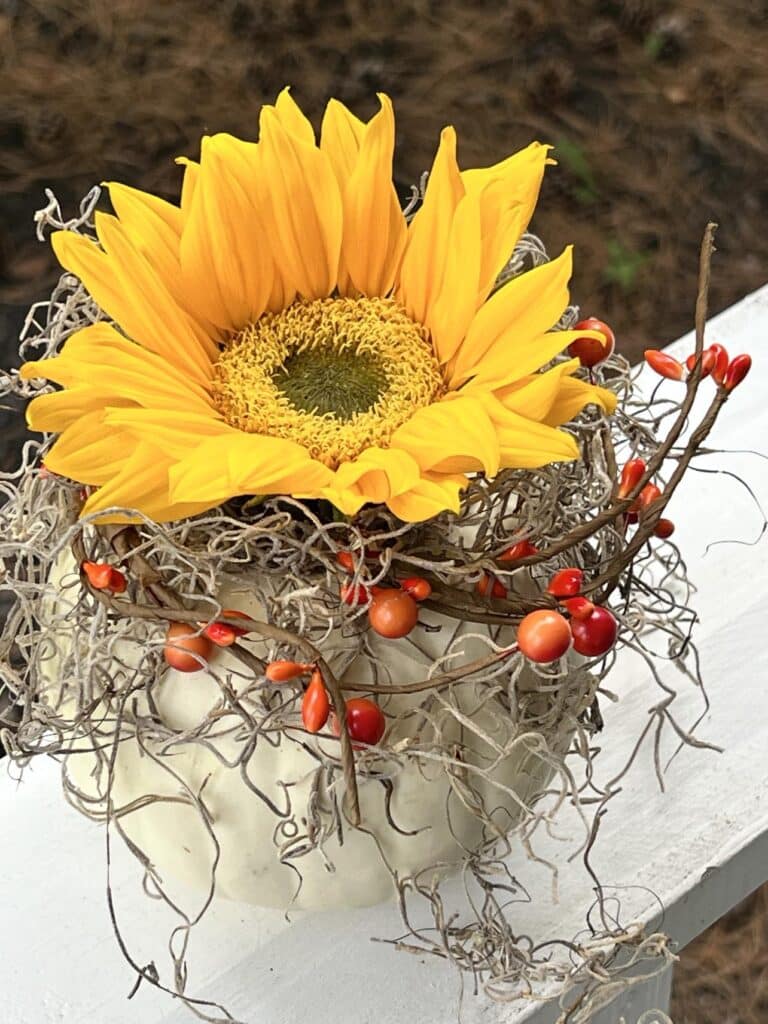 You can also take a faux potted plant that you already have and "plant" it in a pumpkin…vase and all!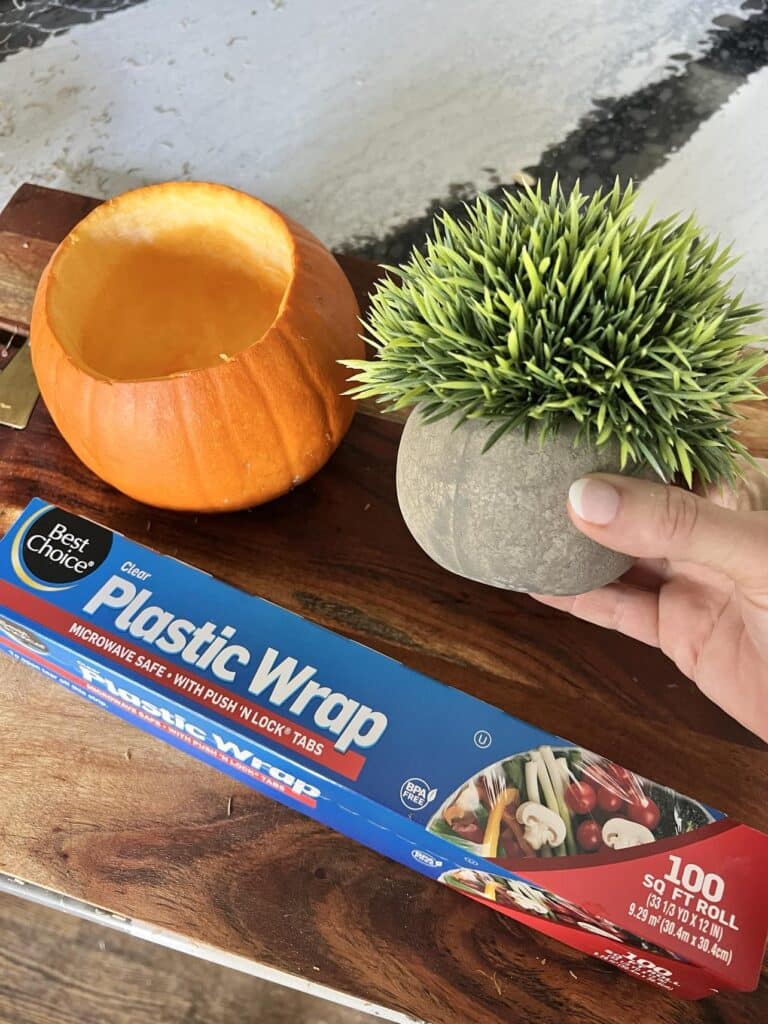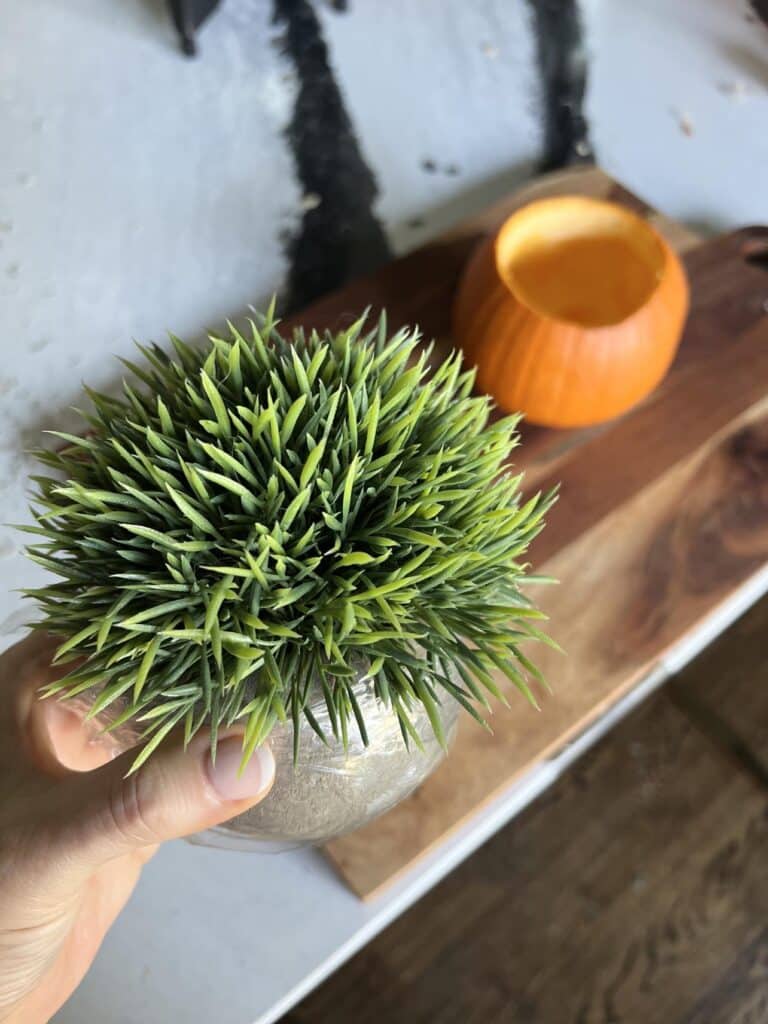 The trick here is to protect the vase. You can do this by covering the outside of the container with plastic wrap. Once covered, press it into your hollowed-out pumpkin, trim the edges, and enjoy the view!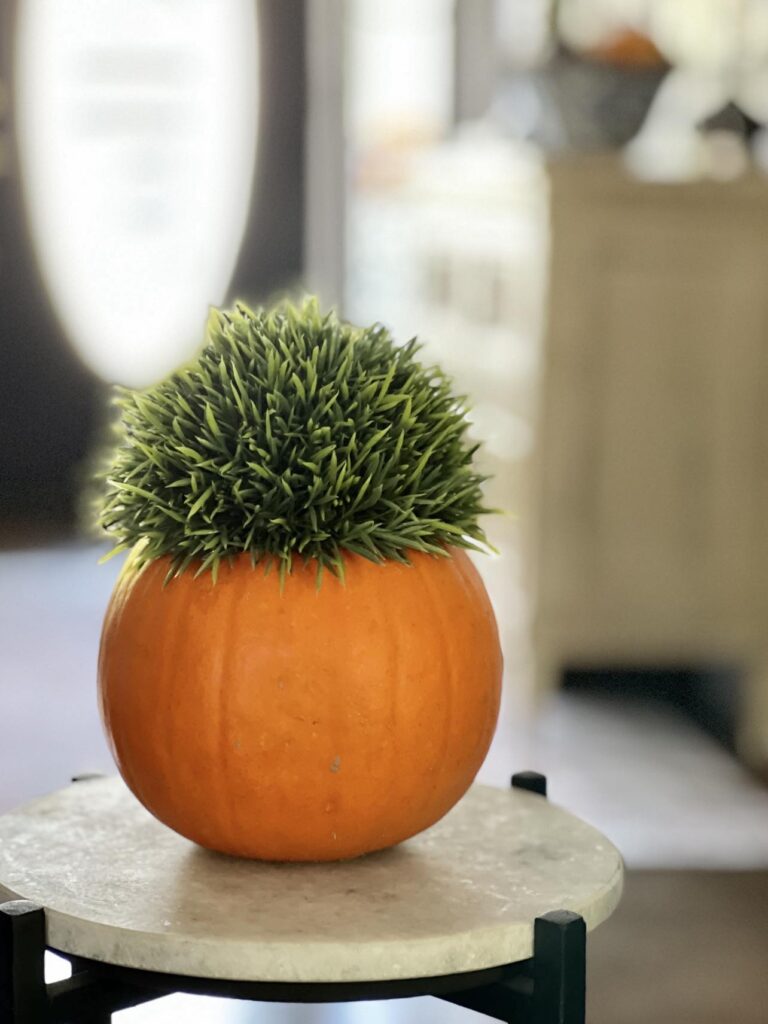 Where to Display Your New Fall Centerpiece
Now that you have created your pumpkin floral arrangements, are you wondering where to display them? Here are some ideas!
Dining Table Centerpiece: Elevate your dining experience by placing your pumpkin floral arrangement as the centerpiece on your dining table. It'll add a touch of seasonal charm to your family meals and dinner parties.
Mantel or Fireplace: Transform your mantel or fireplace into a cozy autumn focal point by displaying your pumpkin floral arrangement there. The warm, flickering ambiance of your fireplace combined with the vibrant blooms will create a captivating atmosphere.
Entryway or Foyer: Welcome guests with a burst of fall beauty by placing your arrangement in the entryway or foyer. It's the perfect way to set a warm and inviting tone as soon as people step inside your home.
Coffee Table: Elevate your coffee table decor by featuring a small pumpkin floral arrangement as the centerpiece. It is definitely a conversation starter!
Kitchen Island: Showcase your pumpkin floral arrangement on the kitchen island. It'll make meal prep and cooking even more fun!
Bedroom Nightstand: Add a touch of fall coziness to your bedroom by placing a mini pumpkin floral arrangement on your nightstand. Waking up to the scent of fresh flowers is a wonderful way to start your day.
Bathroom Vanity: Surprise your guests with a burst of fall charm in an unexpected place – the bathroom! Display a petite pumpkin floral arrangement on the bathroom vanity for a pleasant and inviting touch.
Front Porch: Make a festive statement before guests even enter your home by decorating your front porch with a beautiful pumpkin floral arrangement. It'll create a warm and welcoming atmosphere from the moment they arrive.
What Flowers Work Best in Fall Pumpkin Arrangements?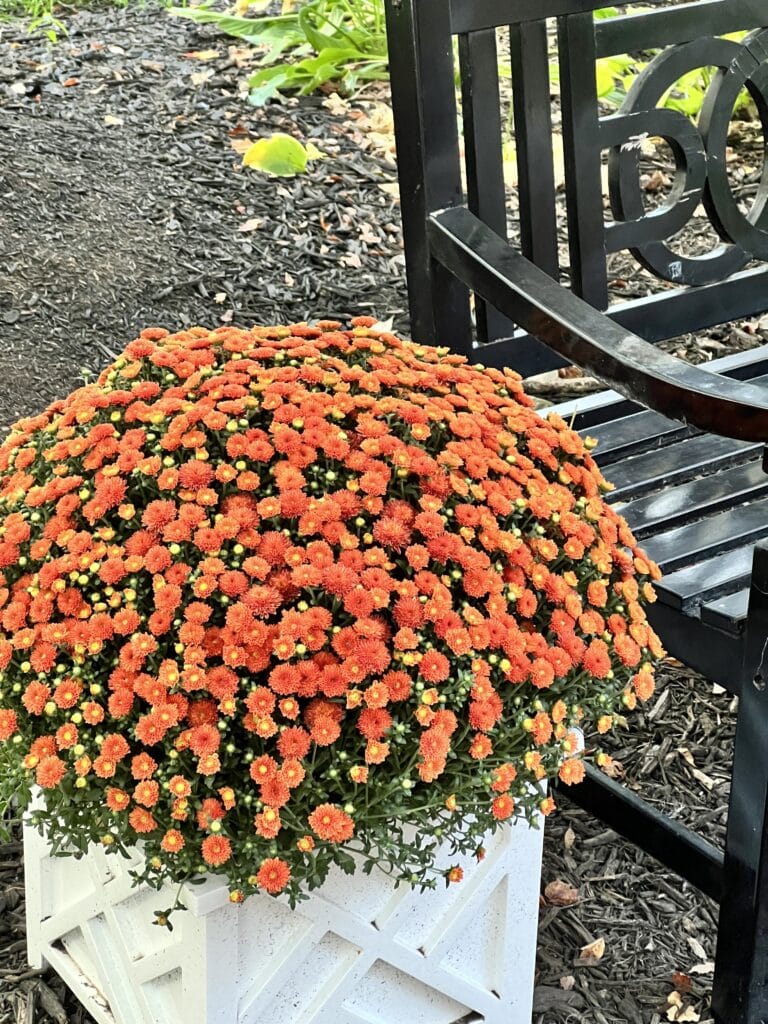 Creating a stunning fall pumpkin floral arrangement is all about choosing flowers that are available and fresh in the season. Here's a list of flowers and foliage that work wonderfully in autumn arrangements:
Sunflowers: These iconic blooms add a burst of golden-yellow color and radiate the warmth of fall.
Chrysanthemums (Mums): Available in various shades, mums are classic fall flowers that come in colors like red, orange, and burgundy.
Roses: Deep red and orange roses complement the fall color palette beautifully.
Daisies: White or yellow daisies add a touch of cheerfulness to your arrangement.
Marigolds: With their vibrant orange and yellow hues, marigolds scream fall.
Zinnias: These colorful, daisy-like flowers come in various shades, making them versatile for your arrangement.
Dahlias: Dahlias bloom in a wide array of colors and have a sophisticated, autumnal charm.
Solidago (Goldenrod): This filler flower features bright yellow plumes that evoke the golden tones of fall.
Eucalyptus: Silver dollar or seeded eucalyptus leaves are excellent for adding texture and fragrance.
Maple or Oak Leaves: Collect some fallen leaves from your yard to add a rustic touch.
Pumpkin or Gourd Vines: Incorporate small pumpkin or gourd vines for a unique and thematic element.
Hypericum Berries: These berries come in shades of red, orange, and burgundy, perfect for adding small pops of color.
Wheat or Millet: These grains bring a rustic, harvest-inspired feel to your arrangement.
Statice: This flower, available in various colors, adds a papery texture that contrasts nicely with other blooms.
Asters: Asters come in deep purples and blues, providing a striking contrast to the warmer fall tones.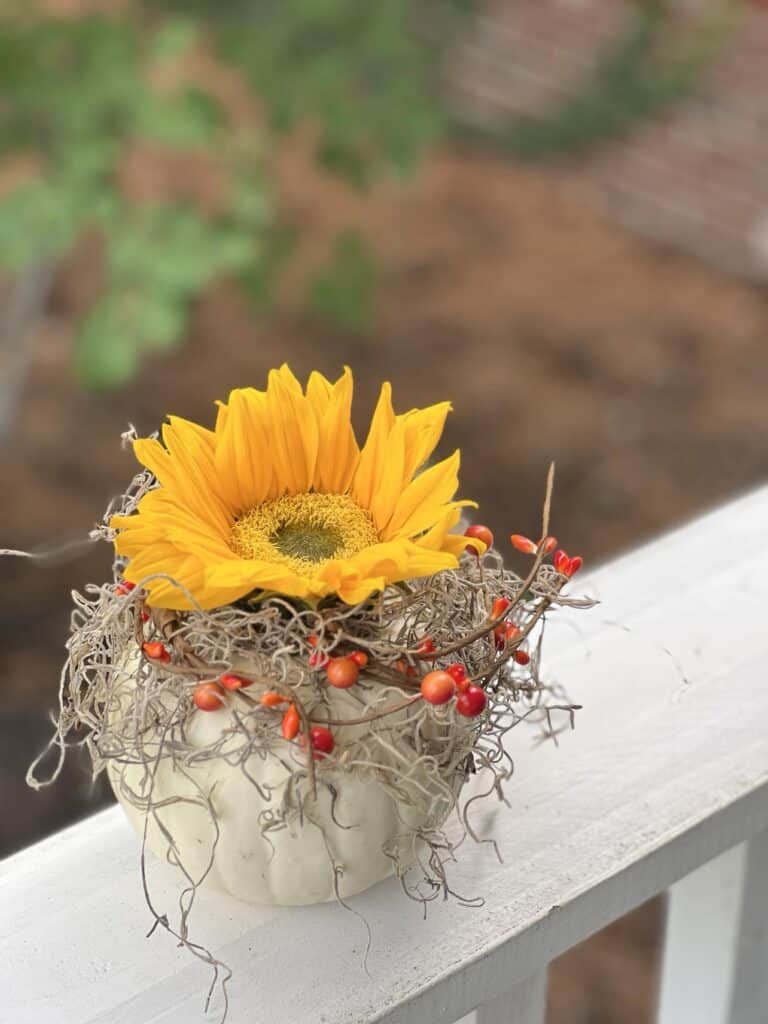 Pumpkins Everywhere!
Once again, I am displaying a pumpkin on my front porch railing. I can't help it!
This pumpkin project is just one of many in this month's Handcrafted Society pumpkin tour. So be sure to head over to Sweet Valley Acres and see Crystal's beautiful pumpkin lantern. Her project is both clever and beautiful!
Enjoy making your own pumpkin floral centerpiece. Every bloom you place, every pumpkin you choose, and every arrangement you make adds a touch of your personality and the spirit of fall to your home!
Cheers!

Don't Forget to Pin It!
Pin the image below to your boards on Pinterest (just click the Pin button in the top left corner). You can also follow along with me on Pinterest!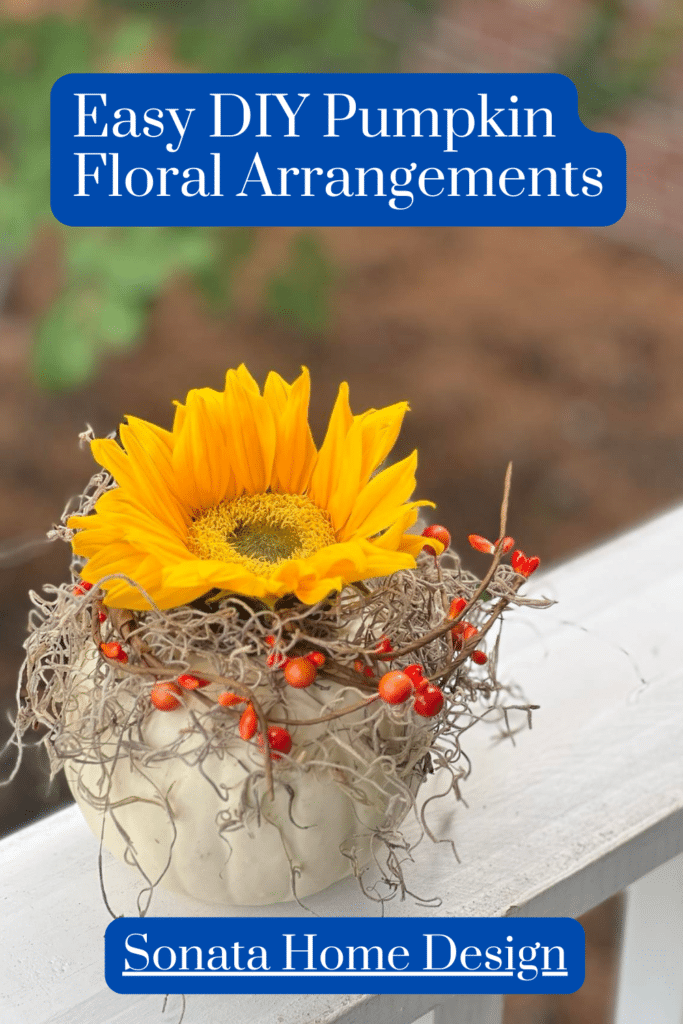 More Fall Projects For Your Home
Fall Front Porch Decorating Ideas
Pumpkin Pie Crunch Cake
Shop My Favorite Fall Florals