An Easy DIY Icy Cranberry Christmas Table Centerpiece
Are you looking for a beautiful and festive centerpiece to spice up your holiday tabletop? Well, look no further! This icy evergreen cranberry Christmas DIY table centerpiece will be sure to bring that extra bit of clever cheeriness your home needs this season.
With just a few simple items, you'll have your table transformed into an icy winter wonderland in no time. Get ready for an "icy" surprise!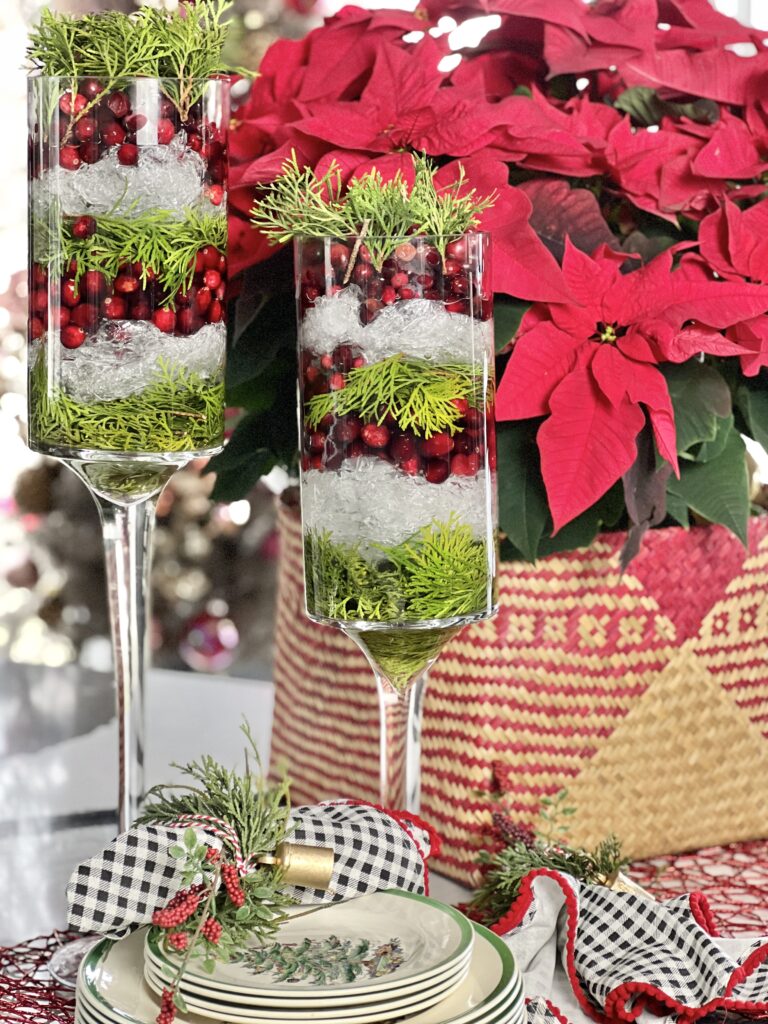 Ho Ho Ho! Christmas is just around the corner!
You might be making chocolate truffles, decorating a Christmas tree, wrapping gifts, and planning your holiday menu.
Do you need a new idea for a dining room table centerpiece?
Something a little different from your typical floral arrangement?
Time for a QUICK Christmas project!
Here is a fantastic idea for simple centerpieces that are quick, inexpensive, and can be made with items around your house.
I call it an "Icy Evergreen Cranberry Christmas Centerpiece!"
Can you guess what is in it from the title?
Quick? About 20 minutes to make!
Simple? Do you know how to layer?
Items around your house? Here is what you need!
Christmas Centerpiece Supply List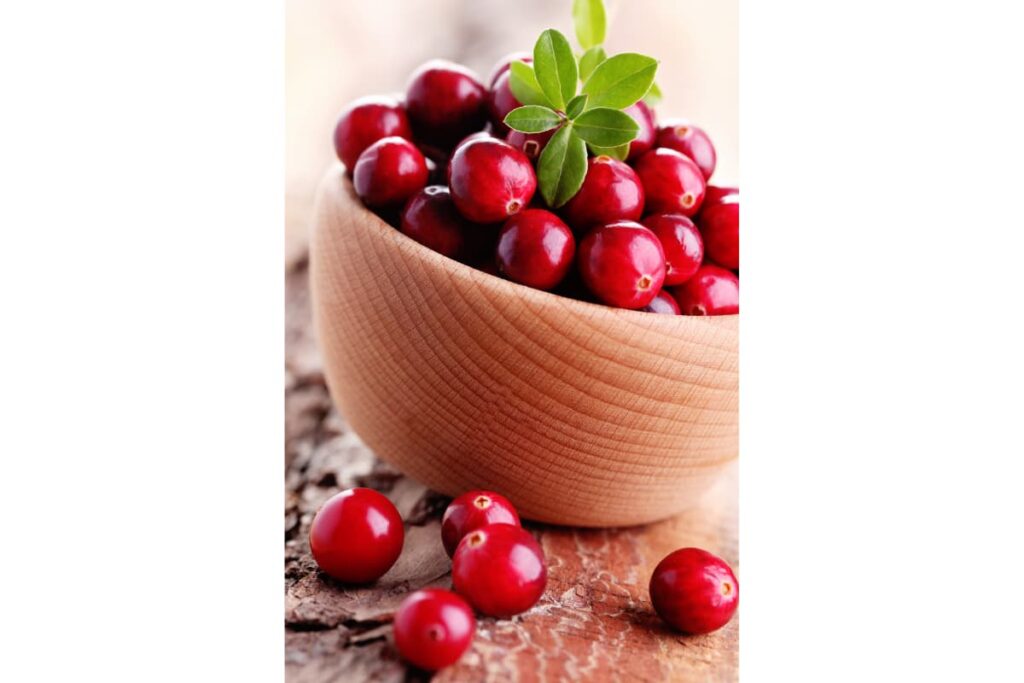 Here is what you need:
Glass container – plain glass vases work best.
Greenery bits – this could be faux greenery from a garland or cut from a backyard tree
Plastic wrap
Fresh cranberries (I love Ocean Spray brand.)
Every item on this list was already in (or outside) our house.
Even the cranberries were in the fridge because of other Christmas recipes.

Where to Find Inexpensive Glass Containers
You can find budget-friendly glass containers to enhance your DIY centerpieces without exceeding your budget.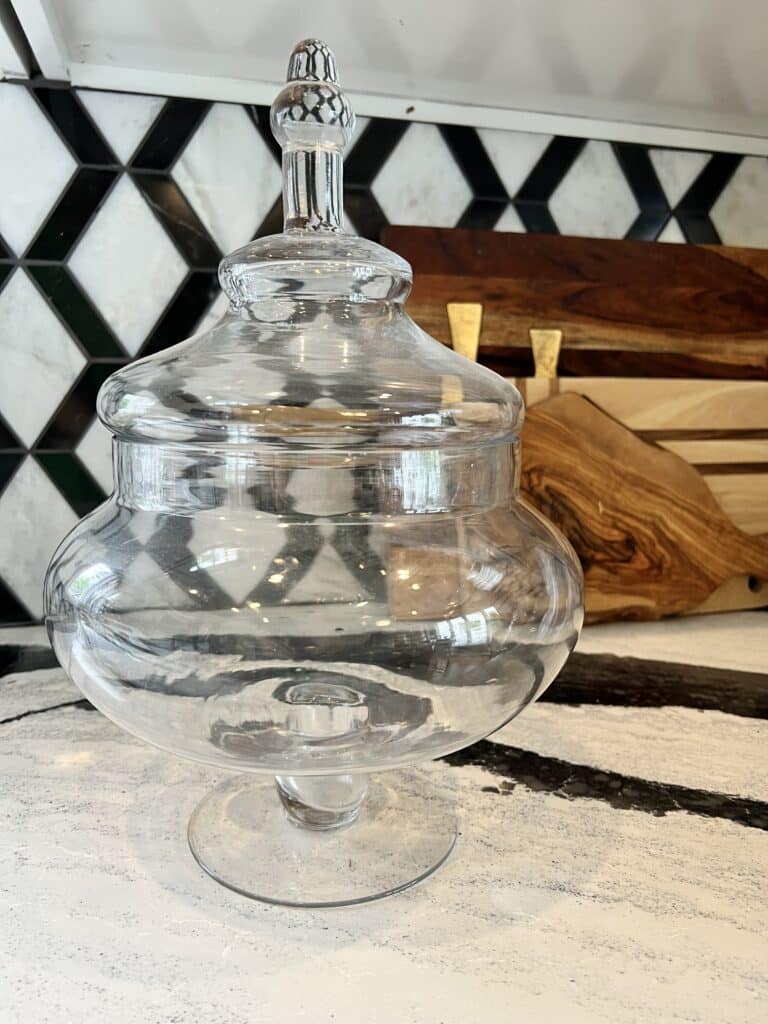 Discount Stores:

Dollar stores are a great source of budget-friendly glass containers, vases, and jars.

Thrift Stores:

Check out your favorite thrift store and secondhand shops for unique and inexpensive glassware, mason jars, and other vintage vessels.

Online Marketplaces:

Browse Amazon, eBay, and Walmart for a diverse range of affordable glass containers, with the option for bulk deals and competitive prices.

Craft Stores:

Visit craft stores, especially during sales or with the use of coupons, to find stylish glass containers in various shapes and sizes.

Seasonal Sales and Clearance:

Keep an eye on seasonal sales or clearance sections in home goods stores for a great opportunity to snag discounted glassware that suits your needs.

Shop Your House:

Take a look around your house and do some digging in your closets! You might be surprised at what you find!
Layers Make Stripes
The centerpiece is all about the layers.
Start by layering about an inch of fresh evergreen sprigs.
Angle the greenery so any "twigs" are in the center with the beautiful green toward the glass.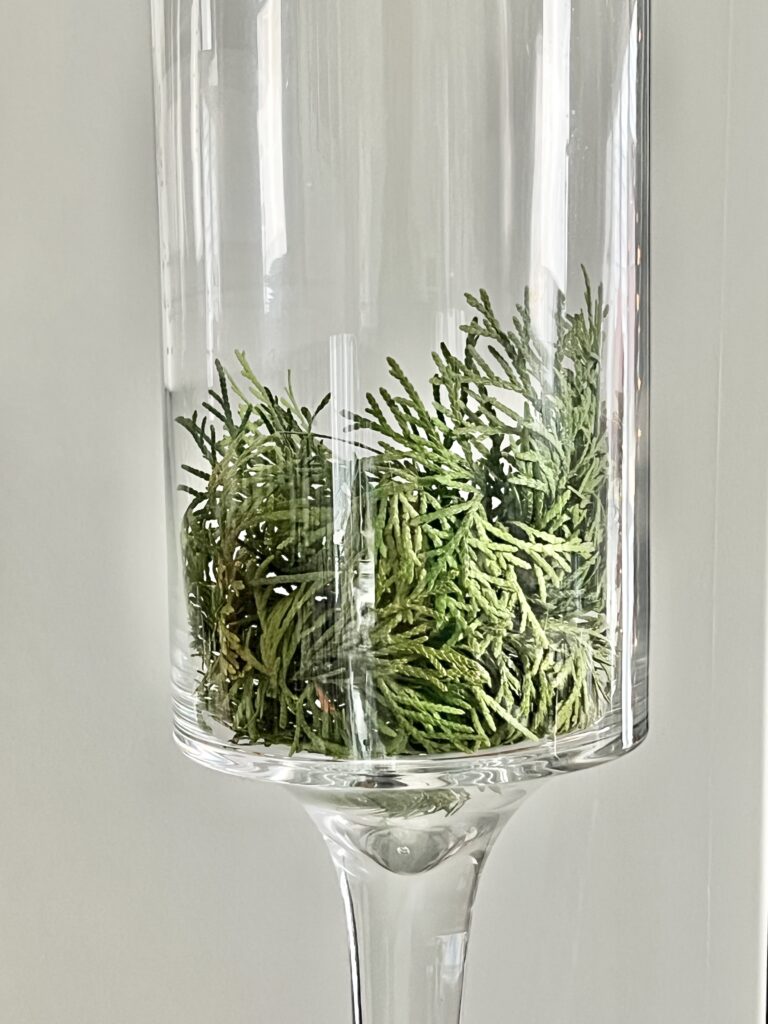 Now the secret weapon…
Stay with me here! It will make sense in a few minutes!
Pull a couple of long sheets of plastic wrap from the box and bunch it up into a crumpled disk.
Layer on top of the greenery for the second "stripe."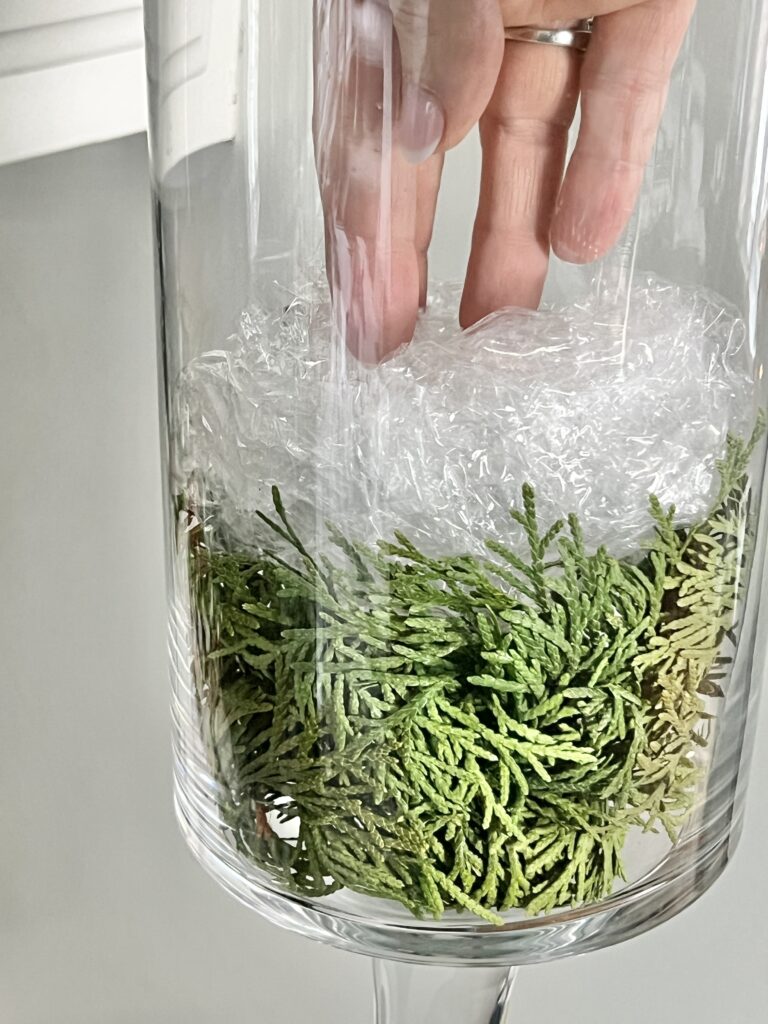 The third layer is the cranberry layer.
Pile on about an inch or two for stripe number three!
Now repeat the layers until your glass container is full.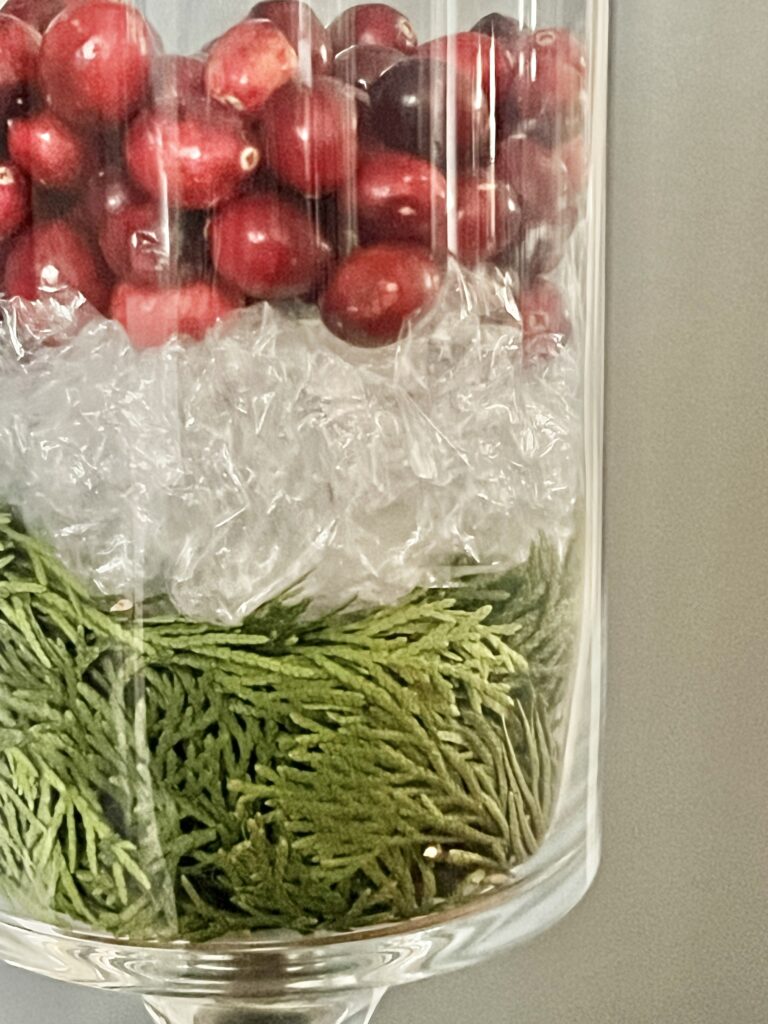 Add the Magic!
Grab a pitcher of water and create some magic!
Pour a pitcher of water over the top of all the different layers so that the top is covered.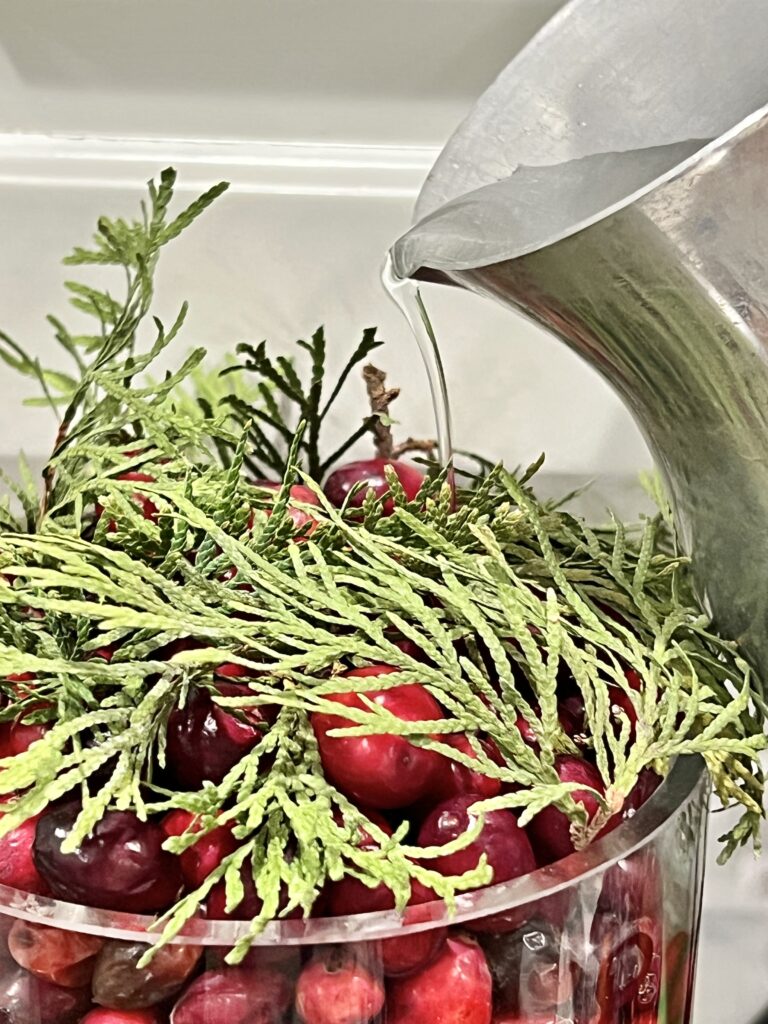 The plastic wrap looks like ICE!
Chemistry was never my strong suit but I feel like a real chemist when I see how the plastic wrap mingled with the water!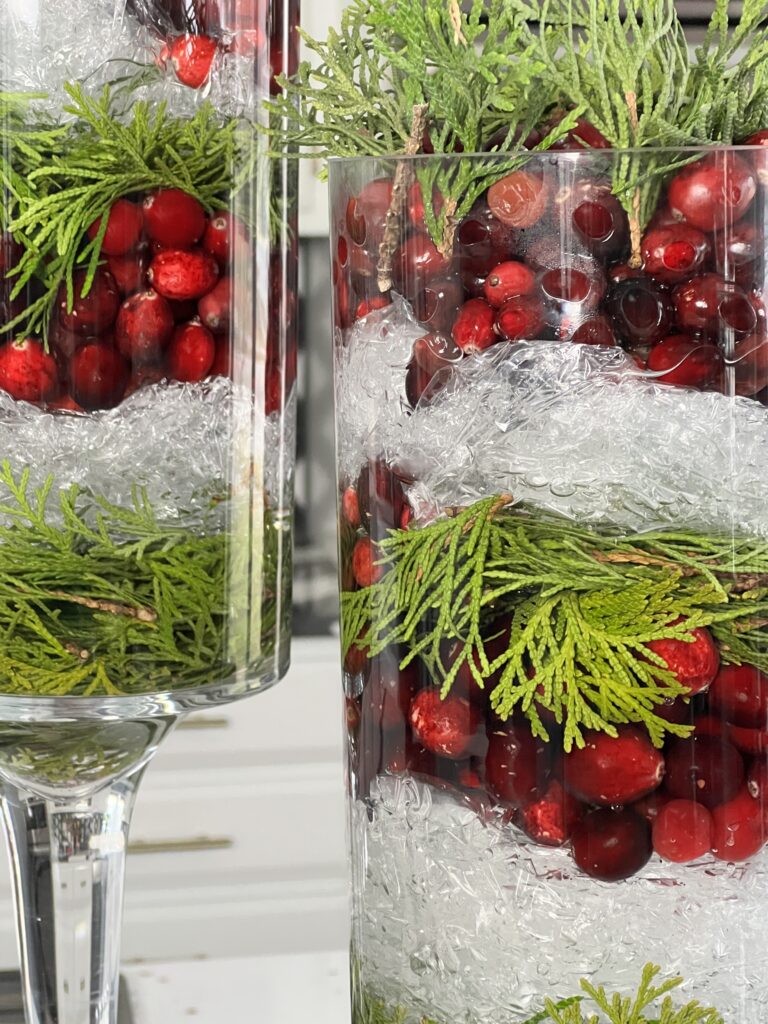 This is such a beautiful centerpiece that will look beautiful on your dining table, buffet table, console, or island.
If you like, you can add some faux tea lights on top for some holiday candlelight.
It has a magical look to it like the cranberries are floating on a bed of ice in a winter wonderland!
And, this centerpiece will last for a long time!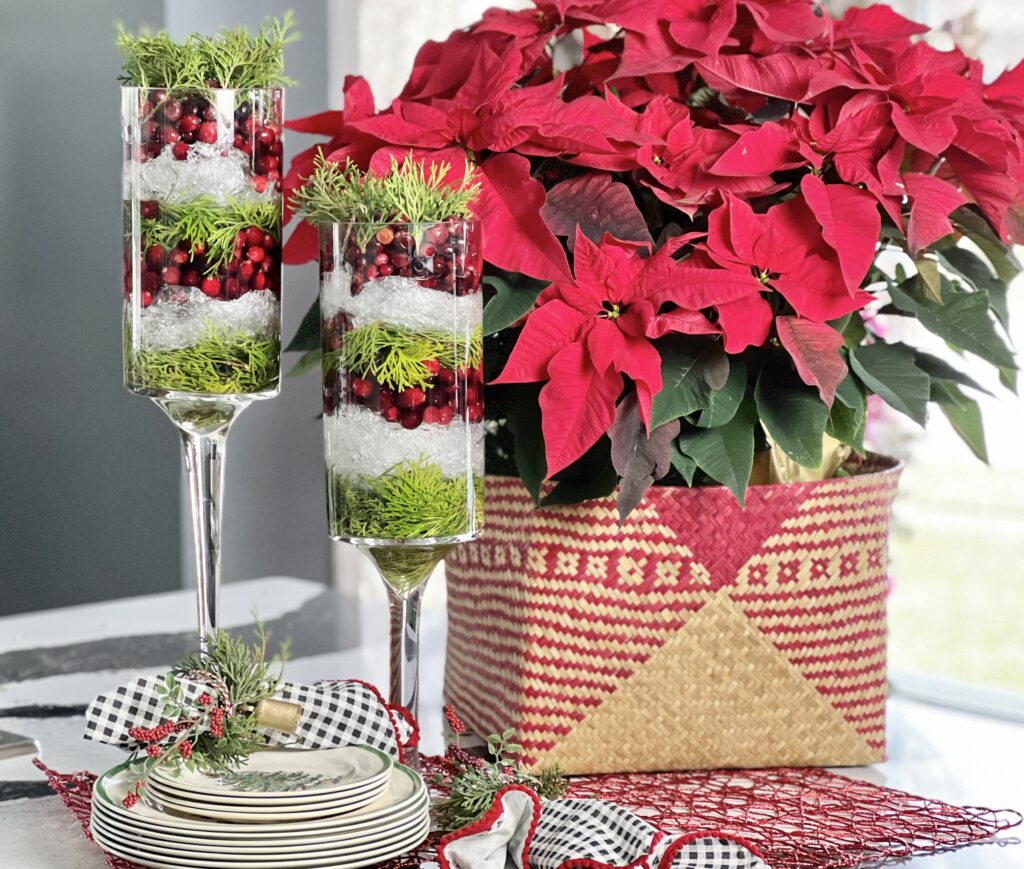 How to Decorate with Your New DIY Table Centerpiece
Here are some different ways to display and decorate with a DIY cranberry evergreen table centerpiece:
Coffee Table Elegance:

Place the DIY cranberry evergreen centerpiece on your coffee table for a festive touch.
Add small decorative items around it, like miniature ornaments or pinecones, to enhance the holiday theme.

Centerpiece Perfection:

Position the centerpiece at the center of your dining table to serve as a stunning focal point during the holiday season.
Scatter simple pine cones around the base of the glass jars.

Dinner Party Delight:

Use the DIY centerpiece as the centerpiece for your dinner party to create a warm and inviting atmosphere.
Surround it with white pillar candles at different heights for a charming and intimate ambiance.

DIY Centerpiece Variety:

Create multiple DIY cranberry evergreen centerpieces and place them at different spots on your dining table for a cohesive look.
Experiment with various glass container design styles to find the one that complements your overall decor.

Table Runner Enhancement:

Lay a festive table runner underneath the centerpiece to tie the holiday theme together.
Choose a color palette that complements the cranberries and evergreens for a harmonious look.

Height Variation Magic:

Incorporate elements of different heights around the centerpiece to add visual interest.
Try using taller decorative items or taper candles to create a dynamic and layered display.

Holiday Season Charm:

Embrace the holiday season by placing the DIY centerpiece on your kitchen island.
Surround it with holiday-themed decorative items like Christmas mugs or a festive charcuterie board.

Everyday Centerpiece Appeal:

This DIY cranberry evergreen centerpiece is a great way to decorate once the holidays are over.
Swap out holiday-themed items surrounding the jars for neutral decor to transform it into a versatile everyday centerpiece.

Table Decor Flourish:

Use the centerpiece as a finishing touch on the center of your table during family gatherings or special occasions.
Mix in metallic accents for a sparkling, stylish look. (You can make anything glamorous with some metallic spray paint!)

Kitchen Island Chic:

Elevate your kitchen island by placing the DIY centerpiece in the center.
Add decorative items around it that complement your kitchen decor for a cohesive and festive feel.

Wedding Tables:

If you are planning a holiday wedding, these are a great option for DIY wedding centerpieces.
Surround each gorgeous centerpiece on a round table or long table with votive candles and other fresh flowers in the wedding colors.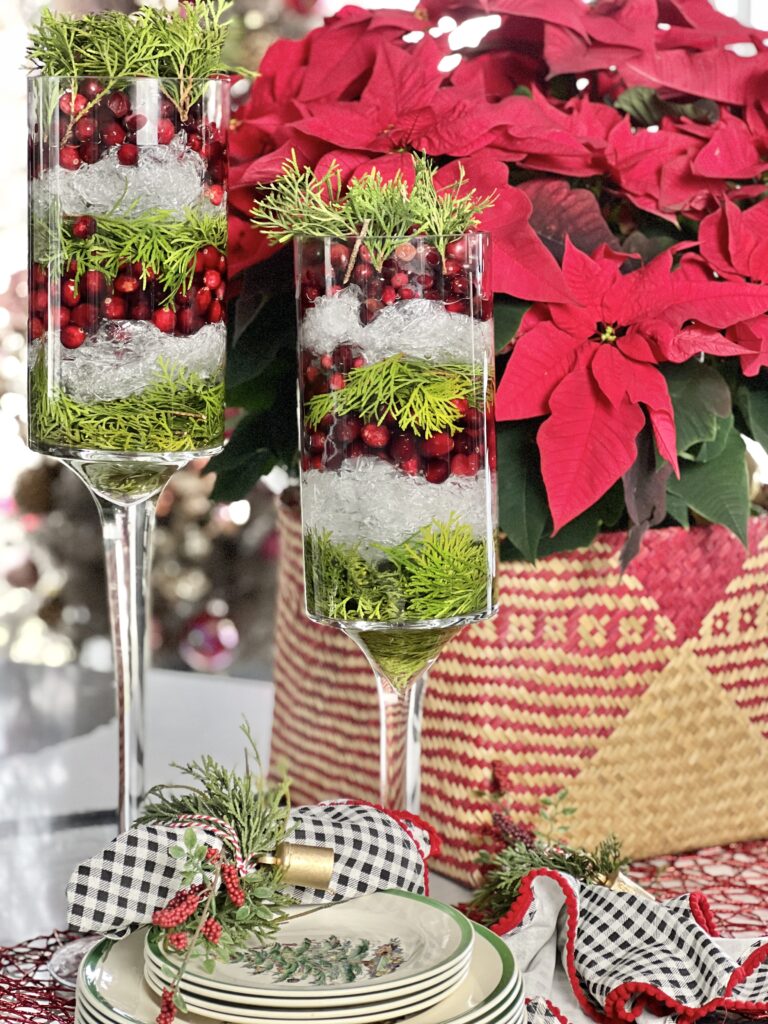 What is the rule of 3 for centerpieces?
The rule of 3 for centerpieces is like the secret sauce for a beautiful and well-balanced display!
It's all about making things look awesome by arranging items in groups of three.
Why three? Well, odd numbers just click better visually and make things more interesting. Including three items of different heights is even better!
So, when you're jazzing up a centerpiece for your dining table or sprucing up your coffee table, think about displaying in groups of odd numbers.
This way, you're not overwhelming the scene, but you're still getting that perfect balance and a little pop of wow. It's like design magic for making your space look cozy and inviting.
When I created this Christmas DIY table centerpiece, I created two but displayed it beside one large poinsettia plant. Two plus one equals THREE!
Icy Table Centerpieces
If you want to add some extra pizazz to your Christmas table this year, try out this stunning centerpiece idea!
It's an easy way to add some festive flair to your kitchen table and only takes a few materials that you might already have around the house.
Carve out 20 minutes in your day and you will be rewarded with a beautiful centerpiece for your holiday entertaining.
Merry Christmas!
Cheers!

Don't Forget to Pin It!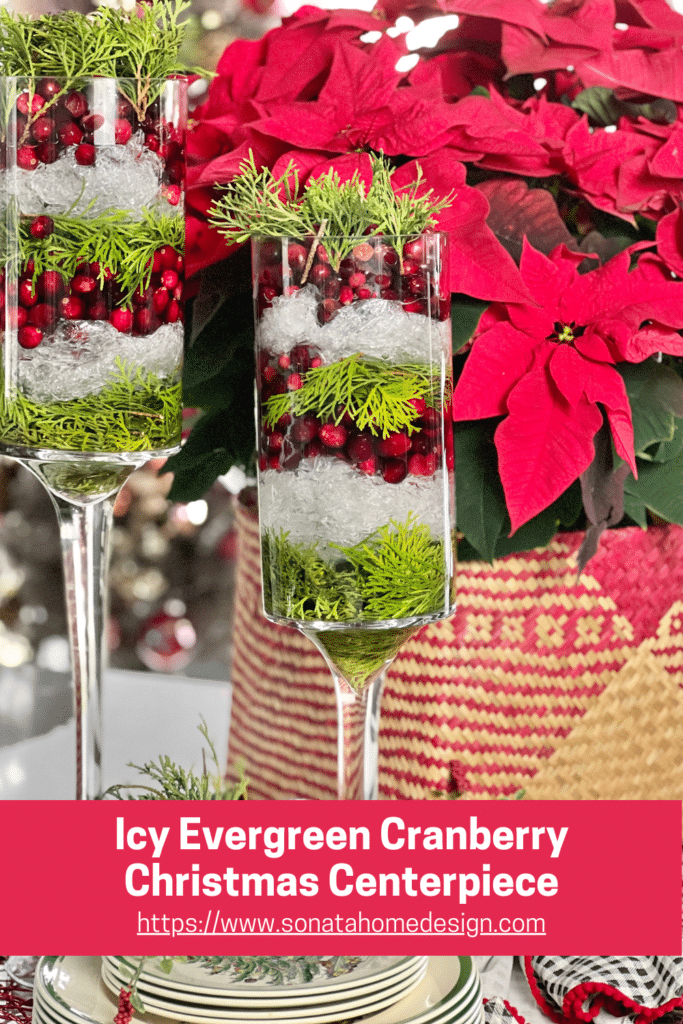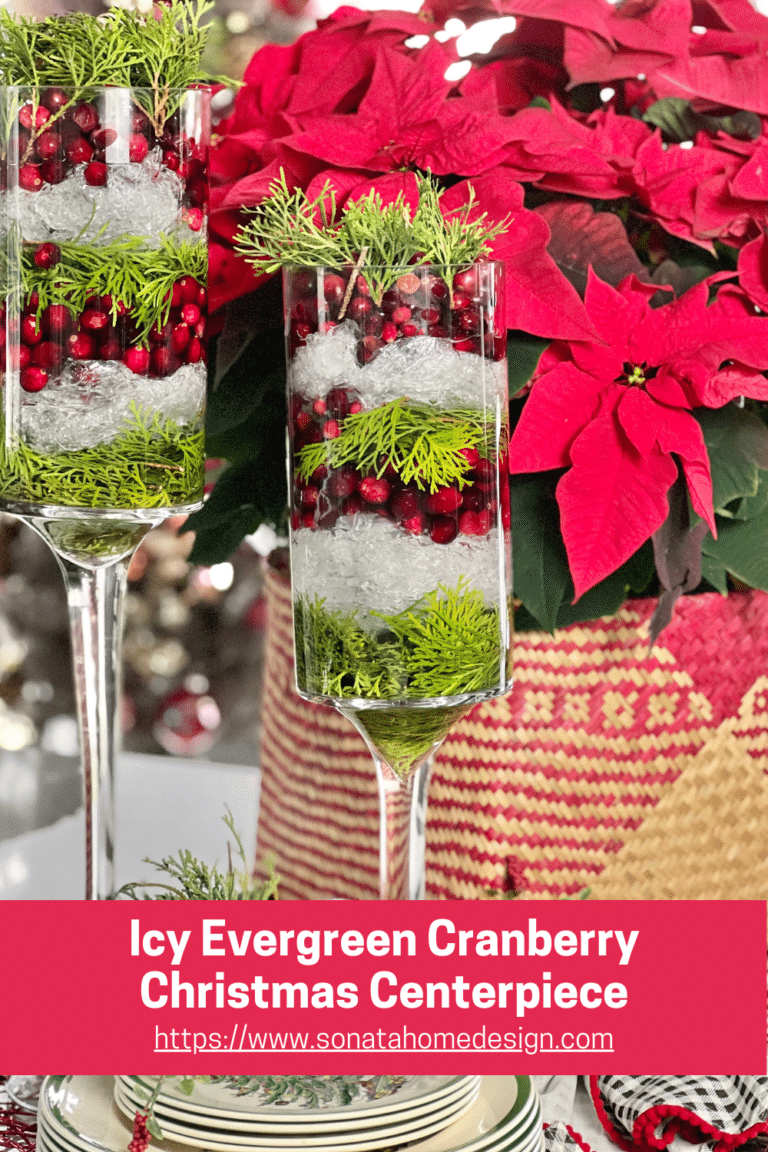 Deck the Halls with More Ideas
DIY Pool Noodle Christmas Ornament Wreath
Make a Homemade Chocolate Truffle Tree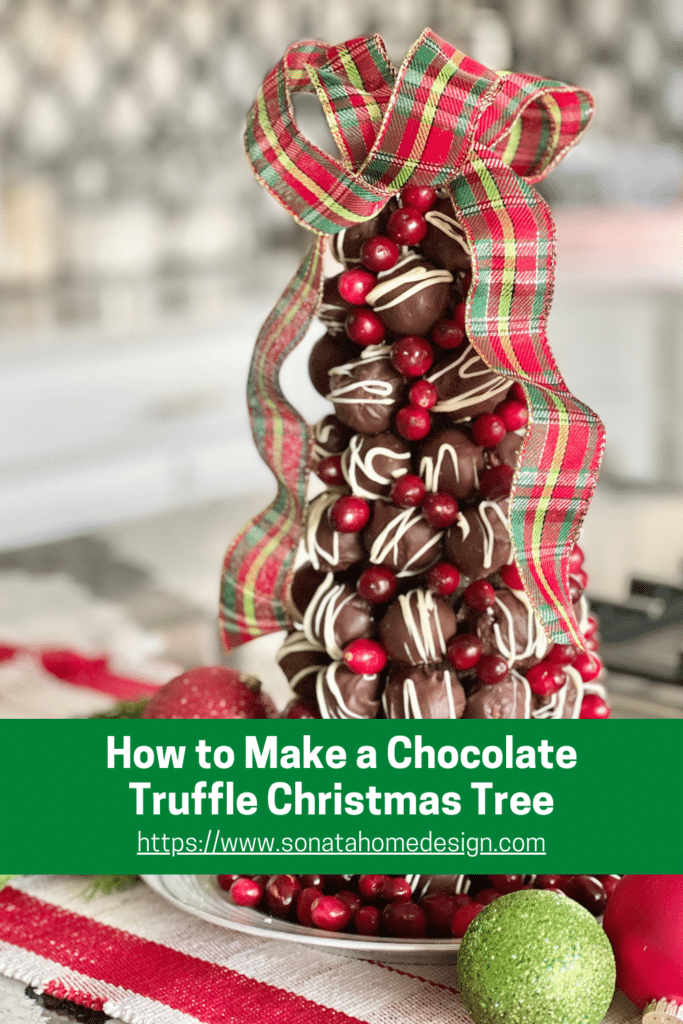 Shake it up! Decorate and Upside Down Christmas Tree!
Can You Put Spode Christmas Tree Dishes in the Dishwasher?