How to Make an Icy Evergreen Cranberry Christmas Centerpiece
Are you looking for a beautiful and festive centerpiece to spice up your holiday tabletop? Well, look no further! This icy evergreen cranberry Christmas centerpiece will be sure to bring that extra bit of clever cheeriness your home needs this season.
With just a few simple items, you'll have your table transformed into an icy winter wonderland in no time. Get ready for an "icy" surprise!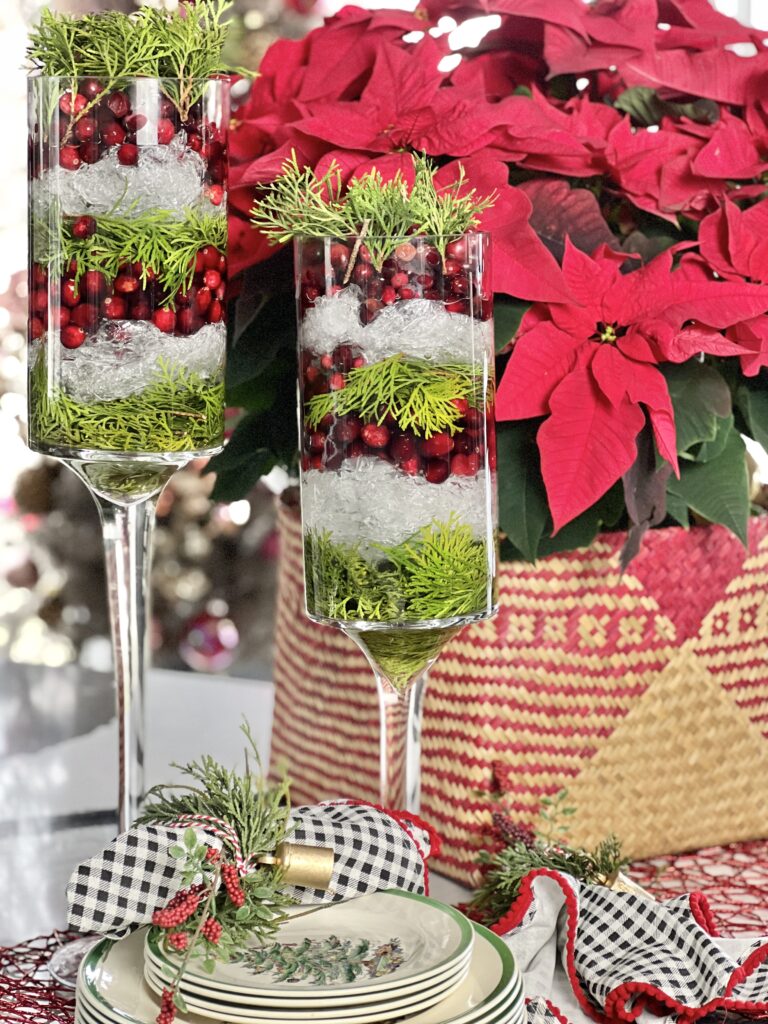 Ho Ho Ho! Christmas is just around the corner!
You might be making chocolate truffles, decorating a Christmas tree, wrapping gifts, and planning your holiday menu.
Do you need a new idea for a table centerpiece?
Time for one more QUICK Christmas project!
Here is a fantastic idea for you that is quick, simple, and can be made with items around your house.
I call it an "Icy Evergreen Cranberry Christmas Centerpiece!"
Can you guess what is in it from the title?
Quick? About 20 minutes to make!
Simple? Do you know how to layer?
Items around your house? Here is what you need!
Christmas Centerpiece Supply List
Glass container – any glass vase or jar will work!
Greenery bits – this could be faux greenery from a garland or cut from a backyard tree
Plastic wrap
Fresh cranberries (I love Ocean Spray brand.)
Every item on this list was already in (or outside) our house.
Even the cranberries were in the fridge because of other Christmas recipes.
I love it when I don't need to make another trip to the grocery store or craft store!

Layers Make Stripes
The centerpiece is all about the layers.
Start by layering about an inch of fresh evergreen sprigs.
Angle the greenery so any "twigs" are in the center with the beautiful green toward the glass.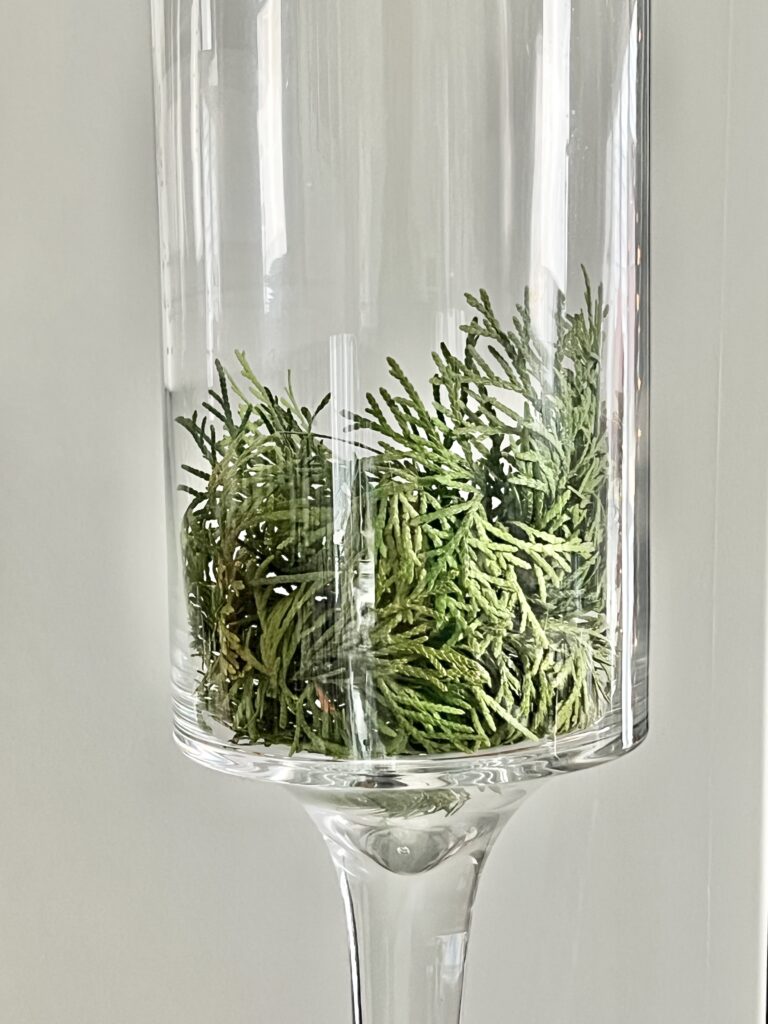 Now the secret weapon…
Stay with me here! It will make sense in a few minutes!
Pull a couple of long sheets of plastic wrap from the box and bunch it up into a crumpled disk.
Layer on top of the greenery for the second "stripe."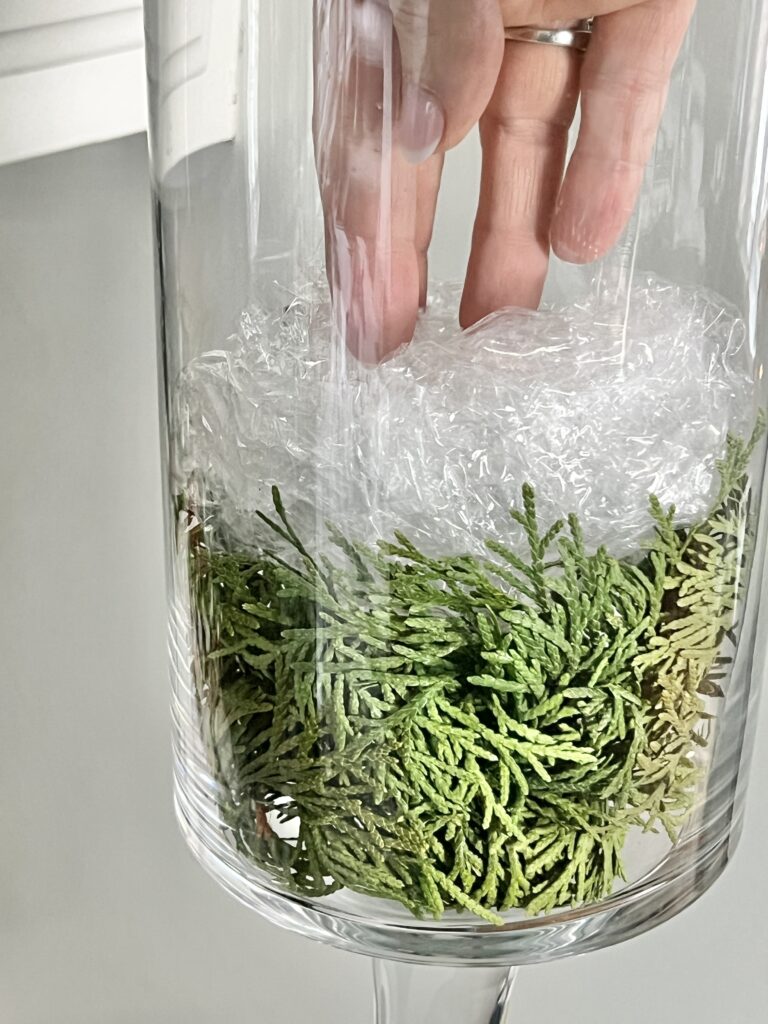 The third layer is the cranberry layer.
Pile on about an inch or two for stripe number three!
Now repeat the layers until your glass container is full.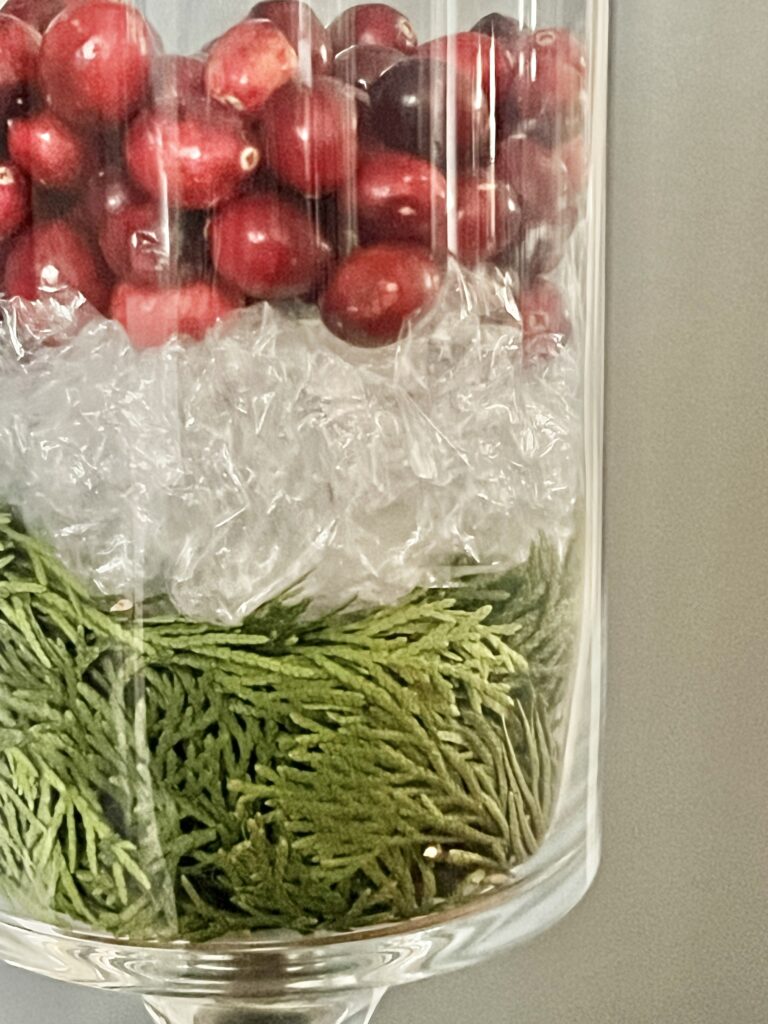 Add the Magic!
Grab a pitcher of water and create some magic!
Pour a pitcher of water over the top of all the different layers so that the top is covered.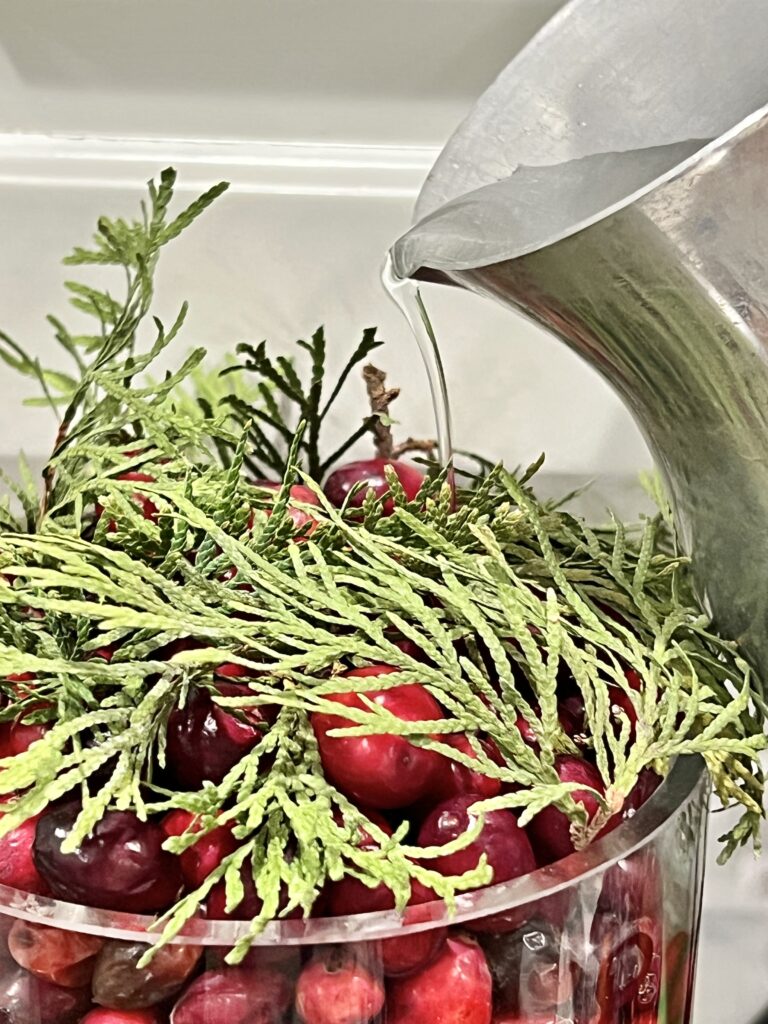 The plastic wrap looks like ICE!
Chemistry was never my strong suit but I feel like a real chemist when I see how the plastic wrap mingled with the water!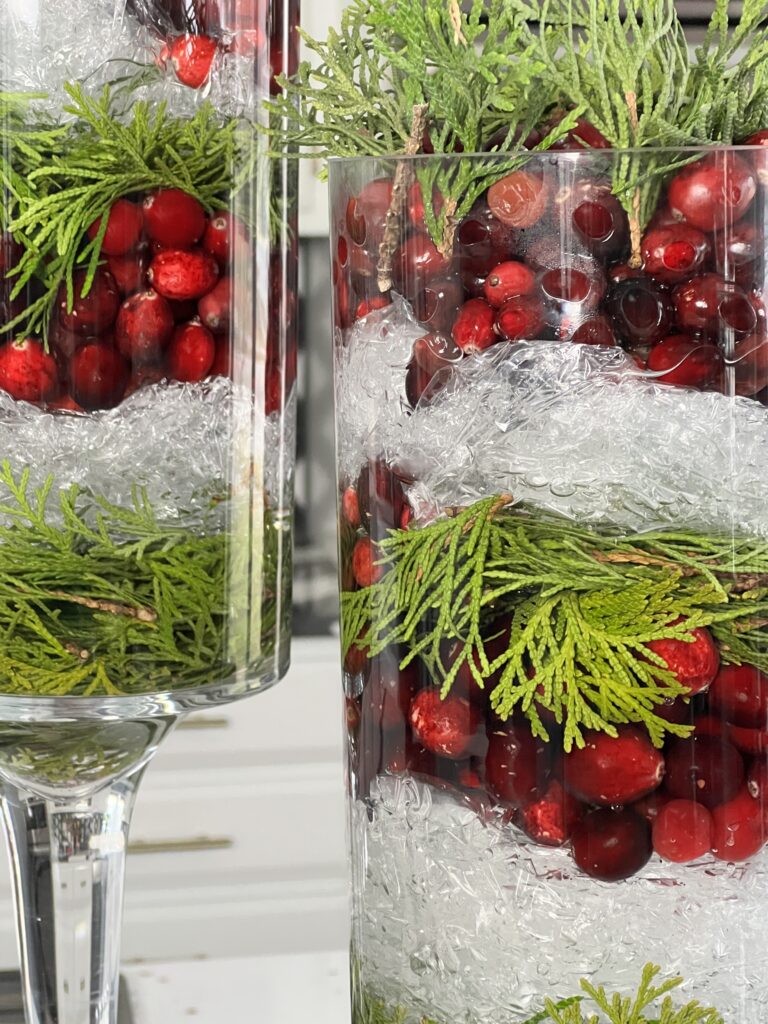 This is such a beautiful centerpiece that will look beautiful on your dining table, buffet table, console, or island.
If you like, you can add some faux tea lights on top for some holiday candlelight.
It has a magical look to it like the cranberries are floating on a bed of ice in a winter wonderland!
And, this centerpiece will last for a long time!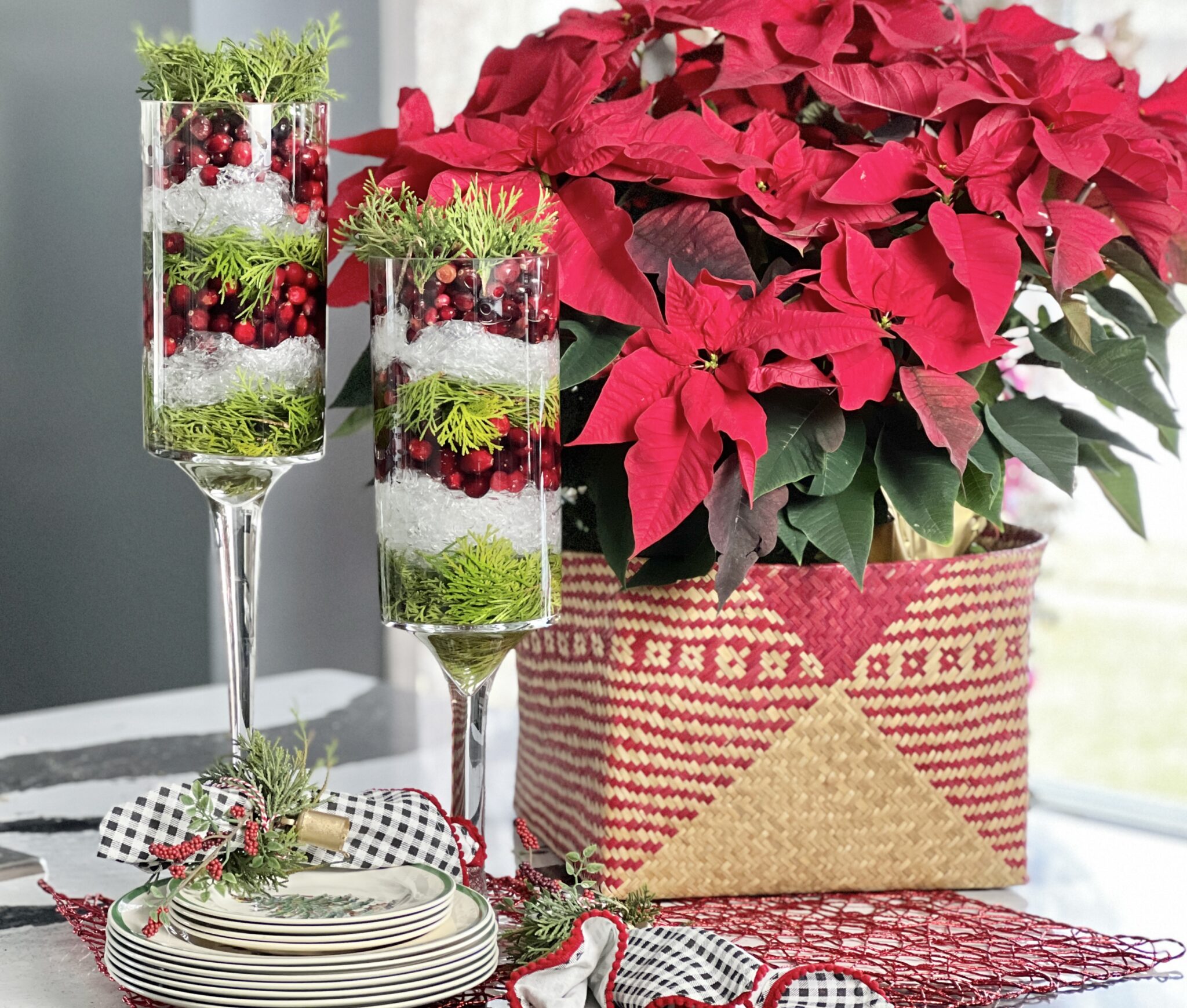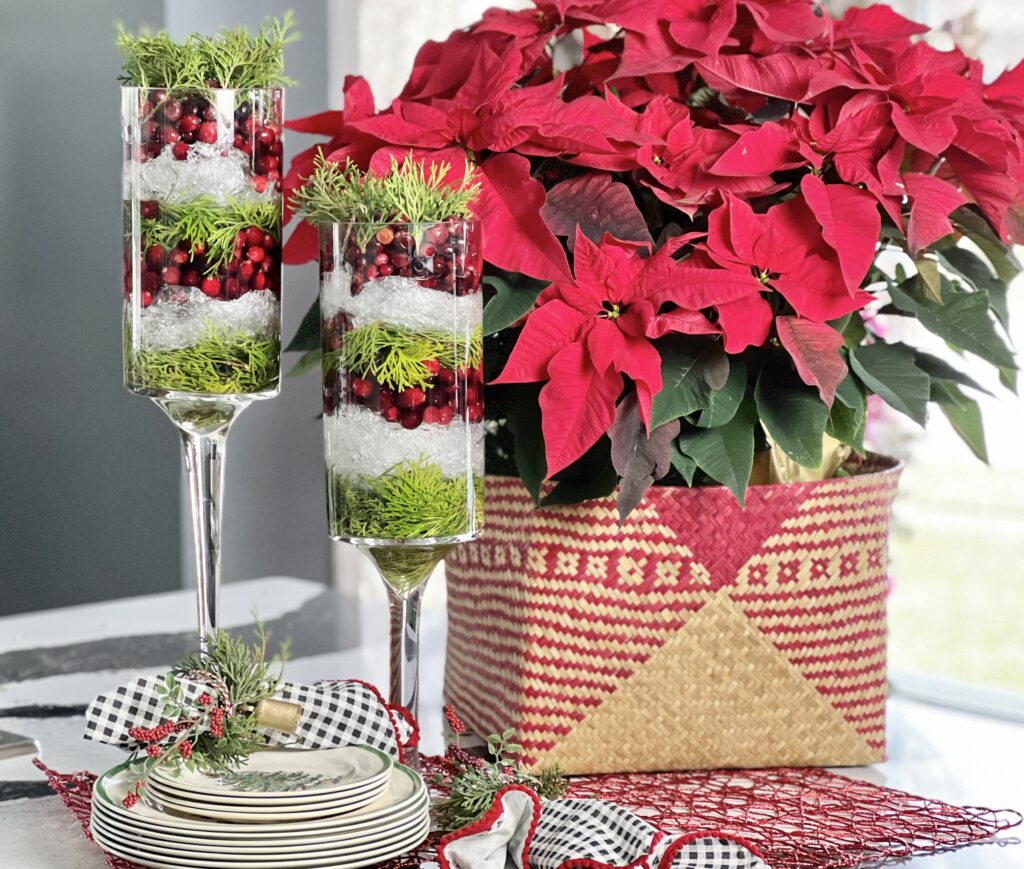 If you want to add some extra pizazz to your Christmas table this year, try out this project!
It's easy, festive, and only takes a few materials that you might already have around the house.
Carve out 20 minutes in your day and you will be rewarded with a beautiful centerpiece for your holiday entertaining.
Merry Christmas!
Cheers!

Don't Forget to Pin It!