Easy and Quick Ideas for Summer Bookshelf Decor
Summer is a great time to update the look of your home. Adding new, interesting decorative elements can instantly refresh and brighten up any room. If you're looking for an affordable way to transform a shelf in your home this season, consider exploring easy and quick ideas for summer bookshelf decor!
Give your books and home decor a warm-weather update with these easy tips and ideas for styling a bookshelf for summer.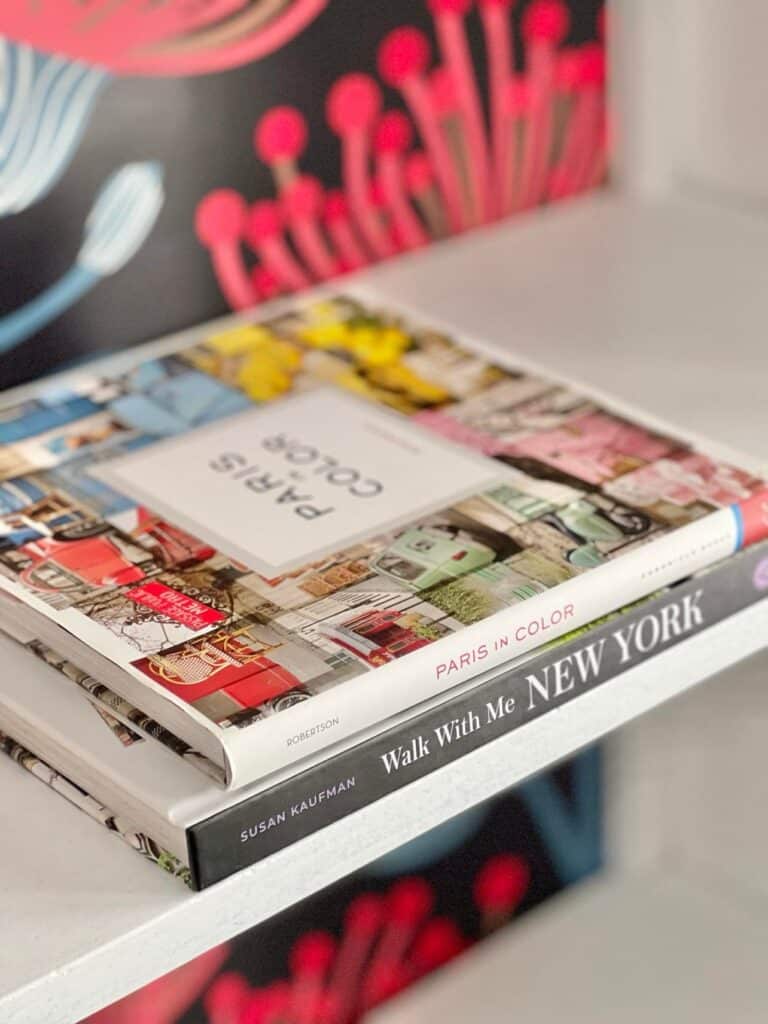 This blog contains affiliate links. This means a small commission is earned if you make a purchase by using this link. The price you pay will be the same whether you use the affiliate link or go directly to the vendor's website using a non-affiliate link.
I just finished a really good book.
It was a perfect summertime read. A good story with a few surprise plot twists, a heroine that was smart and quirky, and a quick read that had some substance to it…I really enjoyed it! Read to the bottom of the post for the title. Hint…the movie is coming out soon!
The book was on loan from my daughter. As an avid reader and book collector (I like to hold the actual book in my hands!), I have way too many books and now look for ways to read without owning them.
Plus, our bookshelves cannot handle any more books. We have a couple of bookcases in the house.
The first is a utilitarian bookcase that is chock full. Back to back and end to end…the books are well acquainted with each other because they are squished into the shelves together.
Then there is our living room bookcase. This is where I keep special books and other objects and art that speak to me at the moment…or of the season!
Now that we are in the throes of summer, it was time for a seasonal refresh.
Everything came off the shelves and a new, summertime display took its place.
Are you looking for some ideas for styling a bookshelf for summer? Take a look!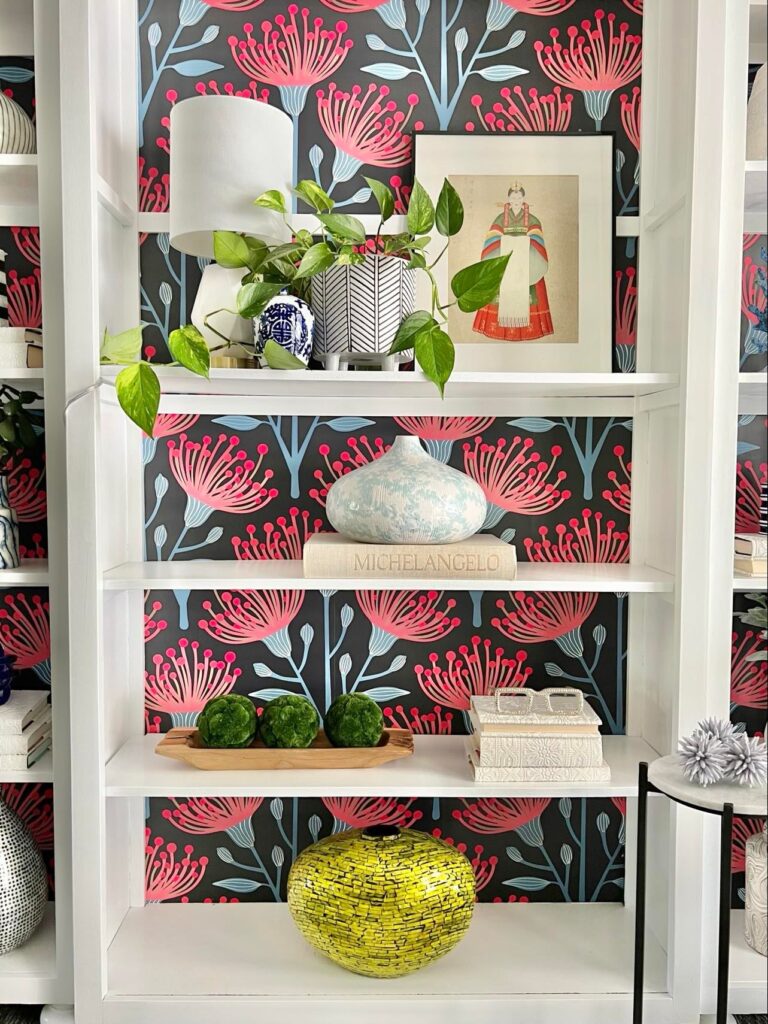 Keep it Light and Bright
While our bookcase is painted white, the background is colorful with a busy pattern. In order to get some summertime shelf vibes, anything that goes on the shelves needs to be light and bright.
An Easy and Dramatic Bookshelf Makeover Using Wallpaper is one of my favorite posts and favorite projects!
The color white is the BFF of summer styling!
Decor items and books with white, cream, or light colors will give the shelves an airy feel and tie in with your white linen pants, sunlight streaming through your oceanfront window, and the beachy sand between your toes…
Oops! I just finished watching "Something's Gotta Give". (I want Erica Barry's house!)
Buy new, shop vintage, or refresh dated items with a can of white spray paint!
Look for books in your library with light book covers.
Or, find a white or light-colored wallpaper and create your own light and bright bookjackets.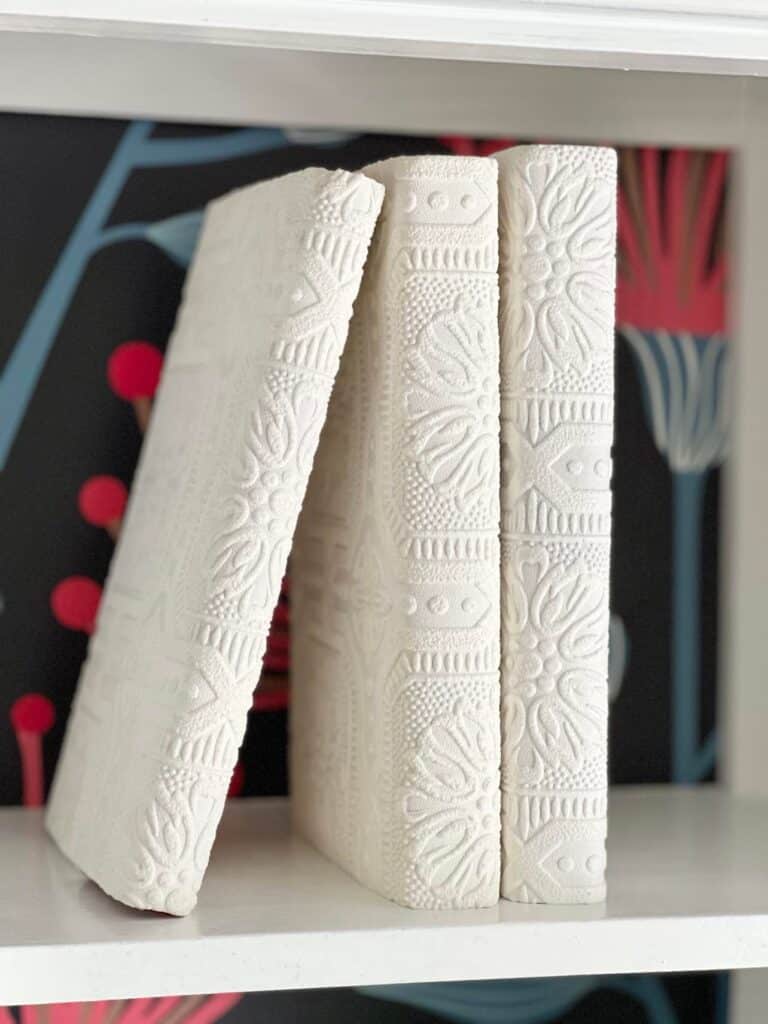 Here is a tutorial on how to cover a book with wallpaper.

I love lamps in a bookcase! Lamps really light up a space (pun intended!) and give balance to other items on the shelves.
The Rule of Three
Remember the "Rule of Three" when displaying. Use 3 items in a group that are high, medium, or low in height to create aesthetic interest and balance.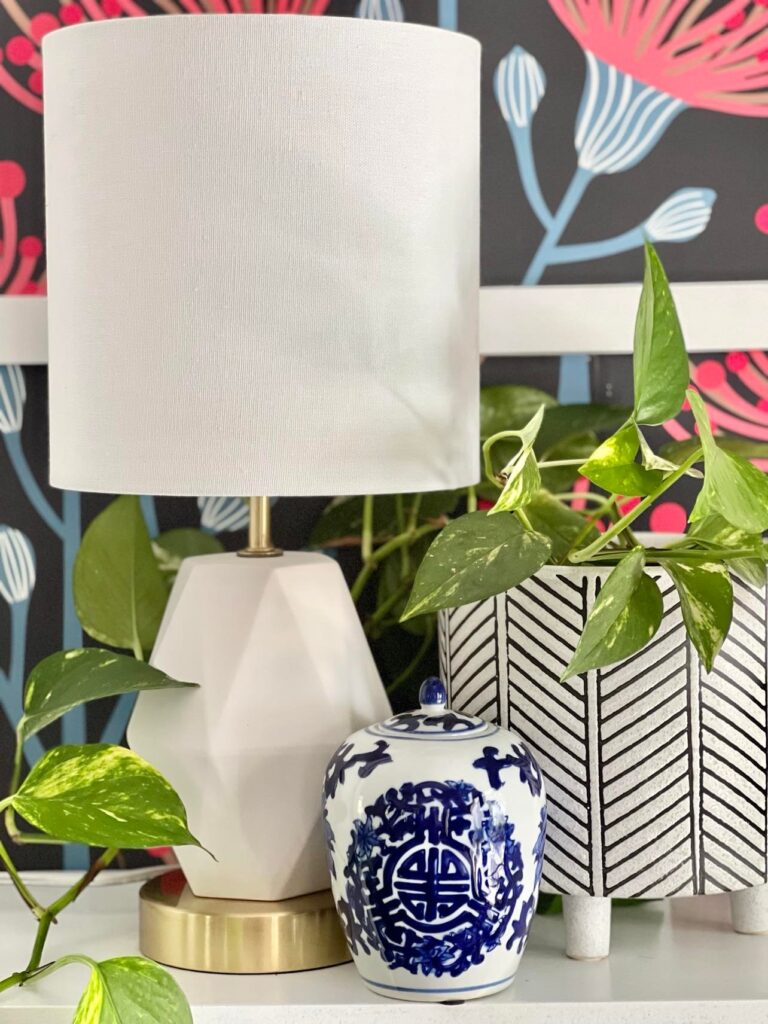 And Add More White!
A white pot or jar is always perfect for holding plants (faux or real.)
I decided to pull some rosemary from the kitchen and give it a new home near a sunny window!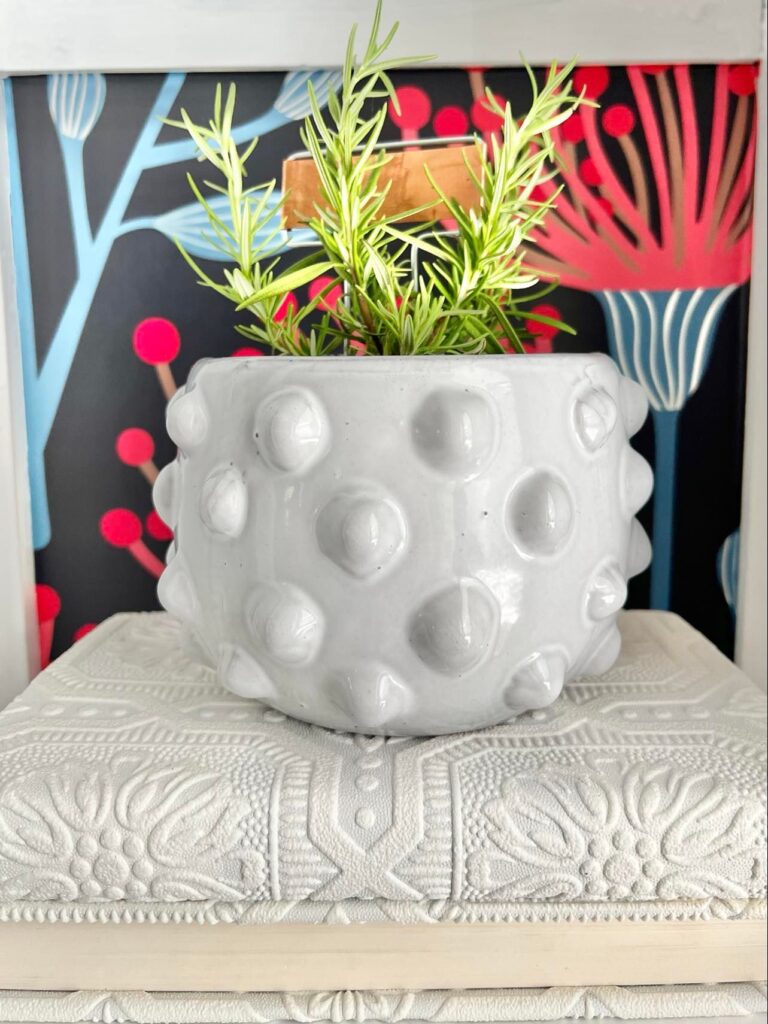 Natural Elements
In my head, I am outdoors all the time in the summer. Walking, gardening, picnicking…
Truth be told, while I do those things every summer, I hibernate indoors when the temperature and humidity soar.
Wicker, rattan, moss… including natural elements when styling a bookshelf for summer is a really great idea!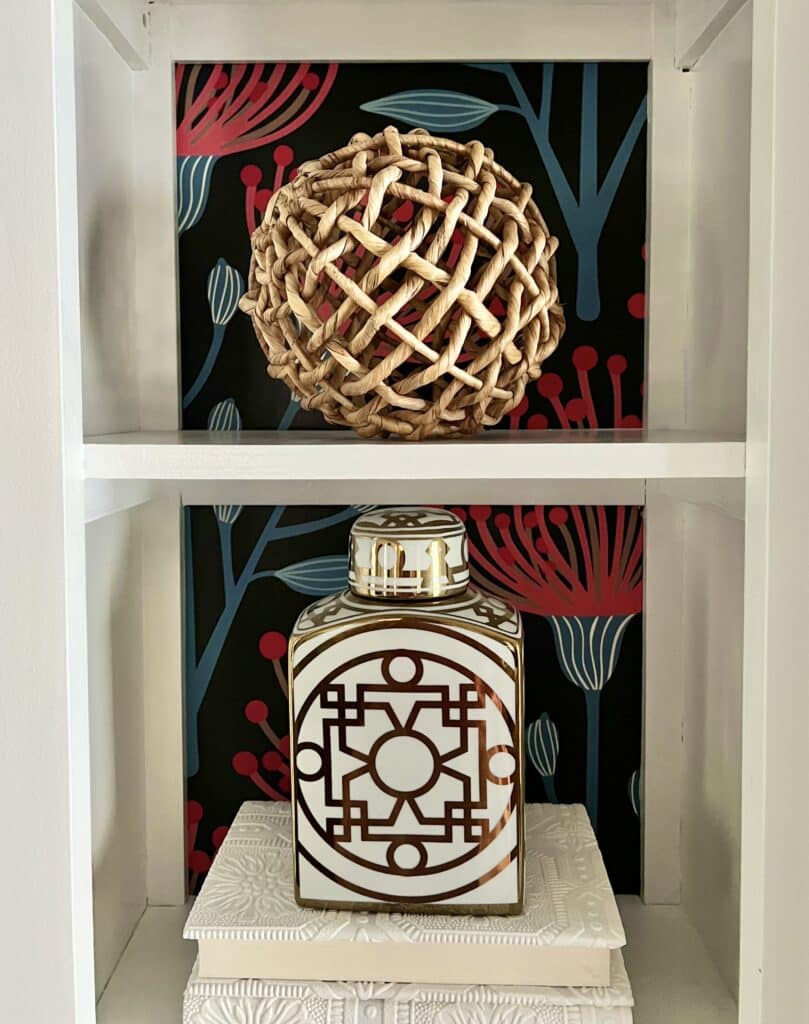 Think colors of nature and textures that invite touch!
These three green (faux) moss balls are effortlessly tossed into a wooden dough bowl.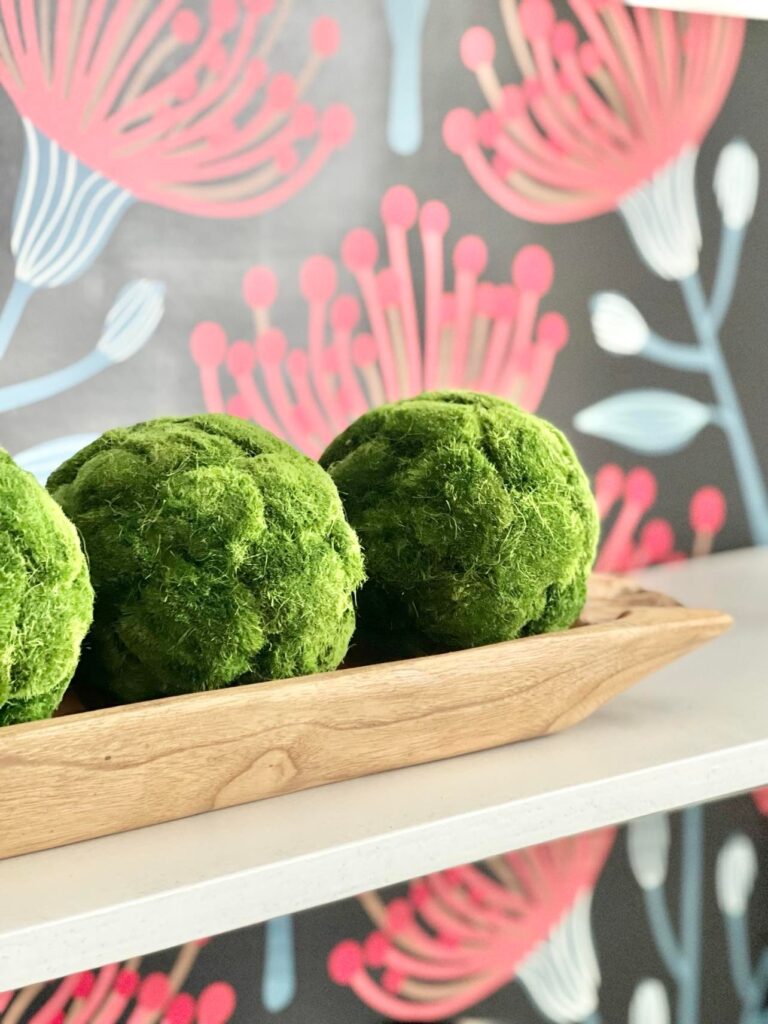 Woven baskets are the perfect marriage of form and function on any bookshelf.
Use baskets in a lighter shade. Keep it interesting by bringing in an accent color in the weave. Blue is perfect because, in the summertime, we instantly think of blue skies and sitting poolside!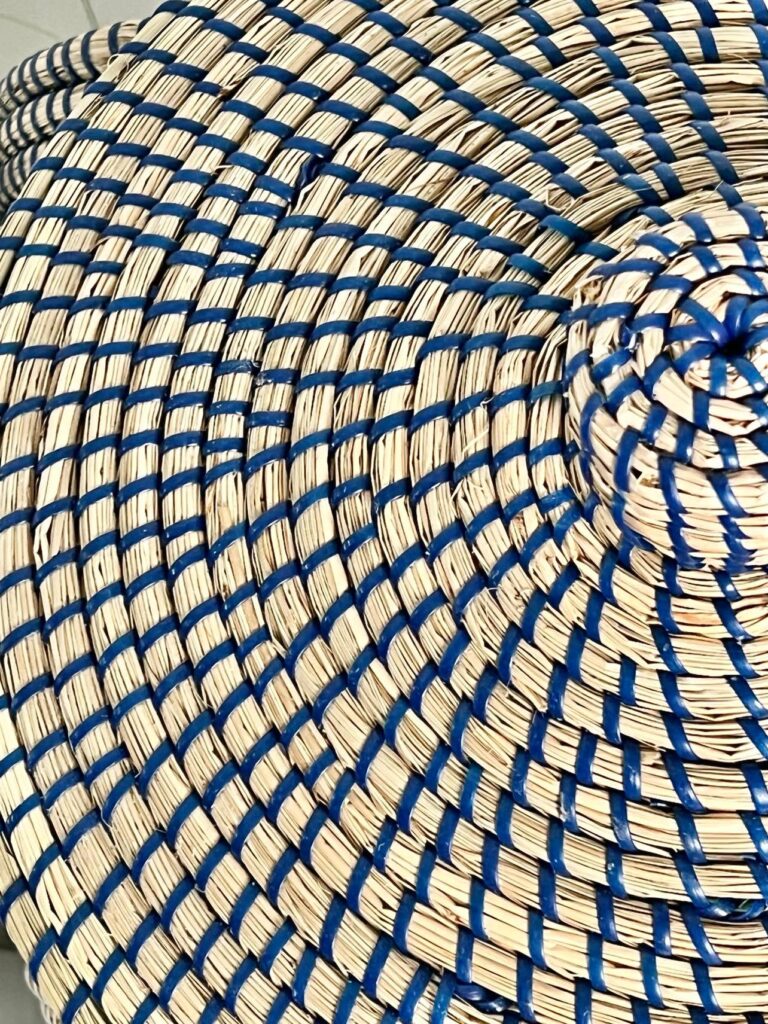 Display Tips
It is so fun to "load up" a bookcase. So many shelves and so many beautiful things to display.
But it is always a good idea to take a step back, look at what you have placed…and remove something!
Allow some space here and there for the eye to rest and really appreciate what is on the shelf.
This is especially true if you have a dark or patterned background as I do.
On the main shelf (eye-level), I did put together a grouping of three that is offset by a framed vintage print. However, on the second shelf, I placed one larger-scale vase on top of a large book for height.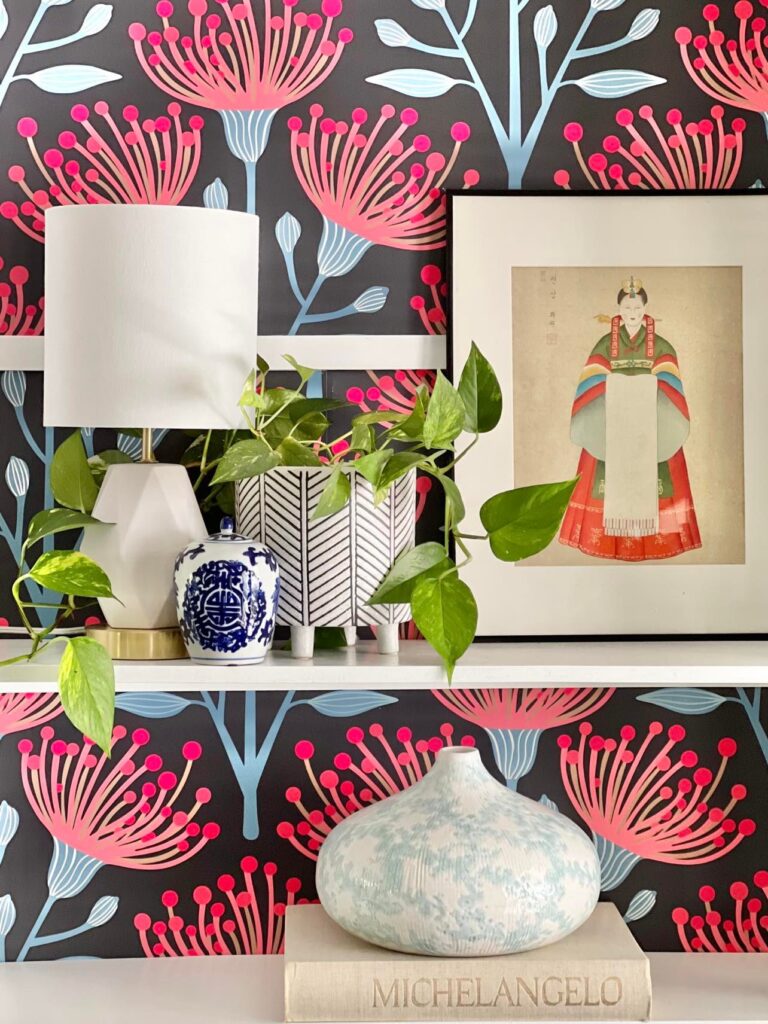 Vary the shape and size of the items you display. This is always more interesting!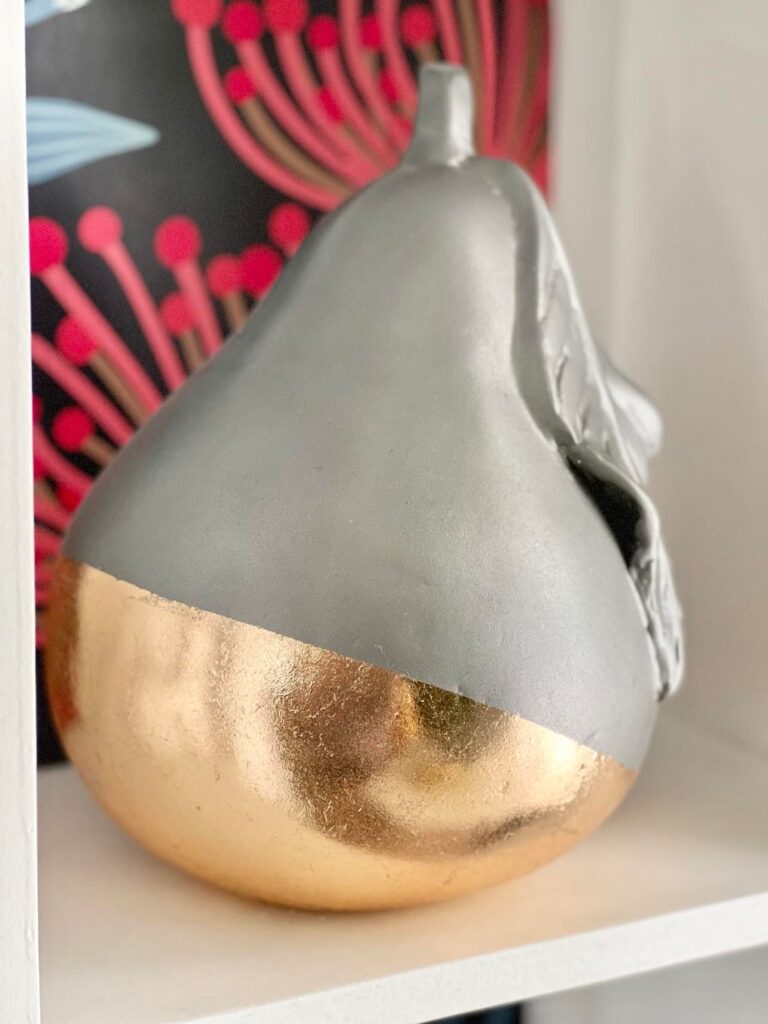 The space on top of a bookcase is always a question.
Remember, as the eye travels upward, items will start to look smaller. So, my tip is to display items that are larger in scale and not too detailed.
These large-scale woven seagrass baskets are BIG but don't look as big when you are looking at them from ground level.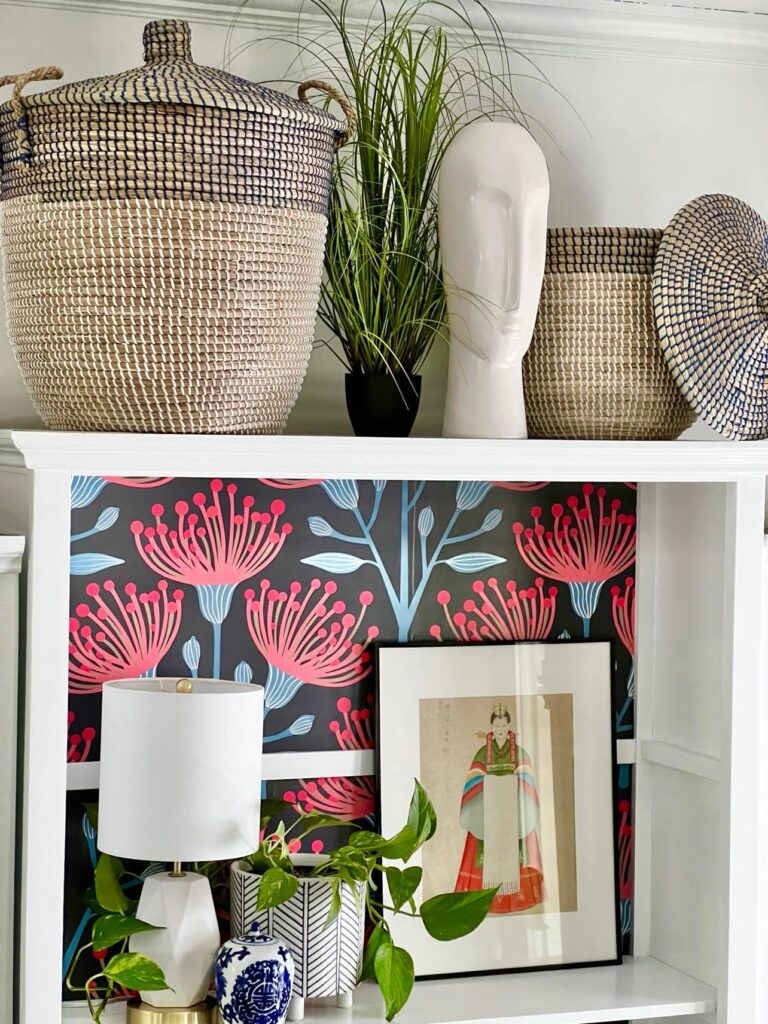 This modern sculpted "head" is large, dramatic, and does not have a lot of detail work in its design. Easy to see up close or from the floor!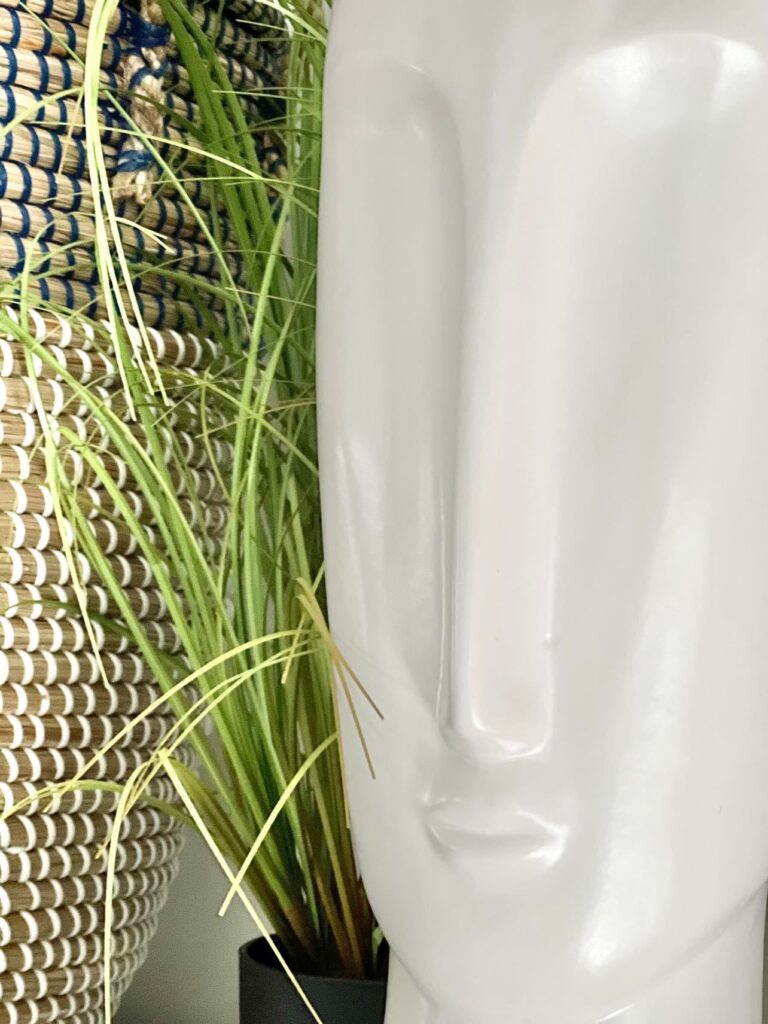 Stripes
Nothing says summer more than stripes!
From striped awnings to striped beach blankets, stripes are the perfect summer pattern. Bring this fun pattern to your bookshelves through…
…jars, bookends, boxes, candlesticks…let the stripes fly!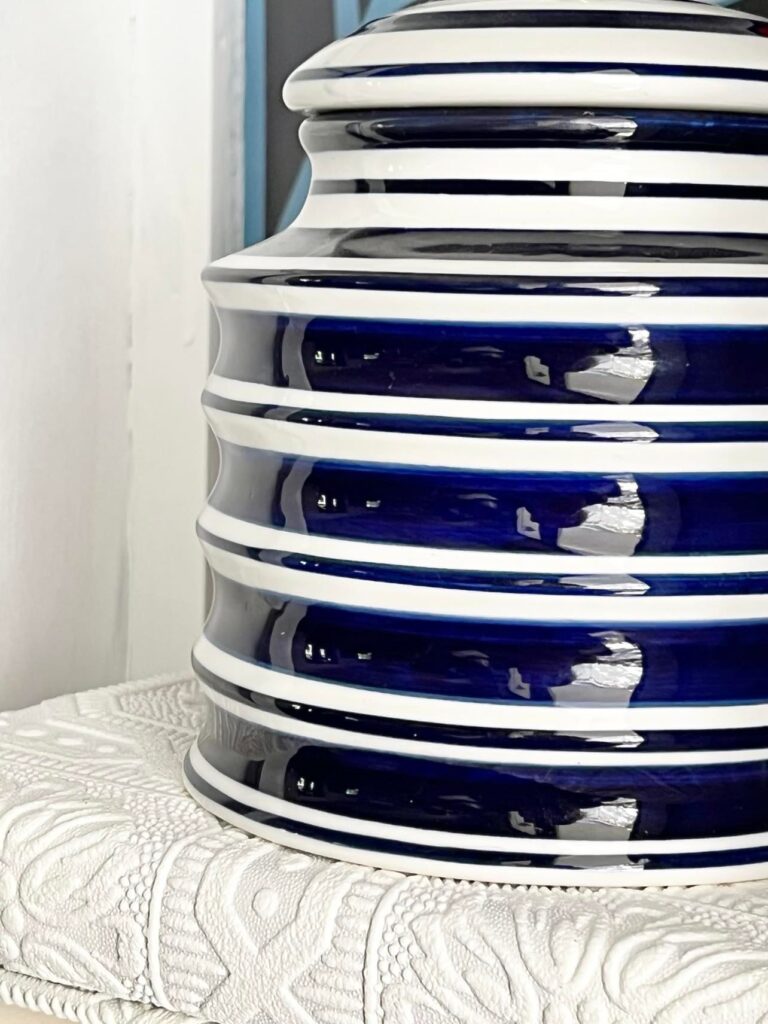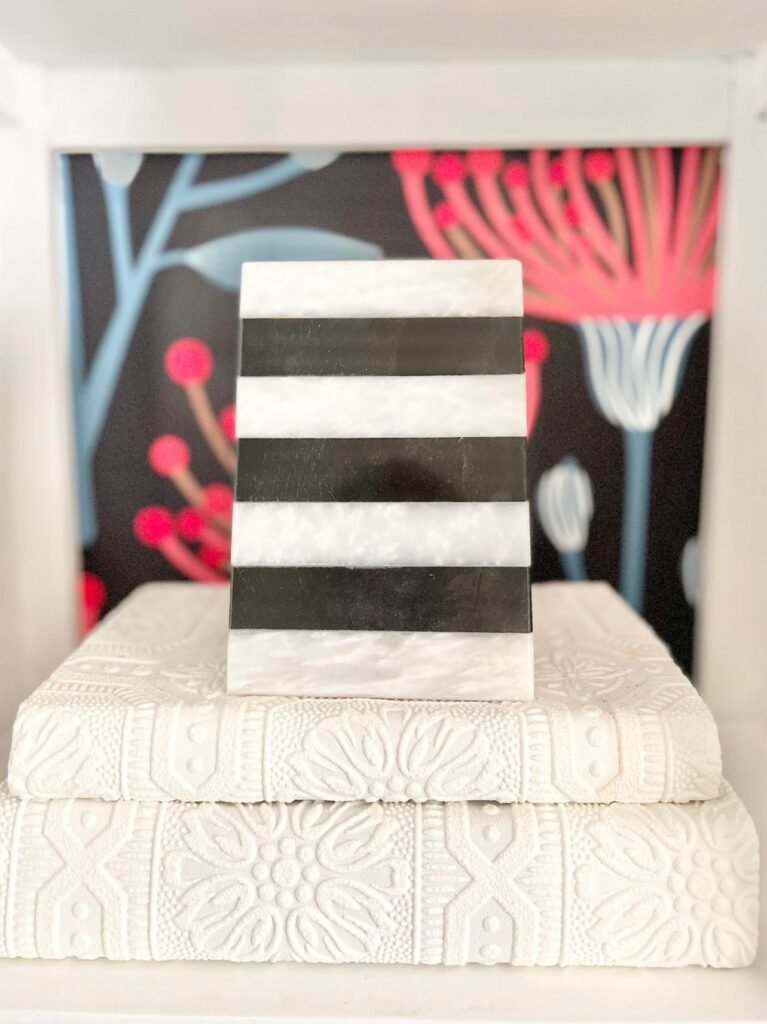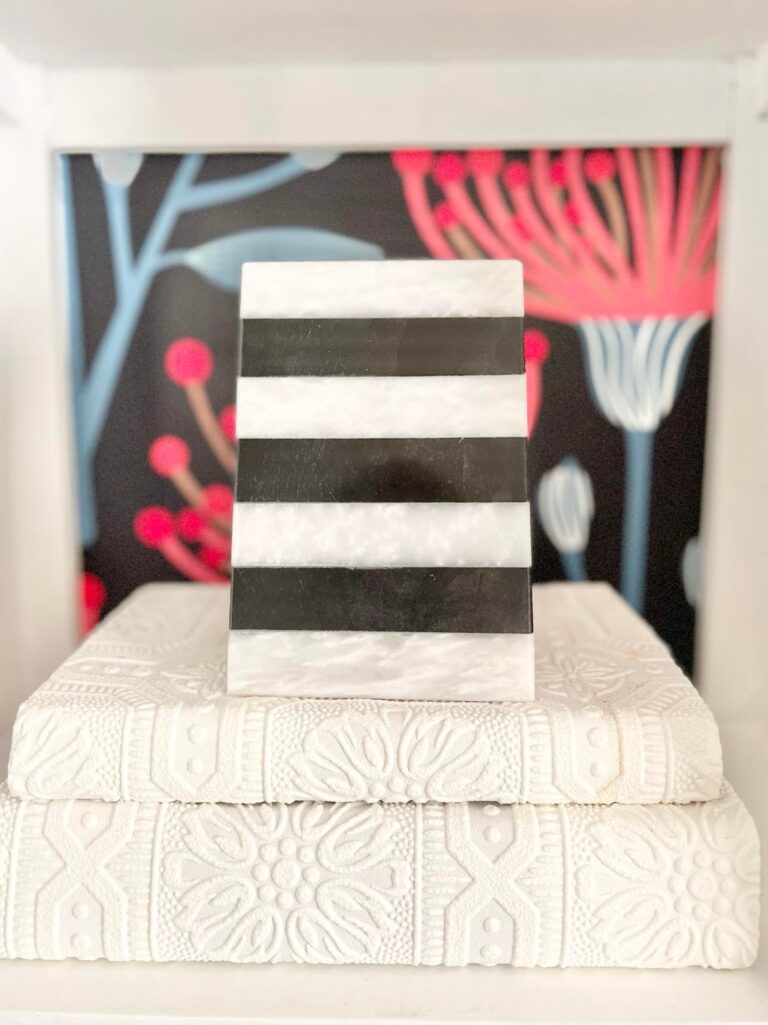 And, of course, the Books!
I would be very remiss if I didn't address the most important element of a bookshelf…the books!
Display them vertically…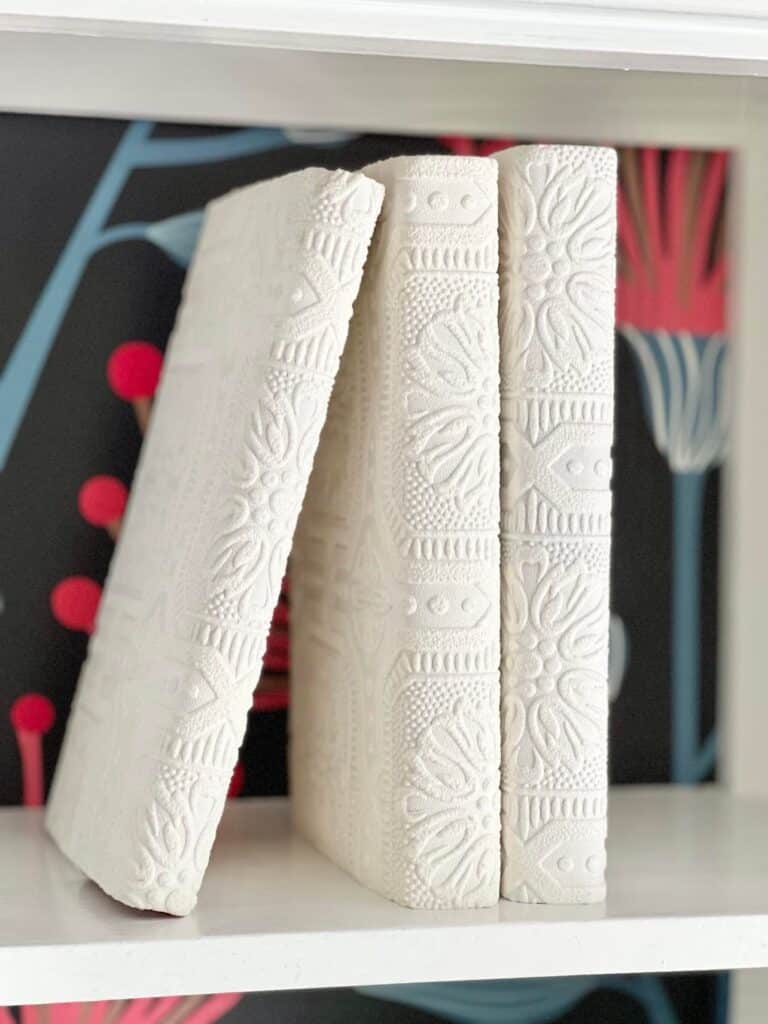 or stack them horizontally.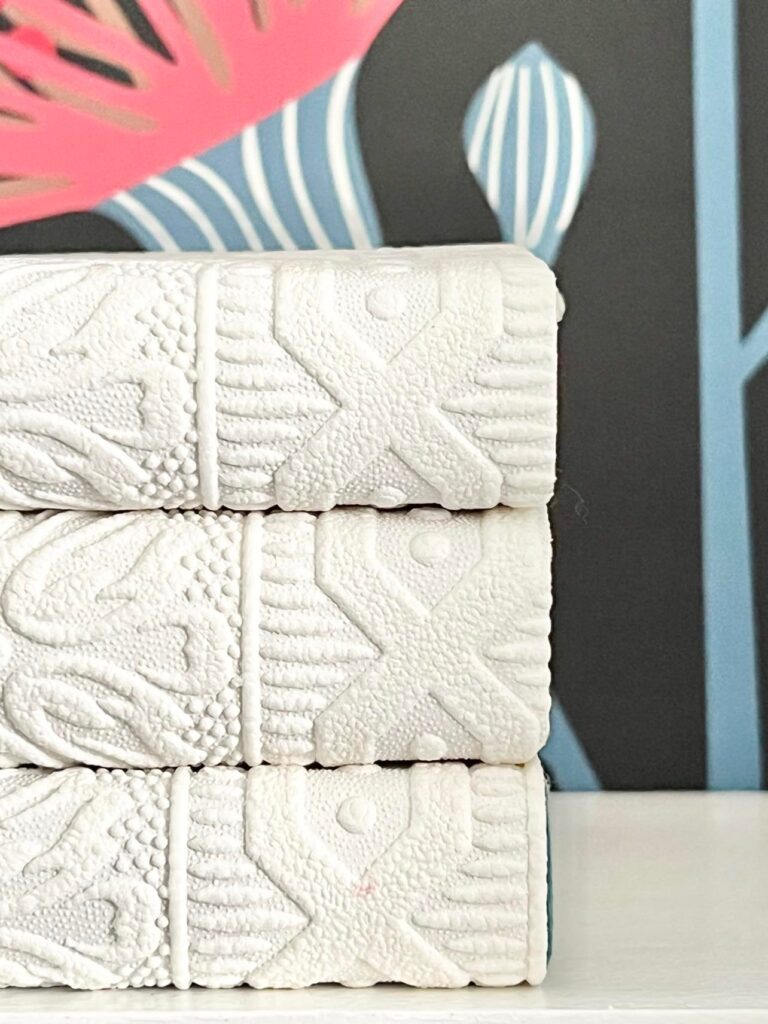 Pull out some of your favorite travel-inspired books and put them on full display.
You might catch me dreaming of Paris!
Or New York!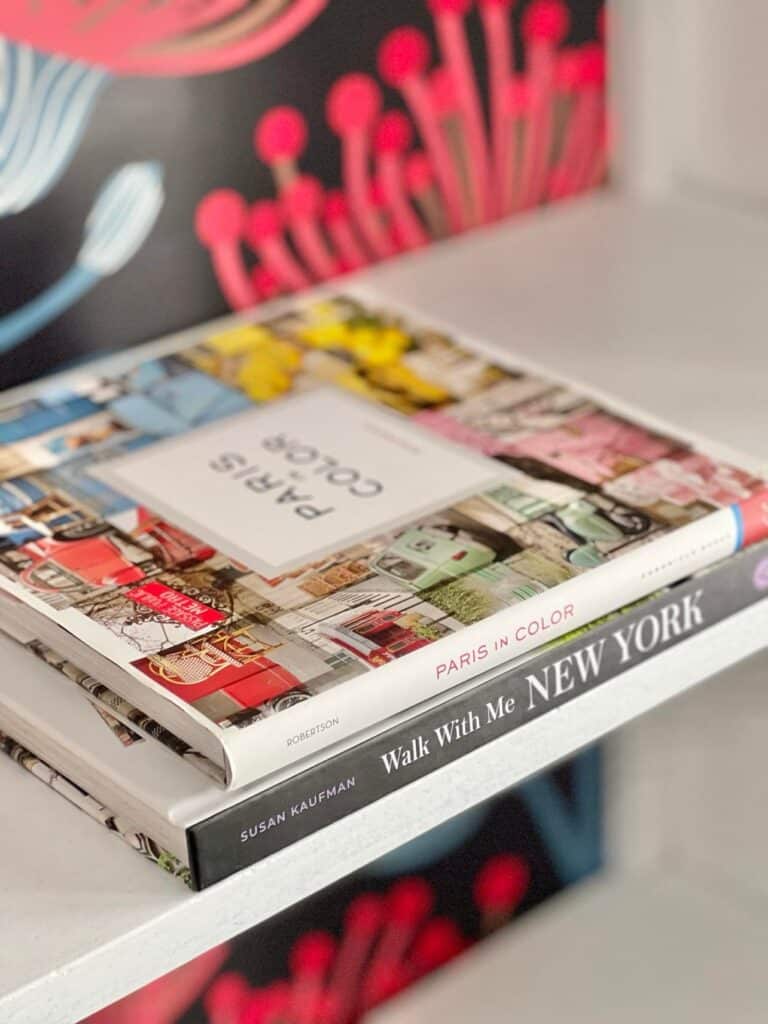 My last tip…once you are finished styling your bookshelves for summer, grab a cold lemonade or a frozen margarita, sit back, and enjoy your new summertime indoor view!
And read the book "Lessons in Chemistry" by Bonnie Garmus. I can't wait to see the movie!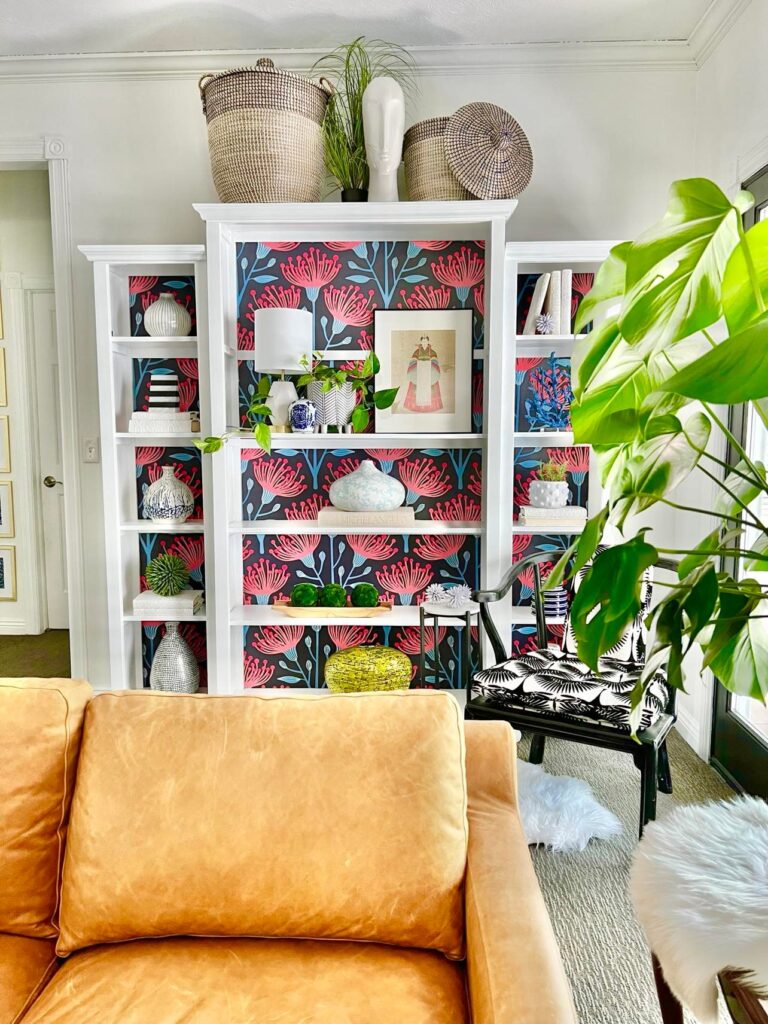 With these fun decorating ideas, you can give your bookshelves a summertime makeover with simple additions and styling. Use pops of color, dreamy accessories, and live plants to bring in diverse textures that will lighten up your living space and inject some easy joy into it.
Don't forget to add your own personal touches like handmade décor or vintage finds to give it a unique character that speaks to you the most.
Finally, don't forget the main goal of having bookshelves – they are there to be filled with books! It doesn't have to be the usual row-on-row layout; break it up and go for unconventional patterns so your bookshelf won't feel like someone else's. Shake your bookshelves up and give them summer vibes with these decorating ideas!
Cheers!