How to Make White Sneakers White Again
Do you have dingy white sneakers? You can make your favorite white sneakers white again with these easy and quick cleaning tips!
There are some things in life that are at their finest right out of the box.
In my opinion, brand new white sneakers are one of them!
The same goes for white linen pants, a new tube of toothpaste, and a fresh package of oreo cookies!
I just bought these white and green classic Tretorn sneakers...pure white out of the box and I am in heaven!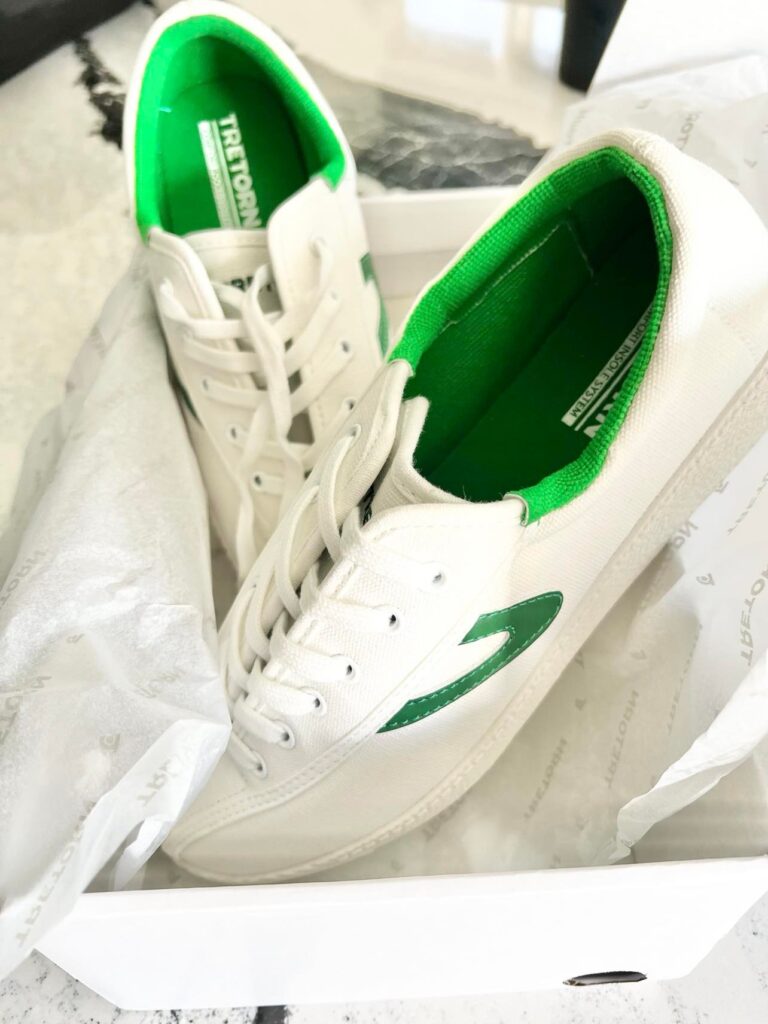 I almost hesitate to wear them as I don't want them to get dirty!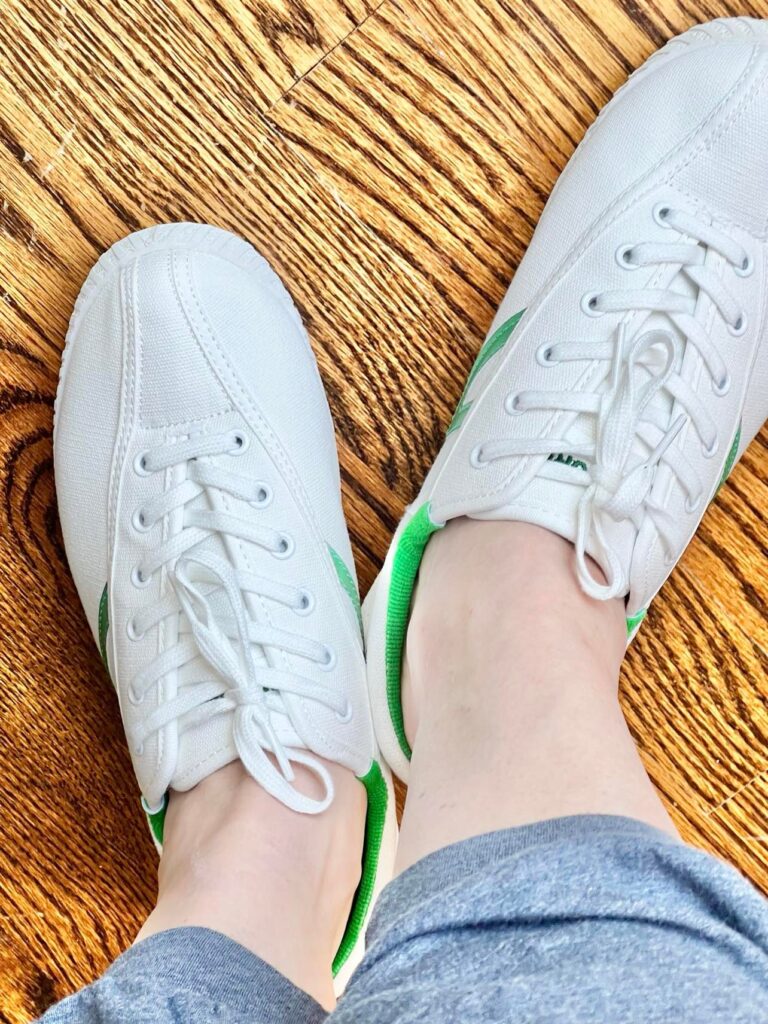 But life is full of dirt and scuffs…and white sneakers suffer the consequences.
I love these mesh sneakers and the dirt smudges are SO annoying!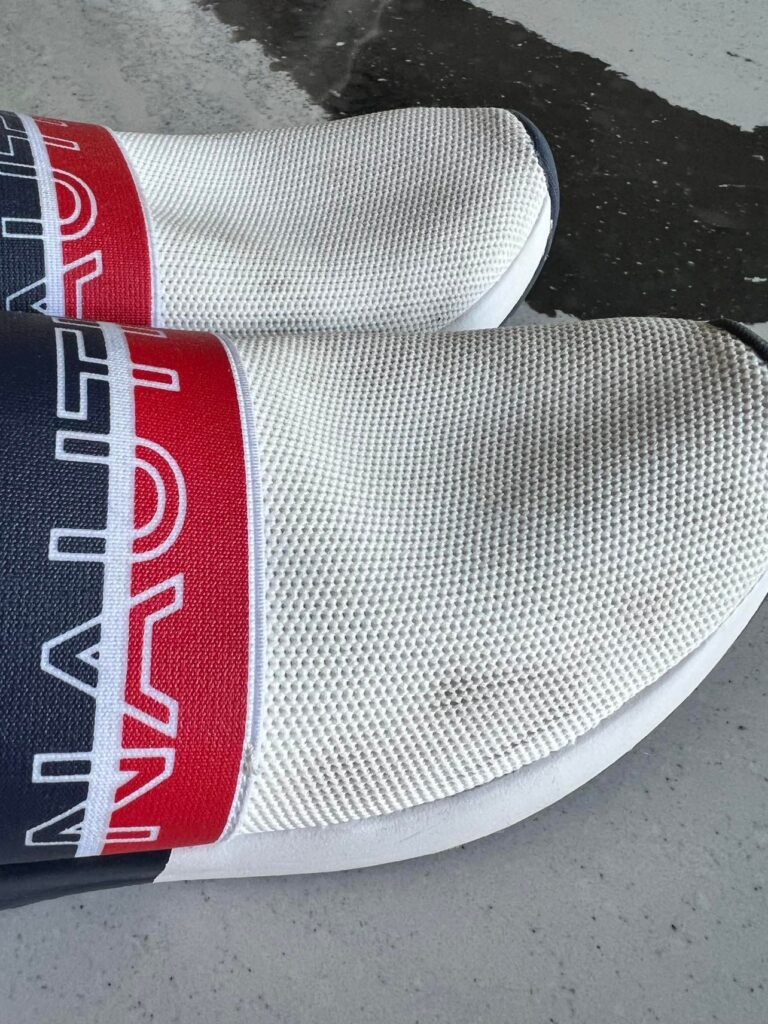 When you buy white sneakers, you need to know how to keep them looking white!
Here is how!
Make White Sneakers White Again
I used this process on two different types of white sneakers: a mesh style and a leather-like style. The process worked beautifully on both types!
You need just a few simple ingredients for whitening your sneakers.
Dishwashing Liquid
1 Tablespoon Baking Soda
1 Tablespoon Water
1 Tablespoon Hydrogen Peroxide
1 Old Toothbrush
I started by giving both pairs of shoes an initial cleaning with the toothbrush and some dishwashing liquid. This works to take off general dirt from the shoes.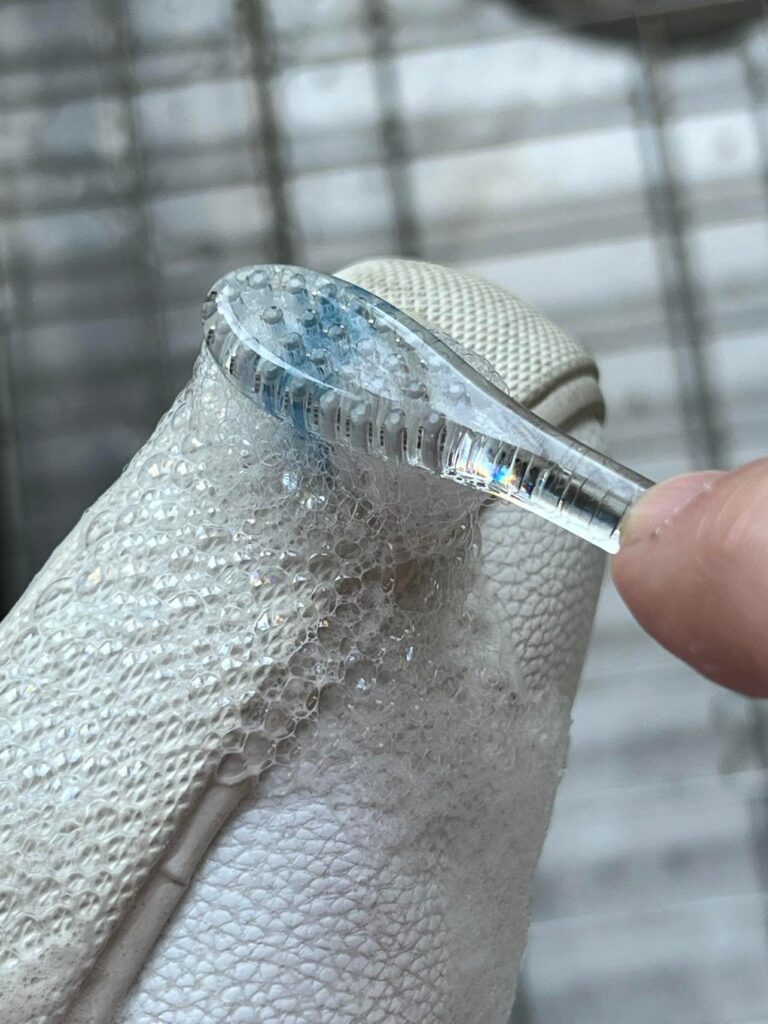 Mix together the baking soda, water, and hydrogen peroxide (1 T. each) in a small bowl to create a paste. You can use the toothbrush to stir.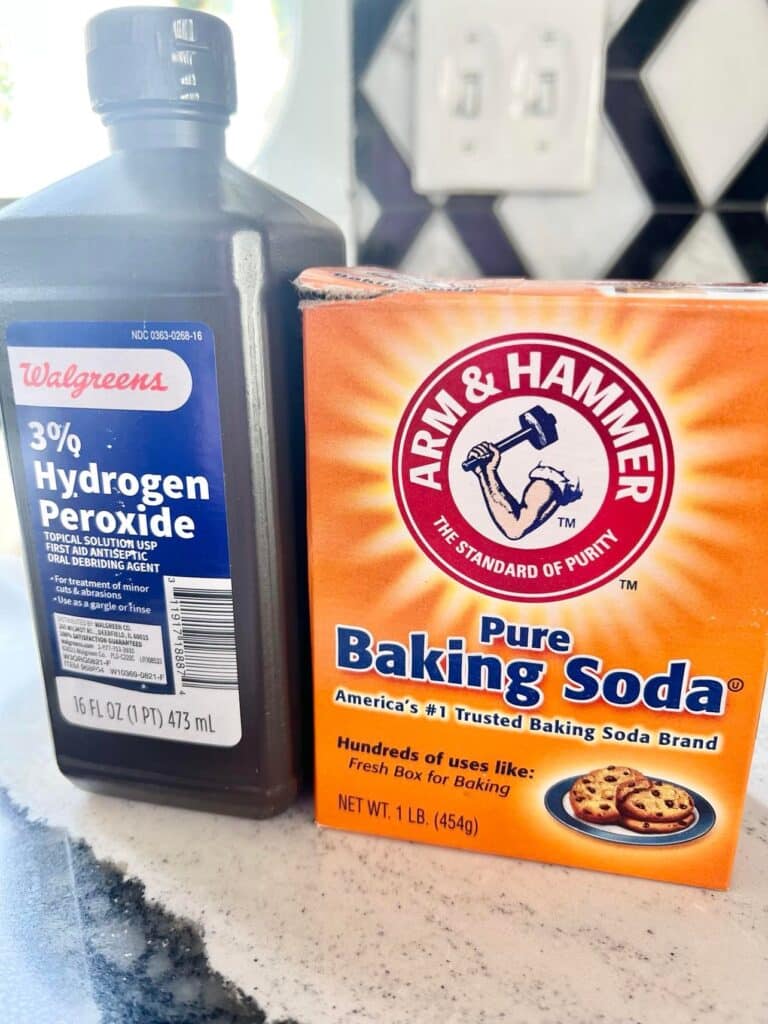 With the toothbrush, scrub the shoes (all surfaces!) with the paste leaving a layer of the paste on the shoes. Two layers of the paste are even better!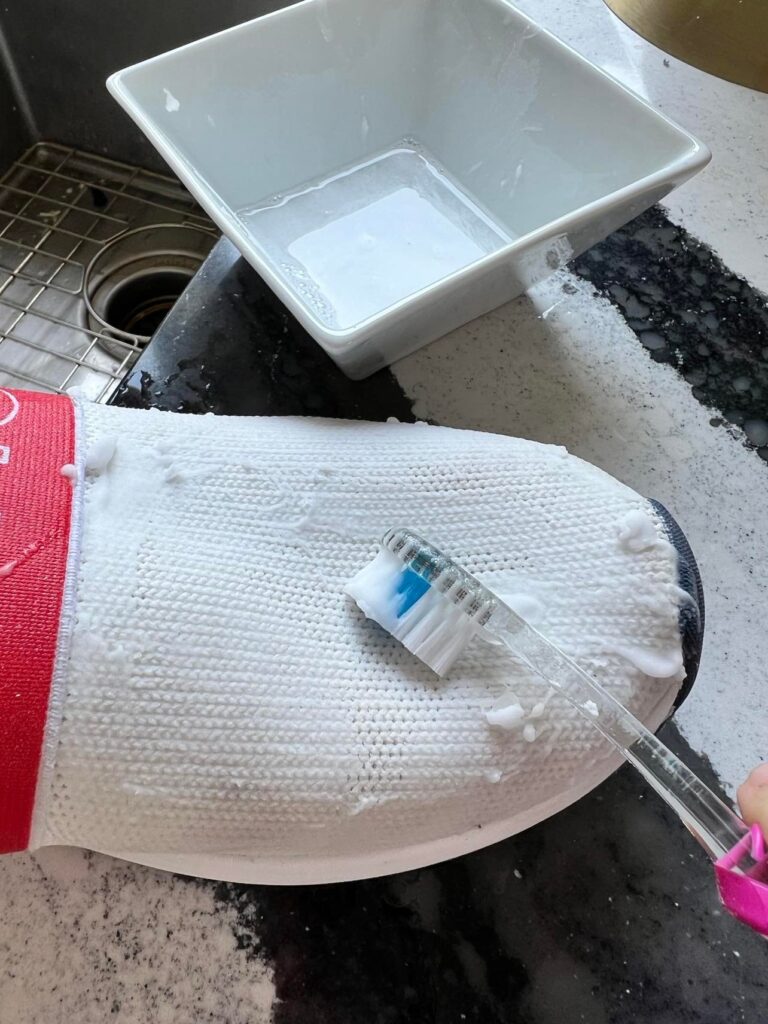 What about Shoelaces?
We can't leave out the shoelaces…they are often dirtier than the shoes!
No worries…the process is the same.
Mix the same ingredients in a separate bowl and throw the shoelaces in. Stir with the toothbrush to coat.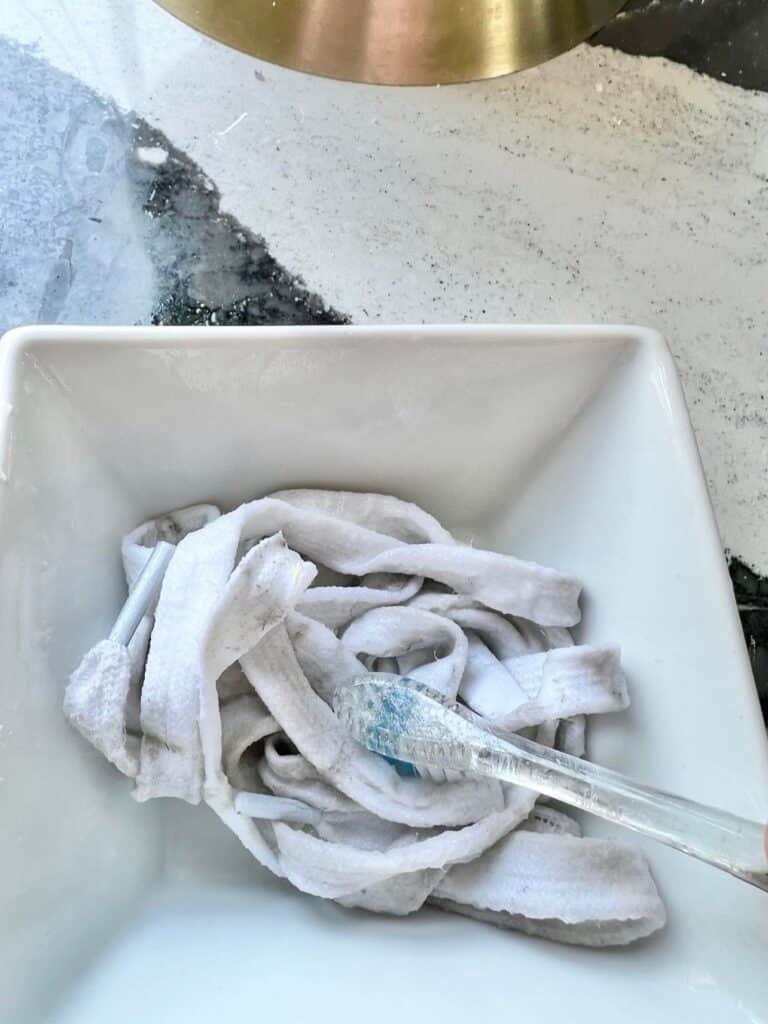 Set both the paste-covered shoes and laces outside in the sun for at least 4 hours.
Chemical reaction with the sun! Now I feel like I am back in my 6th-grade science class!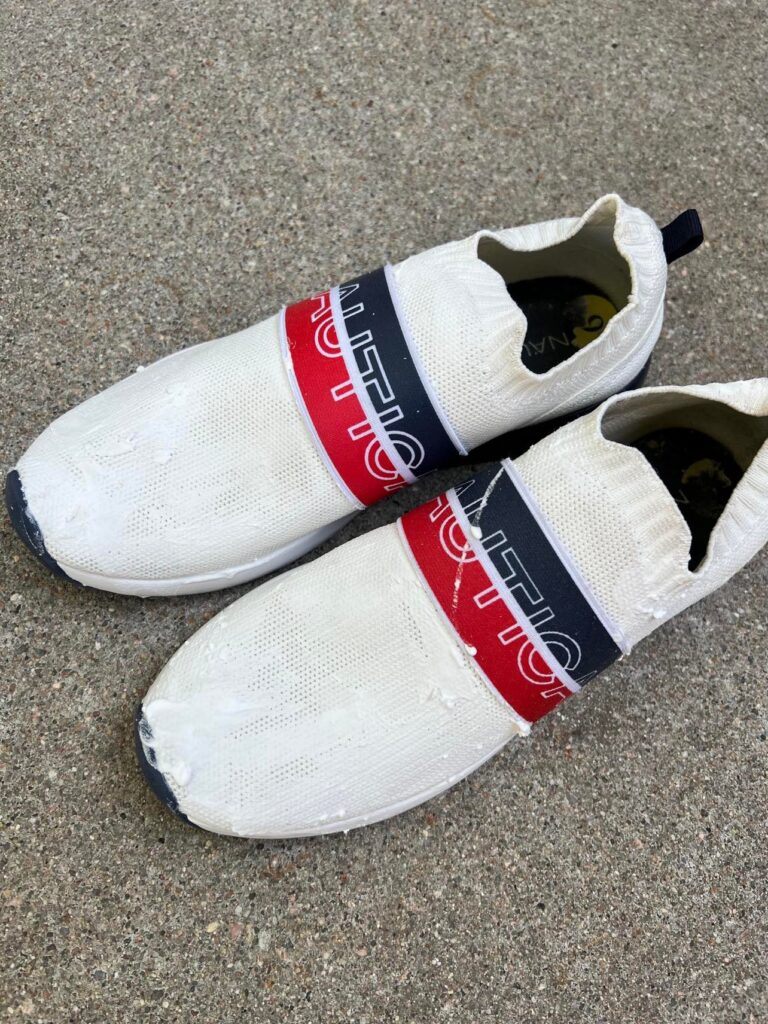 This is the Best Part!
After 4 hours, grab the shoes and slap them together.
This reminds me of cleaning chalkboard erasers when I was a kid!
The paste will crumble off the shoes into dust!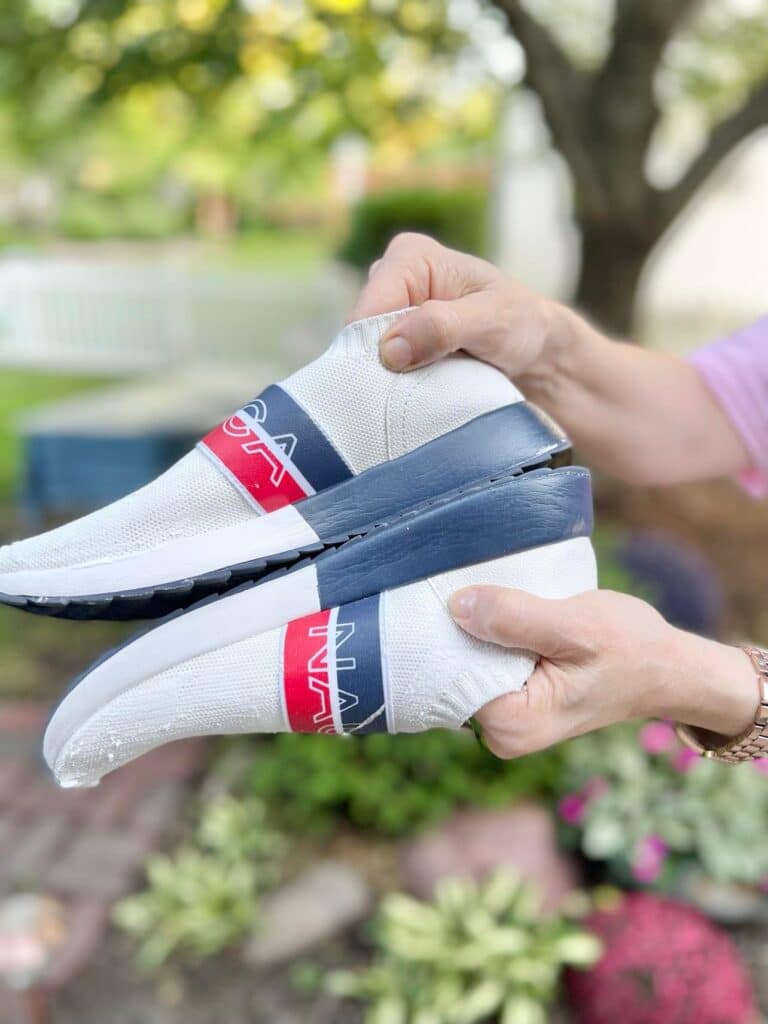 Use the toothbrush to brush away any excess powder.
At this point, you might be ready to go. However, I like to throw mine into the washing machine and run it through a cold, gentle rinse cycle. This dissolves any hidden bits of dried paste that might not have fallen off.
Freshly white!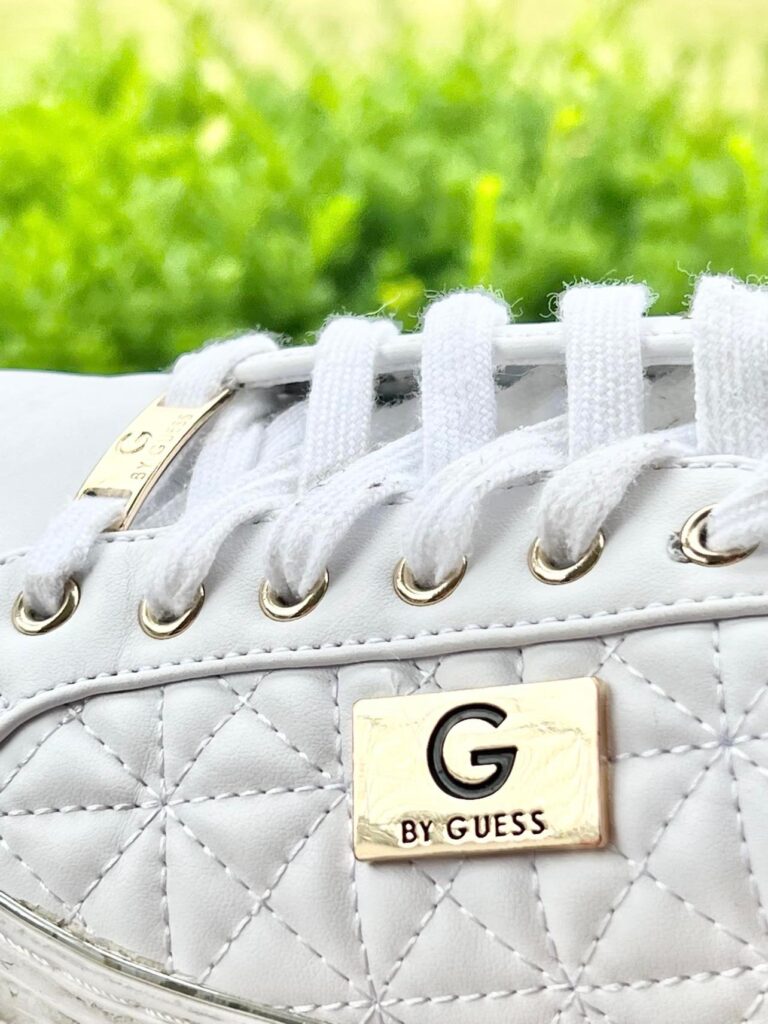 You can see a similar white quilted Guess sneaker HERE.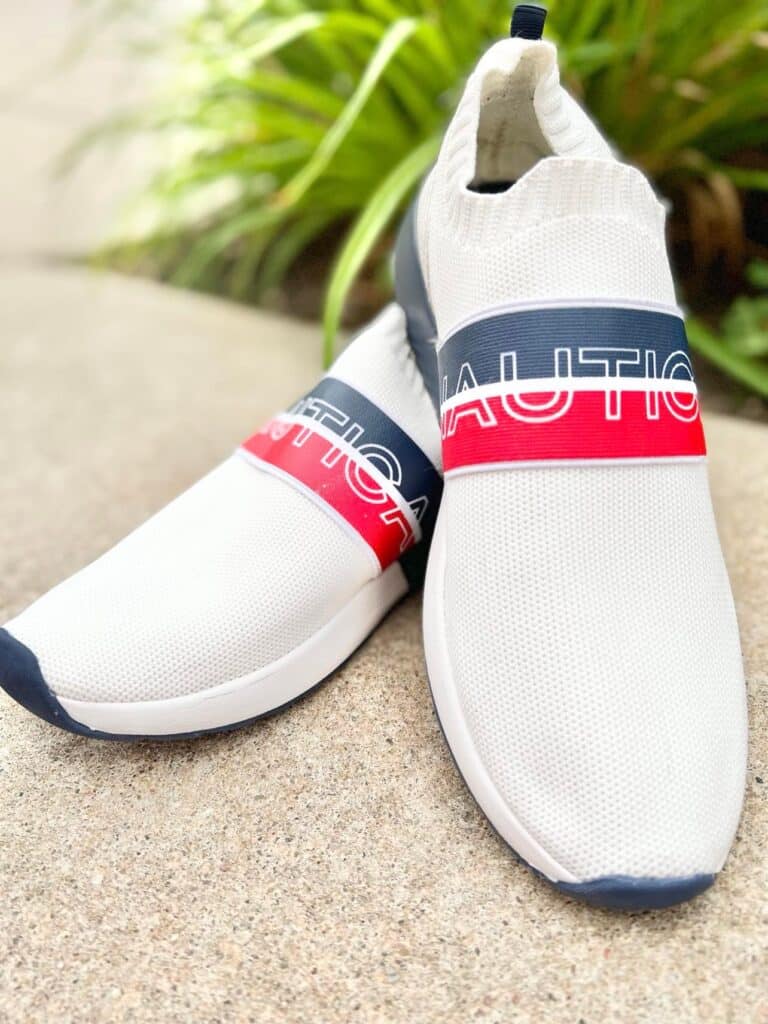 You can see a similar white Nautica sneaker with a red and blue stripe HERE.
Yay! Once again, you have white sneakers!
Cheers!

Some other posts you might like…
How to Wear Pajamas in Public and Look Like You're Not!
A Simple Decoupage Bottle Idea