How to Wear Pajamas in Public…and Look Like You're Not
Take your love of pajamas and show the world your comfy fashion sense. See how to wear pajamas in public with these ideas for styling up!
There is nothing comfier than a favorite pair of pajamas! So why not explore how to wear pajamas in public!
I used to come home from a long day of teaching and immediately hop into my jammies…at 5:00 pm!
Once working from home became common, the world rediscovered the comfort of sleepwear that, at times, doubled as professional wear…at least from the waist up!
Loungewear is now a full-on trend that is not going away. So, it might be helpful to know how to wear pajamas in public!
This blog contains affiliate links. This means a small commission is earned if you make a purchase by using this link. The price you pay will be the same whether you use the affiliate link or go directly to the vendor's website using a non-affiliate link.
I can (and often do) spend the entire day in my pajamas. Don't worry! I am not reclining on the sofa watching tv. I am working!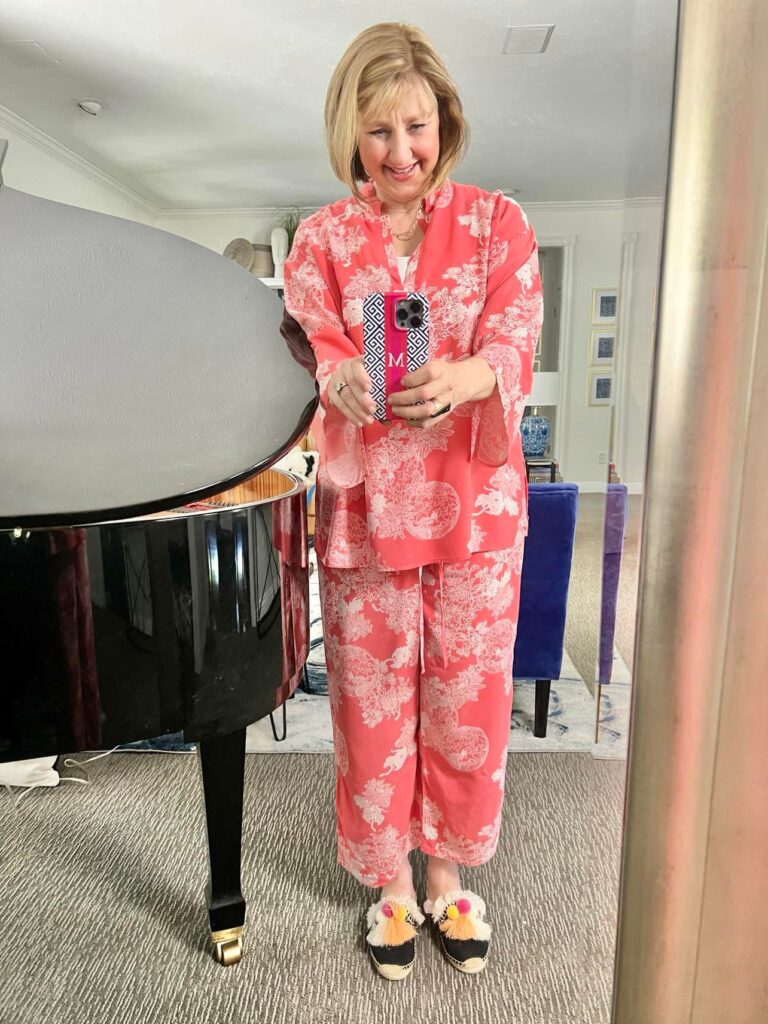 Whether working at the computer or upholstering a chair, I can get a lot done when wearing my pajamas! (I change into fresh jammies for bedtime!)
Just like a hybrid work schedule, here are a few ways you can "hybridize" your pajama wardrobe!
How to Wear Pajamas in Public
A classic top/bottom pajama set will give you the most versatility when mixing it in with your wardrobe.
Woven fabric is going to look a little more like "day wear" because it has more structure than a knit.
Break up the pajama set and combine the top or bottom with other non-pajama pieces.
Consider pairing a patterned piece with a solid counterpart.
Sleepwear material can be thin. Wear appropriate undergarments to support thinner fabrics.
Give cotton pieces a quick once-over with an iron for a non-rumpled look.
Complete your look with jewelry, street shoes (not slippers!), and other accessories.
Flannel PJ pants and bunny slippers scream bedtime sleeping. Keep those for beddy-bye!
Style the Top
A classic pajama top gives a casual chic vibe with some boyfriend jeans and sneakers. Because of the thin material and low v-neck, I wore my favorite Skinny Tee in white underneath.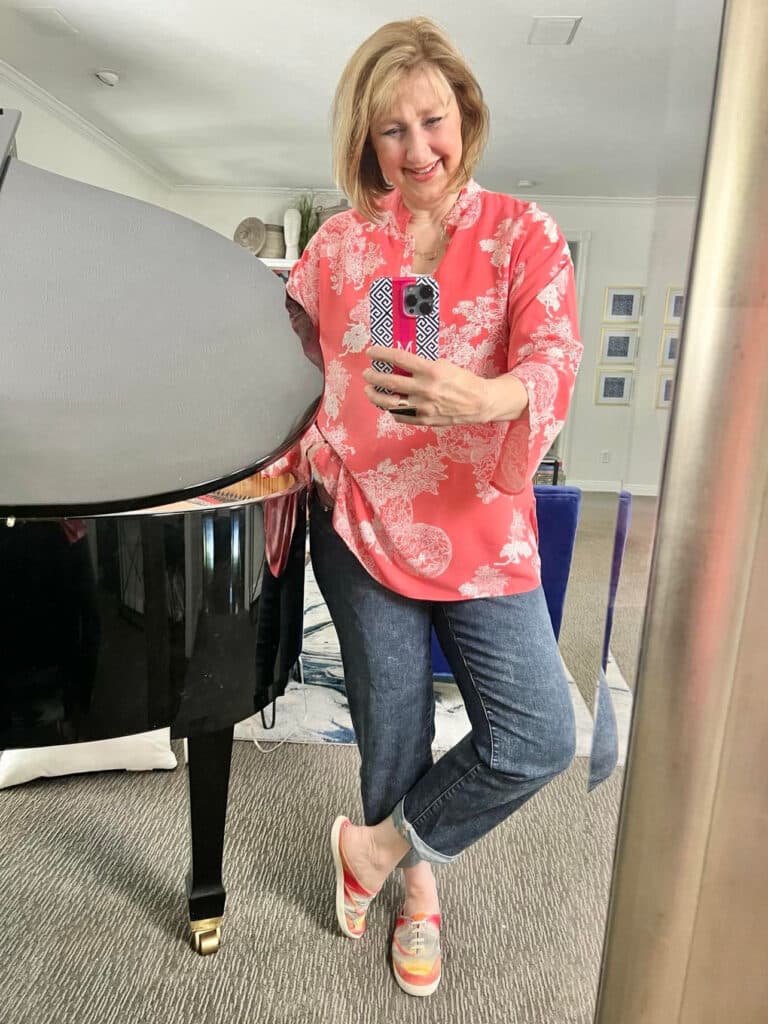 Style the Bottom
Working at home? Going to a movie? Entertaining guests? This pajama bottoms and silky blouse combo is comfortable and stylish at the same time!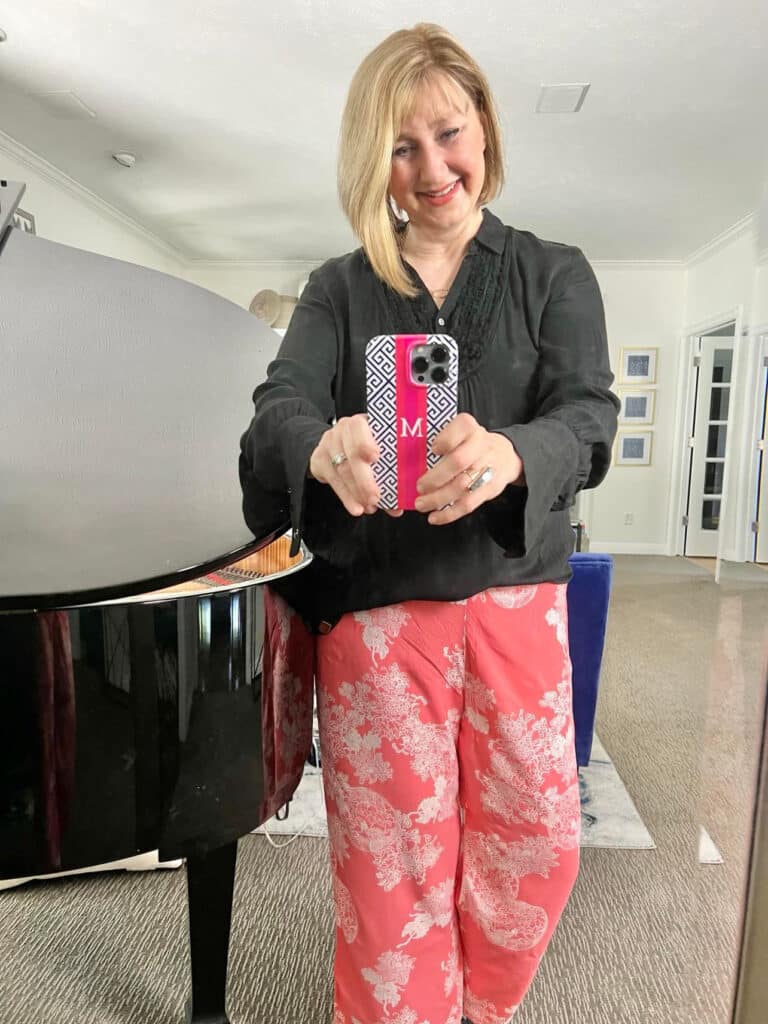 Don't Forget the Robe!
There are so many amazing kimono-style robes in various lengths and beautiful patterns.
In both of these photos, I added a colorful kimono-style robe to a pair of basic cropped pants, a white tee, and white sneakers. Add some hoop earrings and you are stylishly set for the day!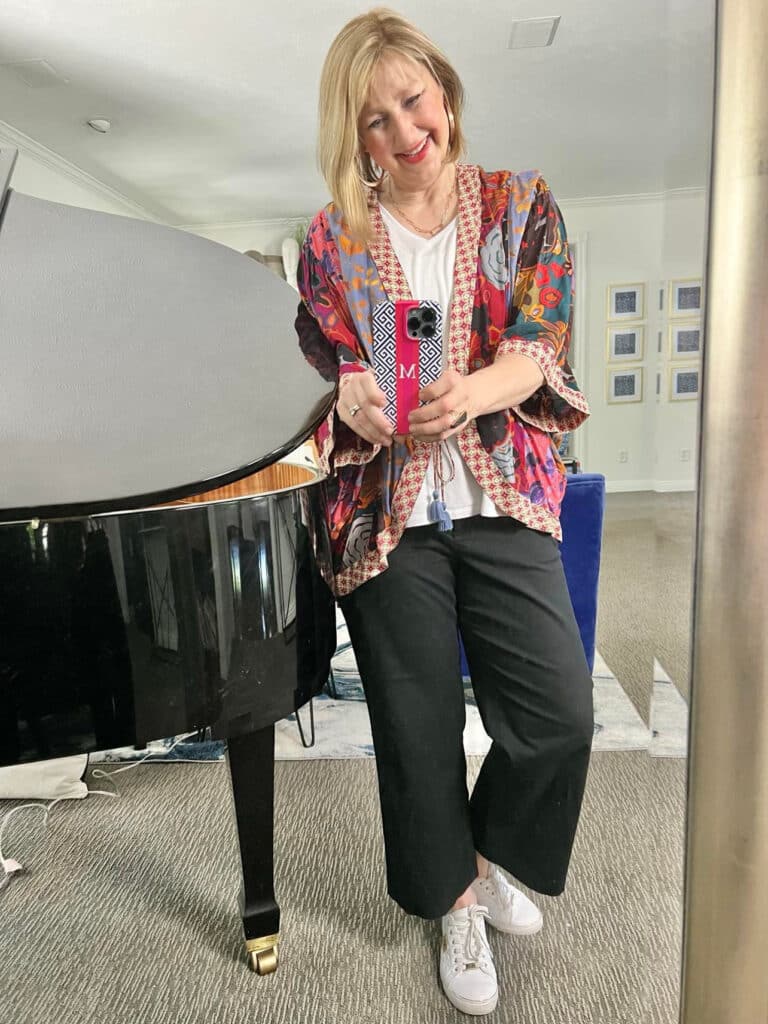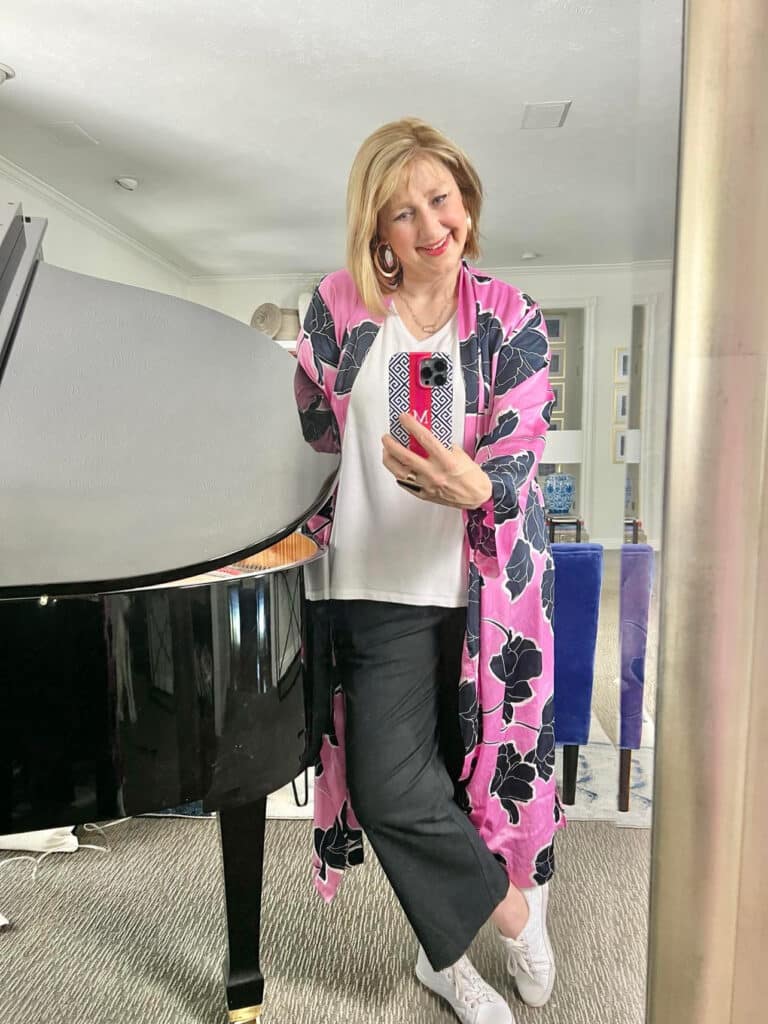 With a little thought and experimentation, your pajamas can work for you 24/7!
Cheers!

I am pajama obsessed! Here are some of my pajama FAVS!

A few other fashion ideas…
How to Wear Reading Glasses with Style
Wear One White Shirt Five Different Ways

When Fashion Meets Home Decor