A Fireplace Makeover Using Bold and Dramatic Tile
Does your fireplace need a pick-me-up? Choosing a bold and dramatic tile can give your fireplace an amazing makeover!
How about a fireside chat? A chat about a fireplace makeover using bold and dramatic tile.
As in, let's talk about our "before" fireplace and how a dramatic tile made all the difference in a room.
You see, our old fireside was not a place that said "Sit down and chat, read a book, etc."
It was a sad fireplace.
The Before
Our "before" photo actually horrifies me more now than it did before the makeover.
Horrified!
Well, the bones are good?
Lovely molding, decent mantel, neutral tile, working flame…
But, oh dear! The dingy color, the soot marks that no amount of scrubbing could remove, the general "tiredness" of the whole thing.
Sad, sad, sad.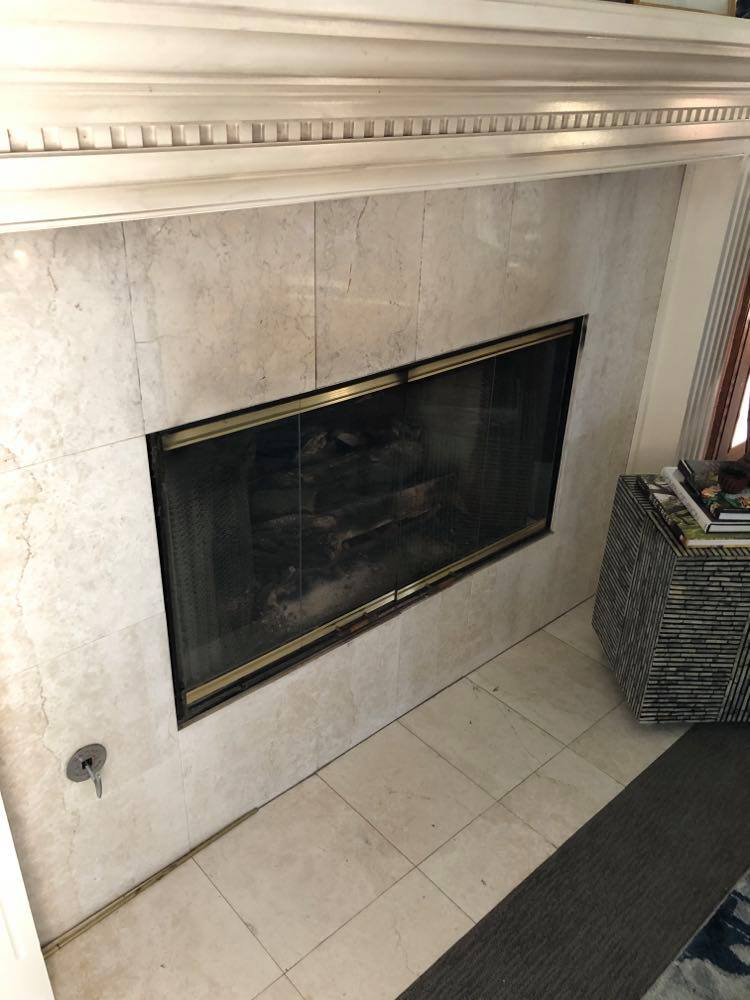 Even our stockings hanging cheerfully at Christmas time have a dingy look because of all the tile discoloration.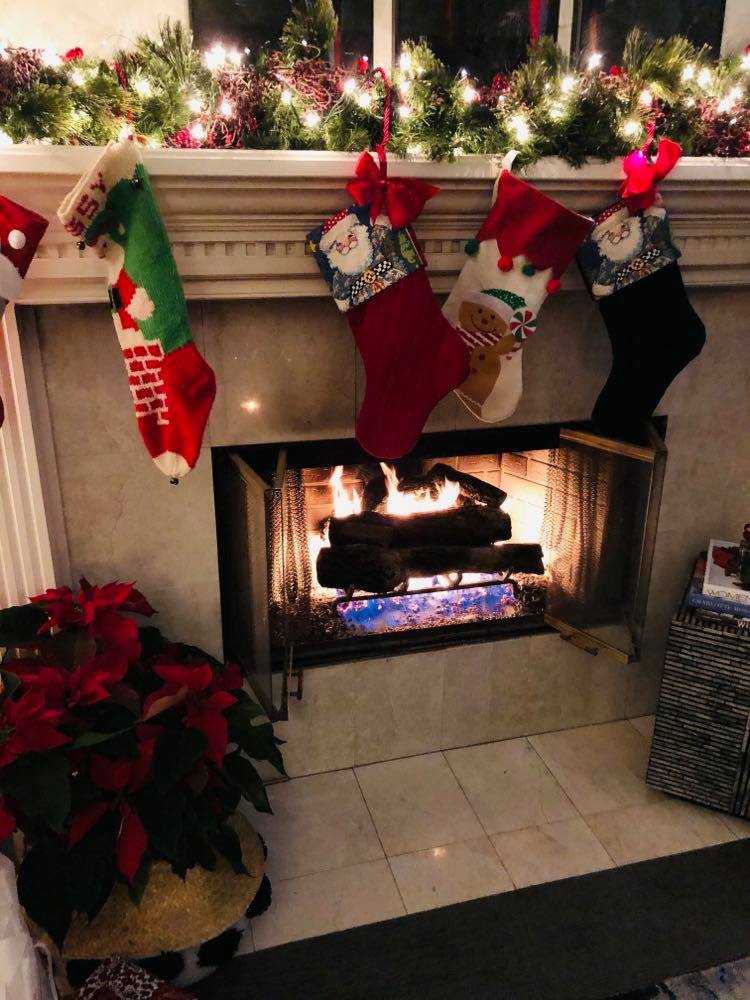 Since we were redecorating our living room, it made sense to give this baby some TLC. You can see this Living Room Revamp here.
Tile: The Fireplace Makeover Hero
New tile to the rescue!
Since I always love a decorating drama moment, this situation was a perfect opportunity to create a defining focal point in the room.
However, I did want to retain a classic element in the chosen pattern.
I discovered this black and white houndstooth pattern at The Tile Shop in Omaha. Fortunately, they have rows and rows of tile from which to choose. An entire aisle was devoted to black and white patterned tile. (Can we call this the "Missy Aisle?")
Tip: When choosing tile, always purchase a sample and bring it home to try in the space. This tile looked stark white and black under the store lights but has a more grey-white cast once home in our light. Actually, the grey-white works better in our home as the walls are painted Sherwin Williams Pure White and needed a variation on the white scale.
Black and white tile seems to hold a special place in our hearts. See how we used black and white tile in…
Our Kitchen Renovation as well as our
Bathroom Renovation: A Tale of Two Tiles
The Deconstruction
While we have done tiling before, from our frame of reference, this was a project for a professional.
It was, truly, so exciting when the old tile was removed! It already looked brighter…insulation and all!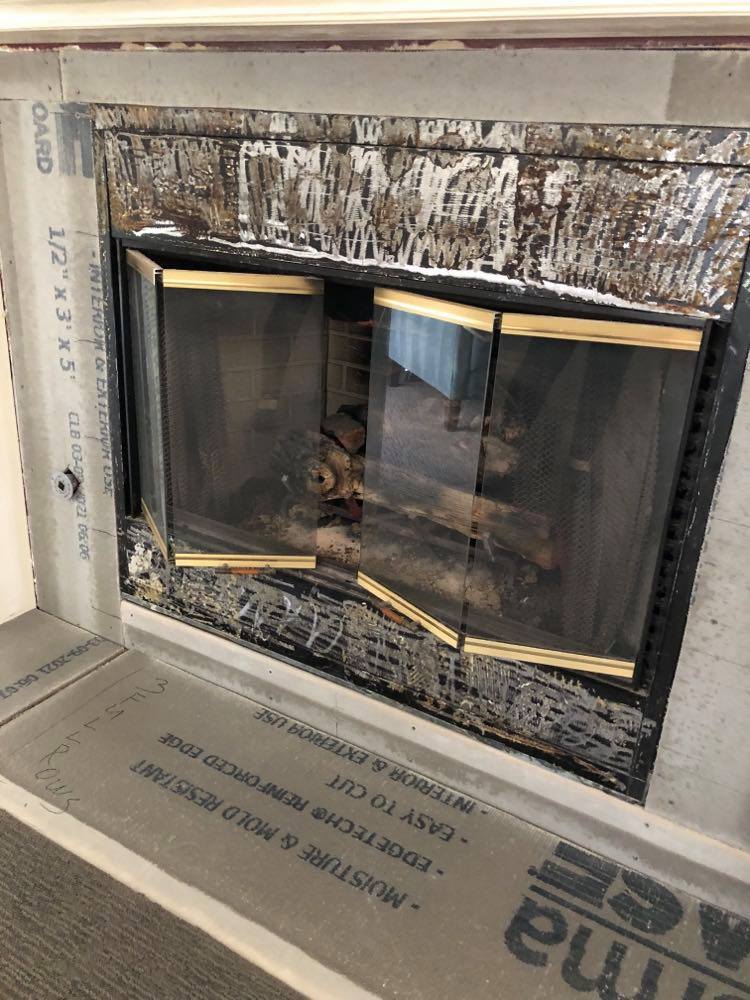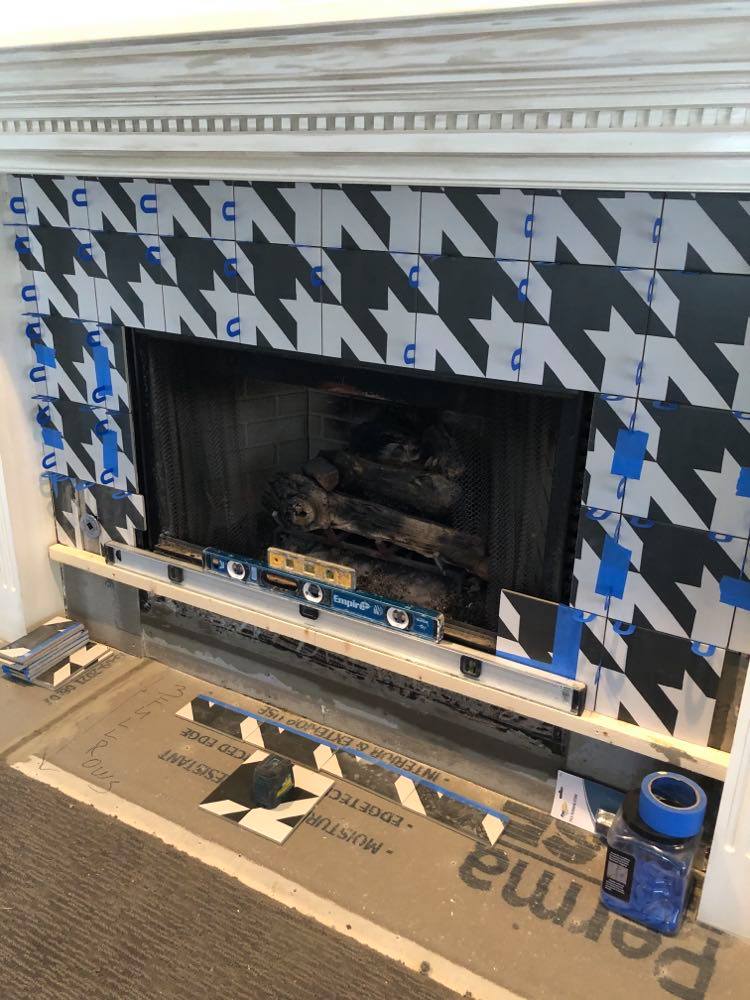 The sanded woodwork and initial placement of the tile took a little time. However, this was not the time to rush through the job. Our tile professional was meticulous with the pattern!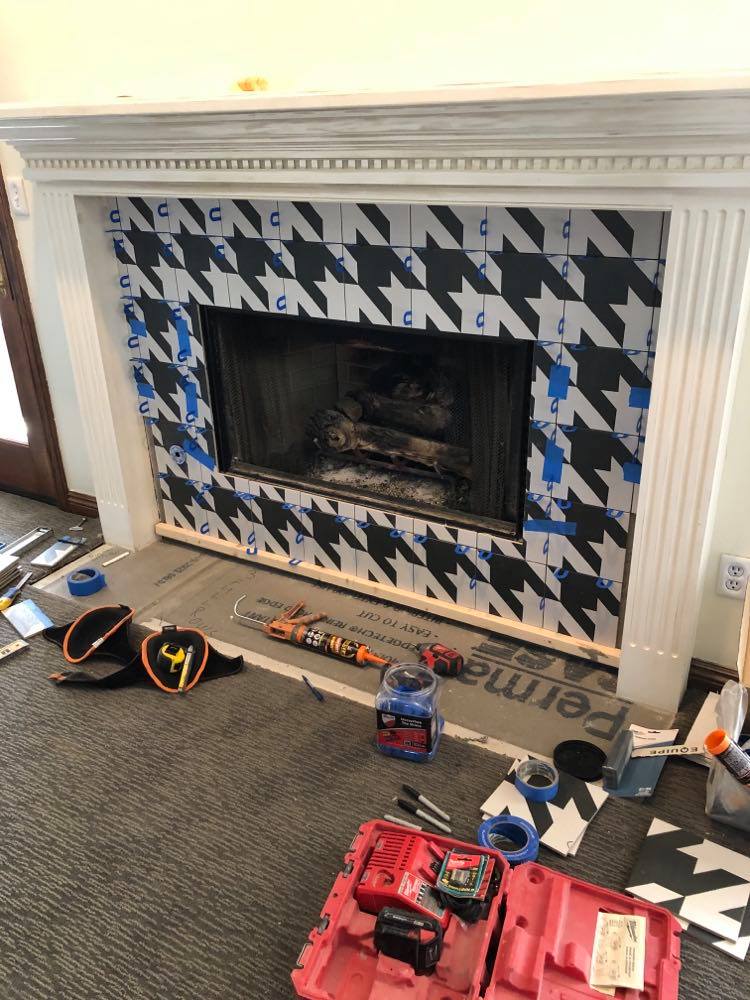 Bentley is already scouting out his napping spot!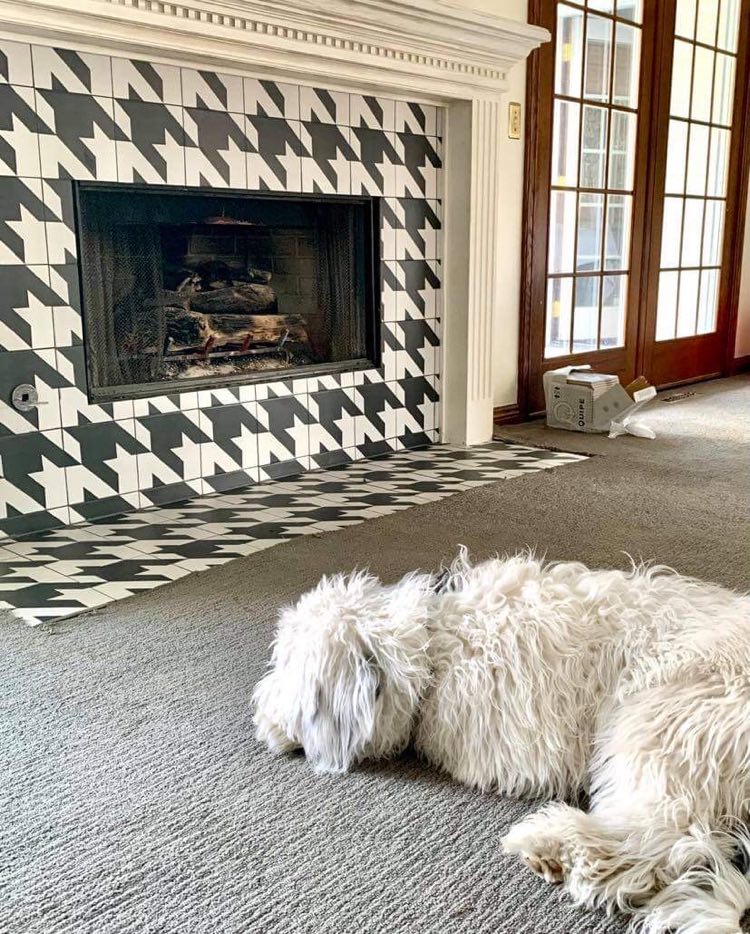 There were several shades of grout color to choose from. While, initially, I was thinking of a deep black, we finally settled on a lighter charcoal grey color that blended the black and white really well.
Tip: When choosing your grout color, make the decision as to whether you want the grout lines to recede or "pop." In this case, we chose to have the grout "define" but "recede."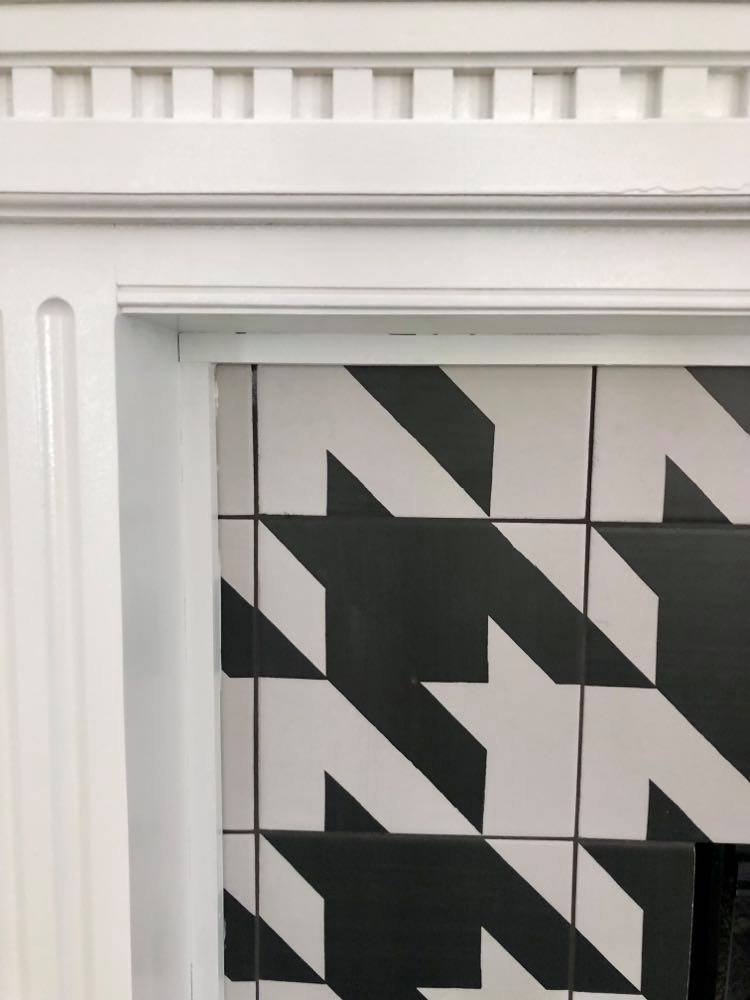 Even the glass fireplace doors got a makeover. The glass frame (formerly gold) was spray painted black to blend with the tile. The brown door handles were spray painted a hammered gray.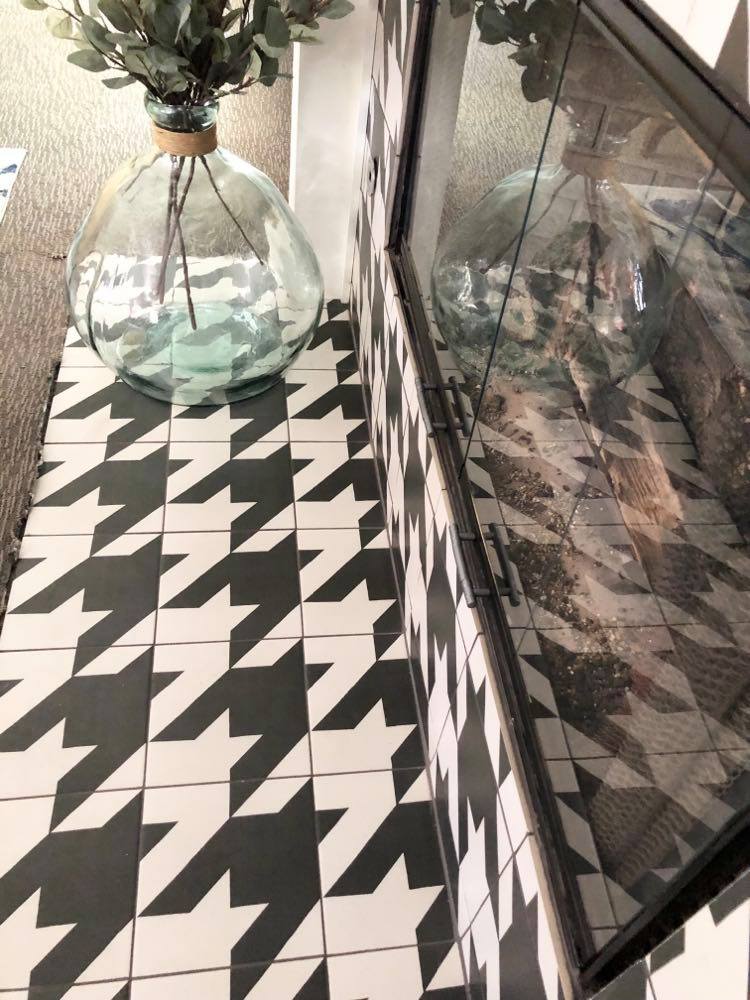 Spray painting the handles made such a big difference in the doors! And so easy!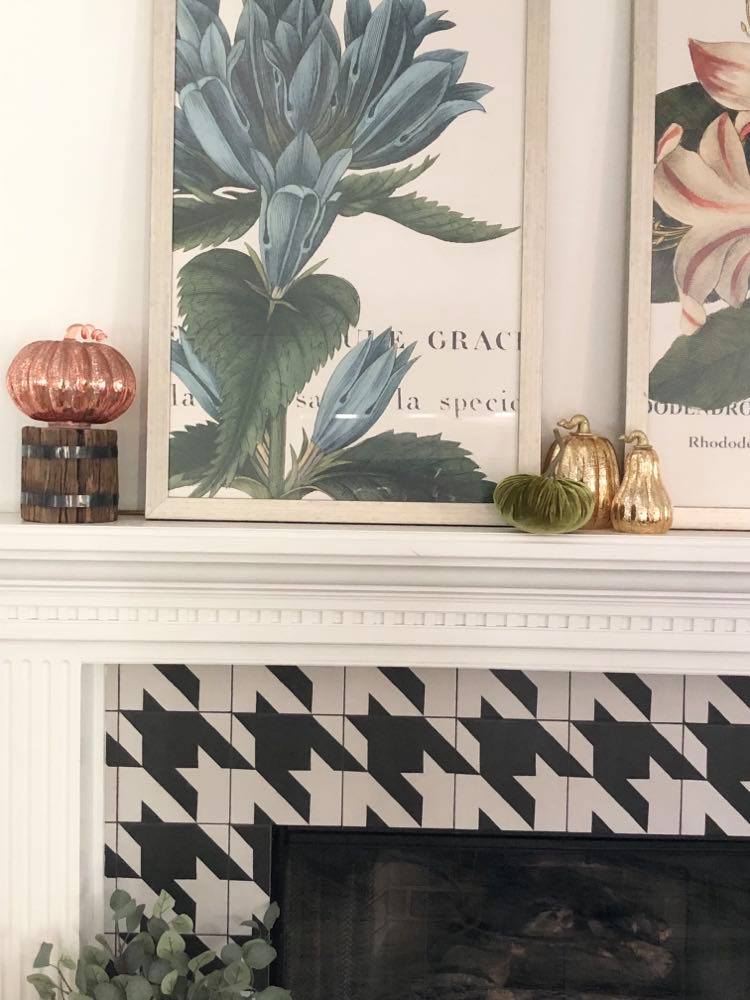 The Finished Fireplace Makeover
Styling the fireplace is so FUN now!
For now, a couple of botanical prints are propped atop the mantel with some fall pumpkins arranged to pull color from the prints.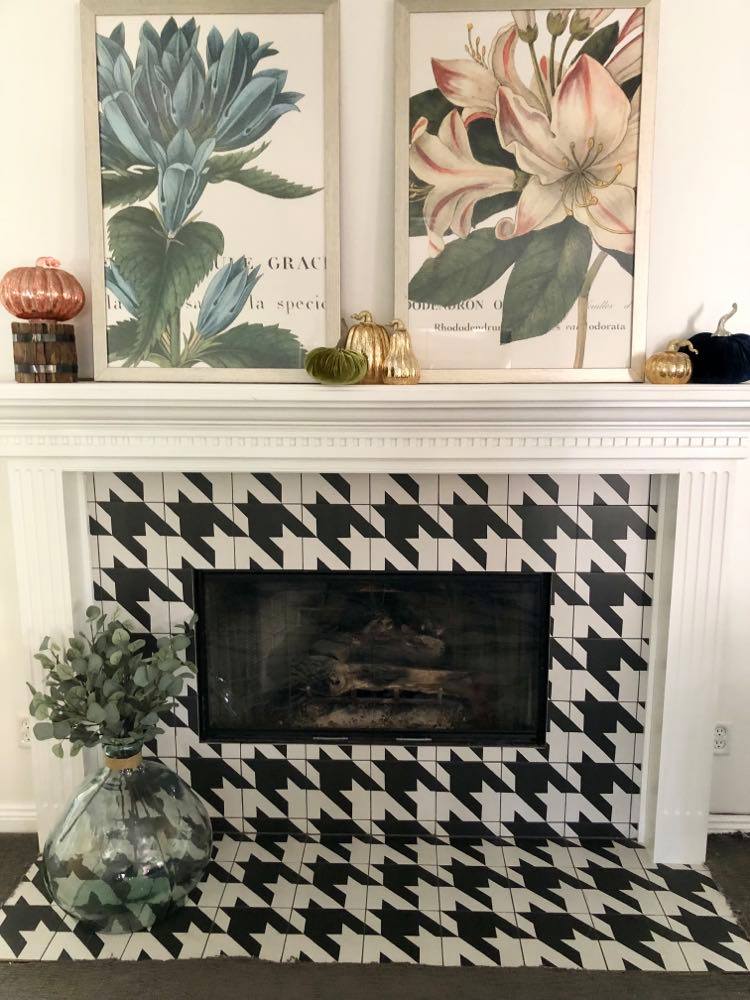 The view of the fireplace is, truly, so lovely from all angles! I love our fireplace makeover!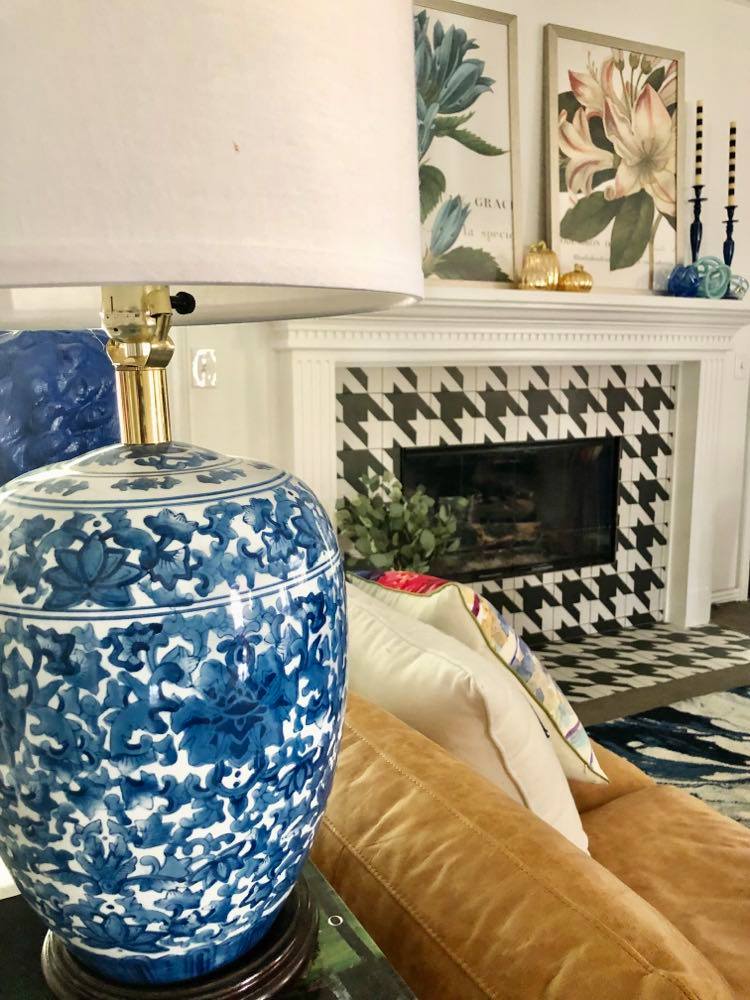 The houndstooth pattern is bold and dramatic and really pops against the white walls. It also provides the perfect backdrop for other colors, textures, and pattern.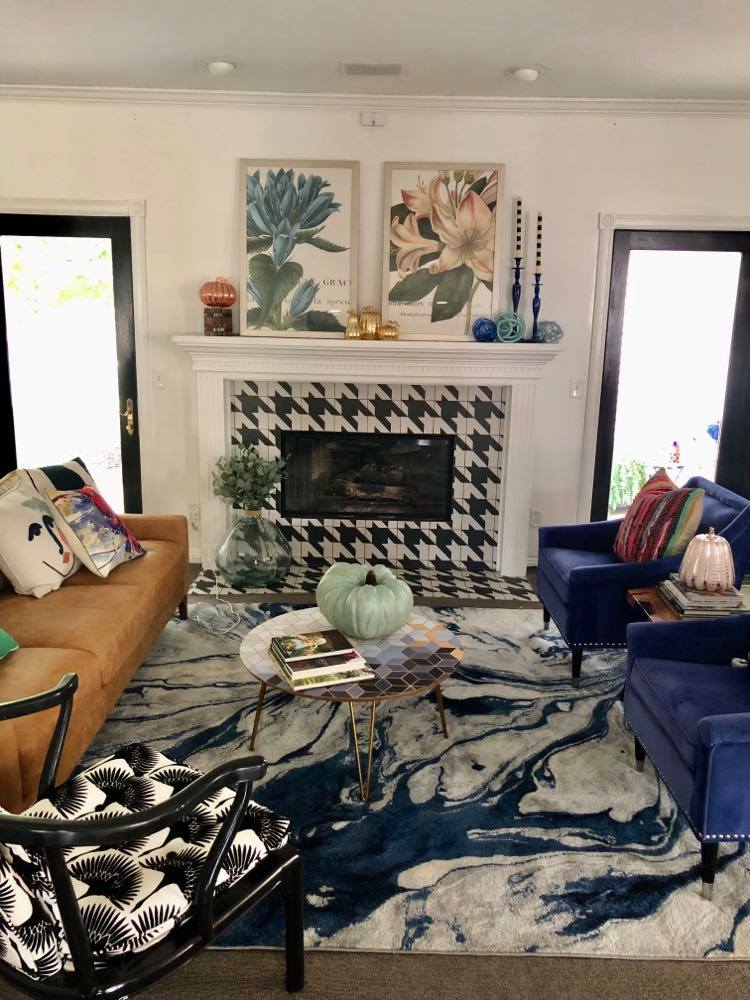 So, won't you stop by for a fireside chat? Stay awhile! I'll get the hot chocolate!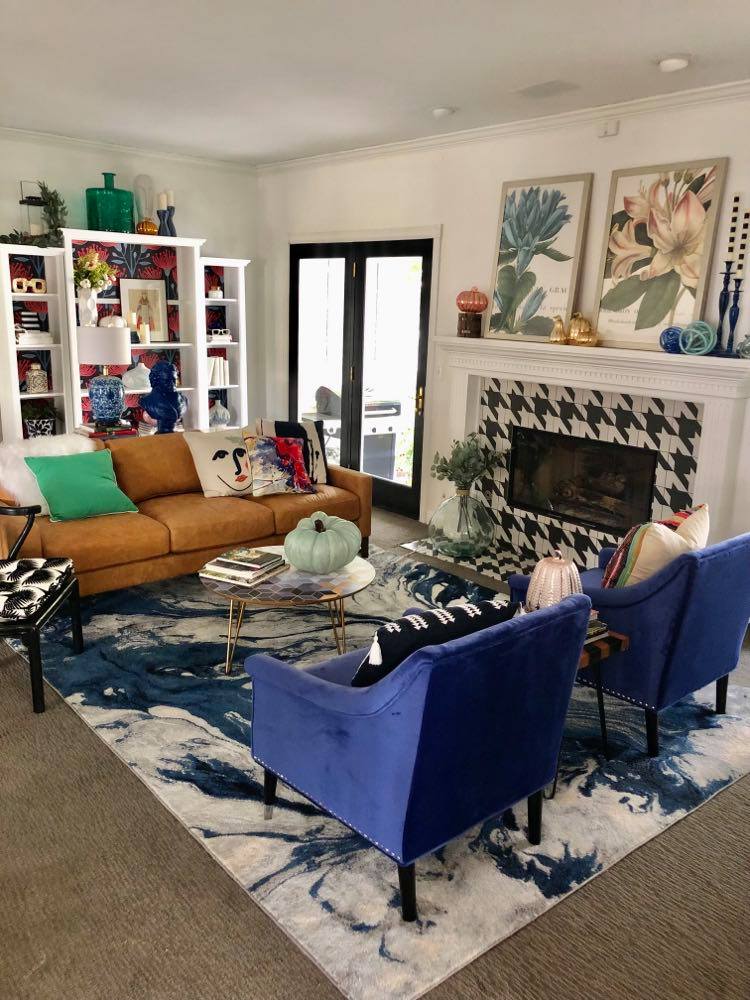 Cheers!

p.s. BIG ANNOUNCEMENT COMING SOON! If you have holiday decorating on your mind, you don't want to miss this! Stay tuned to this blog and follow Sonata Home Design on Instagram, Facebook, and Pinterest!