5 Easy DIY Decor Ideas for Your Glass Door Insert
Do you have a front door with a dated glass door insert? Since replacing a front door can be an expensive cost, DIY decorating the door glass insert is a great way to update your exterior doors and jazz up your home's curb appeal!
 With just a little creativity, you can turn your front door's glass insert into a real masterpiece with any of these decor ideas. Let's jump right in!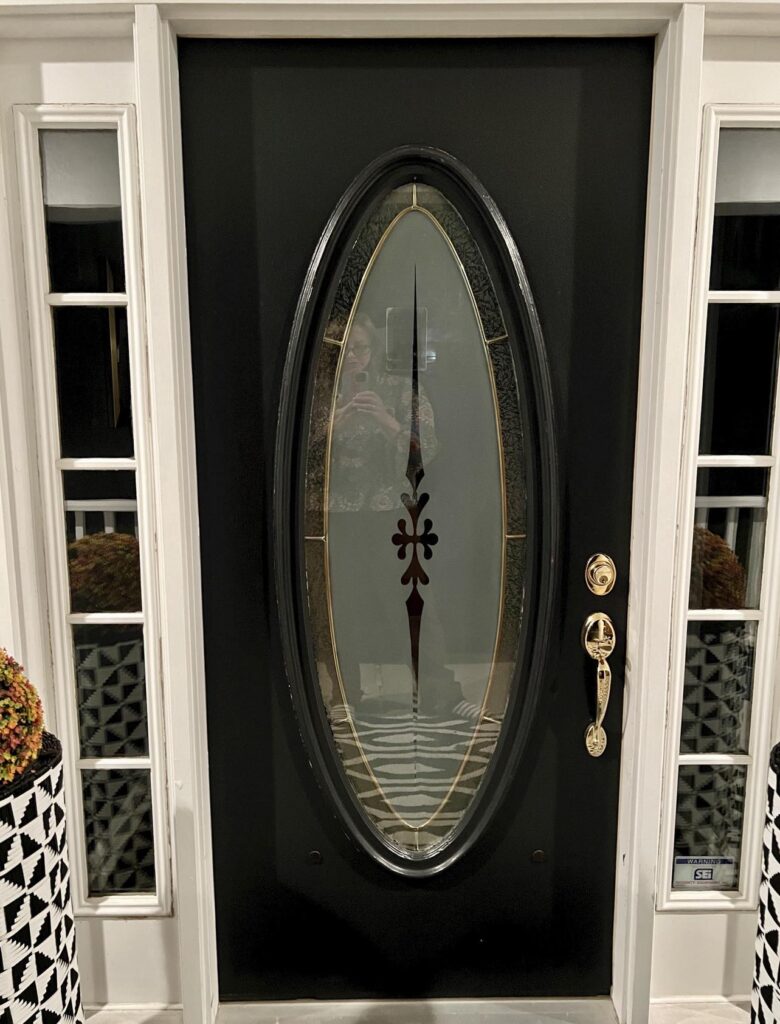 This blog contains affiliate links. This means a small commission is earned if you make a purchase by using this link. The price you pay will be the same whether you use the affiliate link or go directly to the vendor's website using a non-affiliate link. As an Amazon Influencer, I earn from qualifying purchases.
If you asked me what I don't like about our home, I would honestly be hard-pressed to come up with an answer.
I love our home and anything that I haven't liked over the years gets a little makeover.
With one exception…
Our front door.
Specifically…the center panel window insert that fills out the majority of this (dare I say?) ugly dated door.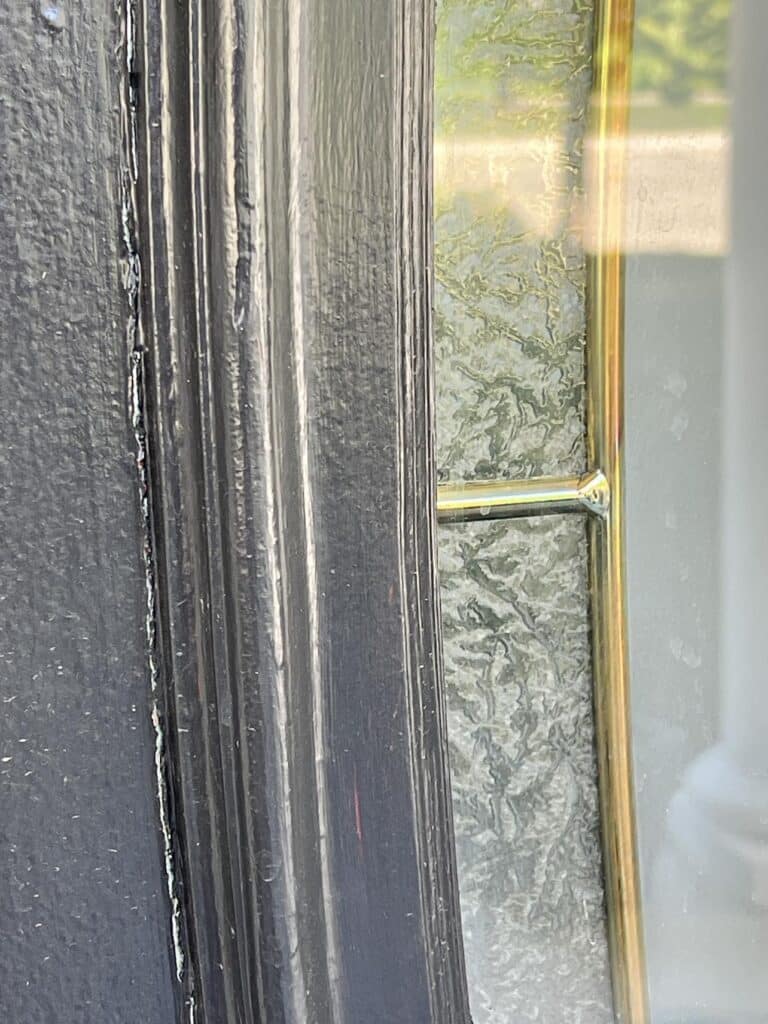 Dashed Door Dreams
This is truly just because of my own personal taste. I just don't like it.
And it is one of those design details that kind of sticks in my brain and won't let go!
Custom glass panel doors are gorgeous and there are so many glass panel doors that are absolute stunners!
But our door is not one of them.
The glass window does provide some natural light into the front entryway. But every time I look at this entry door, I am reminded that our home has some definite builder-grade features from the 1990's.
Unfortunately, an oval glass door insert can be considered one of the most dated elements of a home's exterior.
EEK!
We will probably replace it with a new door eventually but, in the meantime, I like to find ways to decorate the front door so the dated middle panel is not quite so…THERE!
​DIY Glass Door Insert Decor Guidelines
As is true of any design feature you are not wild about, disguise and deflection is the key.
Here are a few general design choices that have worked for me when trying to minimize our decorative glass insert.
Paint the door frame black or a dark paint color. (A fresh coat of paint always does wonders!)
Update the door hardware. (We are due for another upgrade.)
Keep the existing glass of the insert clean with any painted trim pieces looking neat and tidy.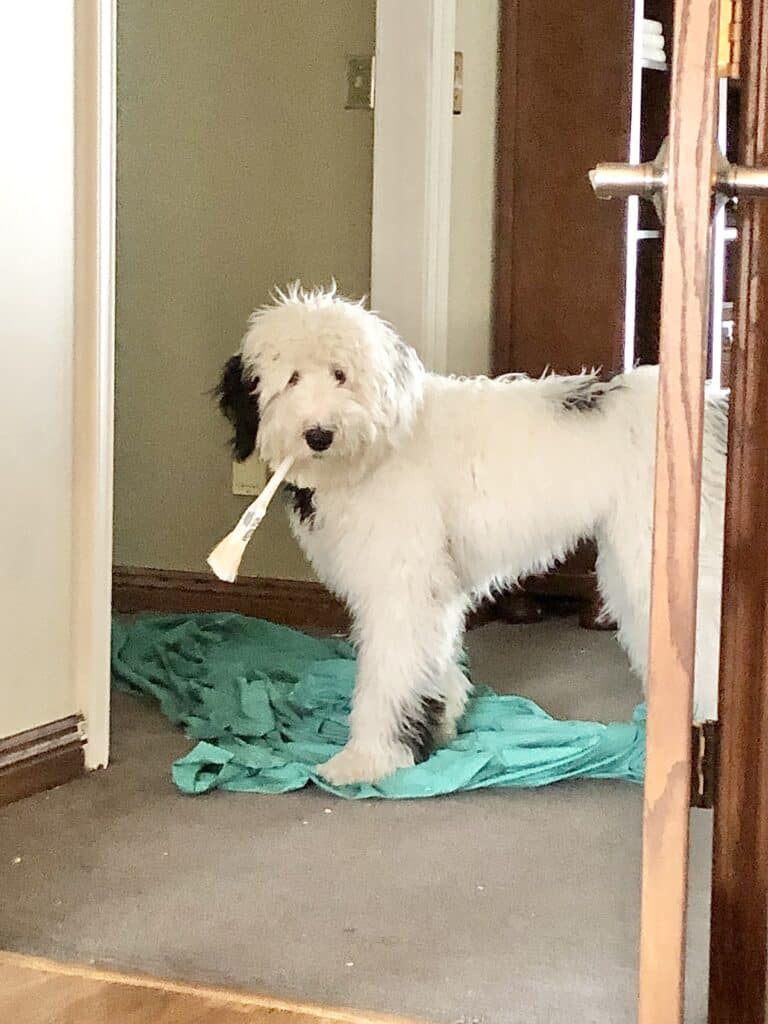 General Supplies for Hanging DIY Decor
The supplies and tools that you need for hanging decor on your glass panels will depend on the decor itself. It is possible to hang heavier objects but you want to make sure they are securely attached to the existing door and won't come crashing down. These are items that I keep in my toolbox when I decorate our glass door insert.
Clear suction hooks
Opaque suction hooks
Command Strips
Over the door hook
Utility knife
Wood glue
Painters tape
DIY Glass Door Insert Decorating Ideas
This is a compilation of five ideas that I have used to draw focus away from the door's glass insert but still give the front entrance a welcoming decor punch. These ideas will work for doors with glass panel inserts but will also work for any of these doors that just need a decorative "pick-me-up!"!
1. Make a DIY Front Door Light Sconce
​Wall sconces are usually featured on either side of a design feature like a door, fireplace, or room entrance.
Why not create a sconce for the center of the front door?
This is a project I saw on TikTok and loved the premise of it. Tissue boxes turned into a wireless light sconce for the door!
I connected four woven rattan tissue box covers and added puck lights to the inside. 
A basket-style tissue box works best for this project because of the open edges through which a good amount of light can shine.
During daylight hours, the woven rattan is a great textural addition to the door.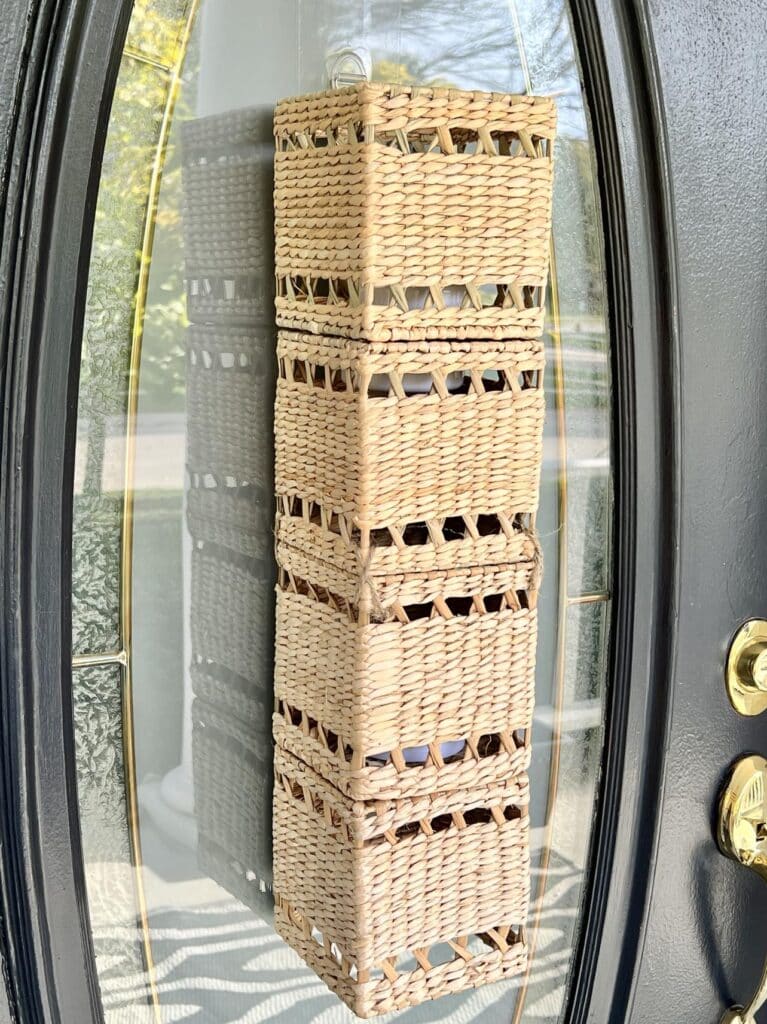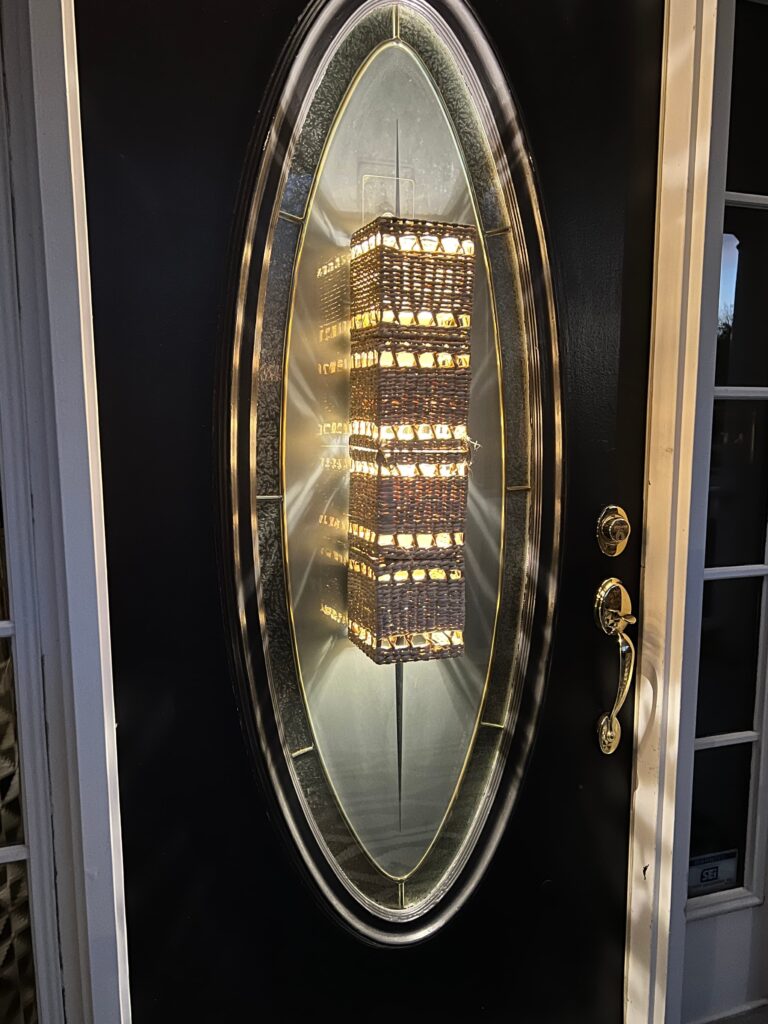 And, at night, an easy click of the remote control gives us instant light for the front entrance.
This project was constructed in about 10 minutes and is now a very cool and dramatic light feature for the front porch.
2. Hanging Basket Decor
A hanging basket is always a good idea!
Pick the Perfect Basket Start by choosing a vertical hanging basket that complements your door's style and color. Make sure it's tall enough to hold the faux floral stems and any other decorative items you'd like to add.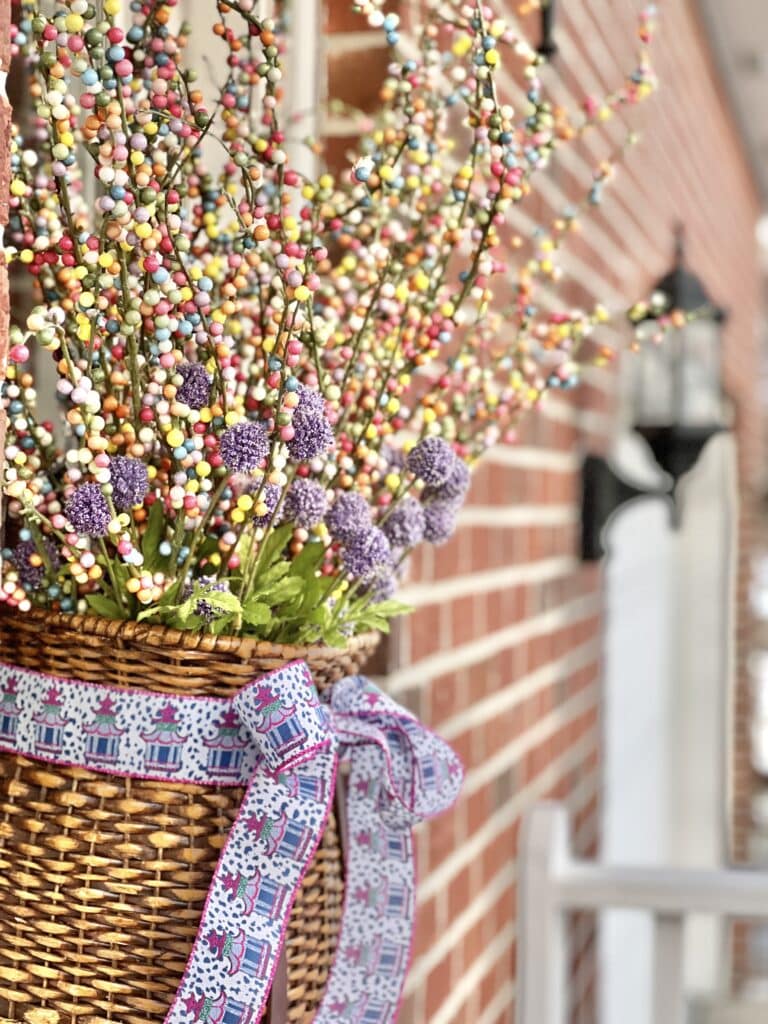 Basket Prep (Optional) – If your basket has gaps or an open weave, you might want to line it with floral foam to hold everything securely. Skip this step if your basket is solid.
Trim Those Stems – Grab your wire cutters and trim your tall faux floral stems to your preferred height. Remember, the height should work well with your basket and the look you're aiming for. Leave them long enough to peek out well above the basket.
Get Creative with Arrangement  – Now comes the fun part! Arrange the trimmed faux floral stems in your basket. You can go for a balanced or more asymmetrical look, depending on your style. Keep adjusting until you're happy with how it looks.
Secure the Stems – To keep those stems in place, you can use floral foam, hot glue, or even stuffed pieces of paper. With floral foam, insert it into the basket and then push the stems into it. If you're using hot glue, put a dab of glue on the base of each stem and press it into the basket. Be careful not to go overboard with the glue, so it doesn't show.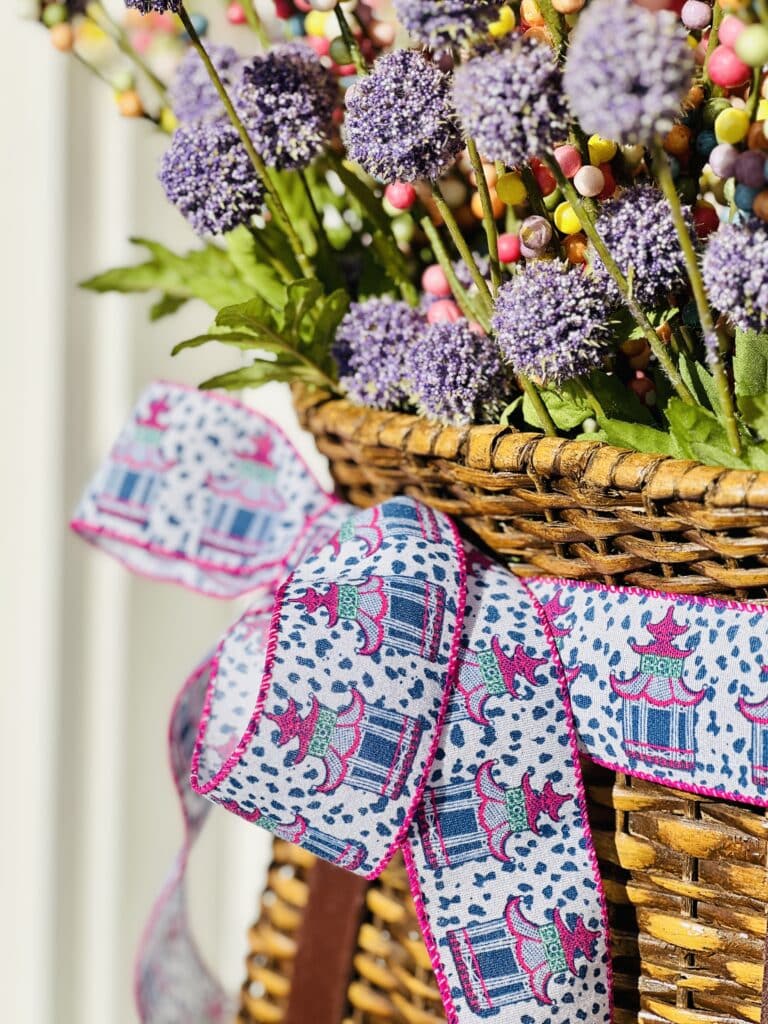 Add Some Extra Flair – To make it even more beautiful, consider tying a decorative ribbon or twine around the basket's handle or attach a seasonal ornament. This step is all about your personal style and what makes you smile.
Hang It Up! – Finally, it's time to show off your creation. Hang your charming basket on your front door using an over-the-door hook or attach a sturdy hanger to the back of the basket for easy installation.
3. Fabric Wall Banner
Hanging a vertical banner on your front door is a simple way to add a welcoming touch to your home and the vertical length of a banner can cover a large portion of a door that you want to cover.
You can use a banner, a vertical flag, or even a sturdy table runner.
This banner contains famous Parisian landmarks in bold and graphic text lettering. It is the perfect length when I want to cover the insert and and dramatic enough to be easily seen from the street.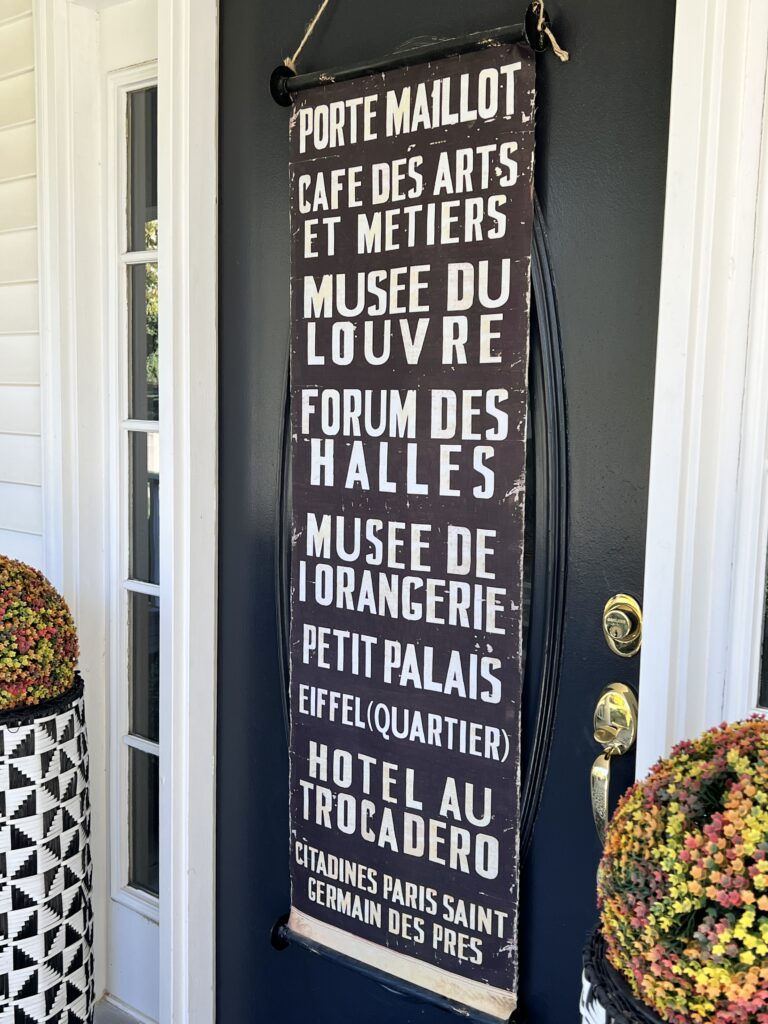 To hang it, I used an adhesive hook that is attached to the inner top of the other side of the door. Depending on the size of your banner, you could also use an over-the-door hanger. The hardest part was making sure that the hook was centered so the banner was level.
I secured the bottom of the banner to the door with small felt furniture pads and a tiny dab of hot glue. Now the door has a soft closing without the banner moving around.
 Adjust the banner so it hangs straight, and you're all set! It's a quick and effective way to make a statement and add a dash of personality to your front entrance.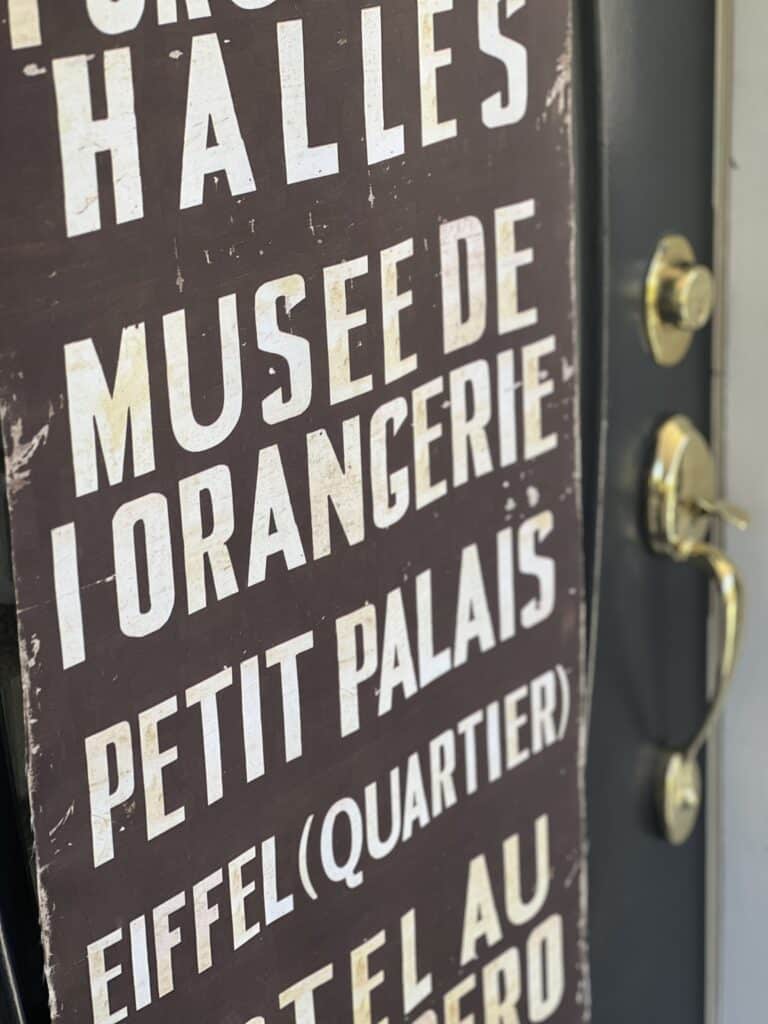 4. Hang a Handbag
Put your fashion style stamp on the front door!
The first step is to take a good look in your closet and see if you have a larger handbag or totebag with handles. 
​Go on…dig a little!
Find a large handbag, fill it up, and hang it on your front door's glass insert as decor!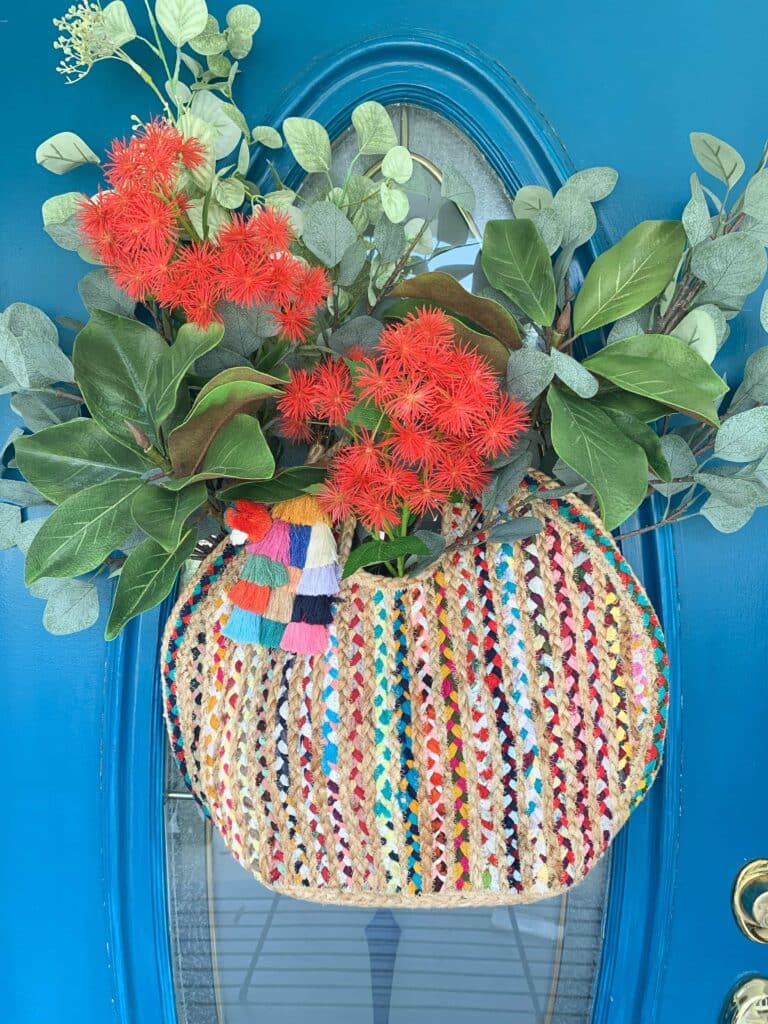 How fun it is to repurpose a handbag into DIY decor for your glass door opening!
The next step is to gather faux flowers and greenery and treat the handbag like any other basket or vas. Take the extra step and add other textural embellishments like this fun boho tassel.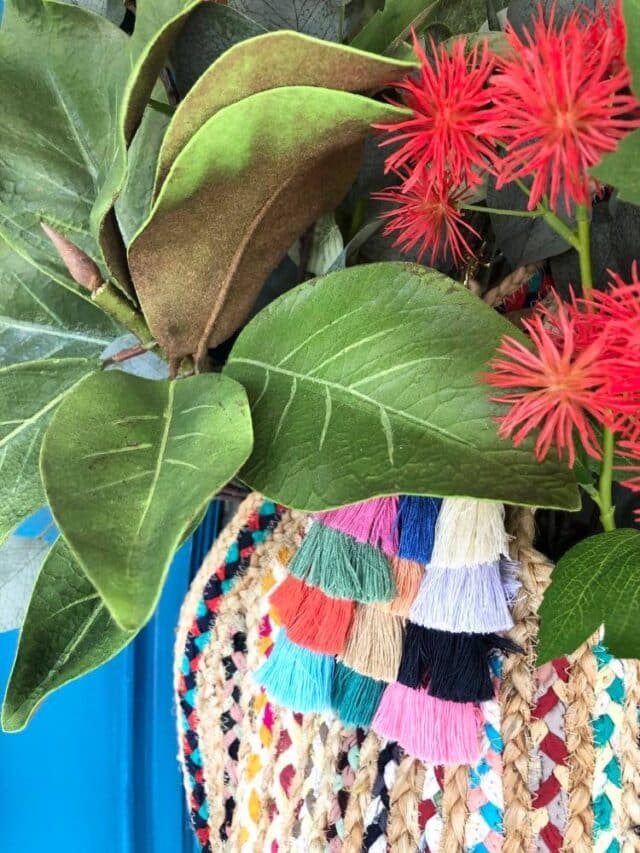 5. Vertical Metal Signs
When you find something that works, use it!
​My daughter discovered this vertical "hello" sign on Etsy and I fell in love! I have since given it as a gift and finally decided I needed one myself!
It fits perfectly within the inner frame of the glass insert and almost looks like it was welded into the door's window frame. This gives the entire door a custom look and I love the simple and friendly greeting.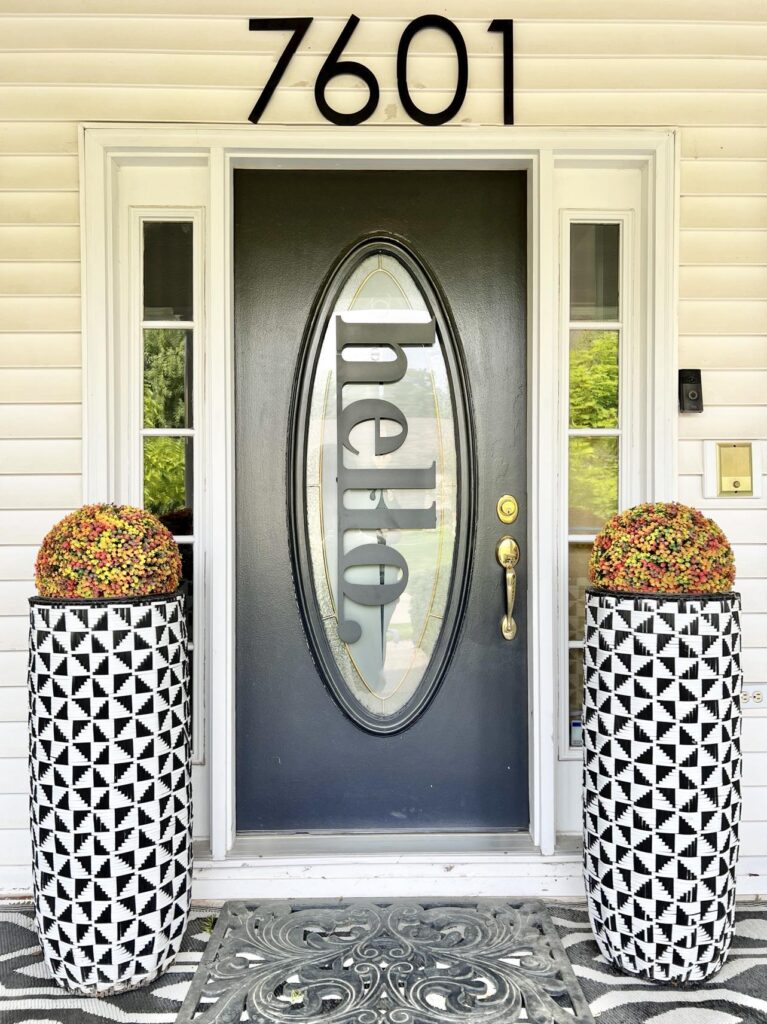 It is almost like we have a new front door!
The top of the sign has a sawtooth hanger that easily hangs from an adhesive hook.
However, then the door would open, and the sign would swing from side to side.
Yikes! Not the front door welcoming experience that I want for guests.
This was easily solved by sticking round felt pads to both the bottom of the sign and the glass touchpoint. A little hot glue between the two pads and the sign was secured.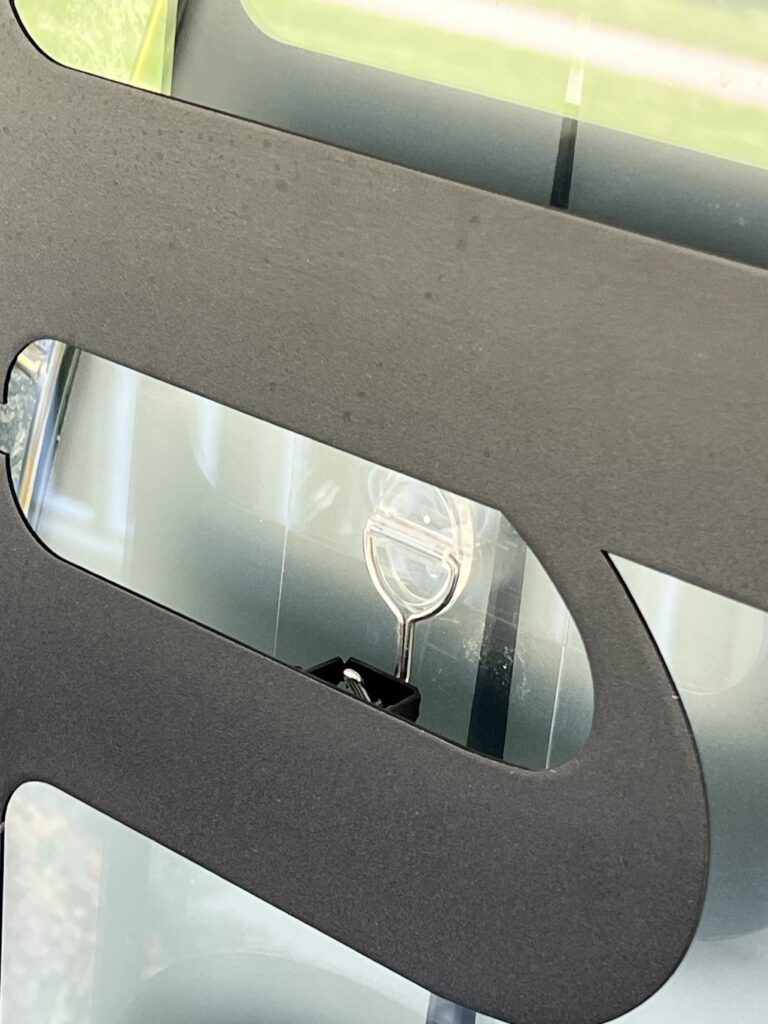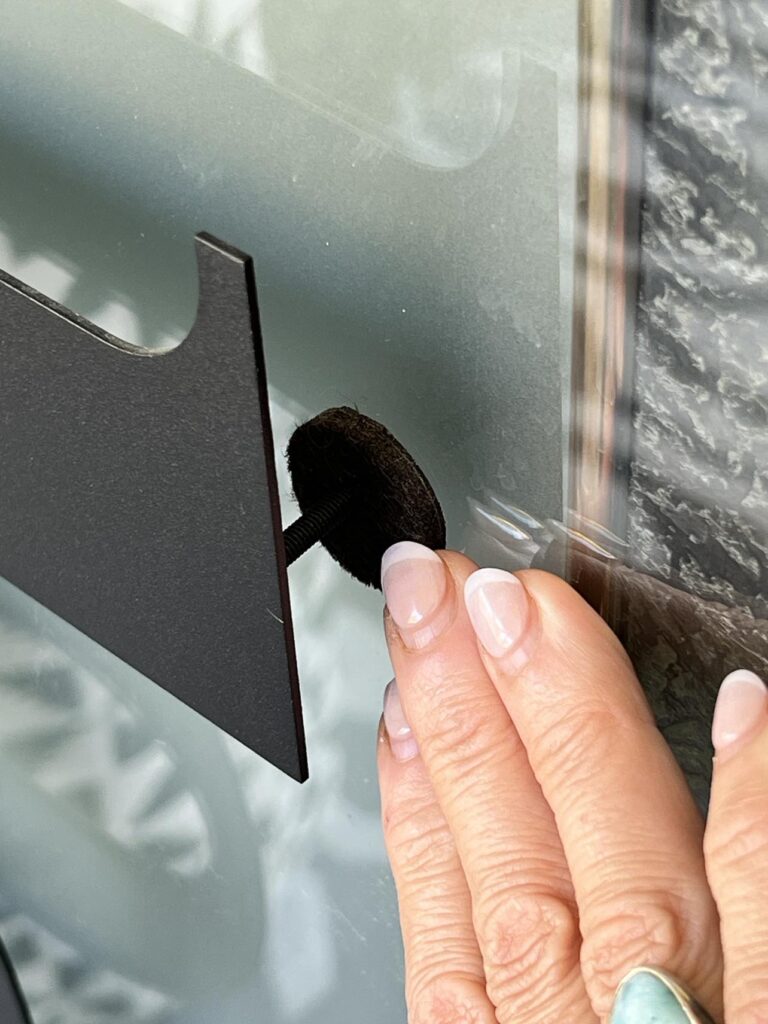 Now the sign's edges have straight lines and there is no sign swinging here!
This metal sign also comes in a "Cheers" version and it is definitely on my wish list!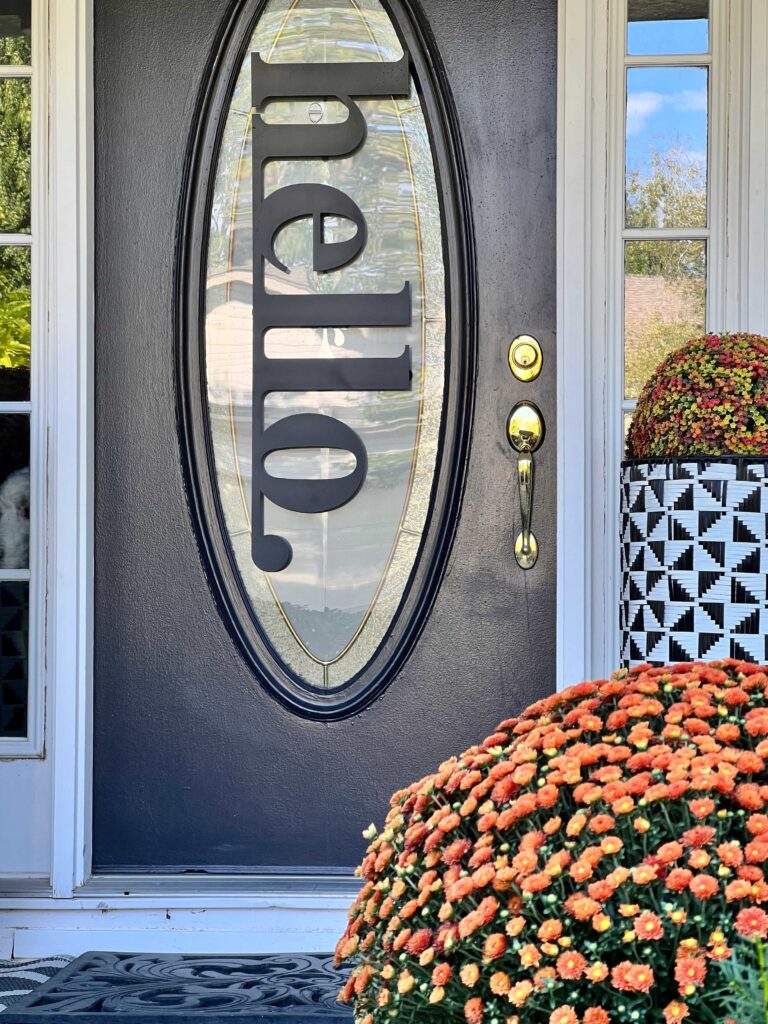 More DIY Decor Ideas for Your Door's Glass Insert
Here are a couple of bonus ideas for bringing some welcoming impact to your front door!
Hang a Lantern
Find a lantern with a flat backside and fill it with florals or a battery-operated candle!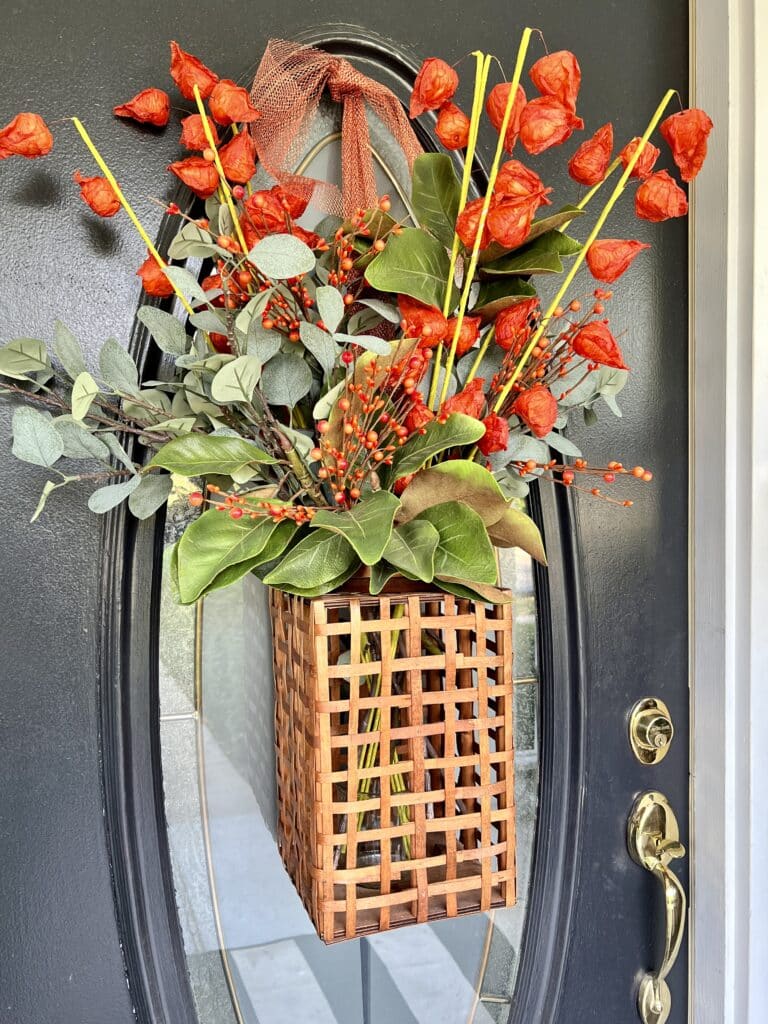 While you still see the glass insert of the door, the attention is more focused on the beautiful lantern florals!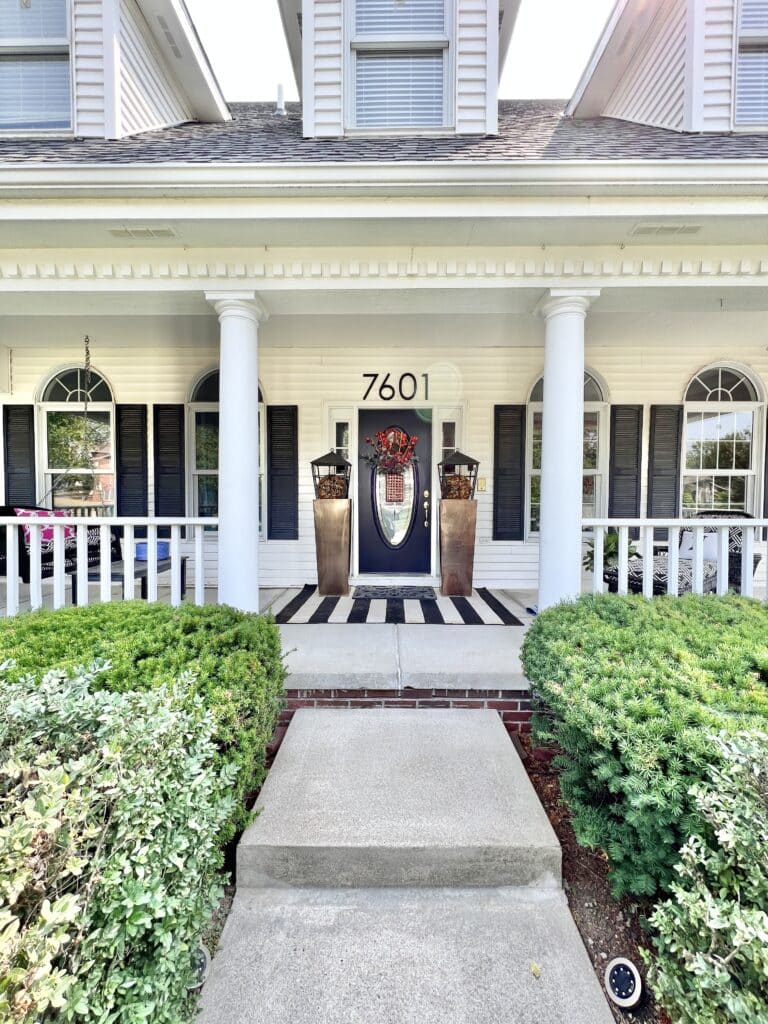 Don't Forget the Holidays!
You can never go wrong in hanging seasonal holiday decor!
This abstract painted canvas project is colorful, bold, and draws attention to where it needs to be!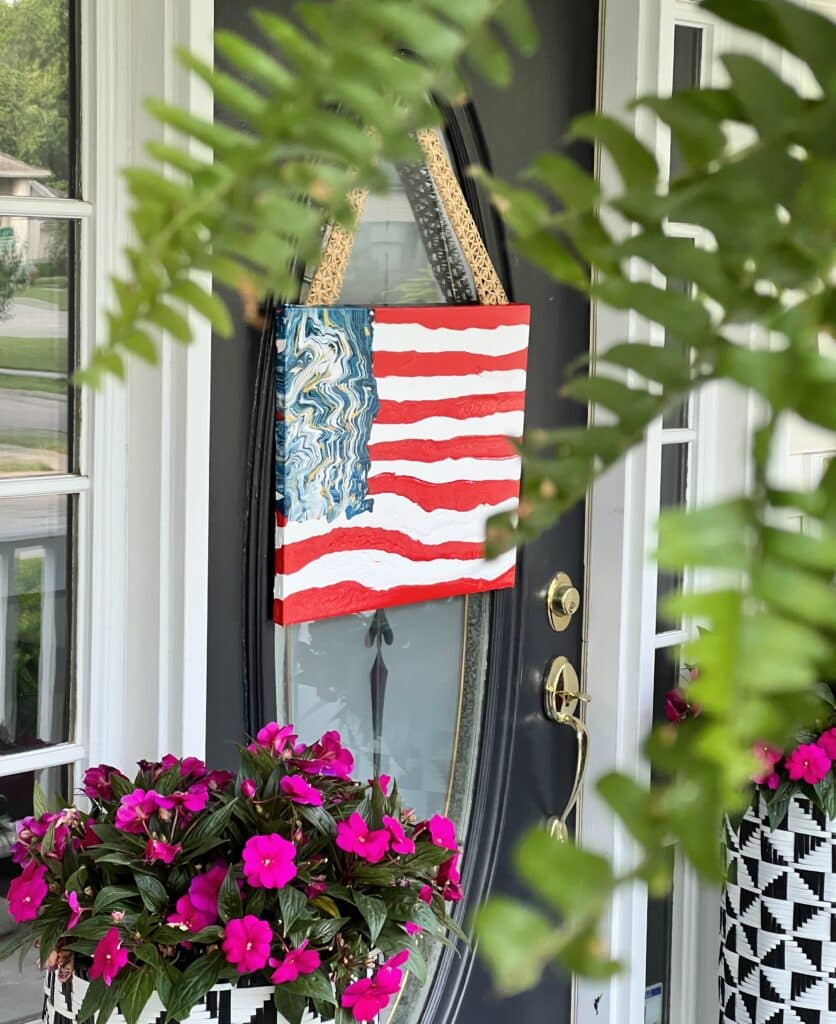 Front Door Impact

Now you have five fantastic ways to elevate the look of your front door's glass insert and give your home an extra dose of charm!
From the warm and inviting glow of a DIY wireless light sconce to the natural beauty of a basket filled with faux florals, and the personalized touch of a wall art banner, a repurposed woven handbag, and a sleek metal vertical sign – this is just the beginning of the possibilities!
These projects let you put your unique spin on your home's first impression and can make a huge difference in setting the stage for a warm welcome. Time to transform your front door into a true reflection of your style and personality!
Cheers!

Don't Forget to Pin It!
Pin the image below to your boards on Pinterest (just click the Pin button in the top left corner). You can also follow along with me on Pinterest!
More DIY to Love
The Best Way to Restore Outdoor Pathway Lights
An Easy DIY File Cabinet Makeover