How to Make Brown Jug Cheese Soup: Hearty Comfort Food
Jump to Recipe

If you're a fan of comforting and hearty soups, you're in for a treat! Today, I'm sharing one of my favorite recipes for Brown Jug Cheese Soup. This soup is not only delicious but also comes with an intriguing history.
Plus, I'll share some menu items that pair perfectly with this cozy dish. So, roll up your sleeves and get ready to embark on a culinary adventure that will warm your heart and satisfy your taste buds!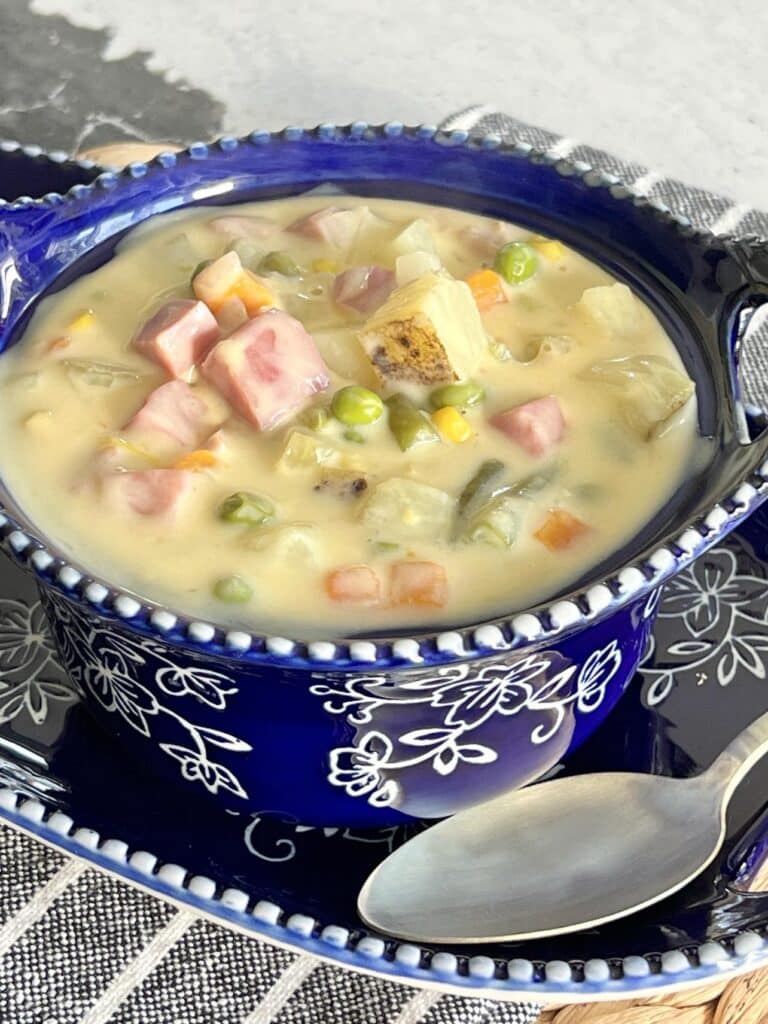 This blog contains affiliate links. This means a small commission is earned if you make a purchase by using this link. The price you pay will be the same whether you use the affiliate link or go directly to the vendor's website using a non-affiliate link.
It is officially the "Season of Soup" around here!
The temperature has dropped, the leaves are changing color and I am snuggling into my favorite hoodie sweaters!
How long does the "Season of Soup" last?
Well, in our household, it is actually a year-round season. We love soup!
But there are certain soups that just seem perfect for certain times of year.
This Brown Jug Soup recipe is one of my FAVORITES for fall and winter!
What could be cozier than a creamy yet chunky cheesy potato soup with loads of chicken flavor and chock full of ham and vegetables?
The History of Brown Jug Soup
Before we dive into the recipe, let's take a moment to appreciate the rich history of Brown Jug Soup. This soup has its origins in the American South, particularly in the Appalachian region. It's a simple yet flavorful concoction that reflects the resourcefulness and creativity of the people who made the most out of what they had.
The name "Brown Jug Soup" is said to come from the humble origins of this dish. It was often cooked in a large brown ceramic jug or crock, which was a common household item in the area.
 People would gather whatever ingredients they had on hand, typically potatoes, vegetables, and meat scraps, and simmer them in the jug to create a nourishing meal.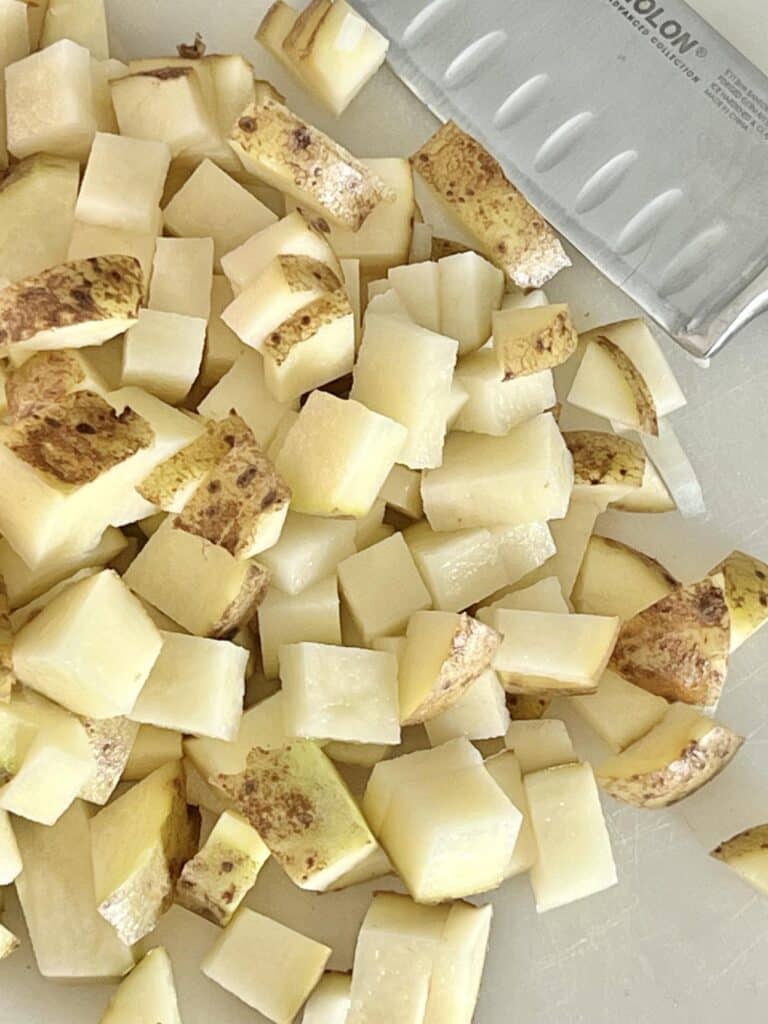 Over time, Brown Jug Soup became a beloved comfort food, cherished for its simplicity and heartiness. It's the kind of dish that warms your soul on a cold winter's day and brings back memories of family gatherings and cozy evenings by the fireplace.
Yes, my family has actually eaten this soup sitting by the fireplace!
My version of the soup has a potato soup base with the added taste of chicken, ham, and cheese!
Bonus: This soup serves a LOT of people!
Ingredients for Brown Jug Soup
Now that we've delved into the history of this delightful soup, it's time to roll up our sleeves and get cooking. Here's what you'll need to make a batch of Brown Jug Soup:
Ingredients:
6 cups of water
4 tsp. chicken bouillon (or 4 cups of chicken broth)
3 cups cubed potatoes
1 1/2 cups chopped celery
1 1/2 cups chopped onion
20 oz. frozen mixed vegetables
2 cans cream of chicken soup
1 lb. Velveeta cheese
3 cups cubed ham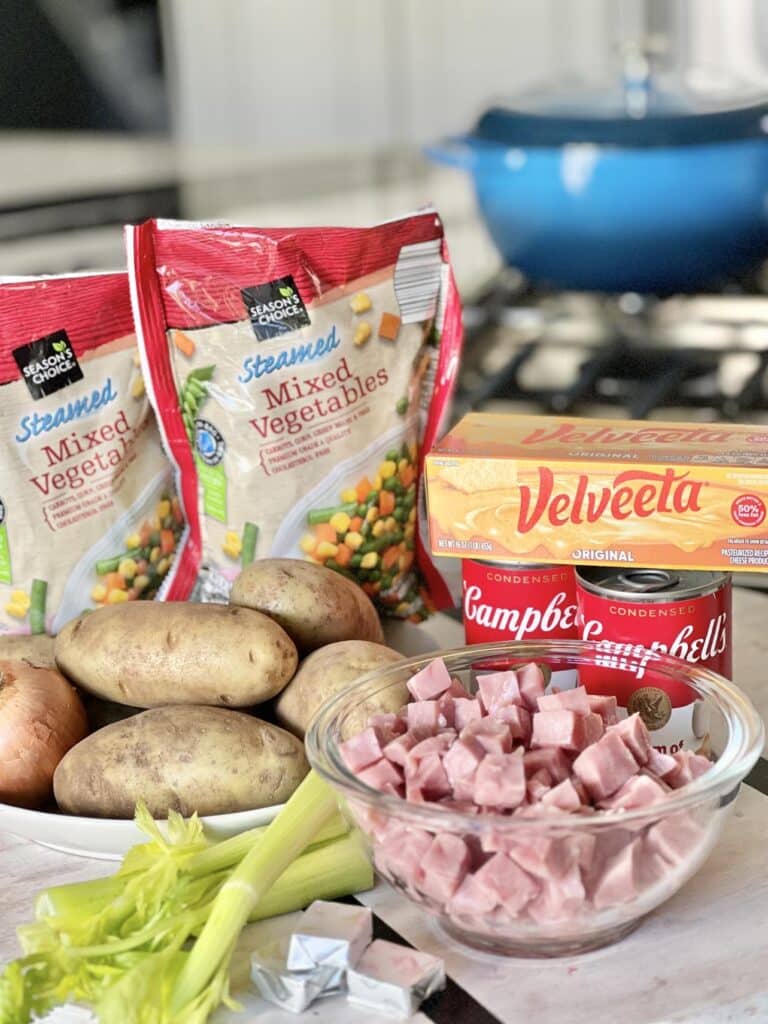 This recipe uses lots of Velveeta cheese. It makes for a rich and creamy soup and it melts so quickly and smoothly!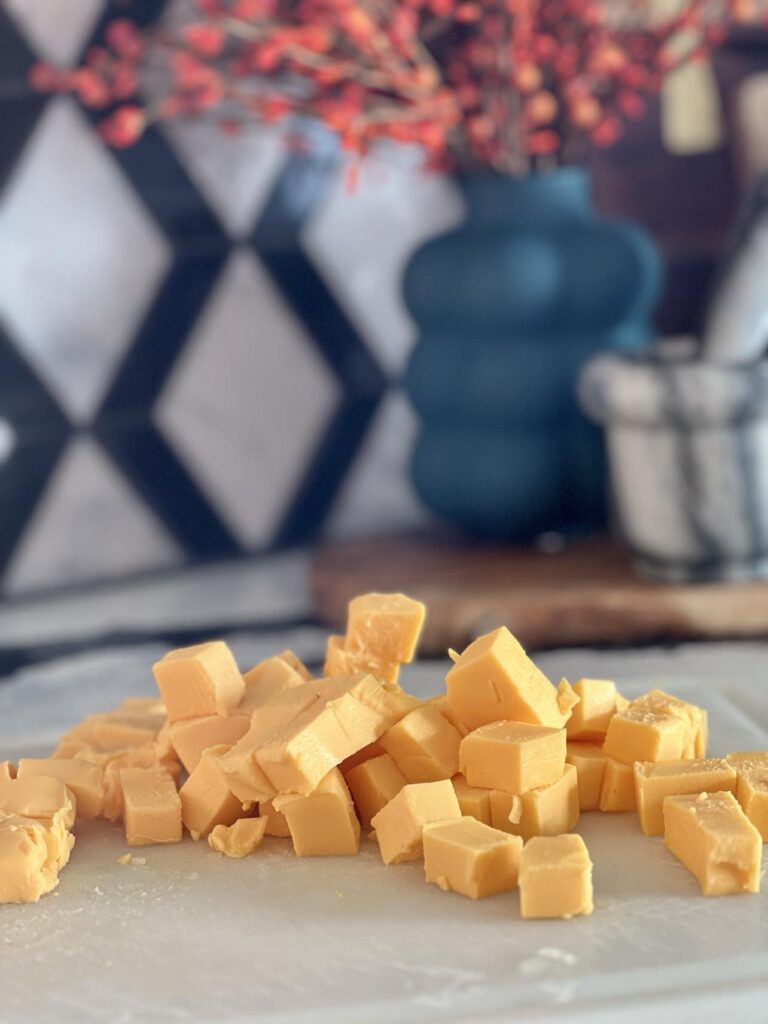 Instructions for Making Brown Jug Soup
Combine the water, chicken bouillon cubes, potatoes, celery, mixed vegetables, and onion in a large soup pot or slow cooker.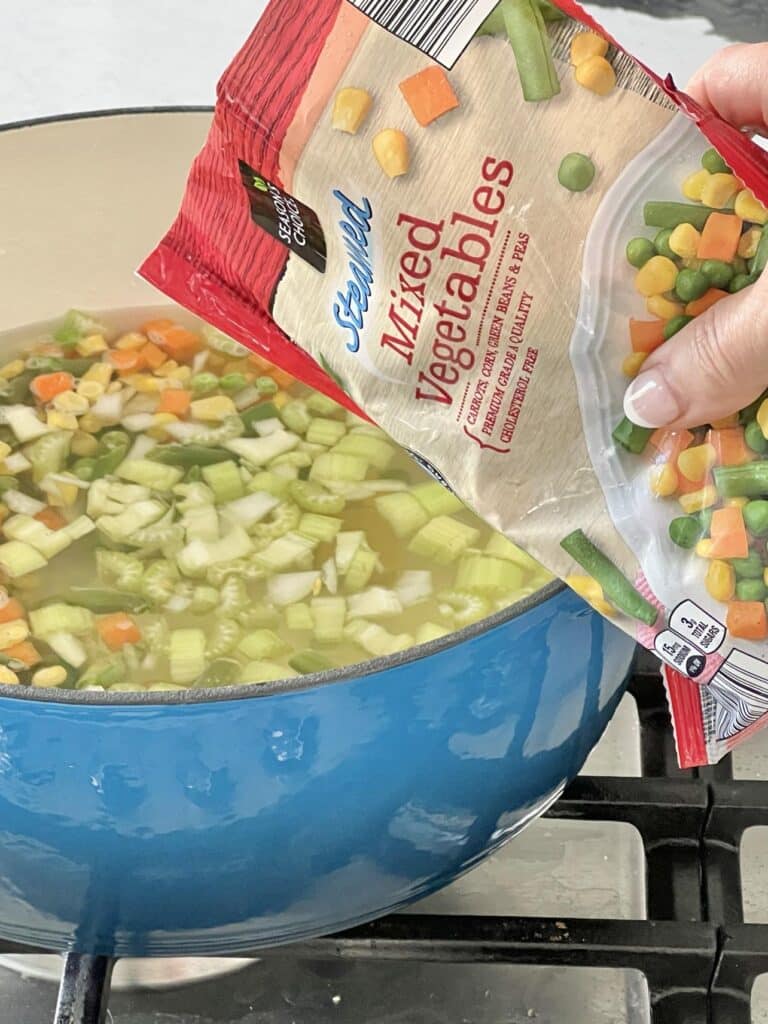 Cook for 20 minutes over medium heat or until the potatoes are tender. Add the cream of chicken soup, Velveeta cheese, and cubed ham.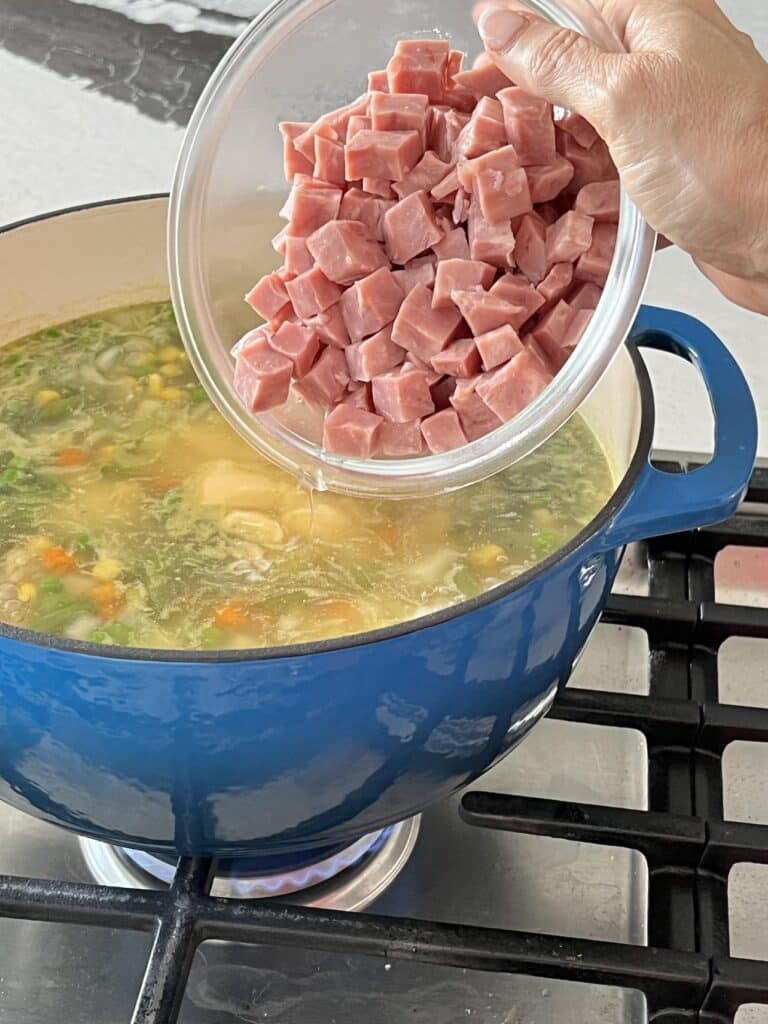 Continue to cook over medium heat stirring continuously until the cheese melts and the soup is smooth.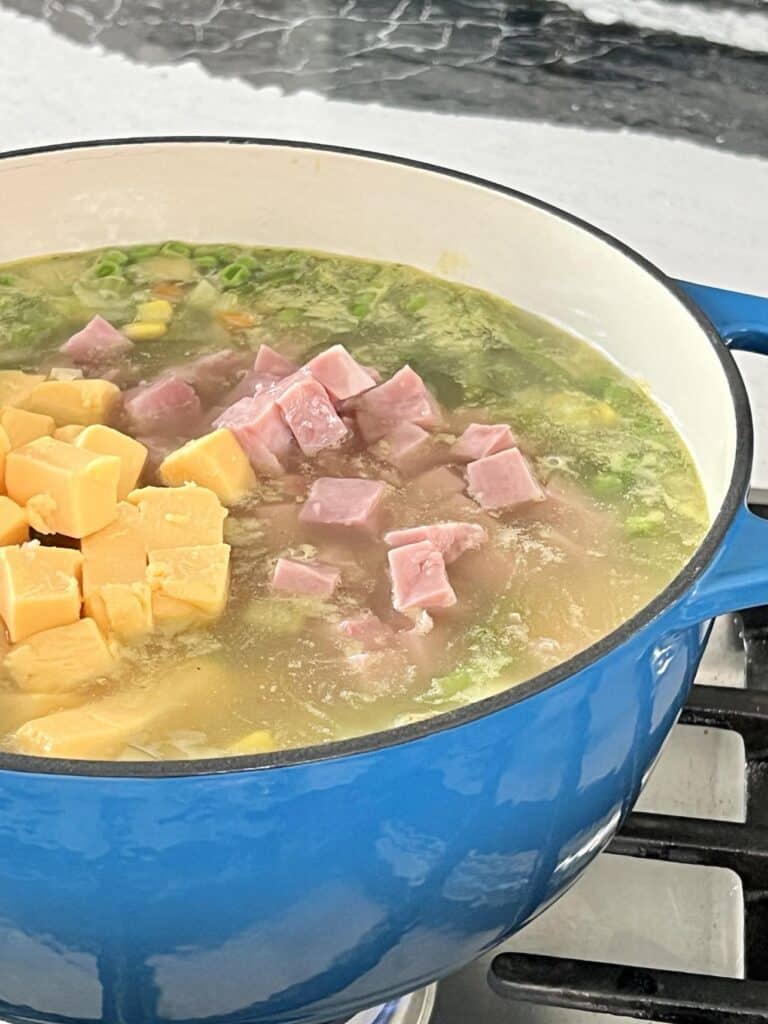 If using a crock pot, heat on low heat for 4-6 hours.
Serve your Brown Jug Soup hot, preferably in a large bowl with a big spoon!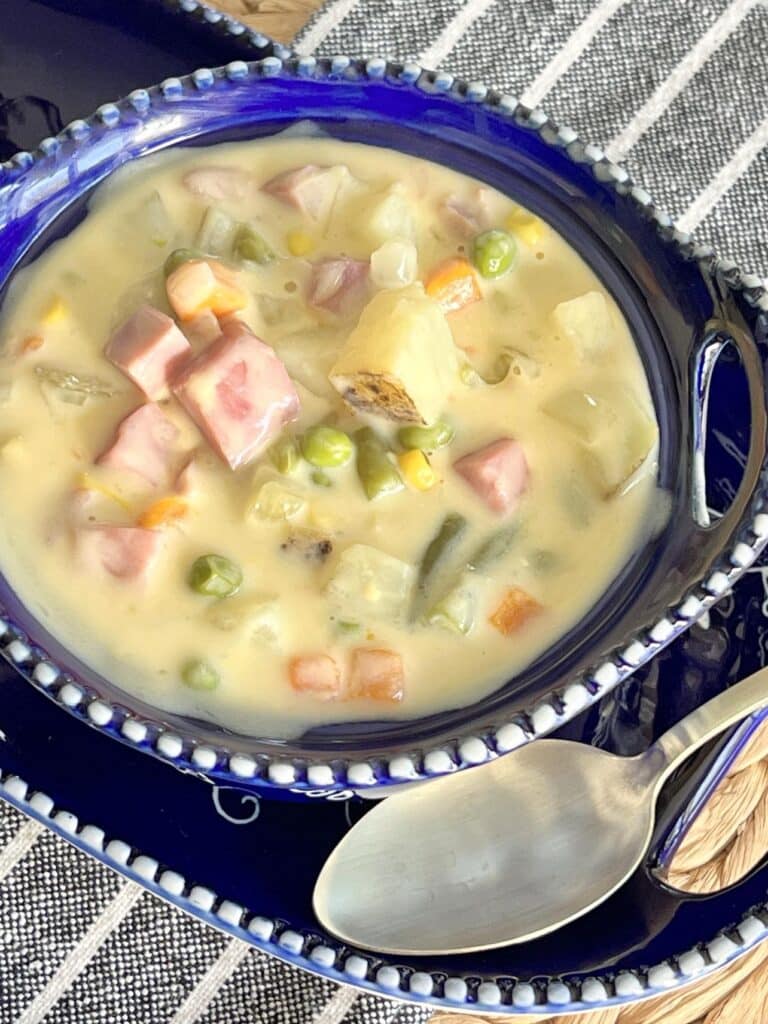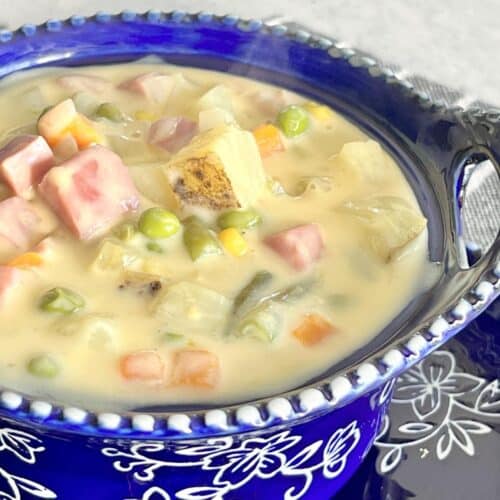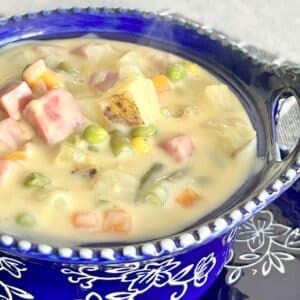 Brown Jug Cheese Soup
This delightful soup is a warm embrace in a bowl, featuring a creamy potato soup filled with savory ham, vegetables, and the irresistible creaminess of melted cheese.
Equipment
1 pot or crockpot

1 knife

1 cutting board
Ingredients
6

cups

water

4

tsp.

chicken bouillon (dry)

3

cups

potatoes, cubed

1 1/2

cup

celery, chopped

1 1/2

cup

onion, chopped

20

oz.

mixed vegetables

2

cans

cream of chicken soup

1

lb.

Velveeta cheese

3

cups

ham, cubed
Instructions
Cook the water, bouillon, potatoes, celery, onion, and mixed vegetables over medium heat for 20 min. or until the potatoes are tender.

Add the soup, cheese, and ham to the mixture.

Cook until the cheese is melted and the soup is smooth.

If using a crockpot, combine all the ingredients and cook for 4-6 hours over medium heat.
Menu Items to Serve with Brown Jug Soup
Brown Jug Soup is a meal in itself, but it pairs wonderfully with various accompaniments to make it a well-rounded and satisfying dining experience. Here are some menu items that complement this hearty soup perfectly:
1. Crusty Bread:
A loaf of crusty bread, whether it's a baguette, sourdough, or hearty whole-grain bread, is an excellent choice to serve alongside your Brown Jug Soup. Slice it up, toast it, or simply tear off chunks to dip into your soup.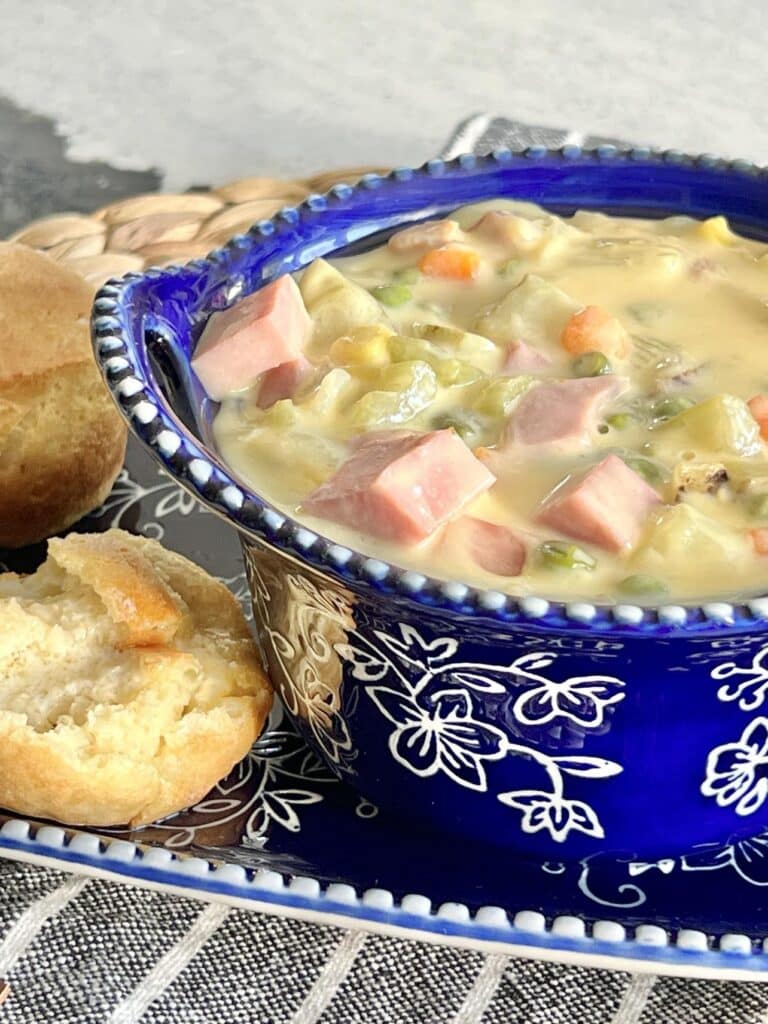 Feeling fancy? Serve this delicious bruschetta recipe with your soup.
2. Mixed Green Salad:
Balance the richness of the soup with a fresh and crisp mixed green salad. Toss together some fresh lettuce, cherry tomatoes, cucumber, and your favorite salad dressing for a refreshing side dish.
Or serve a salad that has a sweet and savory flavor like this Bacon Broccoli Grape Salad.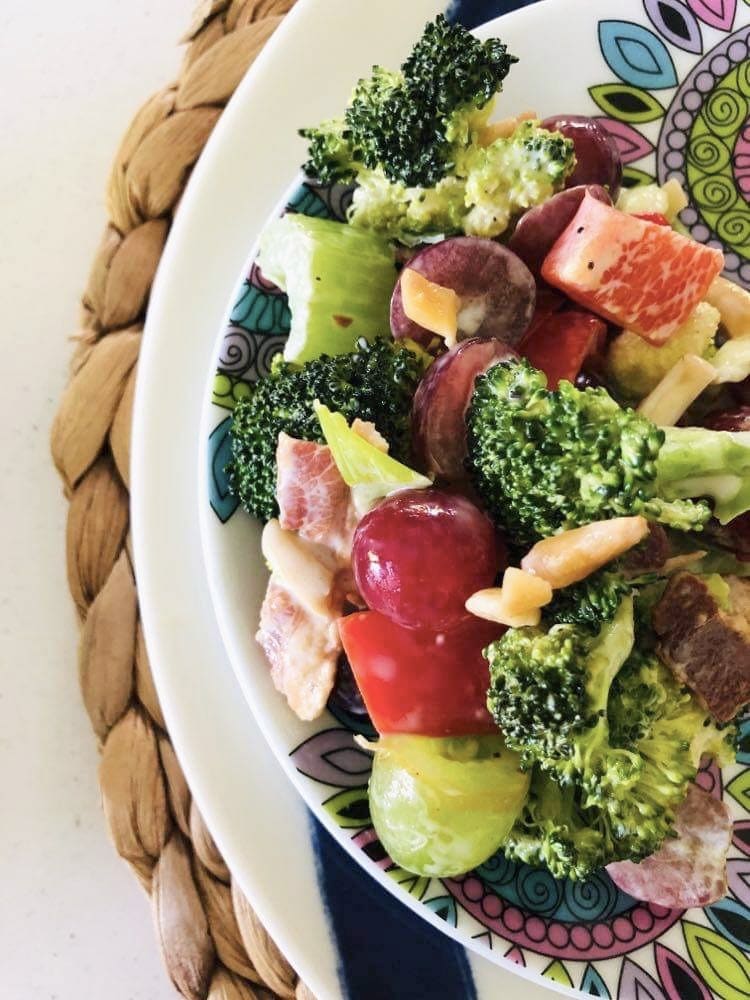 3. Popovers
Cornbread and soup are a classic Southern combination. The slightly sweet and crumbly texture of cornbread complements the savory flavors of the soup beautifully.
4. Spicy Sausage Muffins
Homemade spicy sausage muffins are a great option for breakfast but are a fantastic addition to your Brown Jug Soup. Their spicy kick will have everyone reaching for seconds.
5. Dessert – Chocolate Symphony Brownies
Finish your meal on a sweet note with a scrumptious chocolate Symphony Brownie topped with a scoop of vanilla ice cream. The combination of toffee chocolate and creamy ice cream is a true comfort food indulgence.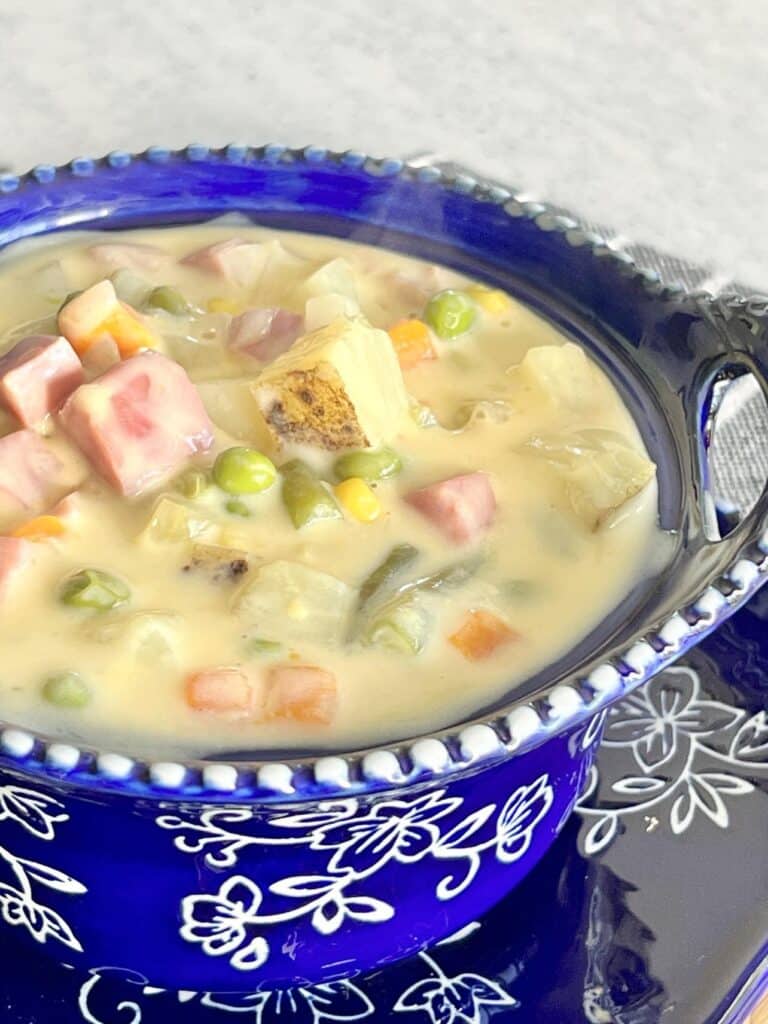 How Do I Store Brown Jug Soup?
Brown Jug Soup can last several days in the refrigerator for several days in a covered container. In fact, I love this soup as a leftover!
I would advise against freezing the soup as the texture of the potatoes will change with the freezing process.
But you won't have any problem eating this up in no time!
Soup's On!
Brown Jug Soup isn't just a meal; it's a warm embrace for any cold-weather meal. With its humble beginnings and mouthwatering flavors, this Southern classic has won hearts for generations. And now, you've got the keys to recreate this heartwarming favorite in your very own kitchen.
So, gather your ingredients, put on that trusty apron, and get ready to fill your home with the irresistible aroma of Brown Jug Soup as it simmers away!
Cheers!

Don't Forget to Pin It!
Pin the image below to your boards on Pinterest (just click the Pin button in the top left corner). You can also follow along with me on Pinterest!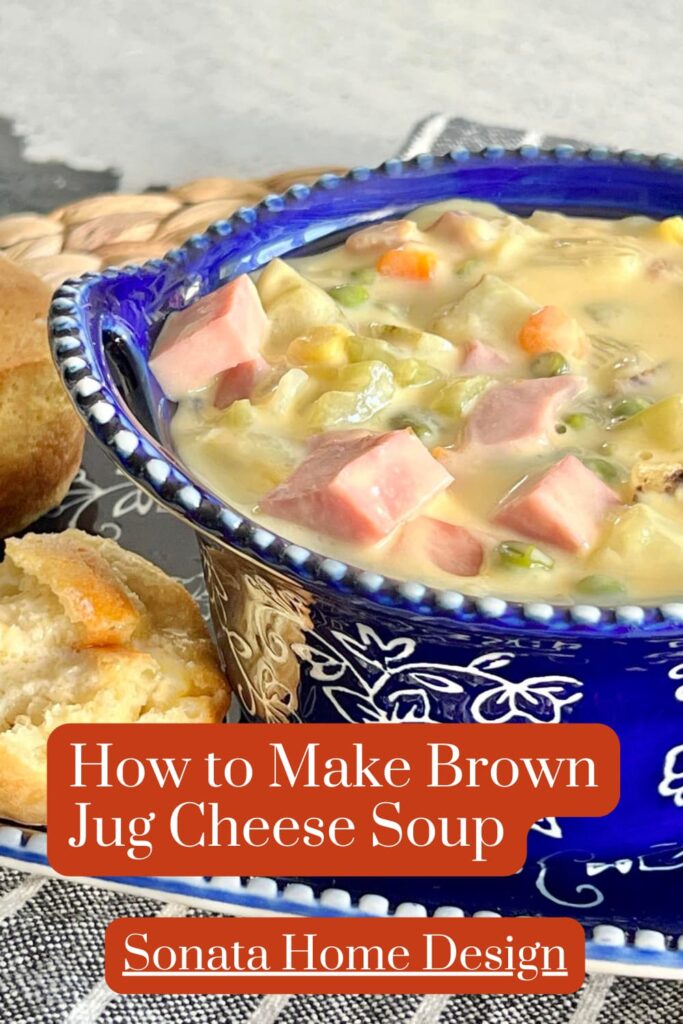 Mouth Watering Recipes
Melt in Your Mouth Chocolate Trifle