The Best One Pan Breakfast Egg Sandwich Recipe
Jump to Recipe
Breakfast on the go doesn't have to be boring! Start your day off right by making this easy and delicious one pan breakfast sandwich! It only takes one pan and a few minutes of your time!
Our household loves this yummy egg sandwich in the morning. Actually, we love it any time of day!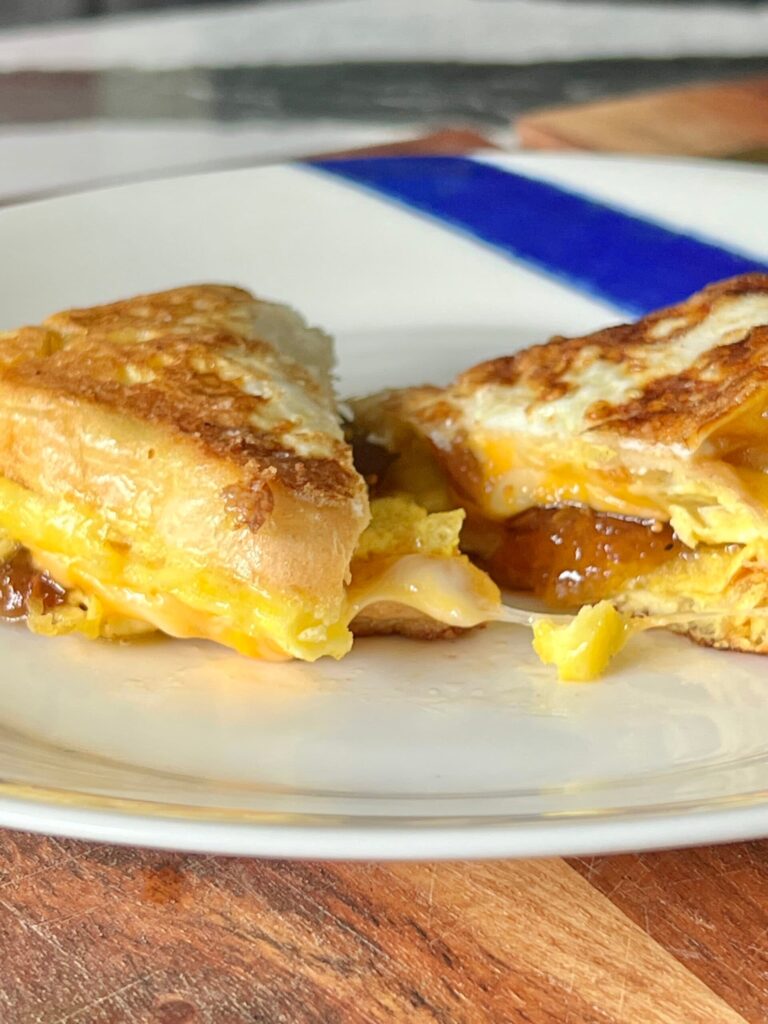 This blog contains affiliate links. This means a small commission is earned if you make a purchase by using this link. The price you pay will be the same whether you use the affiliate link or go directly to the vendor's website using a non-affiliate link.
It's back to school time!
Even though my kids have flown the nest and I am enjoying my post-teaching retirement, I still seem to live my life based on the school calendar.
Back-to-school includes new school supplies, a wardrobe transition, and a new morning routine with a quick breakfast!
Nothing says "good morning" quite like a warm and delicious breakfast sandwich!
Cereal is just going to have to take a back seat to this sandwich that has eggs, cheese, and a "sweet" surprise!
If you're like most people, trying to balance work, school, errands, parenthood, etc., and having time to make homemade breakfast sandwiches can seem near impossible.
No need to stop at a fast food joint. I can make this breakfast sandwich in 10 minutes…and it tastes delicious!
That's why I'm sharing my special twist on the viral TikTok breakfast sandwich. Just grab your spatula (and appetite!) and get ready for some scrumptiousness. Bon Appetit!
Simple Ingredients
The beauty of this easy recipe is that it uses simple ingredients and uses just one pan!
You can make it even quicker by gathering and prepping your ingredients first.
Slices of bread, eggs, and cheese are the base ingredients with a sweet little twist in the form of sweet jam and cheese.
As part of your prep, you will need a pan, a whisk, a dish, and a spatula. Set the pan out the night before and breakfast is a breeze!
Making Your Perfect Breakfast Sandwich
Once your pan and ingredients are gathered, whisk your eggs in a shallow dish and add a little salt and black pepper. Take a bread slice and cut it in two. Then, place the pieces of bread face down in the egg mixture.
Preheat your skillet on low heat and melt a tablespoon of butter. If your pan is too hot, the eggs will cook too quickly.
Pour the whisked eggs into the pa. Immediately, nestle the pieces of bread on top of the egg mixture right next to each other with the egg-coated side facing up.
When the eggs look set, use a wide spatula to flip the whole thing over. With your spatula, fold over the excess cooked egg inward and onto the bread.
Now the fun begins as you add ingredients of your choosing. At a minimum, add cheese! Even better, I like to include a dollop of jam for a sweet, savory cheese breakfast sandwich.
After a minute or so, flip on half of bread onto the other half and let cook until you see melted cheese oozing out of the sandwich. Oh my goodness! So yummy!
Breakfast Sandwich Variations
How do you like your eggs? Whatever you like to add to your usual eggs, you can probably add to this sandwich! Here are some ideas:
Use English muffins instead of white bread
Add crispy bacon, breakfast sausage, or Canadian bacon to the middle of the sandwich before you flip the bread half over.
Include some fresh vegetables like spinach or tomato in the middle of the sandwich.
Slip in an avocado slice or two.
A little hot sauce will give your egg sandwich a kick!
The sharper the cheese…the sweeter the jam.
Try some of these amazing cheese and jam flavor combinations!
Fig Jam and Cheddar Cheddar Cheese
Cranberry Jam and Brie Cheese
Tomato Jam and Mozzarella Cheese
Citrus Marmalade and Gouda Cheese
Pepper Jam and Provolone Cheese
Is an egg sandwich healthy for breakfast?
An egg sandwich can be a relatively healthy option, depending on how it's prepared and what ingredients you use. Eggs are a good source of protein, vitamins, and minerals, and they can be a nutritious addition to your diet. However, the overall healthiness of an egg sandwich depends on factors such as the type of bread, toppings, and cooking methods you use. Here are some things to consider:
Bread: Opt for whole grain or whole wheat bread instead of white bread. Whole grains provide more fiber and nutrients, helping you feel full and satisfied.
Eggs: Eggs themselves are a good source of protein and essential nutrients. However, cooking methods matter. For this sandwich, stick to one or two tablespoons when prepping the pan.
Toppings: Load your sandwich with fresh vegetables like sauteed spinach, tomatoes, and bell peppers to add vitamins, minerals, and fiber.
Portion Size: Pay attention to portion size. This recipe uses just one slice of bread so the portion size is smaller.
Nutritional Balance: Aim for a balanced meal by including a variety of nutrients. Cheese adds calcium while avocado slices are a healthy fat.
Sodium: Be cautious about the sodium content, especially if you're using processed meats or cheese. Easy on the salt, my friend!
Customization: Making your own egg sandwich allows you to control the ingredients and their quality. This is often a healthier option compared to pre-made or fast food sandwiches.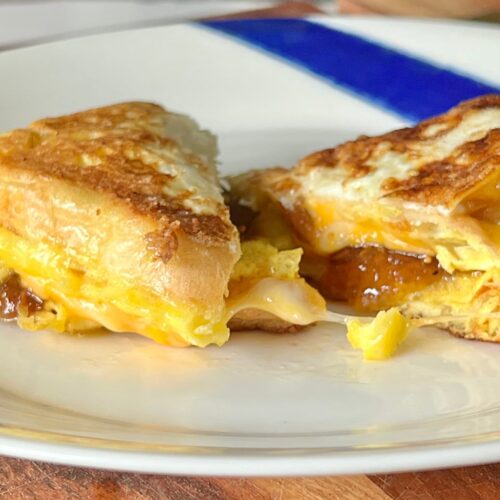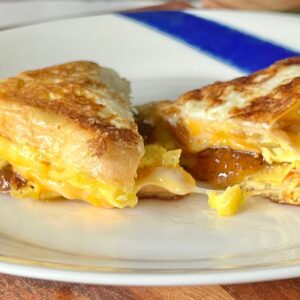 The Best One Pan Breakfast Egg Sandwich Recipe
A breakfast sandwich served up in a single skillet! This sandwich is the perfect combination of savory eggs, toast, and cheese with a surprise dollop of sweet jam. Morning flavors are combined in this perfect egg sandwich for a hassle-free, scrumptious start to the day.
Equipment
1 shallow dish

1 whisk

1 pan

1 wide spatula
Ingredients
2

eggs

1

dash

salt

1

dash

black pepper

1

slice

bread

1 -2

tbsp

butter

1/4

cup

cheese

(I used cheddar cheese.)

1

dollop

jam

(I used fig jam.)
Instructions
Preheat your skillet on low heat and melt the butter.

In a shallow dish, lightly beat the eggs with a whisk or fork and add salt and pepper to taste. Cut a slice of bread in half and place on top of the egg mixture. Press the bread into the eggs to coat. Set the bread slices aside.

Pour the eggs into the preheated pan. Immediately place the bread slices on top of the egg mixture with the egg coated side facing up.

When the eggs are set, flip the eggs and bread slices using a spatula. Fold the excess egg over and onto the bread slices.

Place shredded cheese on top of one half followed by a generous dollop of jam.

With your spatula, flip one bread half onto the other bread half and press down. Continue to cook on each side of the sandwich until brown.
To wrap things up, this one-pan breakfast egg sandwich is the ultimate secret weapon for breakfast on the go! Lip-smacking flavor that is a "get up and go" energy source AND it only uses one pan…I call that a morning win!
Breakfast, you just got served!
Cheers!

Don't Forget to Pin It!
Pin the image below to your boards on Pinterest (just click the Pin button in the top left corner). You can also follow along with me on Pinterest!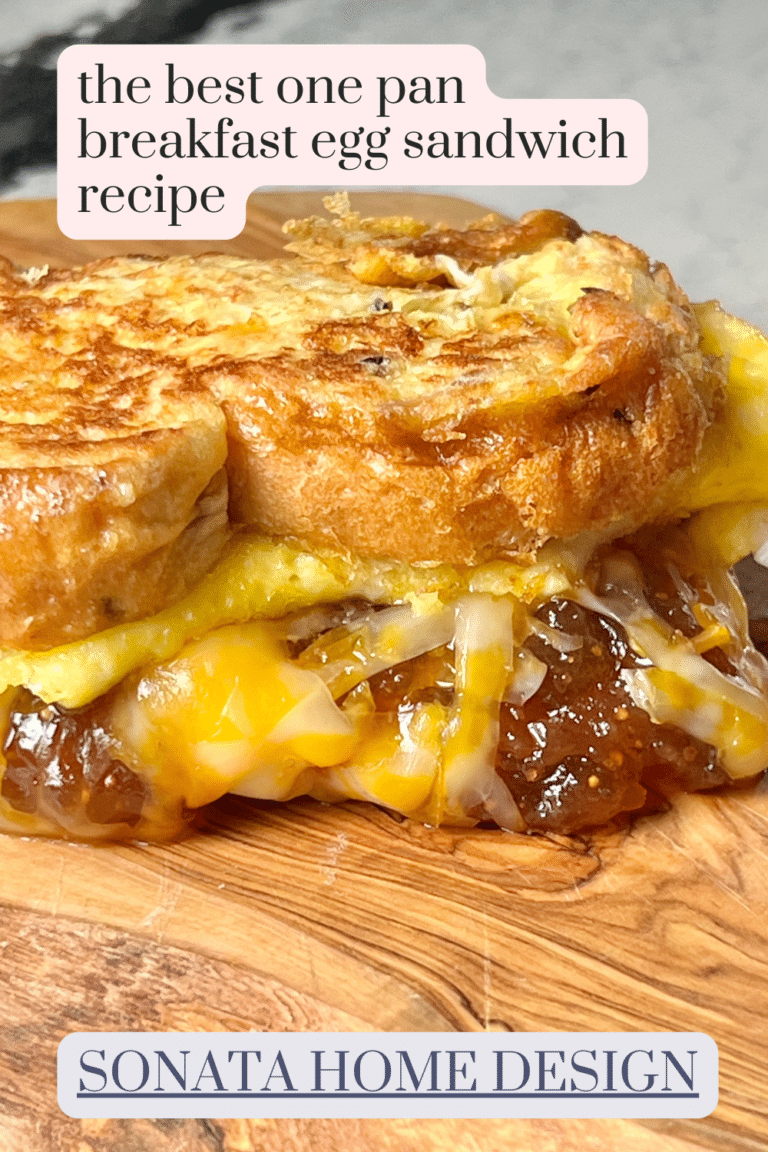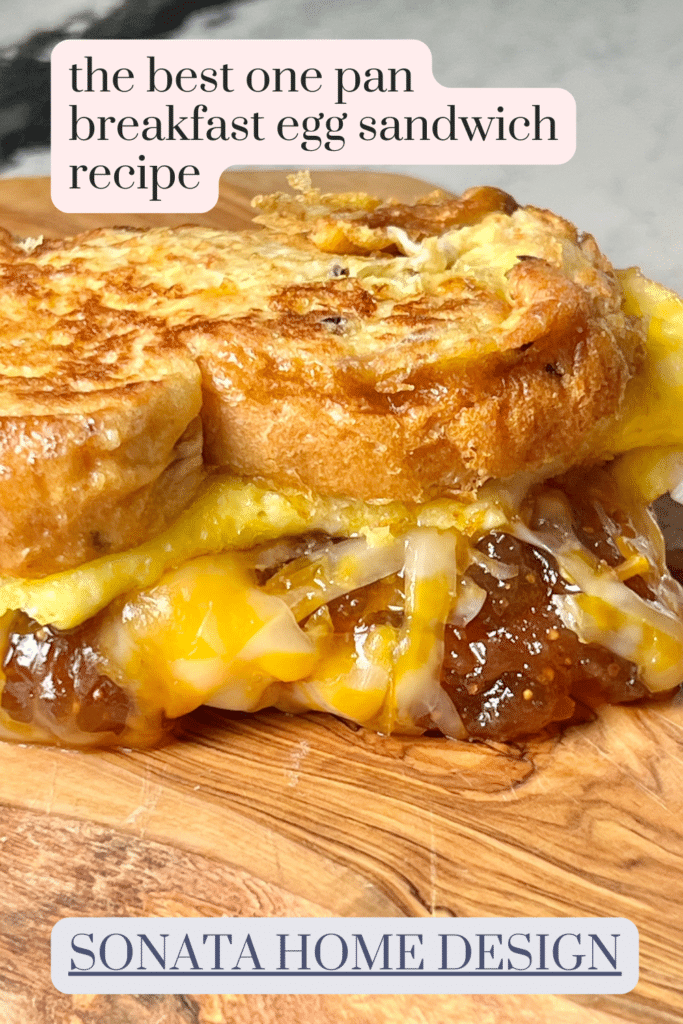 Breakfast Any Time of Day
Morning, noon, or night…these breakfast recipes are yummy any time of the day!
Cranberry Pecan Bagel Spread Recipe