Decorating a Colorful and Cozy Guest Bedroom
We all want our guests to feel welcome in our homes, and what better way to do that than by giving them their own cozy guest bedroom!
Today, I'm sharing our guest bedroom that went from drab to fab with the help of some color, pattern, and texture. Here are some ideas for how to create a cozy, comfortable, and stylish guest bedroom that will make your visitors feel right at home!
Table of Contents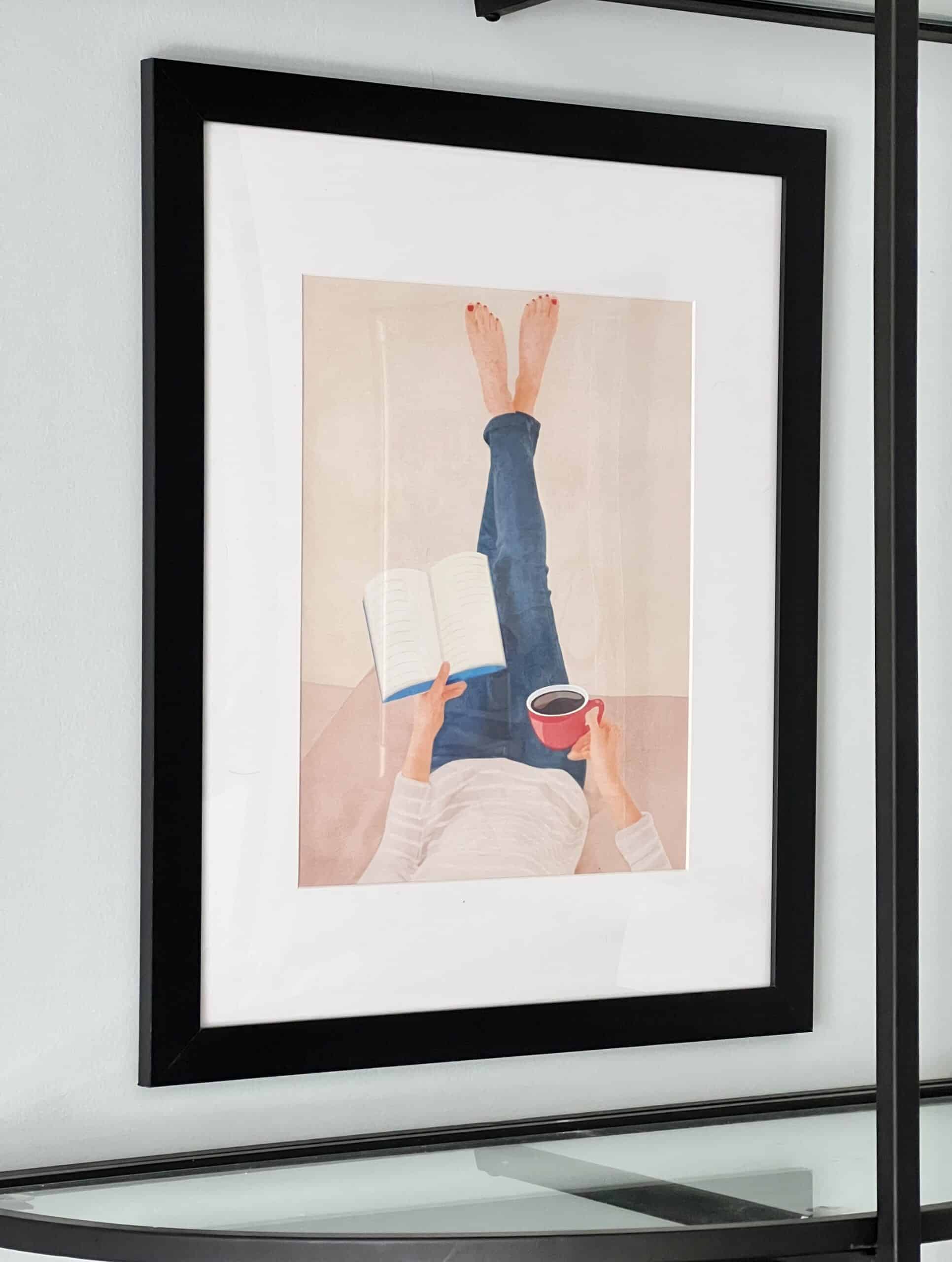 This blog contains affiliate links. This means a small commission is earned if you make a purchase by using this link. The price you pay will be the same whether you use the affiliate link or go directly to the vendor's website using a non-affiliate link.
I'm not kidding.
The relaxed setting in the art print above, "Morning Read", is one of my favorite positions for reading a book.
Seriously.
Now, drinking a cup of coffee upside down is a bit of a trick…but it can be done!
Comfy, cozy, with a pop of color…this is my vibe.
This is how I want guests to feel when staying at our home.
Comfy.
Cozy.
And with a little jolt of color that energizes the energy, the vibe, and the personality of the room.
Whether entertaining guests for the holidays or any day of the year, here are some ideas for creating a colorful, cozy guest bedroom!
Creating a Colorful and Cozy Guest Bedroom
Let's all yawn together.
It's ok. You won't hurt my feelings.
The room is ready boring and bland.
It has been waiting for a make-over for a couple of years.
But in good news, the navy velvet headboard is a keeper!
And the marble and gold side tables are perfect as bedside nightstands.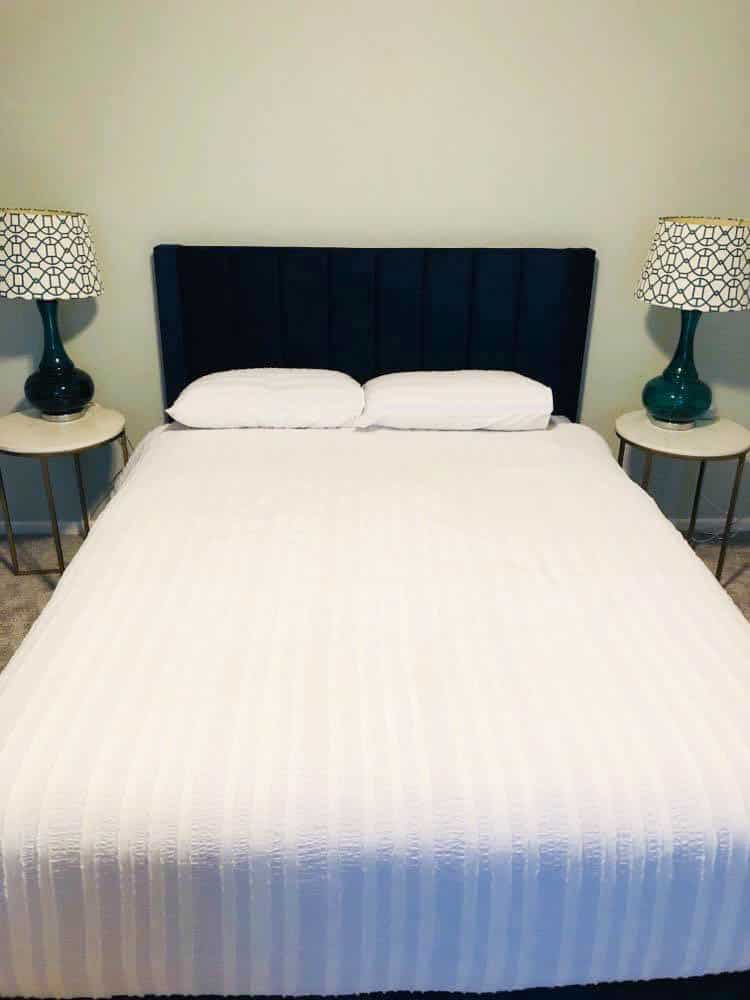 Best yet, the entire room is a blank slate ready for an infusion of colorful personality.
Wall Art as Your Inspiration
When choosing the color palette of a room, artwork is a really good place to start.
Wall art is very personal.
The subject, the orientation, the color…these are all very personal choices. It is why artwork is so very important in a room.
You may choose a figurative piece…
or photography…
or a textured abstract.
Whatever you choose, take the colors, mood, and vibe to give you direction in decorating the room.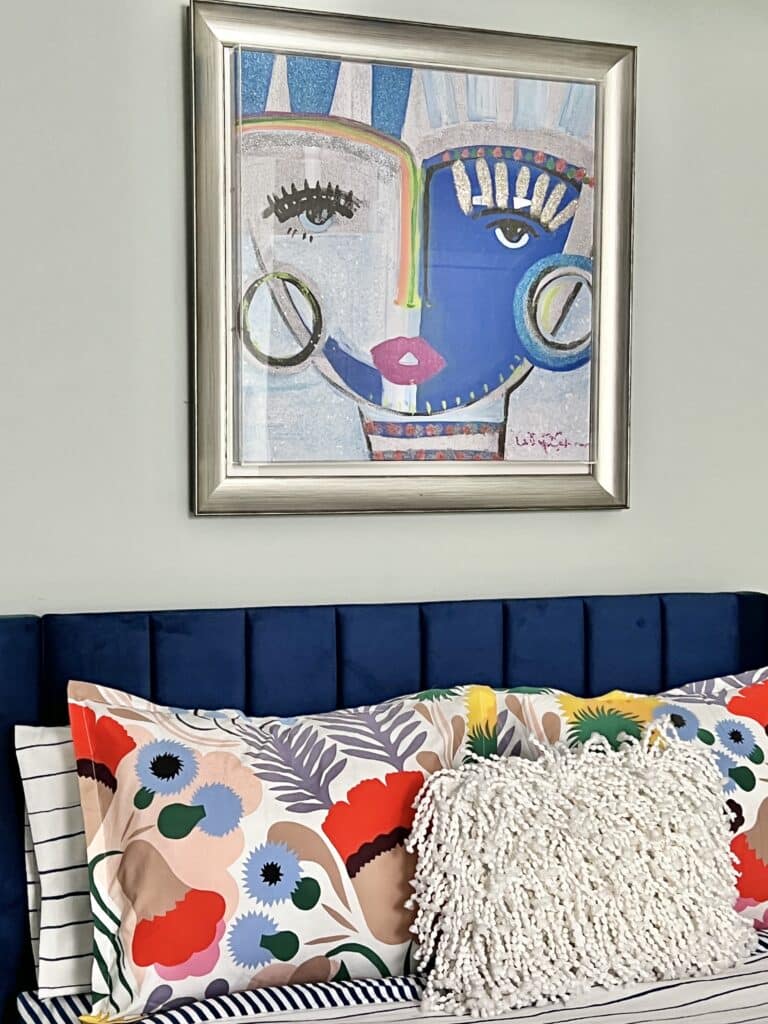 In this case, I fell in love with this canvas by artist Windy O'Conner. This particular piece is full of bold blues, silvers, a hint of orange and a healthy shot of fuschia pink.
From Artwork to Bedding
Because the canvas was frameless, I gave this wall art a little glow-up with a "make-it-work" framing moment.
A bold piece of wall art needs some strong bedding to balance it out.
Be intentional and pull colors from the artwork. Get creative with bedding layers.
I mean…layer it on!
The navy blue headboard is the perfect backdrop for this colorful Marimekko bedding set that is full of blues, pinks, oranges, yellows, and greens.
Hello personality!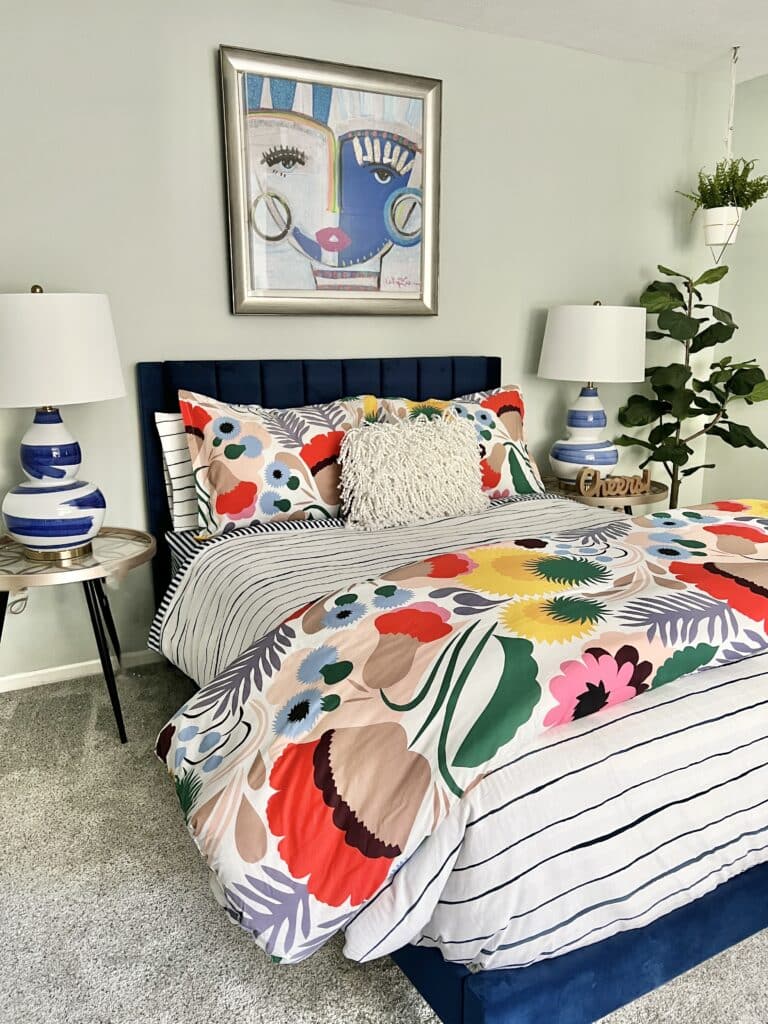 Buying a duvet cover and pillow sham set is a great way to get good value with your bedding.
But, we need more layers…
I added the coordinating navy and white stripe Marimekko sheets as well as some pillowcases and another duvet cover with a thin navy stripe from Ikea.
Stripes on stripes work when they are a different scale from each other.
Two abstract blue and white lamps completed the all-important bed for this colorful, cozy guest bedroom.
I just want to jump into this bed and starting reading my current novel!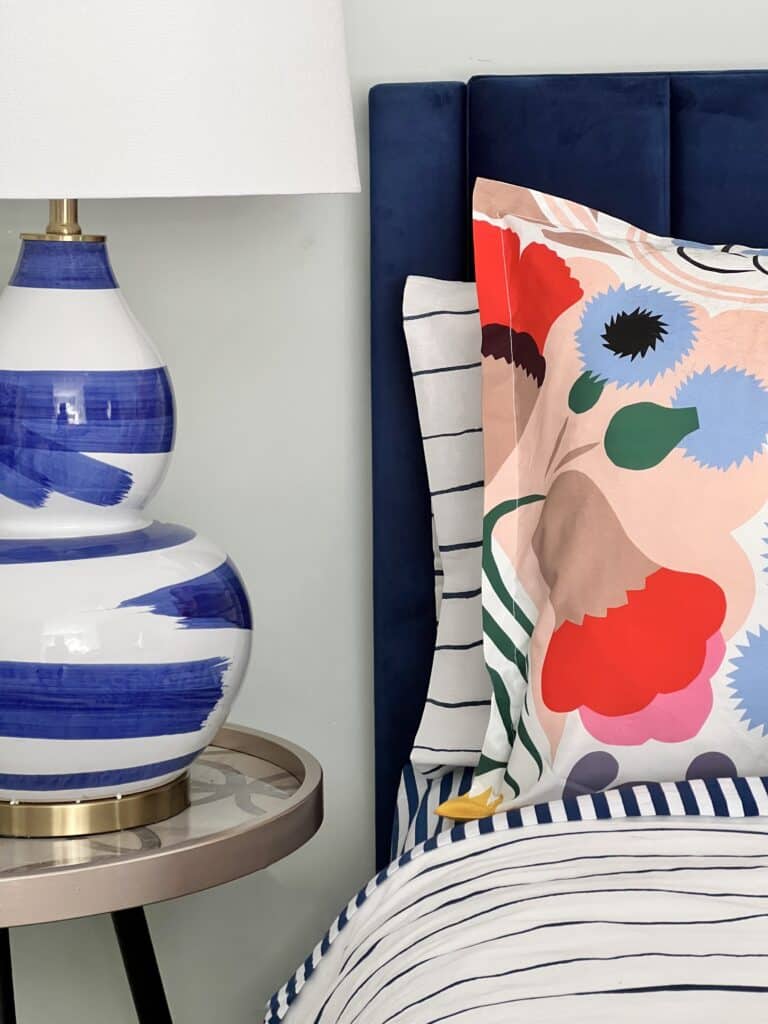 Color Can Be Cozy in a Guest Bedroom
While the wall art and the bedding serve as the most important focal point in the room, spreading the colors around the room will help to give the room balance.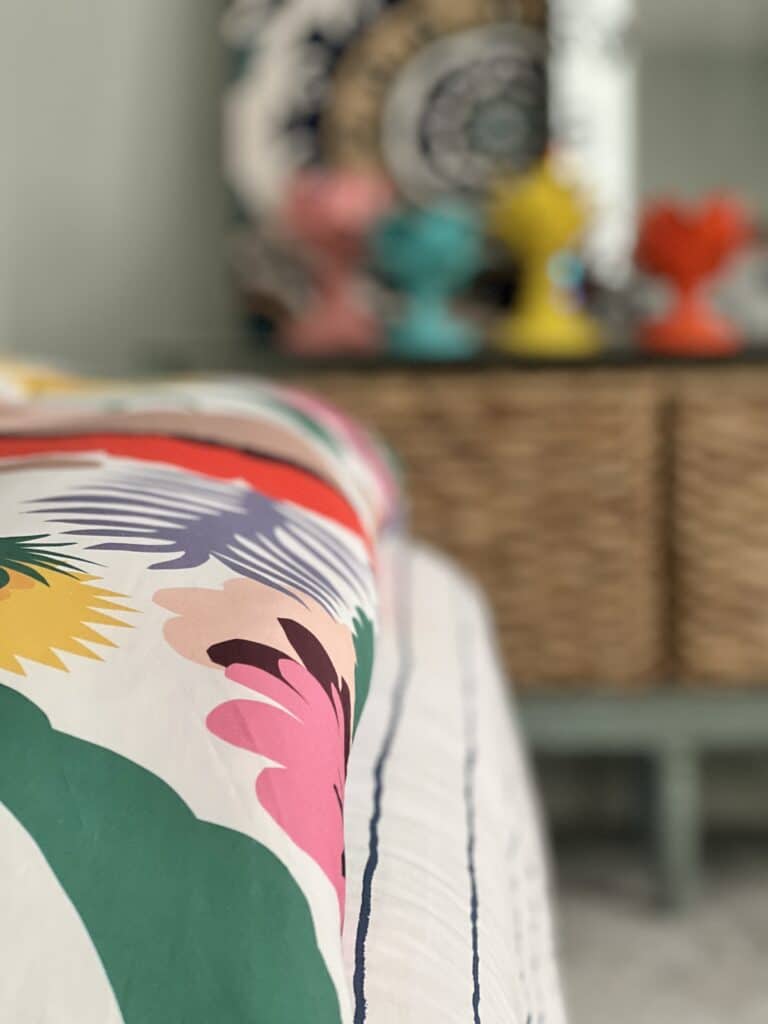 I didn't have a dresser for the room and really didn't want to buy one.
So, I created my own!
This "dresser" was created from a bench, a piece of beveled glass, and two storage baskets.
Storage and counter surface in one fell swoop!
The natural elements are, for the most part, quite neutral in color.
Adding the brightly colored lotus flowers bring some "pop" into the setting and reference the colors in the duvet.
And, just like the layered bedding, I layered the mirror against a framed crewel embroidered art piece.
Layers…equal cozy…even with hard surfaces!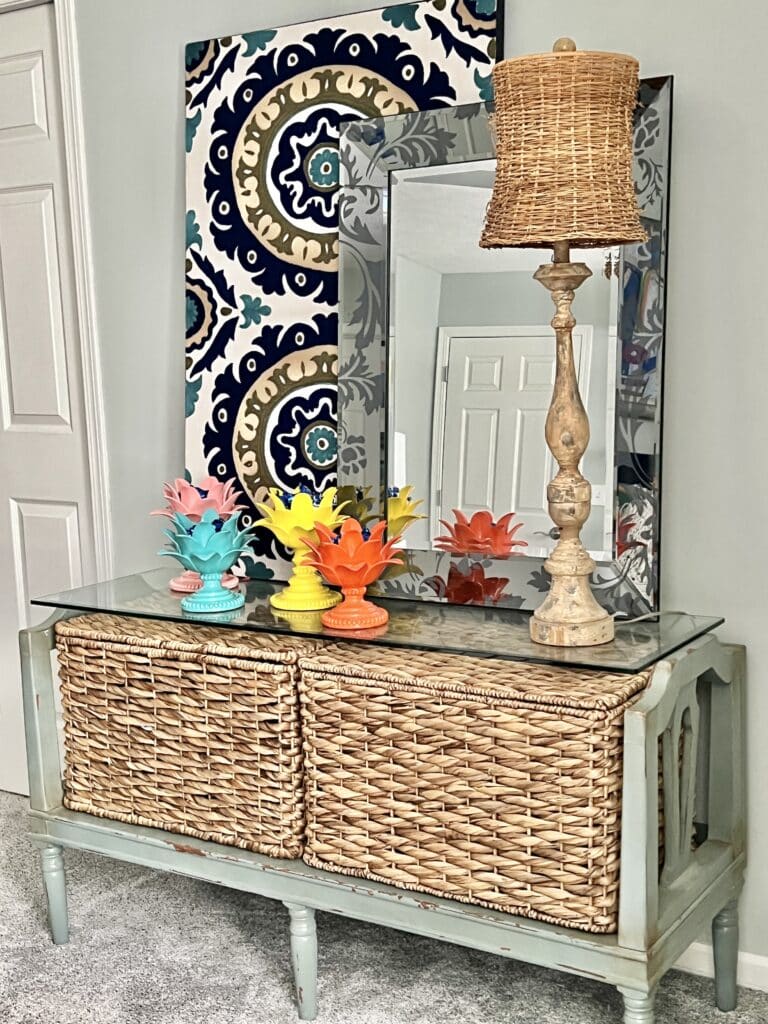 Not wanting to forget the opposite wall, I had to give some thought on how to fill this awkward spot between the bathroom door and the entrance door.
A simple, metal and glass etagere fills the space and gives opportunity to add more interesting and colorful artwork.
Guest necessities like extra blankets and open surfaces (I always want a spot to put my jewelry!) are always a nice touch for visitors.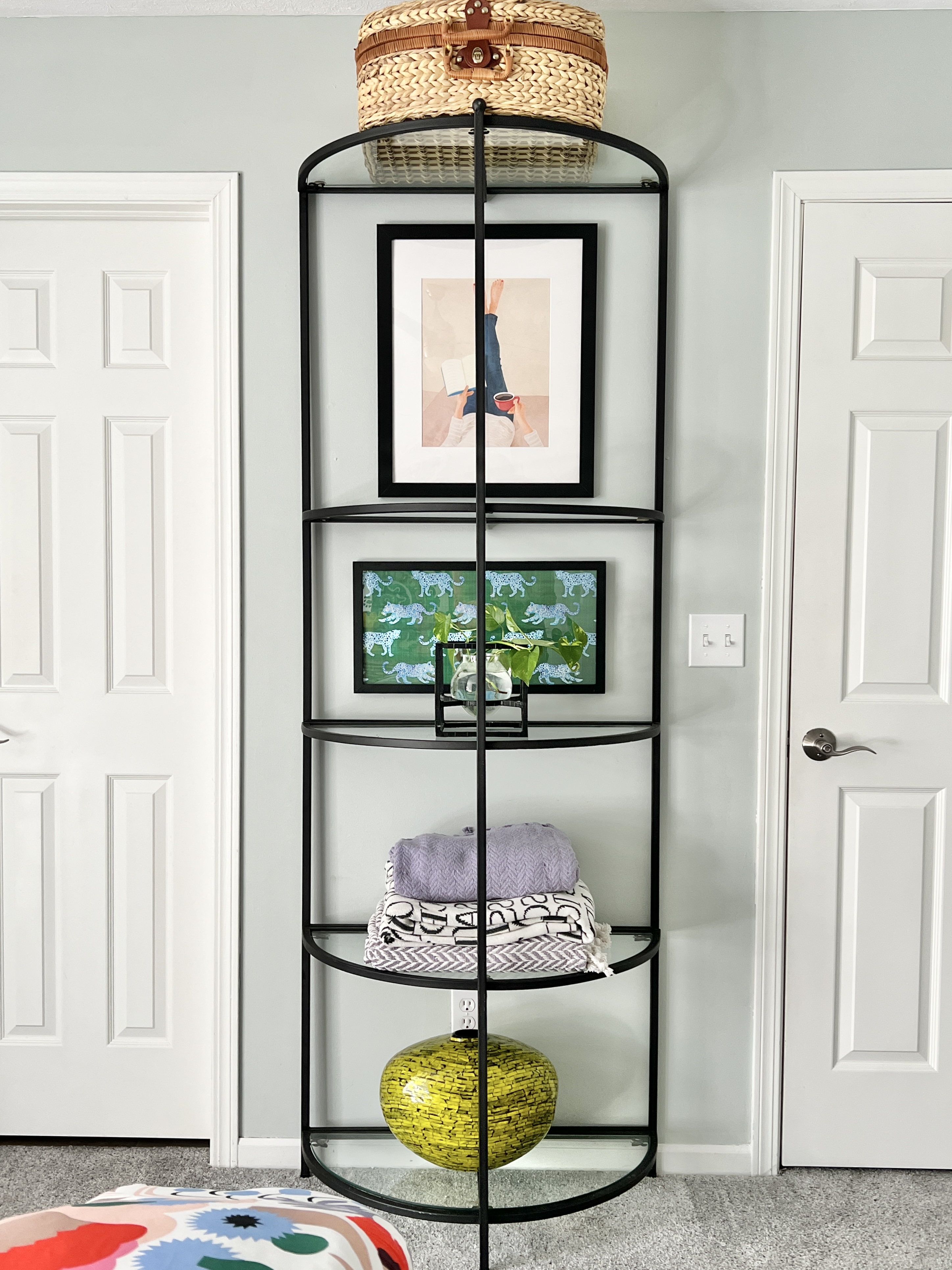 Wall Art can take all sorts of forms.
A simple palm leaf branch is a great way to fill a tiny wall space that "just needs something!"
Do you notice how the green of the palm branch ties in with the framed green cheetah wallpaper as well as the spot of green in the duvet pattern?
Sort of a subtle triangle of green!
And, don't you love how the orange-red coffee cup really "pops" from the etagere because of the orange-red in the duvet?
Color cross-pollination!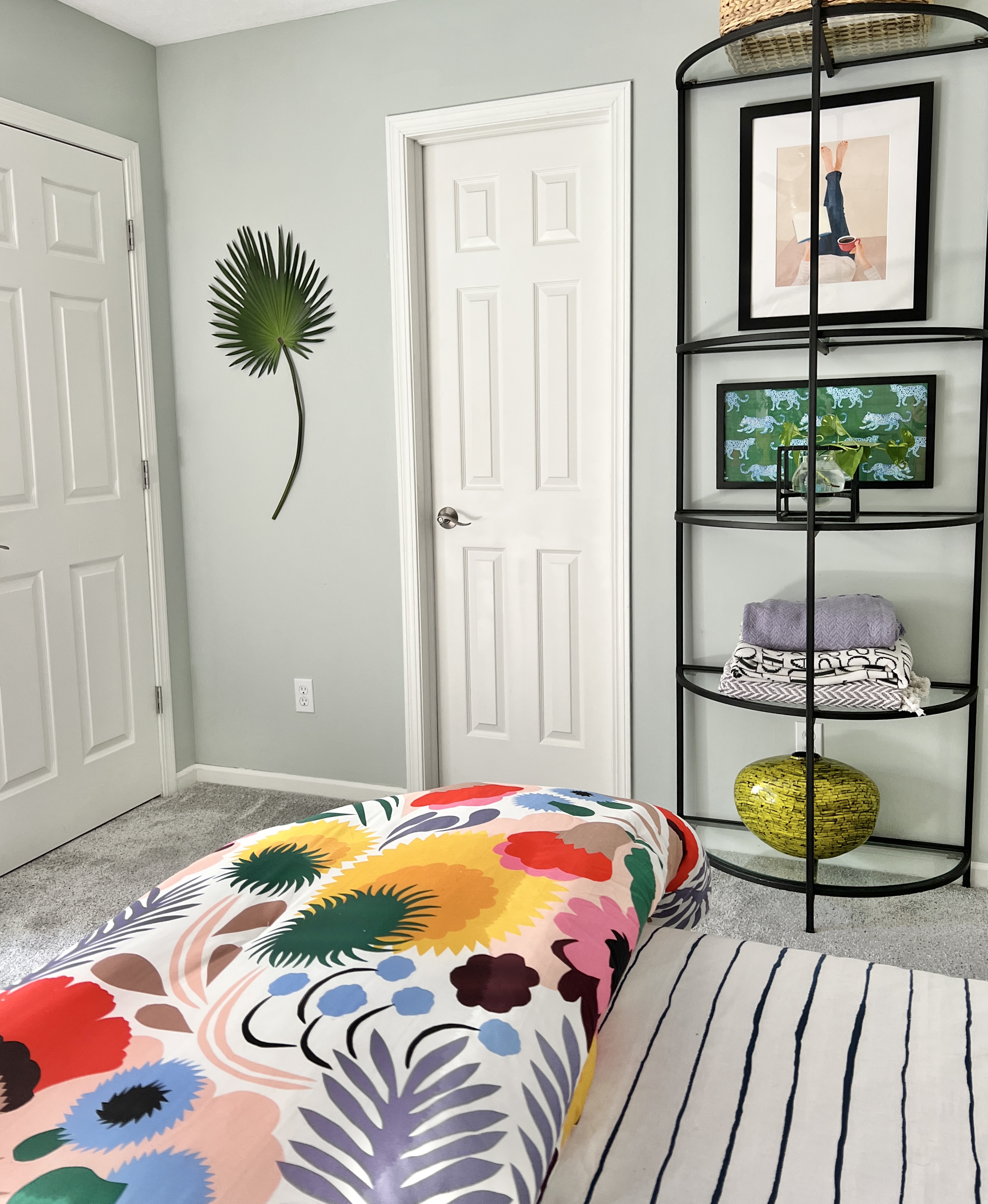 A Reading Nook
Pardon the toes…
..and the yellow overhead lighting…
This is me a year ago trying to figure out what to do with this space that is opposite the bed.
Love the chair.
But it looks pretty lonely all by itself!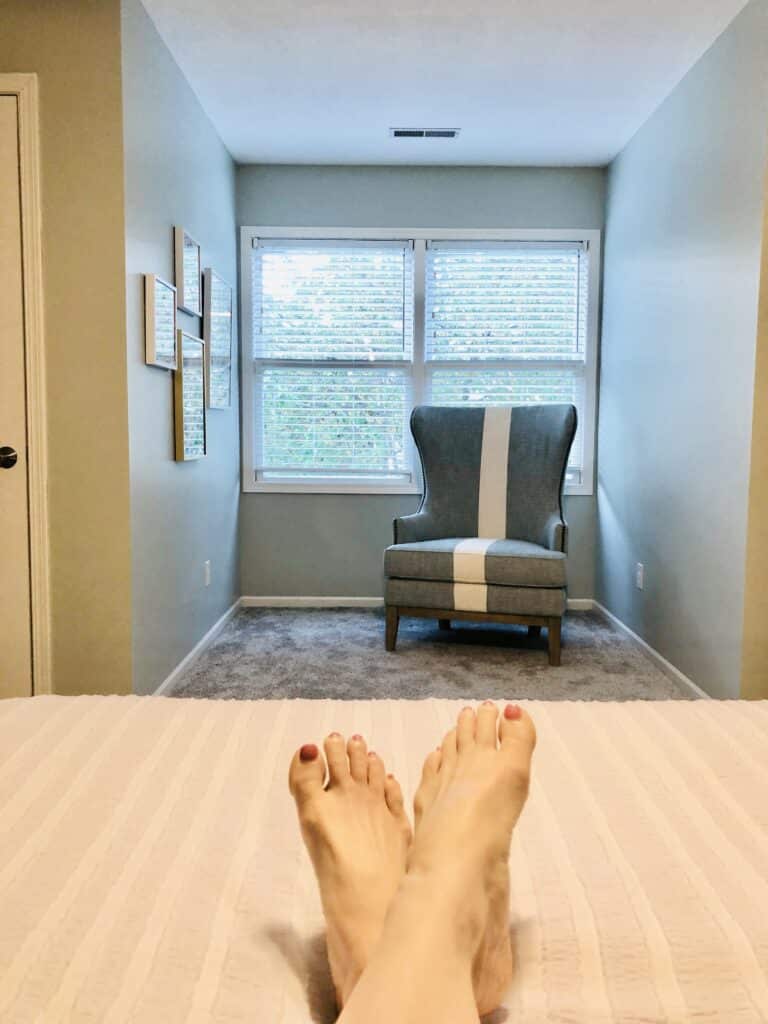 Every reading nook needs a great chair, some fluffy pillows, and a cozy, textured throw blanket!
There is strong color pulled into this area as well.
However, it is texture and pattern that makes this spot so welcoming.
From the fur pillow to the tasseled throw blanket to the zebra faux fur rug…this space just invites you to have a seat and get cozy!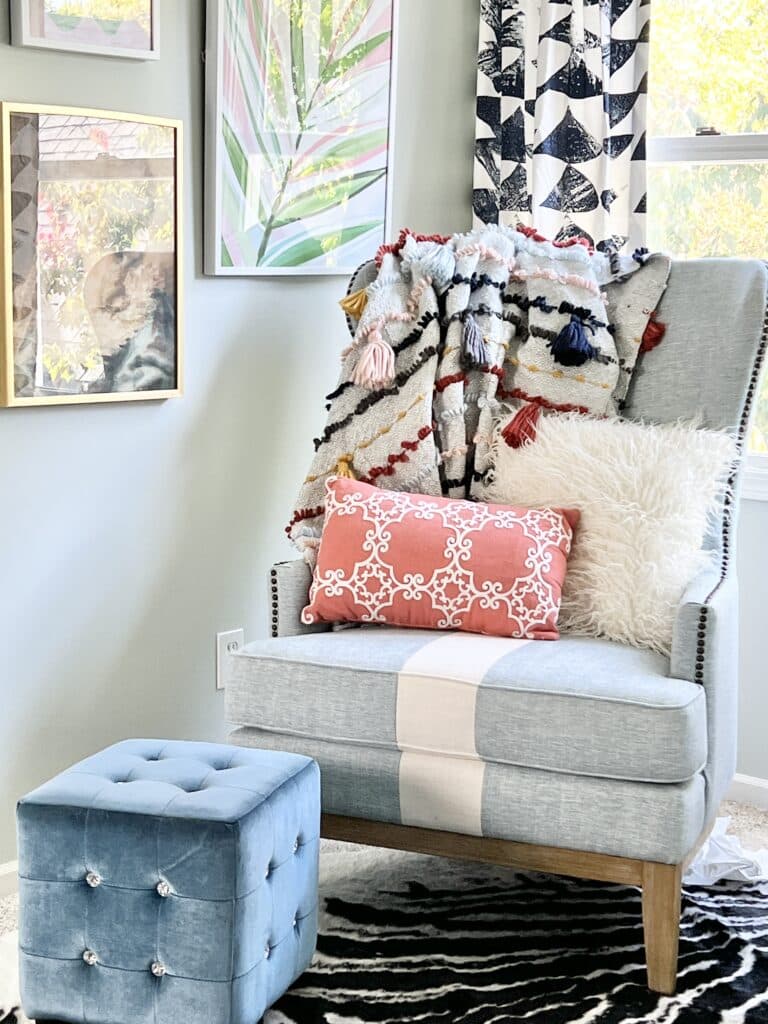 Adding something really unique to a room is important!
It is like a fun reminder of the personality of the host…you!
I think I have tried yoga twice in my lifetime…but I love this sculpture of the yoga lotus position.
Yoga might not be my thing, but interesting sculpture is!
This lotus pose sculpture is a unique addition to the room and looks great beside these triangle color blocked curtain panels.
Plus, it references those colorful lotus blossoms on the dresser!
A little blue velvet ottoman is a great place to prop your feet!
Our cat loves this spot!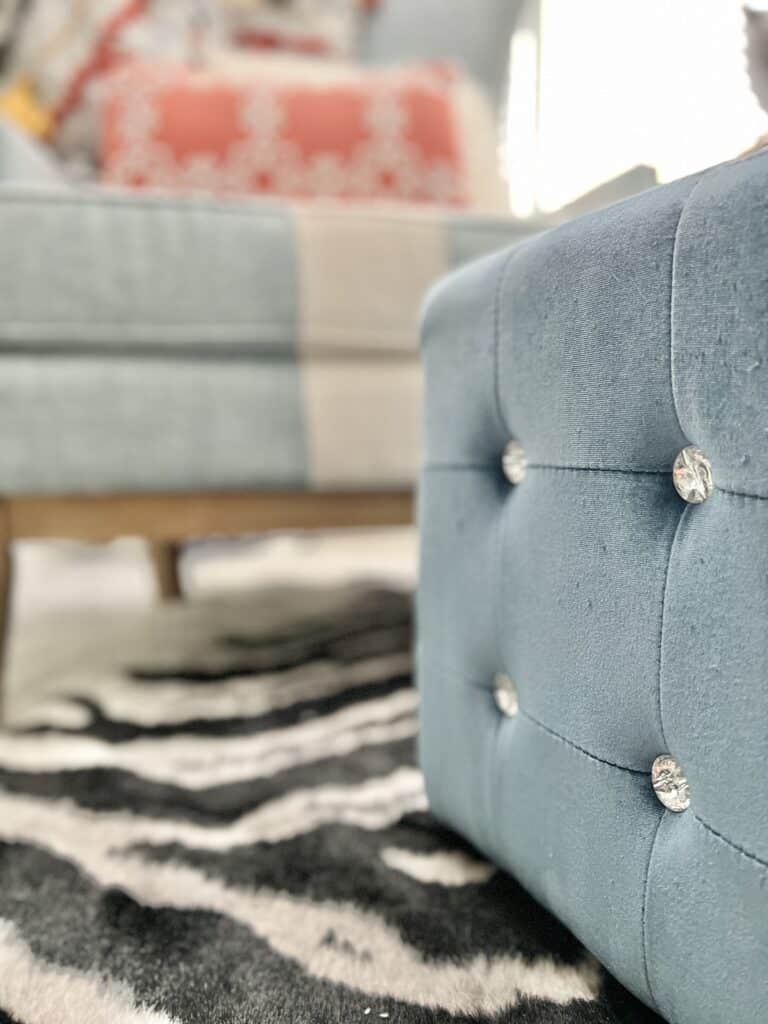 Guests aside…I plan to spend some time in this room myself!
Here is a great idea you should try…spend the night in your guest room!
You will become aware of anything the room needs before guests actually arrive and you will appreciate the details you have already included!
Yes, there are bold colors in this room. Yet, when paired with luscious layers of pattern, natural wovens, and soft, comfy materials, this cozy guest bedroom is a comfy, peaceful respite for any guest…or resident!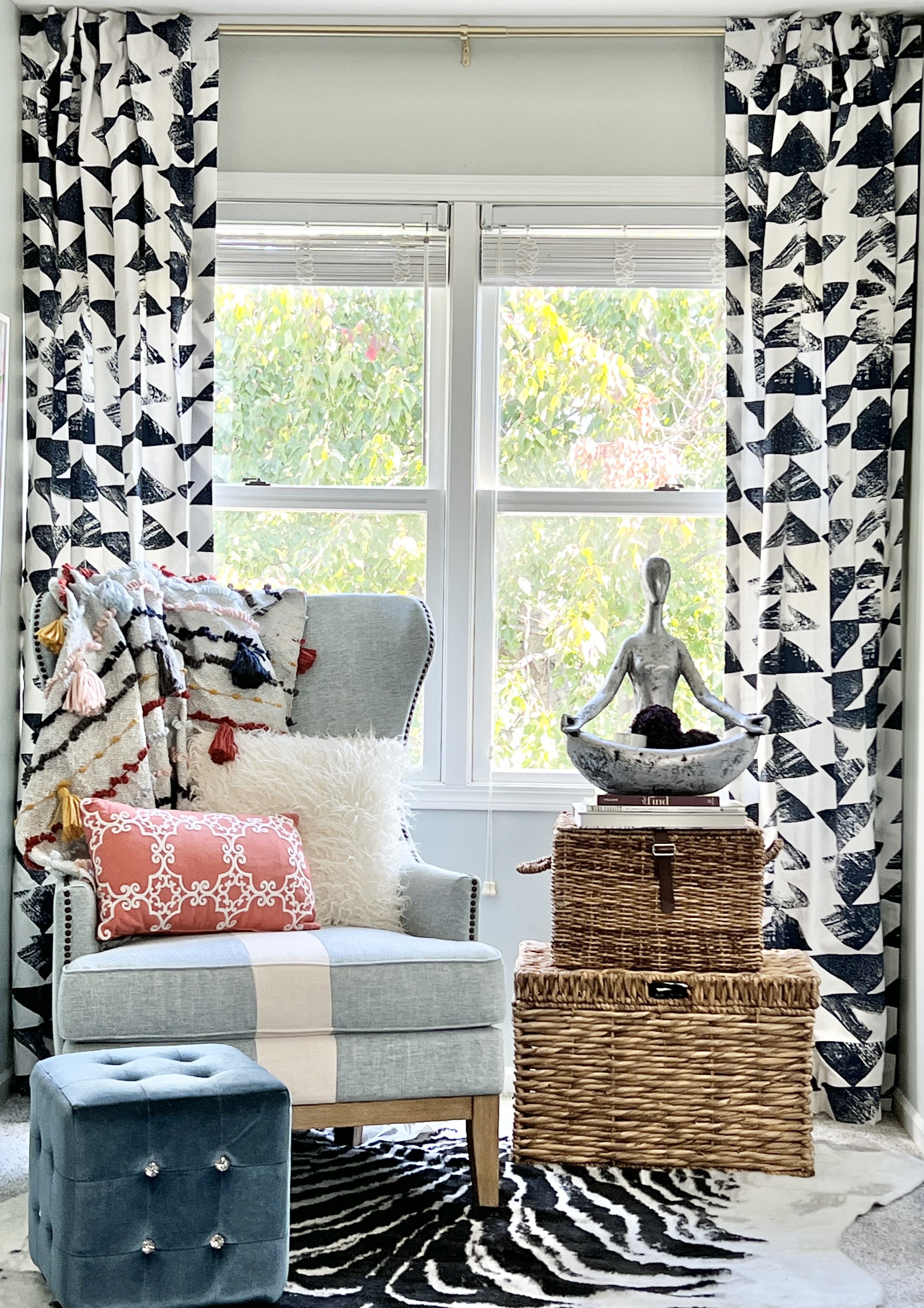 If you're looking for a way to add some life and color to your guest bedroom, don't be afraid of using bold hues. A pop of color can really make a room feel cozy and inviting.
I suggest layering different textures, patterns, and colors to create a visually stimulating space that your guests will love.
And if you need any more inspiration, don't forget to check out the Sonata Home Design Pinterest board for ideas!
Oh, and don't forget to leave a little message for your guests!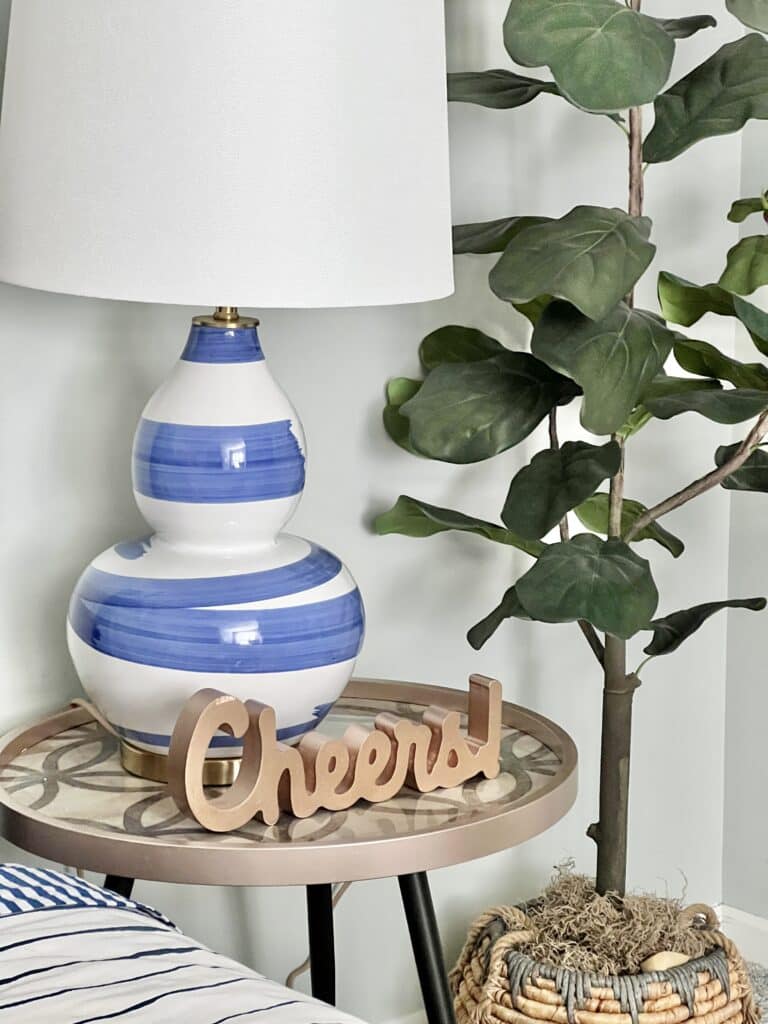 Cheers!

Don't Forget to Pin It!
Pin the image below to your boards on Pinterest (just click the Pin button in the top left corner). You can also follow along with me on Pinterest!