Don't you just love the phrase "Cozy Book Nook?" For me, it conjures images of favorite books and places where I read them.
With the launch of my new home design book club, SonataScript, I am ALL about the cozy book nook! We abut ll need a place to settle in and read the March SonataScript book pick "But Where Do I Put The Couch?"
As a child, I read all the "Little House" books in my playhouse set up to resemble the Ingall's Minnesota house.  Ditto for the book "Little Women" complete with playhouse transformation into the March family attic.
As a pre-teen, I read all my Nancy Drew books laying upside down from my parent's sofa.  Yes, head on the floor.  Legs draped over the sofa back. Diagonally.  (I was a little more flexible then!)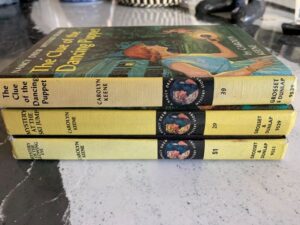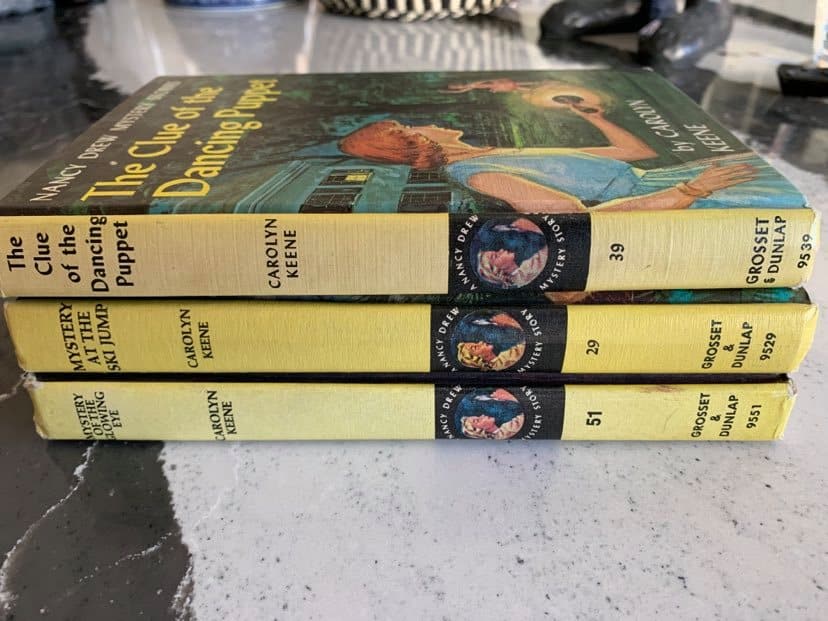 Ok, I did grow up! As an adult, I have read some of my favorite entertaining, challenging, thought-provoking, heart-wrenching reads from my red leather chair by the fireplace. I pore over design books and cookbooks on my bed. And my porch swing on a summer evening is the best reading get-away.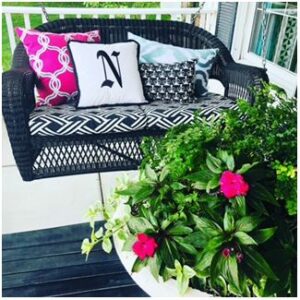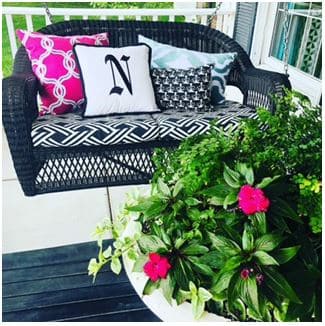 Confession:  I can't read a novel in bed at night.  TOO comfy and cozy and I fall asleep immediately!
A Cozy Book Nook is personal.  It should be a reflection of yourself inviting you to sit down and lose yourself in reading.
Here are a few basics to get you started in creating your own cozy book nook:
Book Nook – Essentials
Find a spot that is quiet and off the beaten path in your home. Whether you like absolute quiet, background music, or sound machine ocean waves, find a location where you can disappear for a bit and it would take someone some effort to find you. I'm creating a book nook in a corner of our bedroom.  (Staying away from the bed…can't fall asleep!)
Determine your "seat."It could be a chair, sofa, chaise, or beanbag for that matter.  Just make sure it is comfy, made of soft materials and fabric, and something you can really sink into.  No rough or itchy fabric, please! My choice is a chair and ottoman that I recovered several years ago in a deep yet vibrant navy blue cut velvet.  It is a delightful sofa landing place where I can stretch out my legs. Even better, the back is the perfect height to cradle my neck as I sink in with a book.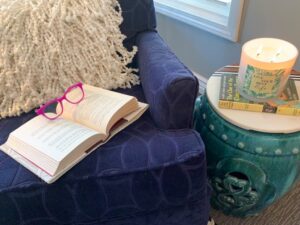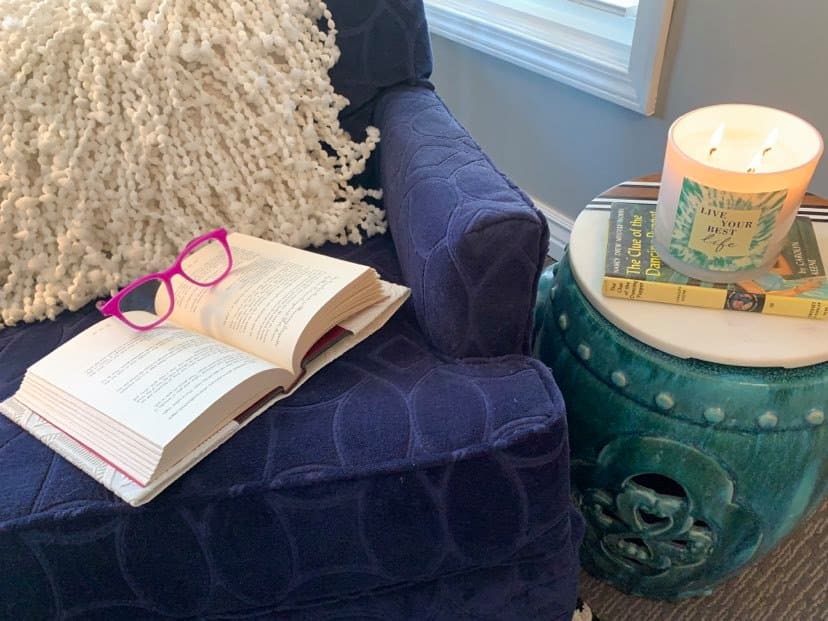 You need decent light by which to read.  Choose a table lamp, floor lamp, or task lamp with high enough wattage to give clear, focused light on your book. Don't rely on overhead lighting or a 60-watt bulb.  Keep it bright and focused!
Book Nook – Cozy

Prop your favorite pillow so you have something to nestle into or clutch while reading your favorite Stephen King novel.
Have a sumptuous throw handy for when you feel a chill in winter from cold outside temps or in summer from cold inside temps. I like faux fur.  Soft, fluffy, and oh so cozy!
Treat your nose by placing your favorite candle or diffuser nearby.  Let the scent and the flame give you a sense of calm as you dive into your book.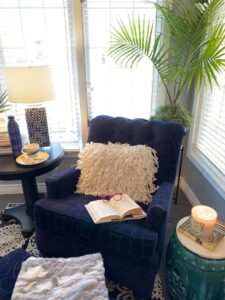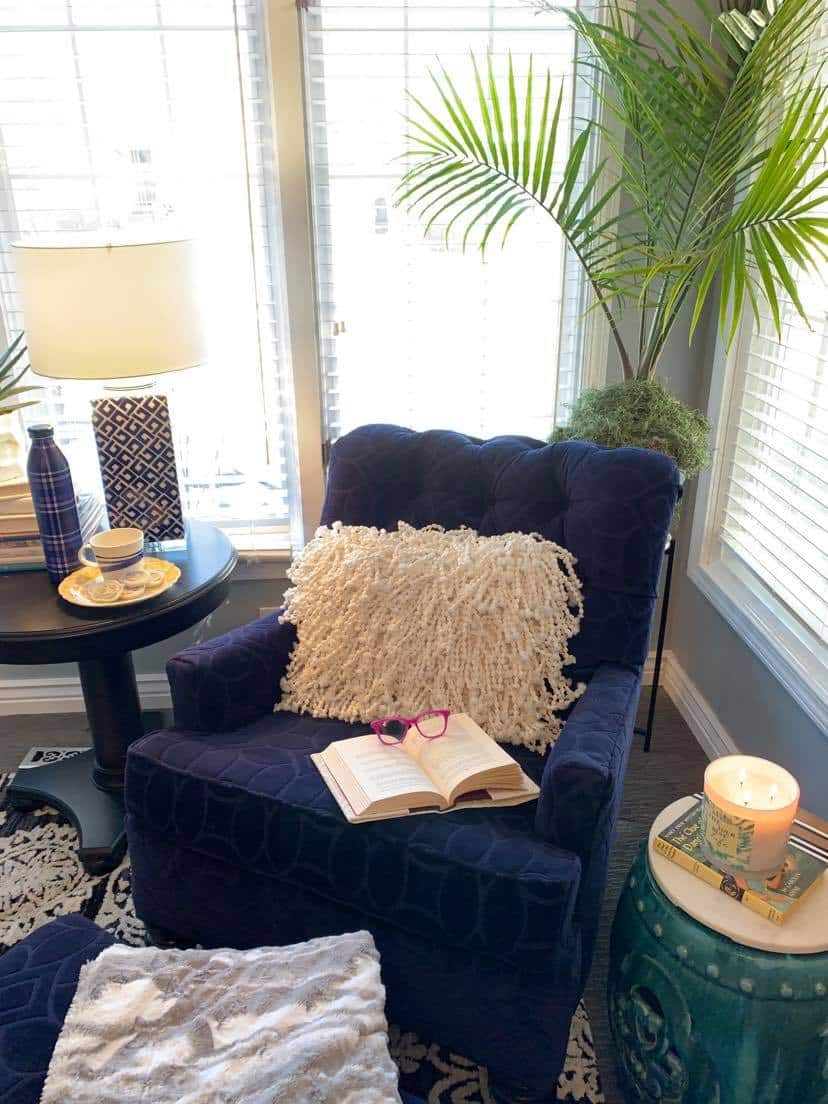 Do you like music or sounds while you read?  I keep "Alexa" nearby and play something different for each book I read.  (I like the Alexa Dot because I can tuck it behind a lamp and no one sees it.) Think of what the movie soundtrack would sound like for your book.  Music by Vivaldi is my go-to when I'm stumped for titles.  Ocean or forest sounds when I want to be transported to one of my favorite vacation spots.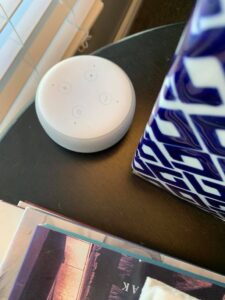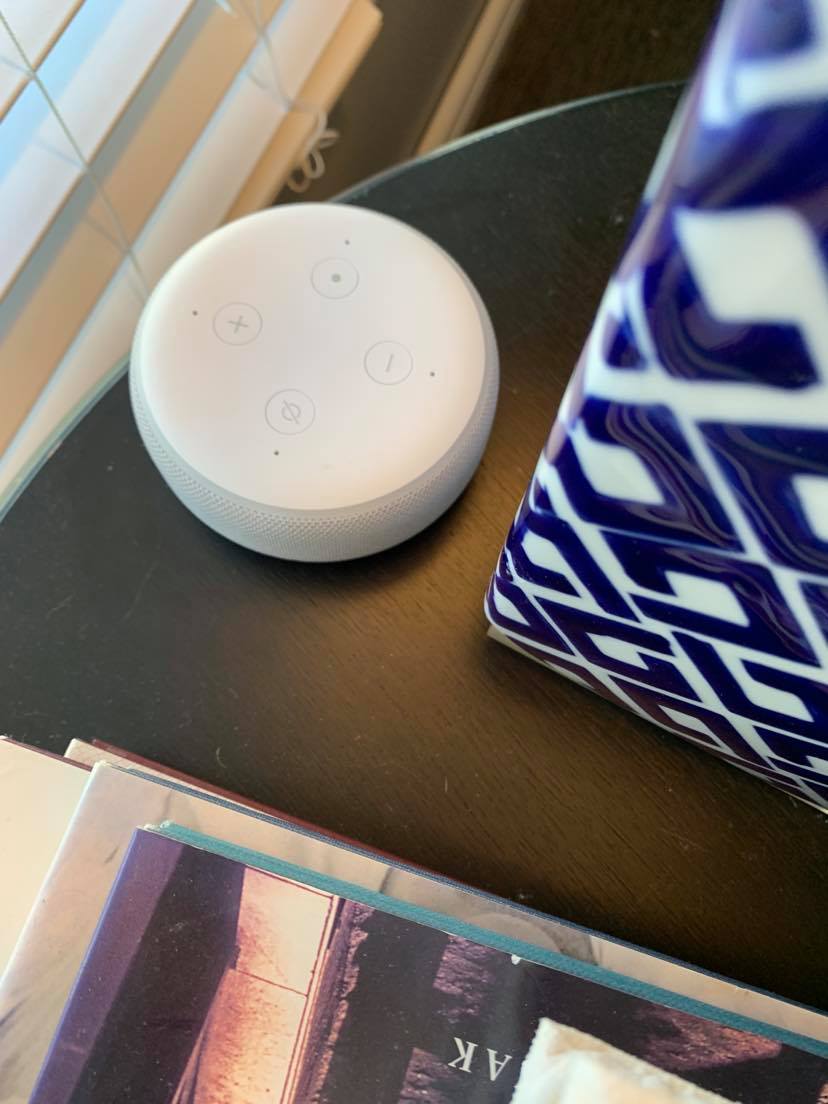 TIP:  Put the other electronics away.  No phone, no computer, no tv.  Give yourself the gift of uninterrupted reading for 30 minutes.  Those notifications will still be there when you finish!
Book Nook – Decorative

A book nook gives us physical comfort while we read.  Let the décor around you give you creative, emotional, and visual comfort.  What to include?
Plants lift our spirits and give us a sense of calm.  Whether live or faux, the inclusion of natural elements warms your spot and helps create the "cozy."
Keep a bookshelf, book tote, or a few titles between bookends nearby.  If you are like me, sometimes you are inspired to switch books mid-stream.
Give yourself a decorative emotional anchor.  Perhaps a special photograph of a special loved one, an art piece reflective of you, or that special object that is connected to your creativity or a special memory.
Book Nook – Menu! (Yes, I said Menu!)
This may be my own personal bias, but I like a beverage when I read.  Hot coffee in the morning or afternoon and ice tea or wine in the evening.  And if I have a beverage, I want some nibbles too!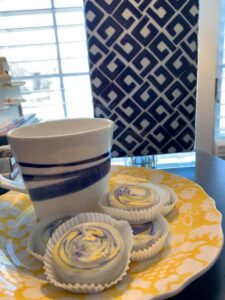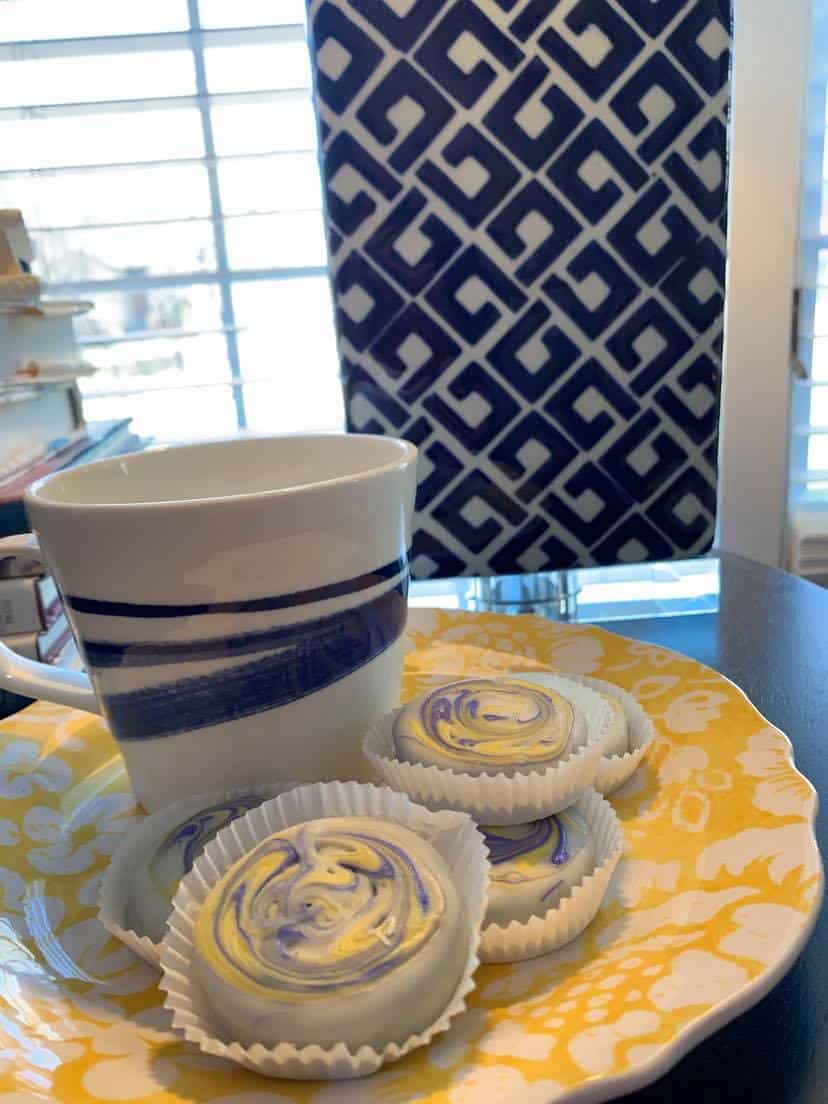 I am also a stickler about the temperature of my coffee. So, I like to keep a favorite coffee mug (I'm picky about these.), a small coffee thermos or carafe, and a coaster at close range when I read.  Sometimes I forego the coaster and go with a tray that can hold all my goodies. With these tools, I can read for hours!
Include some trail mix, flavored popcorn, or a special sweet treat. (Shh, I bought these cookies just for me!)    I am all for mindful eating but also like a little treat while reading a special book.
Creating a cozy book nook might take you a total of 15 minutes to put together.  The time is worth it in giving you a reading sanctuary where you can be transported during your book time.  Paying attention to some pre-set details will seal the deal on your book nook calling your name!
A cozy book nook should invite you in. Write the invitation and then accept the invitation from yourself!
p.s. Found this fabulous library card face mask to let the world know that you love reading!