How to Make a Thin Christmas Tree Look Fuller
Do you have a small Christmas tree that looks a little sad and you're not sure how to decorate it? Don't worry, you can make it look fuller and refreshed with just a few simple tips.
Here are some tips to make your tree look fuller, thicker, and more stately and lush without having to buy a new one! By following these easy tips, your tree will look fuller and more festive in no time!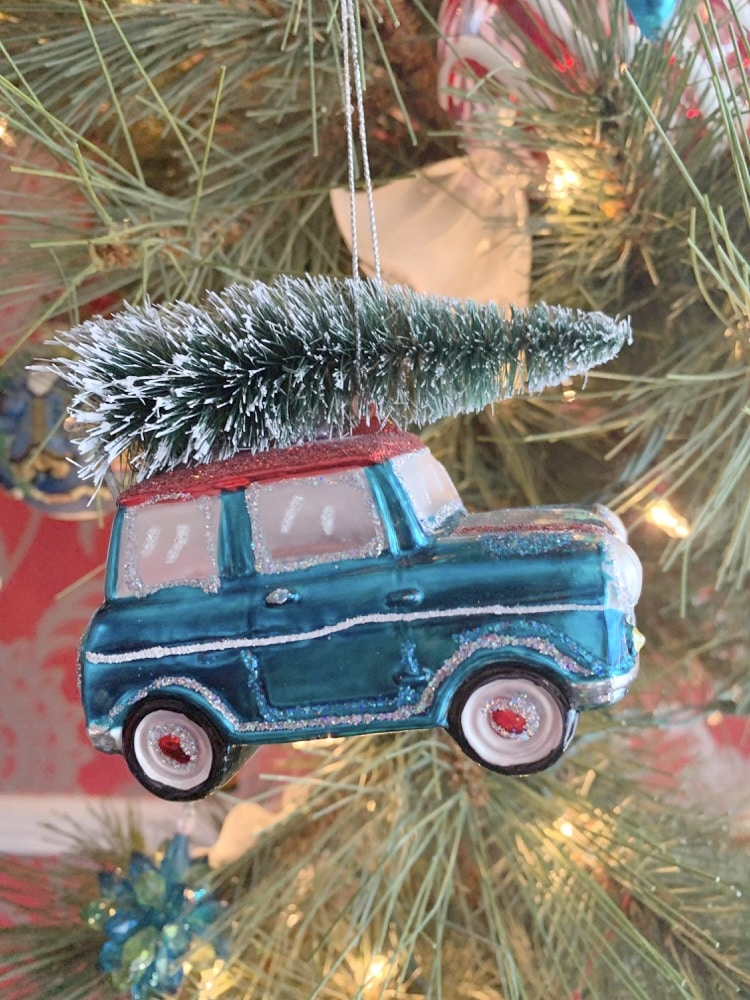 There are so many gorgeous Christmas trees available.
Real, artificial, green, flocked, balsam, Fraser fir, blue spruce…the list goes on and on.
While it is fun to have a brand-new Christmas tree, sometimes the budget (or space) does not always allow it.
There are ways to take an old, thin, (and maybe tired-looking) tree and make it look full, lush, and beautifully stylish.
Case in point…this tree.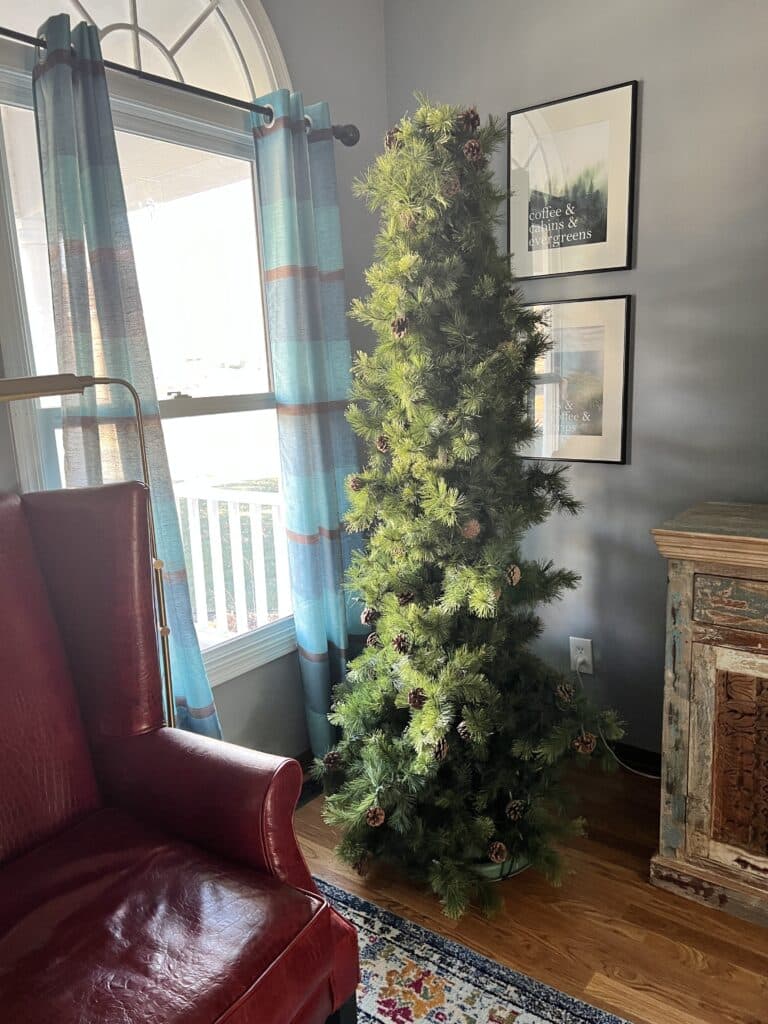 It's not terrible. But it's not great either.
Skinny. (This is often desired depending on your space. This particular tree needs to fill up a larger corner in our family room.)
Shorter than desired. This is a 6 ft. tree but I would like it to fill a 9 ft. space.
Missing branches.
Dead lights. (Ugh!)
Tired.
This tree needs a little spa makeover! Here are some ideas that worked!
Elevate!
We all love a soaring Christmas tree!
Whatever your ceiling height, you can trick the eye into thinking that your tree is taller than it is…
by making it taller than it is!
Elevate your tree by placing it on a box, in a garden urn, or on a small table.
Here, I used a small coffee table to lift this tree by a couple of feet.
Whatever you use, leave about a foot of space between the top of your tree and the ceiling so you can add some sort of topper to your tree.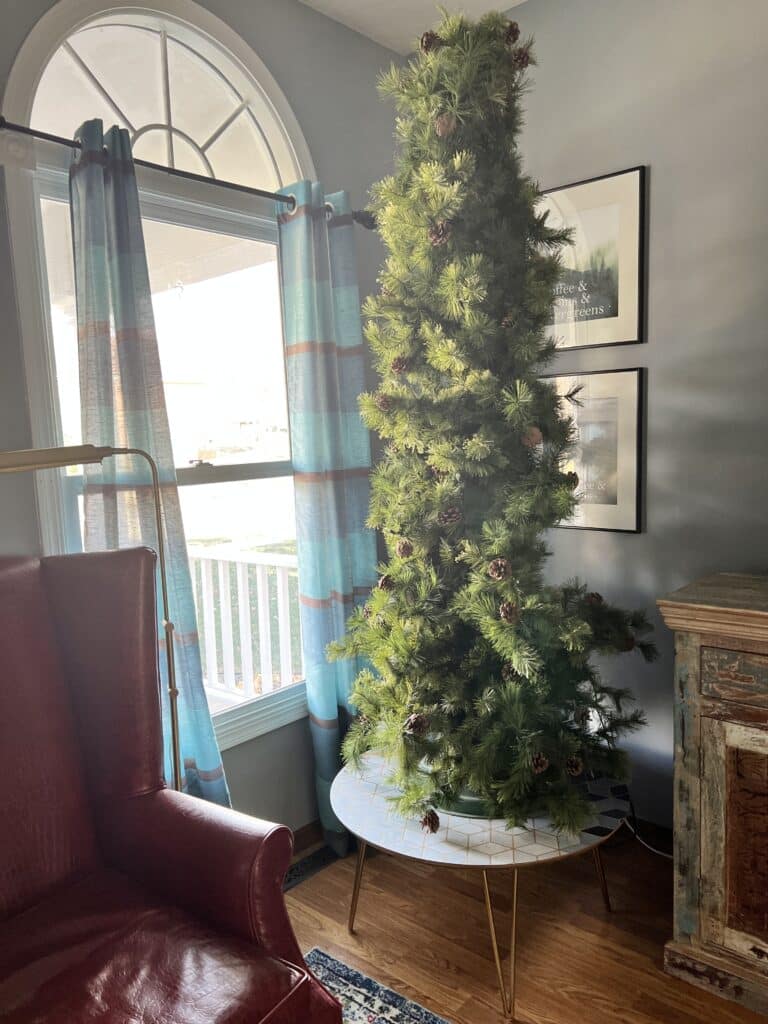 Fluff It Up
Decorating the Christmas tree is a beloved holiday tradition, but it's not easy to transform a dry, disheveled evergreen into an eye-catching festive centerpiece.
That's why knowing how to fluff a Christmas tree can be one of the most valuable skills a holiday decorator can have.
The first step is to fan out each branch so that it fully extends, then use your fingers to separate curved and clustered needles.
To give your tree the desired shapely look, focus on spreading the branches and needles to replicate the natural growth of a healthy evergreen.
Though tricky at first, with some patience and practice you'll be able to turn that unassuming Christmas tree into a majestic sight fit for any holiday gathering.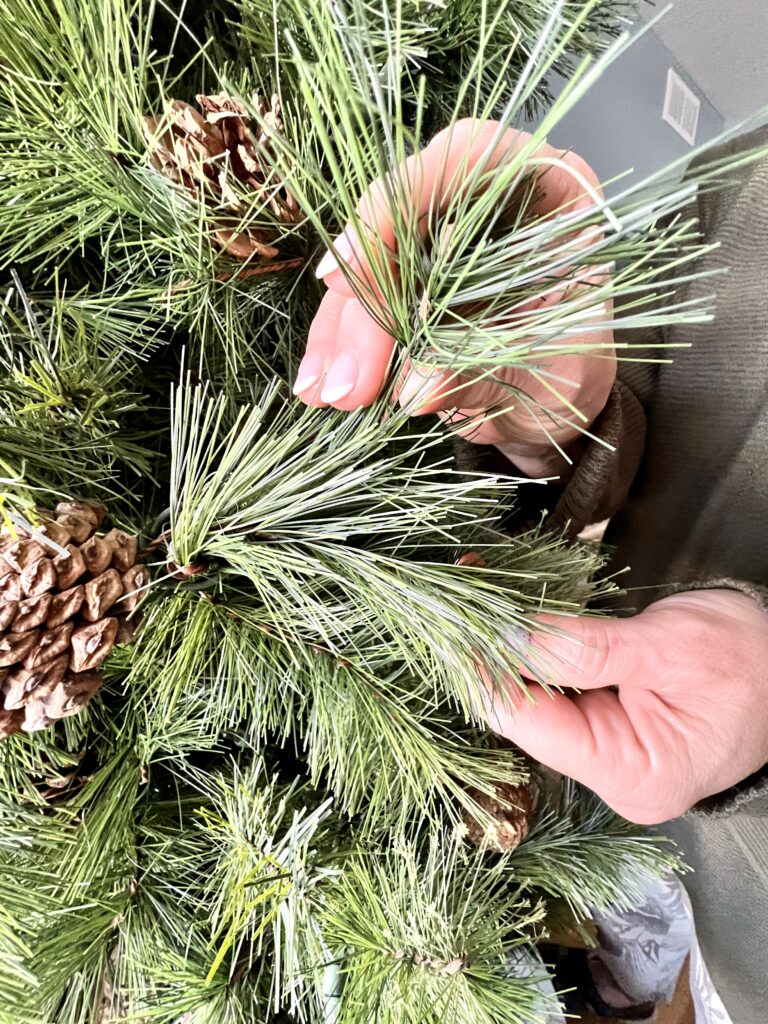 Lights
Although choosing festive baubles and tinsel may be the most exciting part, no tree is complete without lights! Twinkling lamps bring an extra touch of magic to your holiday decorations and create a beautiful evening atmosphere.
Reality check…let's agree that manually adding lights to a tree is not fun. Sigh.
It is not the most fun task but these tips can help to make the process a little quicker and easier.
First of all, make sure that all the lights work before you start to put on the tree.
Start at the top and work down one branch at a time, making sure each light is wrapped snuggly against the branch. Continue wrapping until you reach either the bottom of the branch or the solid trunk of the Christmas tree.
Tuck some lights closer to the trunk and then wrap them outwardly on the branch. This will give your lighted tree some real dimension.
Wrapping Christmas trees with lights is slightly labor-intensive but totally worth it when you step back to admire your work!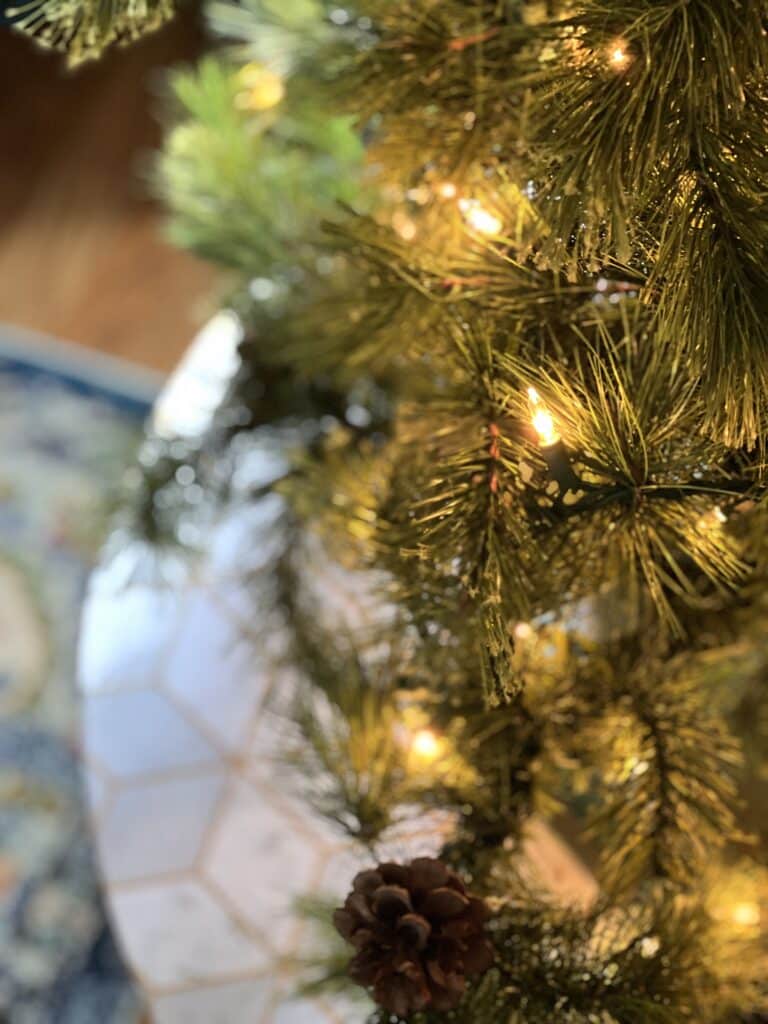 Ribbon
Adding ribbon is another way to add texture, depth, and a little heft to a thinner Christmas tree.
There are lots of ways to do it but I love to add big loops to a tree.
I like to use ribbon that is 2-3 inches in width. Make it easier on yourself and work with smaller sections of ribbon…I use sections about 2-3 ft. long.
Take one end of the ribbon and tuck it into the back of a branch. Create a loop and then pinch along the ribbon. Tuck this pinched area of the ribbon into the back of a different branch. Use one of the back branches to twist around the pinched area.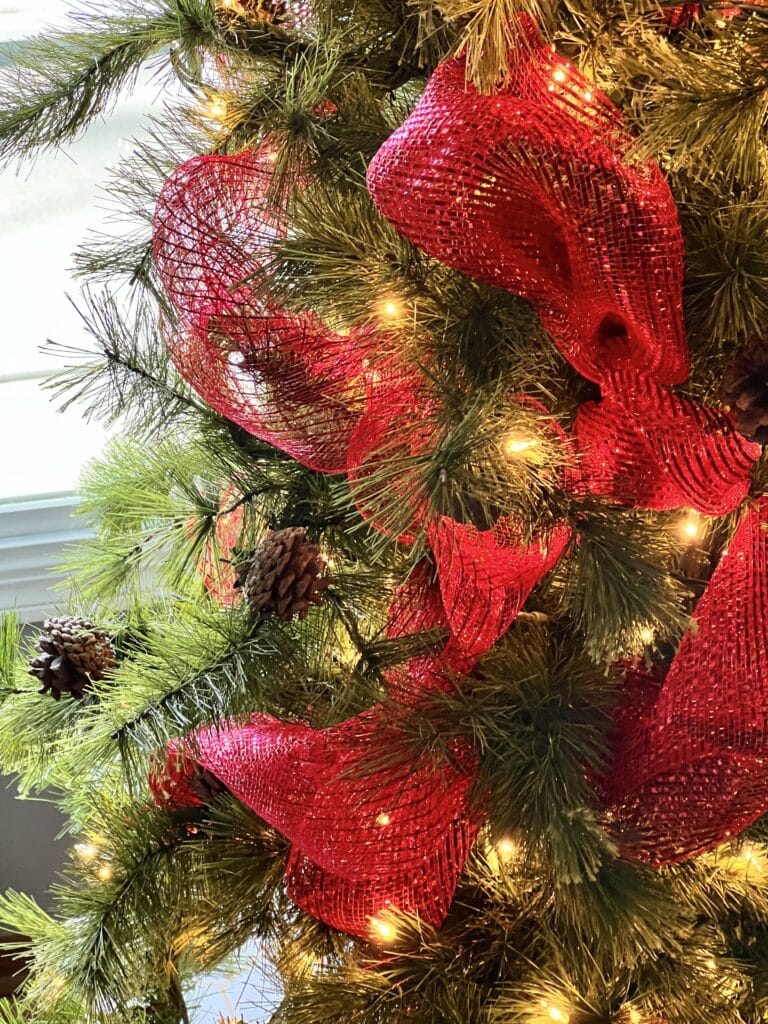 Take a new length of ribbon and start a new loop where you ended with the previous loop.
Keep pinching and looping the short sections of ribbons into the desired pattern. (or non-pattern)
Voila! Cascading ribbon!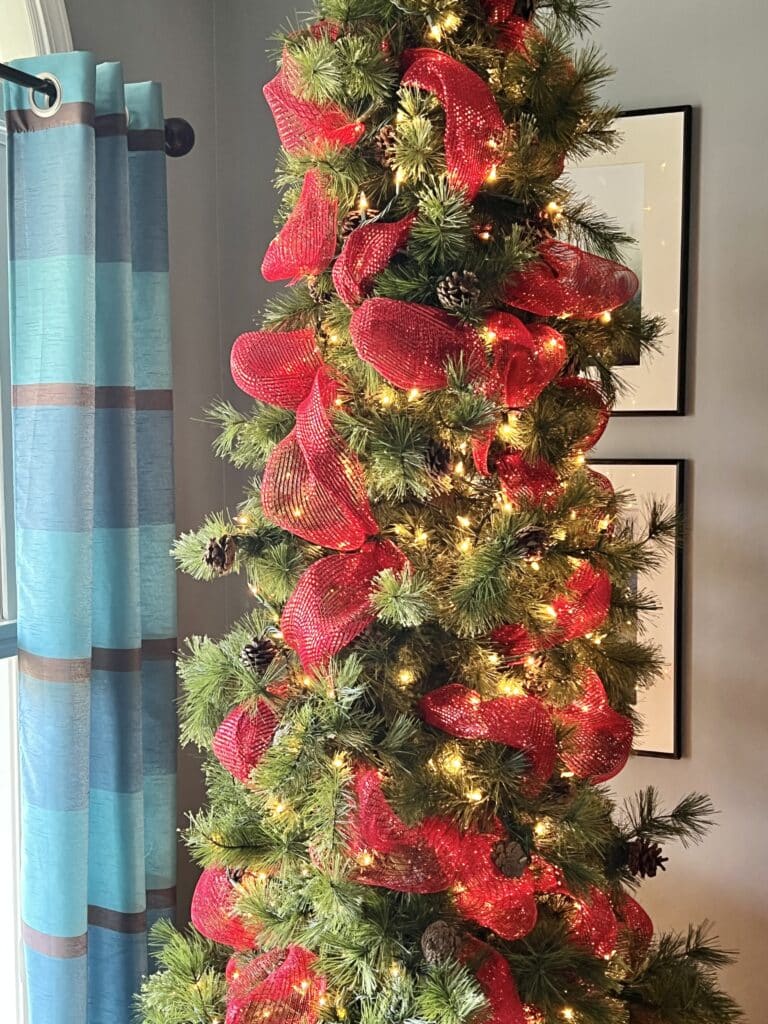 Make things even more interesting by adding a different ribbon.
Combining a patterned ribbon with a solid-colored ribbon will give the tree a feeling of lushness and charm.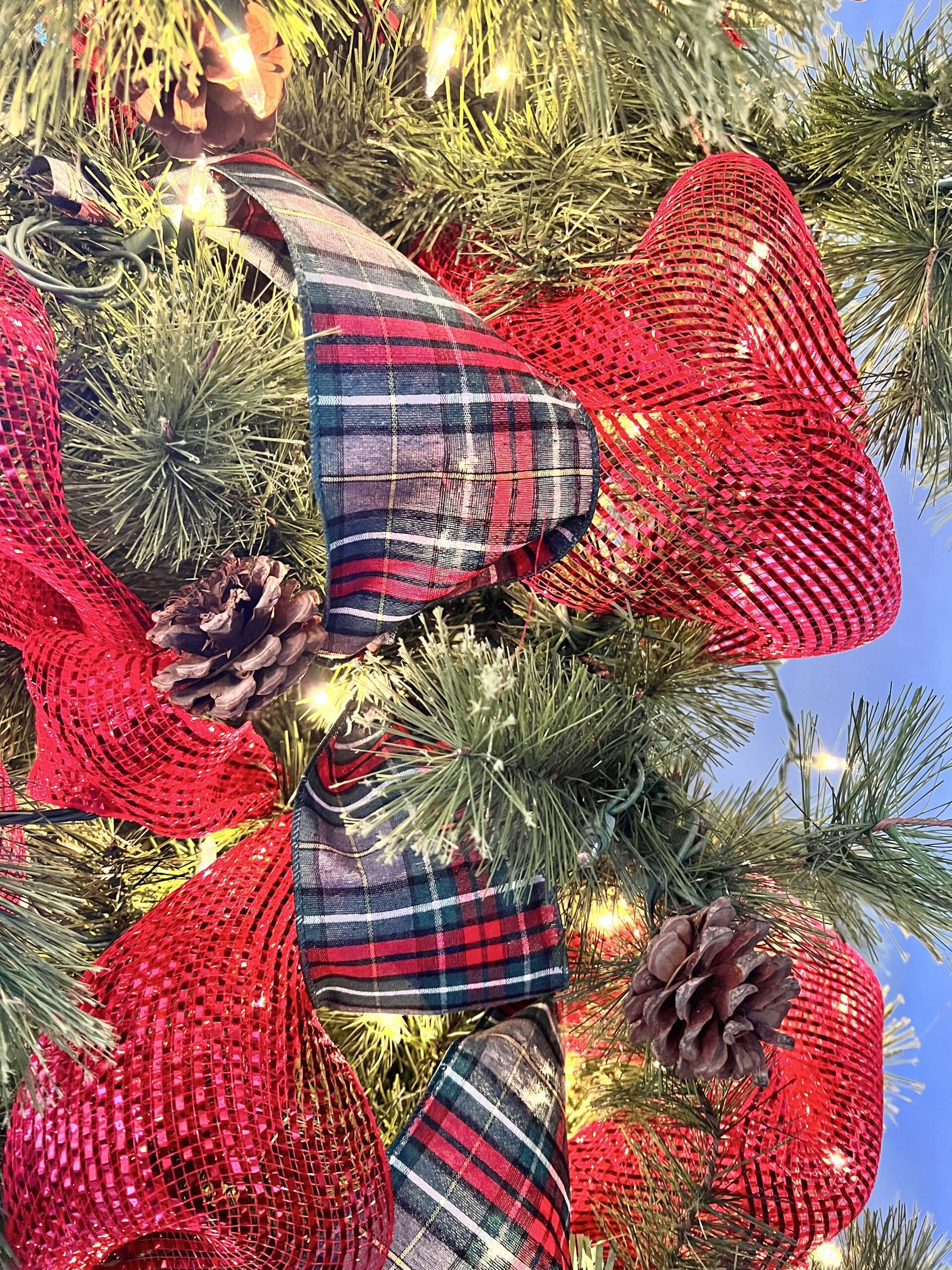 Ornaments
This is the fun part!
Whether you have chosen a theme for your tree or are going with a general festive free-for-all, grab a mug of chocolate and play some holiday music as you hang the ornaments.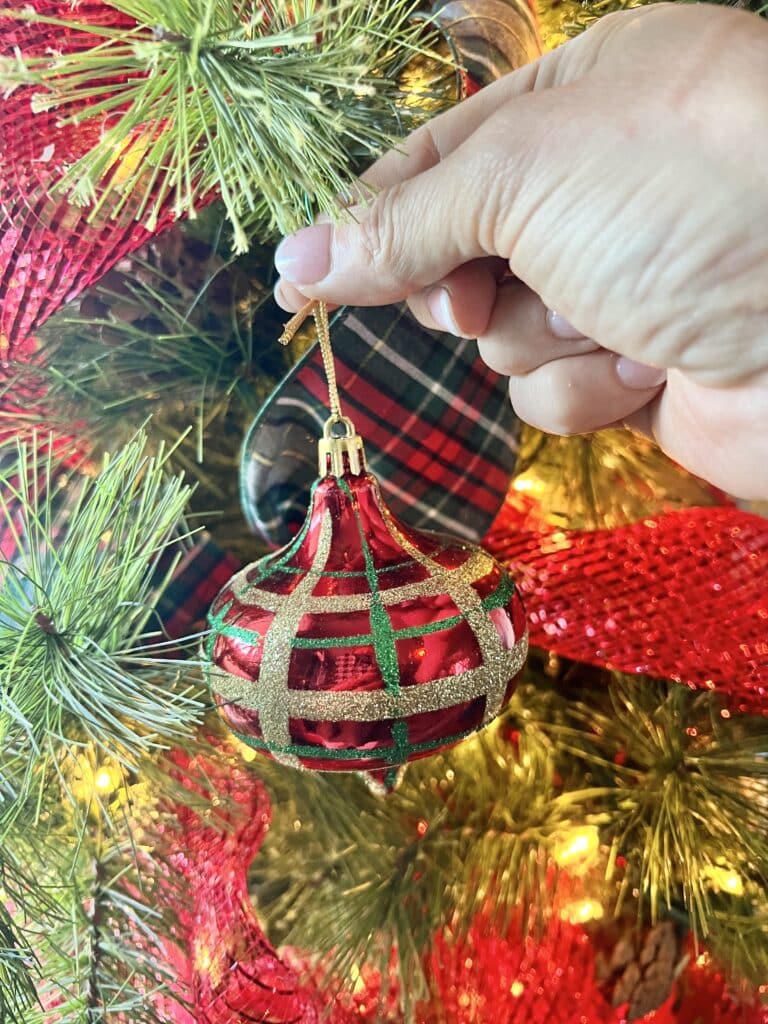 To give your tree added fullness, include some general "filler" ornaments. (Basic solid-colored ornaments that tie in with your other ornaments.)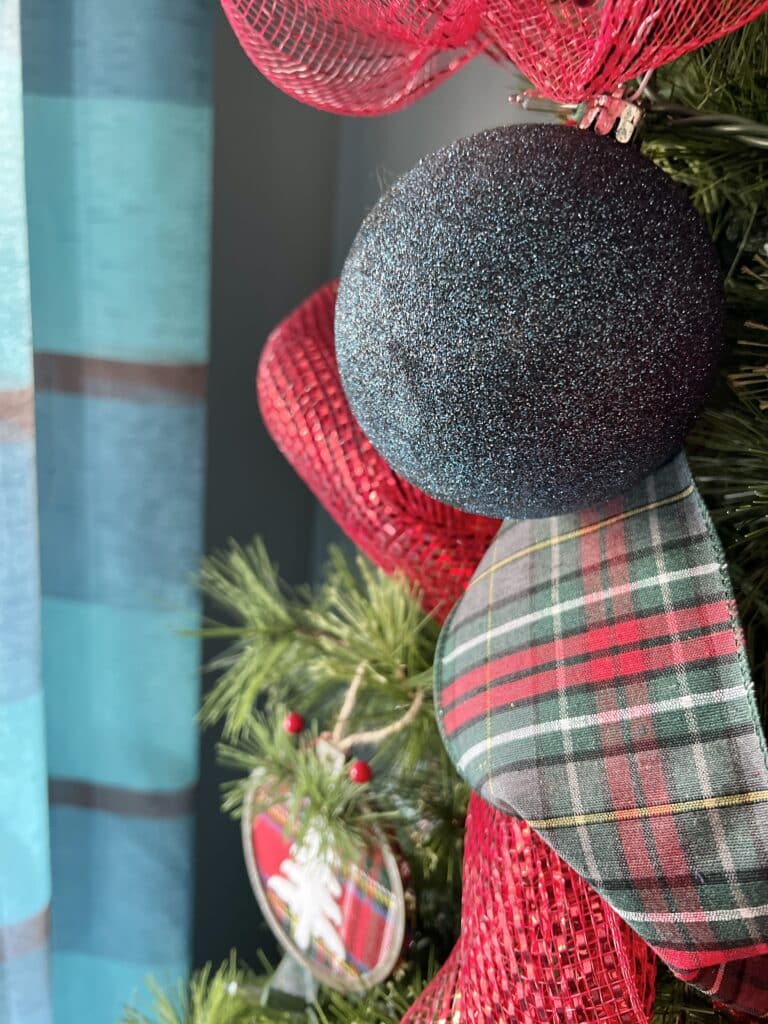 The ornaments are truly the personality of the tree so have fun expressing yourself!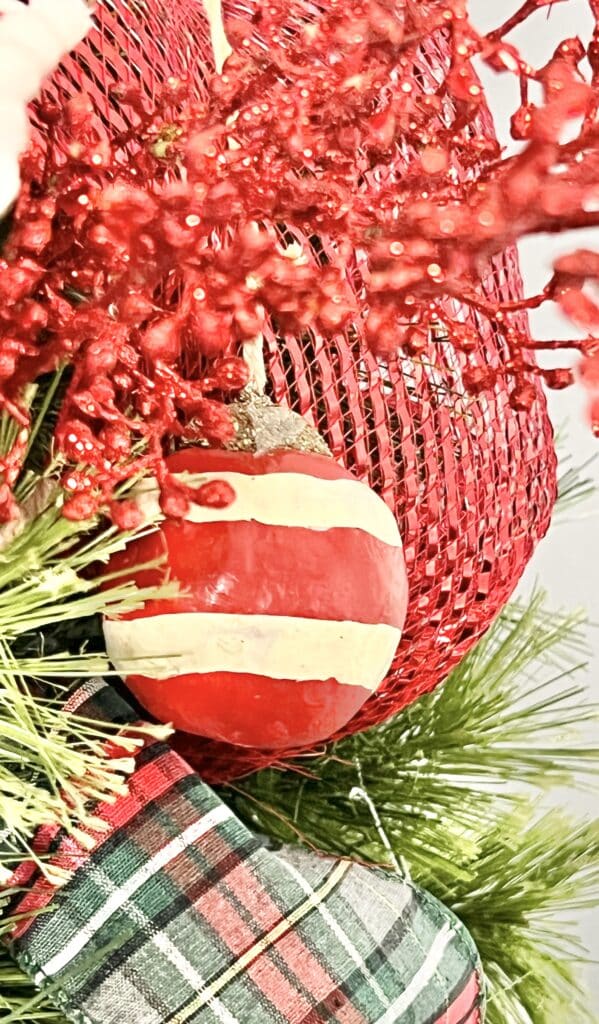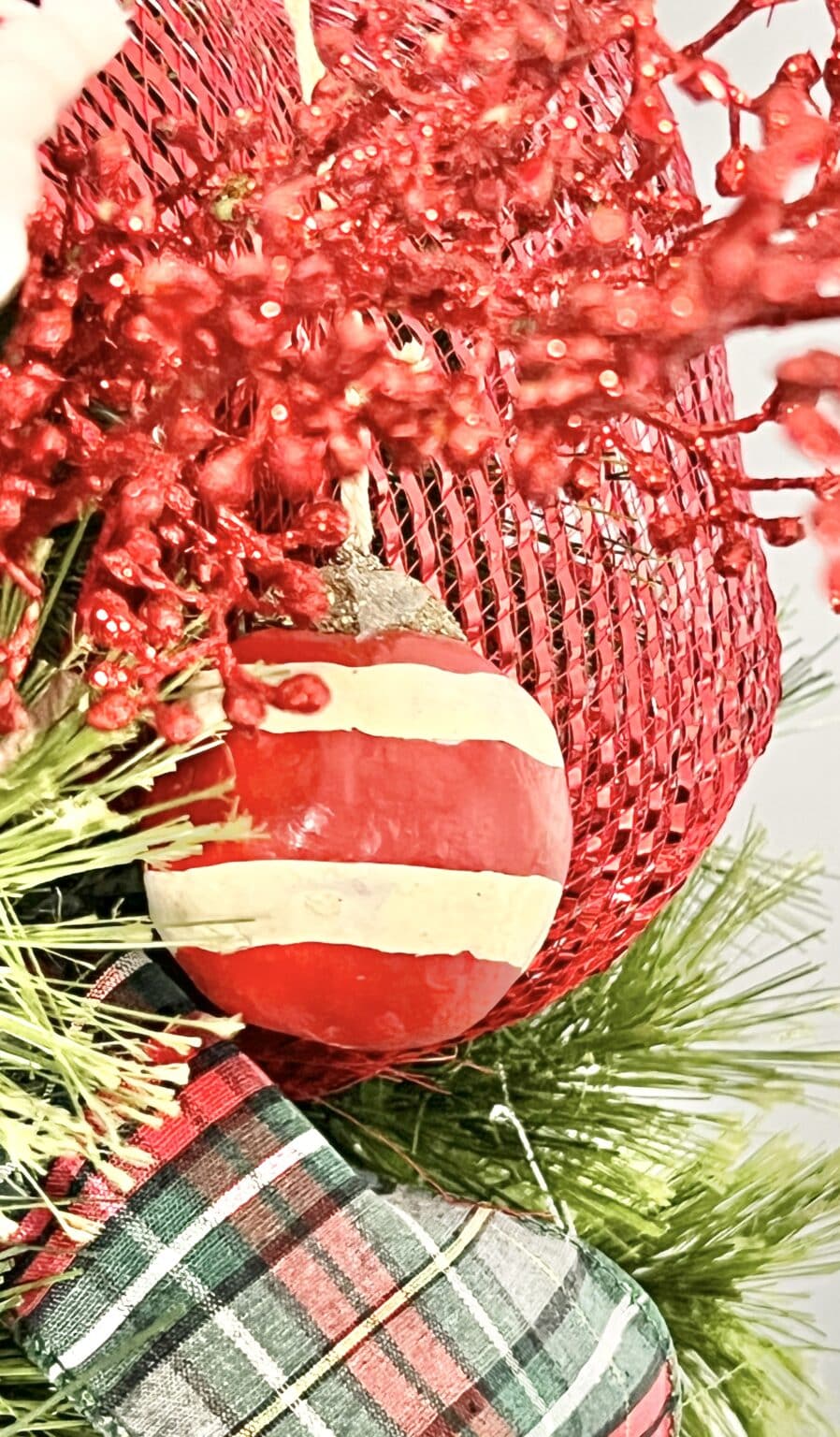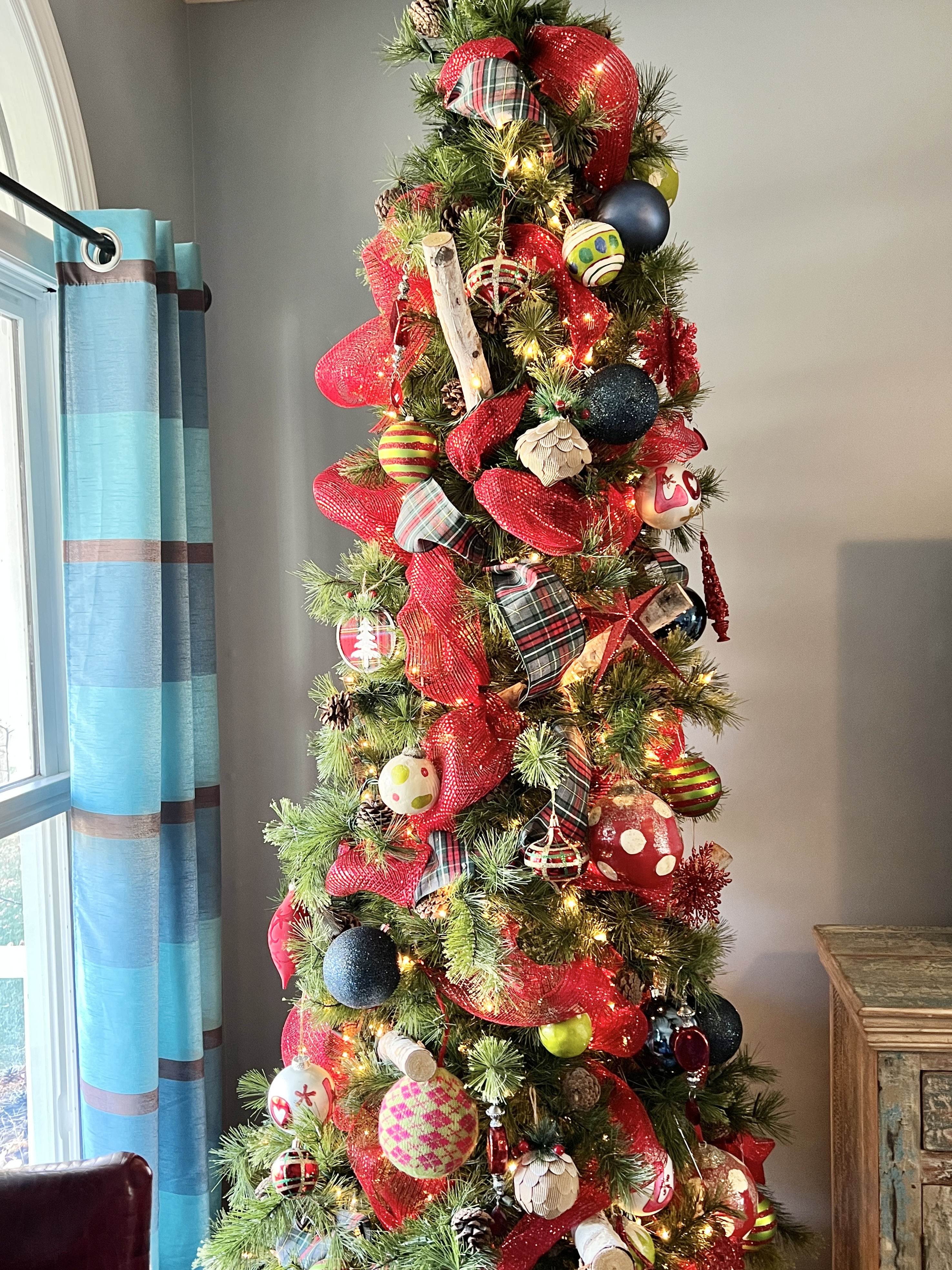 Picks
One more way that you can add some depth and drama to your tree is by adding textural picks.
Find those spots in the tree that look a little empty and fill them up.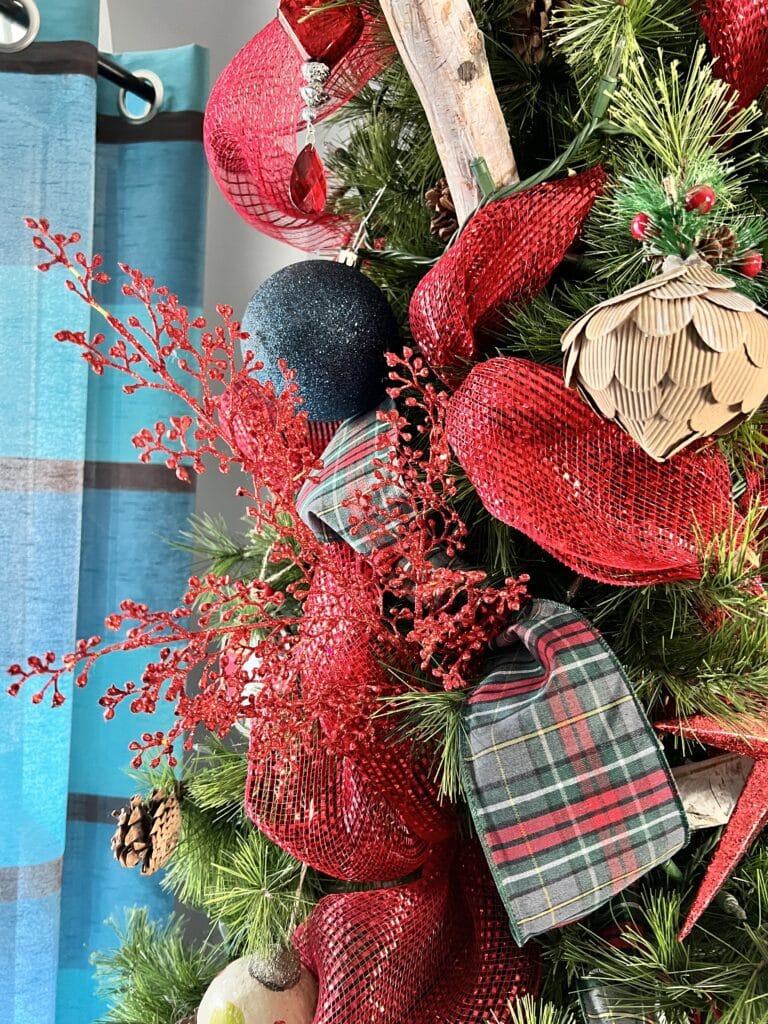 Don't hesitate to let them stick out from the tree a little bit…this makes your tree look bigger!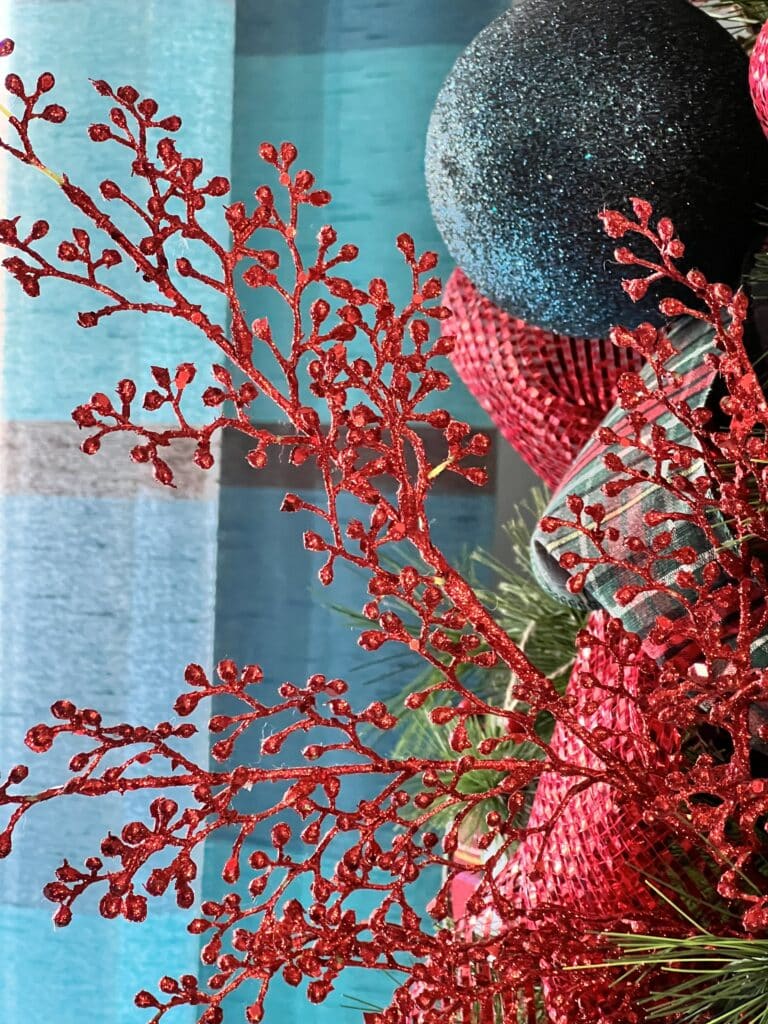 Something Unexpected
I love to add something unexpected to a Christmas tree design.
To complement the red plaids and polka dots in this tree, I tucked some birch logs into the tree.
It is a subtle addition but always takes people by surprise when they look at the tree.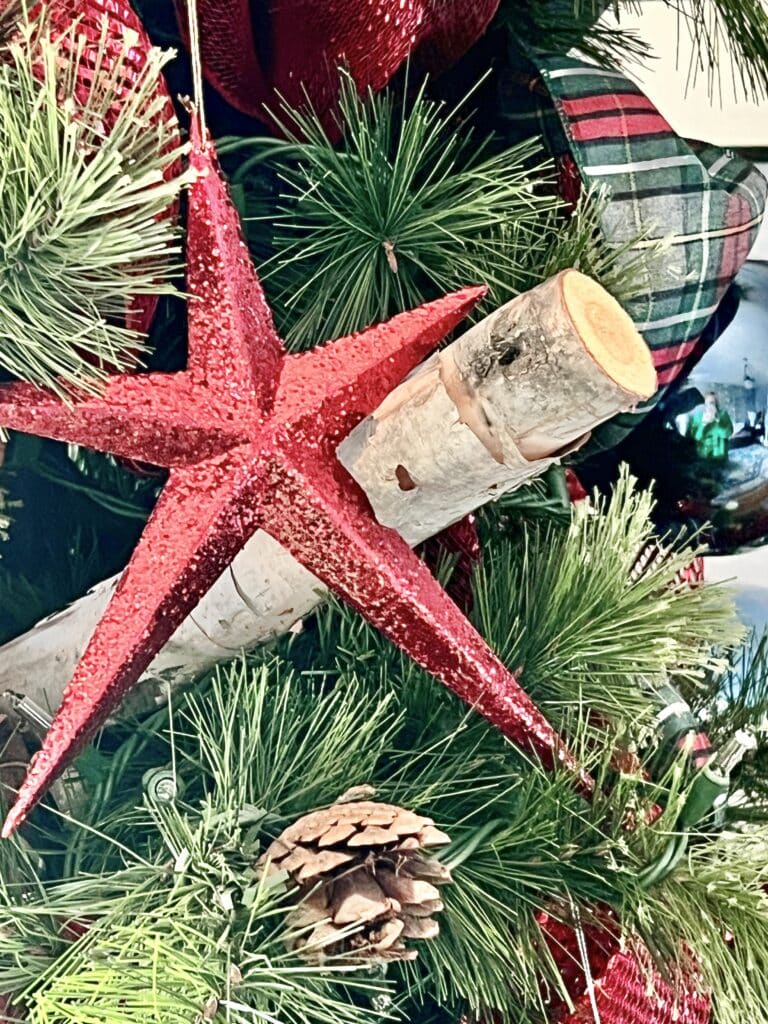 The Base of the Tree
Of course, adding wrapped presents is the perfect way to fill out the bottom of the tree.
A tree skirt is also a lovely way to dress the tree base.
Because this tree sits on a coffee table, I added a candle on a candle holder and a small bundle of wrapped birch logs to the top of the table.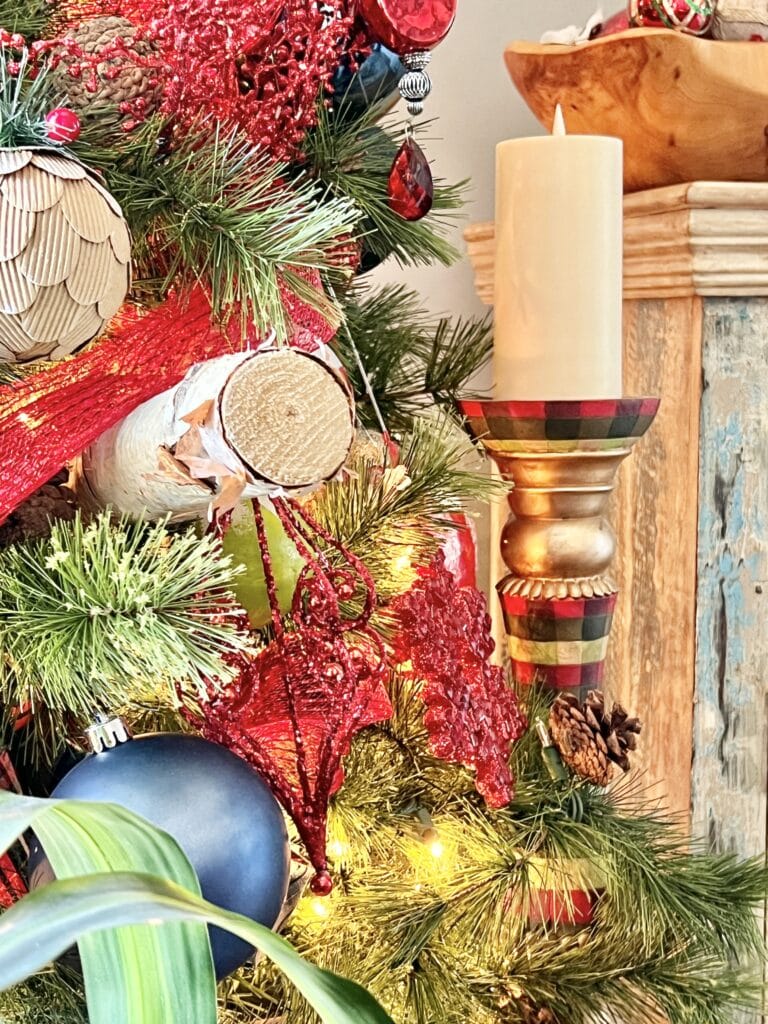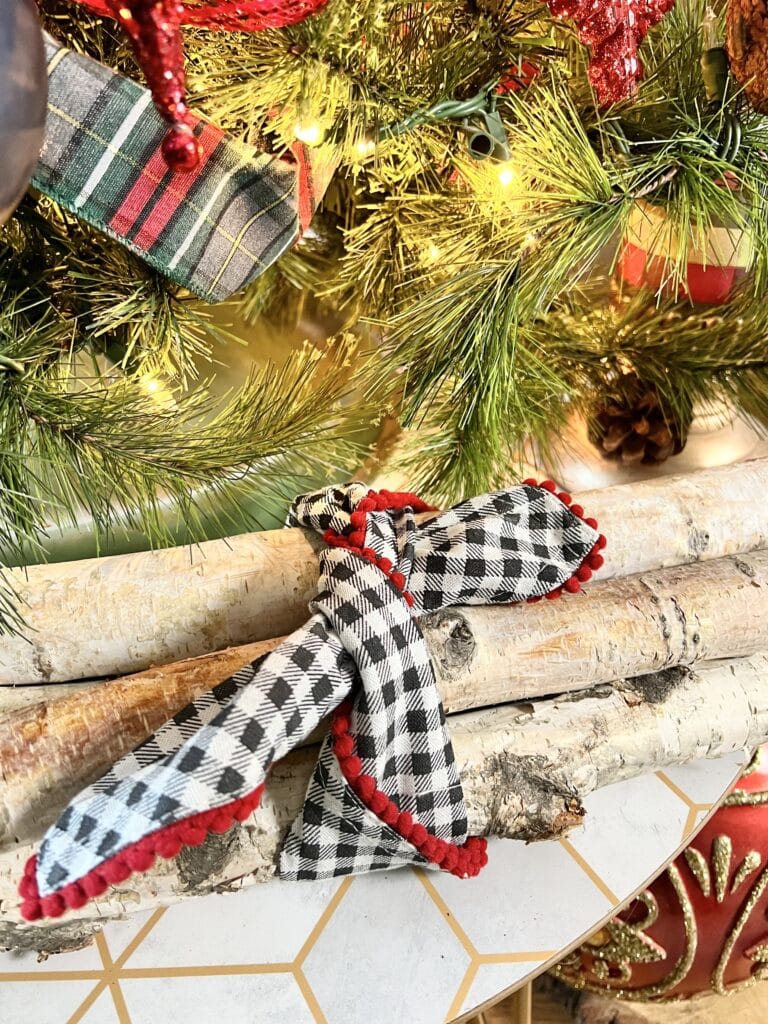 The Tree Topper
Adding a topper to your Christmas tree is the perfect way to give your tree its final accessory.
Kind of like an exclamation point that says "Hey! Look at me!"
From traditional to unexpected, here are some ideas for tree toppers.
Or, any combination of the above!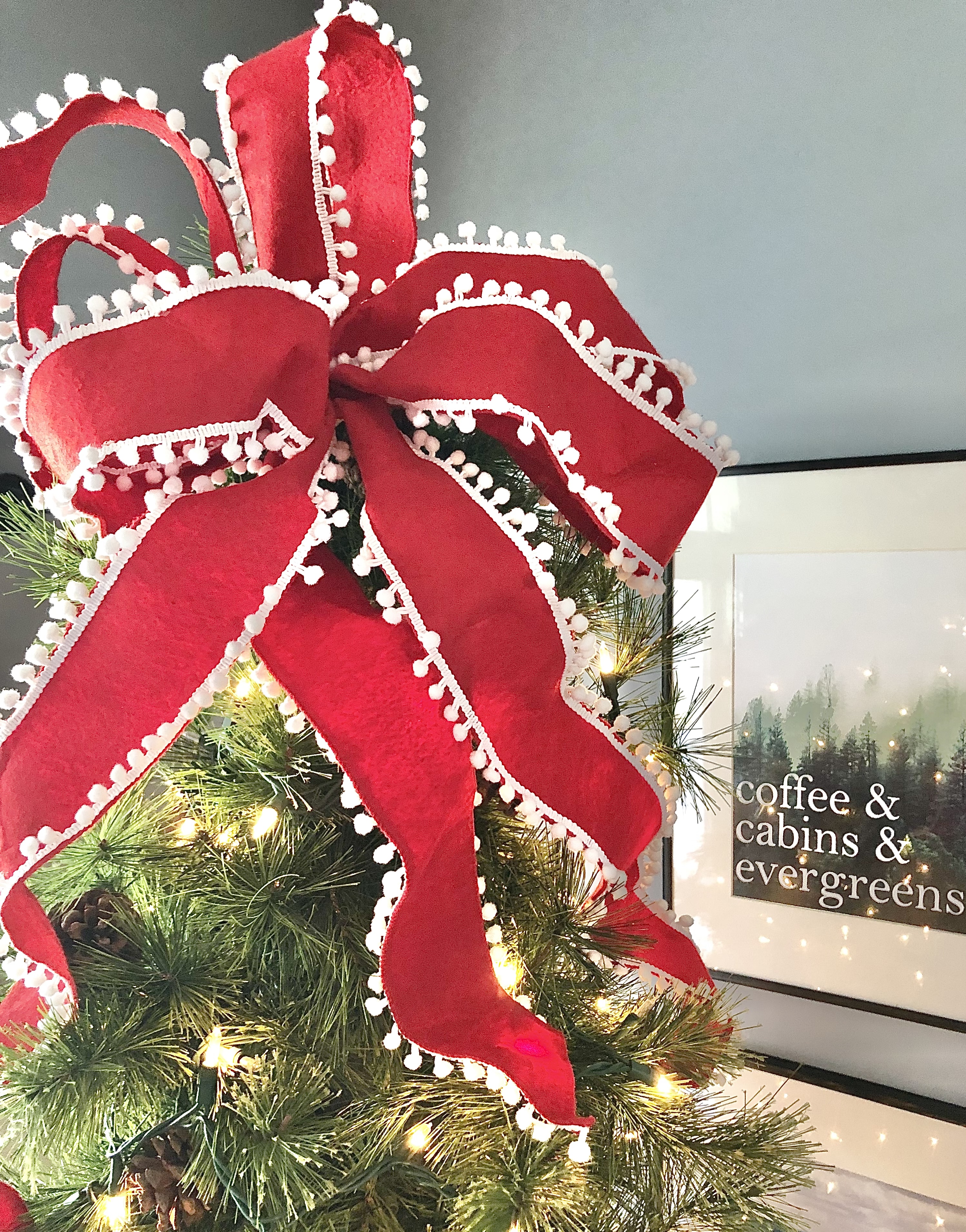 Let me remind you of what the tree initially look like…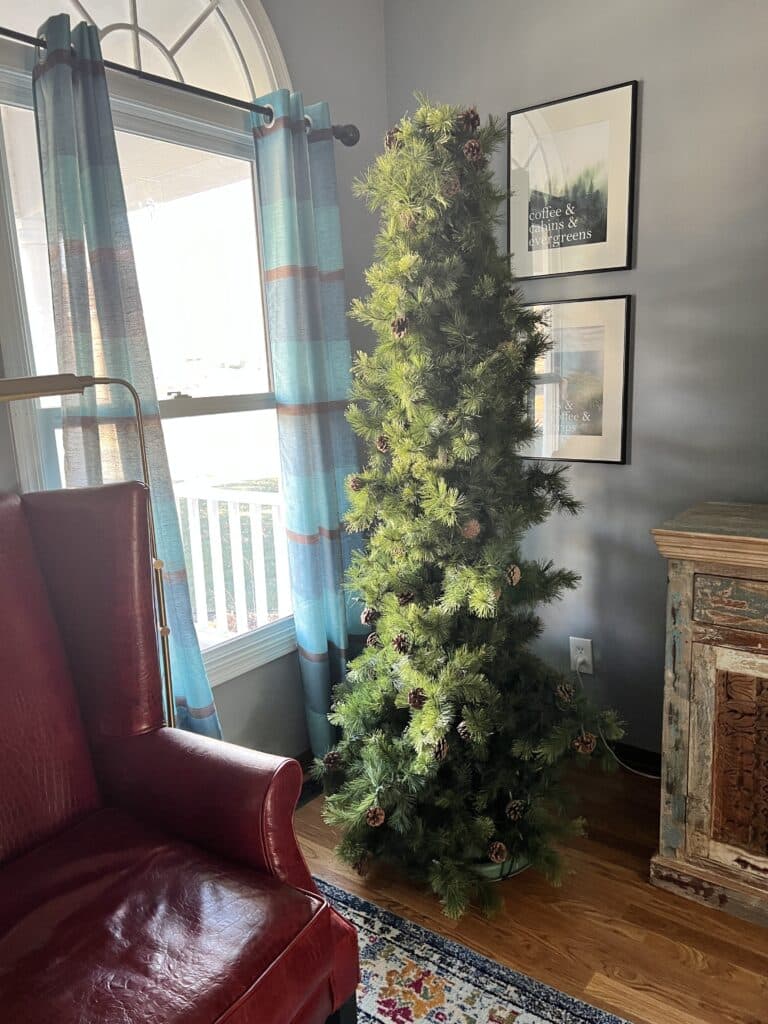 And now…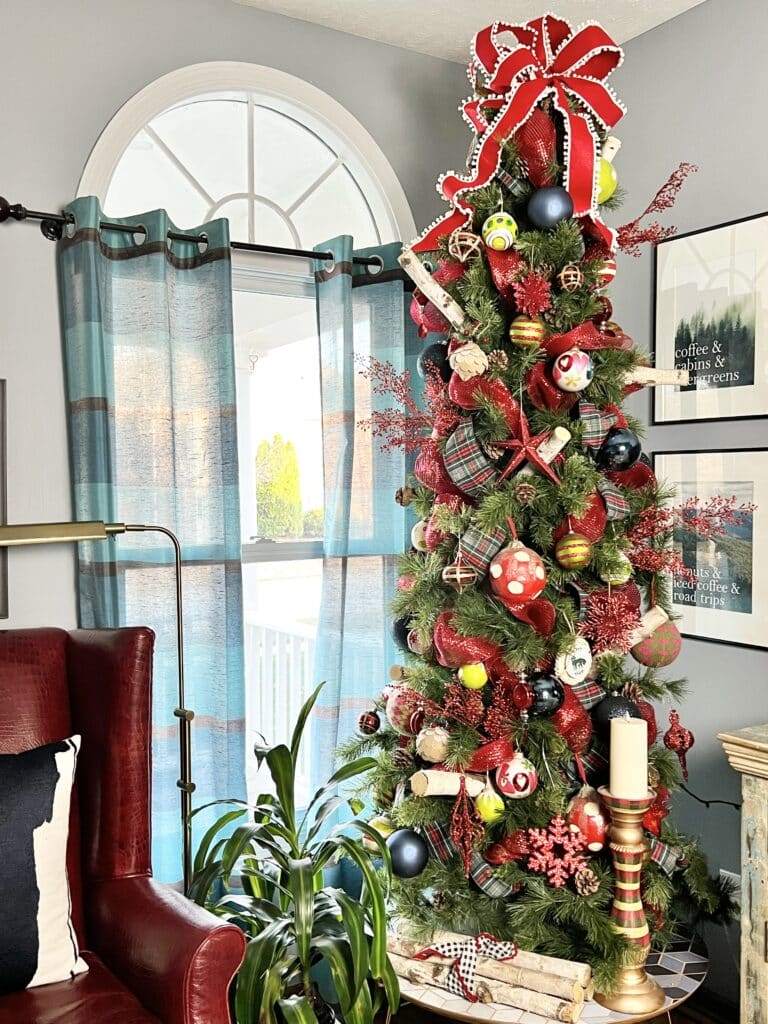 By using some simple techniques, you can make your thin Christmas tree look fuller and lush. Add some well-placed lighting, ornaments, ribbons, picks, a tree topper, and a bit of the unexpected to create an eye-catching display.
So, don't throw away that old tree – give it a new lease on life with a little TLC!
Cheers!
Missy

Don't Forget to Pin It!